I see Rhys Millen every couple weeks, so when I approached him after qualifying at the Pikes Peak International Hill Climb, the first thing he said to me was how full and thick my afro was coming in. Yes, I have poofy hair, and I was glad he opened our conversation with a jab at it. I returned the favor by telling him that he needs to change the siren on his electric race car to something a little louder.
Because they run so quiet, and therefore it's very hard to hear them coming, every electric race vehicle – even motorcycles – require a constant siren blaring as they attack the Peak.
Rhys absolutely hates it. It's basically the equivalent of a car alarm going off inside your race car, except much louder; hardly ideal when you're trying to run inch-perfect lines through the 12.42-mile long and 156-turn deep highway course to the 14110ft summit.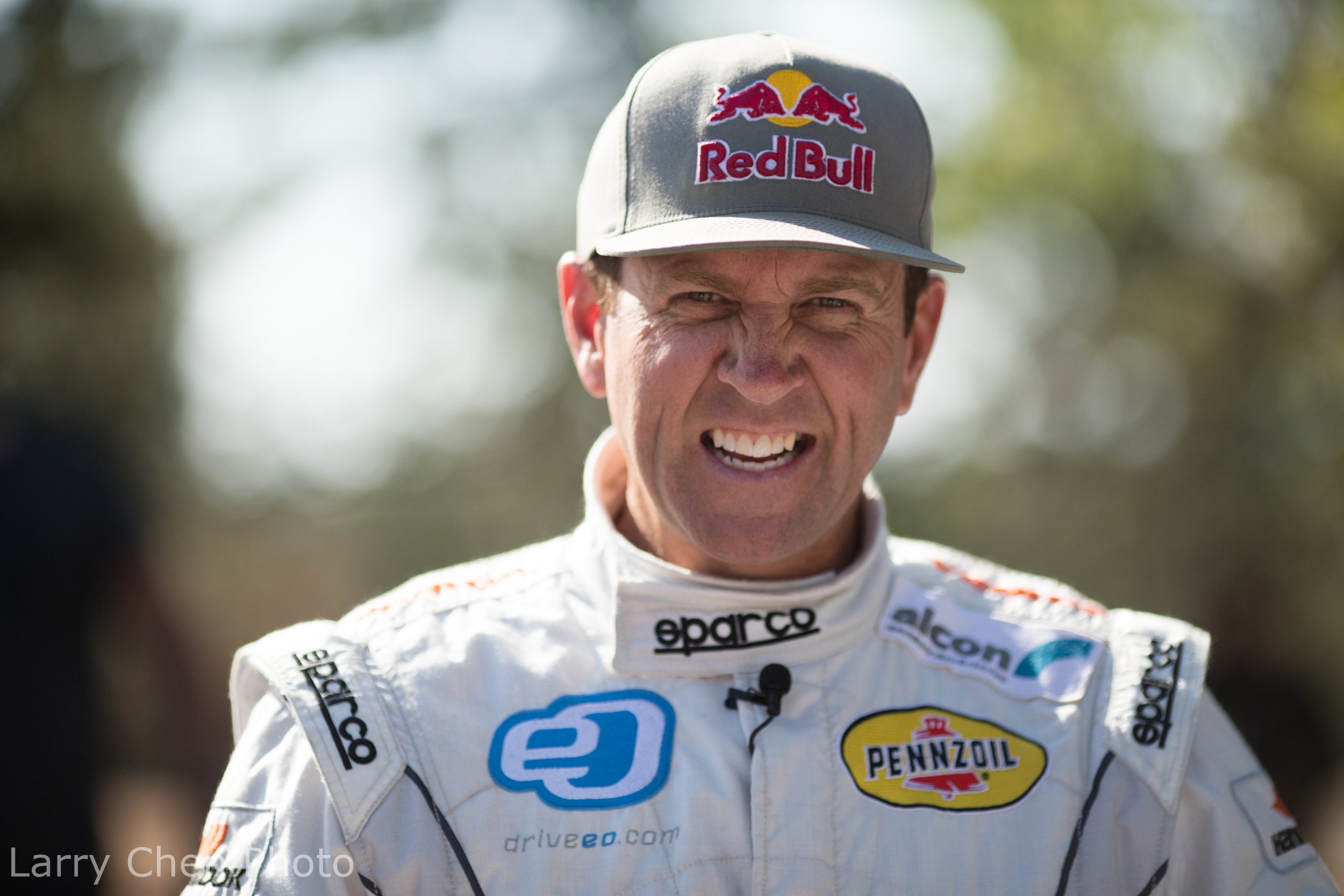 I joked with him that instead of a car alarm siren, he should play Mexican mariachi music instead, because you can hear that miles away.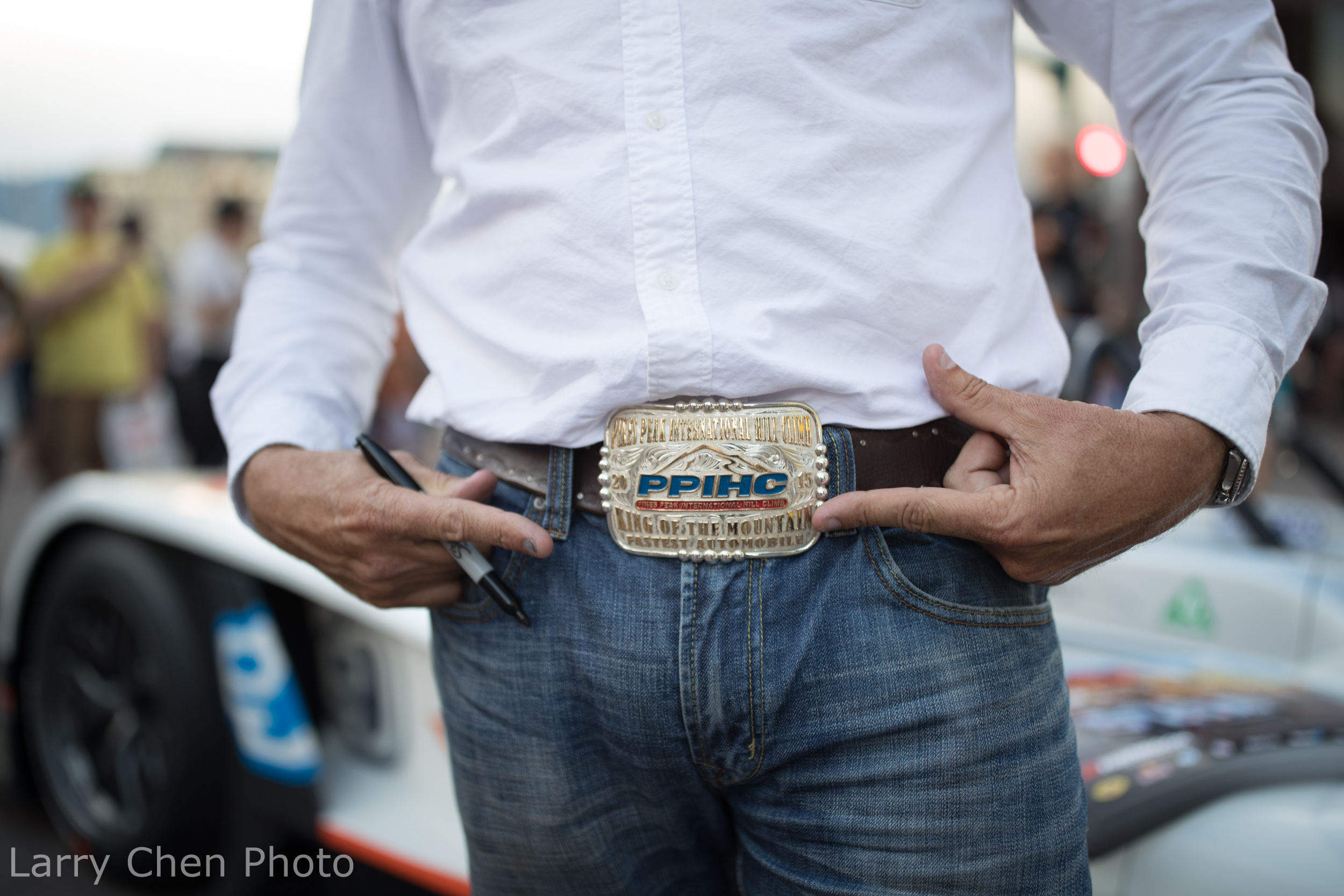 But it's not so easy to make fun of Rhys – especially when he's wearing an oversized belt buckle that proudly proclaims 'King of the Mountain.'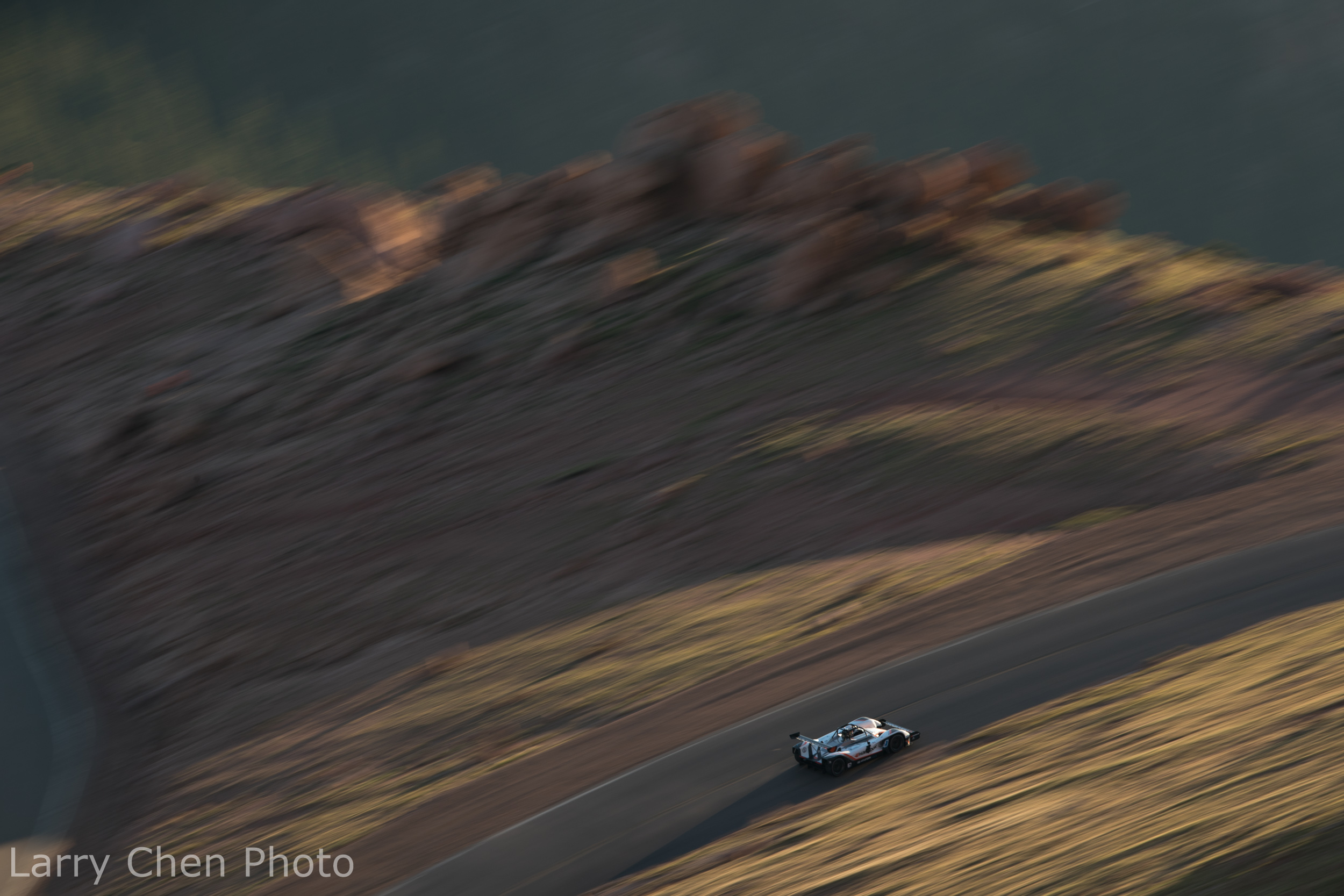 Since 2011, I have documented Rhys' attempt to break the 10-minute mark, take the overall win and the overall record, and put down the fastest time in a rear-wheel drive car. I skipped out on Pikes Pikes in 2015 due to a scheduling conflict, so this year I was really excited to follow his PPIHC record-setting attempts again.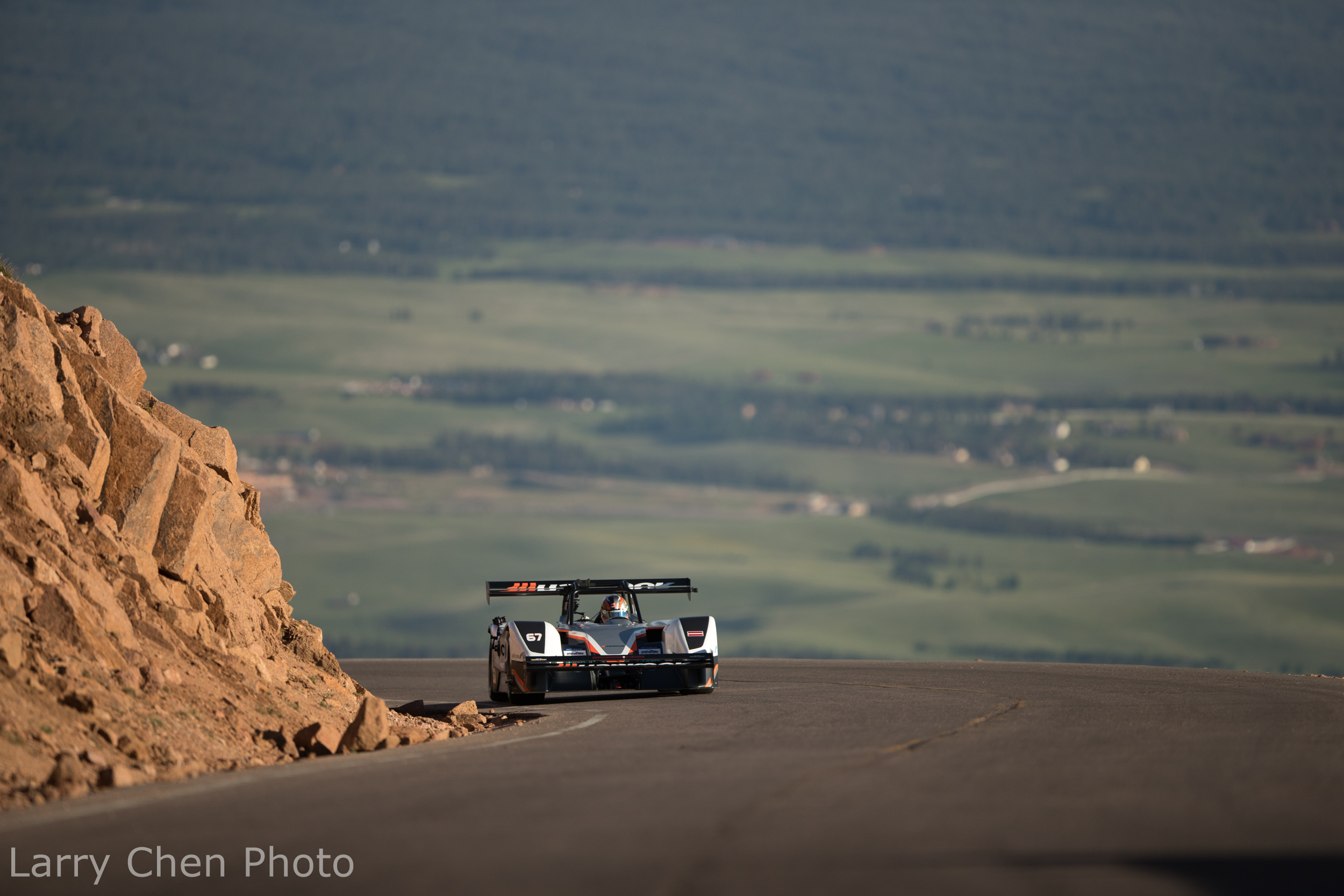 With so much experience in drifting, rallycross and hill climb, there are very few people who have the driving talent and skills to handle a beast like the Drive eO PP100.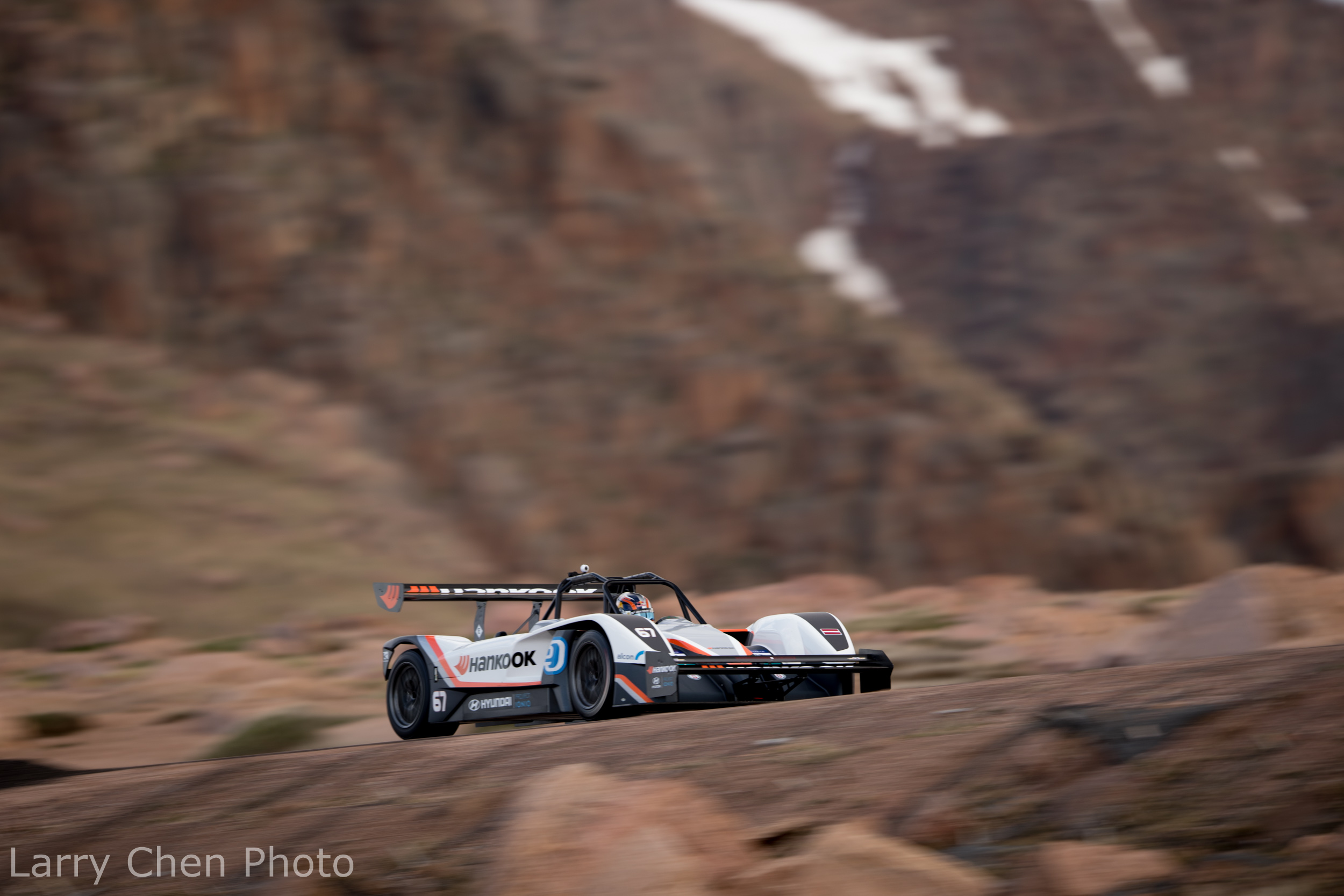 After all, Rhys' right foot is the only thing controlling the 1190kW (circa the equivalent of a conventional 1595hp) and 1858ft/lb (2520Nm) of torque at his disposal, at zero RPM, so it's definitely a beast that needs to be tamed. And let's not forget that it only weighs 2645lb (1200kg) either; it's practically a giant battery disguised as a race car.
The Pikes Peak lead-up week is very long and drawn out; so much effort is put in for just for a few runs during practice days. On top of that, practice is only in the mornings, and as you can tell from this shot, it gets quite cold up on the mountain even in the middle of summer.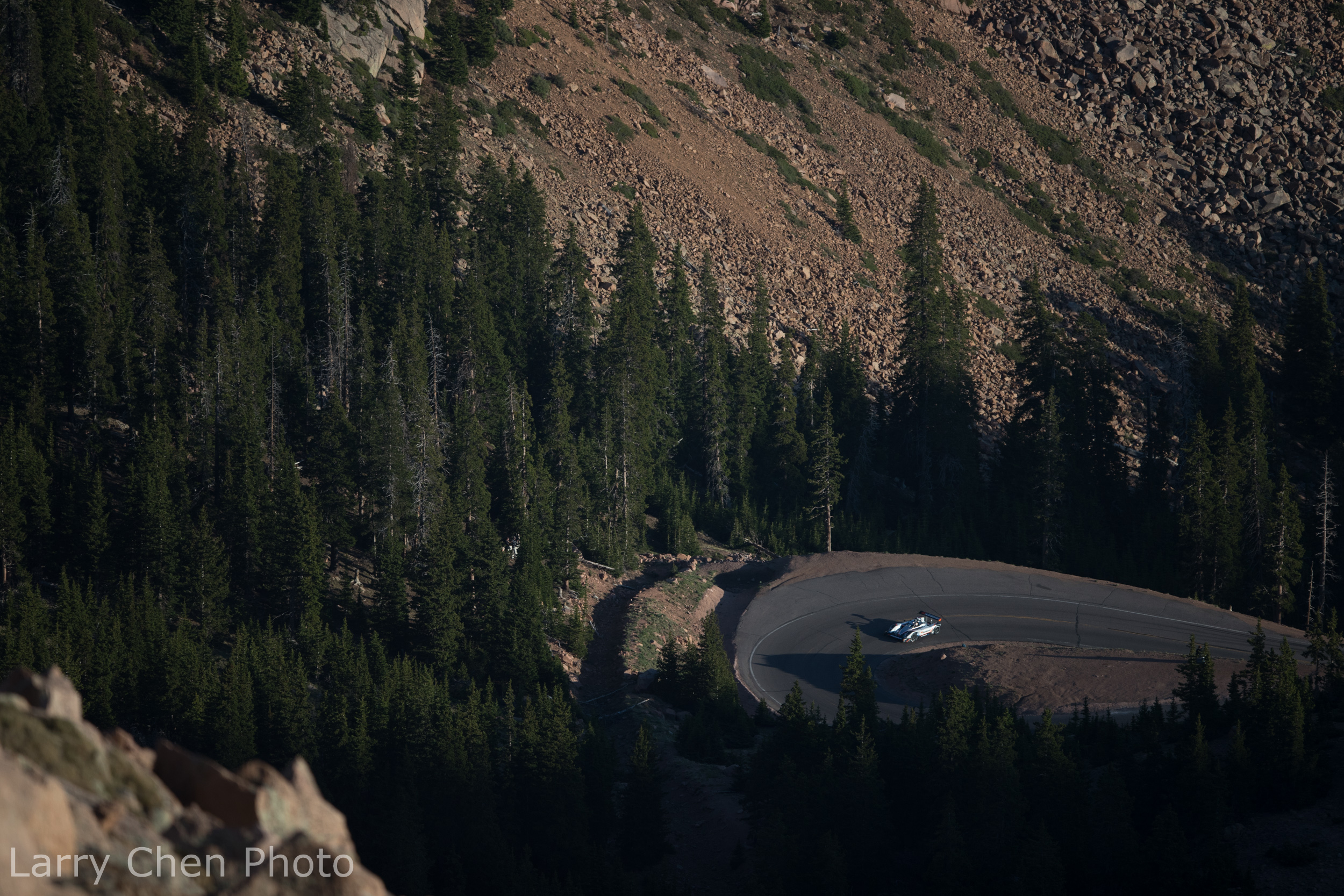 That said, this year the Peak was a comfortable 32 degrees (0°C) most mornings; I've been up there before when it's dipped to 9 degrees (-13°C).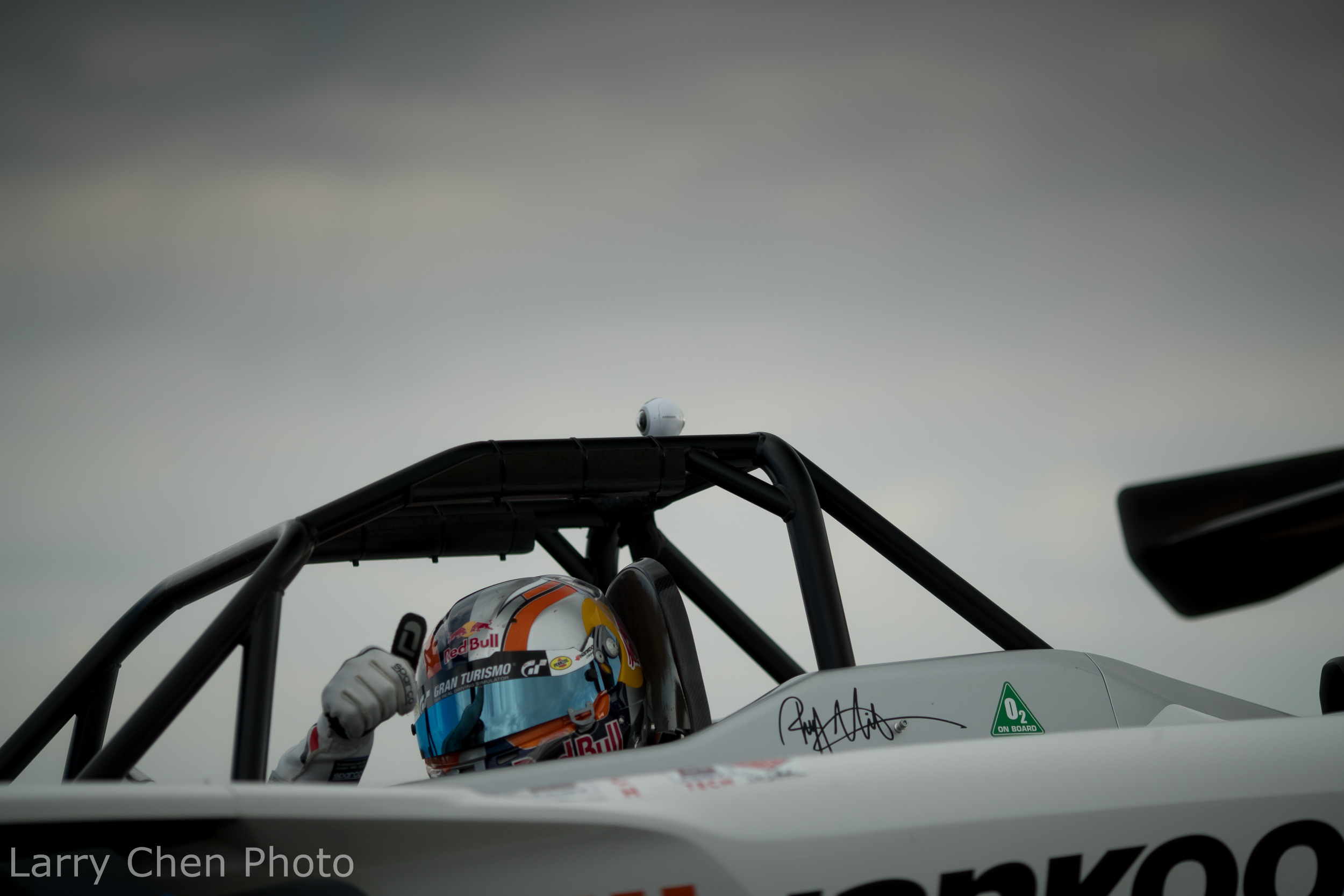 I'll explain shortly why this fact would actually hurt Rhys in the end, but all went well in qualifying and he was slated to run second off the line on race day.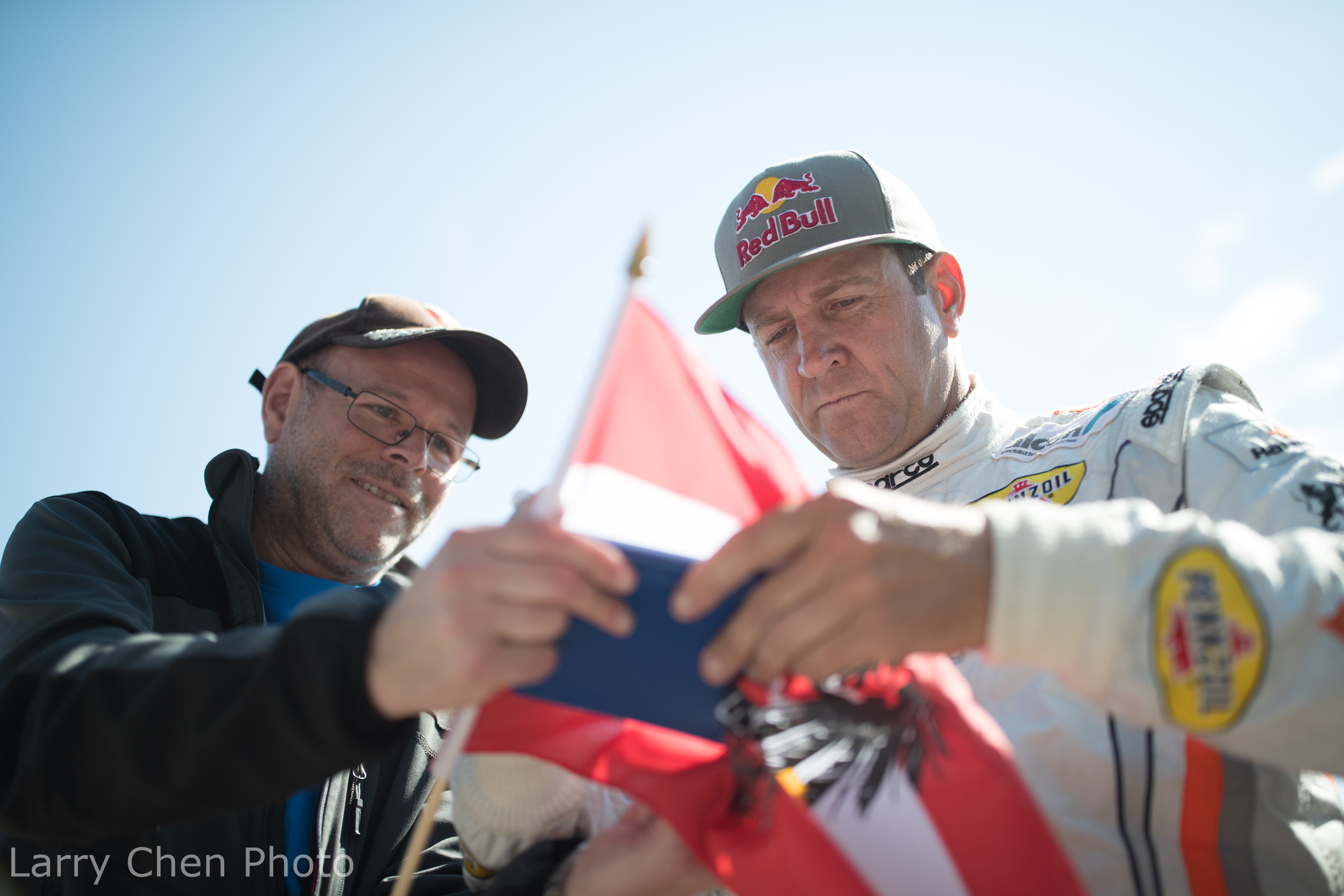 The race itself has changed so drastically in the past few years, and I've seen the evolution with my own eyes. Rhys' competition has changed too.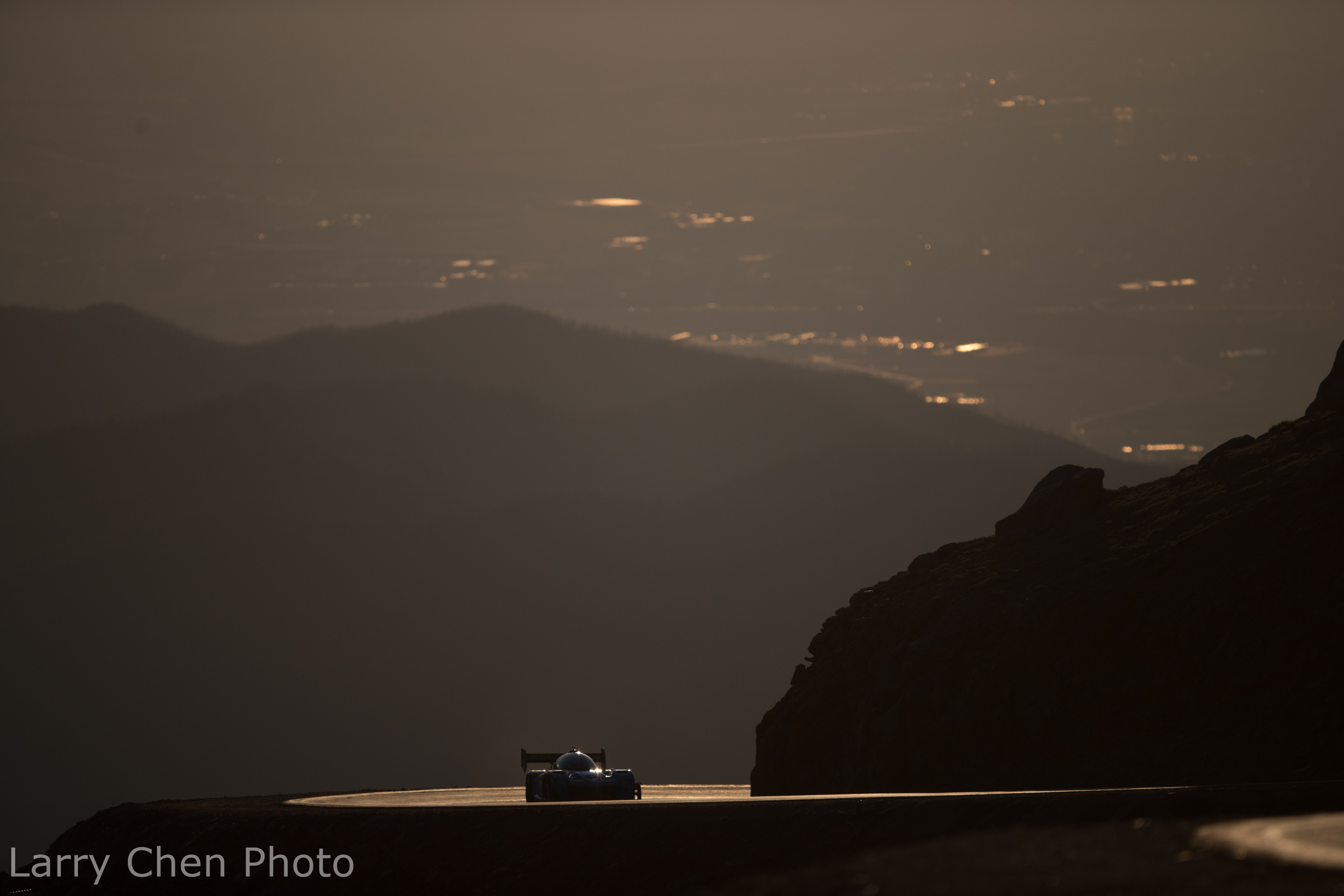 In the Modified Electric class he really only had two major competitors, the first being PPIHC legend Nobuhiro 'Monster' Tajima in his Pikes Peak E-Runner.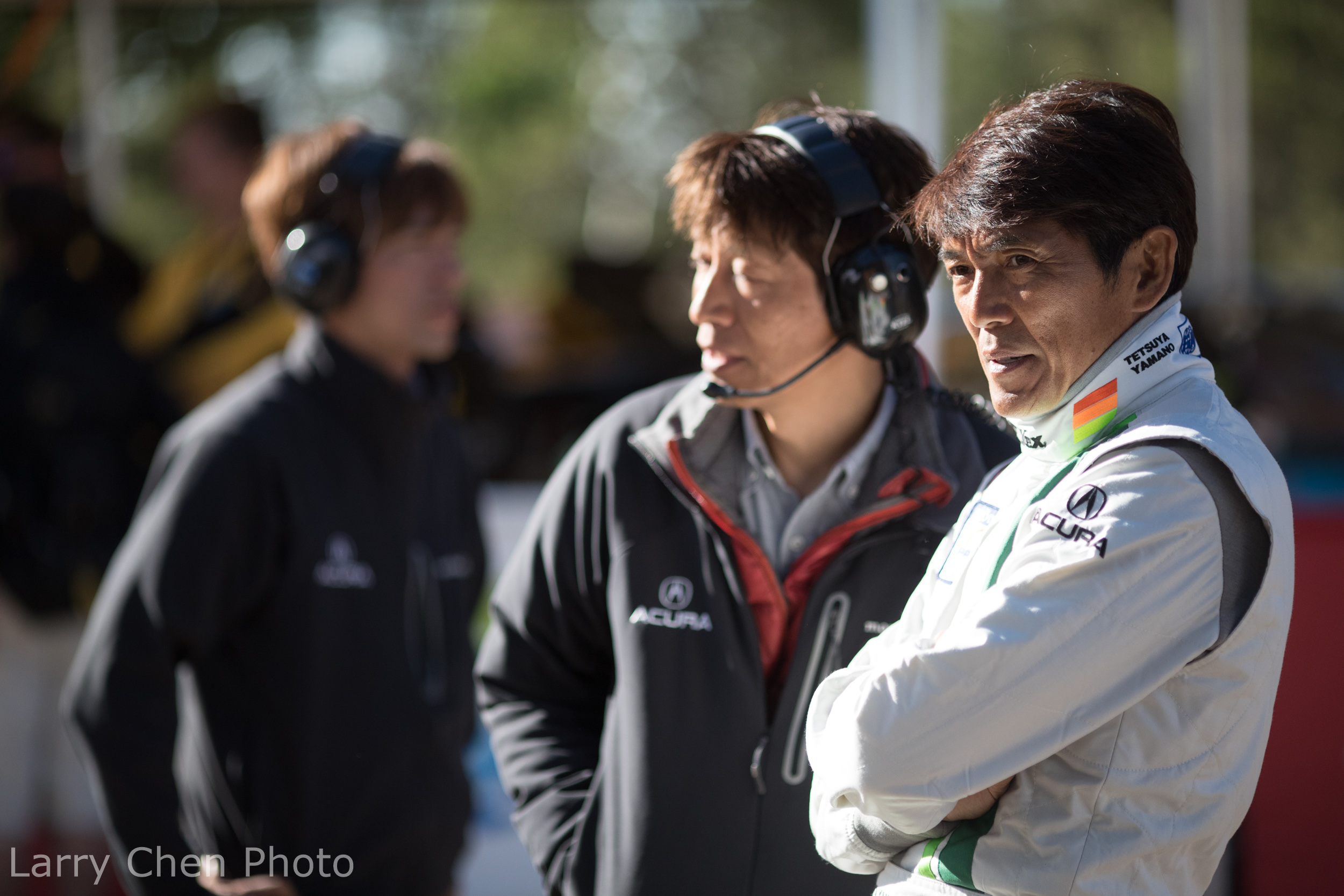 The second was Japanese racing driver Tetsuya Yamano, who while not as experienced as Rhys or Tajima on the mountain, could not be discounted as a threat driving the Acura NSX 4-Motor EV Concept.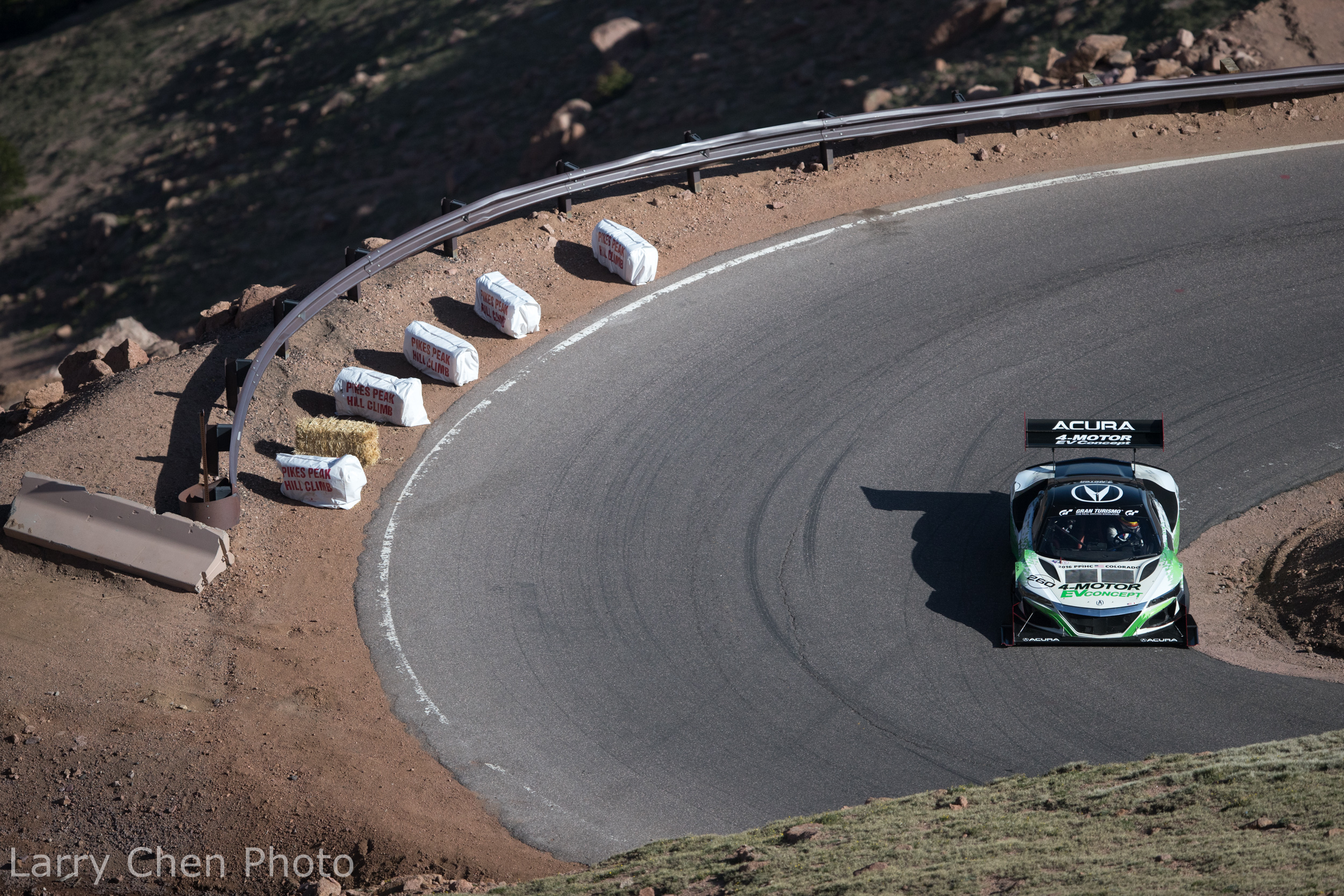 Because the all-electric NSX was quick, and just a few seconds off Rhys' pace during practice.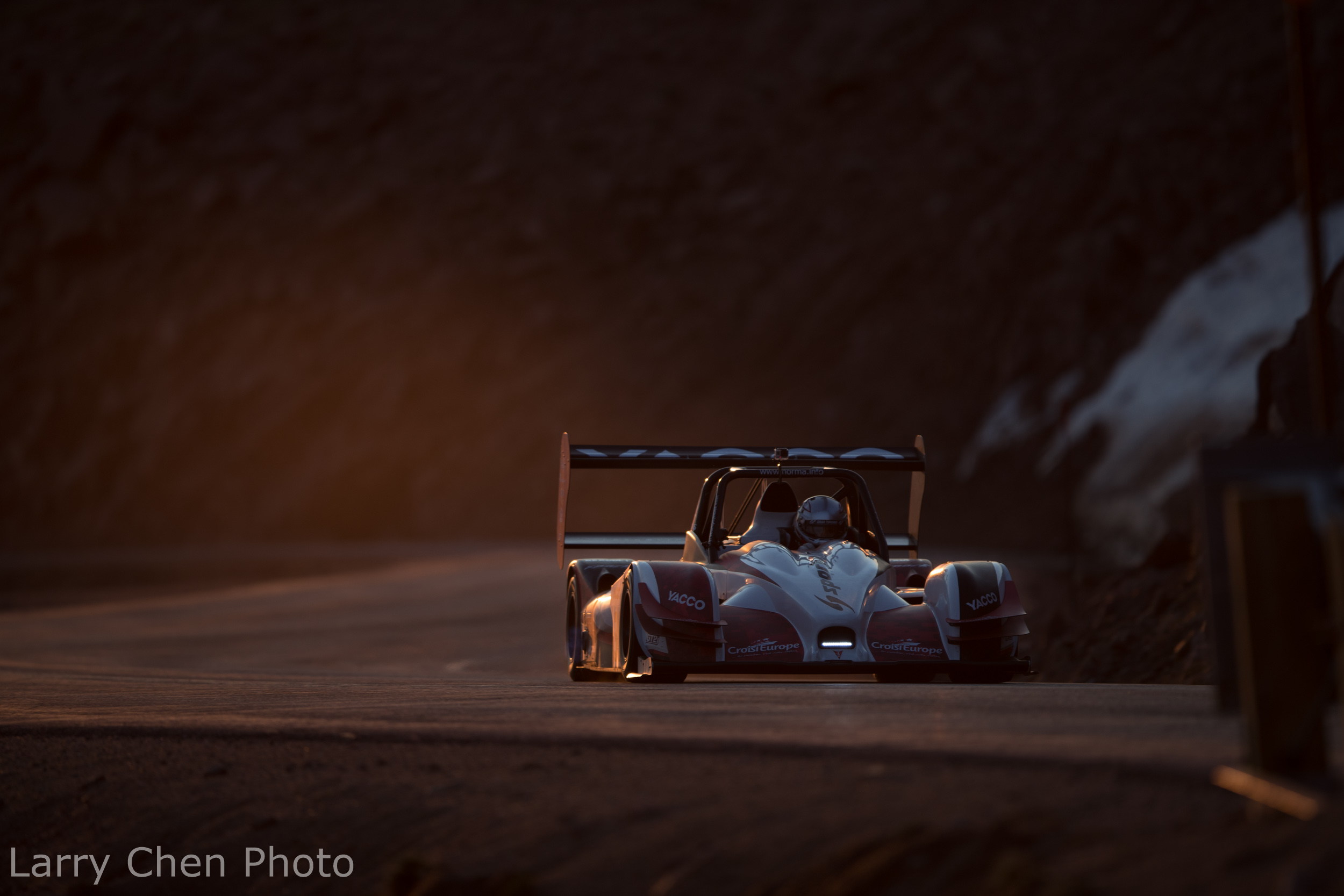 As far as outright honours go, there was really only one man standing in Rhys' way – #1 qualifier Romain Dumas. The French driver vowed revenge on Rhys after getting beaten by him back in 2012 by the margin of just 0.02 of a second.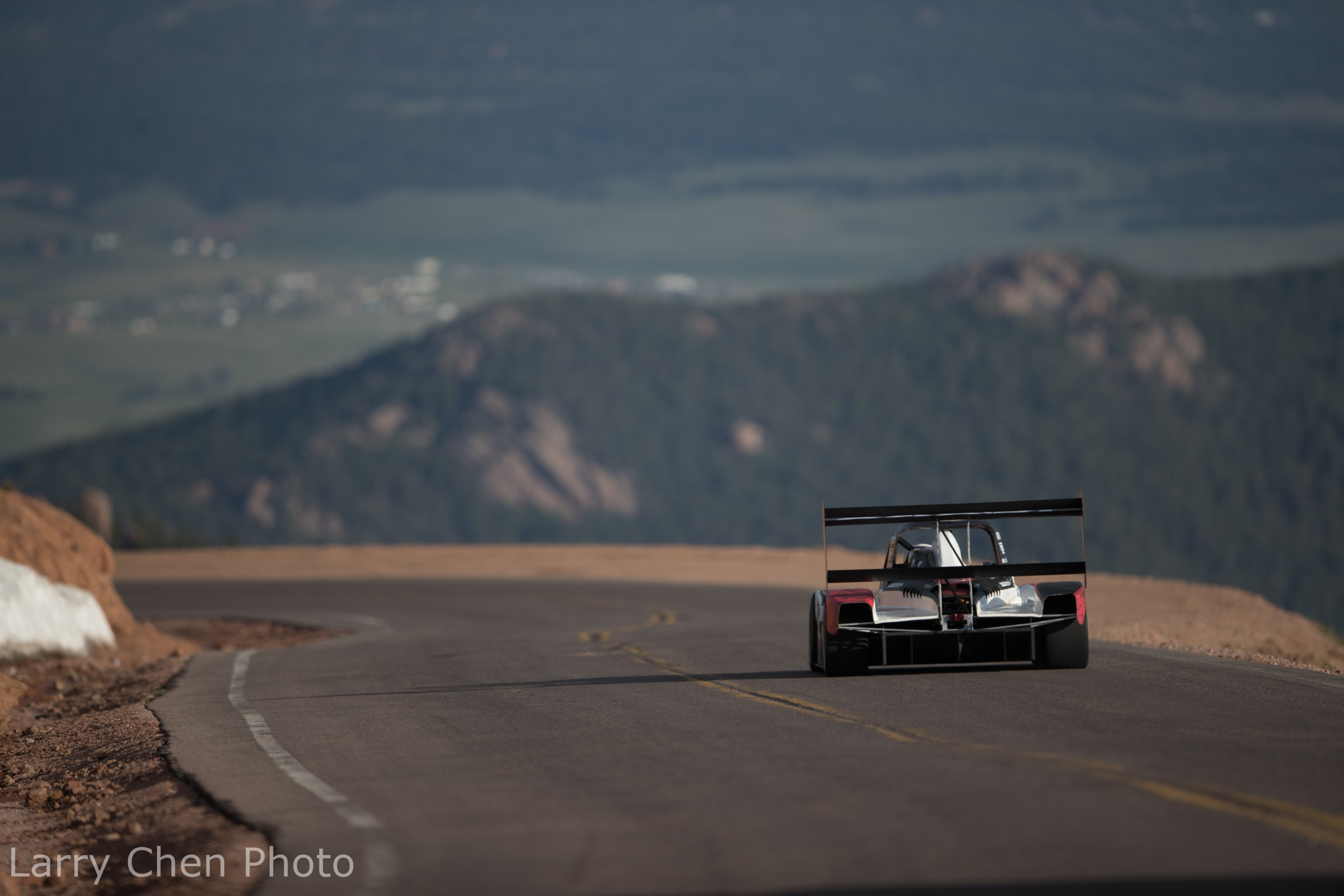 At that event, Rhys was driving his Hyundai drift car in the Time Attack class, and Dumas was in a Porsche GT3 RS; you can read about it here. This year, Dumas was fresh from a win at the Le Mans 24 Hour race, and he had his eyes on the main prize at Pikes Peak.
Race day was incredibly crowded; I woke up at 2:00am just to wait in line to get on the mountain. There were spectators from all over the world who came to witness PPIHC's 100th running; it was one for the record books without a doubt.
Kristaps, the crew chief and mastermind behind the project was stressing out as usual, and double-checking over everything on the vehicle. Nothing could be left to chance.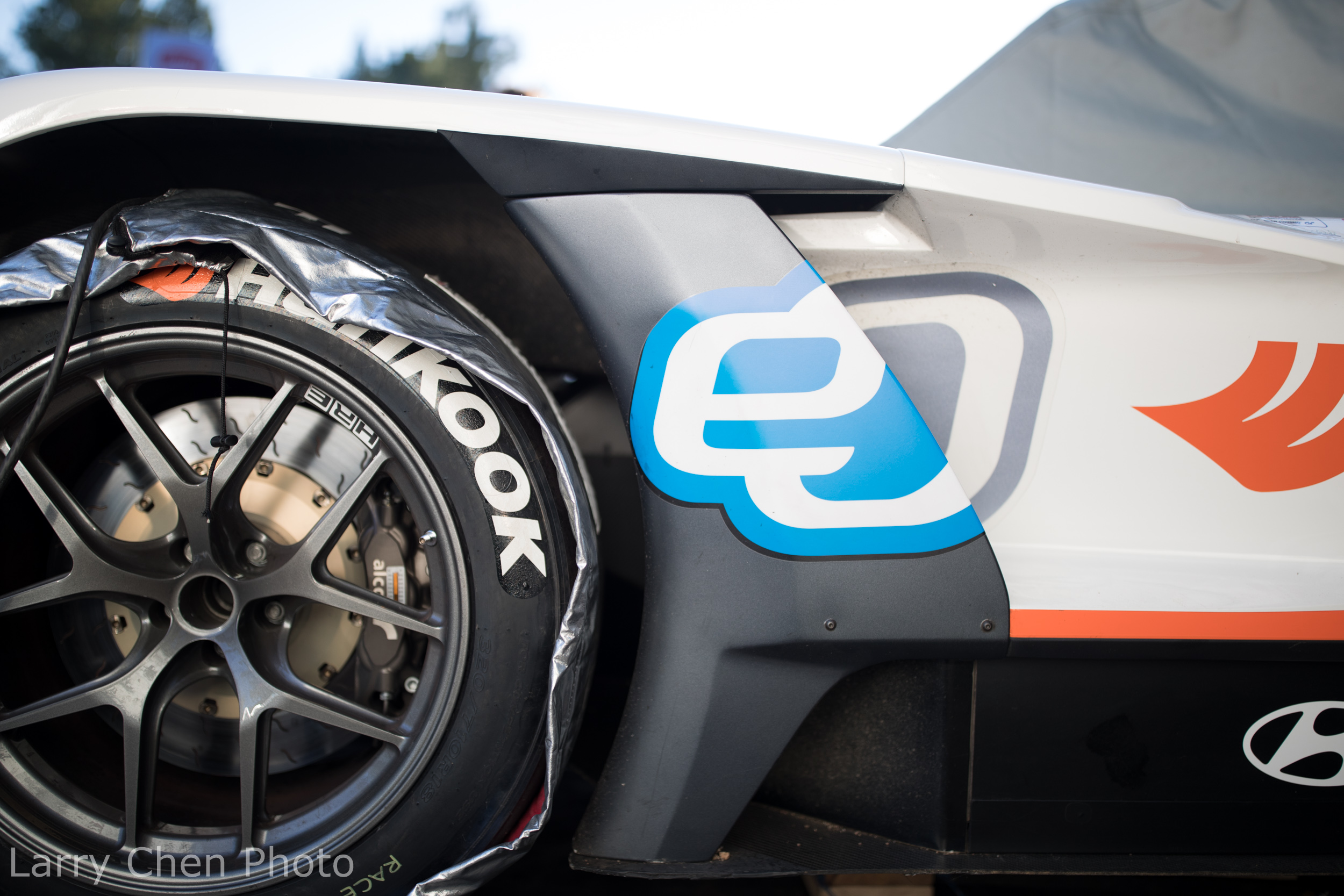 Since Rhys would be the second car to leave the line, it was imperative that the tire warmers were on and running from very early on, and therefore able to get enough heat into the Hankook rubber for the record attempt.
No electric race vehicle has ever broken the nine-minute barrier at Pikes Peak, and with that as the goal, everything had to be absolutely perfect. With all calculations made, Rhys had a really good shot at achieving it too.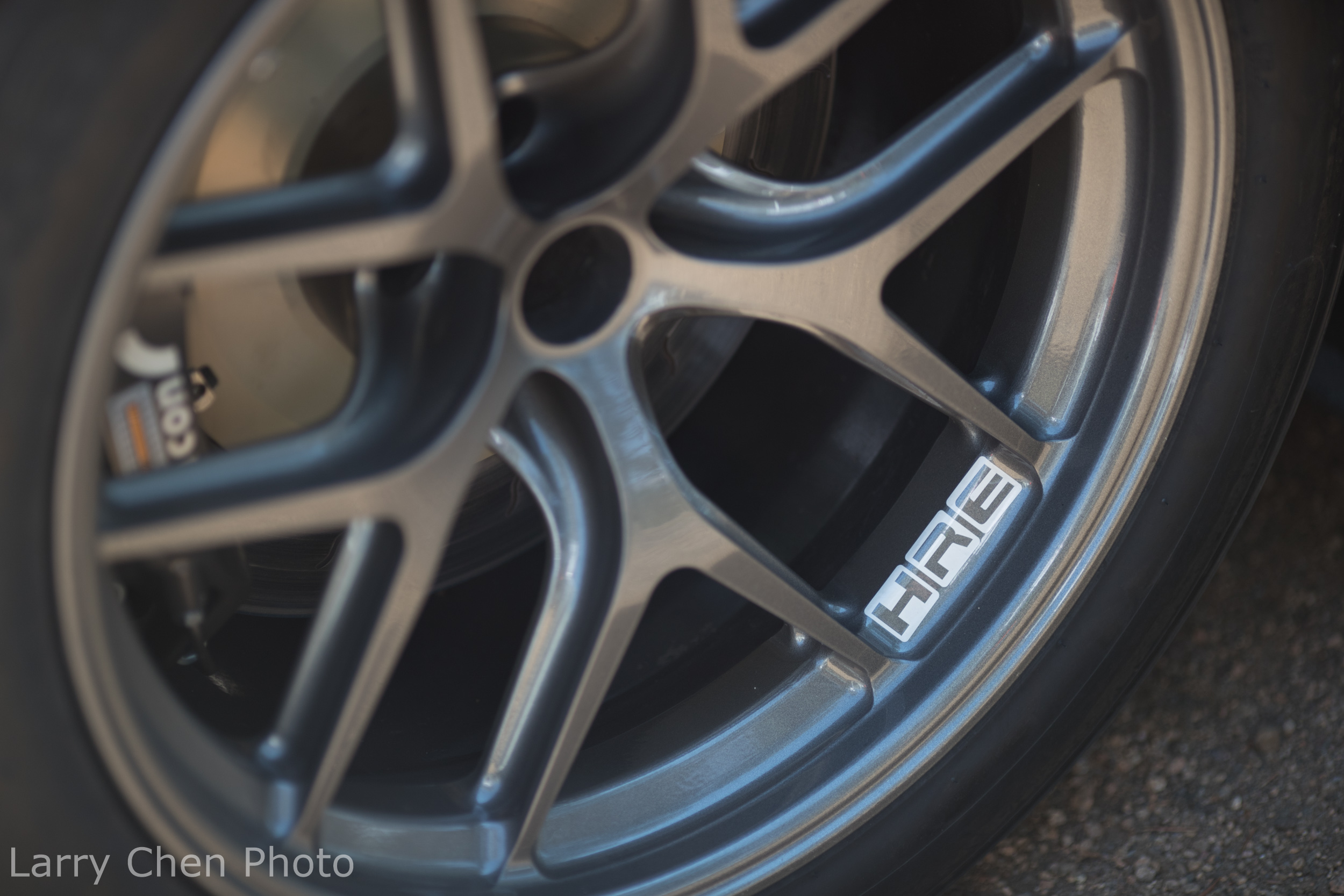 Everything from the HRE wheels to the Alcon brakes were tailored to the goal of an eight-minute time.
The morning dawned clear, but there was rain, snow and hail in the forecast for later in the day near the summit. Rain tires were on standby just in case, but the team didn't even want to think about using them, as that would most certainly quash their record attempt.
Rhys was nearby with his family trying his best to relax. Even though he has competed at Pikes Peak many times, this was not going to be a walk in the park. It never is.
Also present was Rhys' dad and legendary racing driver Rod Millen. I've been lucky enough to photograph many of Rod's racing antics over the years, including his short stint in Formula Drift driving a Mazda RX-8.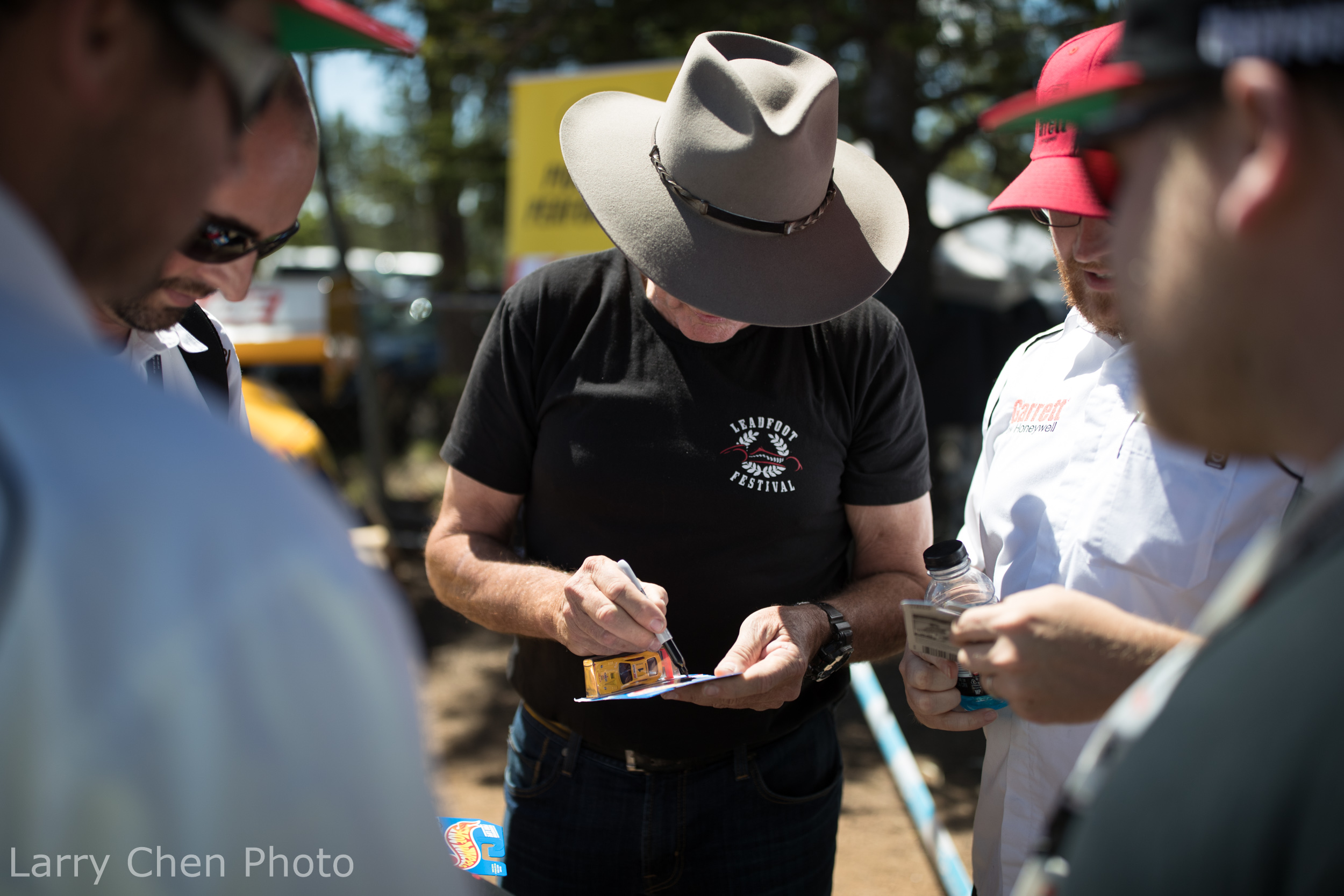 Since then I've photographed him a few times in Toyota electric cars on the mountain, but of course he is most well known for his legendary Pikes Peak Tacoma and Celica, which between them held the overall PPIHC record for more than a decade.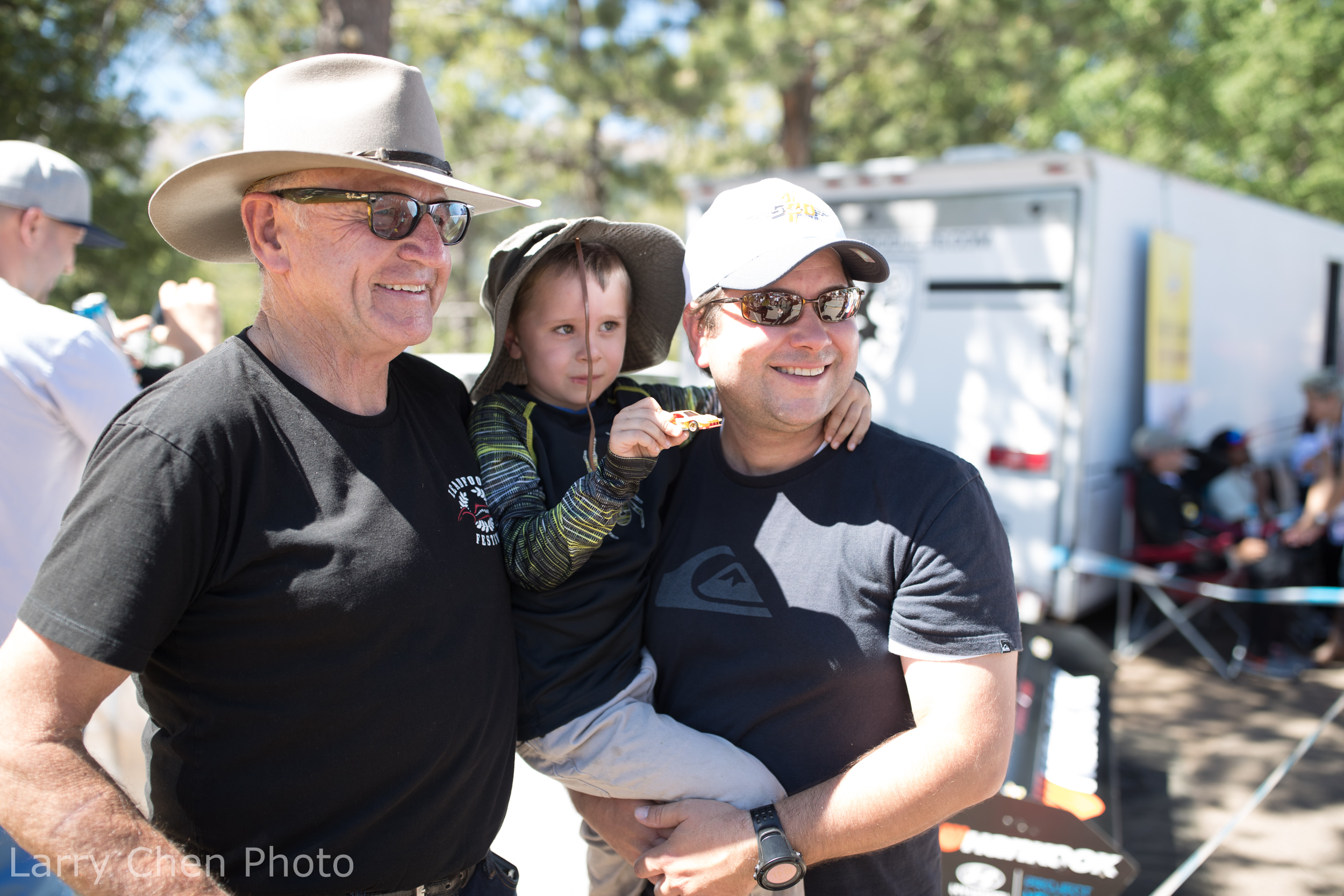 While he was there to provide moral support for Rhys, Rod was also hamming it up pretty good with the fans. I may or may not have asked for a signed Hot Wheels Pikes Peak Celica…
Some things never change, and just prior to getting in the car Rhys was acting exactly the same way he does every year.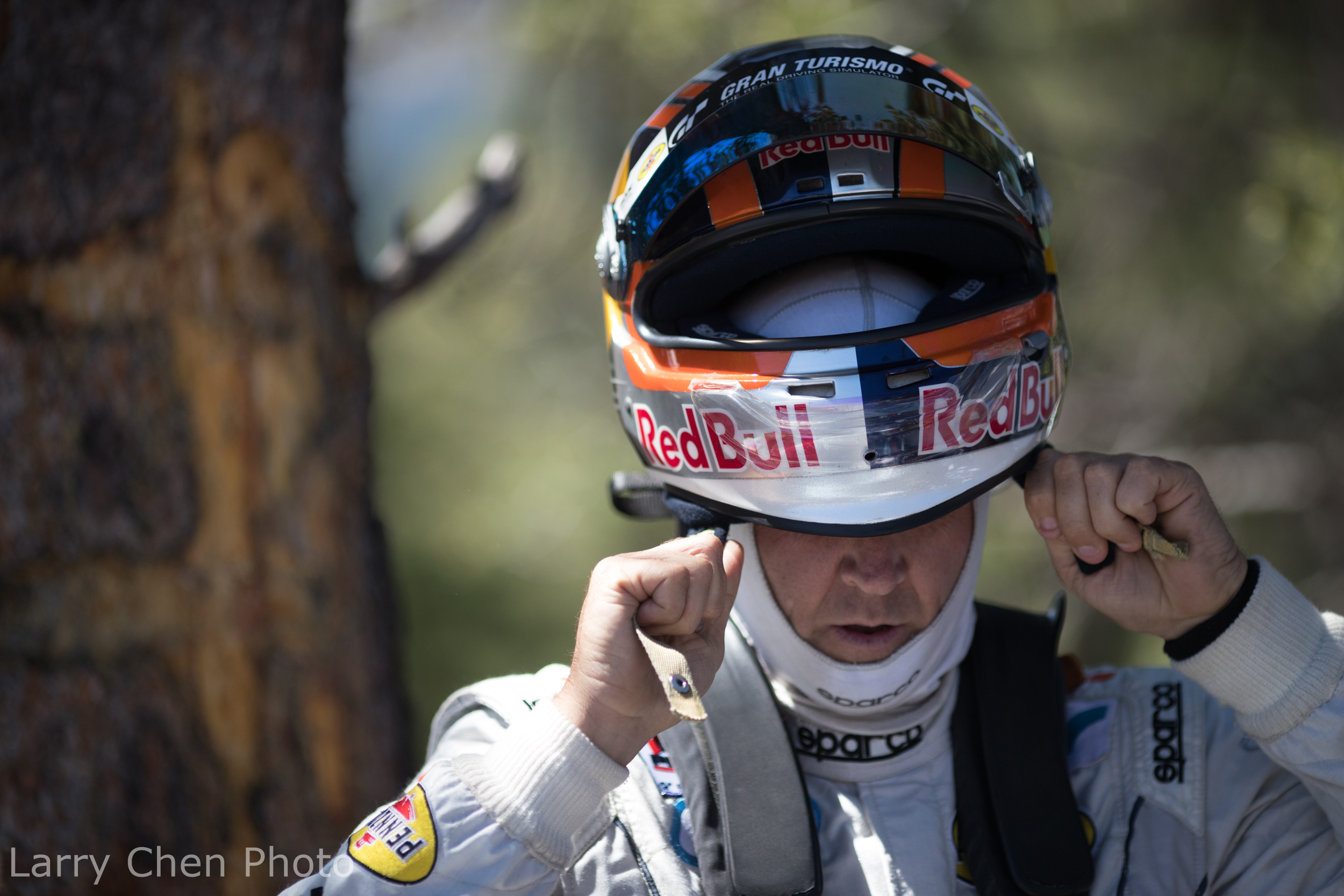 He paces around back and forth; no one knows what is going through his mind except him. I can't imagine the amount of pressure that a driver has to deal with before suiting up for a single run.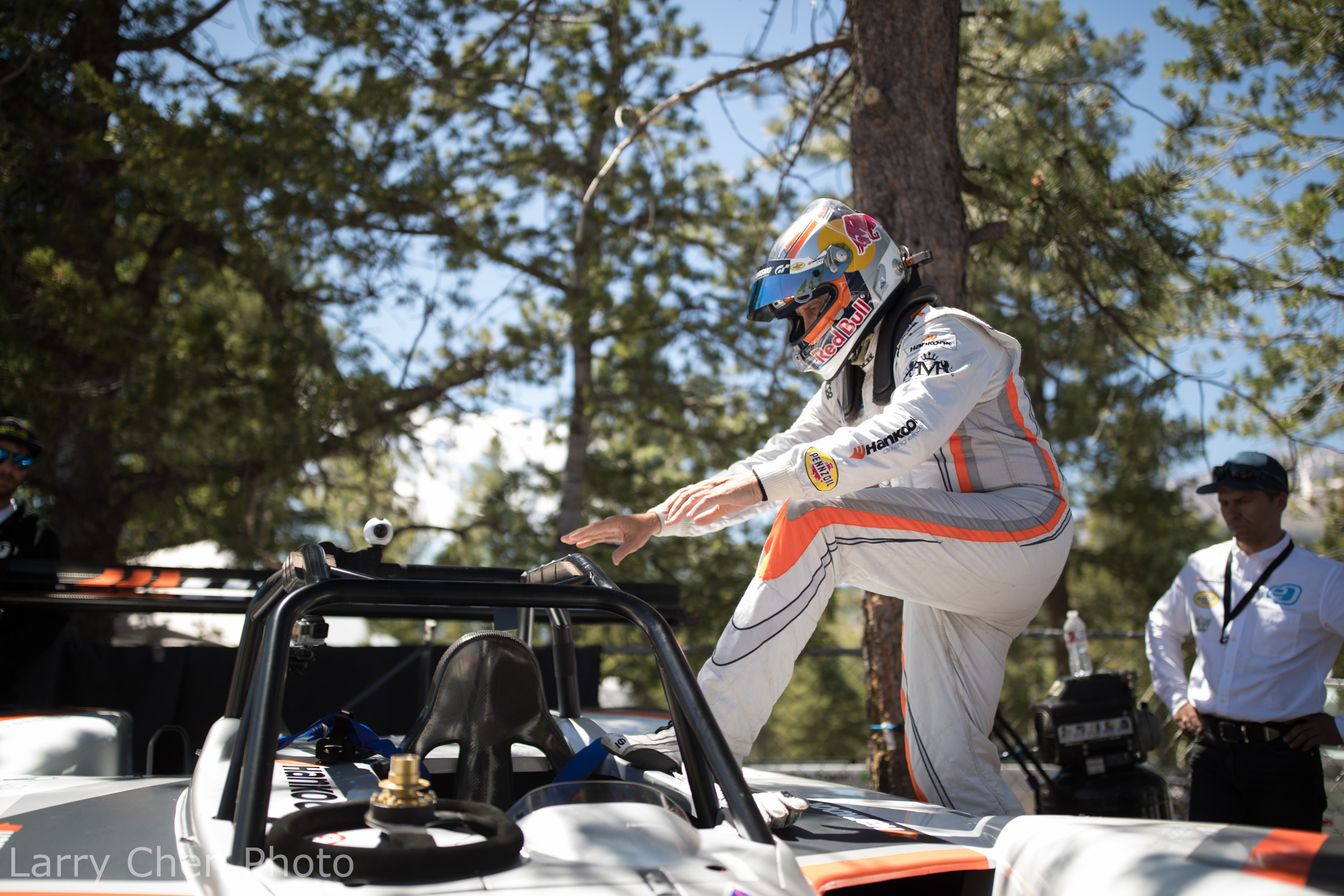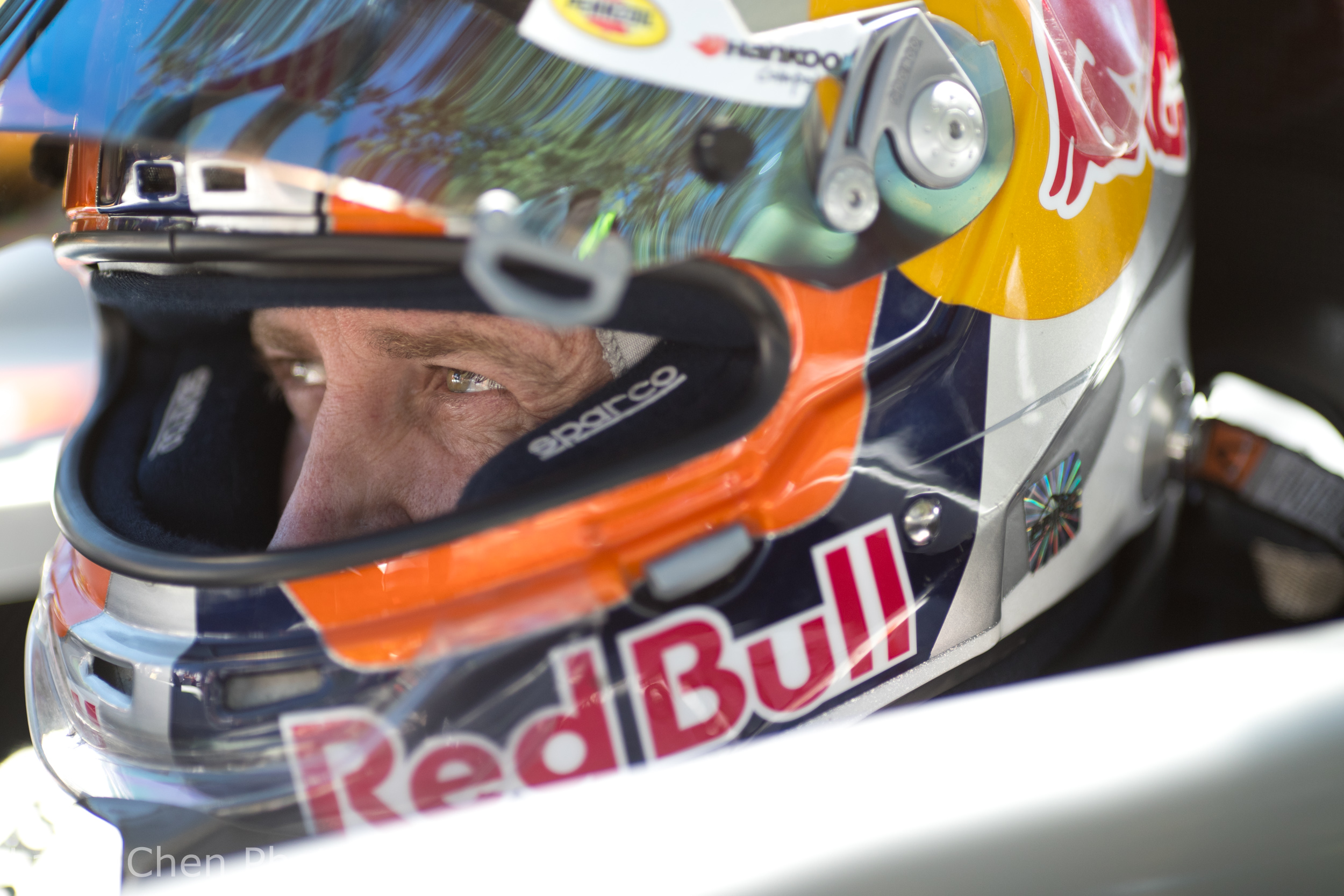 All the time and effort that's poured into a Pikes Peak challenge boils down to one chance. It's make or break.
Right before Rhys was scheduled to make his timed ascent up the mountain, the crew checked the tire pressures one last time and then removed the warmers.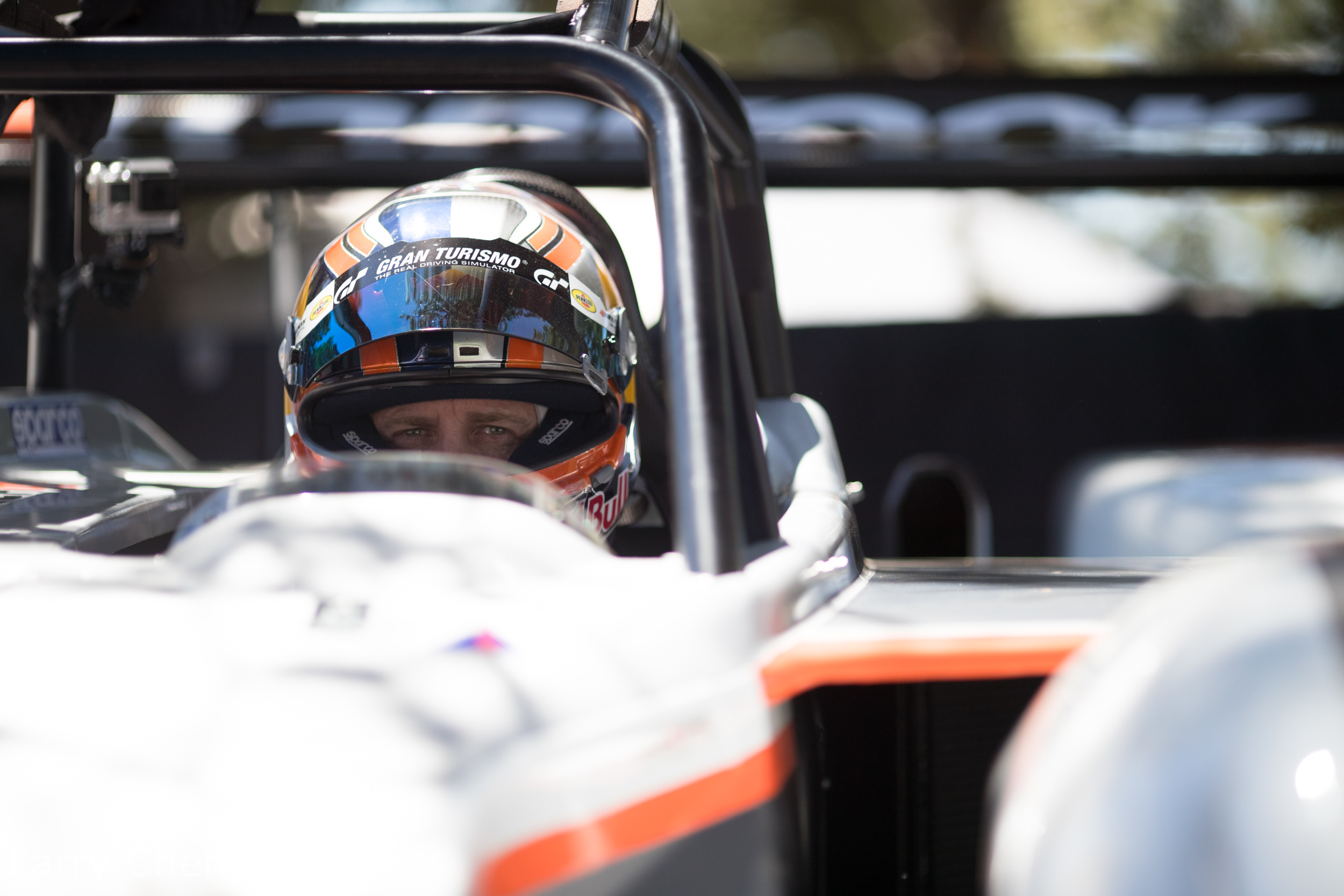 Rhys would need every last bit of traction the Hankooks had to offer, as the track surface is not prepared at all. On top of that, thousands of spectators had just driven up the very same road.
I don't know if Kristaps is a religious man, but it seemed as if he was making a little prayer while Rhys sat at the start line. Everyone wanted Rhys to do well of course, but also come back down the mountain safely.
And just like, it was time for him to make his run up Pikes Peak.
Rhys' launch was a bit unassuming, because it was so quiet – minus the siren. But the car accelerated away so fast; it was honestly like watching him in fast forward.
Kristaps headed straight into the timing trailer along with the rest of the team, and together everyone was fixated on the monitor waiting for sector times to pop up.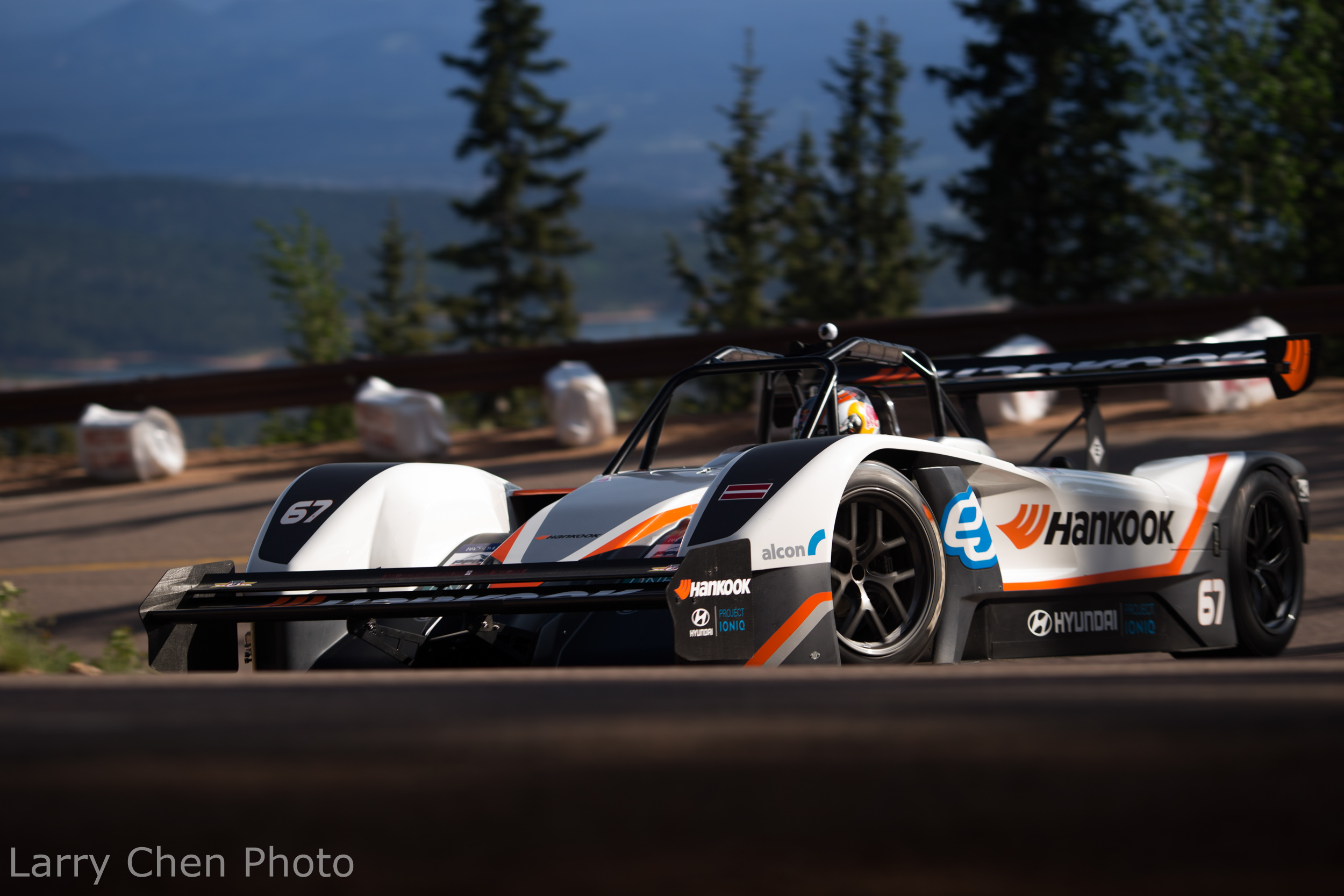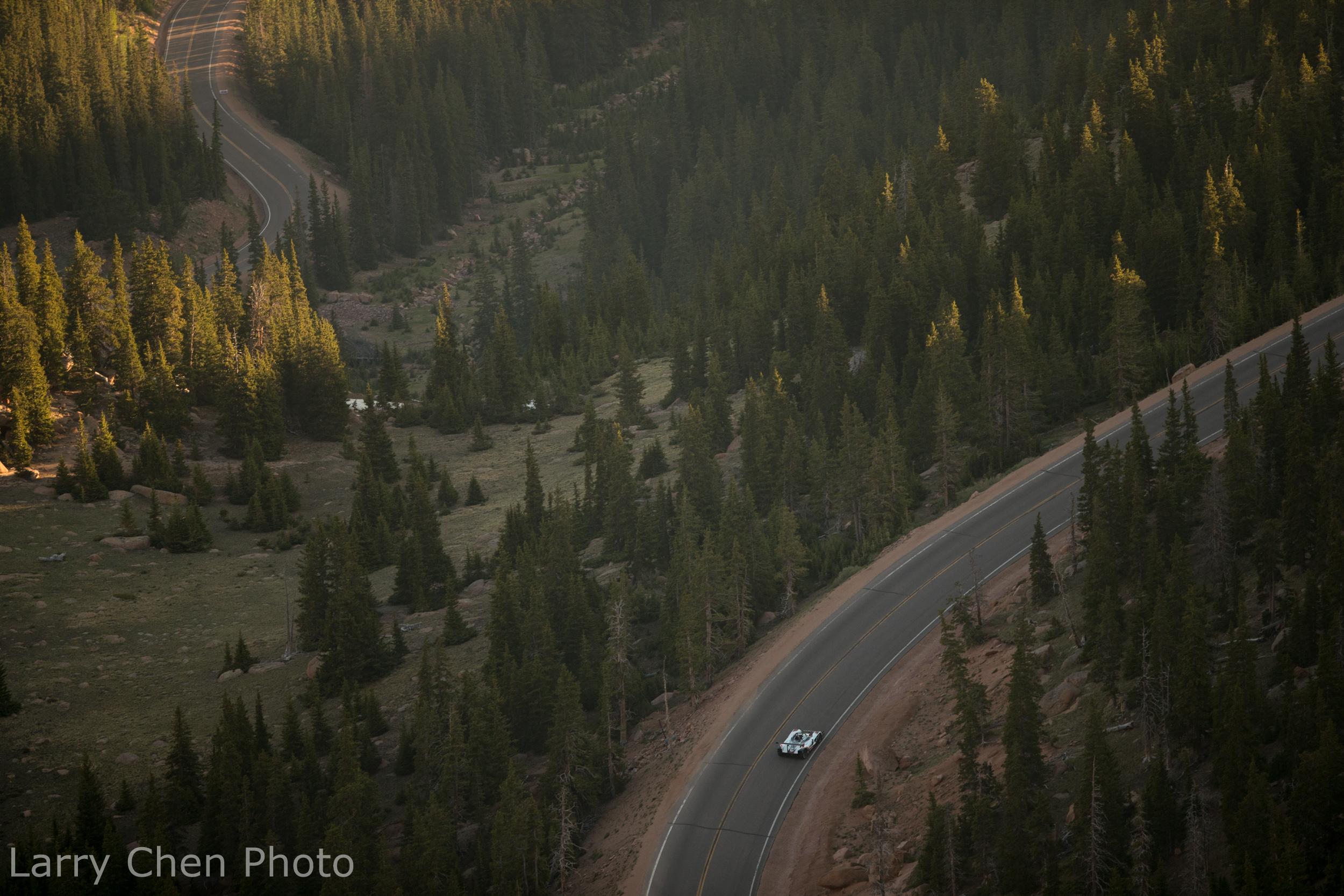 Waiting for text to appear on a screen has never been so exciting, and Rhys made it through sector one with a blazing time of 1:30.609, which was only about half a second slower than Dumas. Of course, being an all-electric car there was going to be no power lost as the altitude increased and the air became thinner, so any shortcomings in the lower sections of the course could be made up in the higher sections where Dumas' conventional gasoline-powered car would suffer from a lack of oxygen.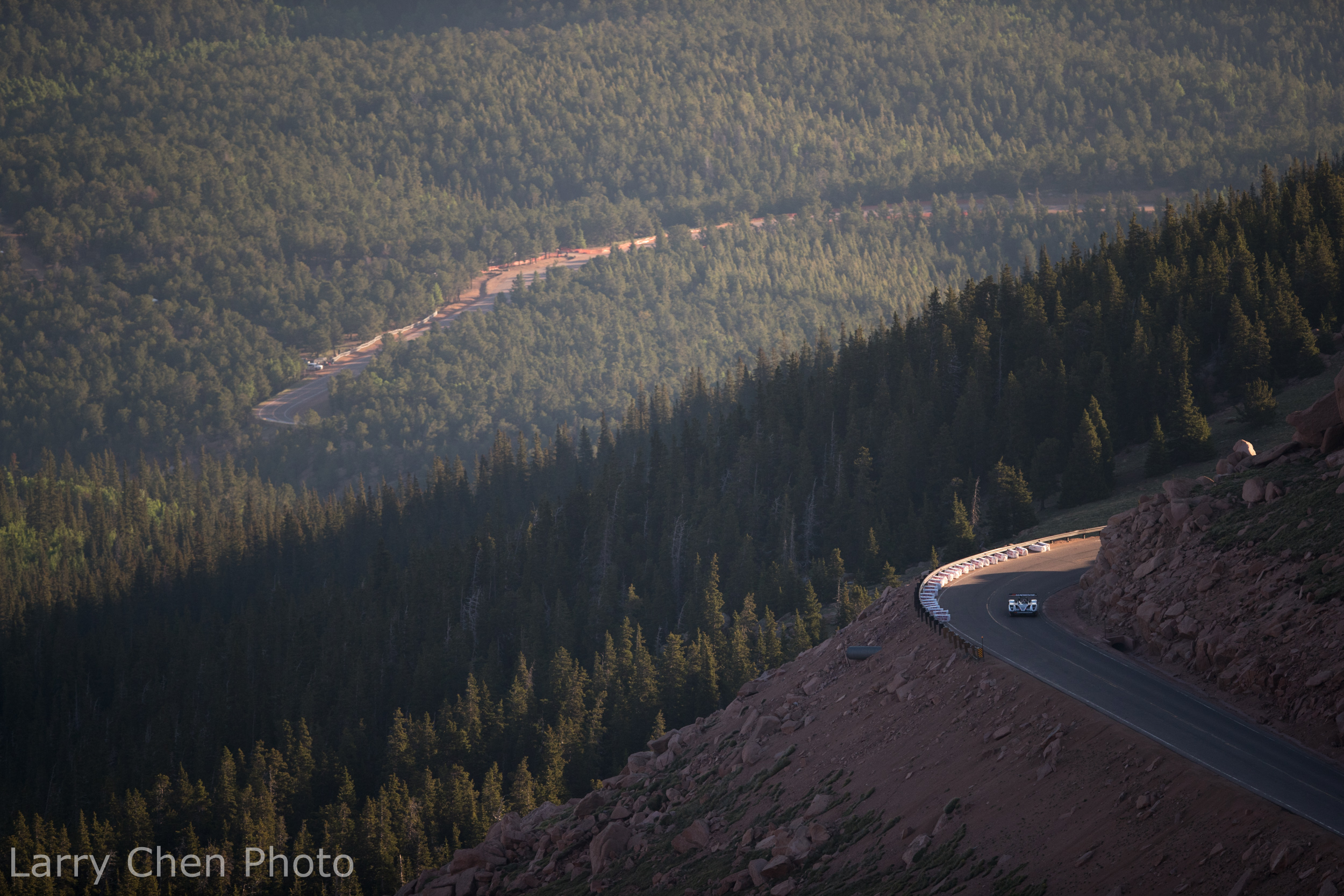 As Rhys was powering through the middle second of the course, Romain Dumas crossed the finish line in 8:51.445.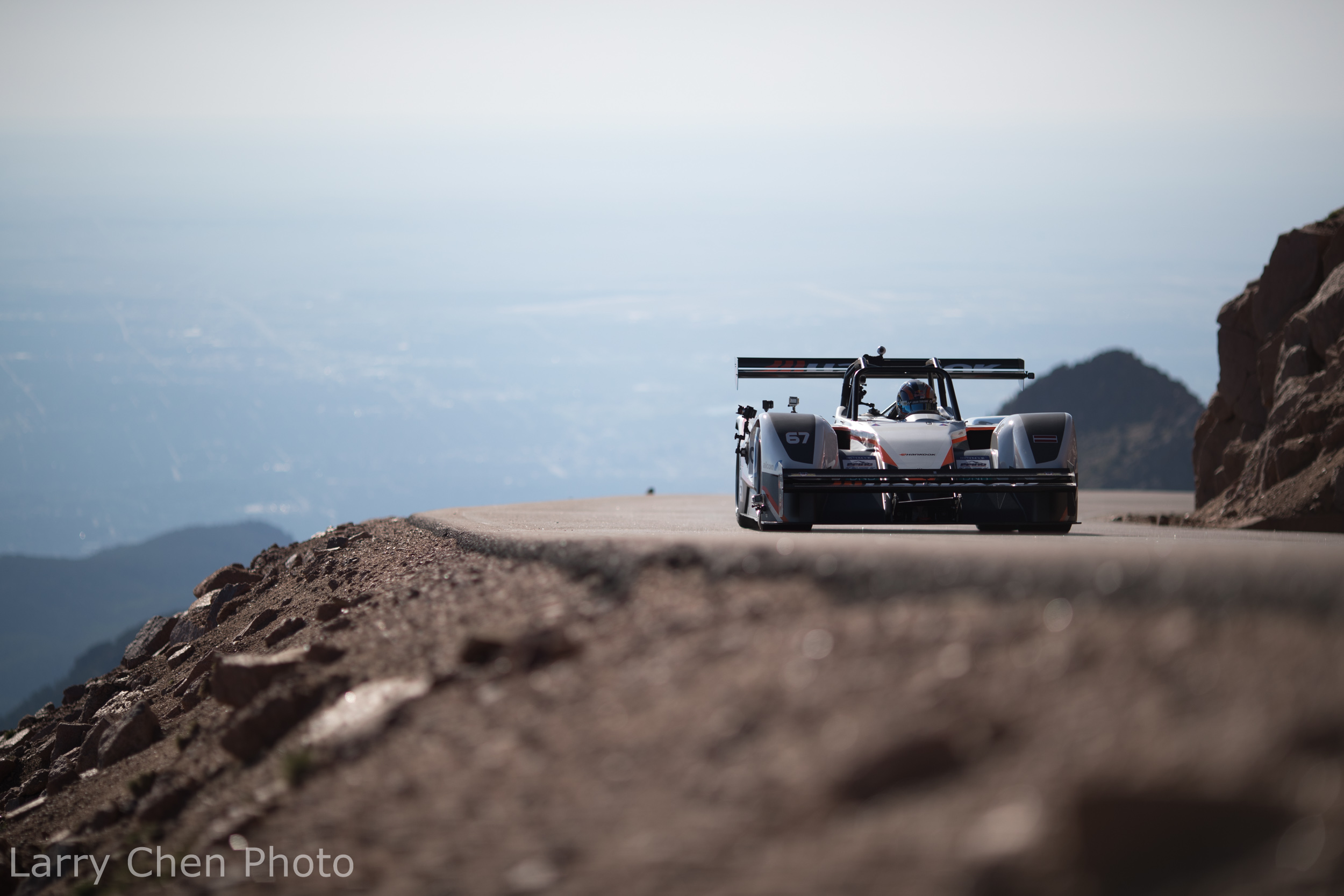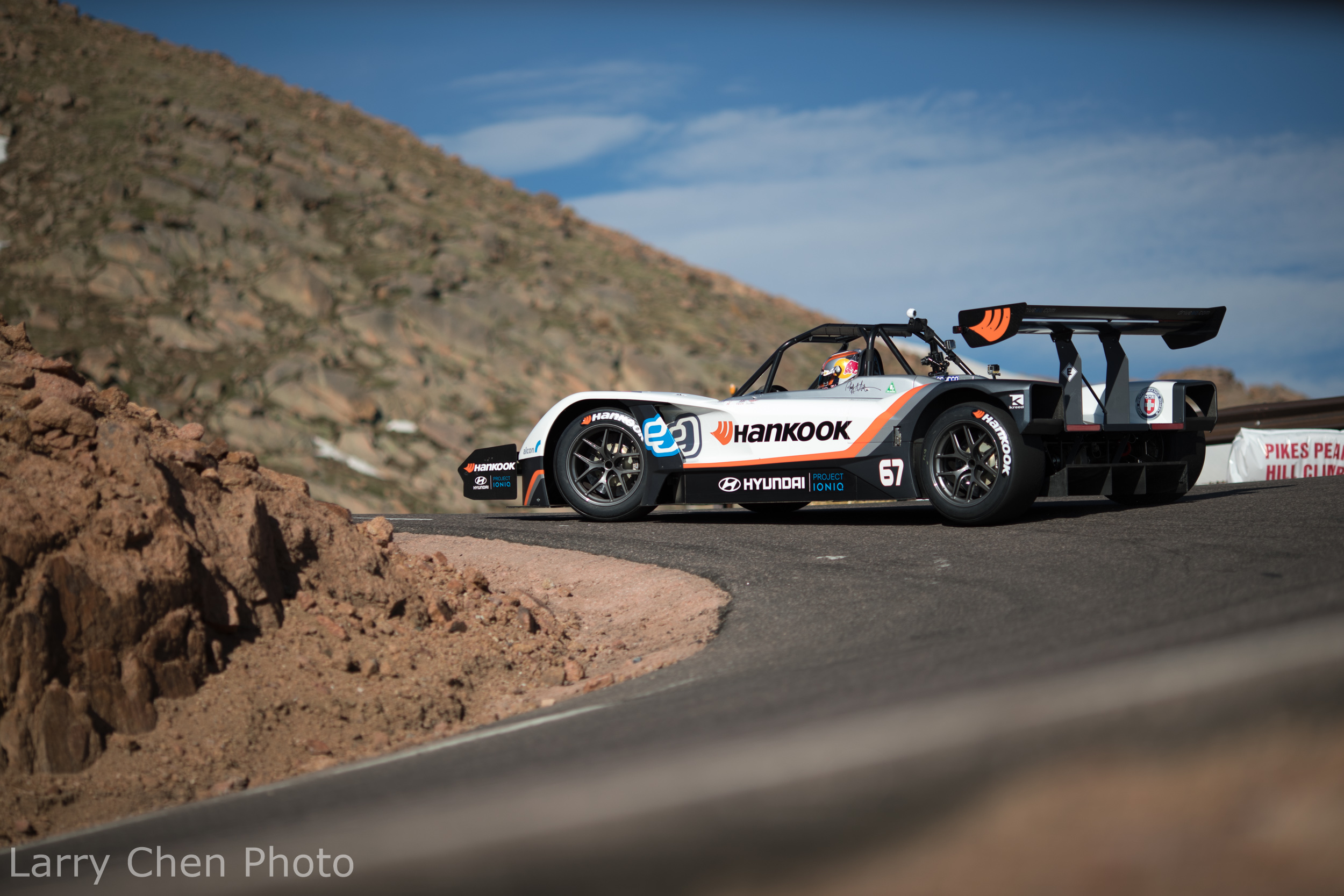 Of course, I was not on the mountain as I'd just watched Rhys leave the line a few minutes earlier, but our friend Linhbergh was.
By the time Rhys had reached the end of the middle section, he was tracking about three seconds slower than Dumas. At the same time, his EV competition – Tajima and Yamano – were both at the start line and ready to make their respective runs.
Monster Tajima ended up finishing with a strong 9:51.978, which is still very fast for the 66-year-old hill climb veteran. It was good enough for a 5th overall finish.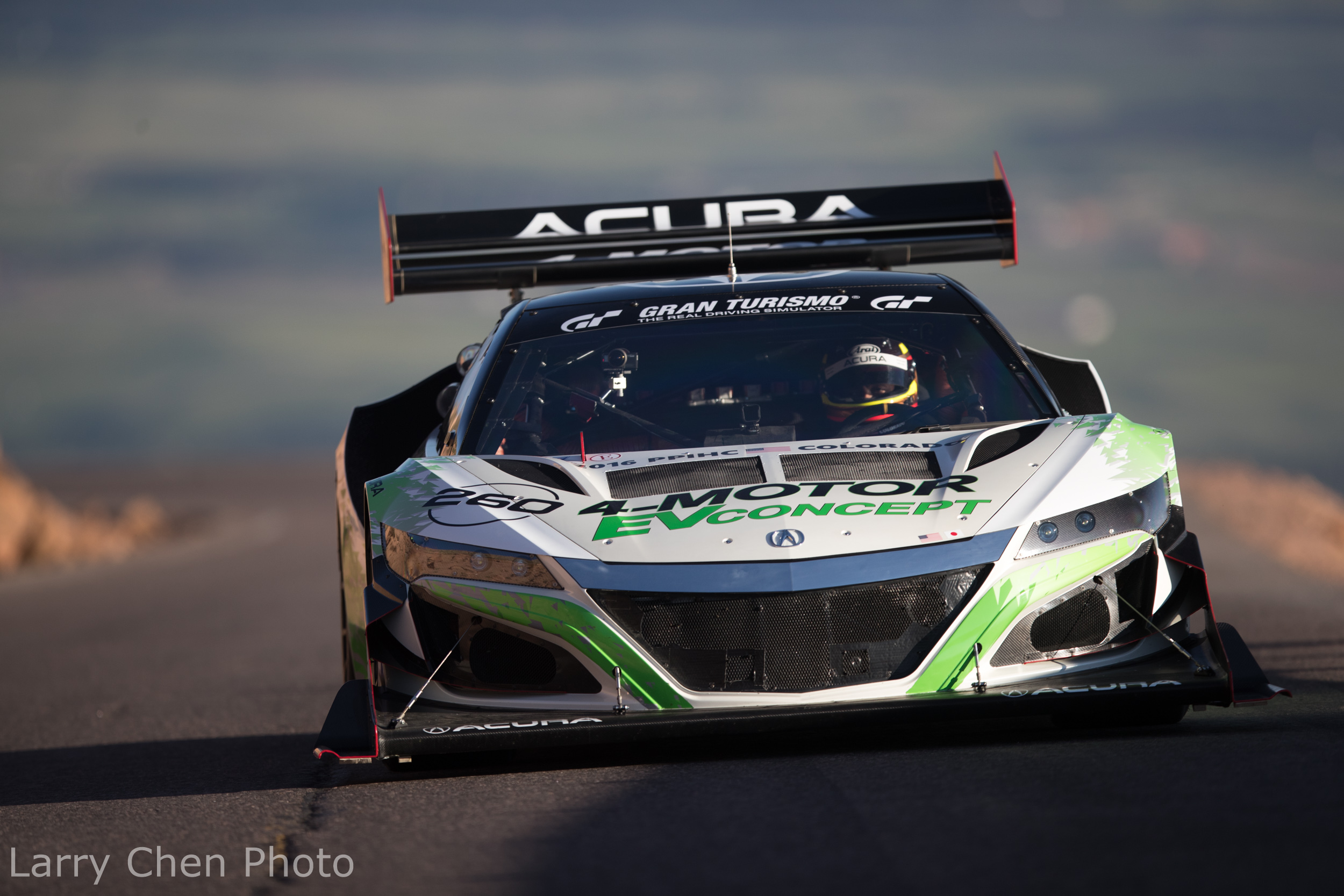 Right behind Rhys was Tetsuya Yamano in the NSX with an overall time of 9:06.015. This new car seriously shocked everyone, as in one sector it was quicker than Rhys' open cockpit prototype. As Rhys' third sector time popped up on the screen Kristaps and the rest of the crew cringed; it was much slower than expected. They had no idea what had happened. Then I got a message from Linhbergh from the top of the mountain. He spun out and had momentarily came to a complete stop. Rhy had quickly got back on the accelerator and was on his way again, but the damage was already done.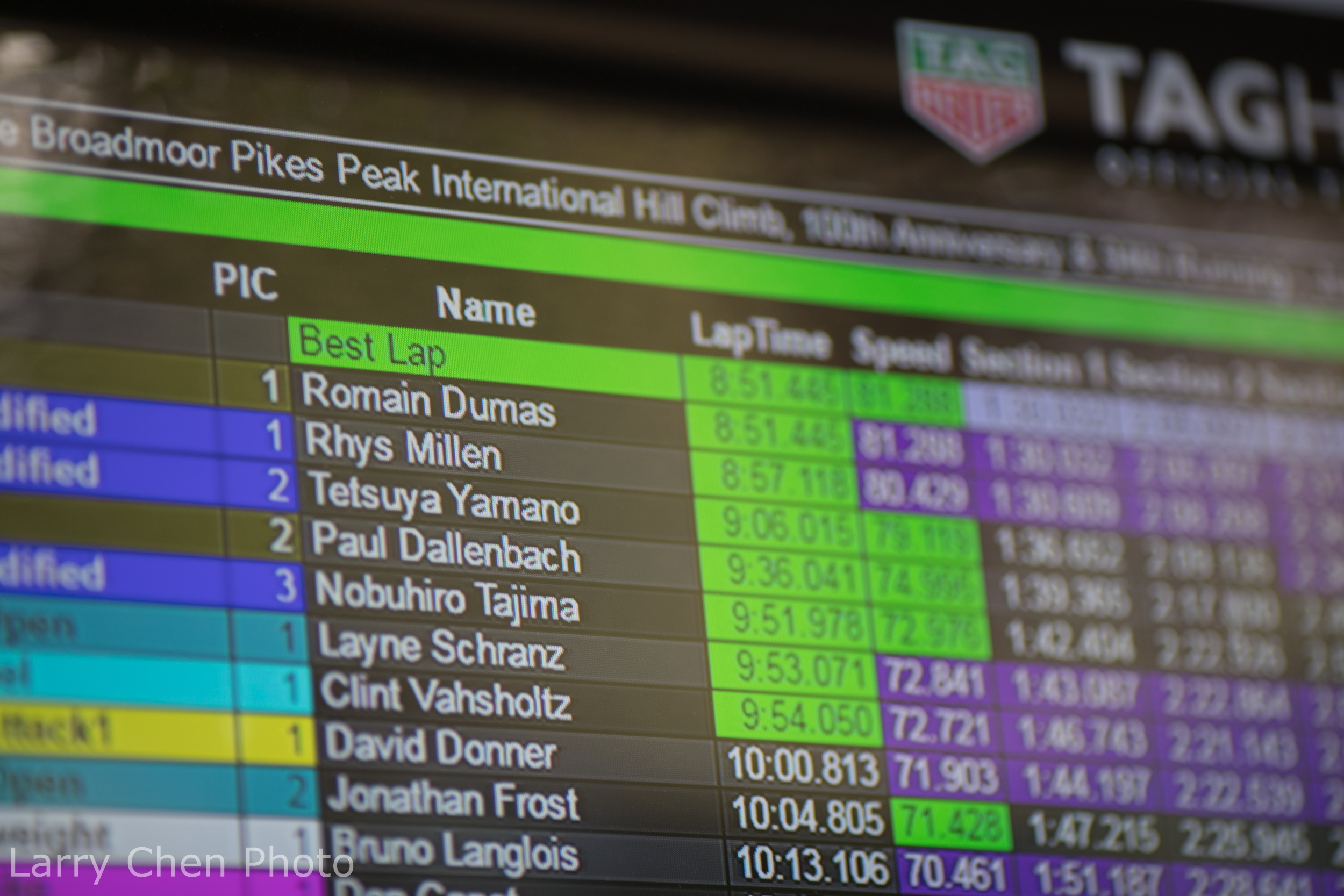 Who knows how much time he would have made up if hadn't spun, but there was still a lot to celebrated in the 8:57.118.
The skies opened up and it started to snow on the summit. As Rhys headed down the mountain, fans came out to greet him; he had the Modified Electric winning flag with him, as well as the Latvian flag to honor his Drive eO PP100 race car.
So what exactly caused Rhys to spin? The track temperature was much hotter than expected, and the tire compounds chosen for race day may have been incorrect.
By the time Rhys got near the summit, he had much less grip than anticipated, due to heat, wear and other factors. It's just one of the many challenges that Pikes Peak throws up.
Who knows what the outcome might have been if it had all gone exactly to plan. Rhys' last sector time was almost a full three seconds faster than Dumas', which shows just how much of an advantage EVs have at higher altitude. Check out all the snow built up near one of the cooling ducts.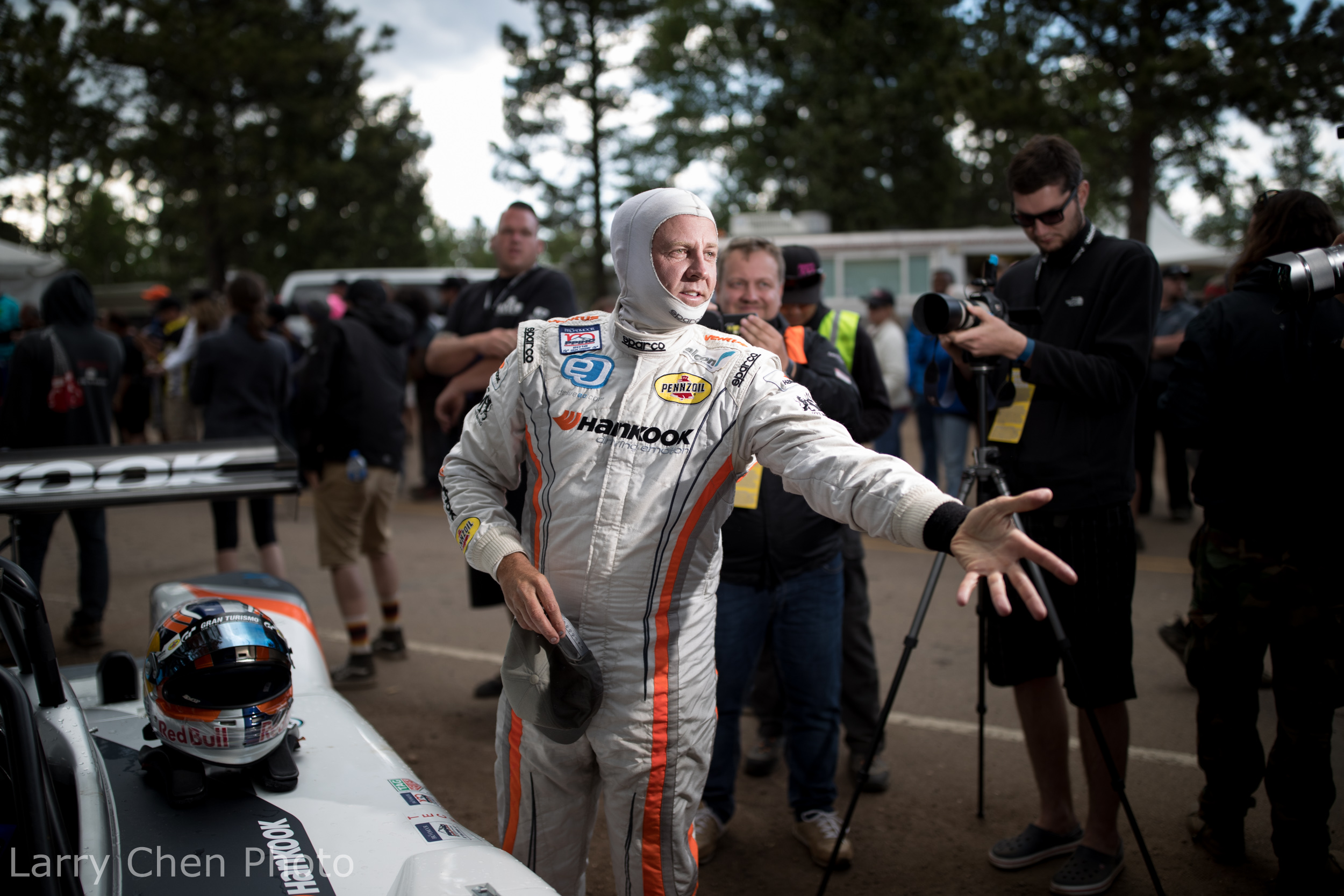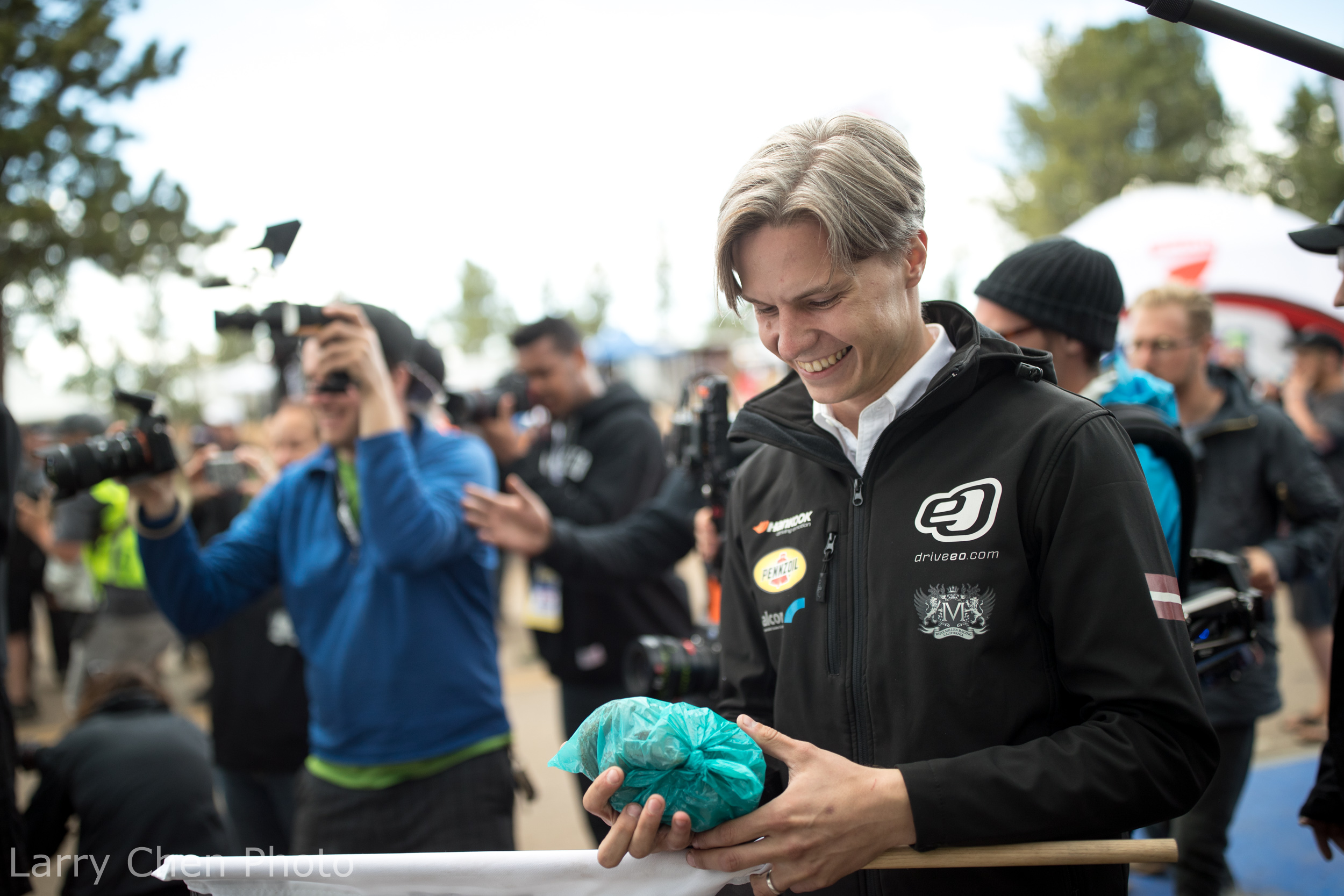 Rhys yelled, "Here, I brought you guys some donuts," and threw a bag full of the iconic treats from the Summit House restaurant to a smiling Kristaps.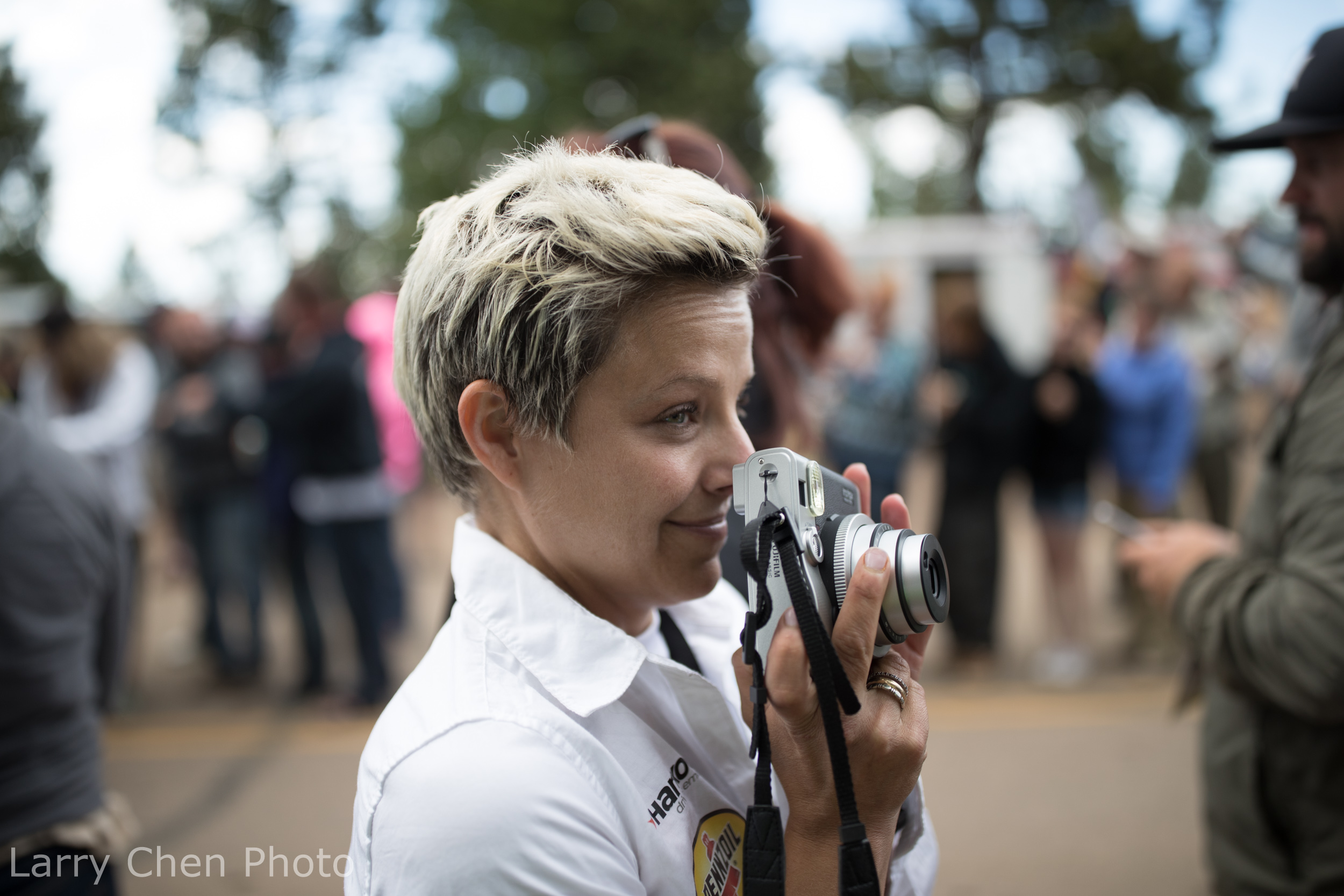 Even though Rhys did not take the outright win, everyone was still very happy that he'd broken into the eight-minute range and won the Modified Electric class at the same time.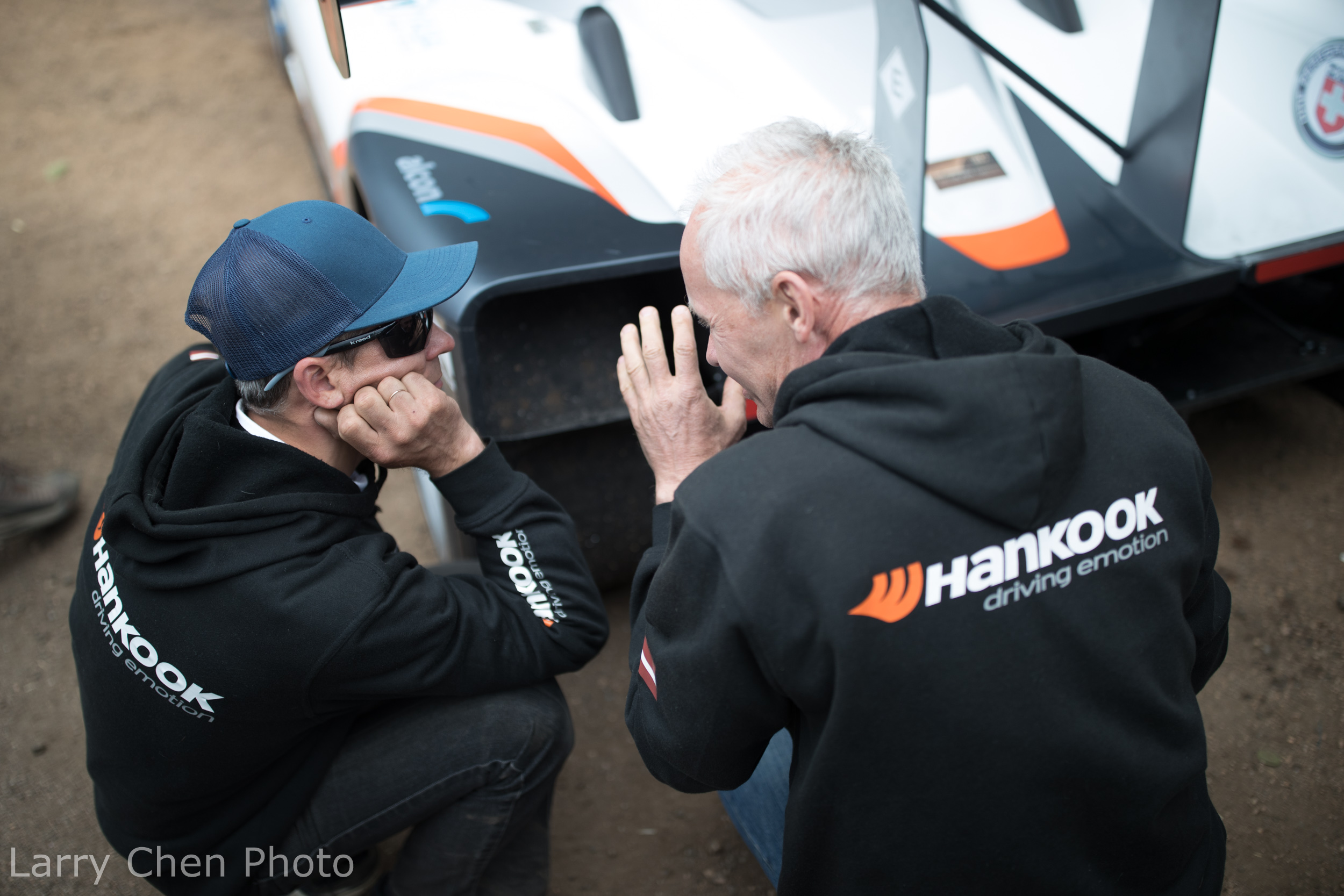 With any kind of racing there are so many factors and 'what ifs,' and it's fun to think what could have been done to make the car more competitive. While Dumas' winning margin was six seconds in the end, an overall win seems much more obtainable when you think about the fact that Rhys came to a complete stop on course.
Either way, the team was ecstatic about achieving their main goal and celebrated with some shrunken donuts. You can literally watch them shrink as you descend from the summit where they are baked.
As for Rhys? He said he wants to go for it again, and next year he wants to win the overall race.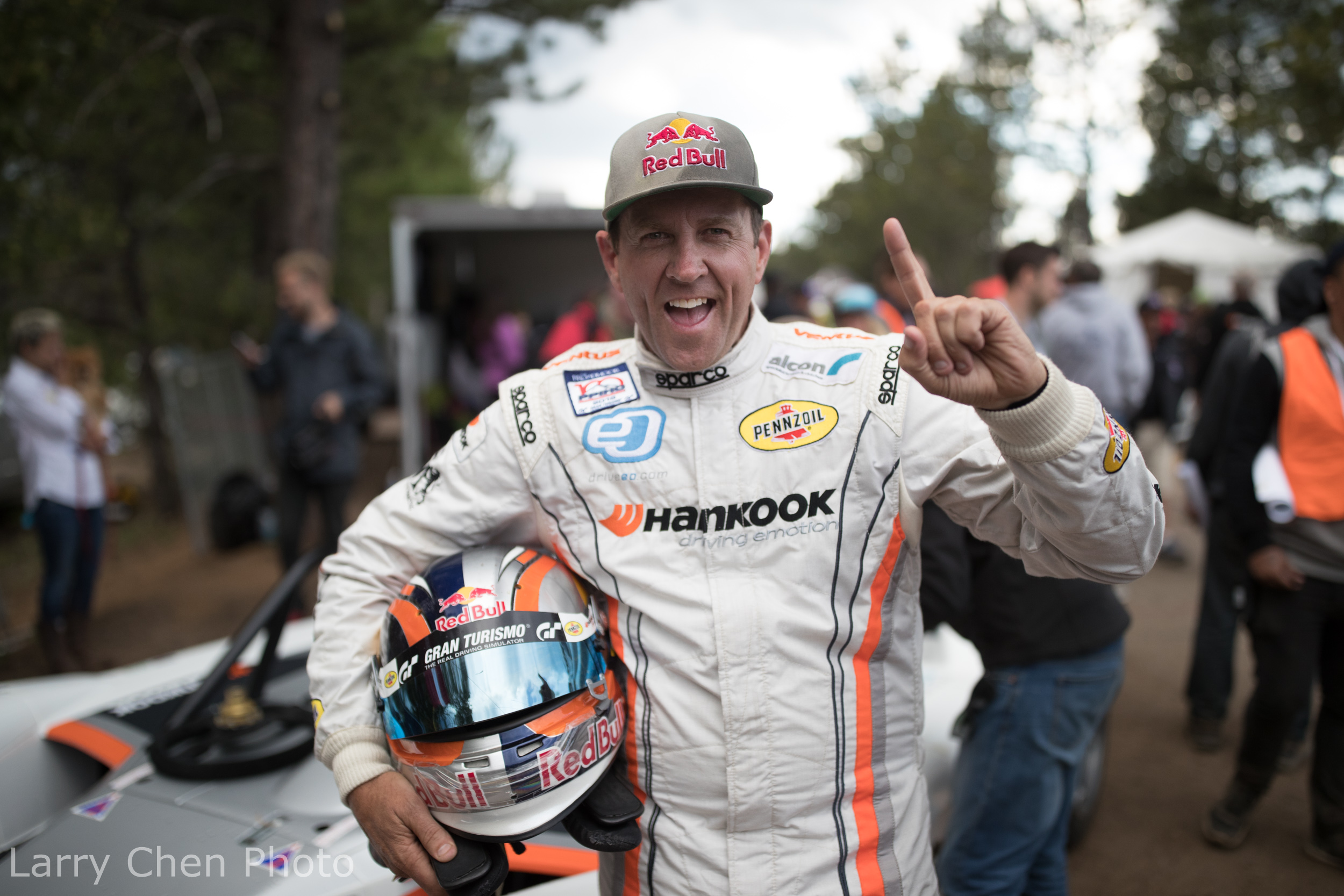 How is he going to do that? Well, the talk of the team after the race seemed to be focused on weight reduction. If it is at all possible to lose some more weight from the chassis without sacrificing battery power or safety, then there is a very good possibility that he could win outright, and maybe even in the future break Sebastian Loeb's 8:13.878 record from 2013.
Only time will tell, but you can be sure that I will be there to document the next attempt. In the meantime, you can check out Rhys' 2016 run in the video above.