Chapter One: Gridlife
The shirtless man stood in the middle of the roadway and yelled, "THOU SHALL NOT PASS… unless you do a burnout." I was instantly reminded of Gandalf from the Lord of the Rings, but instead of holding a wooden staff with a magical crystal in the end, this guy was waving around a giant staff made out of empty beer cans and duct tape. I took a moment to really soak it all in. I've seen and experienced so much of the car culture world, and any new experience is generally a good one, so when I got invited to check out Gridlife Midwest at Gingerman Raceway in Michigan, I could not say no. However, I was totally caught off guard and I unknowingly stepped into what I consider the American Gatebil.
I will get into what happened with Gridlife's 'Gandalf' later on in my post, but I can tell you what occurred next made me laugh to the very core. As cars pulled up to do a burnout, spectators nearby poured their beers out on the rear tires as lubricant. The smell of beer and burning rubber is something I will never forget. Ladies and gentlemen, this is Gate… I mean Gridlife.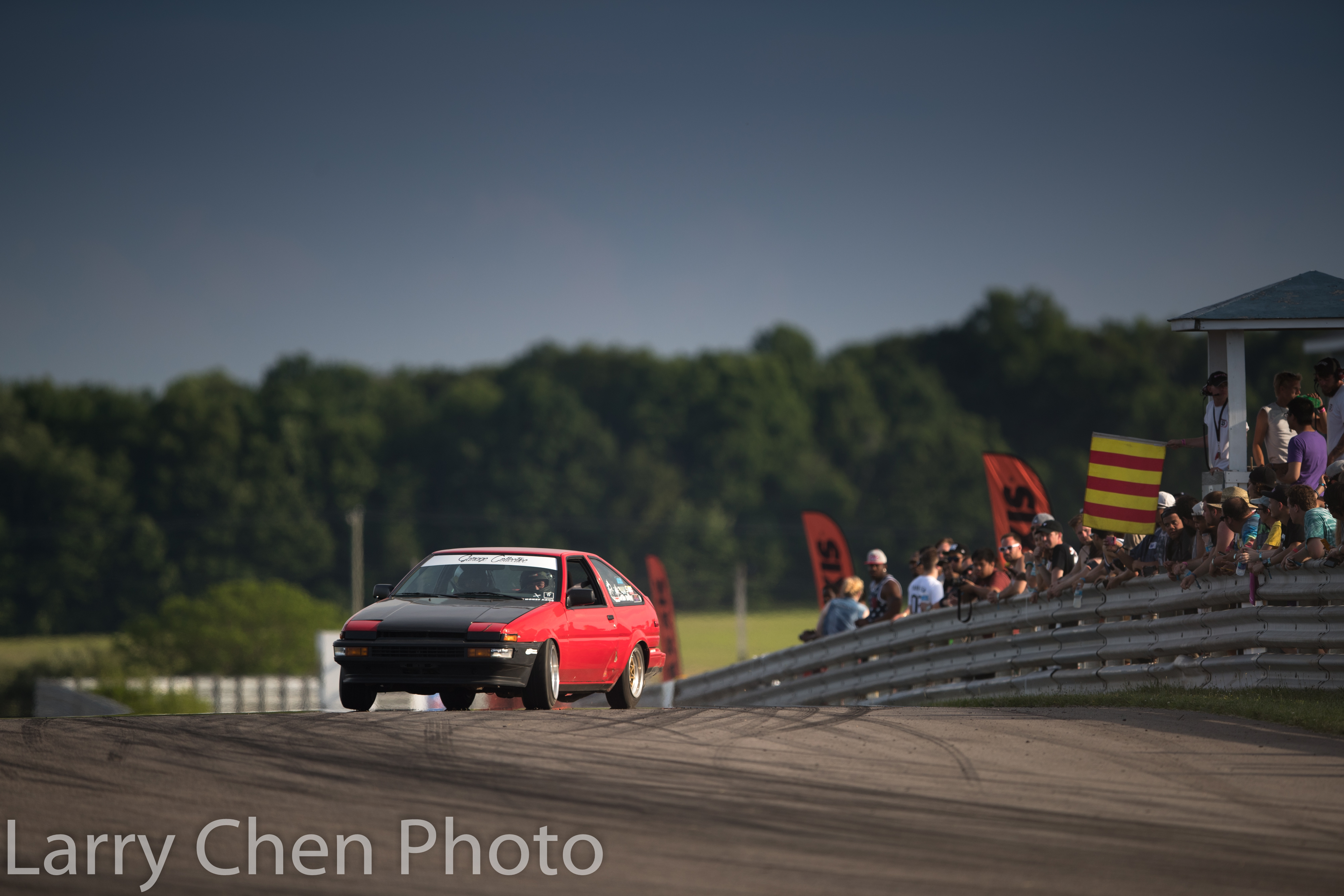 As many of you will know, regular track days can be very boring. Well, they are at least for those who are not driving. If you're behind the wheel, it's pretty much the best time ever.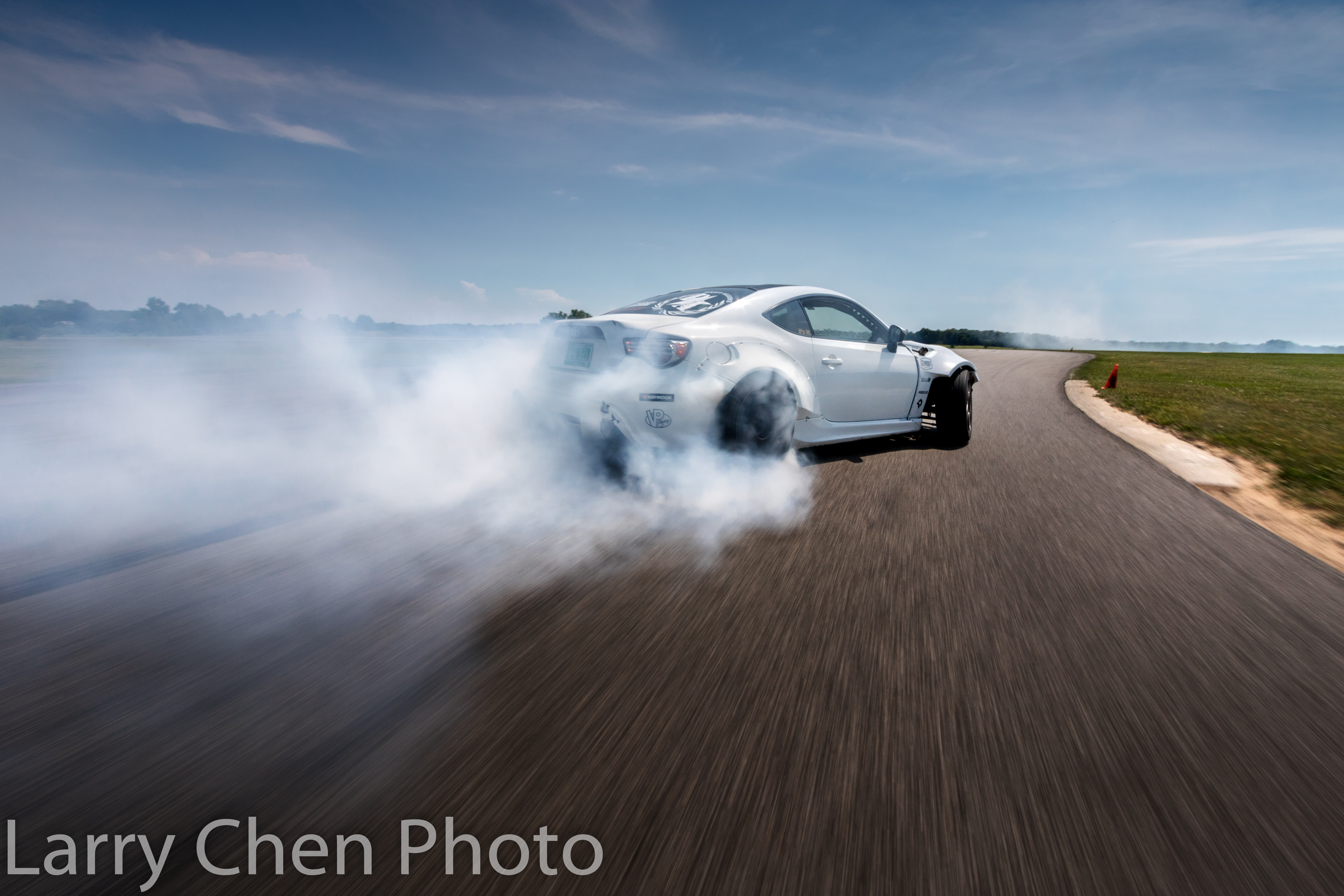 Gridlife has solved this problem – as have many other event organisers around the world – by combining music and other activities to create a festival worth going to, even if you are not a big car culture fanatic.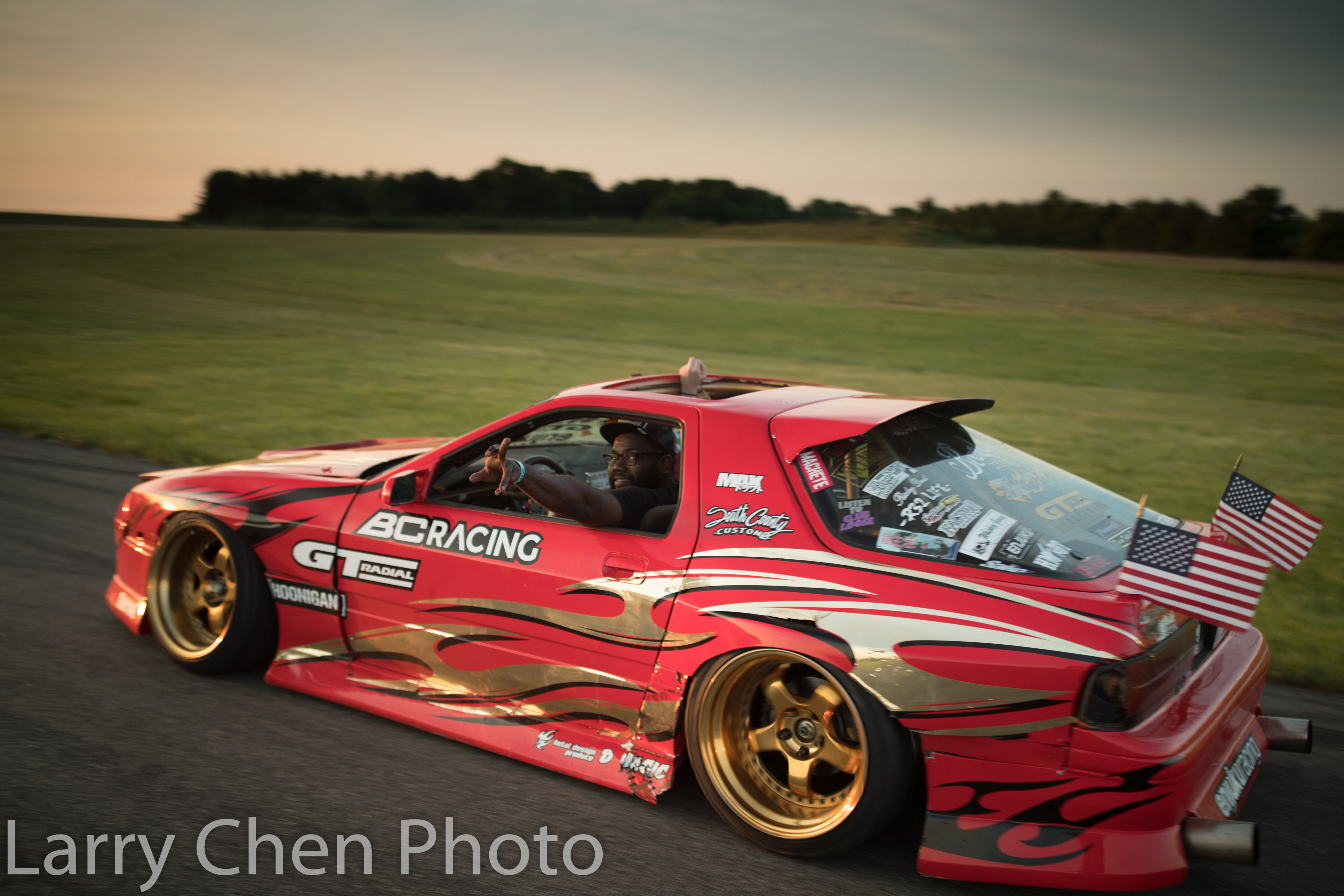 Along with an actual time attack competition as well as on-site instructors for novice racers, Gridlife assembled an all-star cast of drivers from all over the United States and Canada.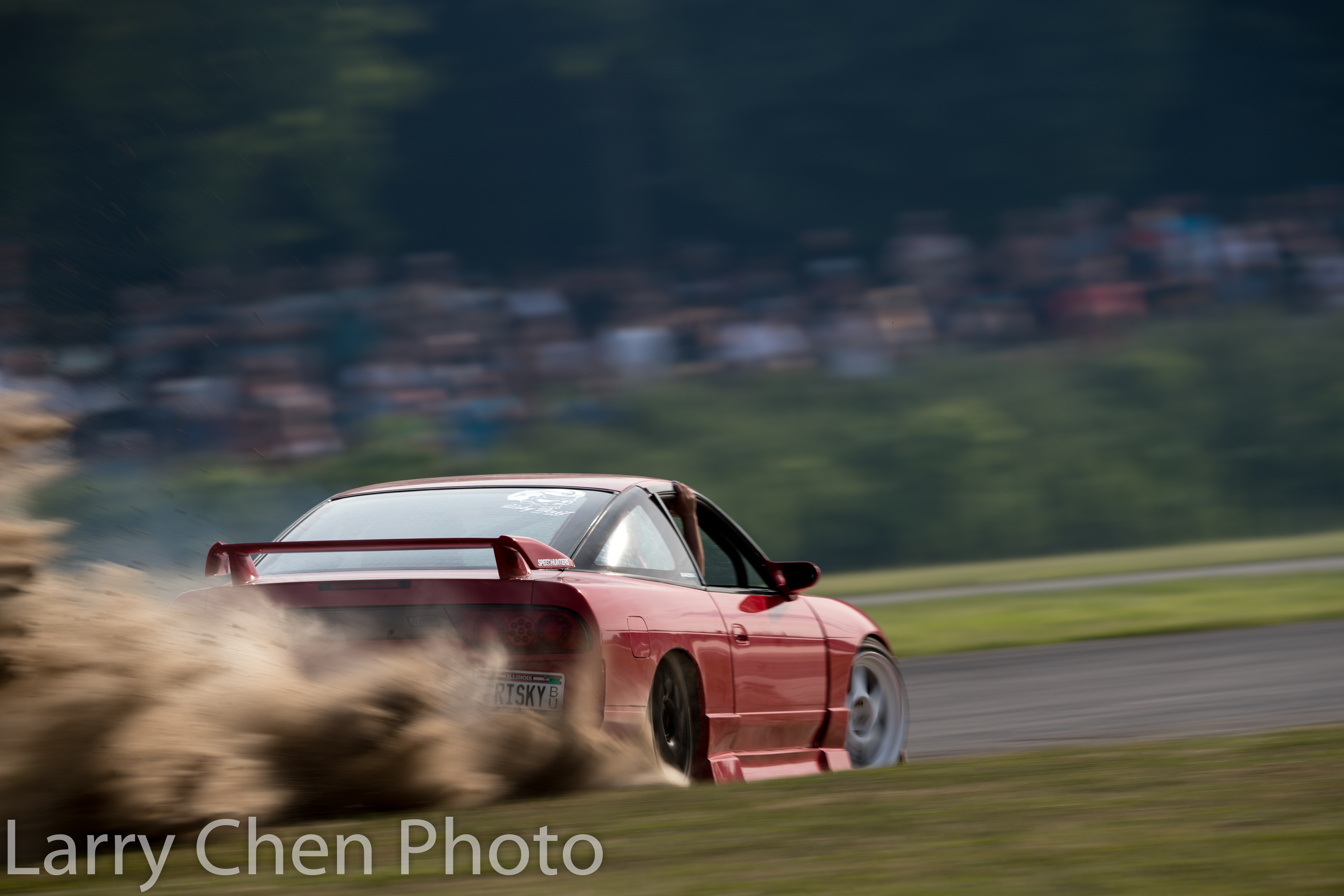 Many of these guys are local to the midwest drift scene, including Risky Devil, whom I've had a chance to hang out with quite a bit over the years.
They also went out of their way to get a few pro drivers to give ride-alongs.
Geoff Stoneback brought out La Flama Blanca, also known as Chris Forsberg's VK56-powered M45.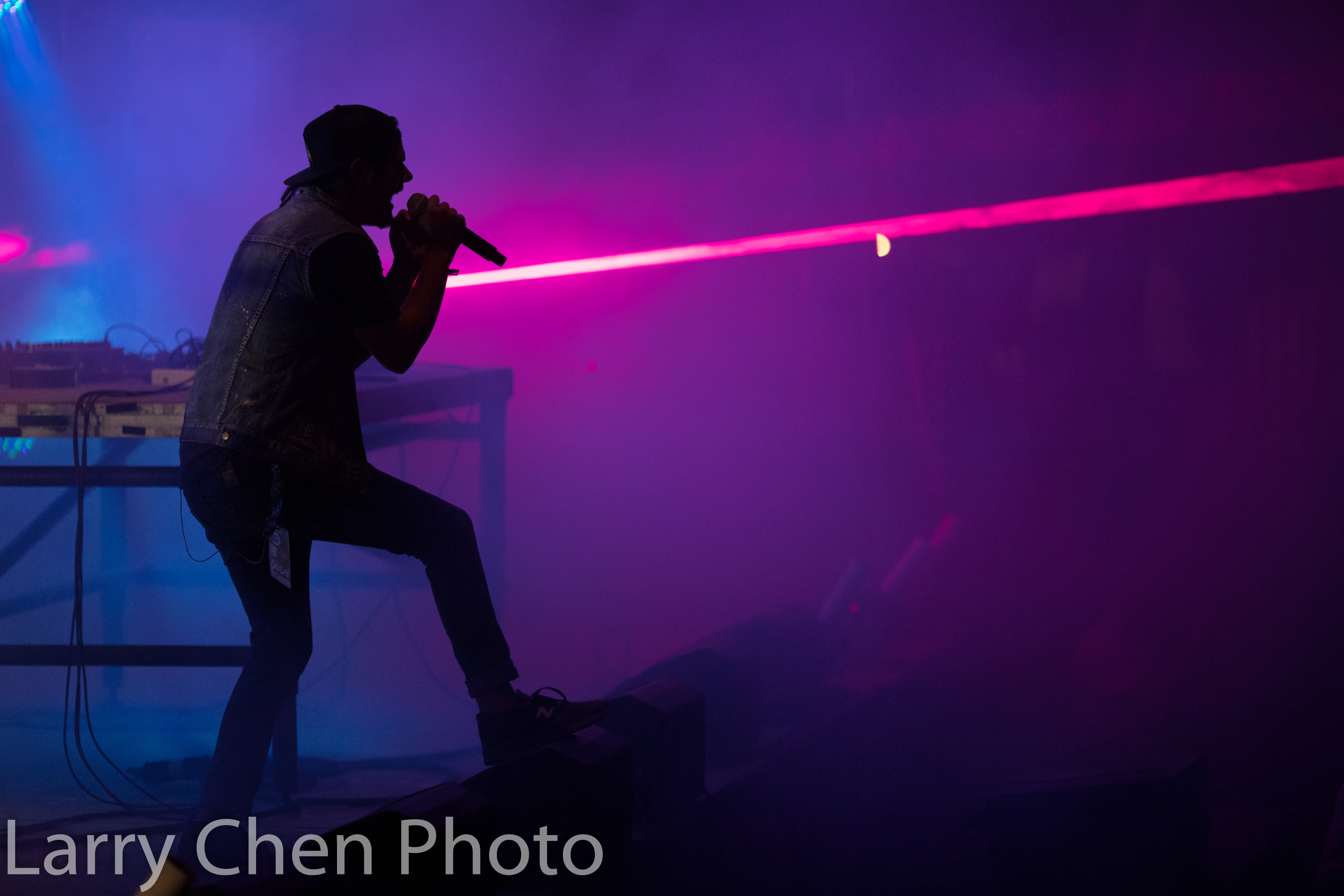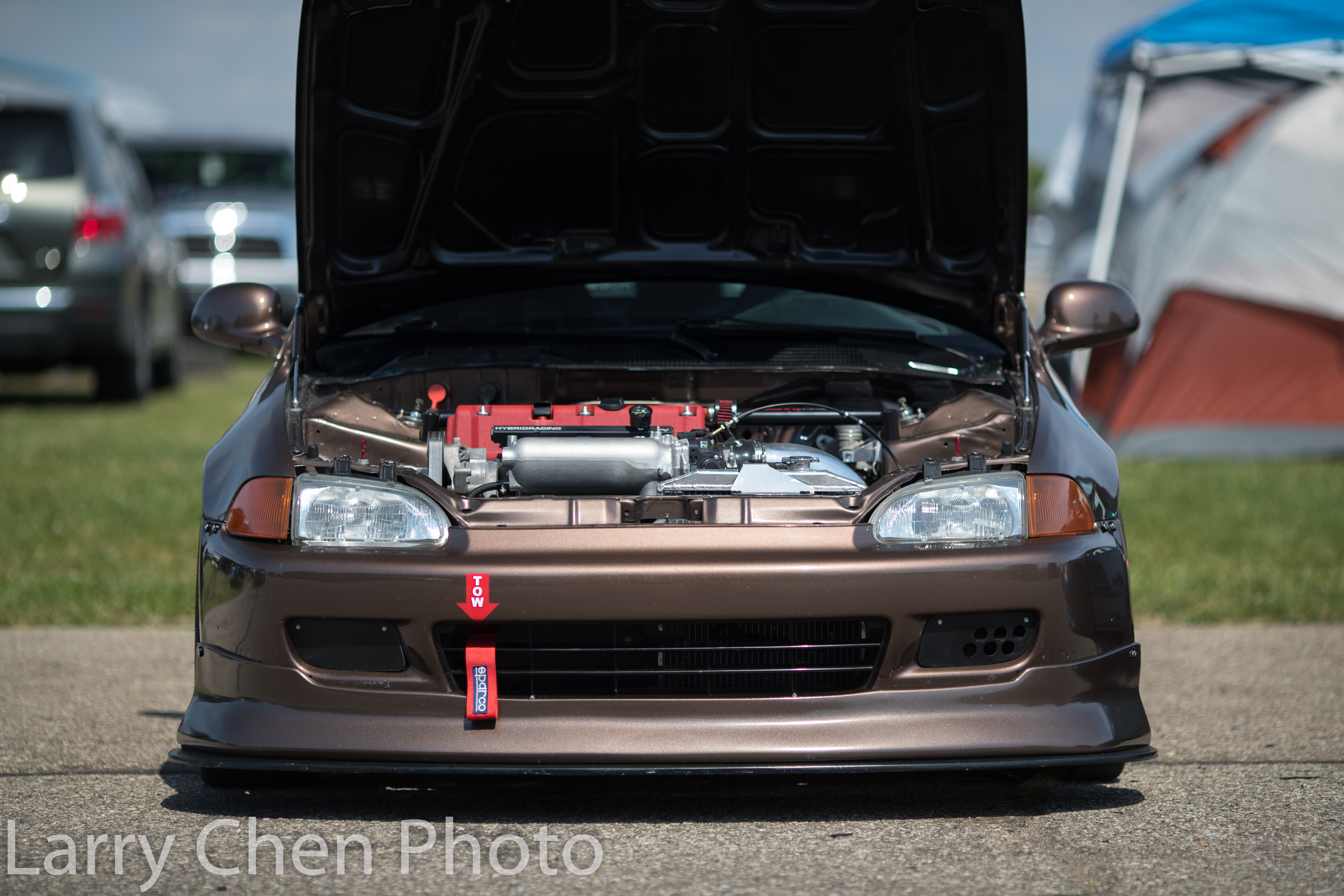 Drifting is only one part of the three-day festival though, so I will highlight my favorite time attack cars and other interesting rides in my next post. I managed to feature four builds while I was out there too, so stay tuned for those.
Getting crazy on track by day and getting even crazier on the stage by night – this is what Gridlife is all about.
Various artists performed over the two evenings, including the likes of Savoy and Paper Diamond for you EDM freaks out there.
Chapter Two: Paddock Shenanigans
As with any events I go to, I take my time to walk around the pits and take in what is going on. I swear these guys were doing some major engine work when I saw them on Friday, and by Saturday night they were still working on this beast of a BMW.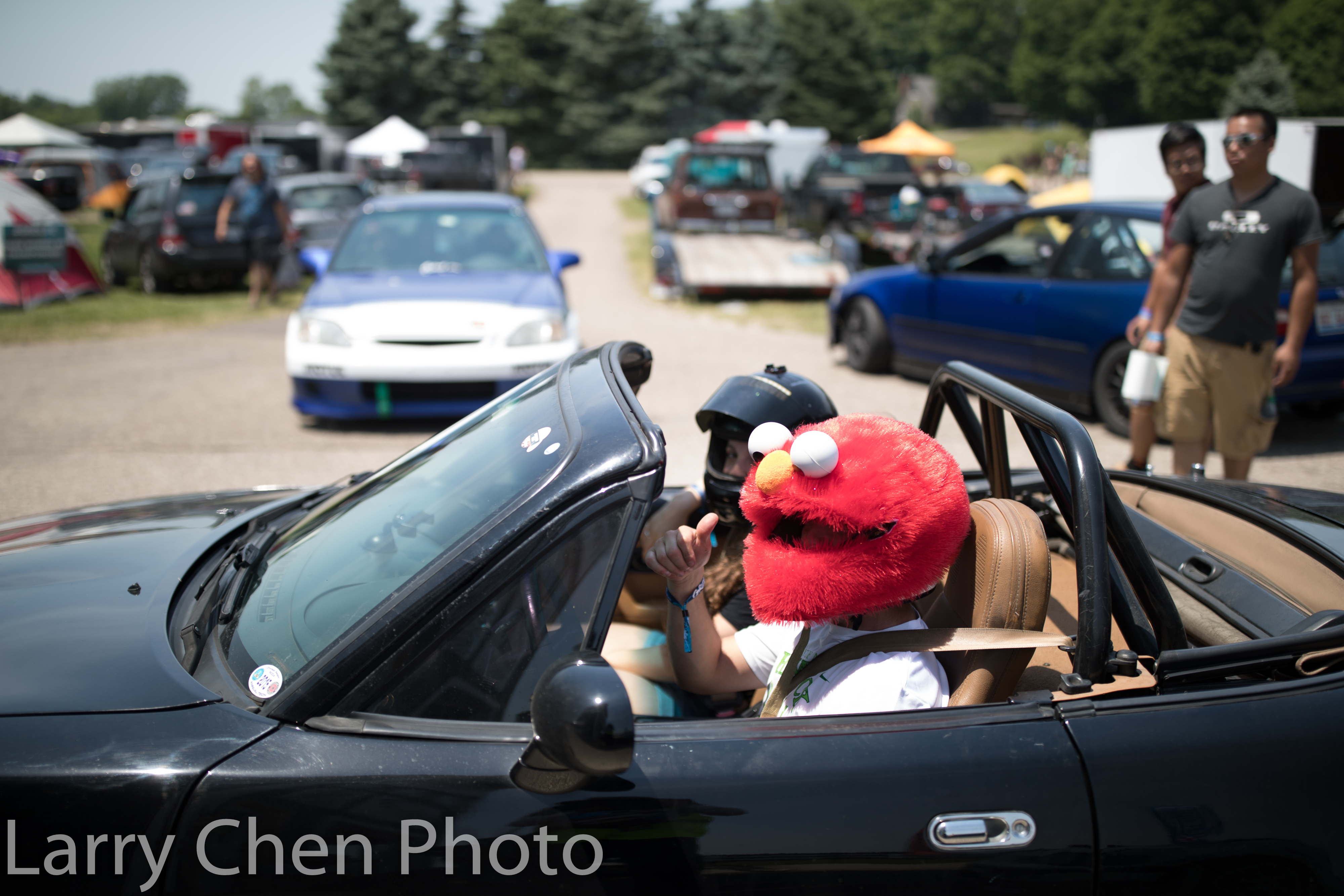 Do you think Elmo likes to do burnouts on Sesame Street in his Miata?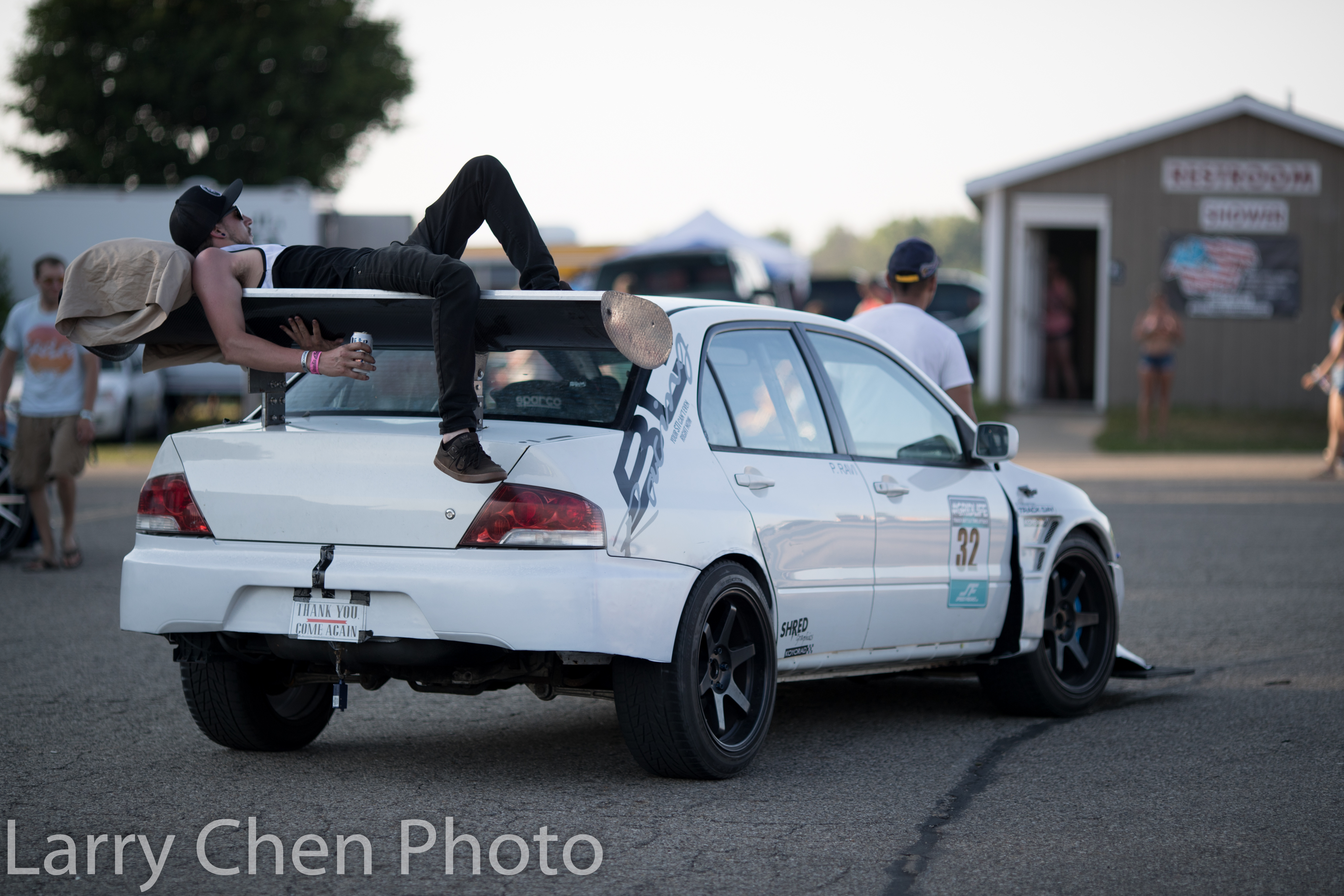 There is one word that came to mind as I strolled around the place: chill.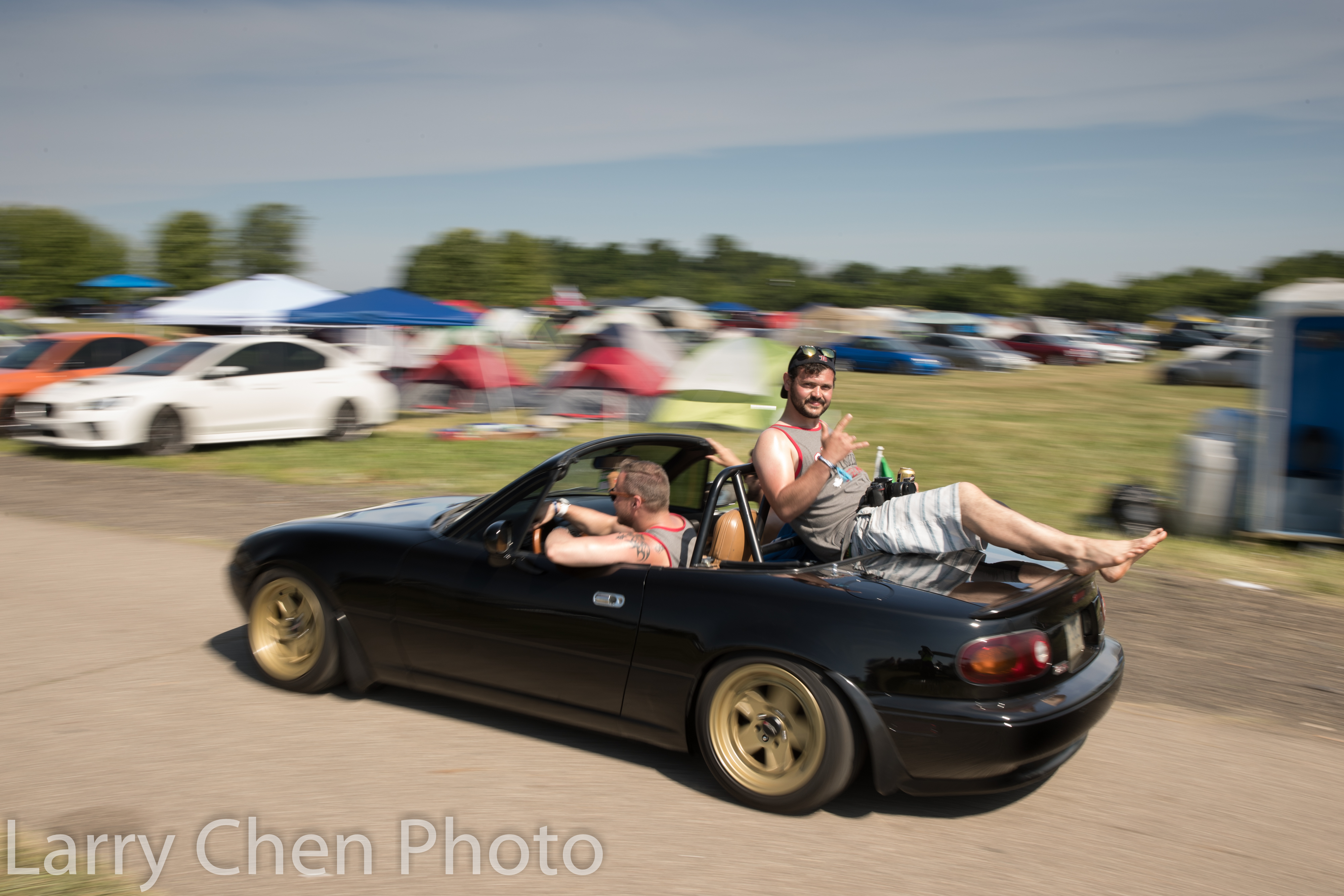 It was a great departure from what I am accustomed to covering serious motoring events.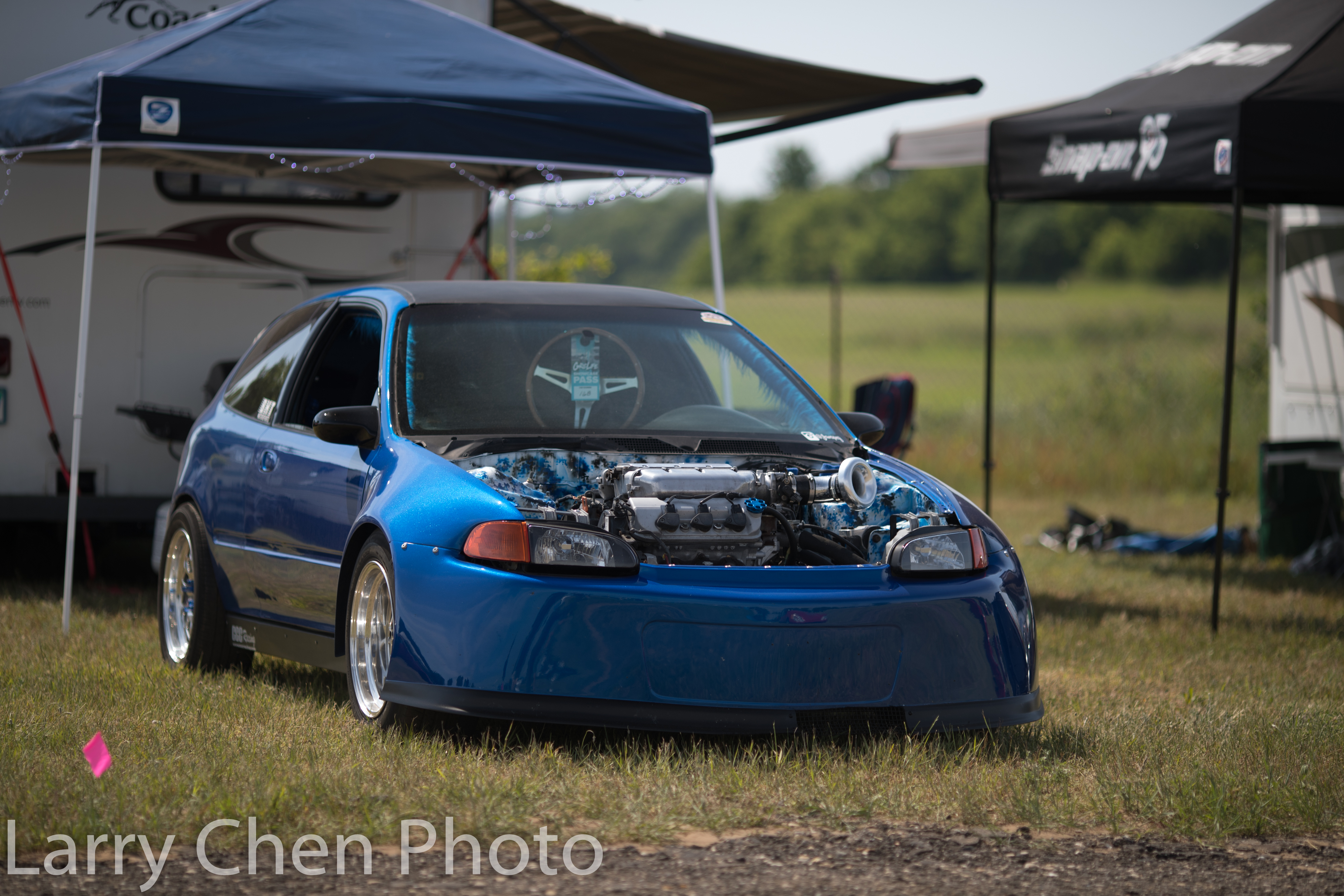 And the quality of rides? Second to none. Although, I couldn't really understand why someone would bring a drag car to a road course event… I like the dude's dedication all the same, though.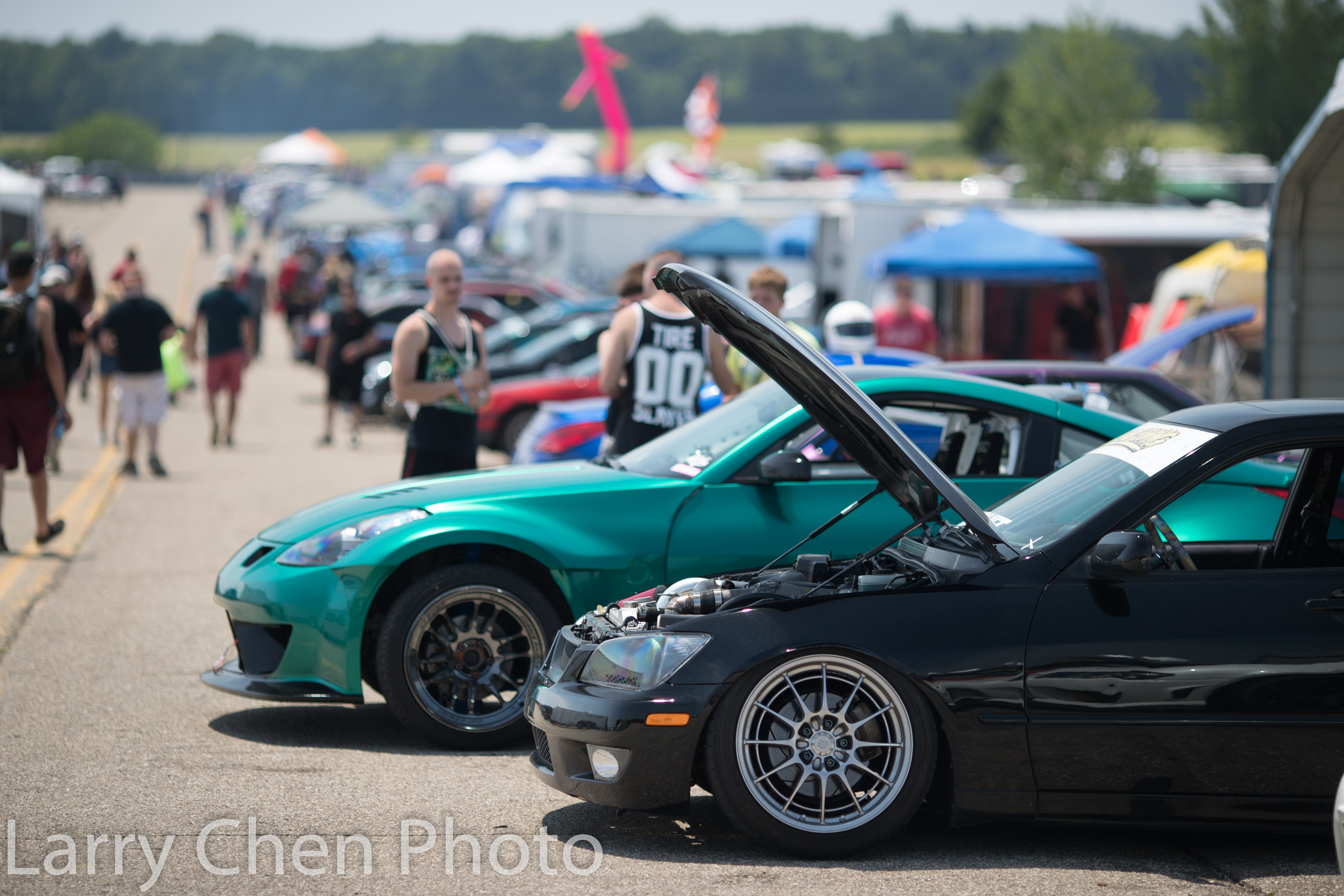 It was almost hard to find the cool rides as there was a constant flow of traffic; people were going on and off track as well as just cruising around the place.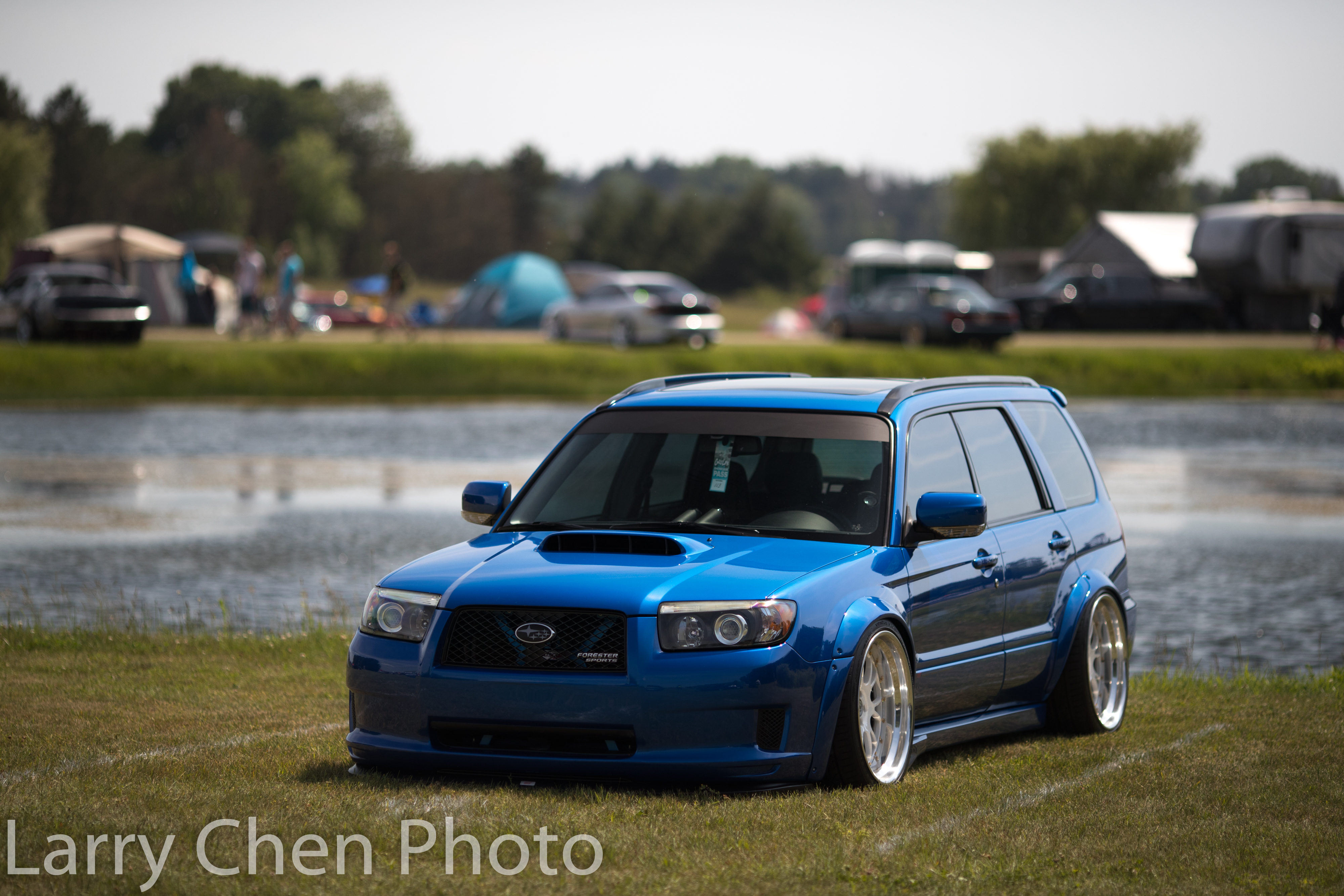 Along with all the cool track builds, there were quite a few show cars. I know what you are probably thinking – show cars are stupid, but this was actually really awesome. The quality was right up there.
With such a long weekend's worth of festivities, it really allowed me the opportunity to slow down and catch up with friends.
'The Voice of Formula D', Jarod DeAnda, was at Gridlife announcing all the drift action. Did you guys know that Jarod is an ordained minister and he actually married my wife and I in Hawaii? Well, now you know…
You know it's going to be a good time when the Hoonigan boys show up to an event.
Also on site was Mr. Car Thrasher himself, Ryan Tuerck.
Ryan brought out his 'street car', which of course is powered by a 600hp 2JZ. Very street-able indeed…
One of my favorite drift cars on the grid was built by my good buddy Stevie from Risky Devil. It's such a clean E30, and it sits oh so right.
On top of that, the little BMW really goes too, as it's powered by an SR20. It just looks so good pitched sideways.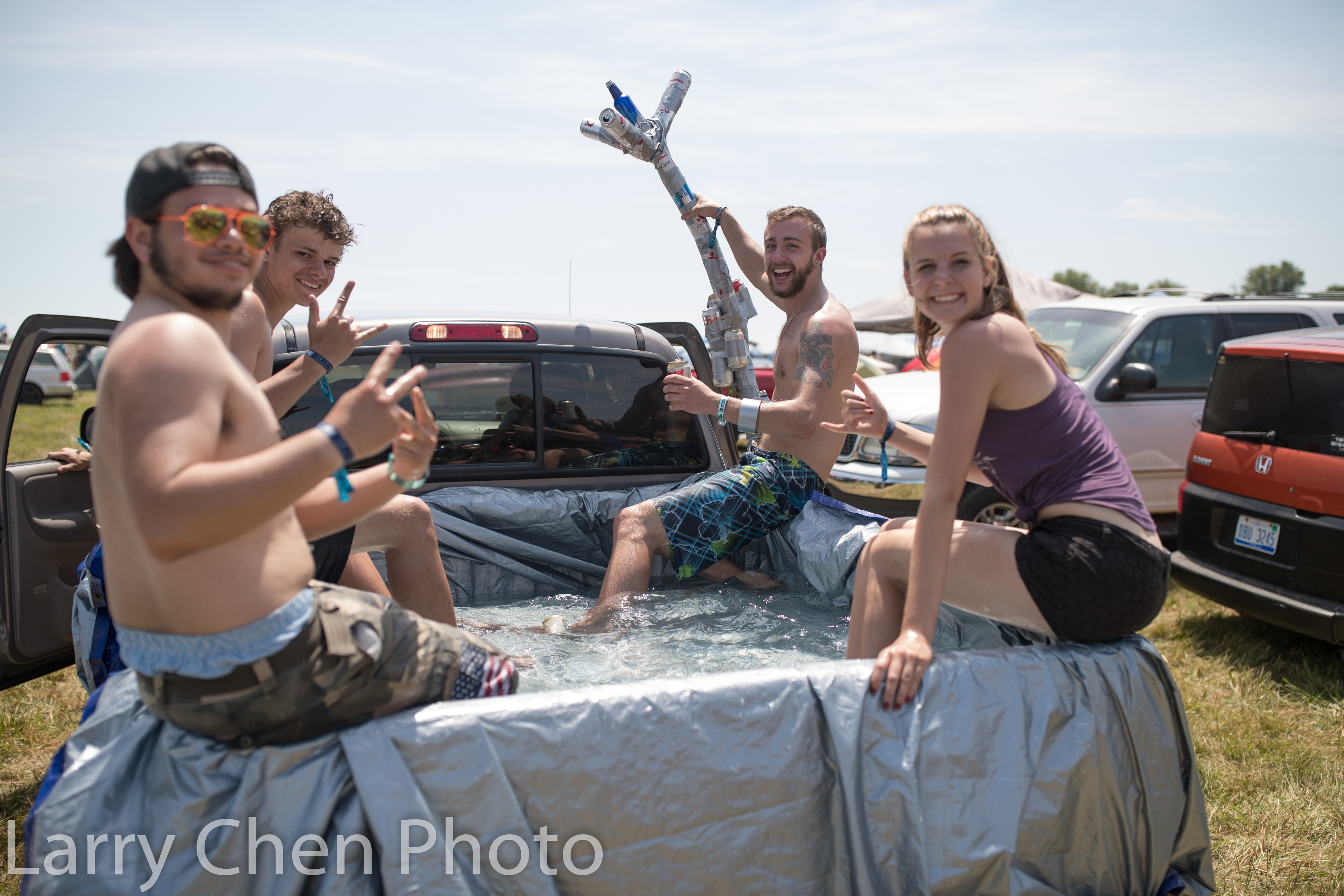 Since Gingerman Raceway is quite a long way from any major city there are not many hotel options around, so most of the people who attend this event just camp out on the grass. It was a quite warm weekend, so these guys improvised a redneck jacuzzi on wheels in the form of a Toyota pickup truck.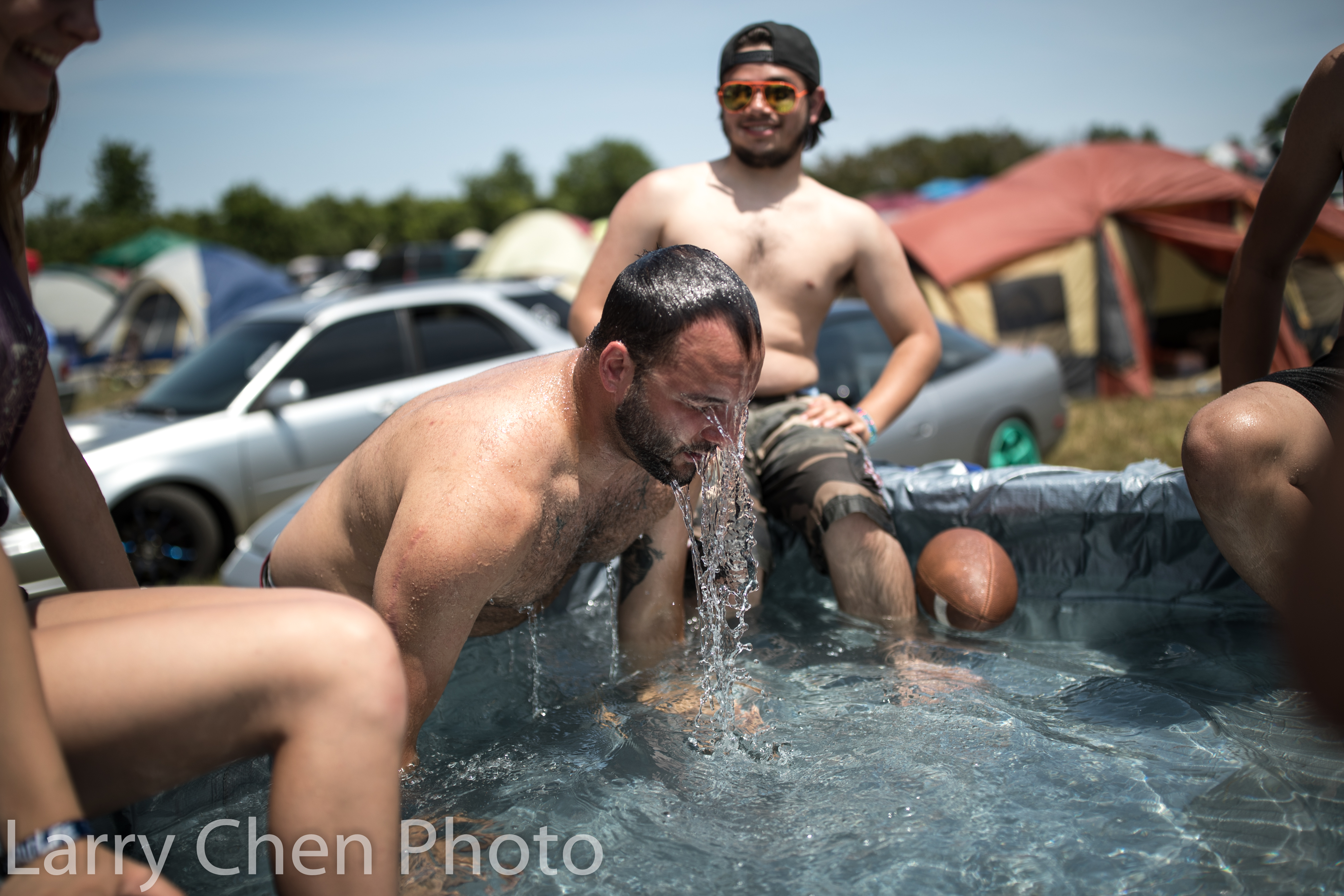 Here's my buddy Greg, who also runs the drift portion of Gridlife, taking a dip. Nice way to cool off, Greg!
As I delved deeper inside Tent City, there were all sorts of interesting activities going on.
If Jeff Goldblum had a classic Nissan Z car, I wonder if it would look like this?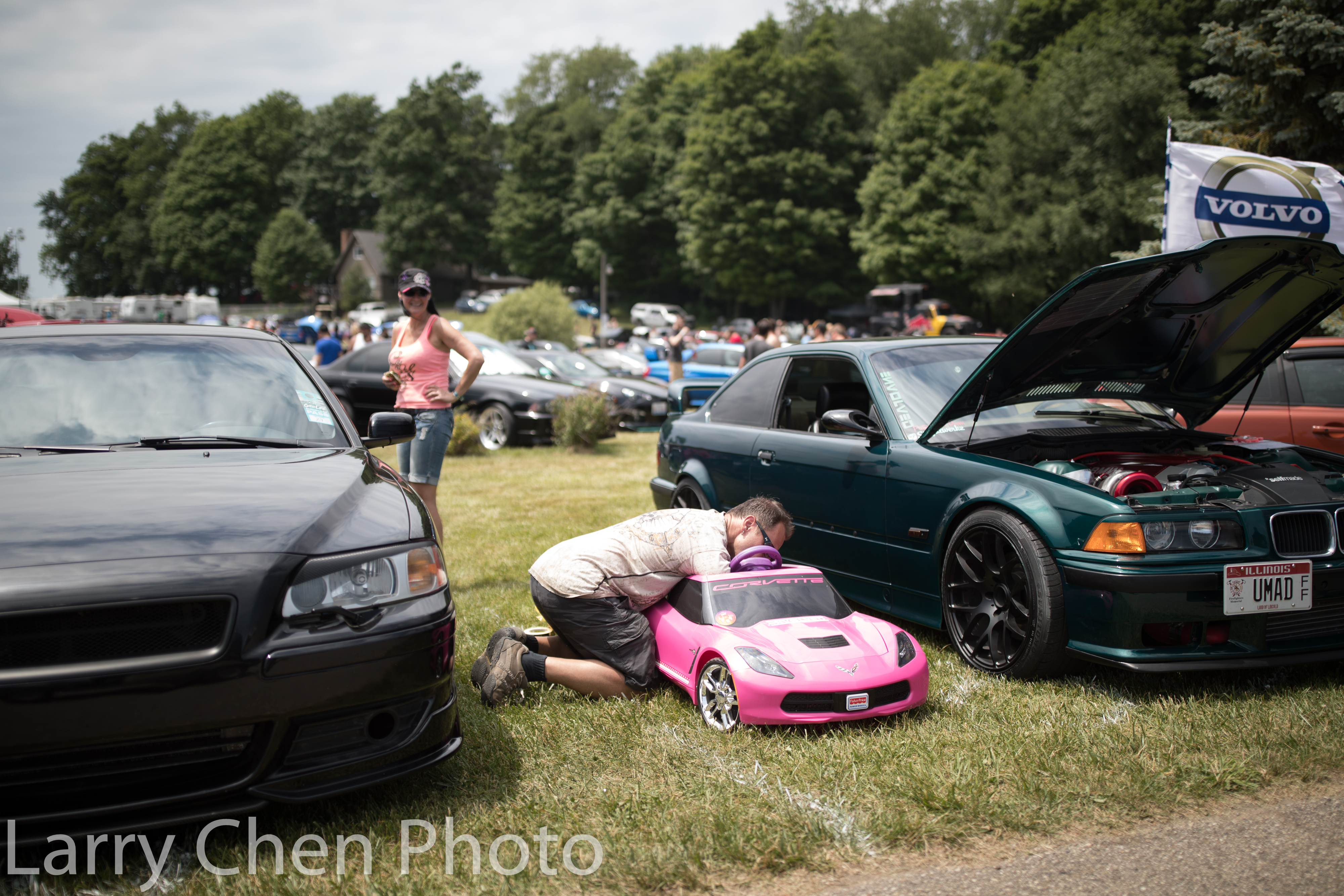 Remember what I said about the quality of show cars? Only concours-worthy builds were allowed in.
This is what it's all about: spending time with your bros and talking cars. Suh, dude!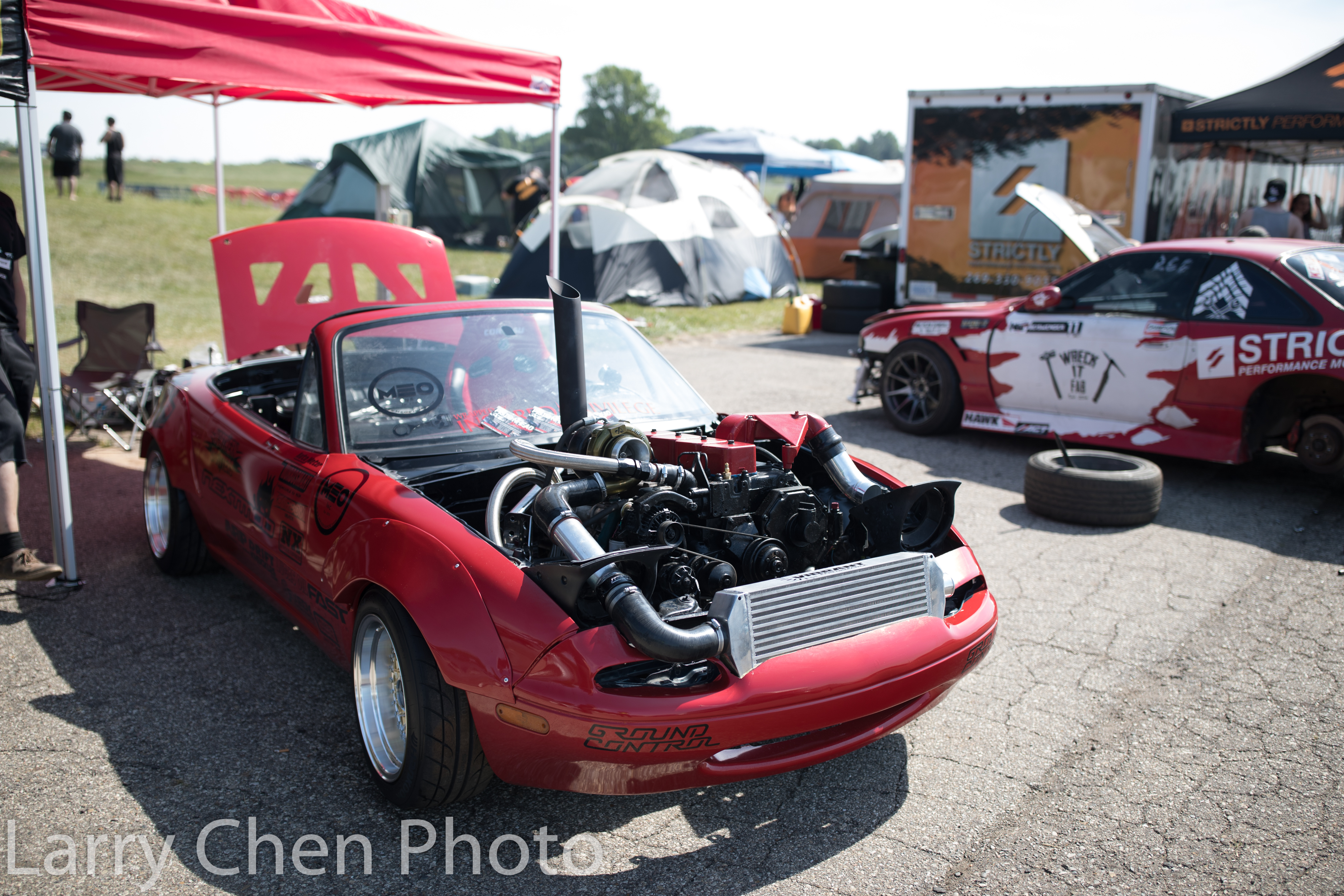 How about a little big rig diesel action in a Miata… If it fits it ships, right?
If you guys have been following Speedhunters of late, you'll know that I've become obsessed with the off-road scene. I love seeing these builds out in the wild; what a great way to camp out at Gridlife.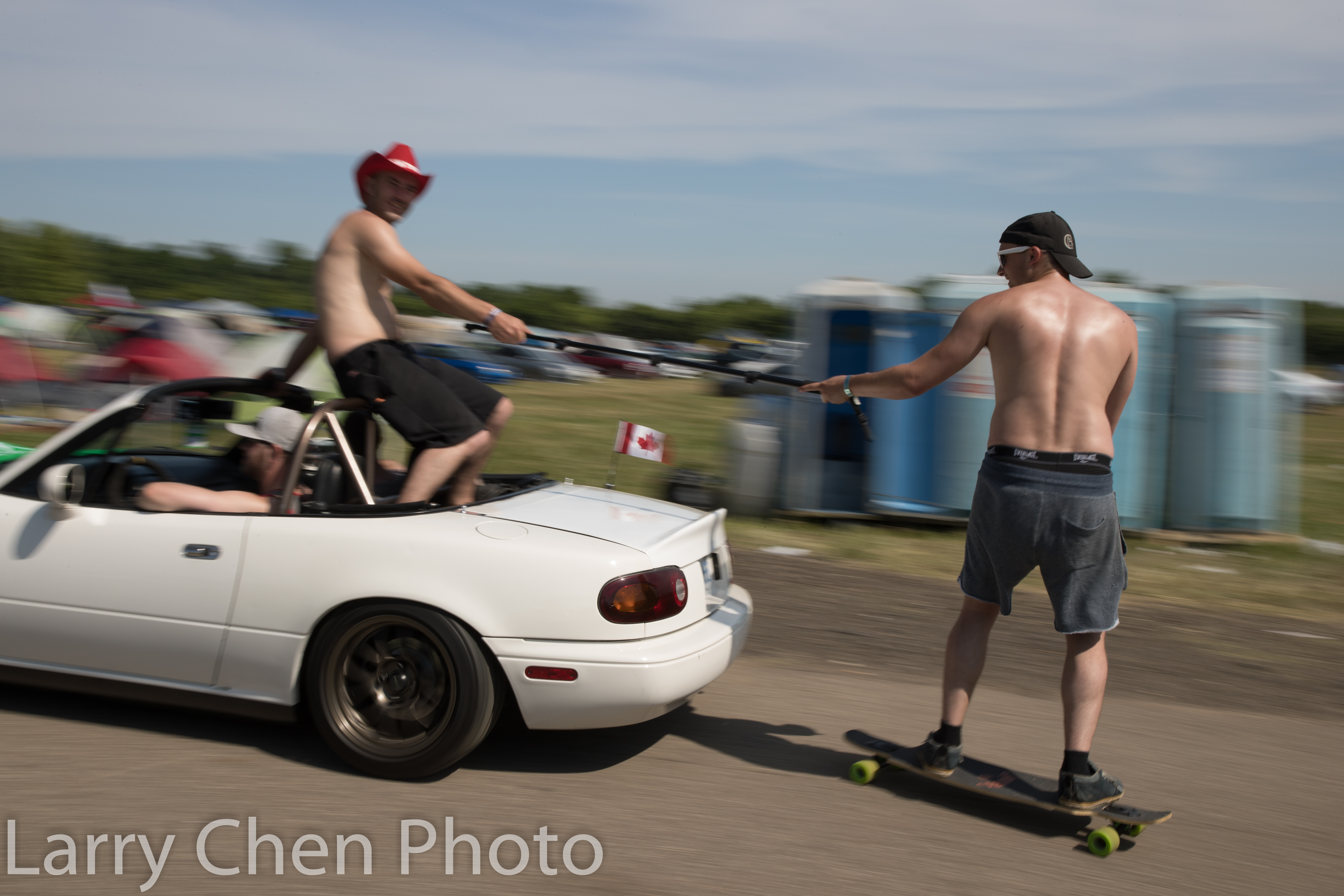 Oh you know, just wakeboarding a Miata. Nice one, Canada!
Chapter Three: Thou Shall Not Pass
So, back to the improvised burnout box I talked about at the beginning of this post…
There was only one road that led from the campground to the main track area, and it was guarded by this man and his gang of merry men.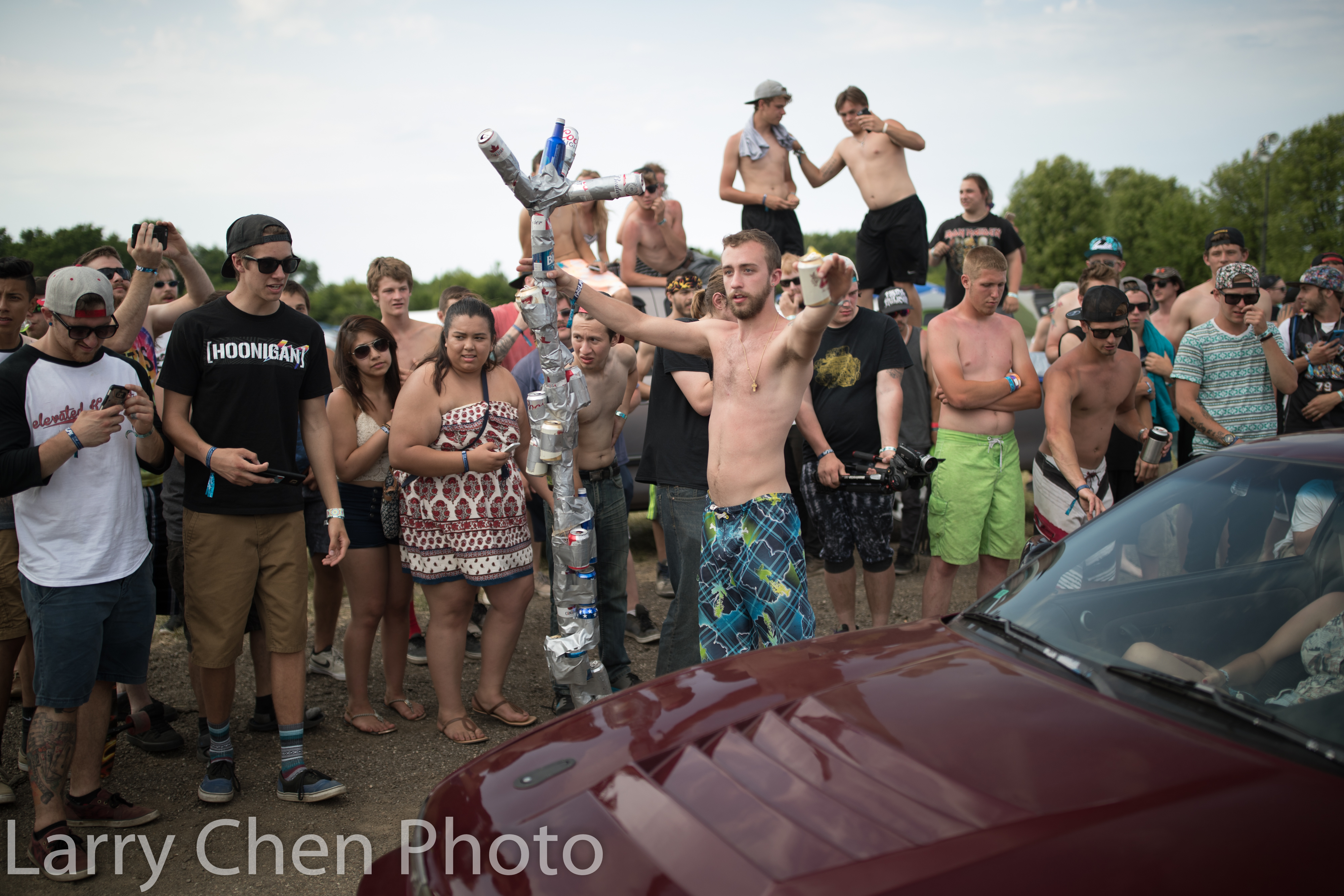 If you wanted to pass through in a vehicle, you at least had to attempt to do a burnout. Front-wheel drive, all-wheel drive, minivan – nothing was exempt.
This was not actually sanctioned by Gridlife and of course very dangerous, so we definitely don't condone this sort of behavior. But it was one of those interesting moments where car culture just sort of happened, so therefore I was obliged to document it. Because Gridlife.
It's like it could not be contained. Modified cars: check. Spectators with booze: check. Let the good times roll…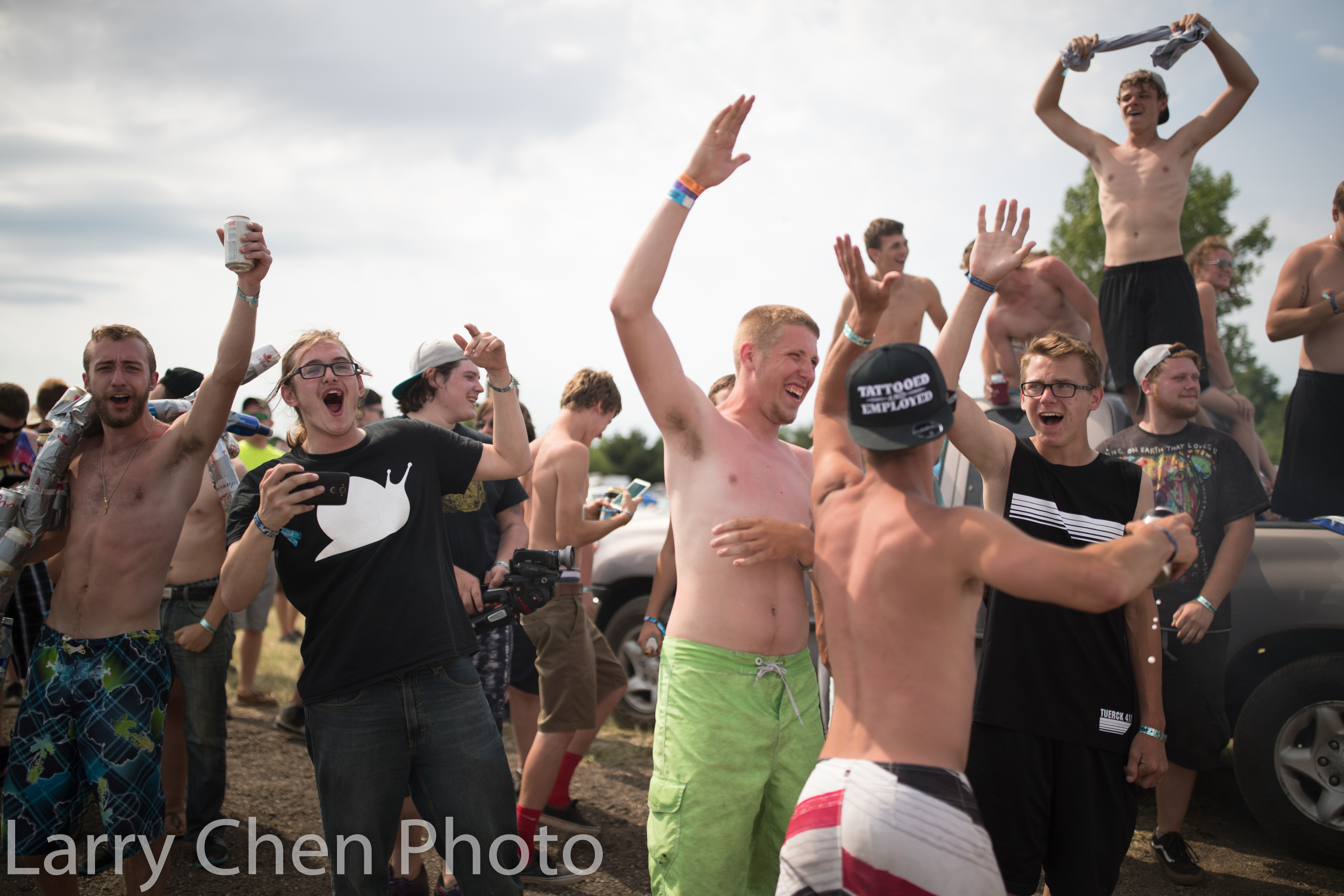 I swear, I've never seen people so excited to watch someone do a burnout. It was actually emotional; it was just… beautiful.
These dudes in a diesel pickup truck rolled up, and of course they wanted to pass. But the driver did not want to do a burnout.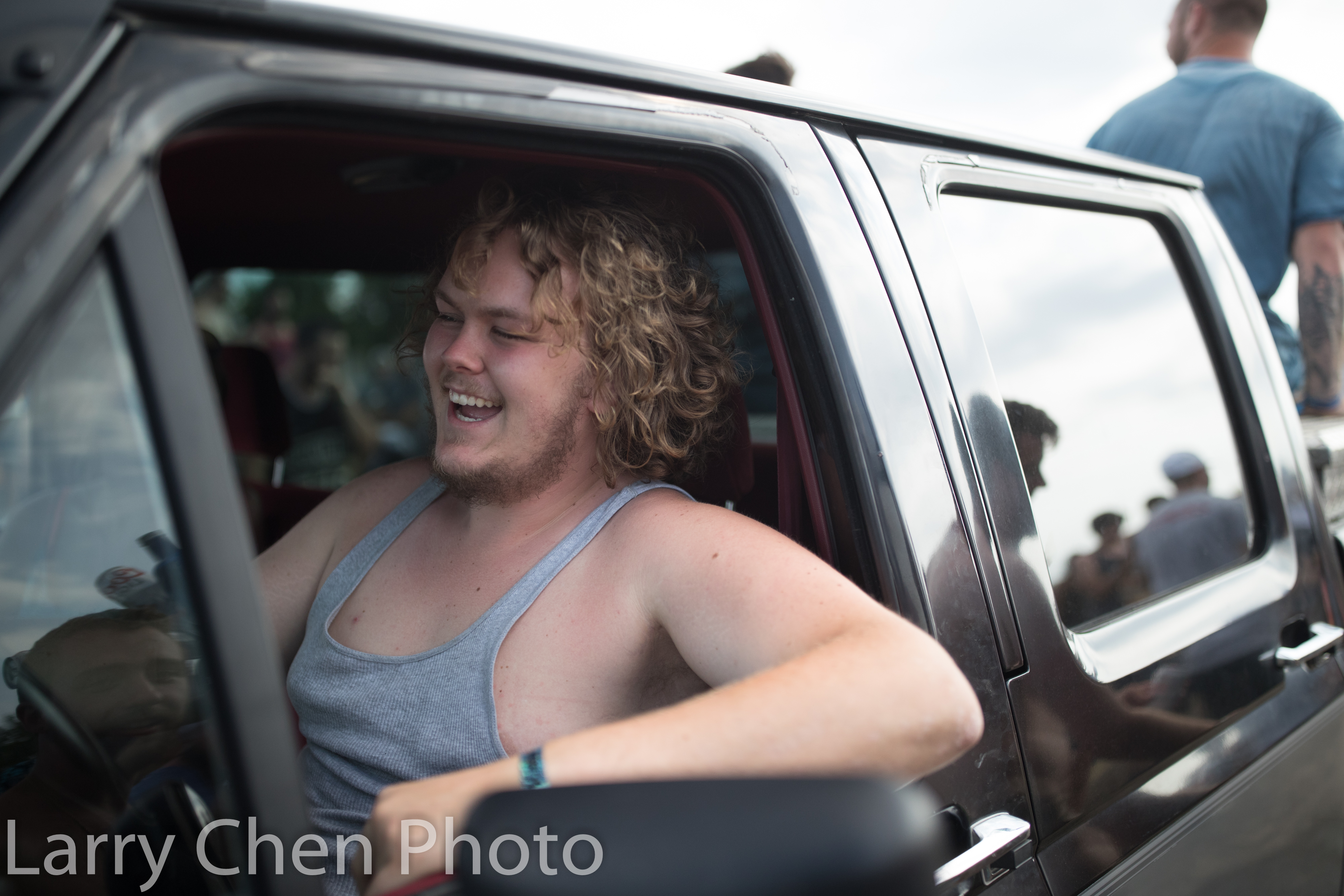 But with some convincing and a few high-fives, the inner burnout king was unleashed.
Just look how happy this guy is; what an incredible scene.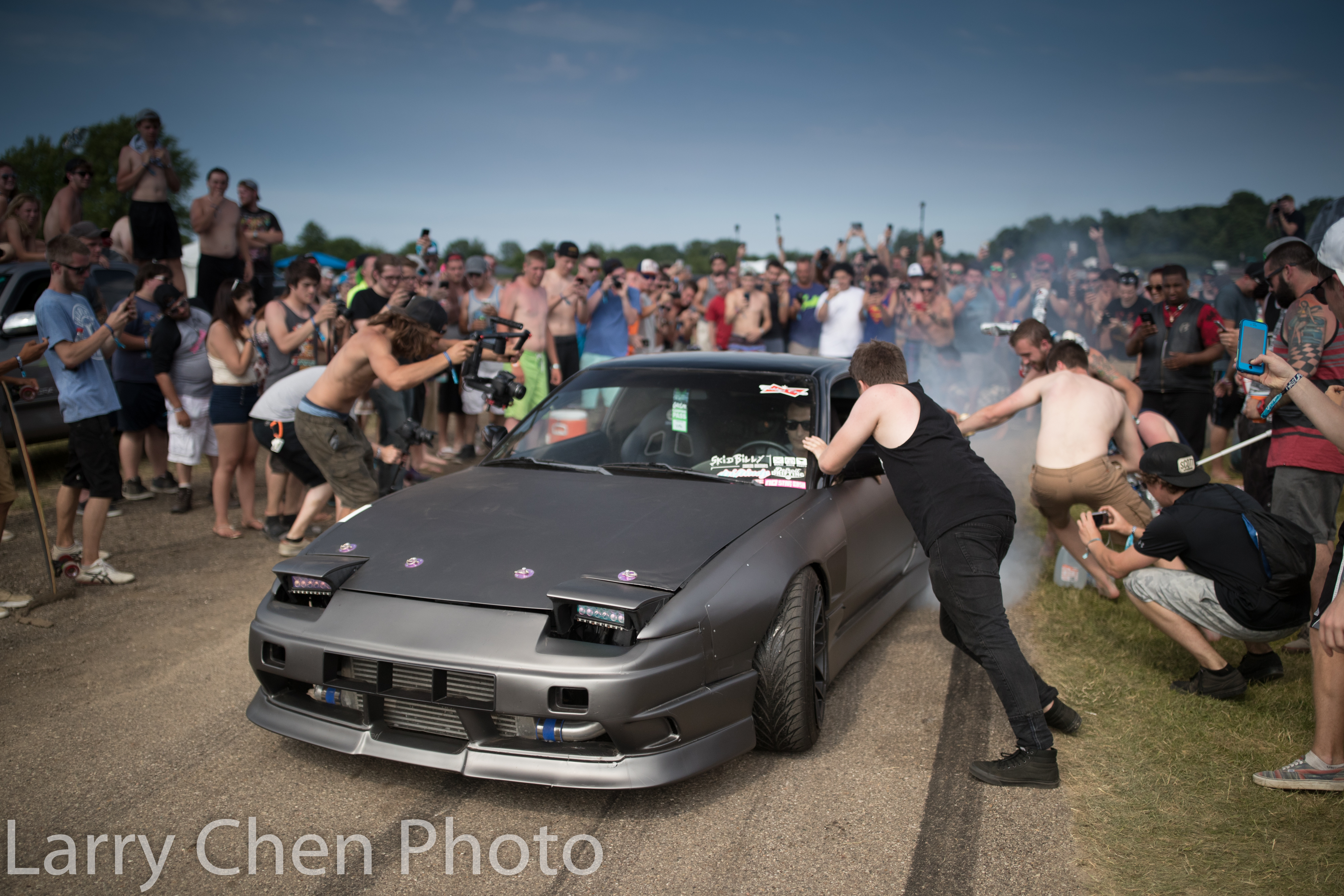 Of course, things got rowdy really fast, and the officials at Gridlife and local authorities were soon on their way to shut the pop-up party down. But not before one final burnout to rule them all.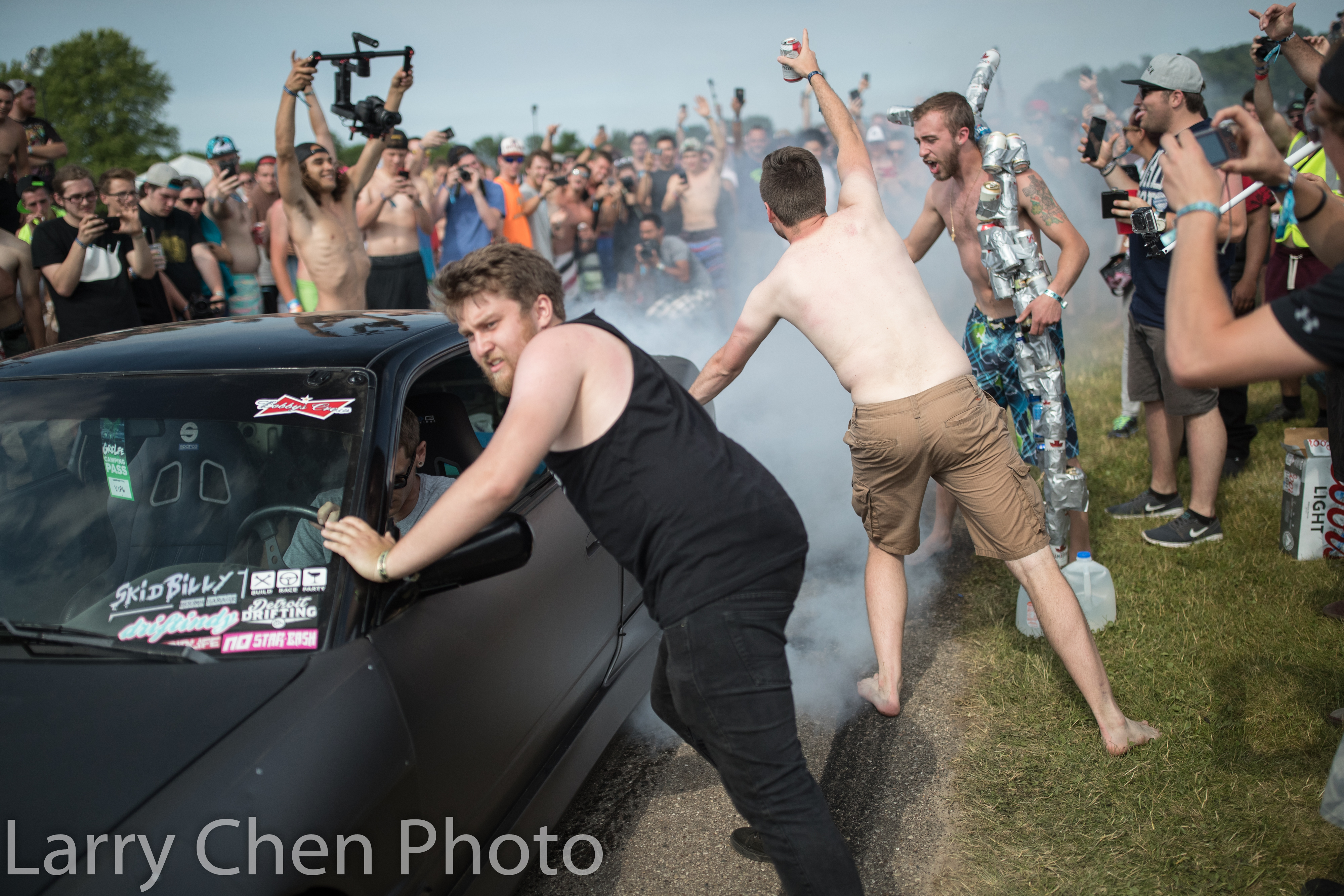 Everyone helped by emptying out their beer cans (mostly Pabst Blue Ribbon) on the rear tires of the powerful turbo Nissan, and then the driver let rip.
Cool as cucumbers, bystanders stepped in to ensure the burnout tracked true and straight.
And just like that the party was over. From then on out, not a single puff of tire smoke was produced from Tent City. Truth.
The aftermath? My buddy Shane filmed the entire thing using a gimbal-mounted camera, but seeing as he was shirtless, he got pelted by scolding hot rubber bits. What a trooper; anything for the shot, right?
Gandalf The Drunk and his friends' work was done.
Chapter Four: Doing It Sideways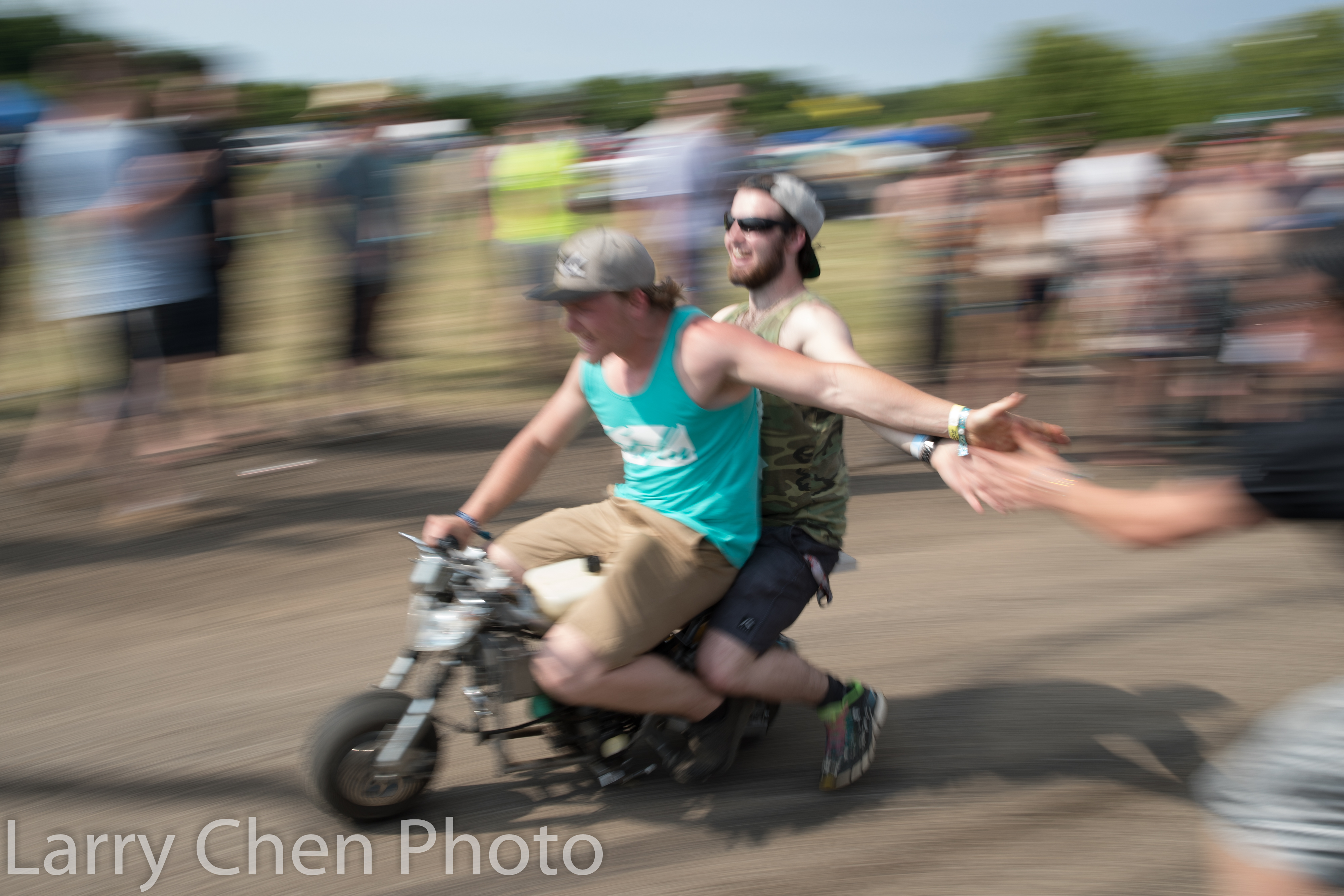 While the off-track festivities were fun, the on-track activities were even better.
As I mentioned before, I am putting together a completely separate post on some of my favorite time attack cars from Gridlife, but without a doubt, the drift cars were the stars. Hundreds of people lined the track to watch these boys tackle the first few corners.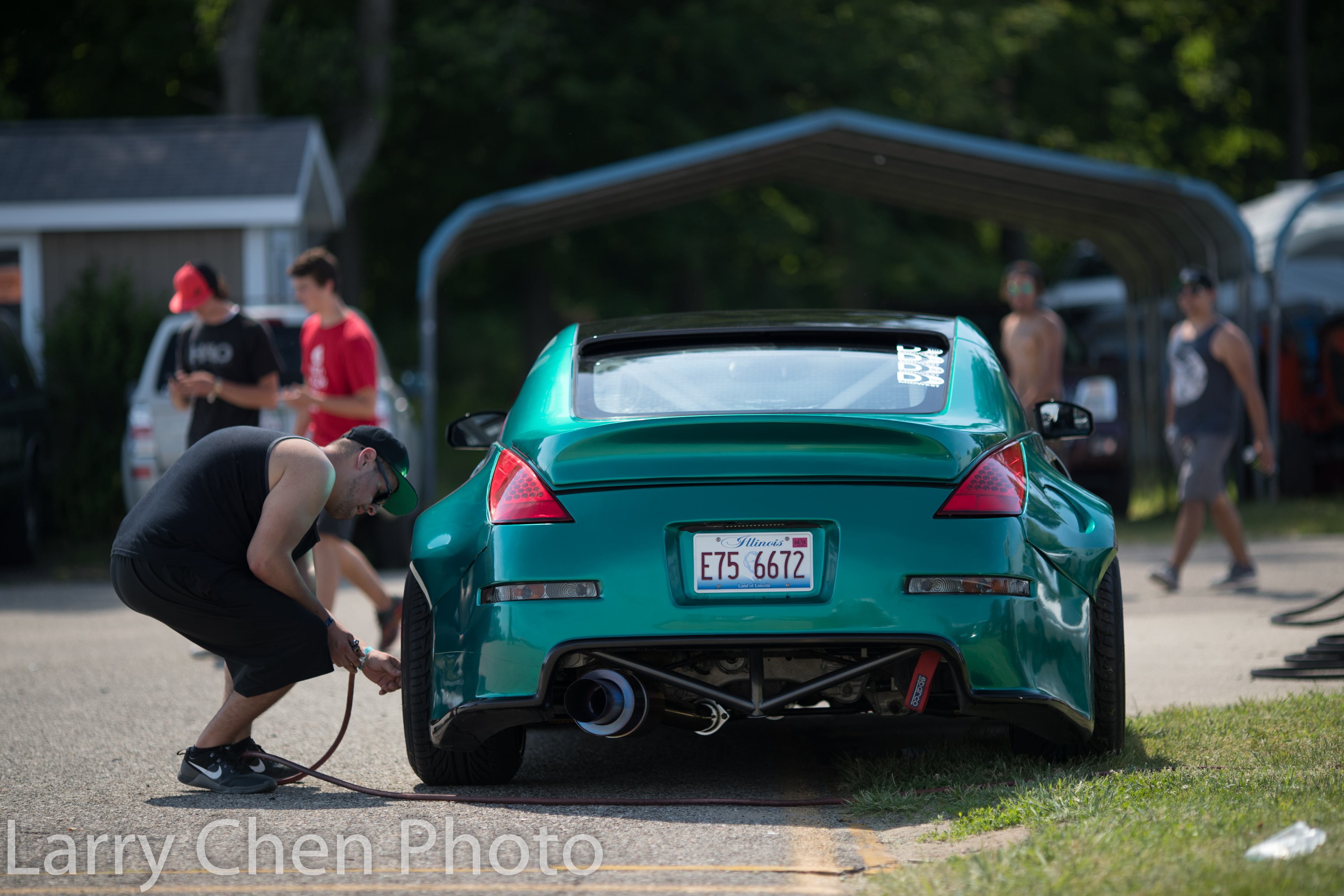 The best part? There were so many different machines; from all-out pro-spec cars to very stylish street cars.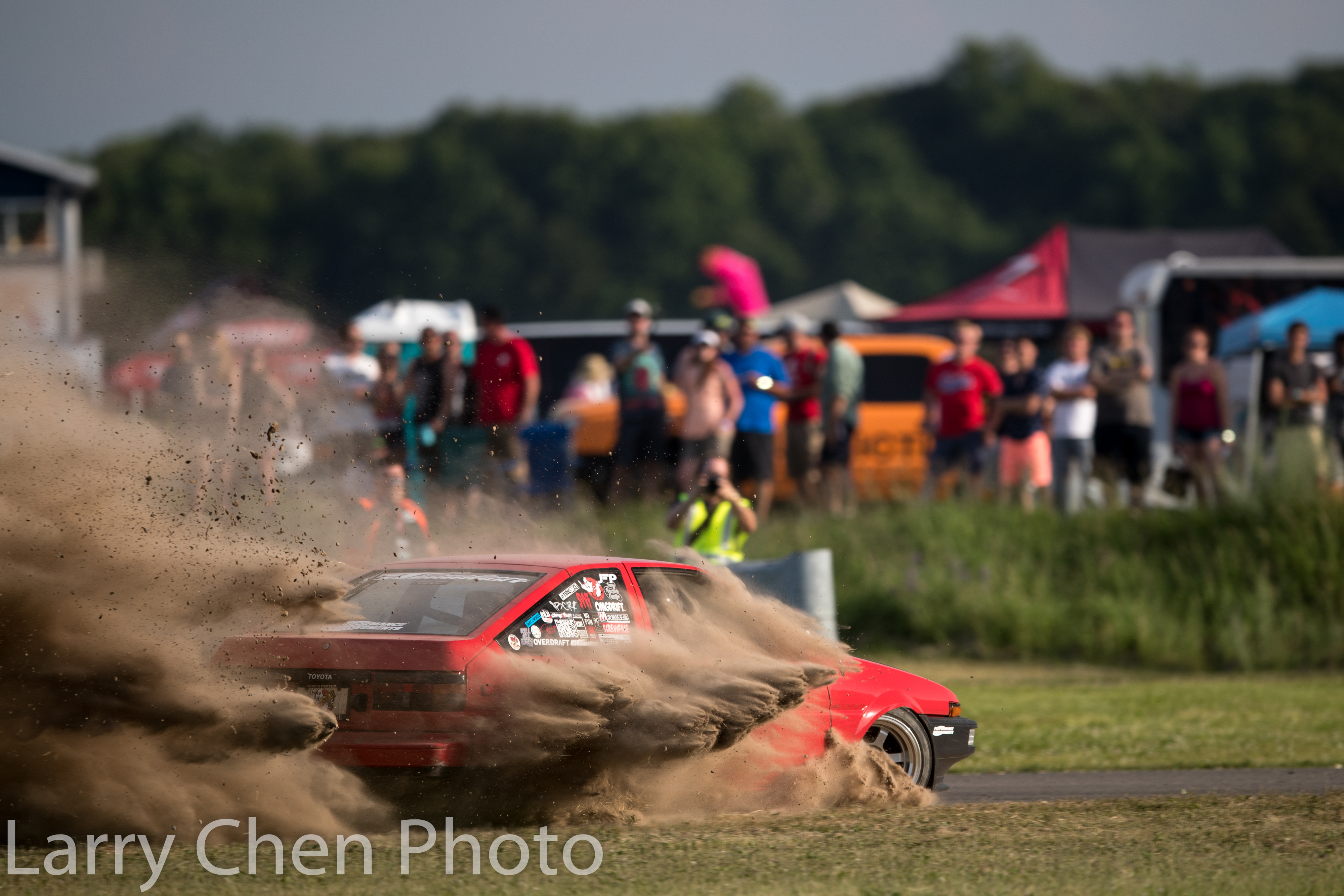 Many of the latter did not have crazy horsepower figures, but they still managed to put on an amazing show for the spectators.
Given that these events have a much more relaxed atmosphere, I'm generally allowed free reign in terms of capturing imagery.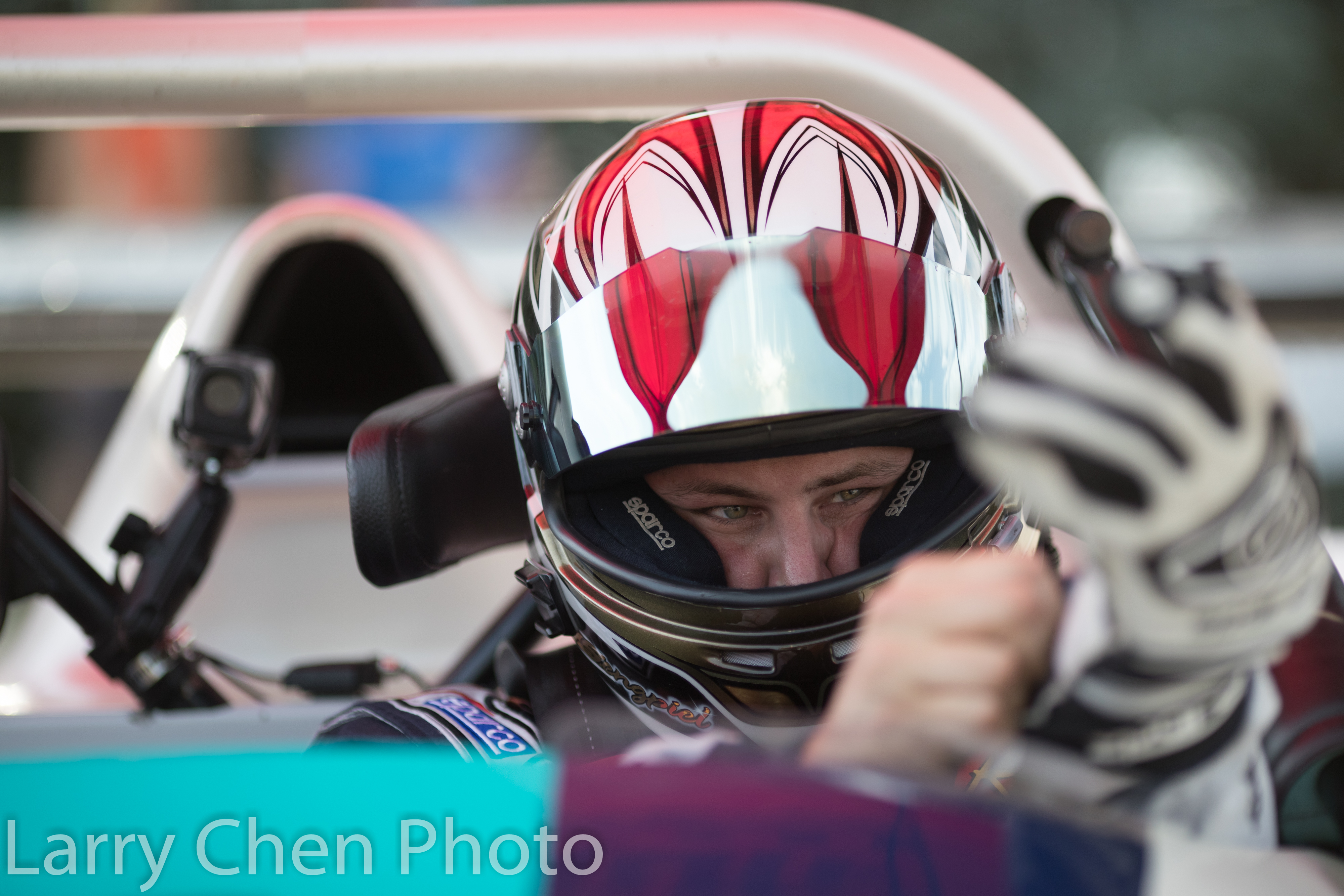 But since I didn't have my own chase car on hand, I went out in search of those willing and able to perform driving duties for me. Enter my buddy Scott Sengpiel.
He brought out his Radical to drive a few sessions on track, and being one of the Gridlife instructors was happy to shuttle me around the place. I didn't want his awesome Hayabusa-powered machine to get dinged up too much from insane dirt drops, so I only rode with him for a few sessions.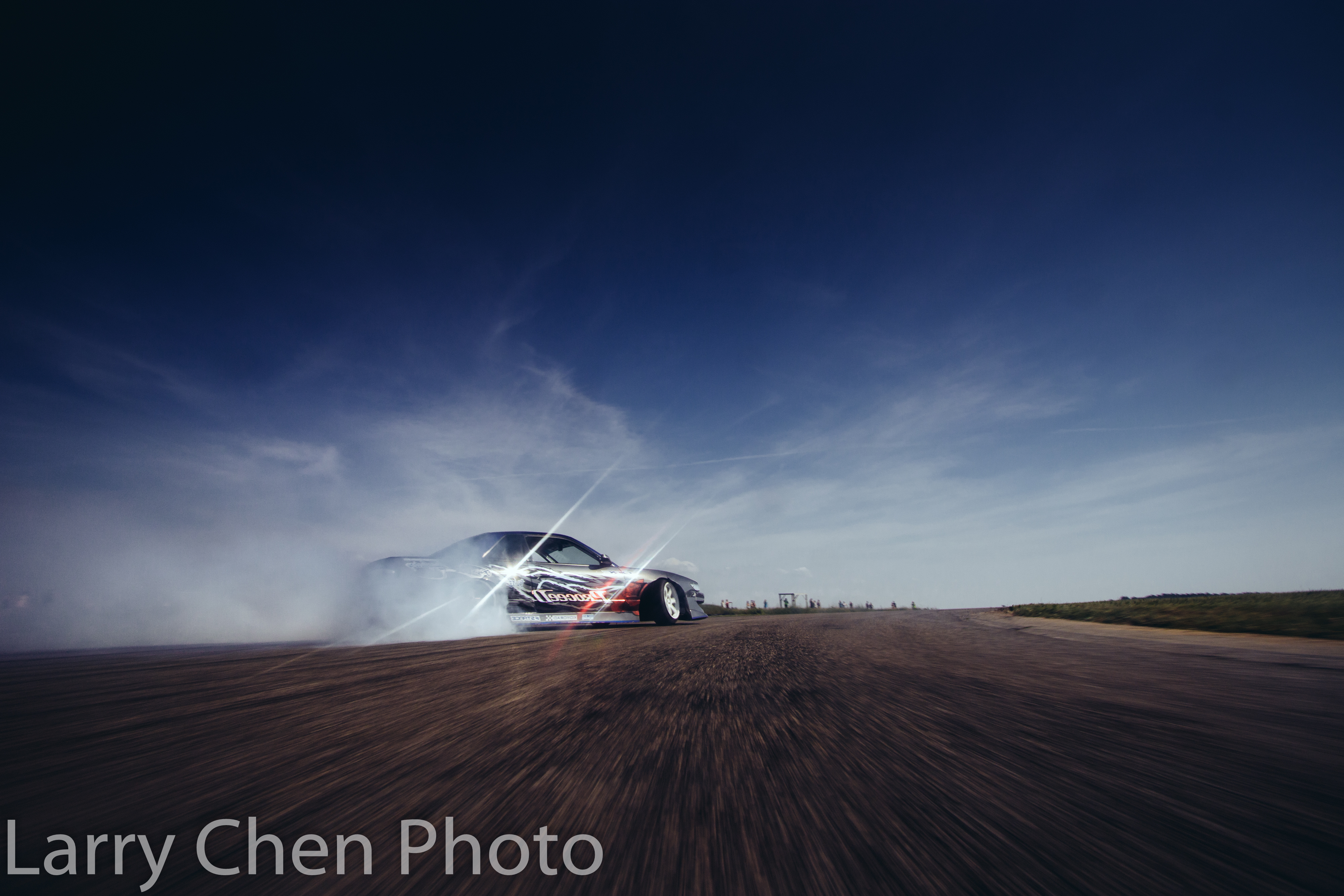 The resulting shot? Not bad, but also not as close as I normally get in my Z car. Then again, Ole Orange Bang is pretty much built for the purpose.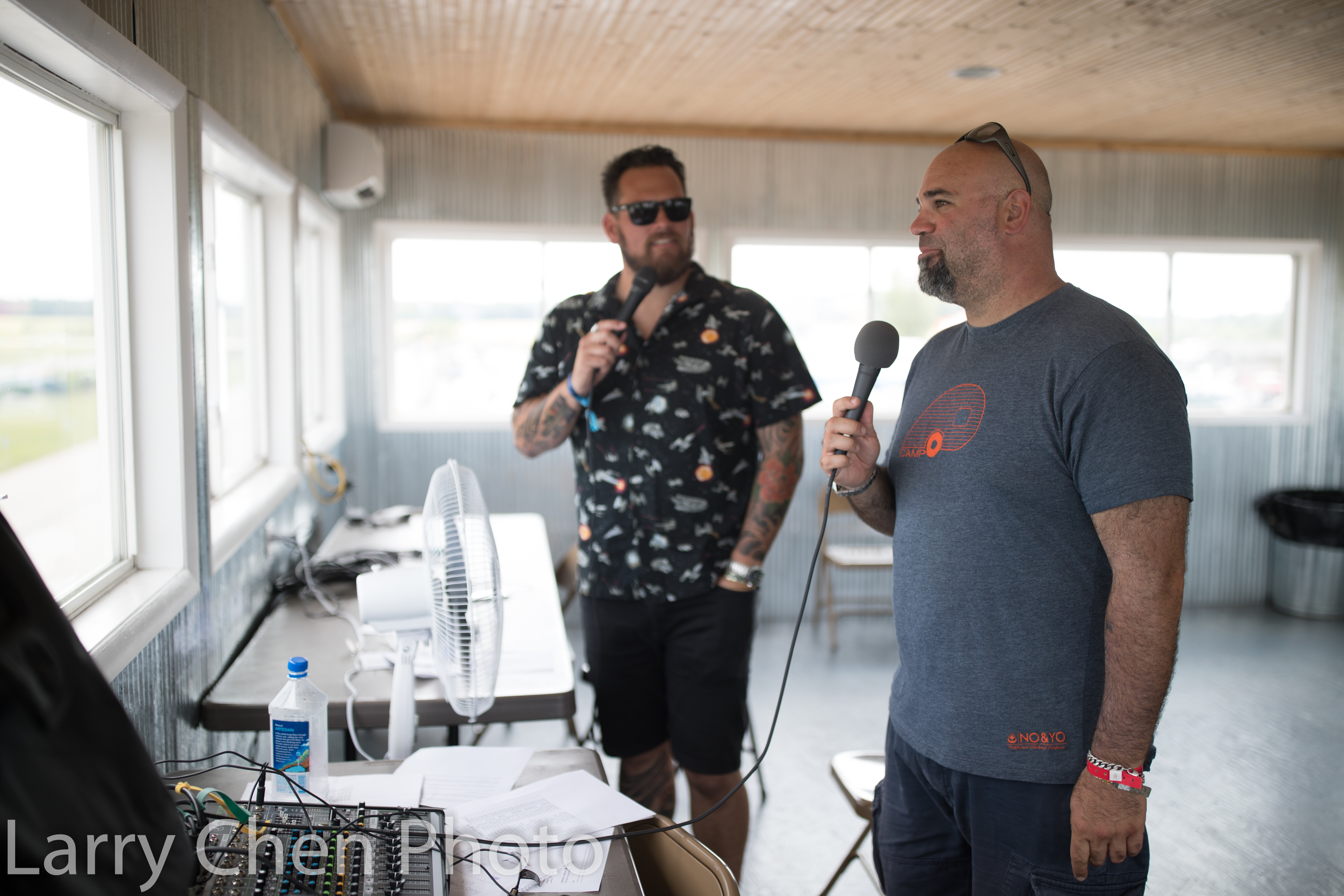 Along with Jarod, Matt Farah from The Smoking Tire was also on the mic. Matt had a BMW M2 press car with him and had heard that I was looking for drivers dumb enough to perform chase car duties, so he offered to be the wheelman.
Matt has driven pretty much everything under the sun, so I figured this would be an easy job for him. It was, and we had a blast in the process.
He even shot a little video of it, which will soon be releasing on his YouTube channel. Here is one of the resulting shots from his handiwork; it's just too much fun to get these types of shots, because it's pretty much impossible unless you are moving with your subject at speed.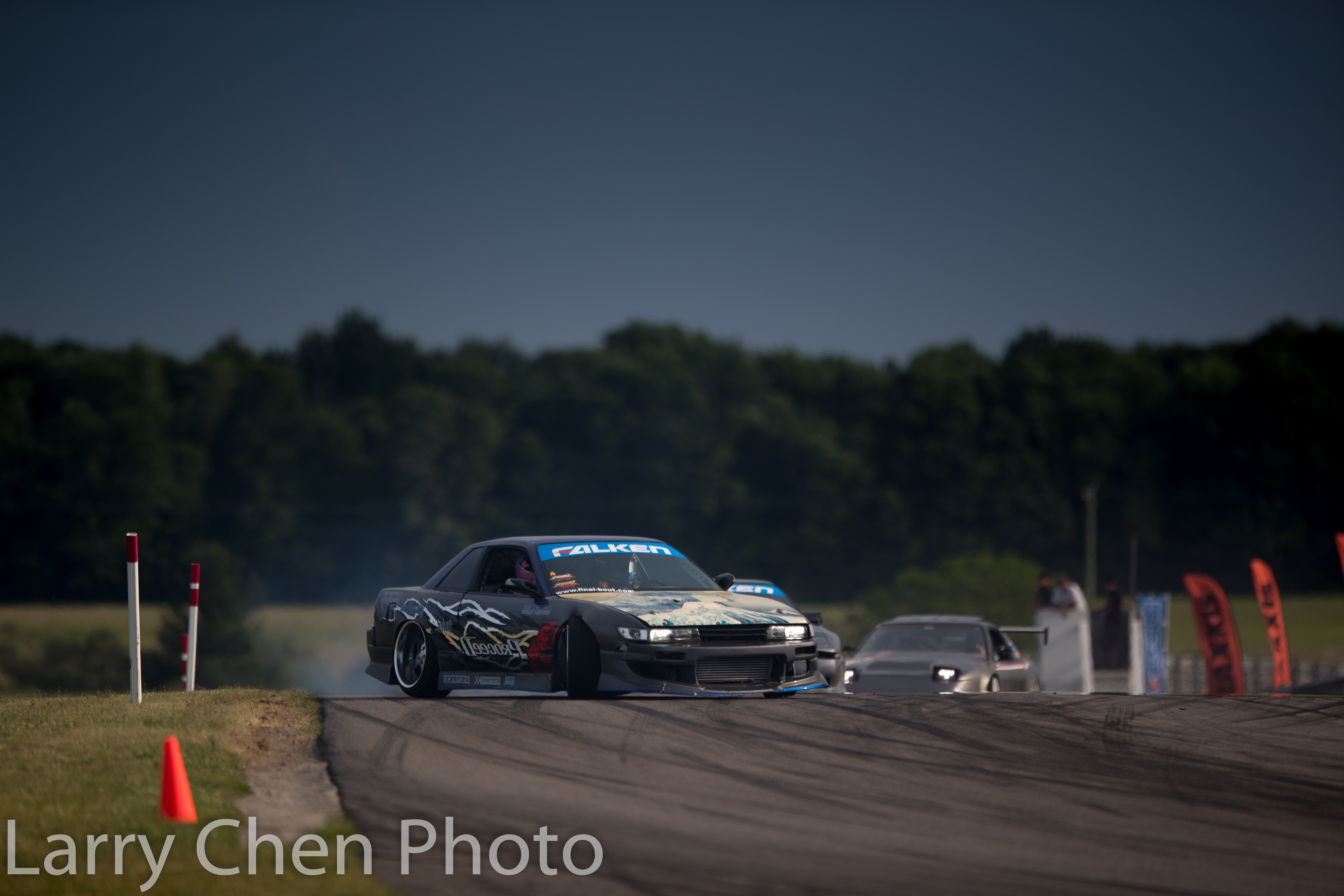 What really interested me was how many of the Final Bout drift teams came out to join in on the fun. Here is Team Proceed cresting the hill into Turn 1. Such great looking drift cars.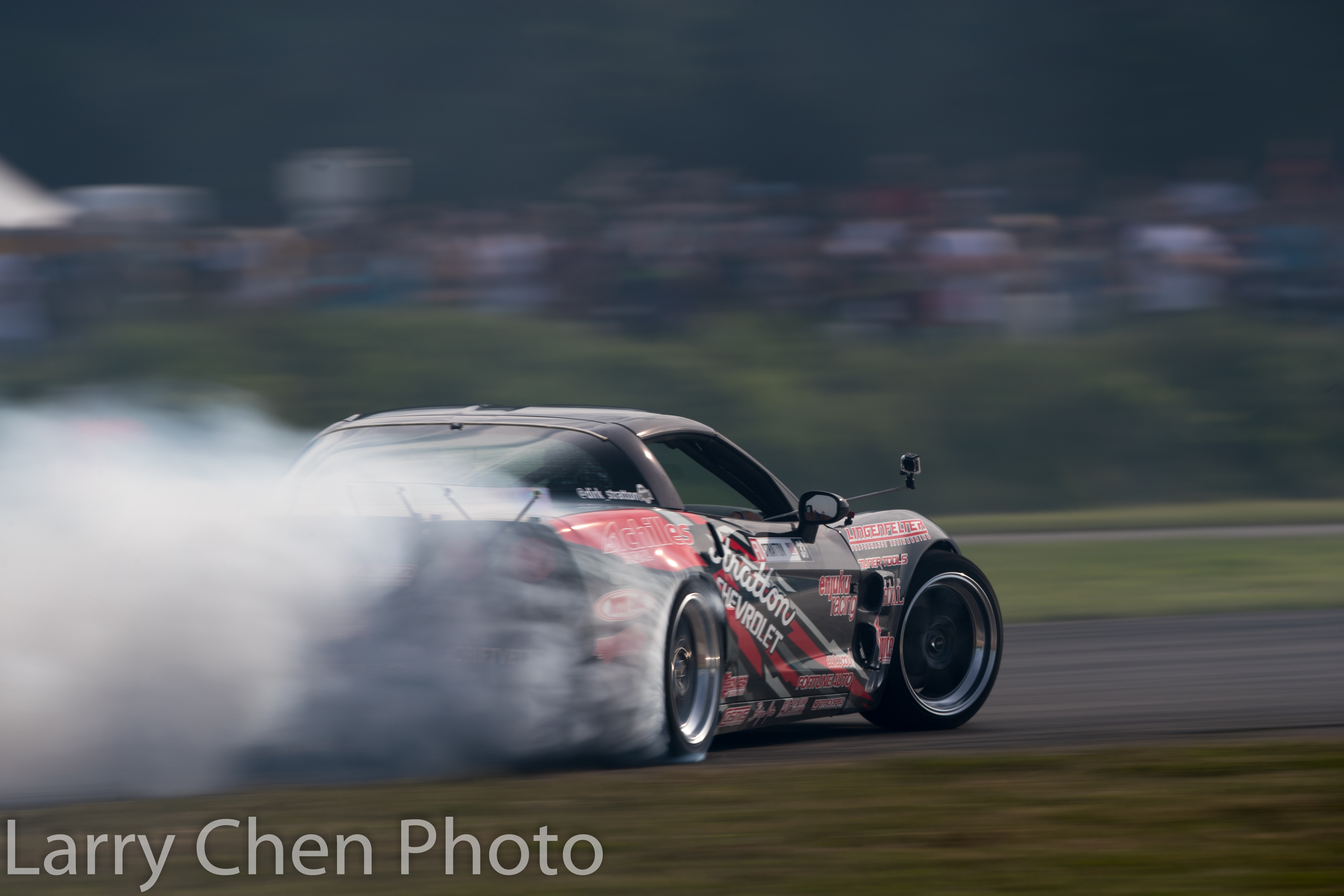 What I love about these events is the mix of cars that you see show up. It can get so boring watching the same type of cars going around a track, but not here.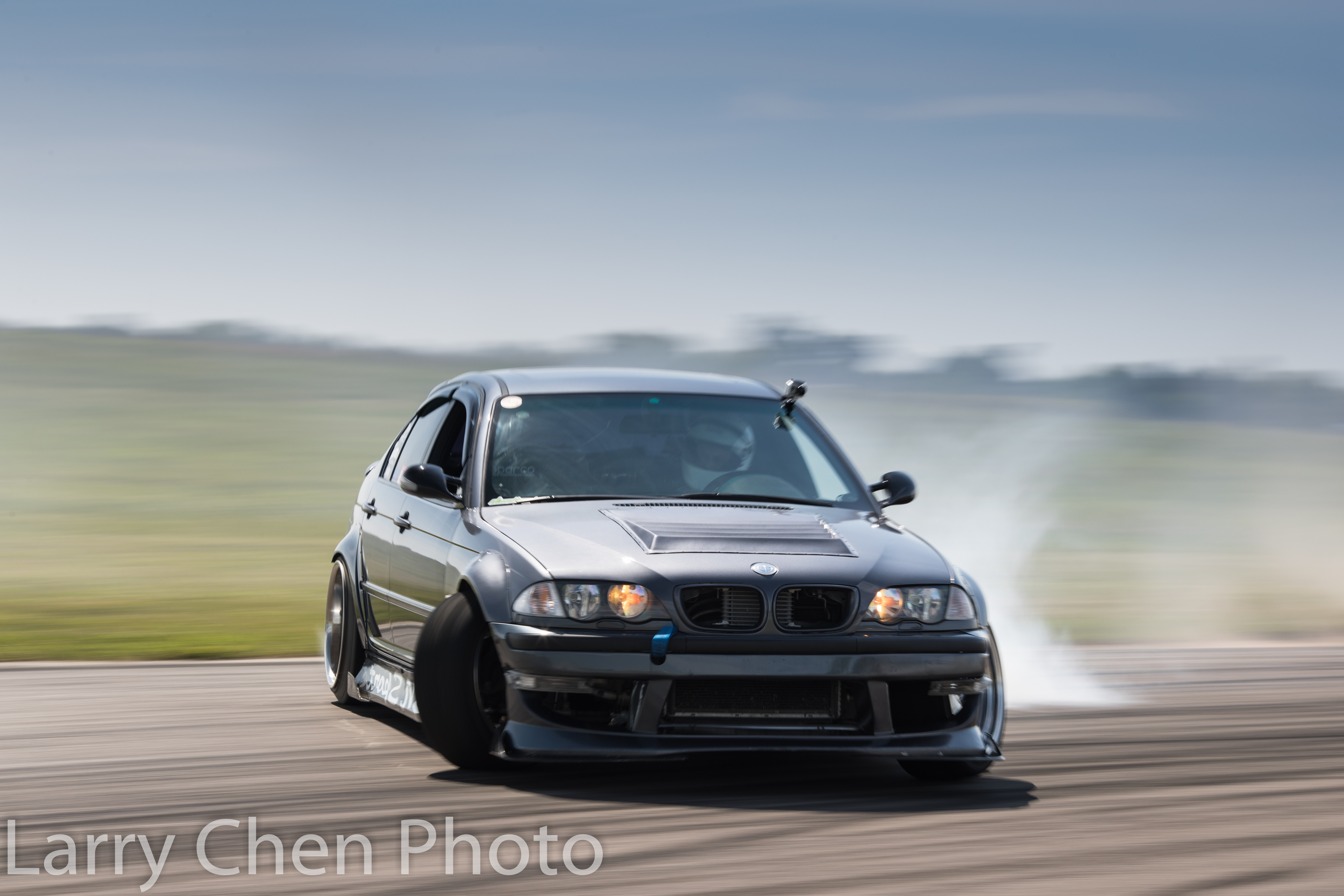 One big difference between Gridlife and Gatebil is the fact that no classes mix at the same time. That's good and bad.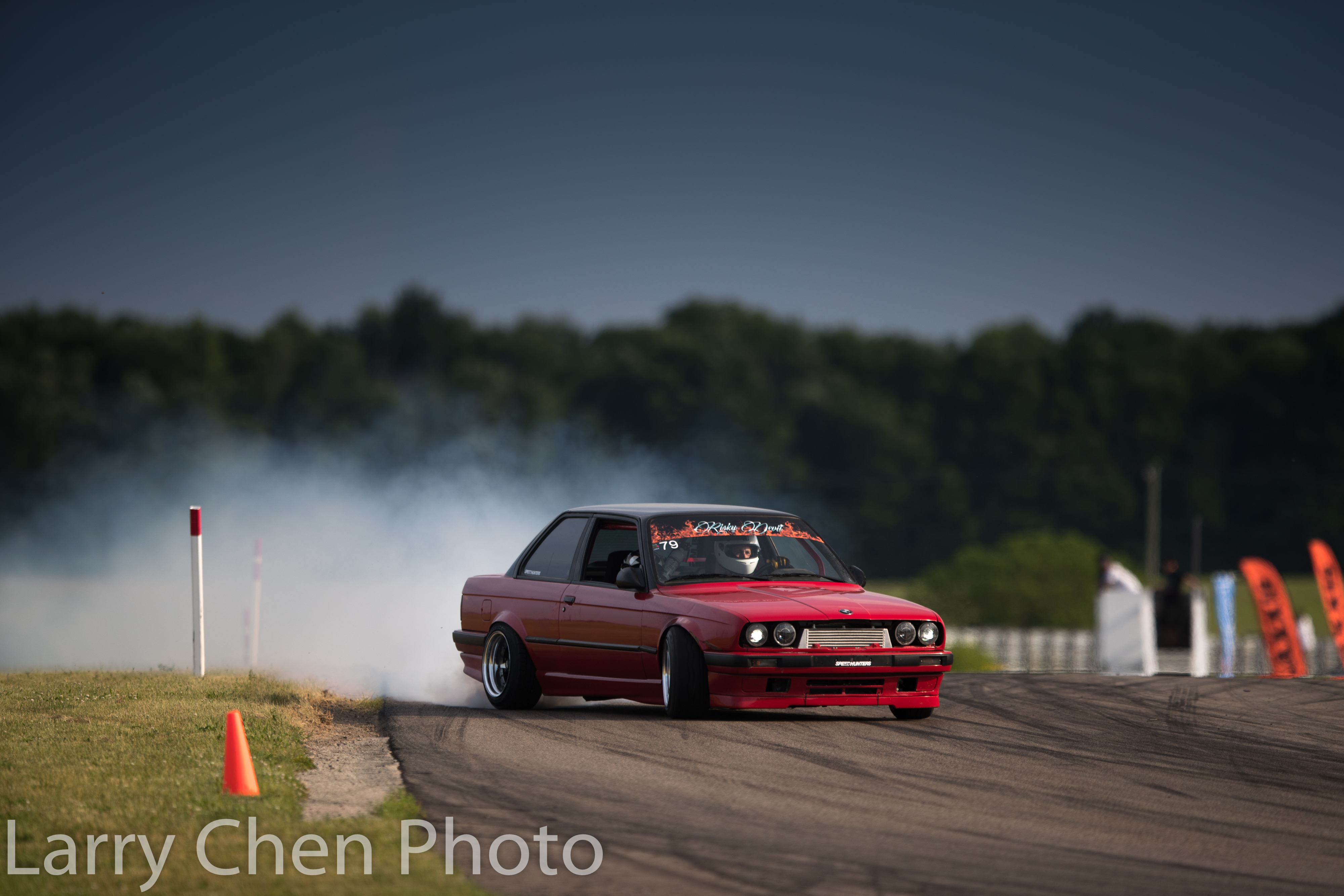 It's good in that you can run a tandem train all day long with your buddies and not have to worry about time attack cars whizzing past you like it's rush hour traffic. Although, I definitely miss the chaos that is Gatebil. With 25 drift cars and 25 time attack cars on the circuit at once, it's dumb and awesome at the same time.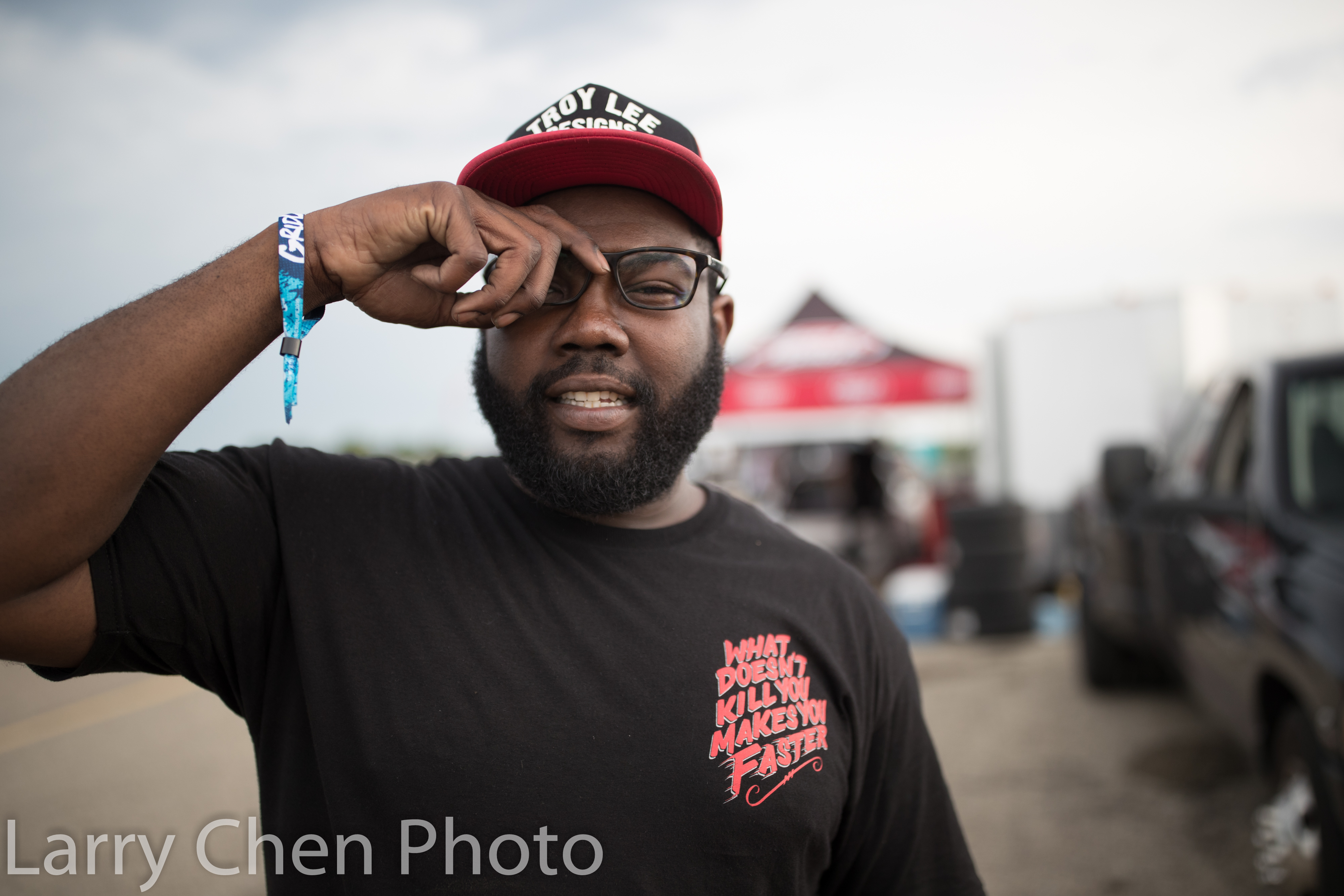 A couple of my friends made the trip all the way from the West Coast just to attend the event, including Hert from Hoonigan.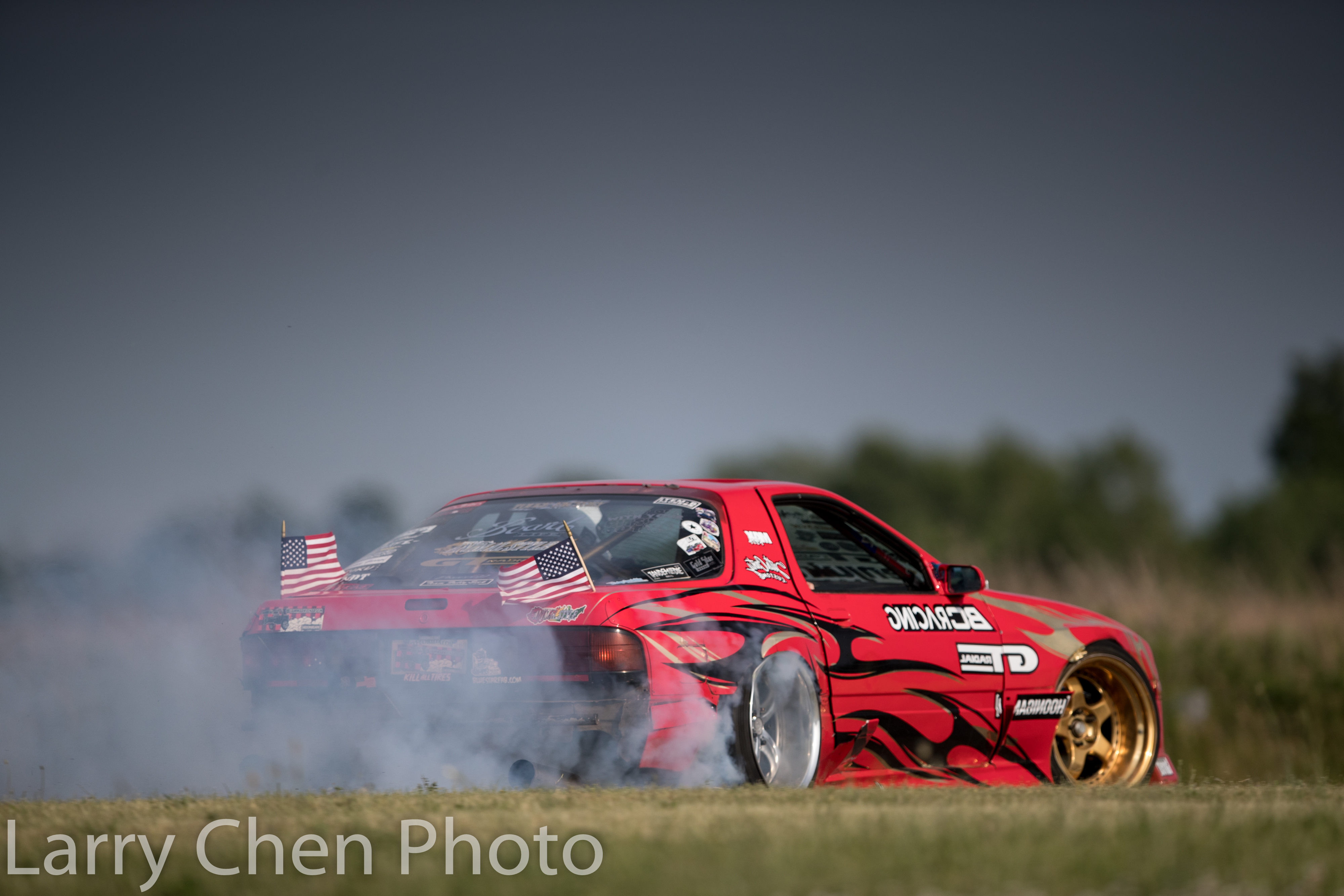 I've featured his car before, but now it's a totally different animal with much more power and attitude.
Also on site was Rob Parsons, also known as 'Chair Slayer.' He drives his really awesome S13 competition car with hand controls, and you can bet I did a quick feature on this beast of a Nissan.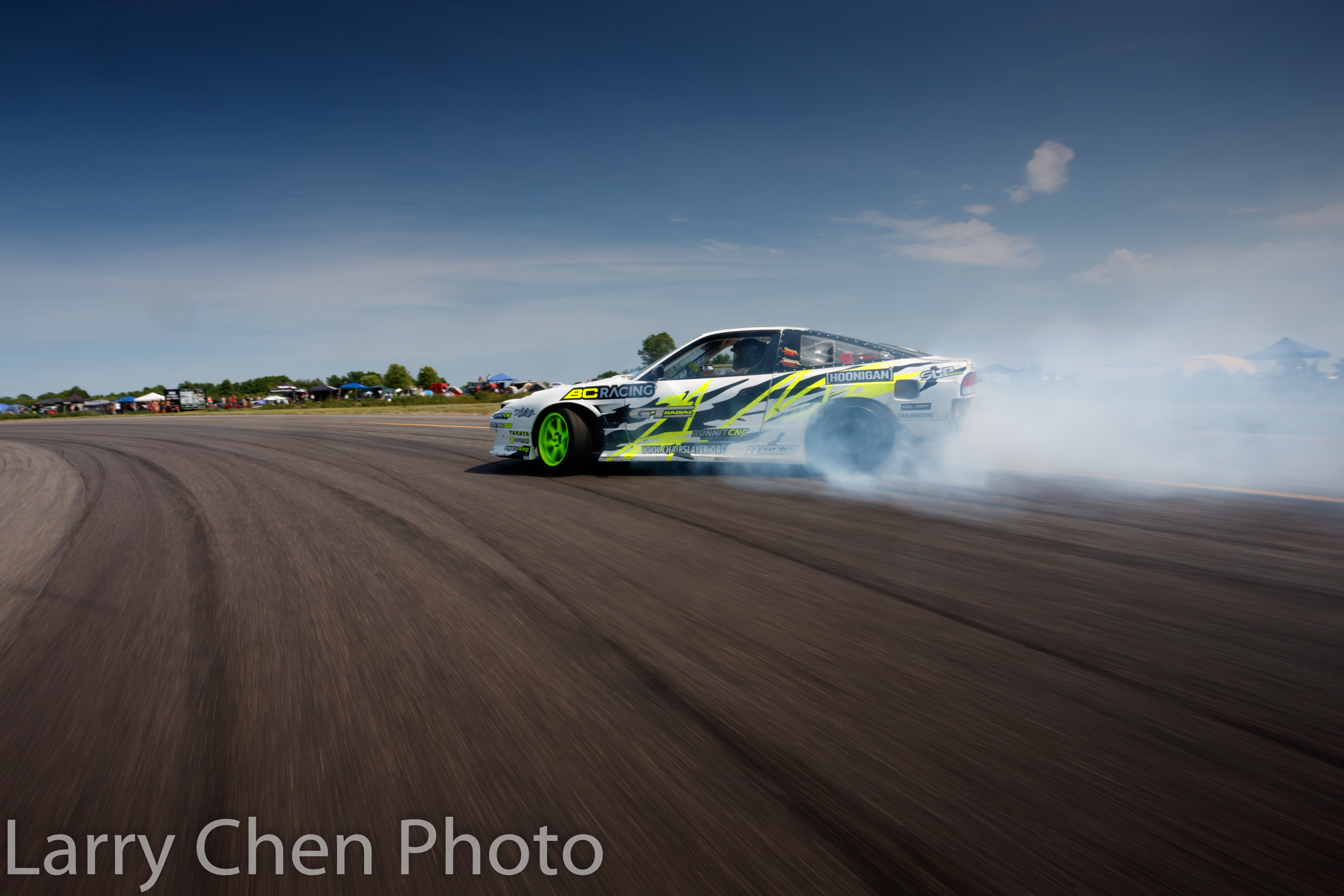 While the dynamic duo did not get in as many runs as they would have liked, It was still awesome to see them shredding on track.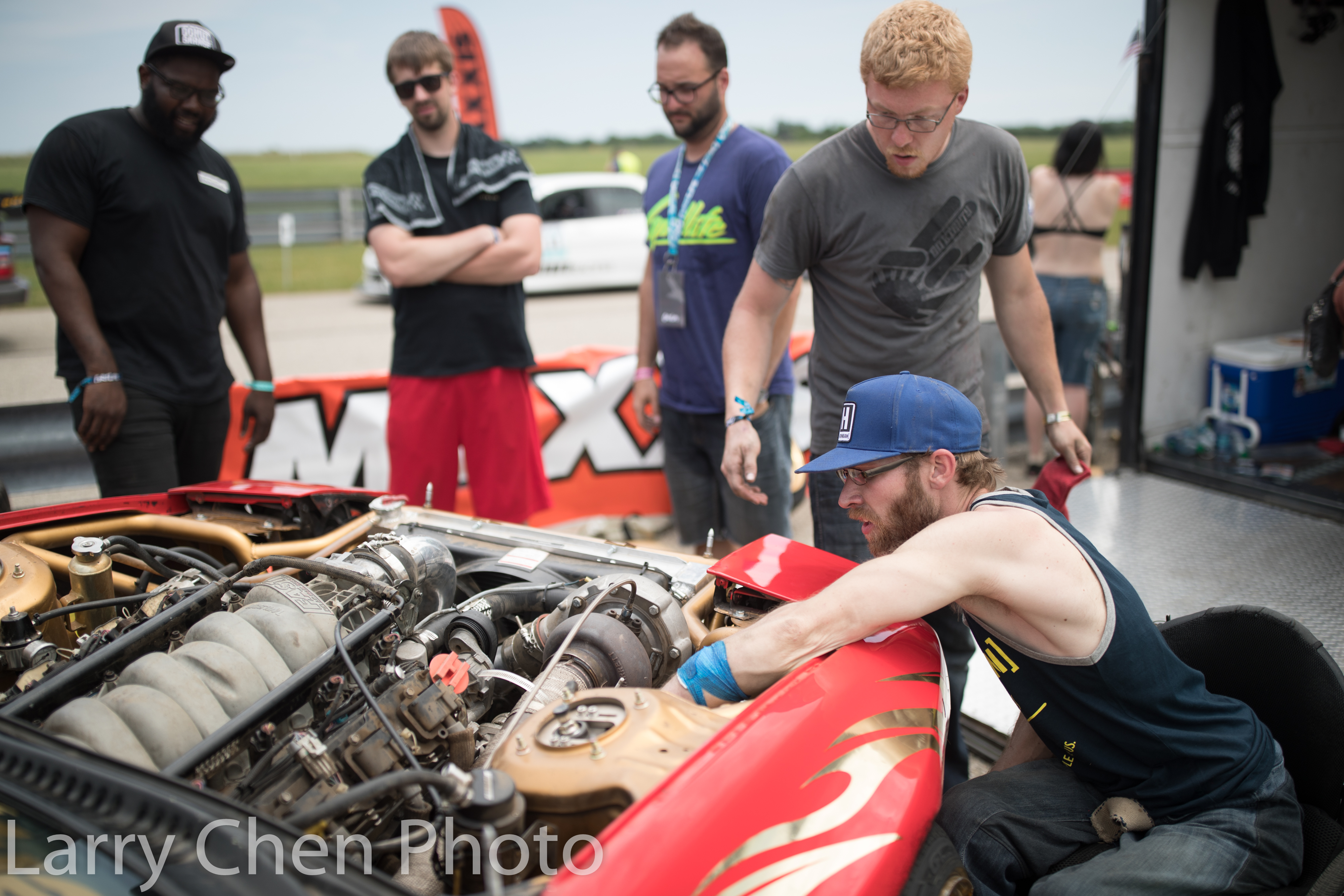 And that's really the thing about these guys; the dedication to get their cars working properly just to put on a show and nothing else, is so cool to see.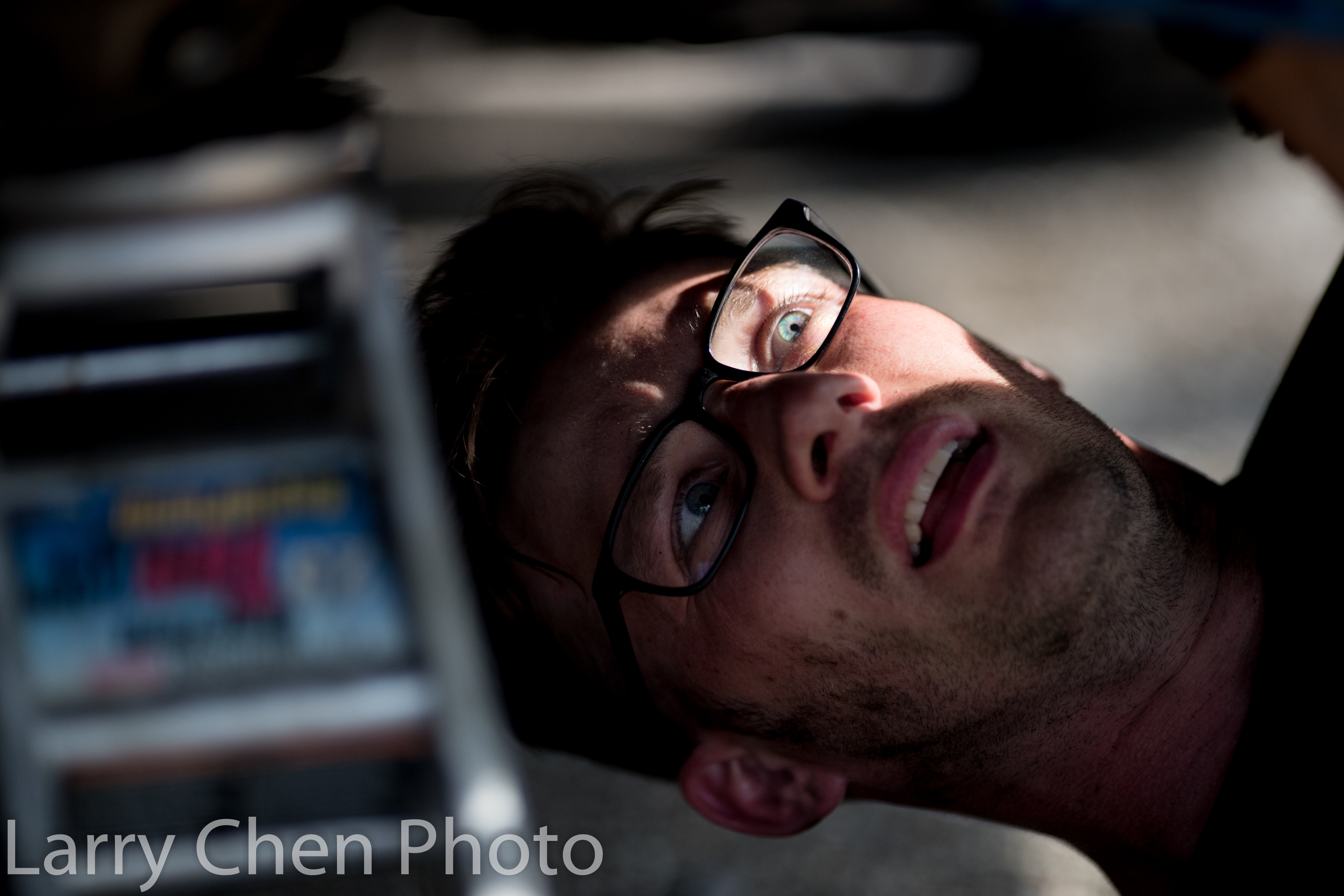 Ryan ran into troubles all weekend as he loves to push his machines to their absolute limit, and beyond.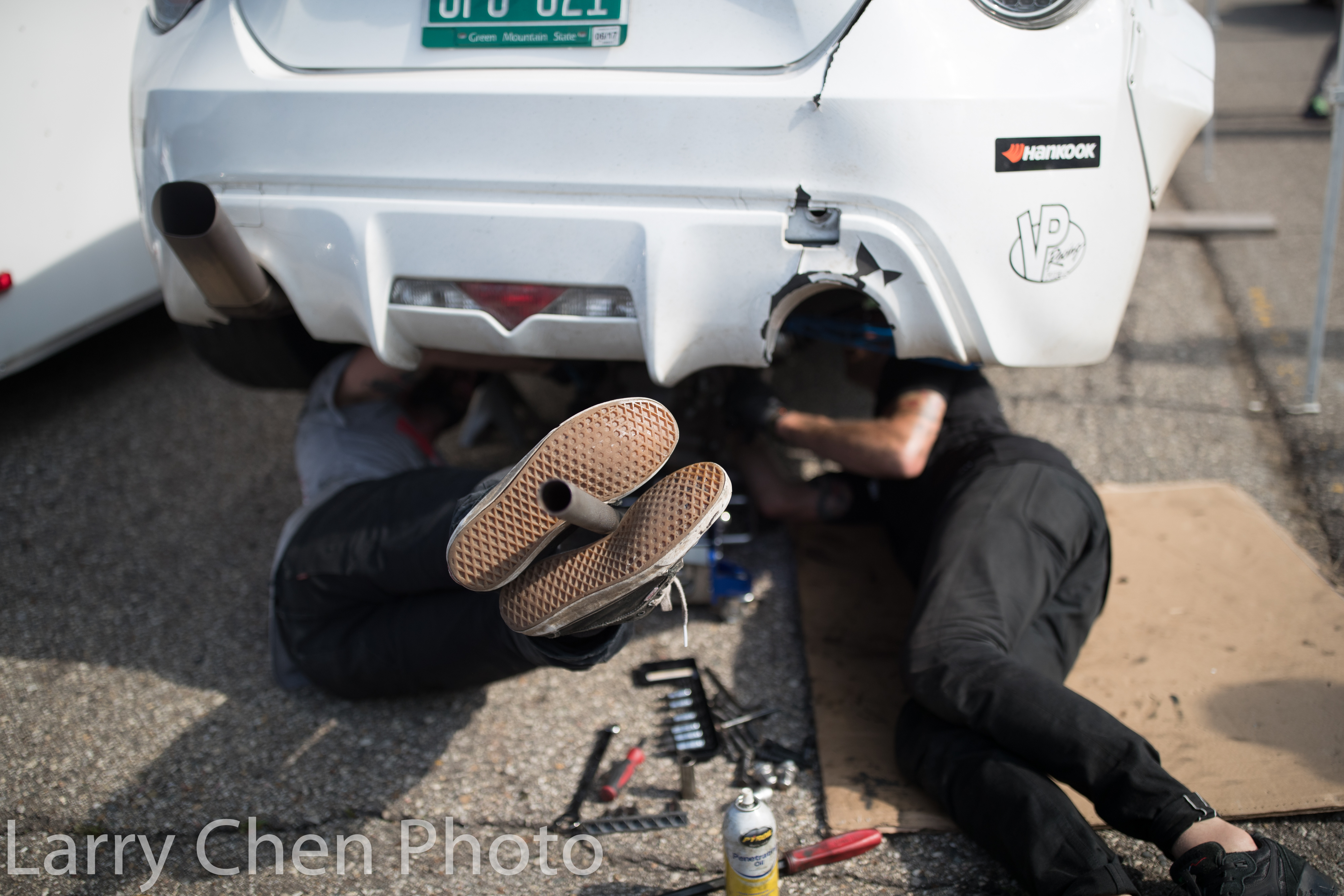 I always found him and his mechanic underneath the car swapping out differentials and various other broken bits. Check out that form as his mechanic jacked up the diff. Of course, I had to snap a few shots of this before I stepped in to help out as much as I could.
Time on track was the name of the game; the more sessions and tires that Ryan went through, the more people he could give rides to.
As the day went on, he initiated his drifts earlier and earlier, which reminded me of this photo I took a while back.
To close out Gridlife's on track activities, the last session of the day was given to the drift guys.
As the sun began to set, I took the opportunity to bring cars on track to feature. Others did the same, but mostly they just goofed off.
As we shot these cars, we could hear the music thumping louder and louder. Now it was time to party.
This was the real deal – a professional stage and an awesome light show to go with it.
Previously, I had never understood why some people went to these type of events just for the concert, but now I get it. Each part is so incredibly cool that they can stand on their own.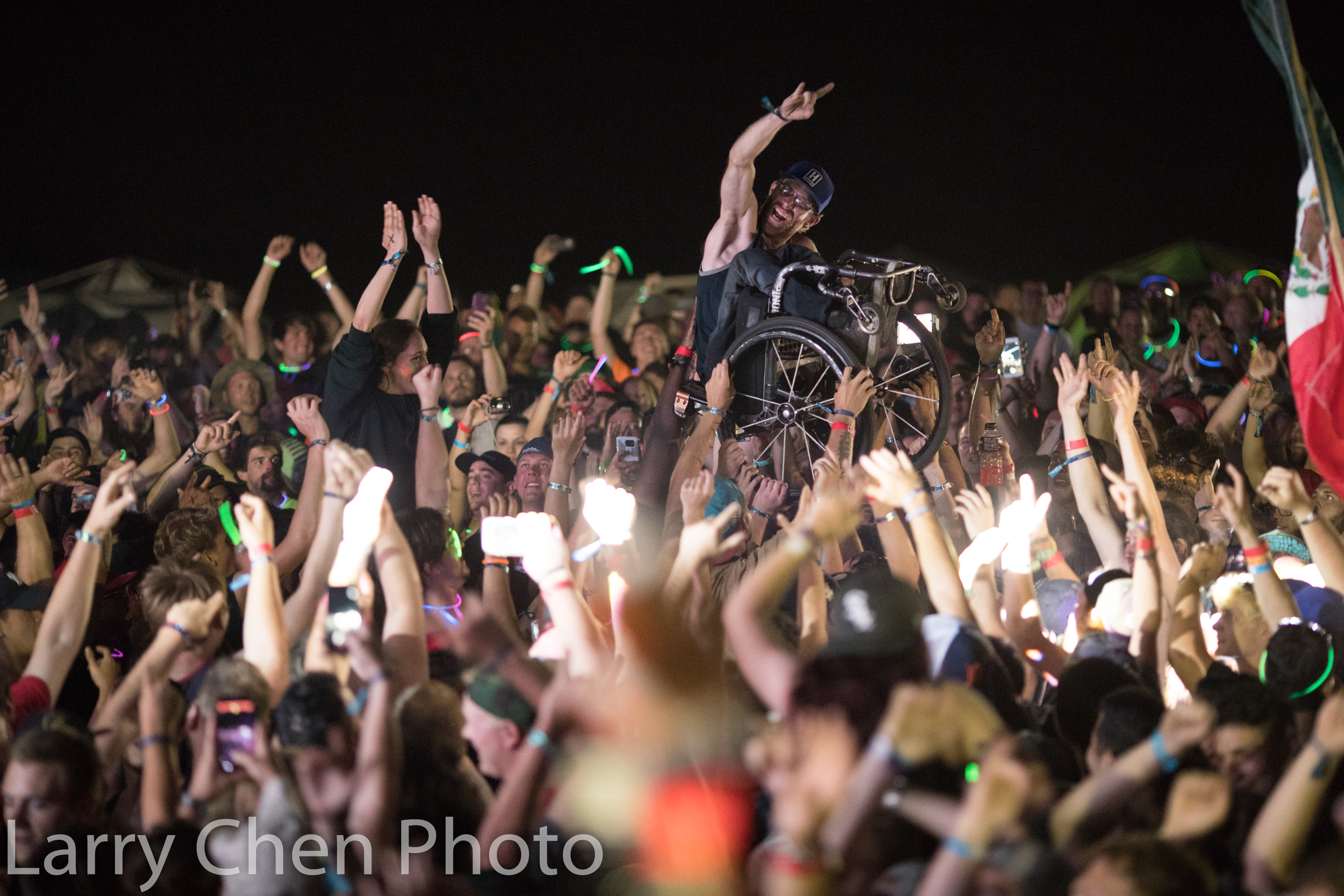 There were quite a few people crowd surfing, so Rob decided to do some surfing of his own.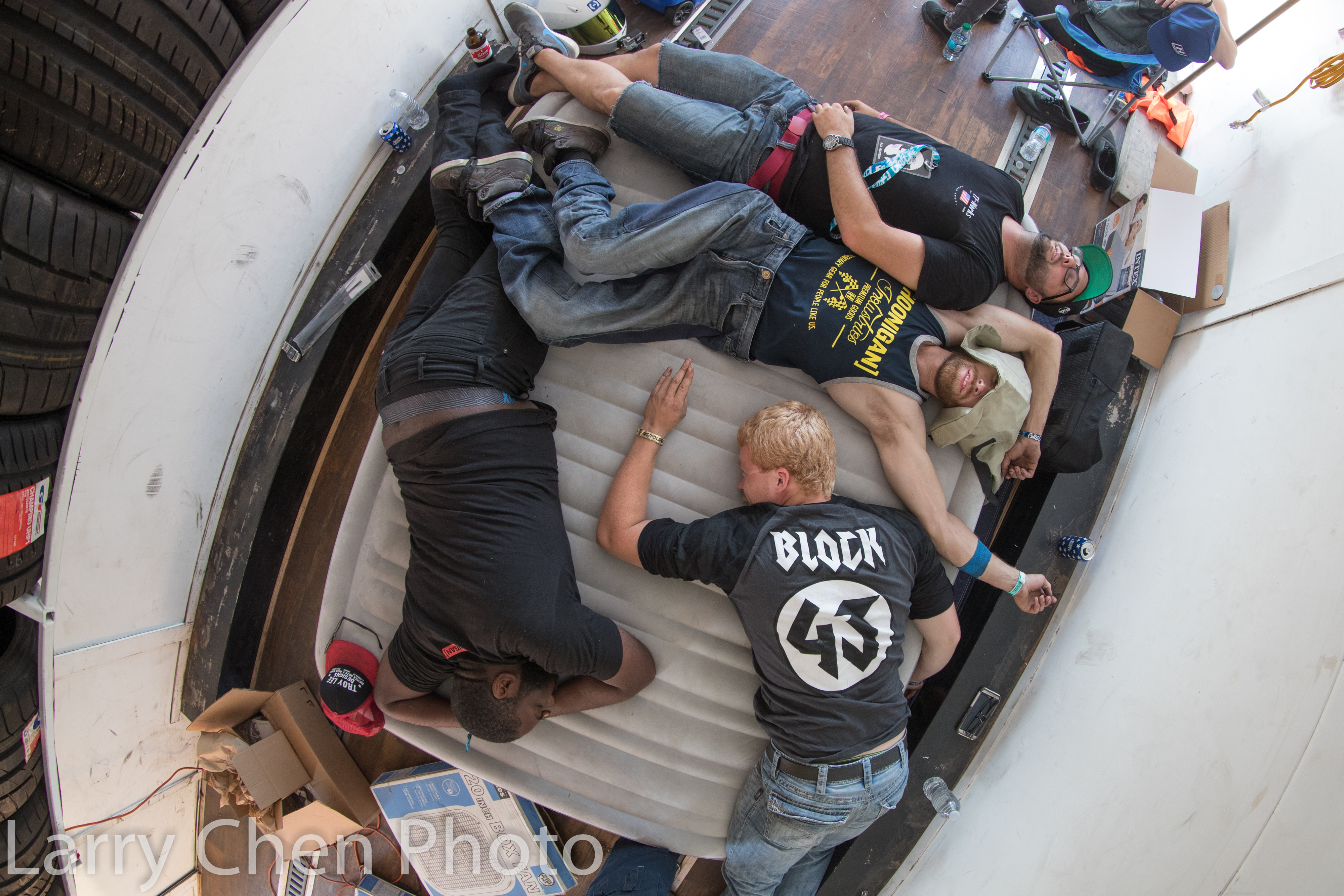 The next morning it was time to do it all over again. I was up for the challenge and so were the Hoonigan boys.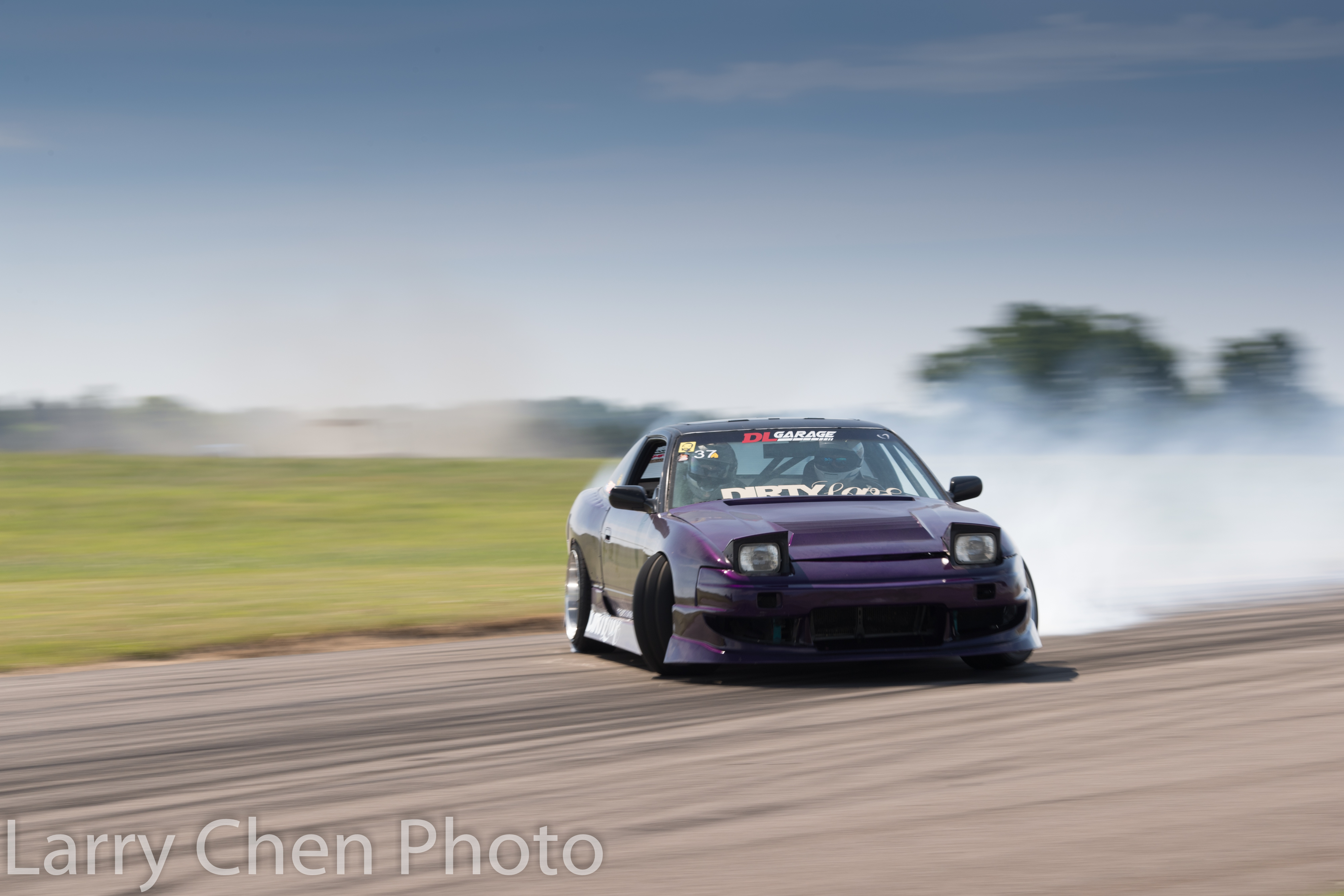 Gridlife is holding its next event in Georgia at Road Atlanta, so I highly suggest you check it out if you are in the vicinity. Heck, if you want to drive, then it'll be even better. Either way, I am so glad that I had a chance to attend one of these grassroots events again, as I feel like I've been going through withdrawals lately having only been shooting professional drifting and racing.
Larry Chen
Instagram: larry_chen_foto
Bonus Chapter: Cutting Room Floor