Chapter One: Battle Drift 2
As you guys know, my job as an automotive photographer sees me experience different facets of car culture all over the world, but out of everything I shoot, nothing is more stressful than being on the set of a high-value video production. More often than not, I am the only person shooting still images, so the pressure is always on to perform and to capture as much as I can.
With its 20-hour-plus days, I thought being on the set of the original Battle Drift shoot in 2015 was taxing enough, but the second time around it was even worse. I flew into London and hit the ground running with no sleep on the first day of filming, but it turned out to be totally worth it for one of the coolest shoots of the year.
If you haven't watched it already, hit play above for Monster Energy's Battle Drift 2 featuring the one and only Daigo Saito and UK's own Steve 'Baggsy' Biagioni.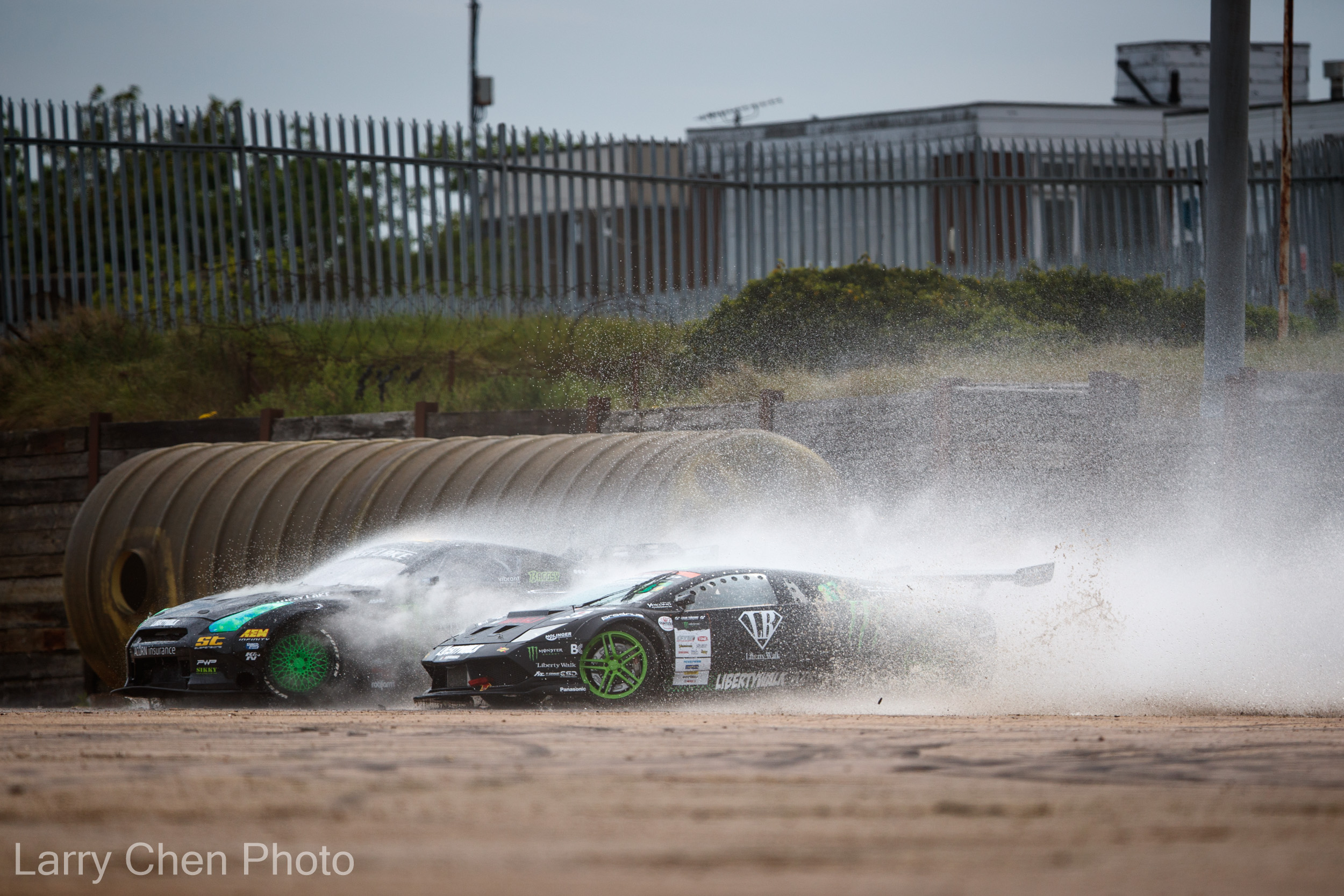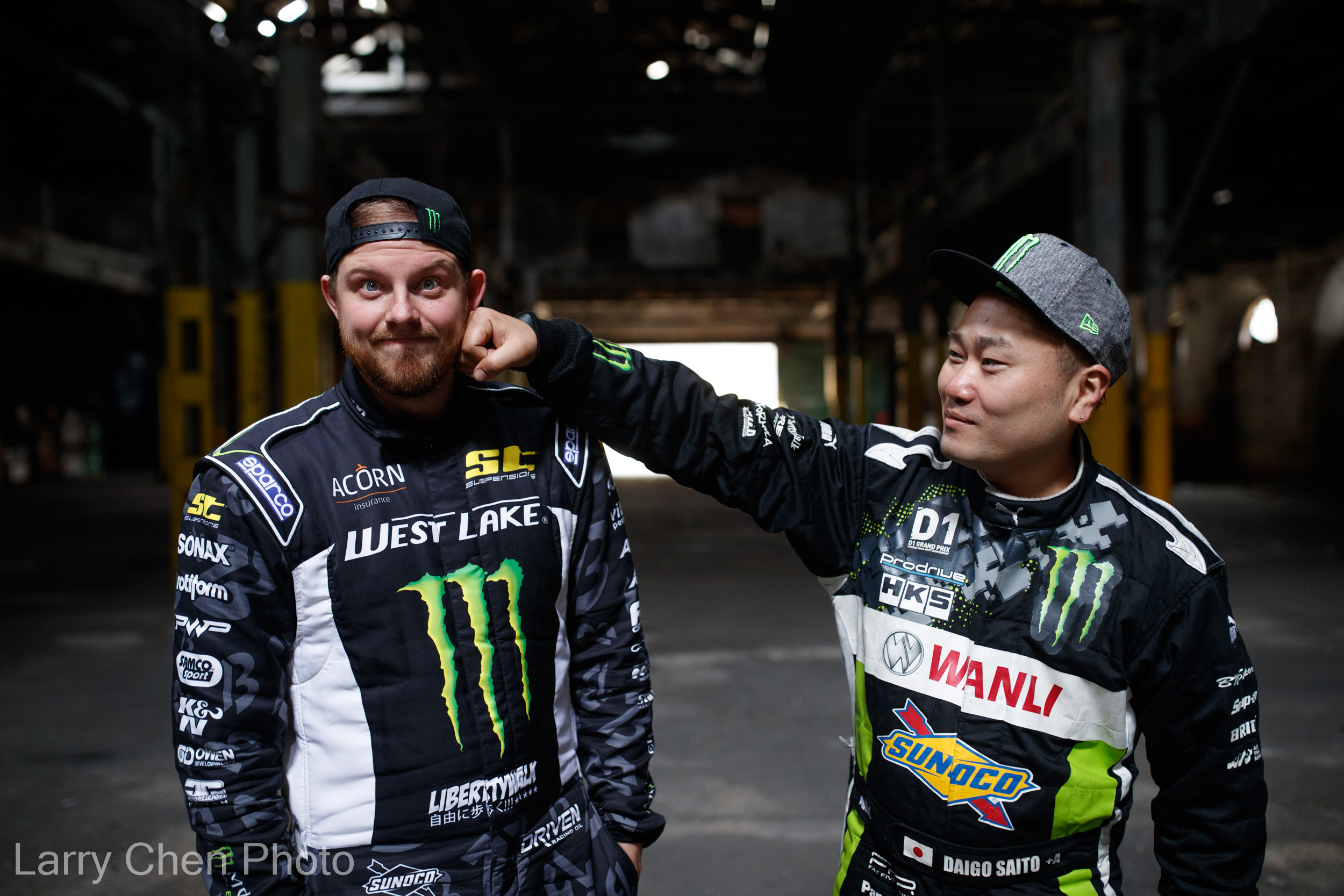 Surprisingly, I've only met Baggsy a few times over the years, and always just in passing. I'd never actually had the chance to photograph him, or chat with him at all. So I was really looking forward to seeing him duke it out with one of my favorite drifters in the world.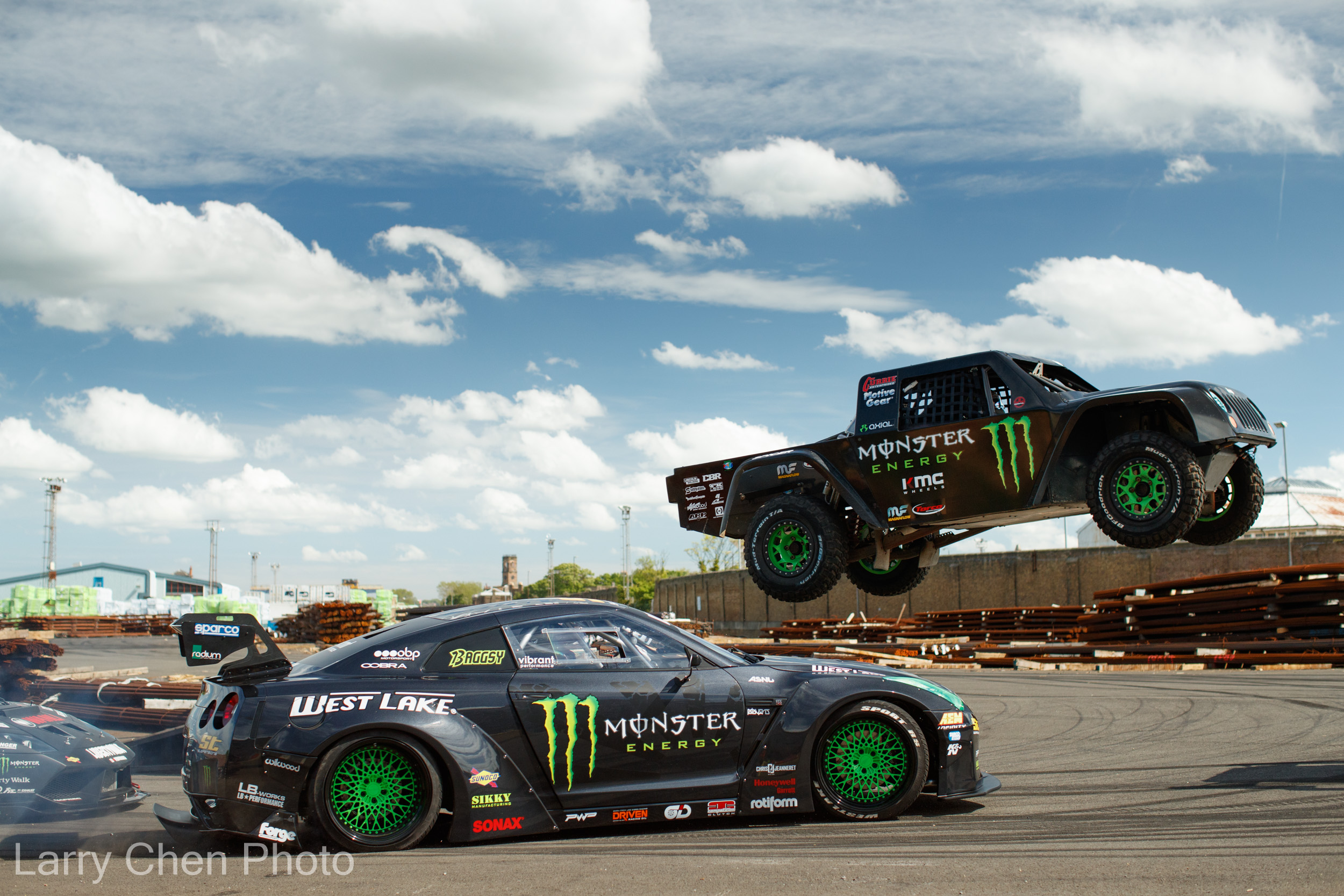 Although Battle Drift featured just Vaughan Gittin Jr. and Daigo, for number two, Casey Currie joined in on the fun with some jumping action in his Pro Lite off-road truck.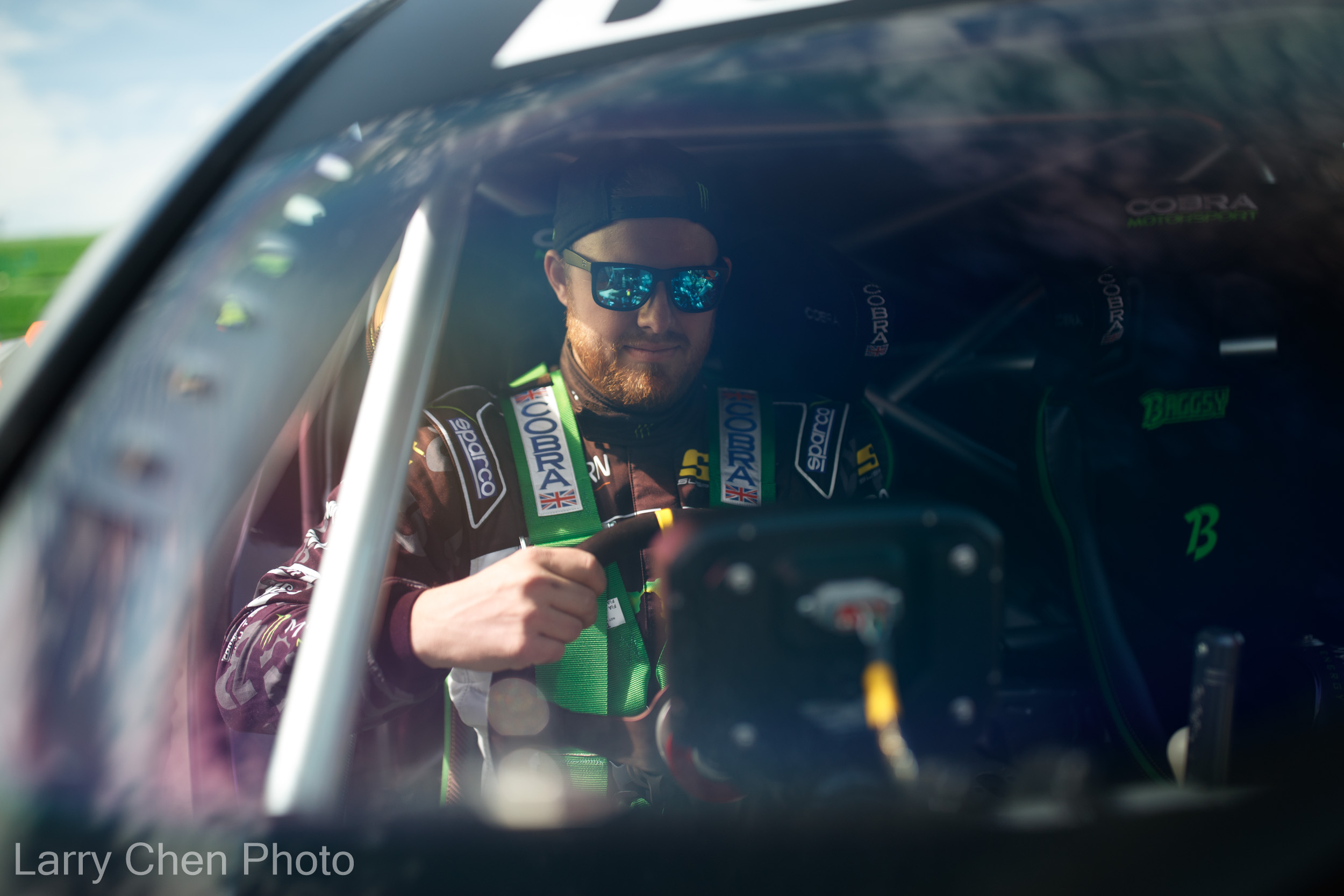 I had no idea what to expect when I landed in the UK; I just knew who the drivers were going to be. The fact that Baggsy was bringing a bazooka to a knife fight was a welcome revelation.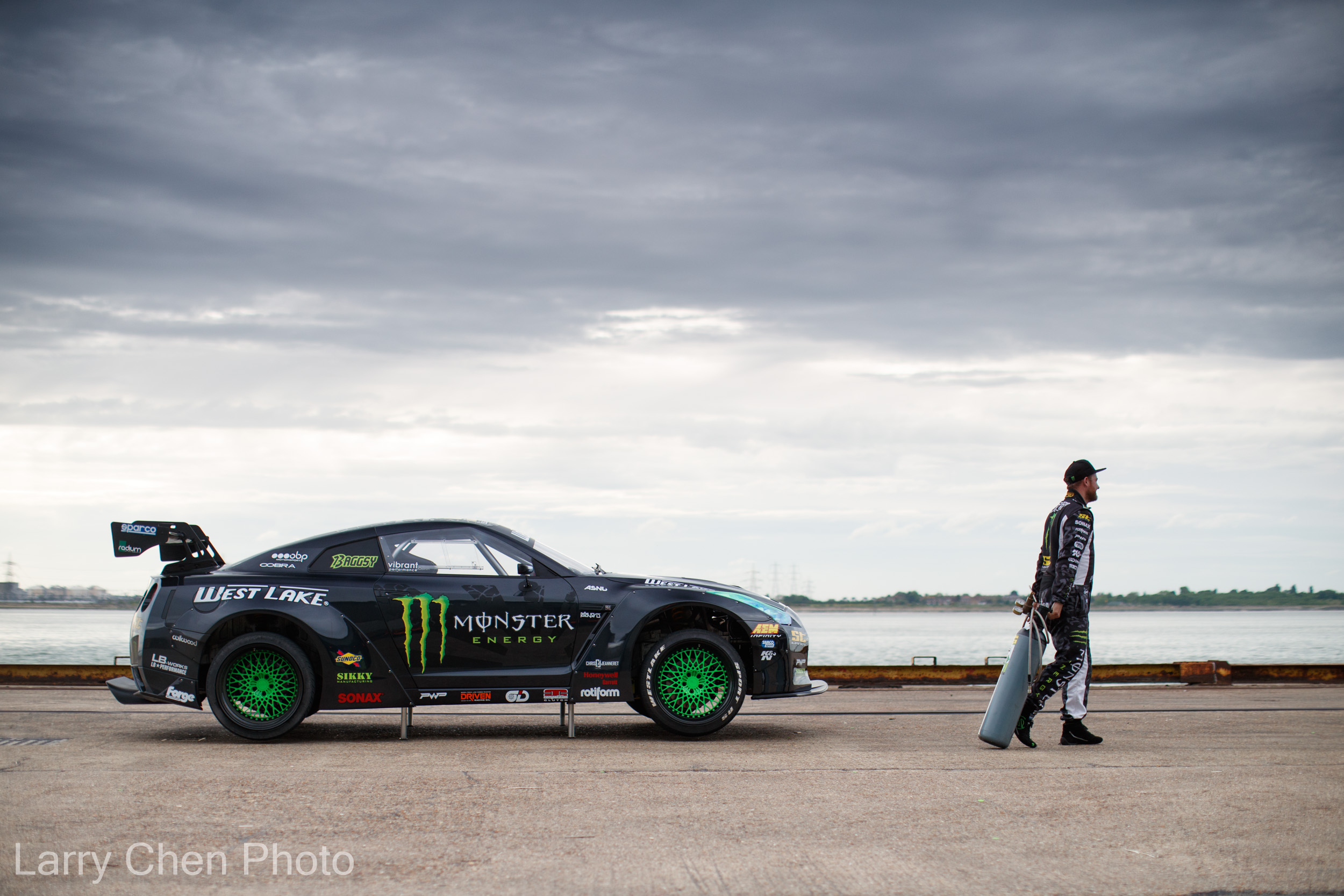 Enter the destroyer of worlds, otherwise known as a fire-spitting, turbo LSX V8-powered Nissan GT-R good for 1200hp.
Just look at the view from the wheel well. How insane is this?!
Even Daigo didn't know what to think about it. Funnily enough, I'd previously been a passenger in this very car when Speedhunters' crazy German friend Michael Grassl piloted it at Gatebil in 2013. It's a very different machine now, featuring an entirely different heart and packing around double the original power output.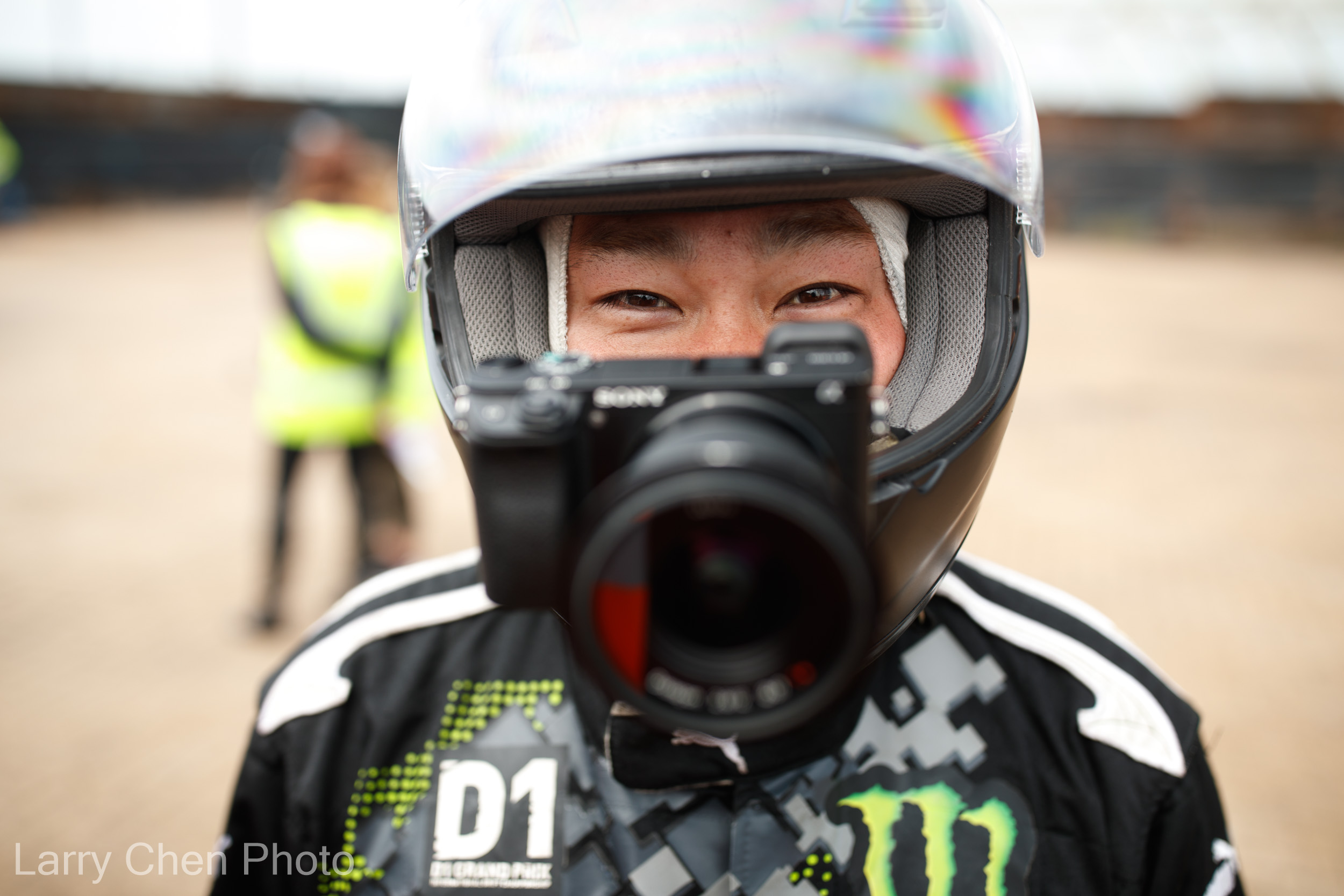 For Battle Drift 2, Daigo was back behind the wheel of his Lamborghini Murciélago. As if it wasn't hard enough for him to just see out of the supercar's heavily angled windshield, driving the Lambo was made even more challenging for Daigo with a giant camera strapped to his face.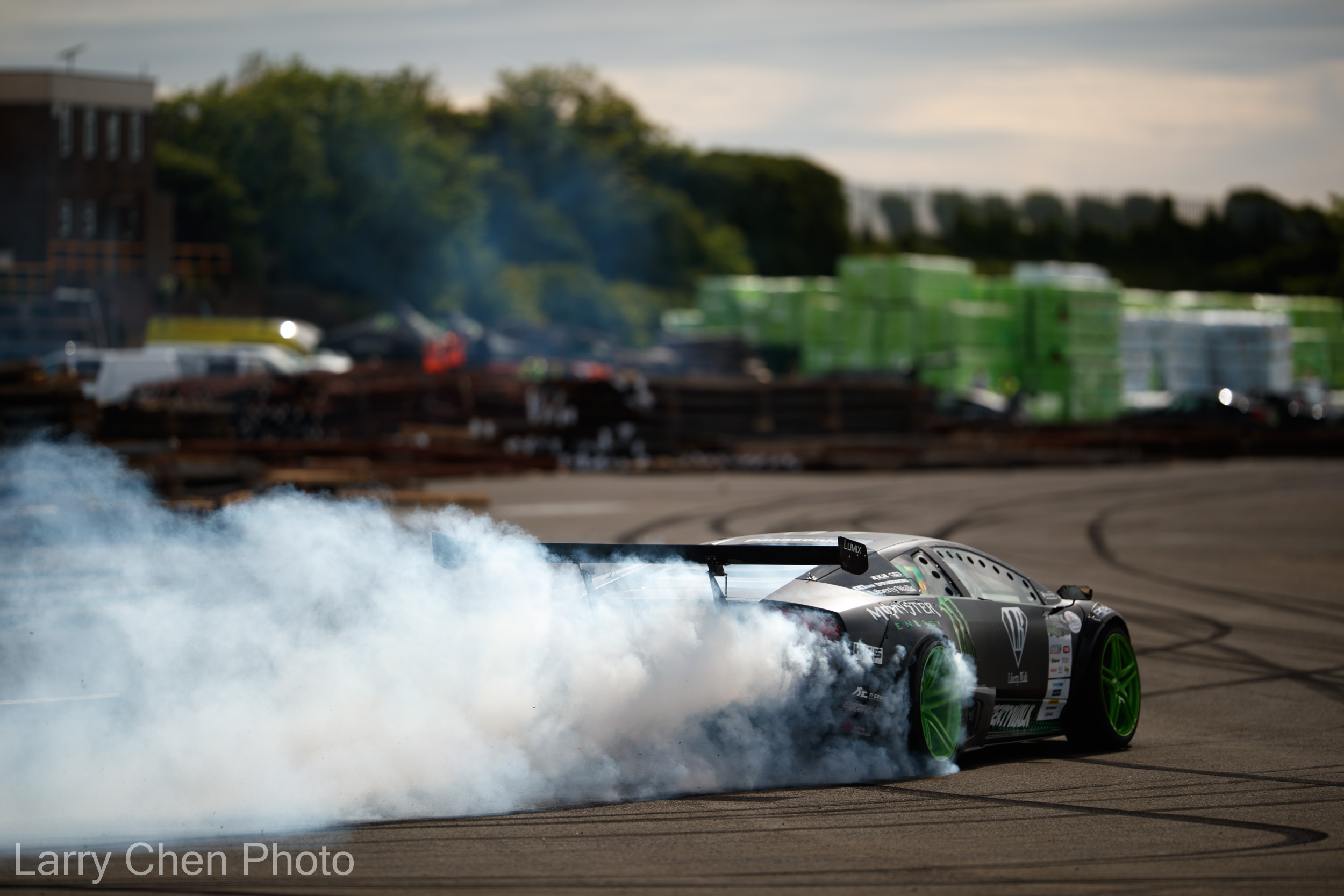 The Murciélago was largely unchanged from the previous shoot, but since then some of the parts that had sustained damage during filming had been replaced, including the driver's side headlight.
This time around it was the passenger side headlight that was destroyed. I can't be exactly sure, but I think I heard Daigo say that he paid upwards of US$5,000 for the last headlight. Sorry buddy, but anything for the shot, right?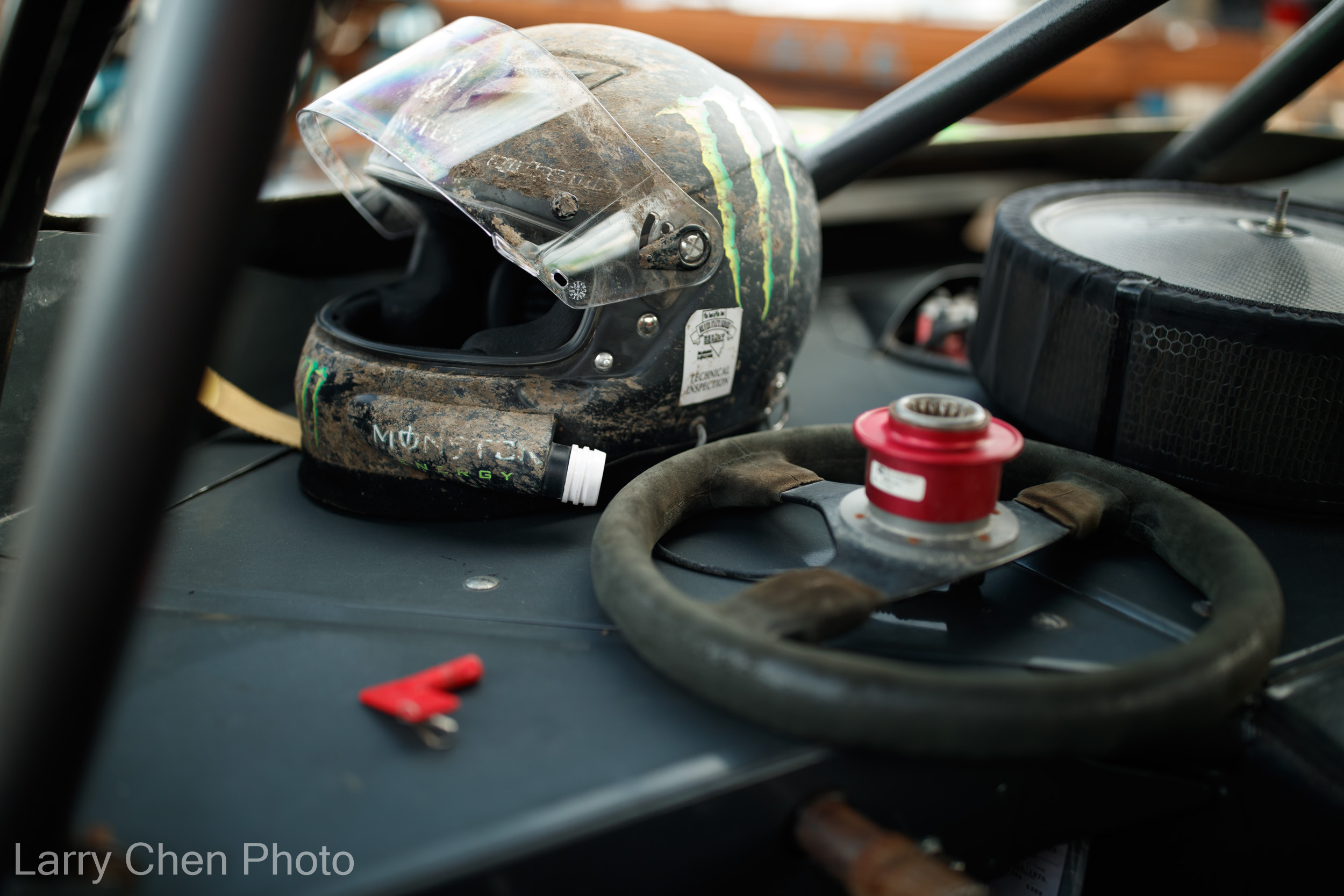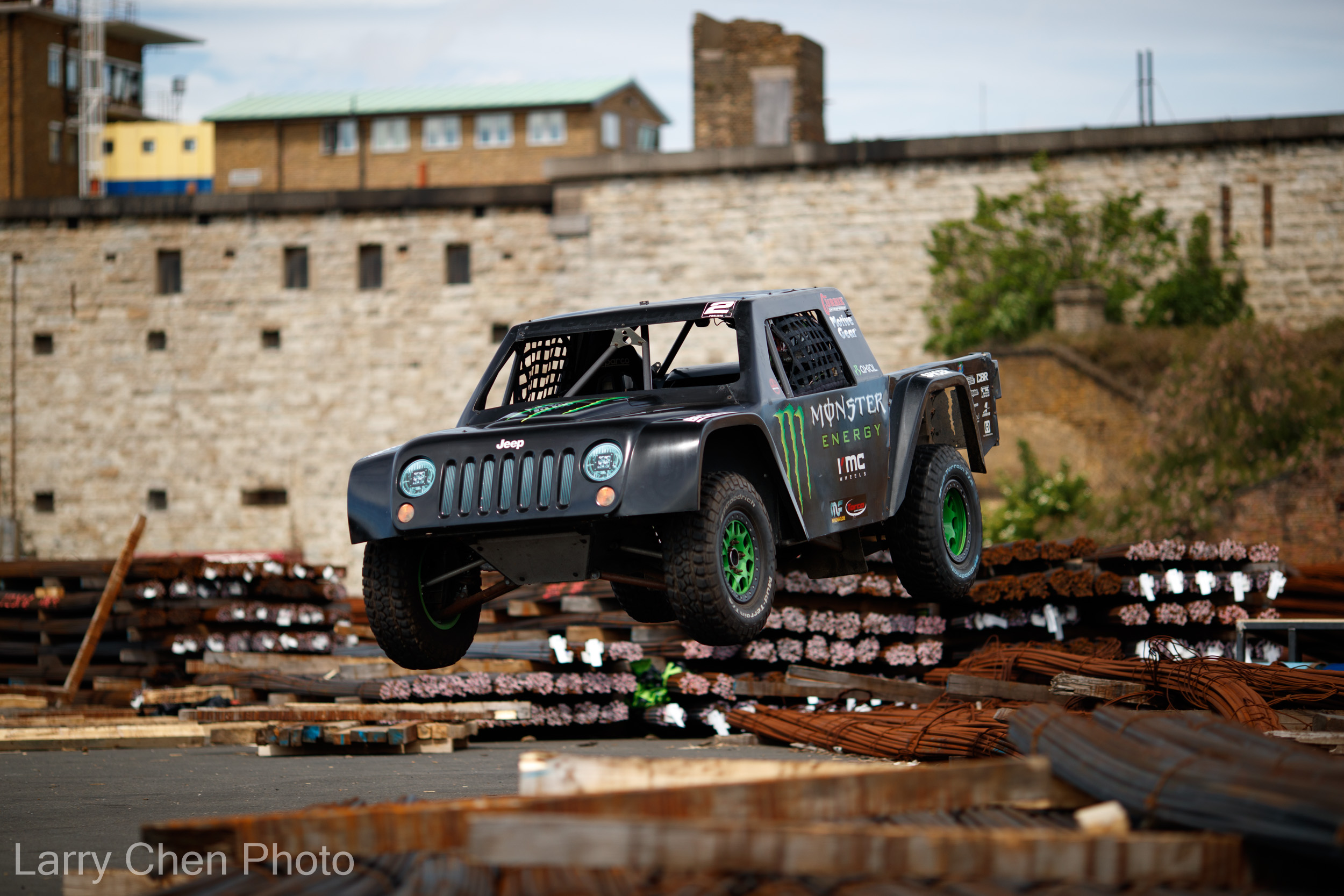 Like me, Casey came straight to set from the airport, but he did it in grand style, winning his latest Pro Lite race right before jumping on the plane.
I honestly think the Monster Energy guys just wanted to bring Casey over for a bit of comic relief. I mean, here he is tandem drifting.
While Luke Huxham shot the first Battle Drift, this time around production duties were tasked to Donut Media. I've worked with James Kirkham, Jacob Agajanian and Andy Laputka for pretty much my entire professional career, and it's always fun.
Chapter Two: Push It To The Limit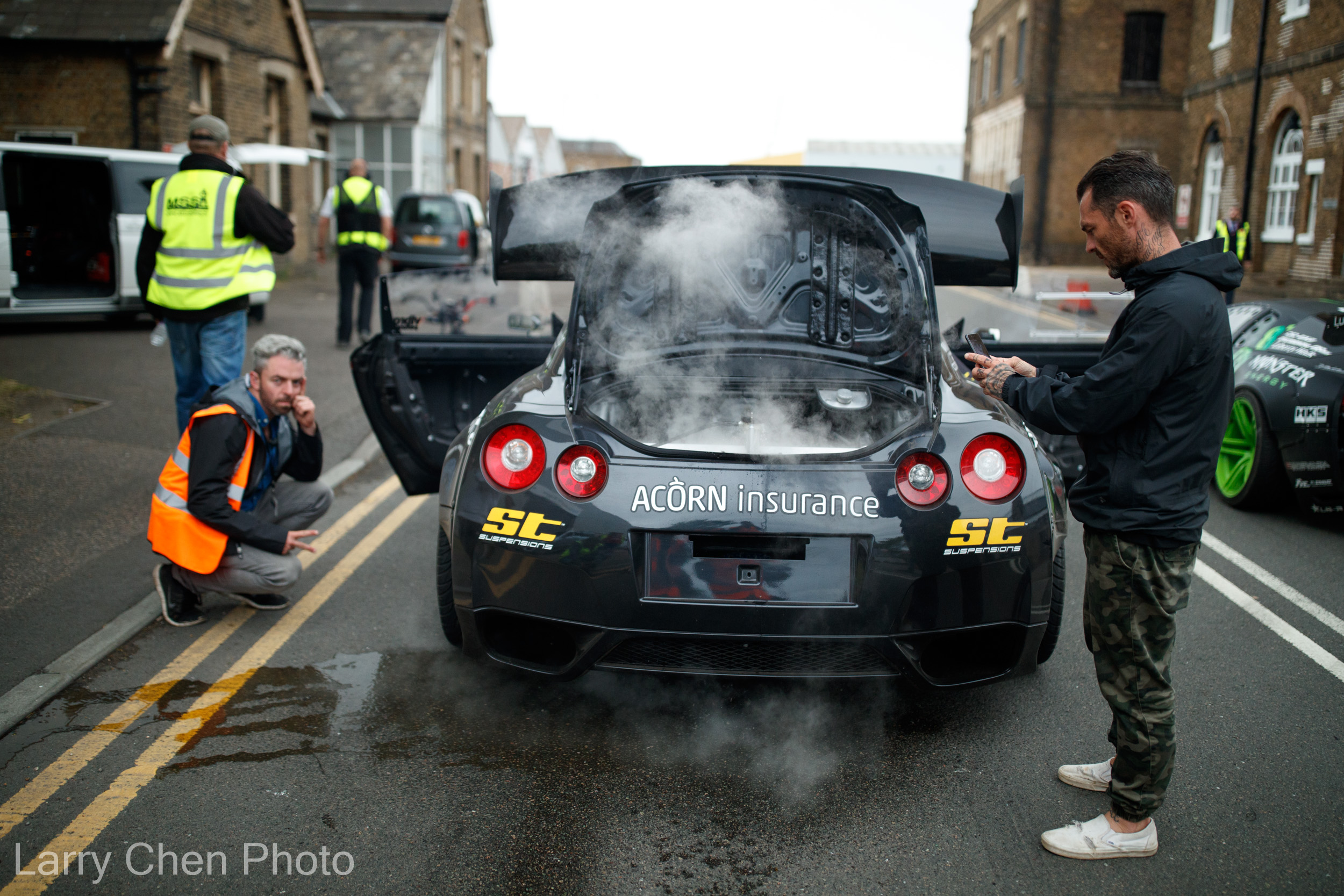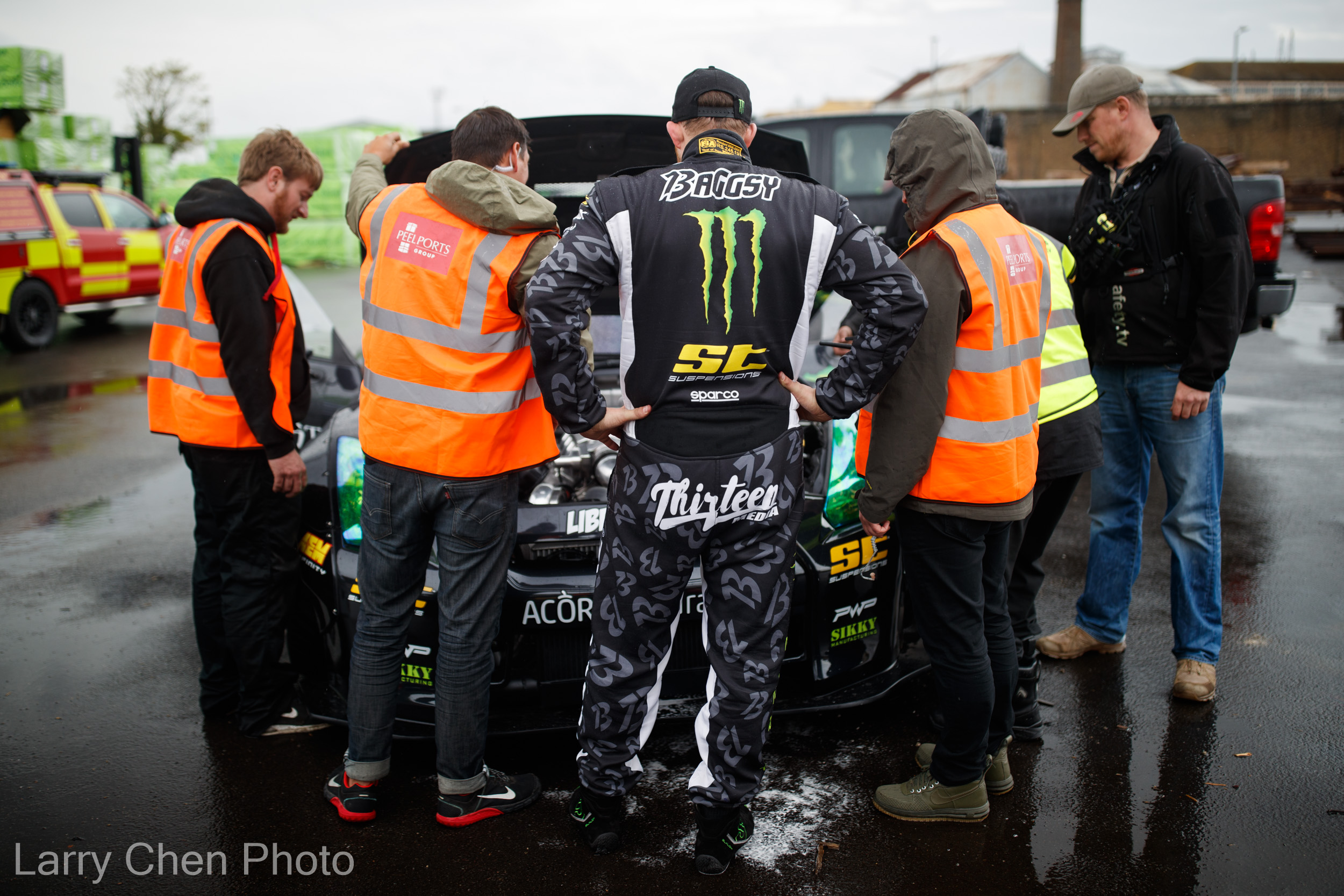 As always with these sorts of shoots, the first day has its fair share of issues. The GT-R had come from the dyno only a few hours prior and had not been driven fast in its new guise, let alone drifted.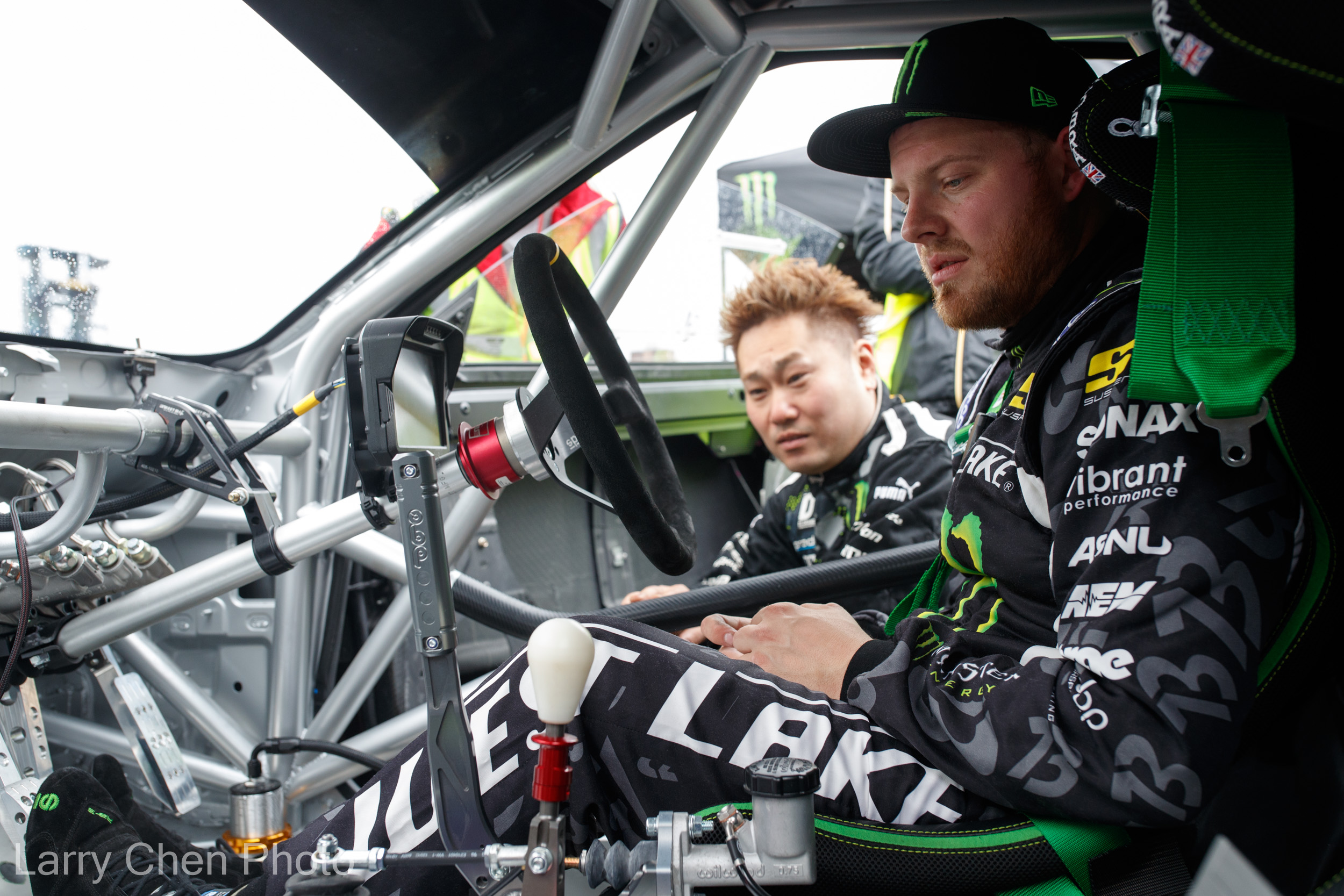 It was unproven at this point and it worried everyone.
Because of this, and the fact that the lovely London weather was not really playing ball, the focus was put on detail and interior shots.
The on-set personality for this shoot was Nicolas Hamilton, who of course is Lewis Hamilton's brother. Nic is also a professional racing driver, but for Battle Drift 2 he hosted a behind the scenes video which I was also a part of.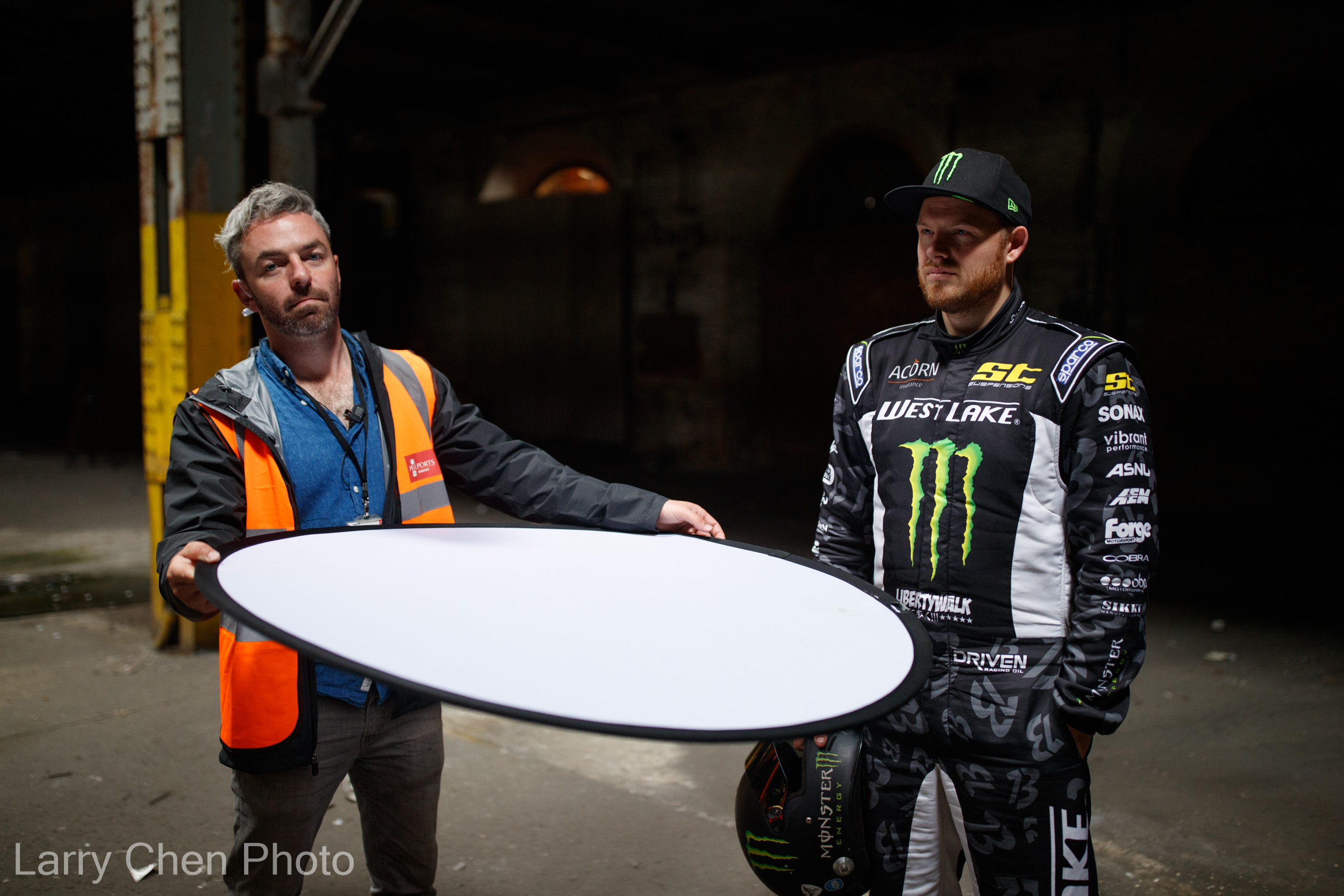 Also on the revised agenda for the day were the narrative scenes, which were shot in a really cool old warehouse close to the main location.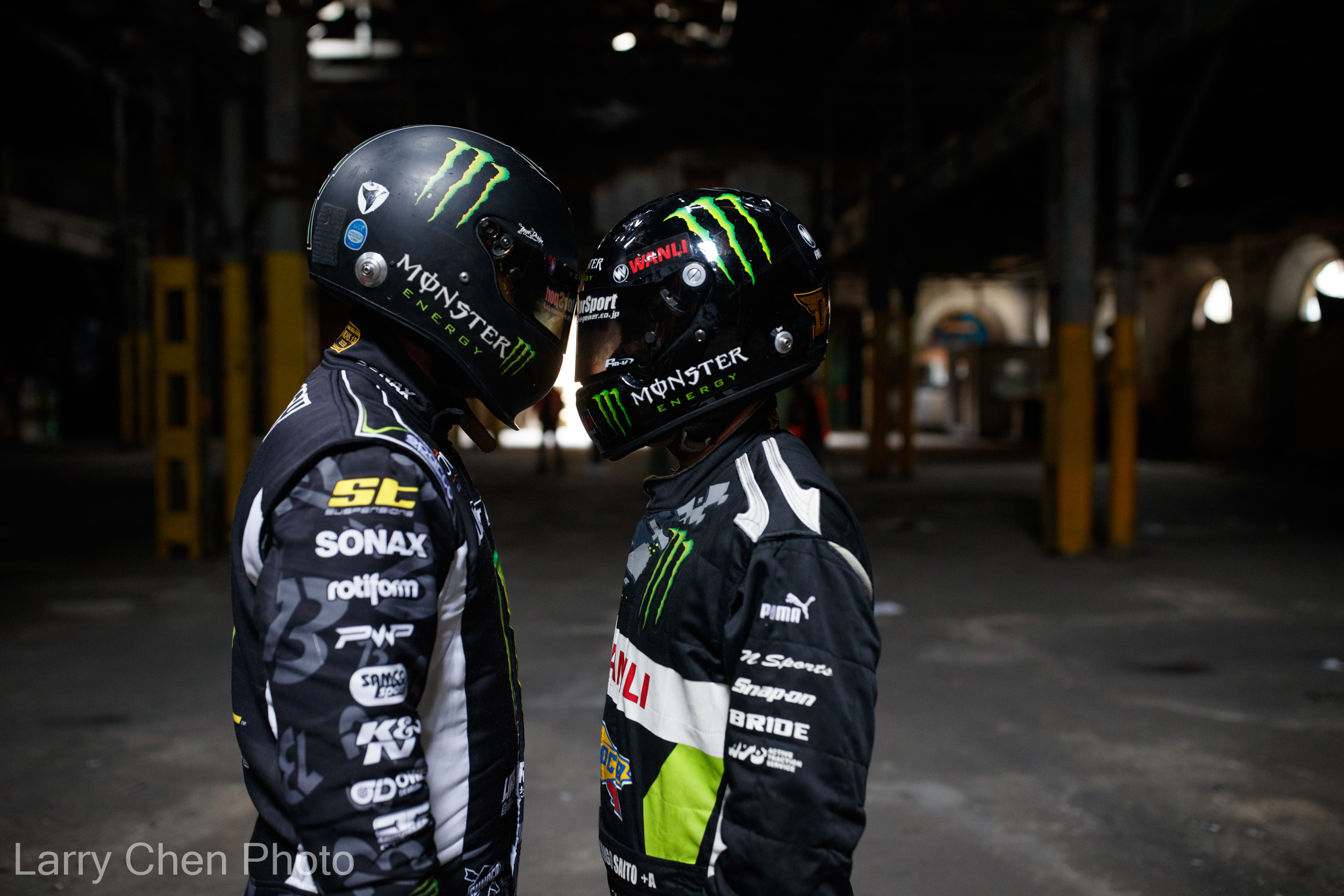 While these sort of things usually are a drag to shoot, it was super fun just being on set with these characters.
Talk about an accidental renaissance. I got a number of these shots over the course of the shoot.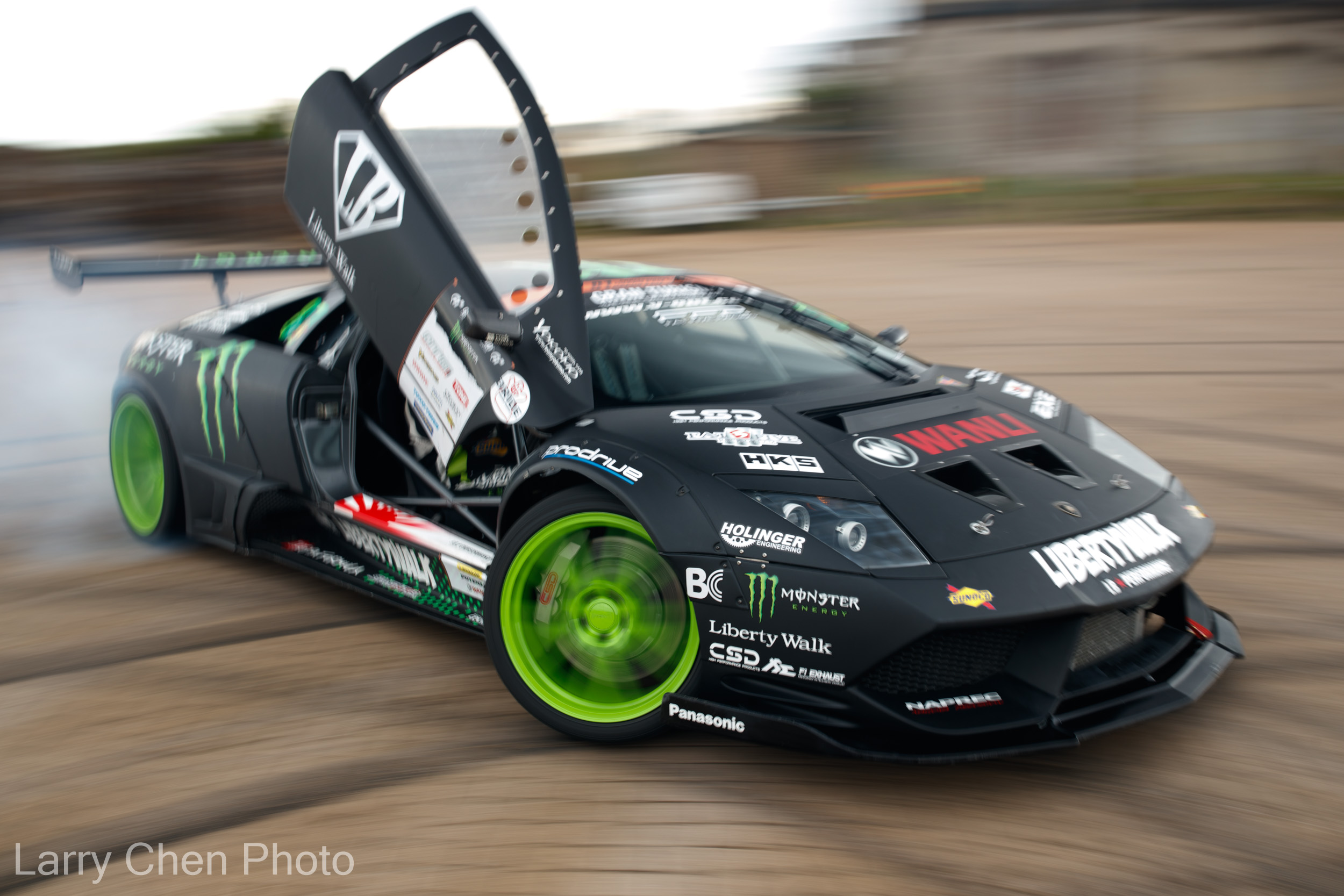 While there was a bit of a language barrier between the Japanese and English-speaking crews, we all spoke the international language of drift.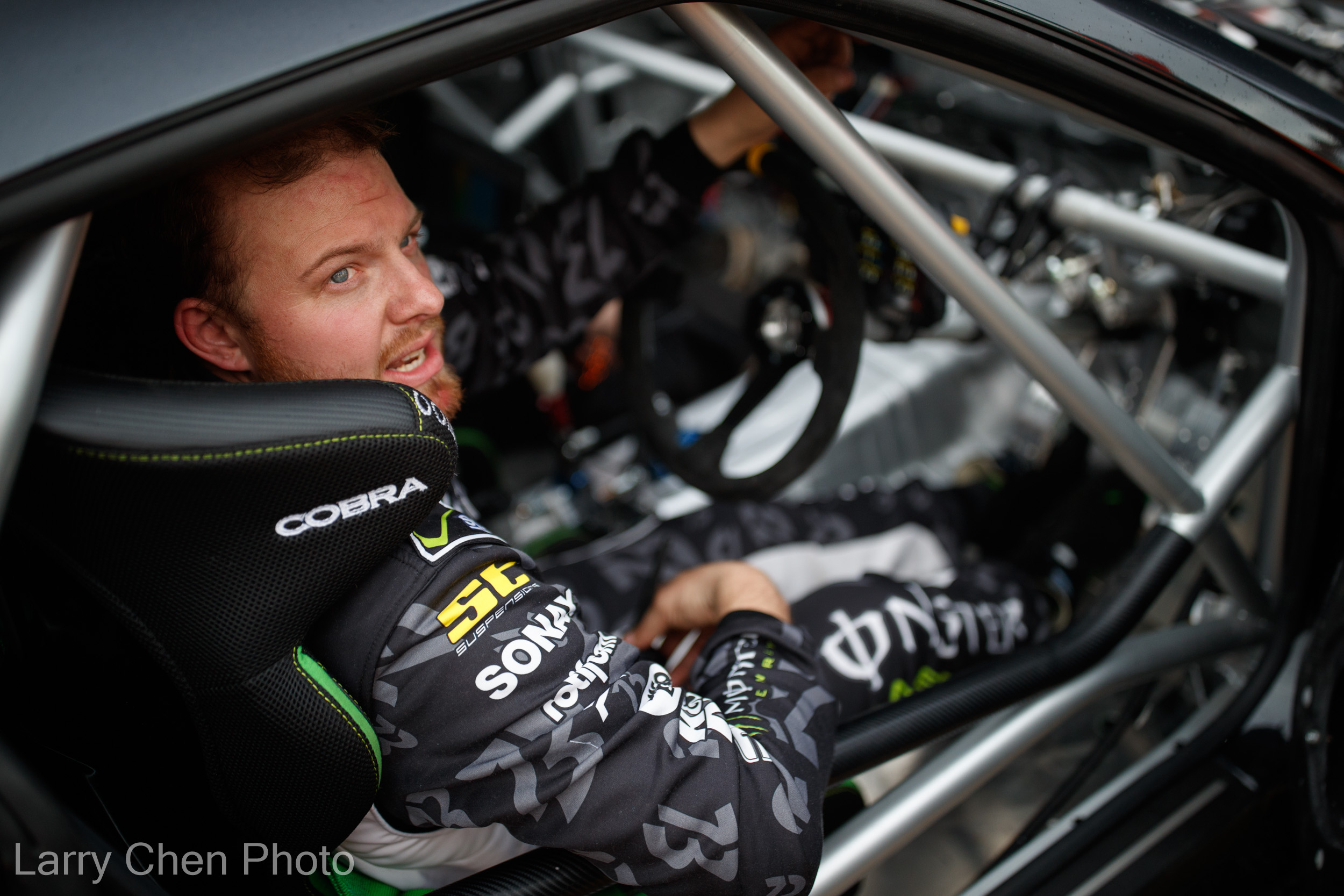 After most of the GT-R's niggles were sorted out and it was running right, the boys banged out a few shots from the massive script of stunts.
What a diverse mix of cars: a Nissan, a Lambo, and a pickup truck-looking thing.
The location itself was a shipping port near Kent, plus an old fort that was utilized in World War I and II. It definitely made for some interesting textures and backdrops.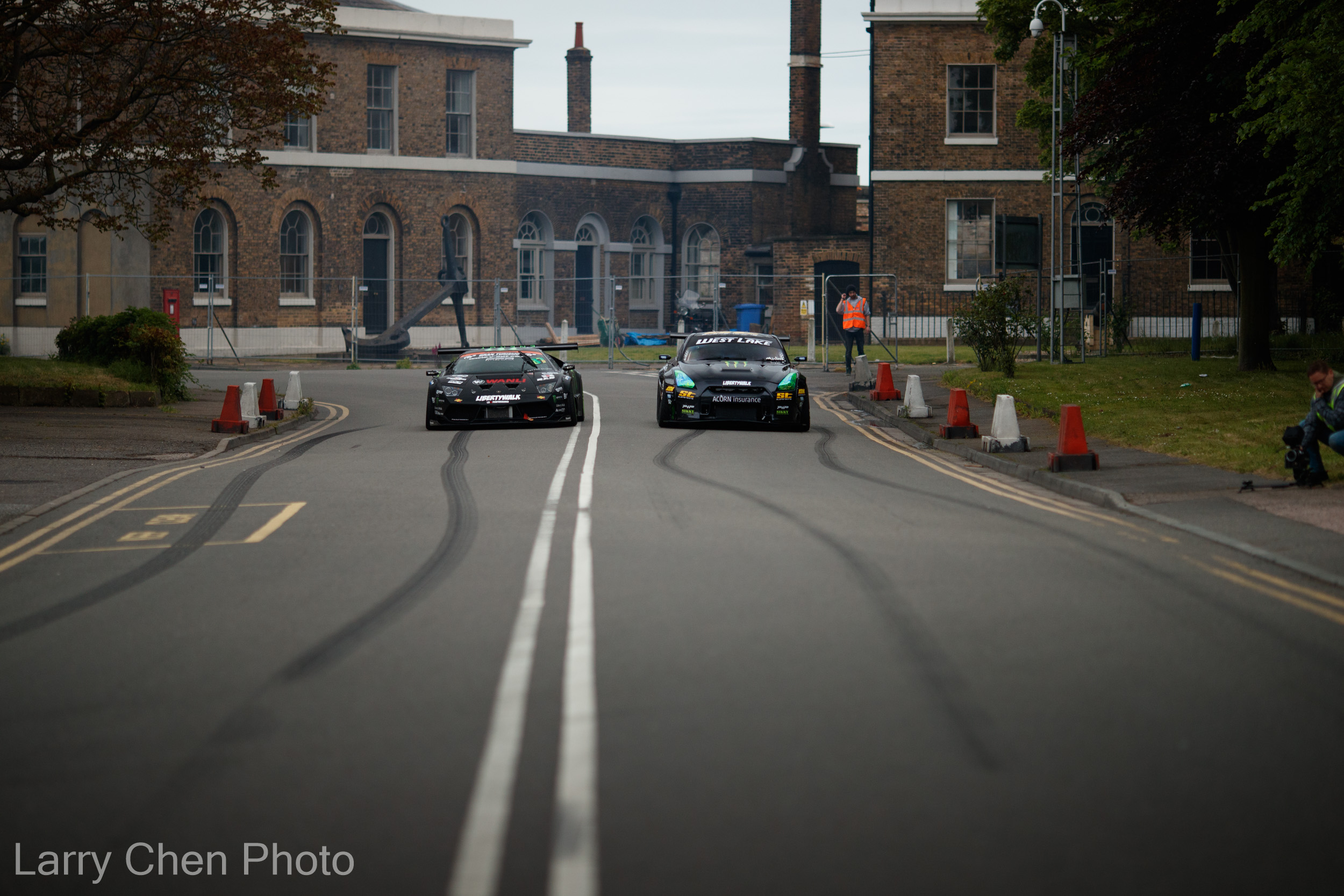 It was a massive undertaking to close down some of these busy streets; you could probably imagine how much traffic there usually is at a large shipping port.
Day one of shooting ended with us keeping the pizza warm on the hood of our chase vehicle.
Chapter Three: Day Two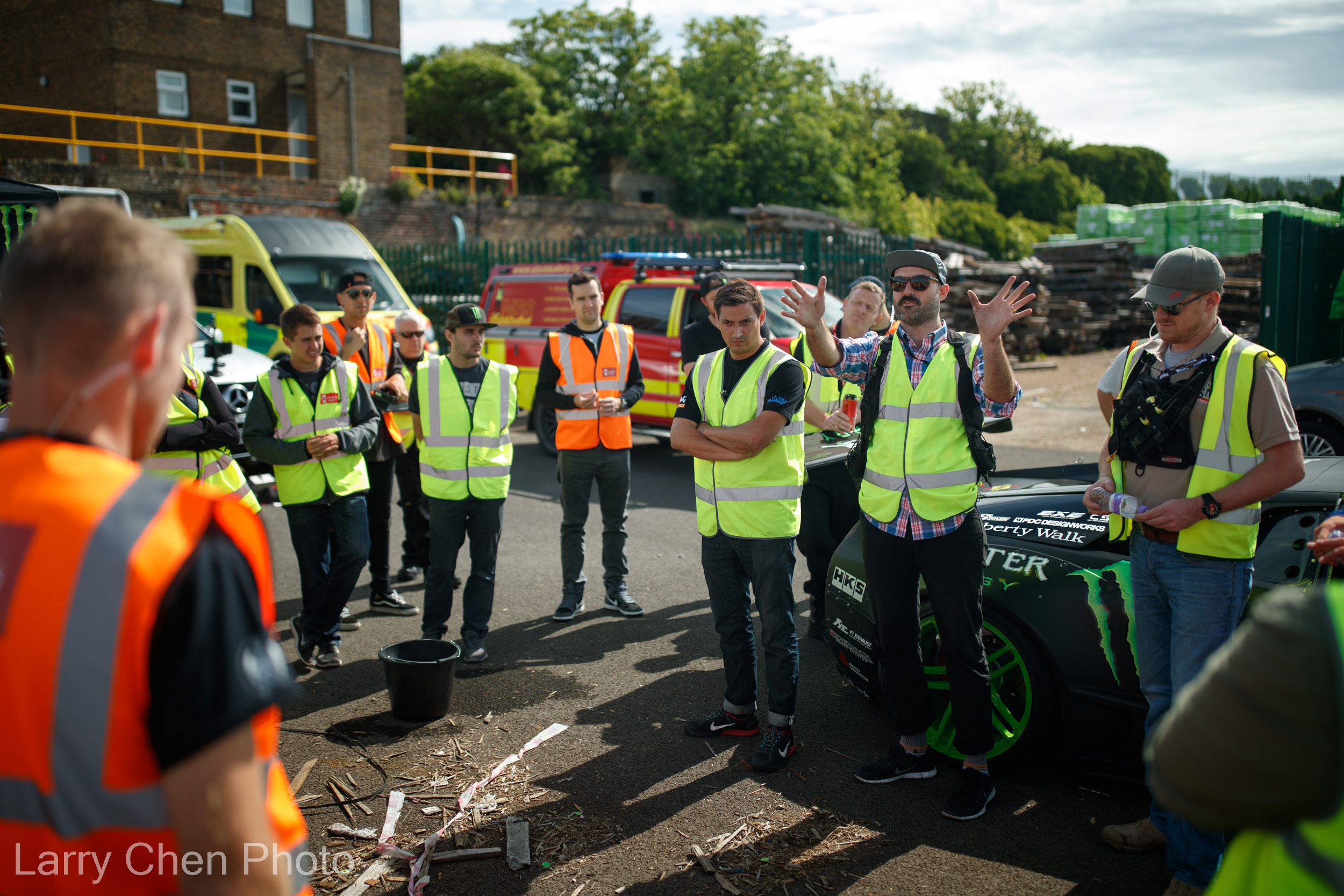 Luckily for everyone, the second day cleared up and we had dry weather for the first time since I'd landed.
By now, Baggsy and Daigo were BFFs forever and ever.
The last time I saw the Lambo in action it was up against Vaughn Gittin Jr.'s Mustang for the first video, but this equally odd pairing looked just as at home together.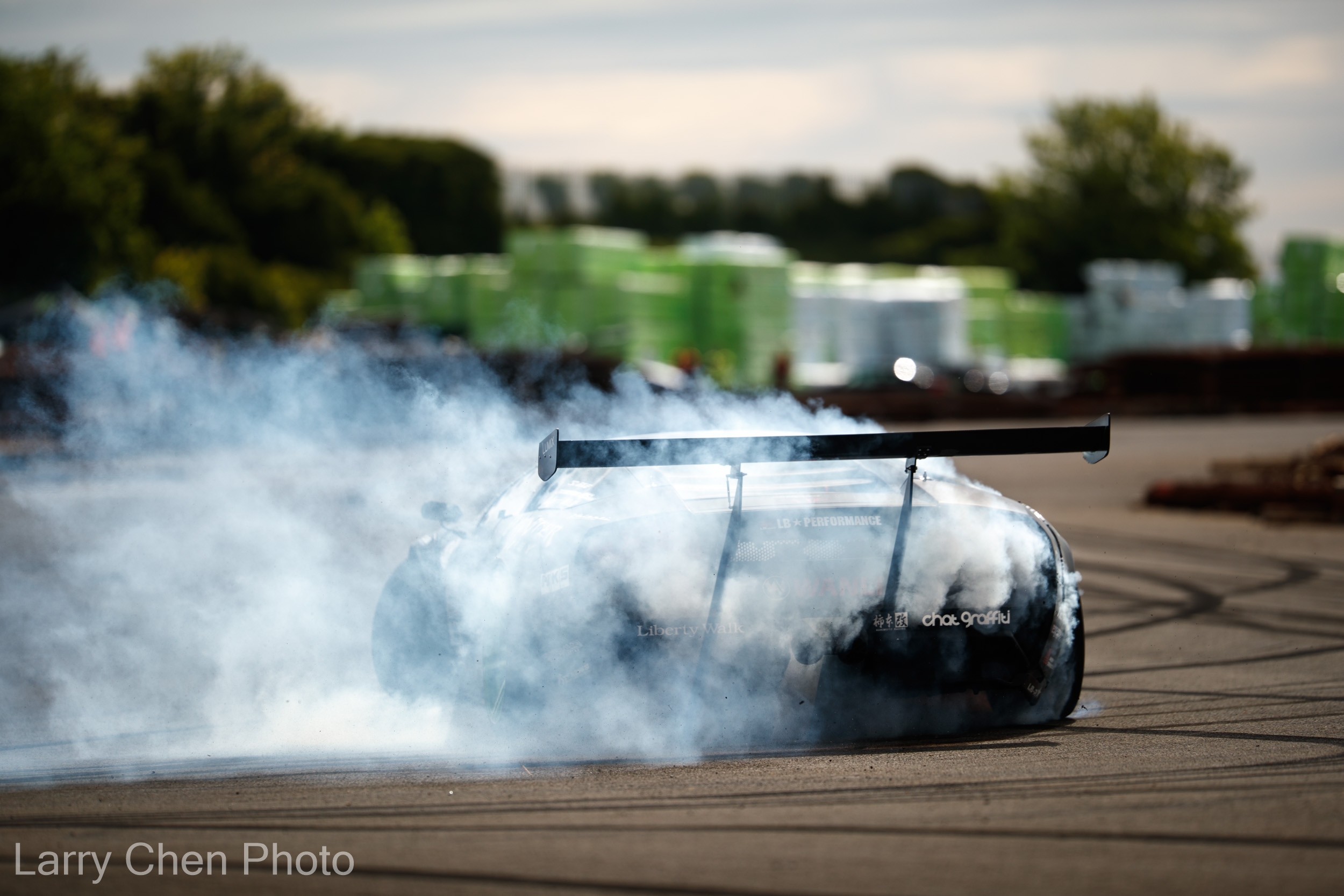 Even though the two drivers had never shot together on a film set, you wouldn't have known by the way they were driving around each other.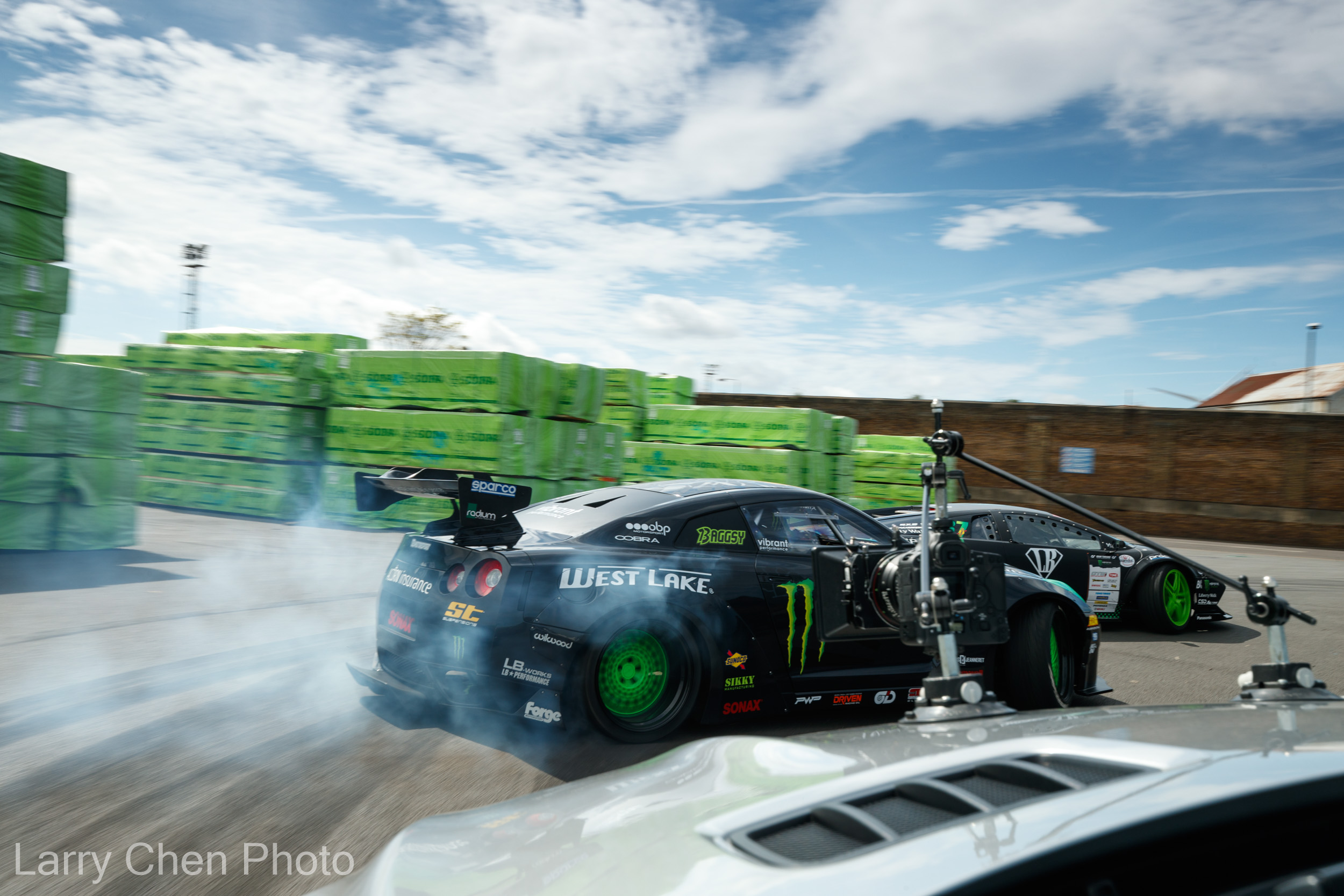 We rigged up one of the chase vehicles and did some car-to-car filming.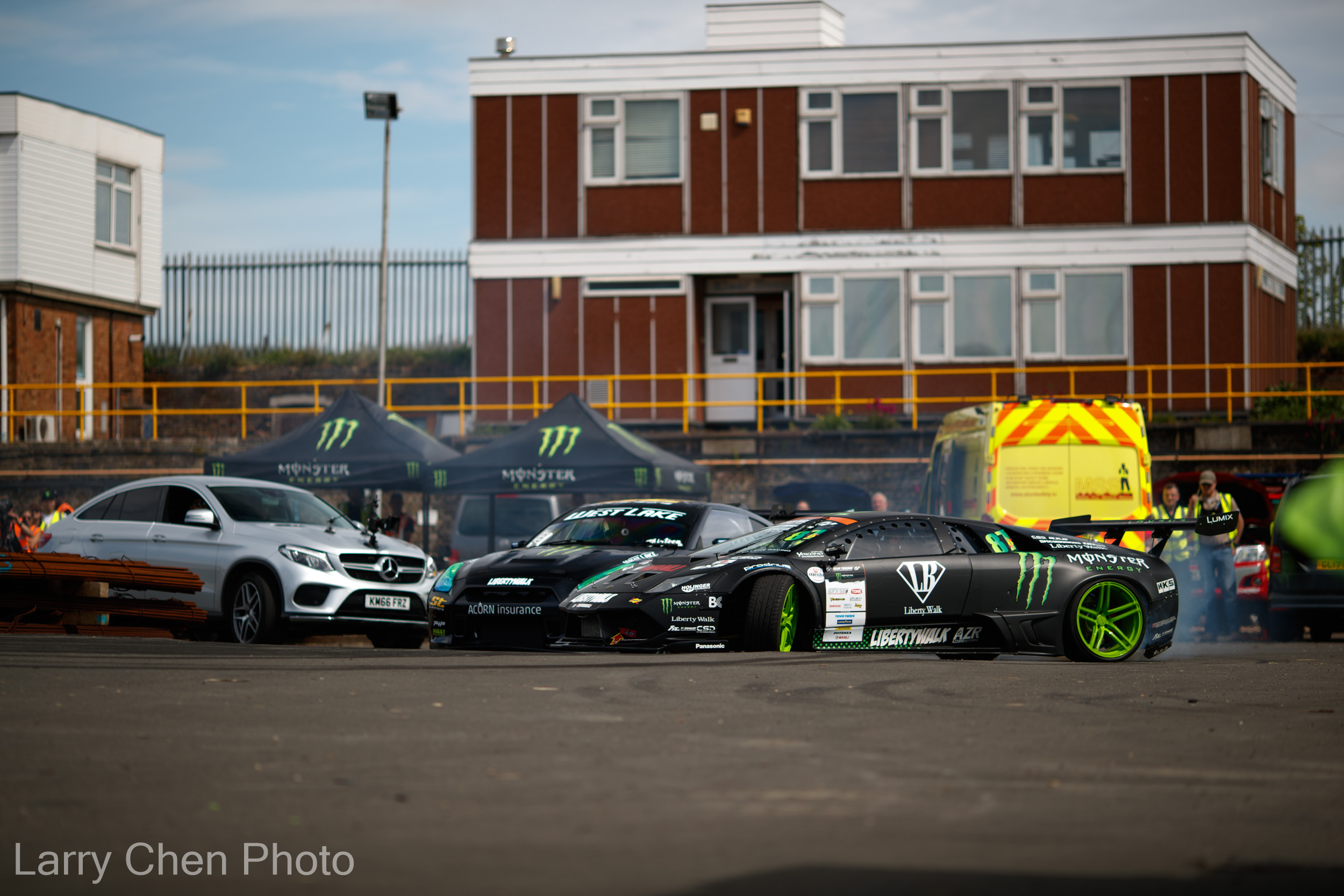 Donut's James Kirkham, who used to be a racing driver, was behind the wheel.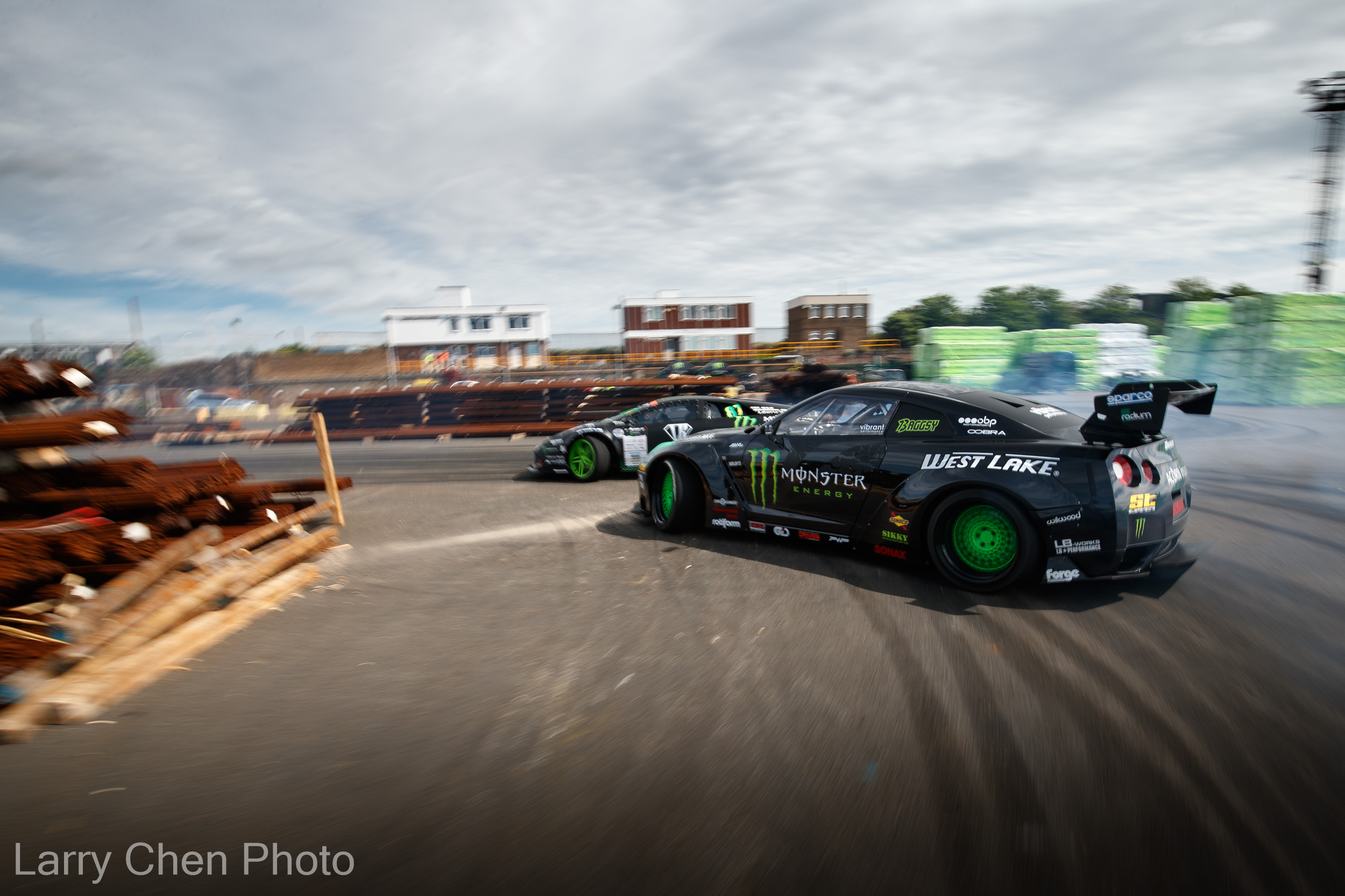 Of course, I jumped in to get some chase shots as well.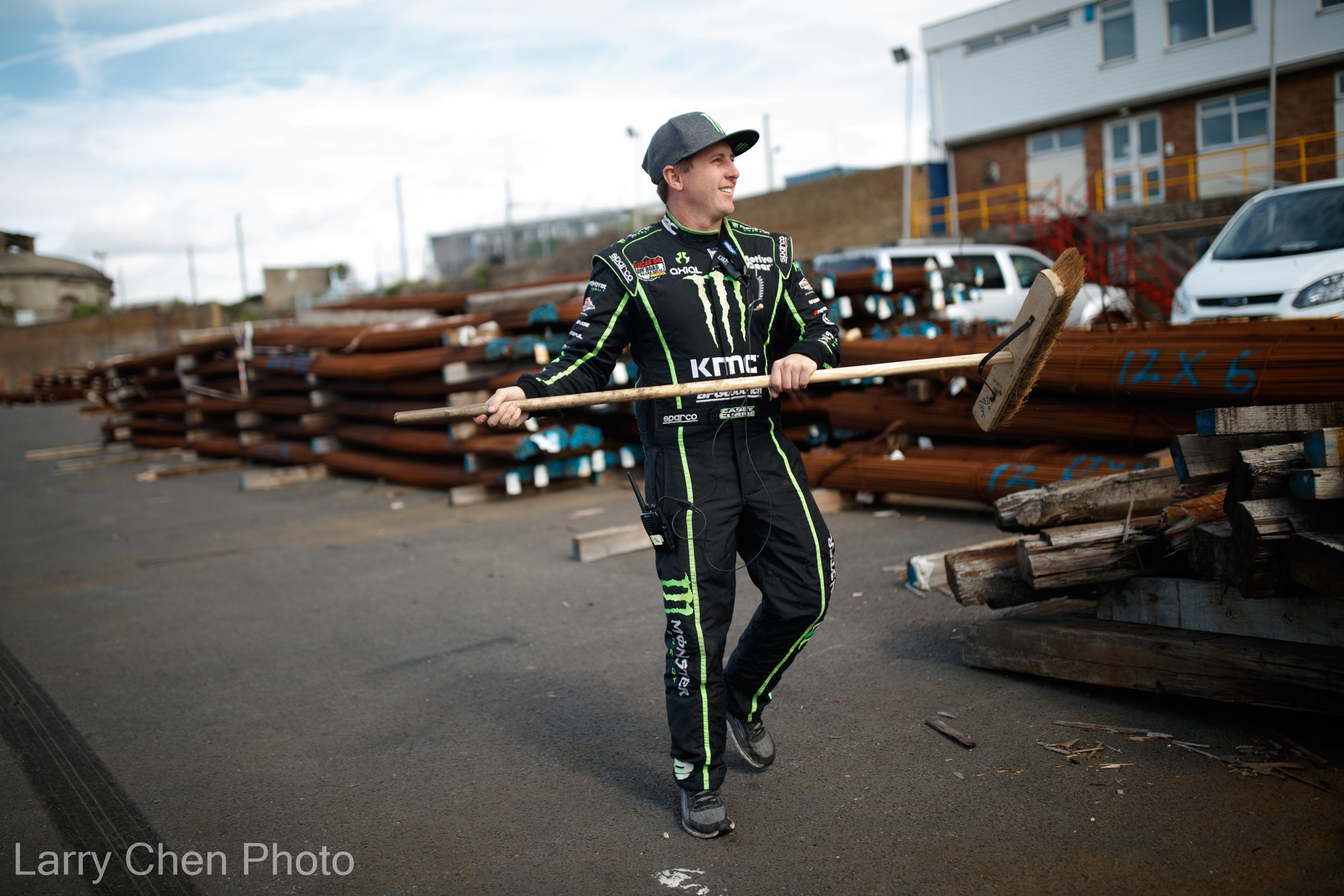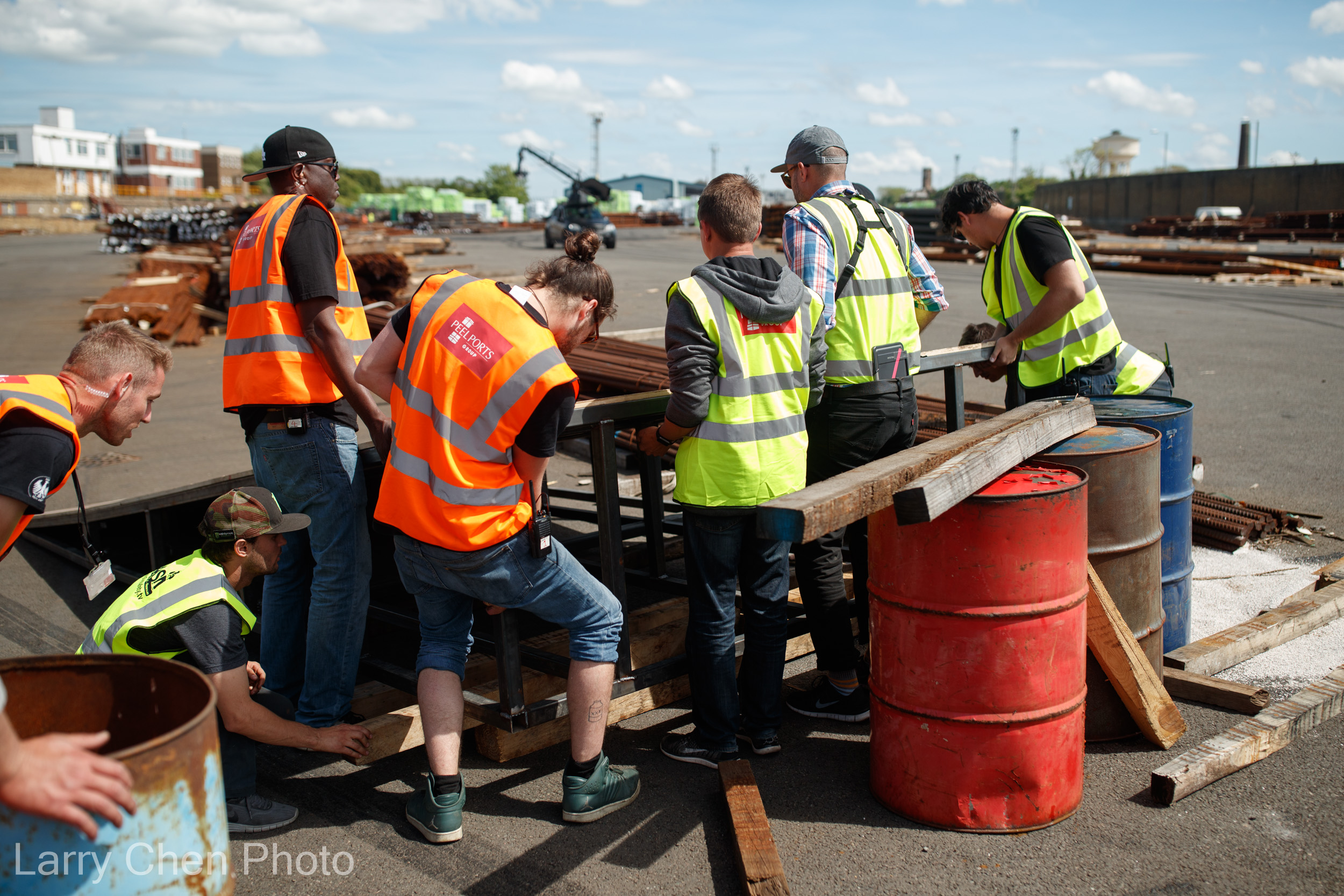 Casey came up with the great idea of jumping over both vehicles while they were in drift. Even though we modified the ramp for this stunt, it was just not large enough to achieve perfect clearance; the timing would have to be impeccable.
It was at this point that another issue presented itself. As everyone was setting up for the shot of Casey jumping through the tire smoke, the clutch in the Lamborghini broke while Daigo attempted to do a static burnout.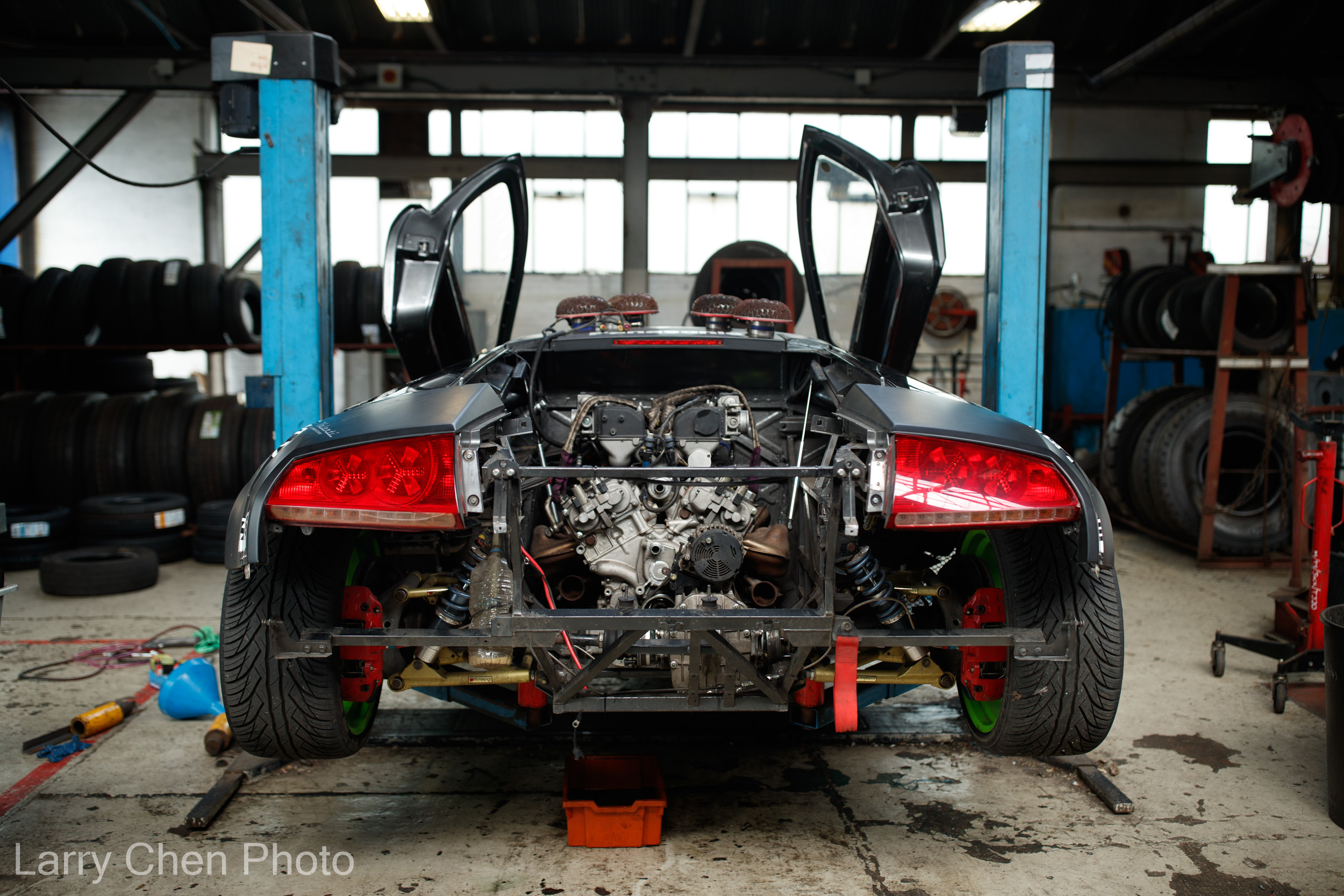 According to the crew, it normally takes 30 hours to change the Murciélago's clutch, but worse still was the fact that they didn't have a spare. At this point we were a day and a half into the three-day shoot with a large number of shots still to be captured.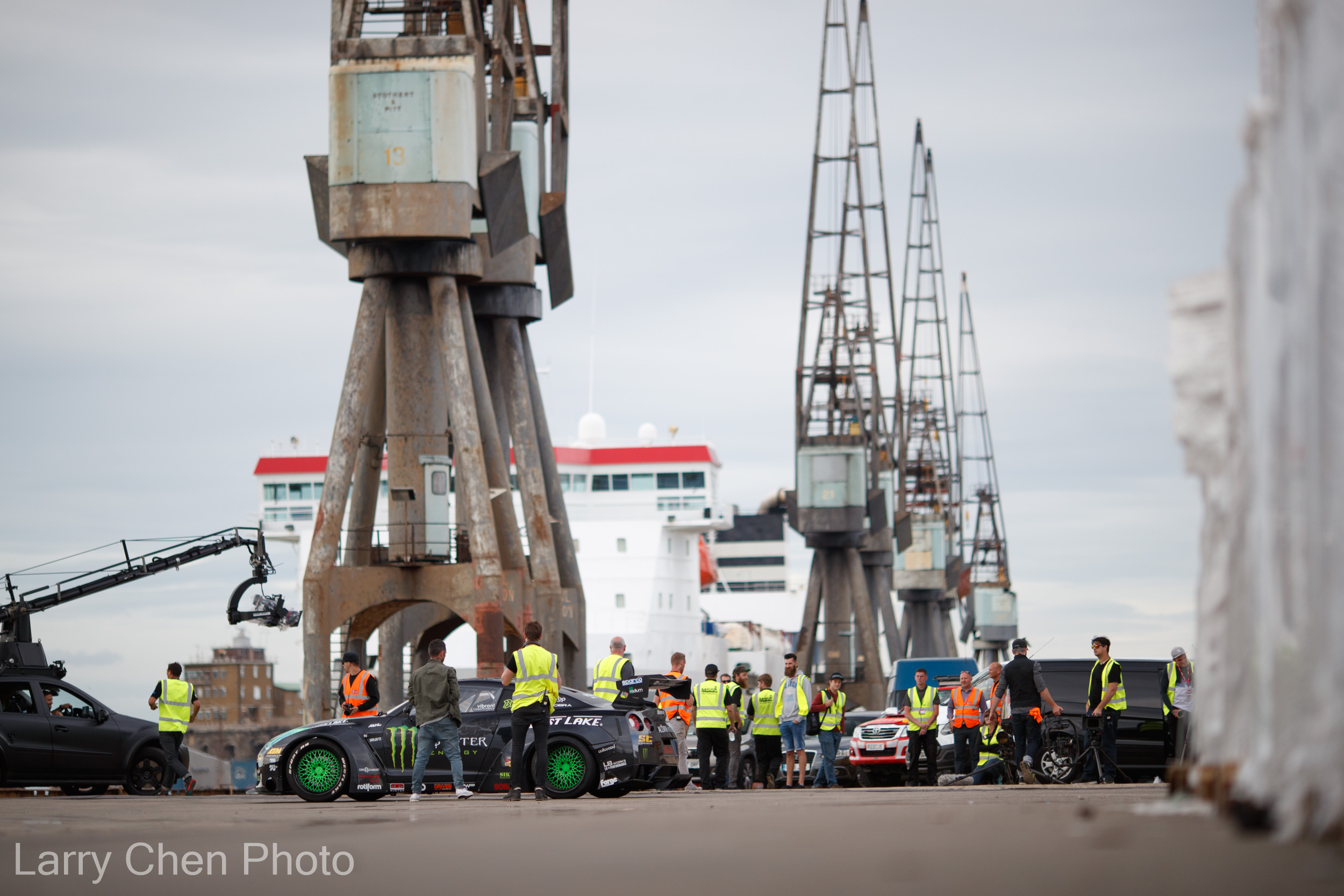 Although you can never really plan for them, these sort of things happen all the time, so we just regrouped and focused on some Russian Arm driving shots with Baggsy in the GT-R. Meanwhile, Daigo and his crew figured out how to get the Lambo back in action, quickly.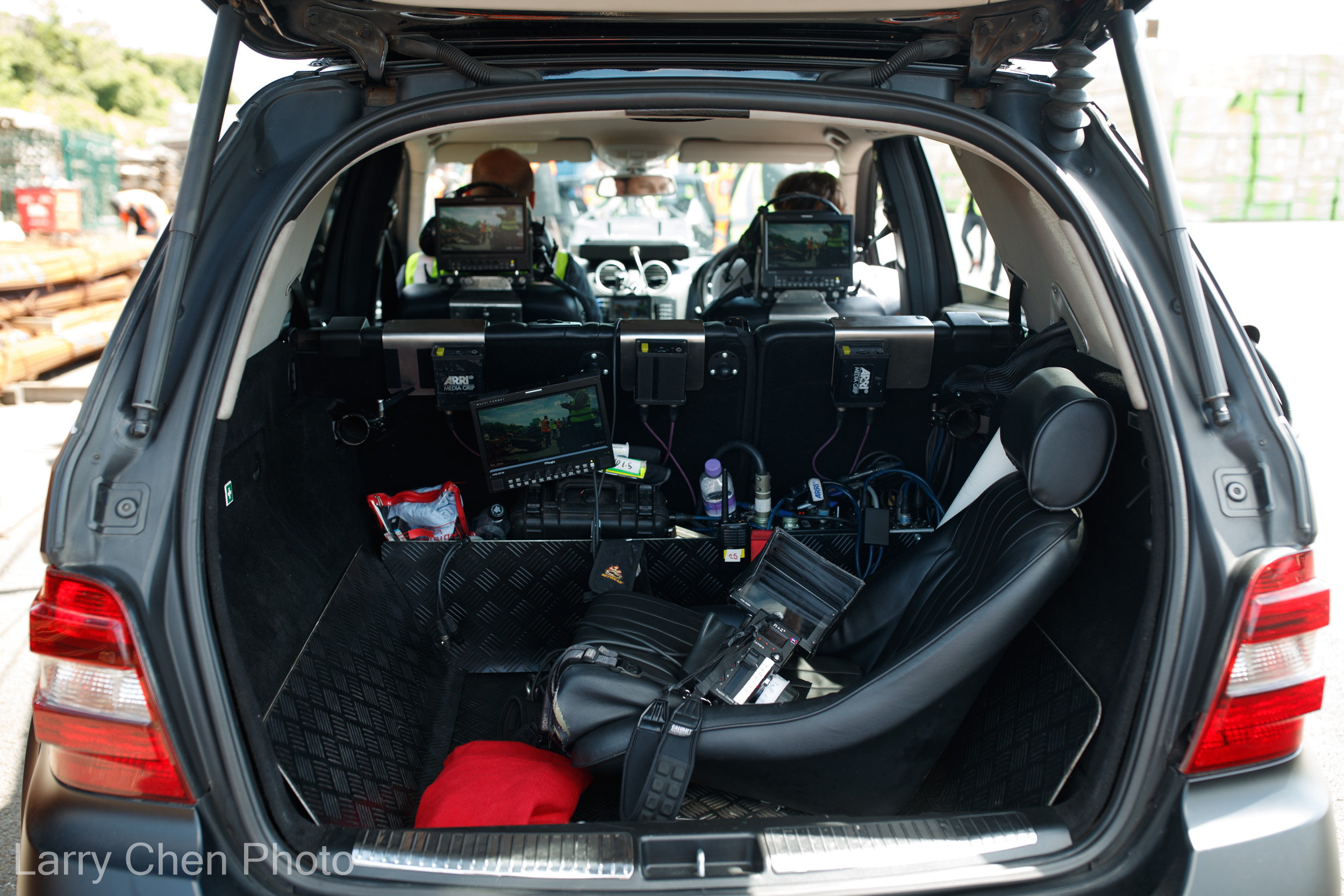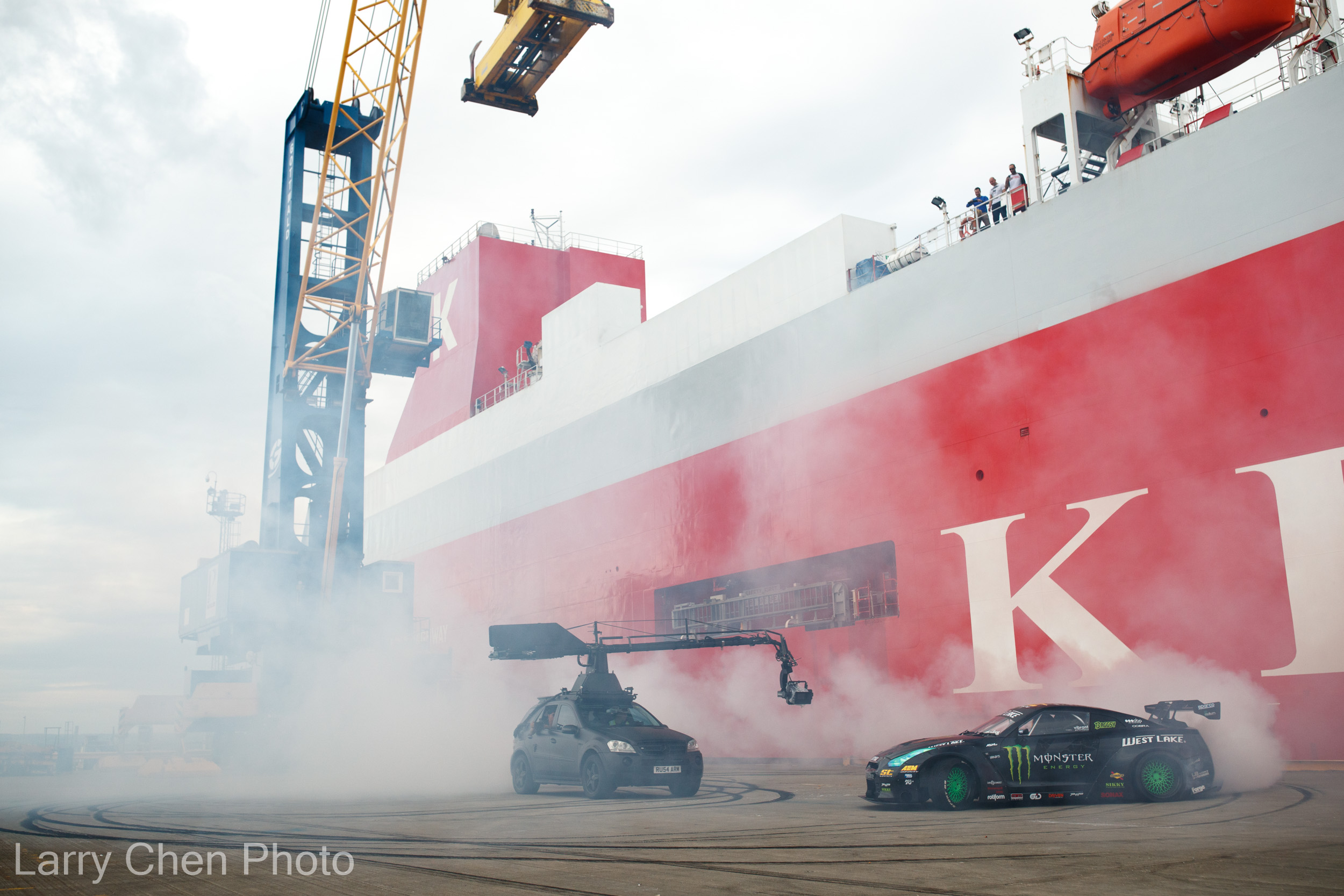 The Russian Arm is such a useful tool on shoots like this; you can setup so many camera positions with just a move of the joystick.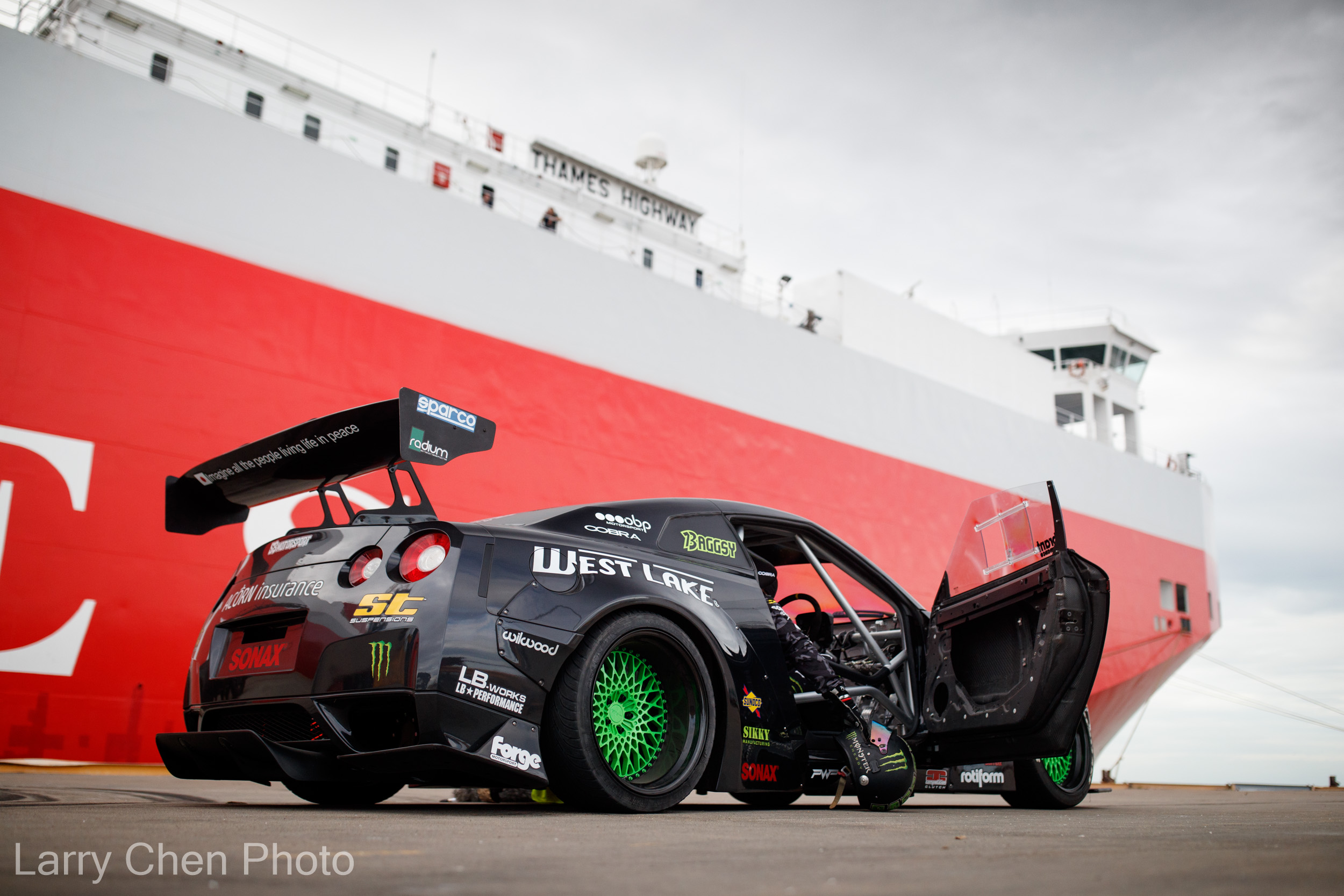 The location was epic to say the least. Drifting next to these massive ships made for such an awesome scene.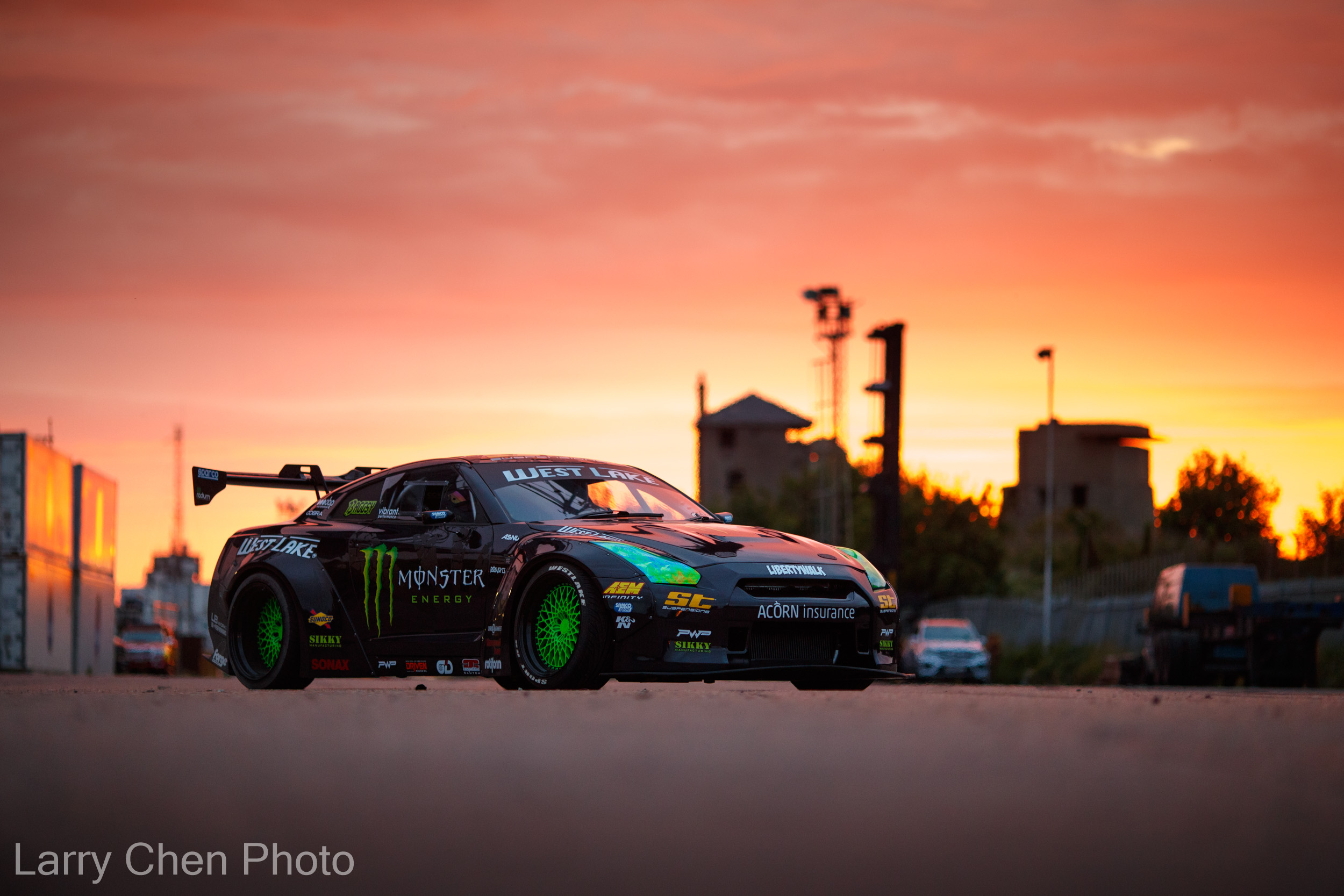 Of course, when the sun went down the real fireworks went off. We already knew that Daigo's Lambo was a fire-breathing machine, but I had no idea that Baggsy's GT-R would spit epic flames too.
Since the exhaust comes right out of the front bumper, the GT-R drifted into the flames. I'd never seen anything like it.
Day two ended in epic fashion with a great sunset and the awesome fire show.
The fact that just a few days prior the GT-R did not even run made Baggsy's crew very happy, as you can clearly tell in this bromance photo.
While filming had wrapped up for the day, in the garage the Lambo's engine was out and a locally-sourced racing clutch was on its way.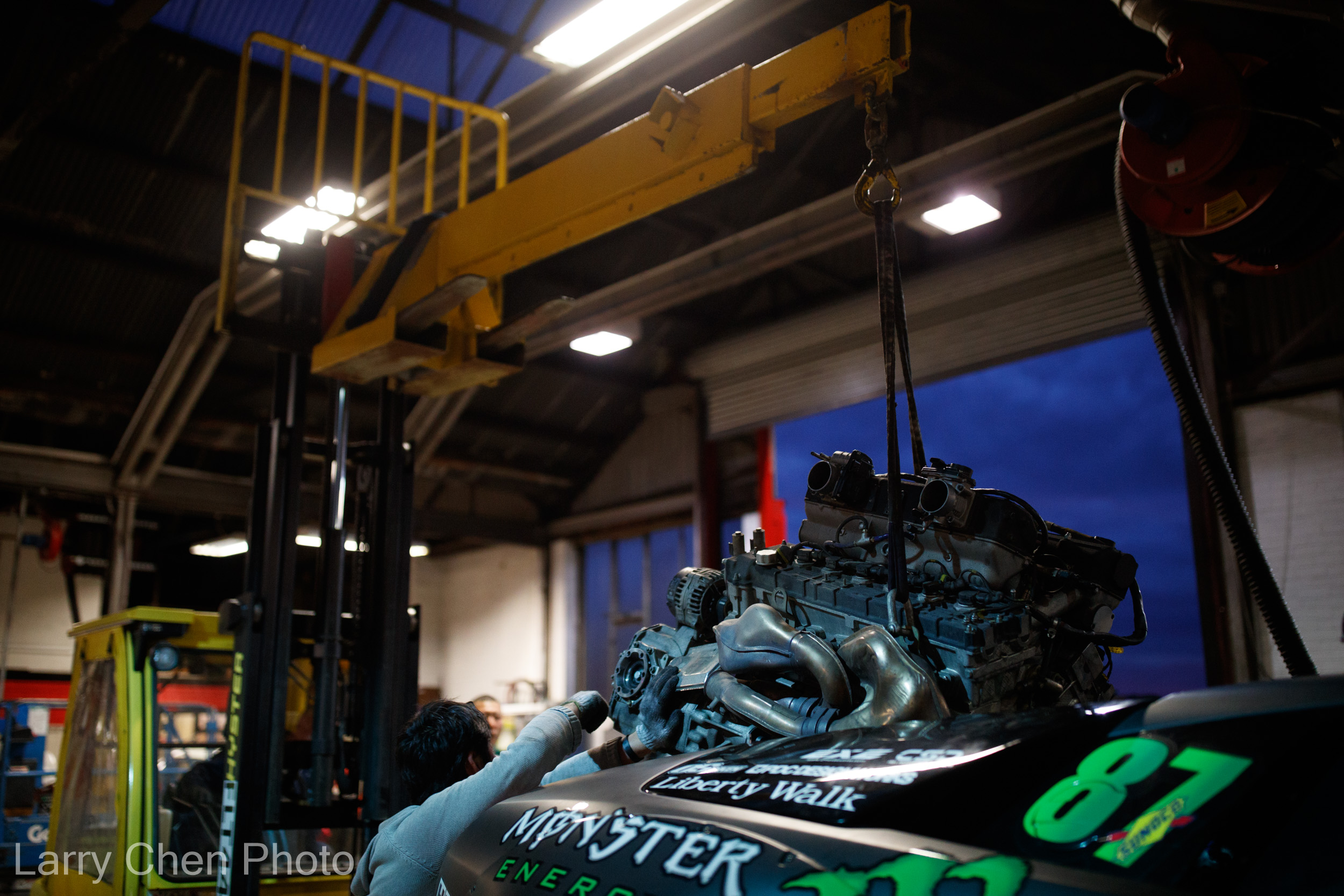 Piece by piece and with the help of a forklift, the crew replaced the clutch and wrestled the motor back into place. The car had to be up and running again for the rest of the shoot the next day, so there would be no sleep until the job was done.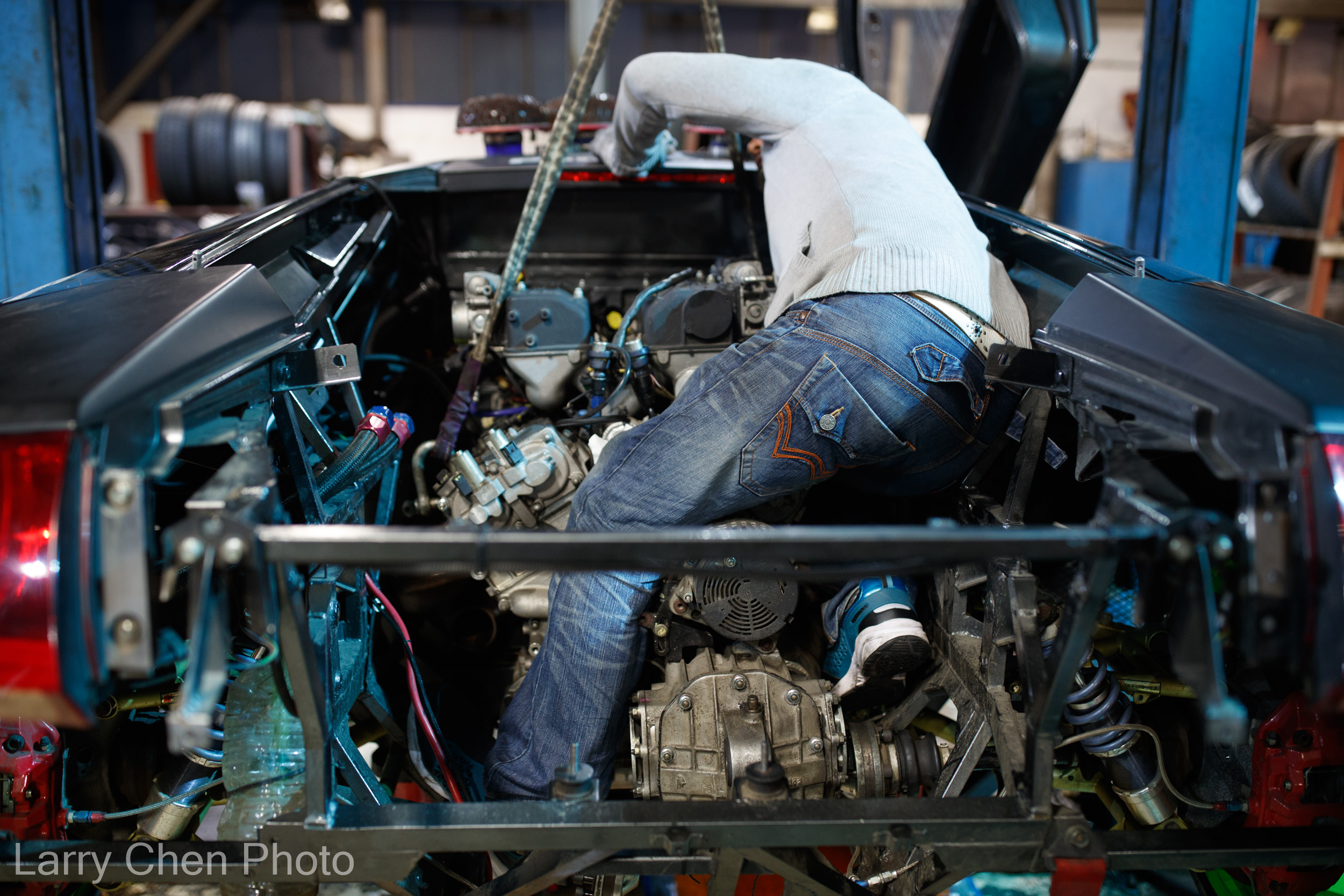 Luckily, were at a shipping port with a fully fledged shop for maintaining vehicles, so that made things a whole lot easier than what it could have been. I needed to get some rest, as did the Donut crew, so we left the boys to it and headed back to the hotel.
As we were leaving for the shoot location the following morning, Daigo's guys arrived back at the hotel. The'd worked through the night and the car was all buttoned up. Just amazing.
Chapter Four: Day Three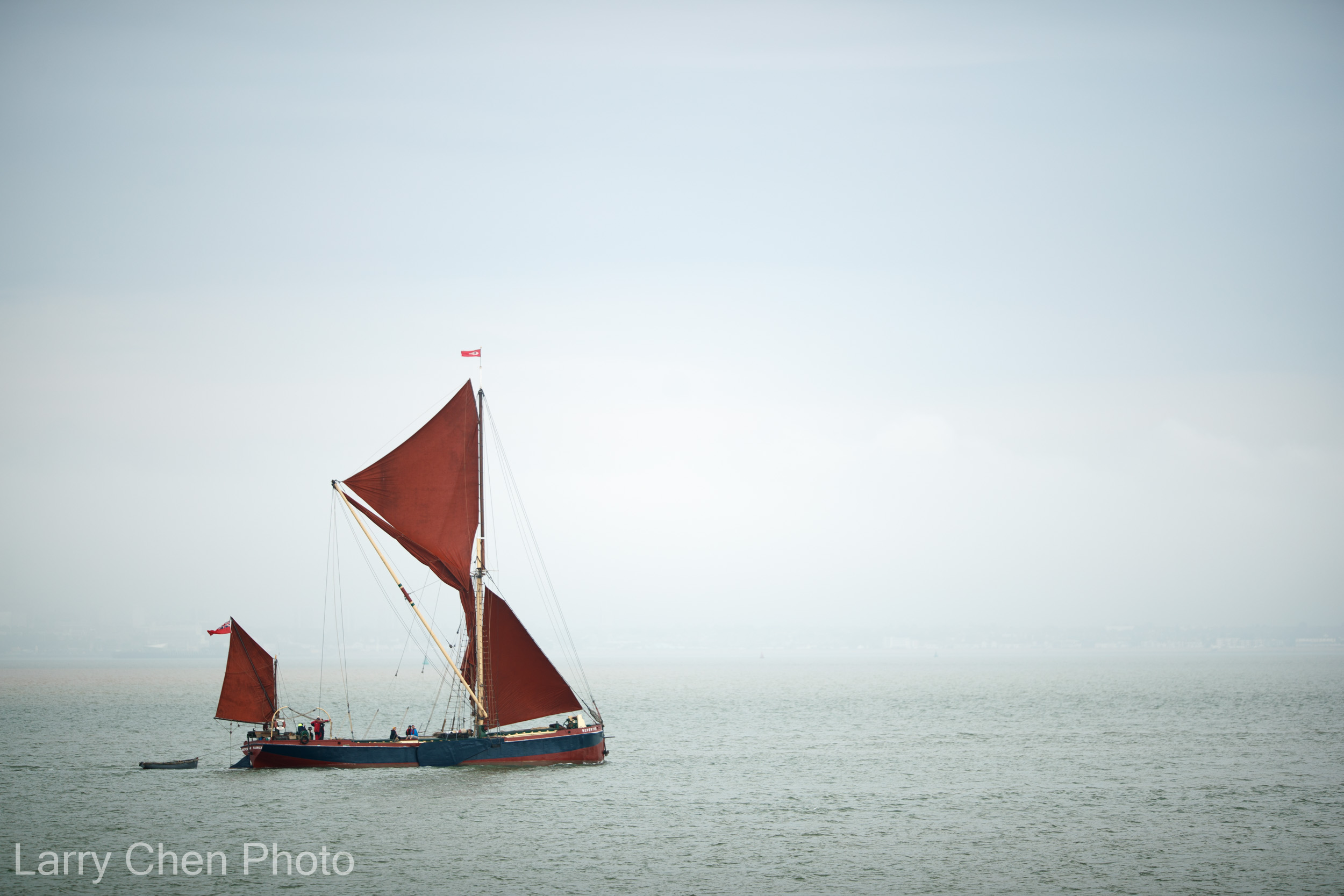 The next morning the weather turned for the worse once again, but we had a small window of opportunity before the skies opened up.
Daigo and Baggsy made quick work of the transition scene where they switch back and forth leading and chasing.
Of course, Baggsy made full use of the 1200hp on tap too.
The thing I loved about these guys is just how far they pushed the limits of their vehicles even though they were not at a drift competition.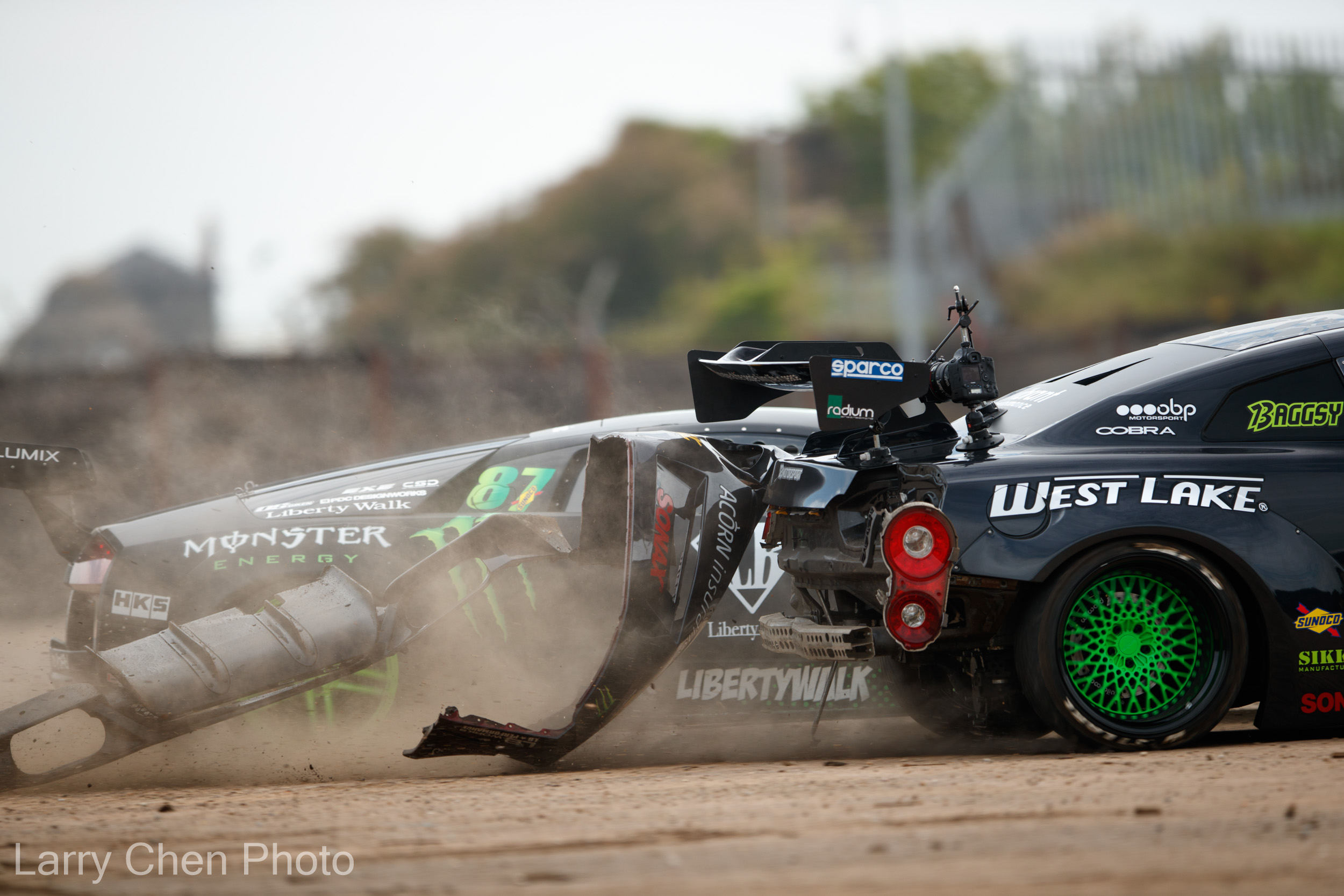 Pretty much the entire rear end of Baggsy's car ended up detaching itself after some light wall contact.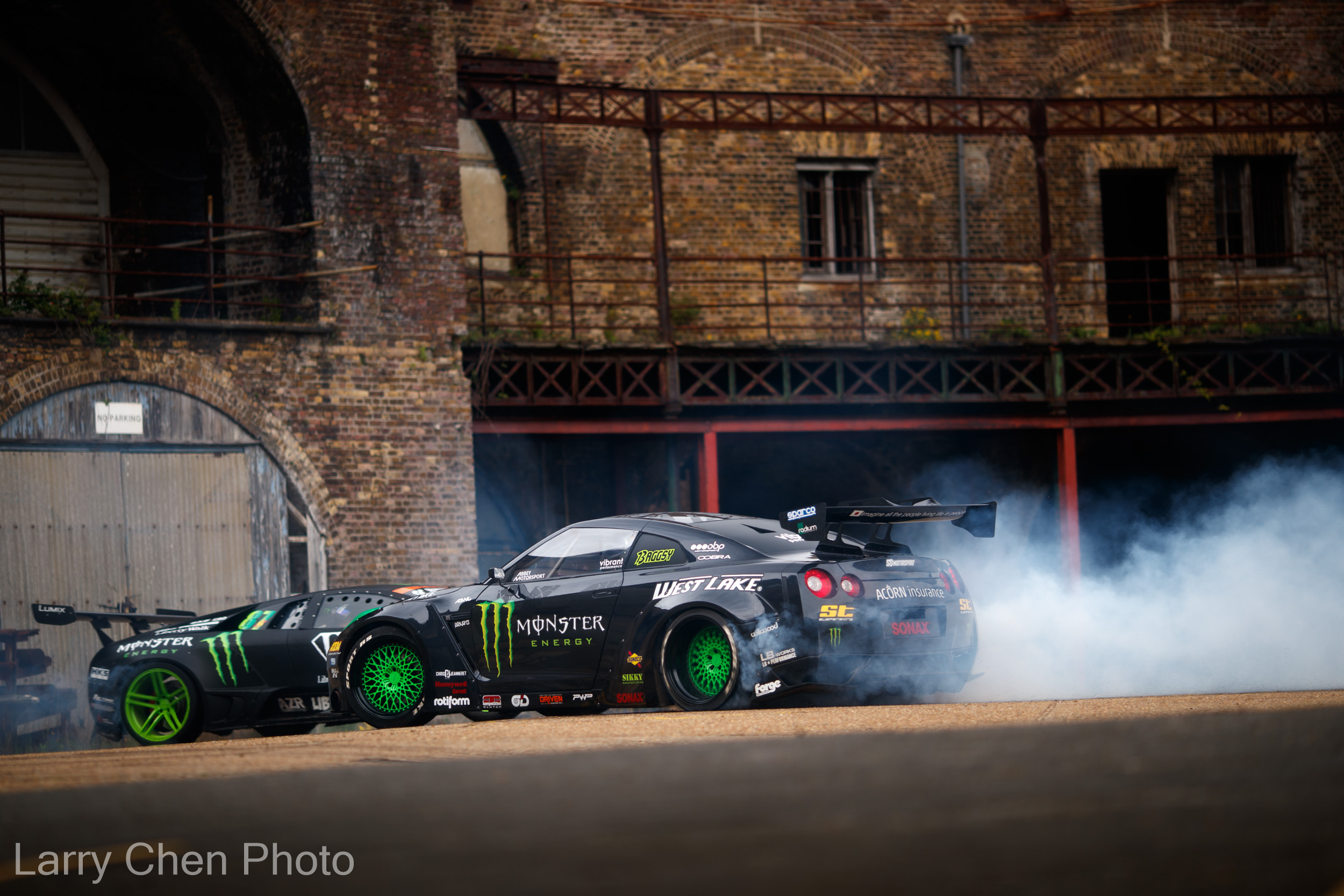 The final scene was shot inside the aforementioned fort. According to the location people, there was actually a large network of tunnels built underneath during war time to shelter people from bombing raids and shelling from the sea. I think it's safe to say that this was the first time anyone had ever laid down tire marks in the courtyard.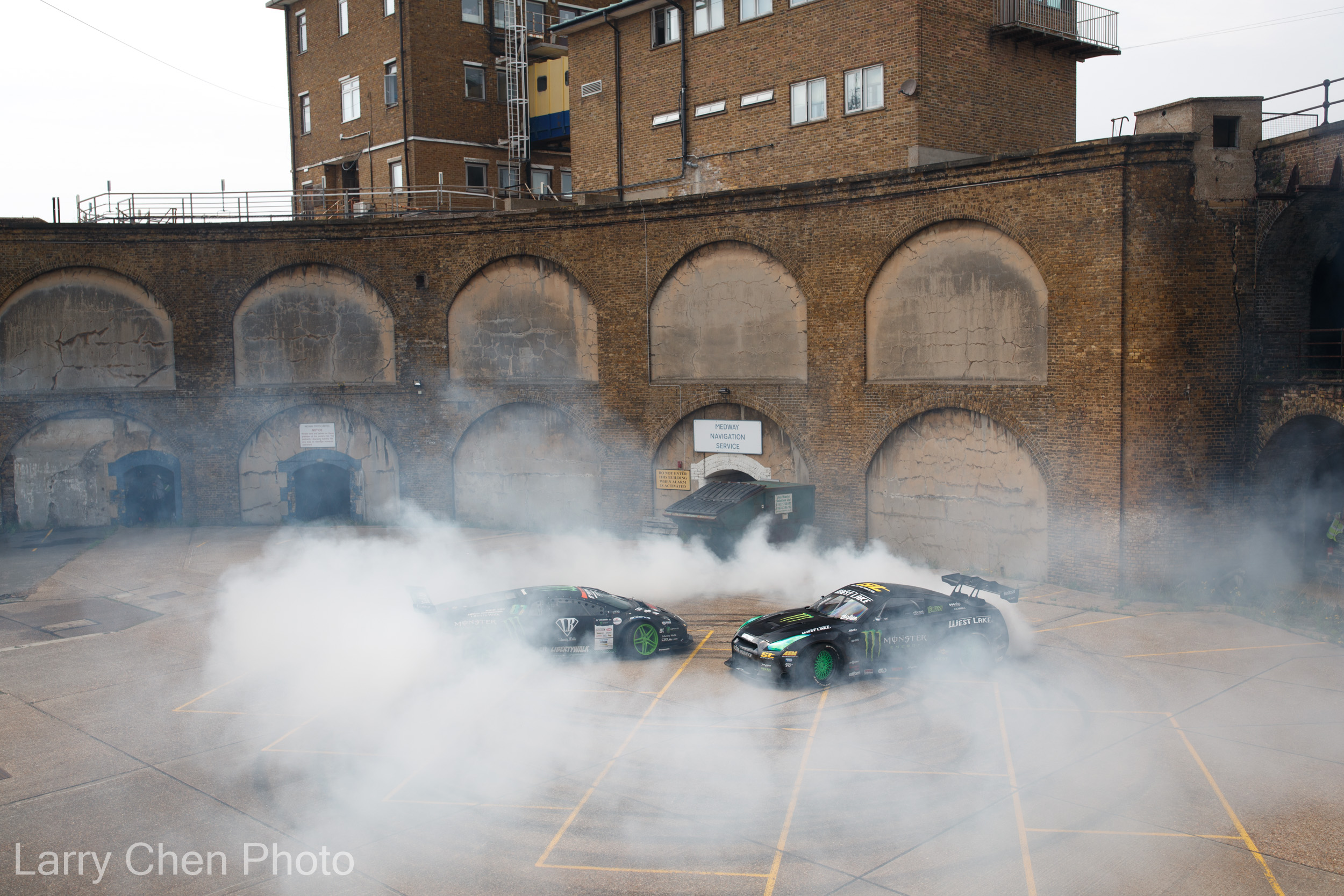 I always look forward to shoots like this, and although I didn't know what was in store for me this time around, I'm not going to forget being behind the scenes at Battle Drift 2 any time soon. I'm also really looking forward to finding who's paired up with either one of these guys for the next chapter in the series.
Larry Chen
Instagram: larry_chen_foto
Chapter Five: Cutting Room Floor