I was recently asked what my favorite aspect of car culture to shoot is. My answer may or may not surprise you, but there is no question that grassroots team stuff is right at the top of the list.
No matter where I travel in the world, I'm always in search of the local car clubs and meets.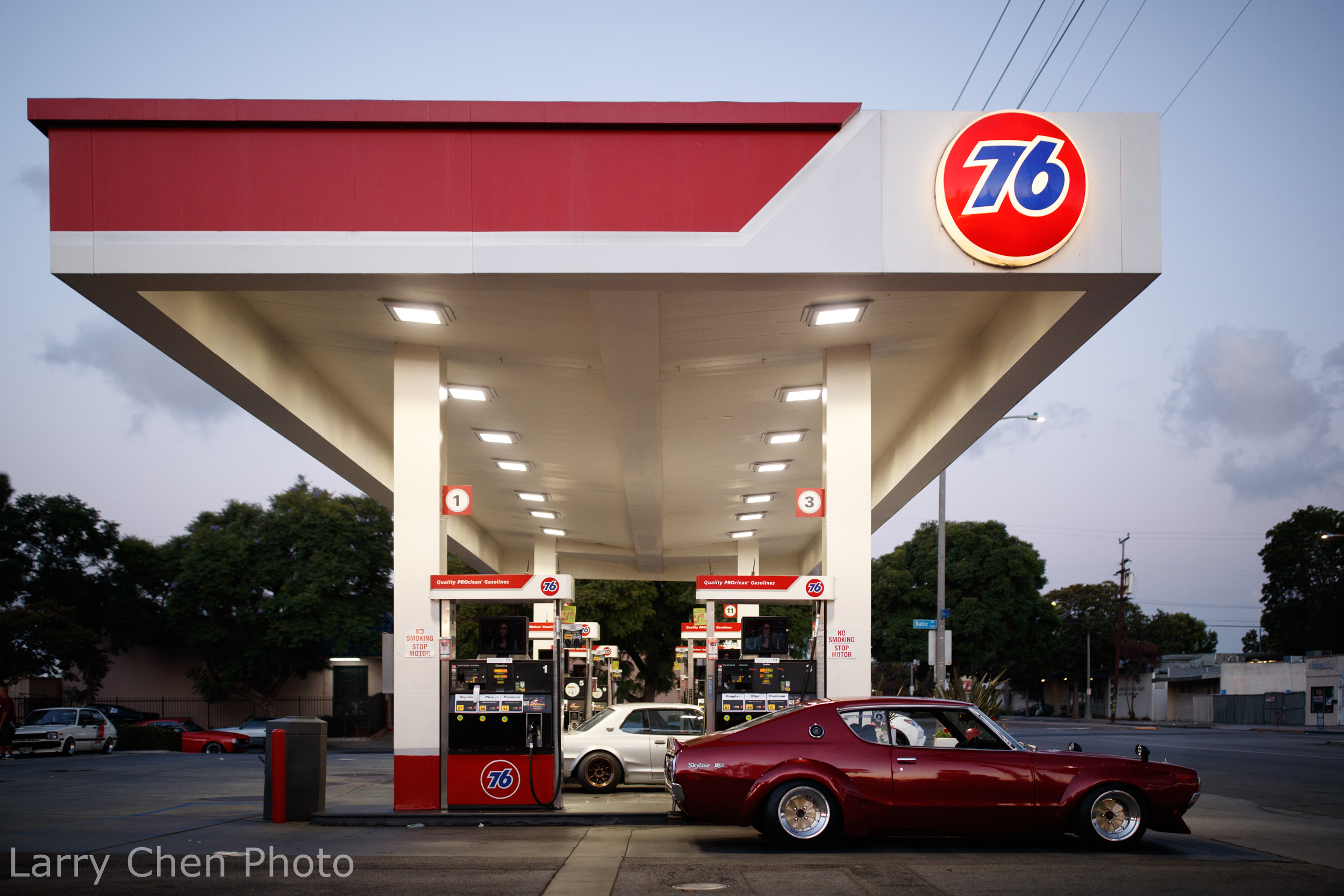 Up until recently, I felt like I had ignored my own backyard in terms of these types of stories, but that all changed a few weeks back when I received a text message from a buddy in Team Wild Cards.
Roy de Guzman is a bit of a regular here on Speedhunters; I featured his Hakosuka Skyline a while back, and prior to that had Dino shot the car in an earlier stage of build.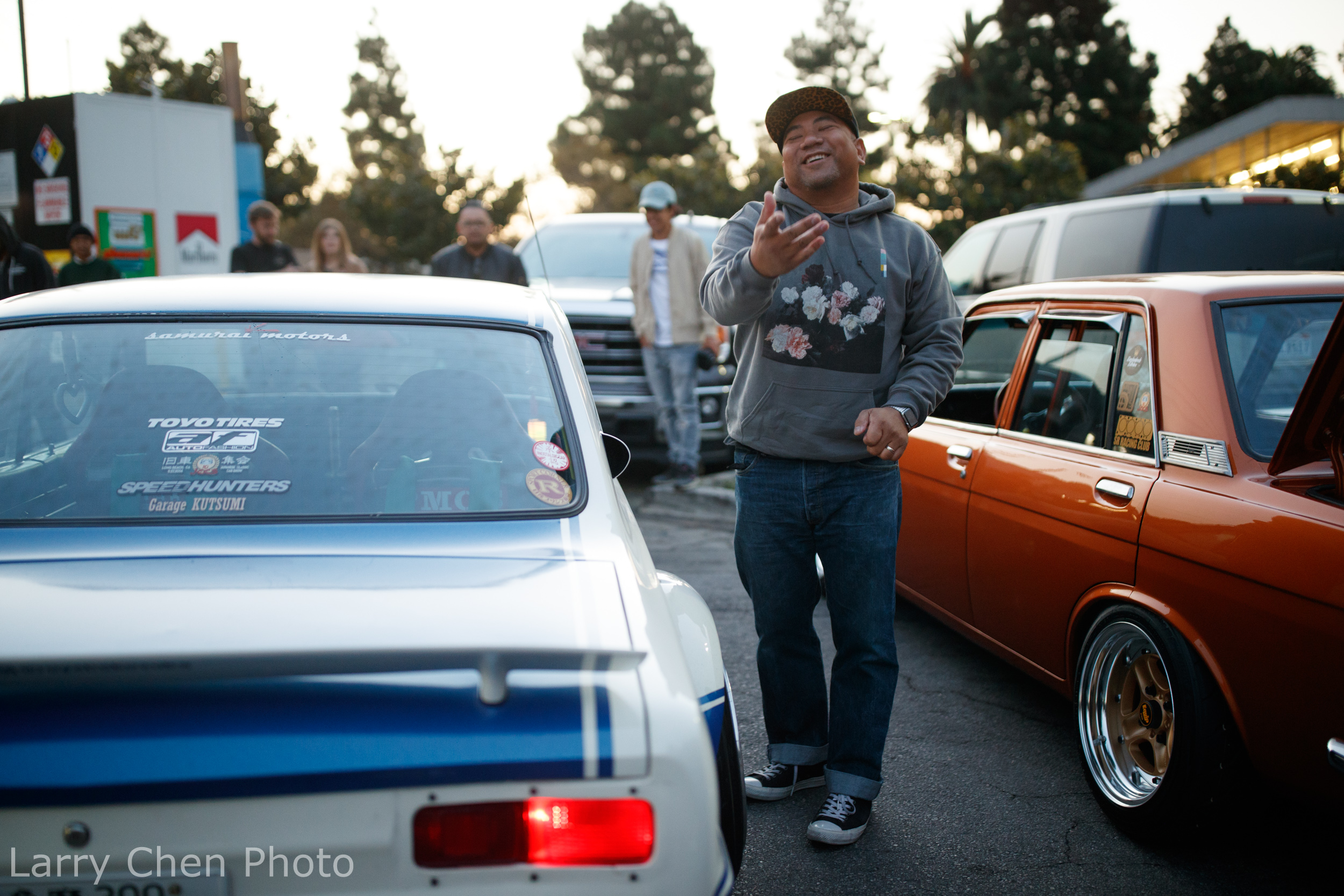 The message from Roy was simple: Team Wild Cards were going to roll into the Japanese Classic Car Show (JCCS) in Long Beach together. Most of the crew would be coming from San Diego and Las Vegas, but one was shipping his car over from Hawaii. There were going to be around a dozen team cars present in total, so I knew I had to make a shoot out of it.
Normally there's a clash of dates and I don't get to attend JCCS, but this year I had a clear shooting schedule, so I was going to make the most of the opportunity. On the Saturday morning of the show I woke up at 5:00am and headed straight out the door.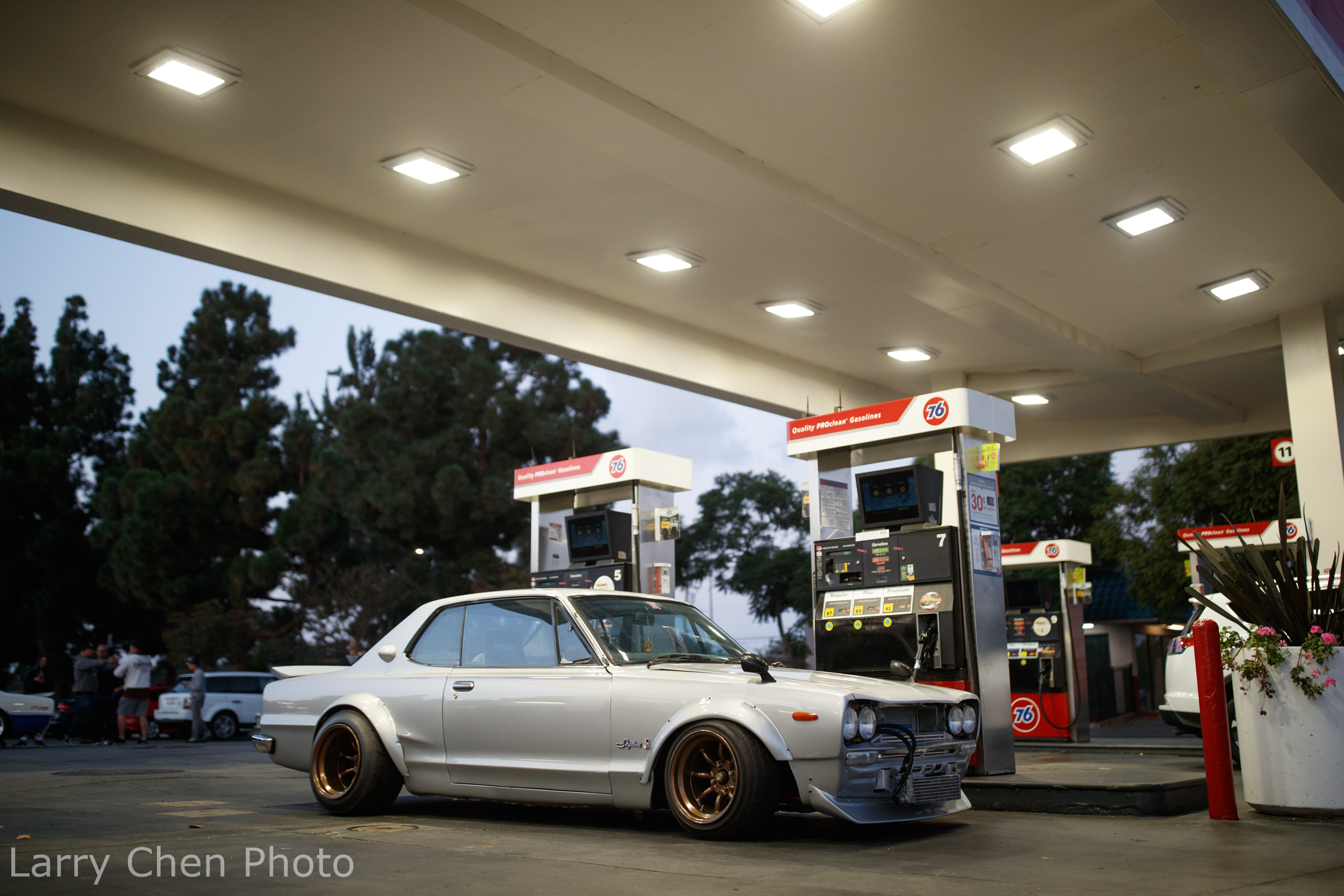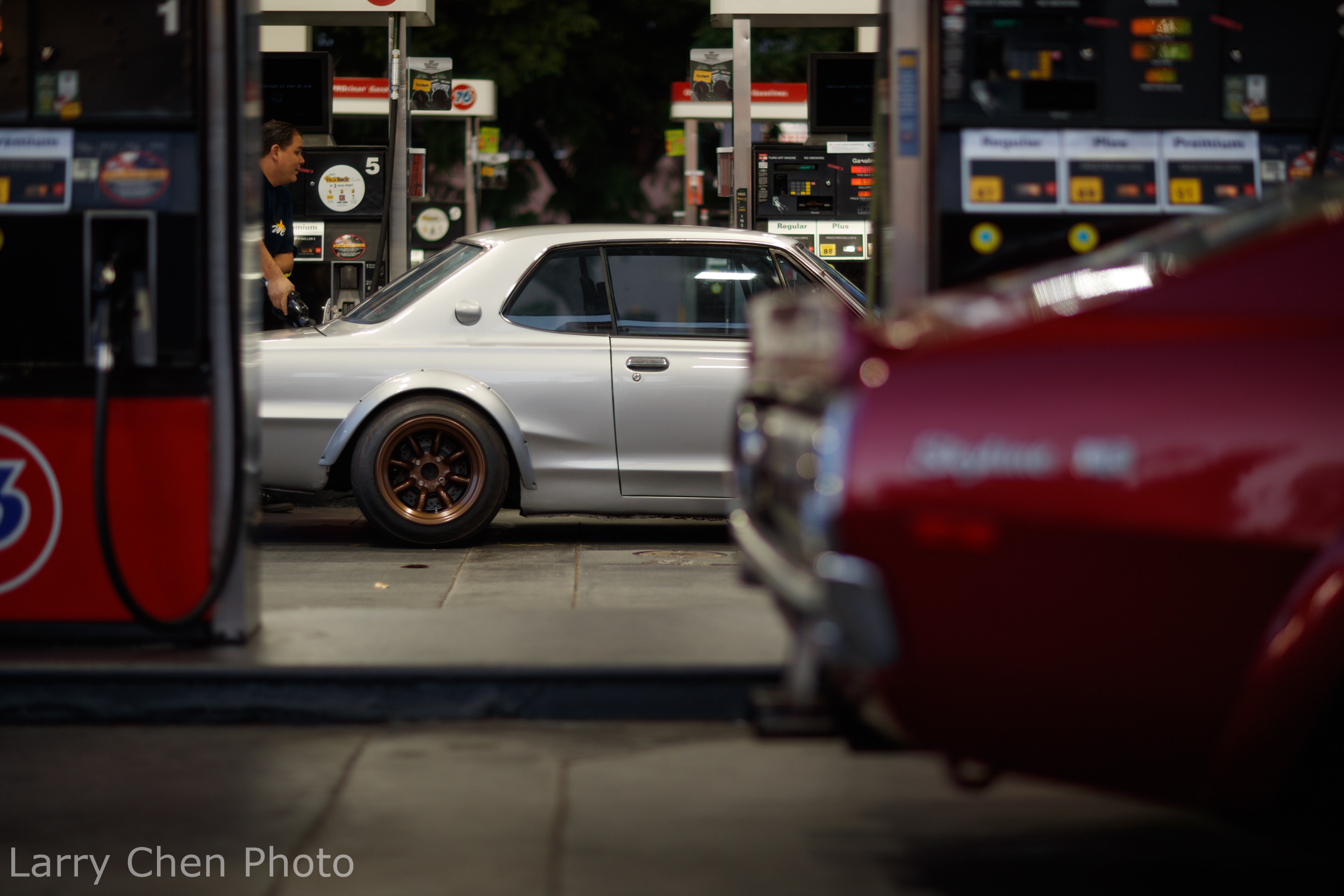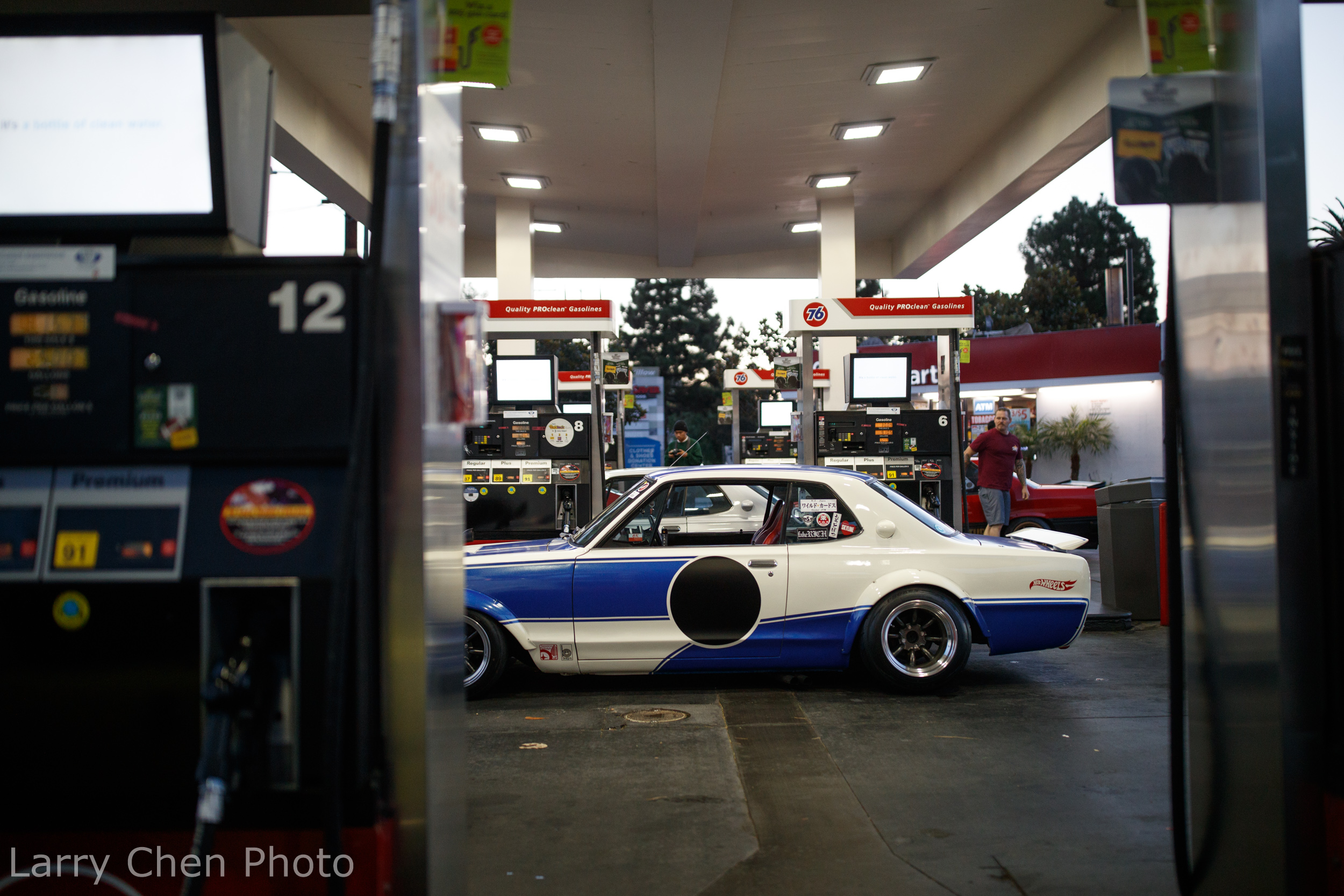 Our rendezvous location was a local gas station, and pulling into it I was absolutely blown away. It looked like a scene out of Japan, not Southern California.
It was great to get everyone together in one place, because what I had planned was an epic shot of the entire crew rolling into the show.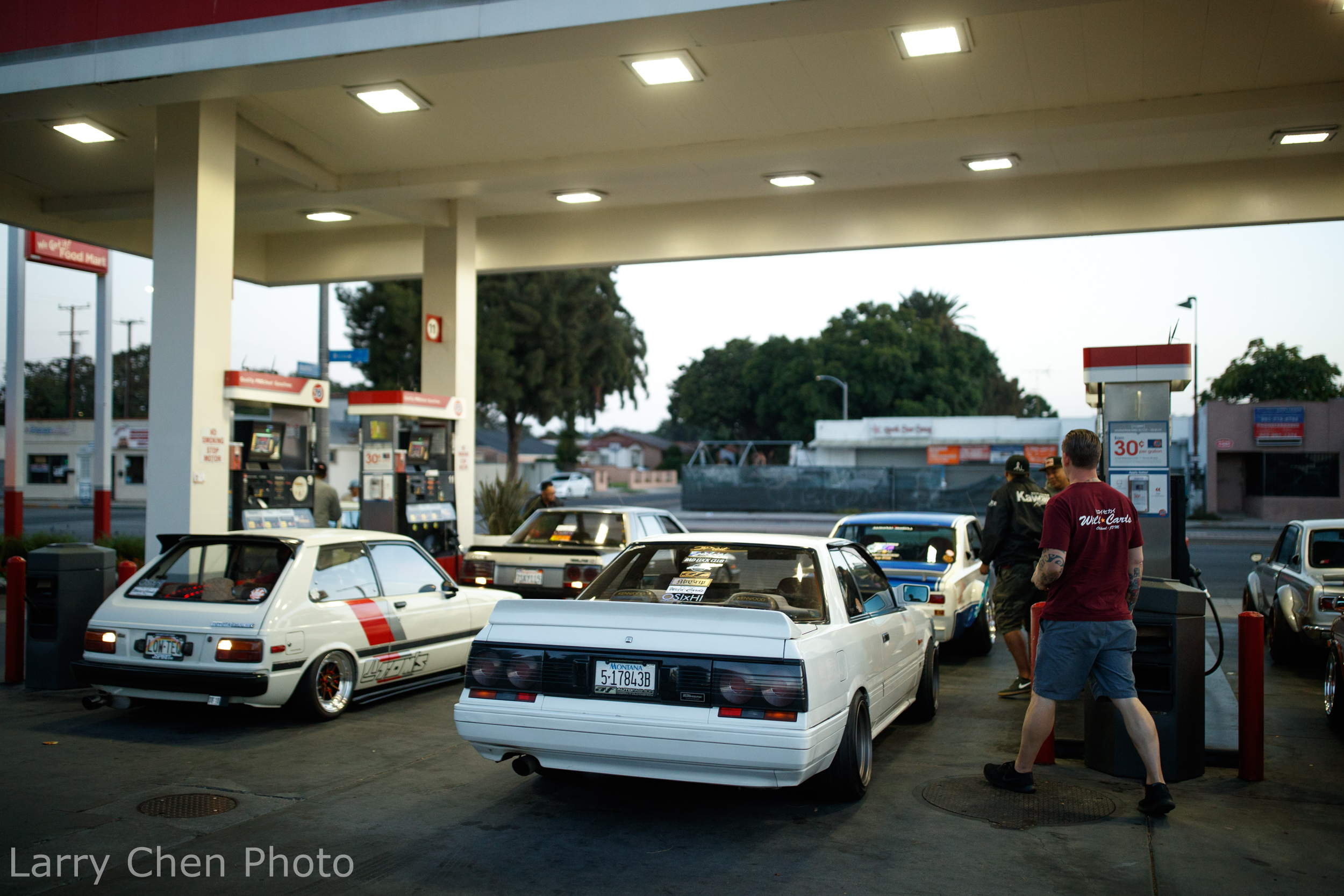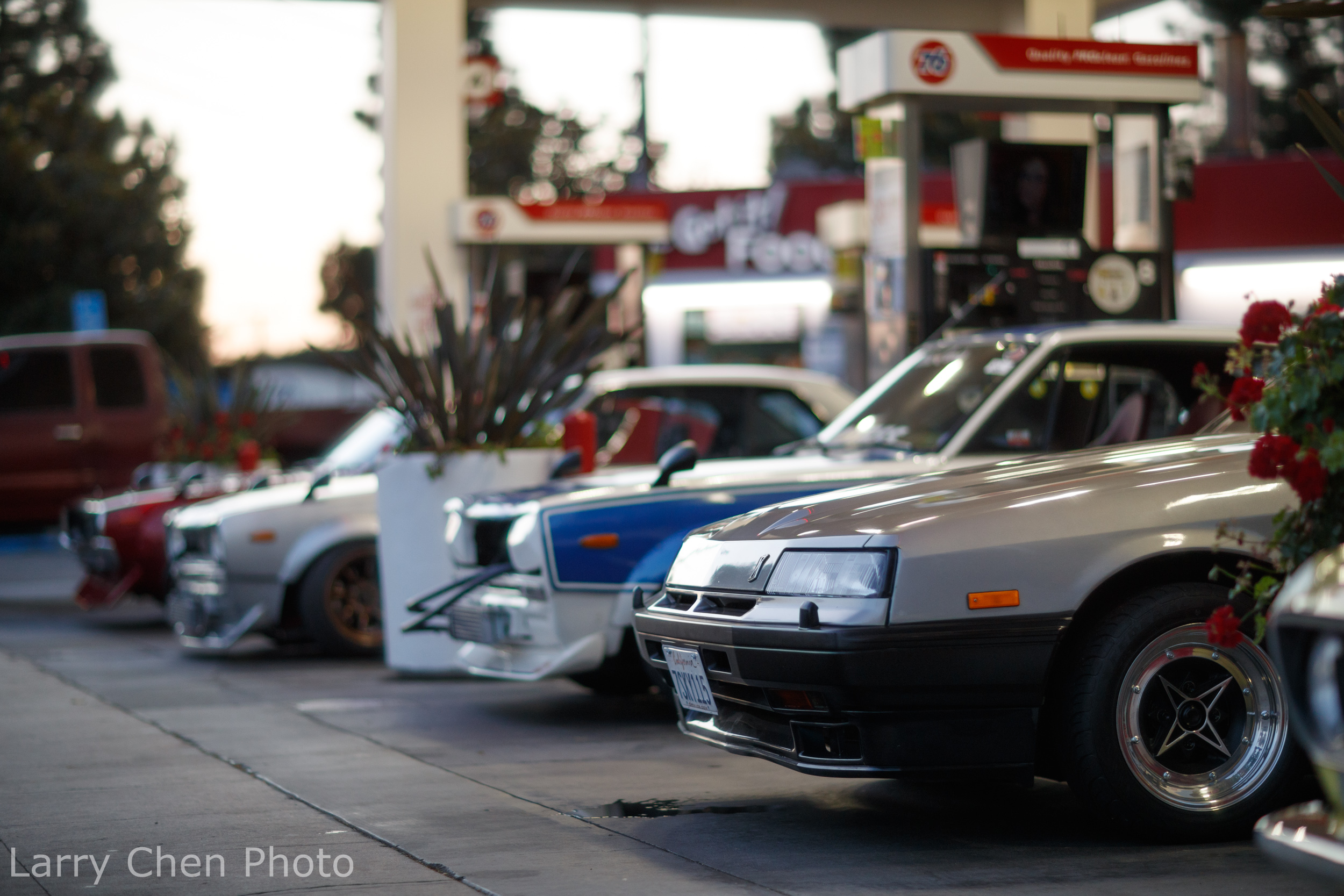 To achieve this we would have to take over the Southbound 710 Long Beach freeway. From the gas station, the show was only a few exits away, which was good; because keeping a dozen classic and highly-modified JDM cars together for longer than a few miles would have been like trying to herd cats.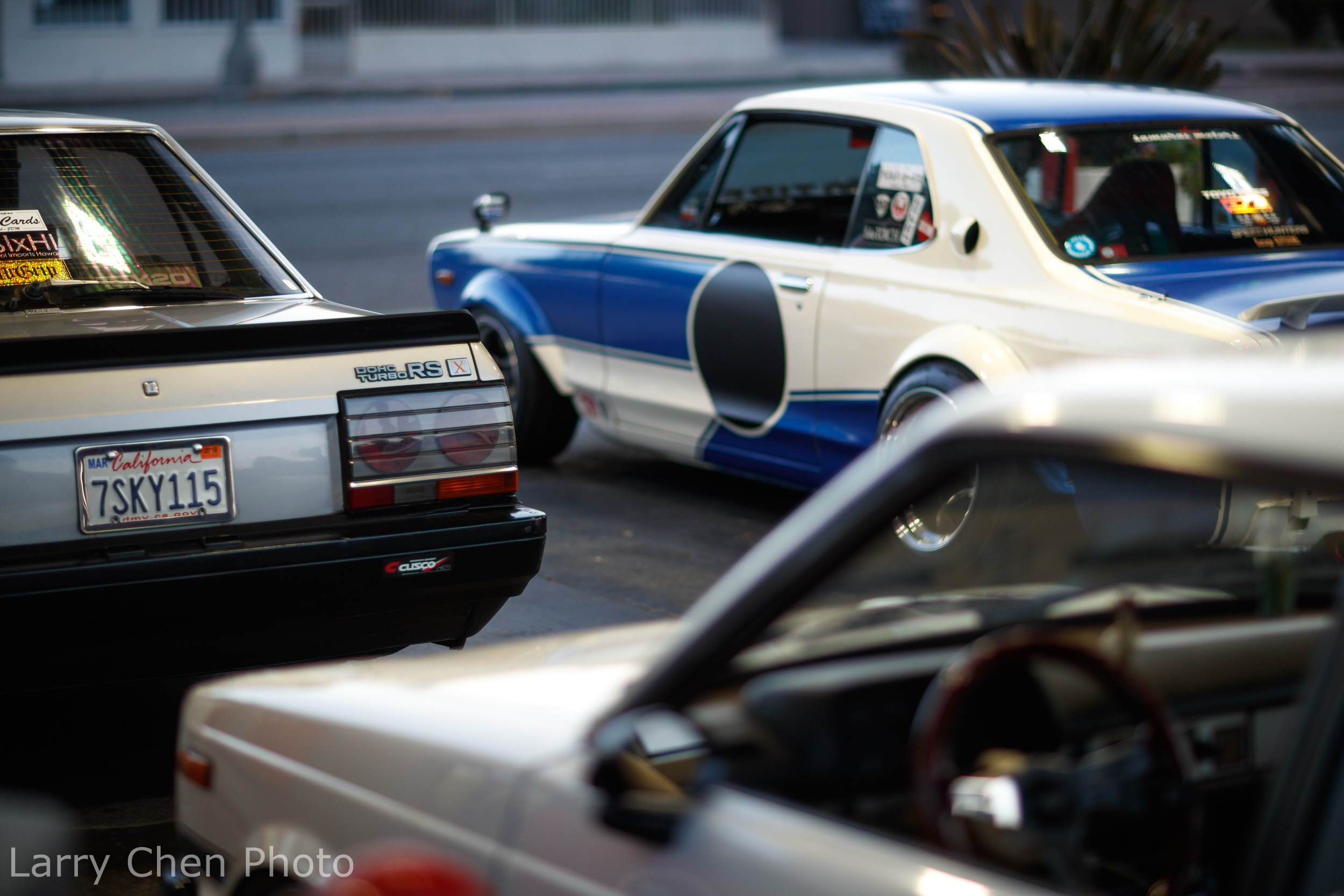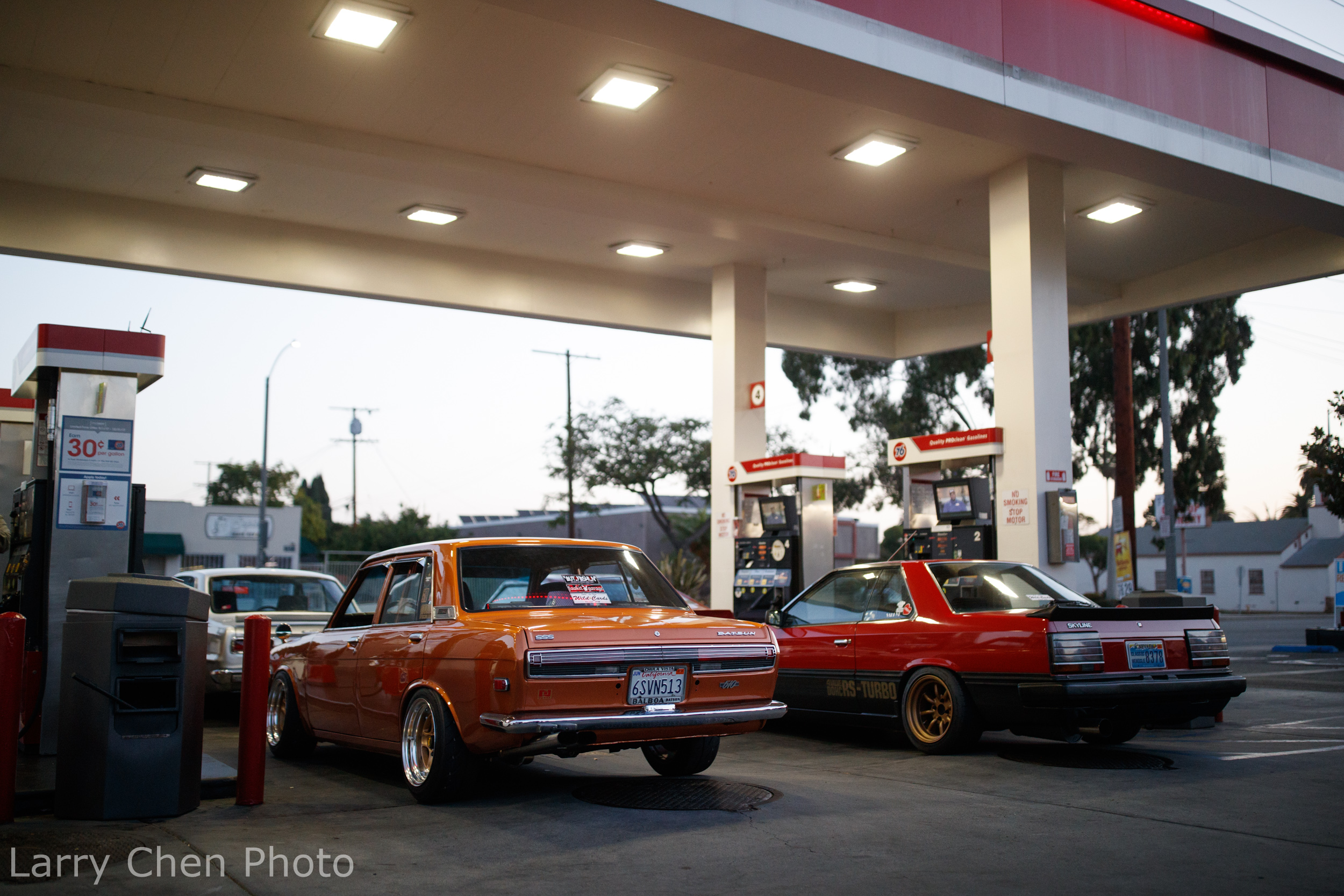 We love doing stories on car clubs and teams, and previously I've shot features on Risky Devils and N-Style crew builds. Around this time last year I photographed another Team Wild Cards car.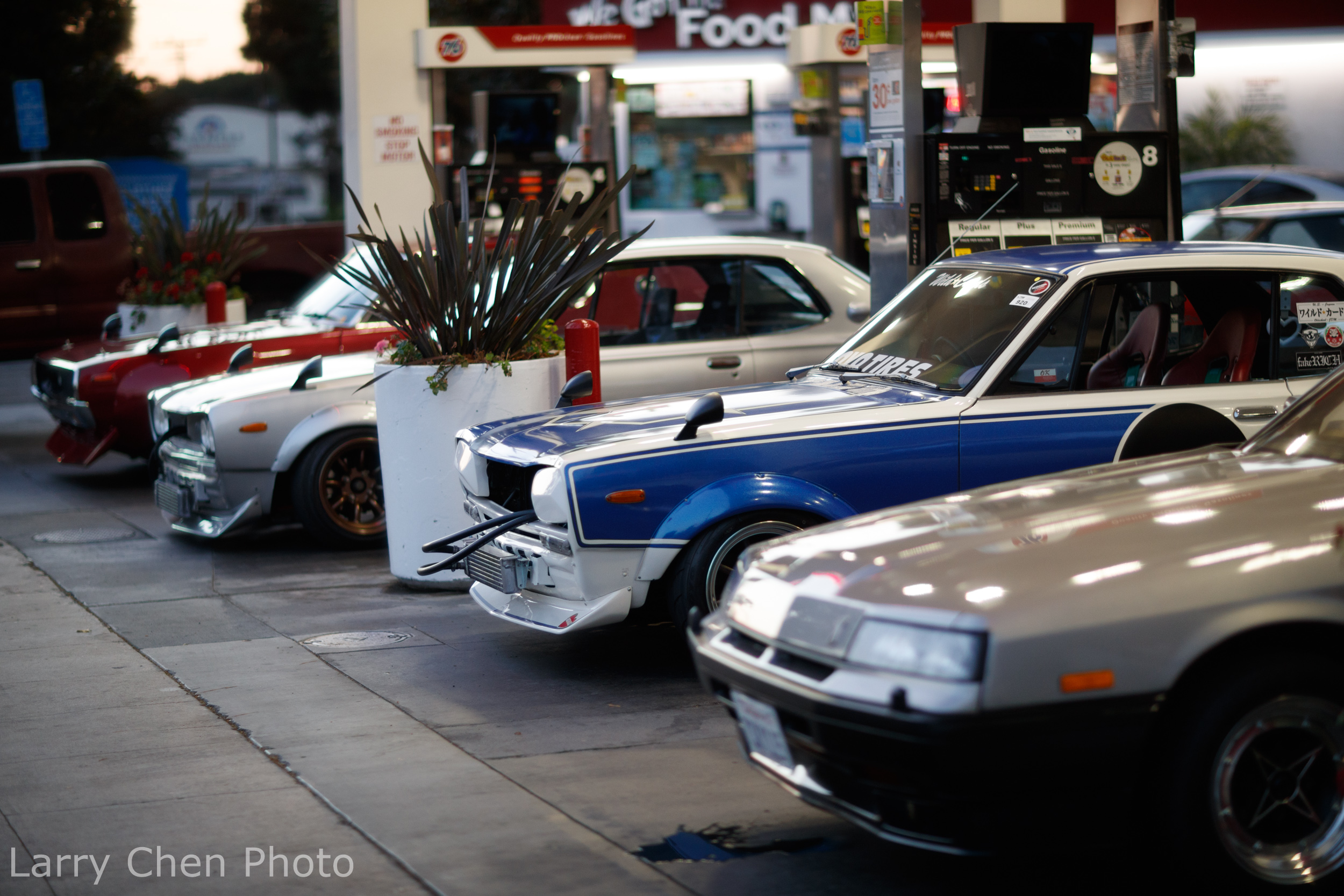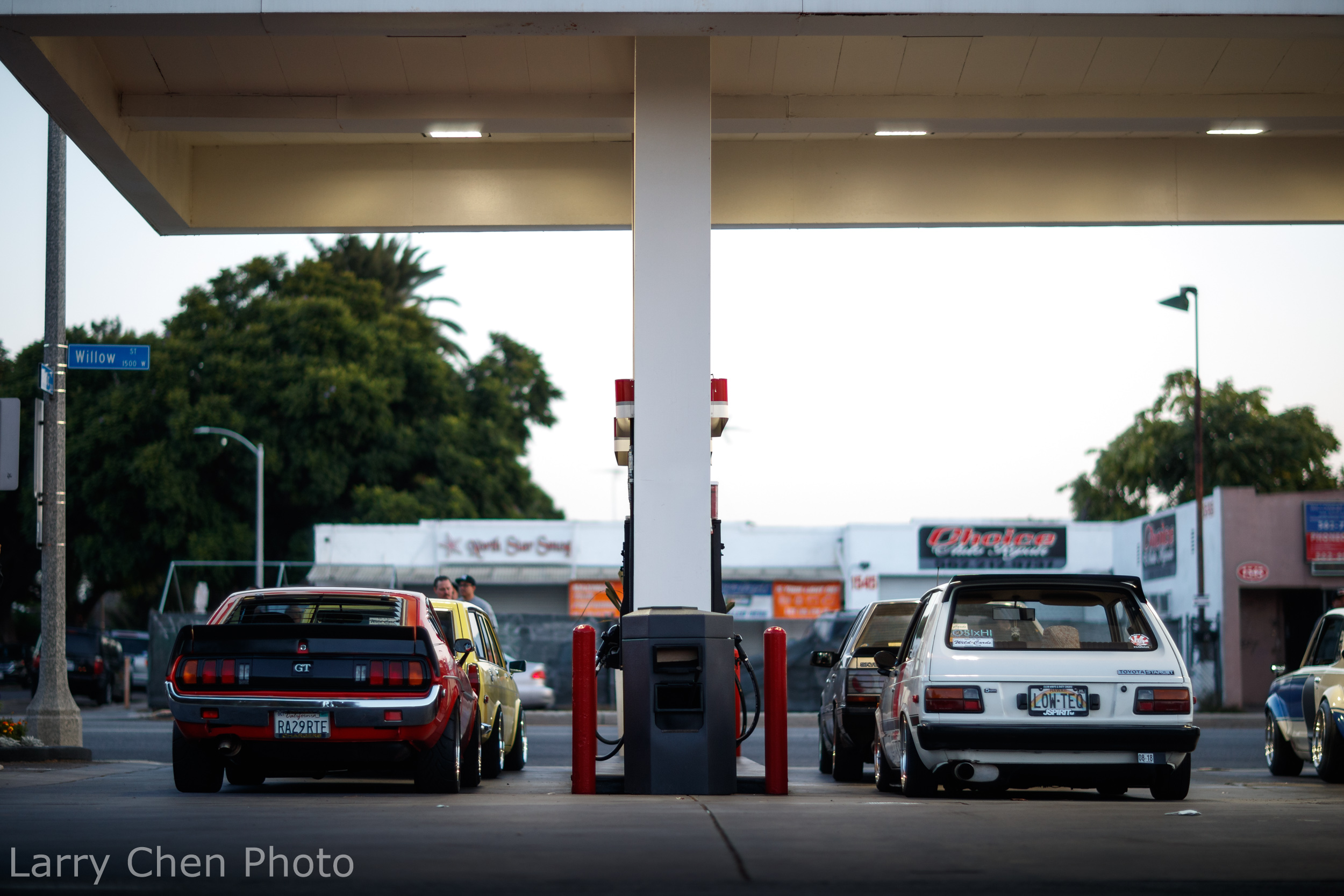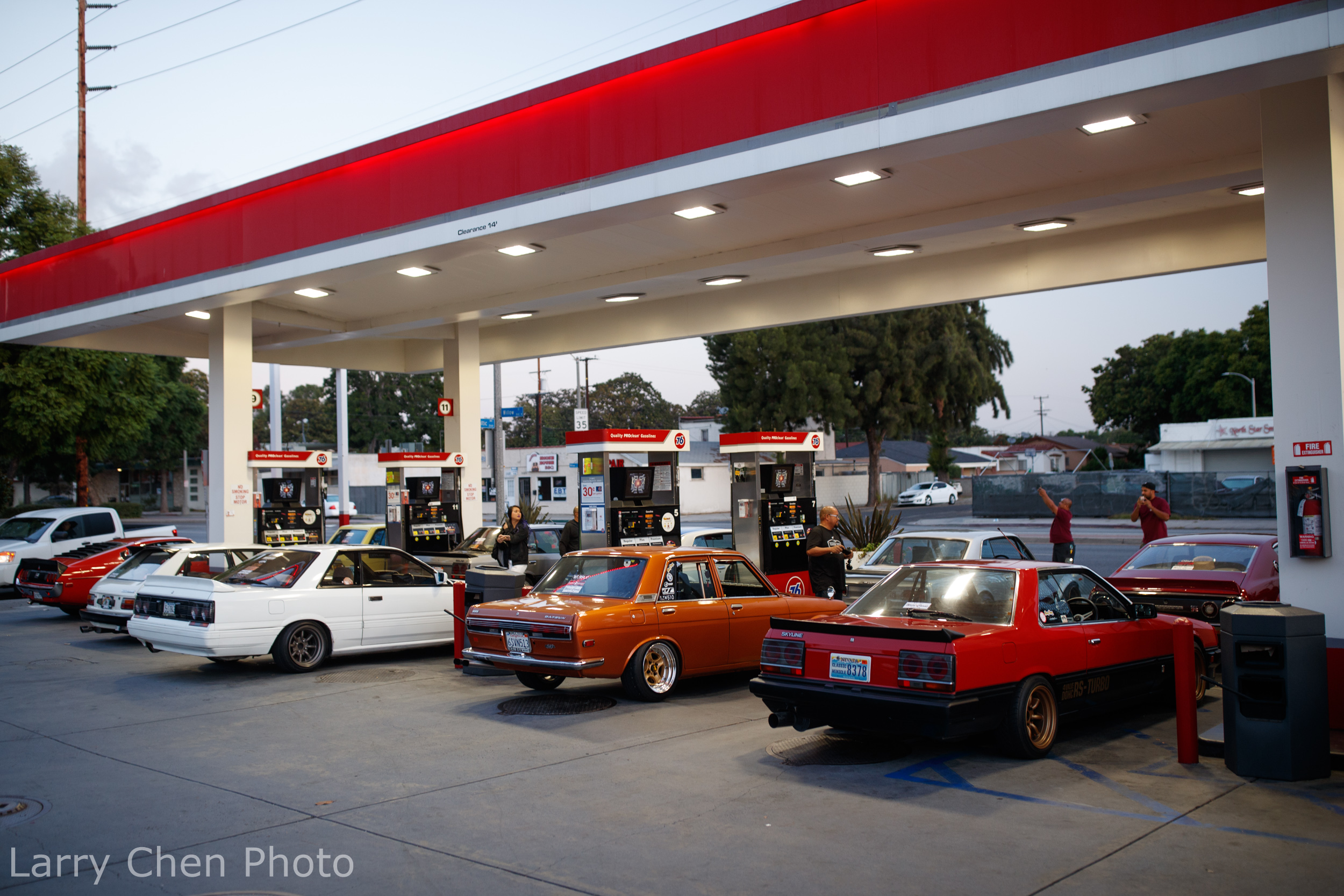 I'll touch more on it later, but on this particular day Louis and I had the opportunity to shoot four more Team Wild Cards cars for features. It was nothing short of JDM overload.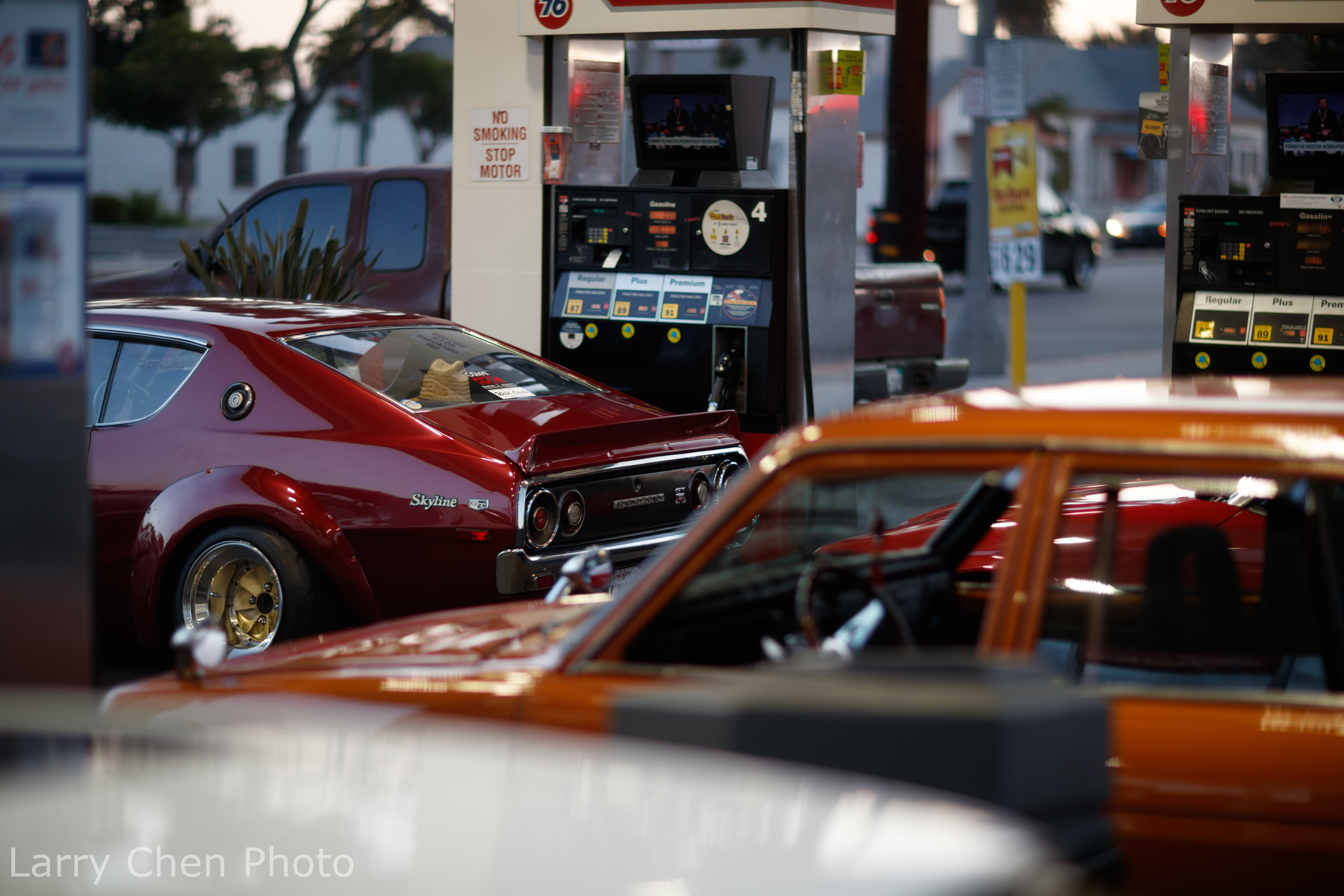 With everyone gassed up, we were off at 6:45am on the dot.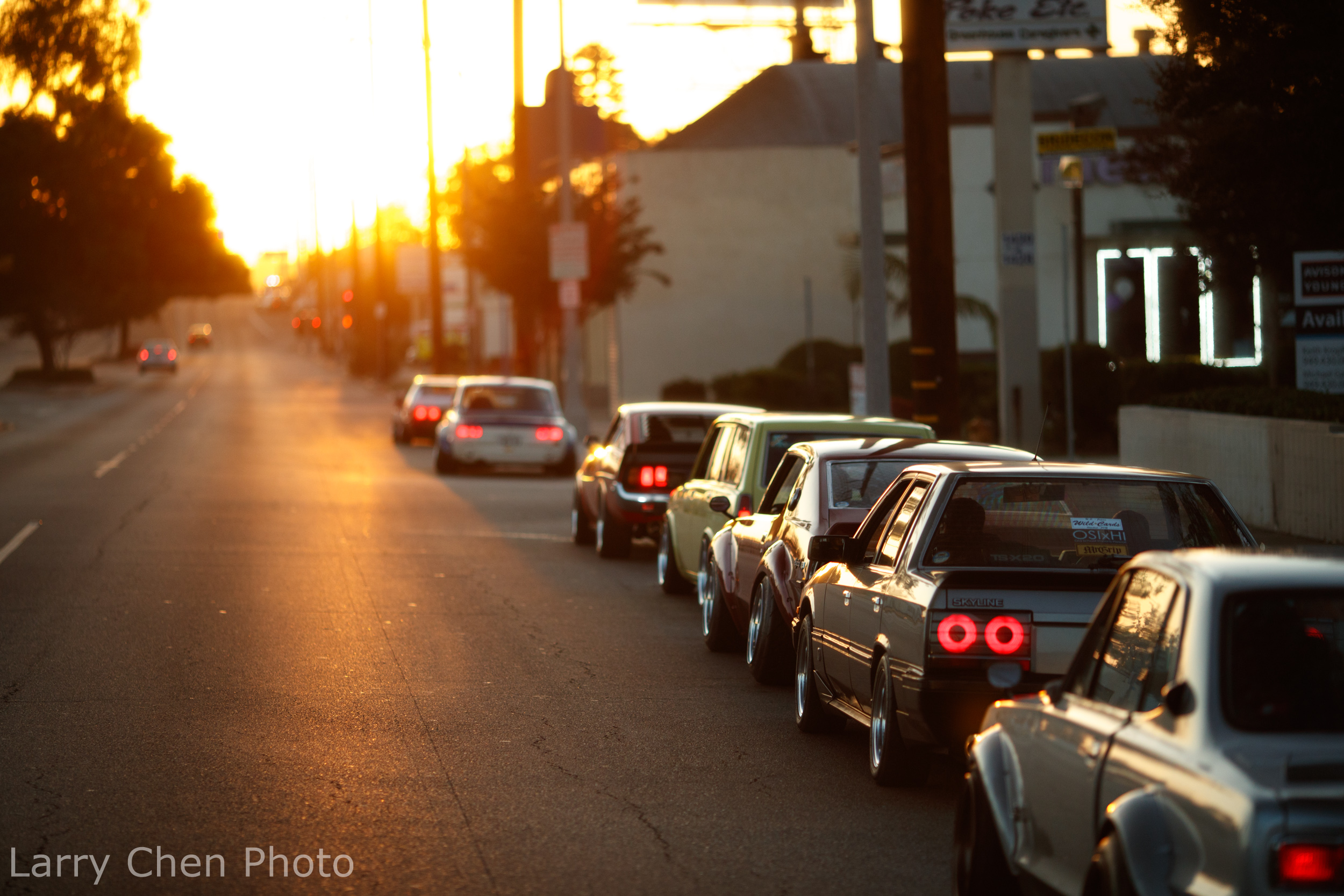 Everyone lined up on the street, while Louis and I took the lead in my production vehicle. I wish I could have driven Ole Orange Bang for this particular shoot, but my 240Z is a terrible camera car on the street.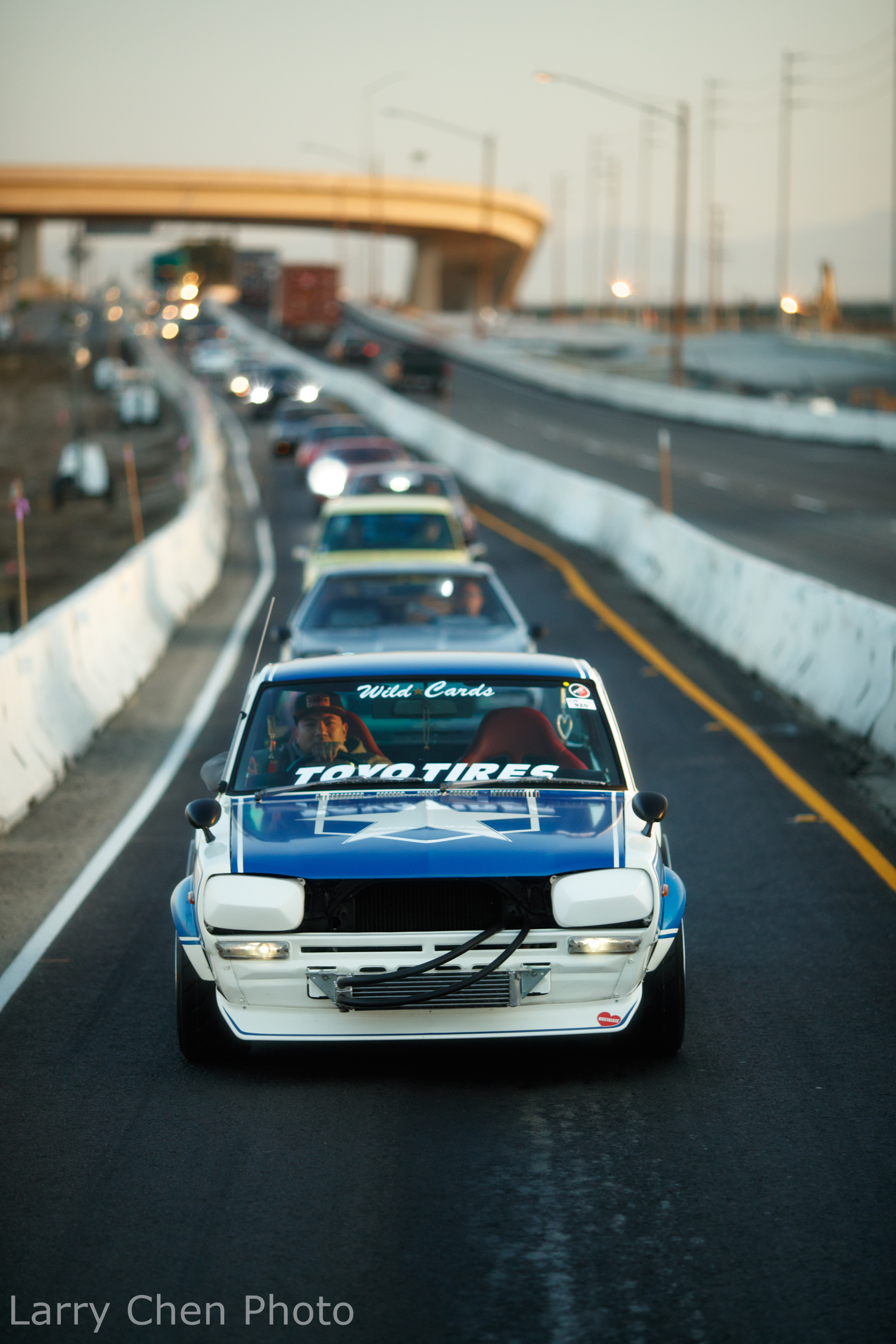 Some major construction on the freeway that forced everyone into a single-file line made it hard to keep the crew together, but the photos were still cool.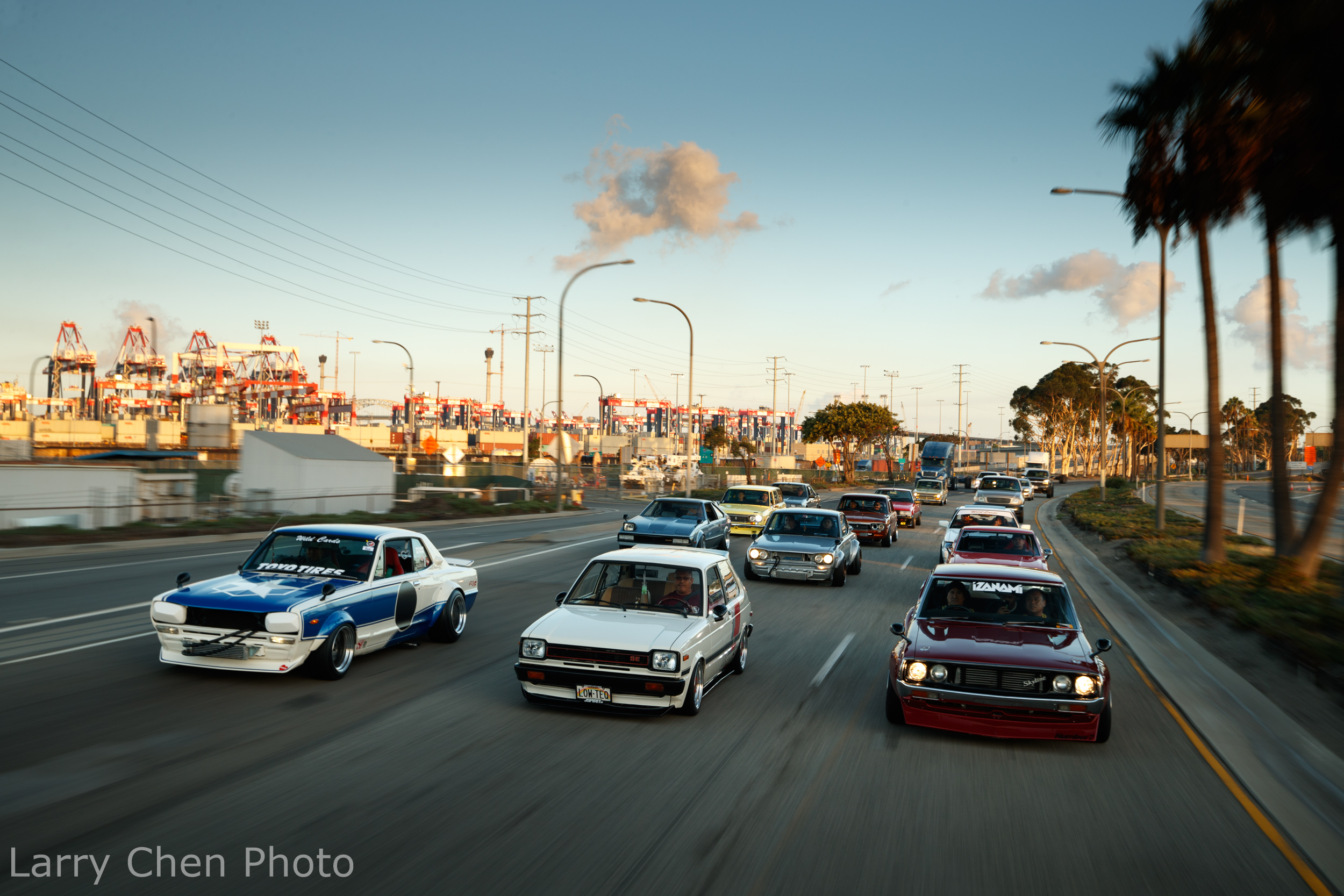 With about a mile left to go and barely any traffic given it was so early on a Saturday, the lanes opened up and Team Wild Cards fanned out. To get everyone into position, I was waving my arms in the air like a conductor directing an orchestra of JDM machines.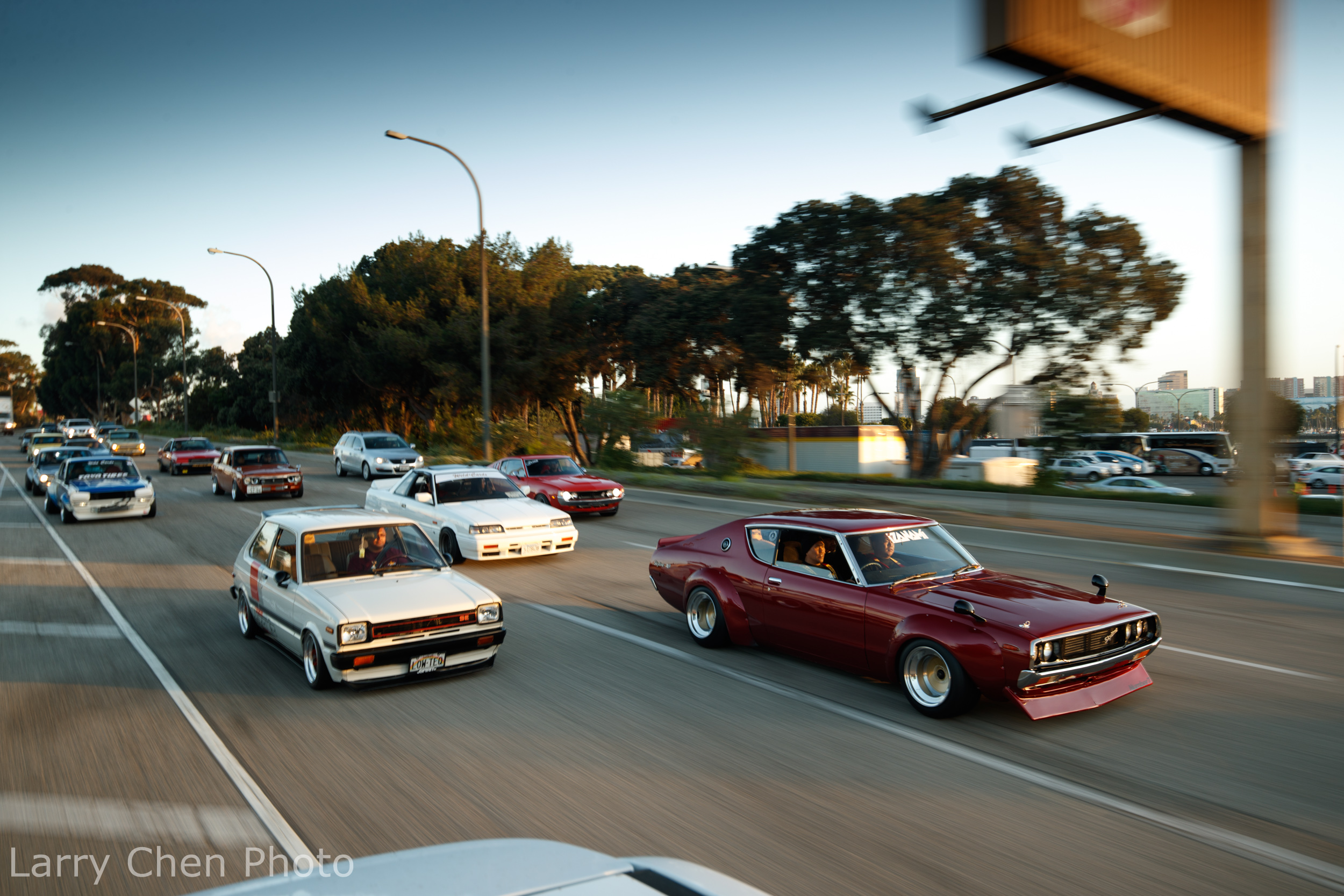 It was such a rush, and I had a big smile on my face when I knew that I had got the shot I wanted.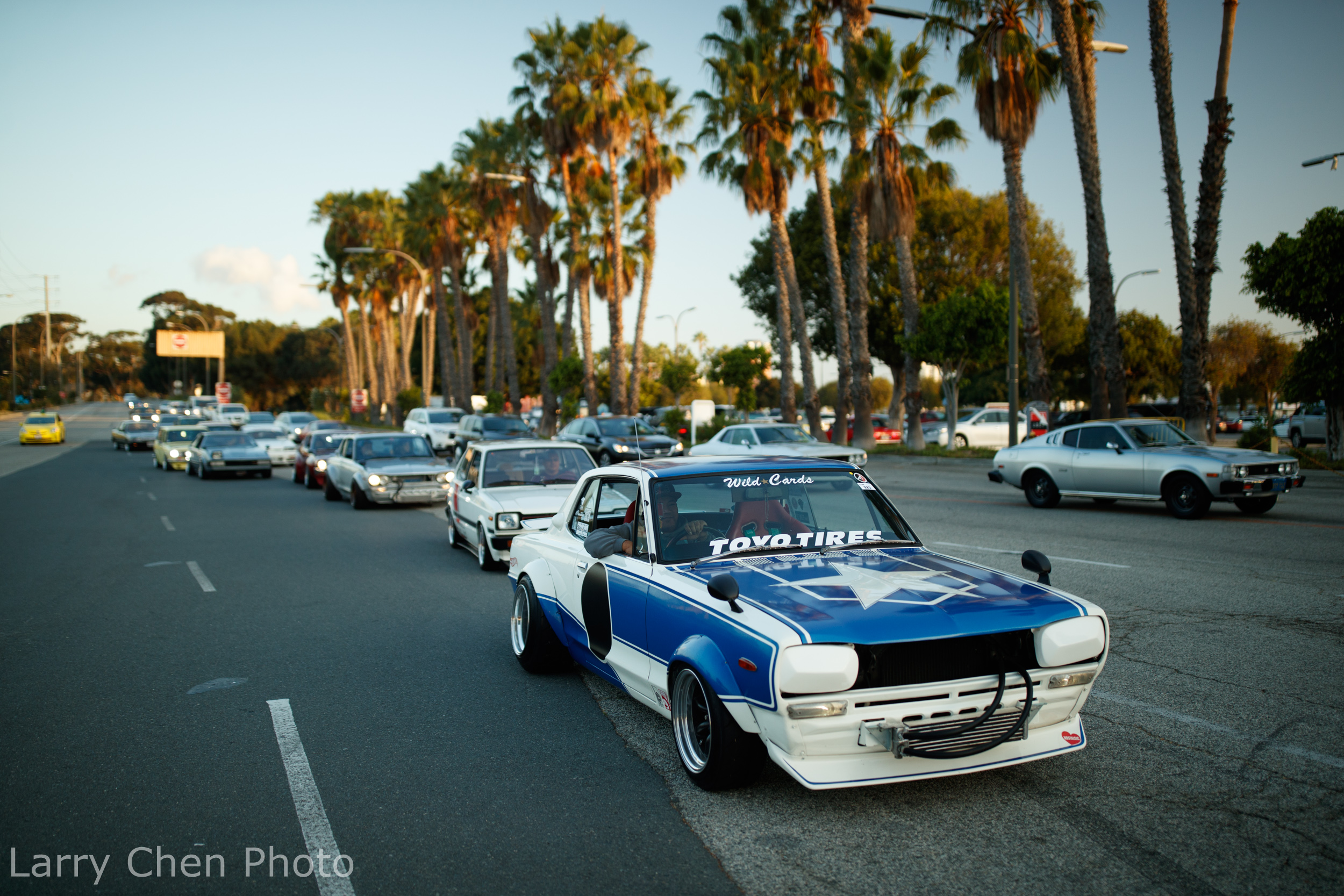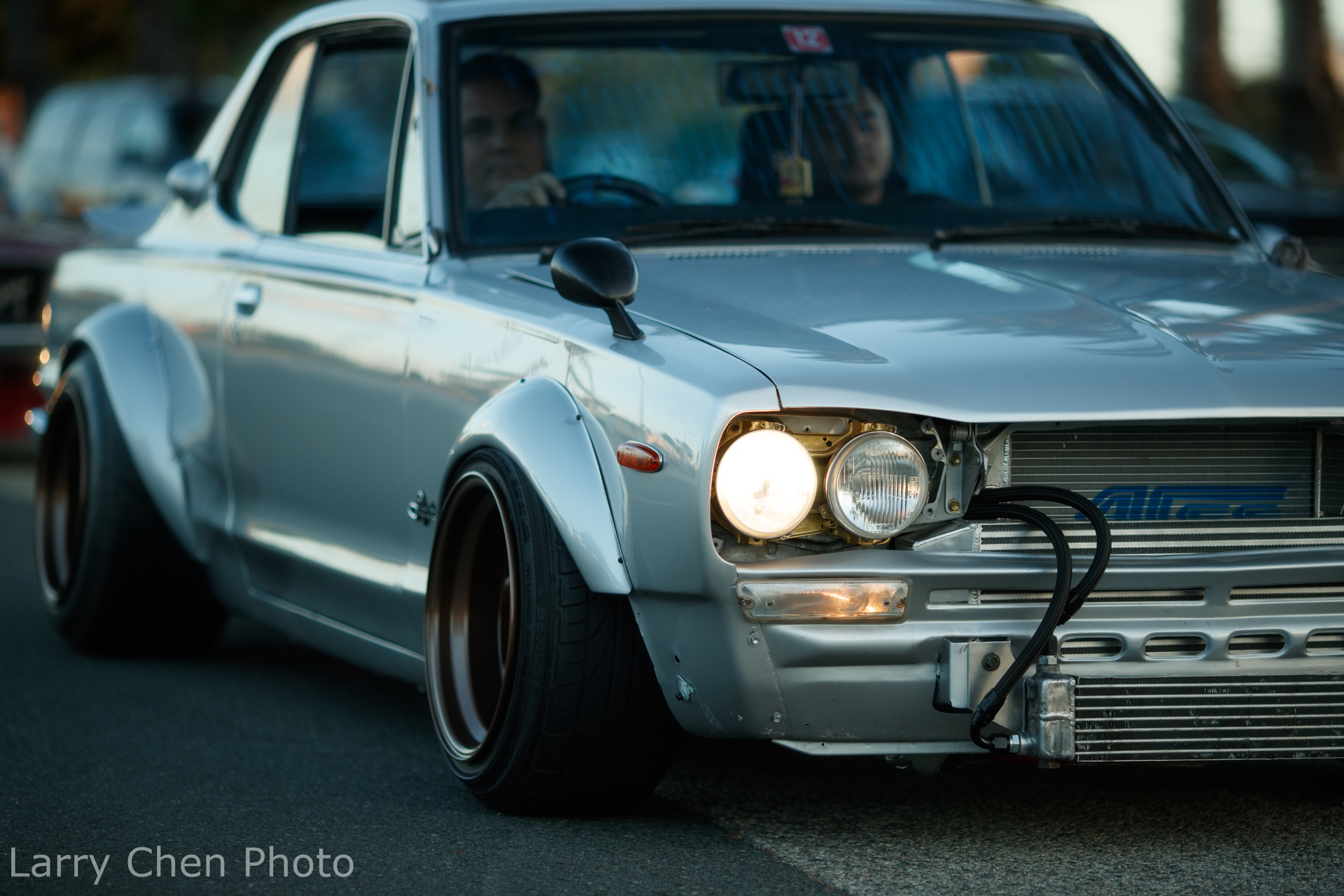 Although we had to deal with some traffic and a few people on the freeway getting angry with us, the team shoot was an absolute success.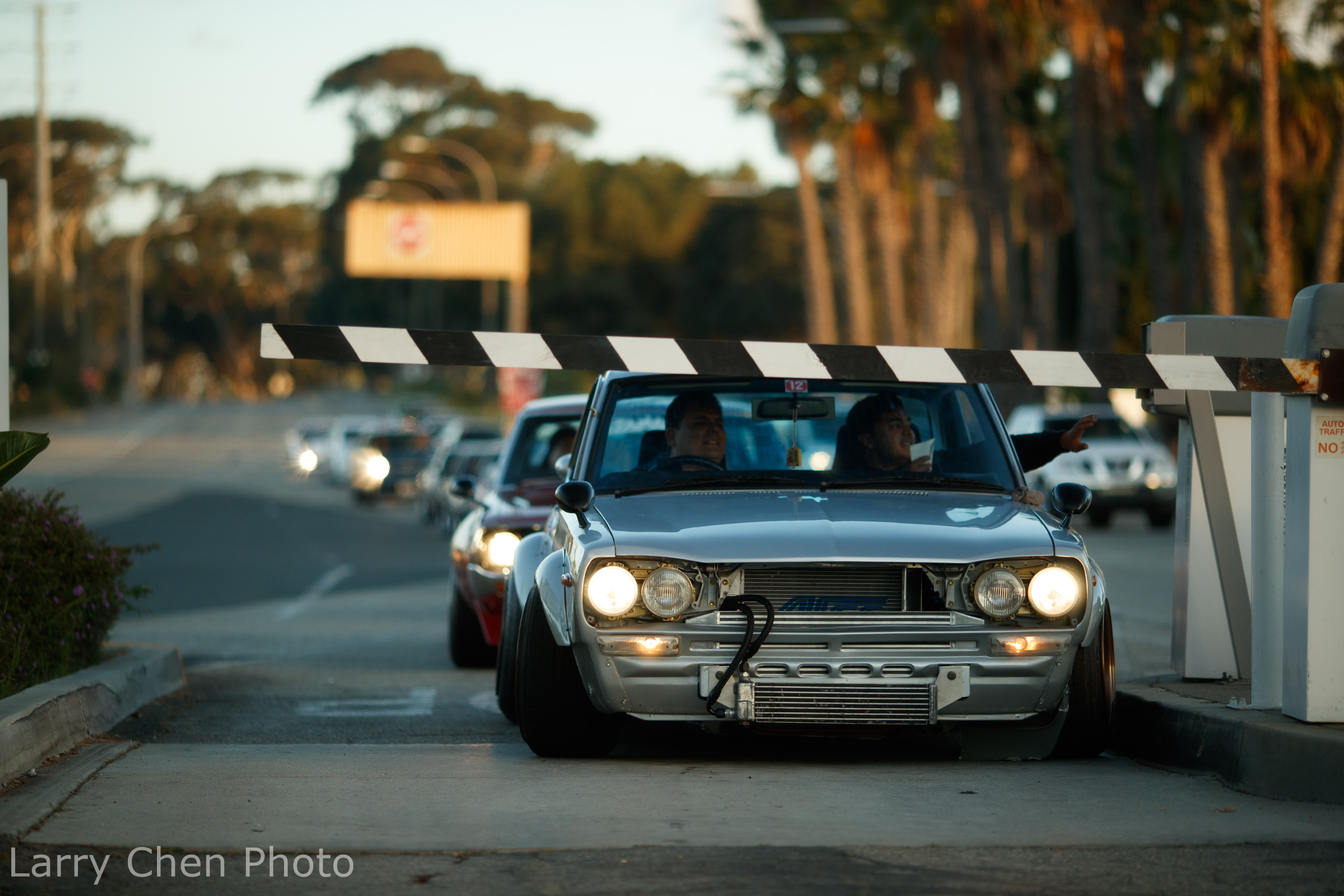 I've always wanted to photograph the Japanese Classic Car Show, so I figured I might as well do it with a bang. When everyone else was just waking up, I already had one of my favorite shots of the year in the bag.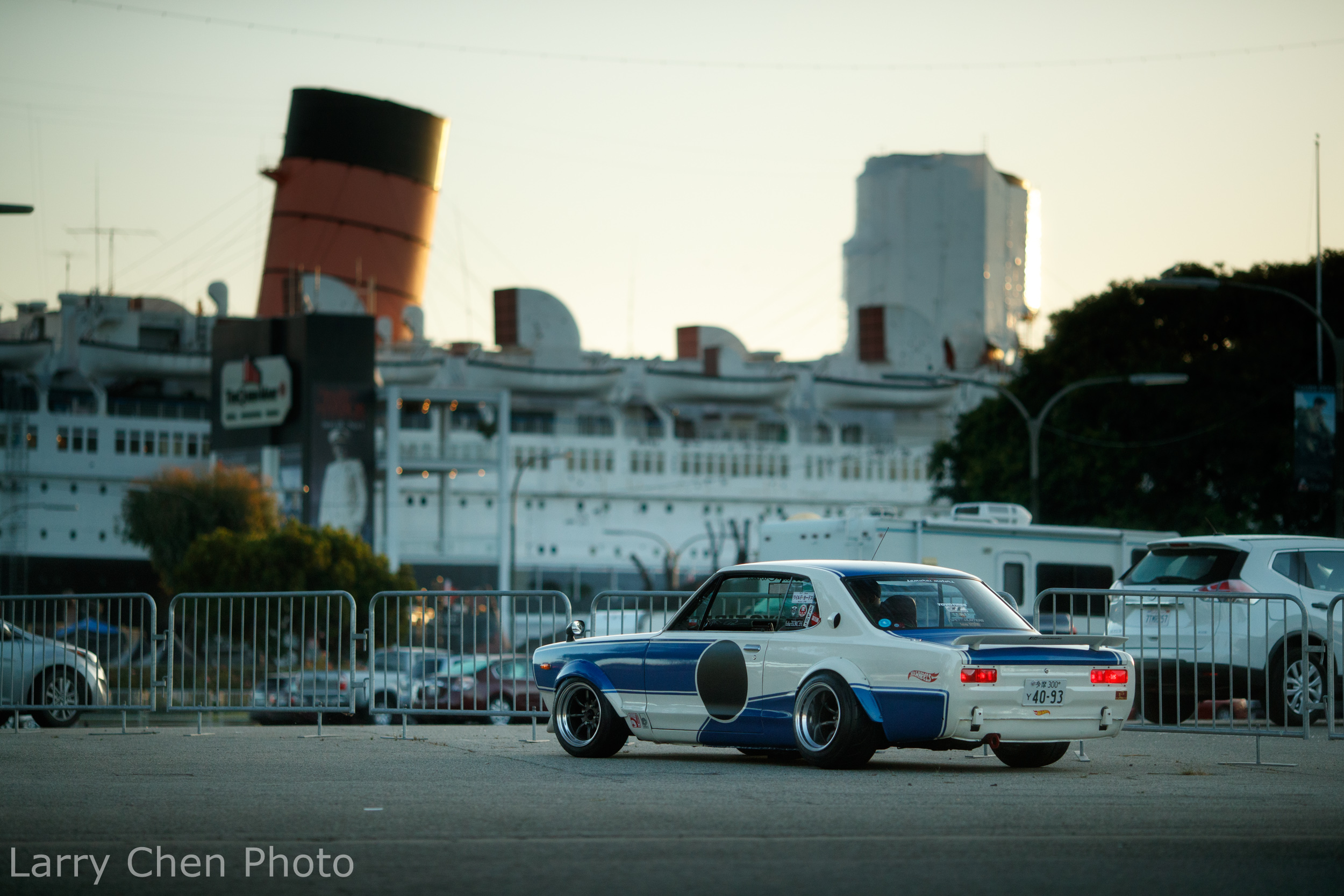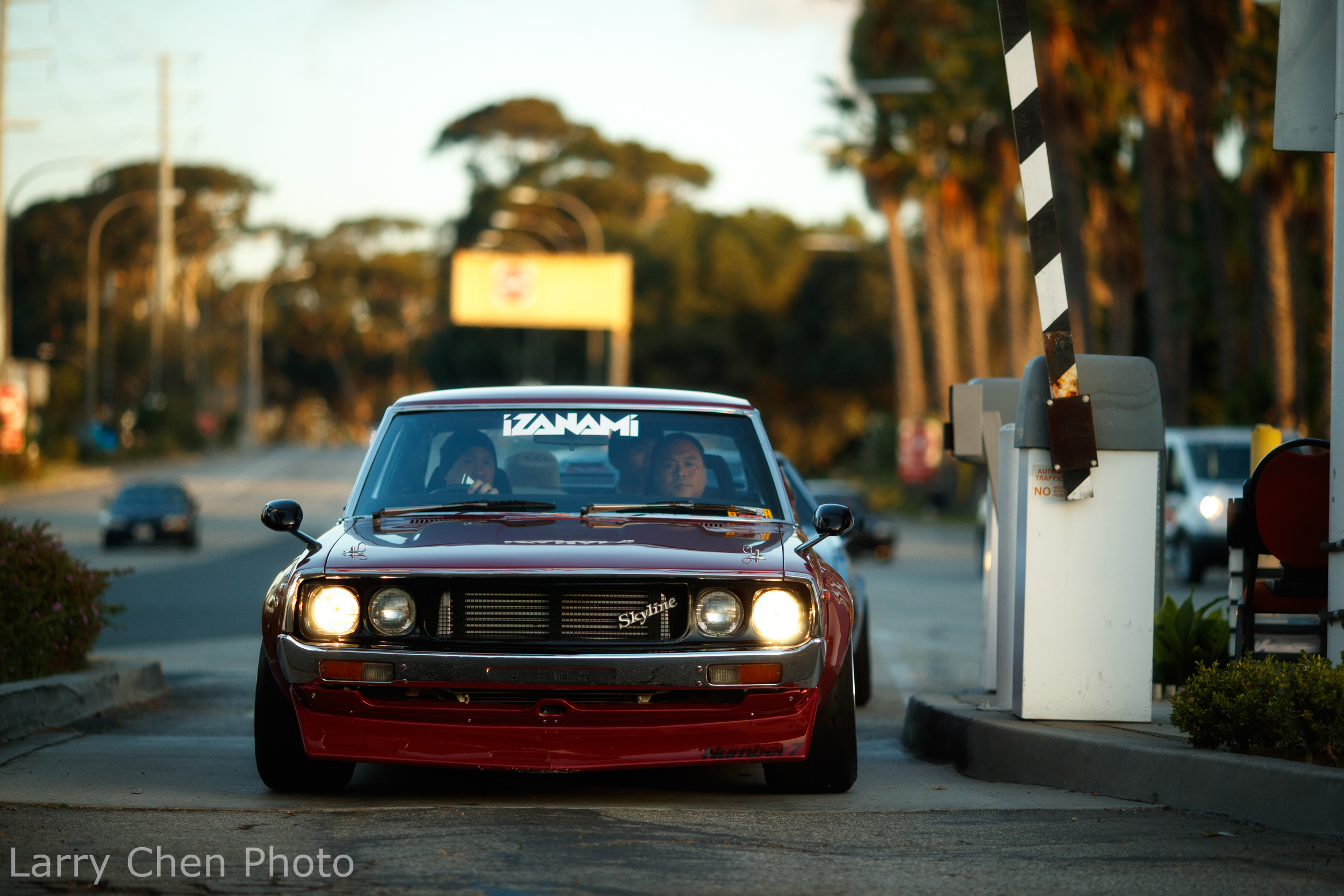 This was Speedhunting at its core. These guys had put in so much effort getting their vehicles ready for the biggest classic Japanese car show in North America, so I would have been letting everyone down if I did not document it properly.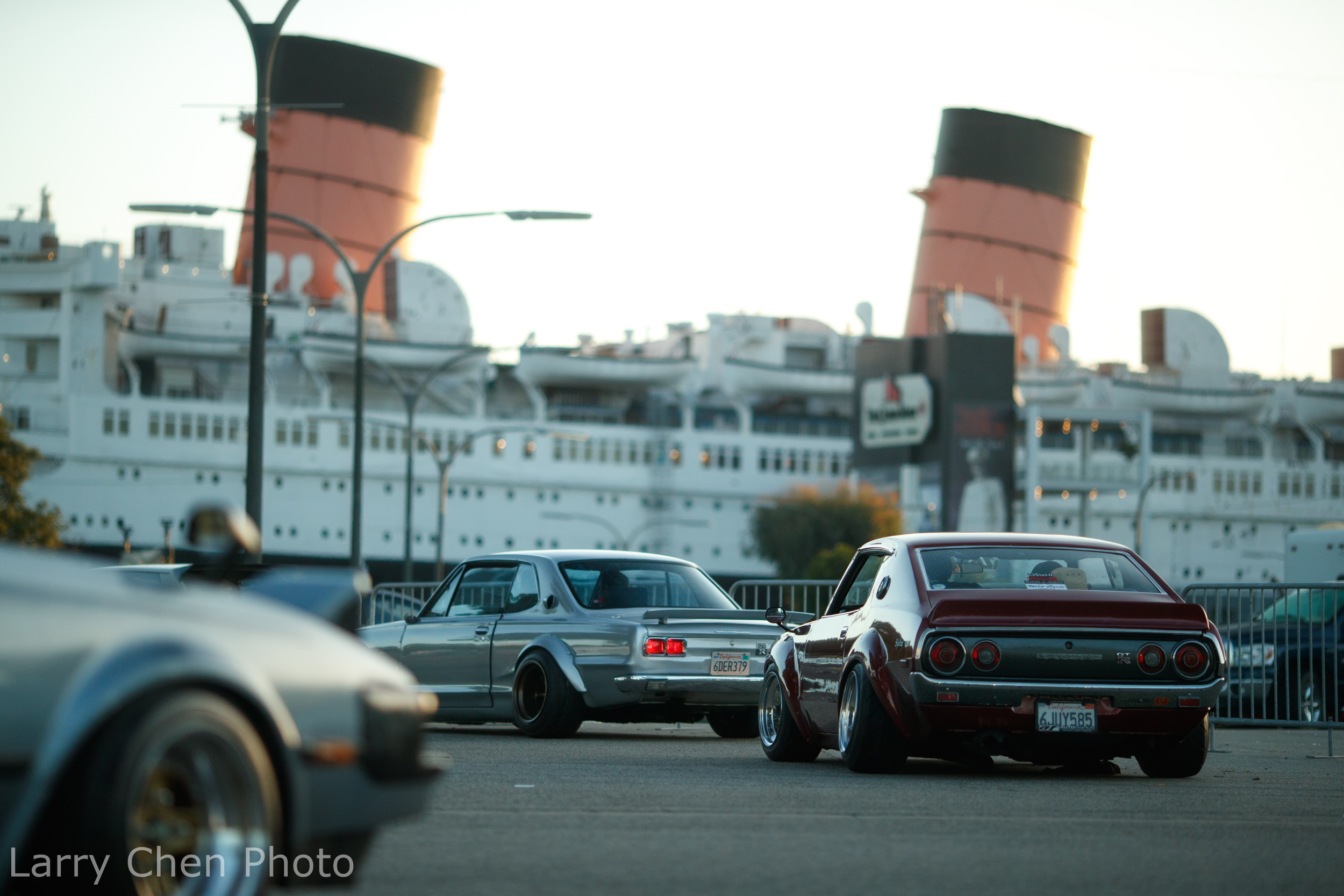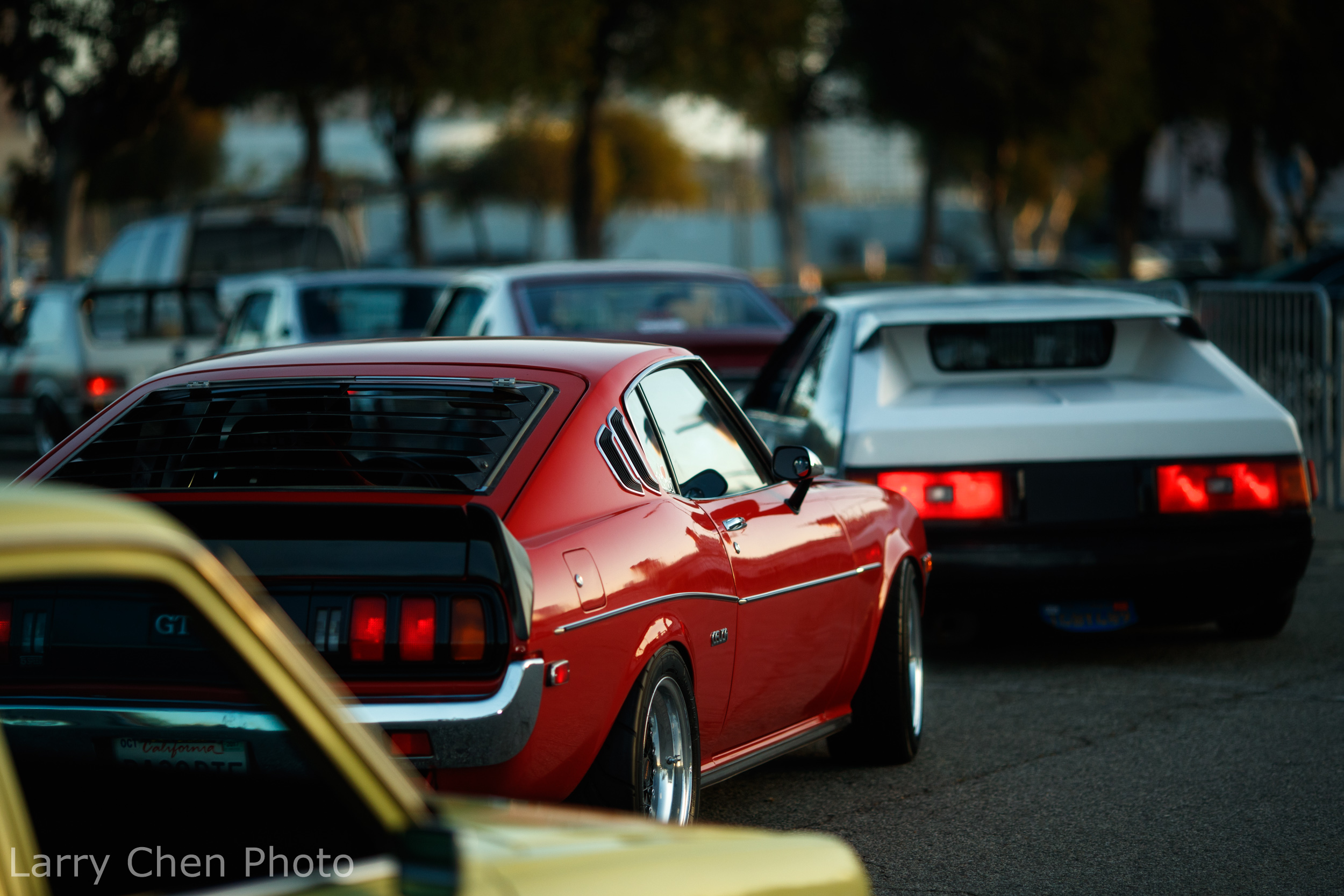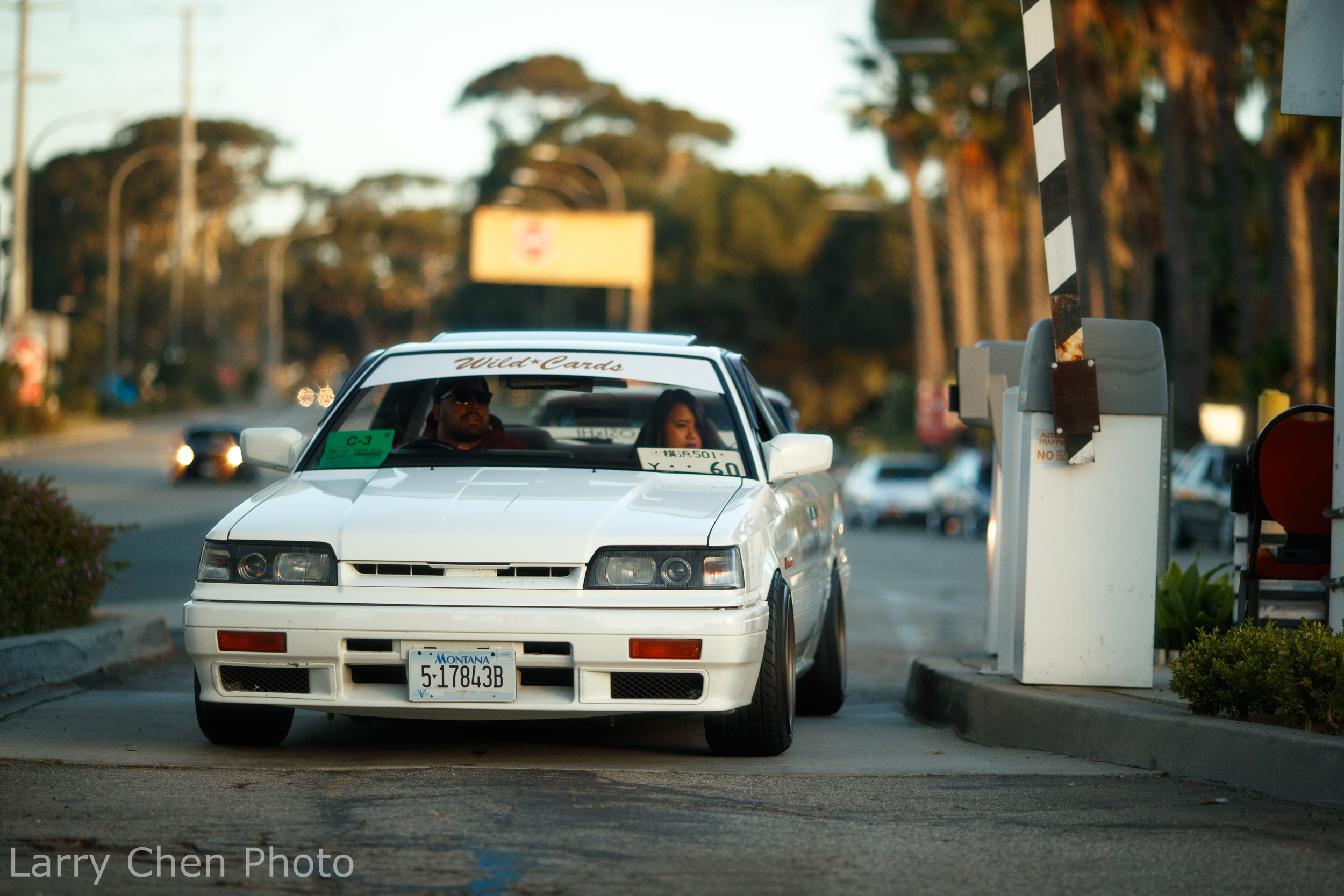 Watching the guys roll in one by one bathed in the soft morning light was such a treat. Load-in and load-out is always my favorite aspect of shooting shows.
I was cool to see Jay Kho in his super-clean DR30 Skyline. This car was was even made into a Hot Wheels diecast.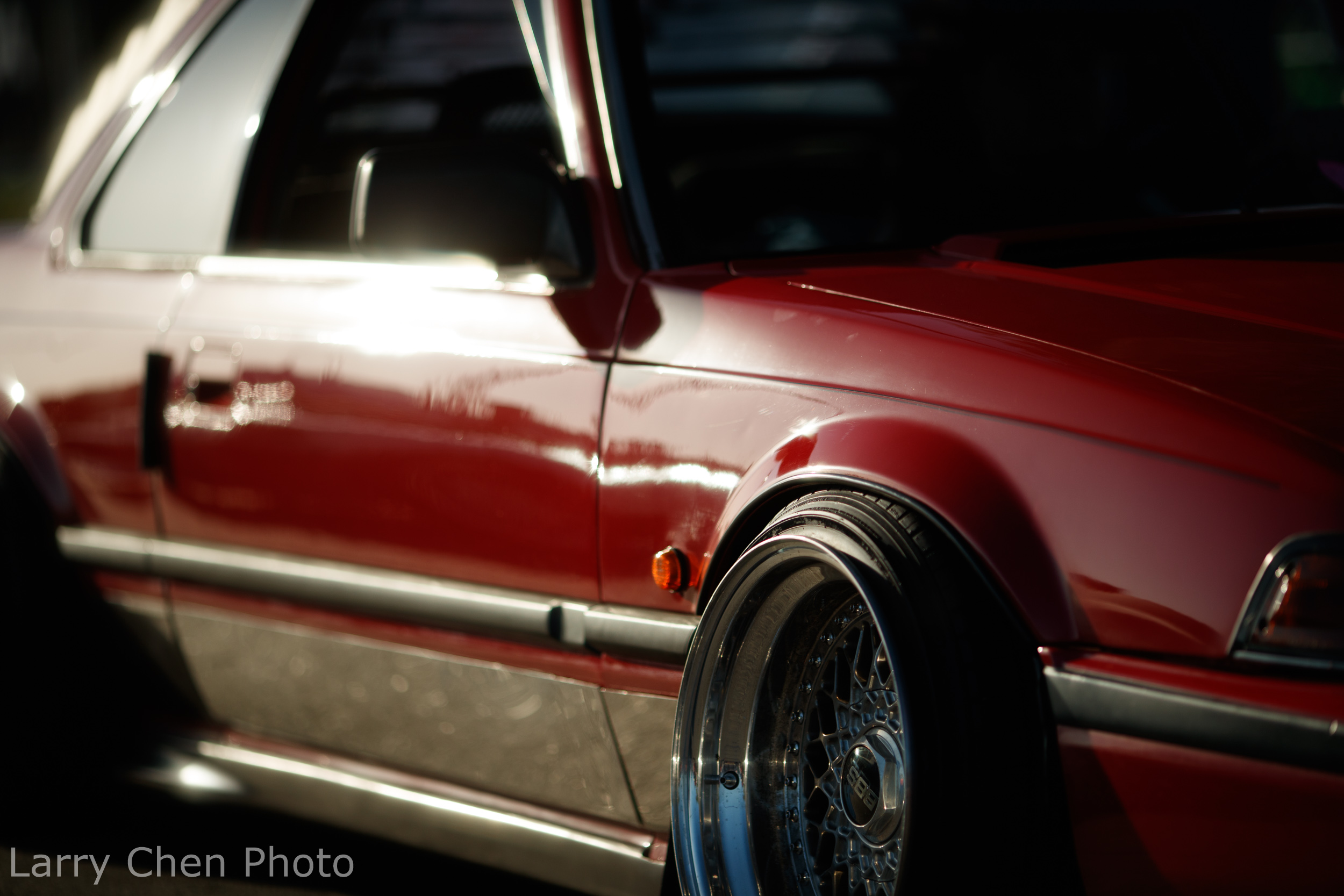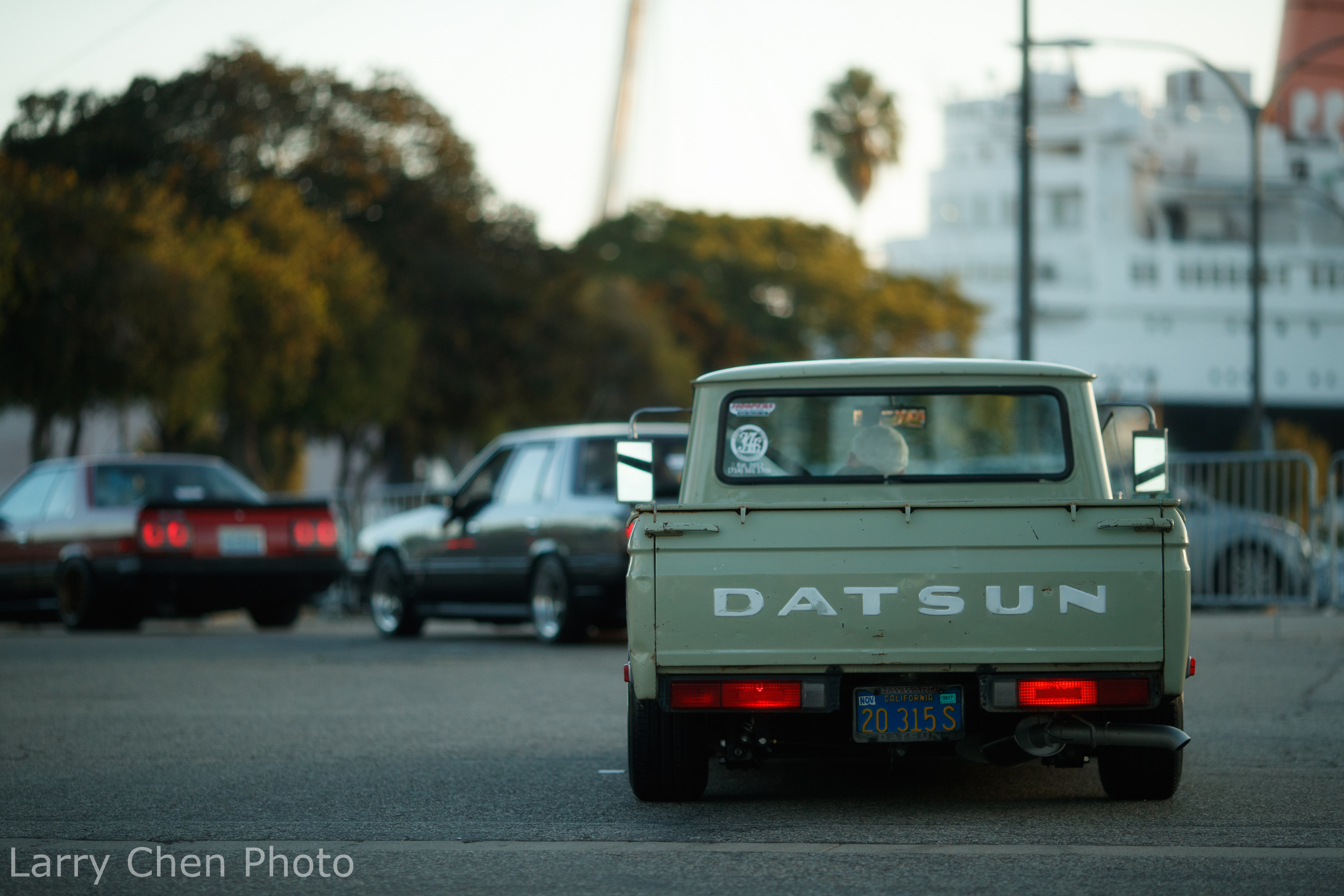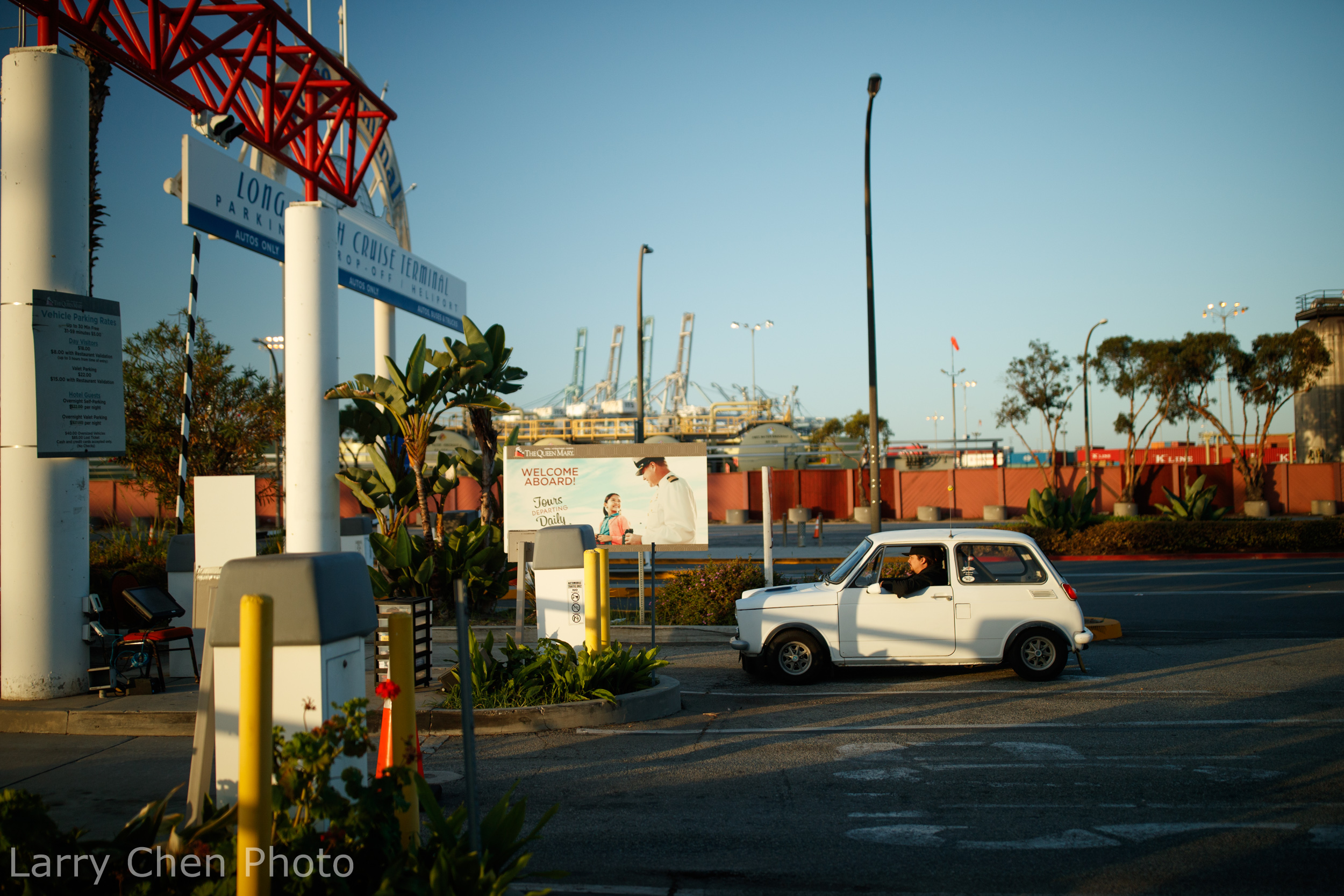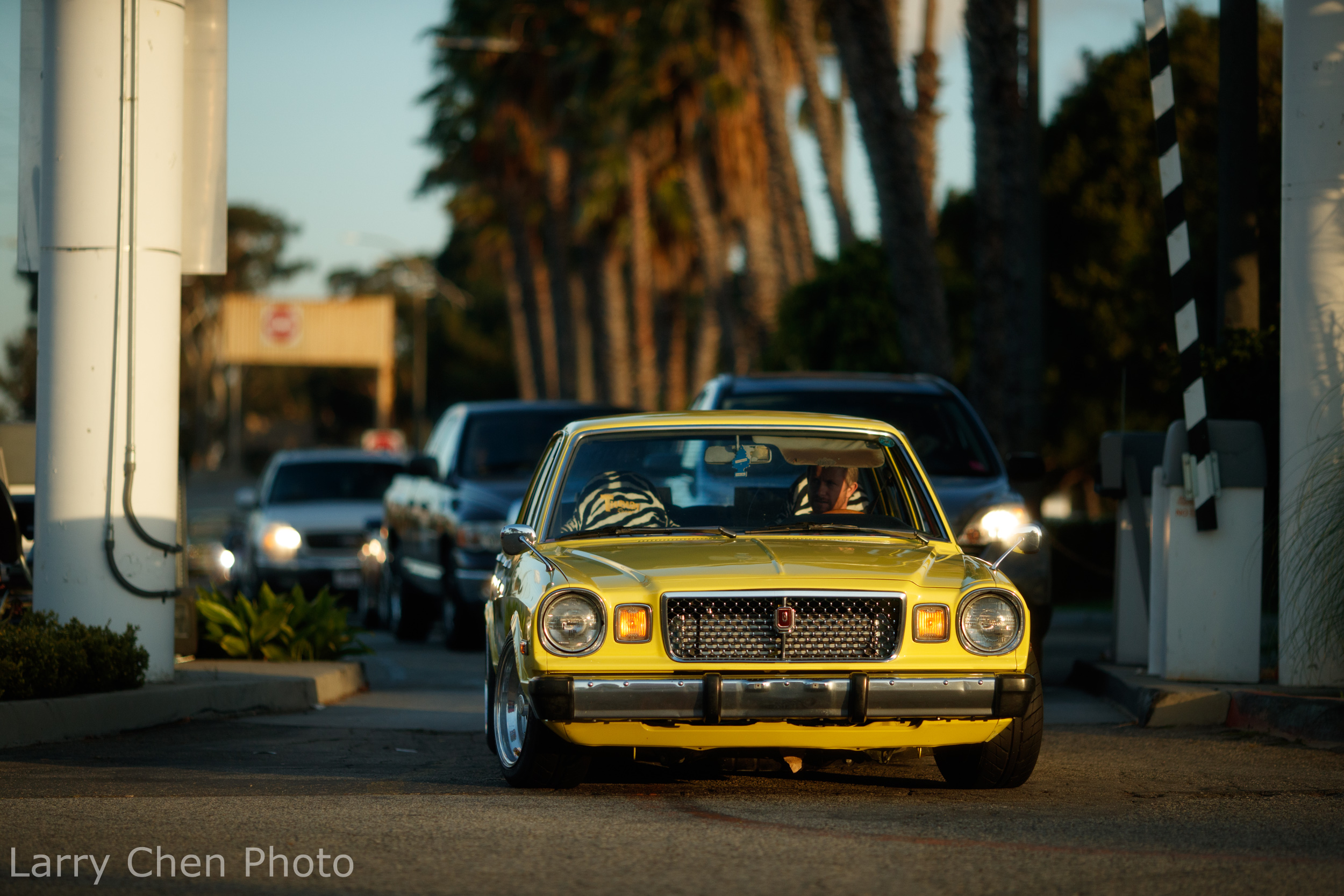 Once Team Wild Cards were all loaded in, I decided to take in the sights and check out some of the other cars arriving at Queen Mary Events Park.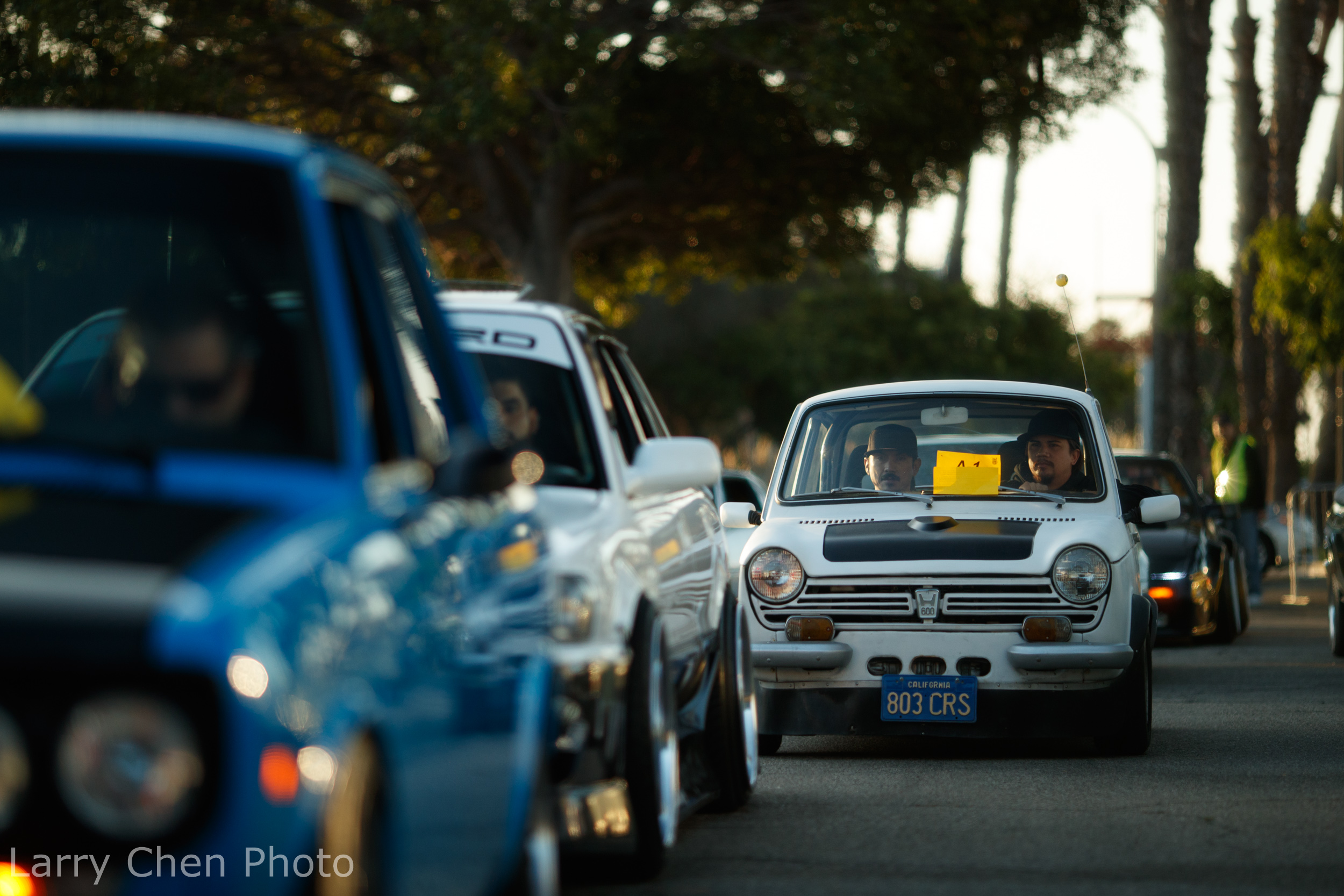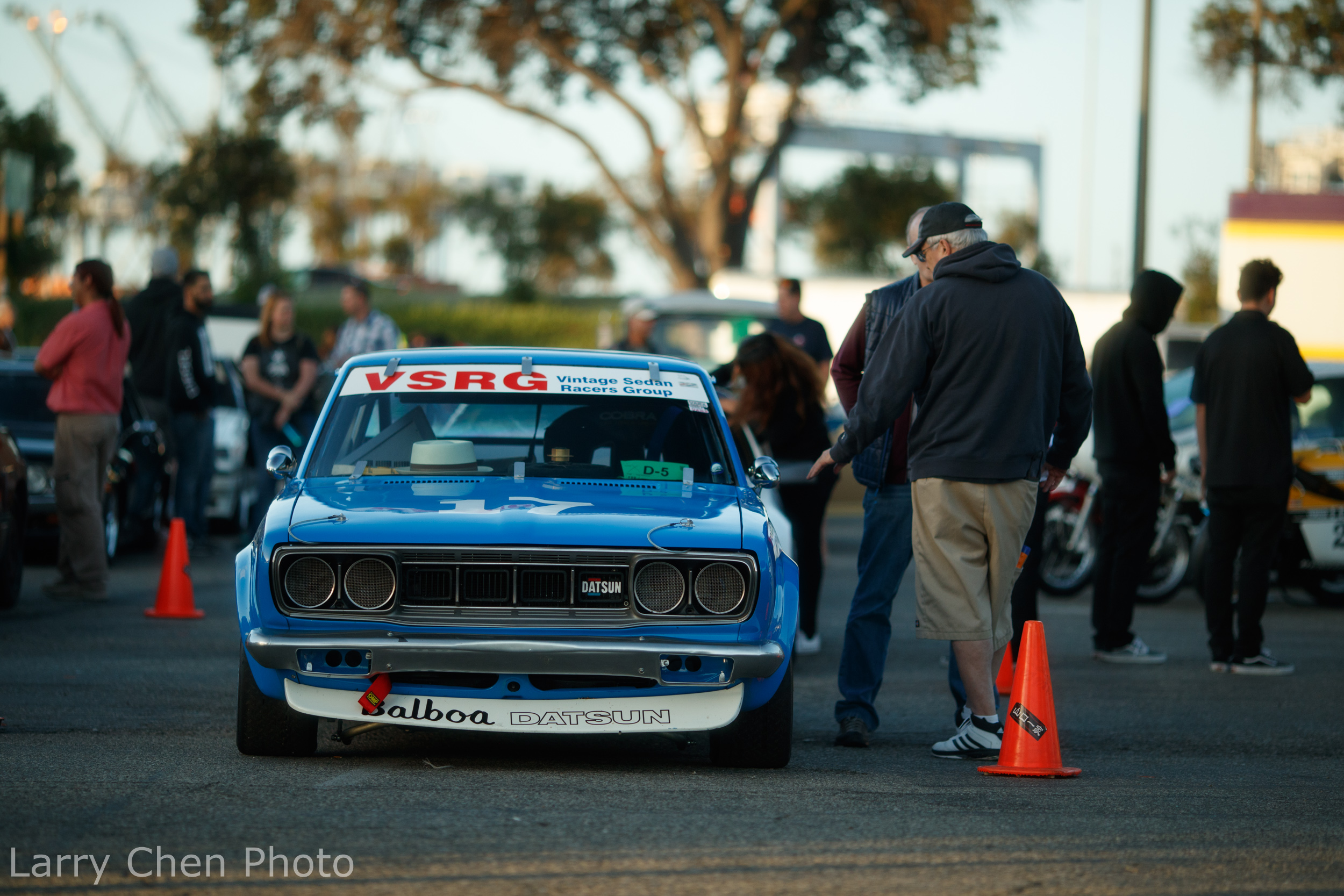 Almost 600 cars would gather in Long Beach for this single-day car show.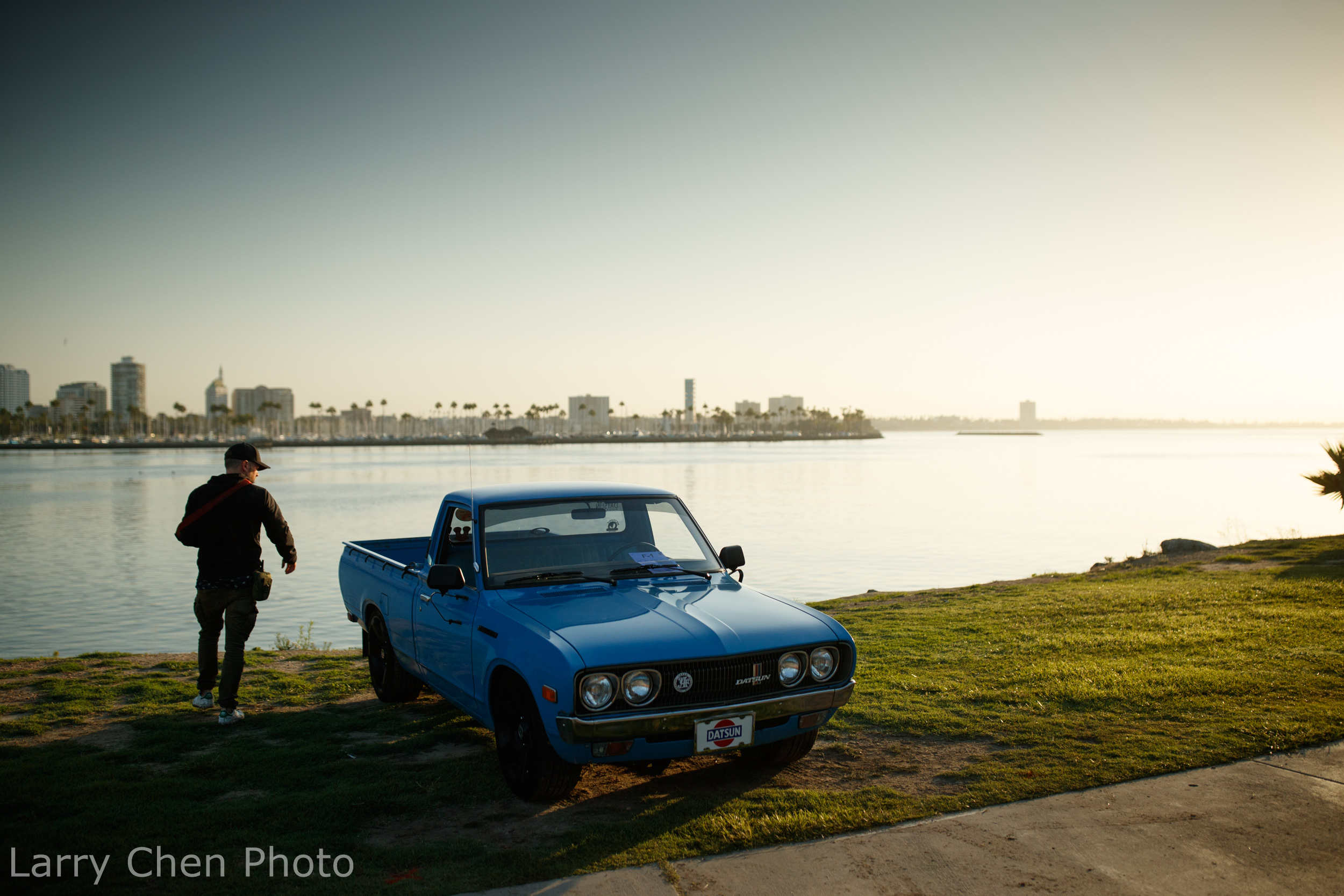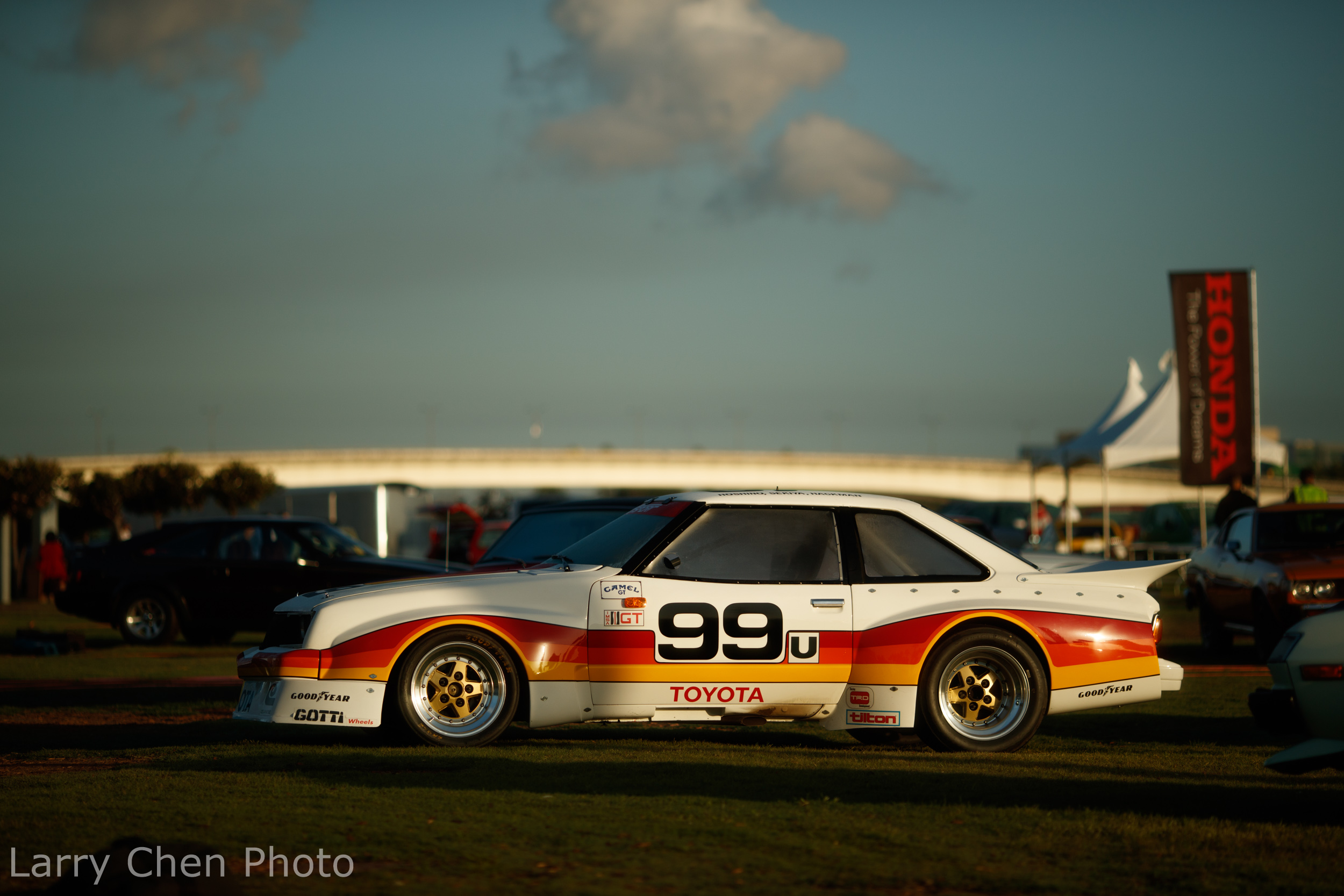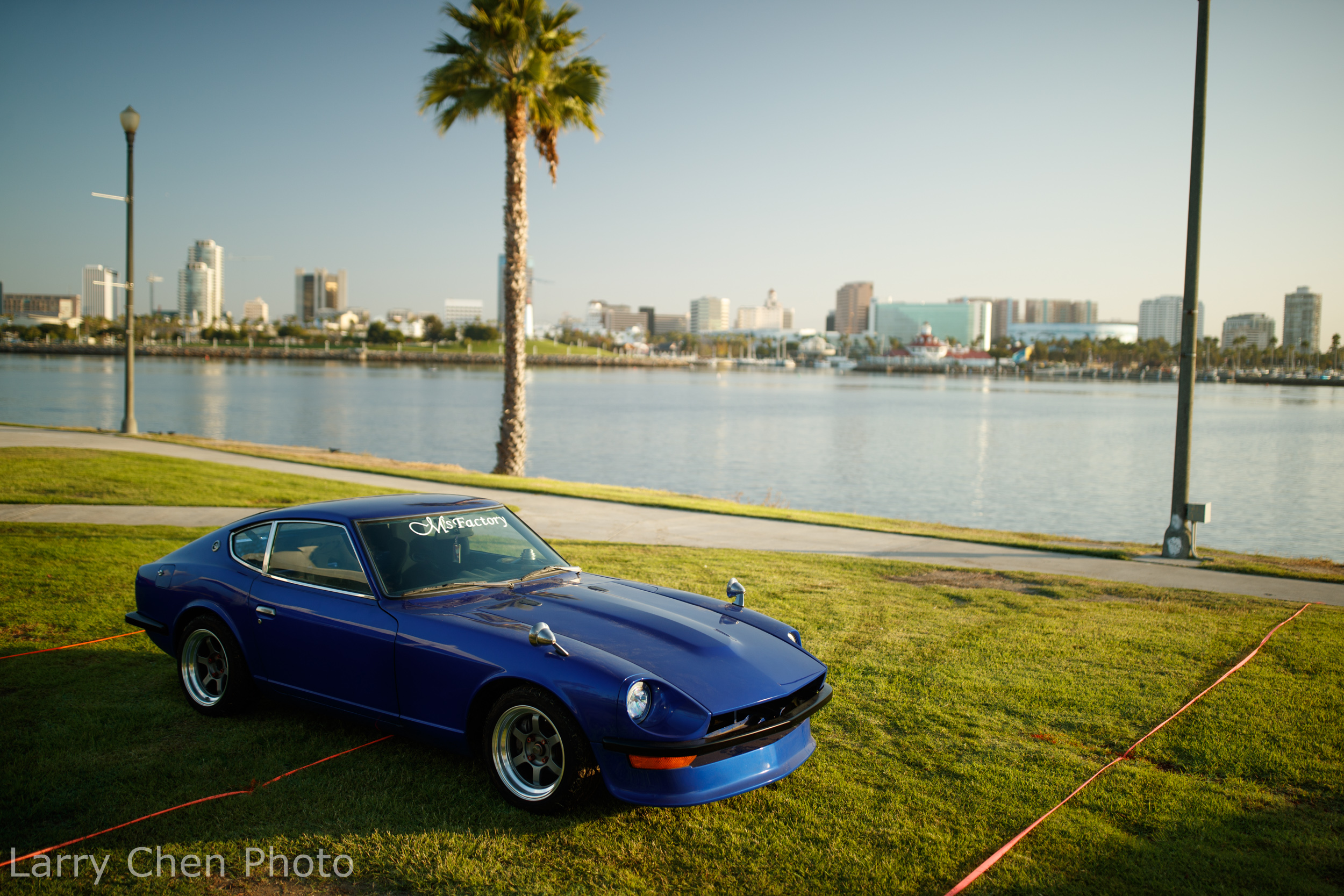 With the show area right next to the water, the setting was absolutely beautiful.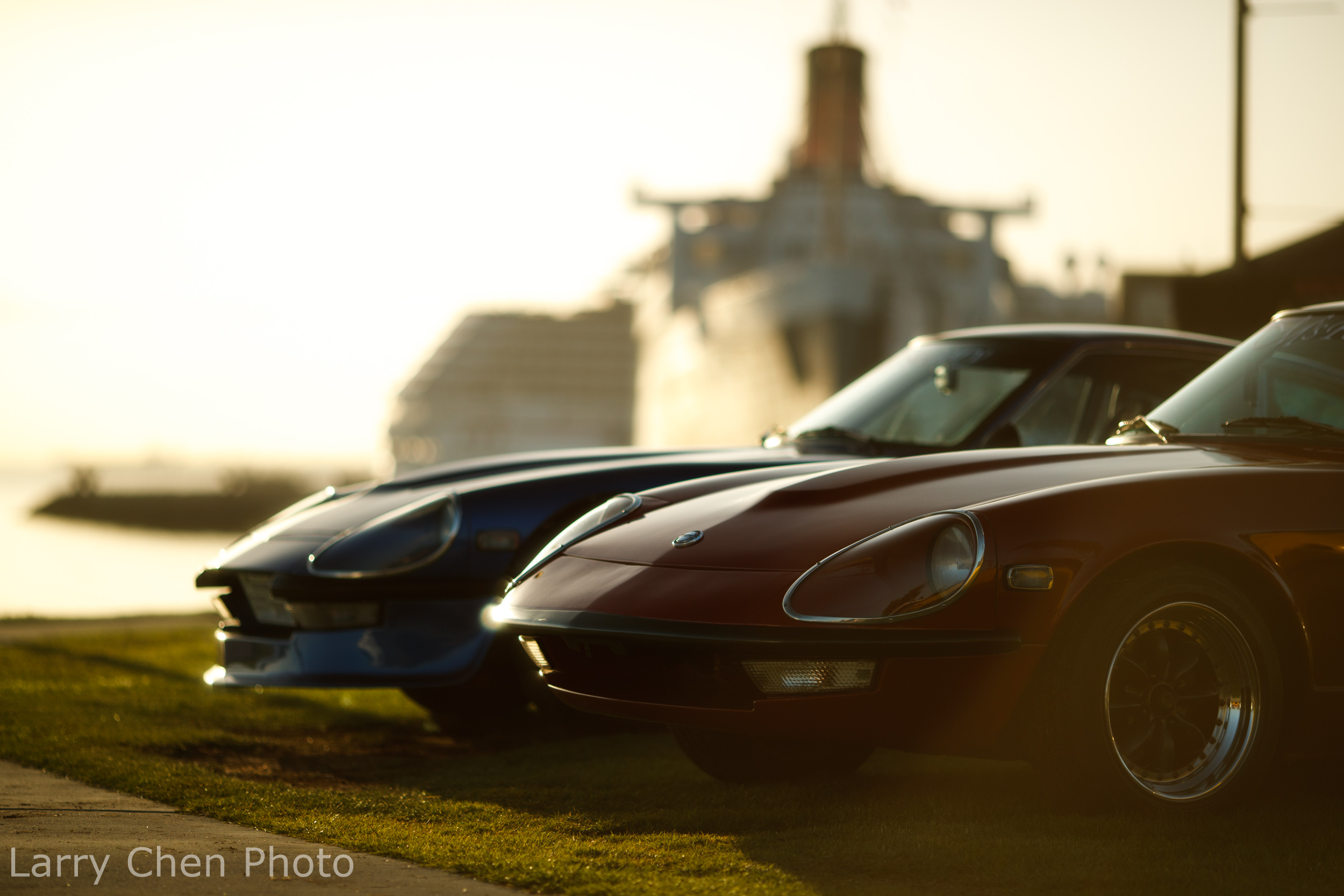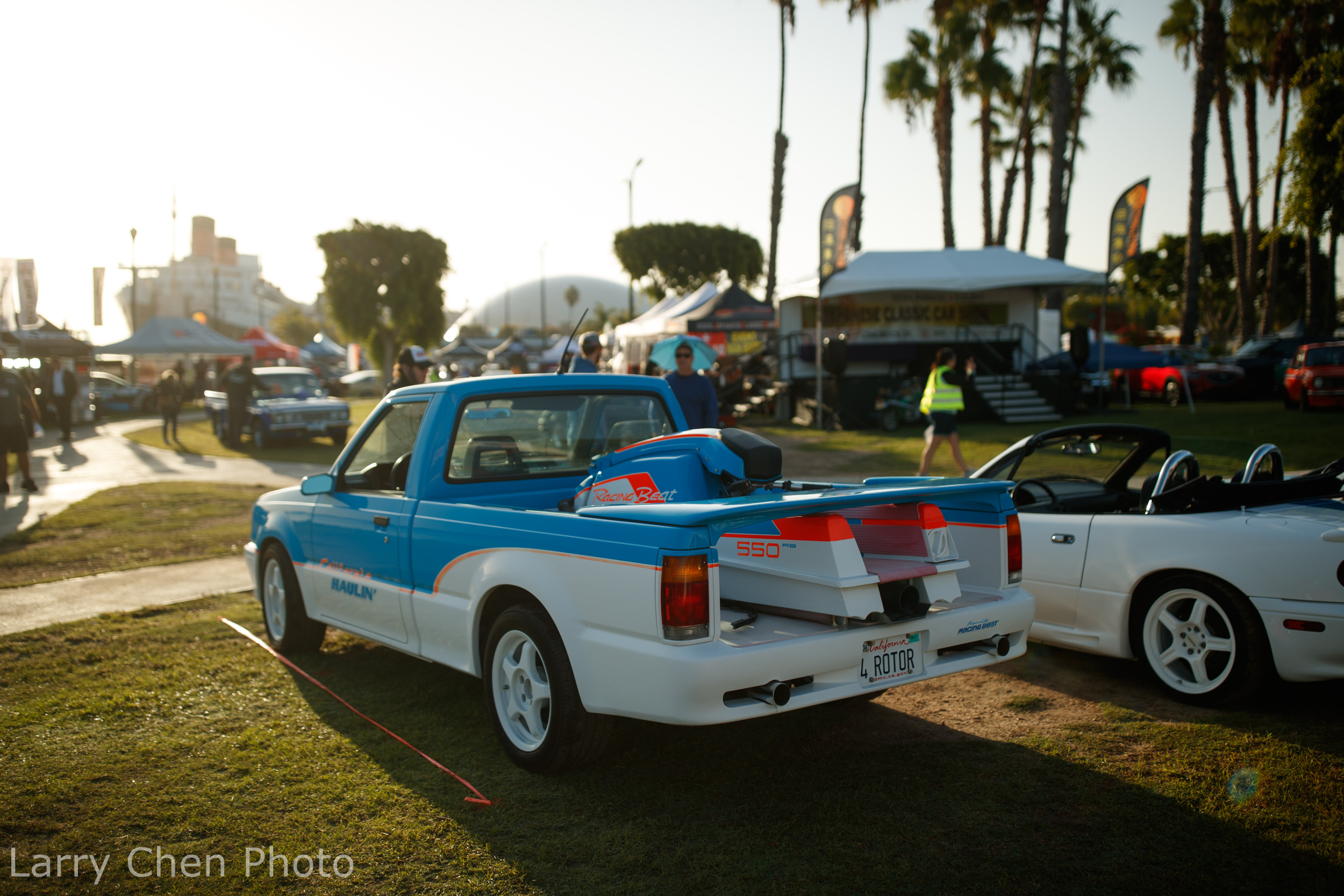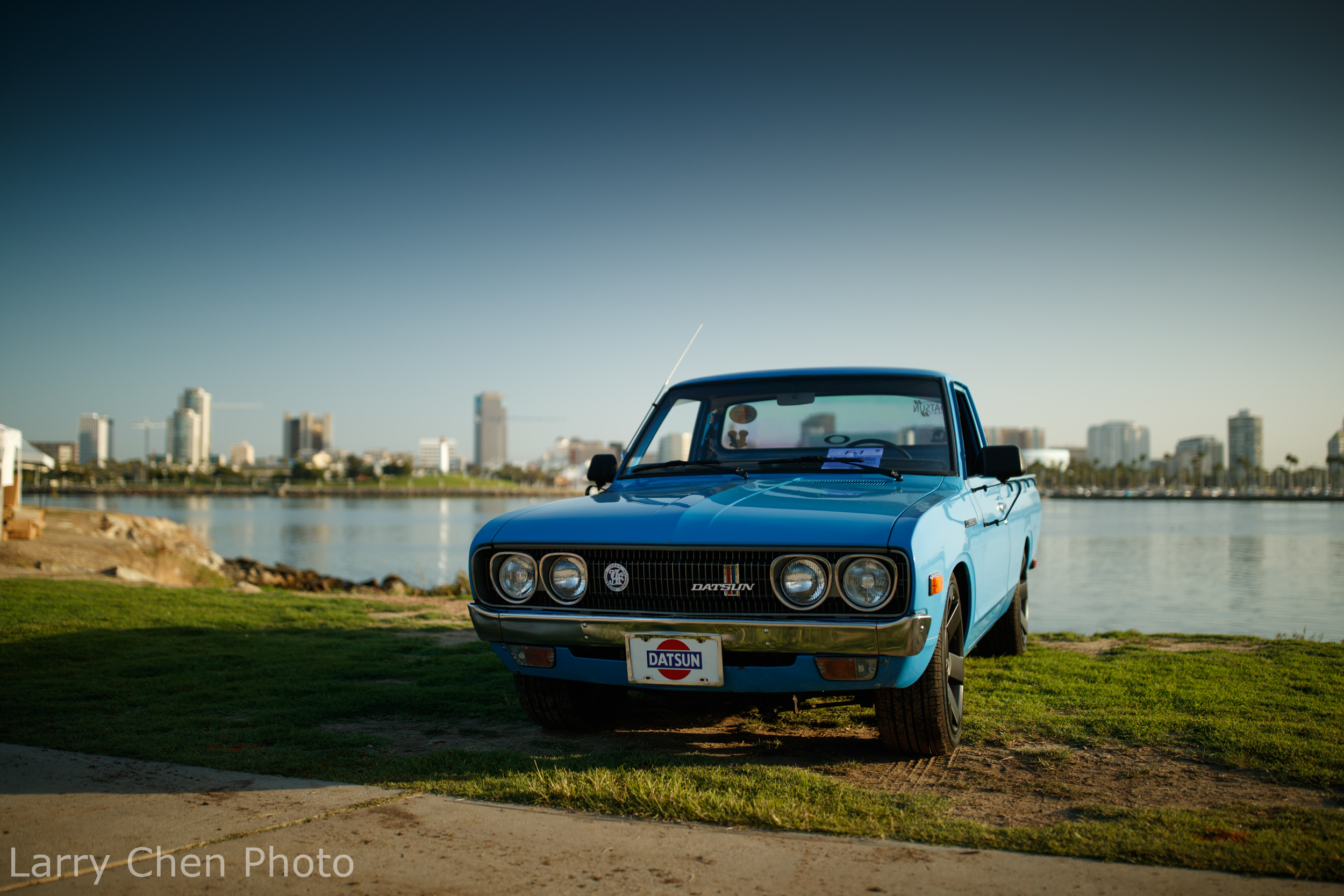 What really surprised me about this event was the strong manufacturer support. Nissan, Honda, Toyota and Mazda were all there.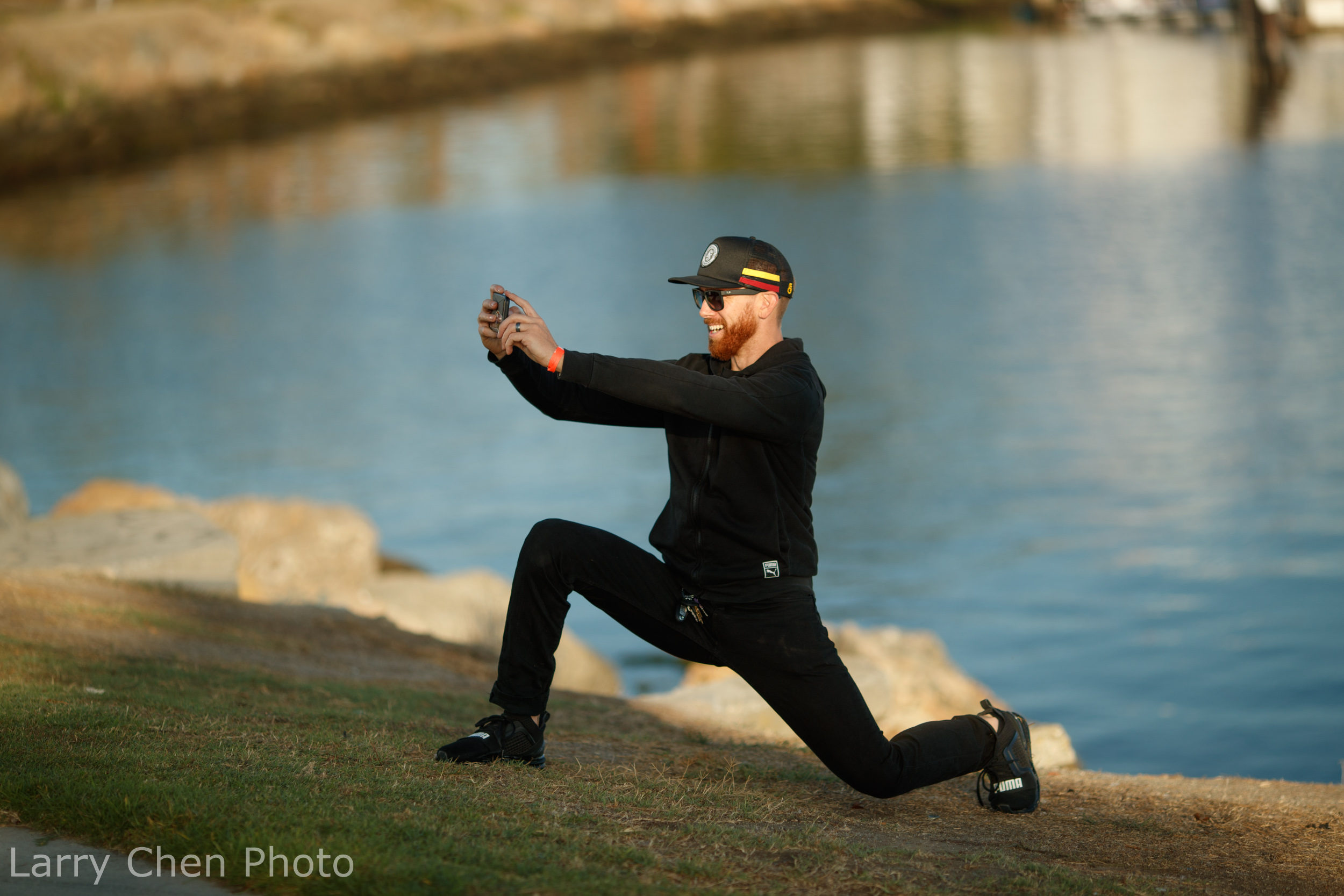 I even found Chris Forsberg showing us his pro camera and shooting stance.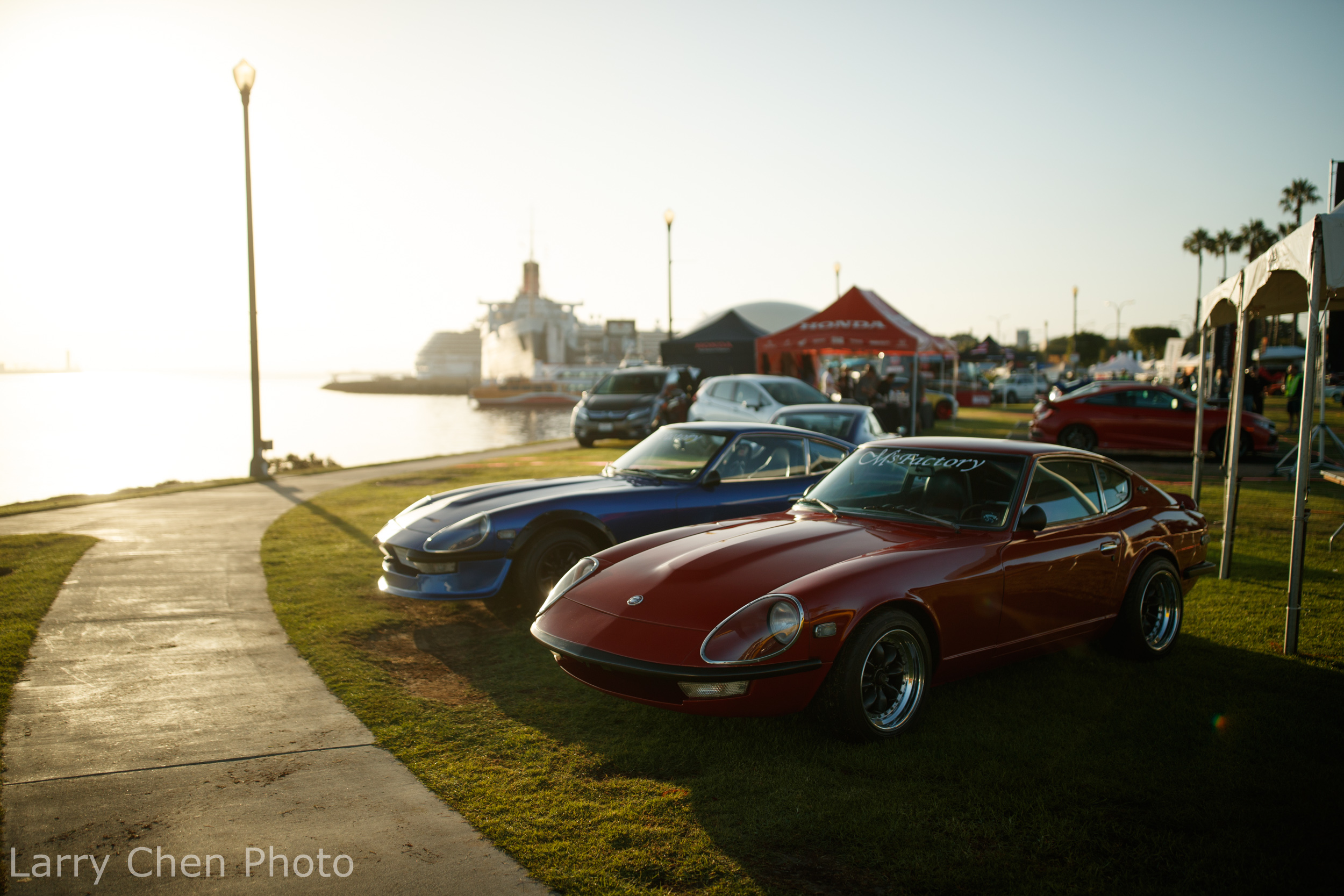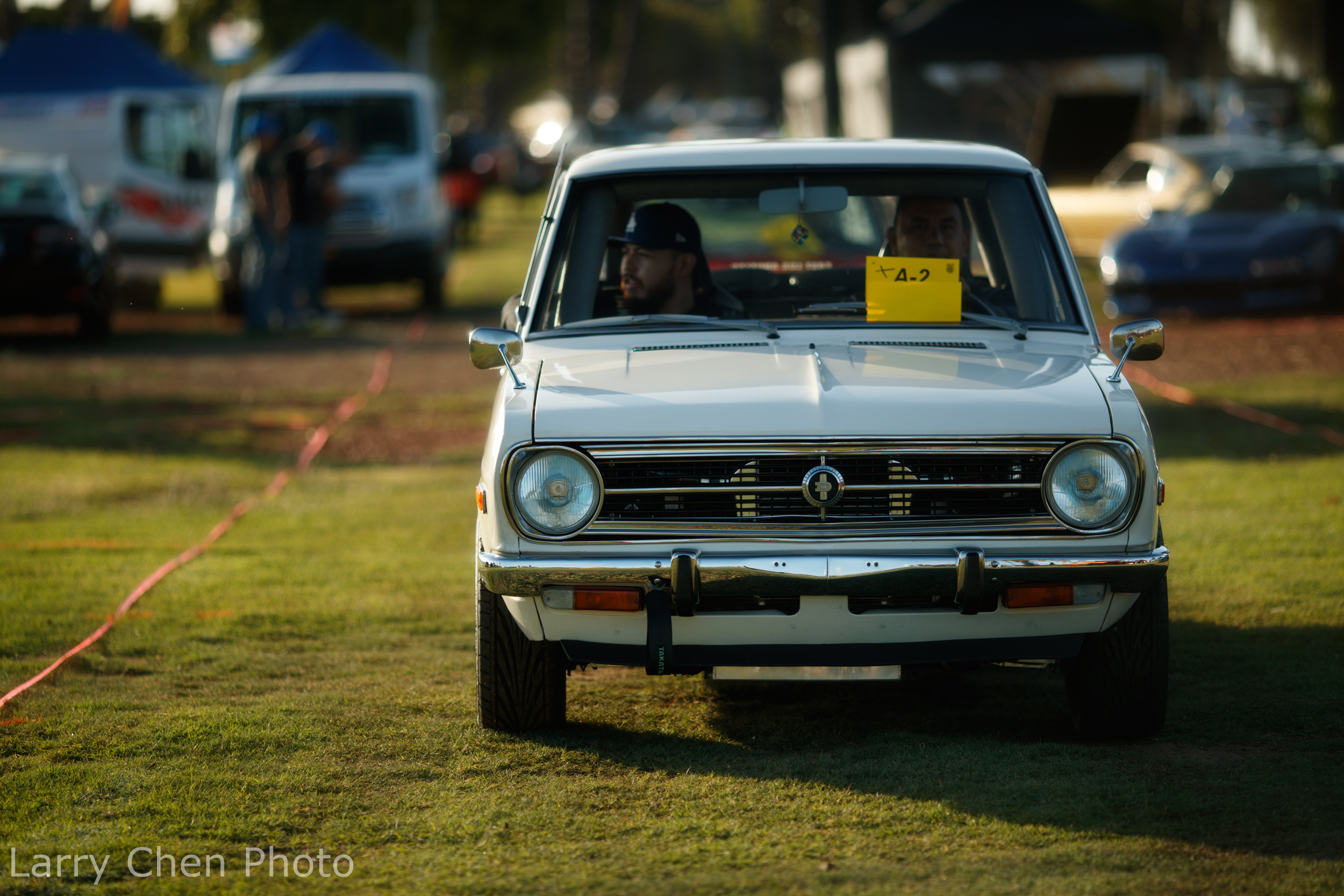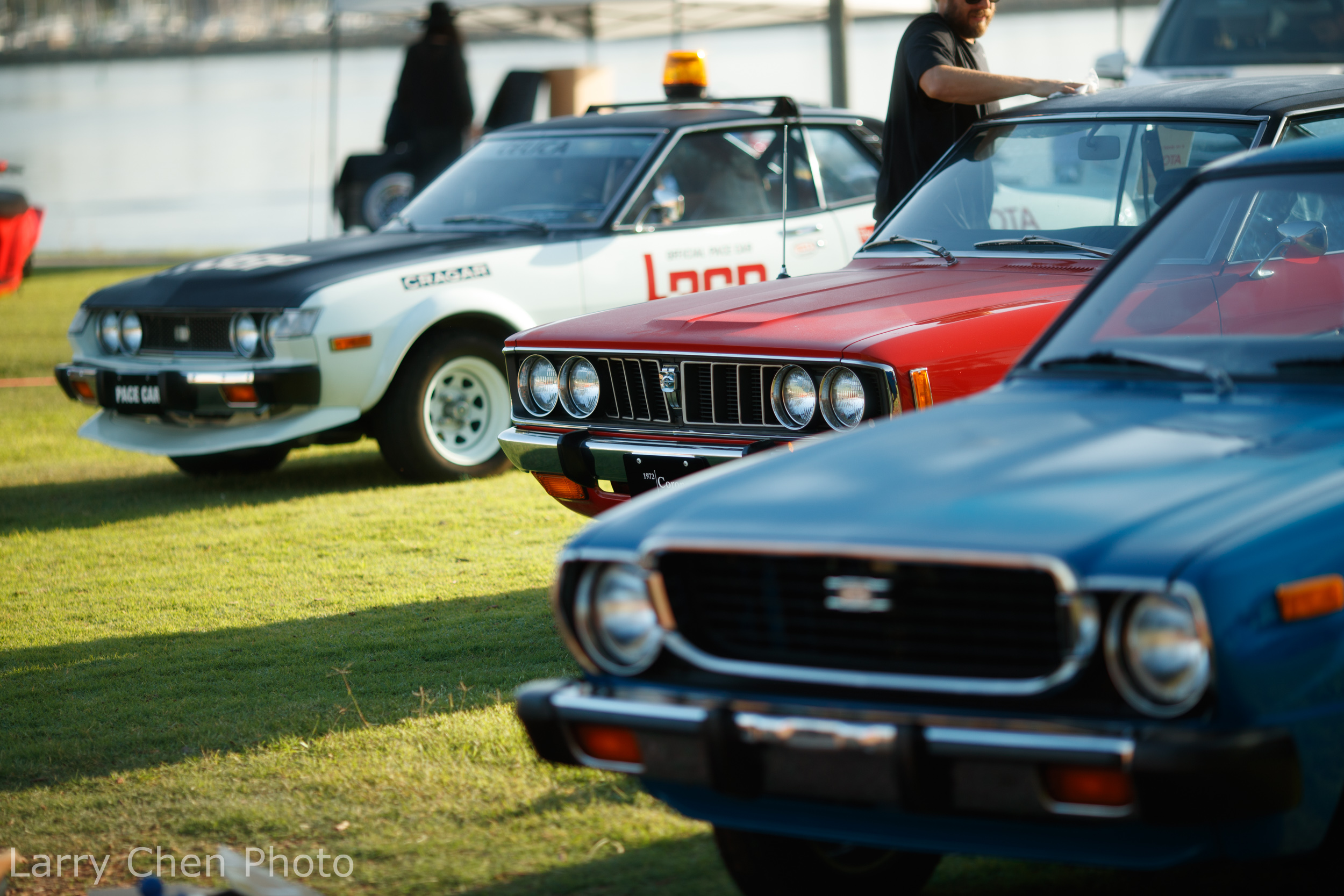 One of these years I'd love to enter Ole Orange Bang in JCCS, but being a little rough around the edges it's far from a show car, so I don't know how well it would be received.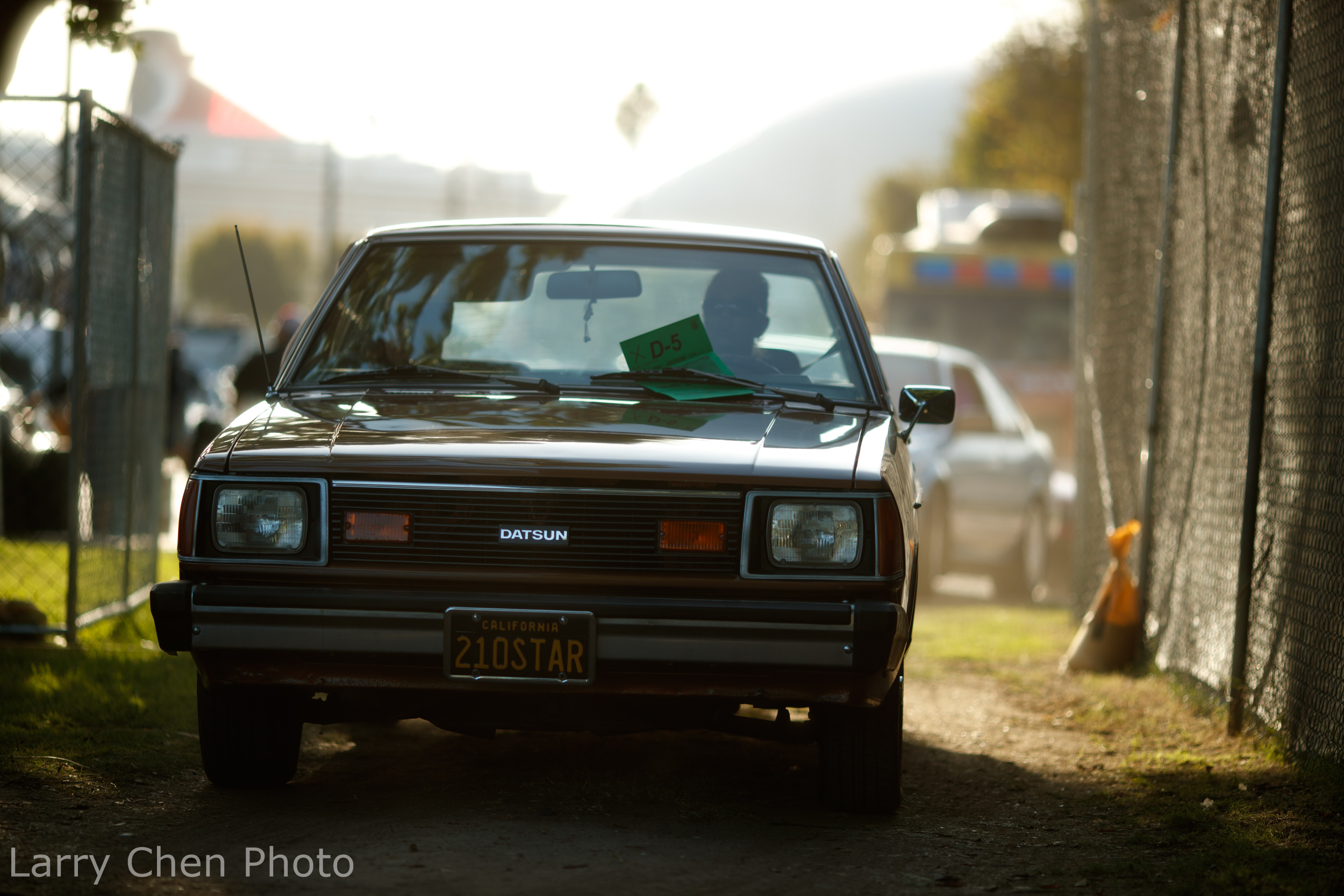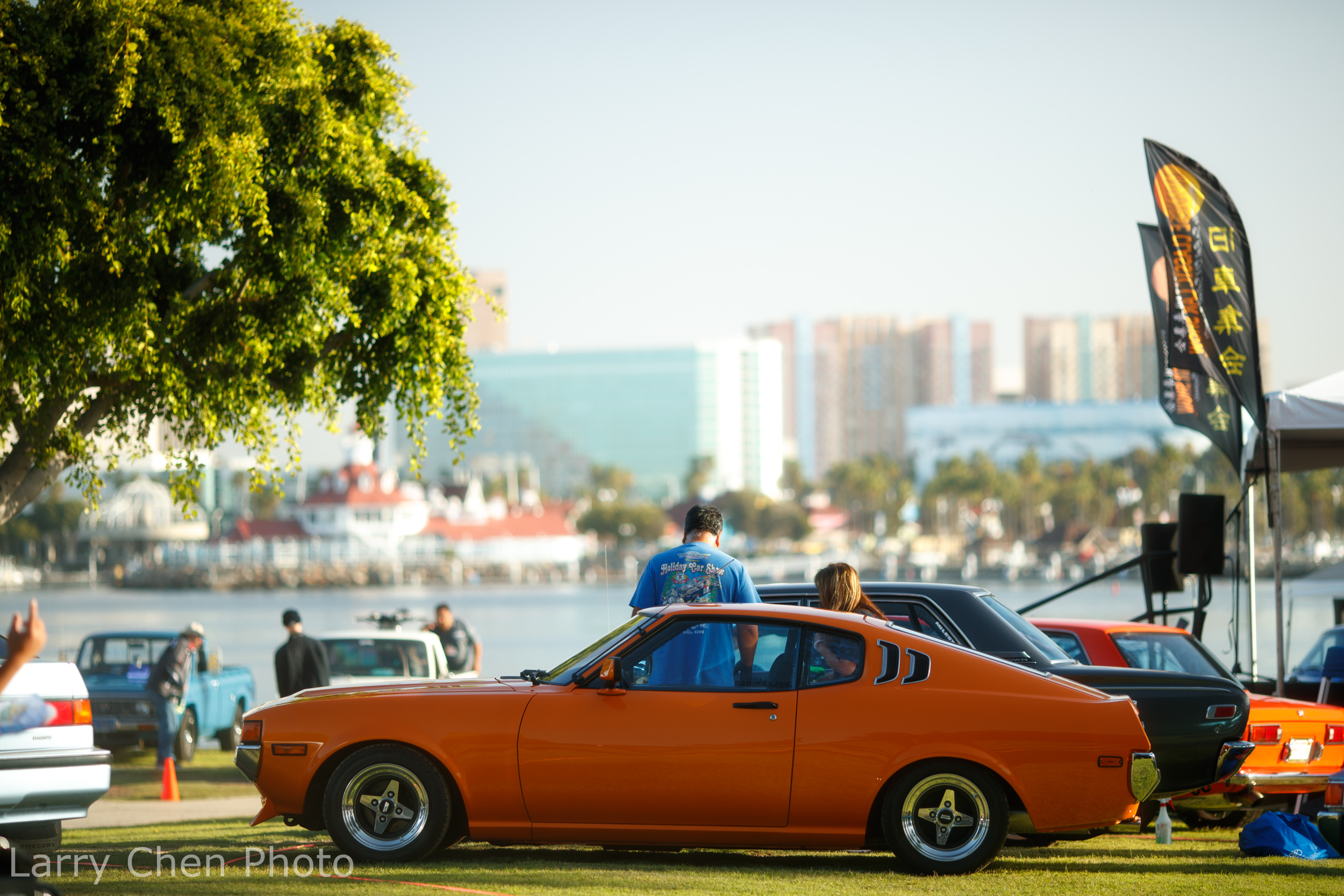 While Louis and Justin sourced out cars for their spotlight stories, I just poked around and caught up with old friends.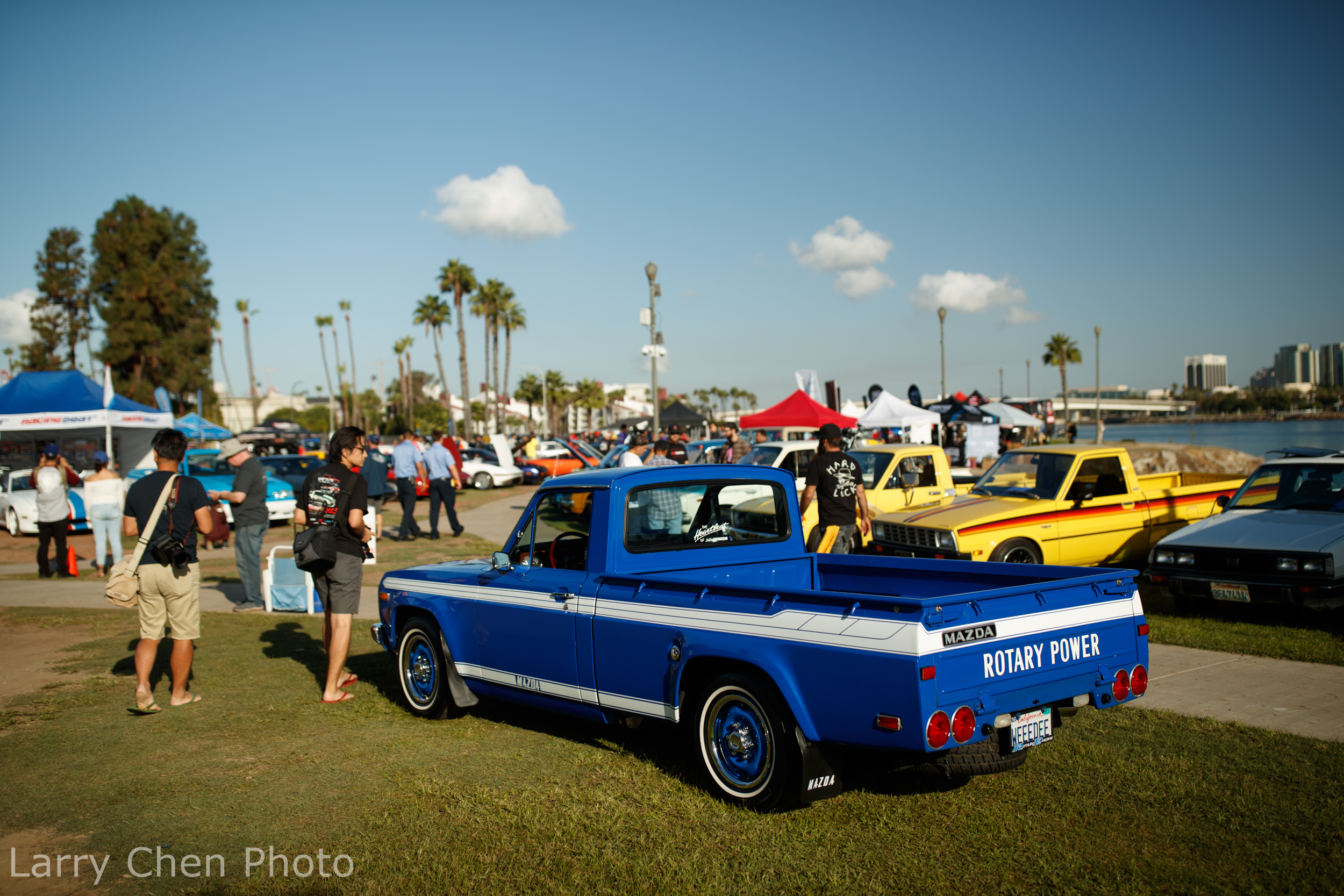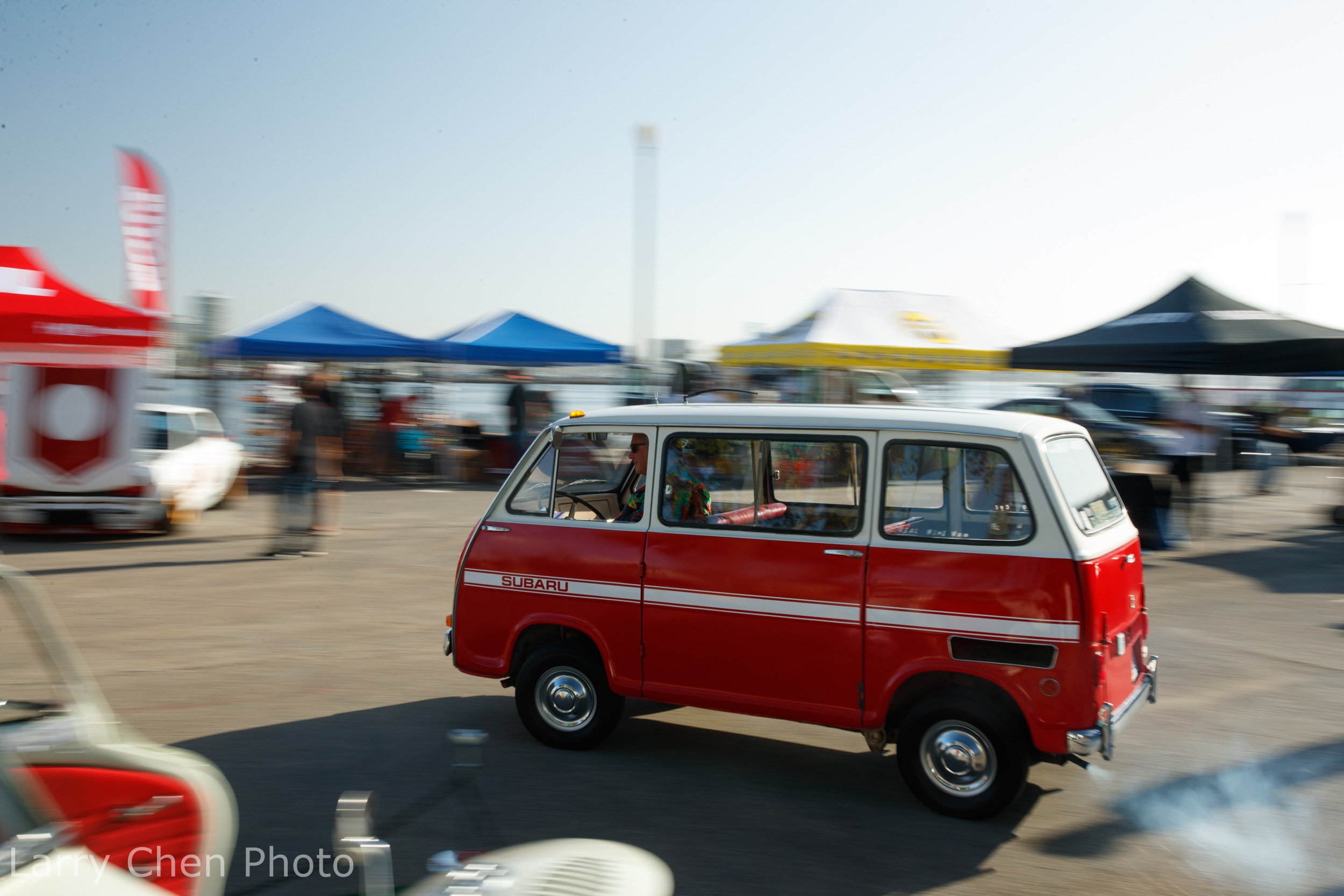 How cool is this little Subaru minivan!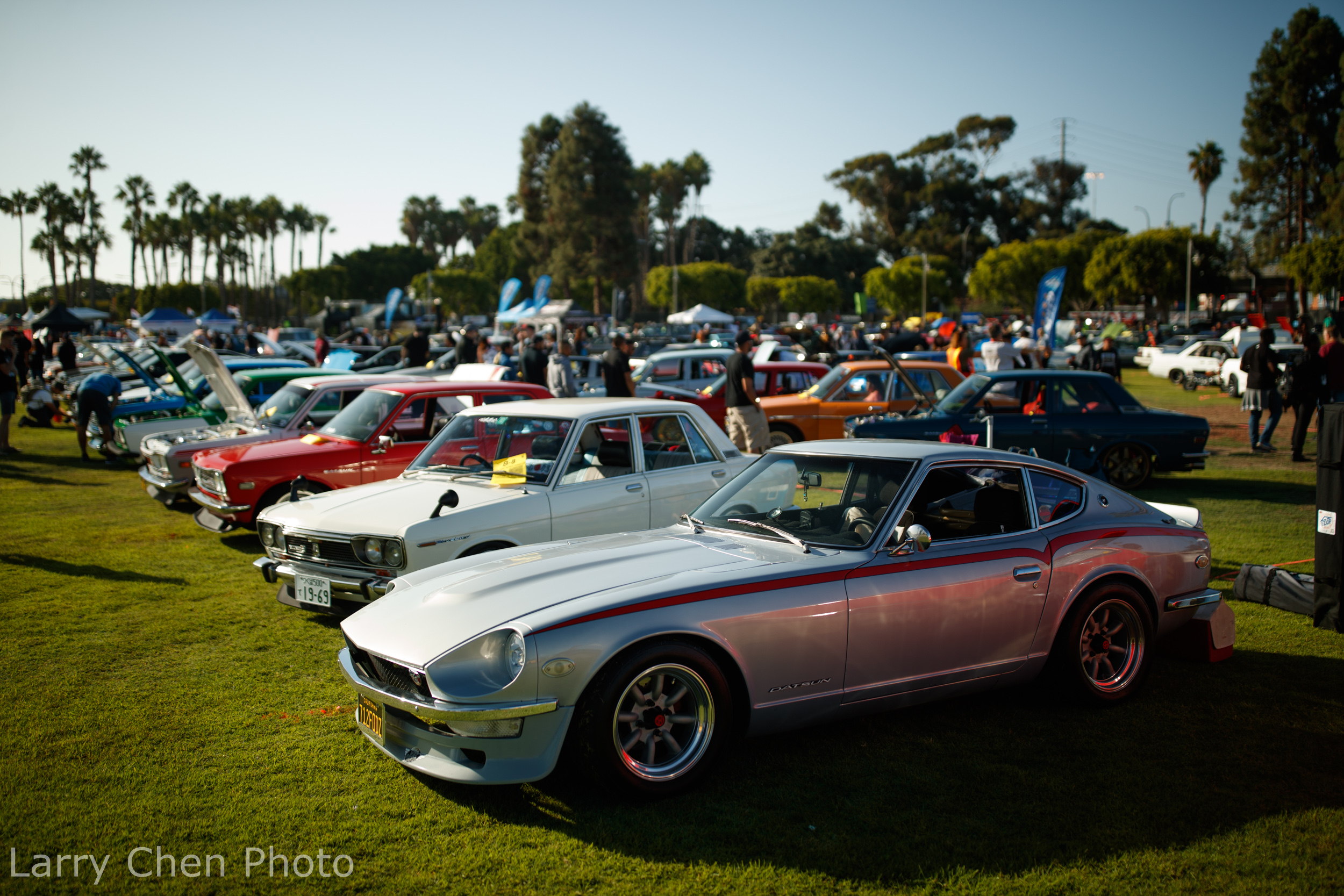 While shooting at the show was fun, I couldn't stop thinking about hitting the road again with Team Wild Cards.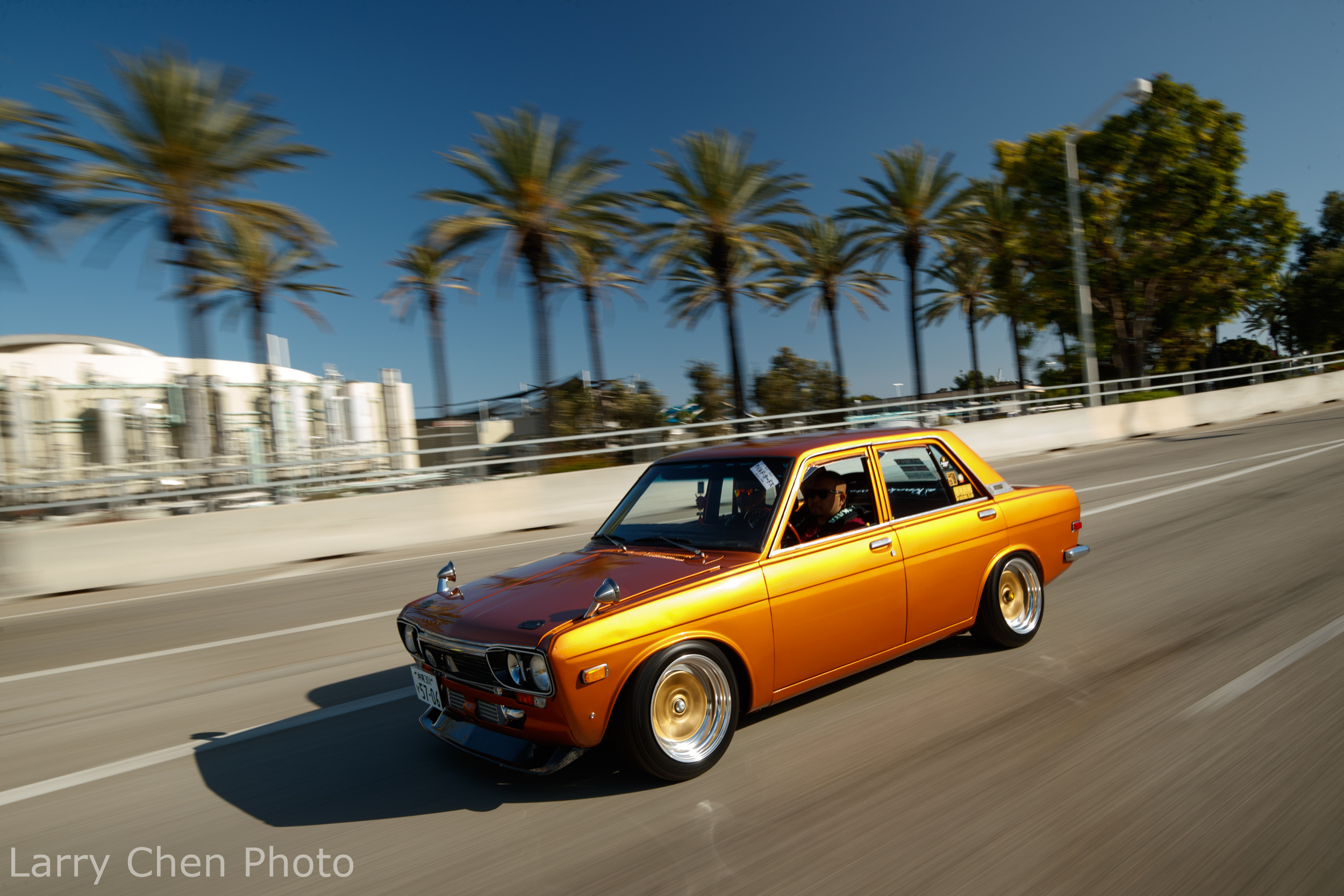 Once JCCS was over, the team met up again, and we all headed out to another shooting location.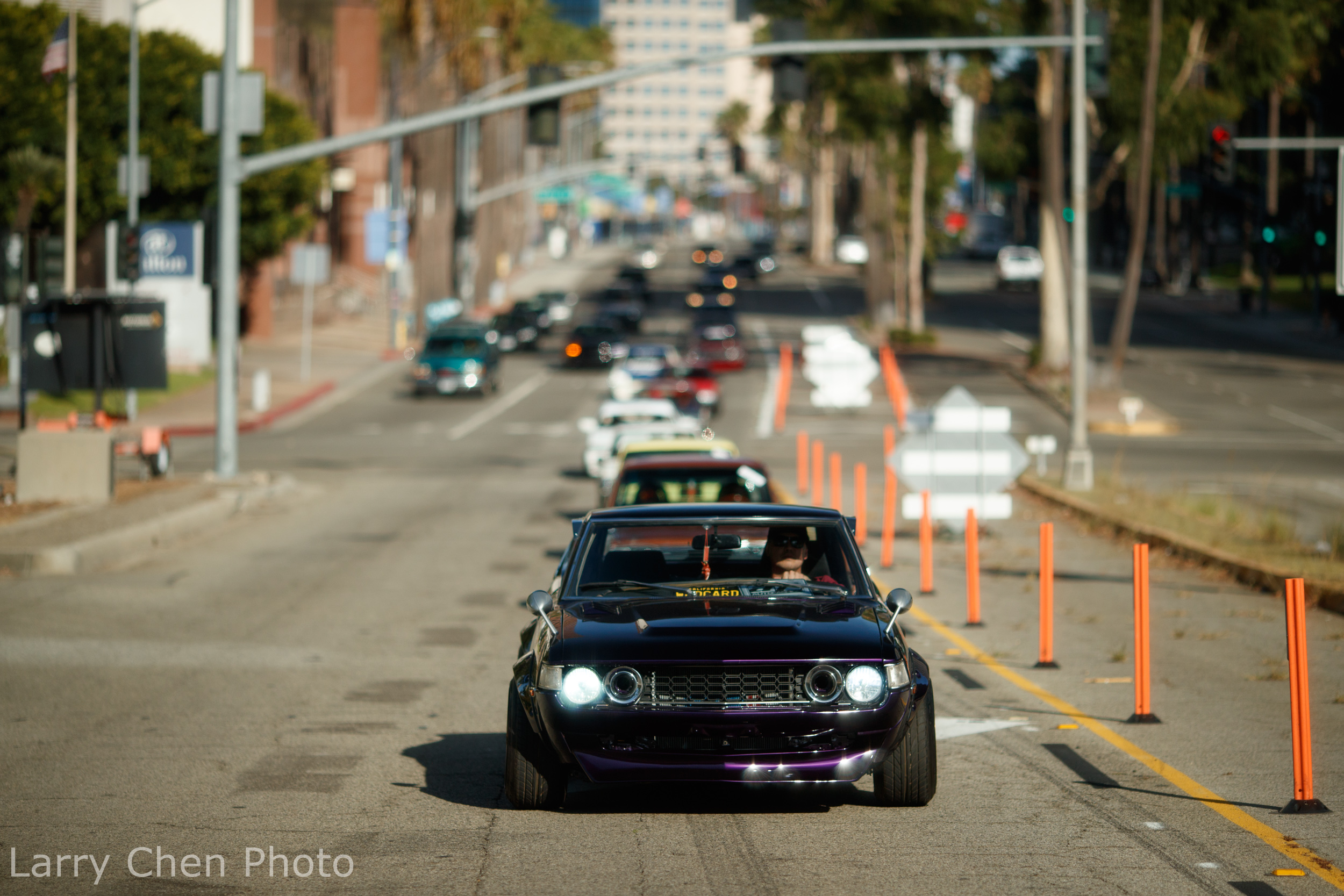 Since most of these guys are not from Los Angeles, my goal was to knock out as many car features as I could in what was left of the afternoon.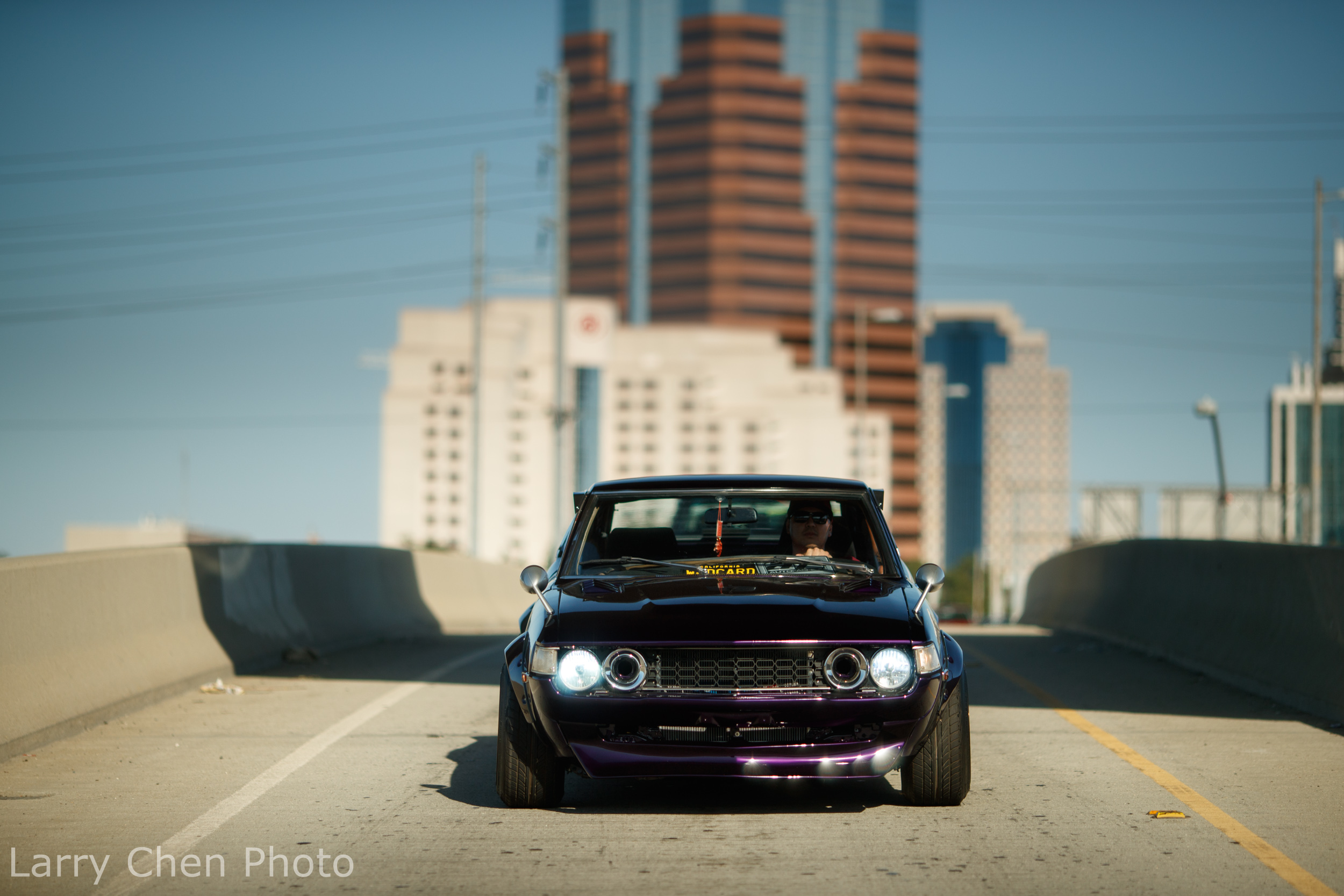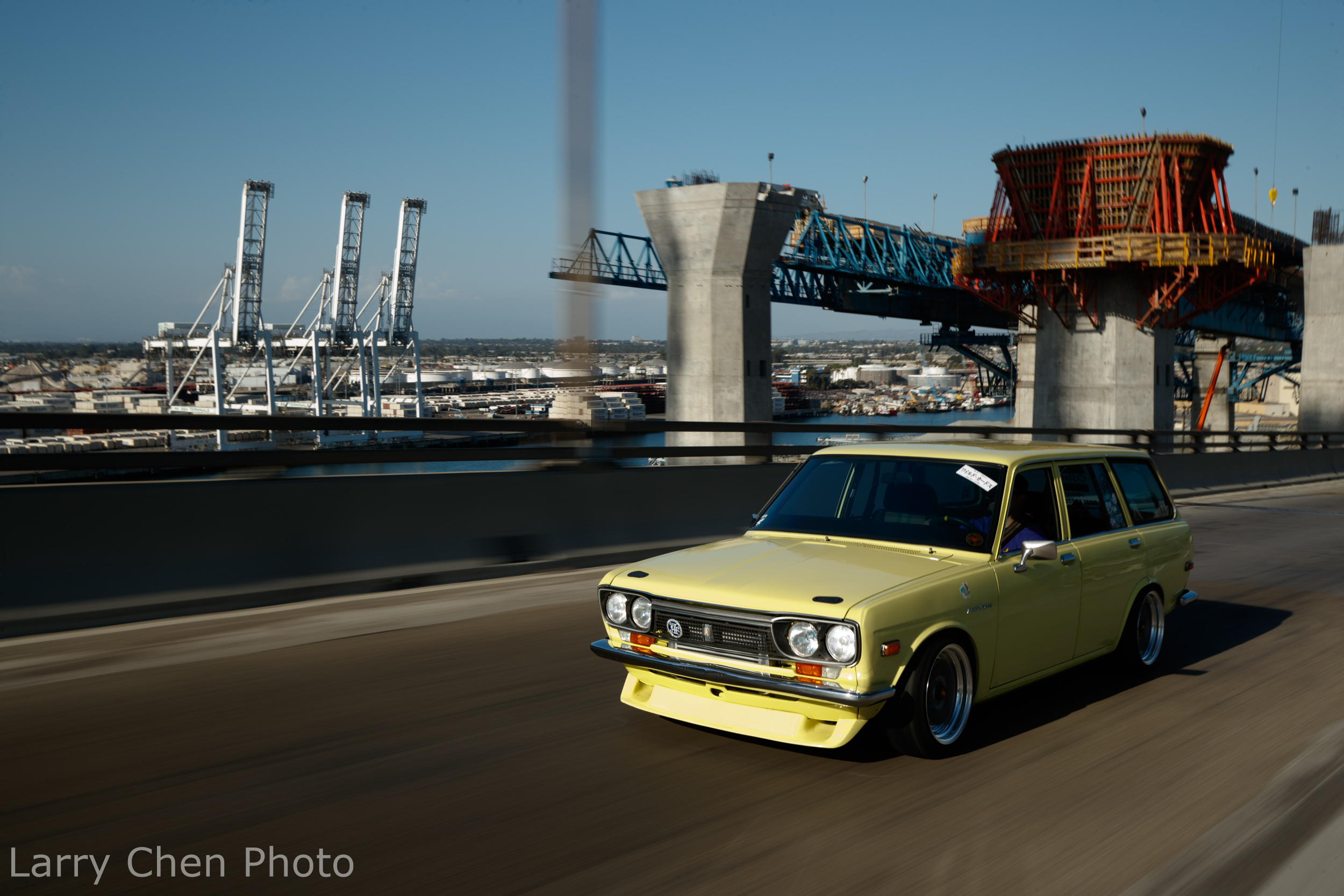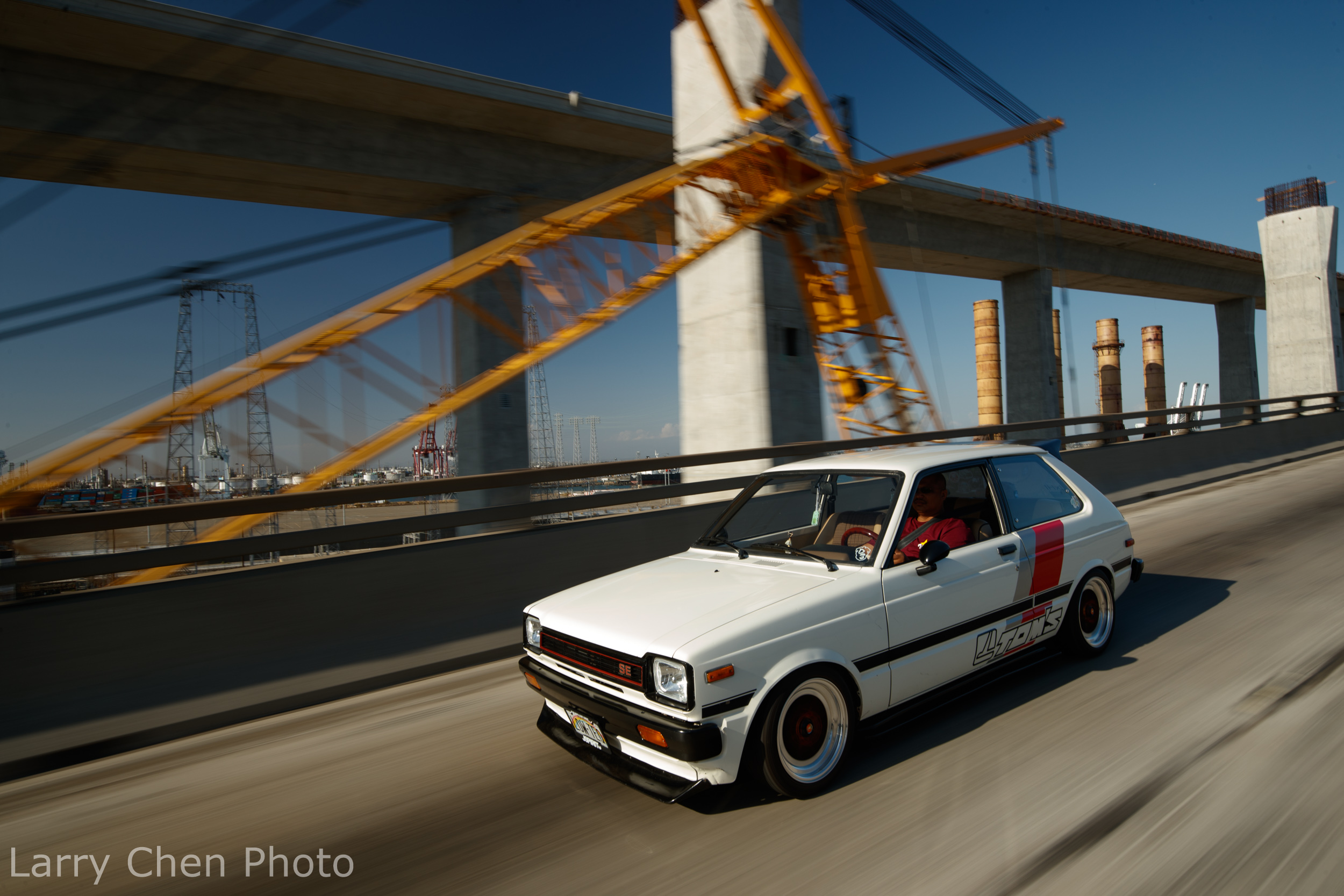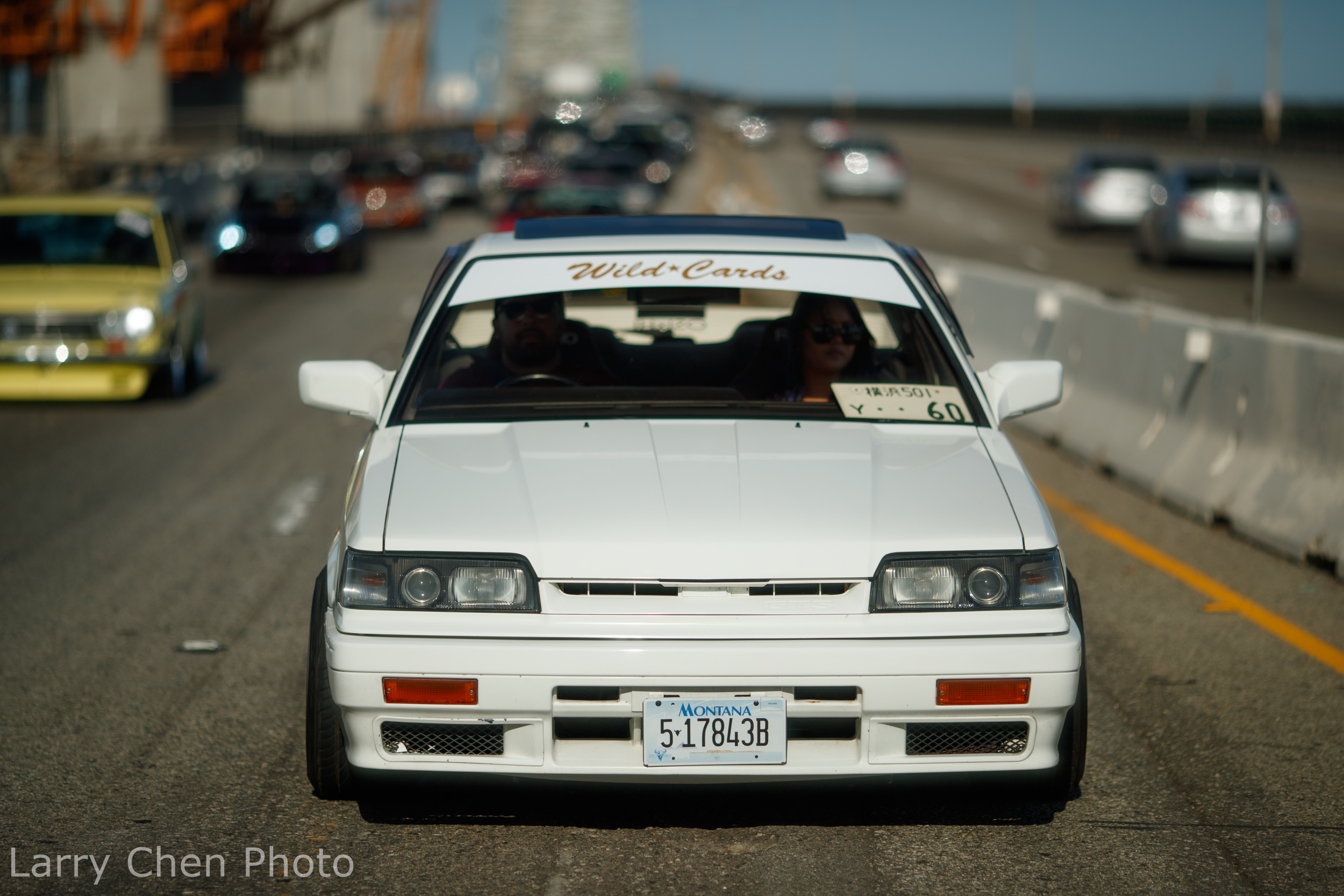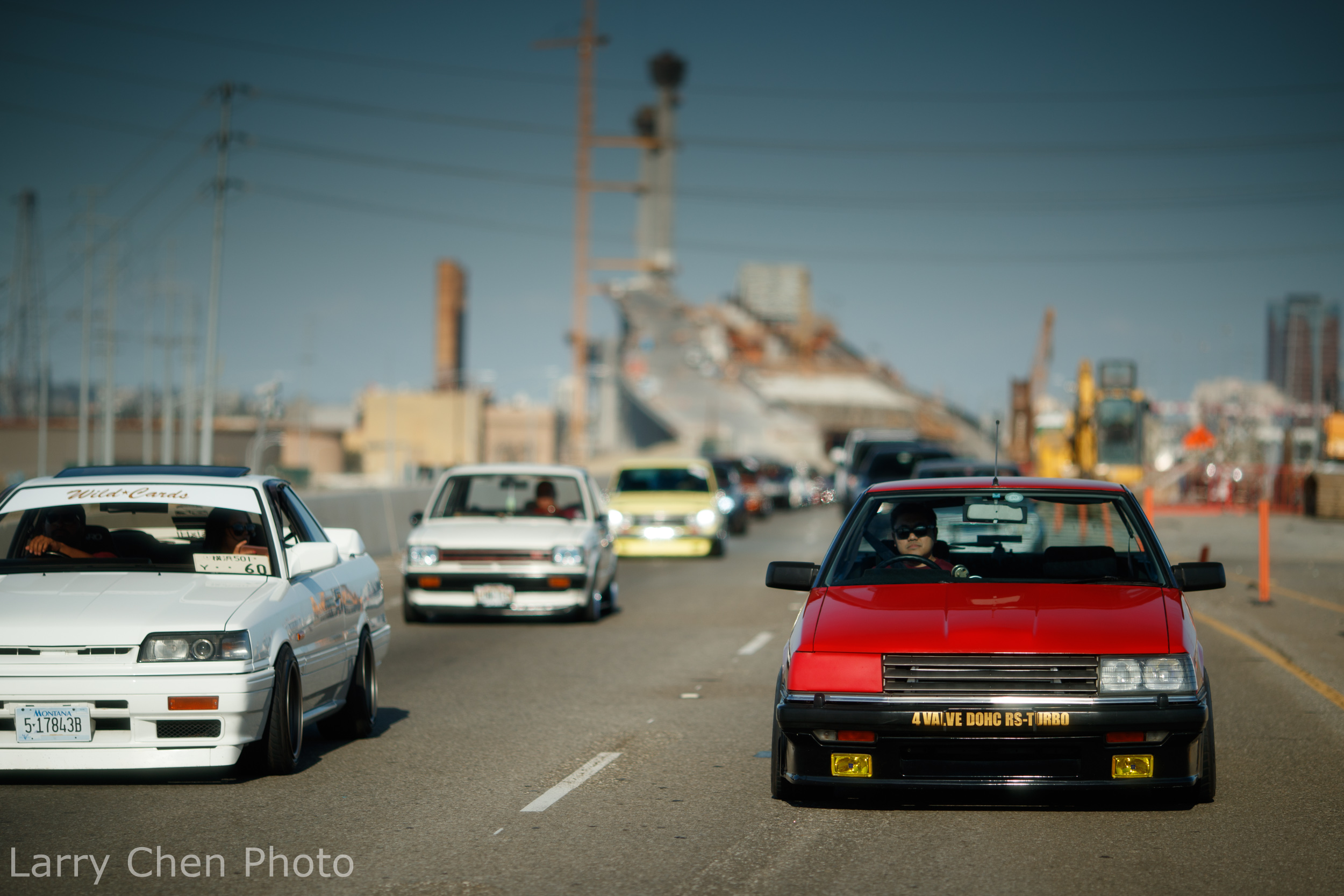 Southern California Wangan? Cruising over highways and bridges with so many JDM cars, it sure felt like it.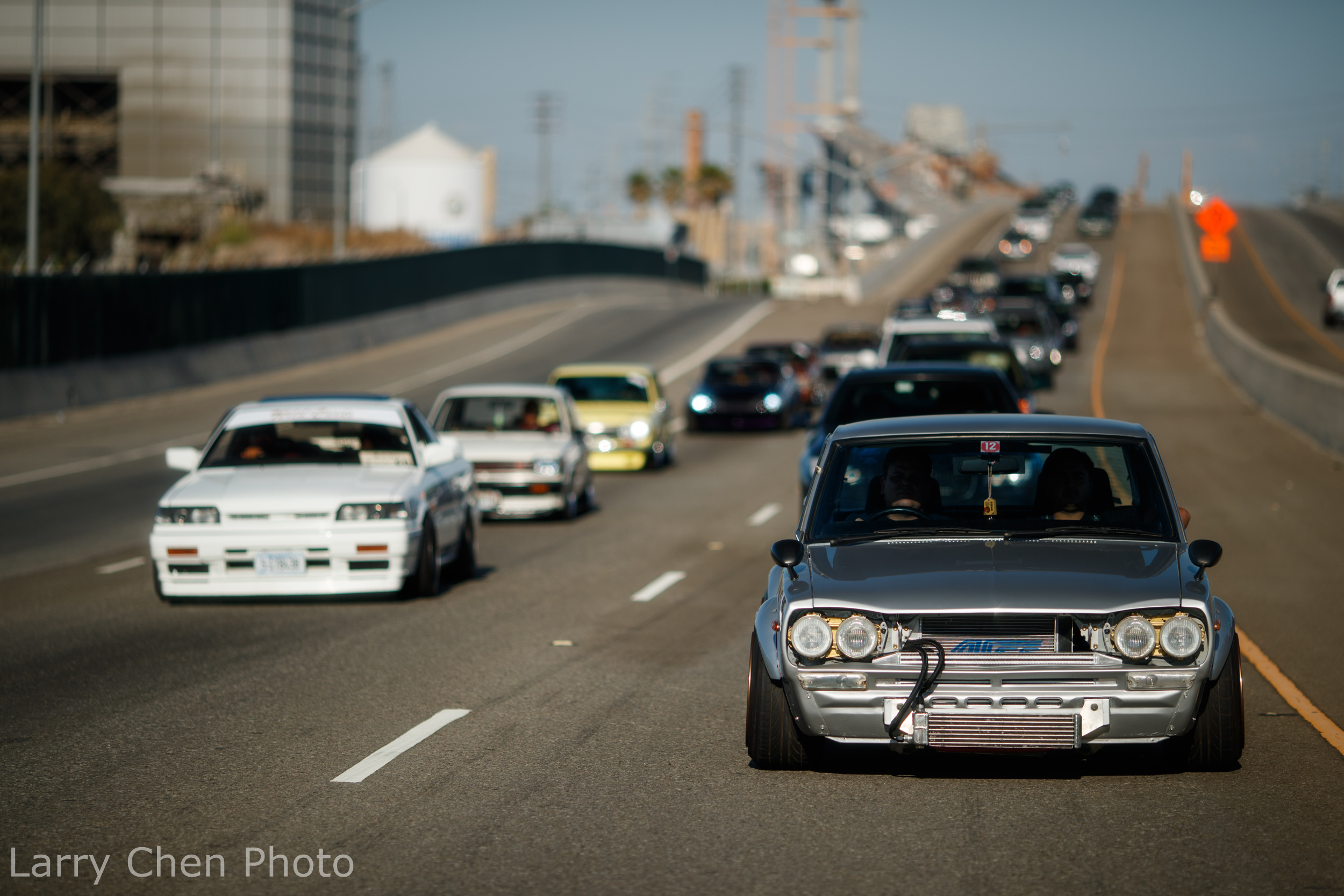 If only I was in my 240Z… By this point I really was kicking myself!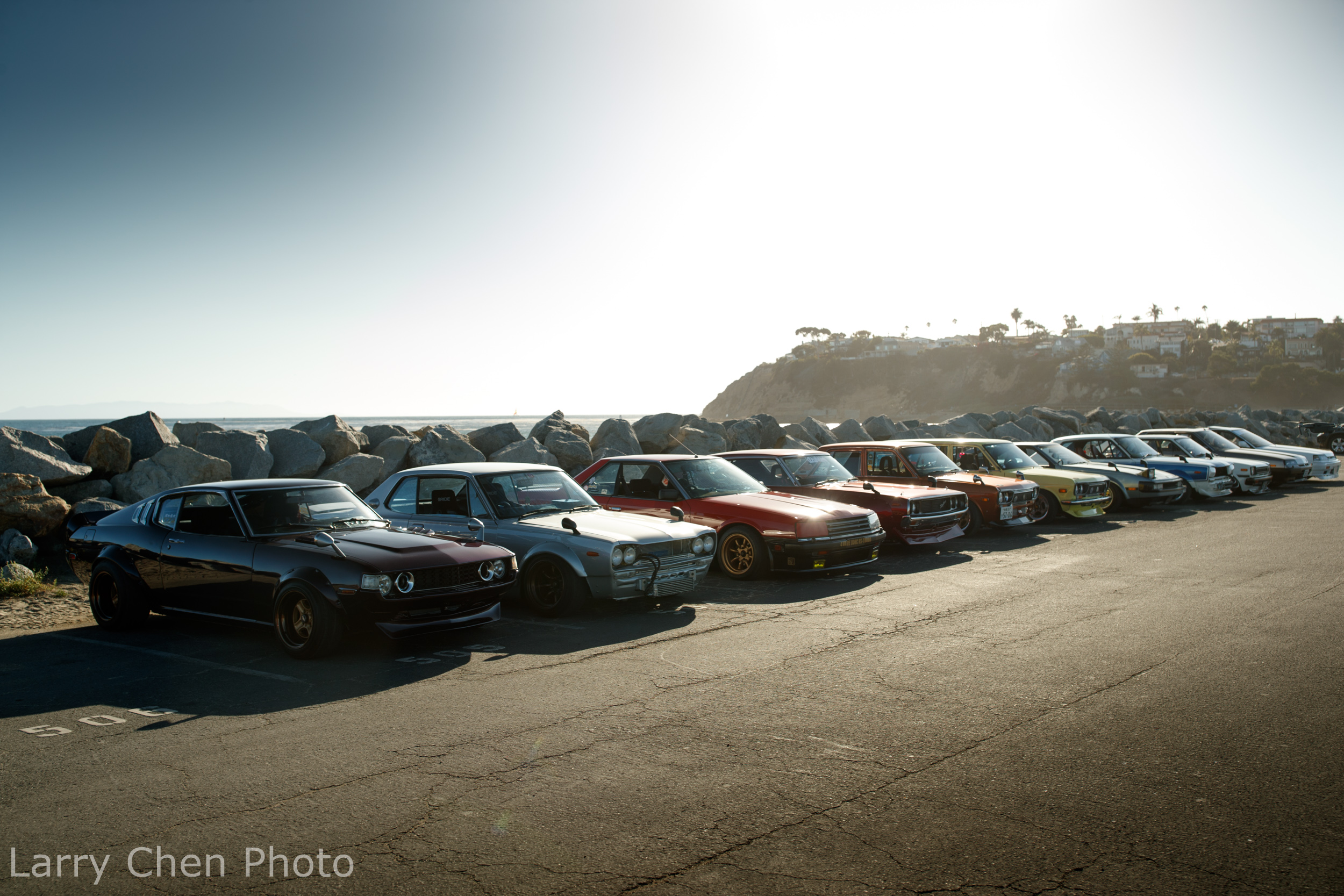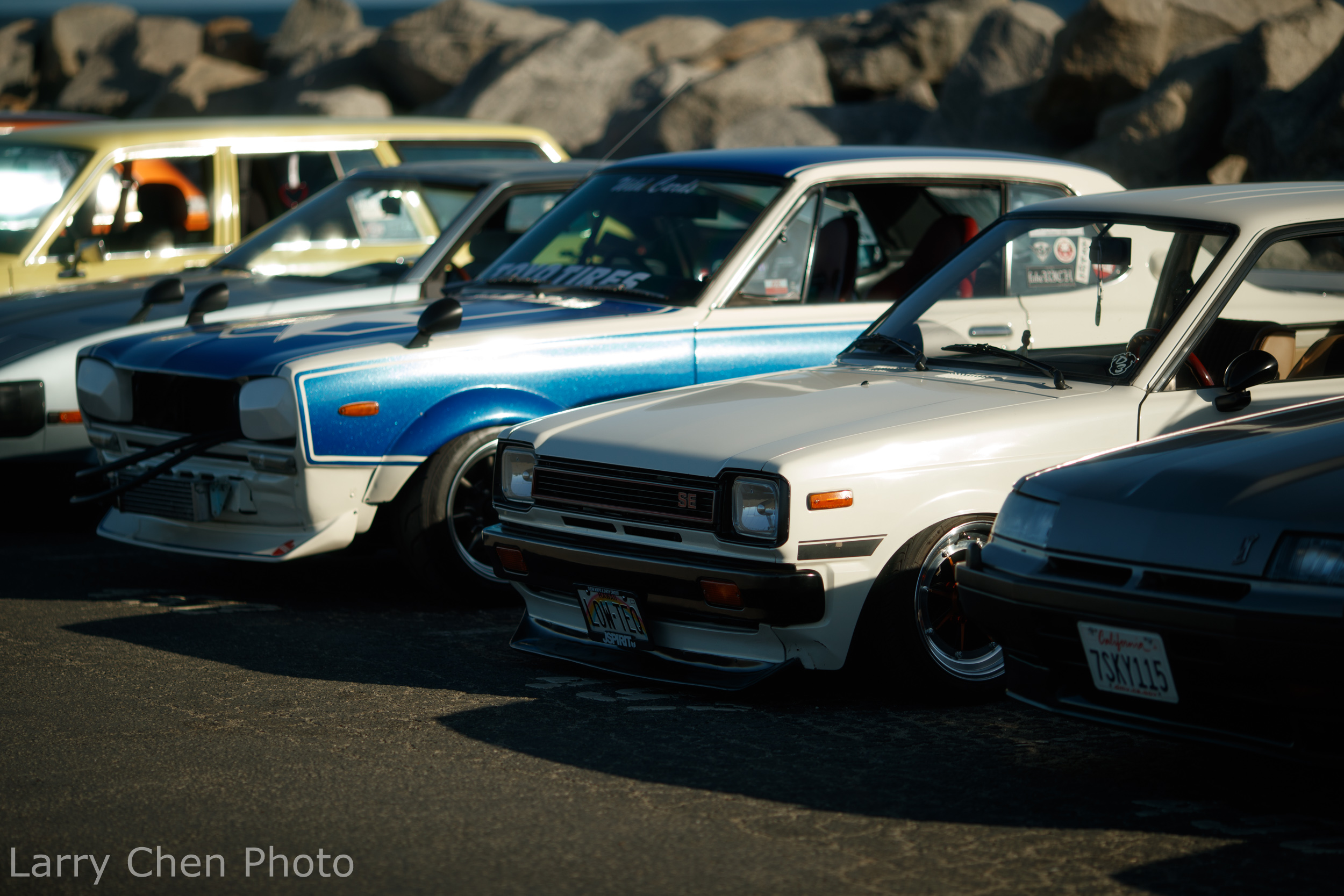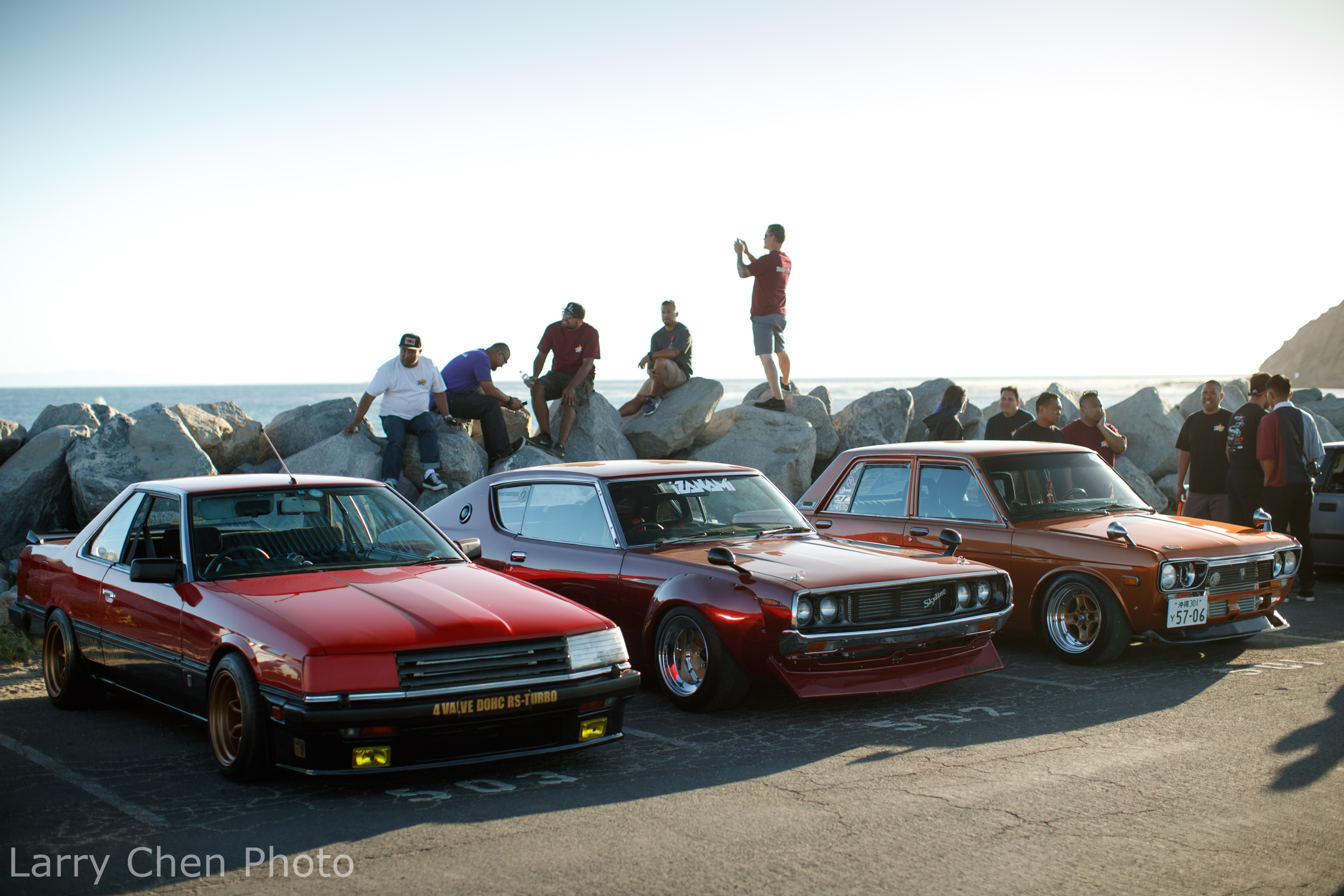 Nothing screams SoCal like the beach, so I figured that would be a great place to shoot at.
Louis and I got to work, but we had to be fast as the sun was setting and I still had a special surprise in store for the team.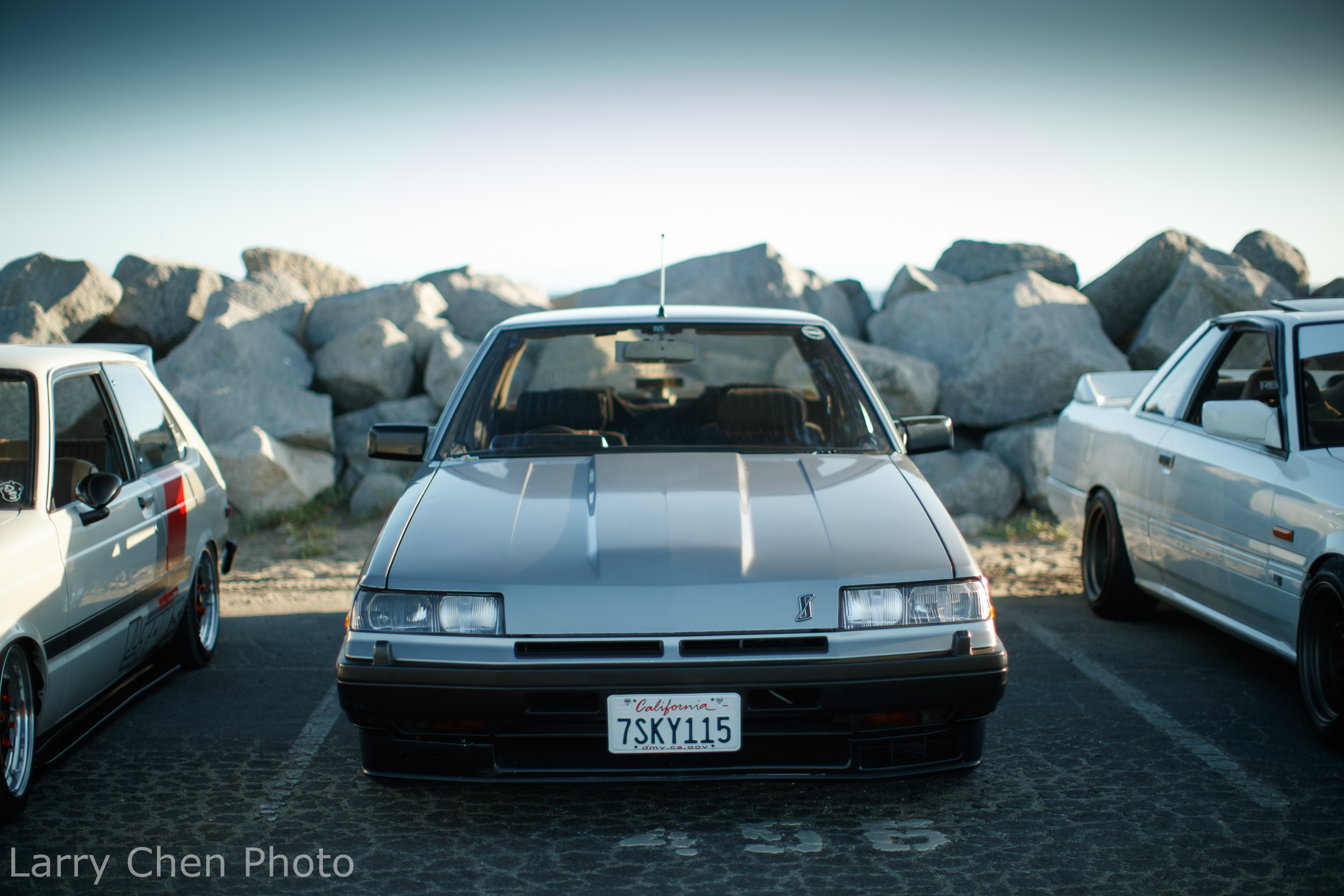 Each car was worthy of its own feature or spotlight, and I'm sure we'll get to them all eventually.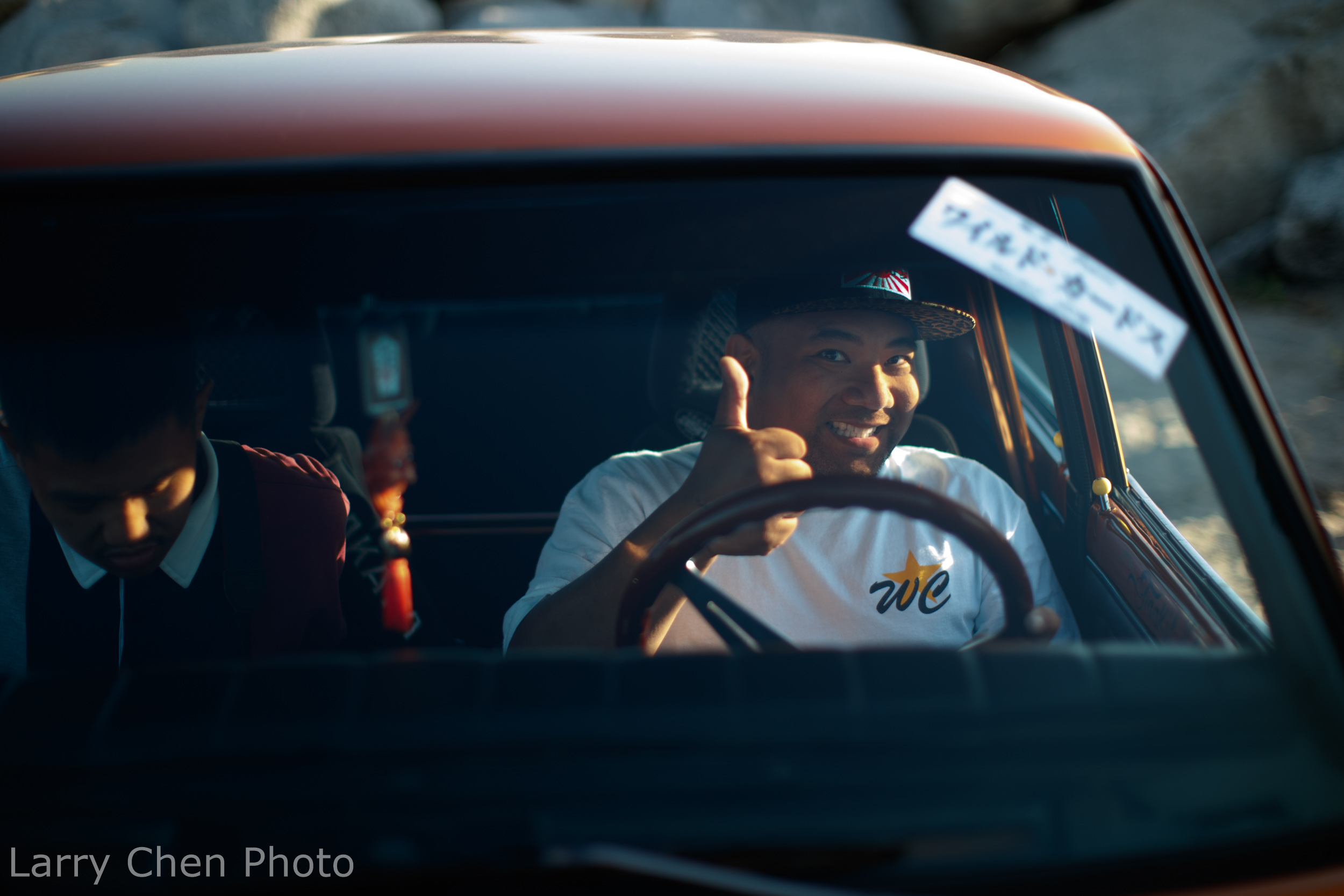 For the last time, we all loaded up into the cars and I told Roy and the boys to follow me to our next location.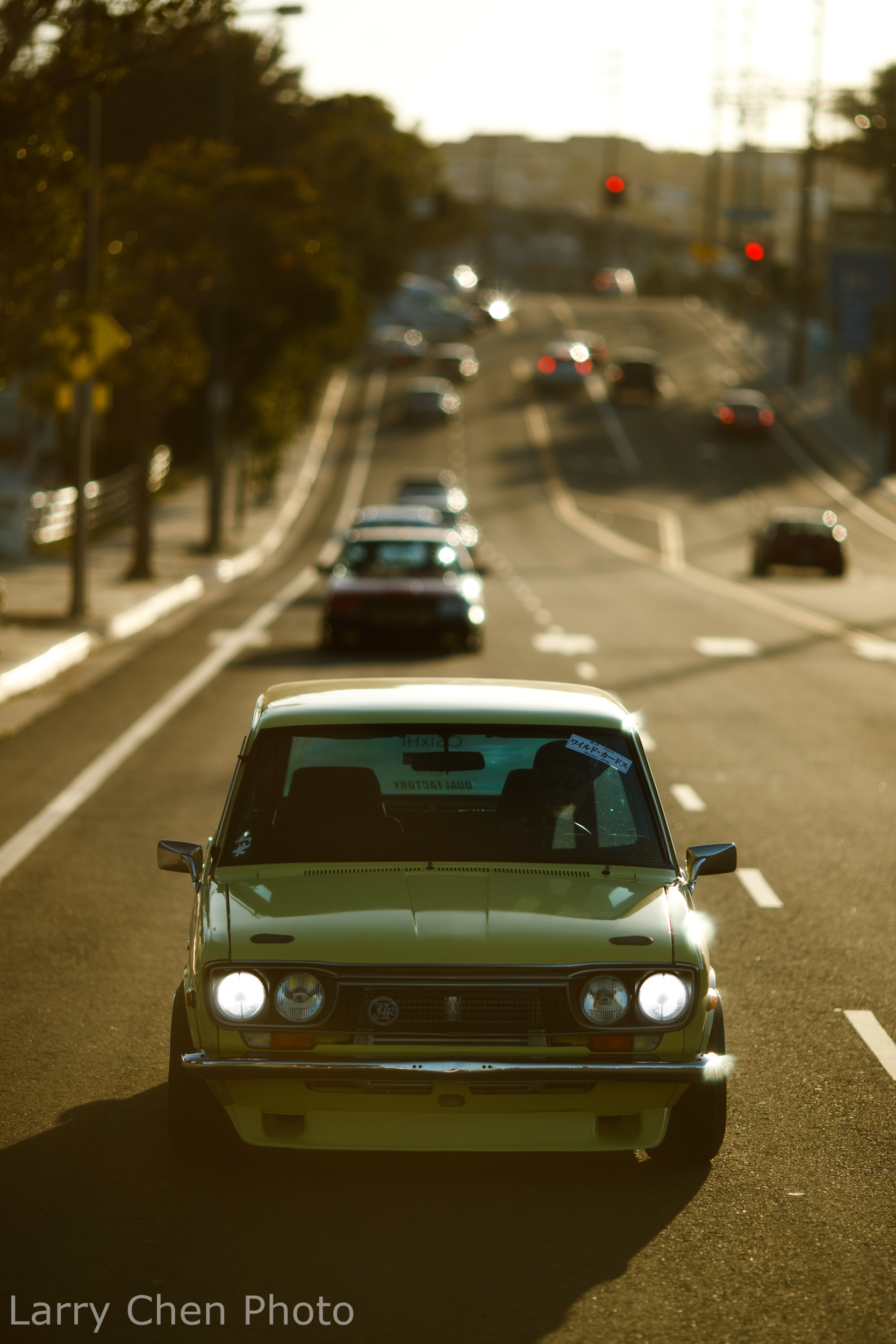 What they didn't know was that I was leading them to Hoonigan's Donut Garage in downtown Long Beach.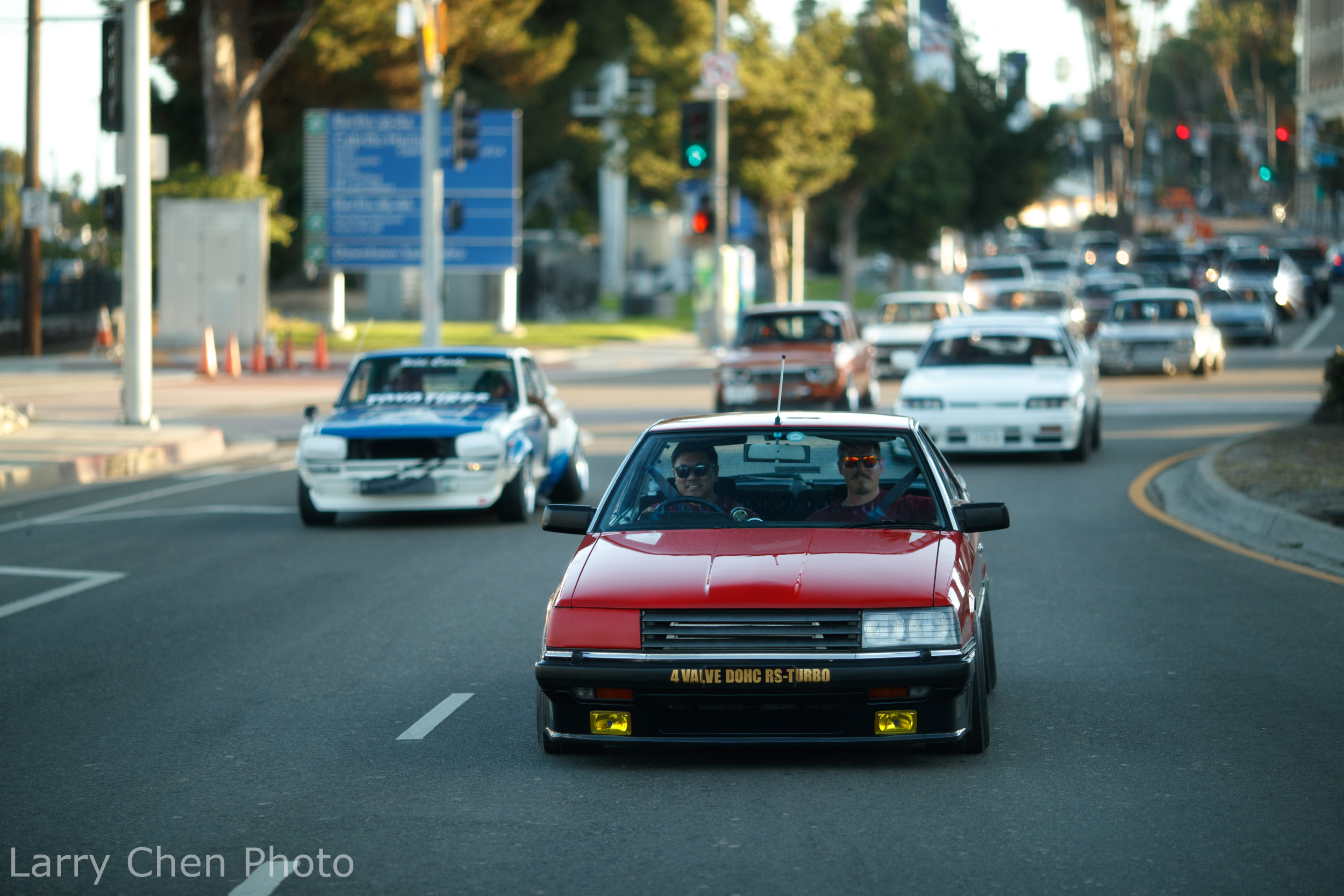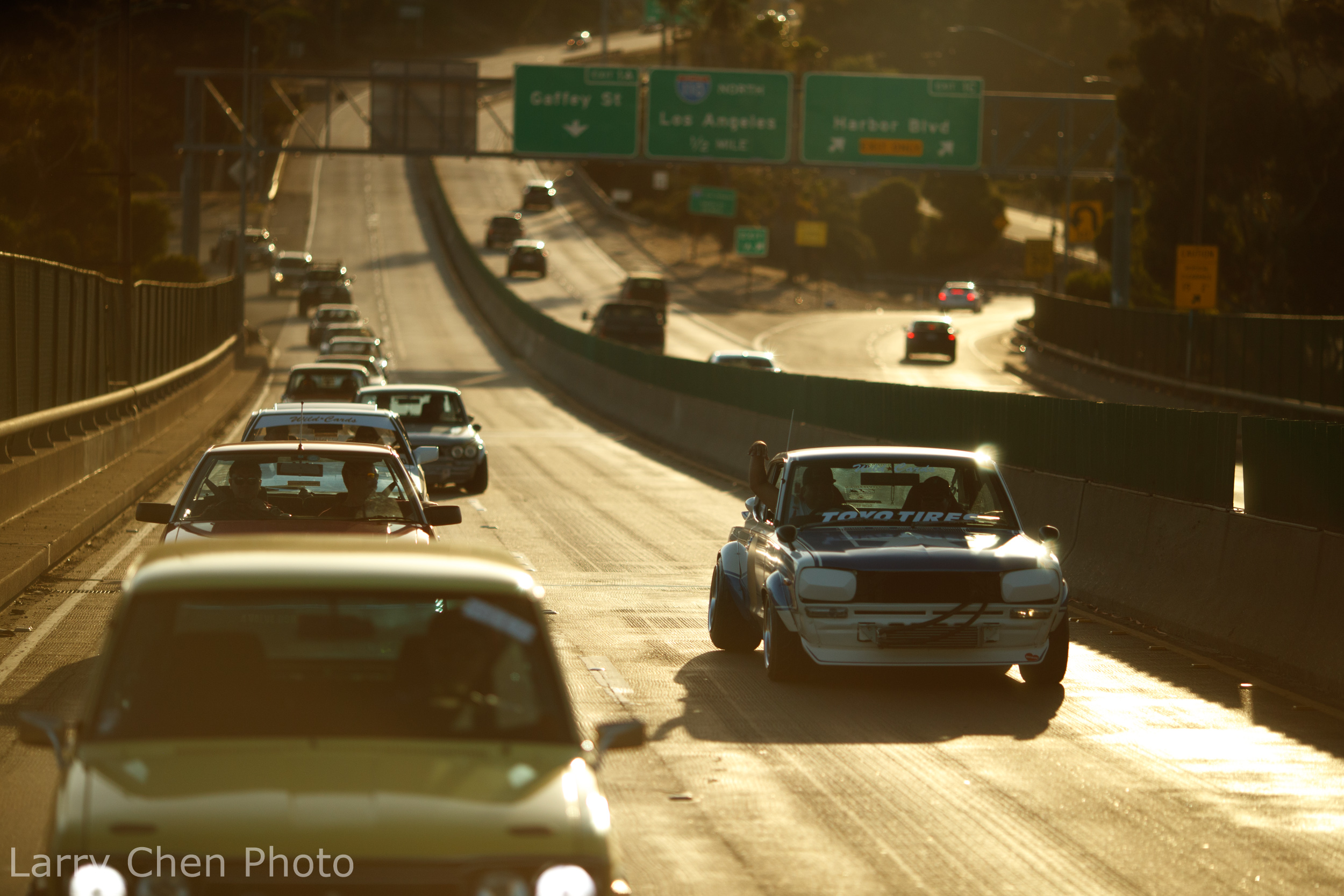 There were exhaust pops and bang and turbo noises coming from everywhere.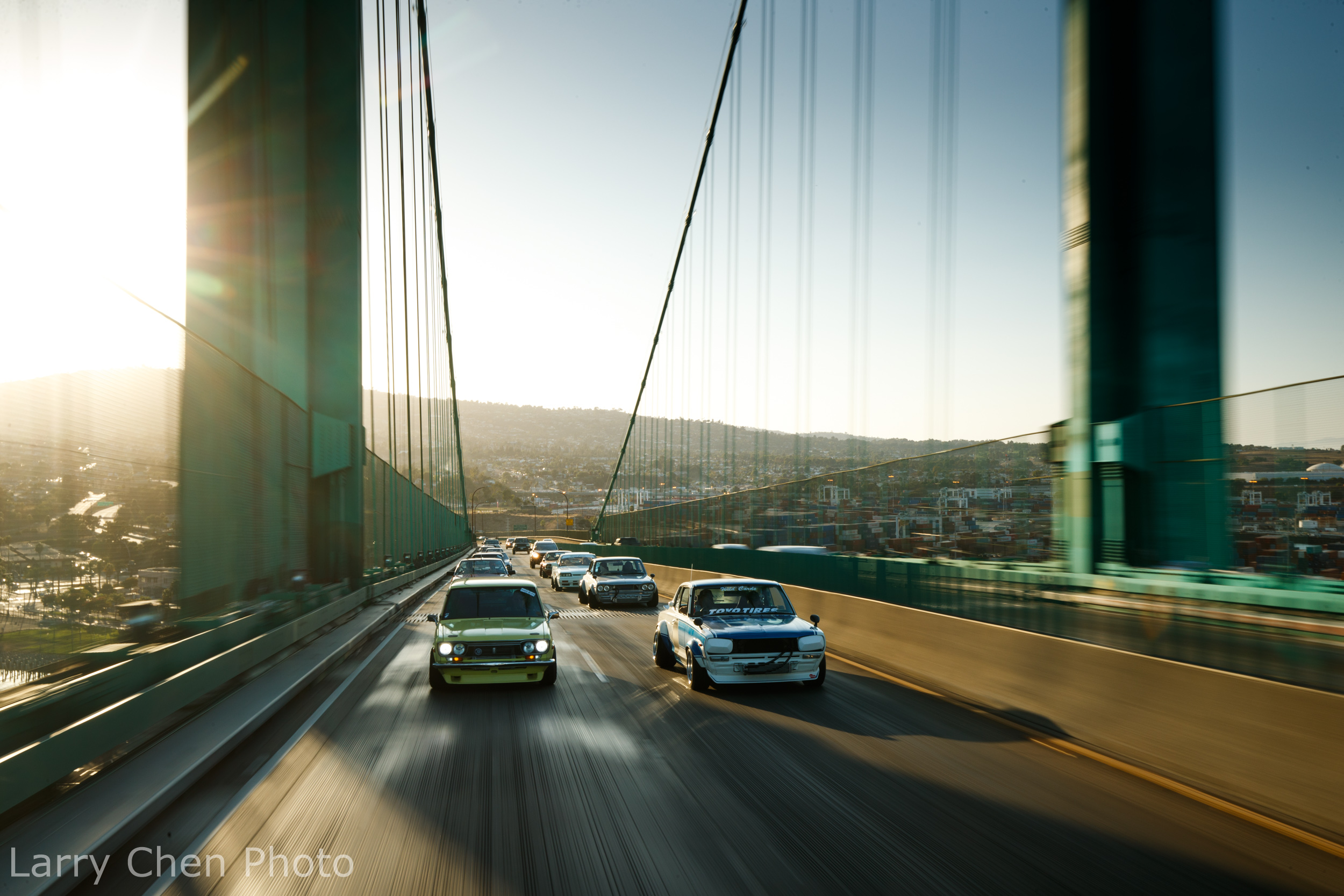 This was one of my favorite moments from the day. In the morning our rolling shot had been completely planned out, but with this one it was just the guys cruising while Louis and I weaved in and out of the traffic in the shoot vehicle.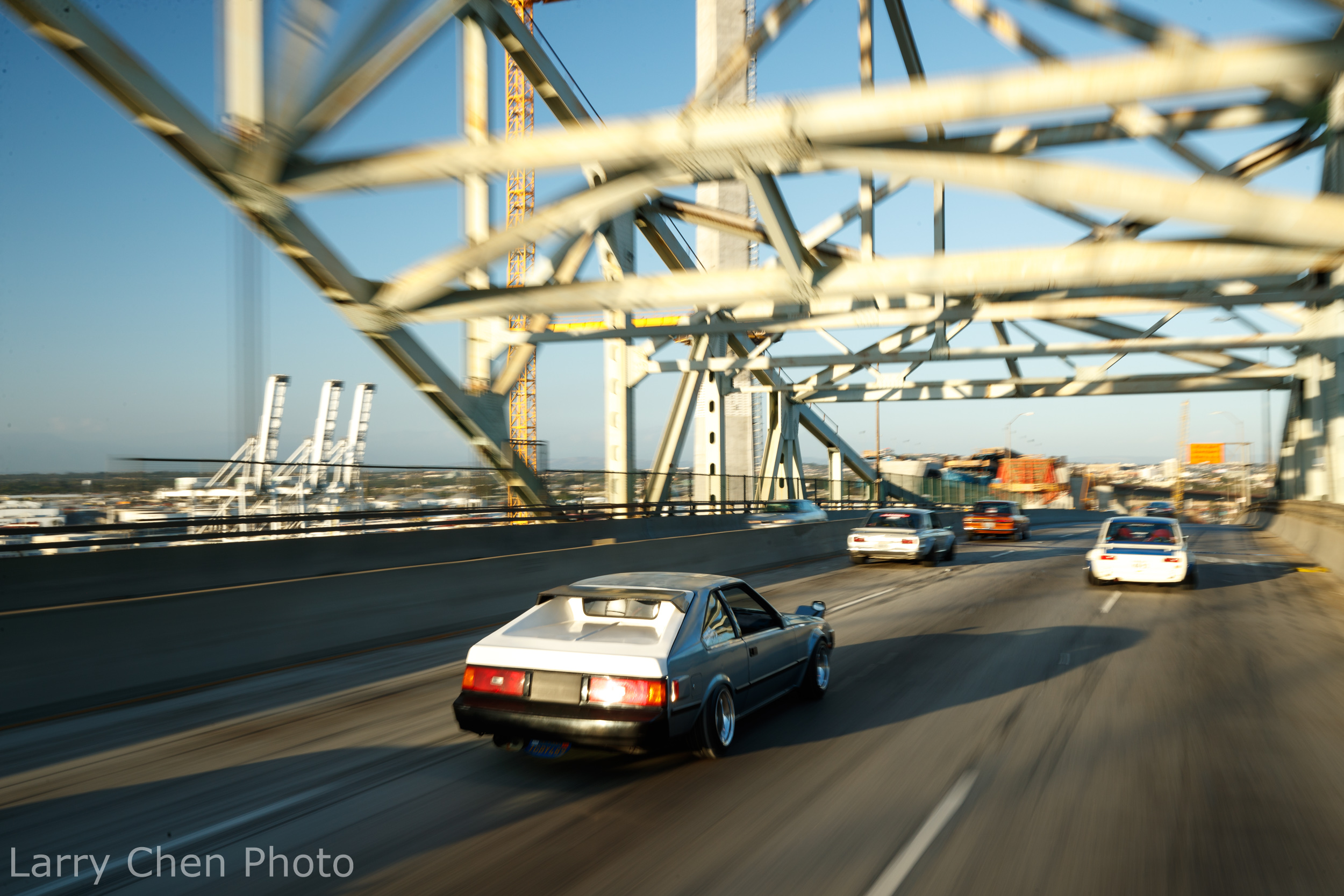 The guys were all having a blast – their smiles gave that away.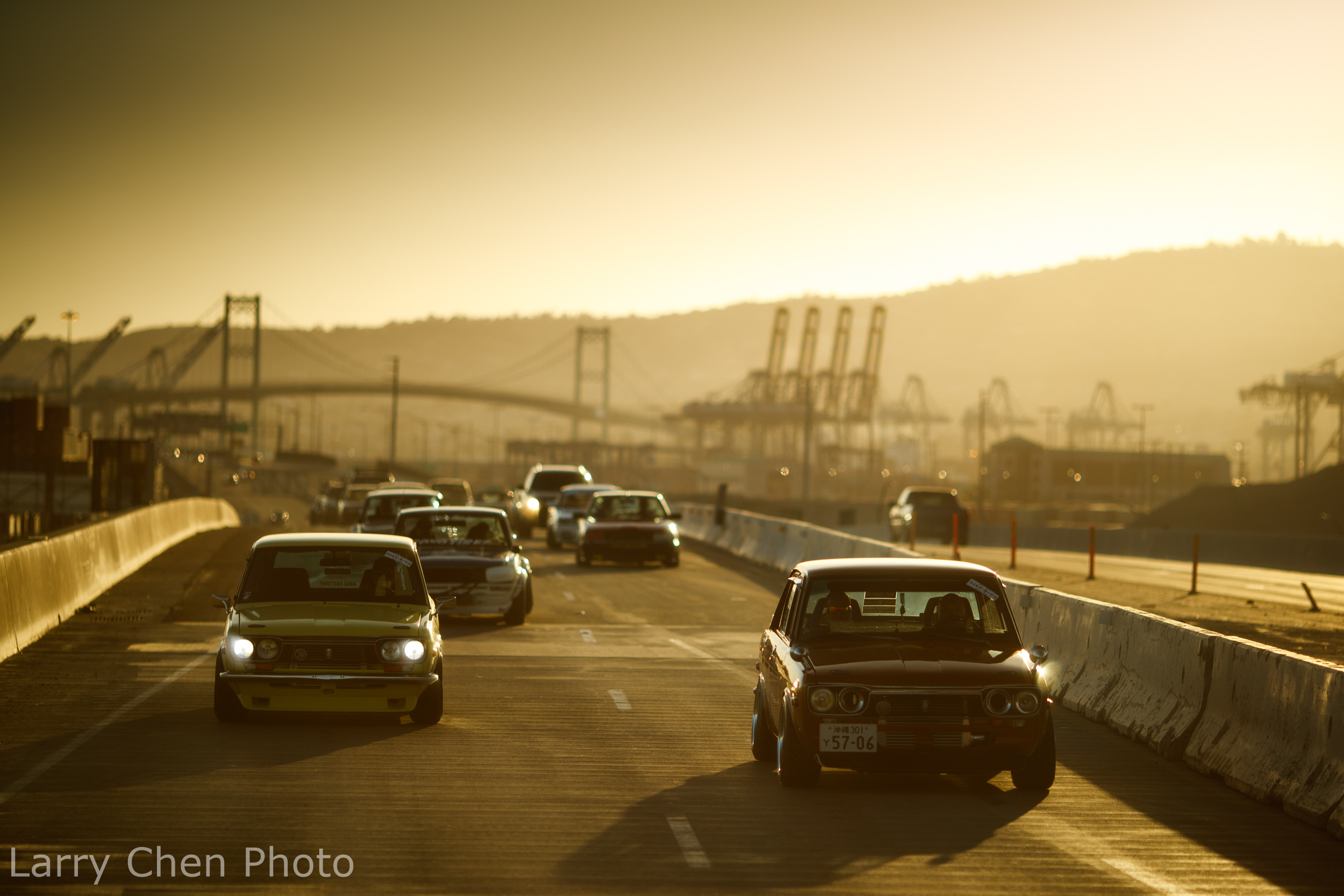 Is this Japan? No, this is Long Beach…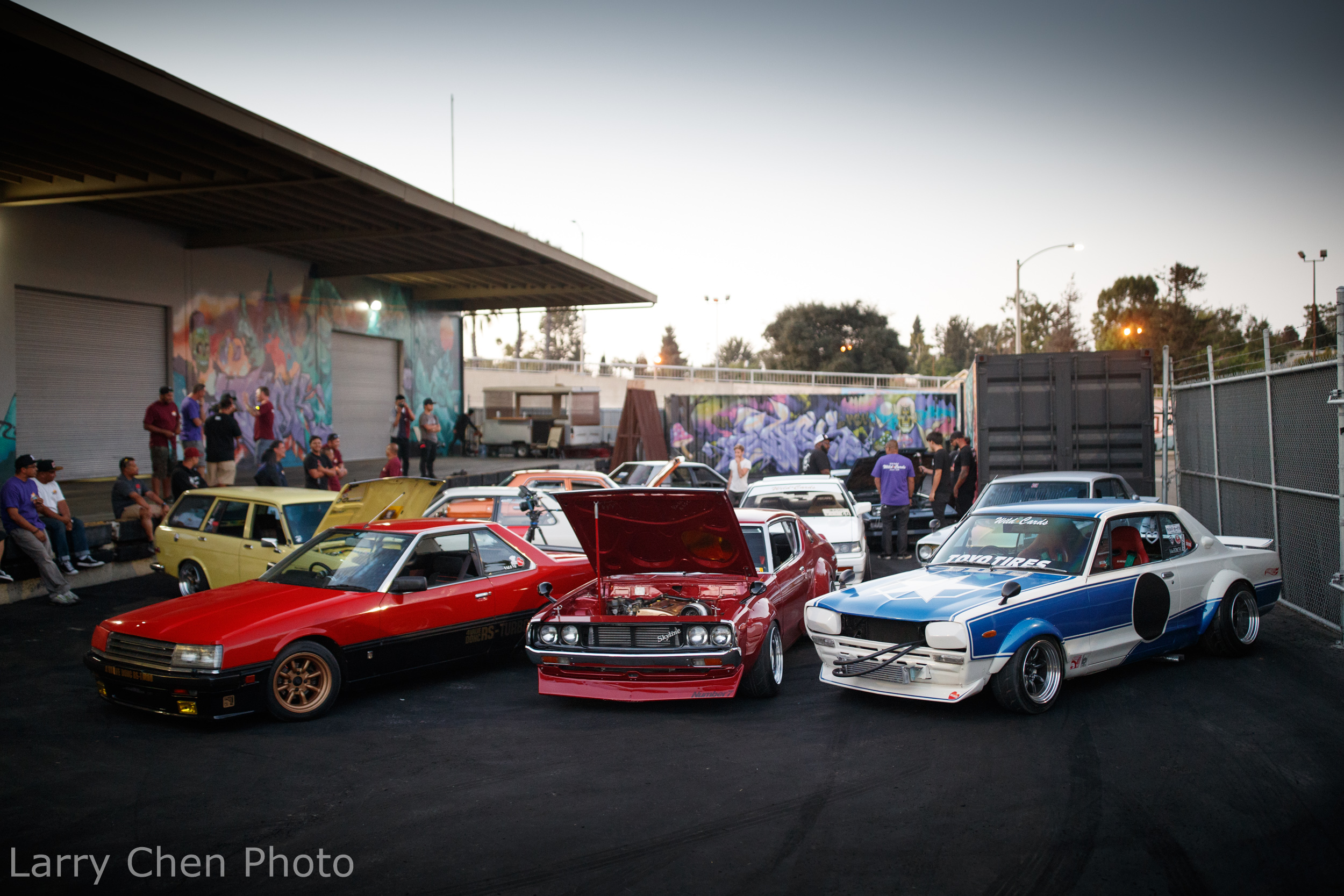 The guys were pleasantly surprised when we pulled up to the Donut Garage.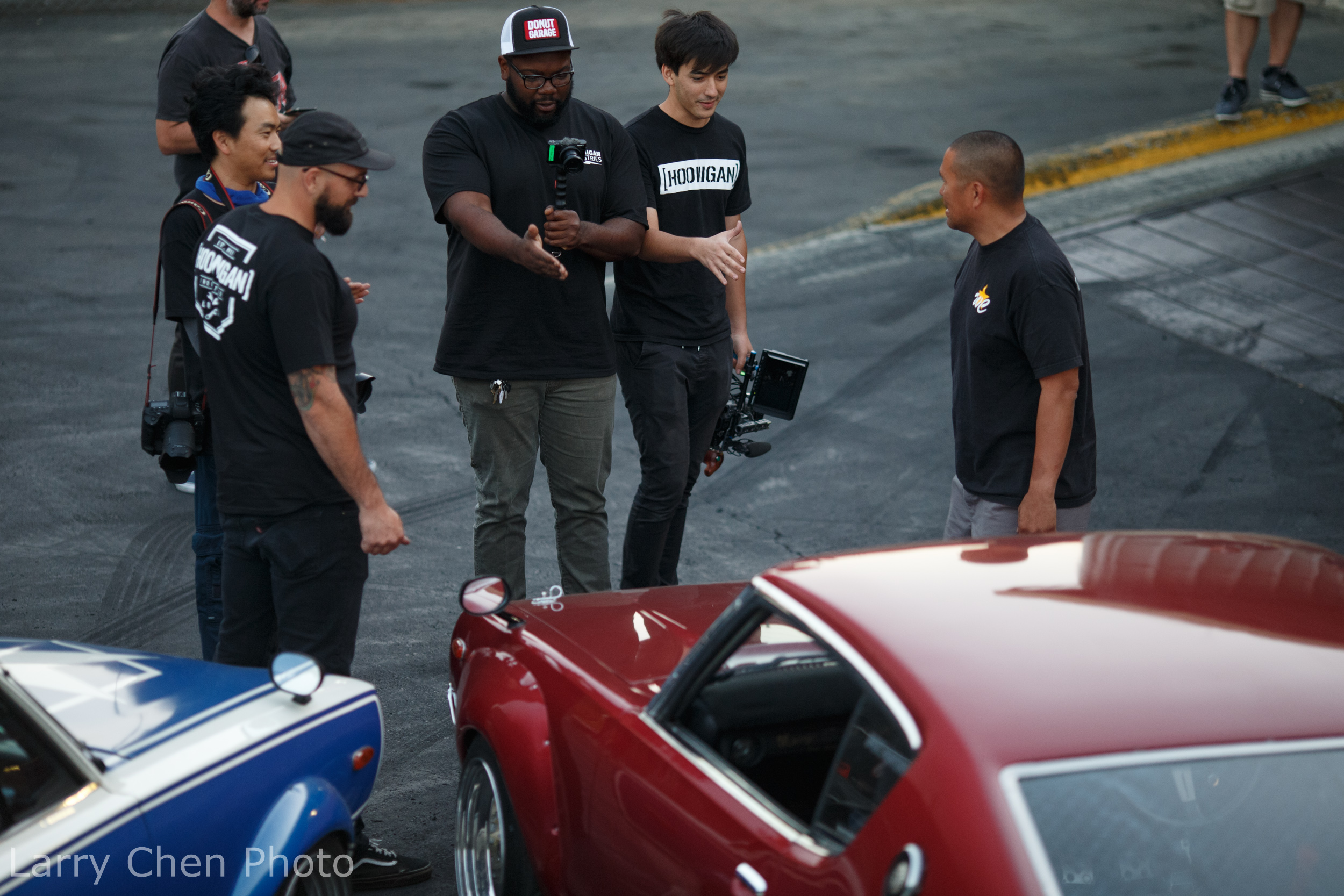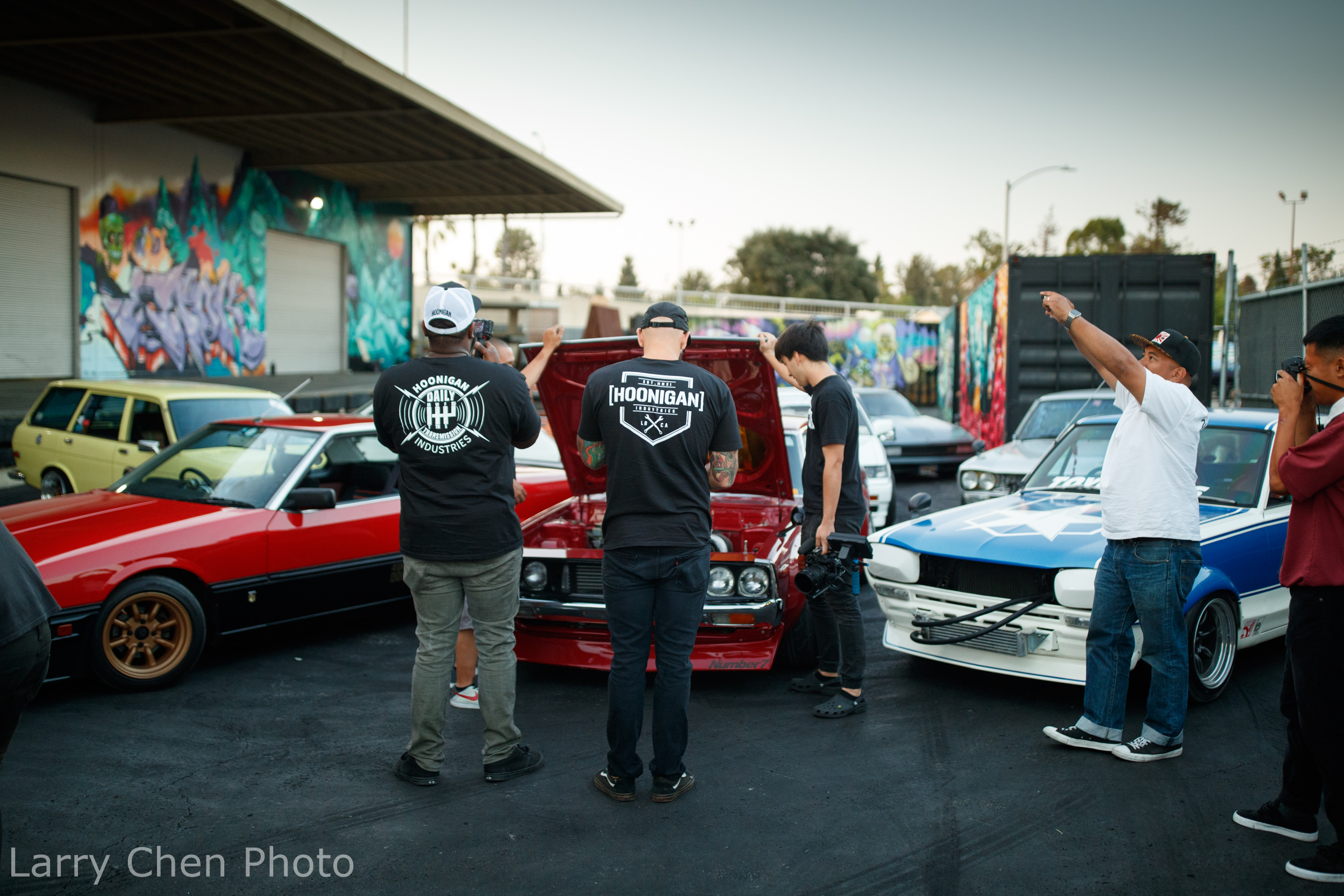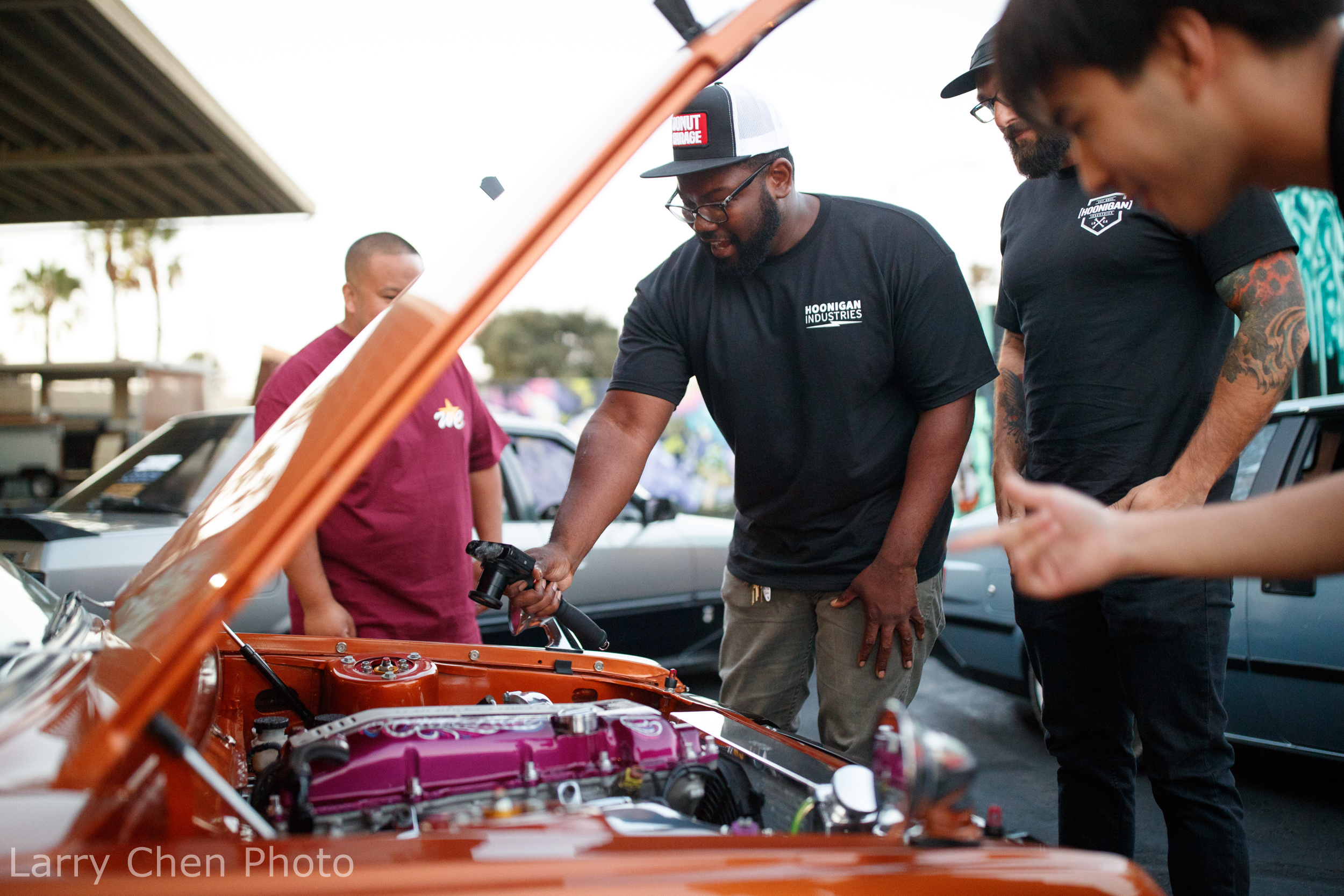 They were even more blown away when the Hoonigans pulled out the cameras and starting shooting for an episode of their Daily Transmission show.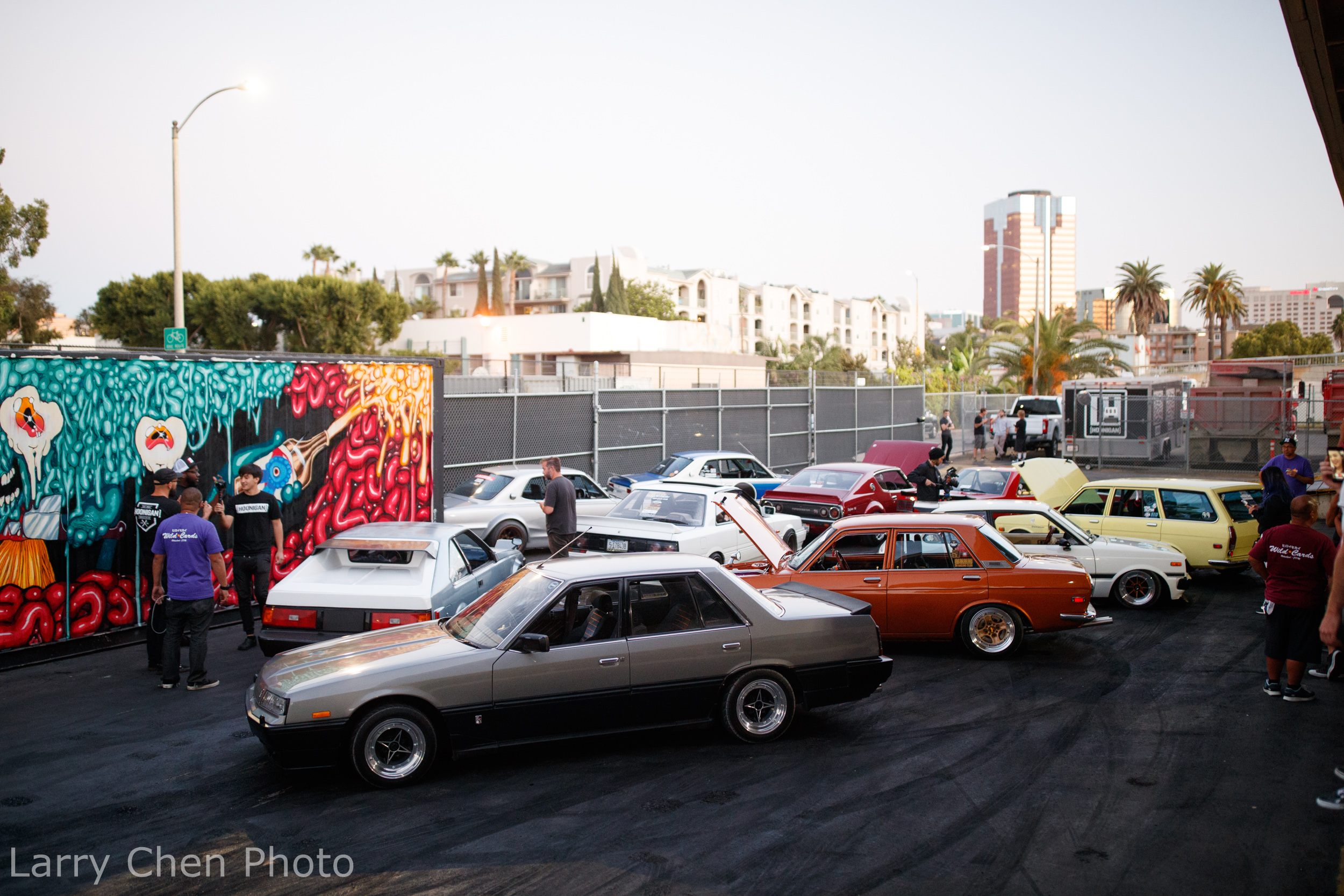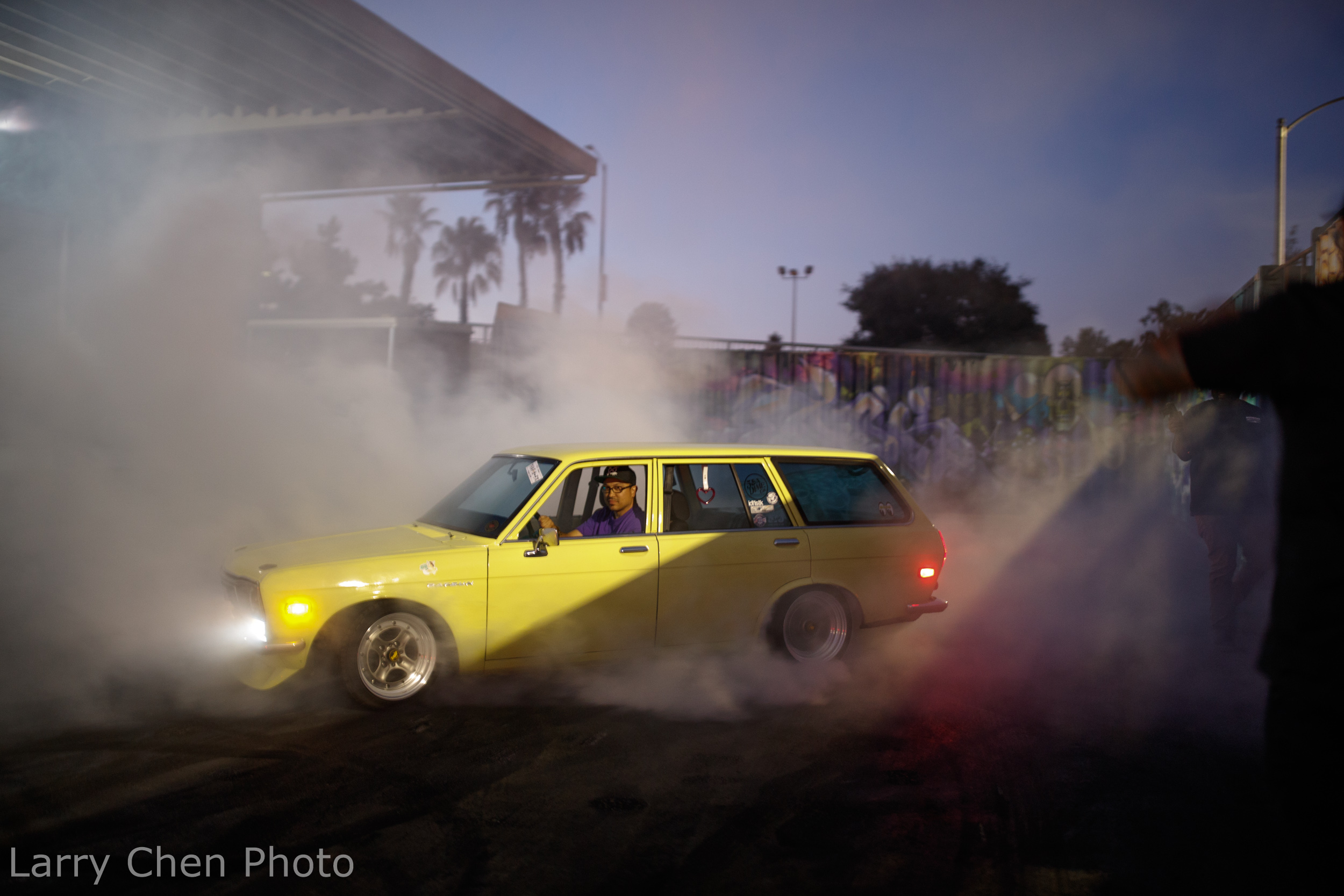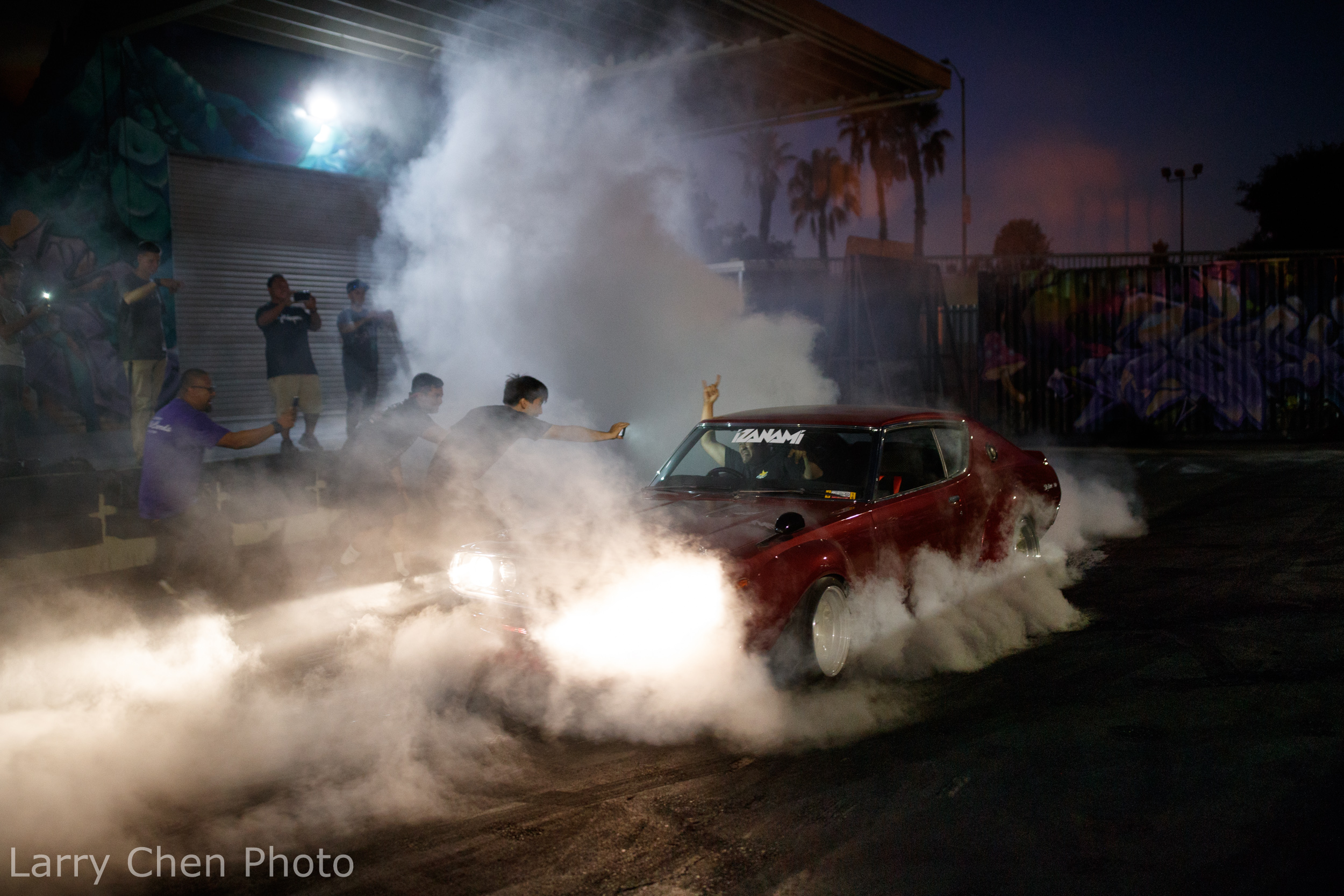 It felt like it was one of the most hyped shows since the start of the series; there was definitely no shortage of energy and excitement.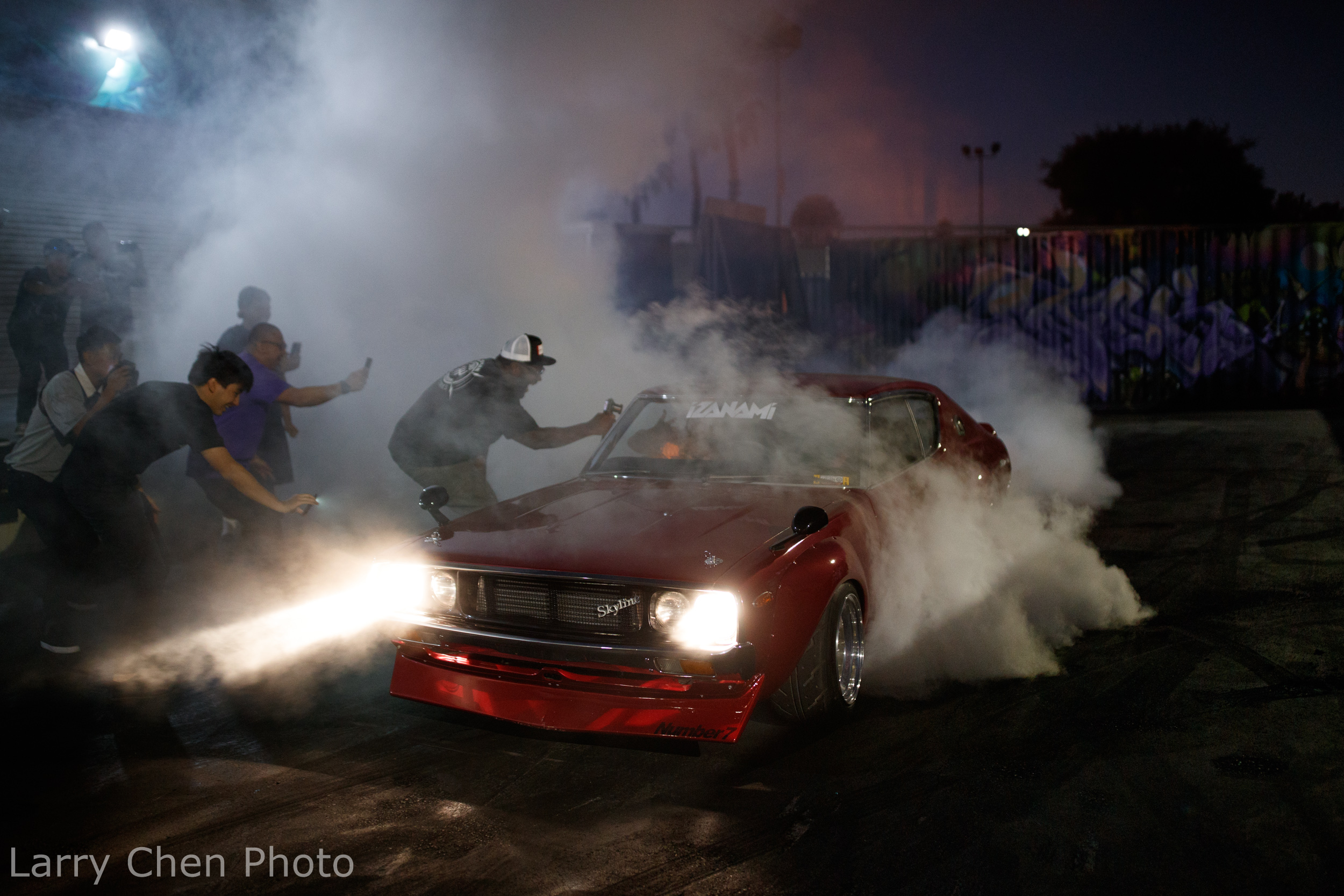 After all, the cars were the stars. I'm just glad we're all able to show the world how much passion these guys have for their machines.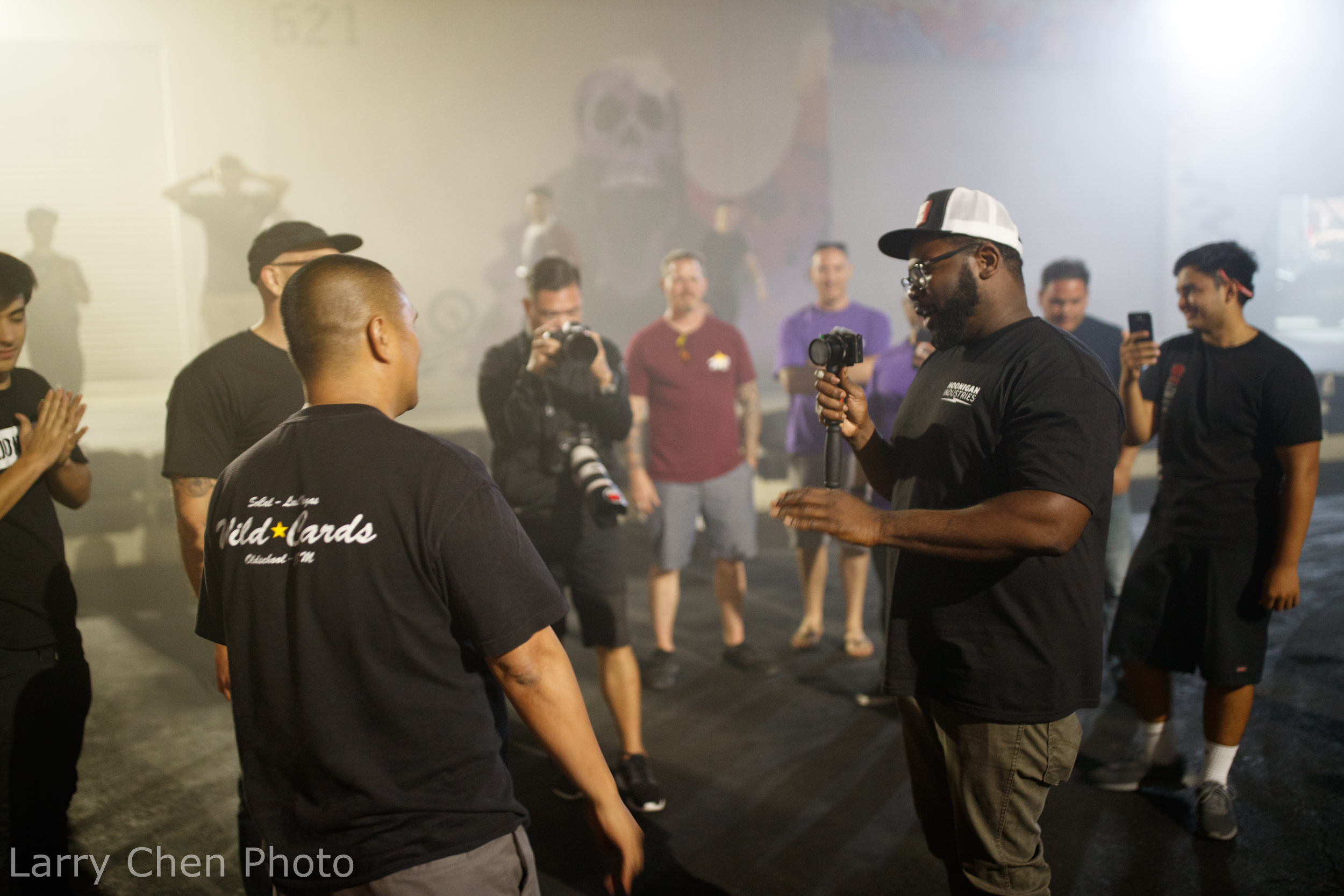 I want to thank the Hoonigans for letting us come by and tear up the lot.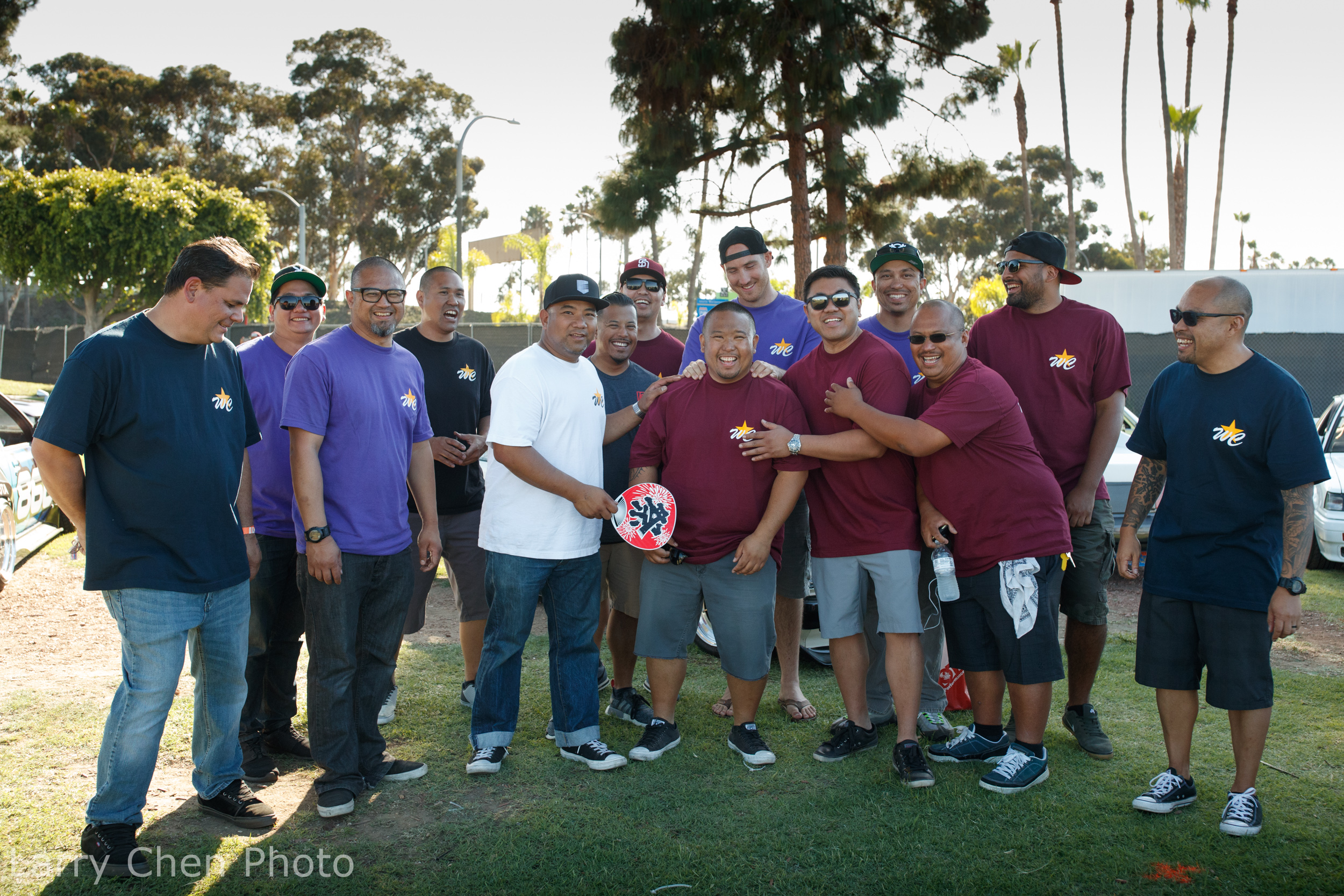 I also want to thank Team Wild Cards for following me into the abyss of Speedhunting. Keep an eye out for the features…