When you are the pioneer of viral car videos, there's always the challenge of going bigger and better with each new release. It's something that Ken Block strives to do every time he drives for the cameras.
I've been on quite a few of Ken's <em>Gymkhana</em> shoots over the years, and there always seems to be at least one butt-puckering moment. None of them have come close to what was witnessed on Pikes Peak, though.
For his latest video, I think Ken has really outdone himself. But you be the judge – if you haven't see <em>Climbkhana</em> yet, press play above right now.
As the official photographer of the annual Pikes Peak International Hill Climb, I thought I'd seen it all. But I was wrong.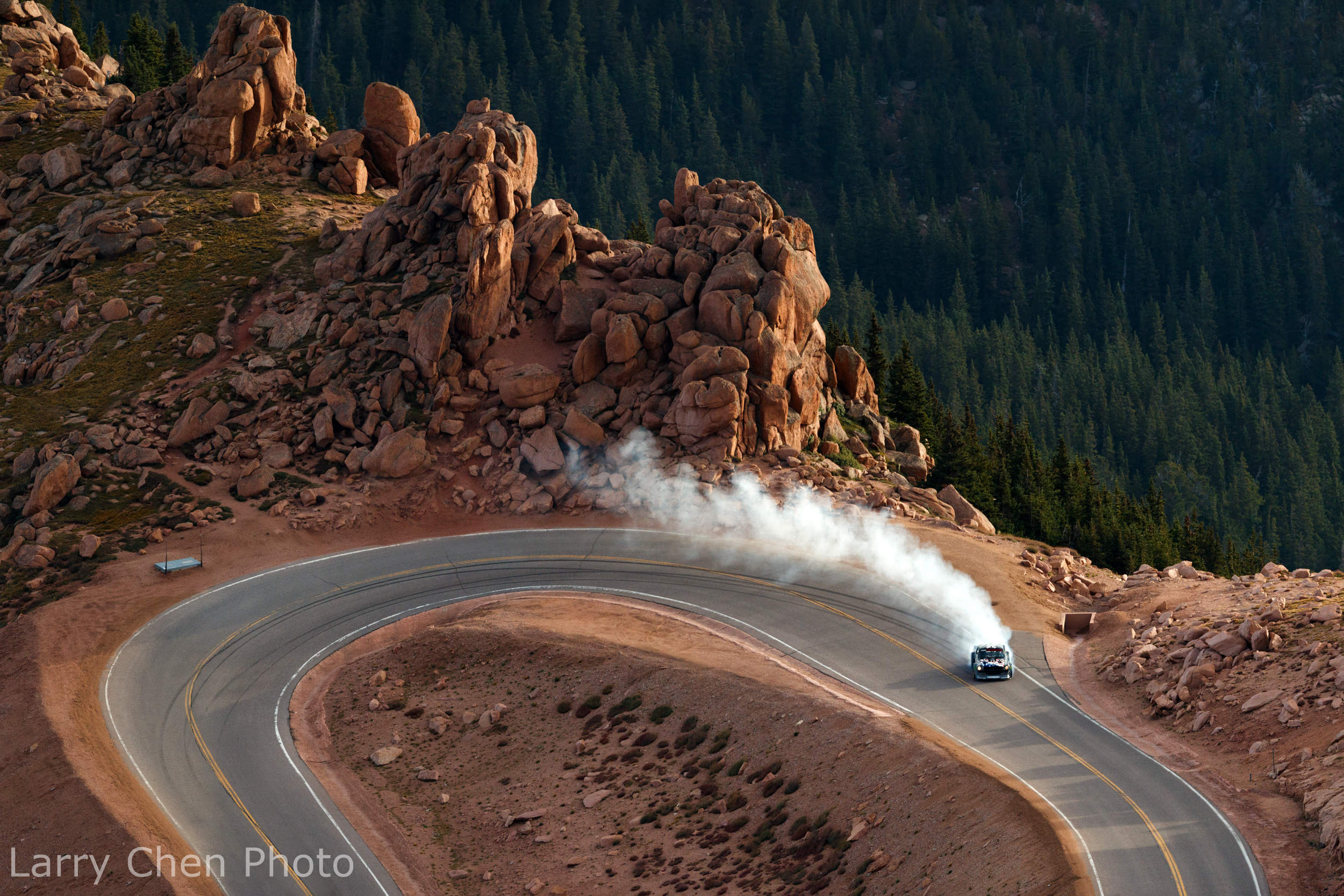 The way that Ken thrashed the Hoonicorn – now in its V2 guise – during its run up to the 14115 foot summit really opened up my eyes to what an all-wheel drive vehicle is capable of.
It takes a madman to accomplish such a thing, let alone attempt the feat in the first place.
As always, this shoot wasn't without its challenges, and I'll go into some of those in this behind-the-scenes story.
Having raised the bar with each video they've made, Hoonigan Media Machine brought the heat with their entire Hollywood-style film crew.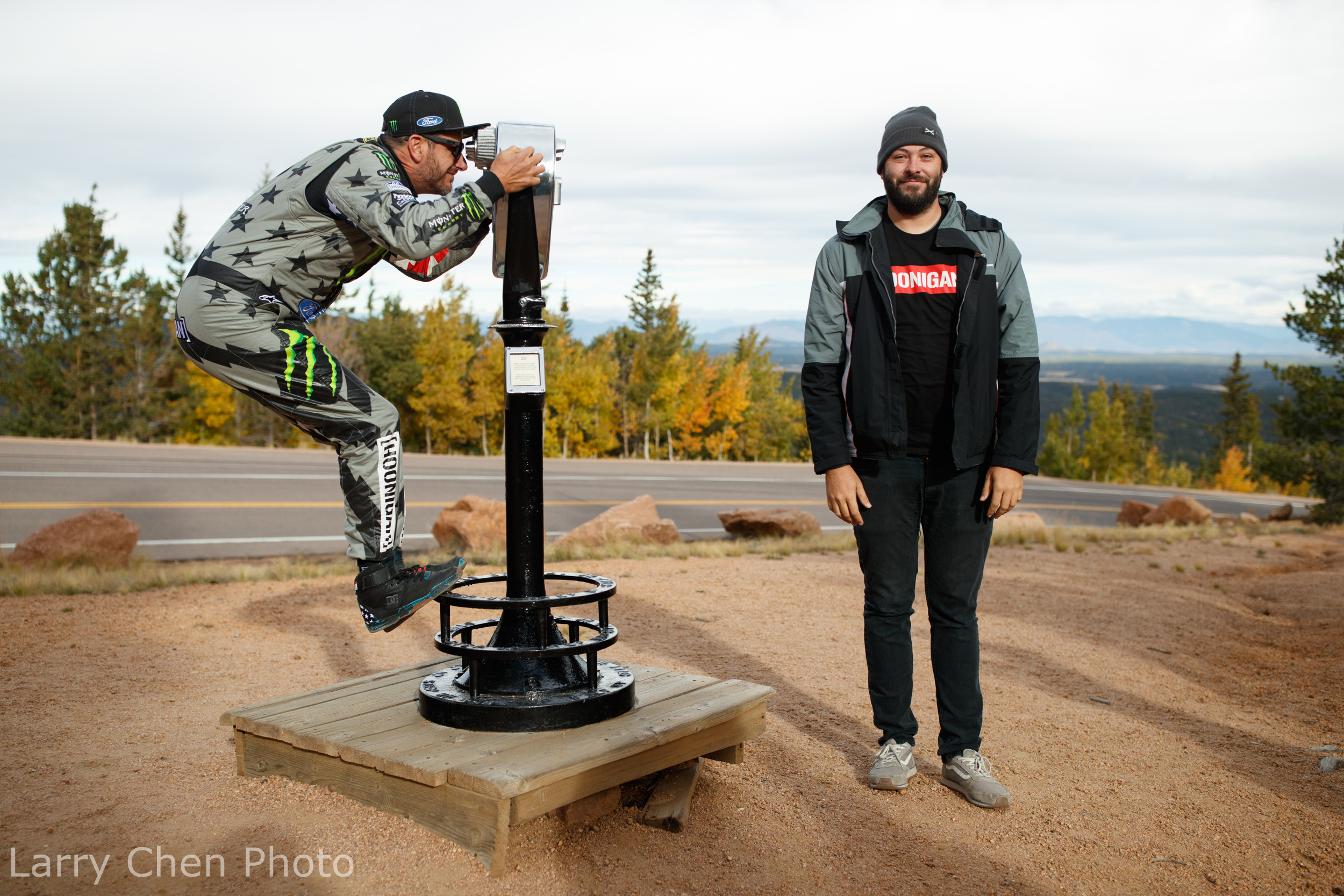 The dynamic duo of Ken Block as the wheelman and Brian Scotto as the creative genius/co-director was a given, but this time around they had a Pikes Peak legend on board, too.
Jeff Zwart, our favorite Porsche driver, was brought on as a co-director. Many of you guys may not know this, but directing is actually Jeff's full-time job, and he used to be a car and racing photographer. He has extensive knowledge of Pikes Peak coming from a driver's perspective, as well as a film director's point of view.
It was around this time last year that the wraps came off the Hoonicorn V2, and had everything gone to plan with Climbkhana, I would have been telling this story in 2016. But it didn't go to plan – three trips to Pikes Peak were required to get this video finished.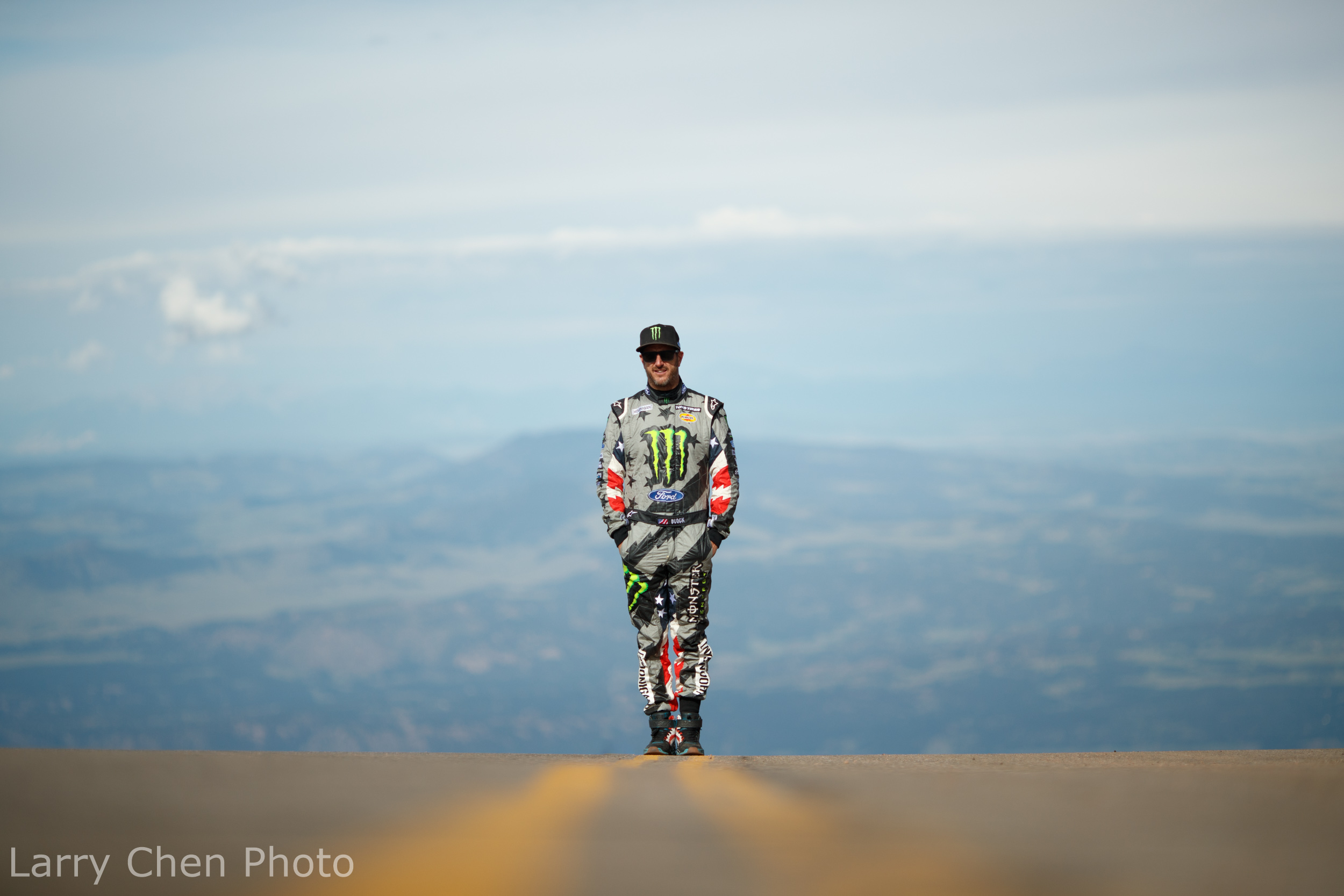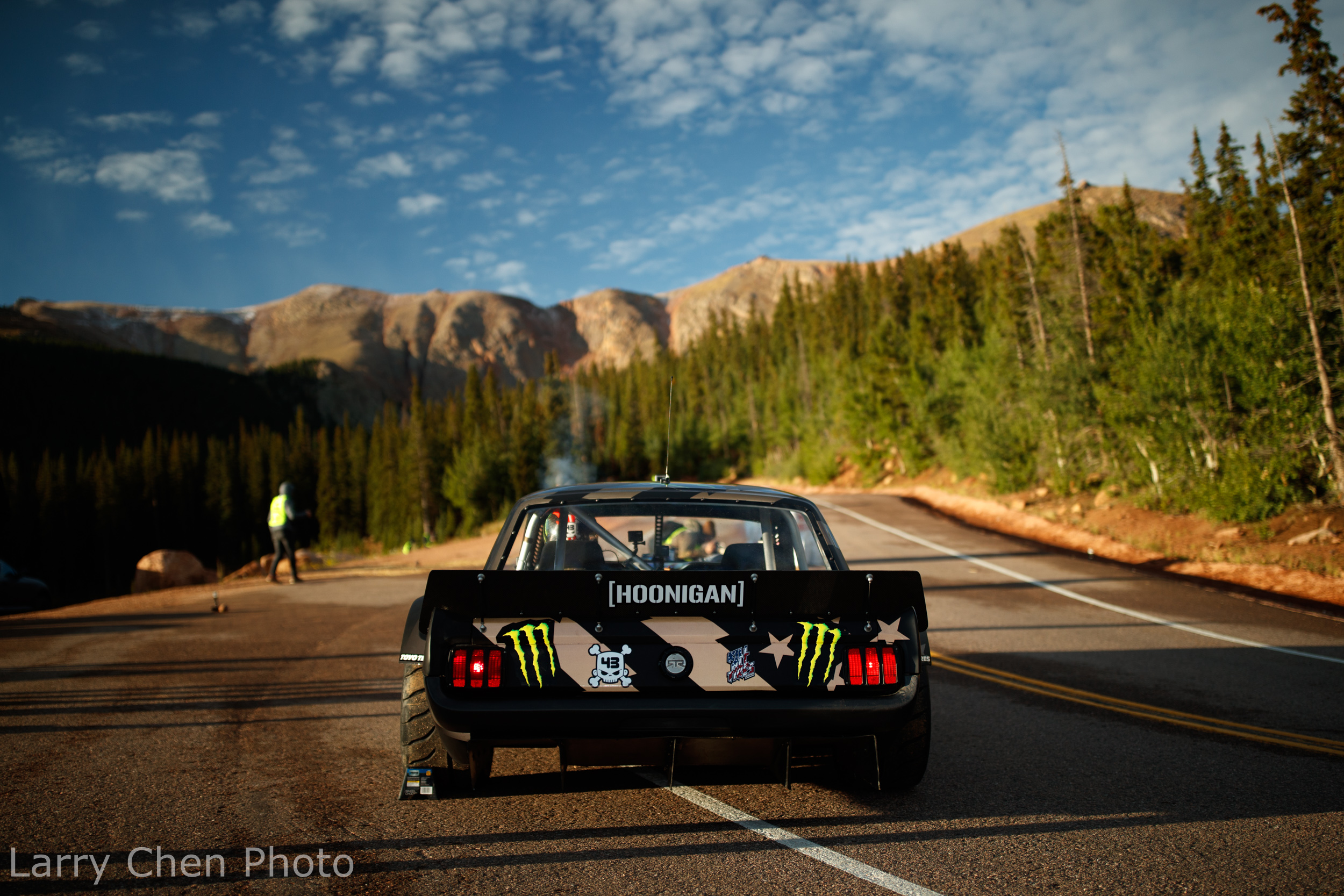 Every single time we hit the mountain we battled insane wind storms, hail and snow, meaning that our shooting days were very short. Sometimes we couldn't even step foot on the mountain before the skies opened up with torrential rain. After two failed attempts it would have been easy to just call it a loss, but Ken pressed on.
The weather wasn't the only issue to contend with. There were some problems with the Hoonicorn's V2 twin-turbo engine too; the crank case pressure was just way too high with the 1400hp being generated, and that resulted in oil exploding out of the thing when Ken went full tilt.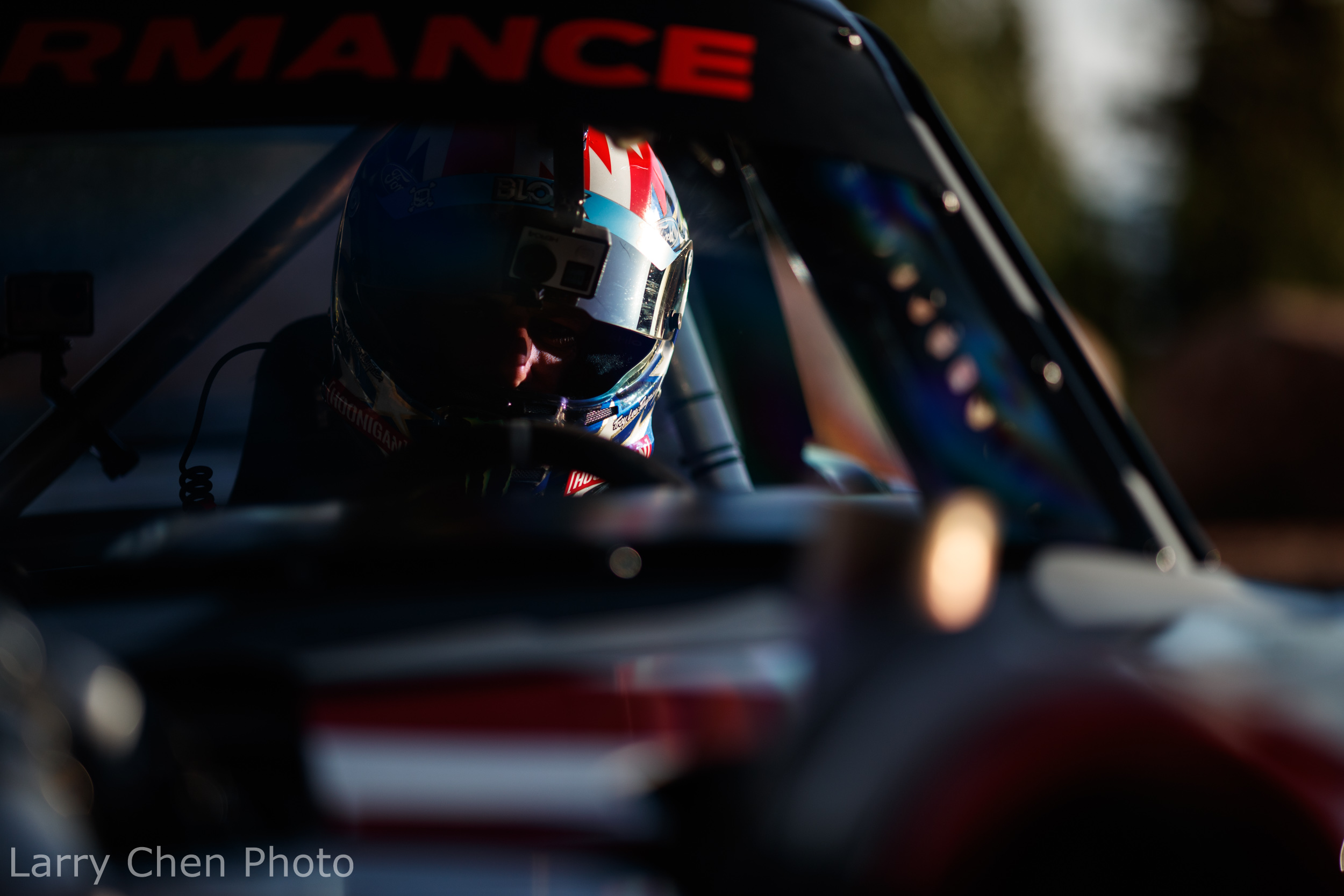 This created quite a dangerous situation which forced the guys to either swap the motor out or call it a day each time it happened. It wasn't just a battle of man versus mountain, it was man versus machine, too.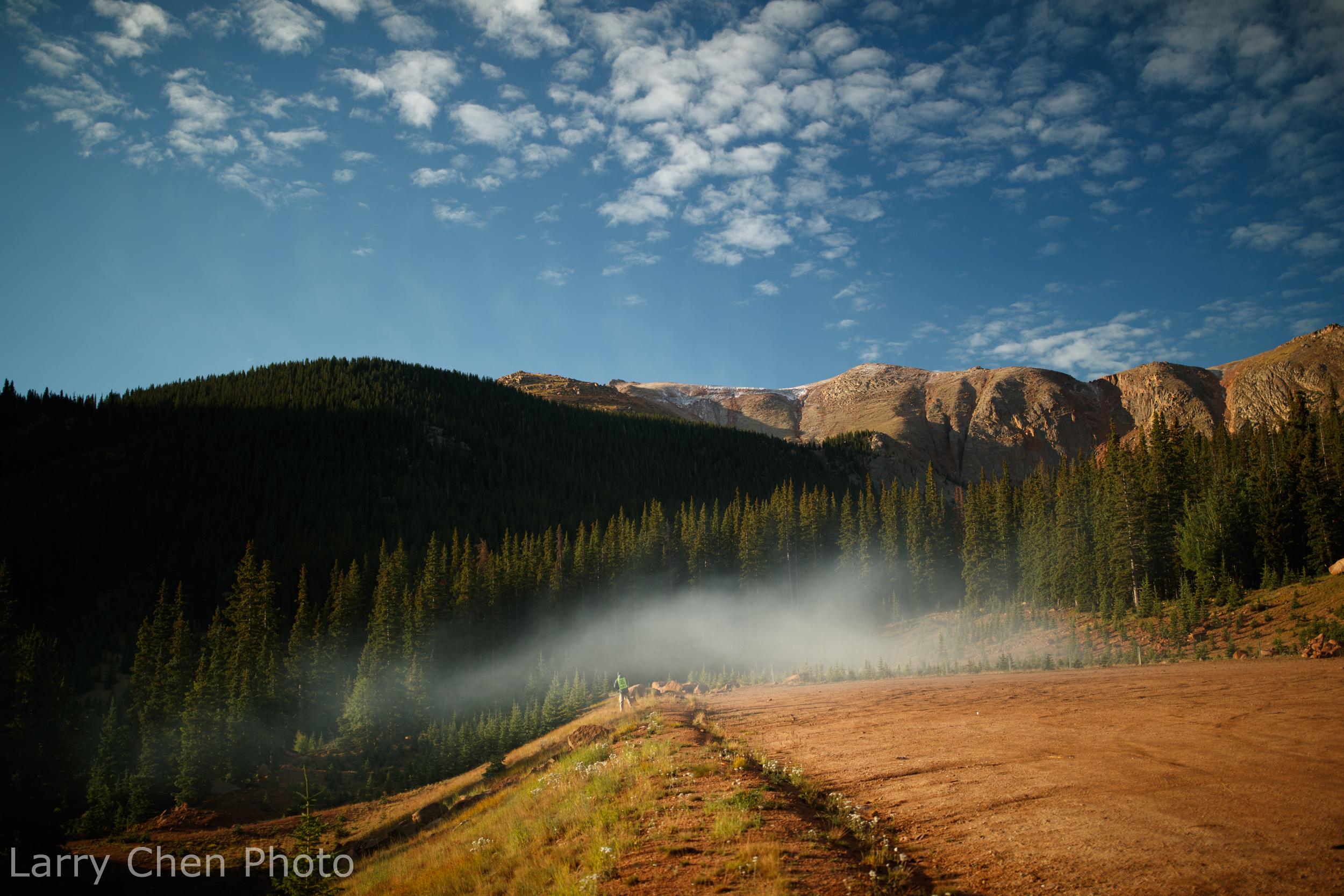 But when the skies were clear and the Hoonicorn was performing as it should, the shooting actually happened pretty fast. It was so cool to see tire smoke wafting over the woods.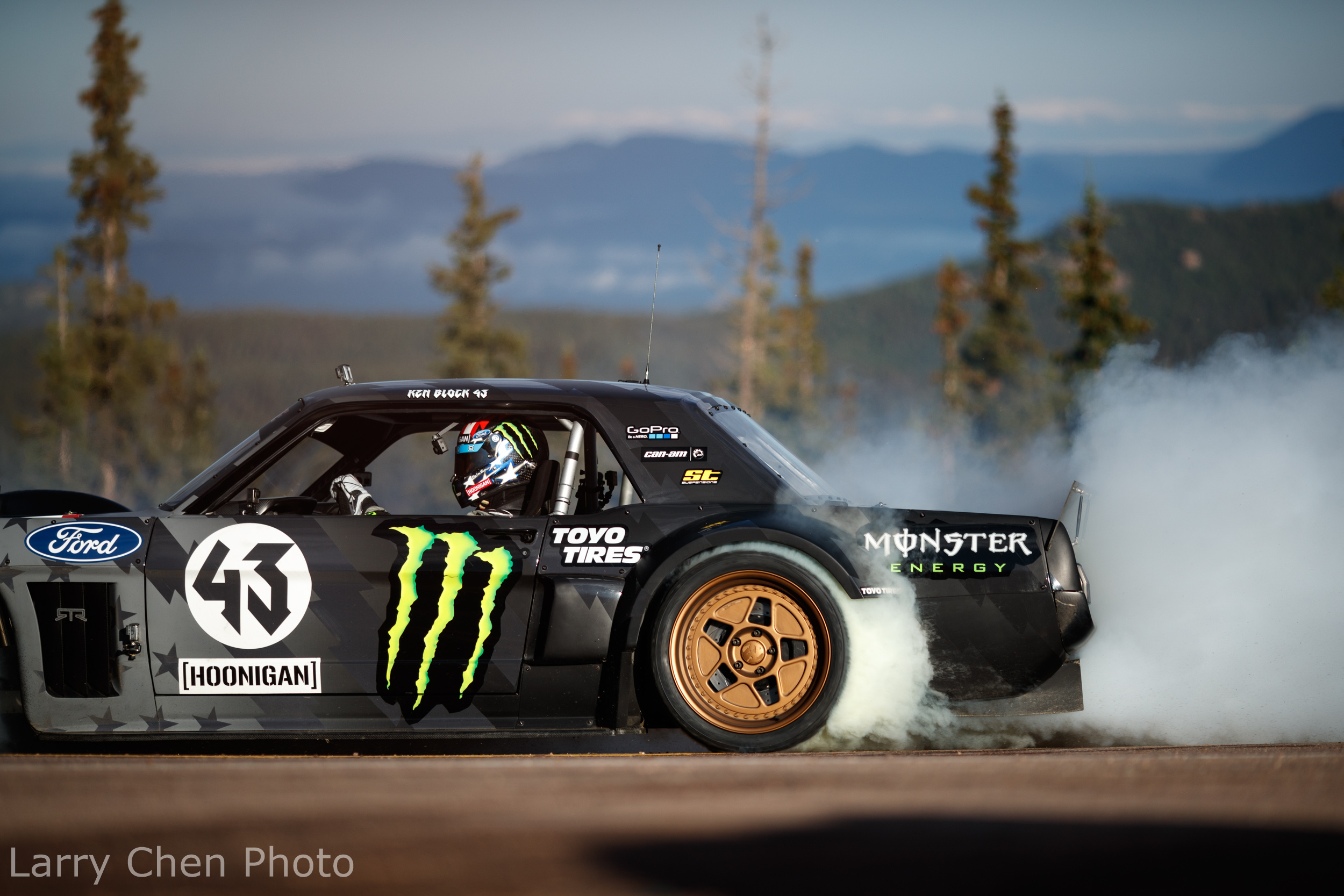 While I am guessing it would have possible to run the Hoonicorn at Pikes Peak in its original naturally aspirated form, it definitely wouldn't have been such a spectacle.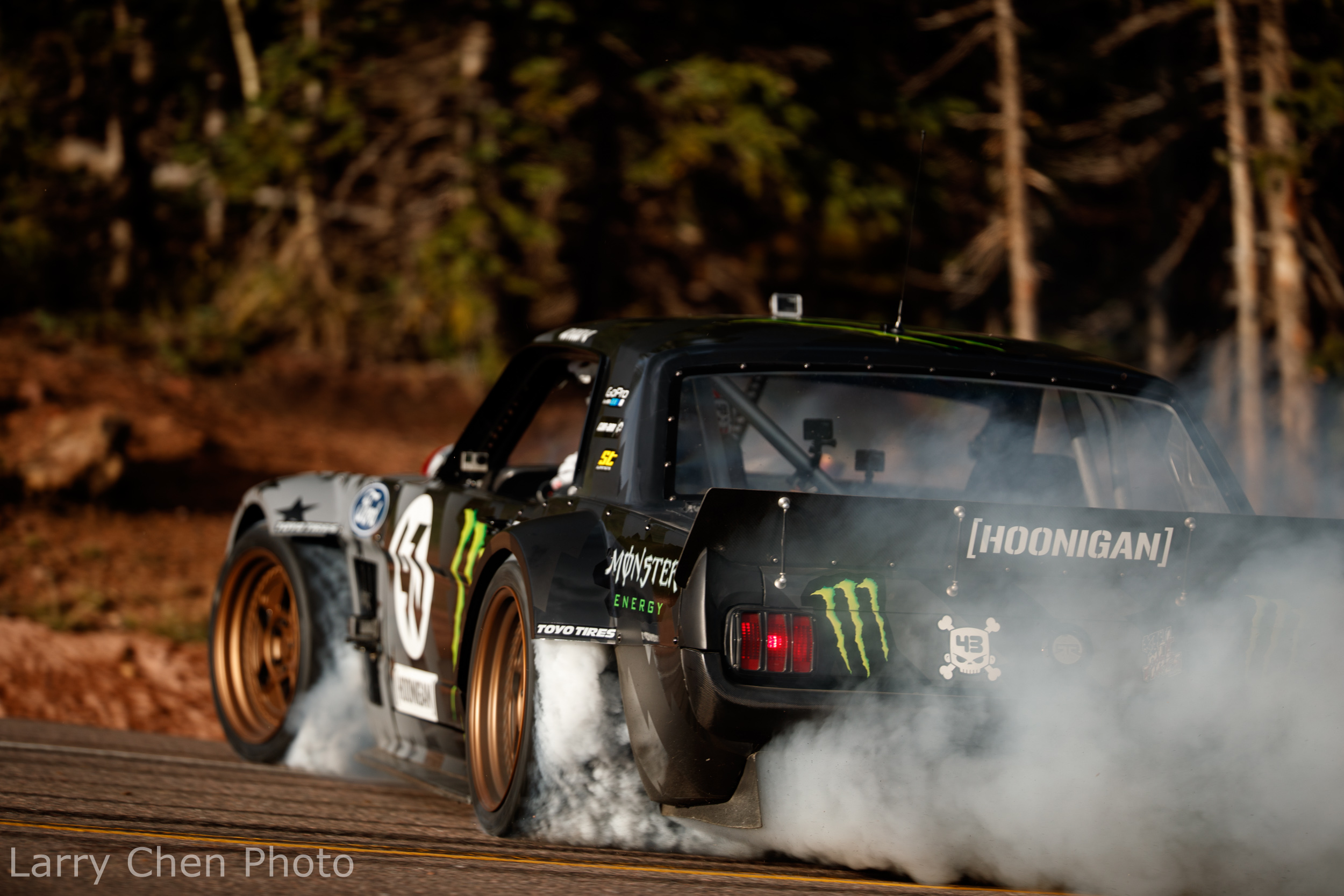 At sea level, the NA engine made 845hp, but with the thin air at the top of the mountain there was potential for up to 30 percent of that power to be lost. In contrast, the Hoonicorn's twin-turbo, methanol-fueled engine was designed to maintain 1,400hp.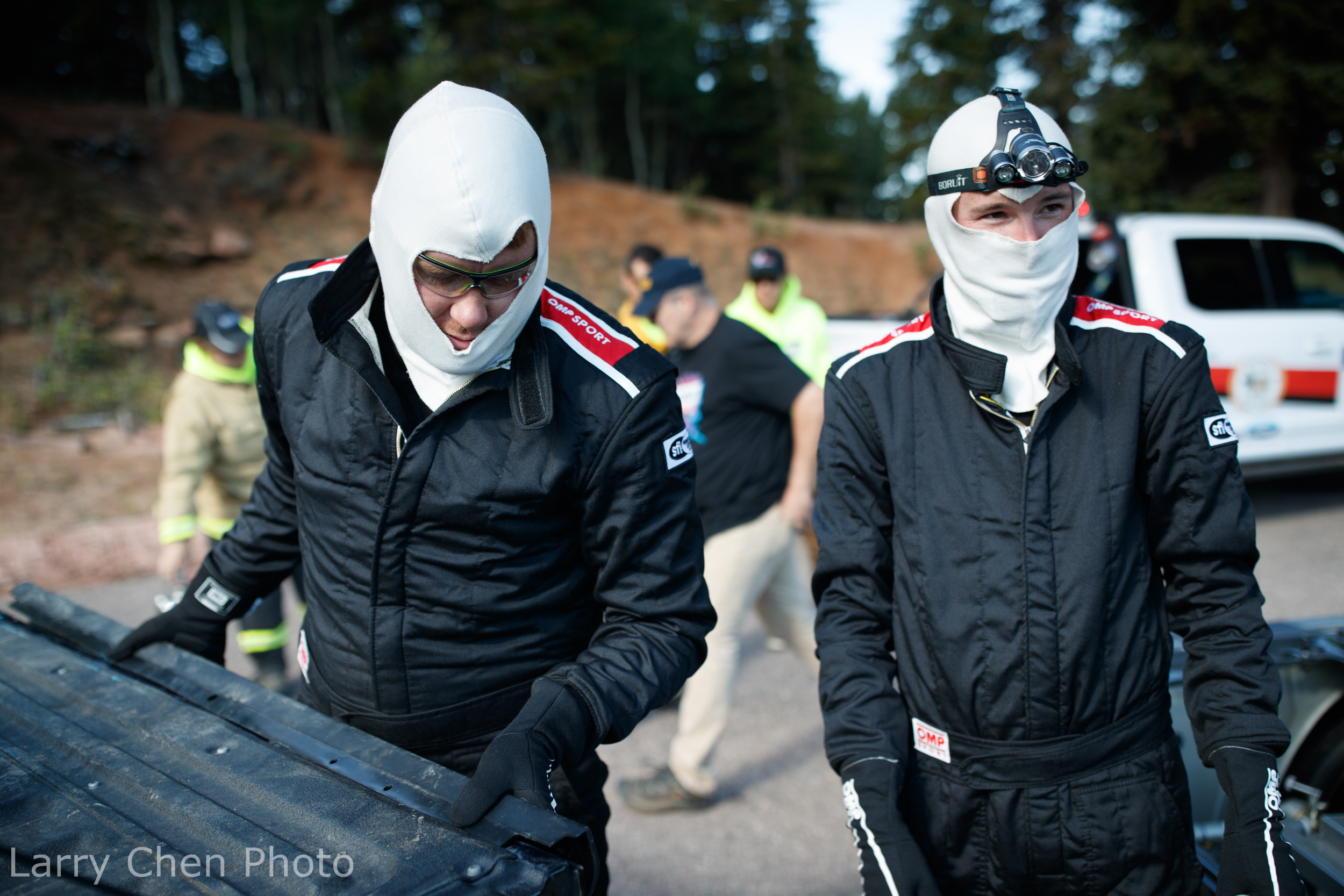 Because methanol burns clear and colourless and therefore can't be seen when its alight, the mechanics took full safety precautions any time they needed to refuel the car.
Another challenge was keeping the car hidden from public view while filming was taking place. This shot was taken right after Gymkhana Nine had just been shot, at which time the Climbkhana project was still under wraps.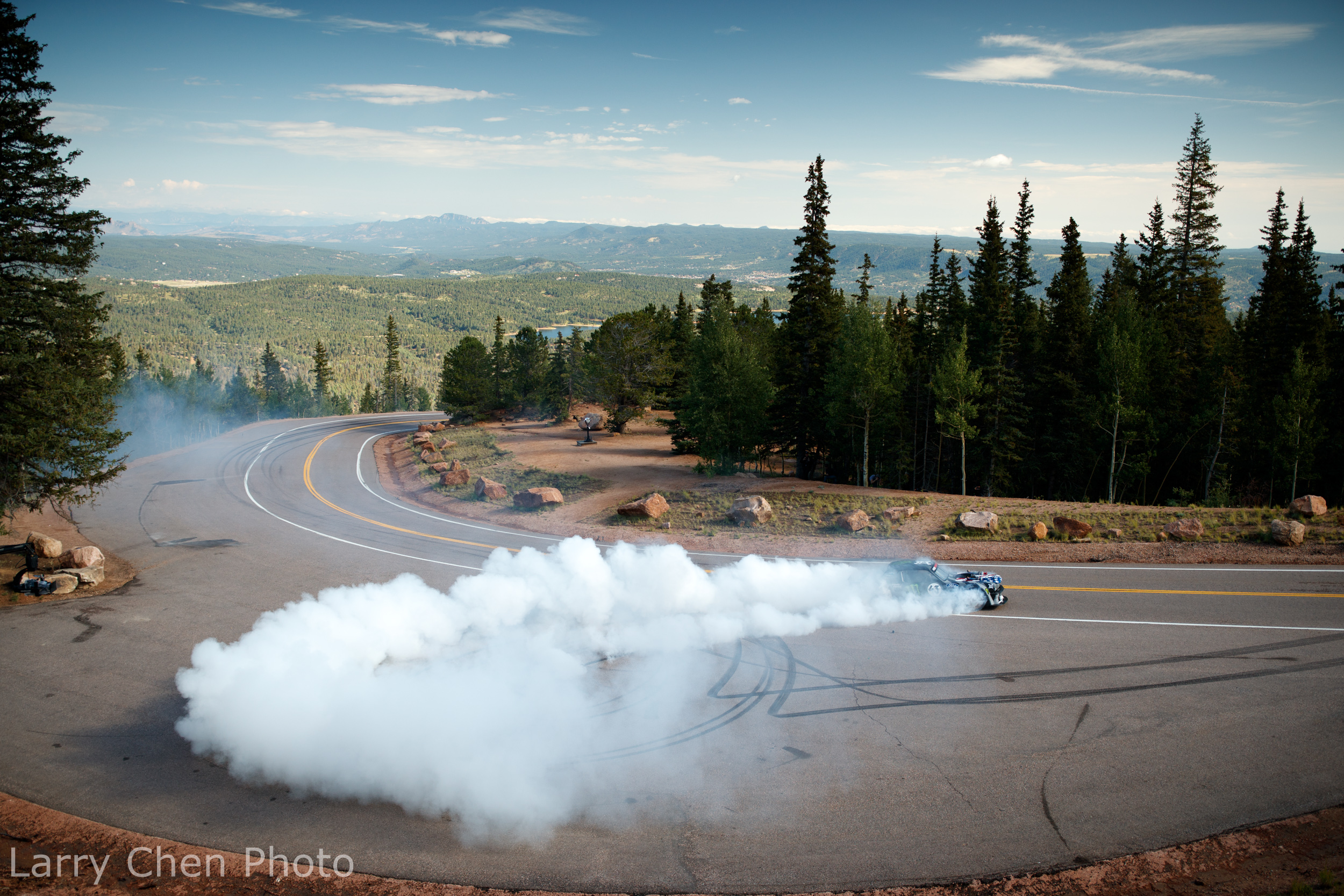 The traditional line is not always the most fun. My favorite thing about the Hoonicorn V2 is that it looks like uncontrolled chaos when Ken goes full throttle. That's to be expected with so much horsepower on tap, but so too are breakages. The clutch expired very early on during filming.
The secret techniques of Ken Block's Instagram feed is out!
I felt terrible for the mechanics as every time they had to swap the motor they'd be staying up all night.
If you drive up Pikes Peak Highway as a tourist, you're likely to be stopped at the halfway point on the way back down so your vehicle's brake temperatures can be checked. If they're too hot, in which case you could suffer brake fade which could have catastrophic consequences, you're held at the checkpoint until your brakes have cooled down.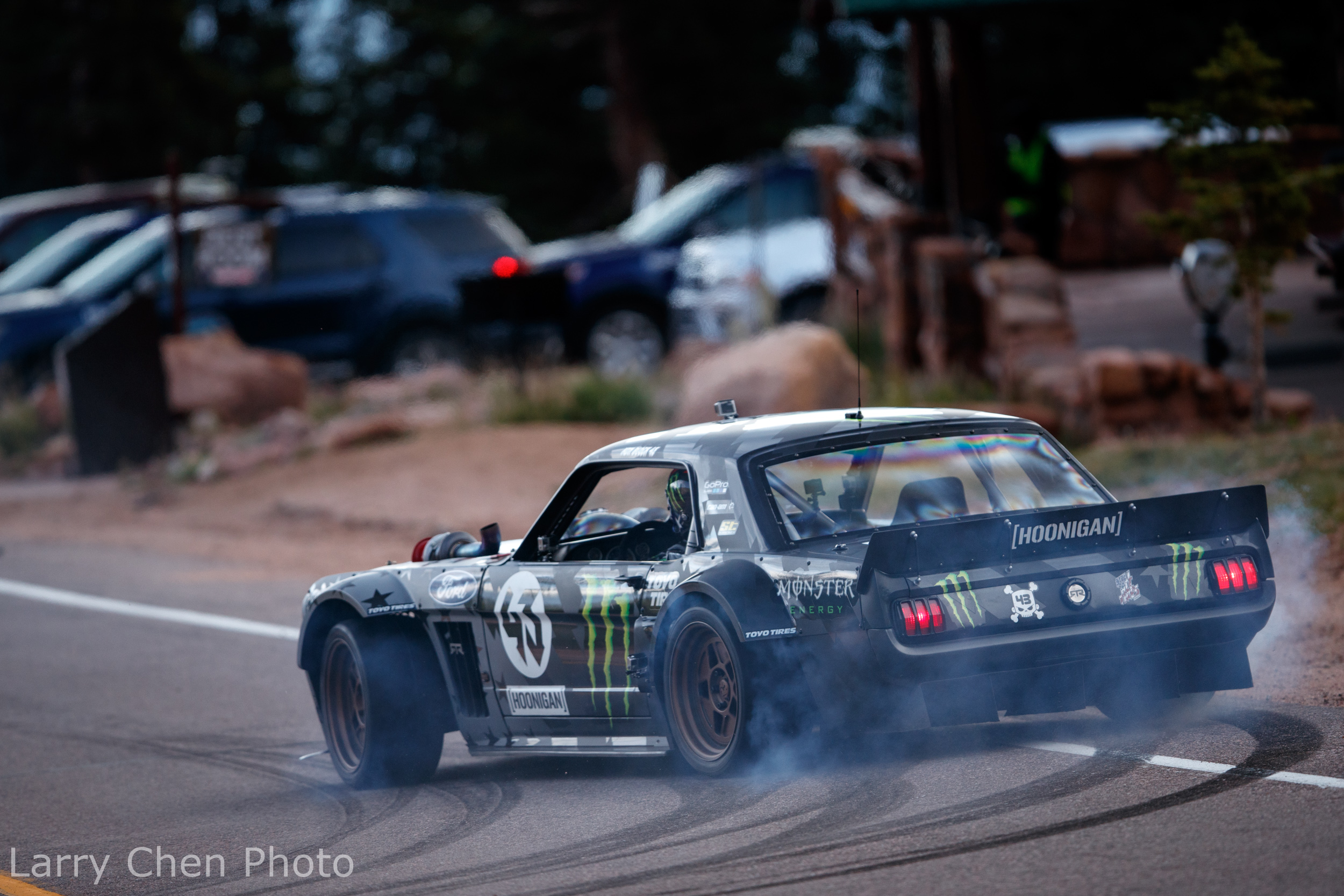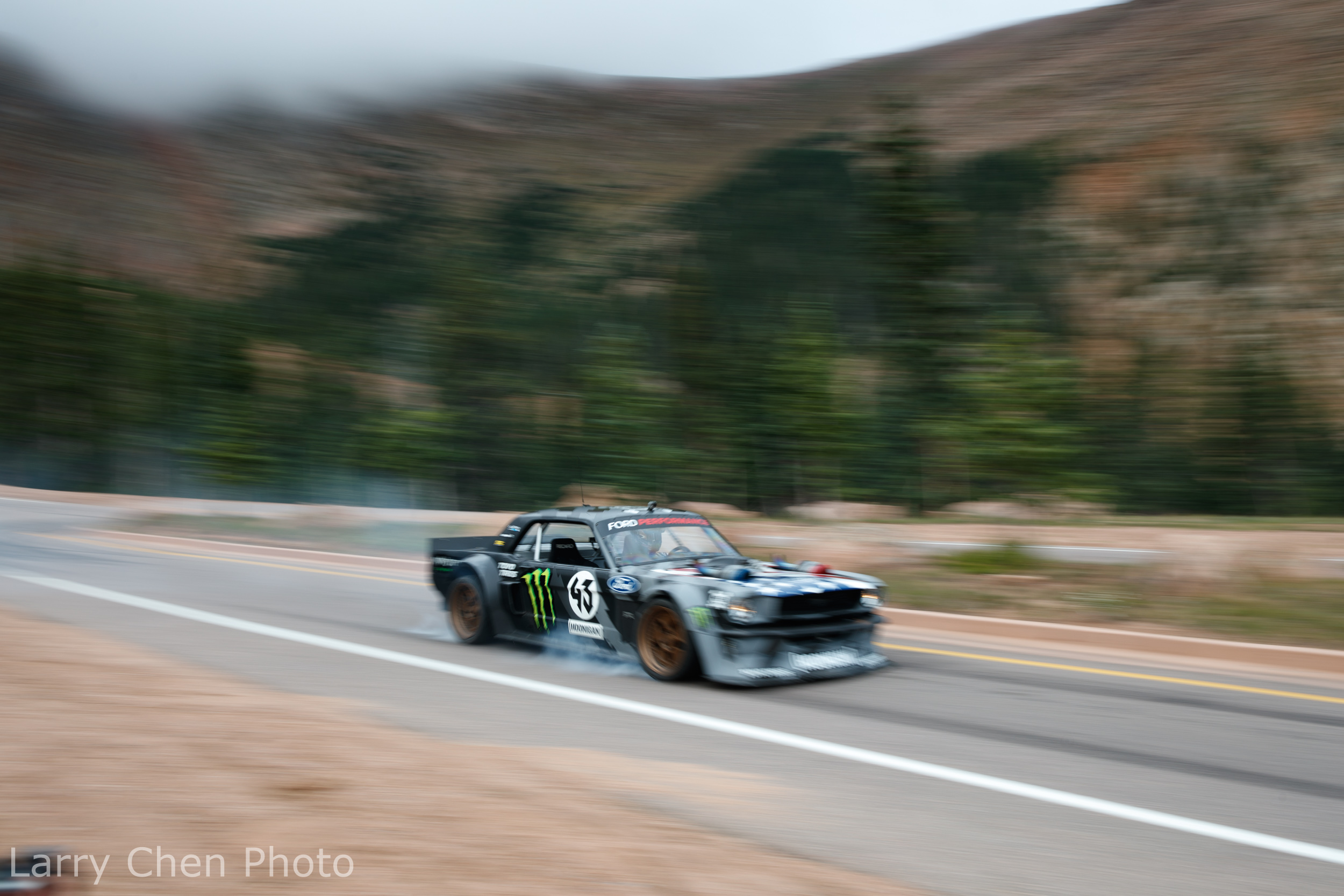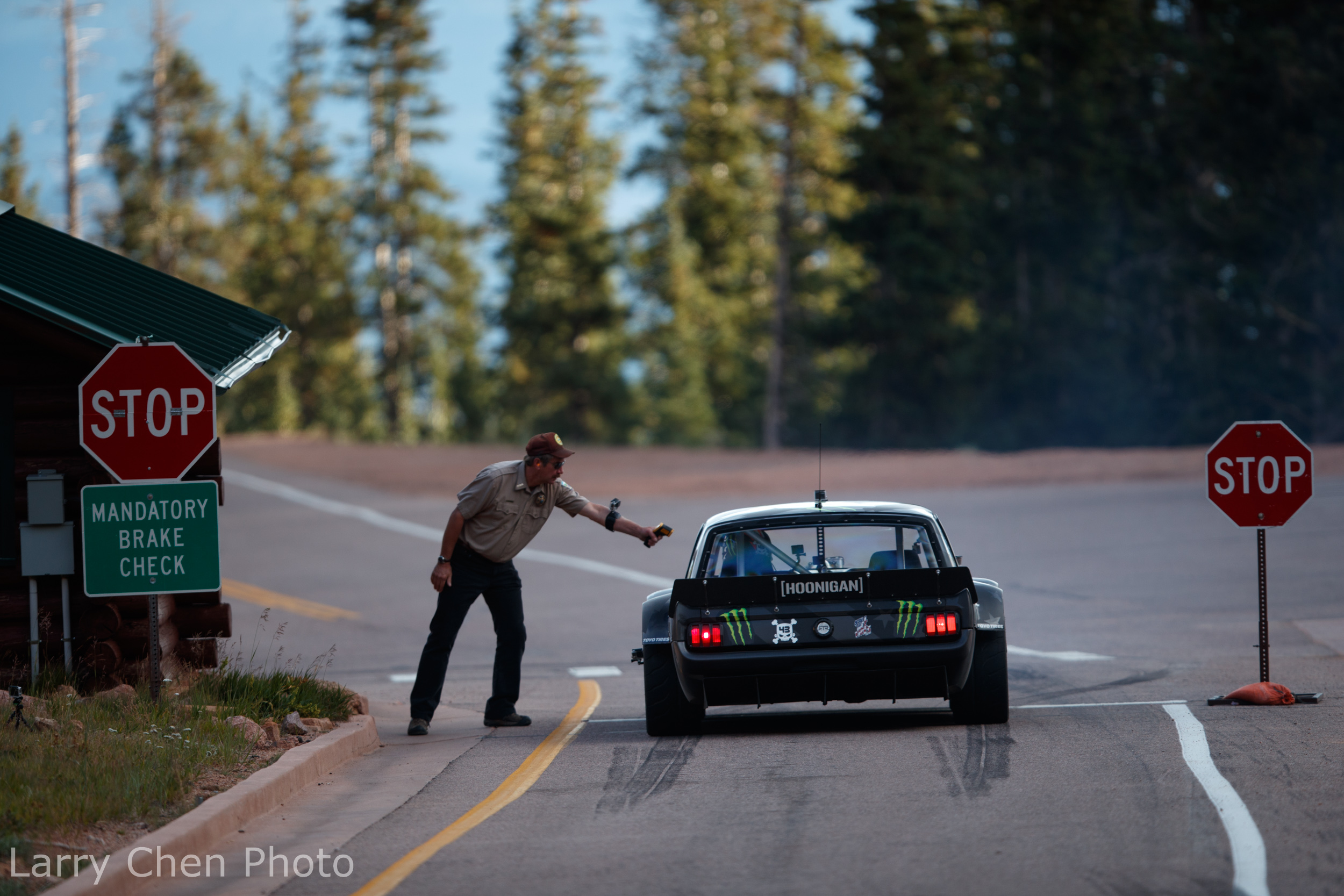 I just love that they made it into a gag while going uphill.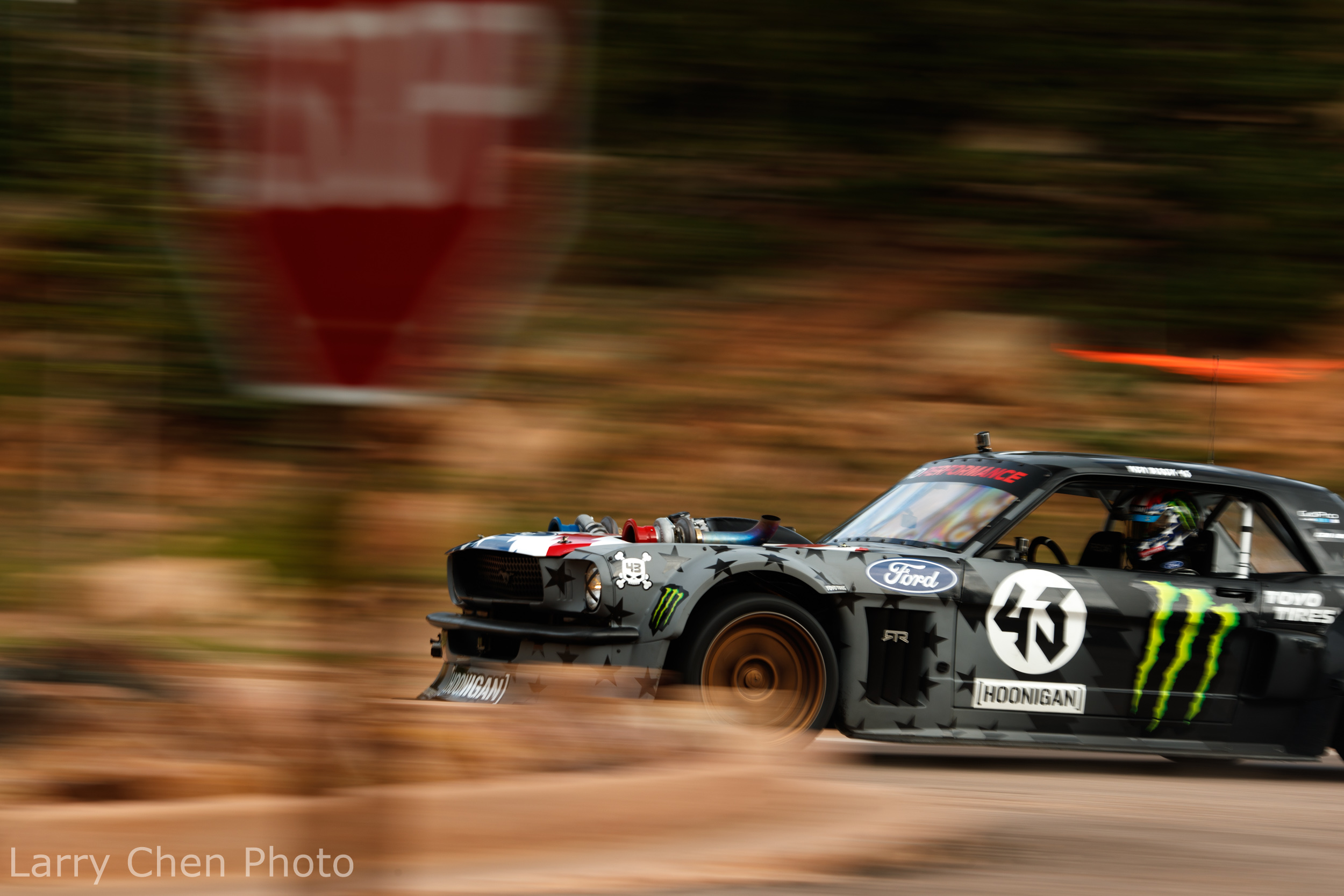 From the outside, it's mind-blowing to watch the Hoonicorn accelerate. It very quickly ran out of gears even on the mountain's shortest straights.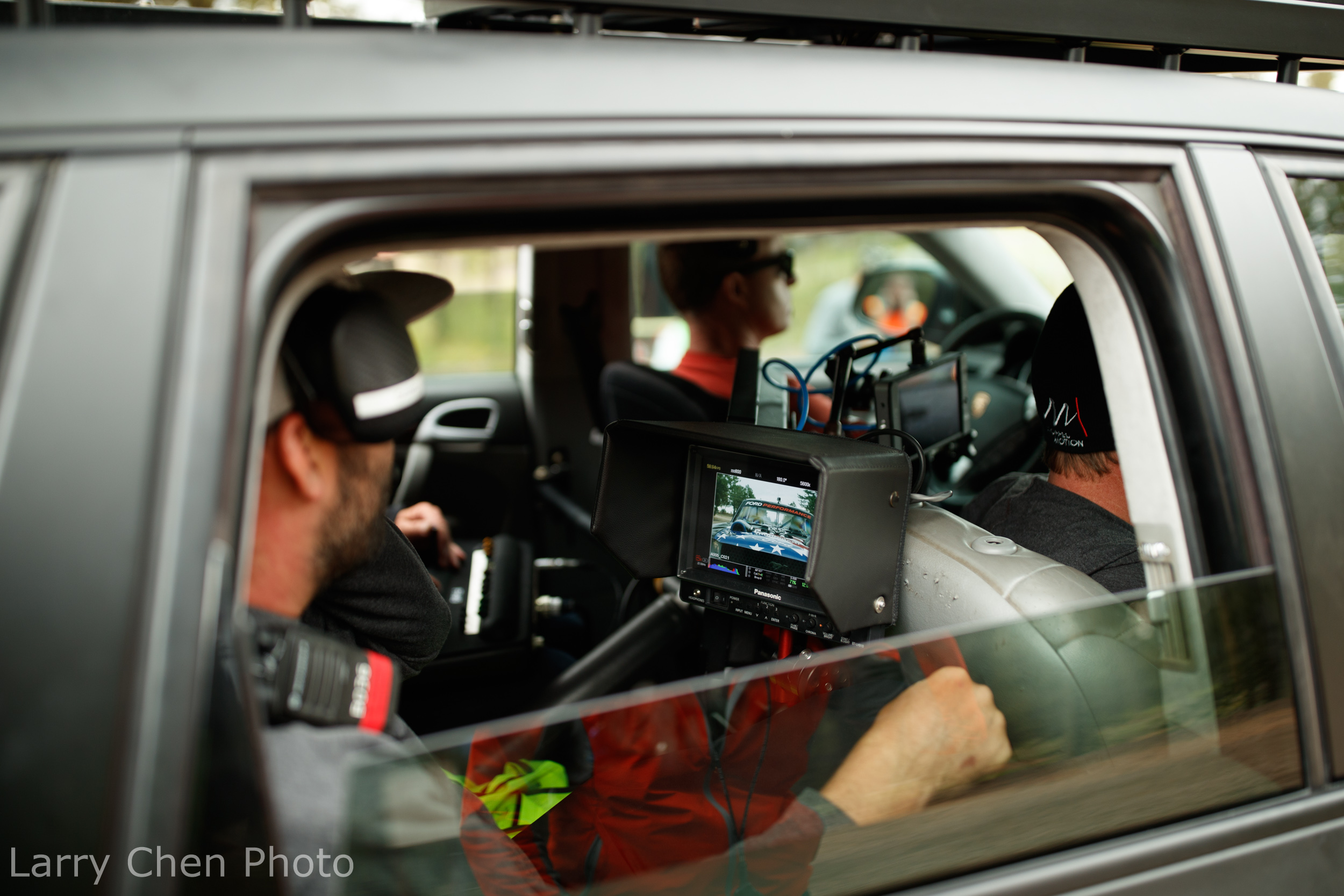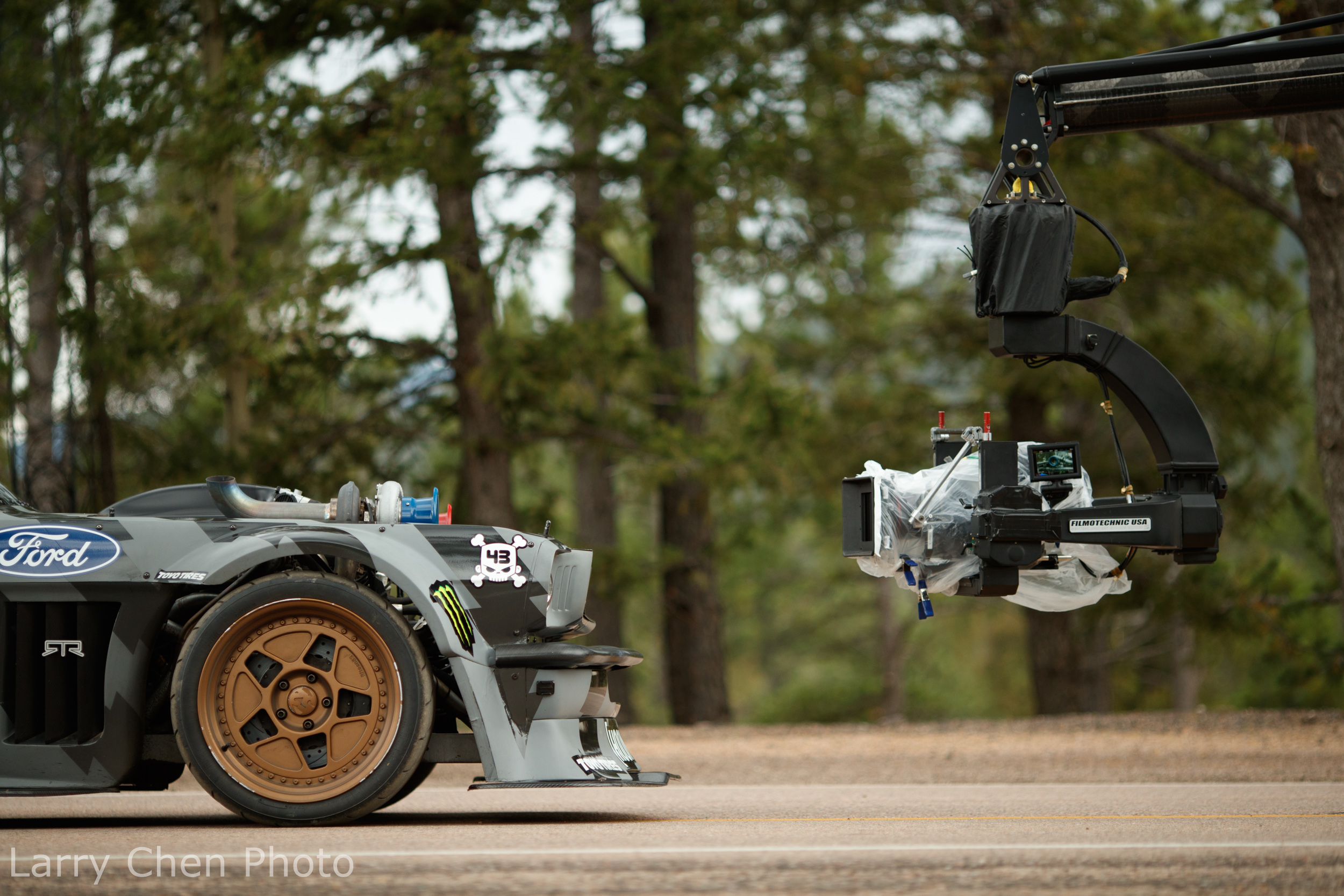 Our old buddy Will Roegge thought it would be a good idea to quit his day job as a filmmaker and check brake temps at Pikes Peak under the new guise of "Martin".
One of the things that you can do while waiting for your brakes to cool down is pay a visit the gift shop. What an interesting selection of fun souvenirs to remember your trip to Pikes Peak.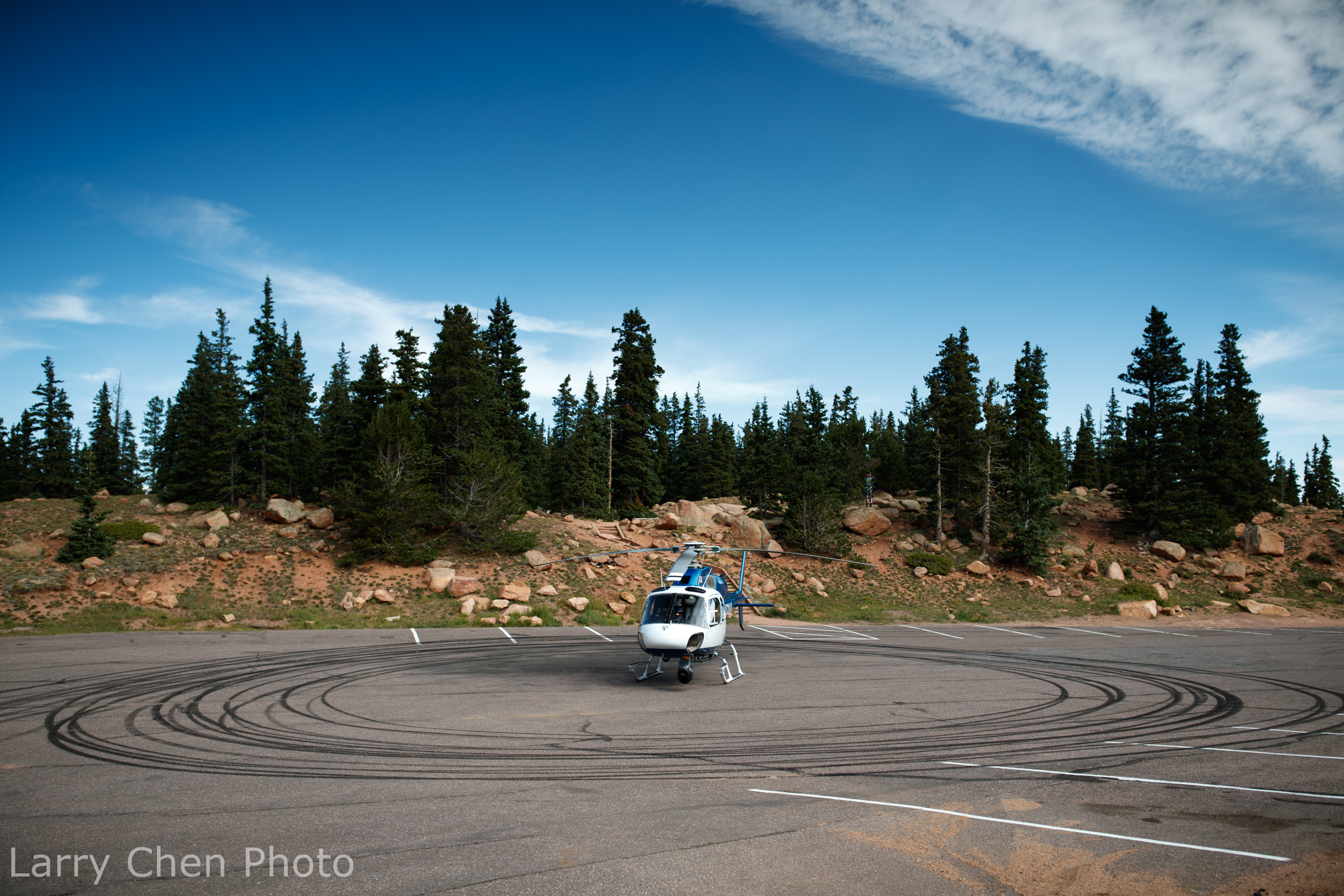 For the next shot, Ken attempted to slide a third of the way up the mountain in one single take.
Unfortunately, it was during this sequence that oil decided to escape the motor again. Since there were no more spares, there was little choice but to call things quits – for this trip to Pikes Peak, anyways.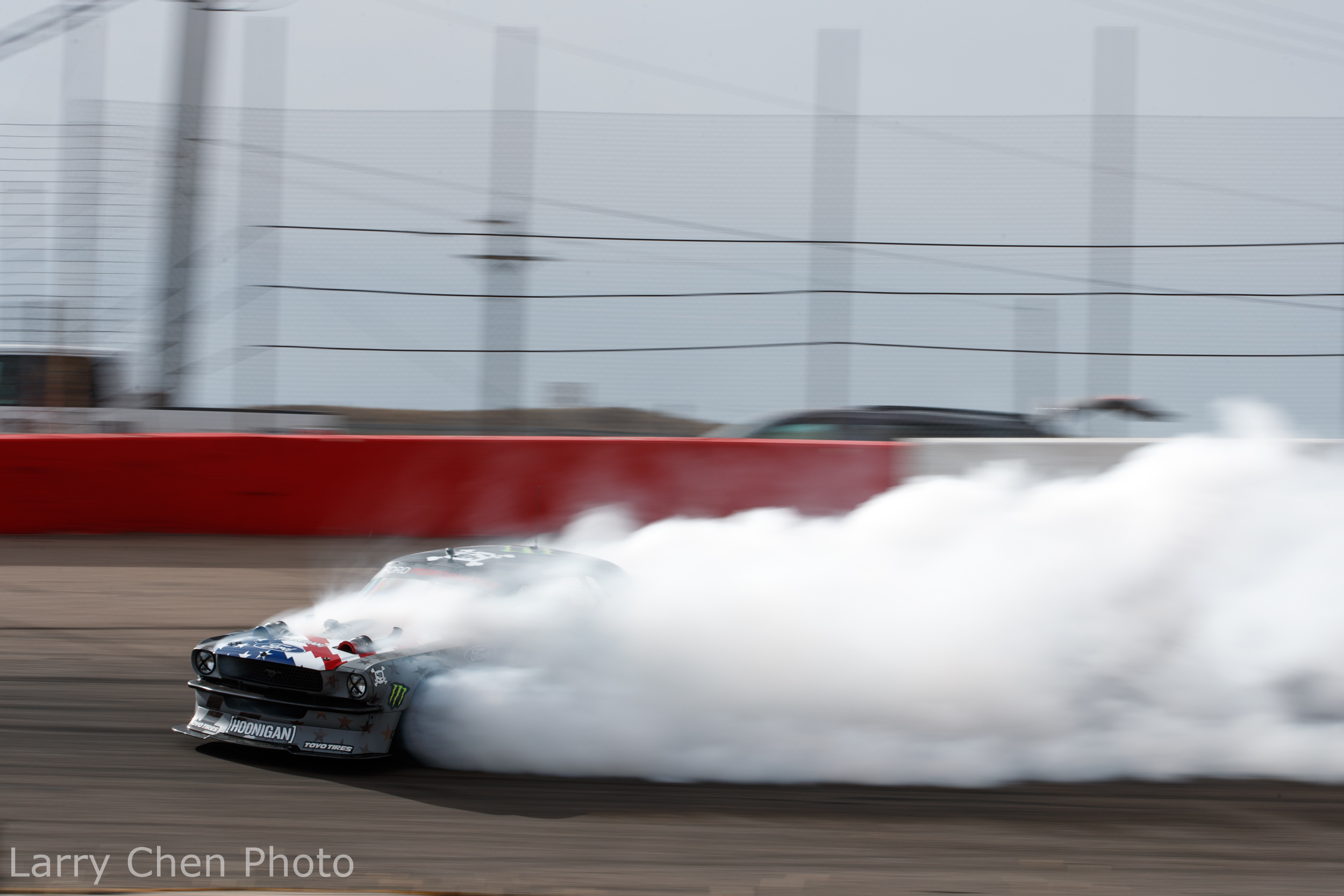 A few weeks later, the crew was back in Colorado for a second attempt at finishing the film. In the days between, the Hoonigan Racing Division mechanics had figured out what the problem was and made a few alterations, but prior to heading back up the mountain they wanted to do some testing.
Spitting flames and creating massive amounts of tire smoke, the Mustang was looking on form.
After a few sessions of relentlessly beating down on the Hoonicorn, Ken and the crew were ready to get back into it. Of course, the mountain had a different plan…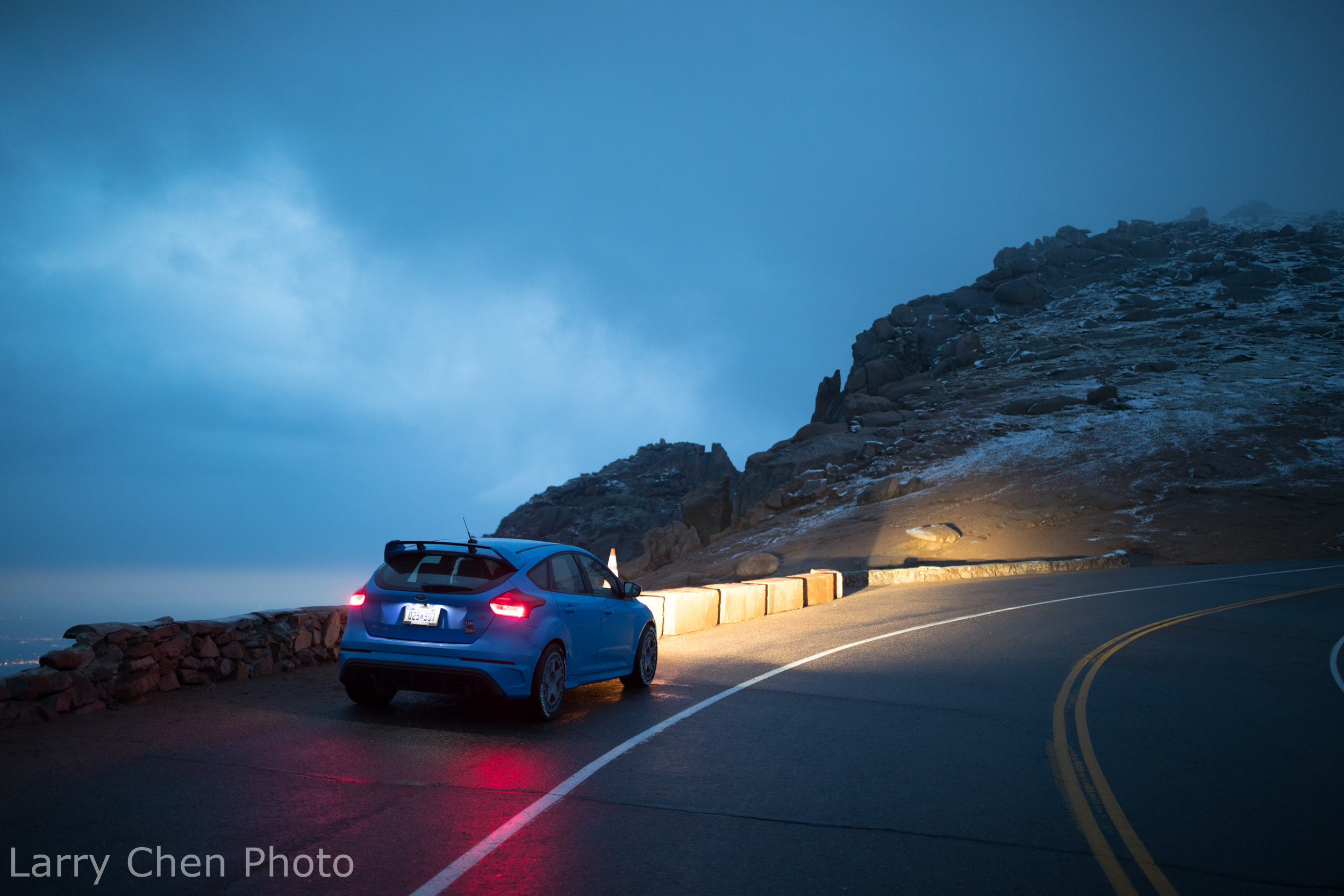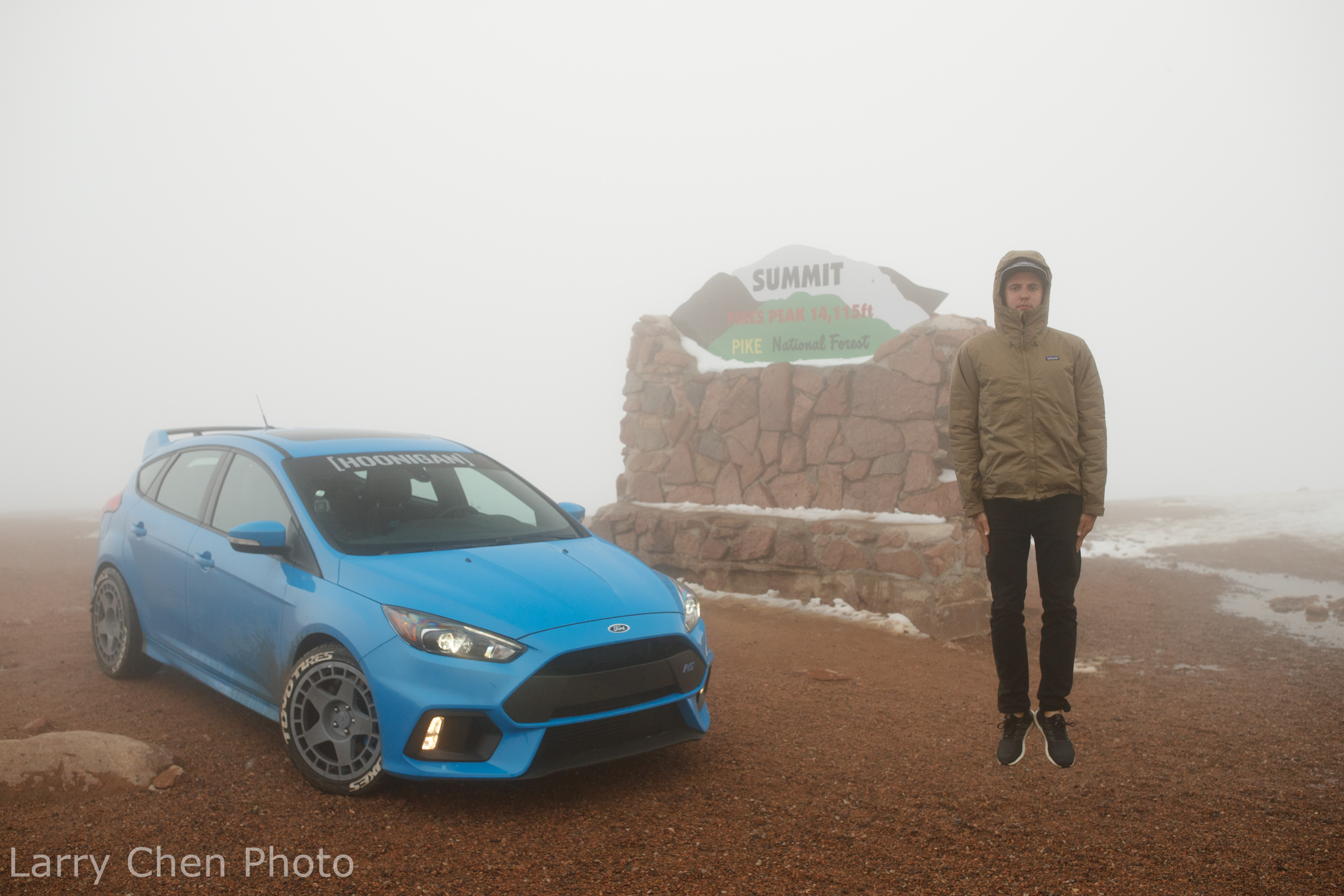 It was August, and it snowed like it was winter. When Hoonigan Racing Division's Ron Zaras and I took Ken's Focus RS for some recon/donut missions, the visibility was terrible and a third of the mountain was covered in fresh snow. The day before it had been sunny and clear.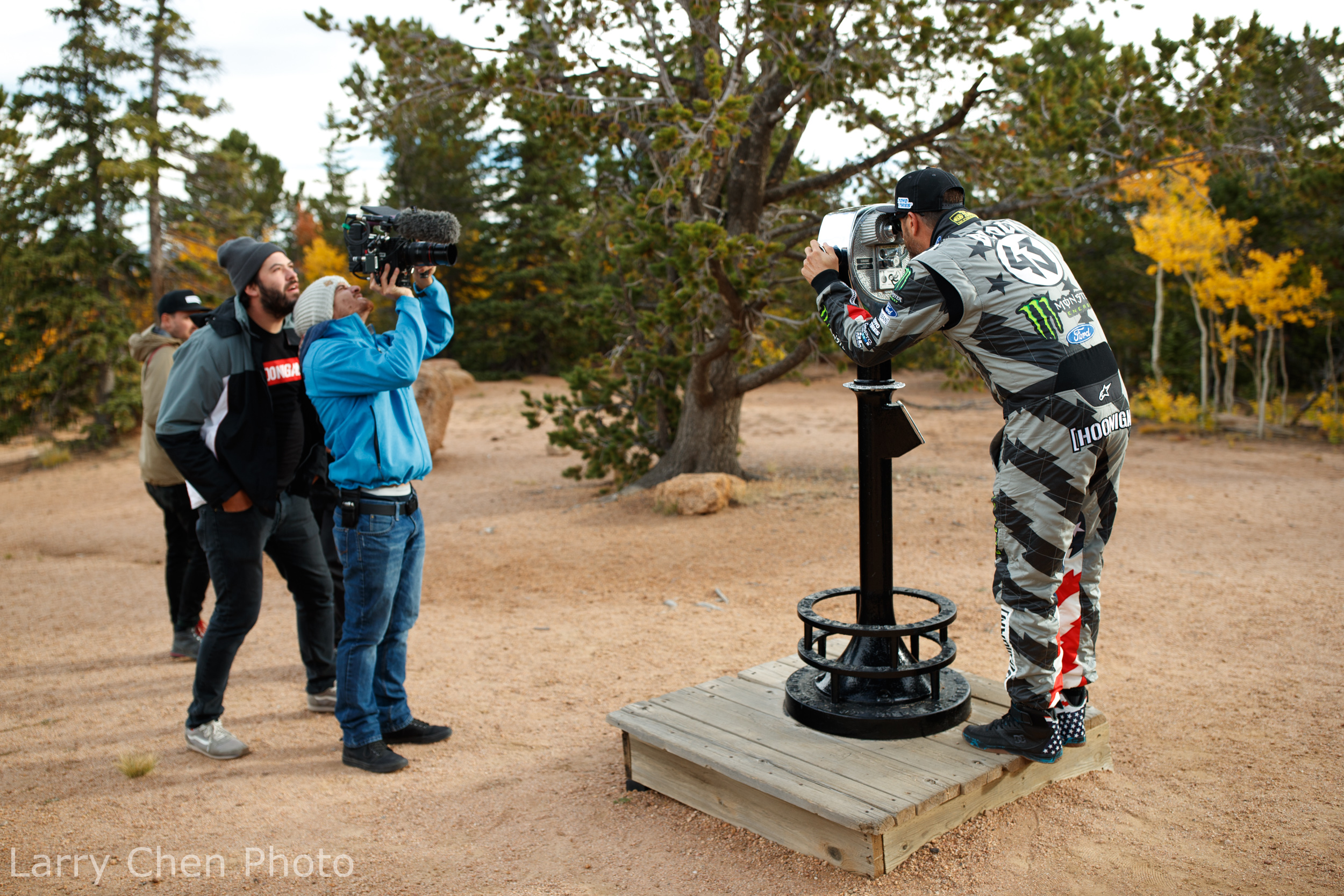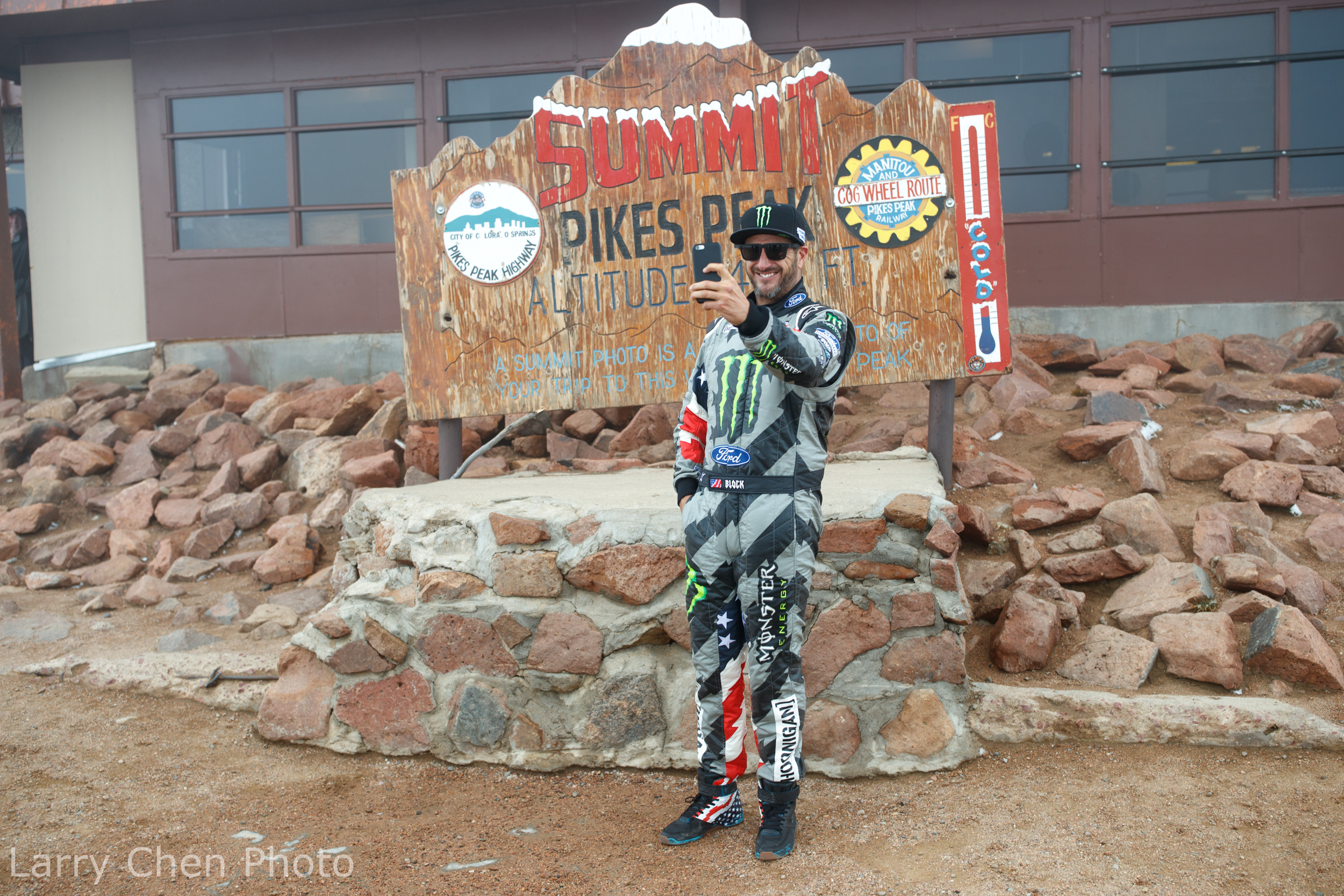 We waited it out for a few days while Ken did what he does best…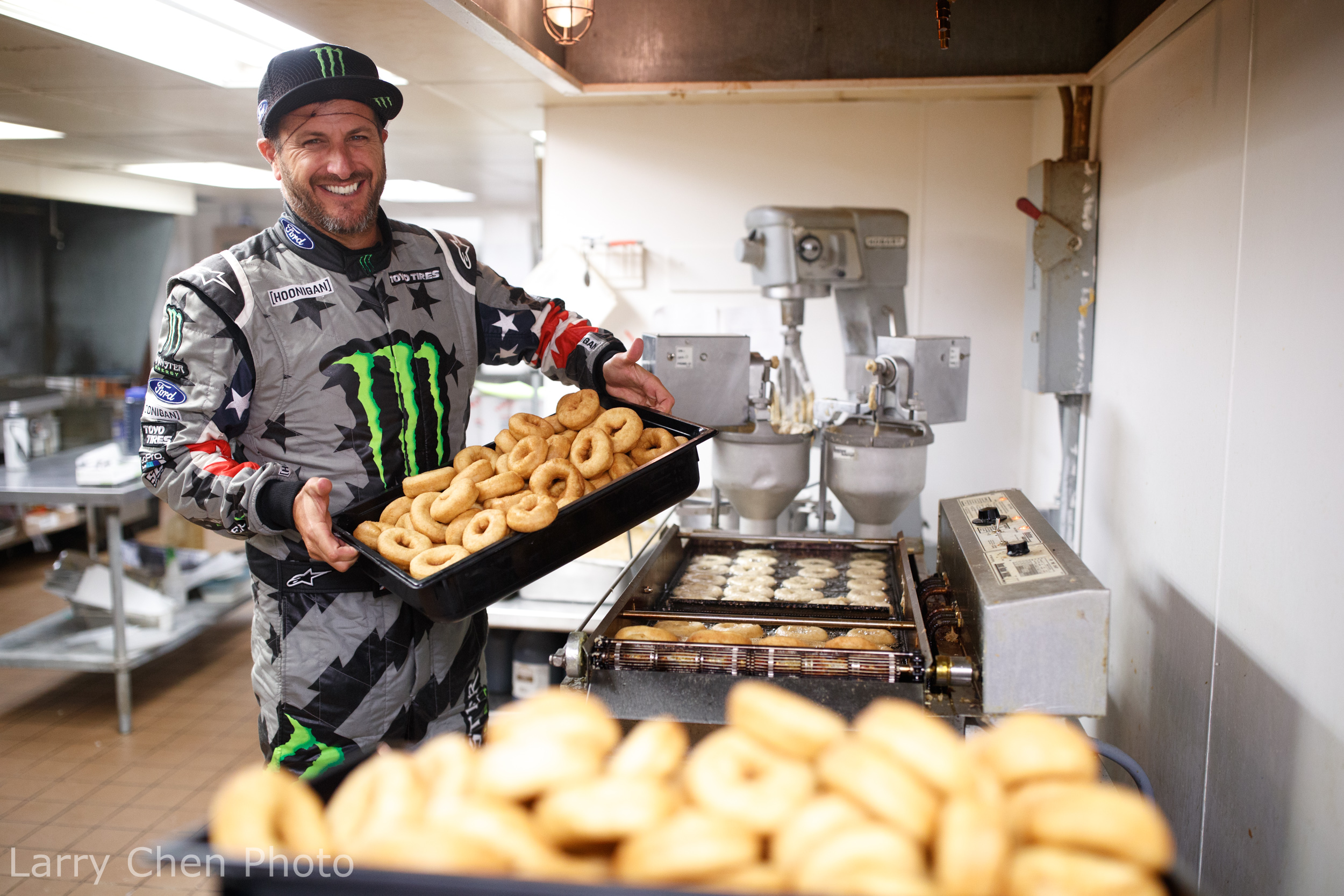 It's no secret that he loves making massive amounts of donuts.
The novelty of these sort of donuts wore off quickly though; Ken was itching to get back into the driver's seat again.
Luckily for everyone, Mother Nature decided to cooperate. It was only a small window of opportunity, but it wasn't going to be left to waste.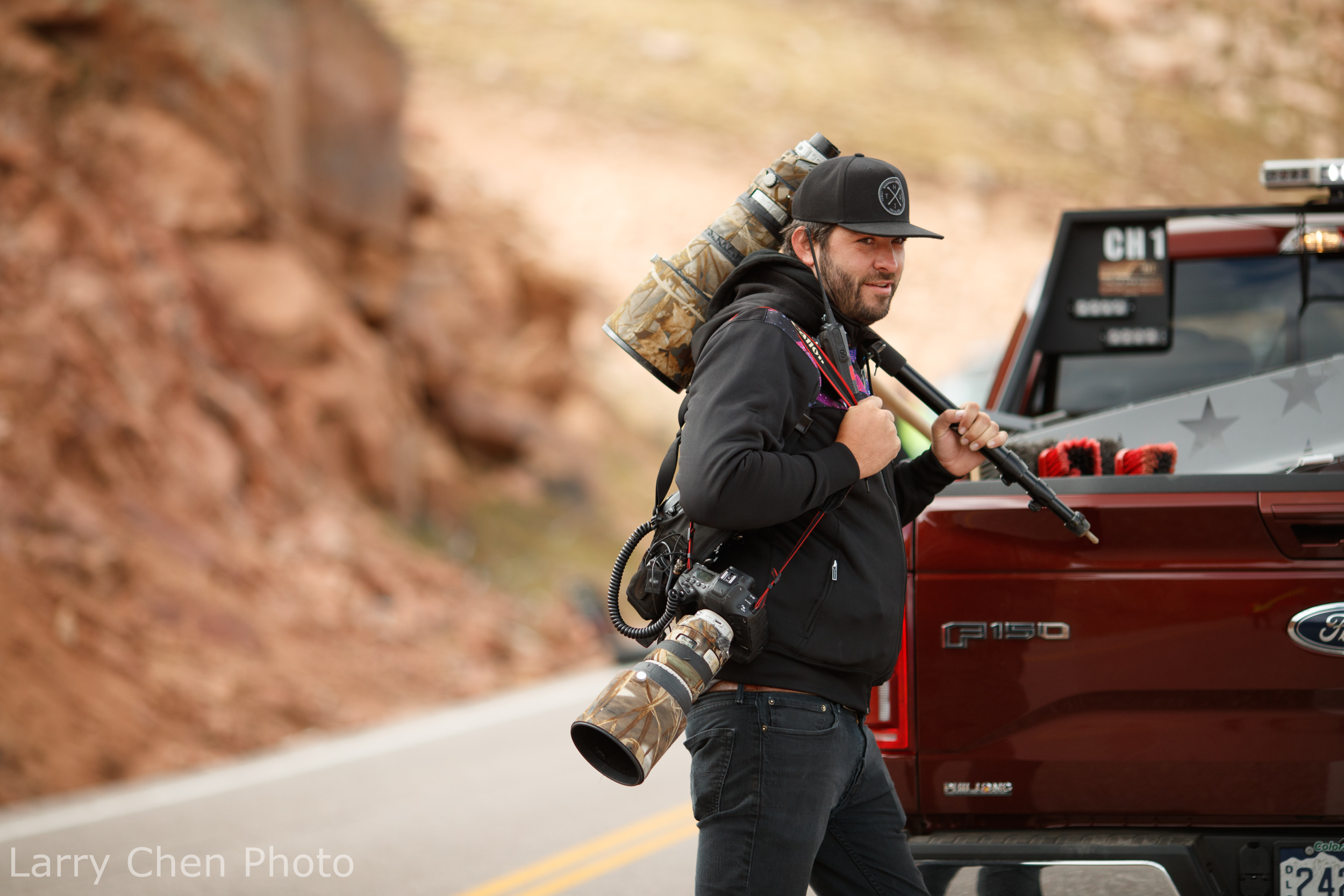 Brian didn't trust me with photo duties so he took my cameras as well as my job for the rest of the shoot.
Picking up where the shoot had left off, Ken was to drive a third of the mountain well above the tree line, in a single run.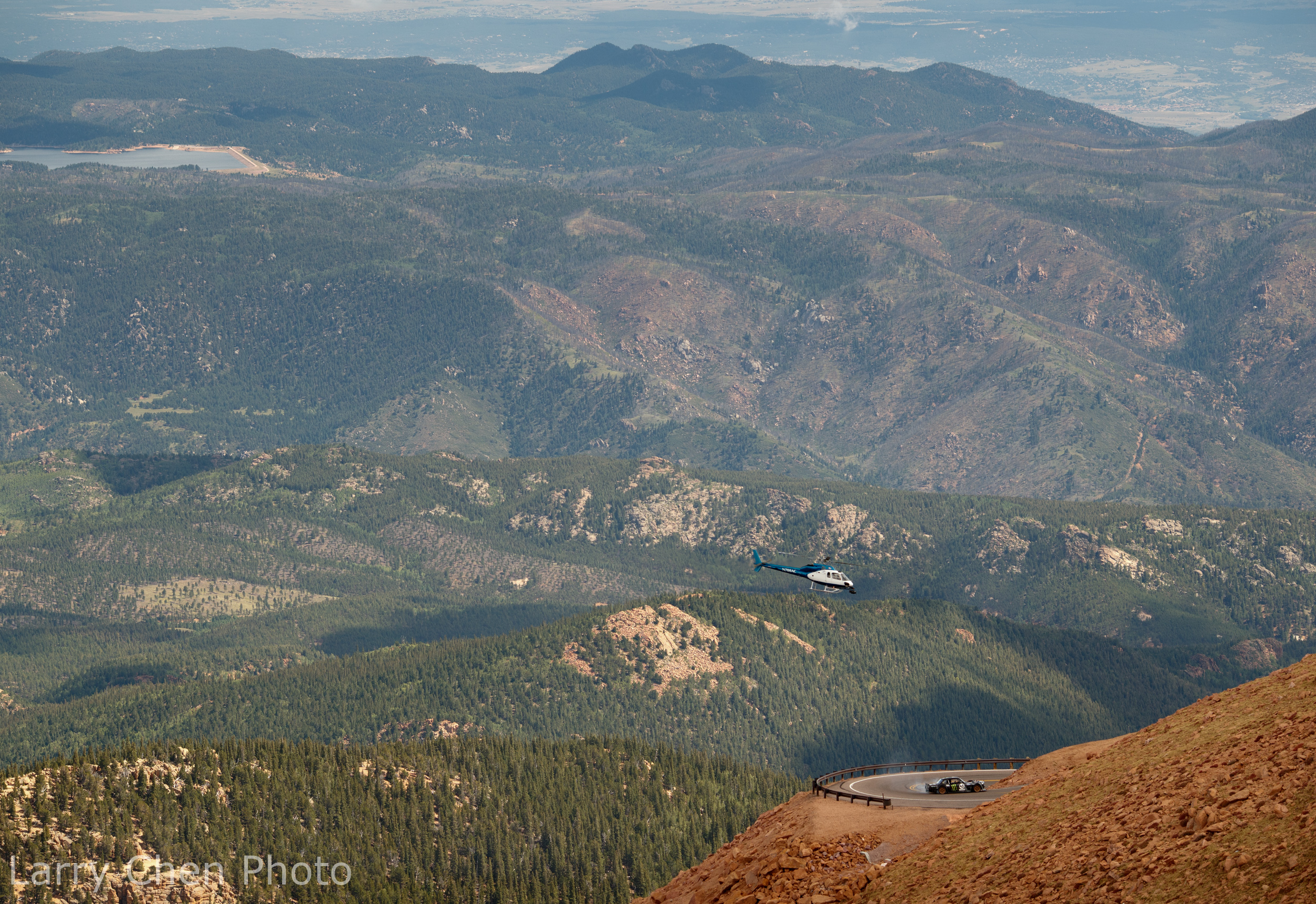 It was such an epic scene and the helicopter was on hand to film it all.
At this point the finish line was in sight; there were only a few more shots, including the intro and ending, needed.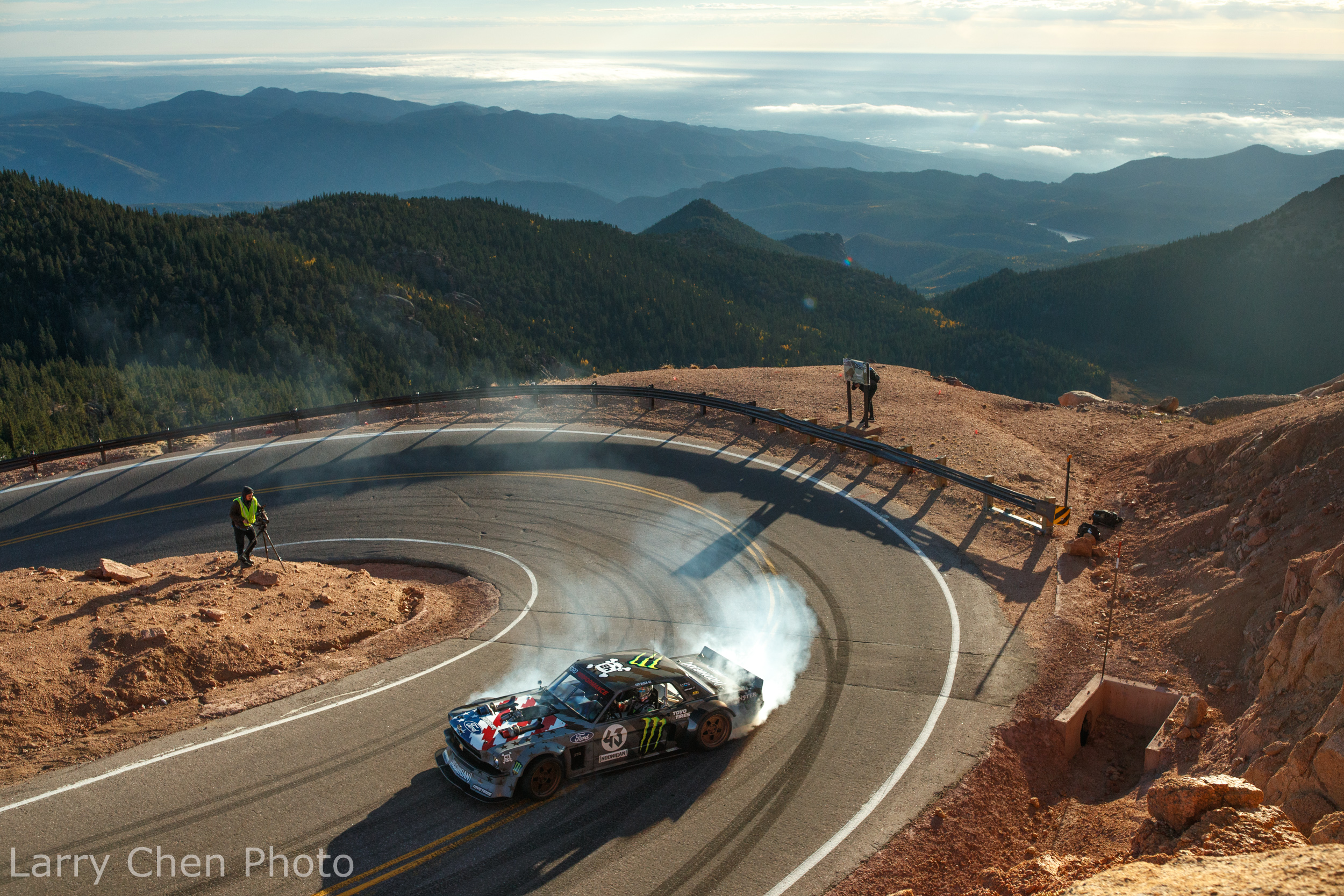 As Ken passed me by at full noise the car was bathed in soft morning light and you could clearly see the city of Colorado Springs in the background. It was just perfect.
For the next shot the camera car was standing by and ready for action.
I stood at one of my favorite shooting locations on Pikes Peak, which is the last corner before the top section of the mountain. Above is a panorama of this epic drift that I stitched together.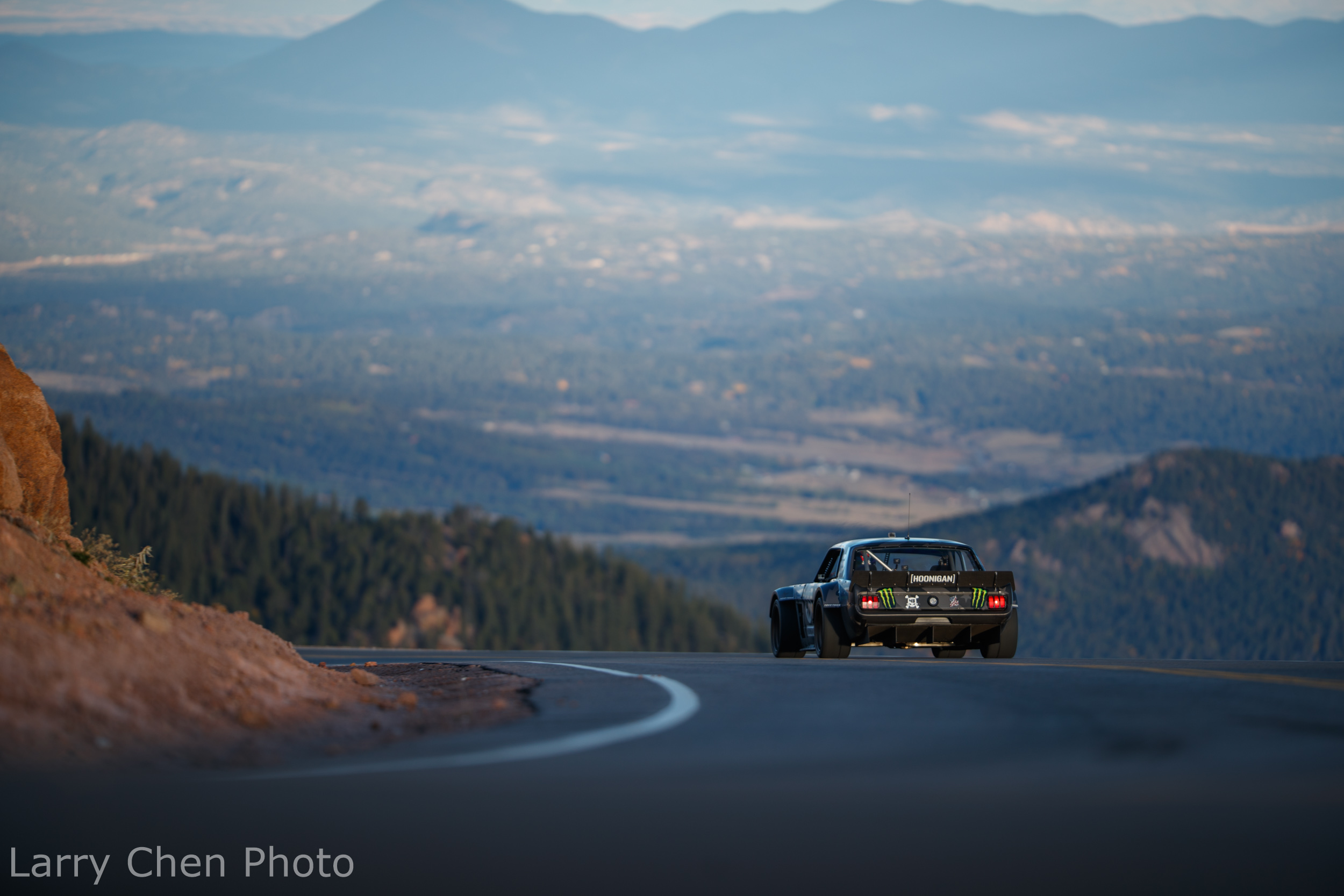 Climbkhana was so close to being a called a wrap when the Hoonicorn's engine failed again. It wasn't so much an issue of not being able to move on, but more of a safety issue, so once again the shoot was suspended.
This around though, the break in between shoots would be considerable; winter was just around the corner, meaning that the entire top half of the mountain would be frozen solid.
Over the course of the year, the Hoonigan Racing Division mechanics pushed very hard to sort the engine issues out for once and for all.
Greg Hamilton and crew even went as far as to rent out the highest elevation airport in North America, just to test out the twin-turbo beast at full blast.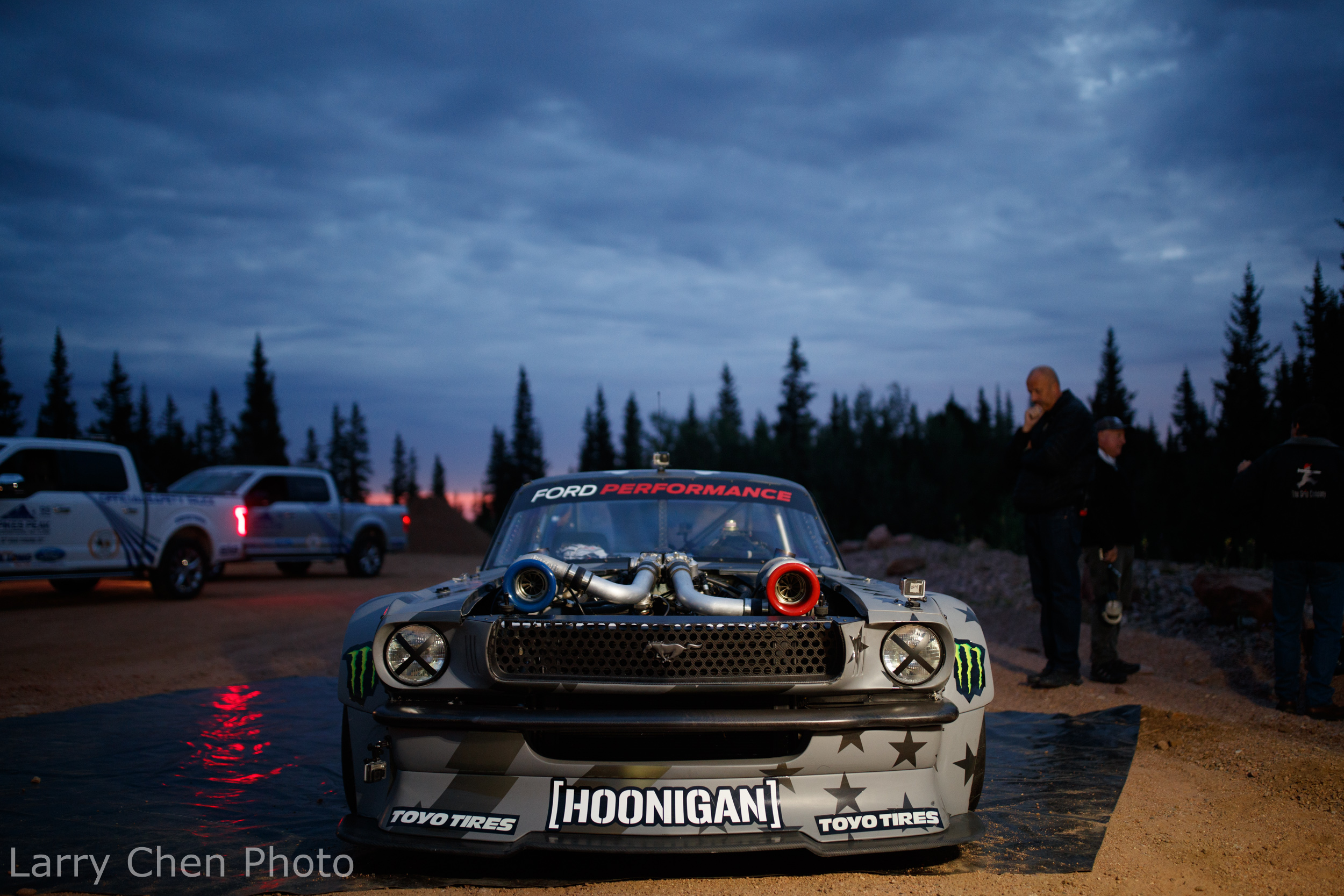 After almost a year of waiting, we were back on the mountain. This time there was no turning back; it was either do or die.
From a mechanical standpoint though, things were looking good. The car was dialed.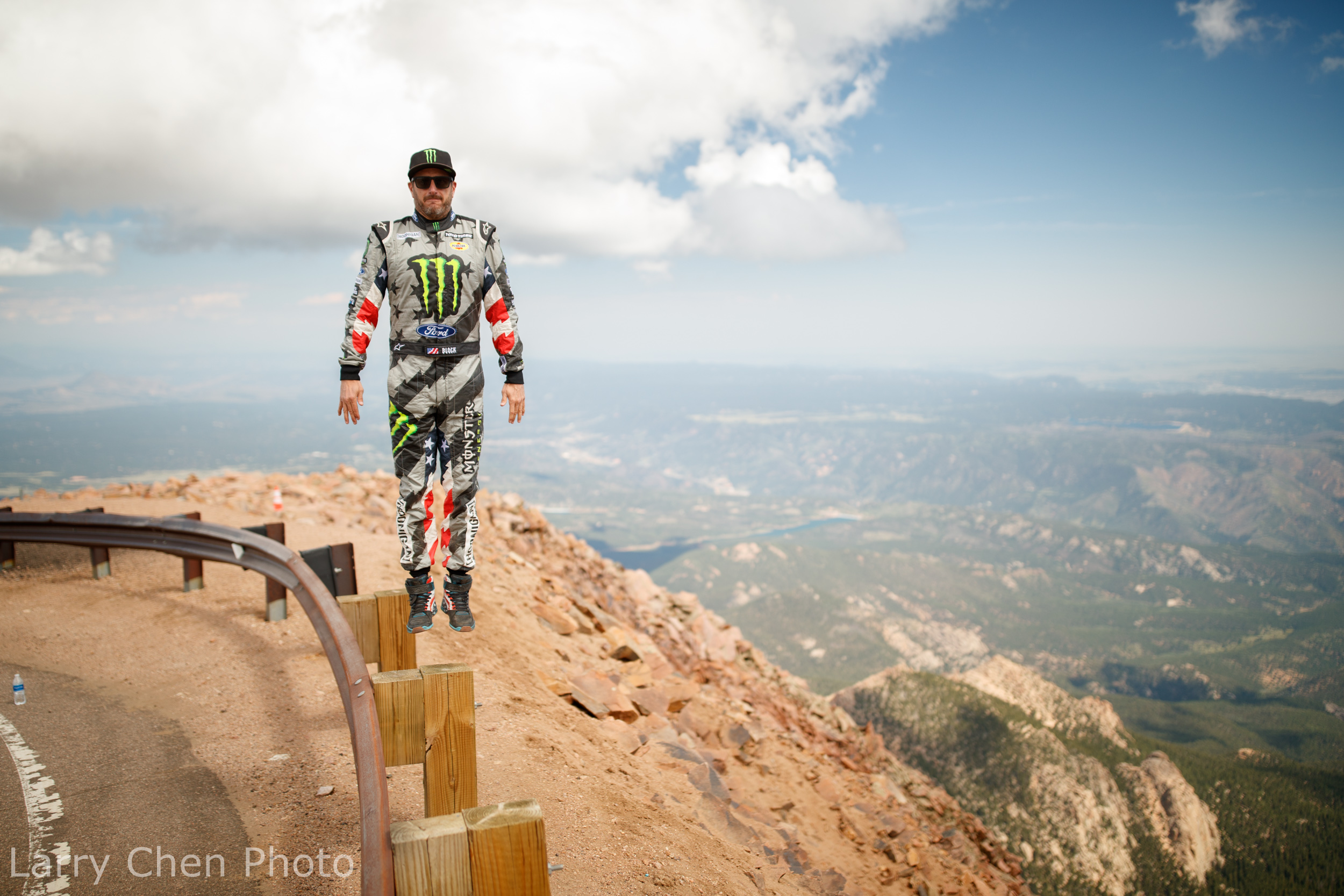 Ken was ready as well. I can only imagine how frustrating it was to have to shoot a single project three times.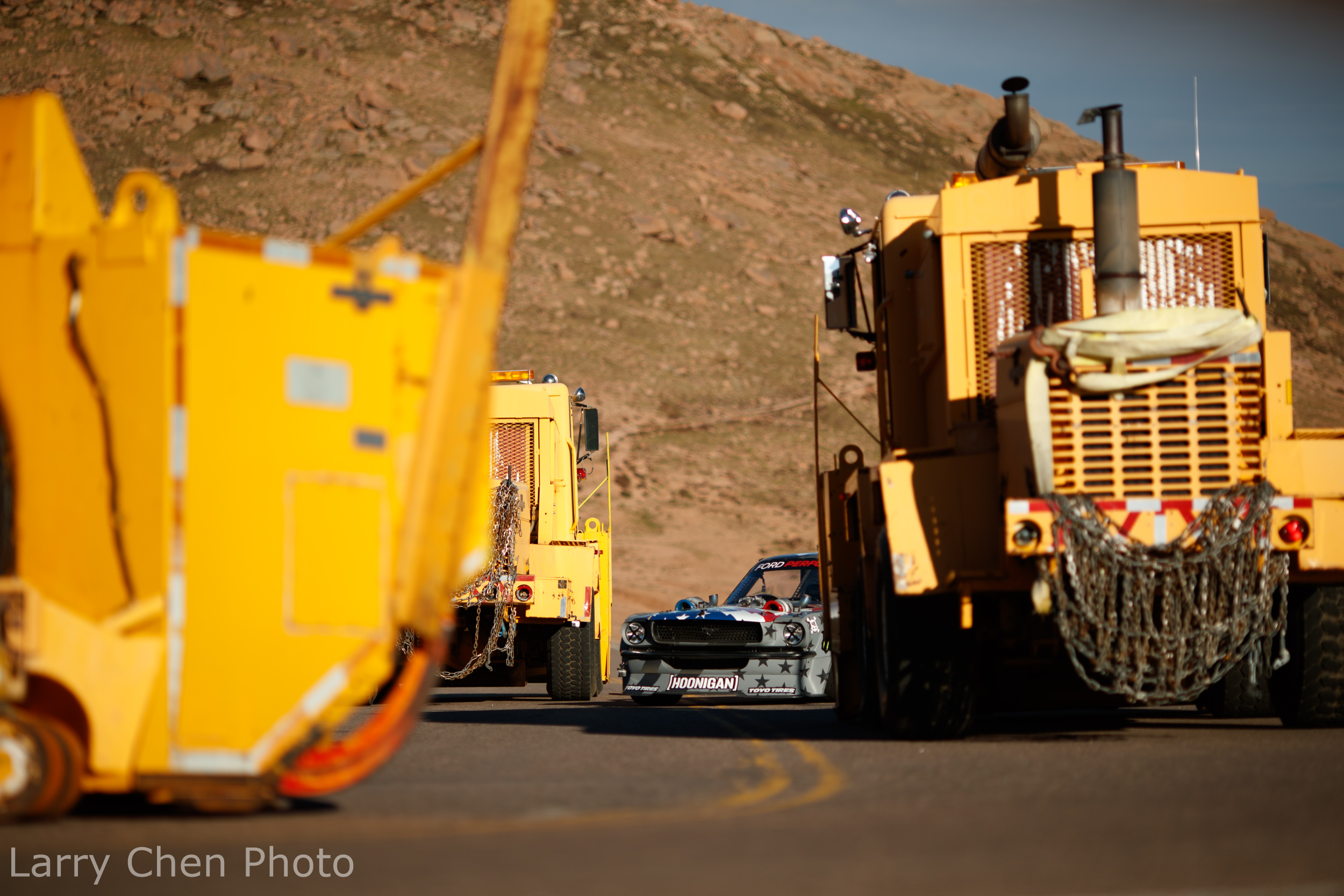 As I expected, things kicked off with some big stunts. That's Will about to jump into one of massive snow removers.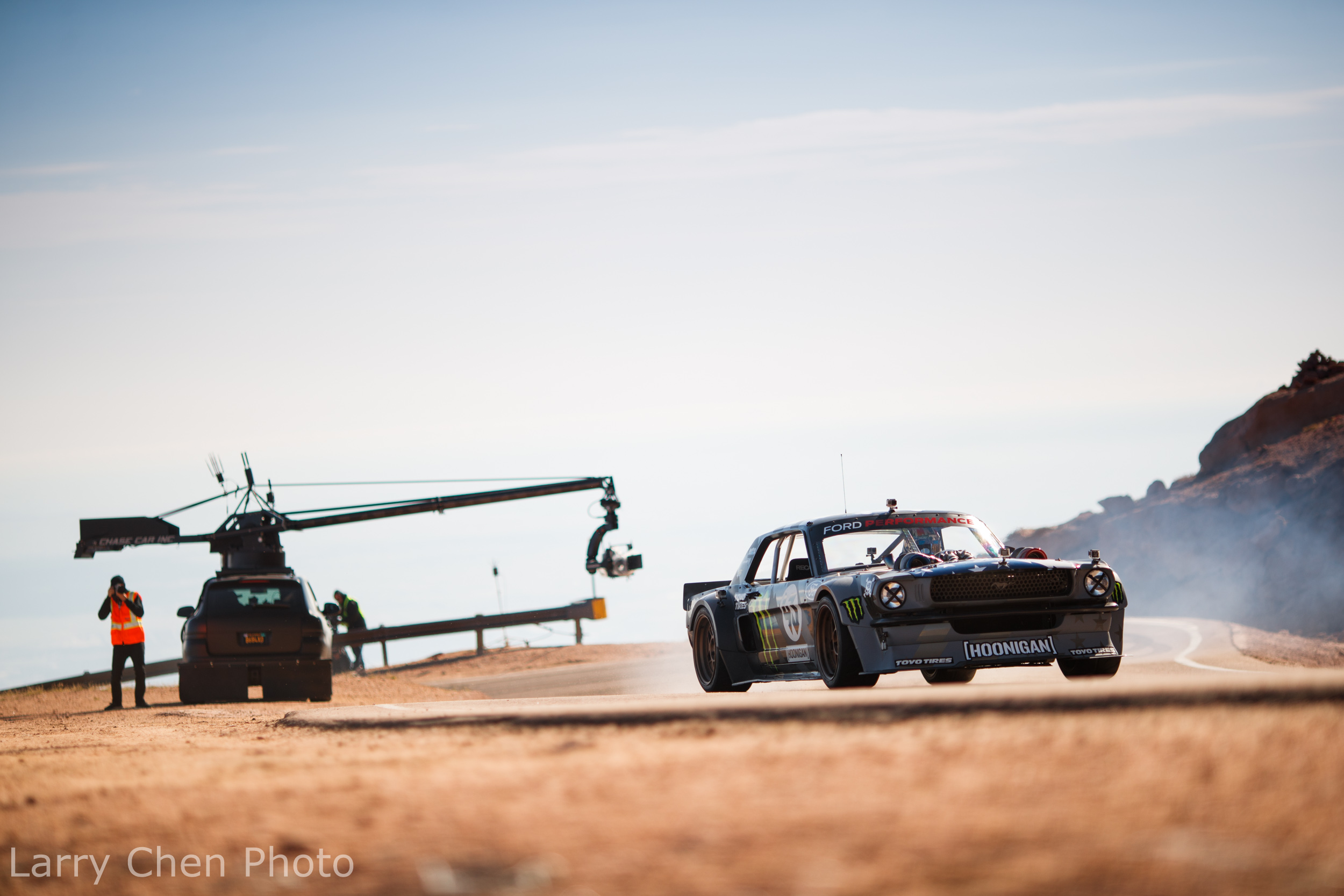 Thes best part? The Hoonicorn V2 now had anti-lag, so it sounded even crazier.
But it didn't just sound faster, it looked faster, too.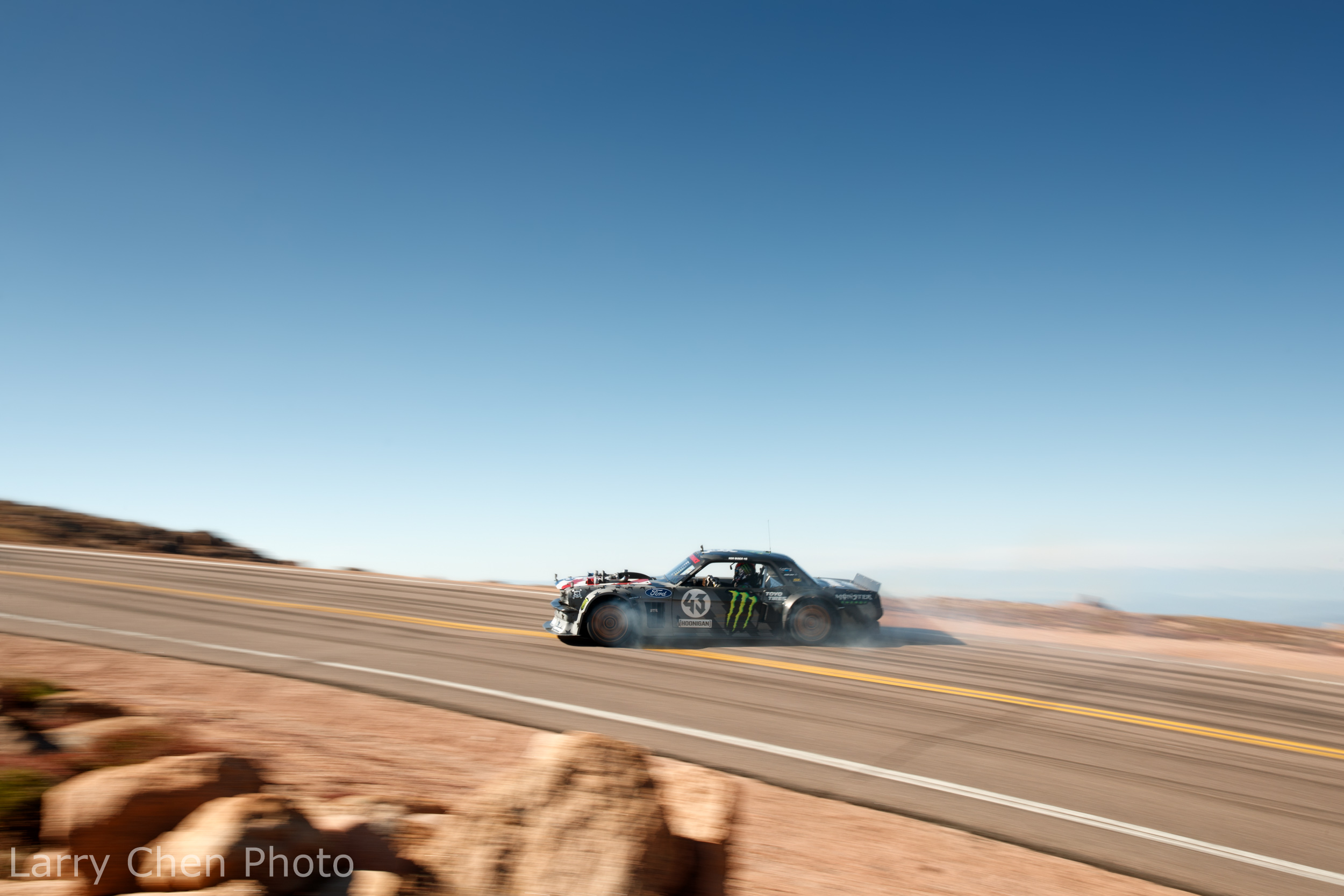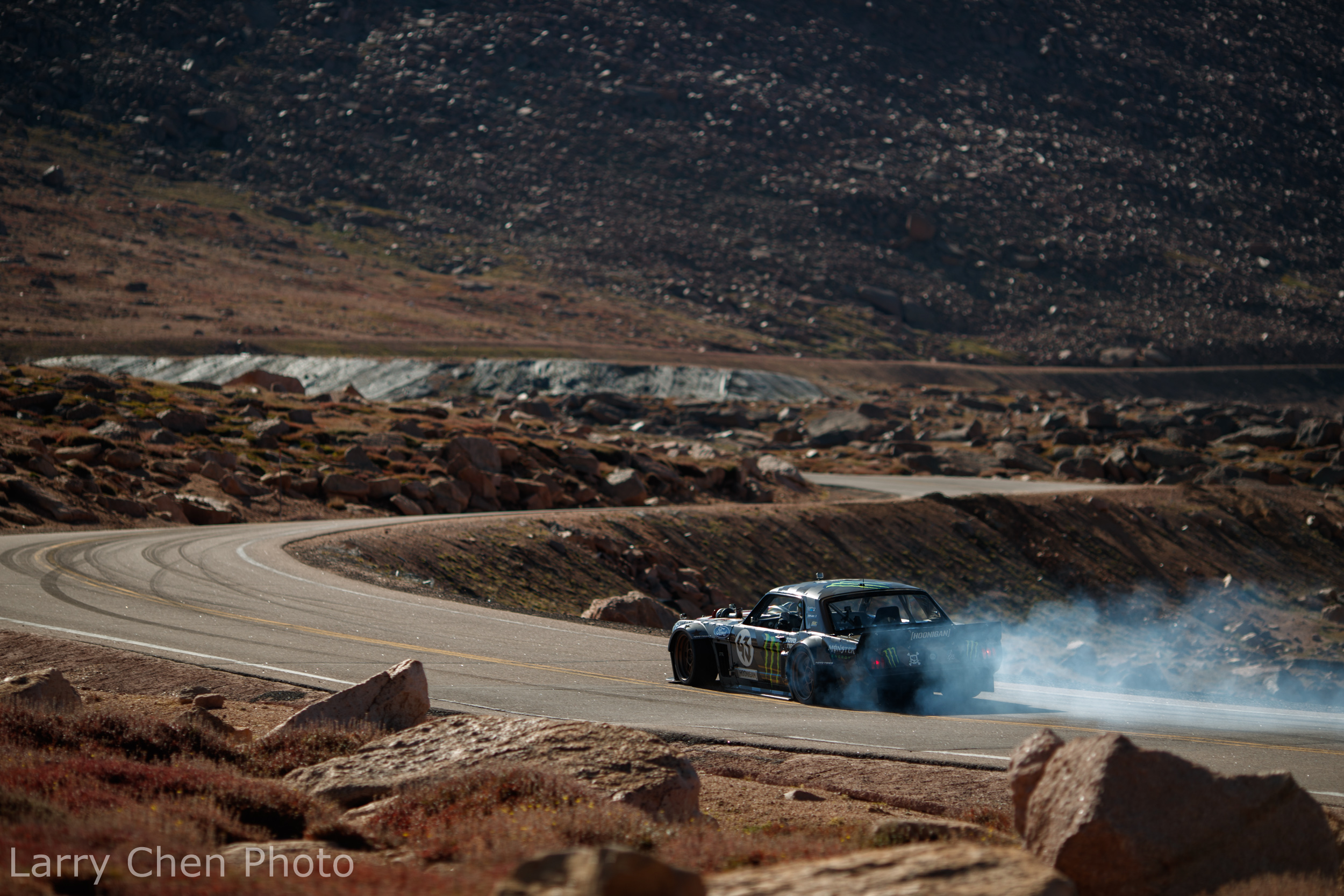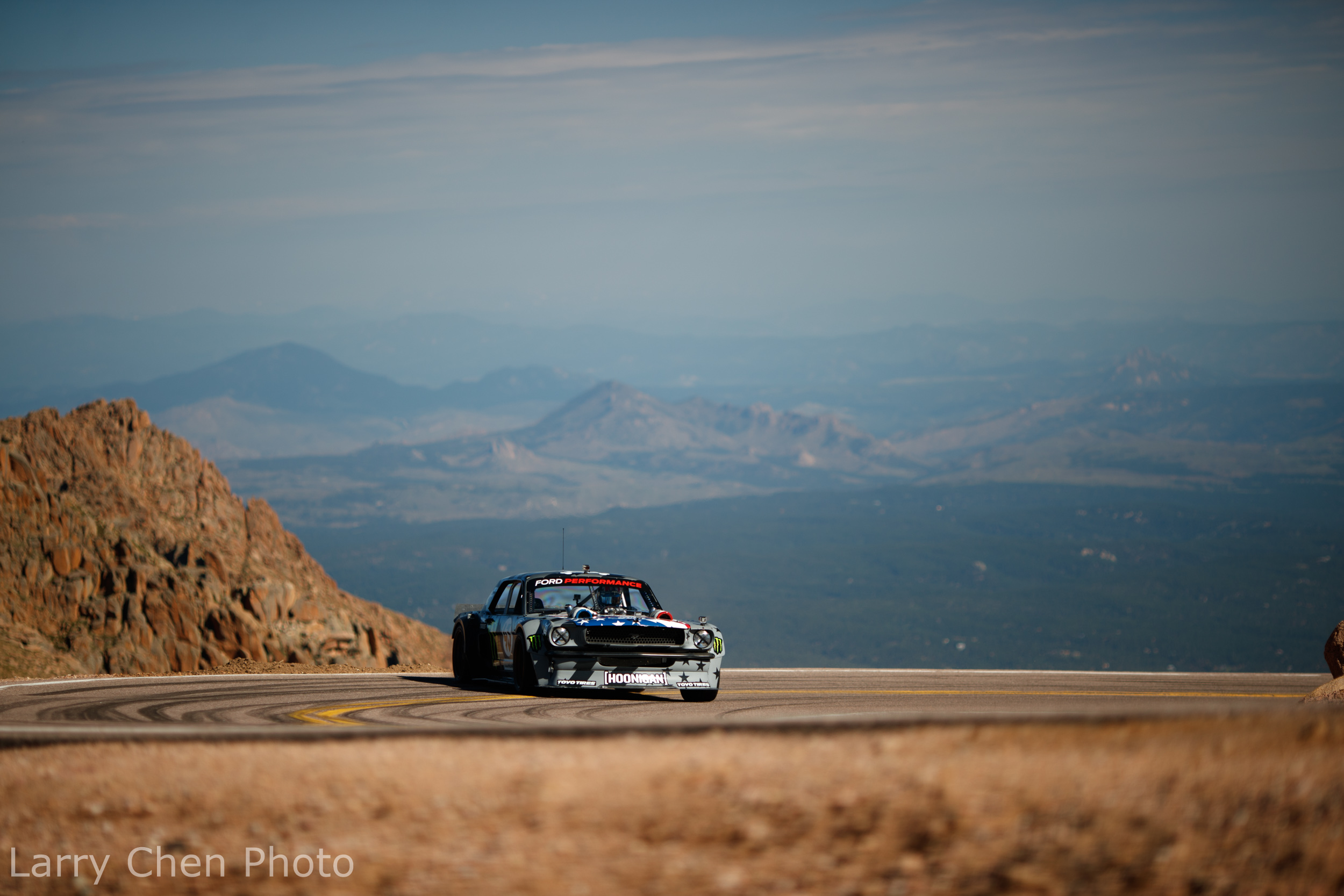 I think everyone was relieved and very happy that the car was finally sorted, and that shots were being knocked out left, right and center.
Shooting at Pikes Peak any time of the year is such a pleasure; it's such a beautiful place.
The days were super long as everyone was up well before sunrise and worked hard to well after sunset.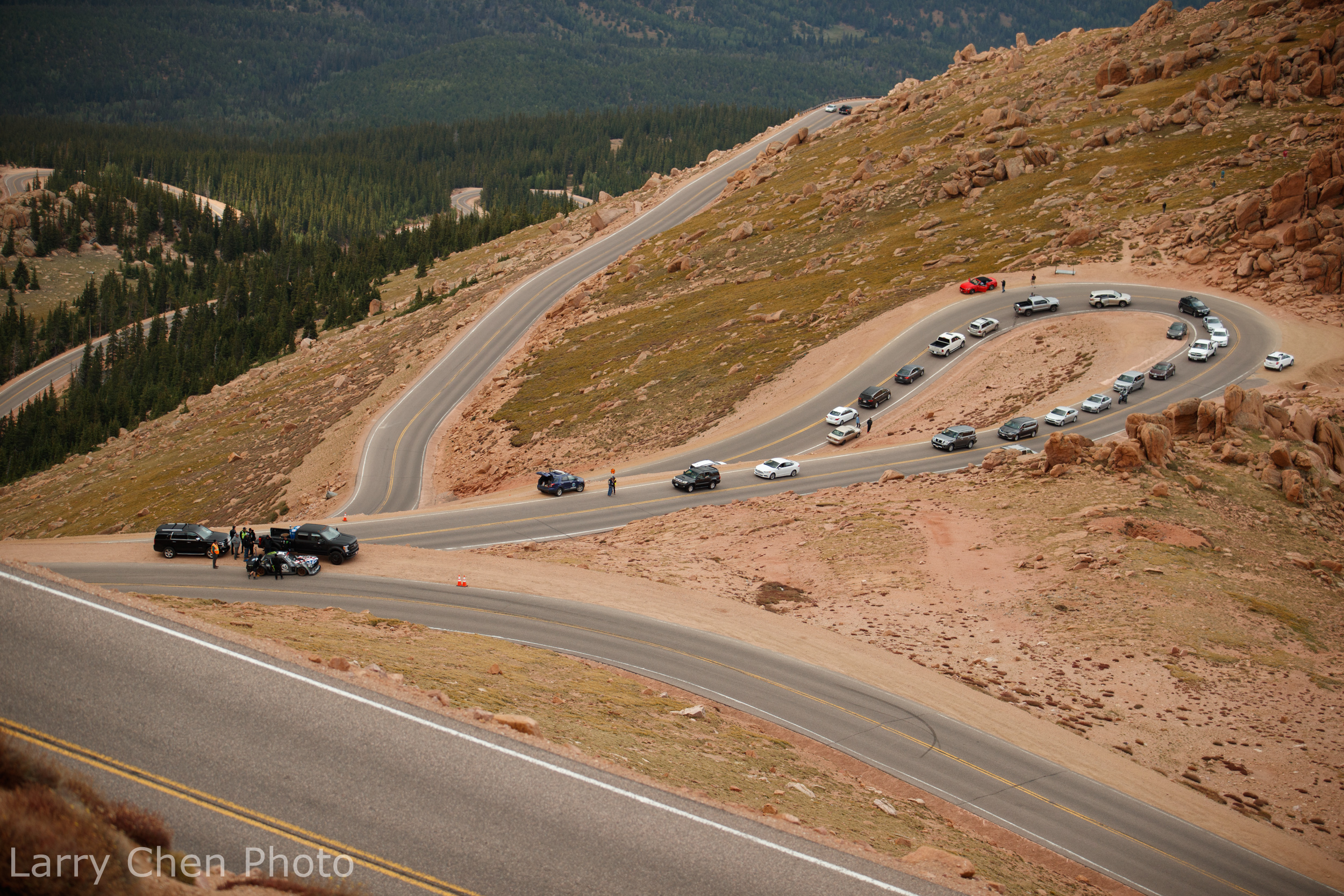 Before the mountain opened up to the public we pretty much had free reign of the place, but once it hit 9:00am on the dot, the tourists were lined up to check out the peak.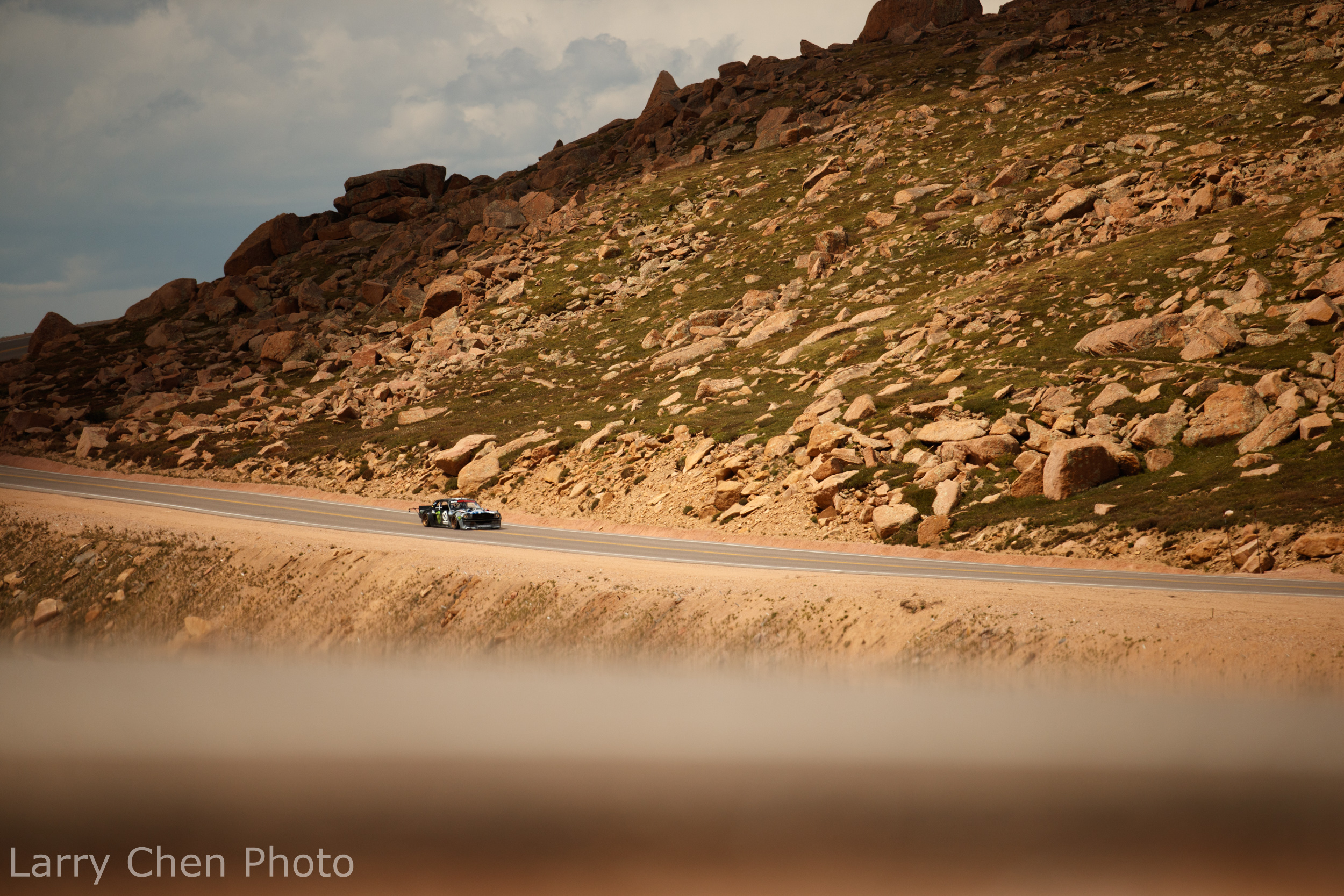 Up until this point, there hadn't been a chance to shoot anything on the top section near the summit due to the weather and car issues. Along the straightaways, the Hoonicorn easily reached top speeds well into the triple-digit zone.
At the end of the first day of shooting there was enough in the bag to make a complete video. A collective sigh of relief was breathed.
This of course meant that on the second day of shooting Ken was able to turn it up a notch and take a few more chances.
One of my favorite things about the Hoonicorn's V2 livery is that it is reflective to flash, which gives it another layer in terms of the way it can be photographed.
There was definitely an uneasy feeling in the air in regards to the next stunt Ken was about to attempt, but the window to shoot it was closing fast.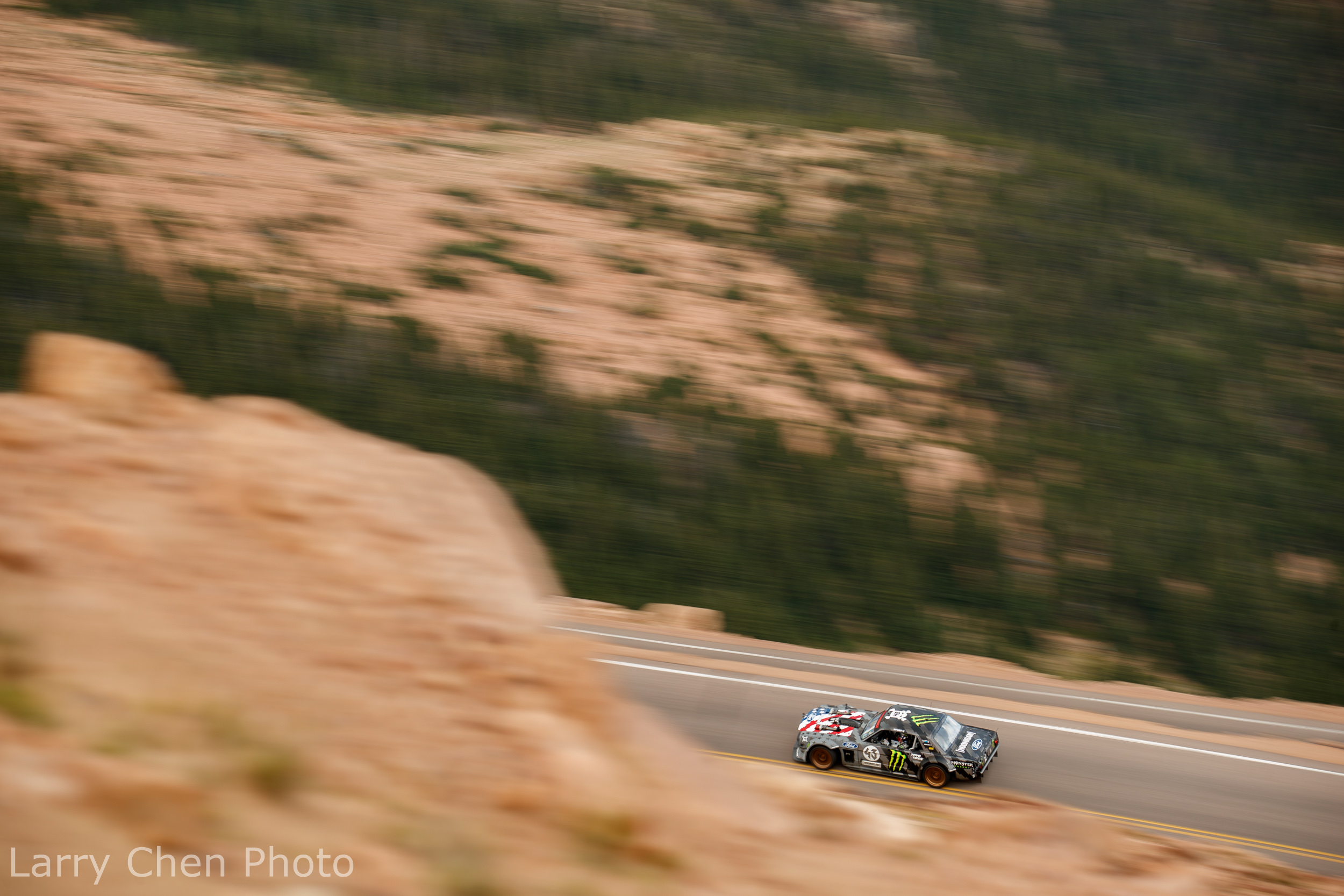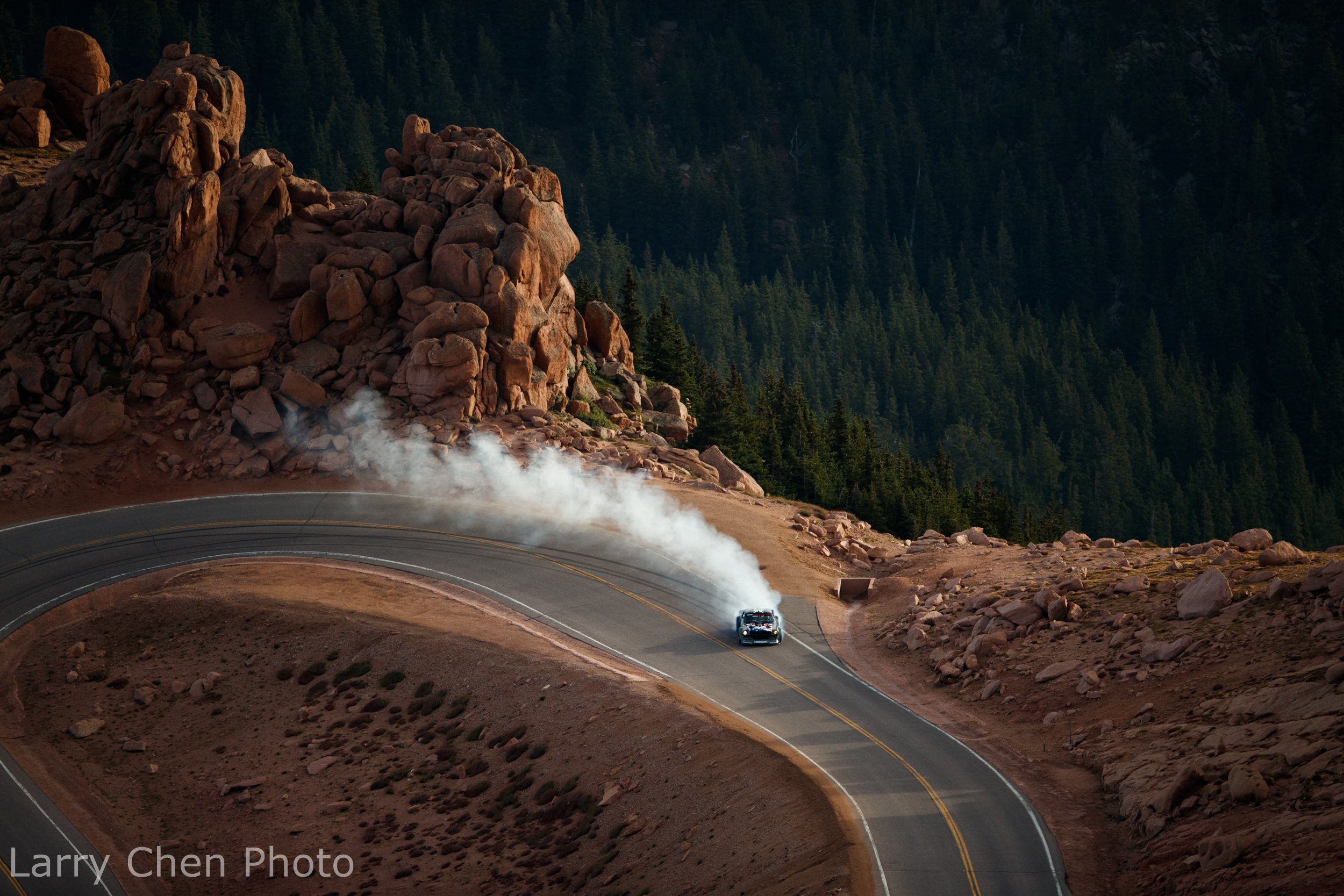 As it was, filming in the morning had been pretty sketchy. It was sunny, but it was snowing at the same time.
However, the snow held off long enough for me to get a few of my favorite shots on the mountain.
People often ask me where my favorite place to shoot is. I don't really know the answer to that, but Pikes Peak is definitely up there.
It's not often that I fear for a driver's safety, but this next stunt was a tough one to shoot. Ken was going to try to drift this corner, but get as close to the edge as possible.
If you are wondering why I was worried, just watch this video featuring the very same corner.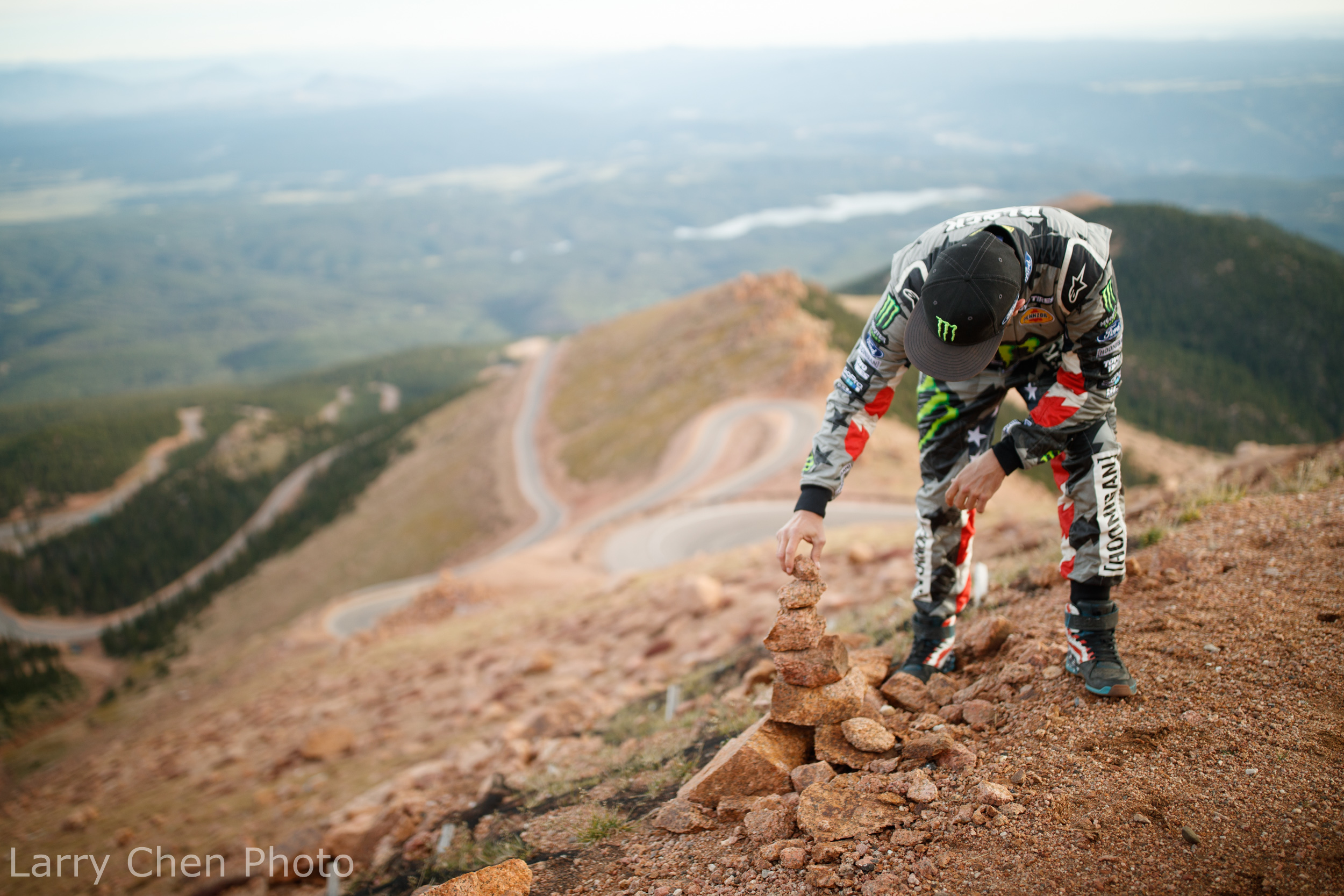 Ken piled up a stack of rocks on the edge and he said that his goal was to knock them down with his rear tires.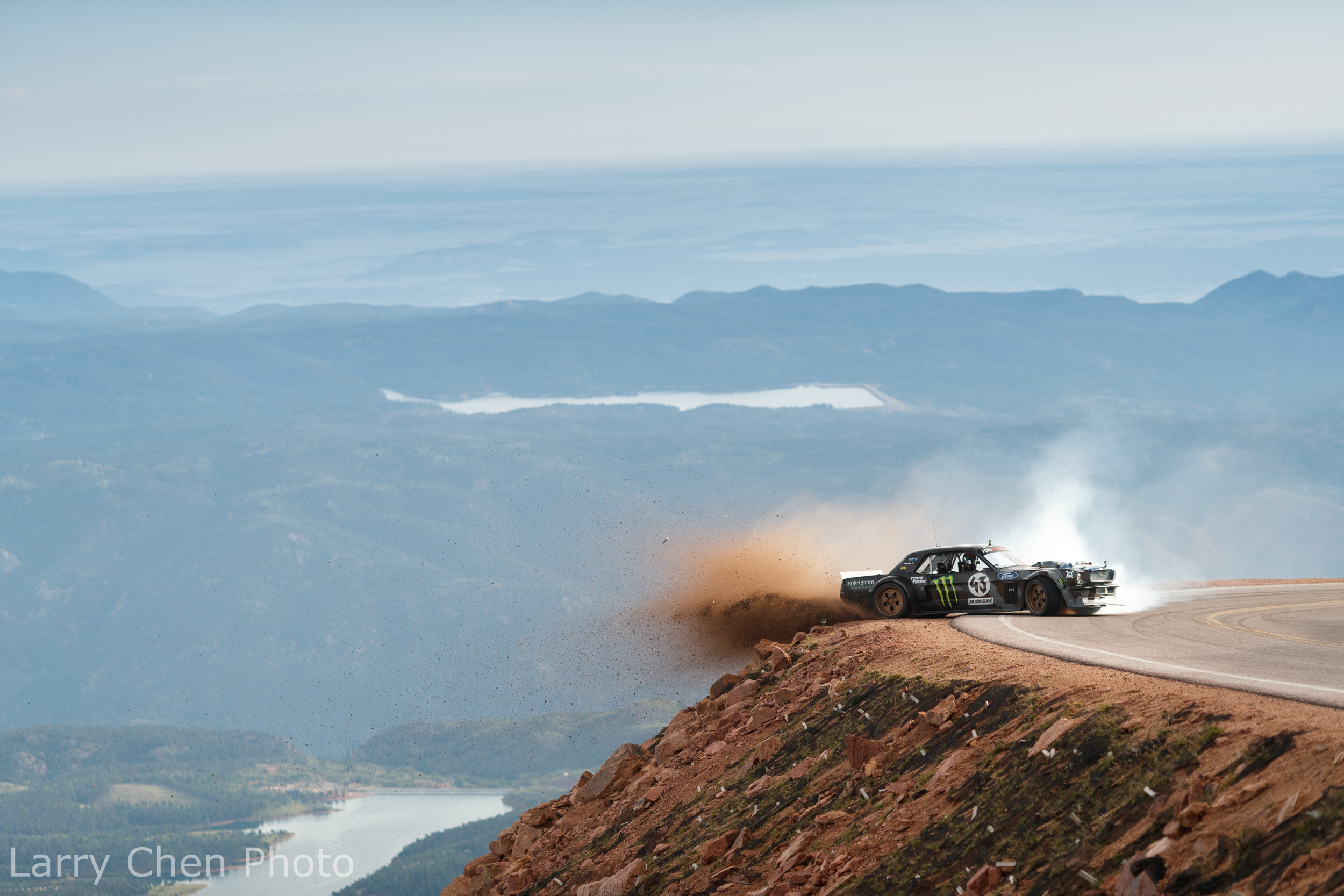 He did just that, too. As it was happening I thought for sure he was going to go off the edge, but in applying full throttle the front tires started gaining traction which (thankfully) pulled him out of the corner.
Here is a wider version of the same shot; you can see how far the hill goes down if you slip off the edge. Ken drove this corner just one time to scout out his line, and then went for it.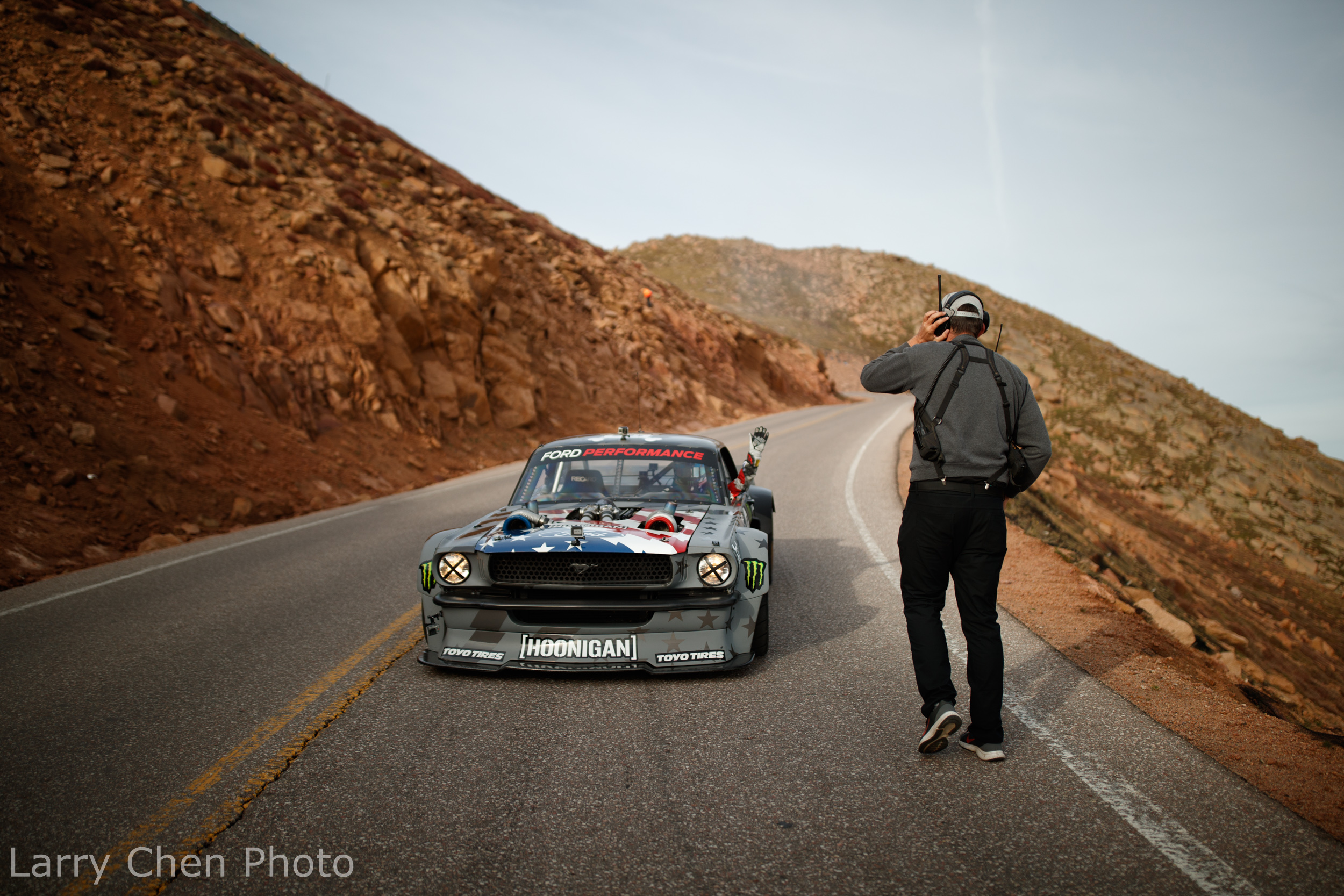 Everyone was so happy after the fact. It completely changed the mood of the set.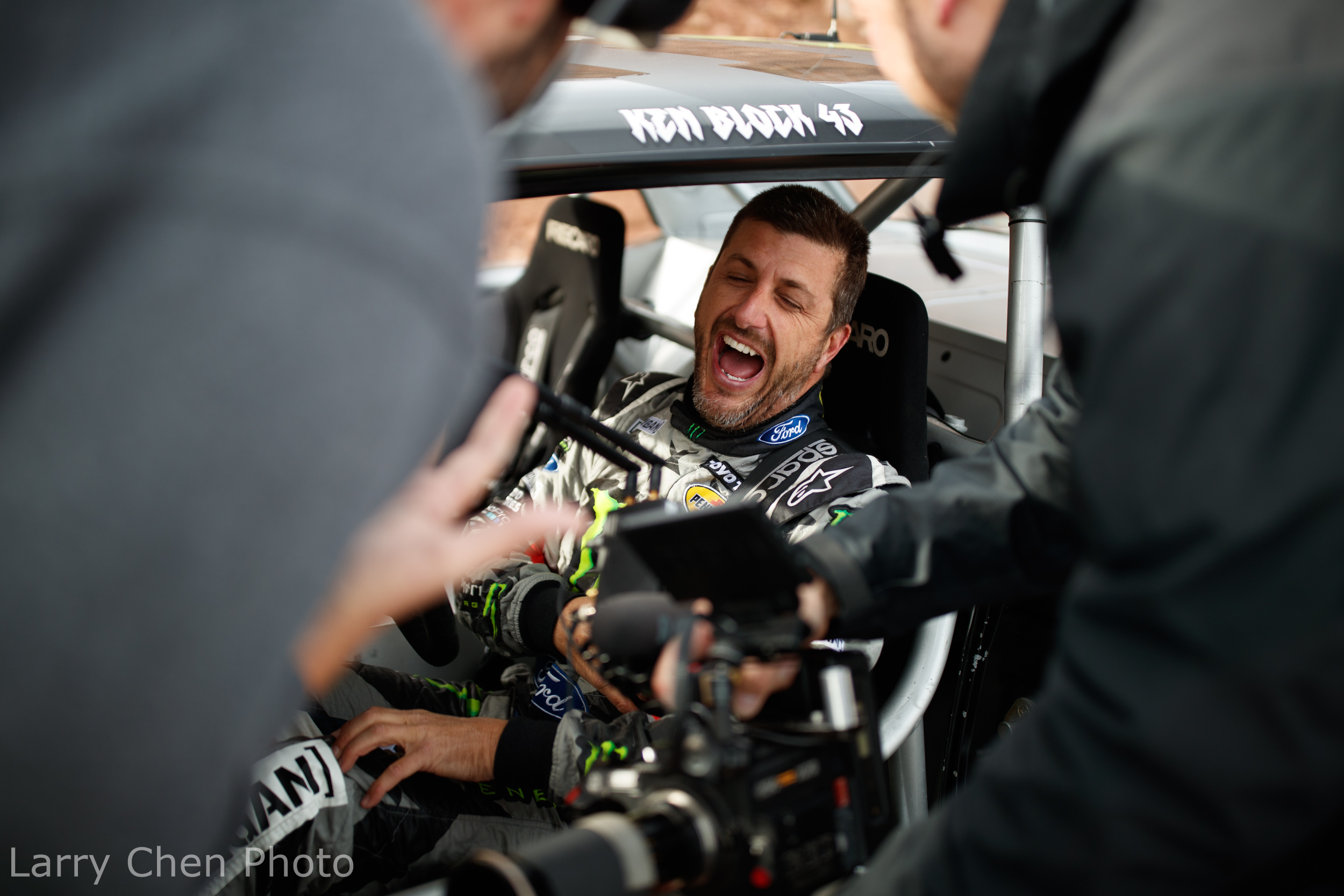 When the footage was replayed for him, he could not believe how close he had come to the edge.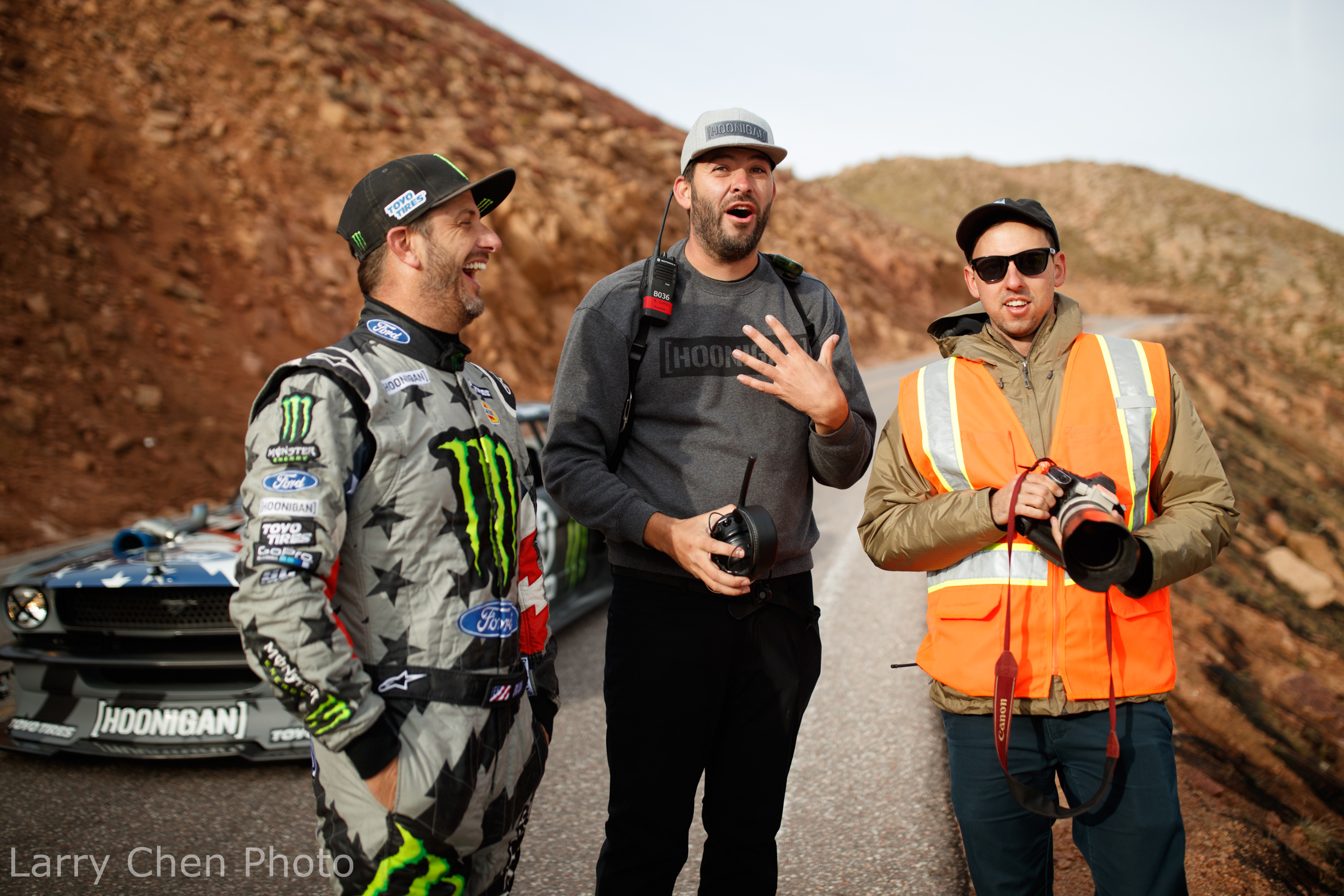 Brian said he was just happy that he didn't have to make a call to Ken's wife, Lucy.
Jeff praised the HHIC (Head Hoonigan in Charge) for having the guts to pull off such a stunt.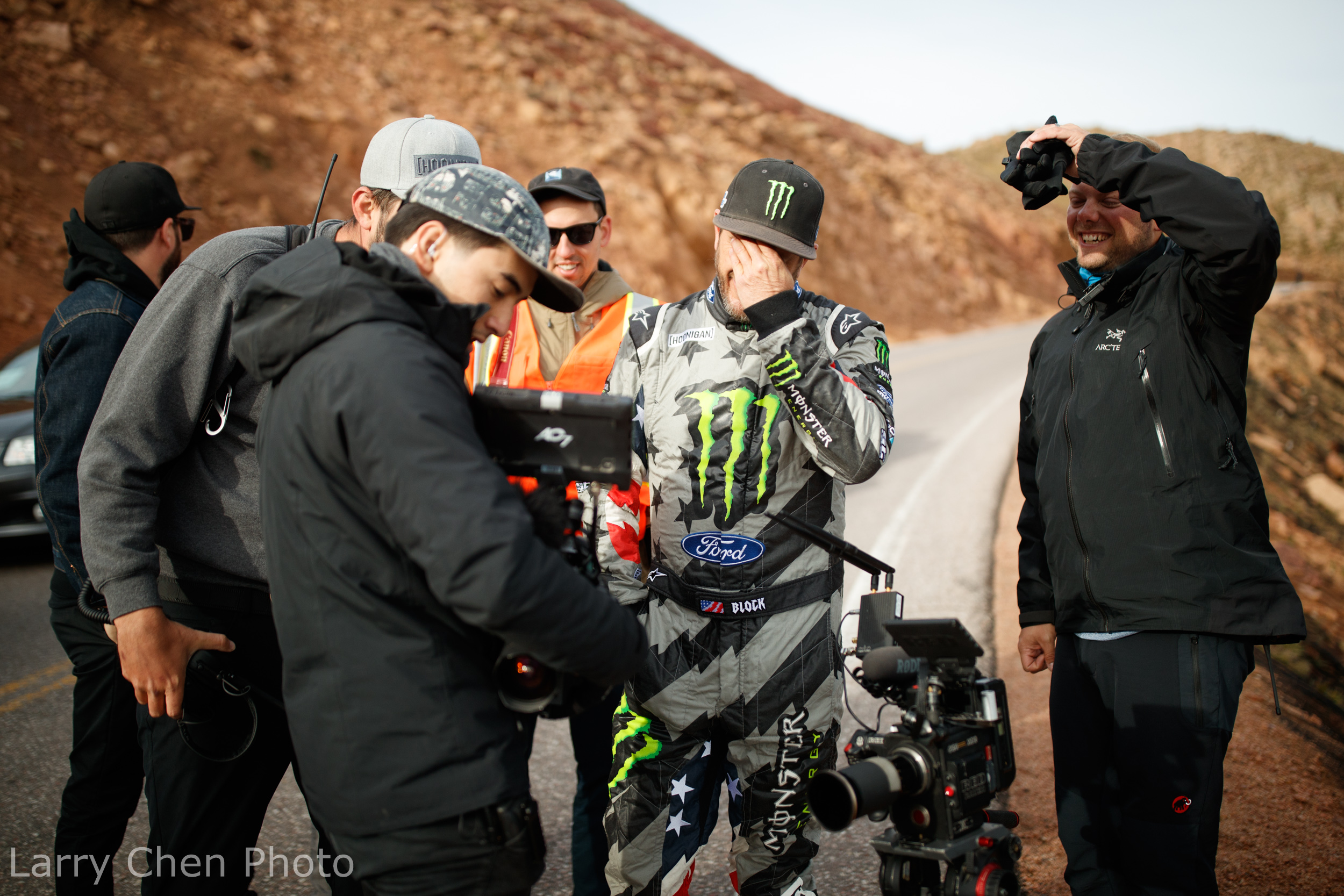 The man still could not believe it himself.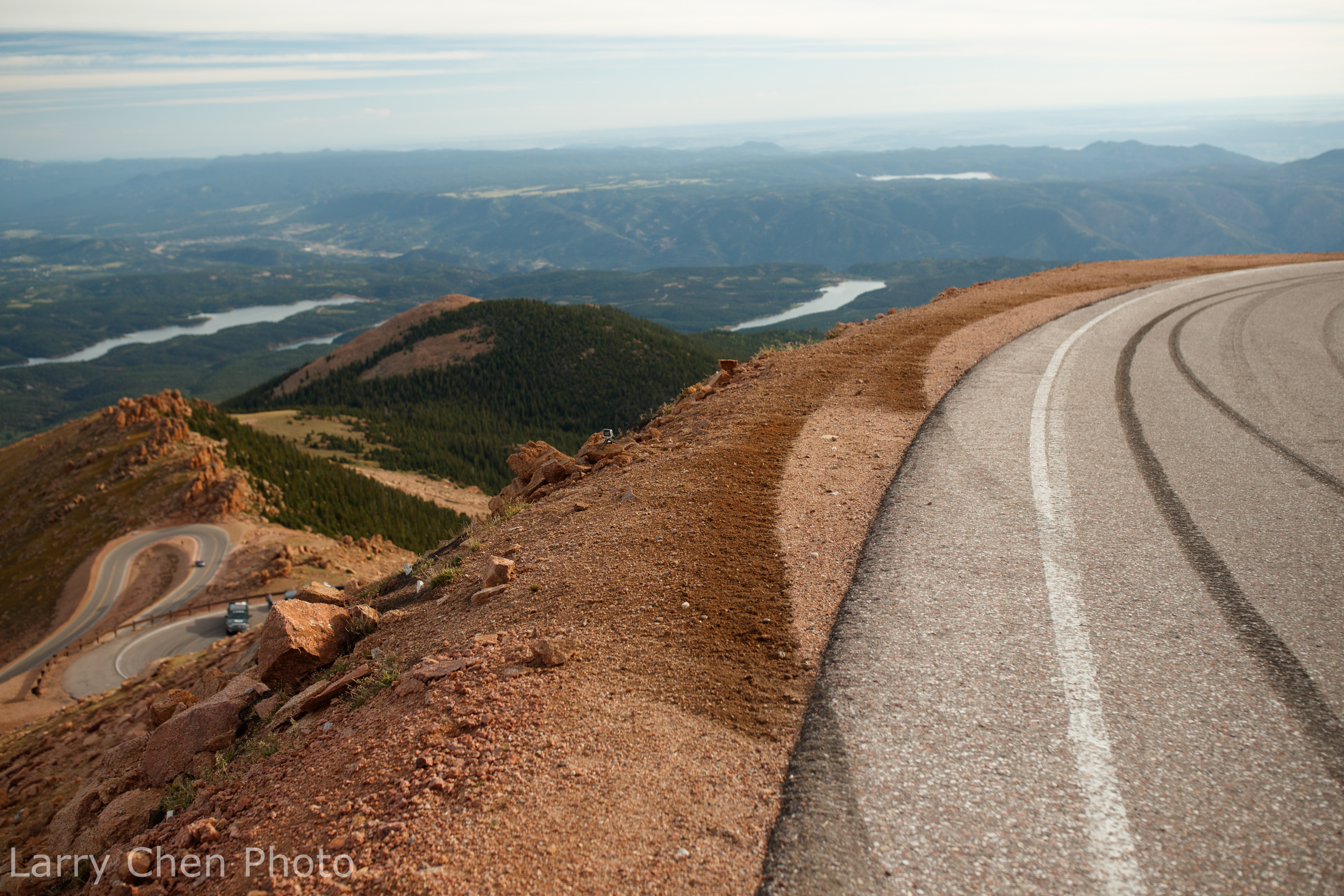 Here's a closer shot of the lines that he took.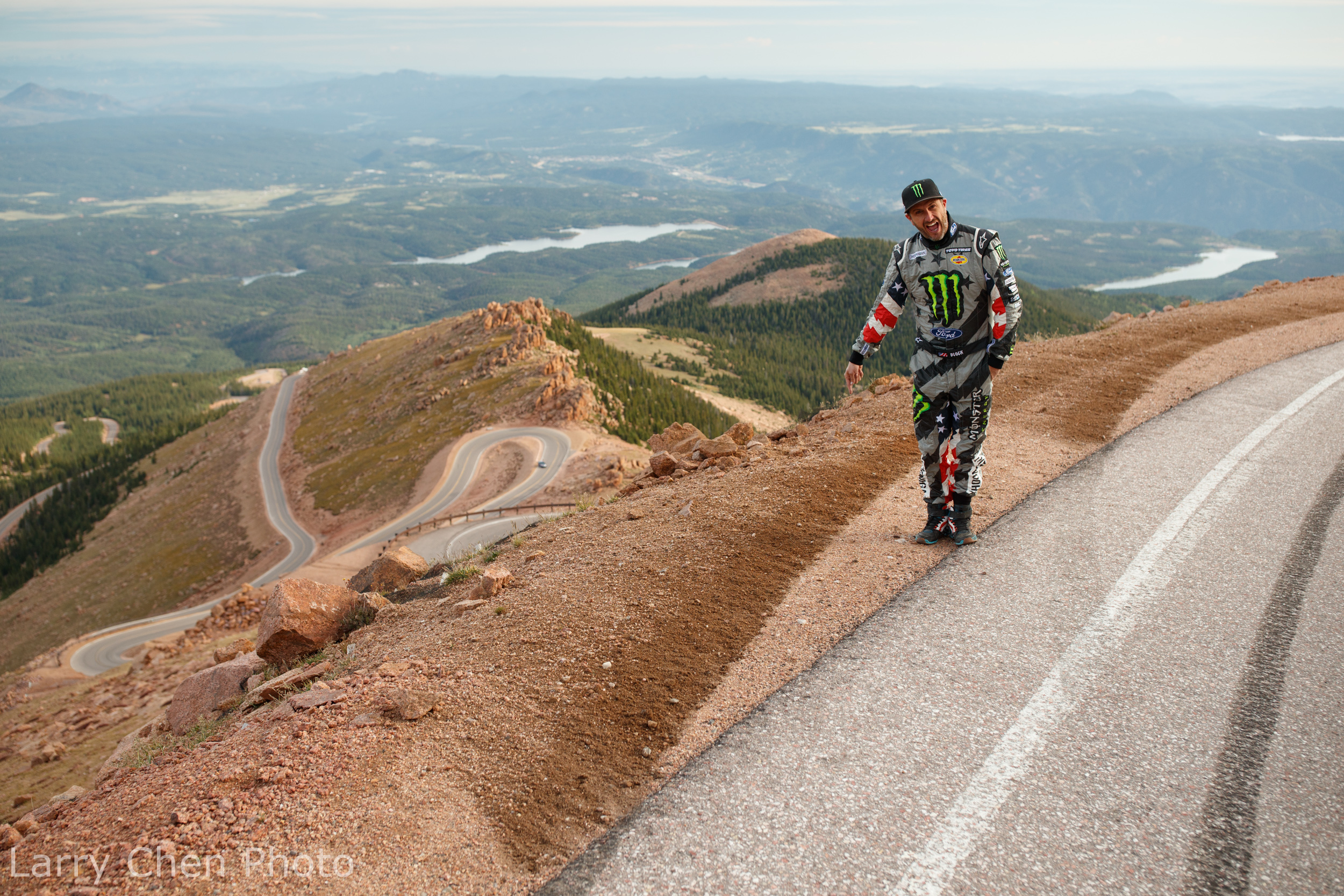 It's so cool to see how the tire marks transitioned from dirt to pavement.
It was a butt-puckering moment for sure.
With the most insane stunt out of the way it was time to do some celebratory donuts.
Brandon from the Hoonigan gang was right in amongst it to inhale all of the sweet tire smoke.
It was such a pleasure to be able to shoot from so many corners that I normally aren't able to because of time constraints during Pikes Peak race week. Because a film production moves slowly, I was even able to scope out some new shooting locations on the historic highway.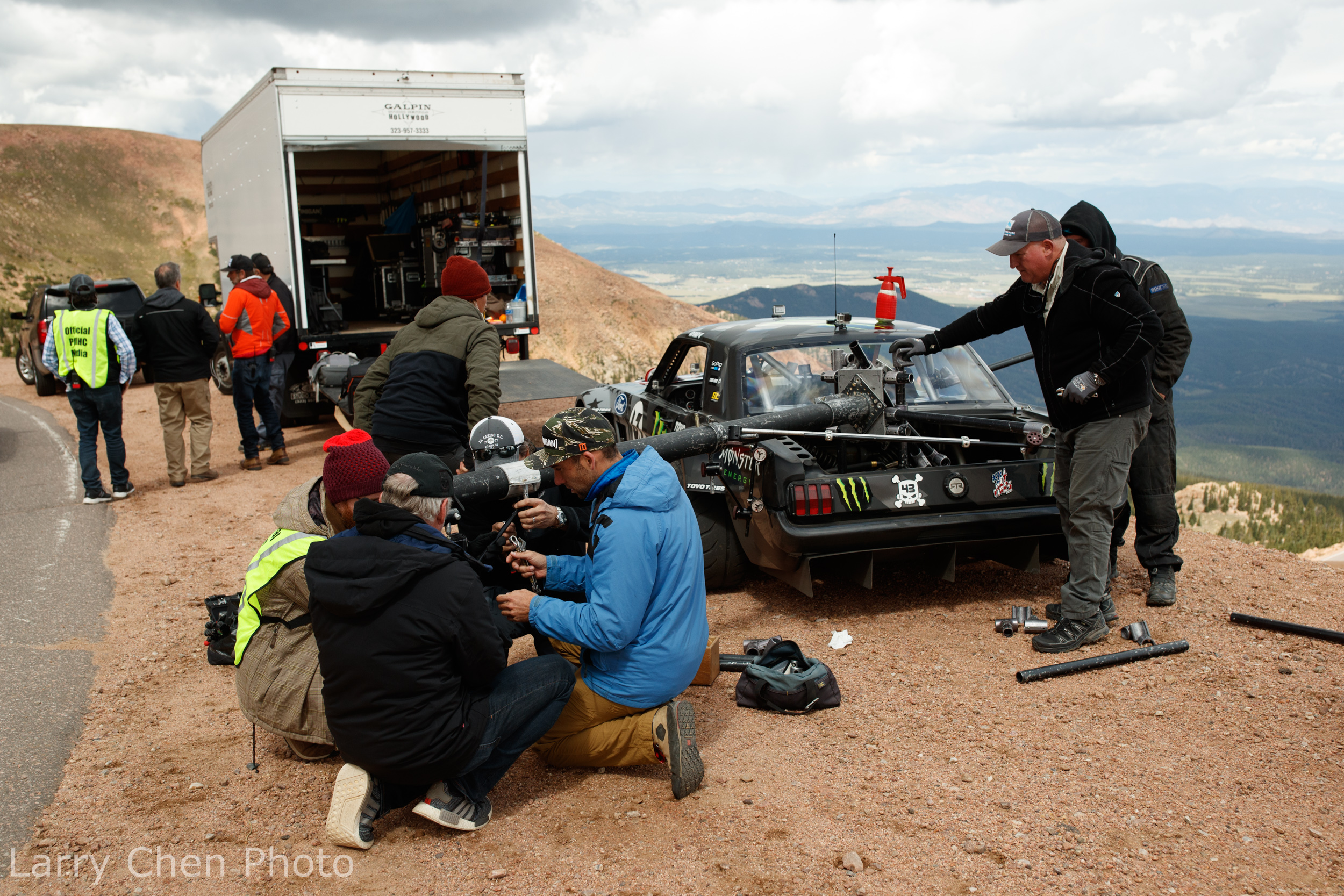 The clouds were rolling in, but the boys wanted to get a few more shots in before we called it a wrap. This required rigging a giant pole onto the back of the Mustang.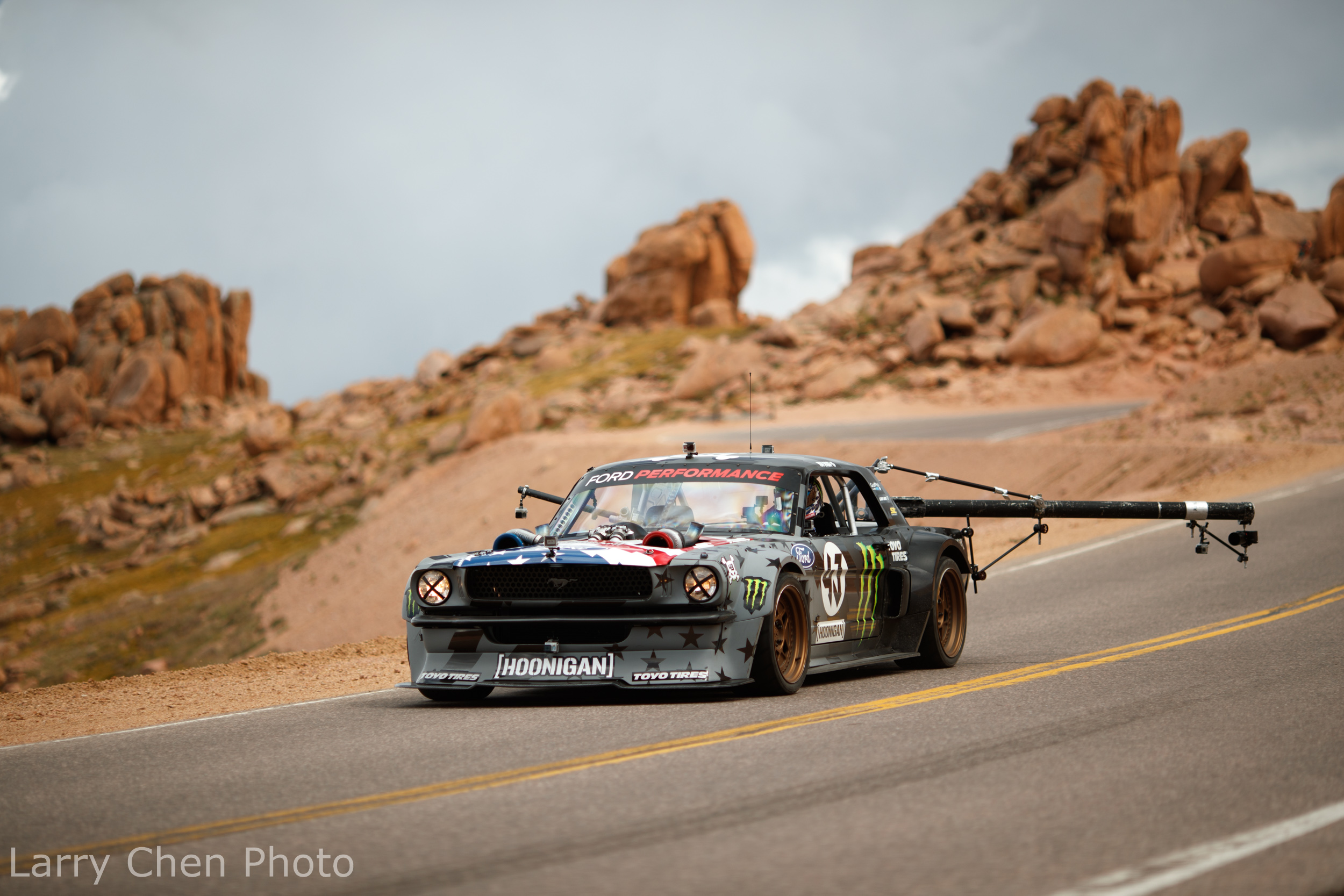 It looked hilarious, but surprisingly it barely affected the performance of the all-wheel drive machine.
Ken did a few passes, then it was time to remove the crazy rig and grab the final shot.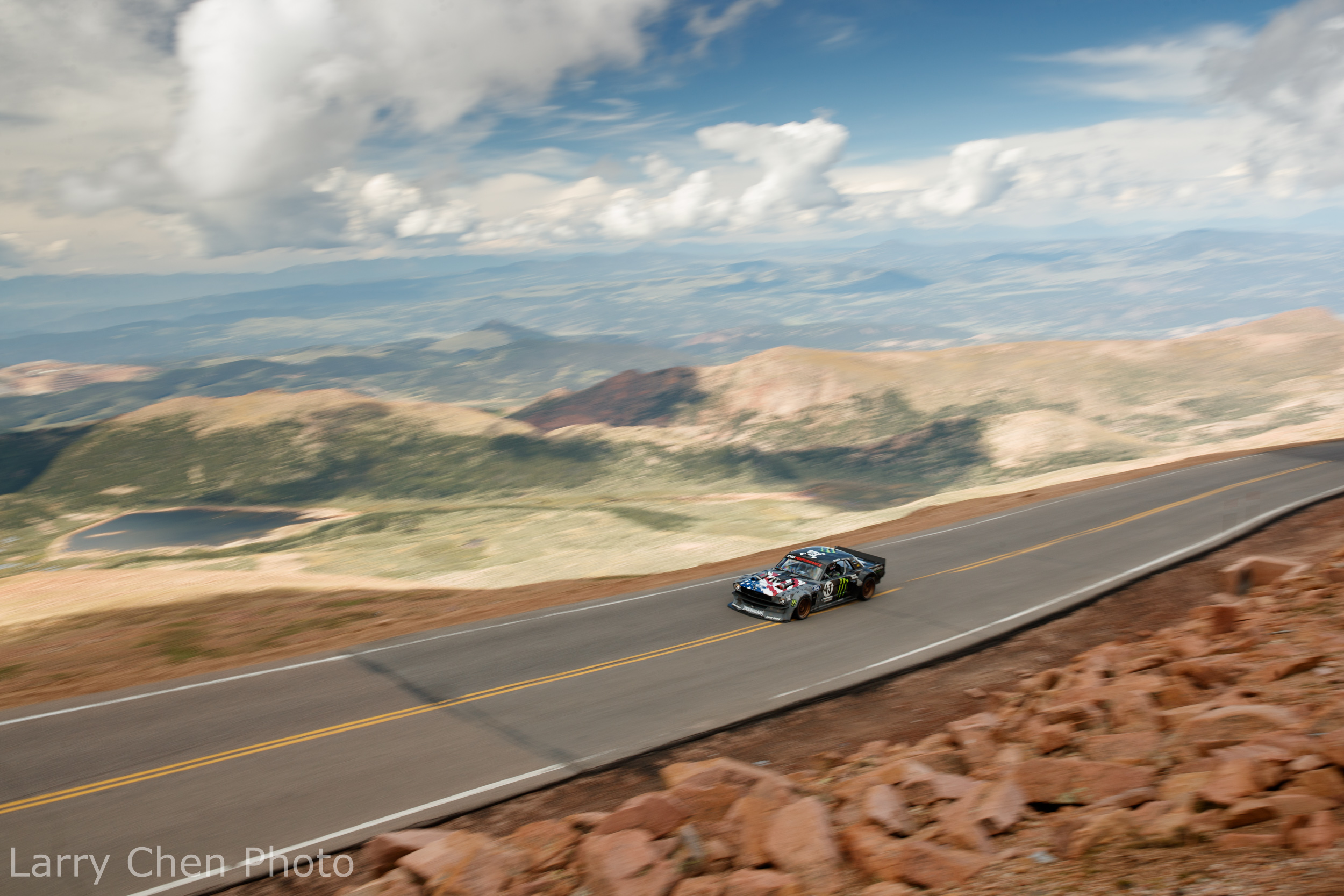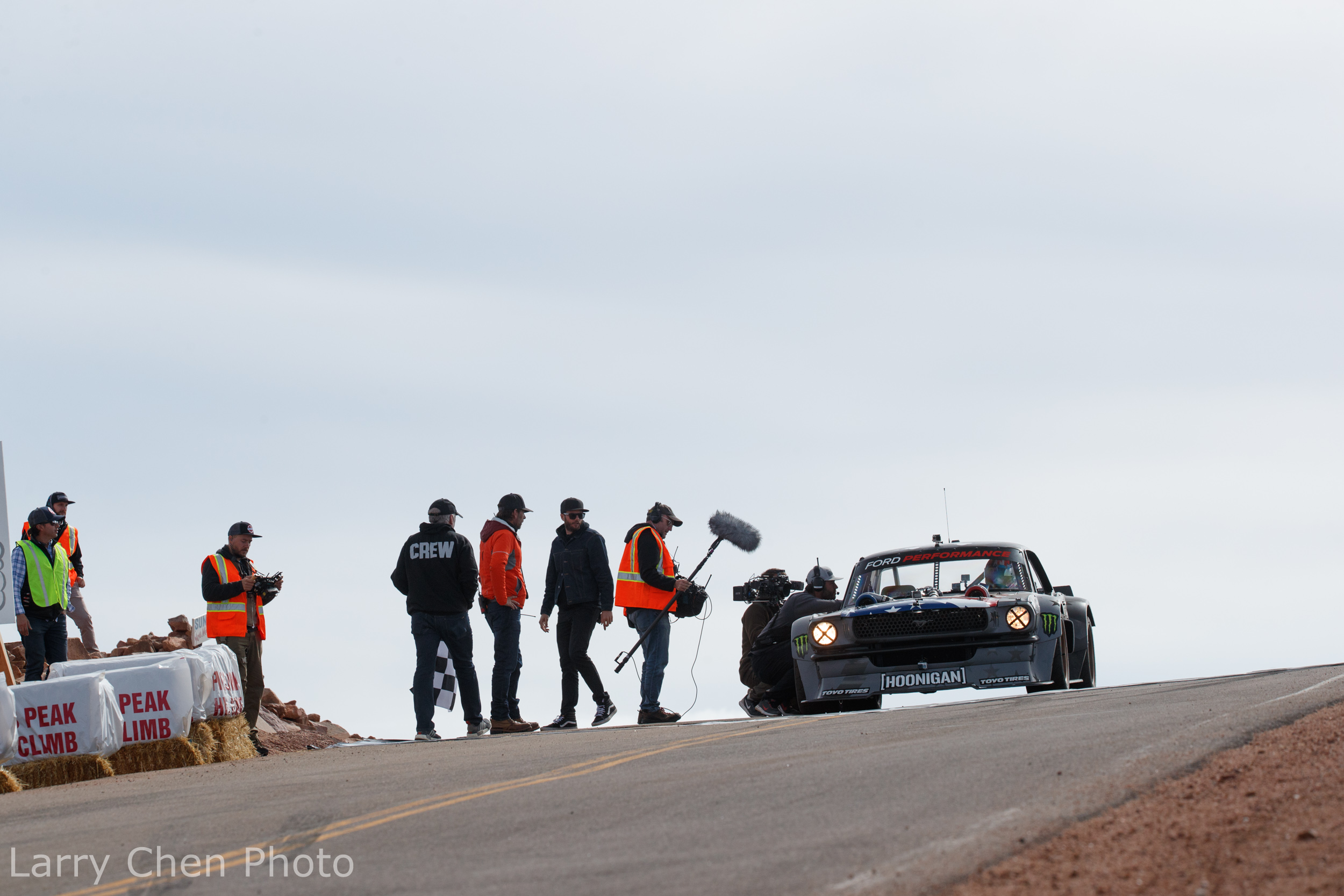 We headed up to the summit and the exact location of the hill climb's finish line. Given the lack of oxygen at this altitude just standing was hard enough, let alone running around. If you don't take time to acclimate, it's very easy to get light-headed.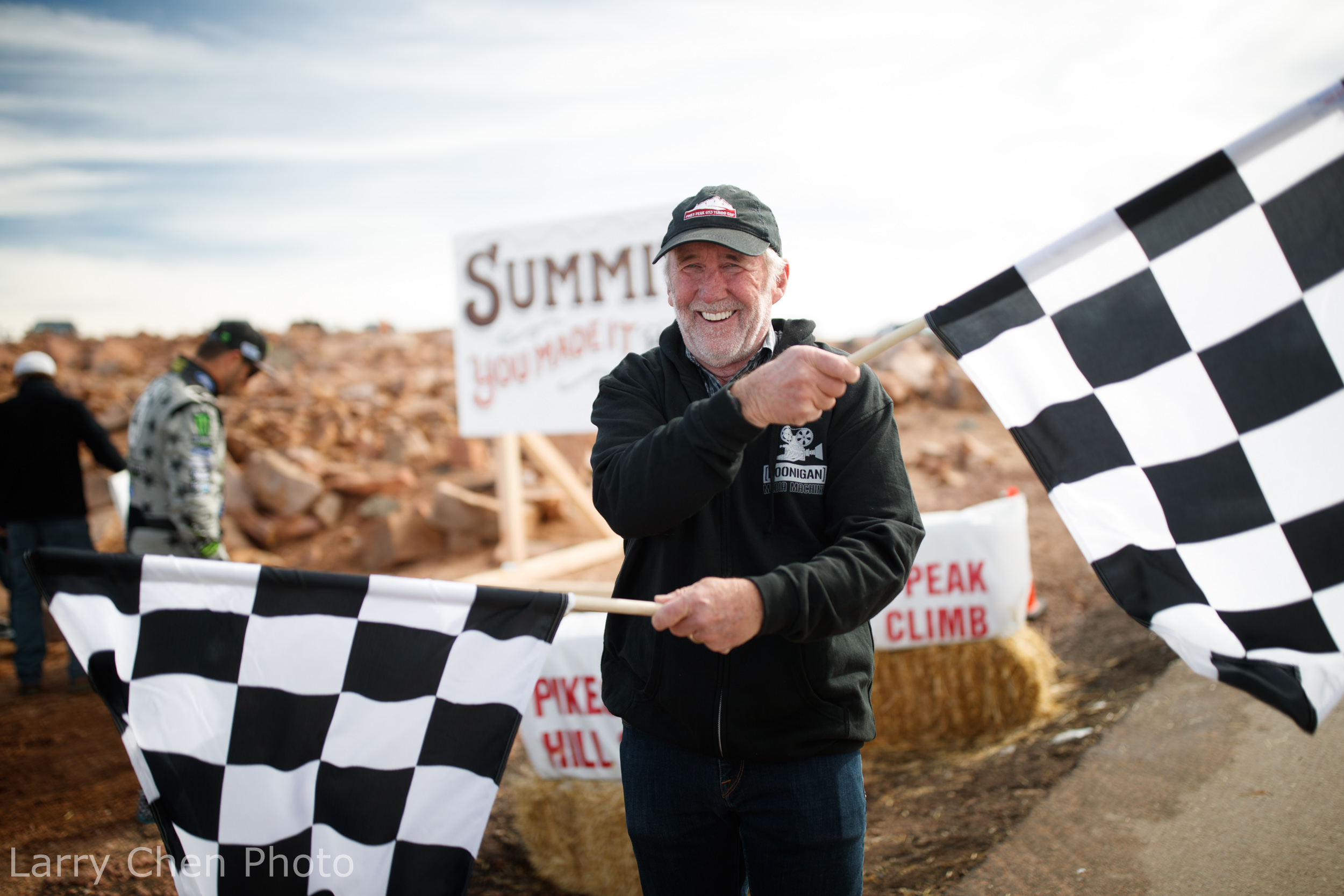 Jeff took the honors to wave the flags; for so many years he's been on the other side of them, zooming past the finish line flag marshal at 100mph+ speeds.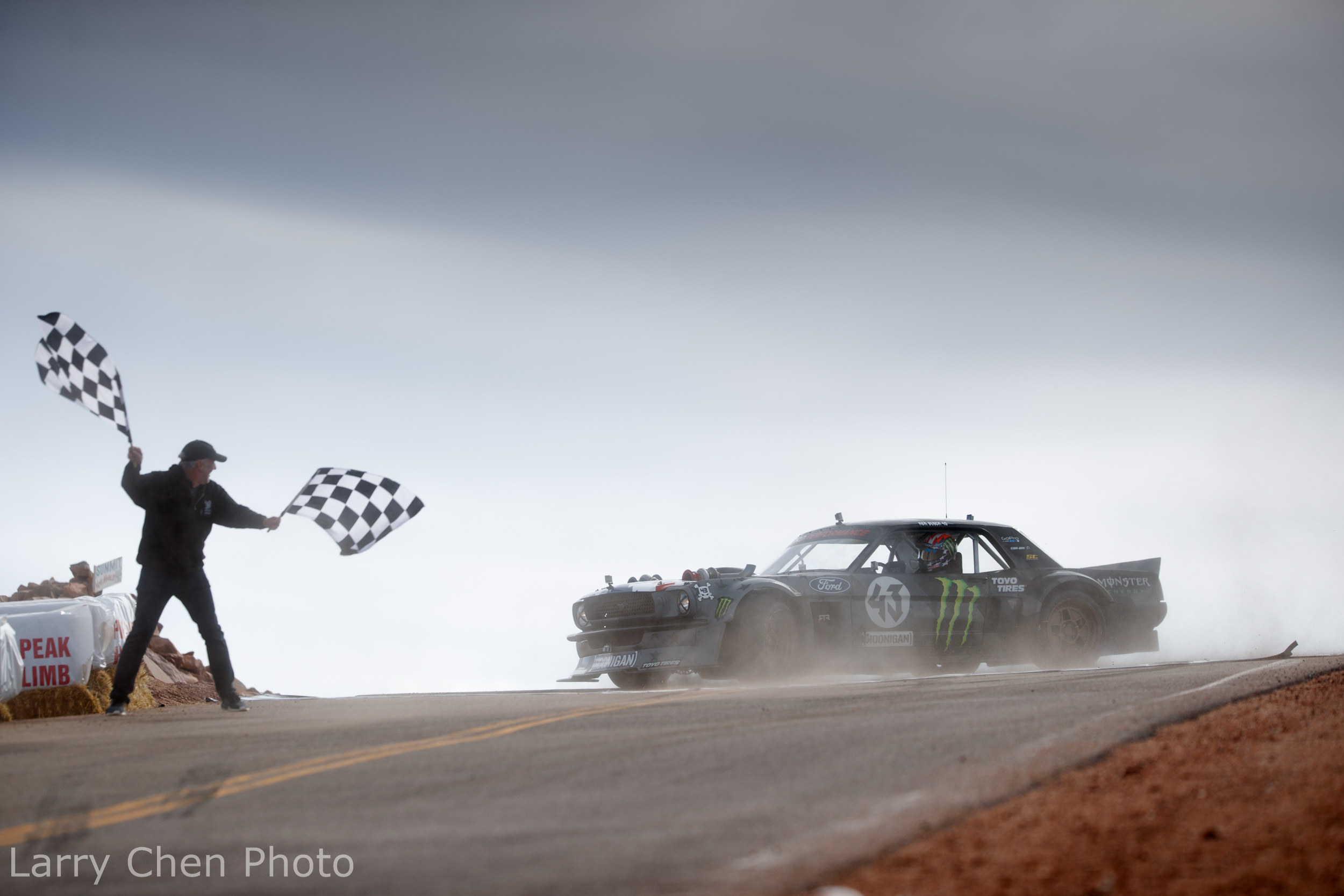 Ken purposely put the Mustang into a 360-degree spin through the picture-perfect finish. From a shooting perspective, Climbkhana was officially in the books!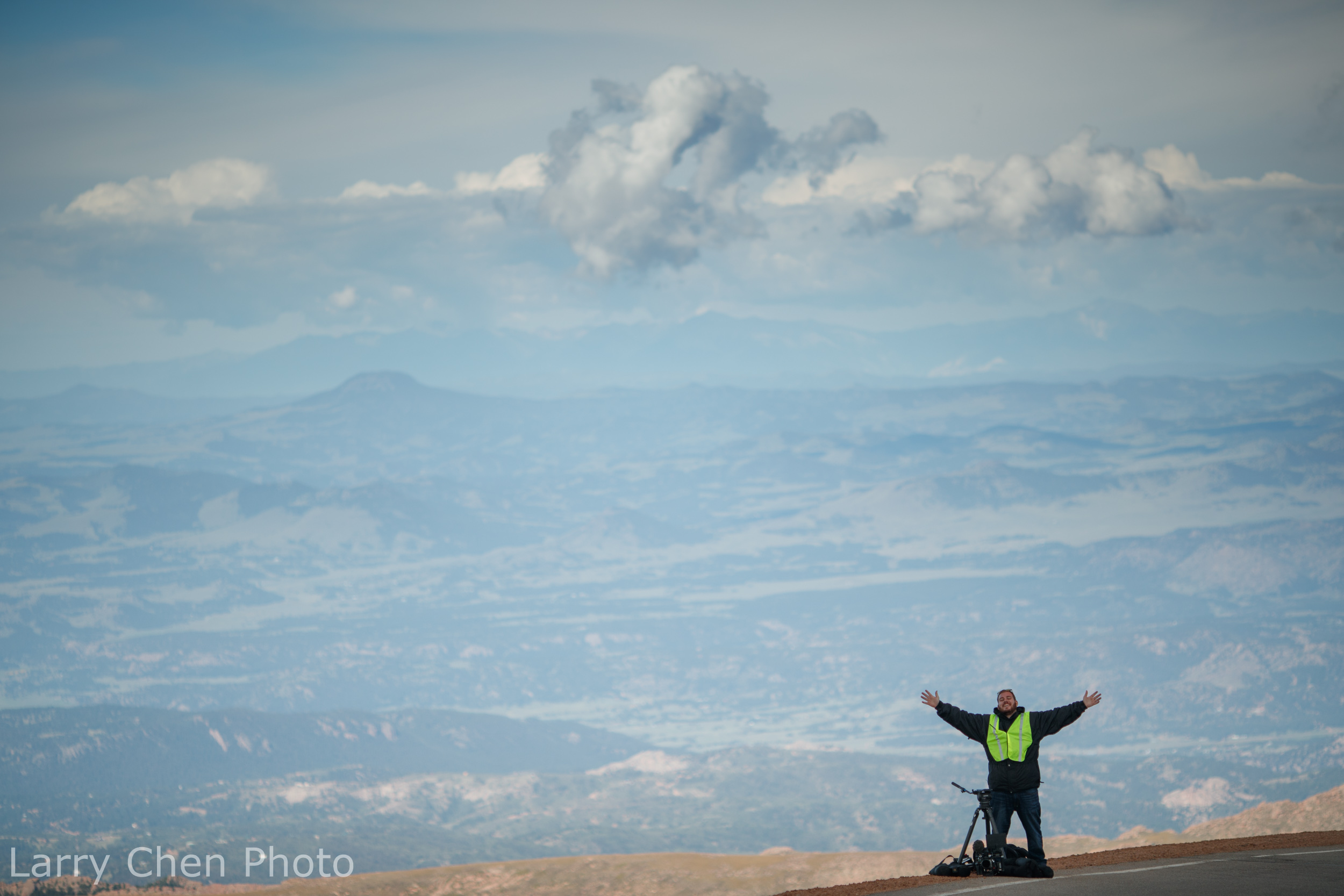 Everyone was elated. After 12 days on the ground in Colorado spread over three trips, this was my longest-ever shoot.
To my knowledge, it's also the longest shoot Ken has ever had to do. The previous Gymkhana shoots I've been on have taken four or five days at the most.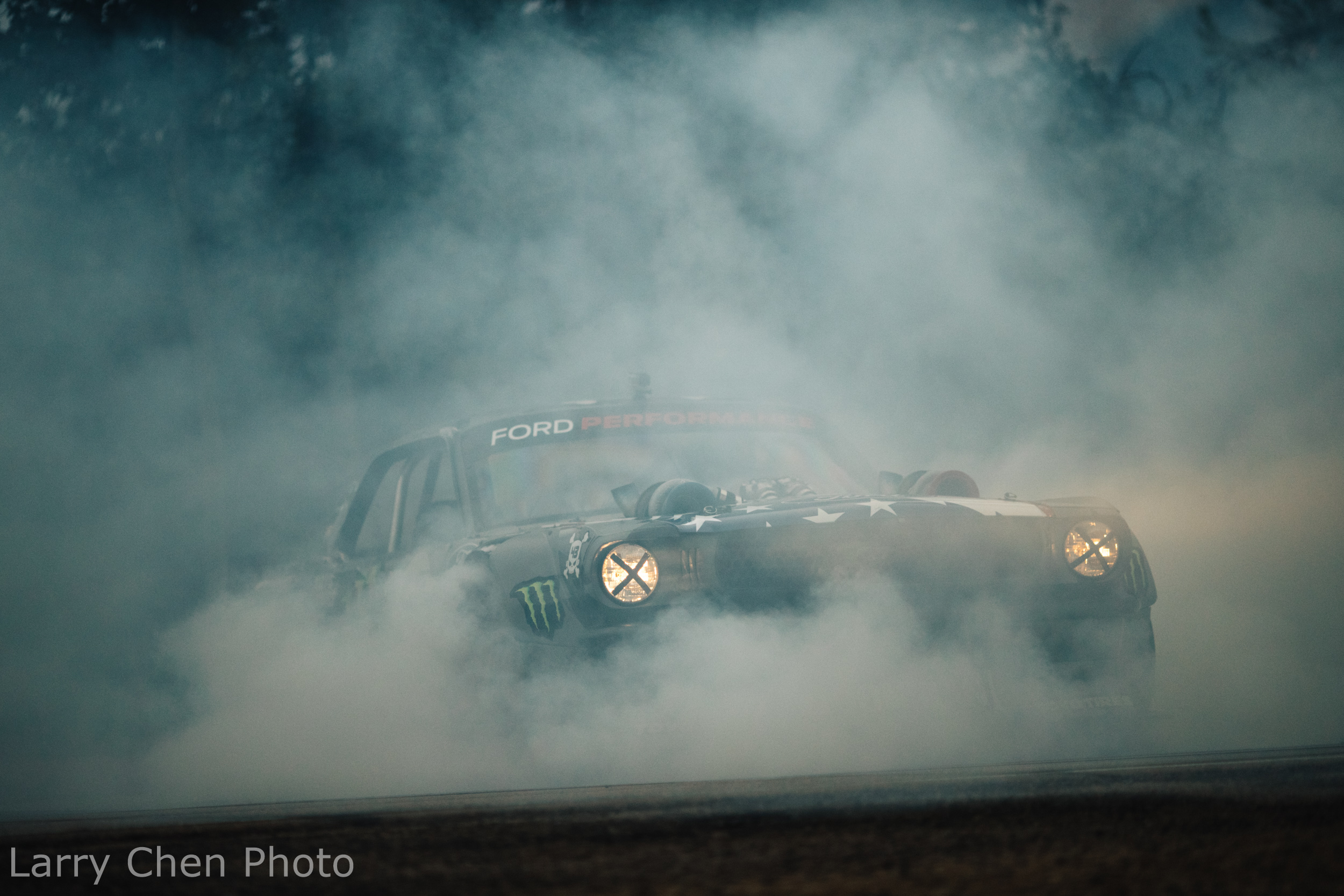 This of course poses the question of what Ken and the Hoonigan guys have in store for Gymkhana Ten…
All I know is that I am really looking forward it, and you can bet I'll be there to document the behind-the-scenes story.