Chapter One: Battle At The Brickyard
I find it interesting, that in some way, shape or form, motorsport can be found in pretty much every country out there. And when you're taking about racing leagues for kids, they've now become comparable to football or basketball as youth sports.
In different countries there are different forms of racing available to youngsters. Europe has oval racing for young drivers, but kart racing dominates. In North America it's all about the oval. Whether it's dirt or pavement does not matter, but turning left is king.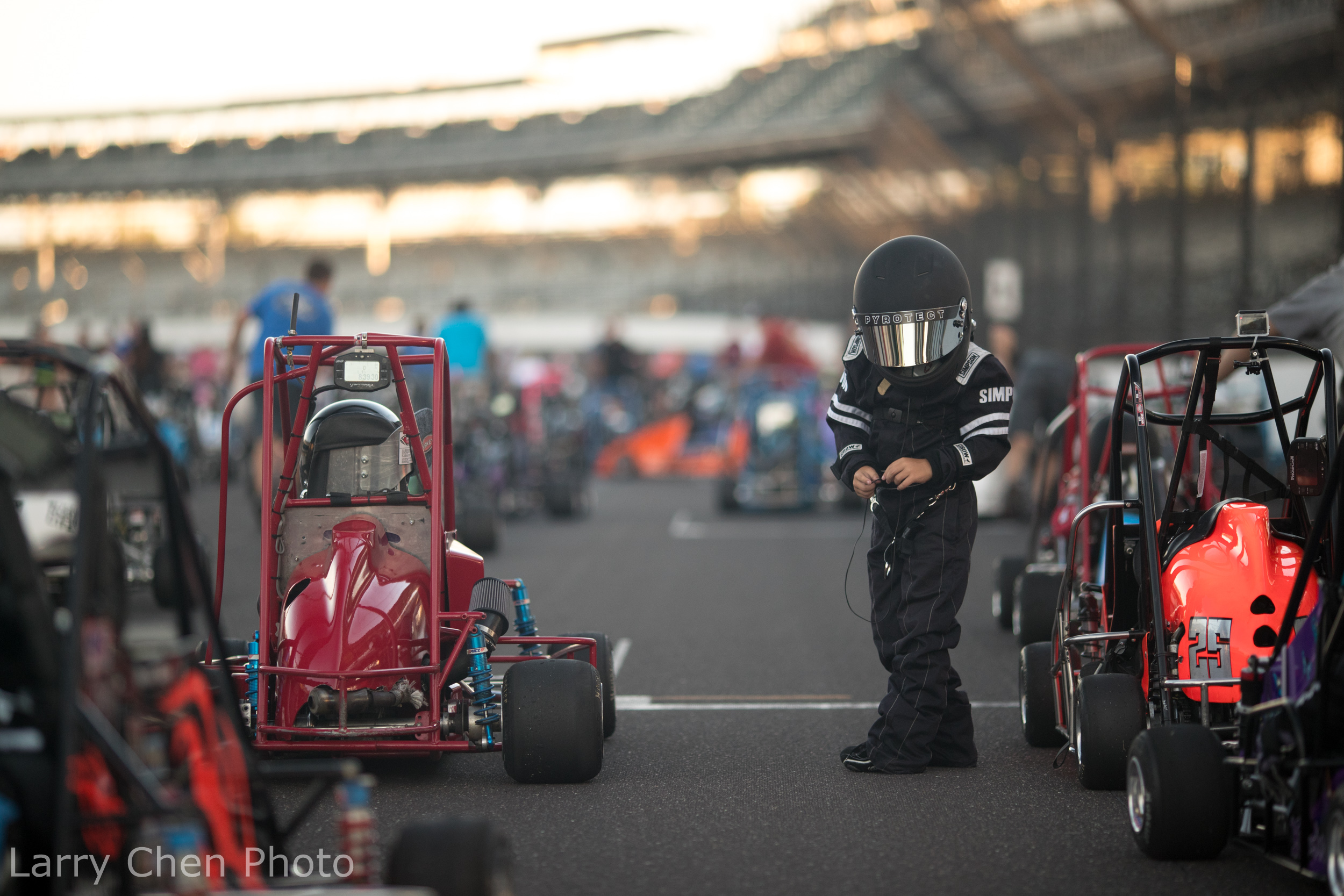 So many kids play peewee sports growing up, but just a tiny number of them actually become star athletes competing on a national level, or going one step further and making a career out of their chosen discipline.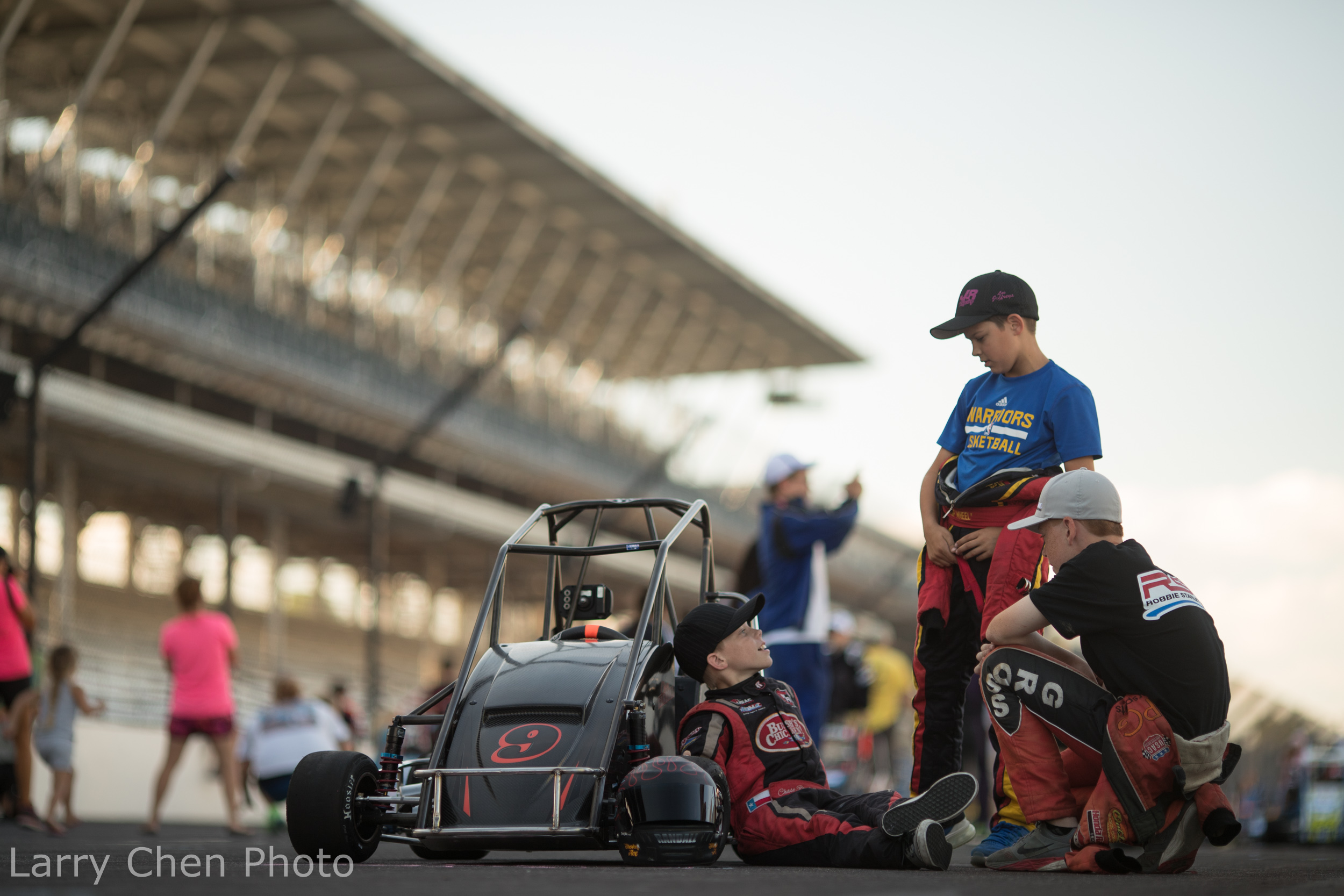 With auto racing it's a bit different. It seems like many of the kids who participate end up having a career in racing or the wider racing industry. It just breeds a different type of competitor.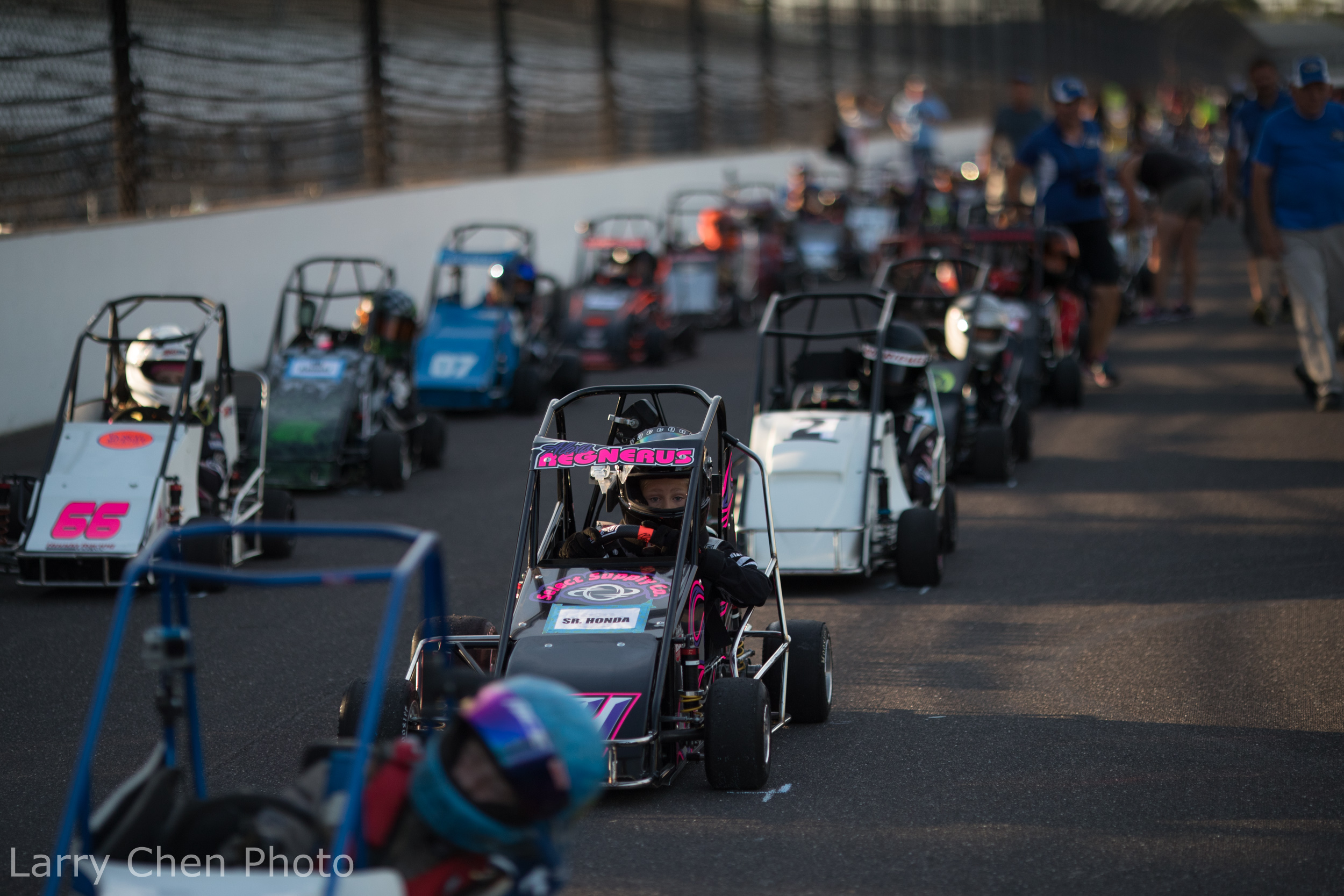 Just to give you an example, I posted a few of these photos on my Instagram and received a barrage of messages from professional drivers who told me that they started in this form of racing. Quarter midget racing also appears to be a breeding ground for NASCAR drivers. I had no idea it was this big.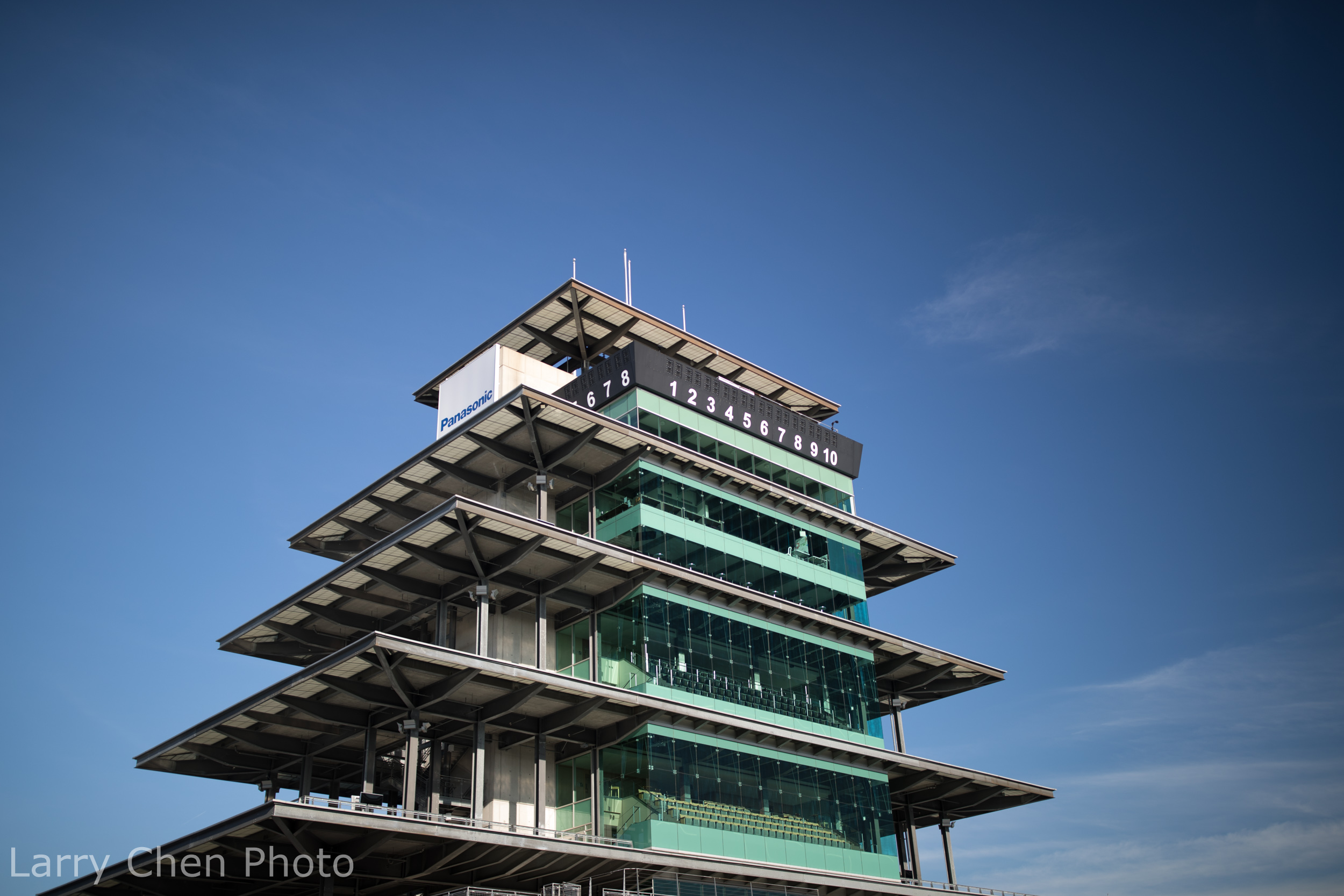 In my relentless pursuit of hunting speed, I recently found myself at the the 'Brickyard', also know as Indianapolis Motor Speedway.
There gathered most of the country's best quarter midget racers at what is also the largest race of its kind.
There were a total of 502 entries and some 279 drivers, many of the kids competing in multiple classes.
And the ages ranged from as young as five to as old as 16.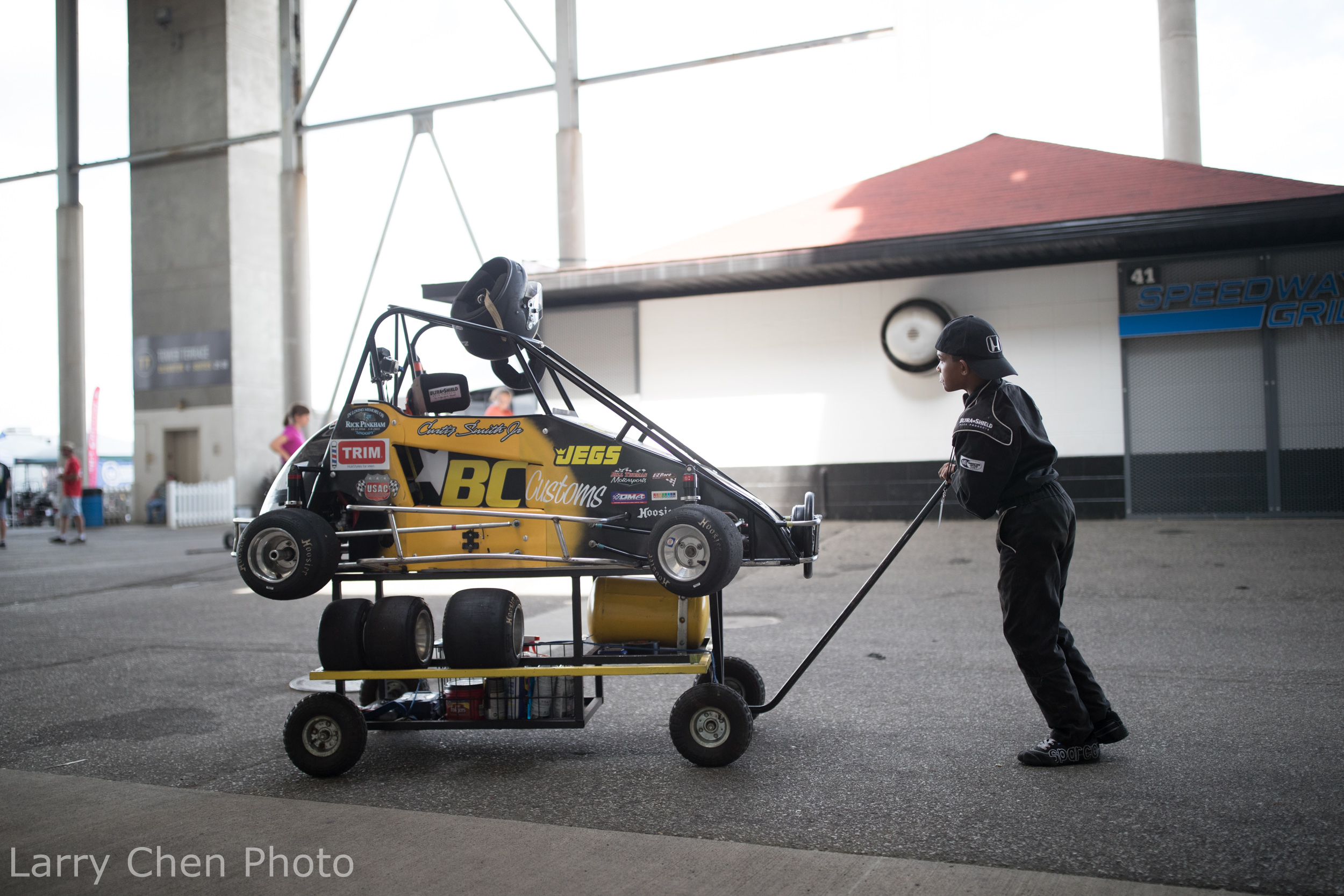 Competitors had families from all walks of life, from all over North America.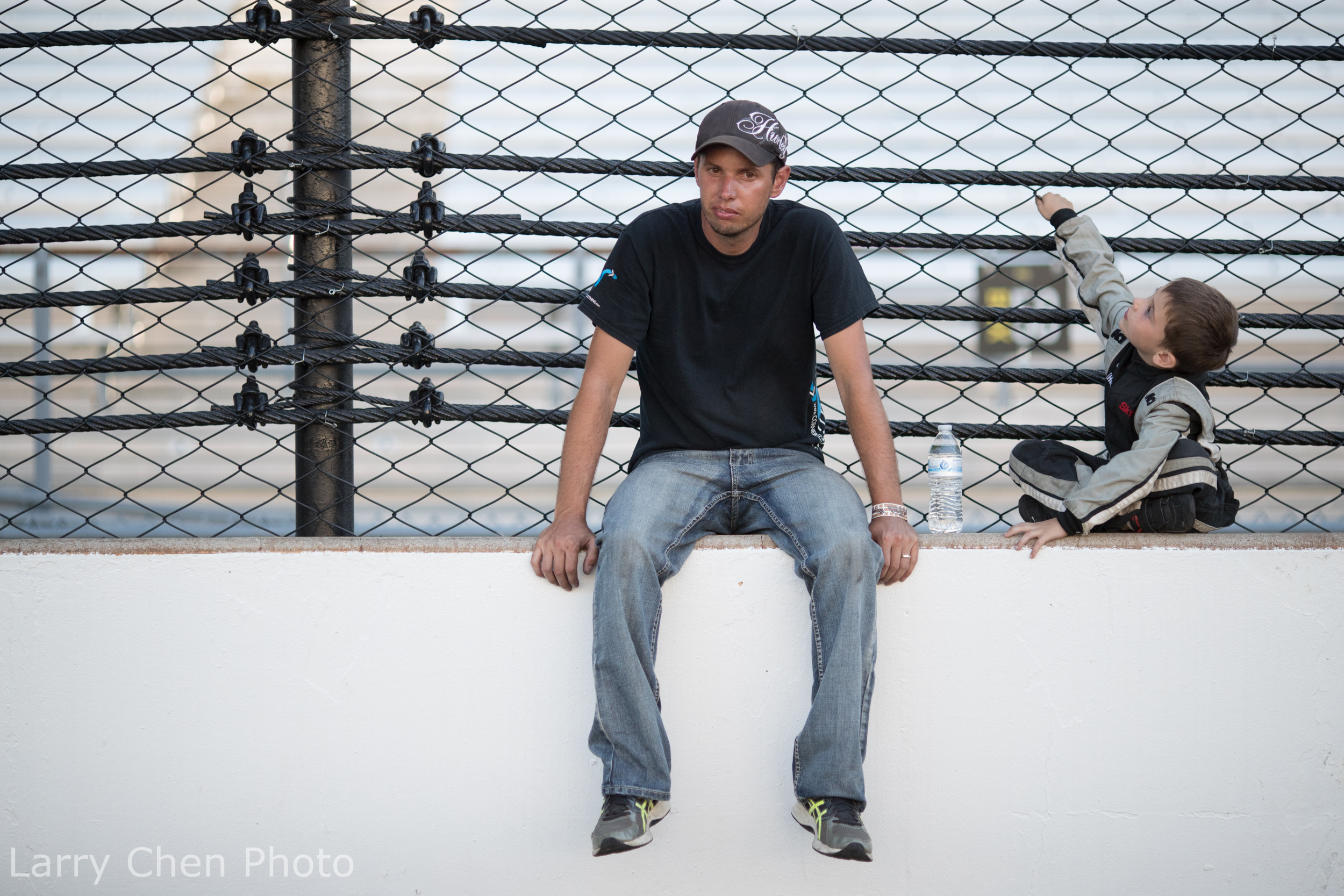 Many of the parents are racers themselves, including Jimmy Keeney, who I had just photographed the week prior as he competed at Pikes Peak. I've also watched him race in Global Rallycross.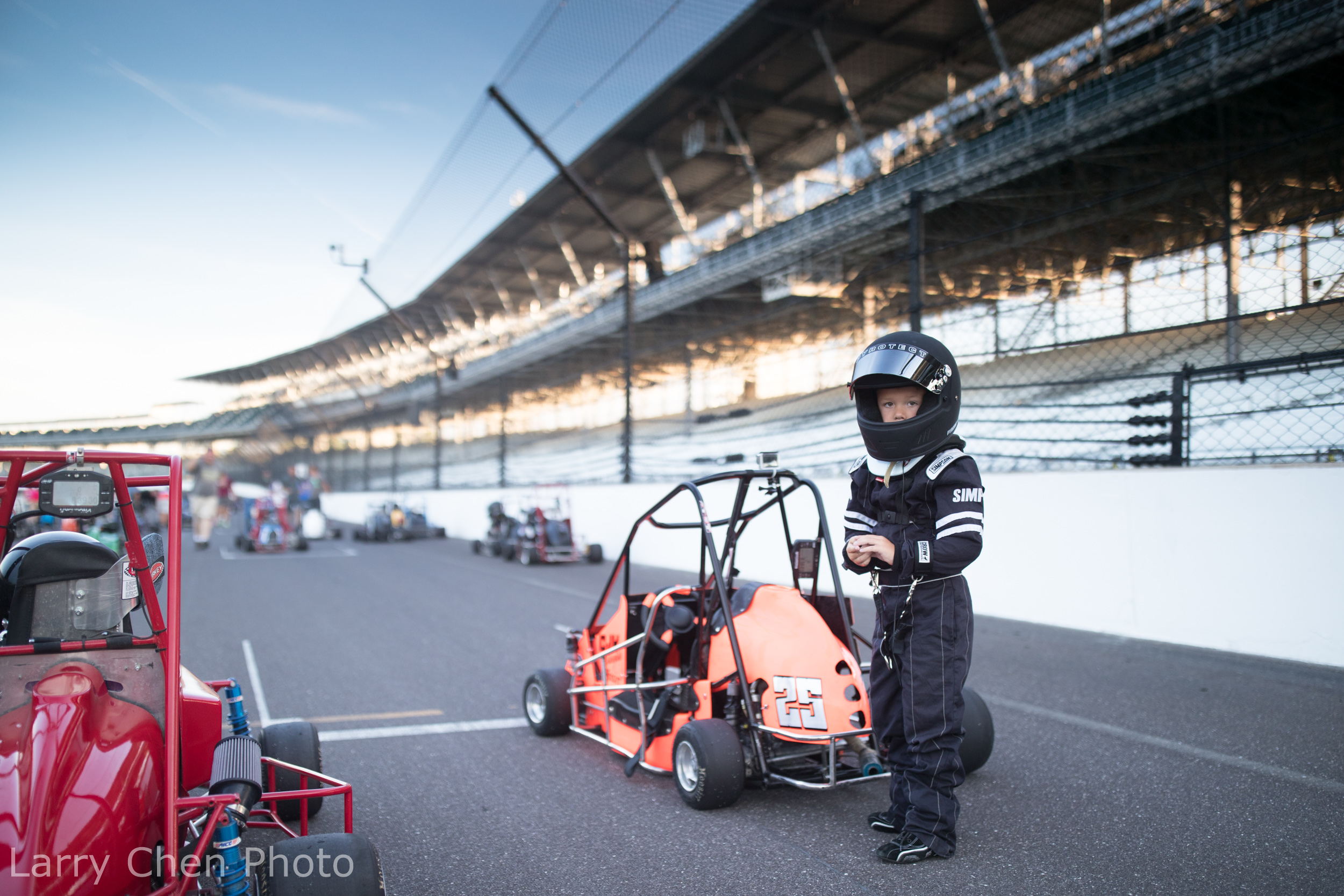 The special aspect of this quarter midget event is that every racer entered gets to run one lap around the actual Indy oval.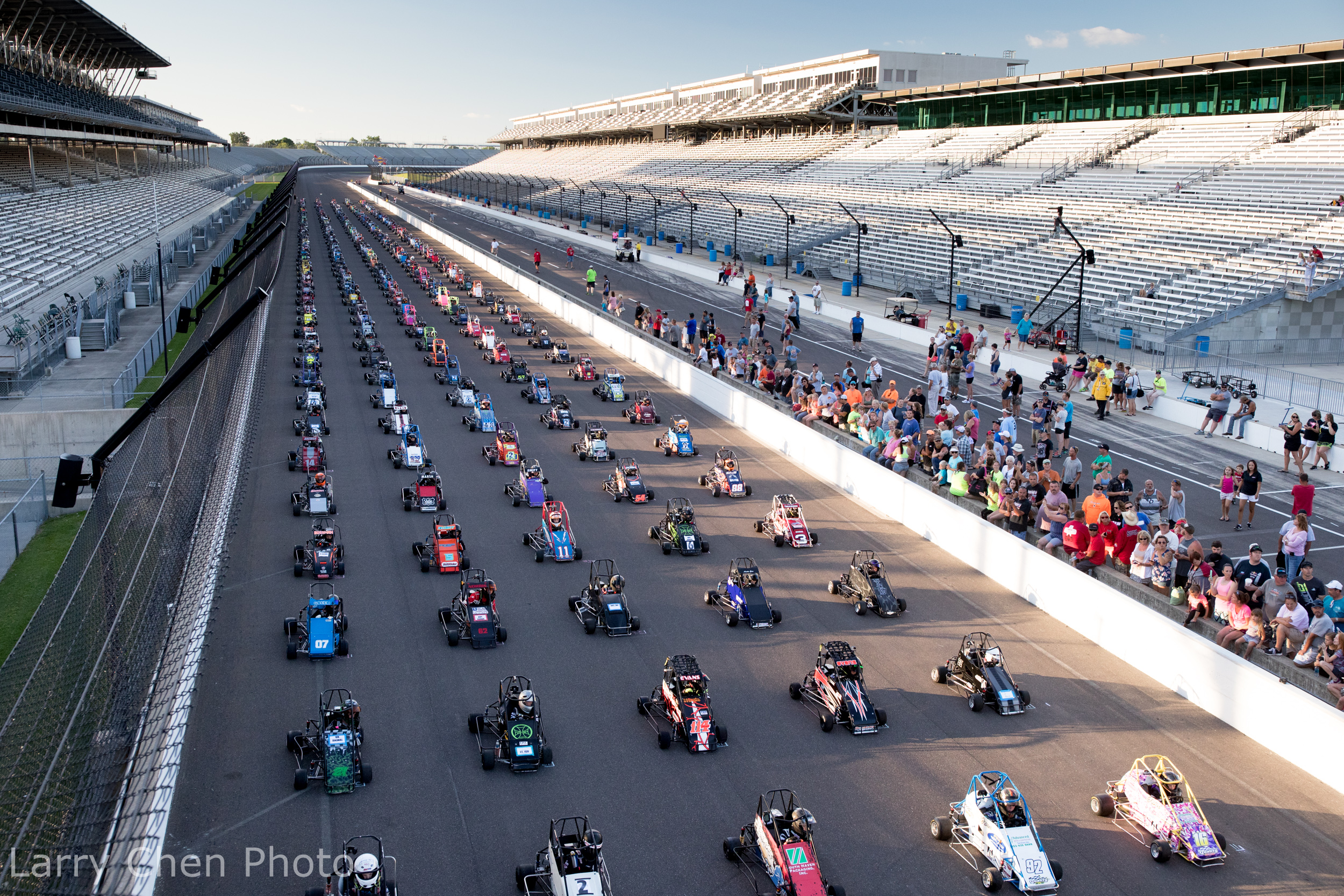 This was a sight that I can honestly say I had never seen before. 280 race cars on the huge oval was actually the most the track has ever seen at one time.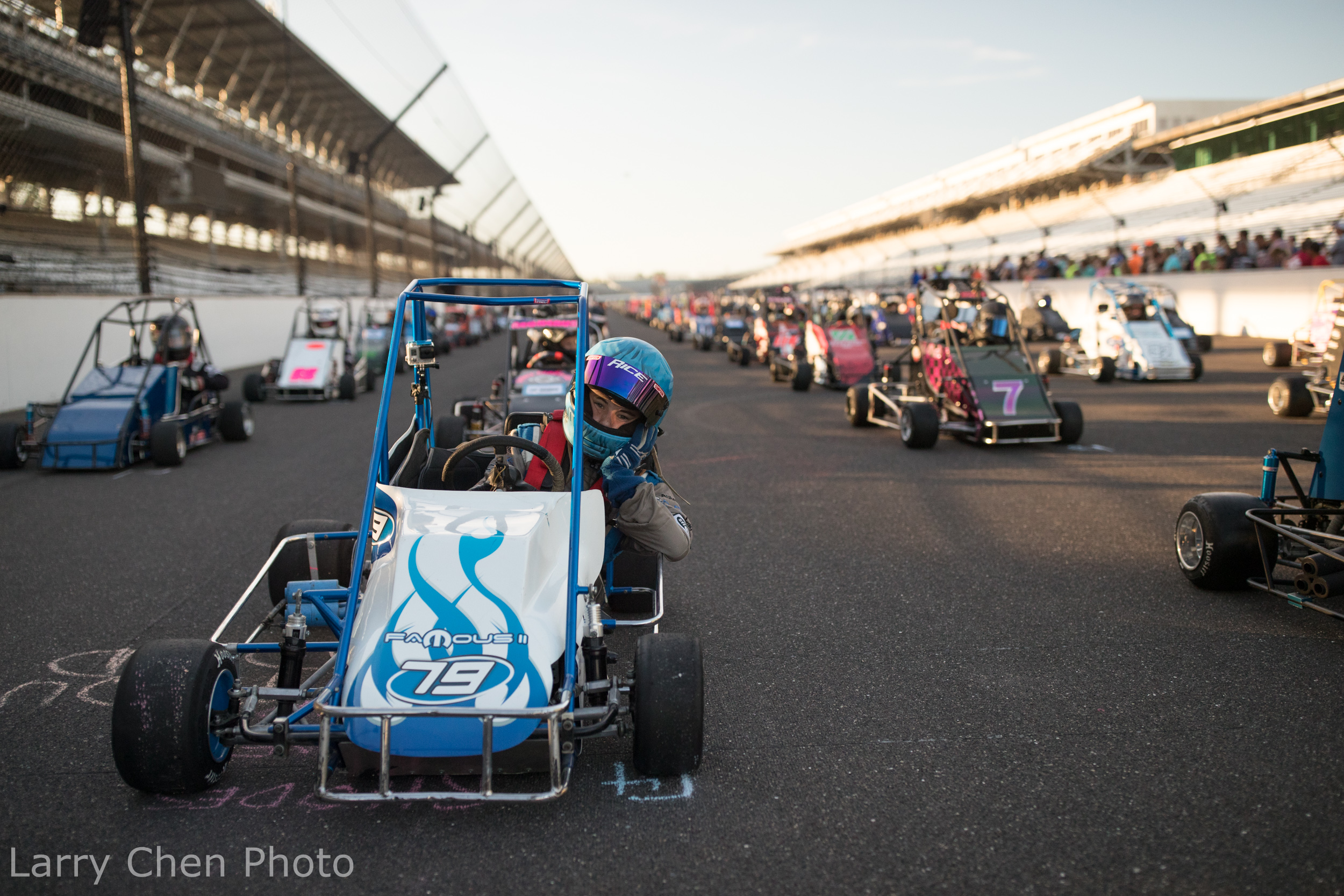 On the front row was Famous Rhodes II, one of the winningest quarter midget racers of his generation.
His father, Famous Rhodes Snr., works for AutoNation, which actually sponsors the series, and it was he who invited me along to check out the 'Battle At The Brickyard' event. More on the Famous team shortly…
Chapter Two: Quarter Midget Racing
The race day started off like any other typical motorsport event with an opening ceremony as well as the national anthem.
However, this time it was a bit different as the kids paid tribute to a fallen racer, who sadly lost his battle to cancer.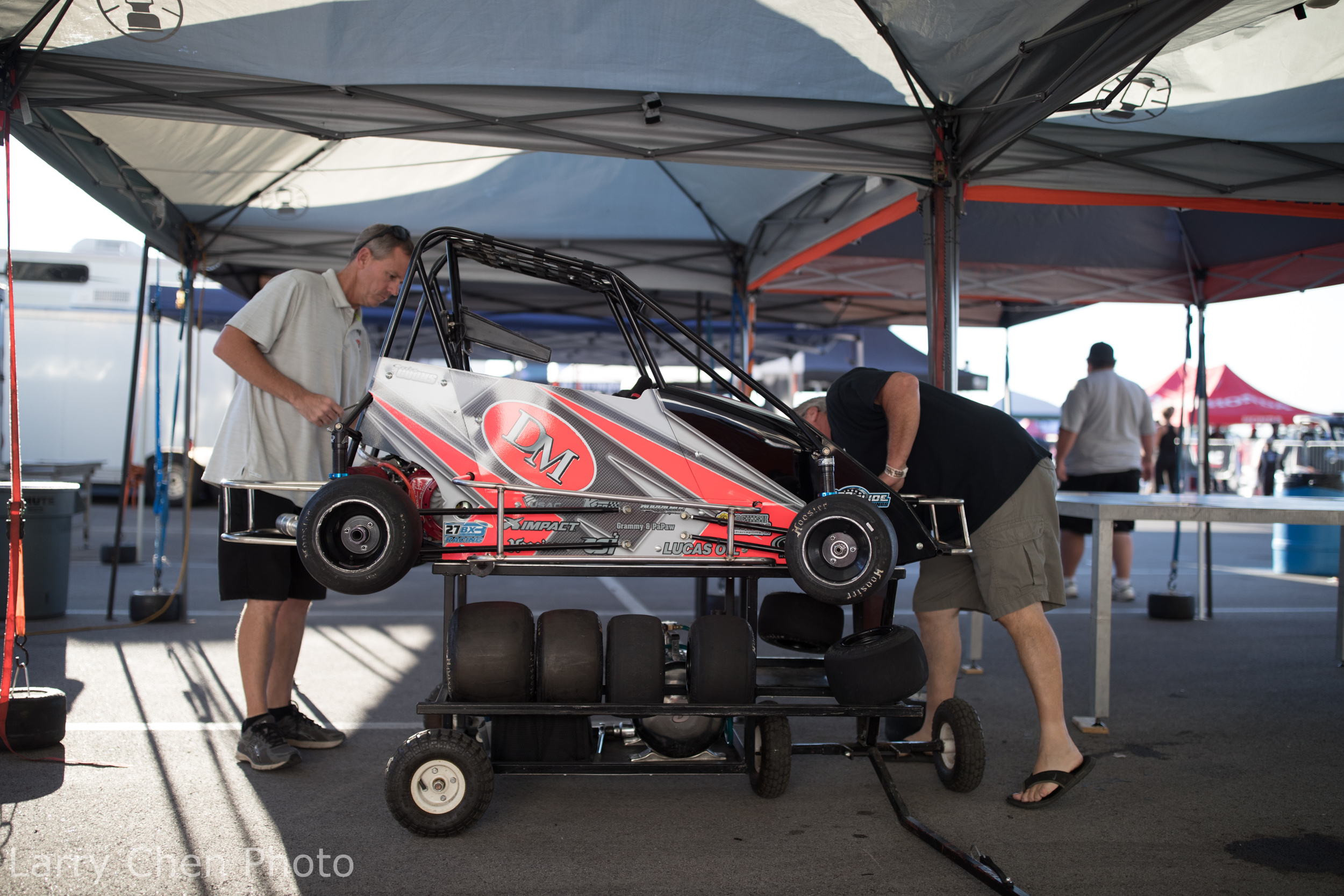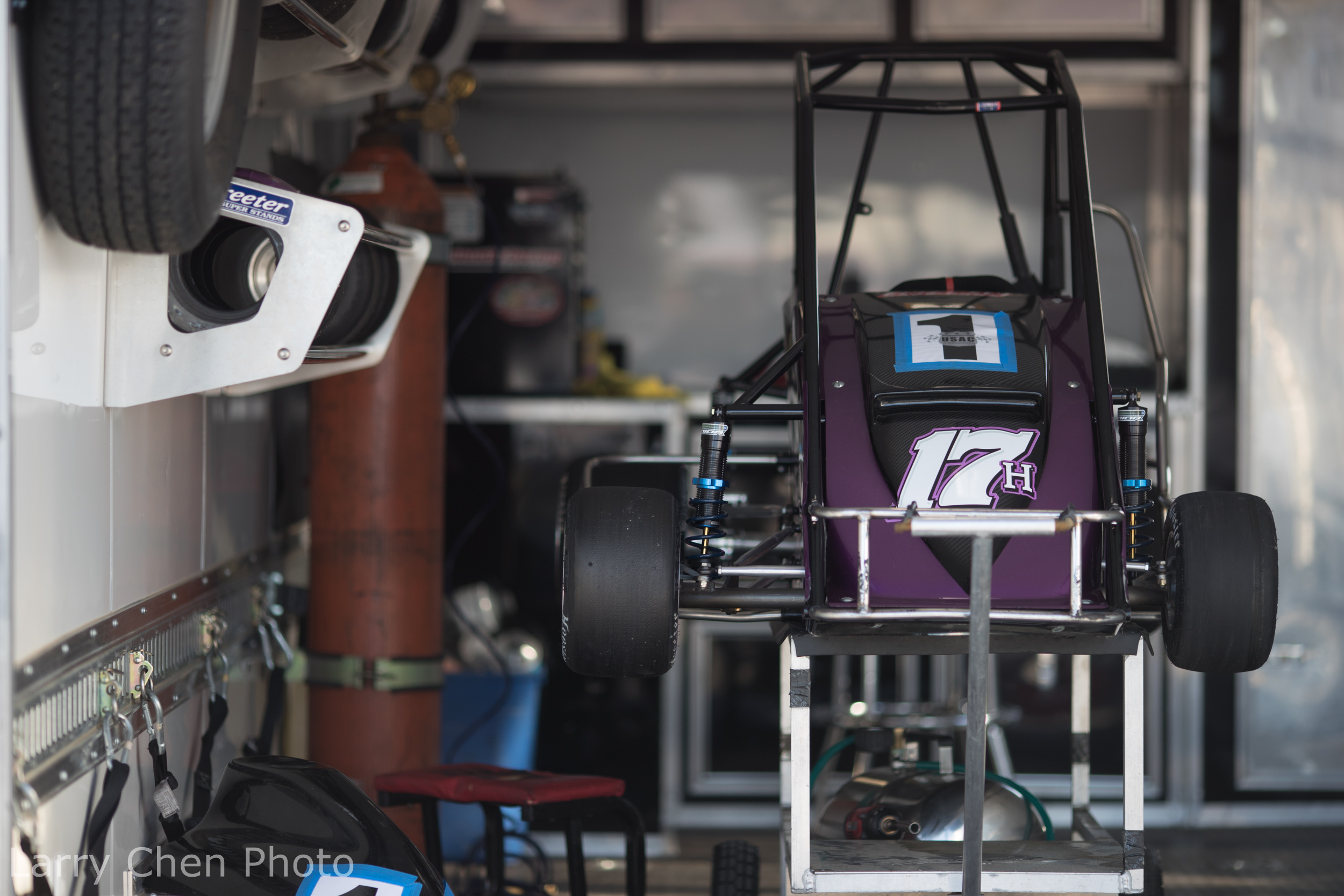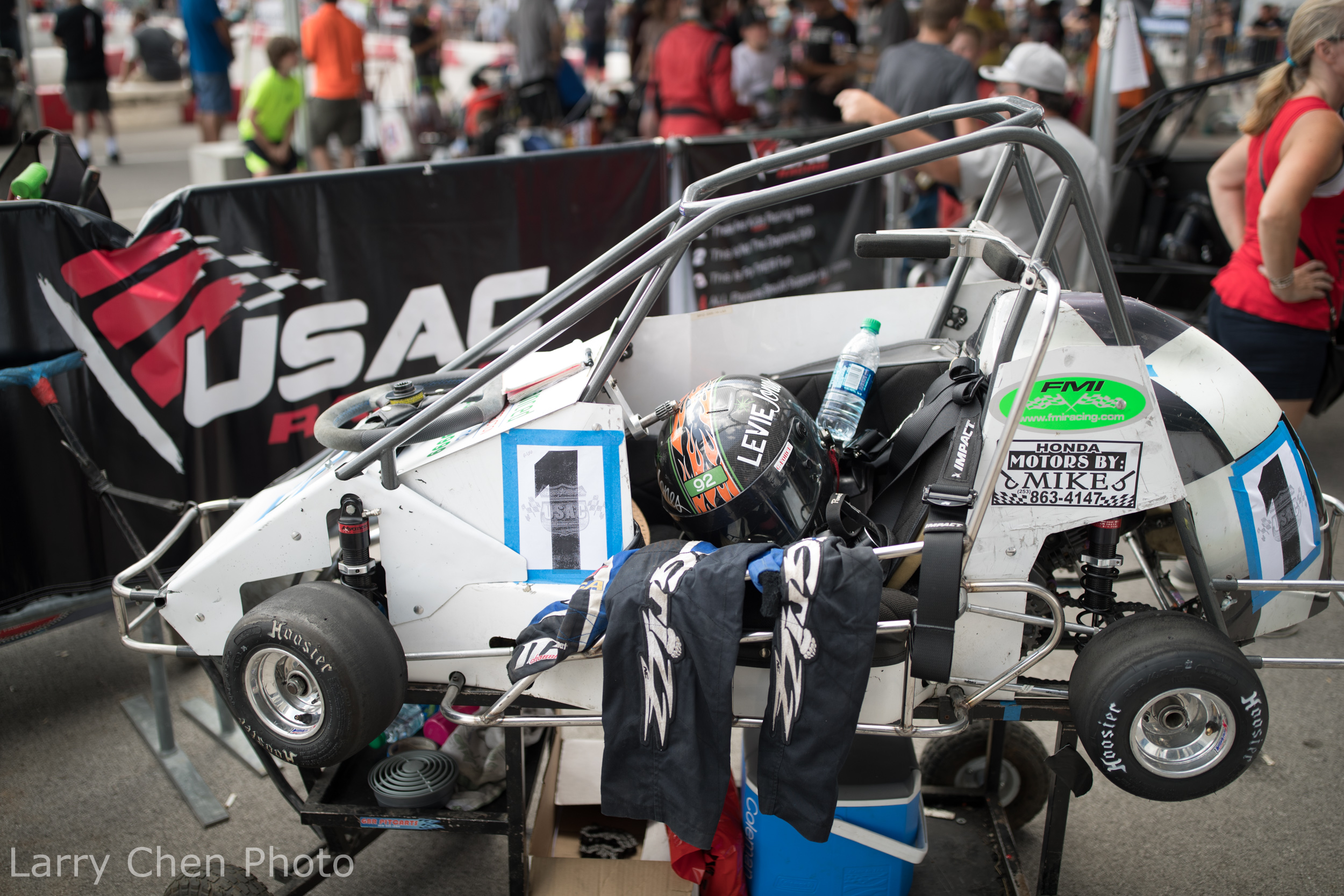 Walking a quarter midget paddock for the first time really gave me a sense of what this kind of racing was about, as well as the budgets that go along with it. Some have plain liveries and some have very extravagant ones to say the least.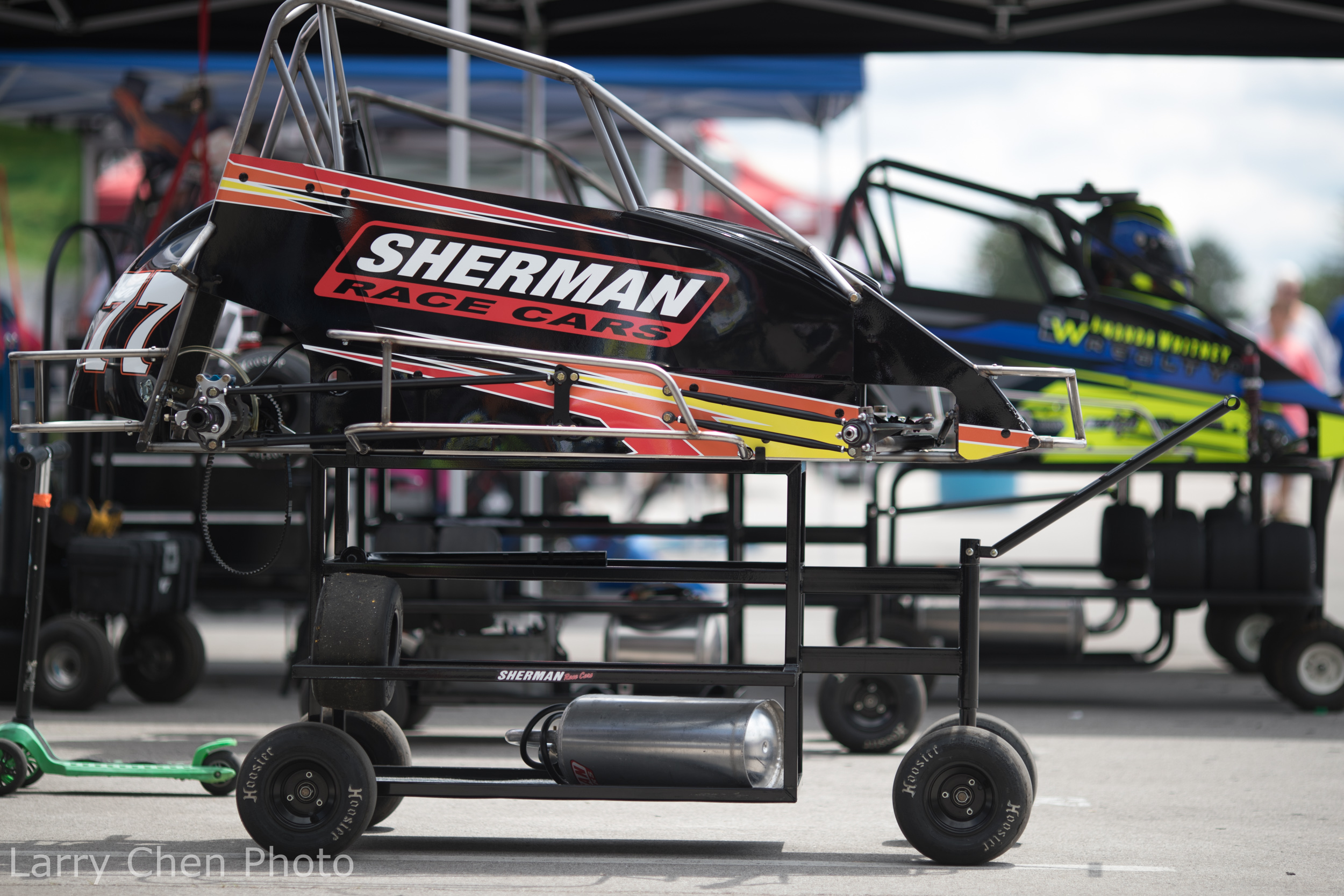 The chassis themselves can cost between US$2,000-$3000 on the used market, but you can easily spend more US$12,000 for something brand new and shiny with titanium construction, a carbon fiber body, and all the bells and whistles to go along with it.
But that's just the start of it, because a chassis doesn't include an engine. And to compete in different classes you have to get different types of engines, with the higher end ranging from US$5000-$6000. Most classes require an engine that will cost between US$500 and $2000. Altogether, with that much money you could build yourself a nice full-size race car, but only the best for your kids, right?
I just could not believe how professional looking and perfectly built some of these race cars were. For example, this quarter midget by Sherman Race Cars gets torn down and rebuilt in between every single race, just like how pro racing teams do it.
Just look at all those CNC machined parts and that carbon fiber body.
While there are a few different engine classes for the different ages of the racers, they are all four-stroke, with some putting out over 20hp. All that purple paint is applied by the officials to ensure nothing is altered on an engine setup during a race weekend.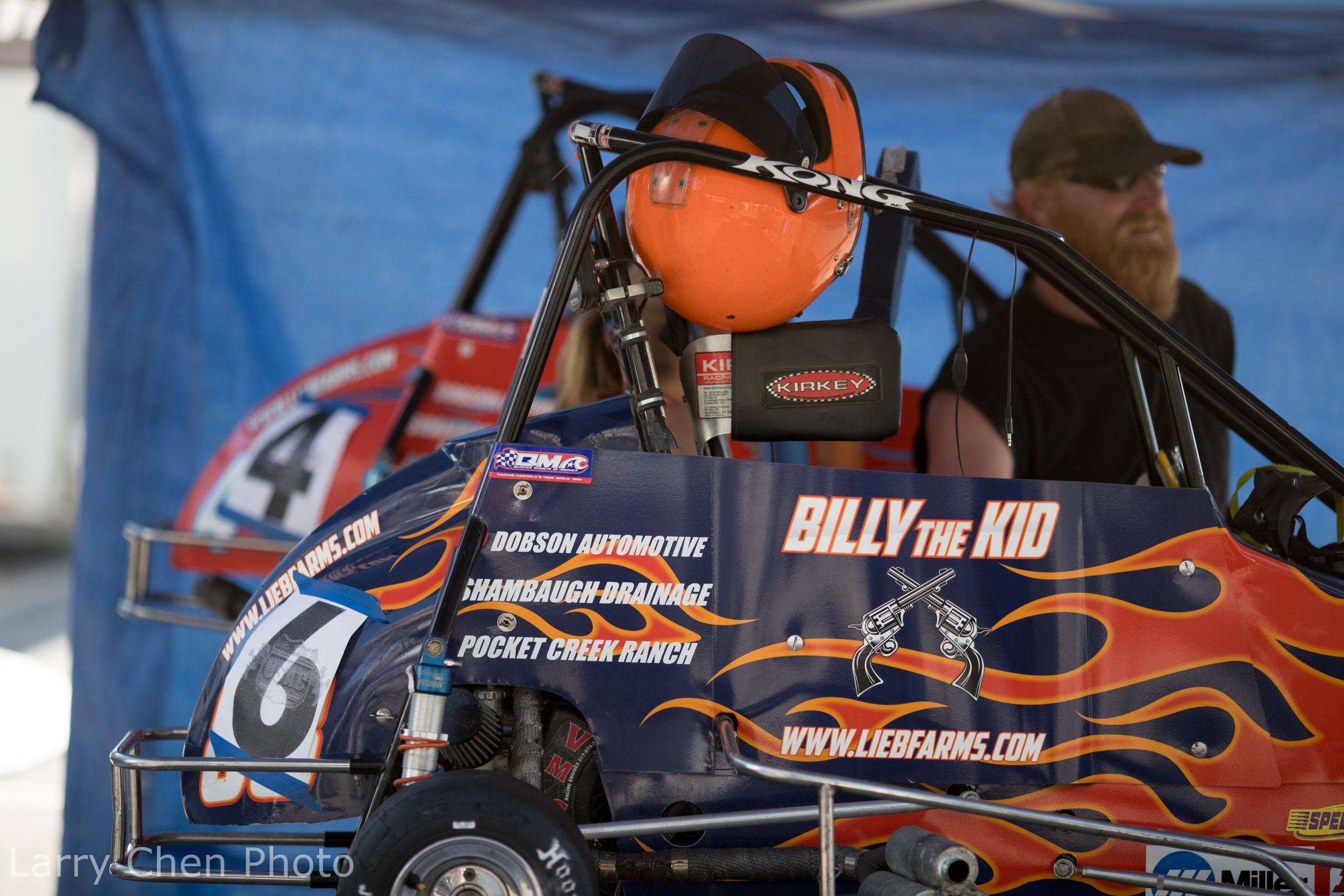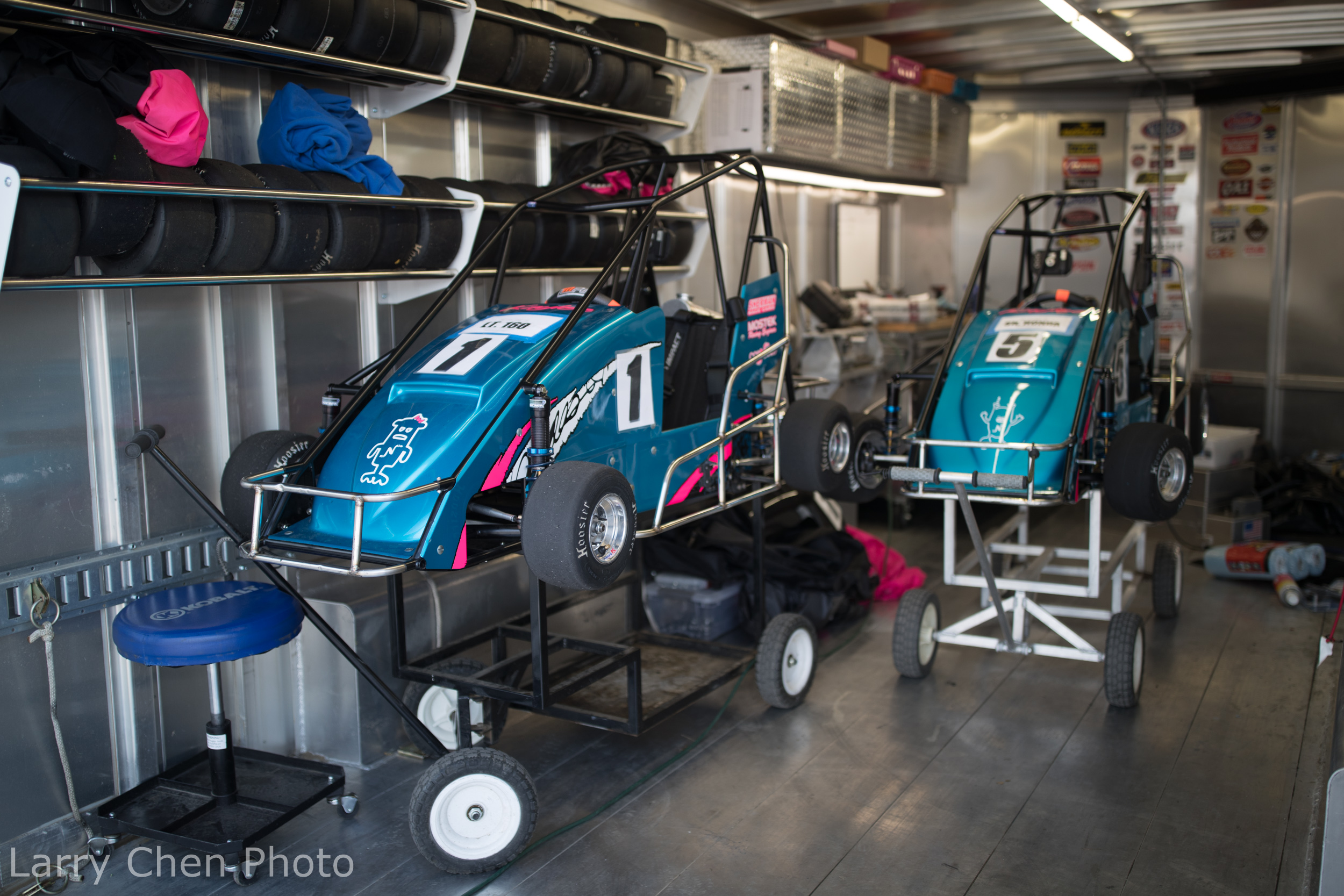 What also amazed me was the logistics that go with moving a quarter midget race team around the country. Sure, given their size it's easy enough to transport one of these things around on a single trailer, but what if you compete in many different classes. The costs quickly add up and many parents ultimately fork out big bucks for a nice truck and trailer unit.
Everything is scaled down from what I am used to, but it's largely the same sort of ritual that I photograph on a weekly basis.
But instead of your crew chief helping you get into the car, it's your mom or dad. Little race suits, little HANS devices, but big wills to win.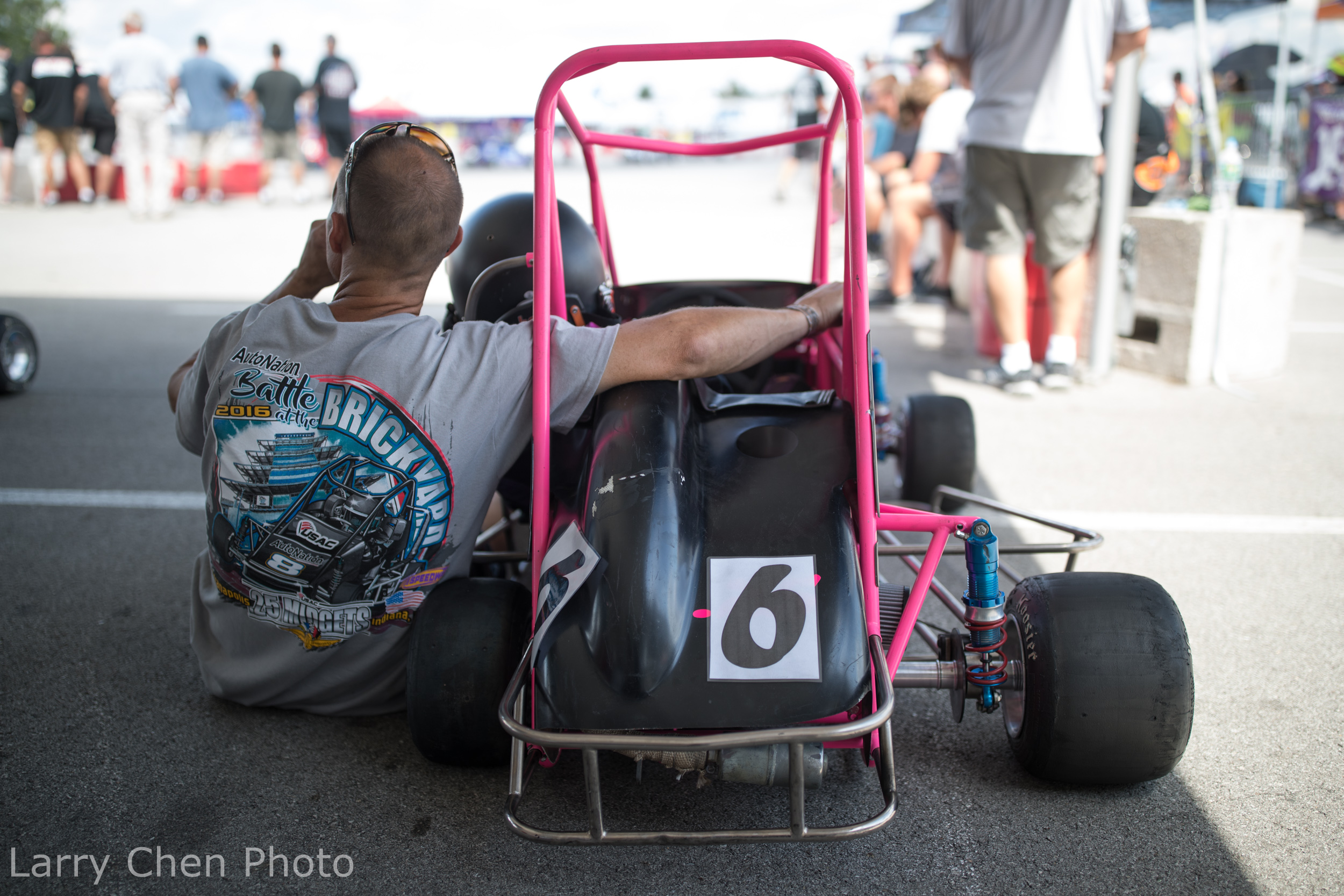 What I witnessed amazed me. It even made me a bit jealous. I never got the opportunity to race as a kid, so in my eyes these youngsters are very lucky indeed.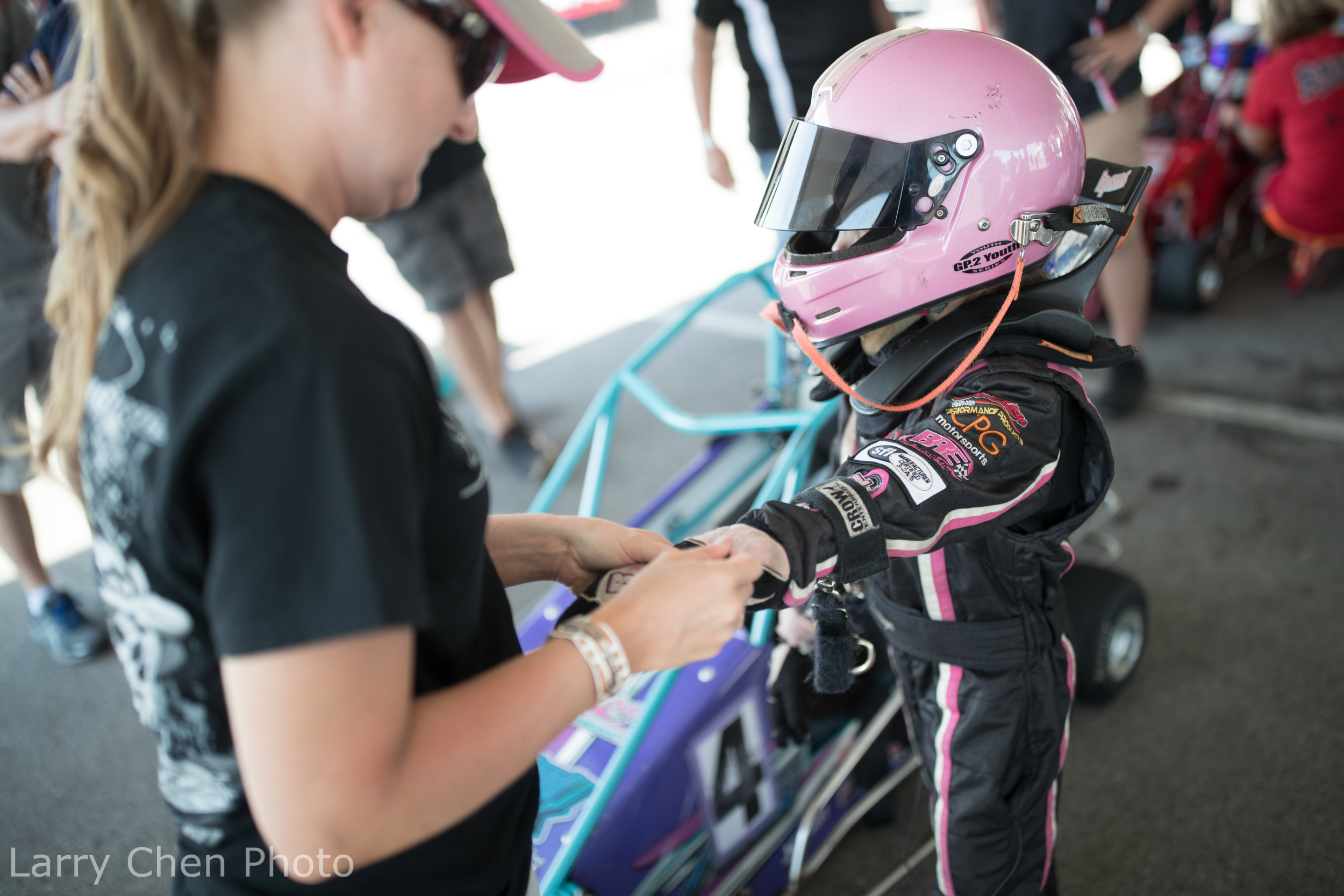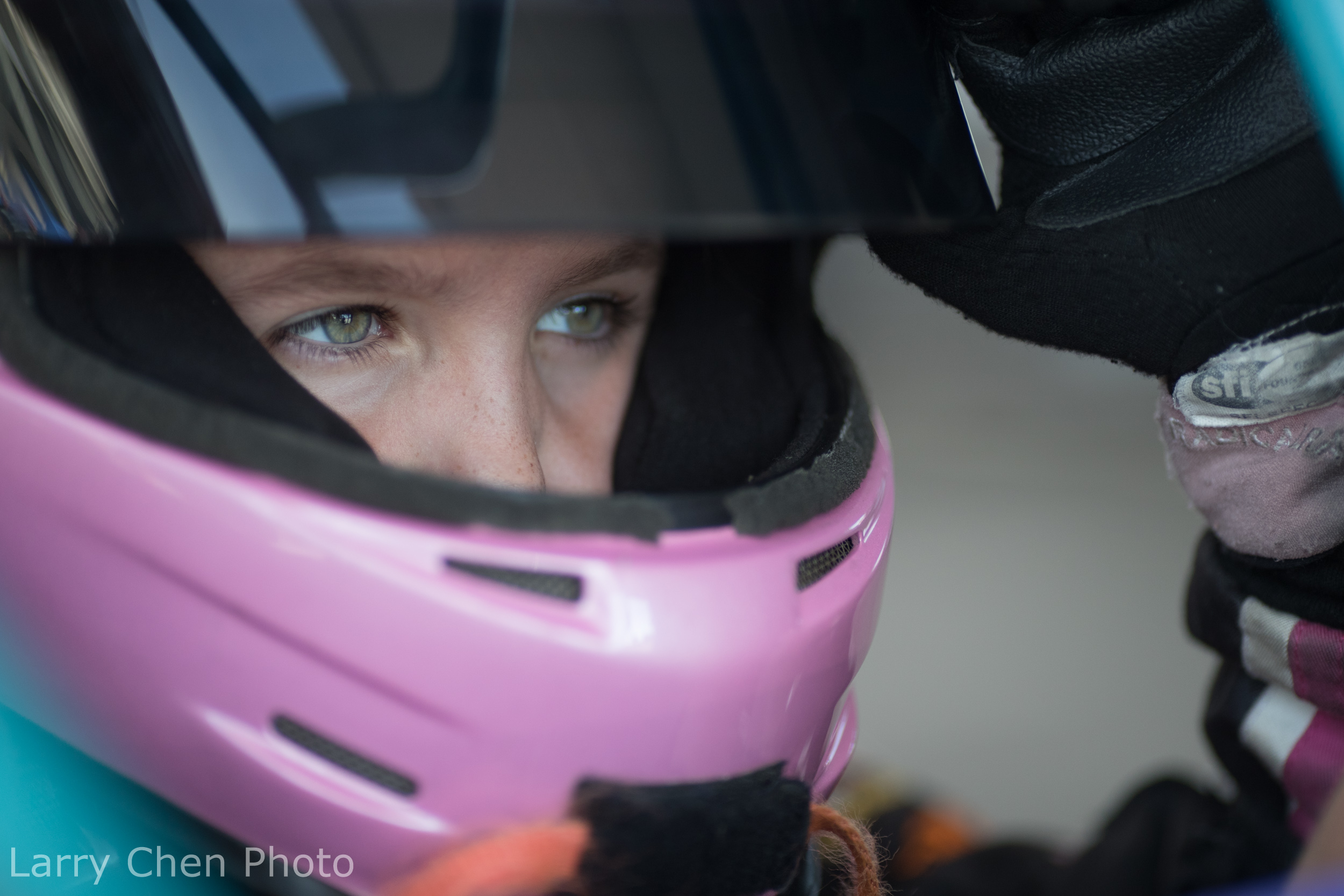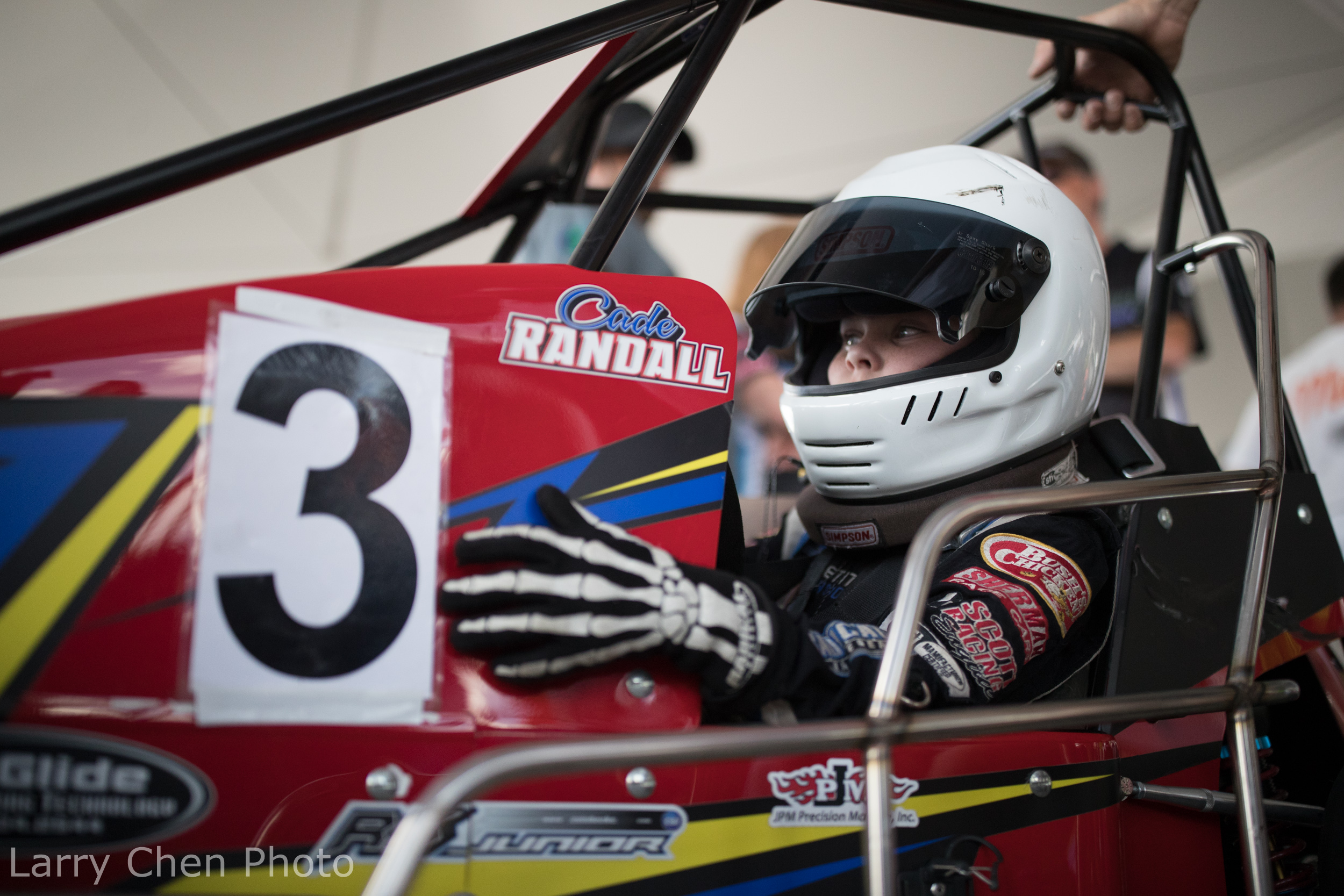 I was fully expecting to see crazy helicopter parents yelling and screaming at other parents as well as their kids, because I understand how things can get a little heated; every single dollar they earn goes towards funding their child's racing dreams. While that sort of thing definitely exists in this world, it was not so evident at this event. Instead, I saw caring parents sacrificing everything, including their own time, to support what their child loves. Some kids actually want to be racing drivers, and some just want to be a part of it all.
Chapter Three: When Push Comes To Shove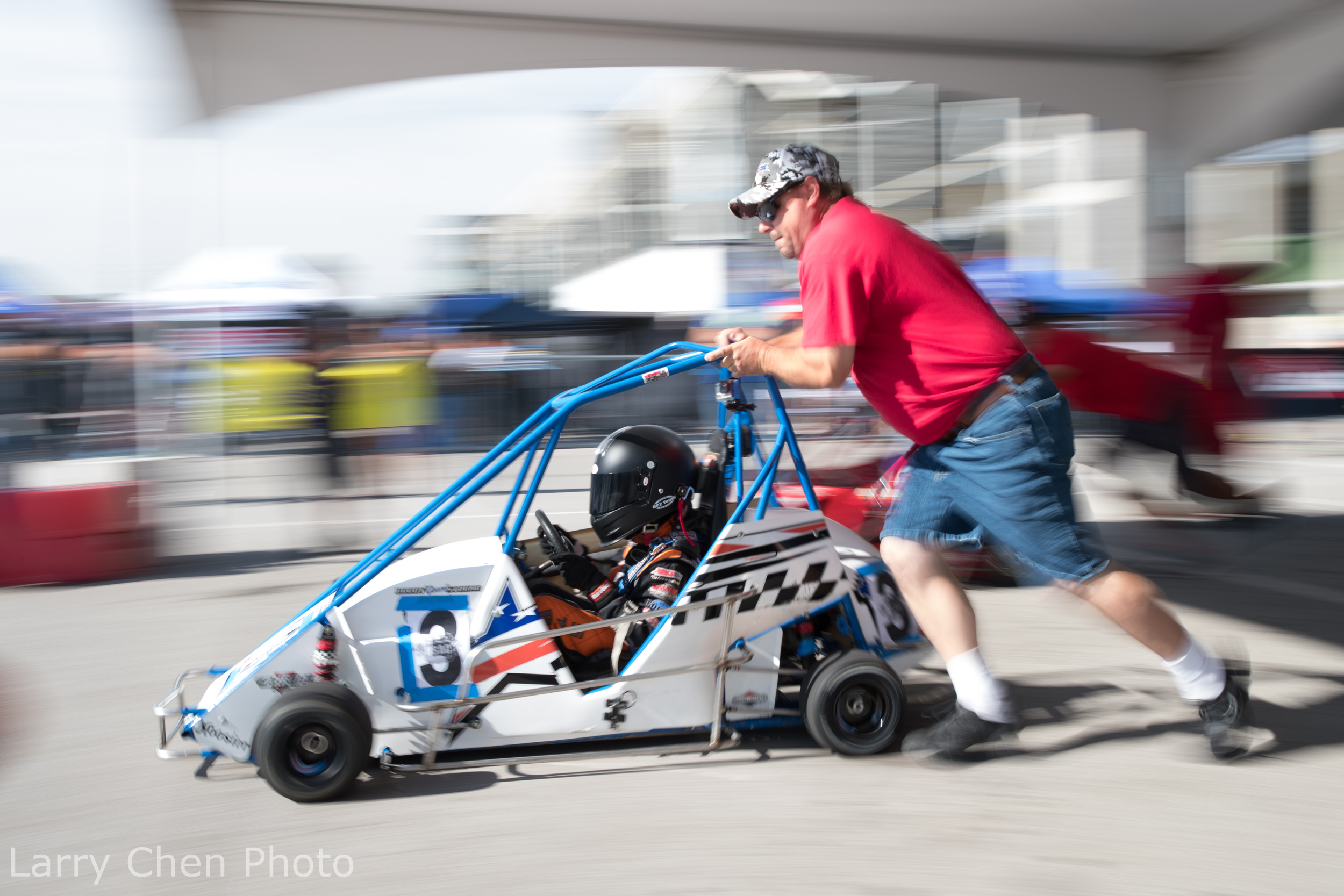 Quarter midgets are exactly what the name suggests – 1/4 the size of a midget race car. And just like their full-scale counterparts, these things are also direct drive.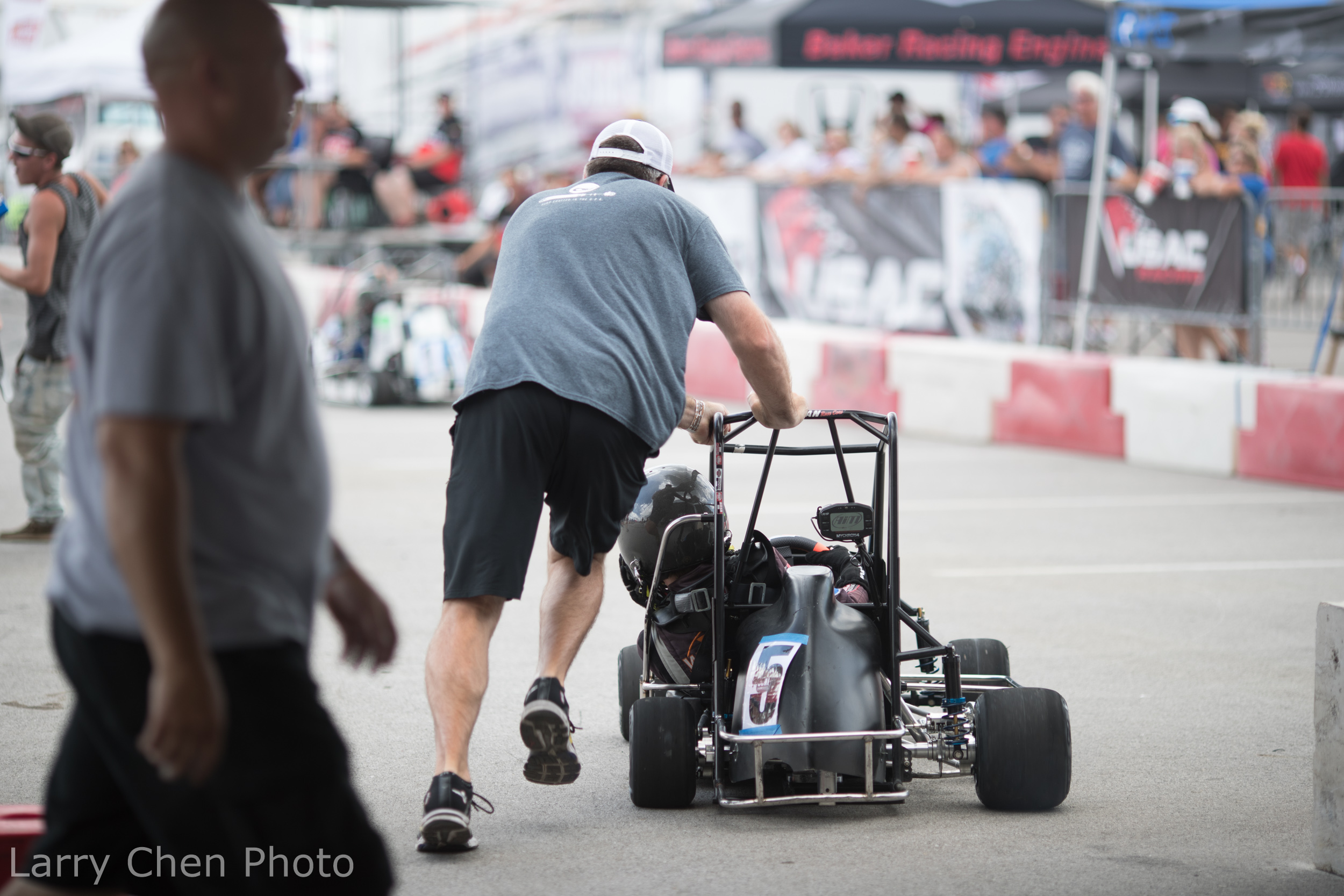 Which of course means they need to be push started. But instead of having a push vehicle, the parents themselves are the ones pushing the kids out onto the track.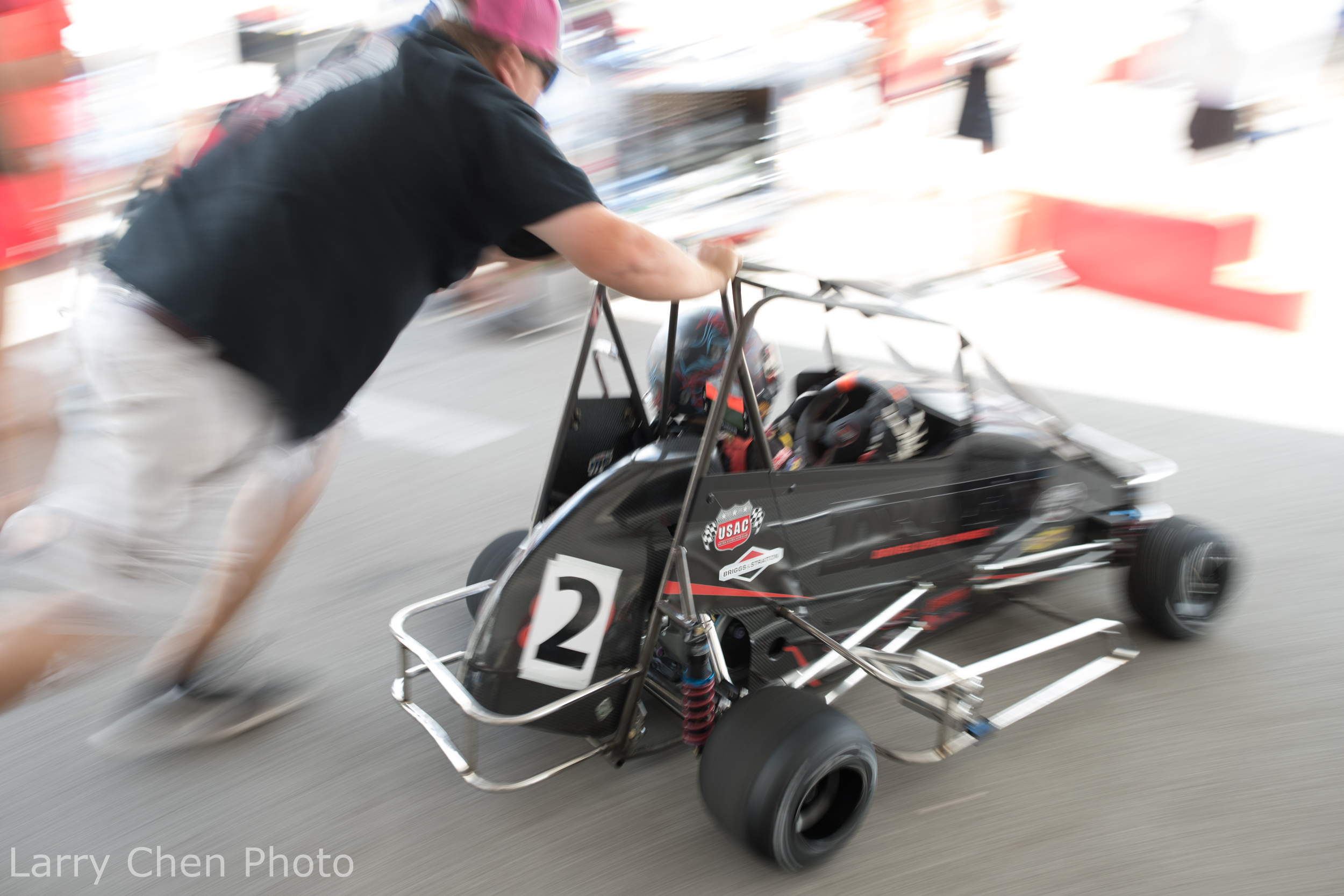 To me, this was one of the coolest aspects of the sport, as parents and helpers are essentially part of the process by physically helping the race car move.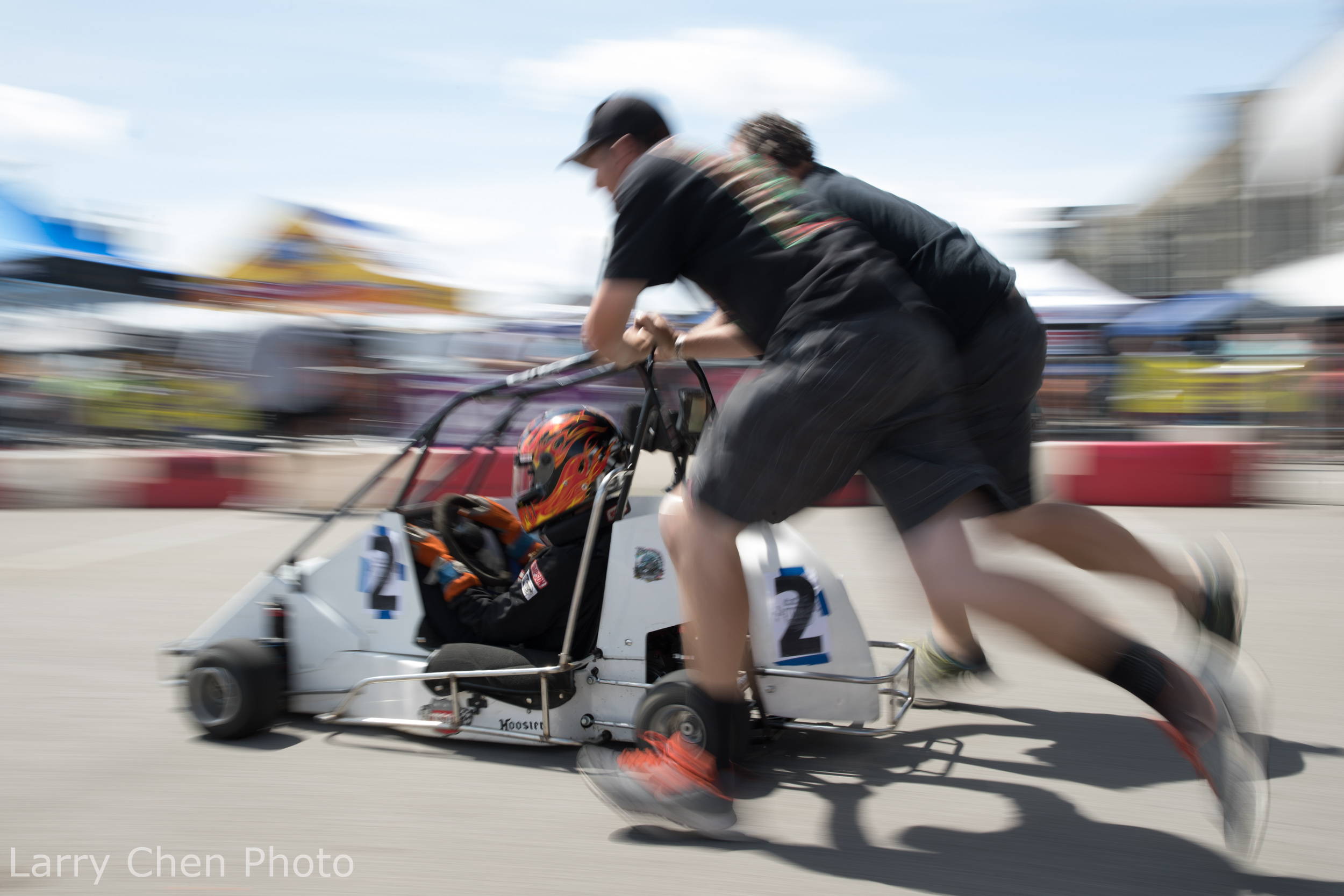 The cars stall all the time due to racing incidents and red flags too, so when that happens they have to jump on course to help start them up again.
It's also cool when a race car comes into the pits but there's not enough time to place it on a stand to make a repair. When this happens the front or back end is simply lifted by hand, with the driver still sitting in the cockpit.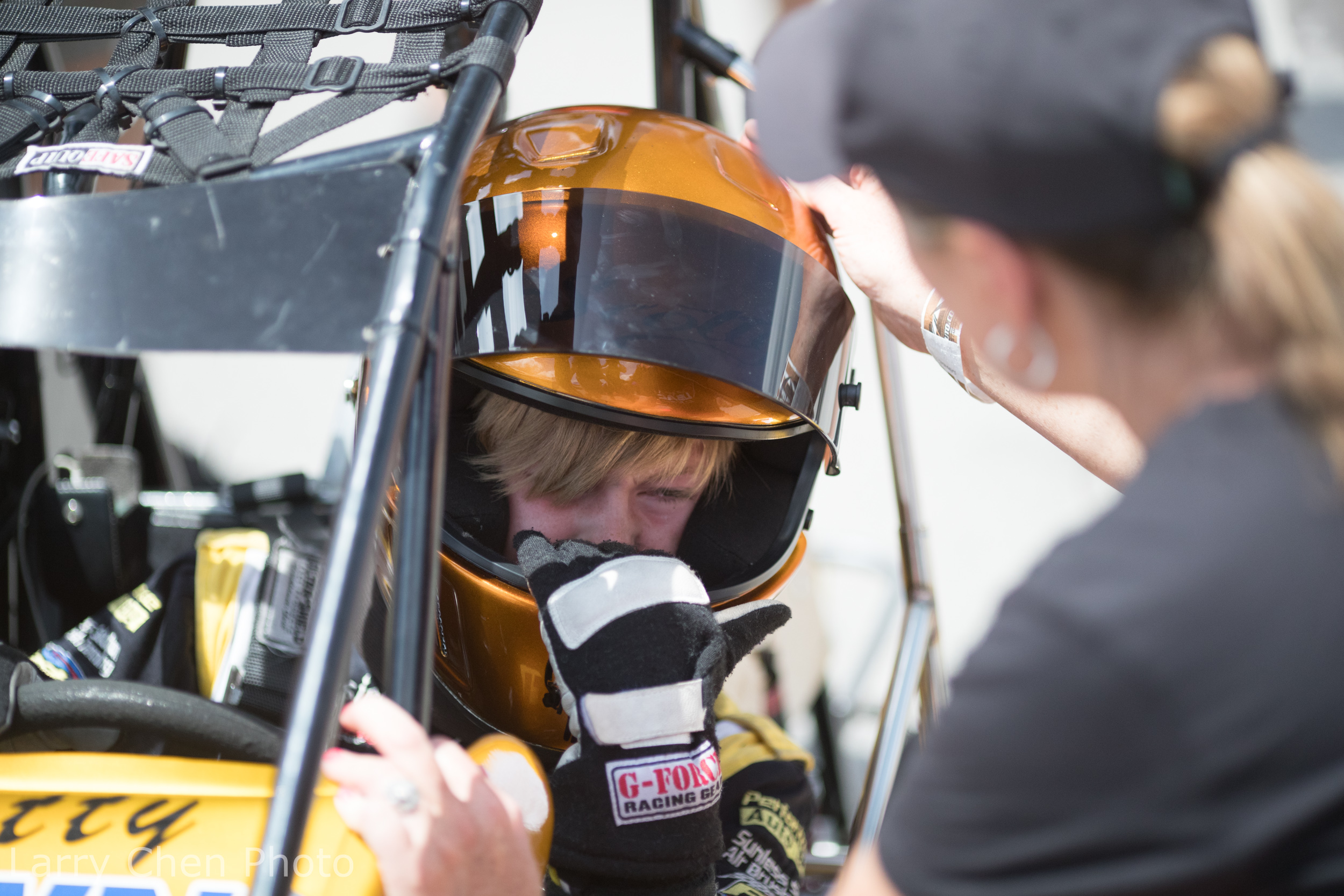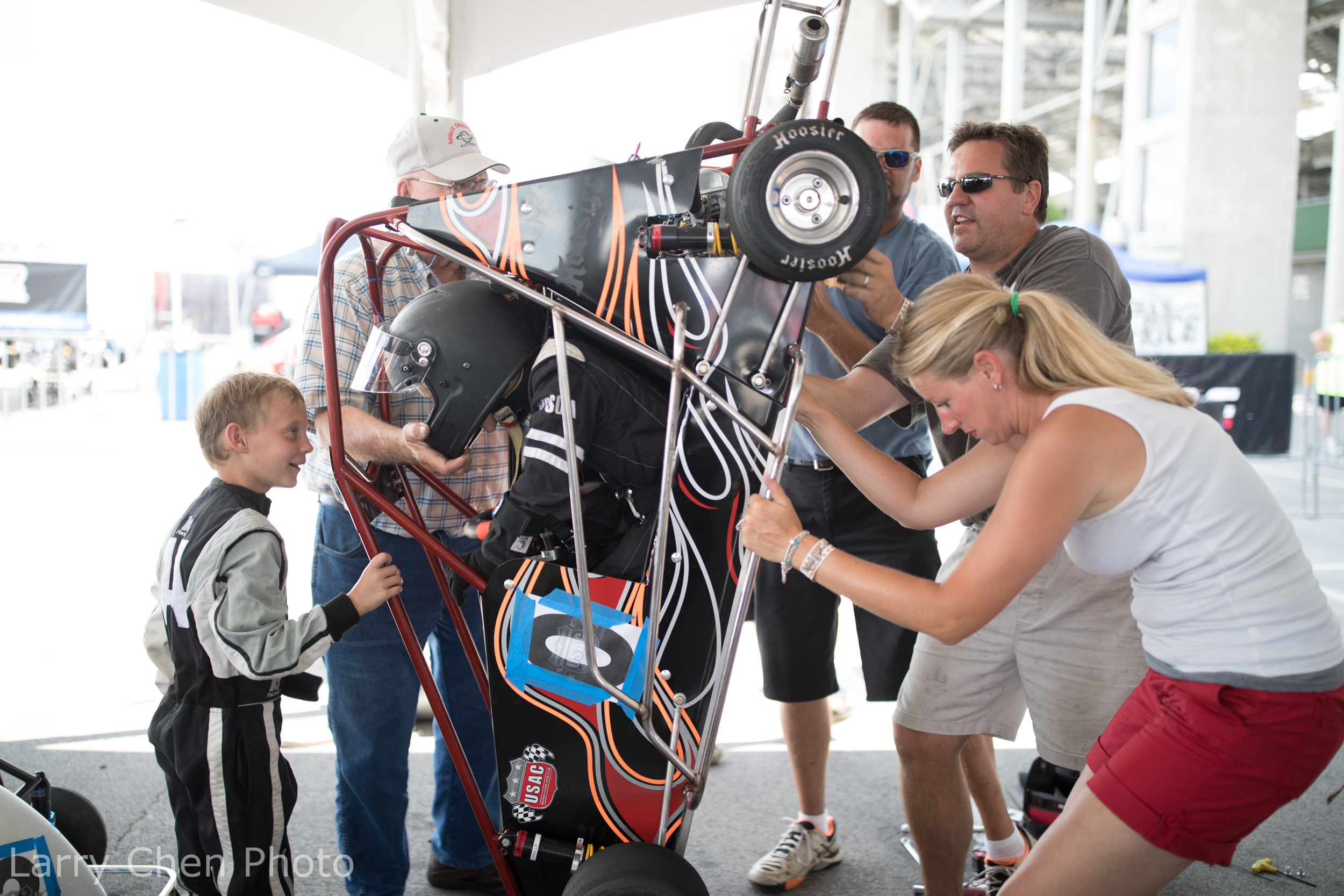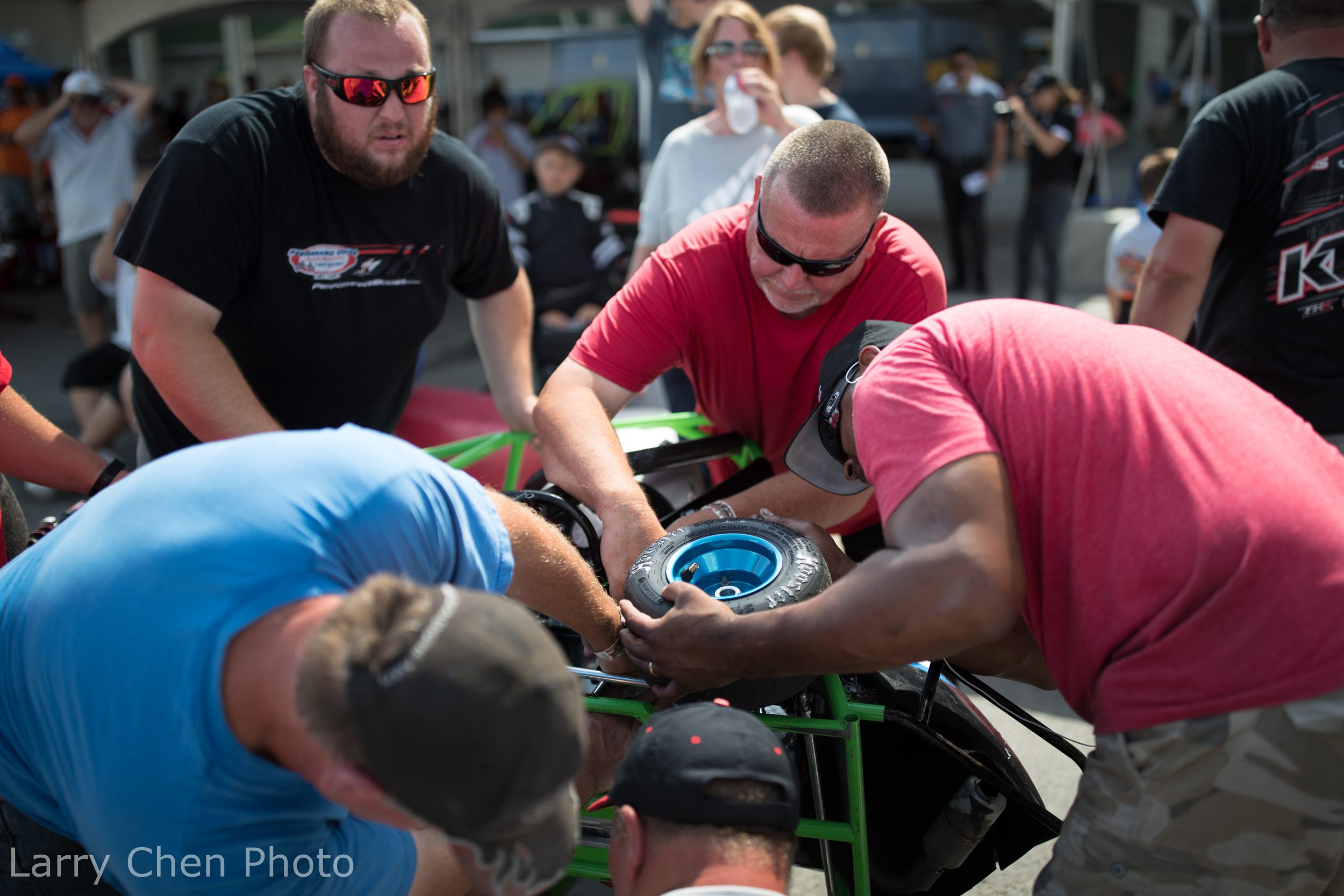 It's such a normal thing for these parents and teams, but I thought it was so interesting. How cool would it be if that was the case with full-size race cars? Who needs air jacks!?
There's a big speed difference between the lowest and highest tier classes as they race around the quarter midget standard 1/20th mile ovals. At the upper end it's flat out, intense racing.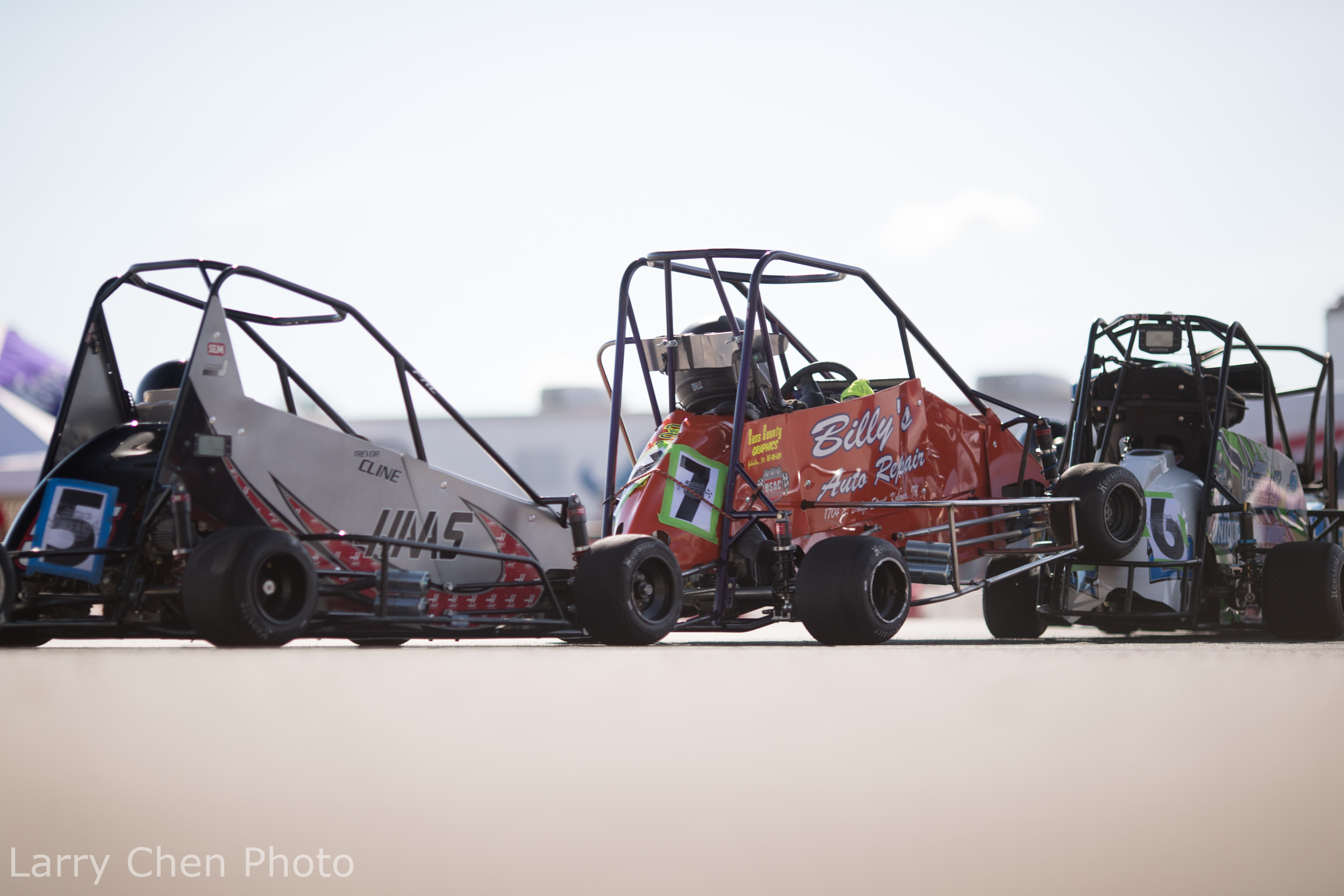 The hard part of racing on an oval course is navigating around the other racers. There is so much strategy it's insane.
This is not just about turning left and going around in circles. Each and every lap is different from the next.
In fact, the top drivers like to start off at the back of the pack, because the more passes you pull off, the more points you earn. If you do start from the front, you better make sure you finish there.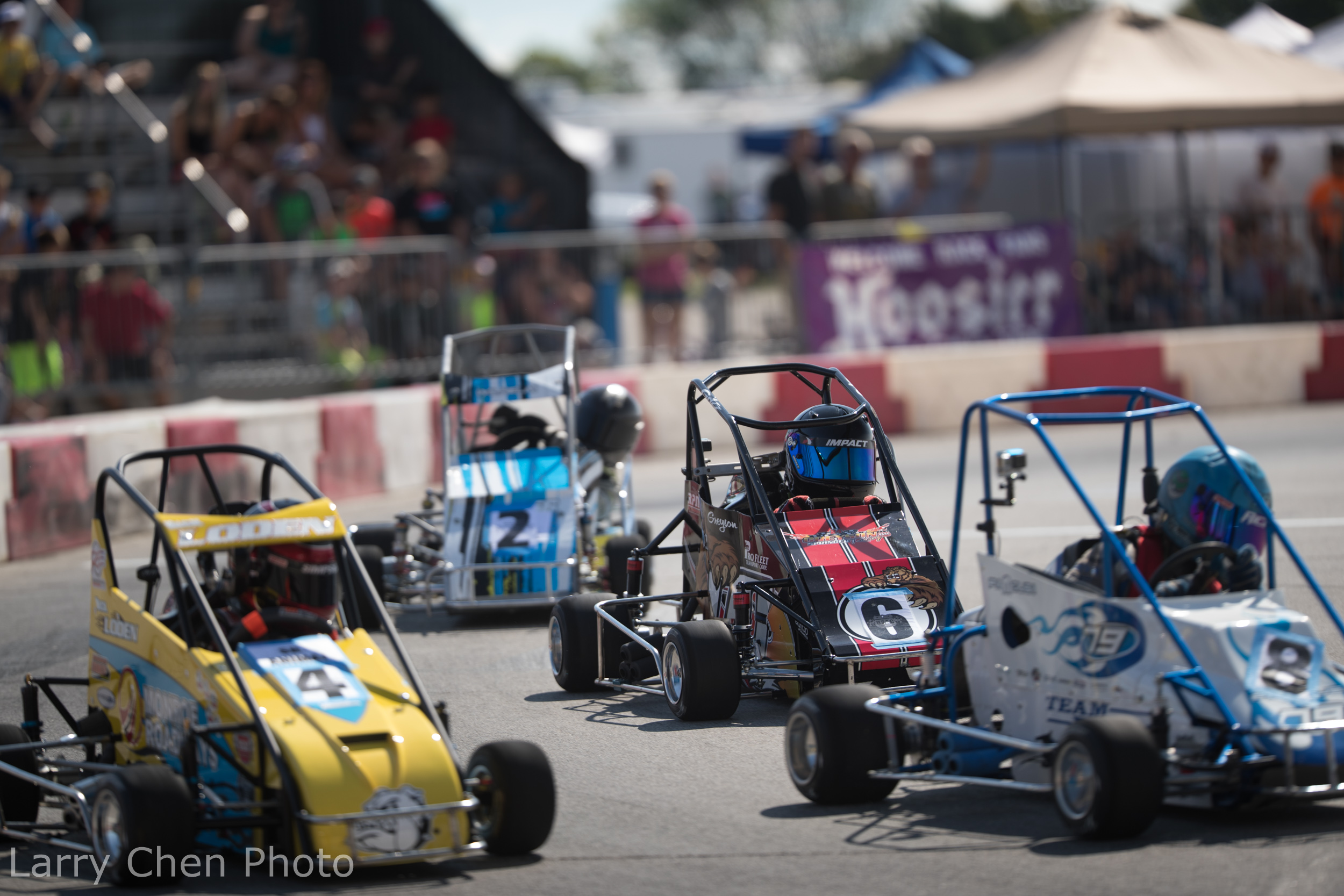 While most of the classes allow for foot-to-the-floor racing, the higher horsepower race cars actually require drivers to lift slightly into the corners.
So from a very young age these kids learn the basics and get comfortable with over and understeer as well as running the optimum driving line.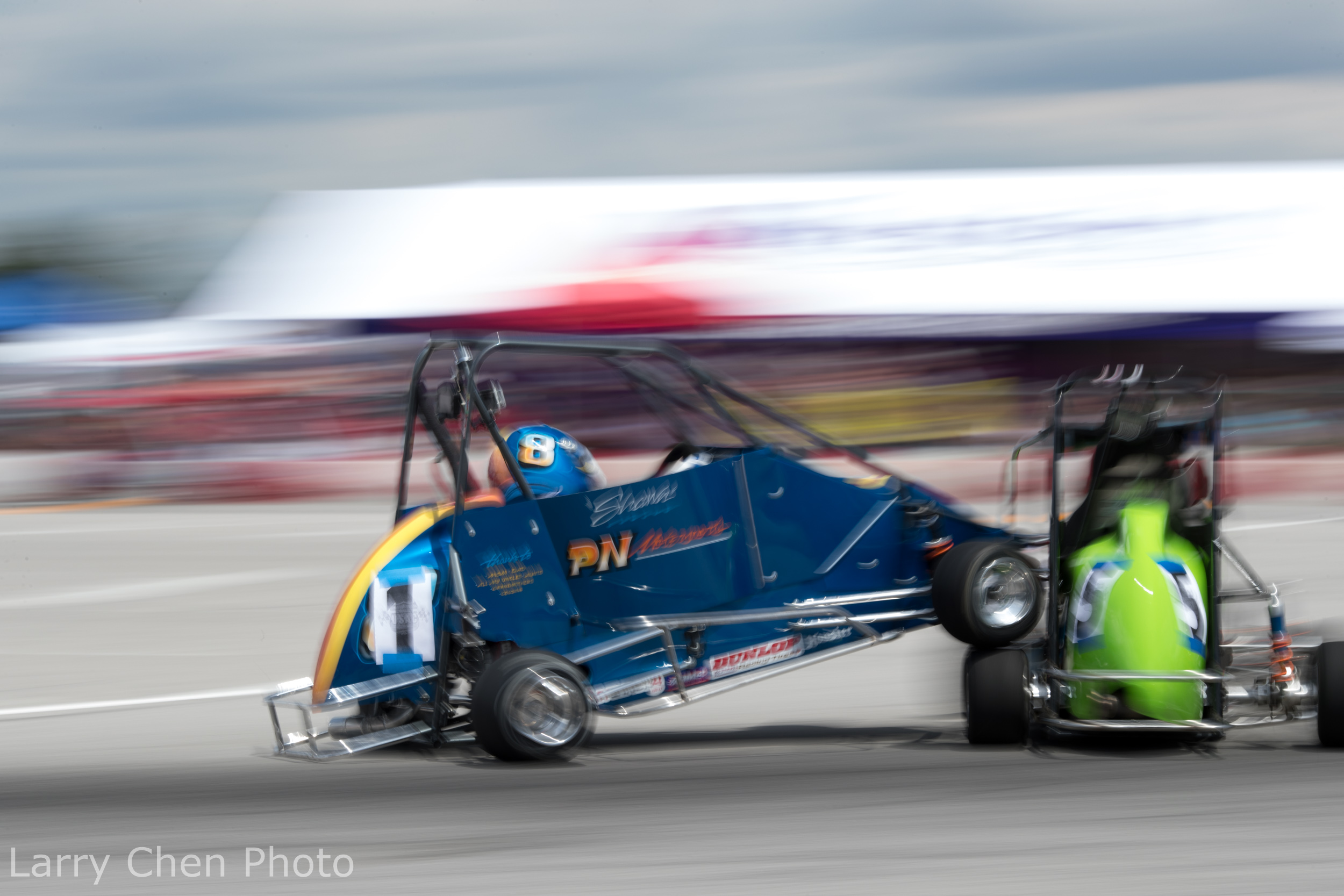 With so much racing experience under their belts, it makes it so much easier for these youngsters to transition into full-size race machines.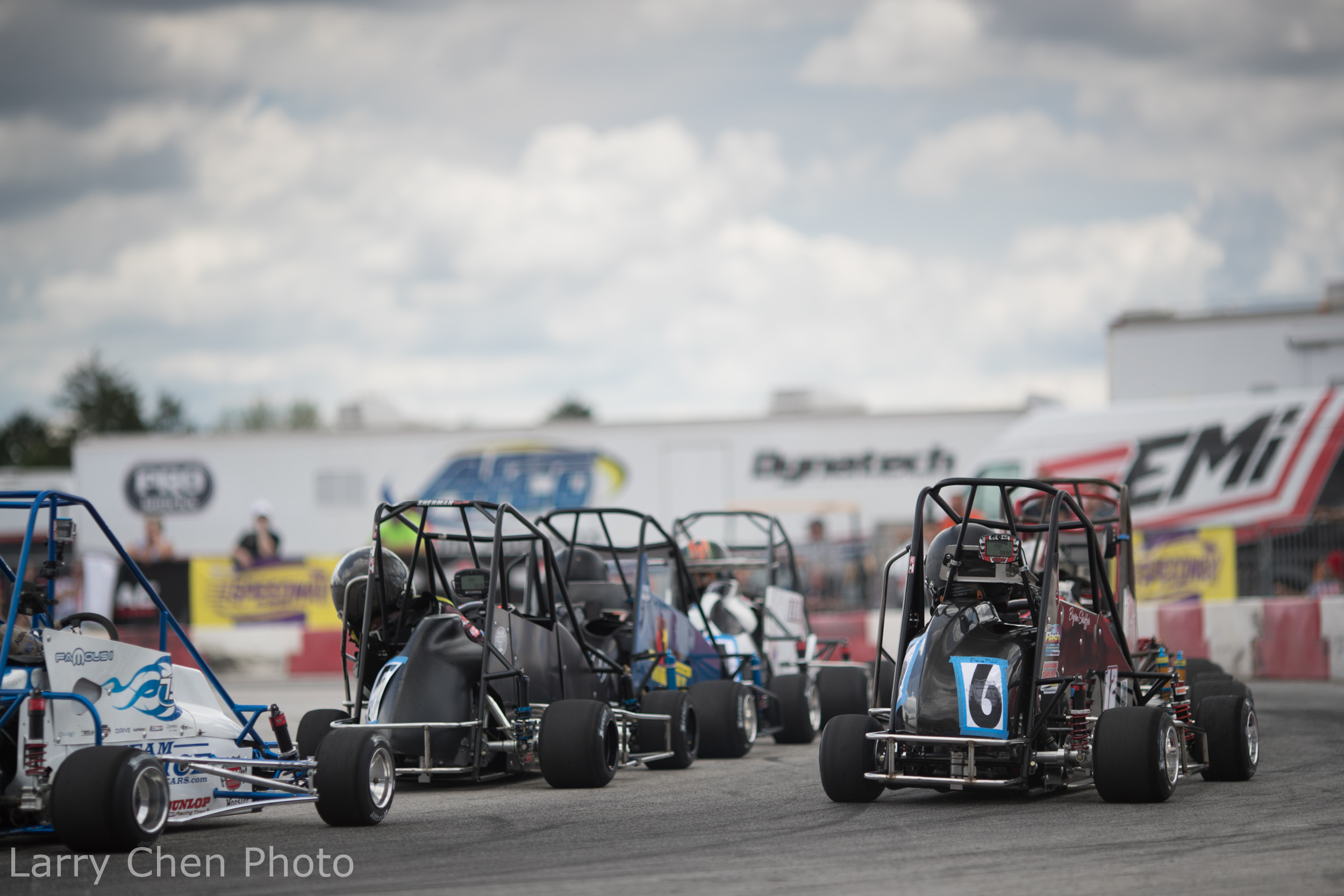 Over the course of the weekend there are more than 100 races that take place, which pretty much means non-stop racing. Each race is about 10-20 laps for heats, 15-25 laps for lower Main classes, and 20-40 laps for the A Mains. Of course, it all depends on the class and division, but the higher lap counts are generally reserved for senior and upper classes.
The top teams are so closely matched that they really have to push hard for position.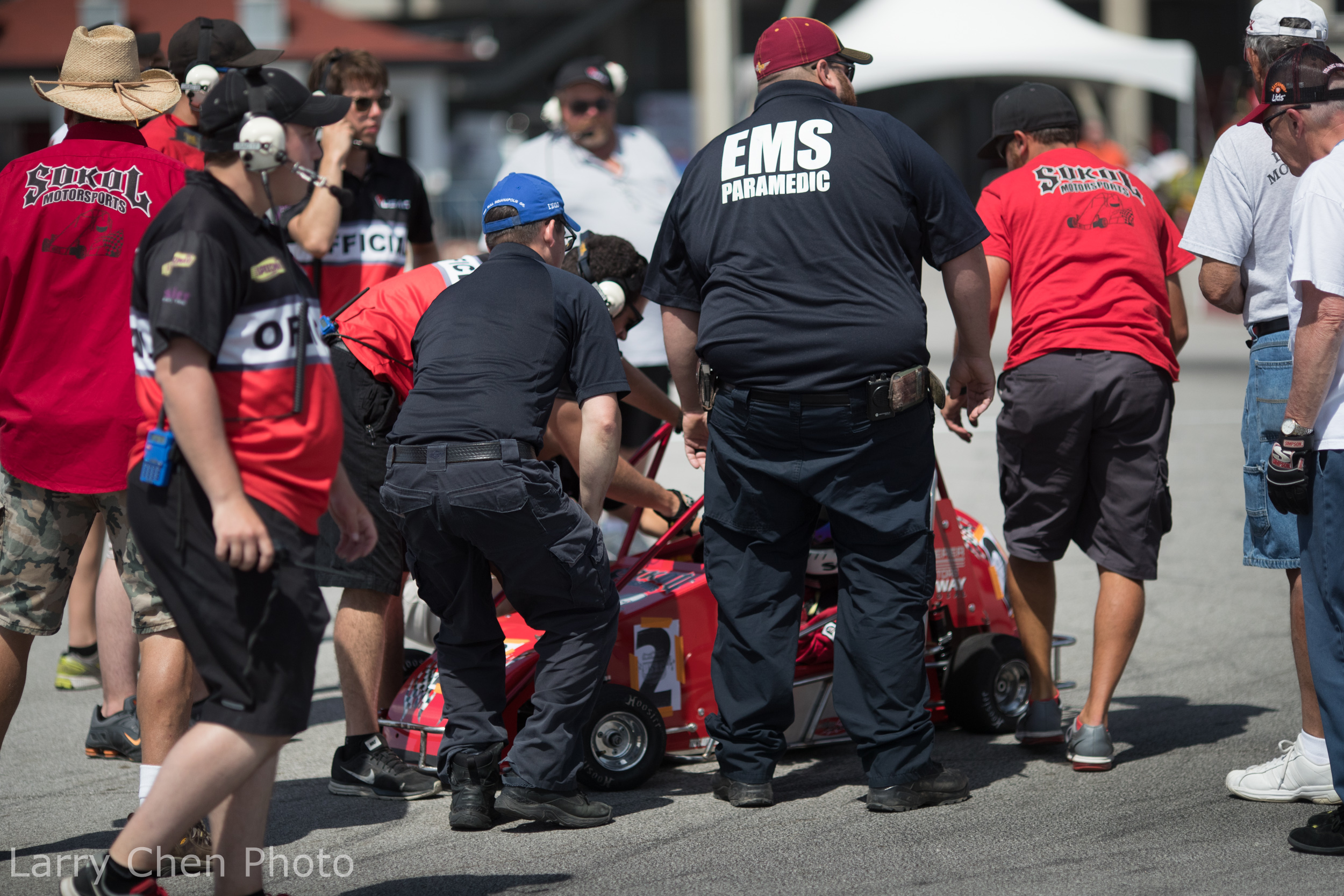 Which of course results in minor incidents where the cars will flip over or crash into each other. Over the course of the day at Indianapolis Motor Speedway there were many of these types of incidents, but nothing too serious. The officials always take every precaution to ensure the kids are safe.
There are two main sanctioning bodies that run these sort of events and Battle At The Brickyard was promoted by USAC, which also runs Red Bull Global Rallycross.
Chapter Four: Famous Rhodes II
To get a bit more of an insight into what it's like to run competitively in quarter midgets, I decided to follow Famous Rhodes II around for a bit.
Famous II is only 12 years of age, but he's already a very seasoned racing driver. He's the 3rd all-time USAC winningest quarter midget driver, and has already moved up into full-size midgets powered by Ford Focus turbo engines, recently becoming the youngest driver to ever podium in that series.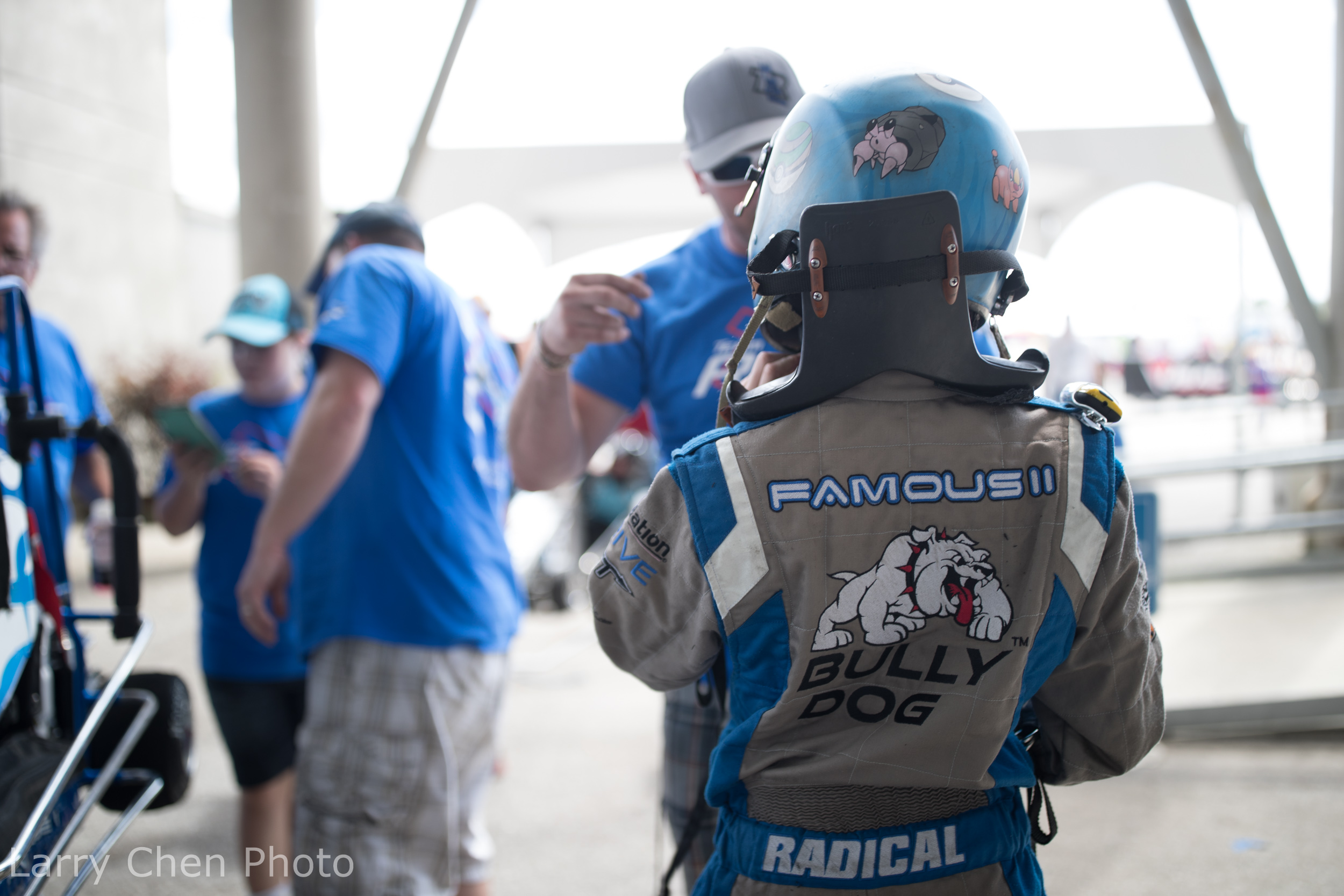 So how is it that he's tasted so much success at such a young age?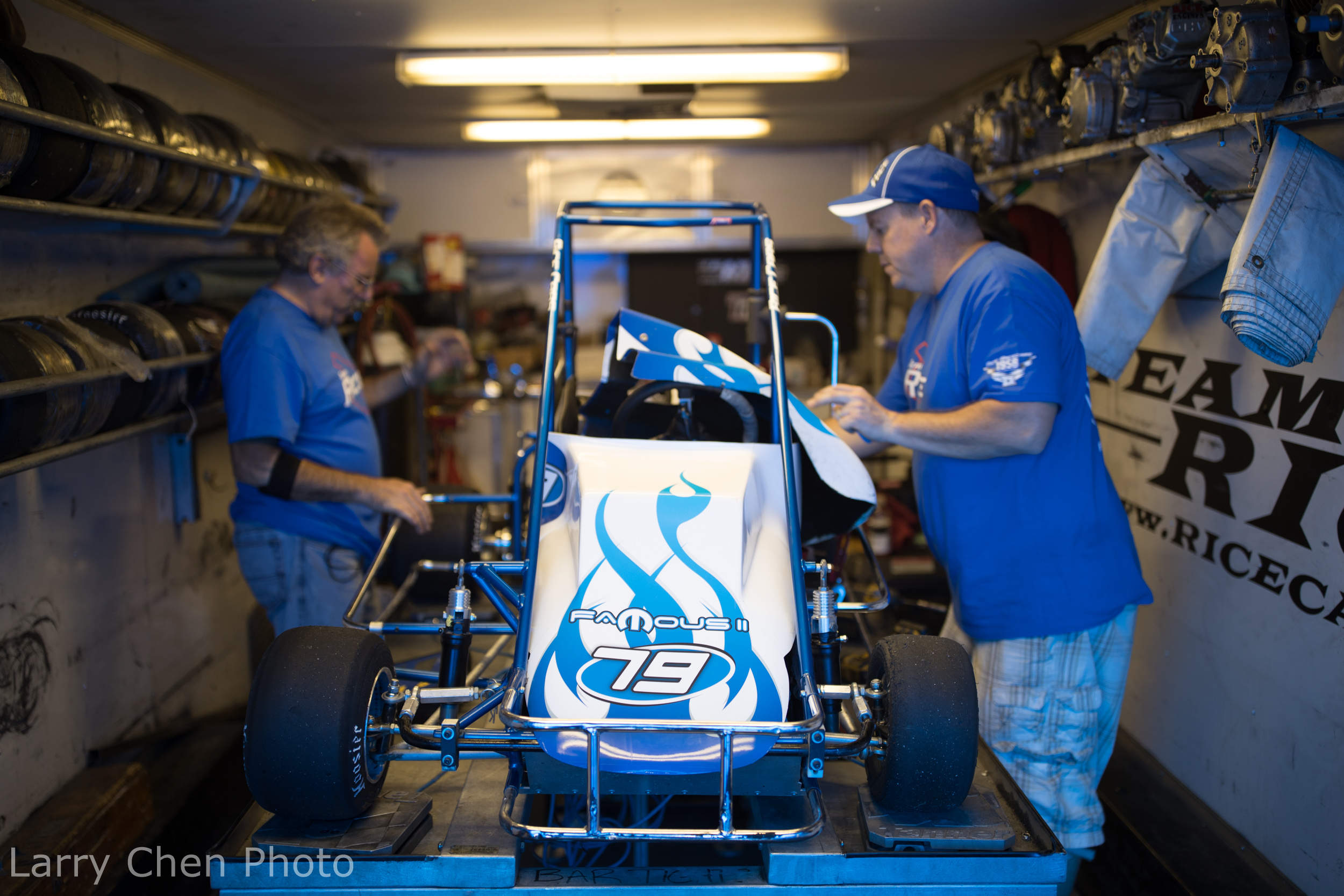 It's because he has the best support system anyone could ask for. His dad, Famous Snr., never raced himself, but he grew up around racing watching his father race. His father wanted him to become famous, so he named him just that.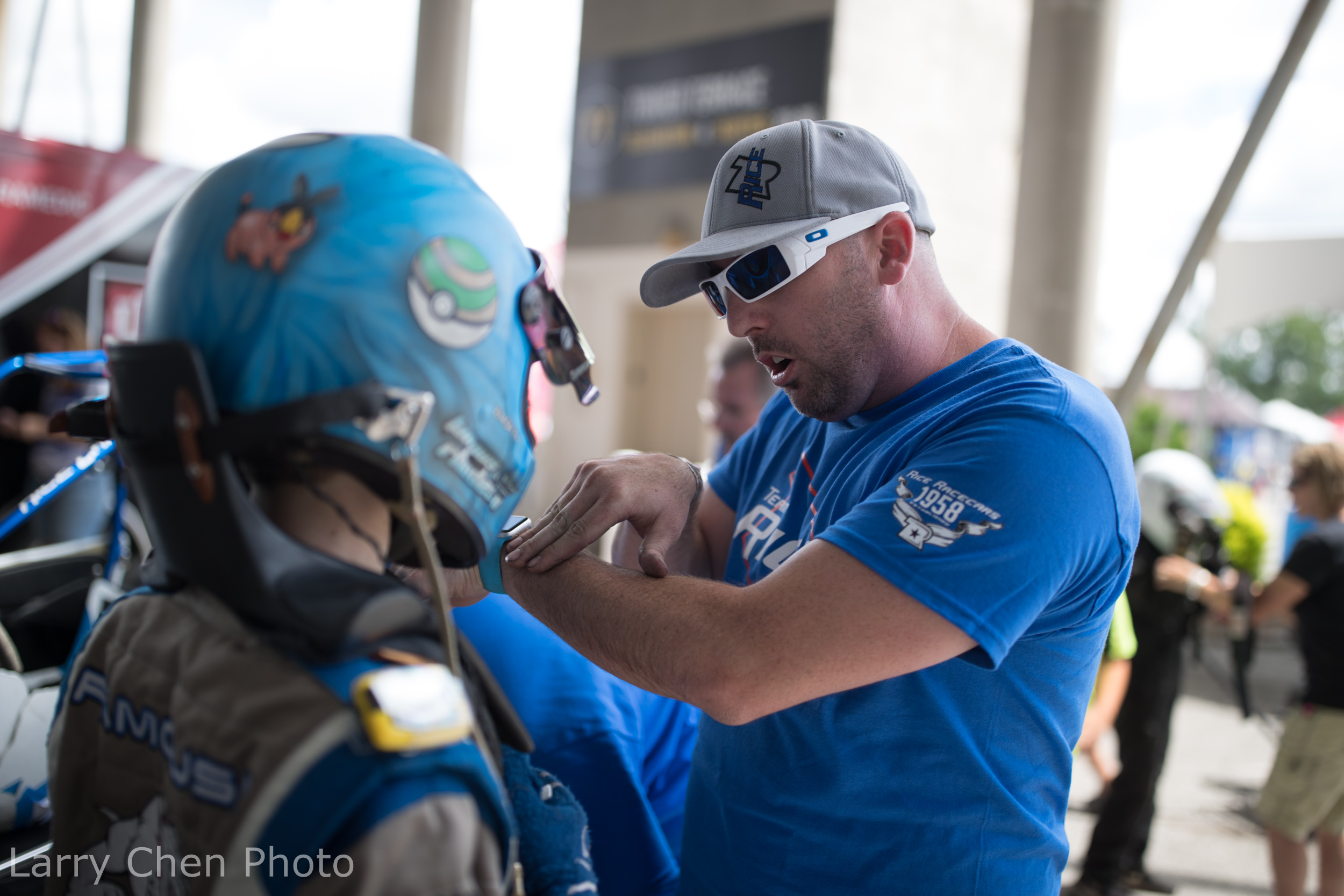 While Famous Snr. knows his way around these karts, he is a busy man. The only way to win is to hire experienced professionals in this sort of field, which is where DJ Rice and his father come in.
DJ's father, Dennis, has been in the industry for years. He once even ran a team for legendary racing driver Jeff Gordon.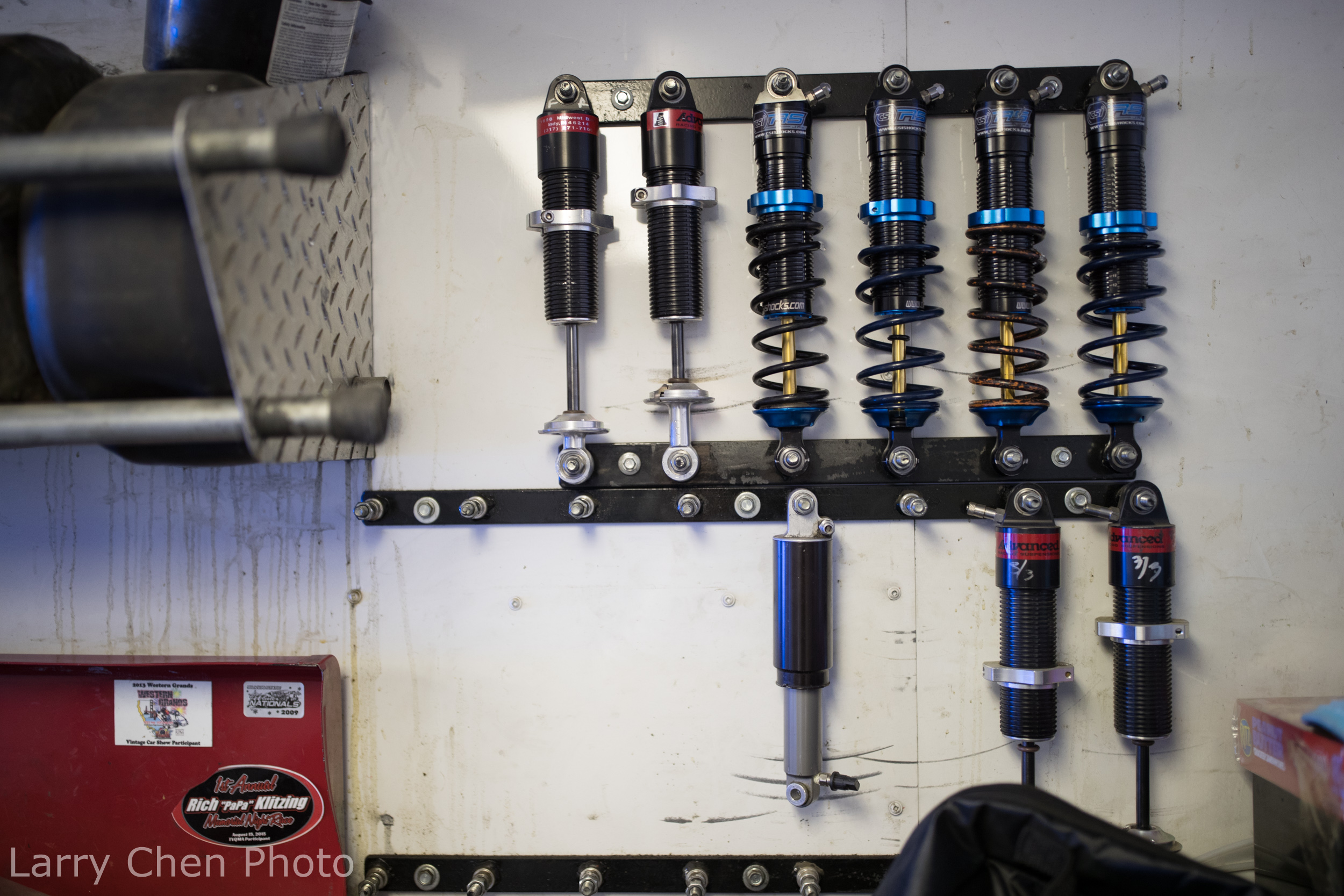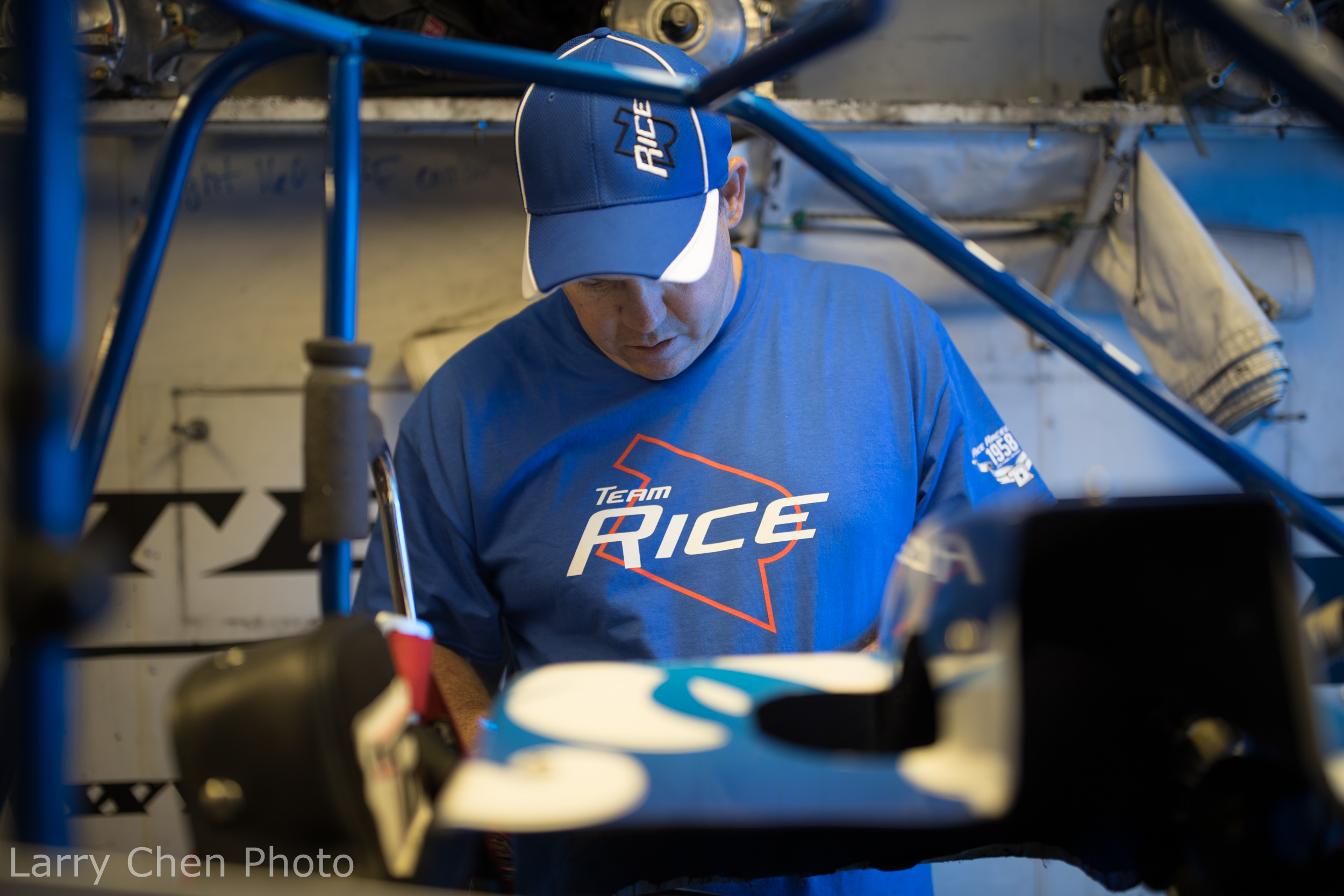 DJ also used to race himself, so he knows the ins and outs of what it's like to be on track, and what it takes to be a top-level competitor.
On top of building Famous II's chassis, running the entire team and transporting the vehicles coast to coast, DJ and Dennis also spend time building Team Rice race chassis for other competitors from their Northern California shop.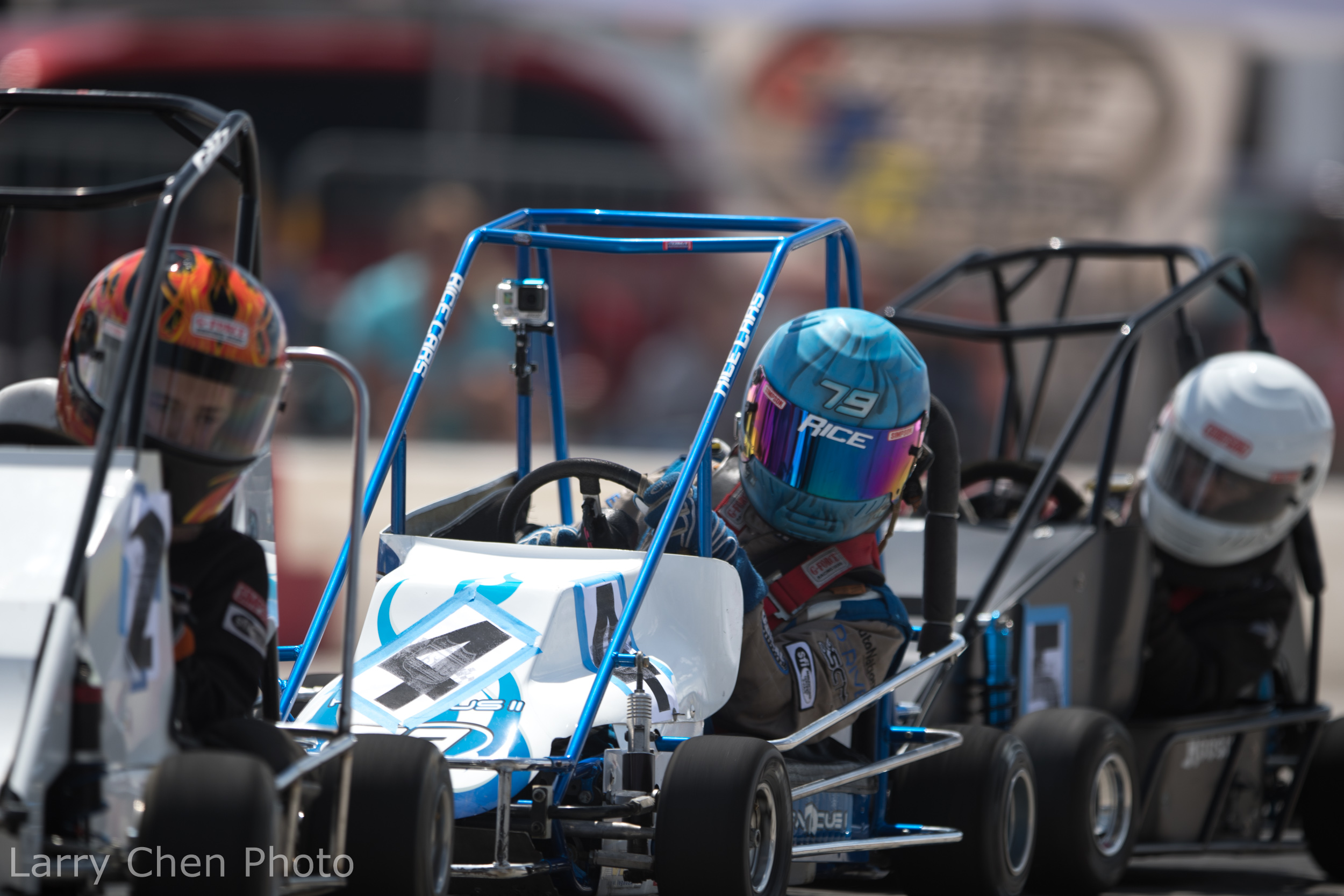 Team Rice does not mess around, and Famous II is running the maximum allowed five race classes. As you can probably imagine, he gets quite a bit of seat time compared to any other casual small-budget team. They go as far as running brand new tires for every single race if it means just getting a 10th of a second advantage over their competitors.
Not only does Famous II have a perfectly prepared race car for every single class, he has a driver coach who knows how to go fast. Many of the parents are not racers themselves, so it's very easy for them to get frustrated trying to tell their child to go faster, without actually knowing how.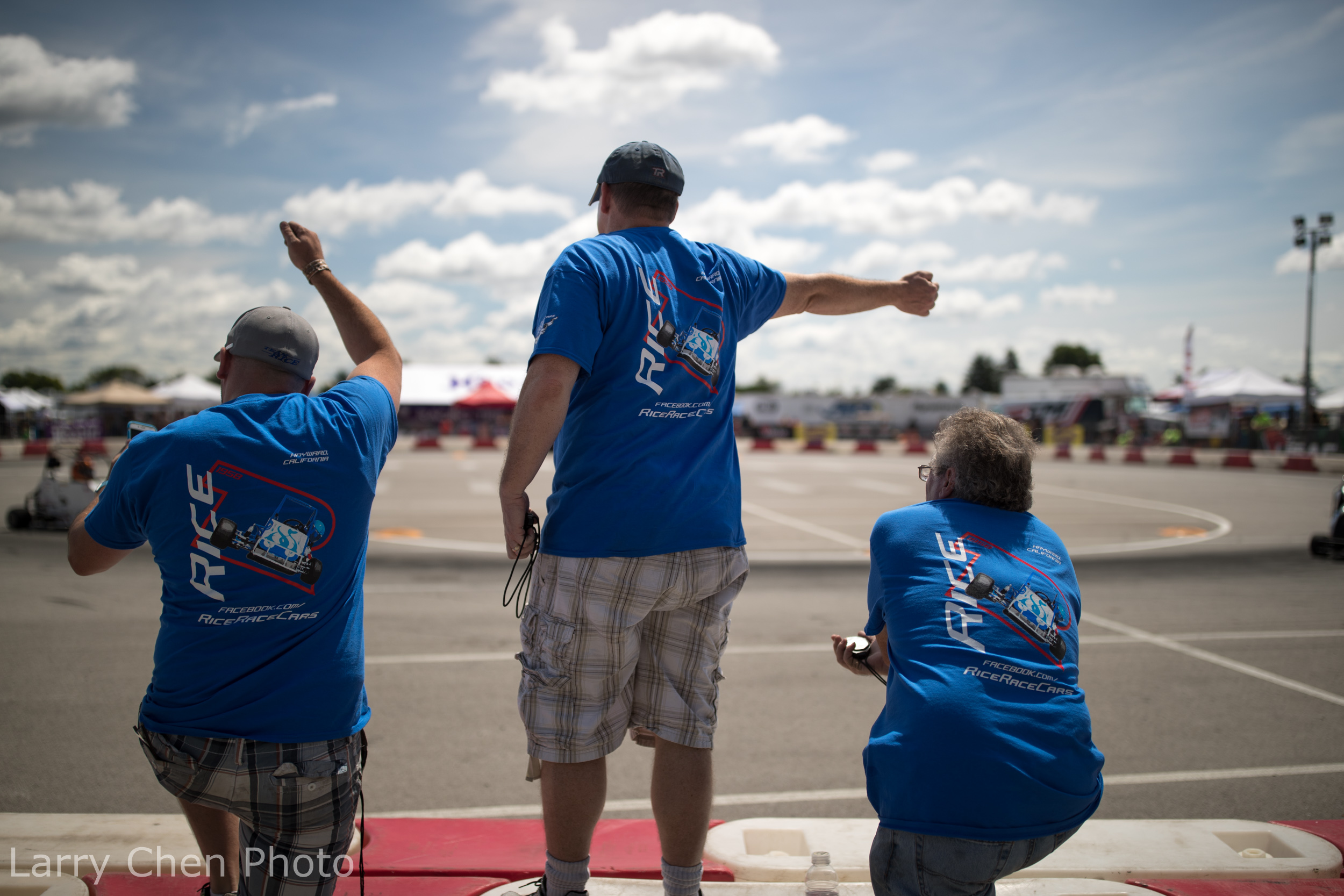 This sort of racing is serious business, and since Battle Of The Brickyard was the biggest event of the season, many top-level teams were in attendance, each one with a support system that is just as intense.
It's actually really interesting to watch Famous II race, because he is always pushing to the extreme and often driving on two wheels.
This kid just loves starting in the back because eventually he will make his way up to the front. In fact, he has had five wins at Indianapolis Motor Speedway.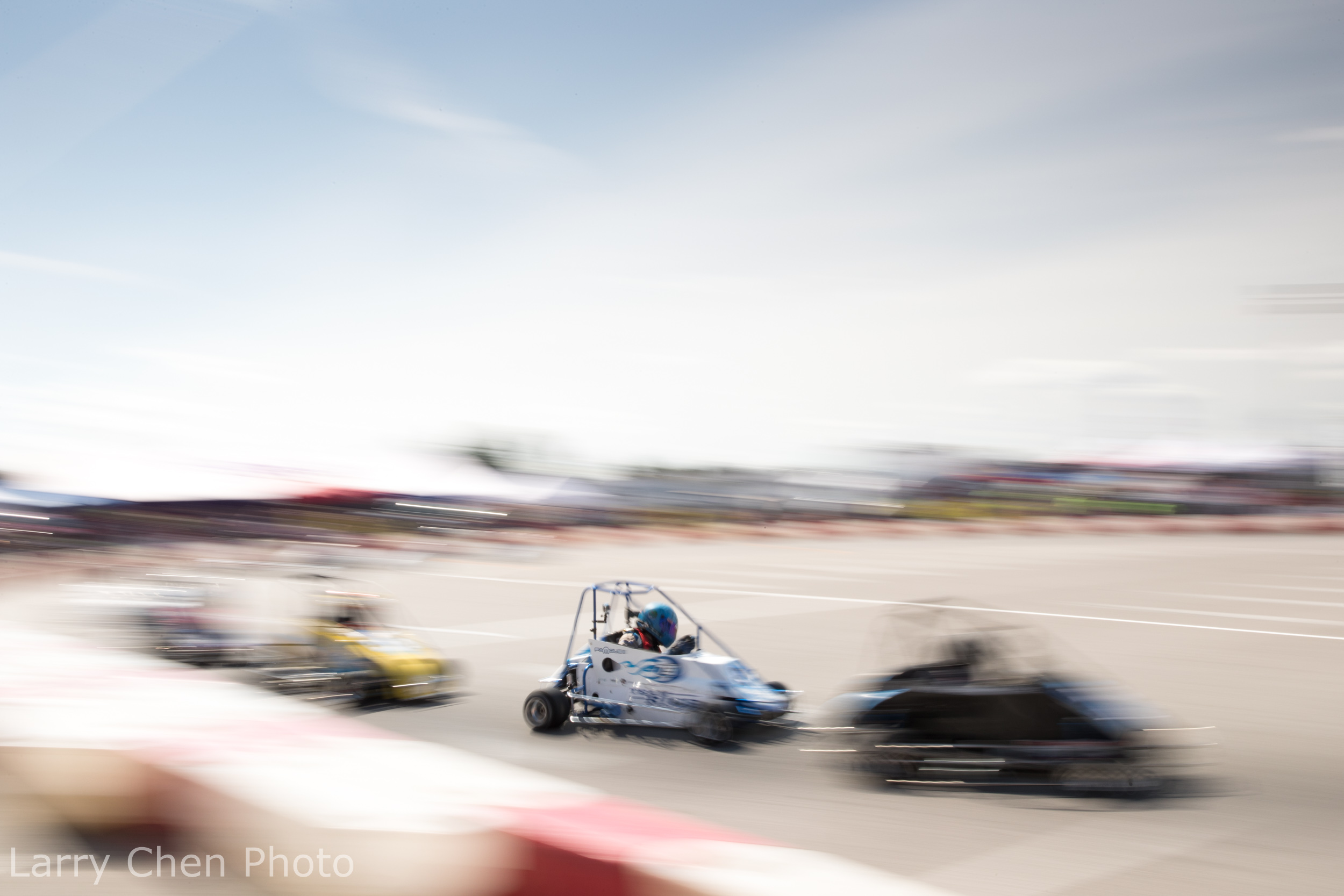 I asked him if he prefers racing full-size midgets or these quarter midgets, and he said the latter, because they actually accelerate better, corner harder, and pull more g-forces.
What seems crazy to me is how much time and effort is put into just one child. At this point I wondered what will become of someone like Famous II, because surely he has a future as a professional racing driver. It seems that the hard work has already paid to some extent too, because he is one of a few drivers in the paddock to have major sponsors backing his race program.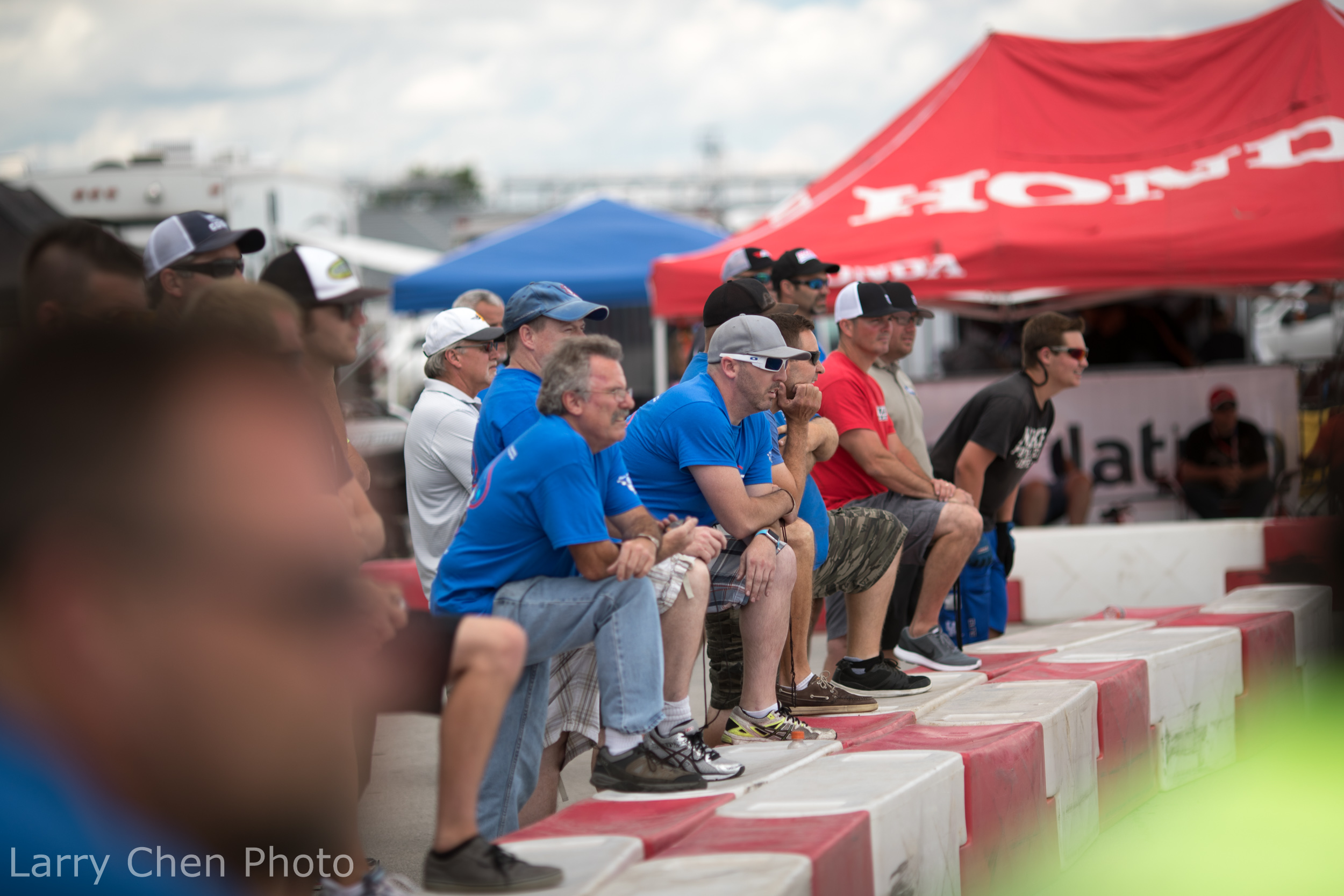 As much as the team pushes due to budget limitations and time, they just can't make every single race out there, so they pick and choose their battles.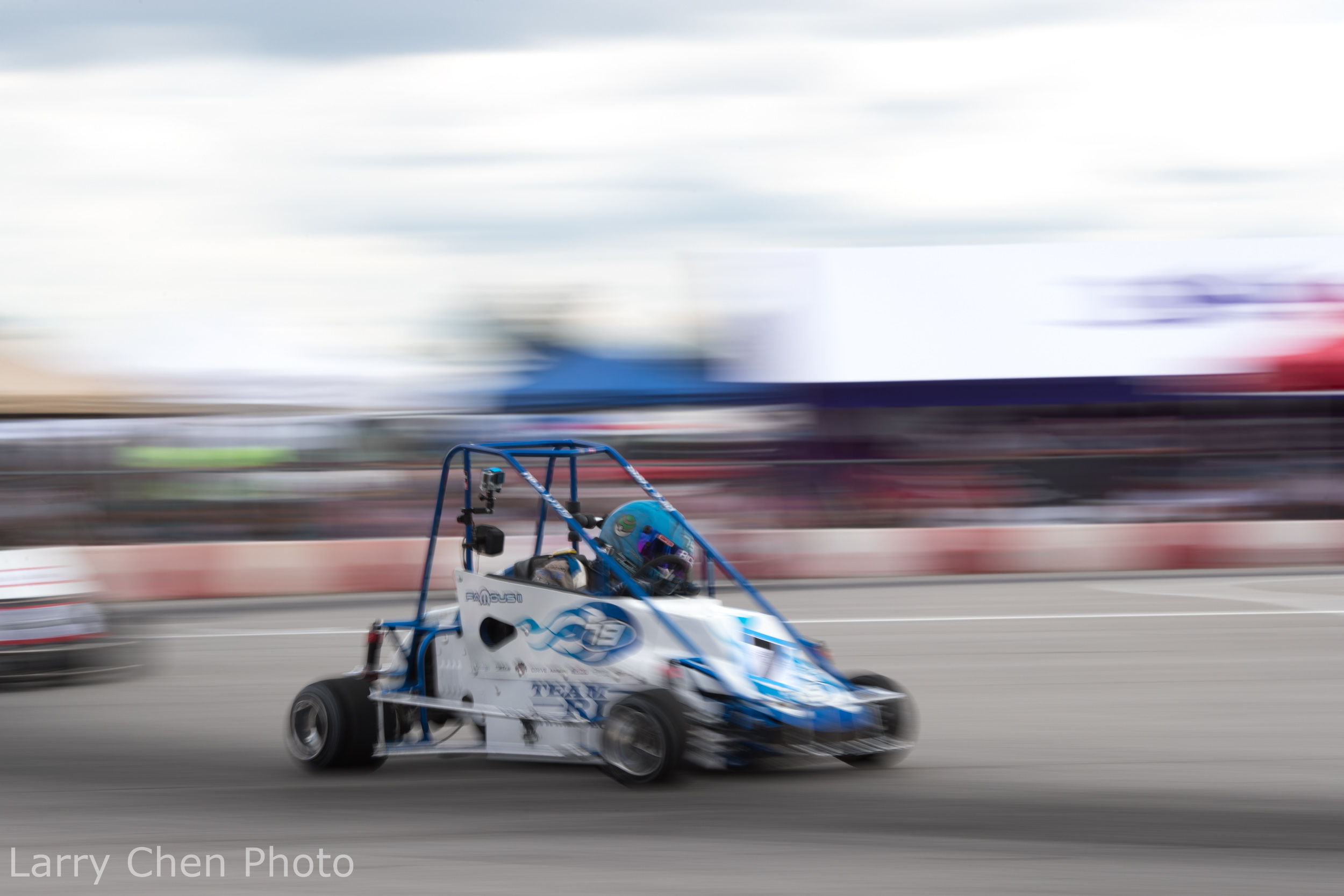 All I know is, kids like Famous II are the future of auto racing in America. Who knows, he may become the next Jeff Gordon. Anything is possible, and with what he has done in such a short period of time, it all points to him becoming a legend behind the wheel.
Chapter Five: Indianapolis
At the end of the day it was time to make that previously-mentioned lap around the Brickyard and also set a record for the most race cars on Indianapolis Motor Speedway at one time.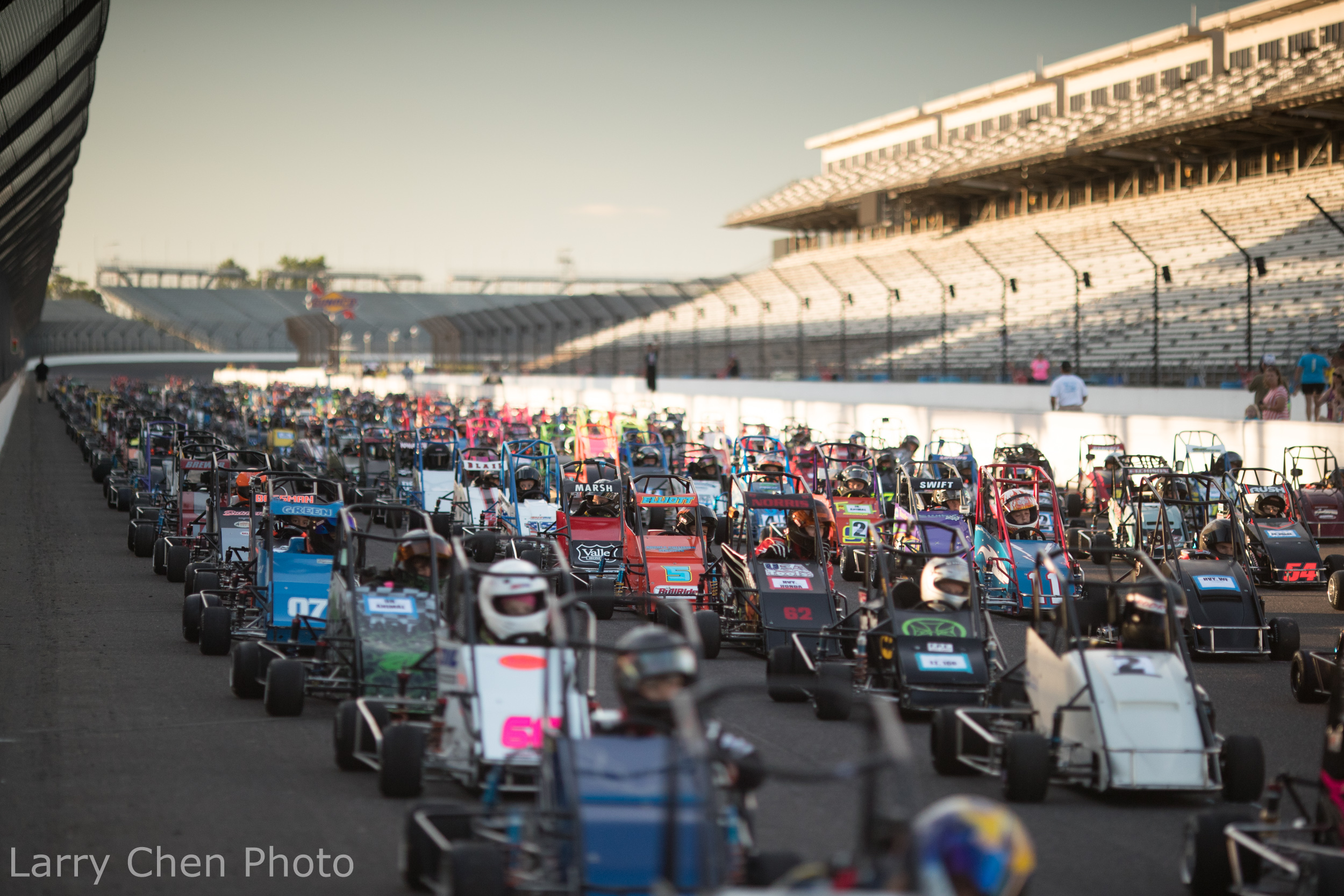 It was cool to see so many cars lined up on the front straight with a little wheelman in each one.
So how do you push start 280 quarter midget race cars? One by one. You can bet the parents and staff were tired beyond belief after firing up so many cars. By the time the last cars were leaving the line the first cars had almost made an entire lap.
It means so much to these kids to be able to do something like this, and it will be that much sweeter if just one of them actually gets to race at the Brickyard for real later on in life.
I want to thank Famous Rhodes Snr. for inviting me along to check out where racing drivers cut their teeth. I wish him and his son good luck too, because I have a feeling that the pair are just getting started. After all, they have names to live up to…