Chapter One: One Can Only Dream
In an ideal world, manufacturers would re-release certain enthusiast cars in an updated version. It's happened before; Nissan rebuilt a few 240Zs from the ground up, and Toyota brought back the FJ70 series for the Japanese domestic market. Just like you can do in video games, I imagine being able to buy a brand new '90s Japanese sports car off the showroom floor. And why not? Having growing up around these type of sports cars, they're what I love.
Automotive audio company Clarion feels the same way, probably because it's run by bunch of true car enthusiasts. I've previously featured a BMW 2002 that Clarion fastidiously restored and modernised, but that car was eventually sold at charity auction, increasing the value of those wonderful sports coupes at the same time.
For its next project, Clarion wanted to follow a similar build ethos, but this time using an iconic '90s Japanese supercar as the base.
If you could buy a first generation NSX brand new today, this is exactly what it would be like. But this particular car is far from new, it's a 1991 model with 230,000 hard-driven miles on the clock. Talk about Honda reliability! Could you even imagine a Ferrari 348 with half as many miles?
The build was entrusted to AutoWave in Huntington Beach, a company that's previously worked on 728 Acura NSXs, which is about 10 per cent of the cars in the whole of the United States. When Acura needs a car restored, AutoWave is who it calls.
I had a chance to get behind the wheel of this beauty and push it to its limits on the track, but more on that later.
Chapter Two: The Inside That Counts
The main point of the build was to modernise the ageing supercar, and Leatherseats.com did an amazing job of the interior which once really screamed the '90s.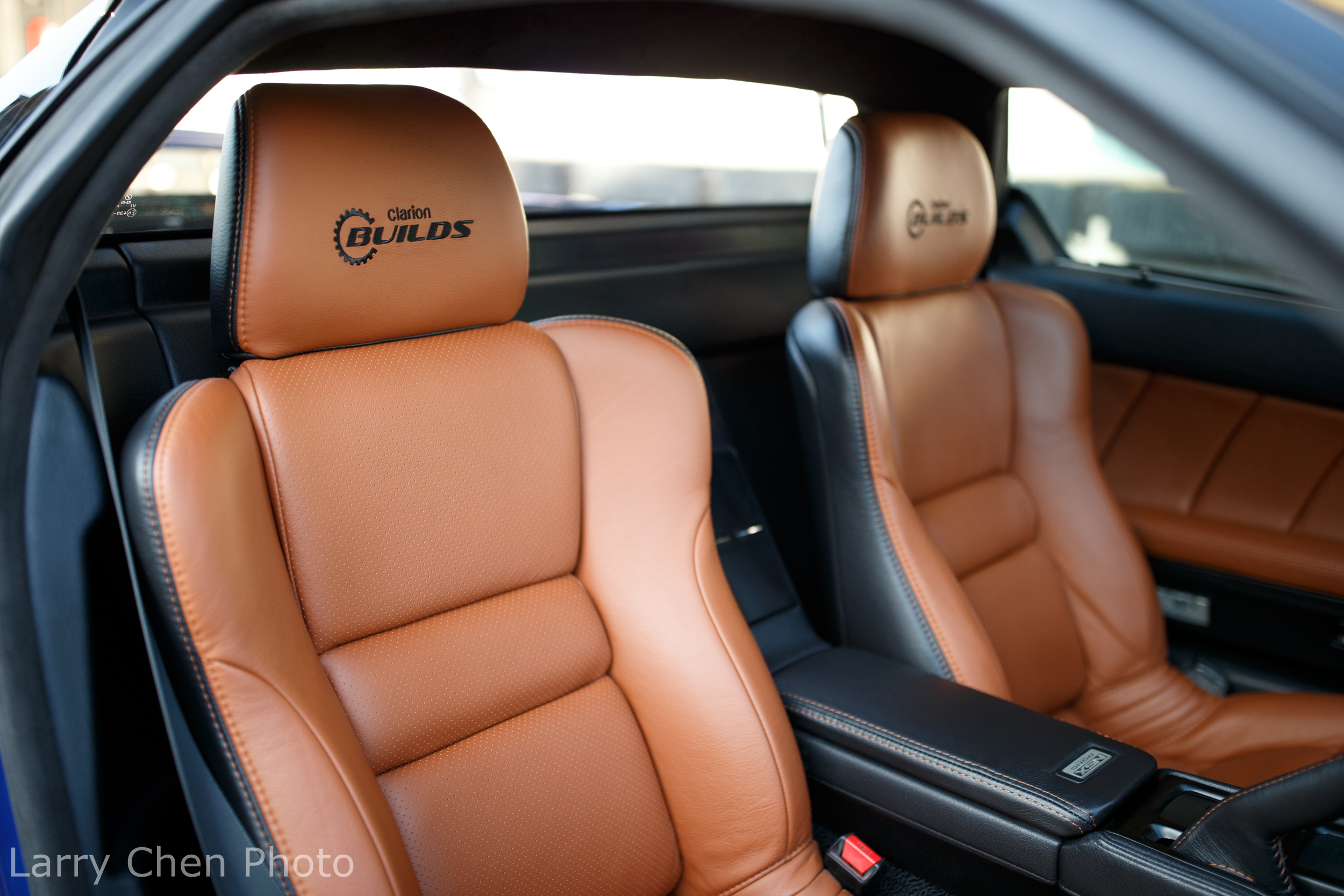 All the leather-wrapped panels were reupholstered with some trick stitching, and the steering wheel had its bottom chopped off and was rewrapped by EuroBoutique.
Given Clarion's line of business, a big focus was placed on technology, so you definitely won't find a cassette player in here. There's a Clarion NX706 7-inch touchscreen, Clarion 32-band equalizer, a new Clarion Full Digital Sound system and a 360-degree camera. And check out that trick subwoofer setup; a carpet panel places over the top to complete the subtle restomod look, but I think it looks pretty neat exposed.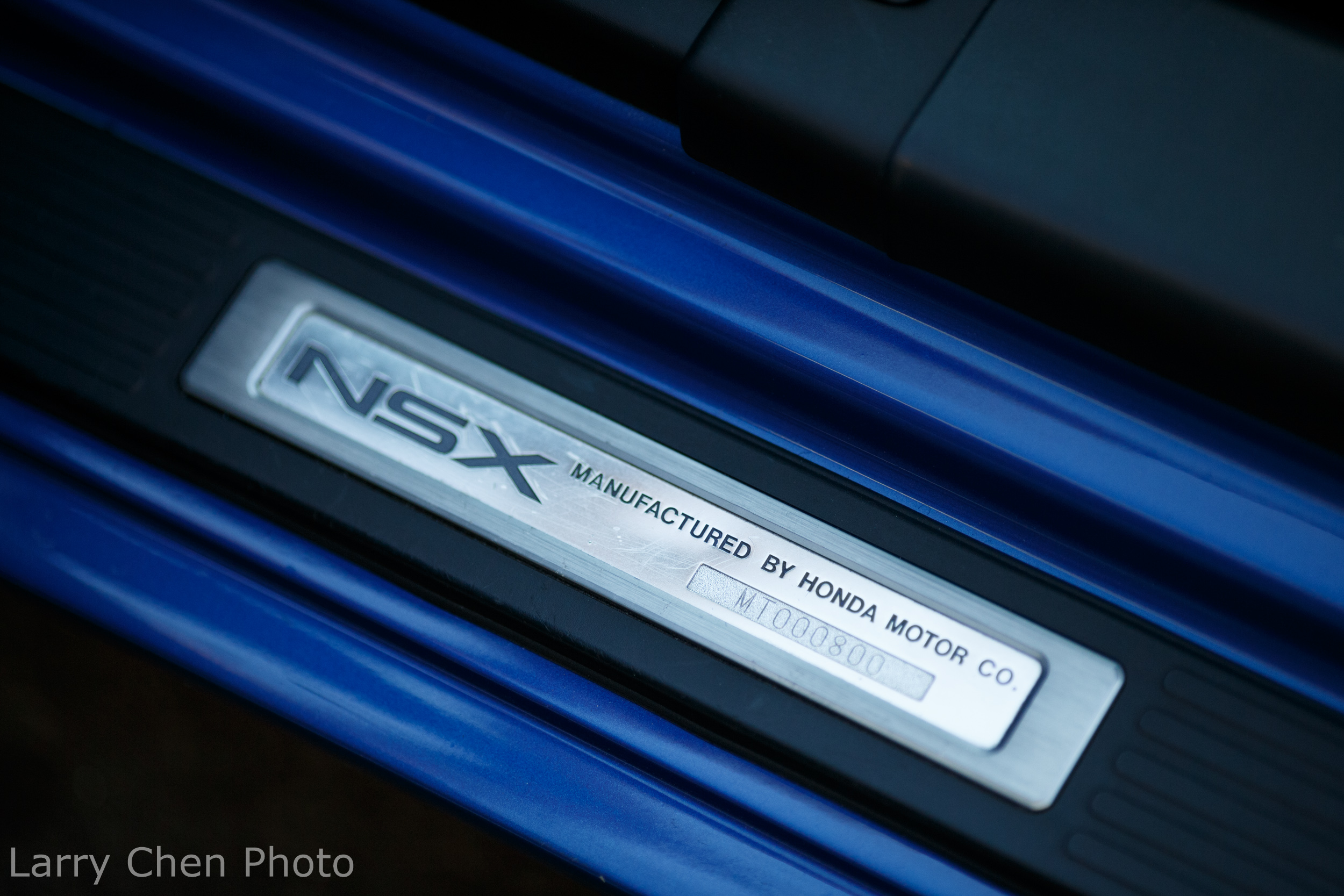 Real carbon fiber trim pieces have be used throughout, and the ignition switch was even updated with an S2000 push button starter.
It's the little things that make all the difference, like this laser cut shift pattern trim piece. All the controls for the sound and security systems are integrated flawlessly too.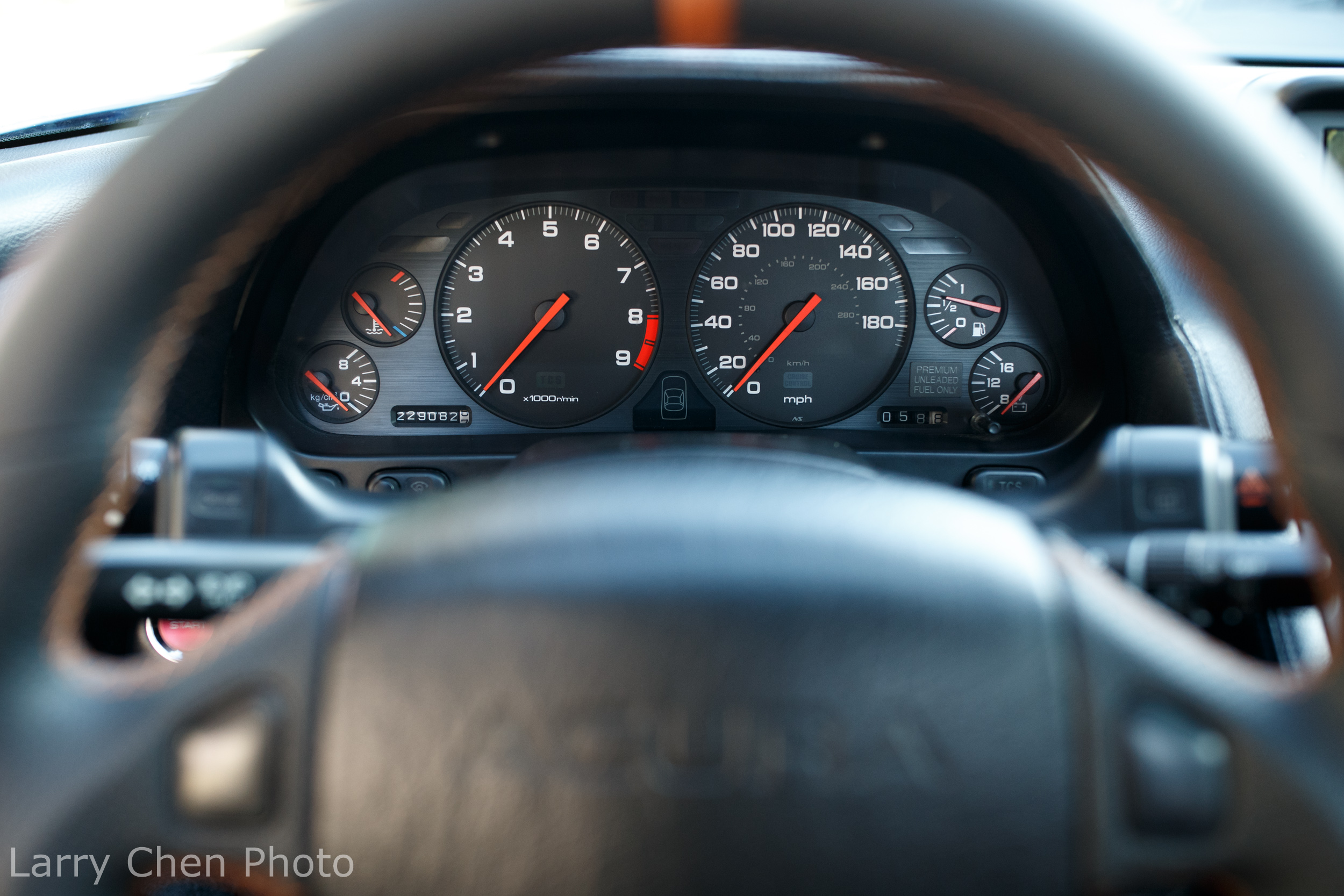 I wasn't lying when I talked about the miles this car has done since 1991, and it's still racking them up after the restoration – many at track days.
Chapter Three: Supercharged
Along with the interior and exterior overhaul, the heart of the NSX was also updated.
More specifically, the original 3.0-liter V6 was swapped out for a 3.2-liter unit out of a wrecked 2004 NA2 NSX.
AutoWave completely refreshed the bigger capacity engine before adding a CT Engineering supercharger package, and AEM built a custom intake and a high-flow exhaust. Now it puts out 403hp to the wheels, which is almost double the car's stock horsepower.
Of course, you can't upgrade the go-fast bits without improving the brakes, and in this department StopTech provided one of its ST40 kits.
As for the exterior, Clarion went with an interesting color choice – Blu Caelum two-stage, which is also found on the Lamborghini Huracán. An Italian supercar color for a Japanese supercar? Why not!
You can't go wrong with bronze wheels on a blue car, and the RAYS Volk Racing ZE40s look absolutely superb.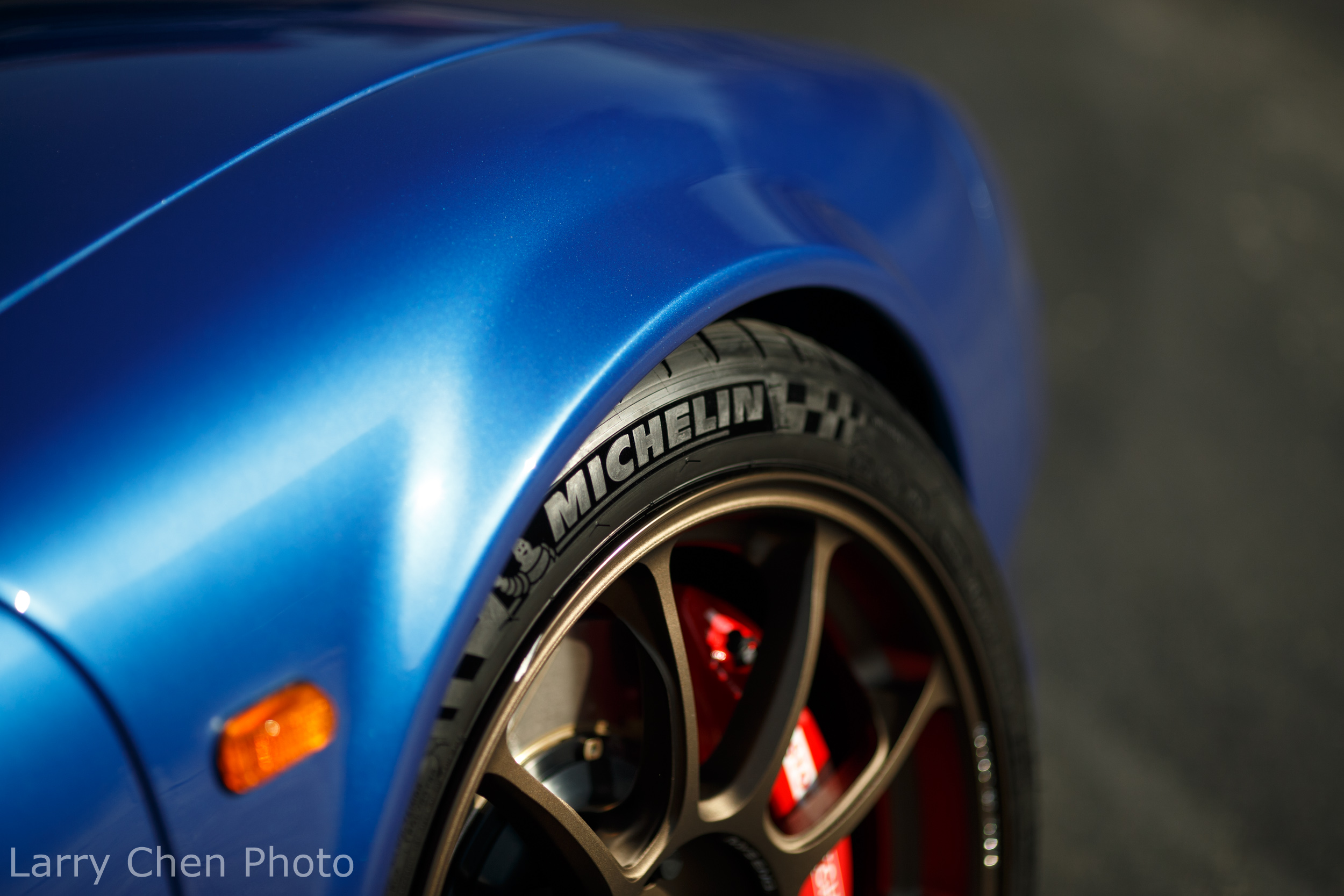 The forged ZEs are wrapped in Michelin Pilot Sport Cup 2 tires, 225/40ZR18s at the front and 265/30ZR19s out back.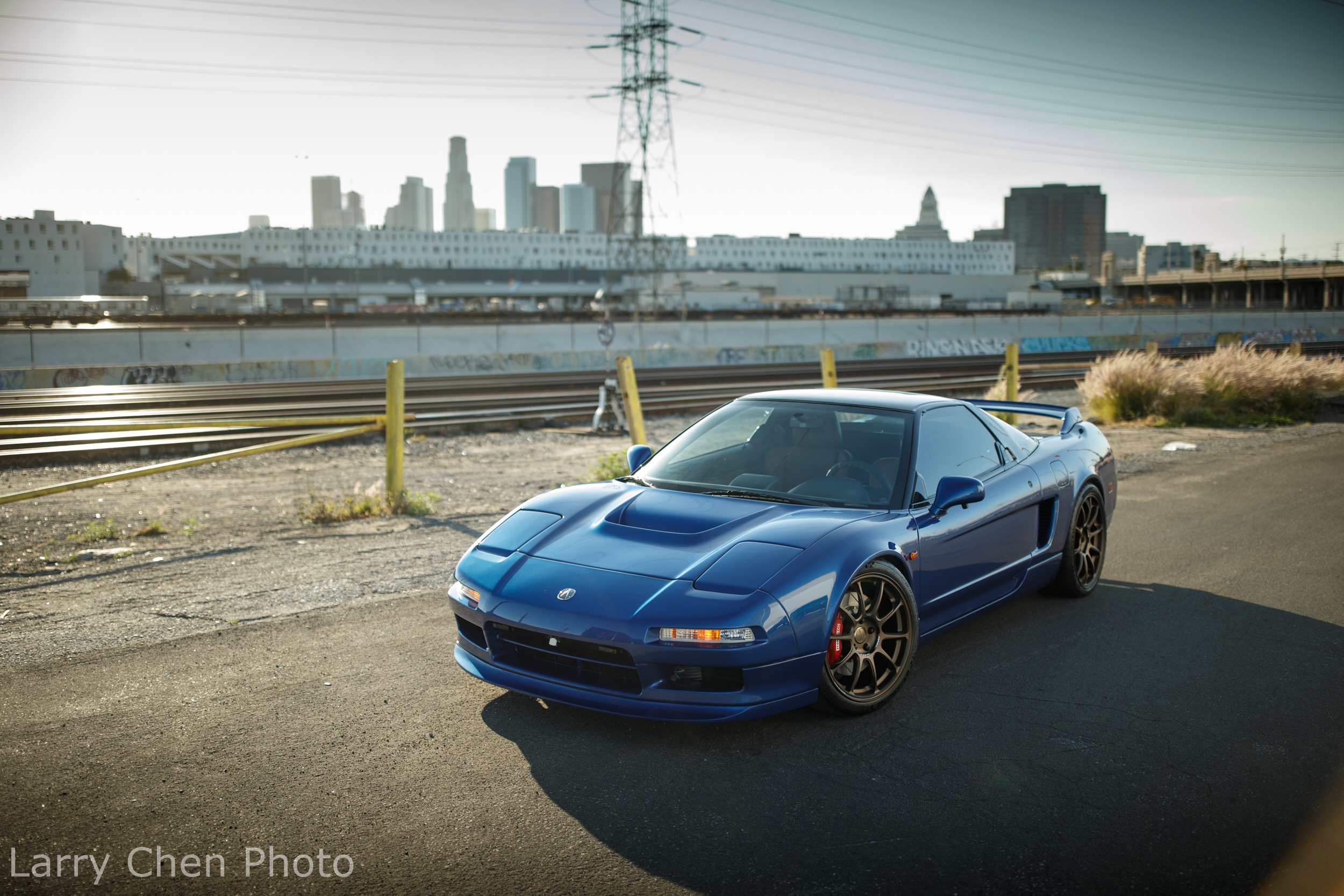 In order to accommodate the wider wheels and tires properly, AutoWave fitted Downforce factory fiberglass fenders, which makes the front end two inches wider than stock. There's also a Downforce carbon fiber NSX-R-style hood.
In order to keep everything planted, KW Variant 3 coilovers were fitted. The ride quality is improved and it sits just right, not too low. You could call it function and form all rolled into one.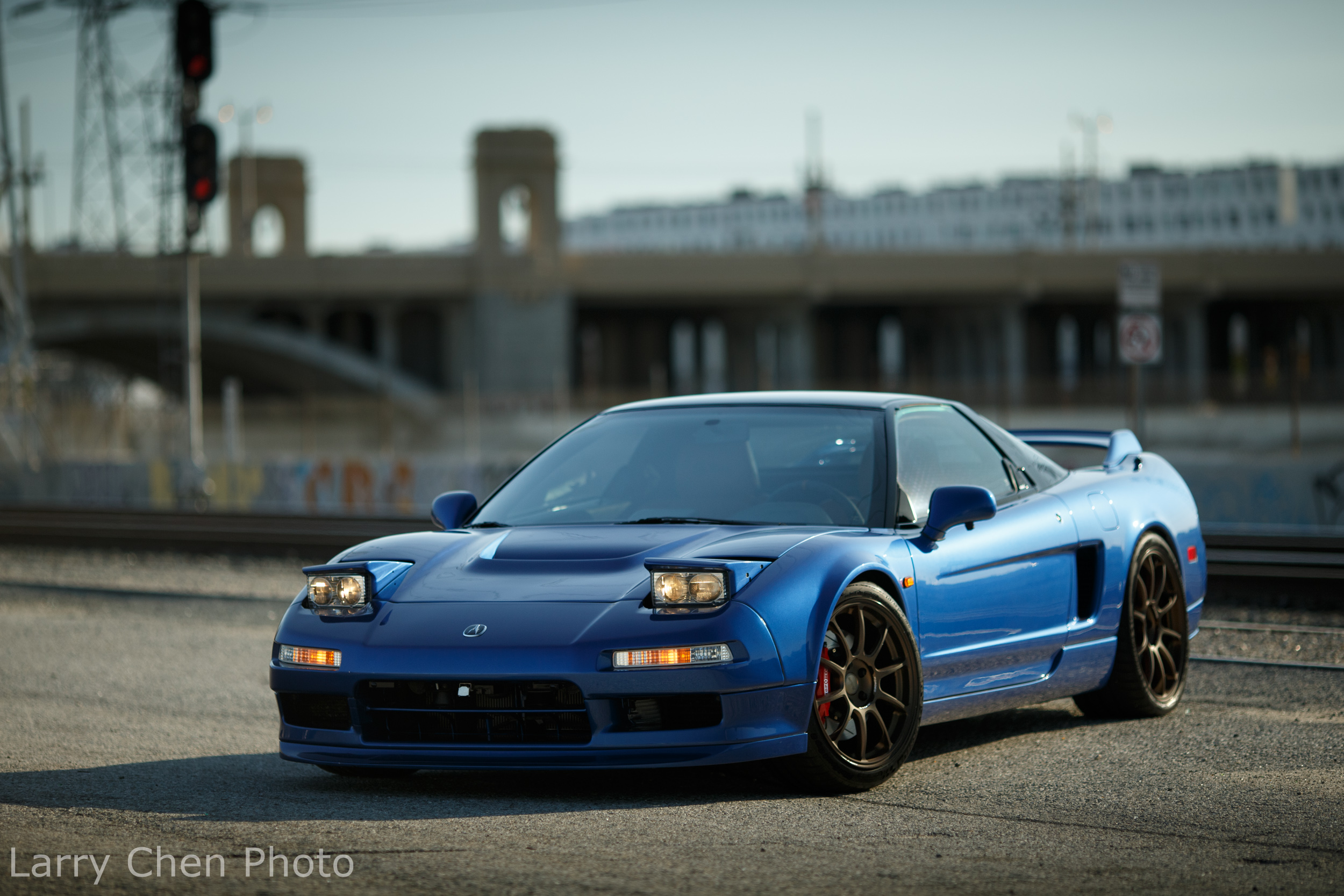 As I mentioned earlier on, I did have the chance to run a few laps around the Mountain Road (touge) course at Willow Springs, also known as Horse Thief Mile. It was a blast, even though I drove it with low boost, which was only around 344hp to the wheels.
I wasn't going to break any lap records, but just banging through the gears in a supercharged, manual, rear-wheel drive vehicle was heaven on earth.
To me, this car is the perfect daily driver, and the fact that it felt brand new with a classic updated look just blew my mind. On top of all that it's comfortable. It has air conditioning and a fully digital sound system. What more could you ask for?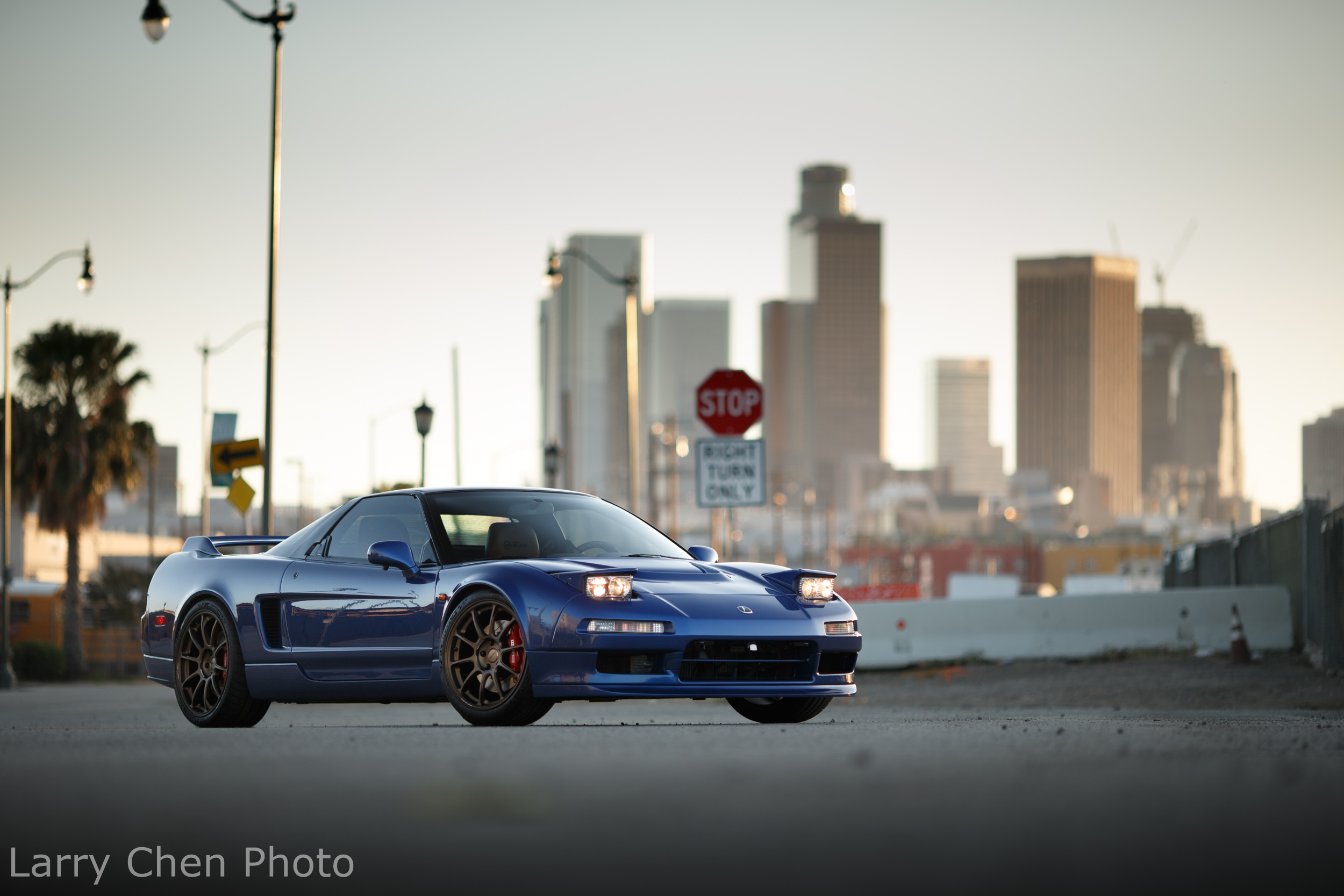 Gone are the days of audio companies cramming 20 screens and twice as many subwoofers into the cars that they build, and thank goodness for that. I love the direction that Clarion is going with these types of builds, because this is exactly what we want to drive. I just can't wait to see what the guys will build next…
Larry Chen
Instagram: larry_chen_foto
Clarion Builds 1991 Acura NSX
Engine
Honda 3.2-liter VTEC V6 from a 2004 NA2 NSX, CT Engineering supercharger, AEM custom intake, AEM custom exhaust, CT Engineering fuel pressure regulator, Walbro 255lph fuel pump, NGK spark plugs, AEM Performance Electronics Infinity 6 engine management sytem with CT harness, Koyorad aluminum NSX radiator, AEM wideband O2 sensors, Injector Dynamics 1000cc injectors
Drivetrain
Honda NSX 6-speed manual gearbox swap
Suspension & Brakes
KW Variant 3 coilovers, CT sway bars, Okuyama Carbing rear shock tower brace, StopTech ST40 Big Brake Kit with 328mmx28mm 2-piece rotors (front/rear)
Wheels & Tires
RAYS Volk Racing ZE40 18×9-inch +45mm (front), 19×9-inch +33mm (rear), Michelin Pilot Super Sport tires 225/35ZR18 (front), 265/30ZR19 (rear)
Exterior
Downforce carbon fiber NSX-R-style hood, OEM front bumper with Downforce fiberglass diffuser, OEM rear bumper with Downforce fiberglass diffuser, Downforce factory fiberglass fender replacements with marker light delete and 2-inch wider than OE, Downforce NSX-R-style carbon fiber spoiler, Downforce 2nd gen NSX styled rockers, 2nd Gen NSX OE tail lights, Clarion Surround Eye cameras, US-spec front markers deleted, Blu Caleum metallic 2-stage paint by Glasurit (BASF)
Interior
OE dash with dyed lower panels, LeatherSeats.com rewrapped & hand-stitched shift knob, OE steering wheel modified by EuroBoutique to have flat bottom & sport grip with matching color accents, custom leather hand stitched shift boot from LeatherSeats.com, custom leather hand stitched e-brake boot from LeatherSeats.com, Downforce fiberglass center console trim for 2-DIN head unit, custom mats from NSXcarpets.com, headliner, A-pillars & visors recovered in black Alcantara, JDM NSX navigation screen
Audio/Electronics
Clarion NX706 7-inch touch screen high-res source head unit, Clarion Full Digital Sound system processor, Clarion Z25W 10-inch Full Digital subwoofer, Downforce sealed sub enclosure for floor of NSX, Clarion Z7 Full Digital midrange speakers, Z3 Full Digital tweeters, Optima Blue Top battery, Science of Speed display for JDM screen pod on dashboard