Chapter One: Dealership Drift
A drifting Lamborghini… I know what you guys are thinking, 'We've seen it all before.'
To a point that would be true, because Daigo Saito did go nuts drifting an Murcielago. I know this all too well because I was there, on the ground, during filming of Battle Drift with Vaughn Gittin Jr. But I can assure you, the Lamborghini in question today is very different.
For a start, this V10-powered Huracán is actually just a regular street car with a few minor modifications to help it get a little bit more sideways.
That said though, it does have a drift connection: it belongs to a world champion drifter and his wife, who herself is also quite handy behind the wheel when it comes to oversteer.
Say hello to the Hübinettes, definitely not your average Swedish couple living in Southern California.
I haven't seen much of Samuel since he left Formula Drift, so when the Donut Media guys told me to come along and check out a little video project for Nitto Tire they had going on, I was all ears.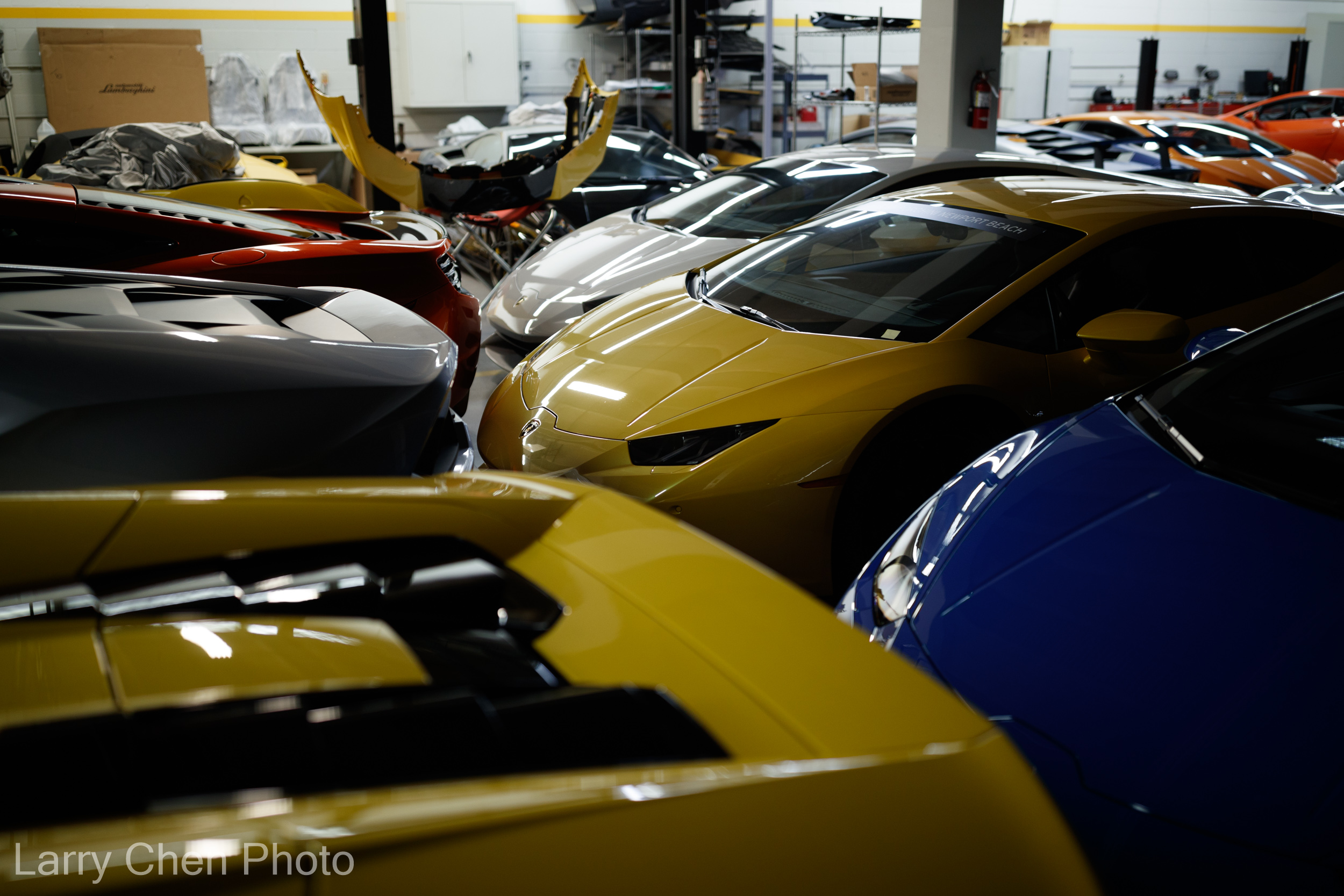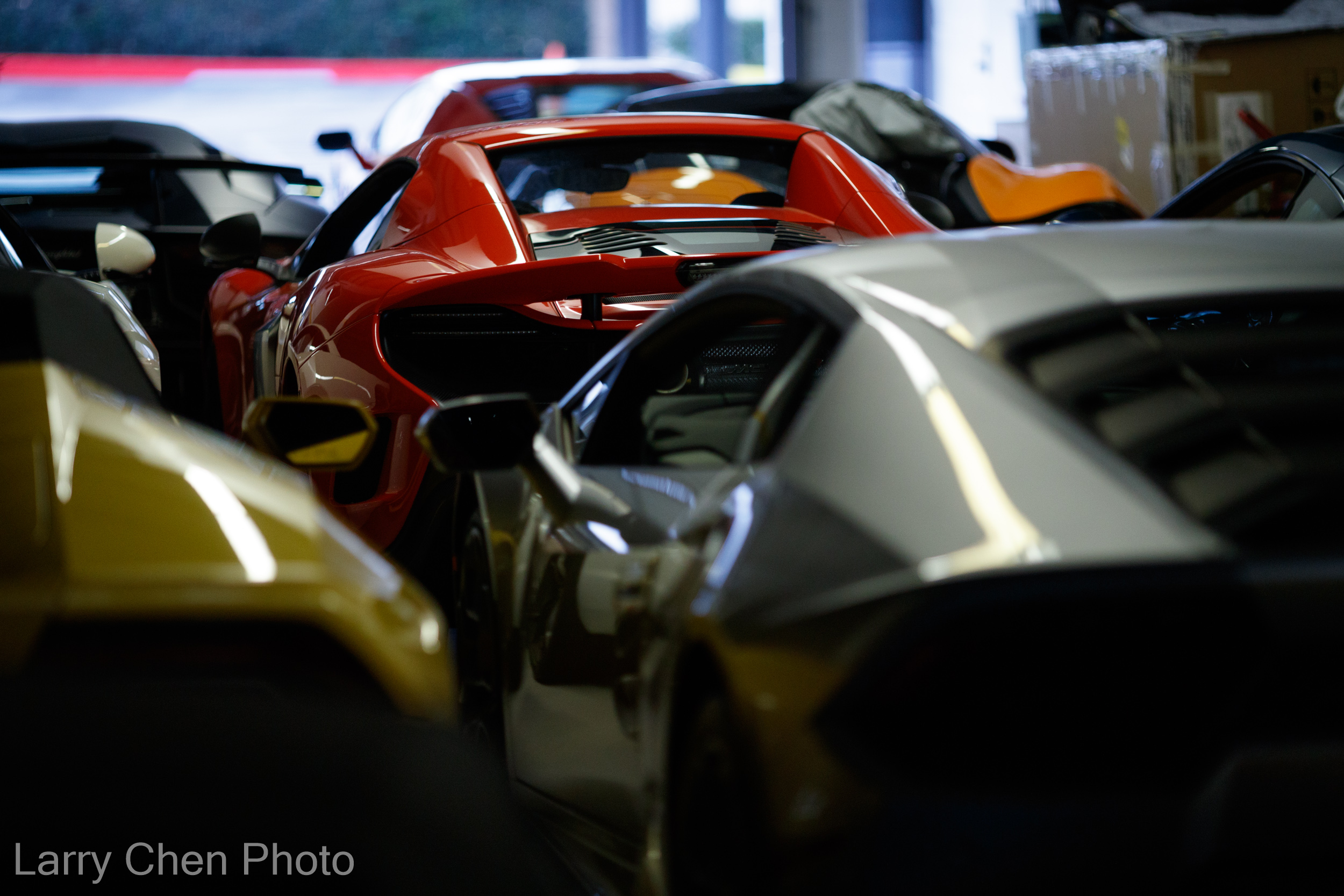 The filming itself took place at one of the largest and most well known Lamborghini dealerships on the West Coast.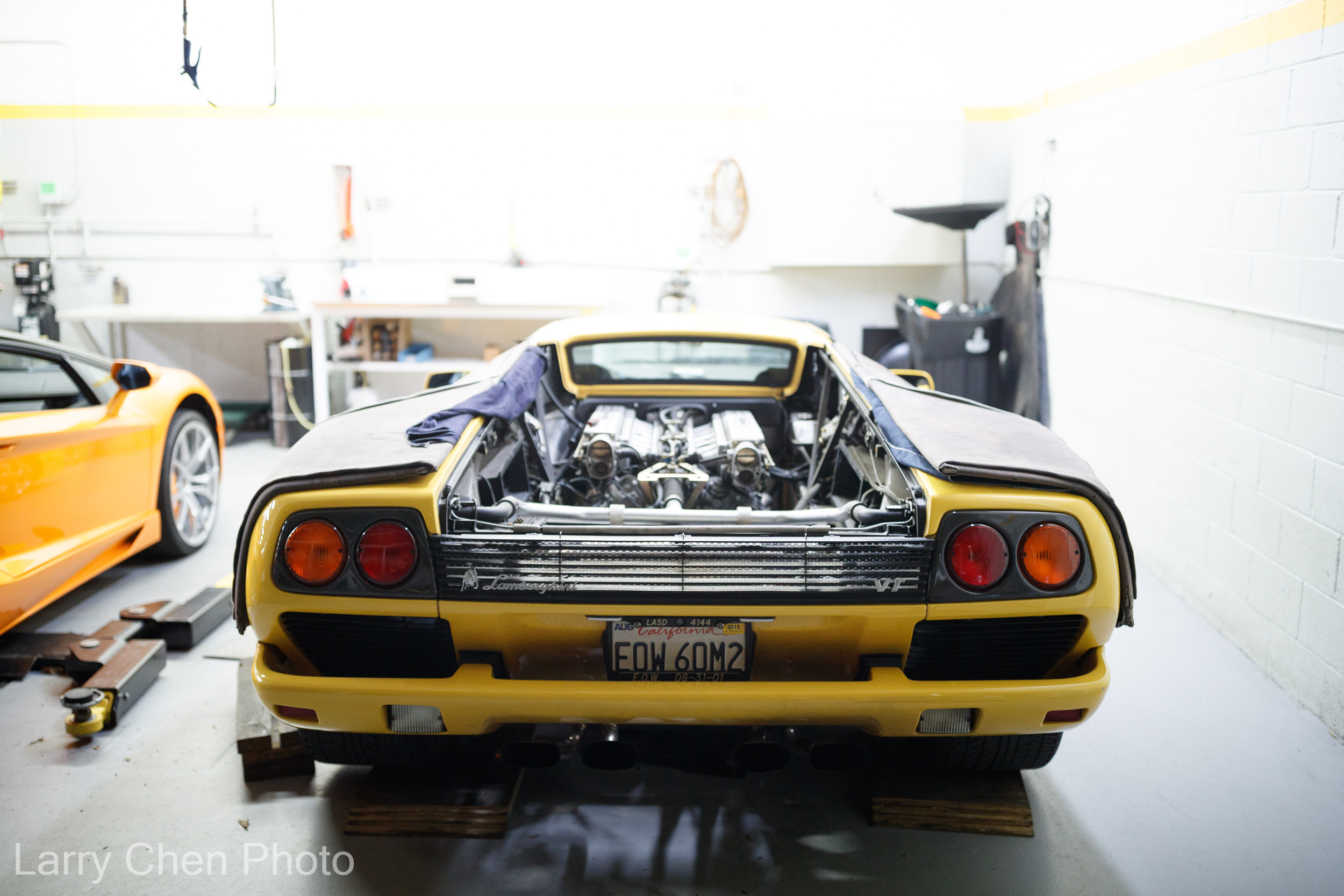 Lamborghini of Newport Beach had many amazing machines in the showroom and workshop, including this Diablo customer car.
I just love that classic '90s look, and I especially love this car's gated shifter.
There were so many supercars in one place, but none of them were anything like the Hübinette's Huracán.
I'm pretty sure this is the world's only modern Lamborghini fitted with a hydraulic e-brake setup for drift.
Only a mad Swedish man would do such a thing to his brand new Italian supercar. All in the name of fun, right?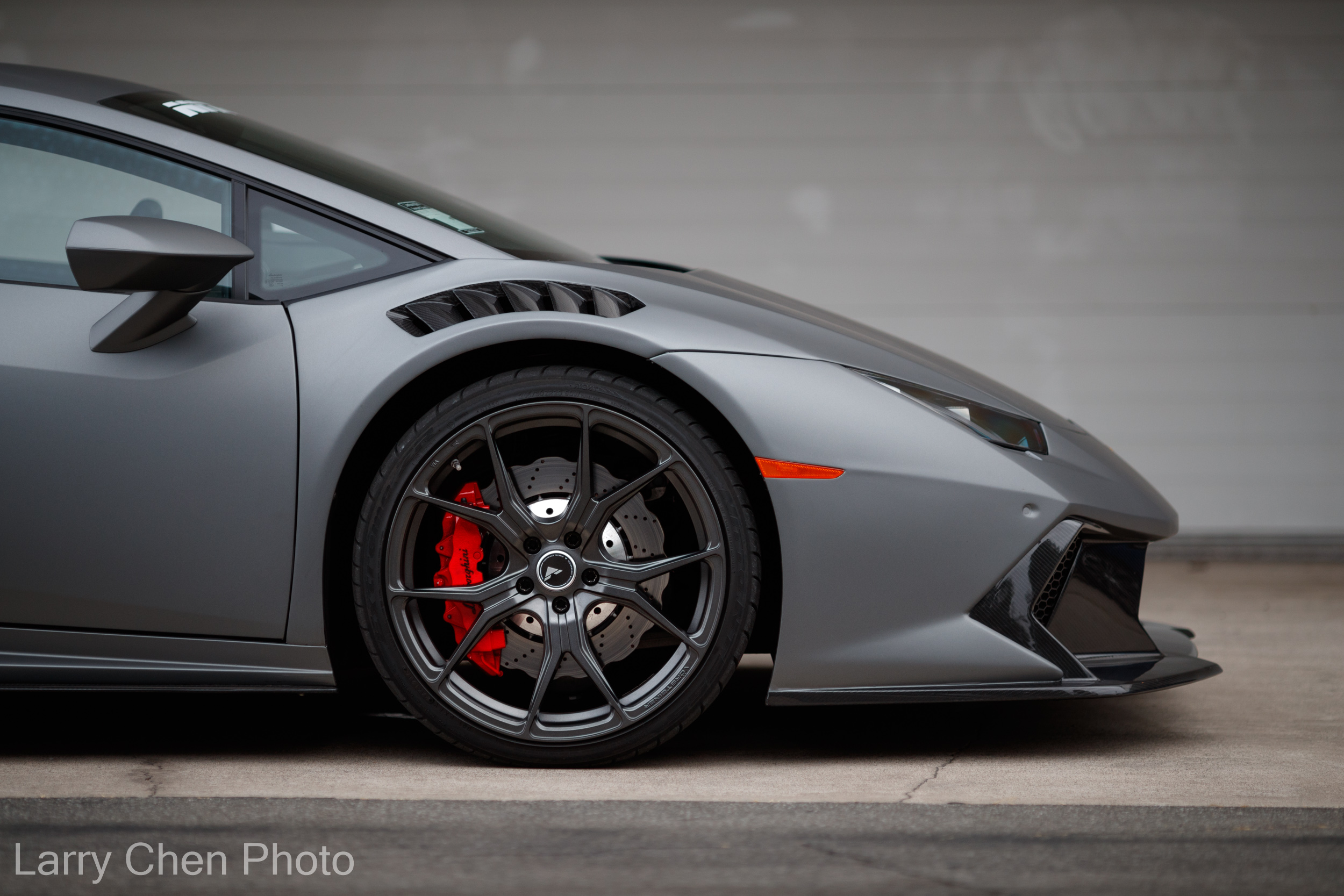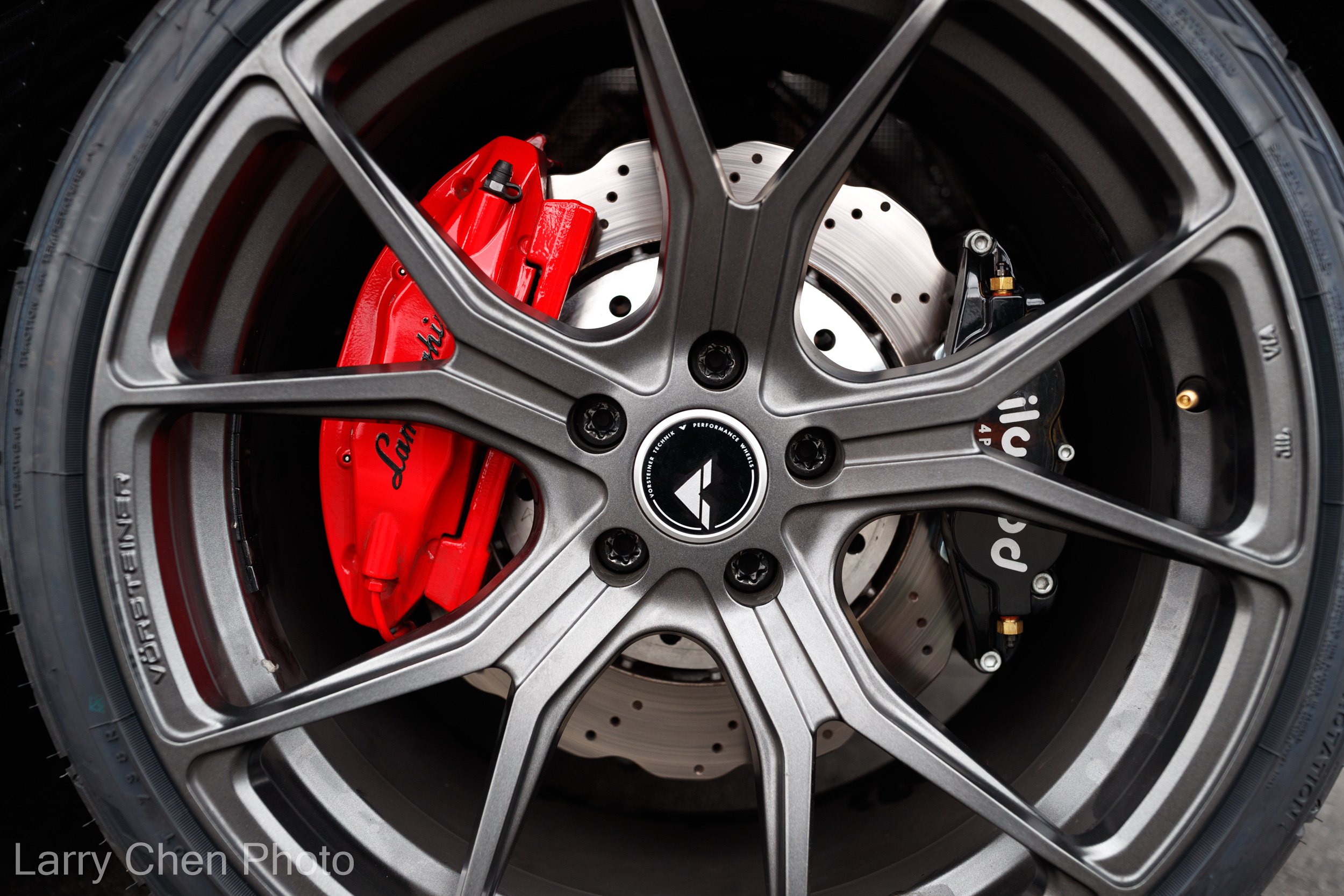 Because this model Huracán came in rear-wheel drive, it's the perfect start point for supercar drifter. Wilwood supplied the extra 4-piston rear calipers, and the wheels are made by Vorsteiner, who also supplied the body kit.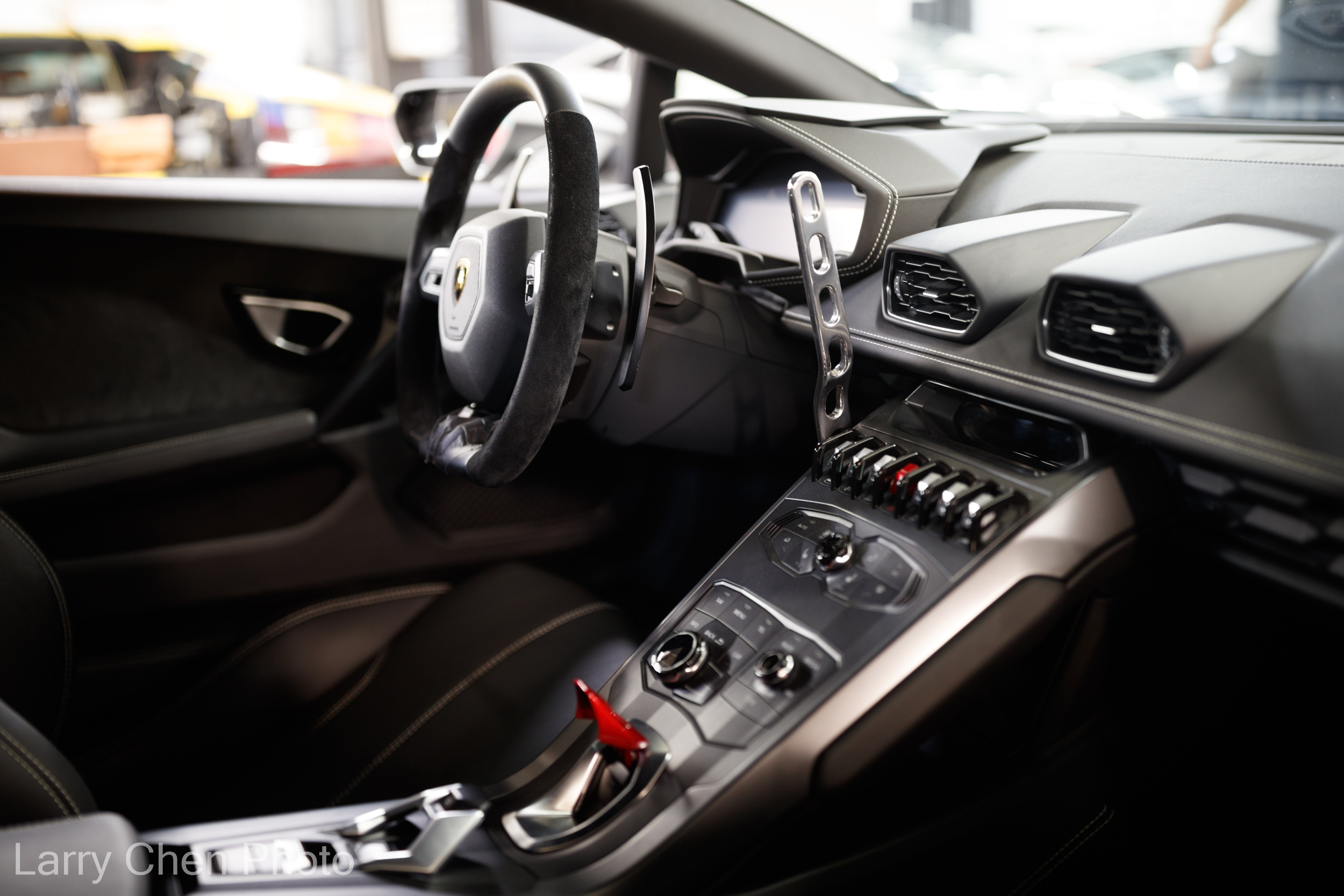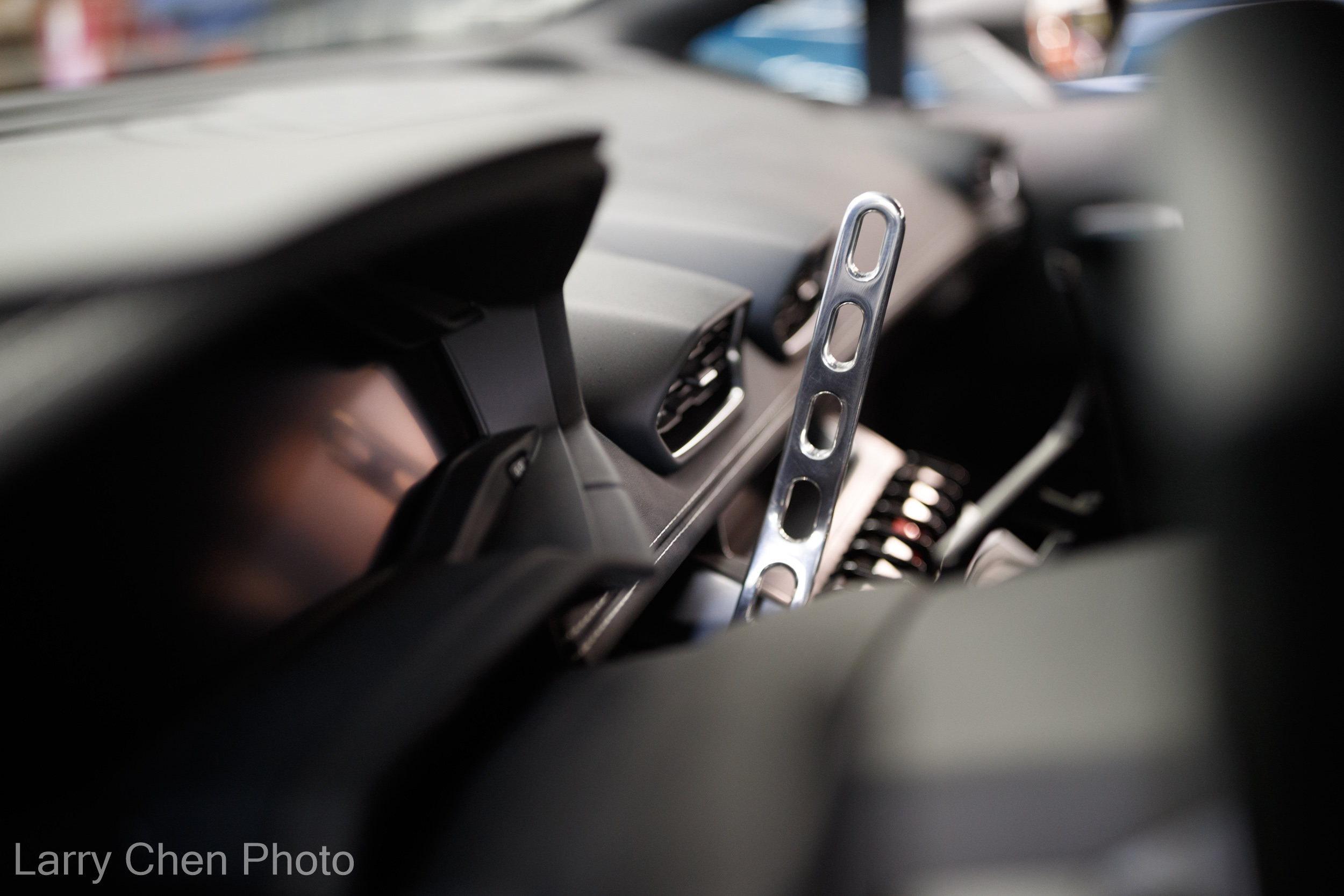 The handbrake itself was made by Trinity Motorsports.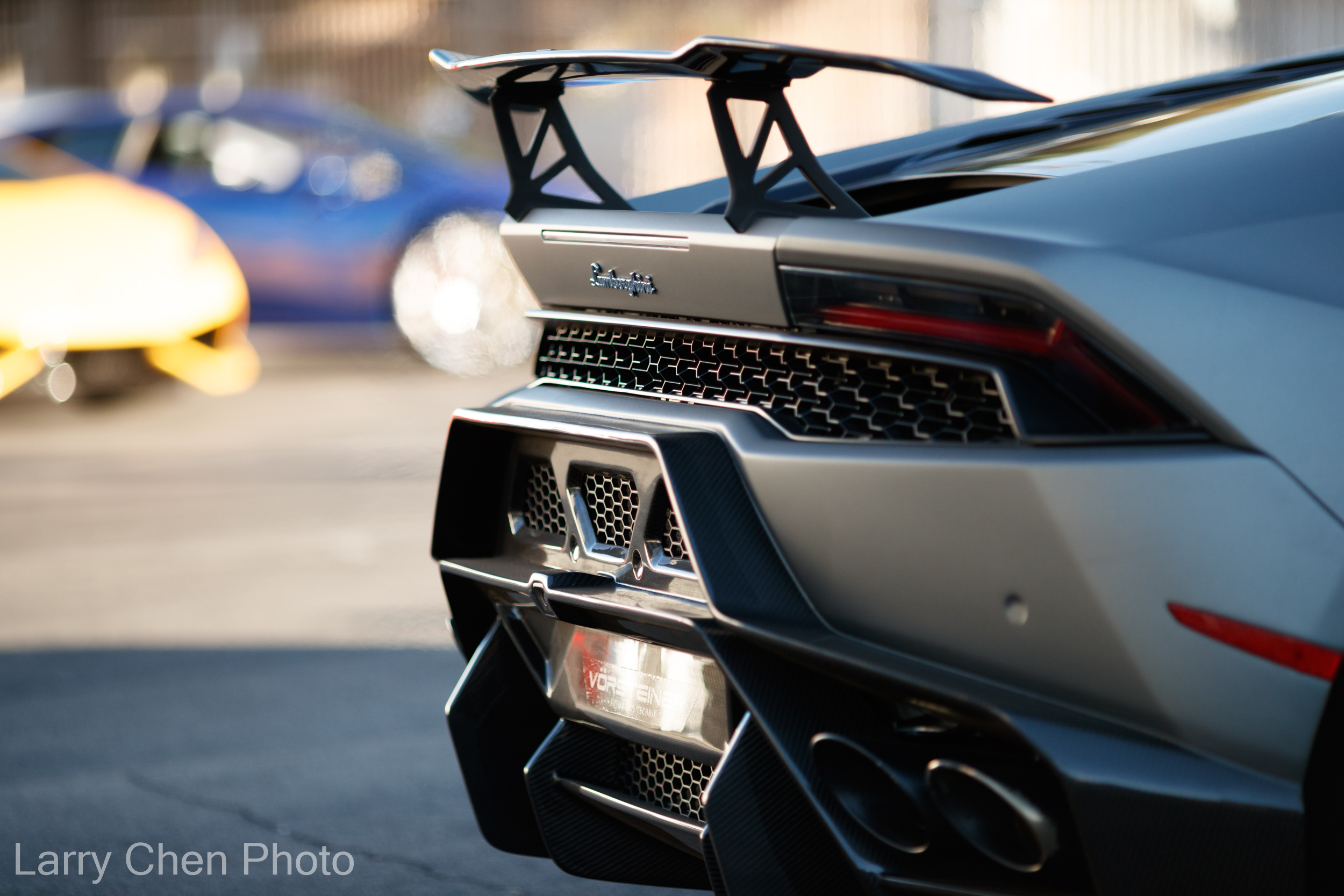 All the carbon bits and pieces are also made by Vorsteiner and I think they really set off the rest of the subtle build.
But the stock V10 powerplant is more than enough to get the massive 285-section Nitto Tire NT555 G2s spinning.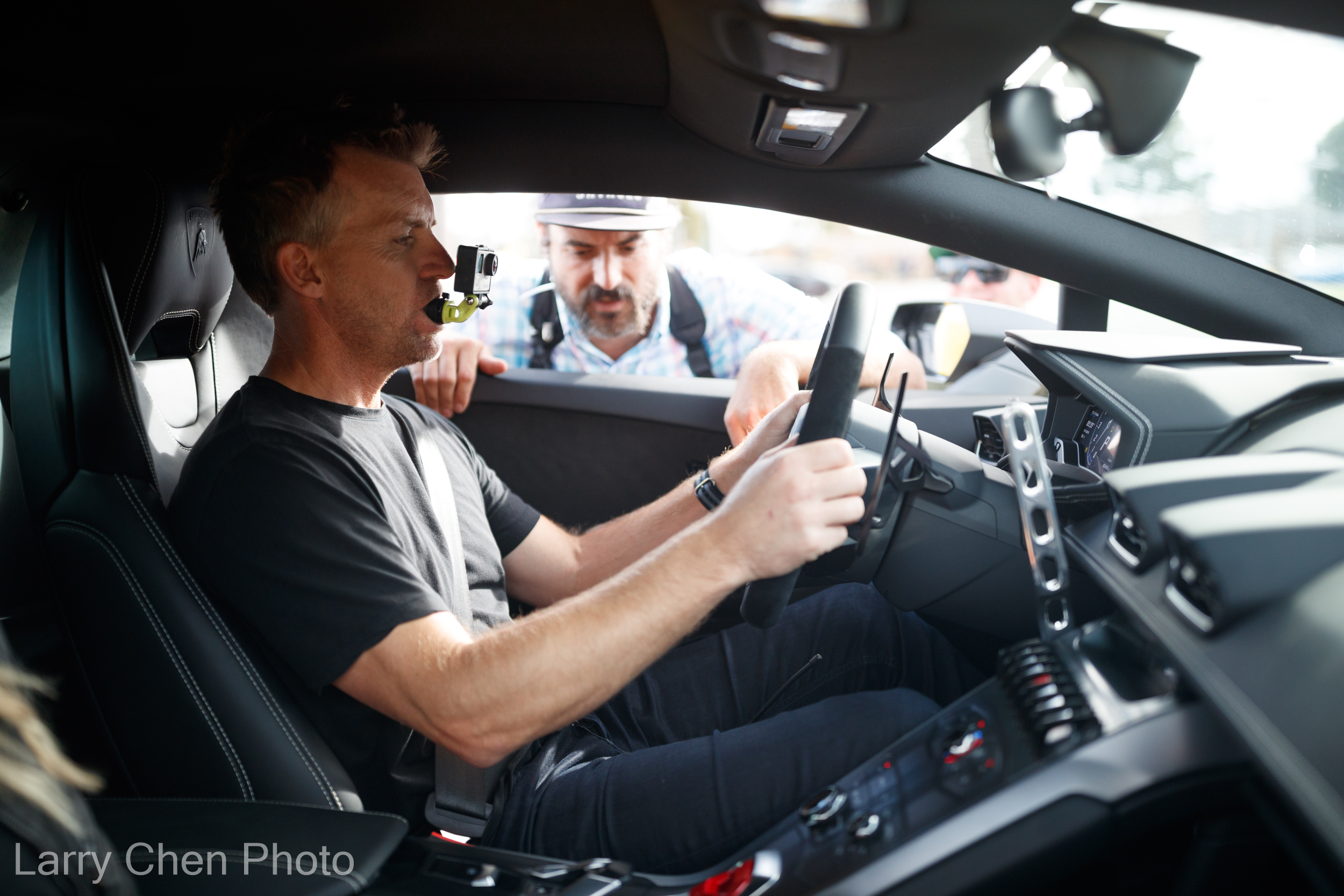 The Donut guys always like to come up with creative ways to capture all the action quickly and efficiently. Mouth cam? Check!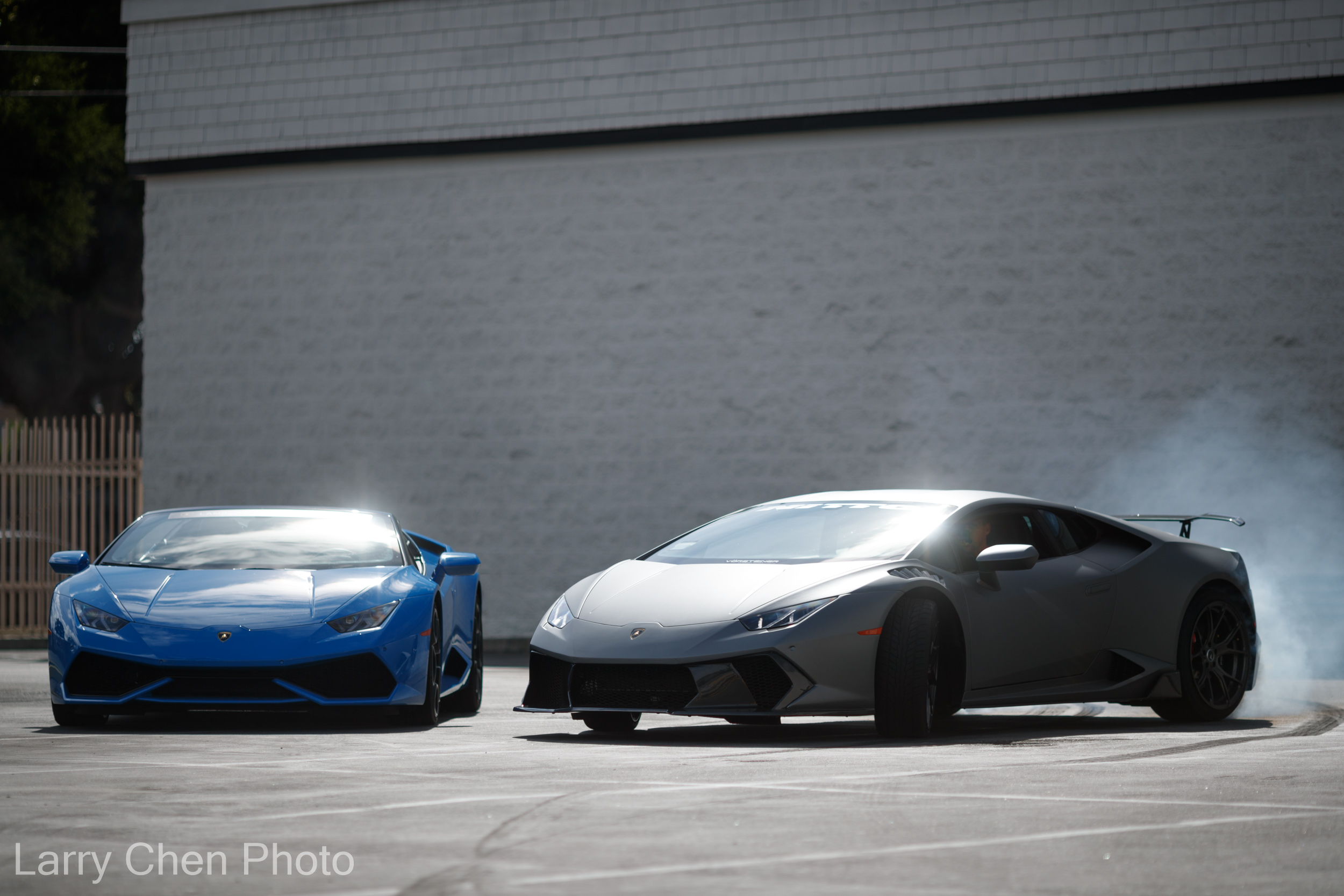 No fancy camera tricks here, that is an actual street car drifting.
Even with the stock steering angle Sam and Stina could pitch it sideways no problem.
Shooting at an exotic car dealership has its perks.
One of my favorite scenes came about as we were shooting from inside the dealership and Samuel threaded the needle through millions of dollars' worth of cars.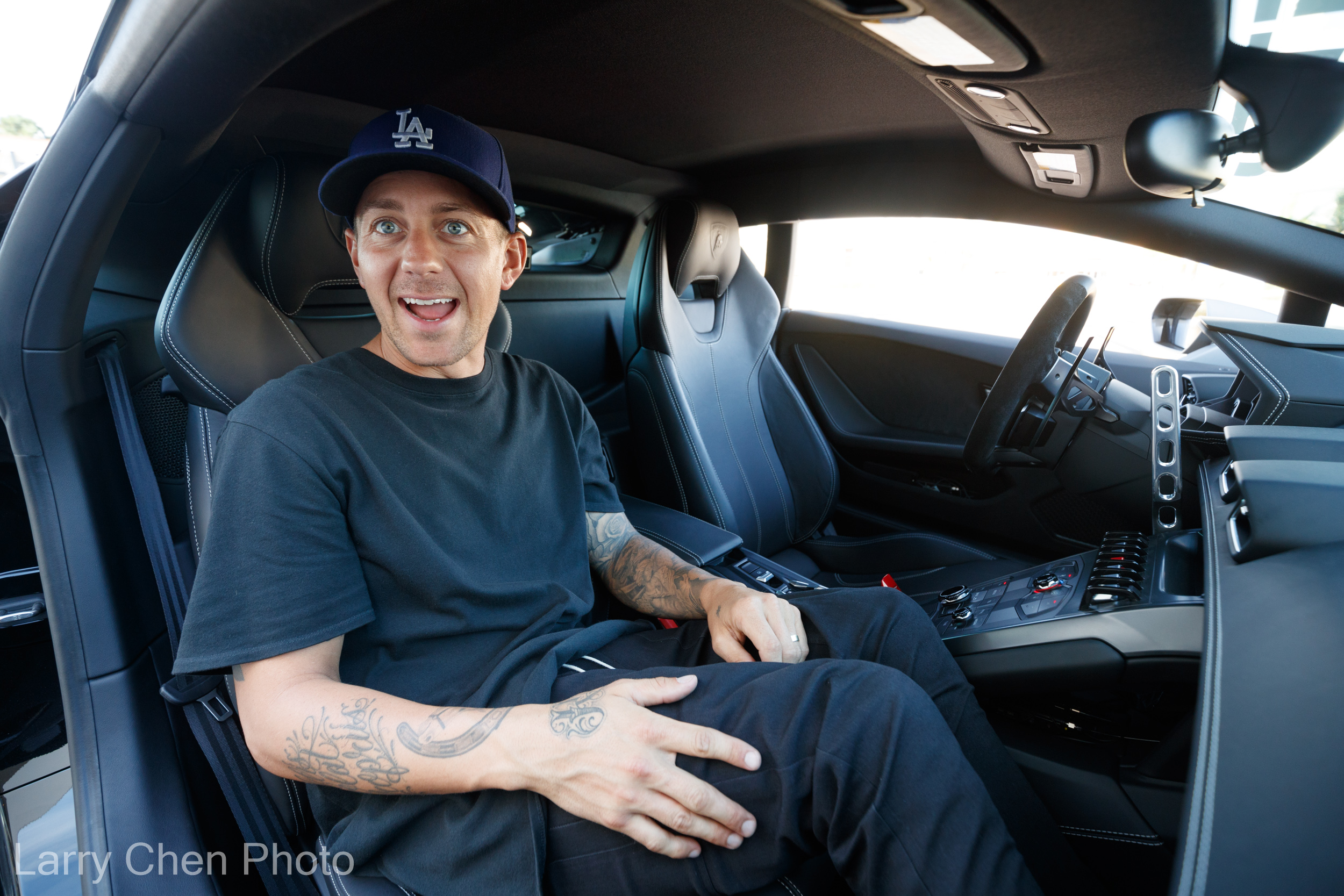 I always make fun of my buddy James Kirkham from Donut Media as he usually wears ripped pants, so the supercar lifestyle suits him well. But this time there were no holes in his pants.
We hid the sound guy behind the Aventador LP 750-4 SuperVeloce. Where else would we hide him?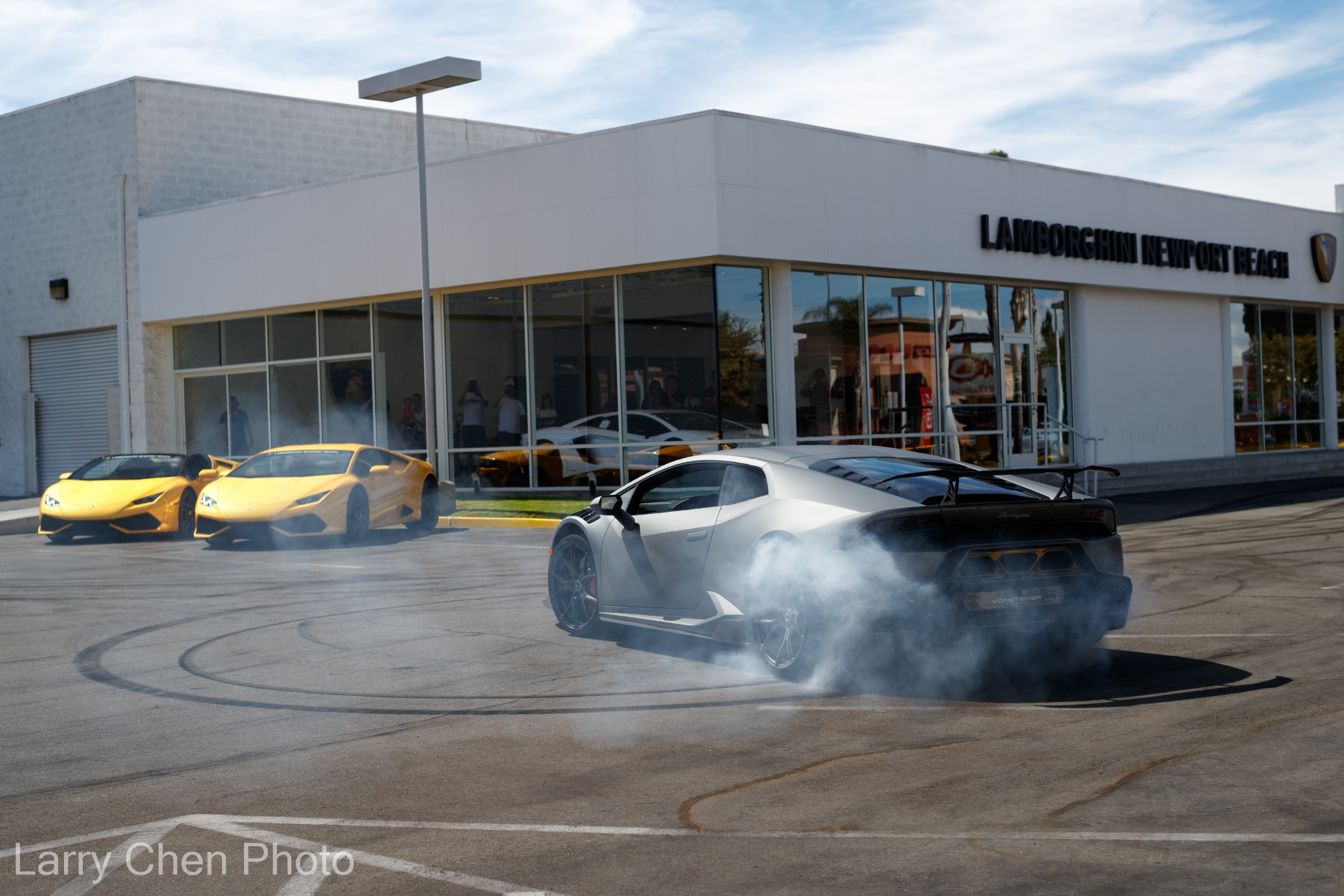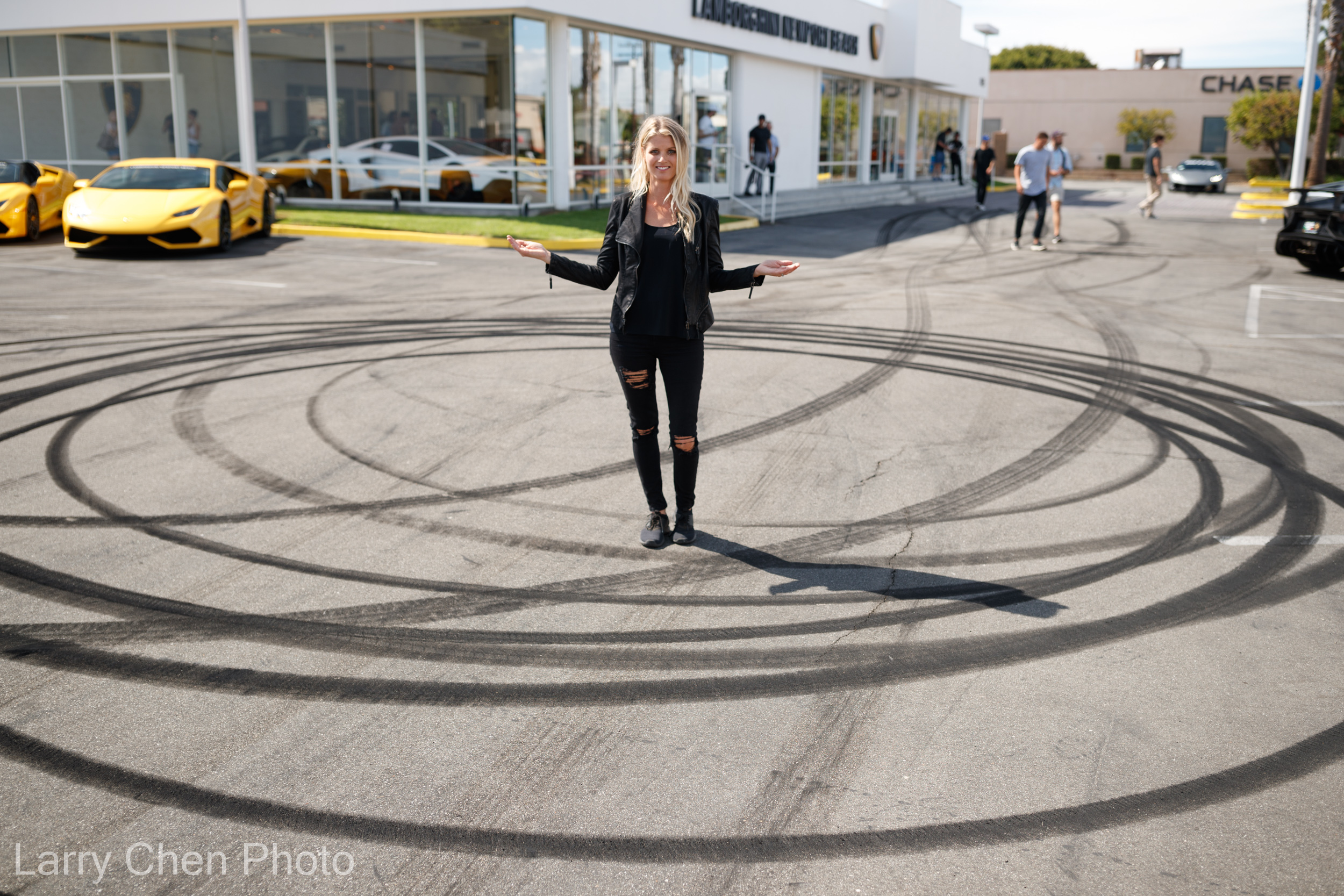 As you guys would have seen in the video, Sam was not the only one driving on this particular day. His wife, Stina, is also a professional stunt driver hired for Hollywood films and commercials.
While Stina has never actually competed at a professional drift event, she did a really good job creating little puffy clouds.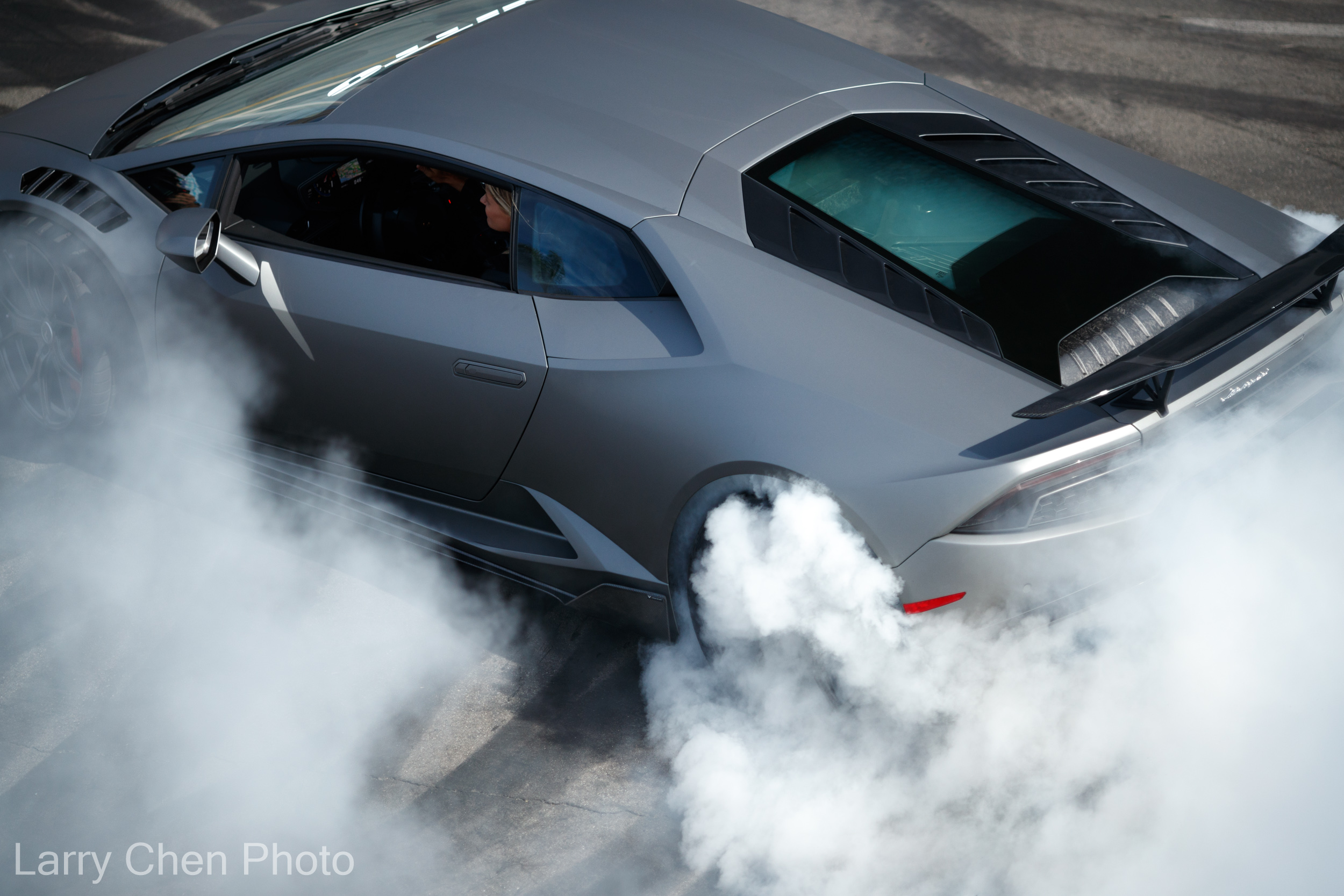 Even though Sam does stunt driving for a living, it still made us wince when he did some proximity drifts next to these curbs. Hitting the curb in your Lamborghini is one way to ruin your day very quickly.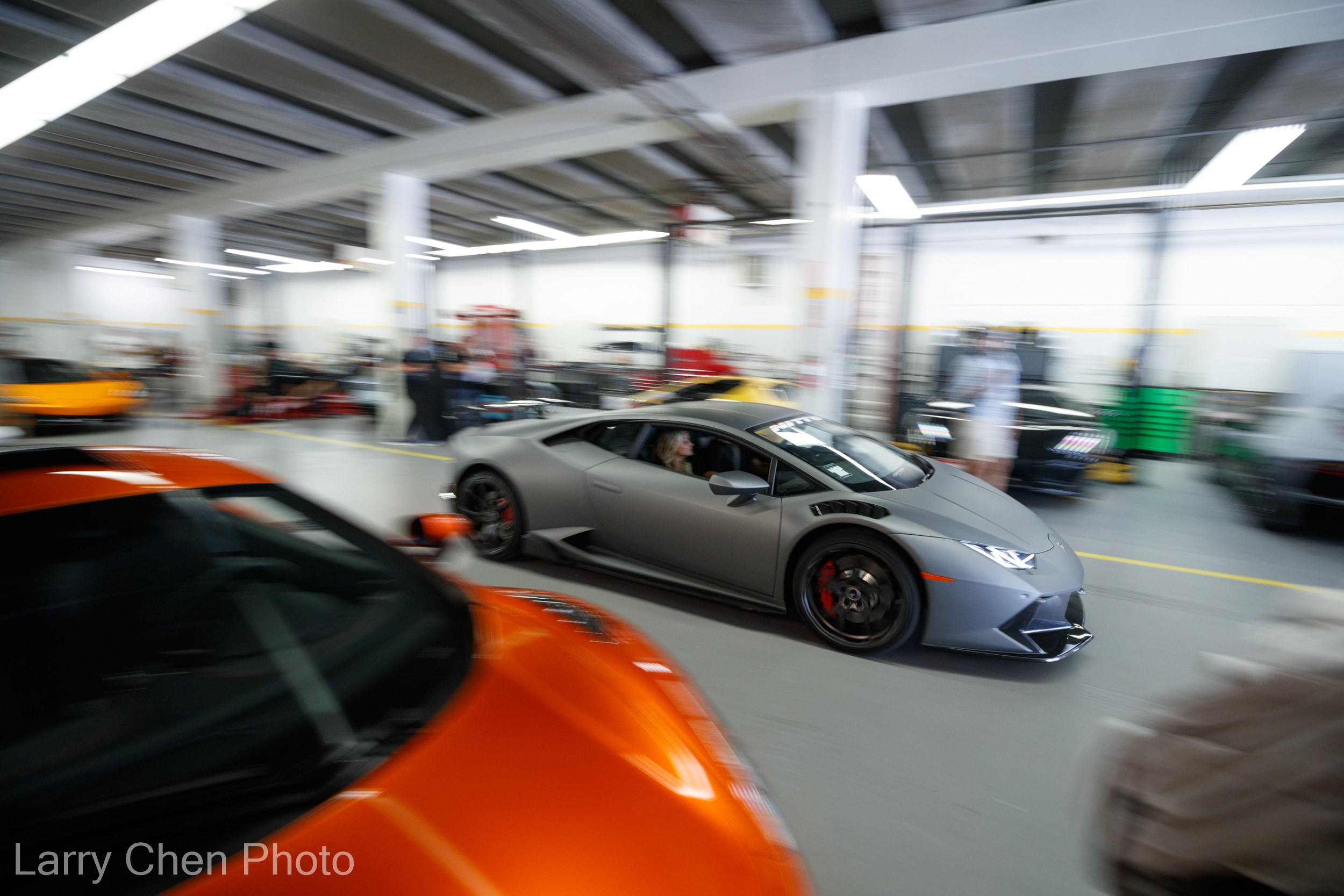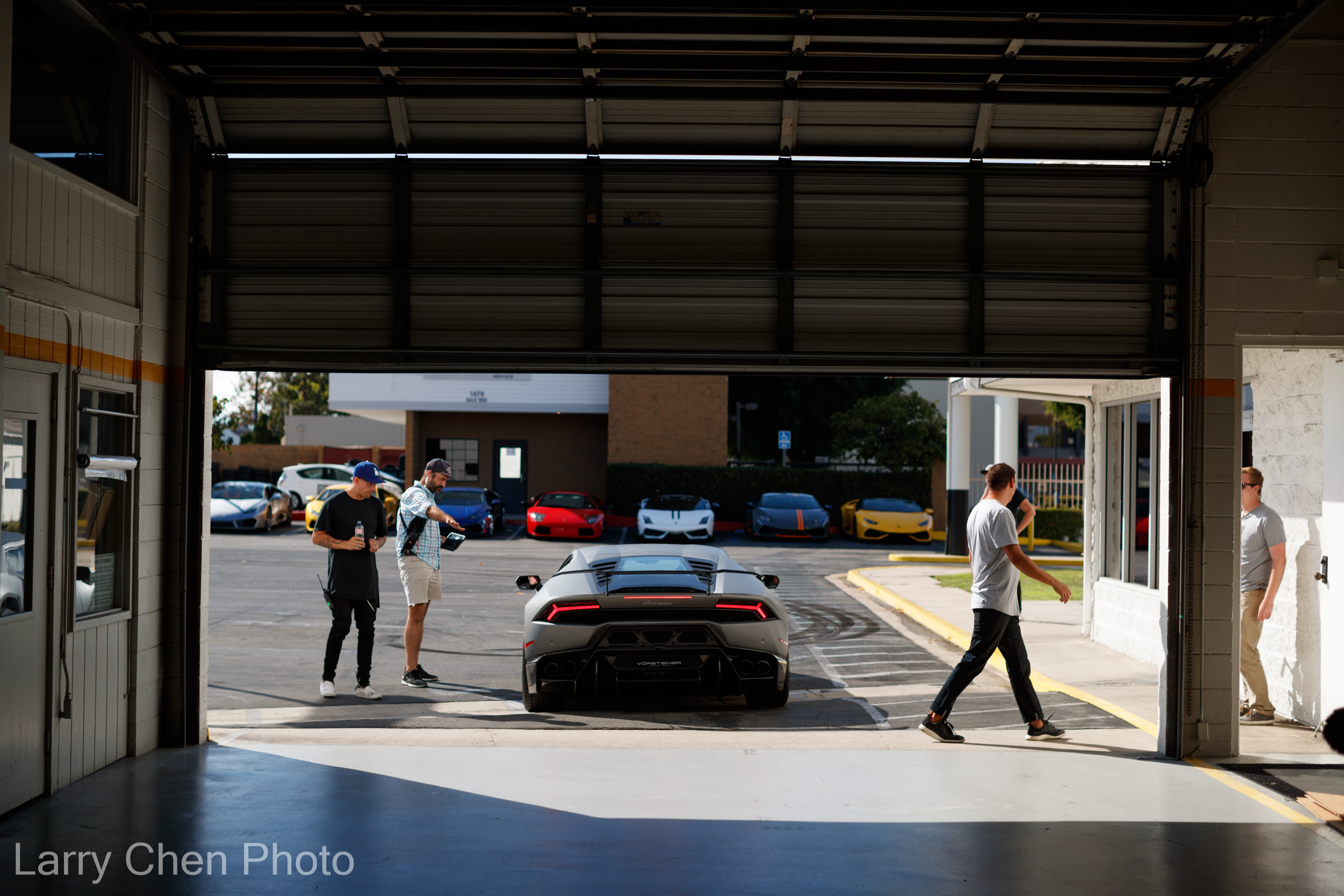 Of course, Sam was straight-faced the entire time.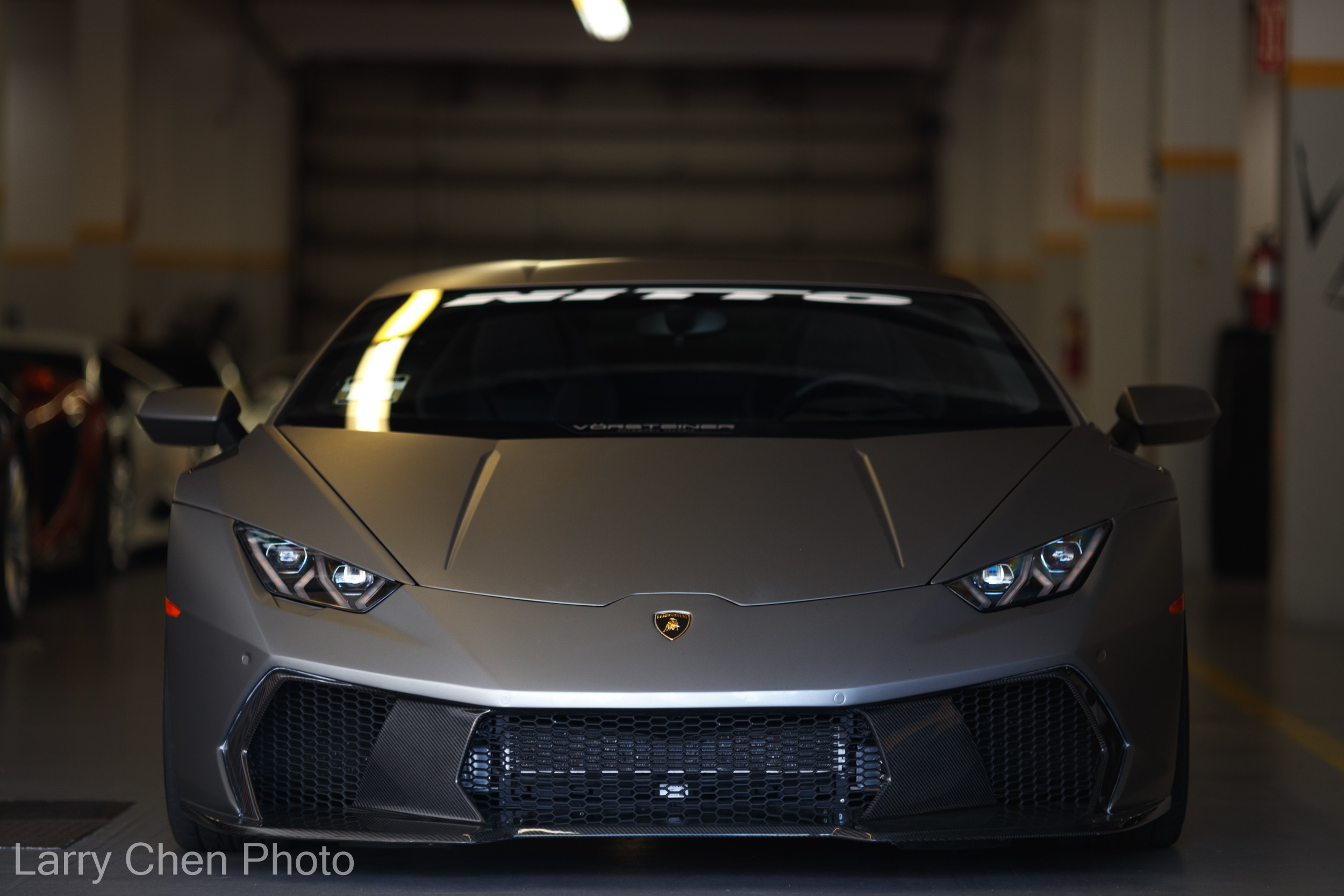 That's one mean looking front end. While I am not generally a big fan of vinyl wraps, I think this matte gray looked really nice for the application.
Former Speedhunters driver and all around cool dude Matt Powers made a quick cameo as the tire changer and car wash guy.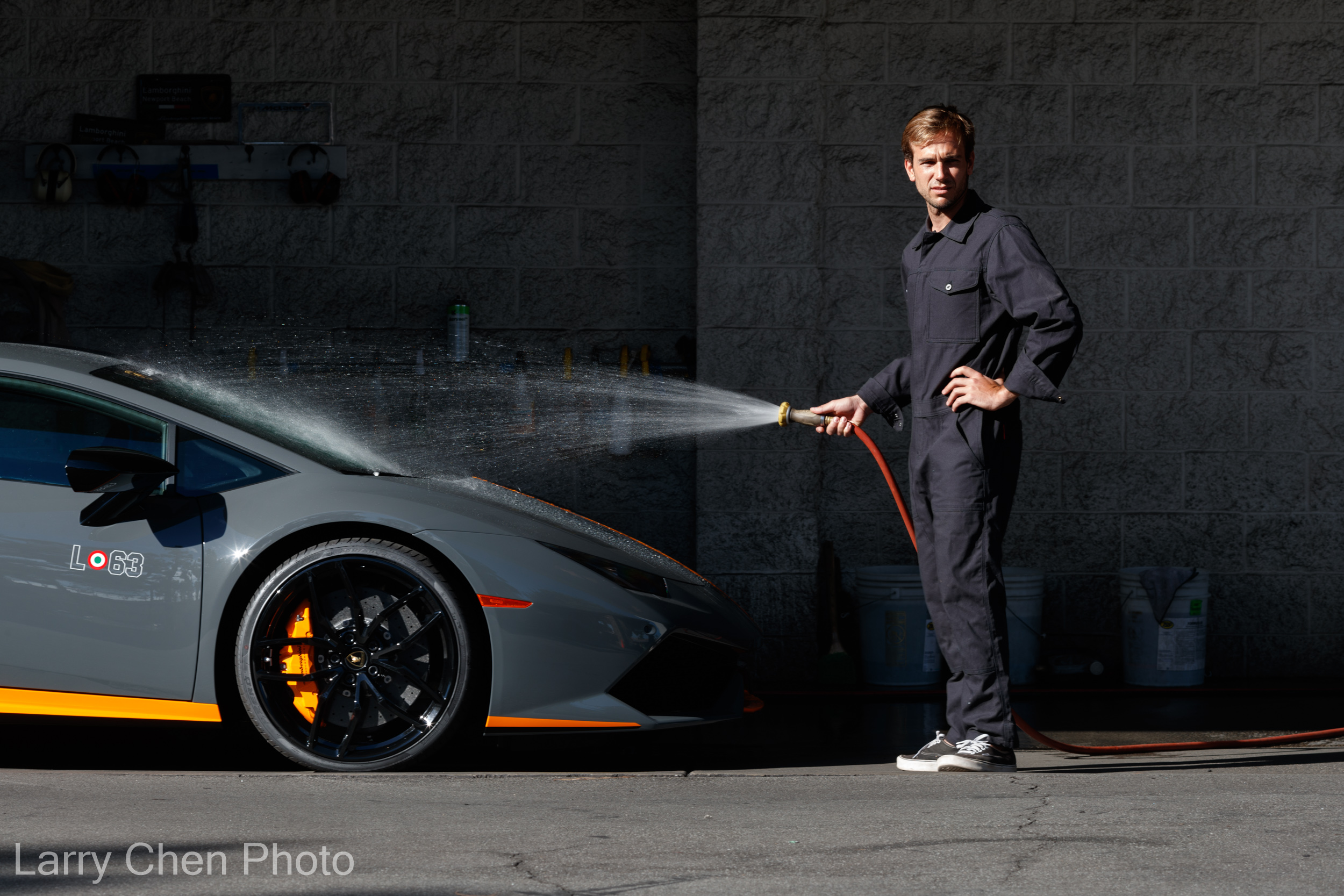 Matt is also a Nitto Tire-sponsored driver, so they figured it would be fun for him to play a small part.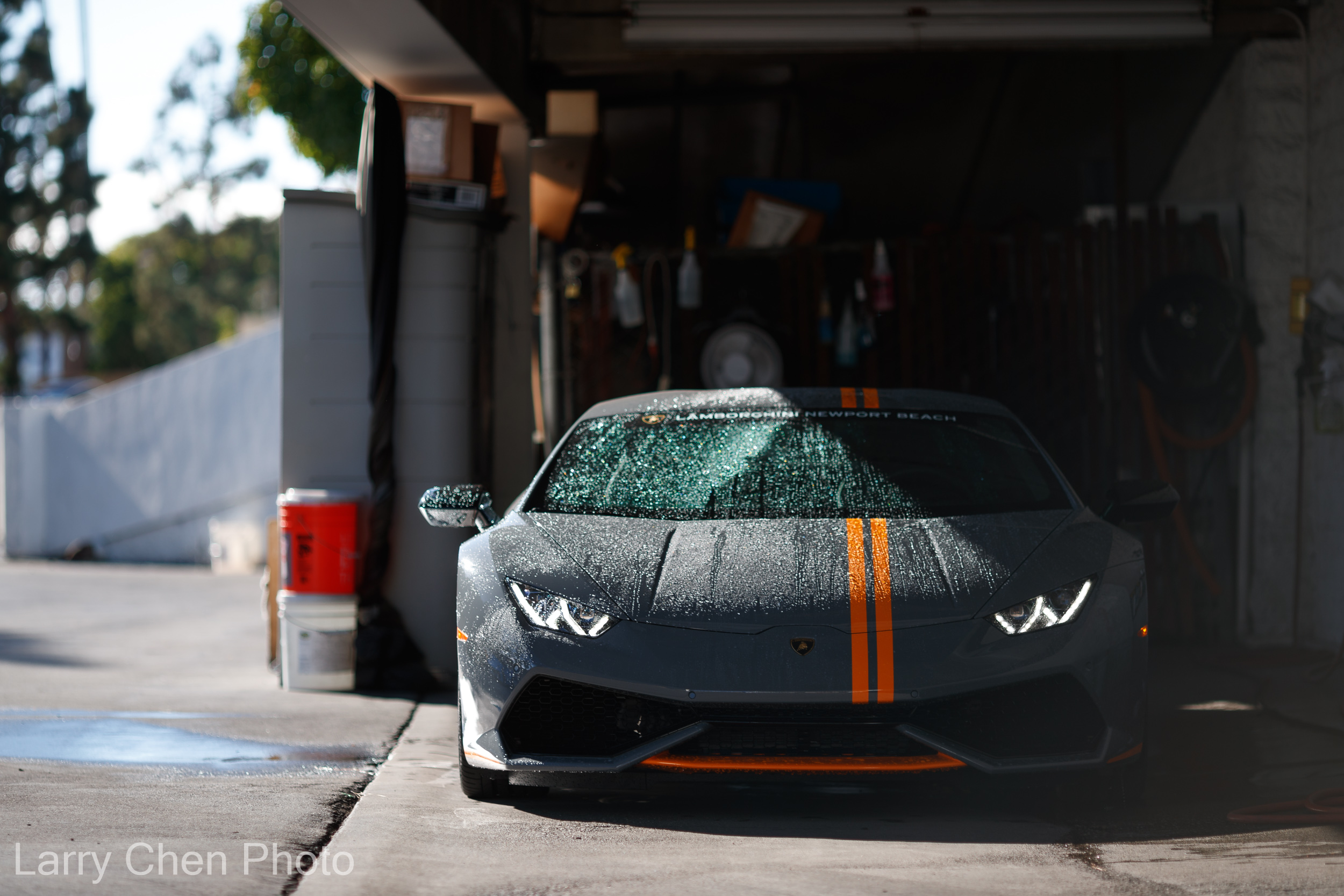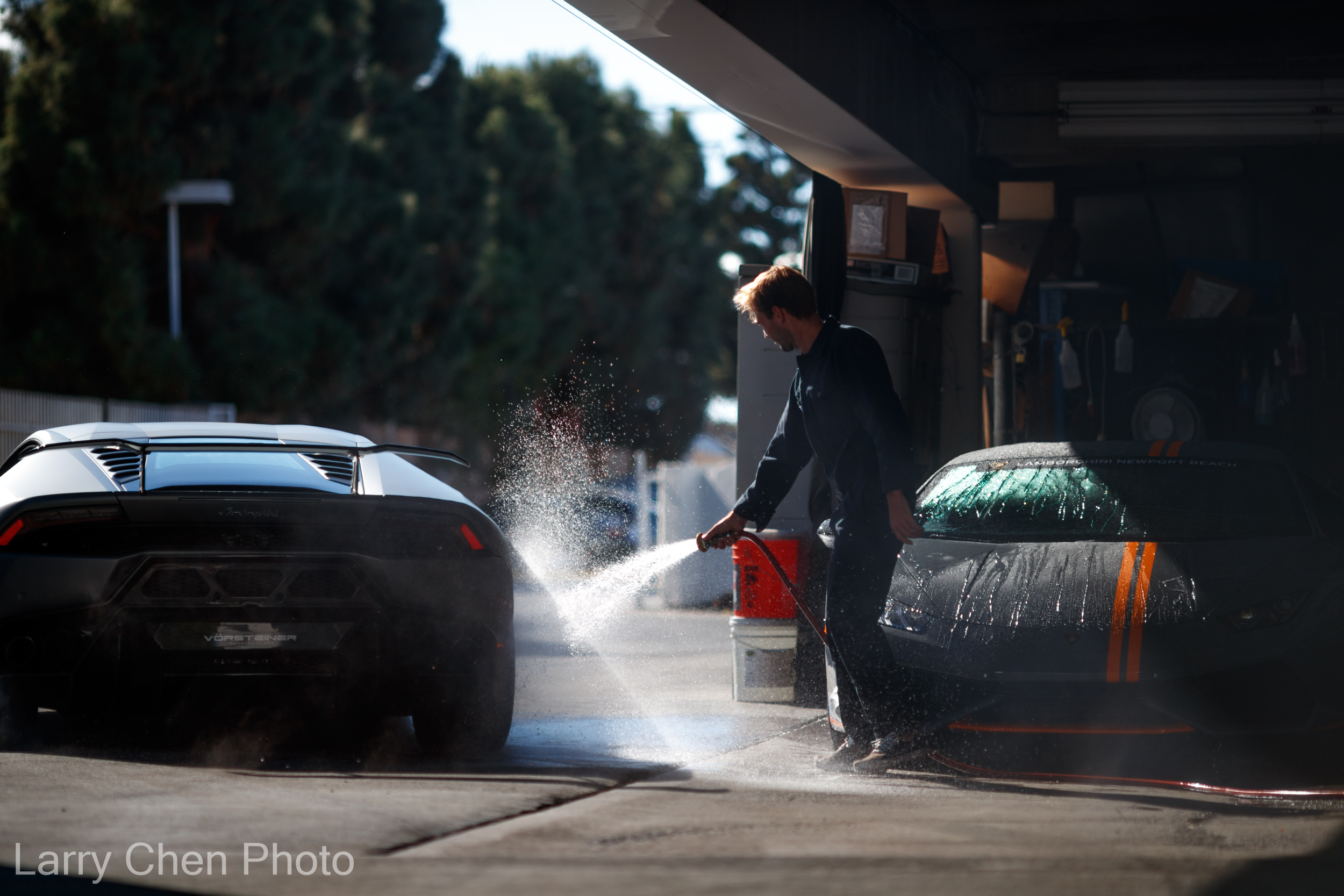 This is what happens when you quit professional drifting, you end up having to wash cars.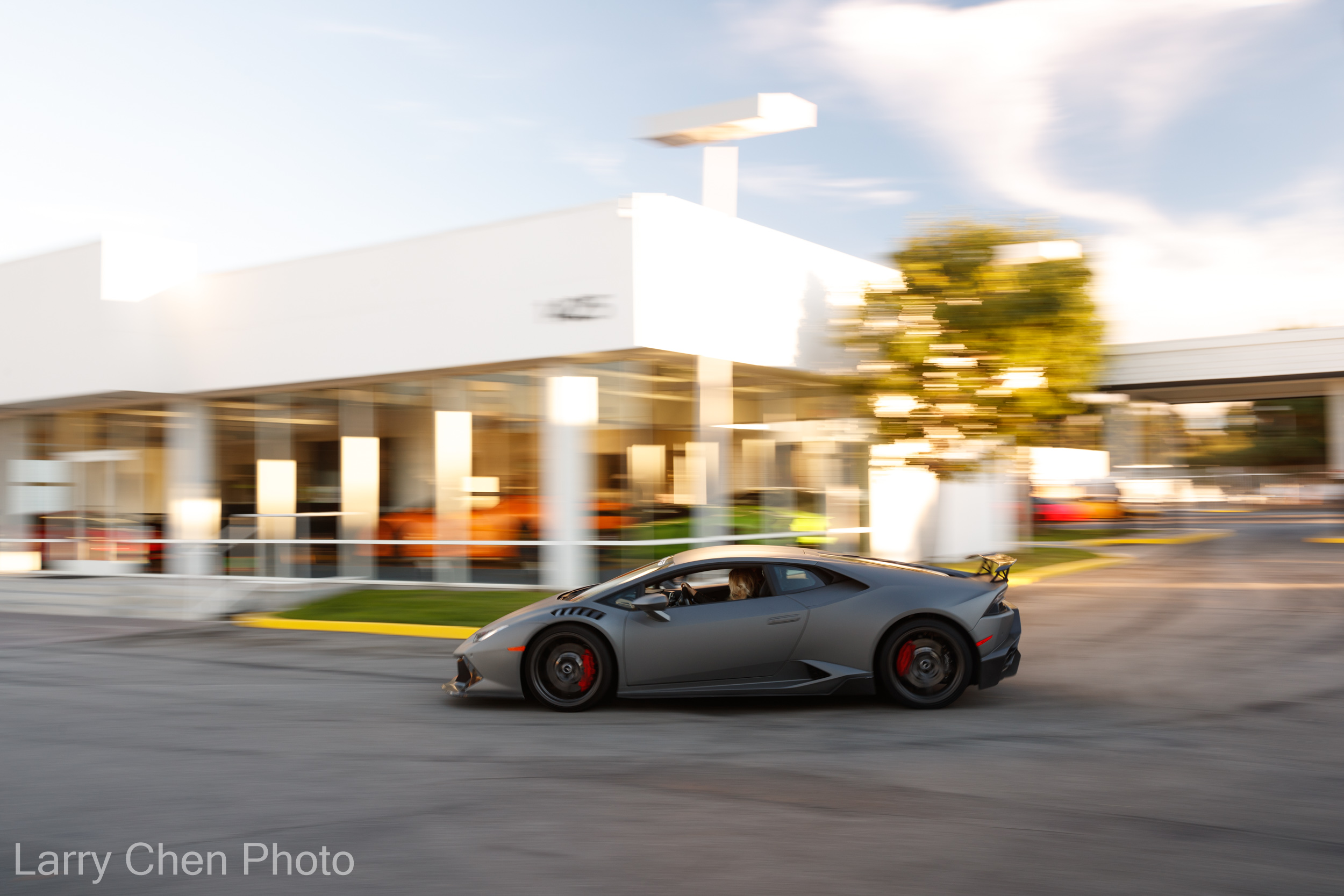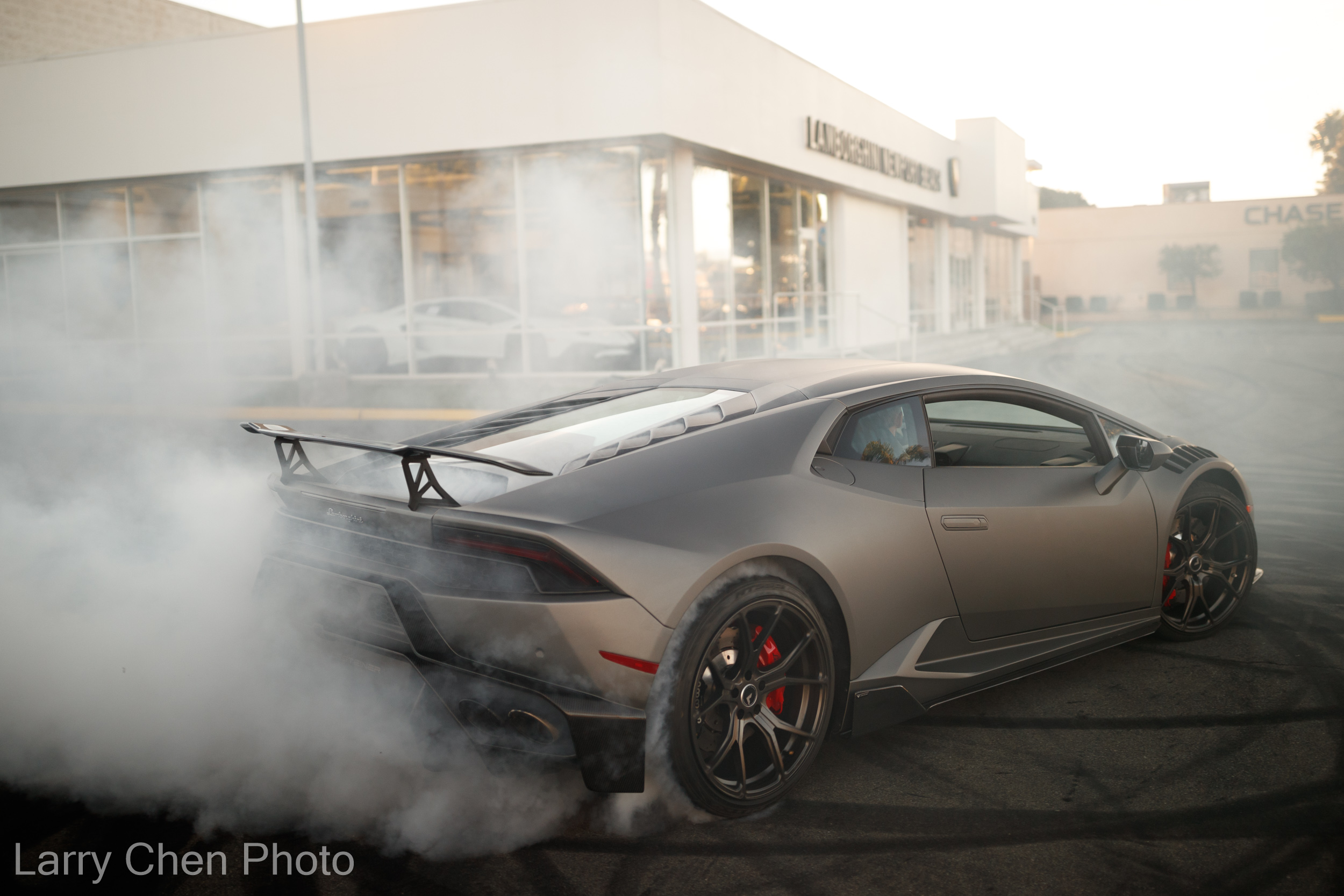 Sam drifted the Irwindale Speedway big bank with this car to test it out before this video shoot, so we know it's capable of much more than just a few donuts and 2nd gear drifts around a dealership.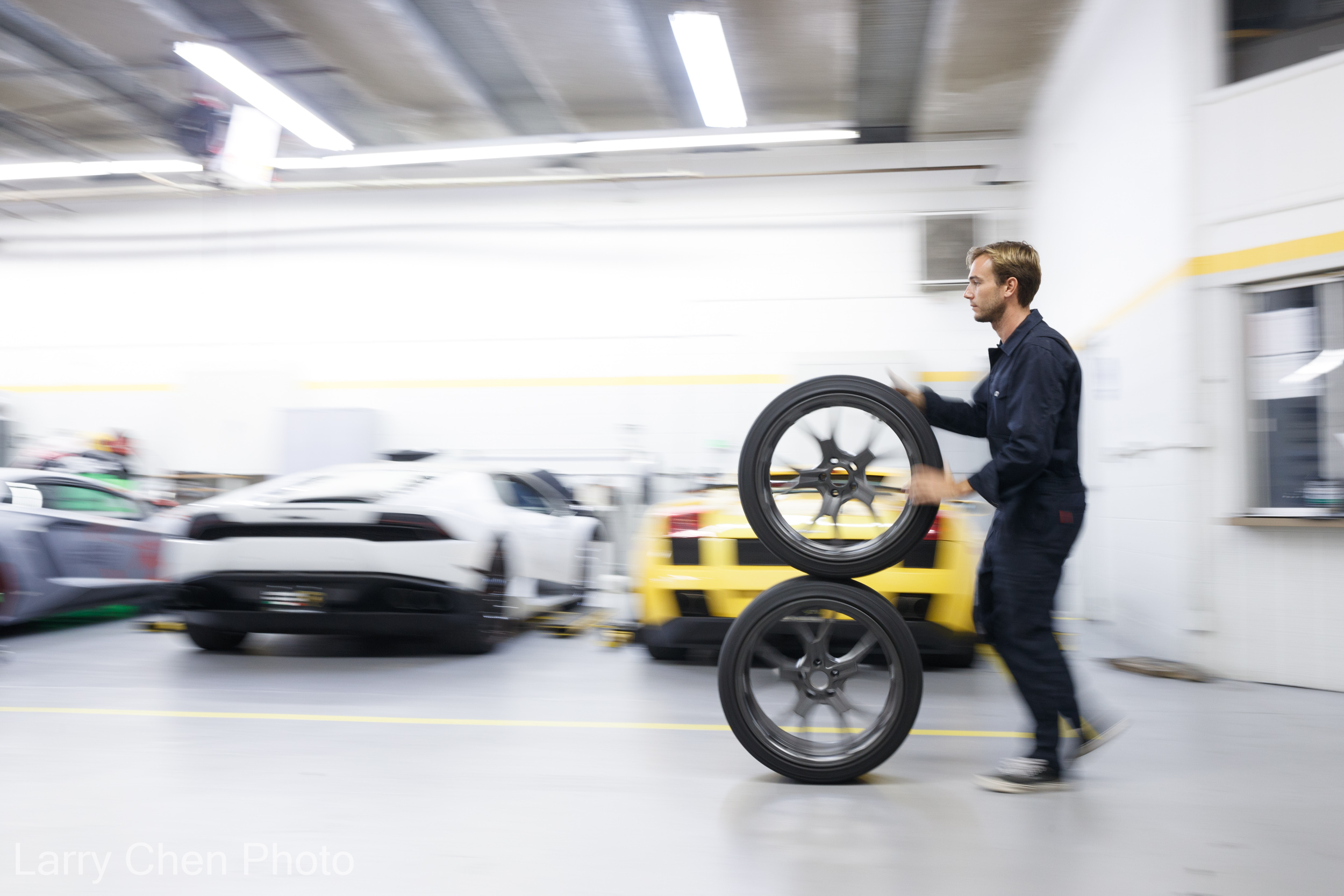 Which begs the question: what's he going to do with it next? My vote is for tandem 360-degree drifting with Matt Powers.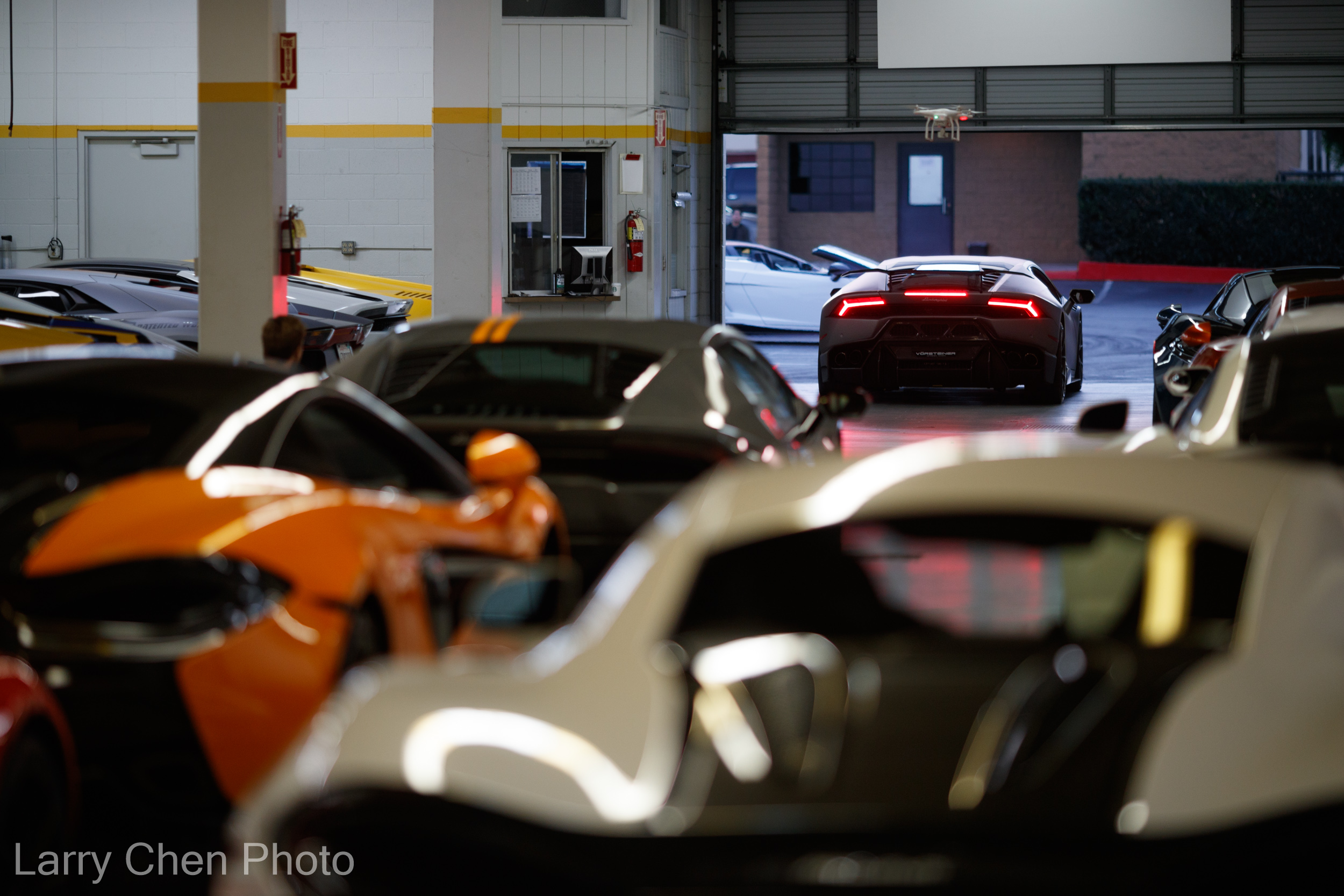 What's funny to me is that Sam and Stina actually bought this Huracán from Lamborghini of Newport Beach. I guess if you sell a supercar to a stunt driver it would be stupid of you not to invite him back to do a few drifts at your dealership. I wonder if the same thing would happen if he bought something from a Ferrari dealership? Probably not.
Larry Chen
Instagram: larry_chen_foto
Bonus Chapter: Cutting Room Floor