Earlier this year, when I found myself in Miami, Florida, for the Race of Champions, I decided that I should take the opportunity to shoot a local car for a feature. I didn't have anything lined up, but that changed quickly with a phone call to my buddy Magnus Walker, who was also in town.
He told me that someone had offered up their Ferrari F40 for him to drive, and that he would see if he could make it actually happen. A few more quick calls and a couple hours' sleep later, I found myself standing in front of a tastefully modified F40 bathed in the blue pre-sunrise light. Does it get any more Miami than this? It could have easily been a scene out of a video game or a late 80s/early 90s action film.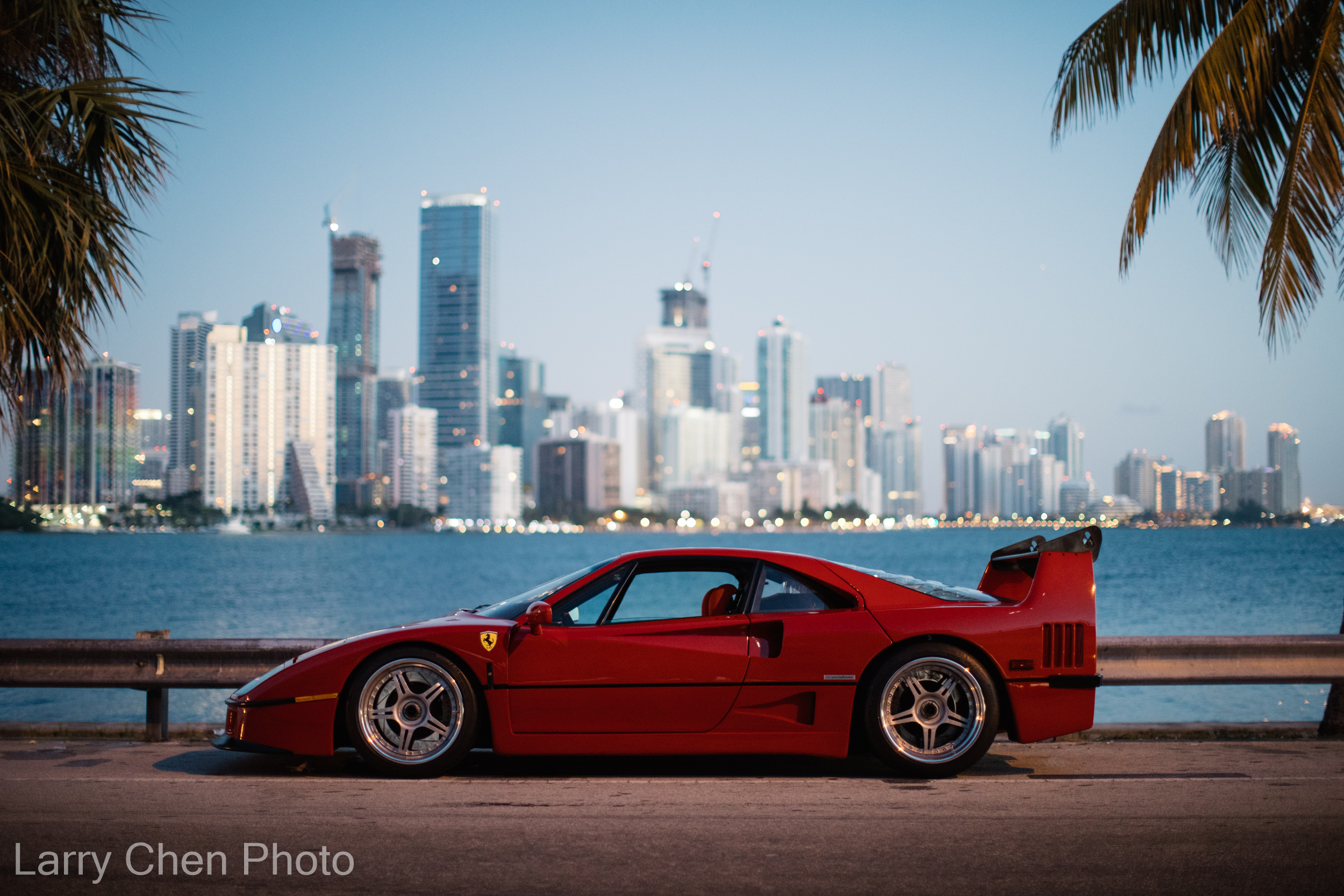 After picking up the car from its trusting owner, Magnus and I pulled up to a causeway underpass right behind a group of partiers who were still going strong early on Sunday morning. Music was blaring and the drinks were still flowing from the night before.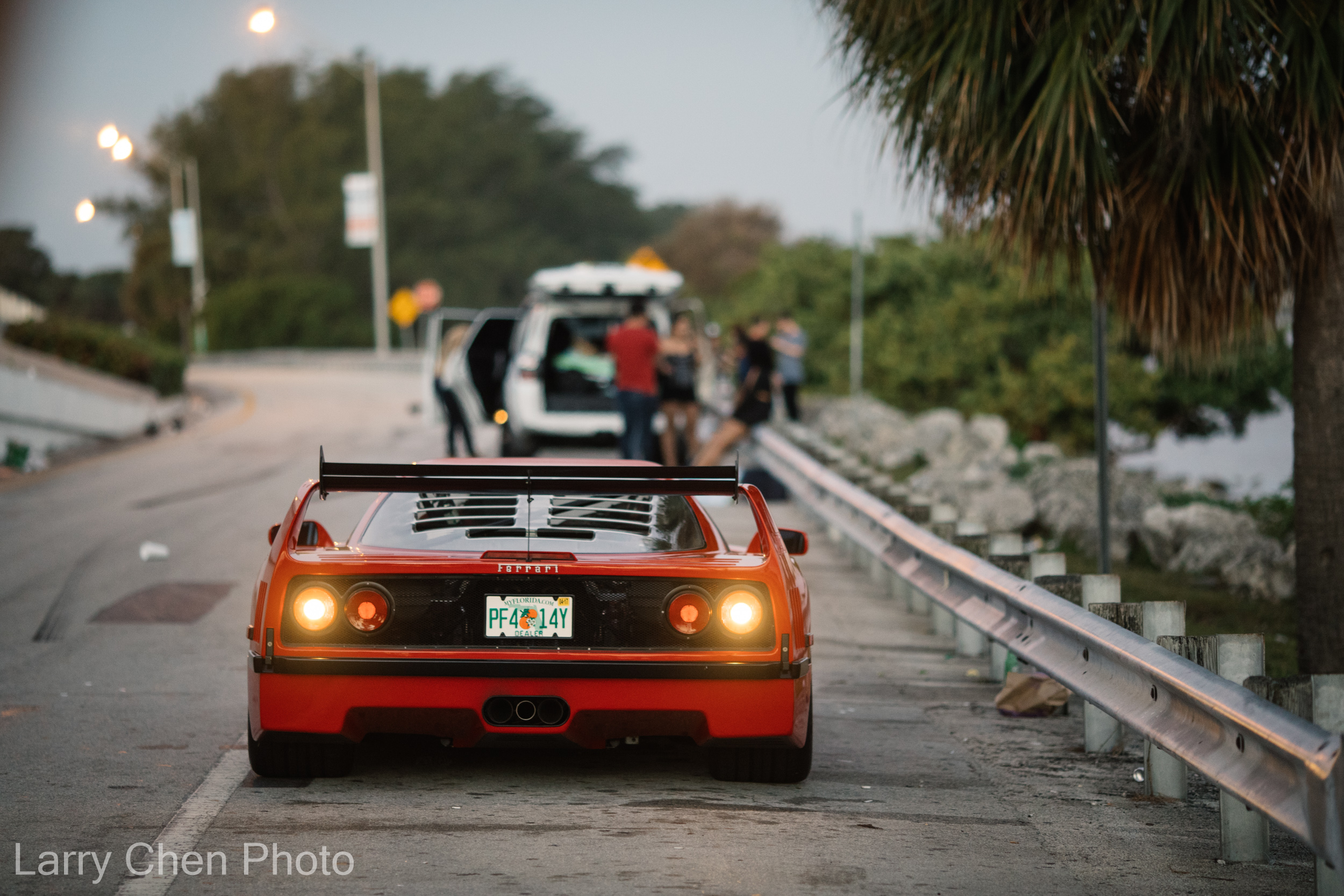 The location provided the perfect spot to get a shot of the iconic Ferrari with the cityscape in the background, but there was a problem. An Aston Martin Rapide was parked in the way. Magnus asked me if he should ask them kindly to move out of the way, so I said sure.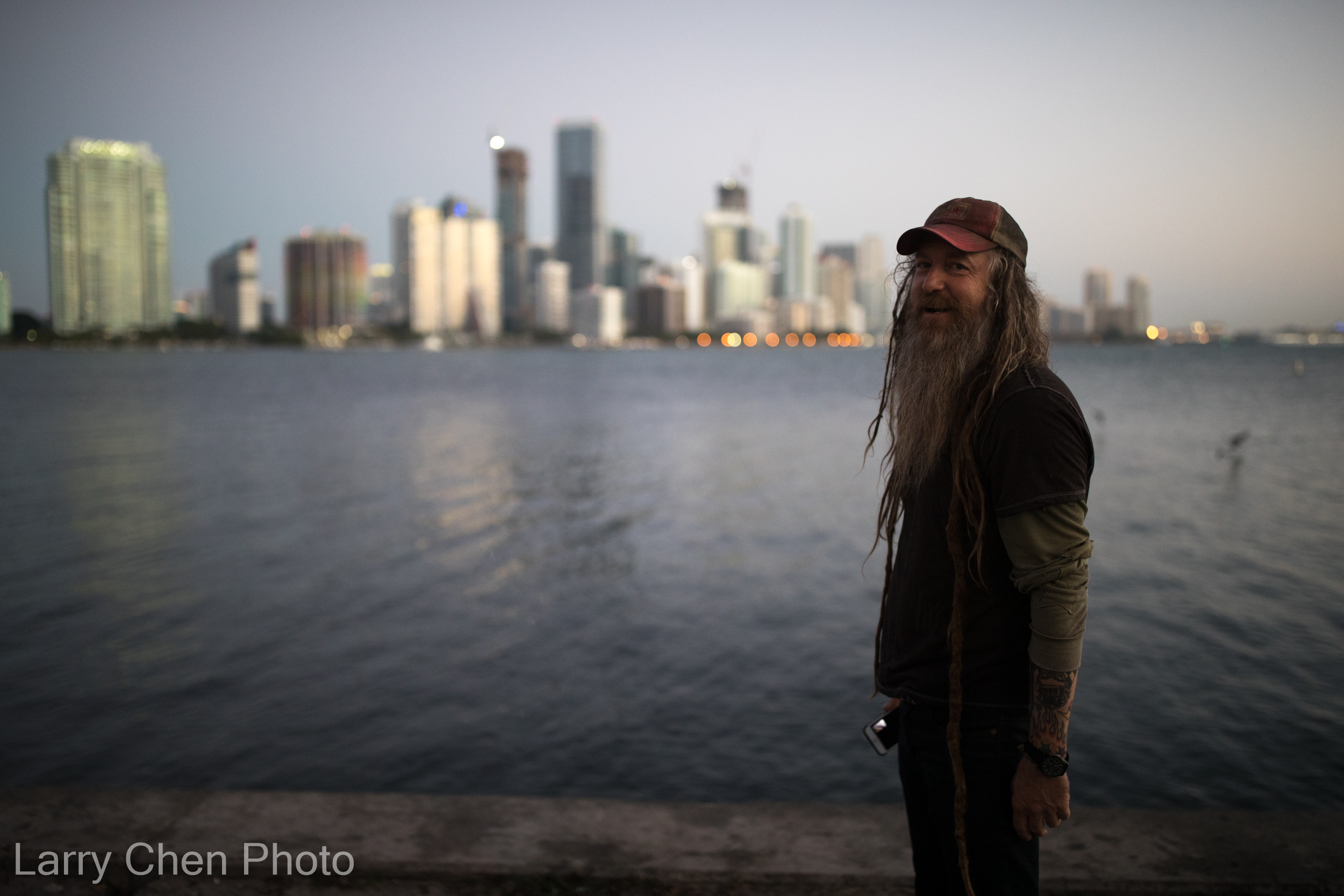 He walked up as the driver was inhaling a peculiar white powdery substance from the back of his wrist while sitting in the passenger seat surrounded by lady friends. I think Magnus has a pretty non-threatening demeanour, so the guy looked up and agreed to move his vehicle, and then proceeded to drive off with his e-brake still on, which made the funniest noise.
I figured there was no better way to start such a morning – the Urban Outlaw and I enjoying one of the most sought-after Ferraris of all time in the Magic City.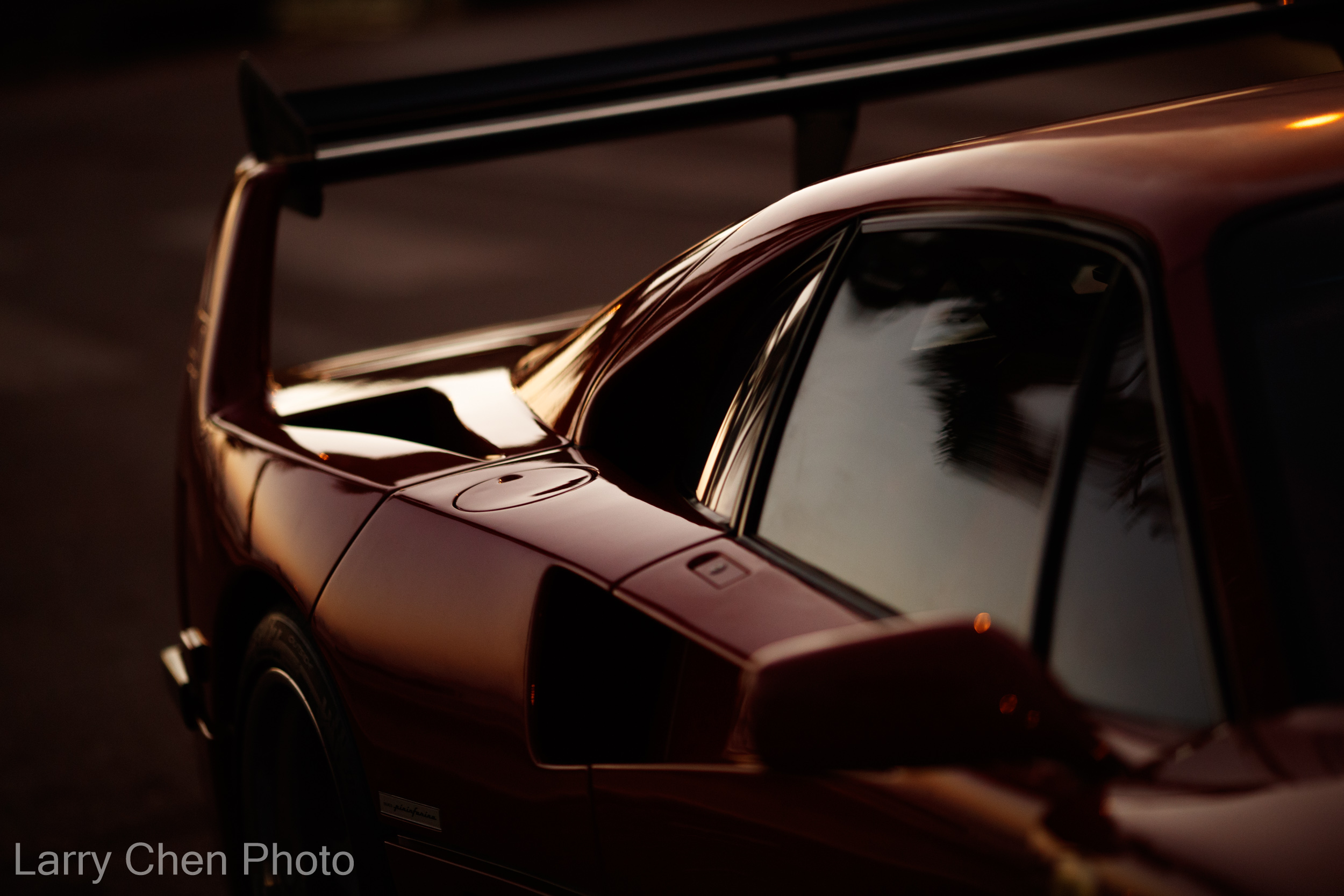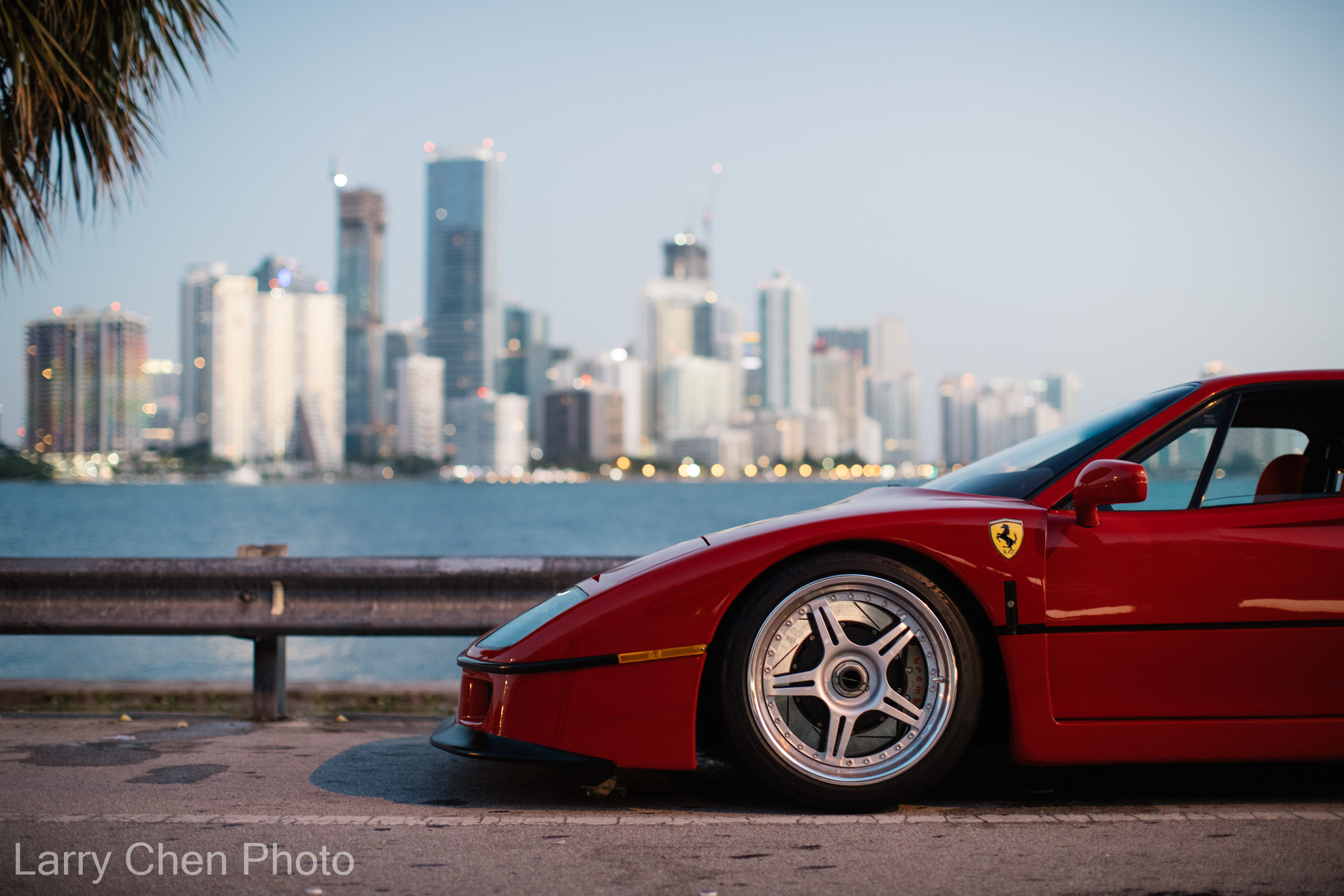 So what sort of person lets someone they had met only once borrow their prized supercar? Well, let me tell you that he's certainly a true car enthusiast.
His name is Juan Carlos Fernandez and his family emigrated from Cuba in the early 1960s. Juan was only 8 months old at the time, but he grew up in the USA admiring muscle cars of the era and dreamed of having a collection of his very own one day.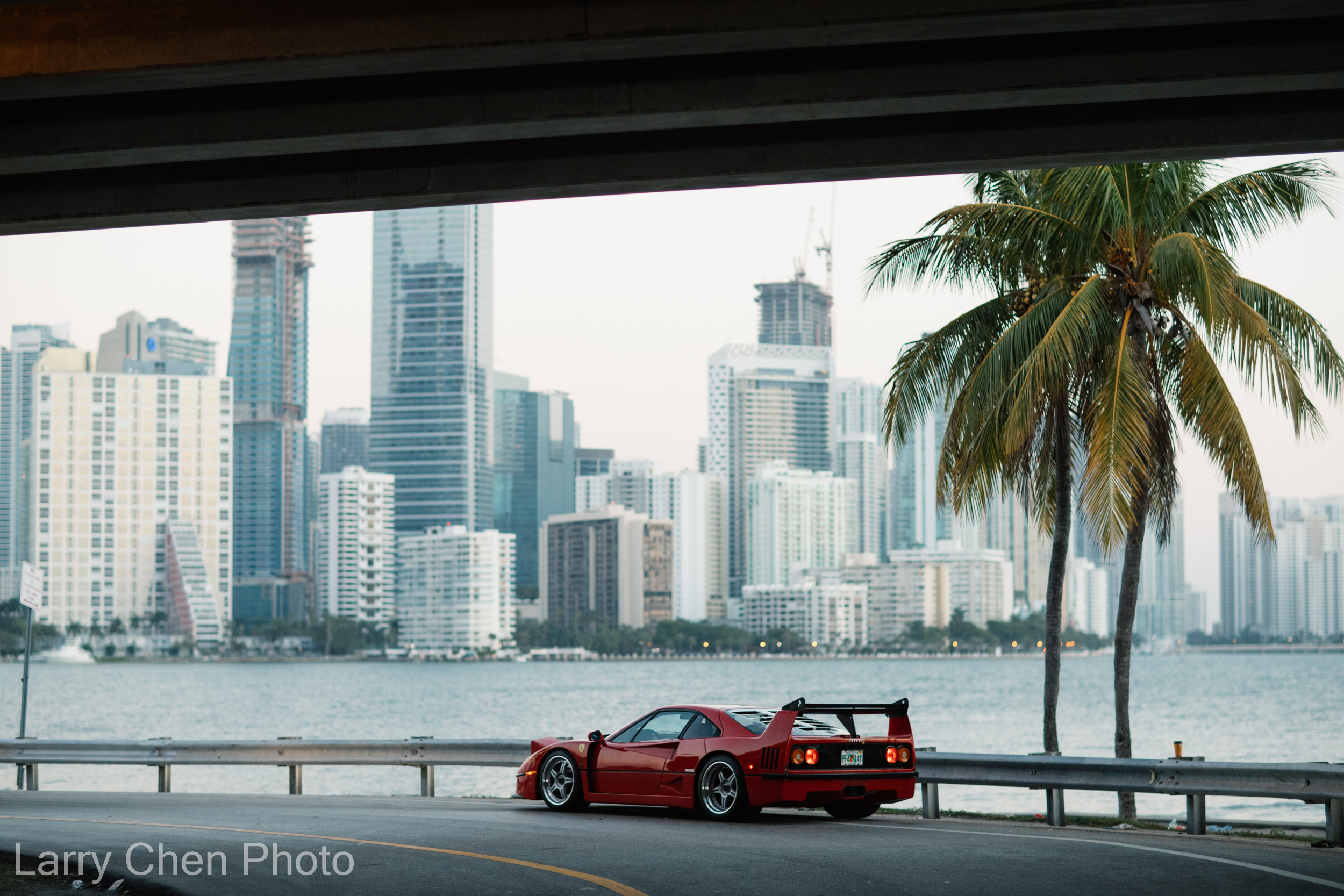 We instantly became friends when I told him that I had a 1970 Datsun 240Z, because Juan's first performance car was a 1973 260Z, which he funded from selling shoes while he was in college.
Like my car, Juan's 260Z didn't stay stock for long. The moment he had spare funds he poured it into the Datsun, adding fender flares, Weber carburetors and headers among other things.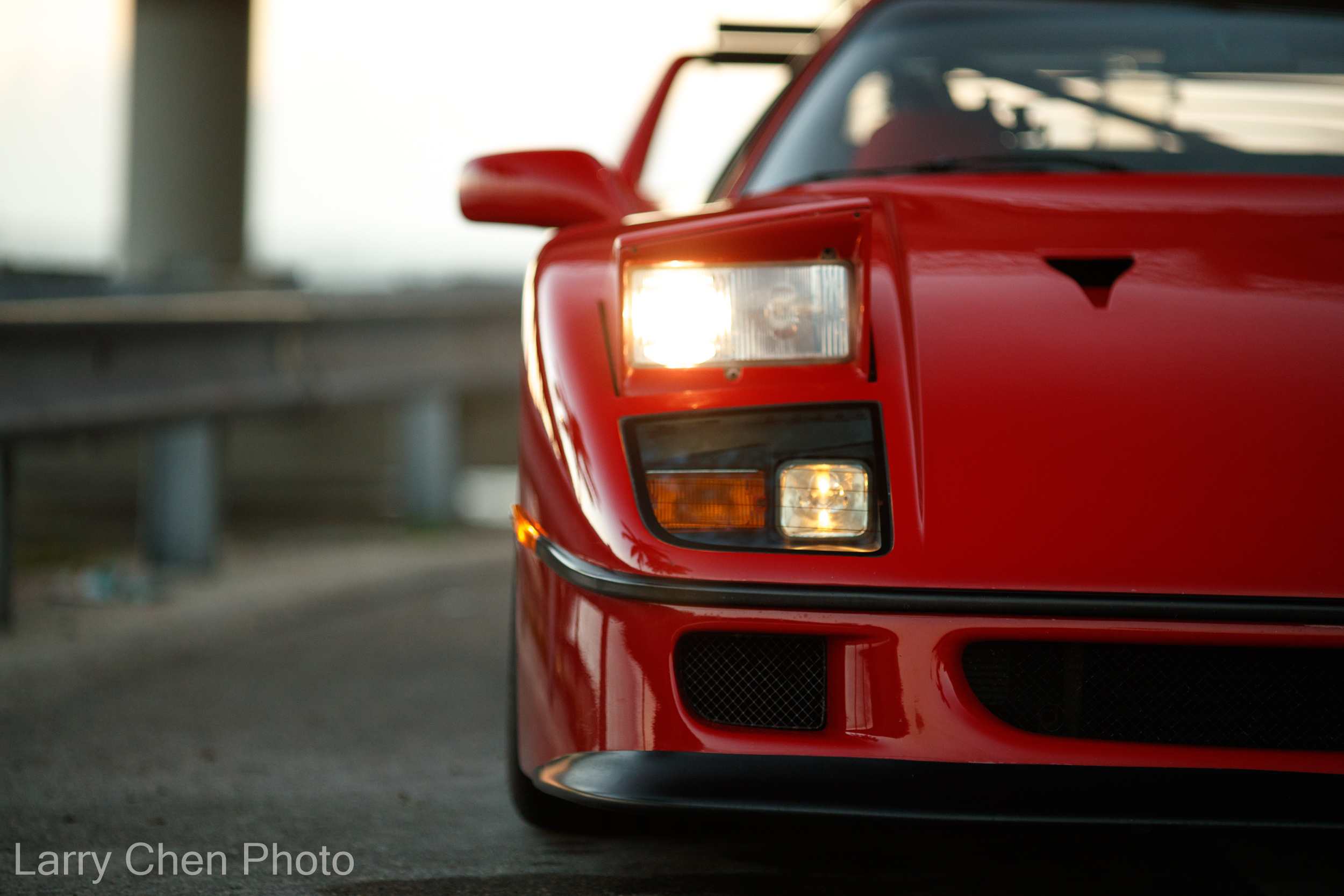 Next, Juan got hold of a pretty rough '68 Chevy Corvette, which he used to learn and hone most of his mechanical skills on. He didn't have the money to pay other people to work on it, so with the help of his family and friends he figured out everything from stripping paint to swapping the motor and transmission.
Some years later and having already become a true motor-head, Juan saw an F40 in person. It made him dream of an adventure that only a supercar like this could provide.
In Juan's own words, "Approximately 15 years of 11-hour workdays with countless seven day work weeks later, there was an F40 in my garage"
Juan sells used cars for a living, and he worked his way up from the bottom. Now he has a collection of around 50 vehicles, and he still works on them and drives them.
When Juan purchased the F40 around 15 years ago, his goal with the car was to make it even more fun to drive, but without doing anything that he could not reverse. That's why all the modifications made are limited to bolt ons.
On this particular morning, Magnus and I were given the chance to put the F40 to the test. And we both loved it.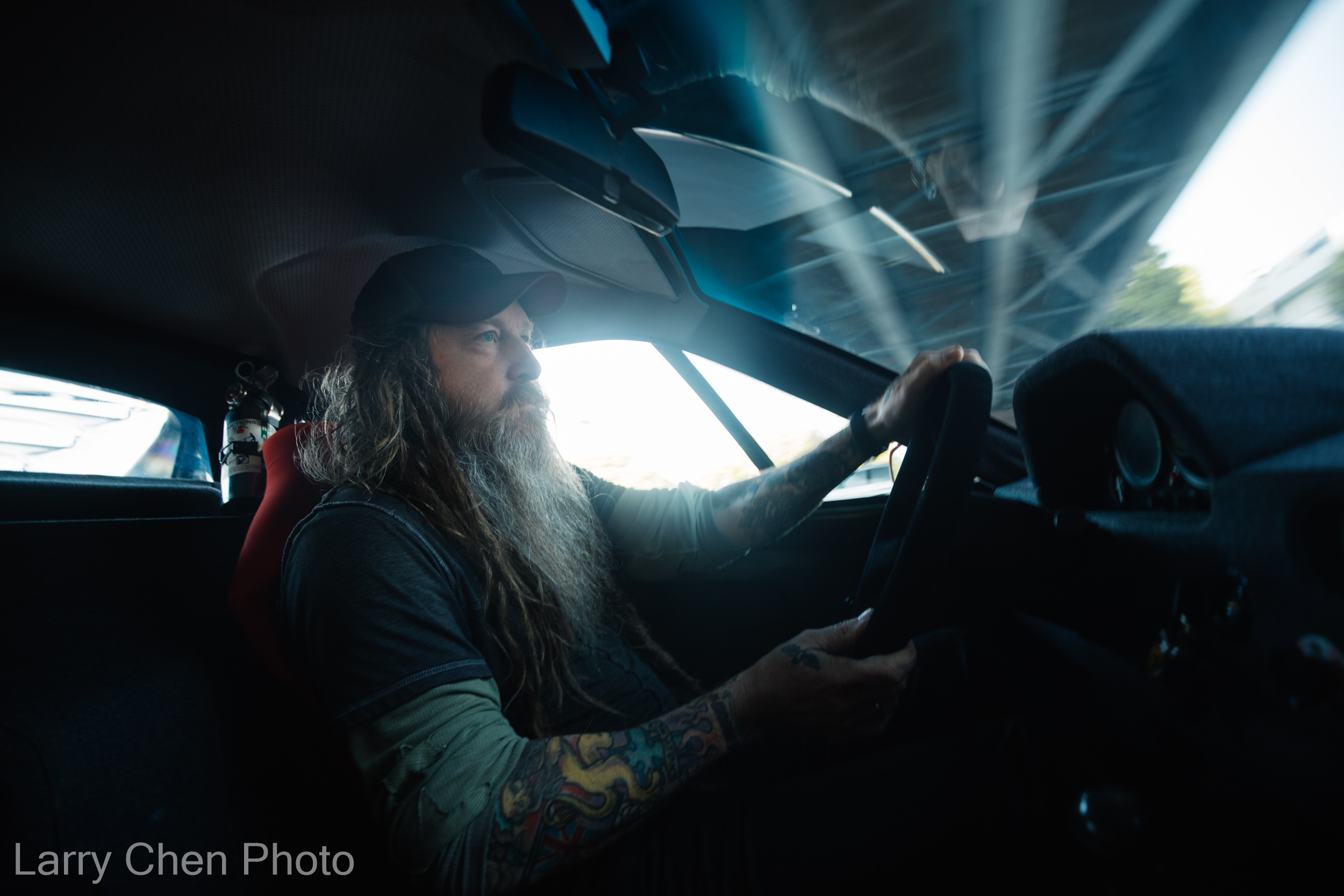 First impression: it felt so much more mechanical compared to anything else that I've experienced. It pulls very hard, just enough to scare you a bit.
Driving on the Miami highways and causeways really made us feel like a million bucks.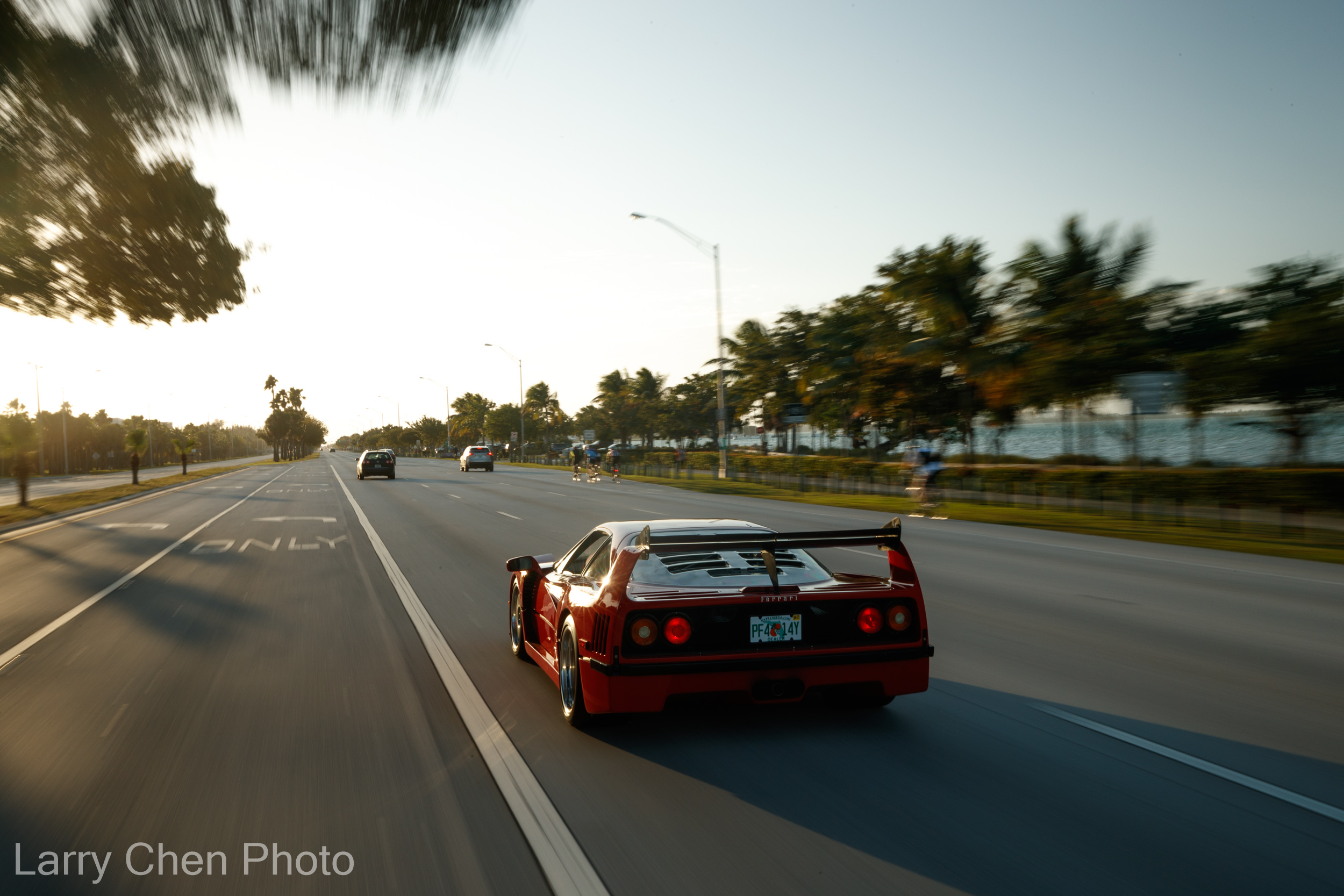 Unsurprisingly, the car attracted plenty of attention too, and even that of the authorities. We were pulled up, but left off with a warning; it sure didn't wipe the smiles off our faces.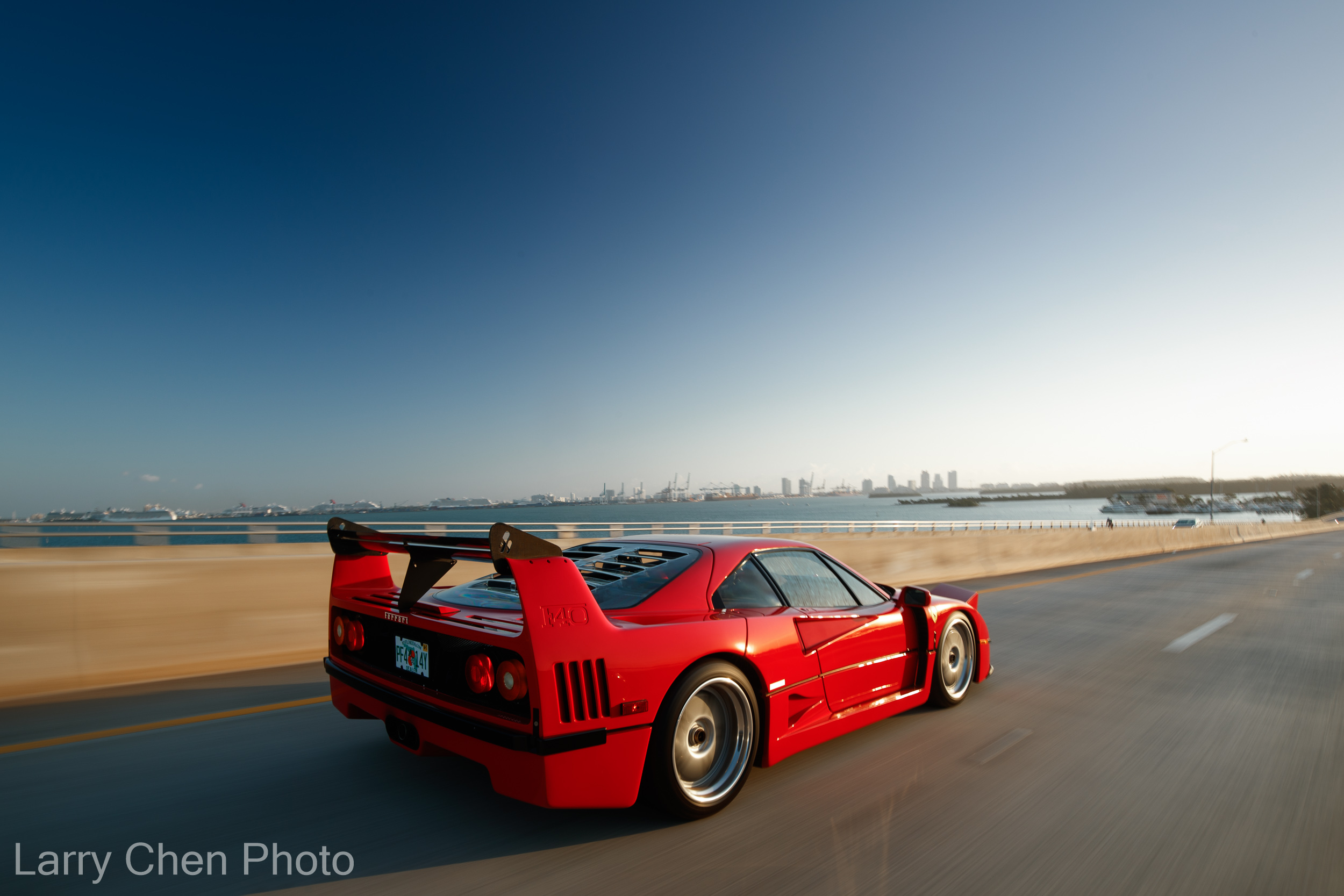 With the help of Carobu Engineering, the first thing Juan changed were the original turbos, which were altered to F40 LM (Le Mans) specification with larger IHI compressors. After that he upgraded to a Carobu-developed Razzo Rosso chip for the factory Weber/Marelli engine management system.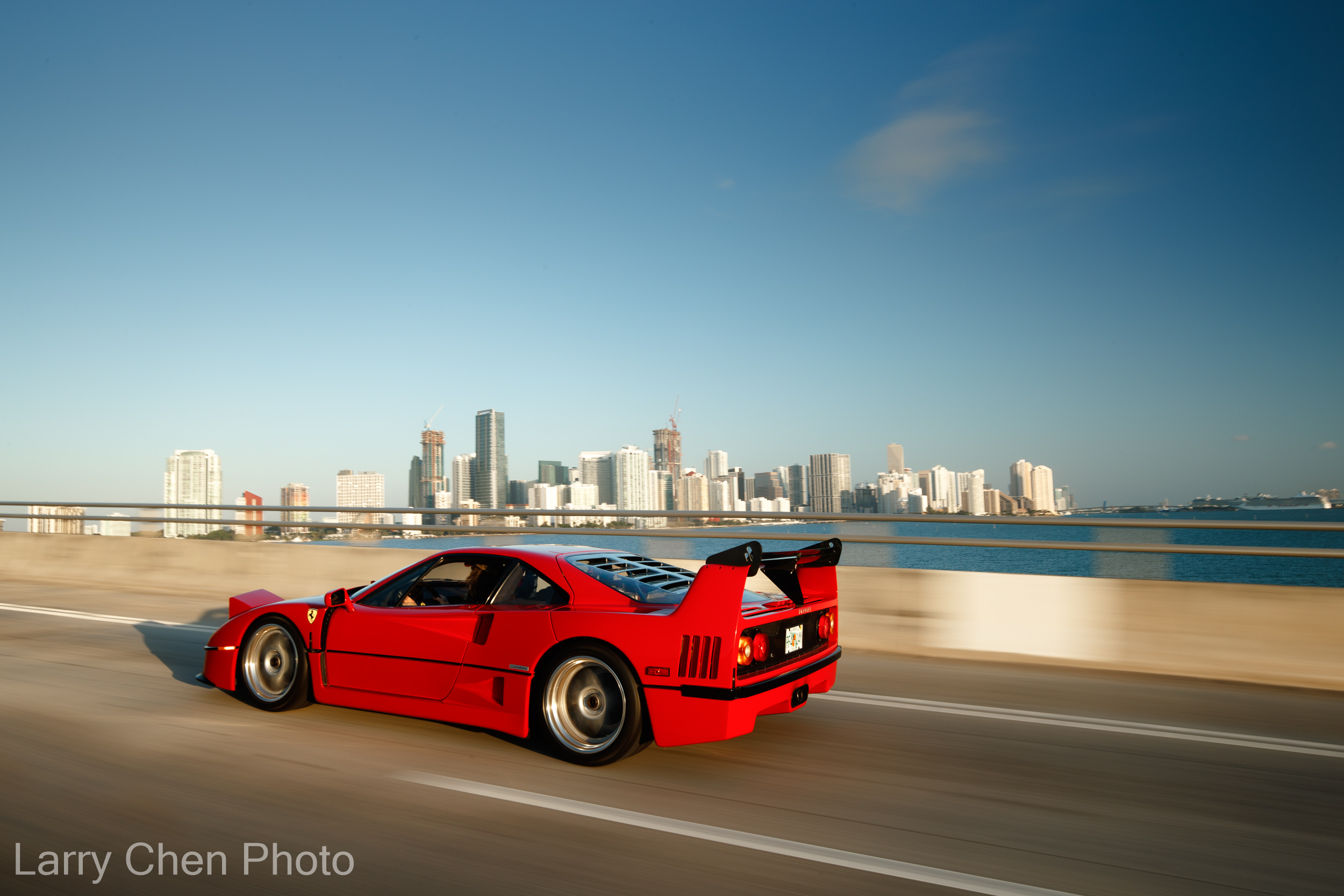 During the first round of modifications the exhaust was changed to a Tubi stainless steel system, but when I shot the car that had been upgraded to a Tubi Inconel straight racing exhaust, which sounded unlike anything I've ever heard.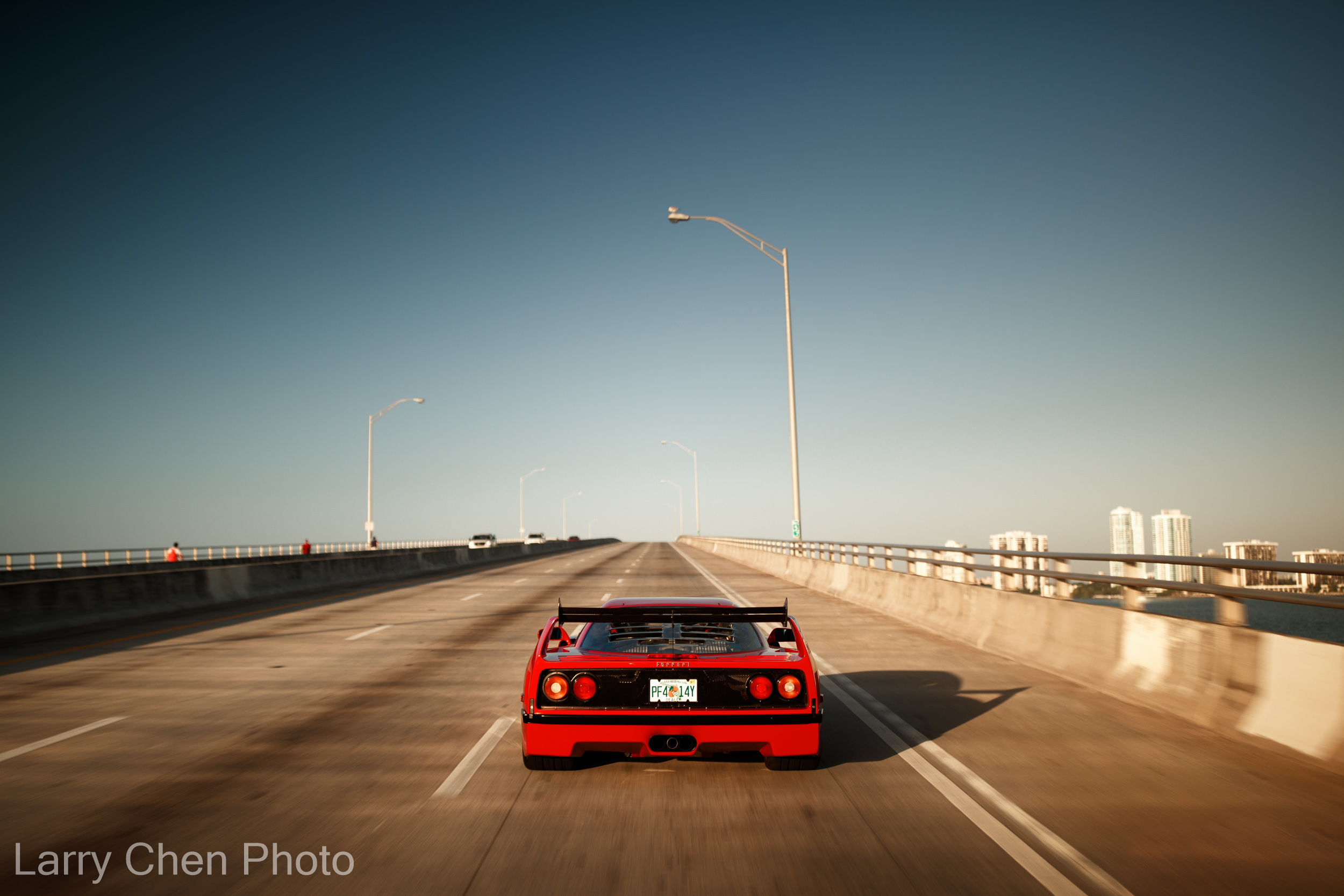 Interestingly enough, boost control is handled by an HKS EVC, the digital unit allowing Juan to push a few more PSI over stock.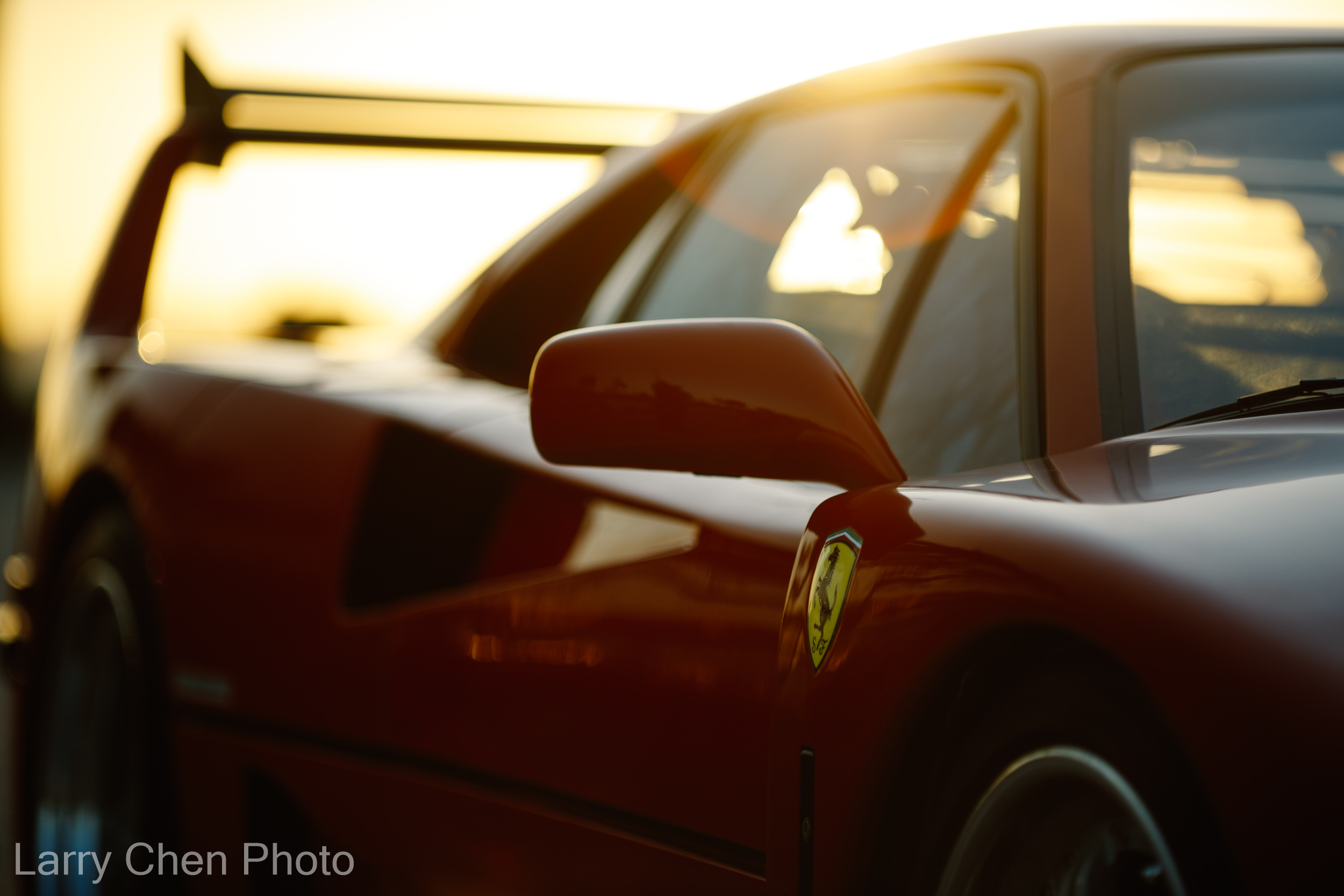 Given their rarity and value, many F40 owners keep their cars locked away and never drive them, but not only does Juan's example see regular street use, it also gets track day workouts. In light of that, next on the list was a performance upgrade in the brake department.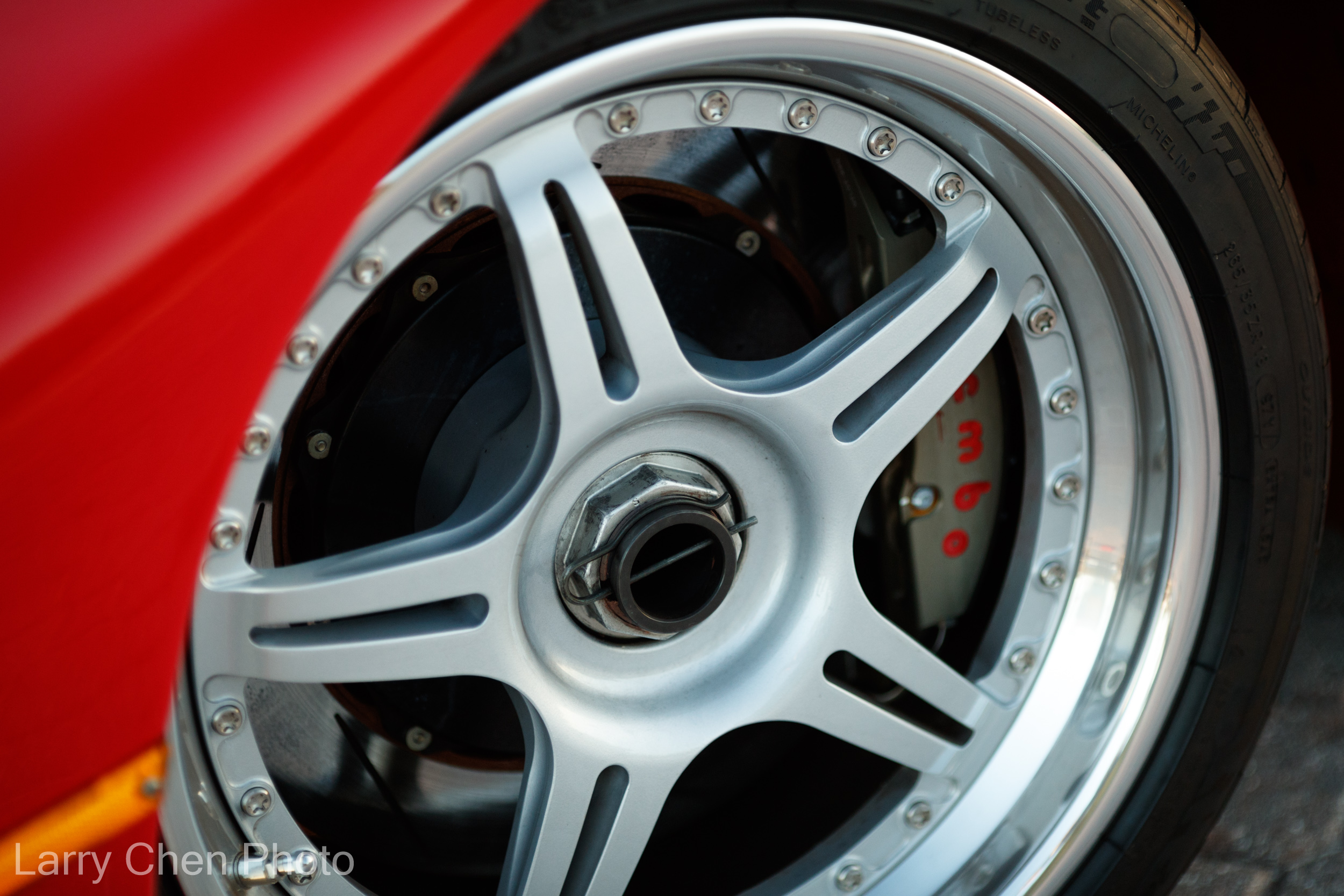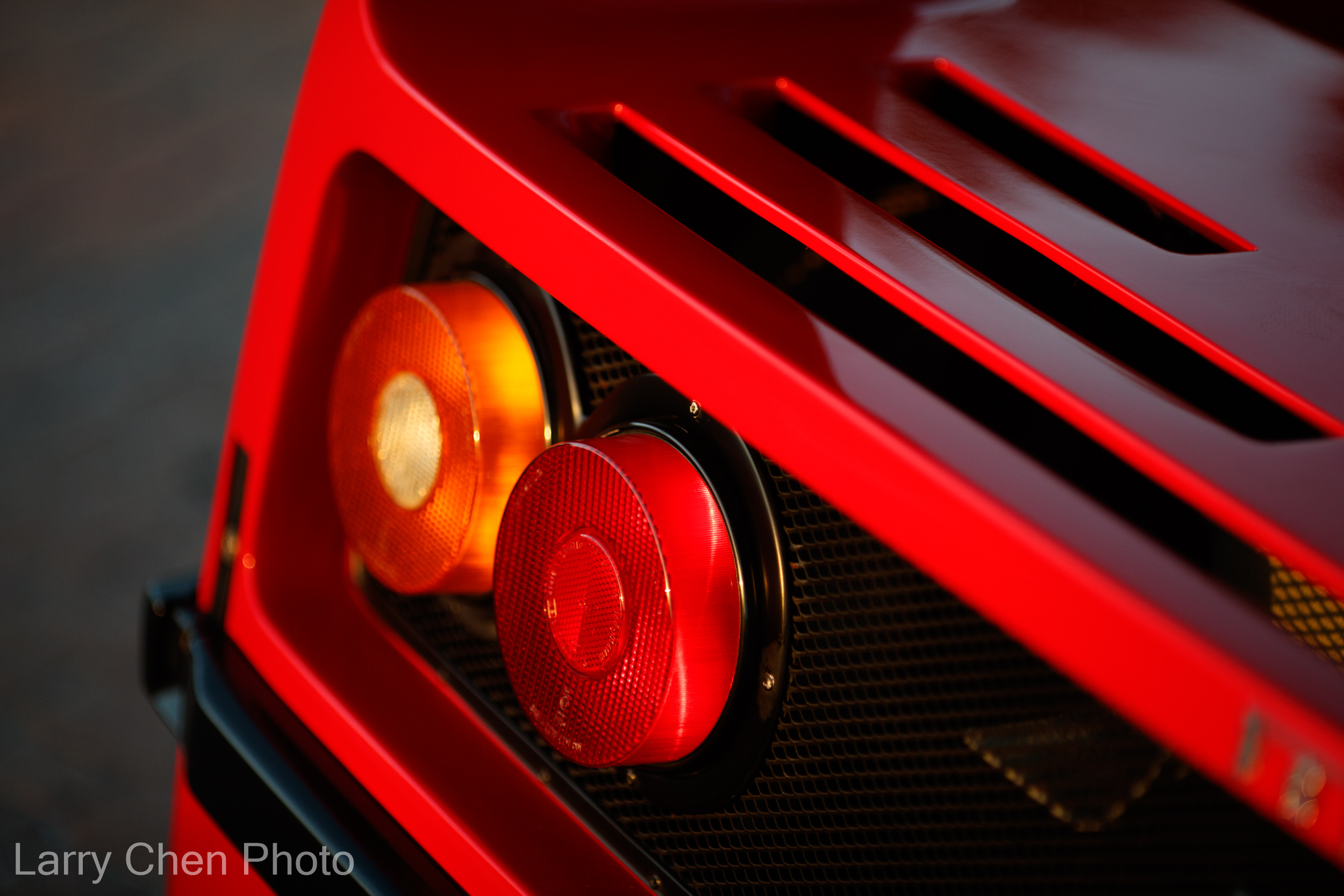 LM Brembos, which were specifically developed for the F40 race car, were fitted, but that meant the original wheels had to go. Don't worry though, of course Juan has kept them and their original tires in perfect condition. As the car sits now, it's on custom-made HRE 547 wheels.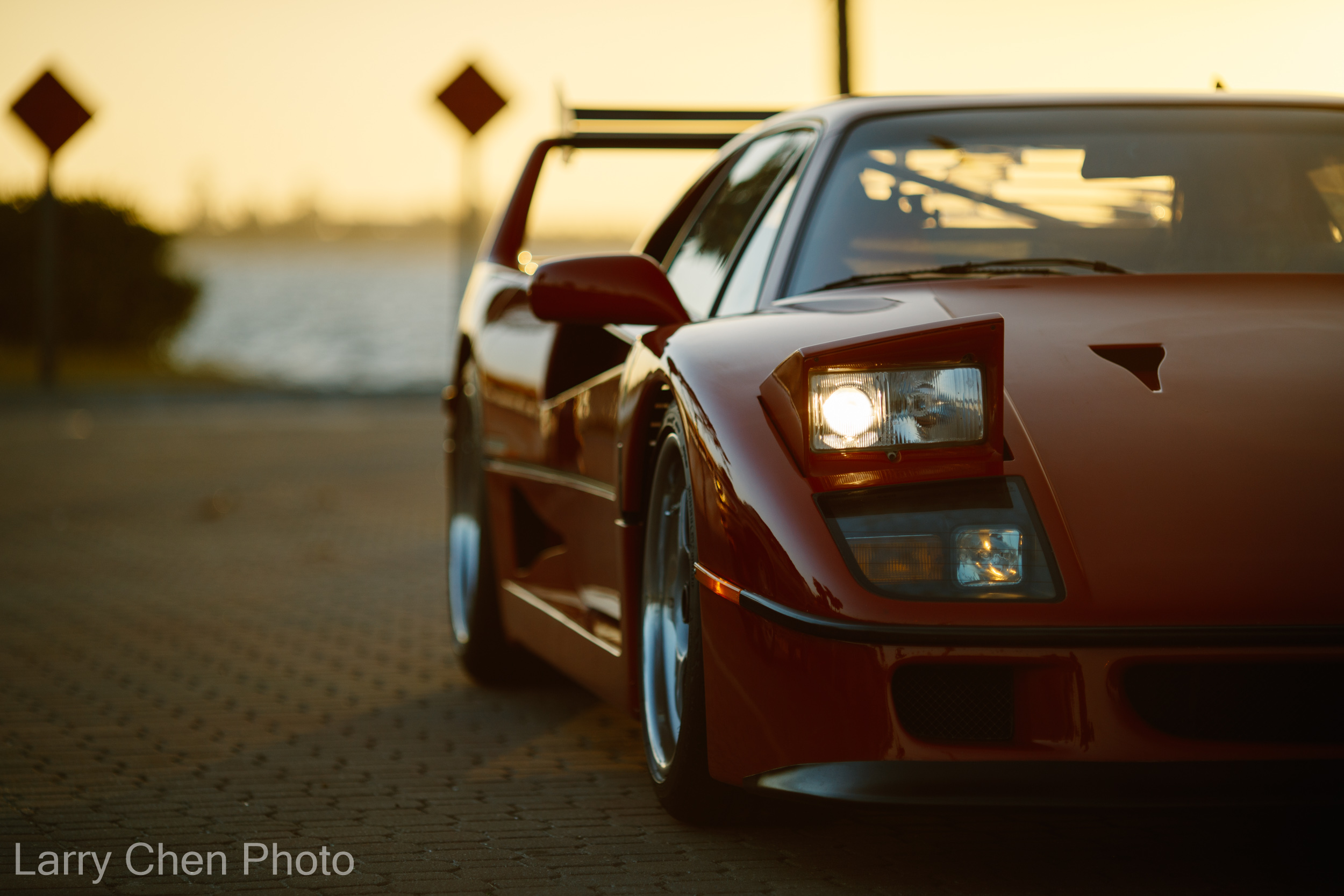 Remember what I said about all the attention we were getting? Pretty much anywhere we parked the F40, people would stop and ask to take photos. Never mind that it was 7:00am on a Sunday morning.
As we wrapped up our shooting day, there was time to do a few more pulls in the car before we handed it back to its rightful owner.
It was nice to sit back and really take in all the details of such a groundbreaking machine.
During his ownership of the car, Juan was lucky enough to meet and become friends with a mechanic who had once worked for Ferrari's F1 team, but later set up a shop in South Florida. He was friends with Michelotto, the Ferrari factory tuner and developer of the F40 LM, and through this connection Juan was able to purchase an LM-spec magnesium pedal box with adjustable brake bias, and a set of magnesium OZ Racing wheels.
What topped everything off though was the custom built LM wing – the last one Michelotto promised to ever make.
It did take a while for the one-off wing to be made, so as a token of appreciation for Juan's patience, Michelotto graciously sent him a reverse lock-out shifter gate as a gift. Juan said he doesn't think it's very common, because he's never seen another one like it.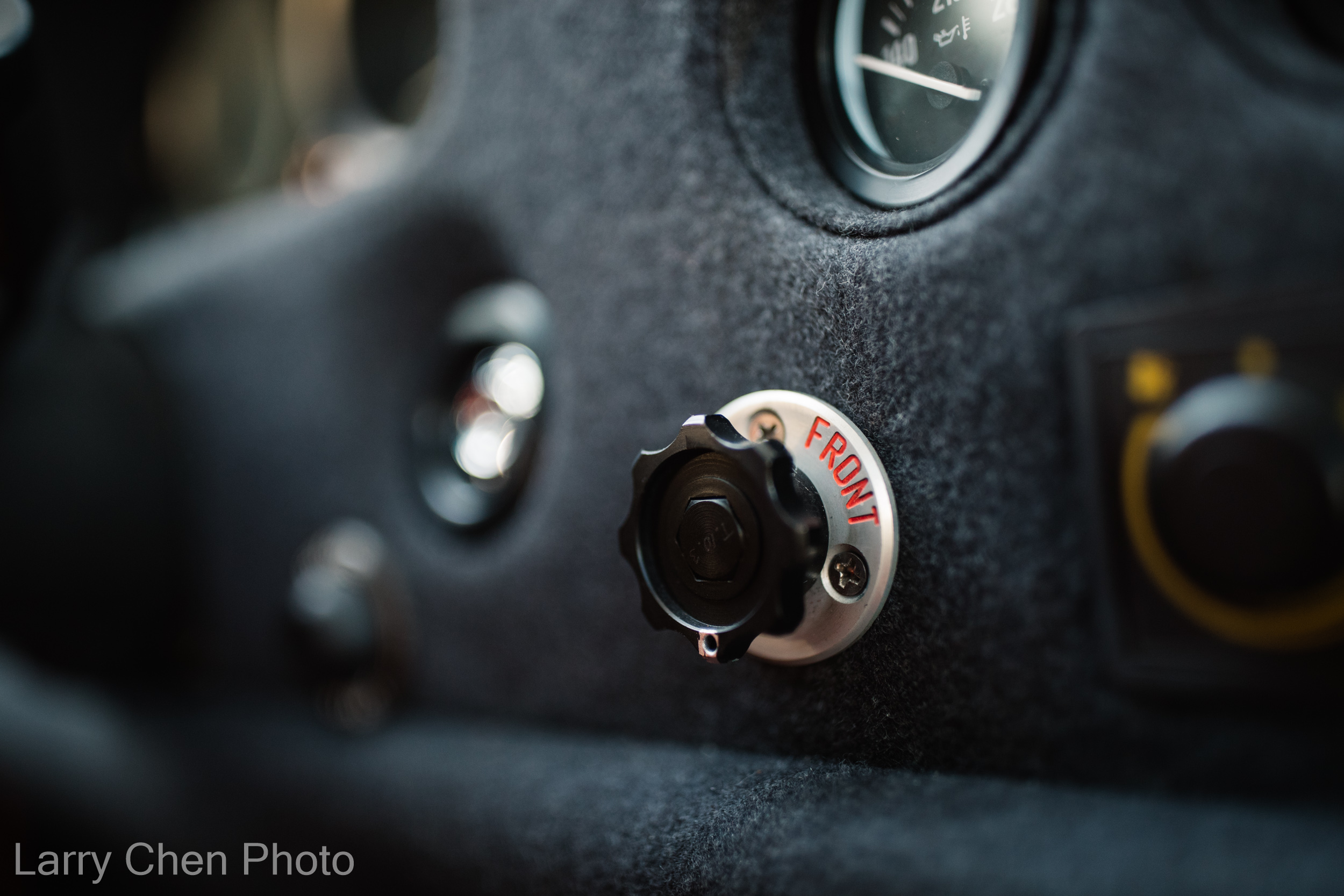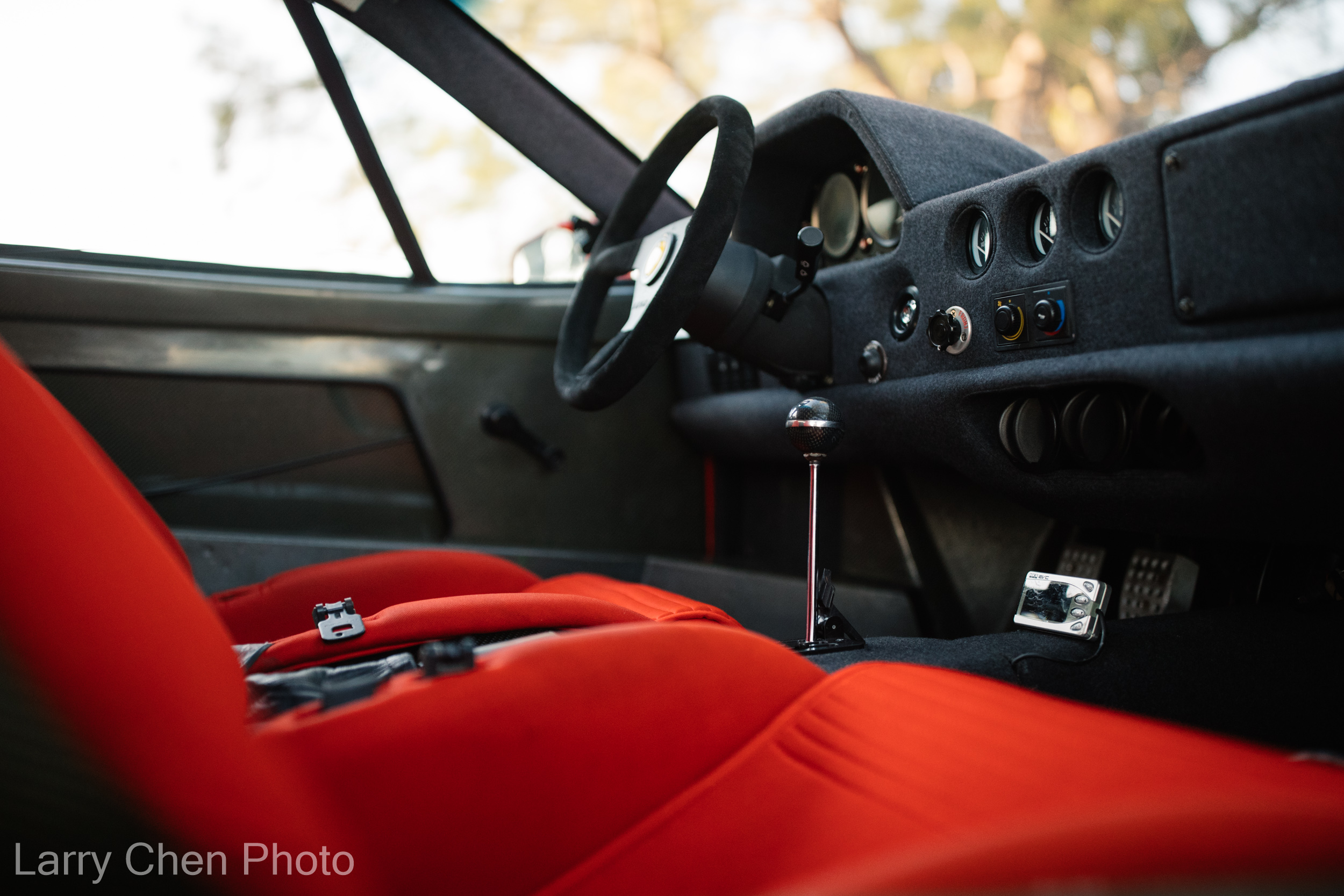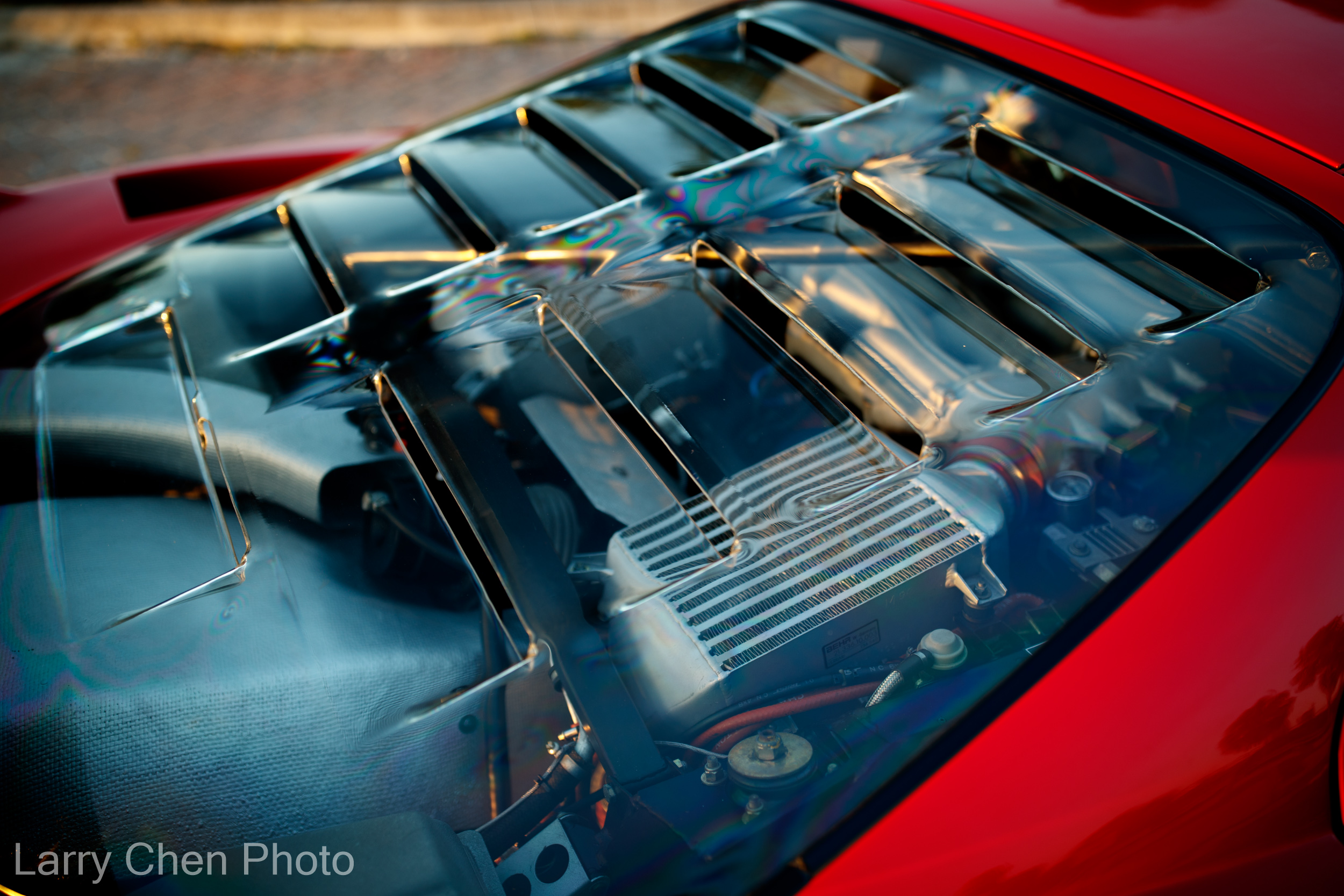 Besides having all the original books and manuals, the full Schedoni F40 luggage set and all the factory parts, Juan has also collected every scale model and magazine relating to the car that he could get his hands on. He is a true enthusiast, and as I mentioned earlier, we spent quite a while talking about Z cars as well as Ferraris.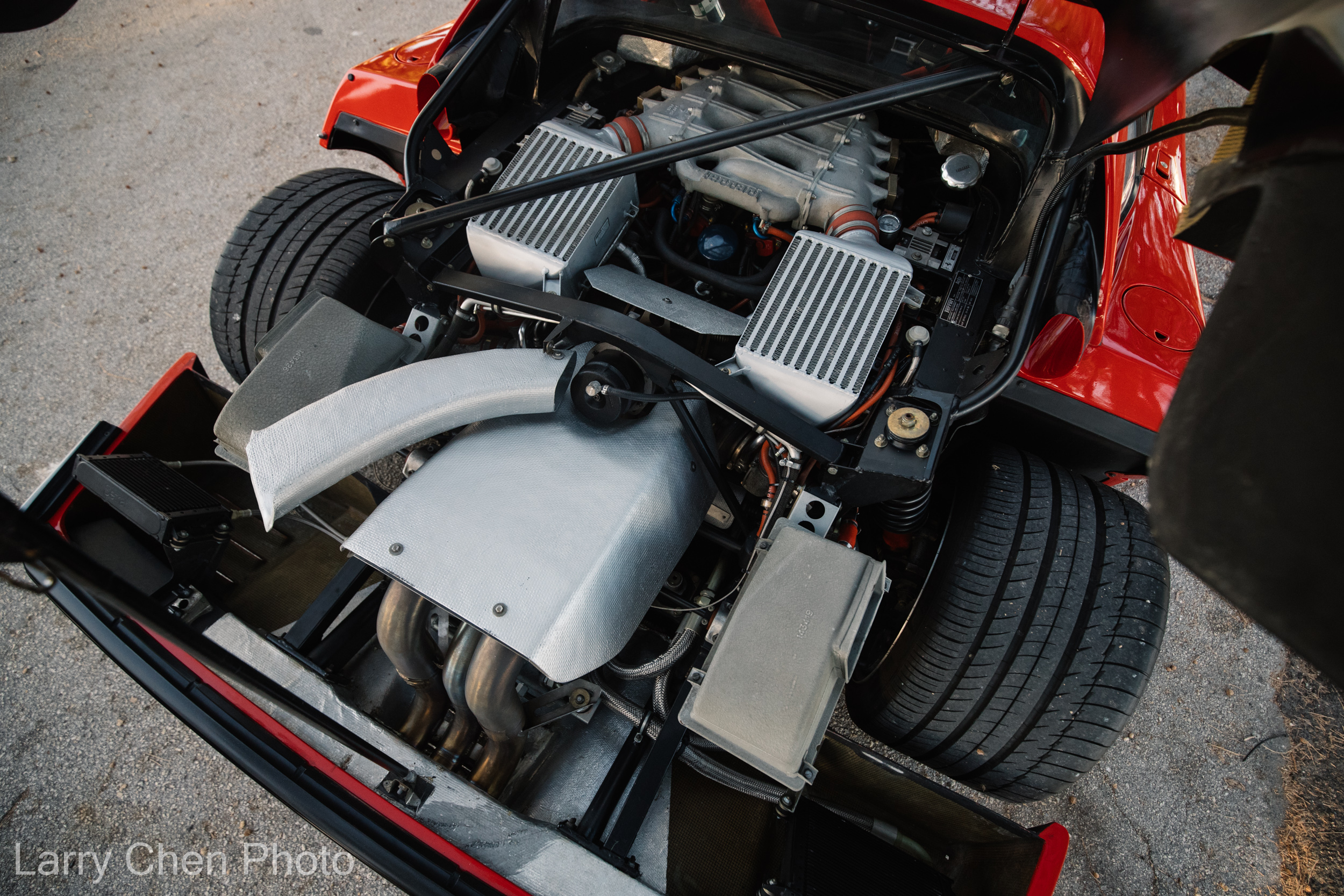 Juan put things perfectly into perspective before we parted ways: "I've been very fortunate to have owned many dream cars, and they have all been fantastic in their own way. They are possibly faster, have a higher top speed, are able to pull more cornering Gs and brake in a shorter distance, but no other car I've ever driven can match the totally immersive experience of driving an F40. The reality actually matches the dream."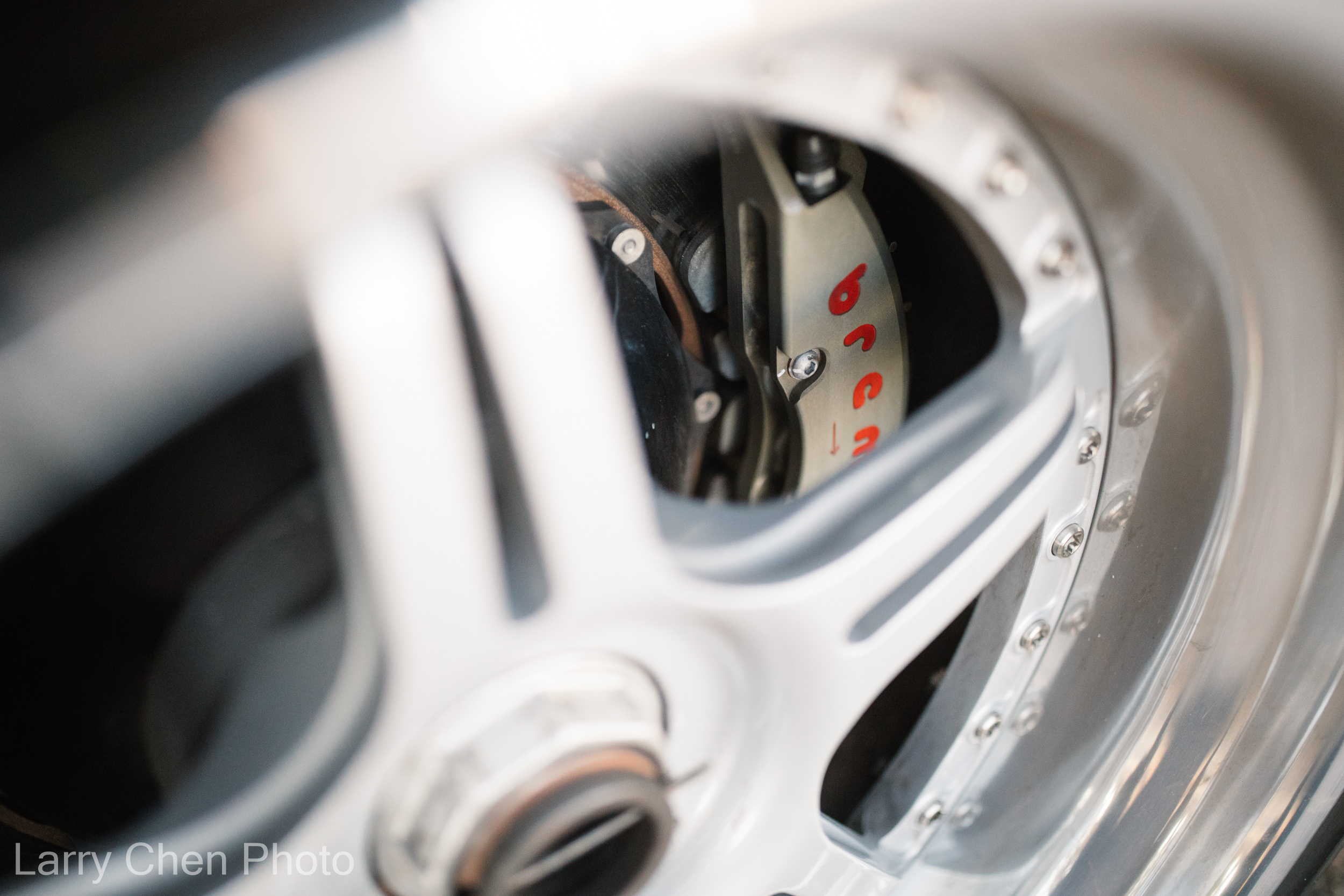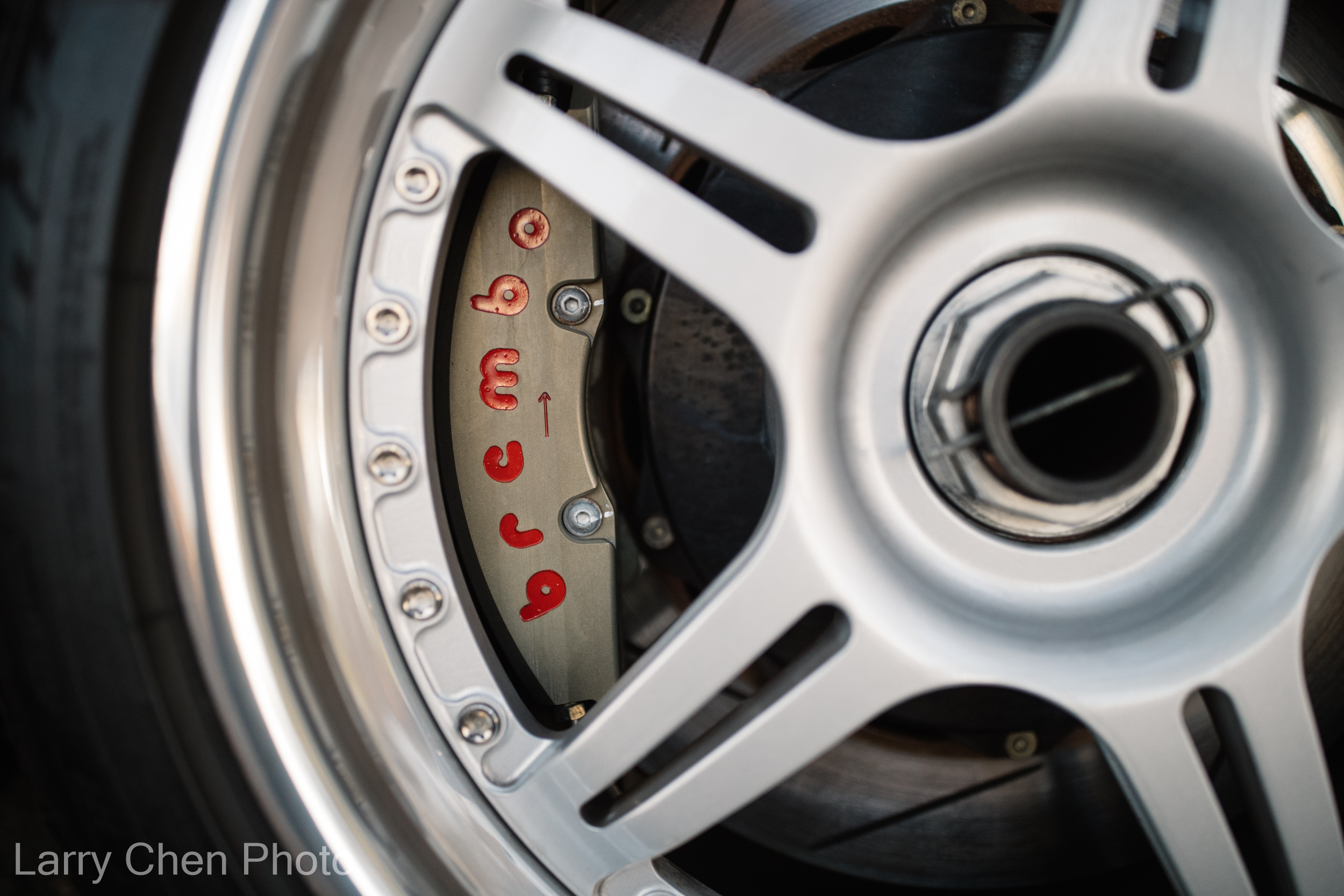 With all the other cars in his collection, Juan has taken a similar approach to modification; his goal is to make them look and perform the way he dreamed they would when he first saw them, whether they were in a magazine or on the road.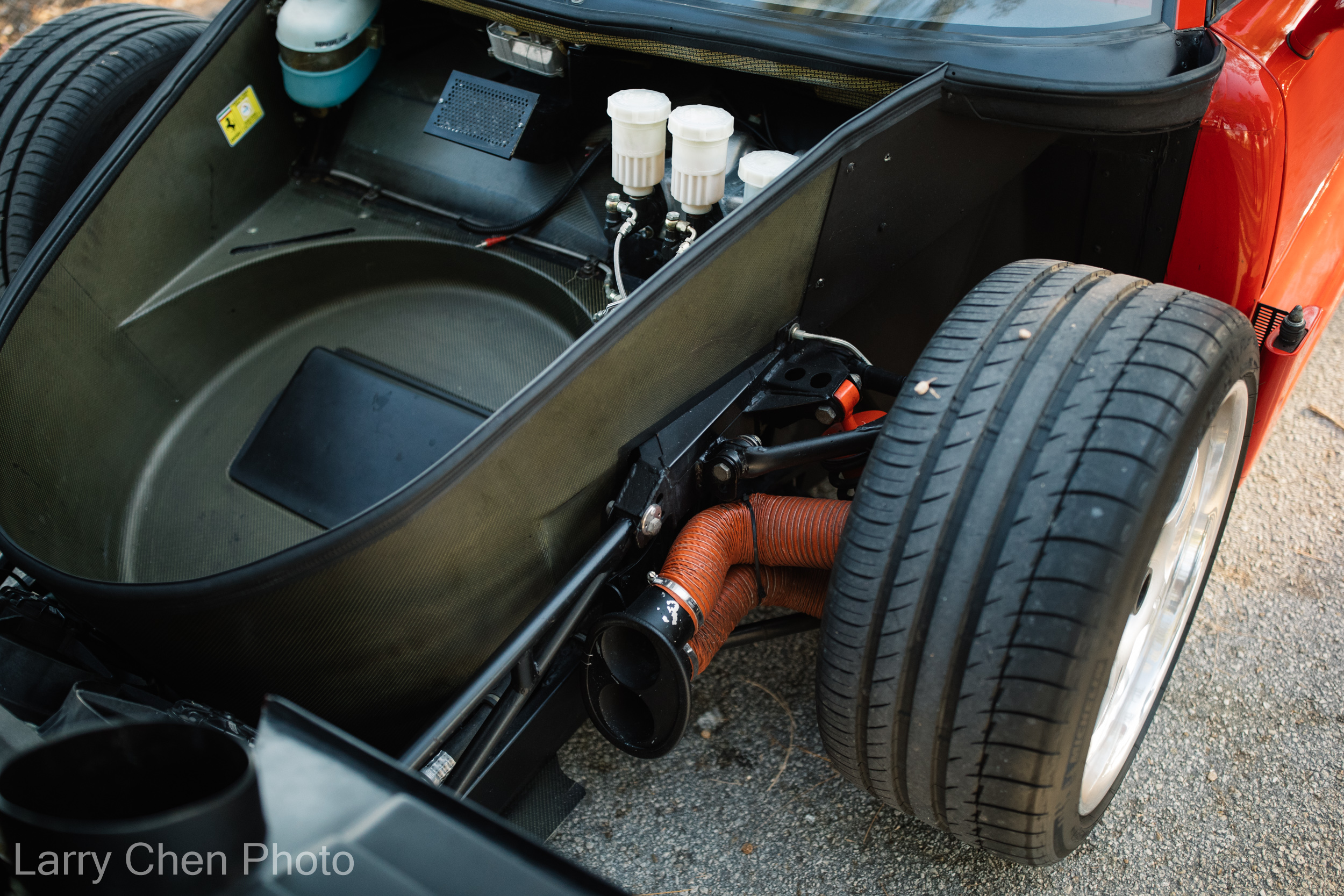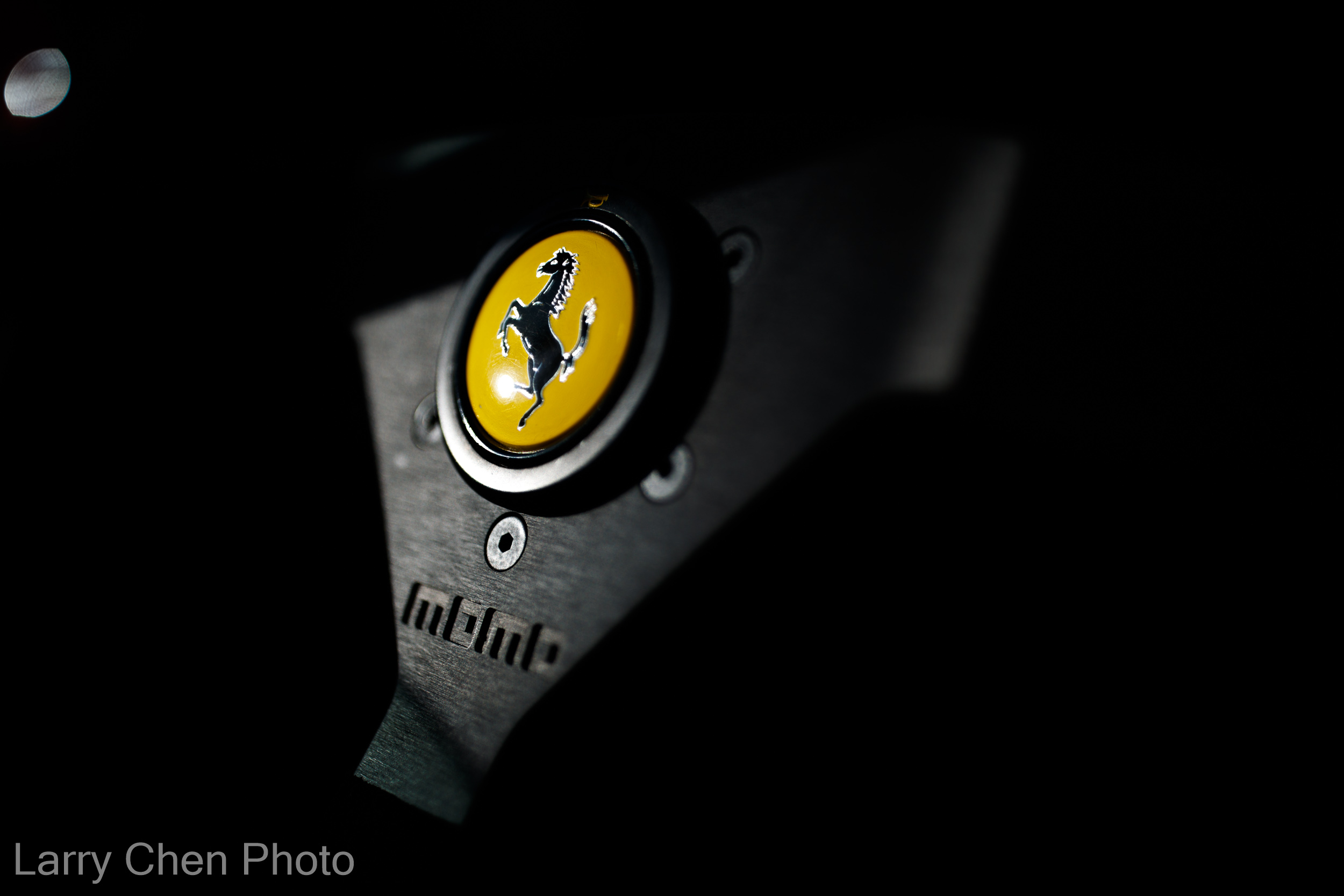 I want to thank Juan for letting Magnus and I take his prized Ferrari out of her stable for a morning. And you can bet I will be back in Miami to check out the rest of the collection.
Juan would like to thank his family who supported him and shared his passion for cars. None of the travelling to car racing events and track days would be fun without them.