Chapter One: Becoming Official
When I first stepped foot on Pikes Peak back in 2011, I never would have imagined in my wildest dreams that I would eventually become the official photographer for the historic hill climb.
The conversation came up with Mitch Snow, the event's Director of Promotions & Legacy, during the filming of Ken Block's Climbkhana last summer. The Pikes Peak International Hill Climb is actually a non-profit organization, and seeing as the race is now over 100 years old, they are very focused on preserving its history as well as documenting each hill climb for generations to come. Being the official photographer is an important job.
I didn't really know what to say at first; there was so much responsibility with such a title. But in a way, I've been documenting the race since 2011 anyways.
I shoot everything I see, as I'm always trying my best to tell the story through my pictures. If I don't shoot everything, then my story won't be complete.
When covering Pikes Peak, I'm usually seven days on the ground. There's two days for travel, three for practice, one for rest before race day, and of course the actual main race.
This time I was on the ground for nine days, having one extra day of practice to shoot motorcycles and another for tech inspection.
It was grueling to say the least; there were 2:30am wake-up calls each day and a 1:30am wake-up call on race day.
On top of that, dealing with the altitude at 14,000ft takes quite the toll on your body if you live near sea level like I do.
Mitch and the rest of the PPIHC organizers entrusted me with this very important task, so I set out to do my best. Here are 100 of my favorite photos from the 95th running of the Pikes Peak International Hill Climb.
Chapter Two: 95th Running
One of my favorite moments is always when the drivers come back down from the mountain and the fans are there to give them a cheer.
We've actually featured this pro touring Camaro known as Big Red before. It's so cool to see something like this on Pikes Peak.
As always, there were quite a few red flags this year, which led to many delays.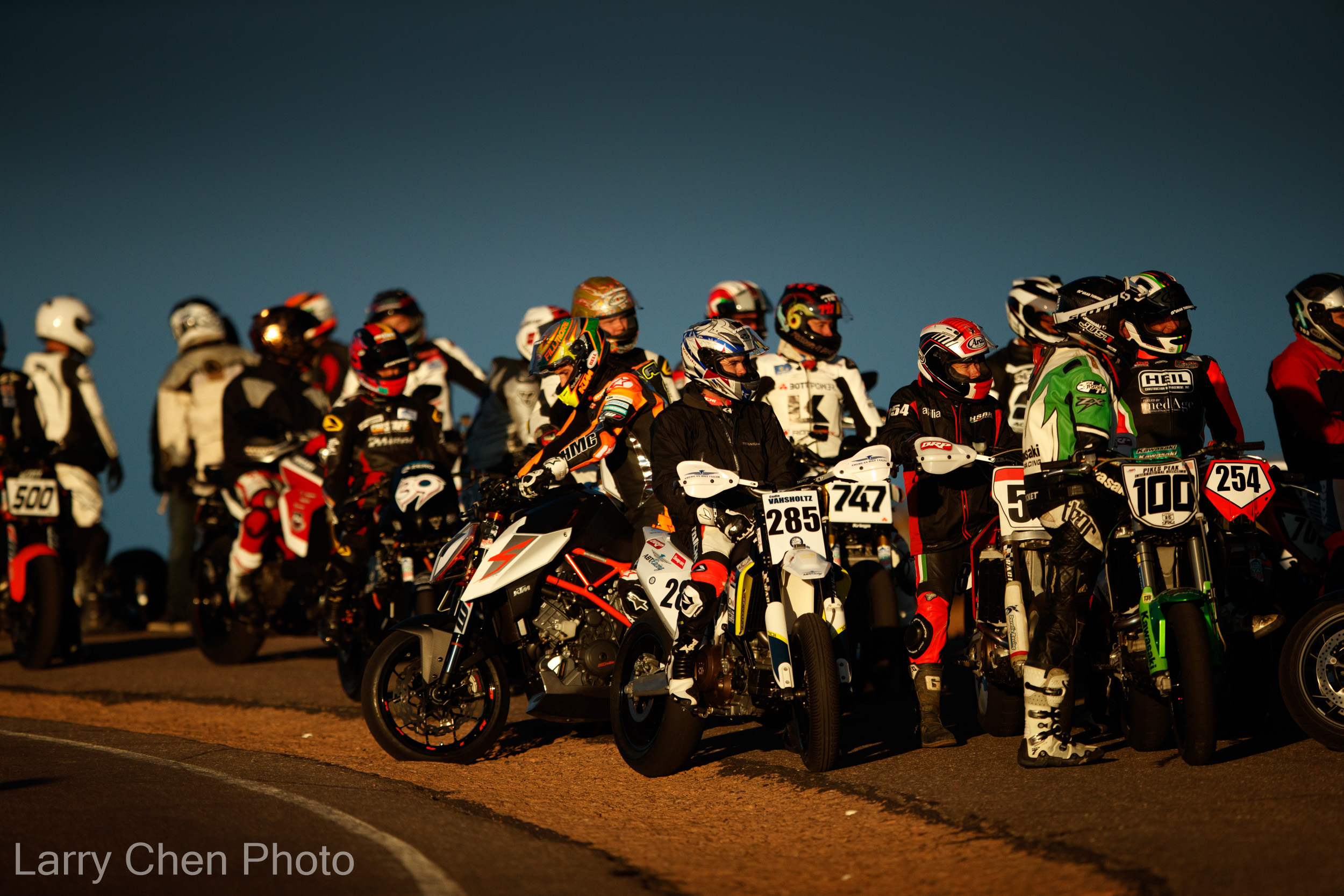 It was really fun to follow the motorcycle guys; it's always interesting to shoot something different.
Rhys Millen and his daughter having a moment right before his climb on race day. I remember when she was just a newborn.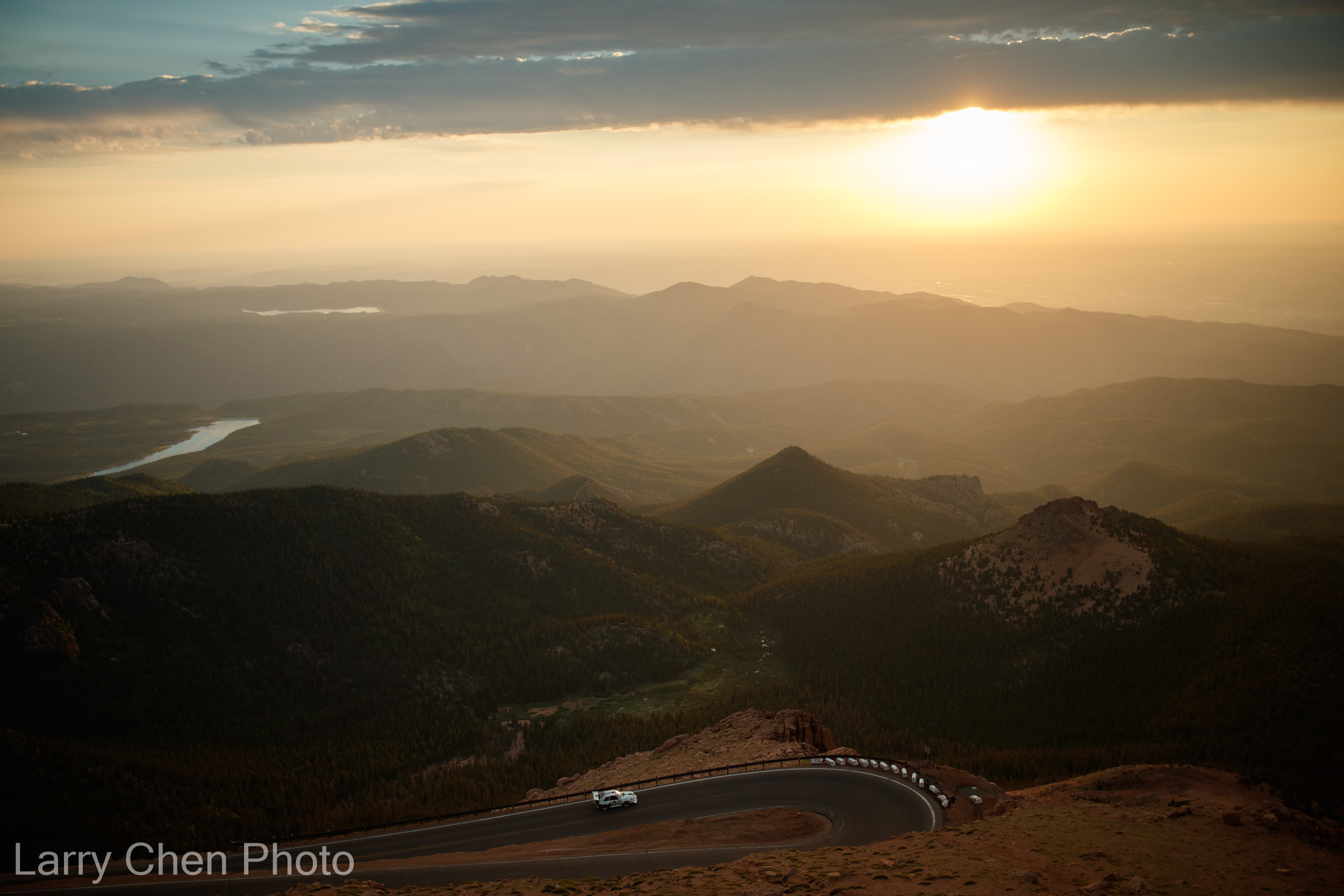 Scenes like this are what keep me coming back year after year. You simply cannot shoot a boring picture on this mountain, even if you tried.
I shot this around first light at Devil's Playground, which was where the motorcycle guys were pitted on one of the mornings.
This was the first time I've ever shot above the clouds. According to some of the veterans, this spectacle happens about once every 10 years.
I said it before and I'll say it again – the mountain doesn't lie.
Sunrise during one of the practice days; there was no sunrise, but the clouds made for an awesome backdrop.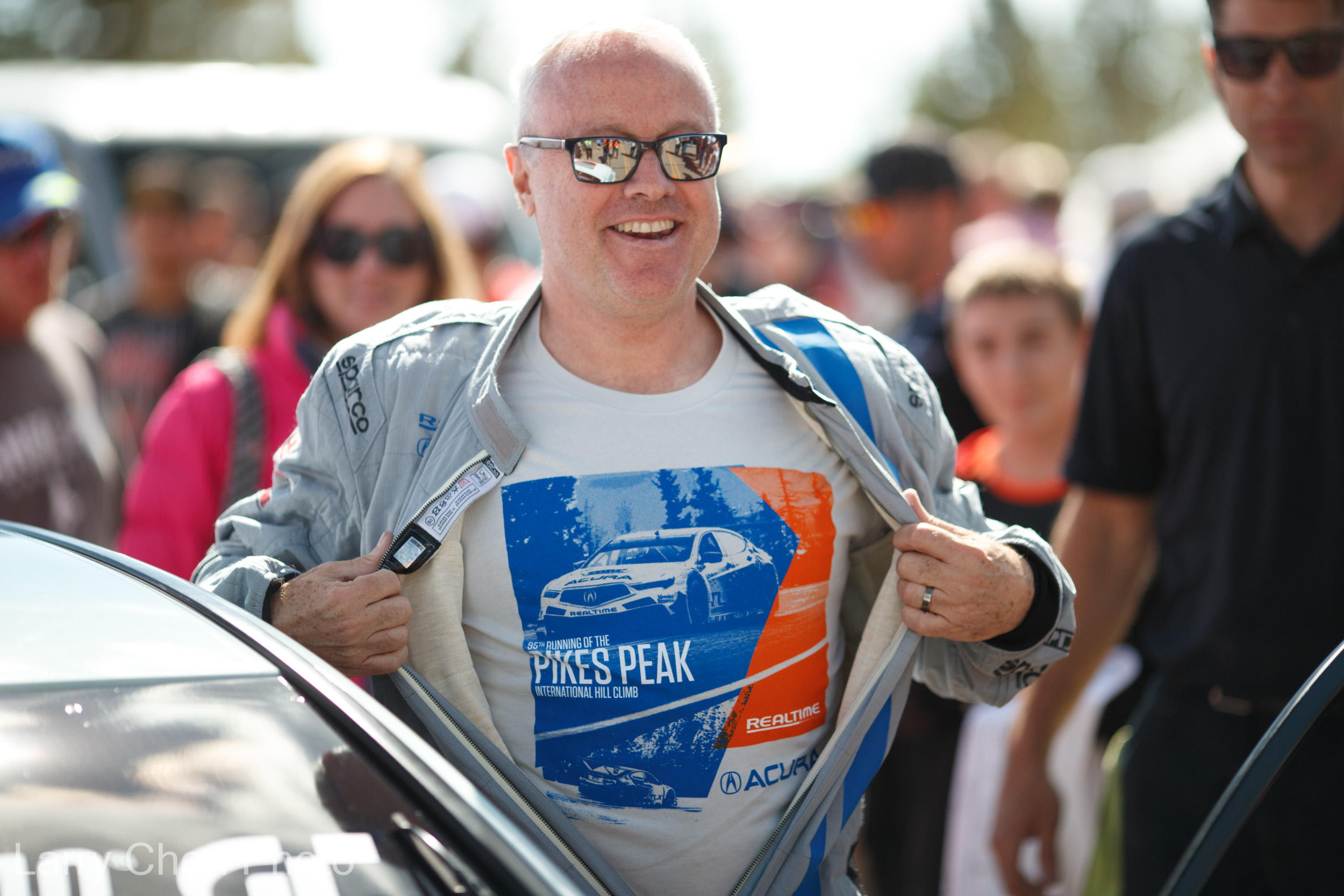 Peter Cunningham is always the jokester, and it was super cool to see such a seasoned racing driver at Pikes Peak.
The clouds rolled in on the last practice day cutting it short to just a single run up the mountain on the middle section, which starts at around 12,000ft.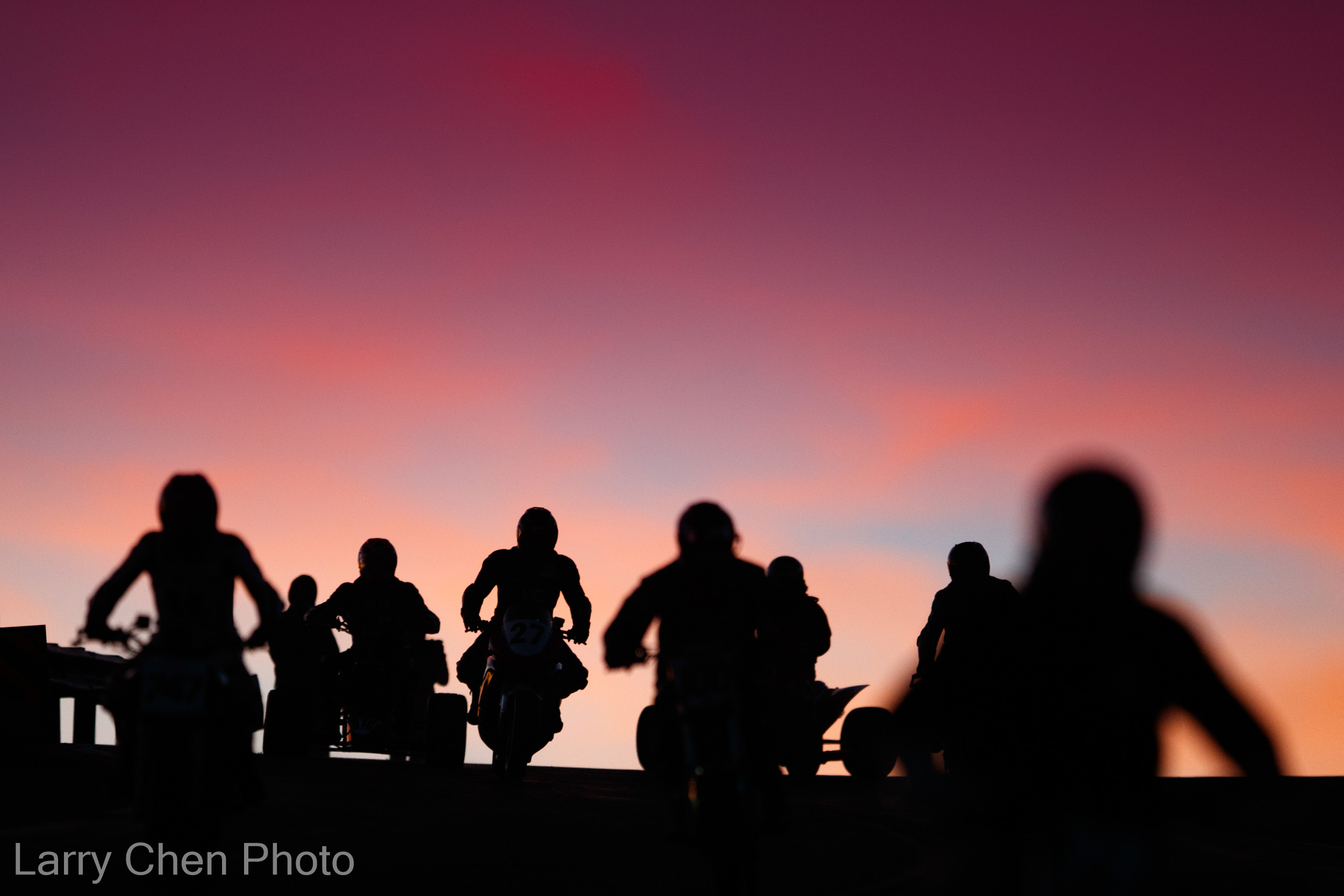 The motorcyclists do this awesome recon lap in the morning with all of the riders at the same time. They go at a pretty good pace too.
This is the infamous corner where a Mitsubishi Lancer Evo went off back in 2012.
As always, I tried my best to catch another photographer's flash; this time it was Rupert Berrington behind the lens.
Tech day is a great time to just relax and capture a few special moments, like this one.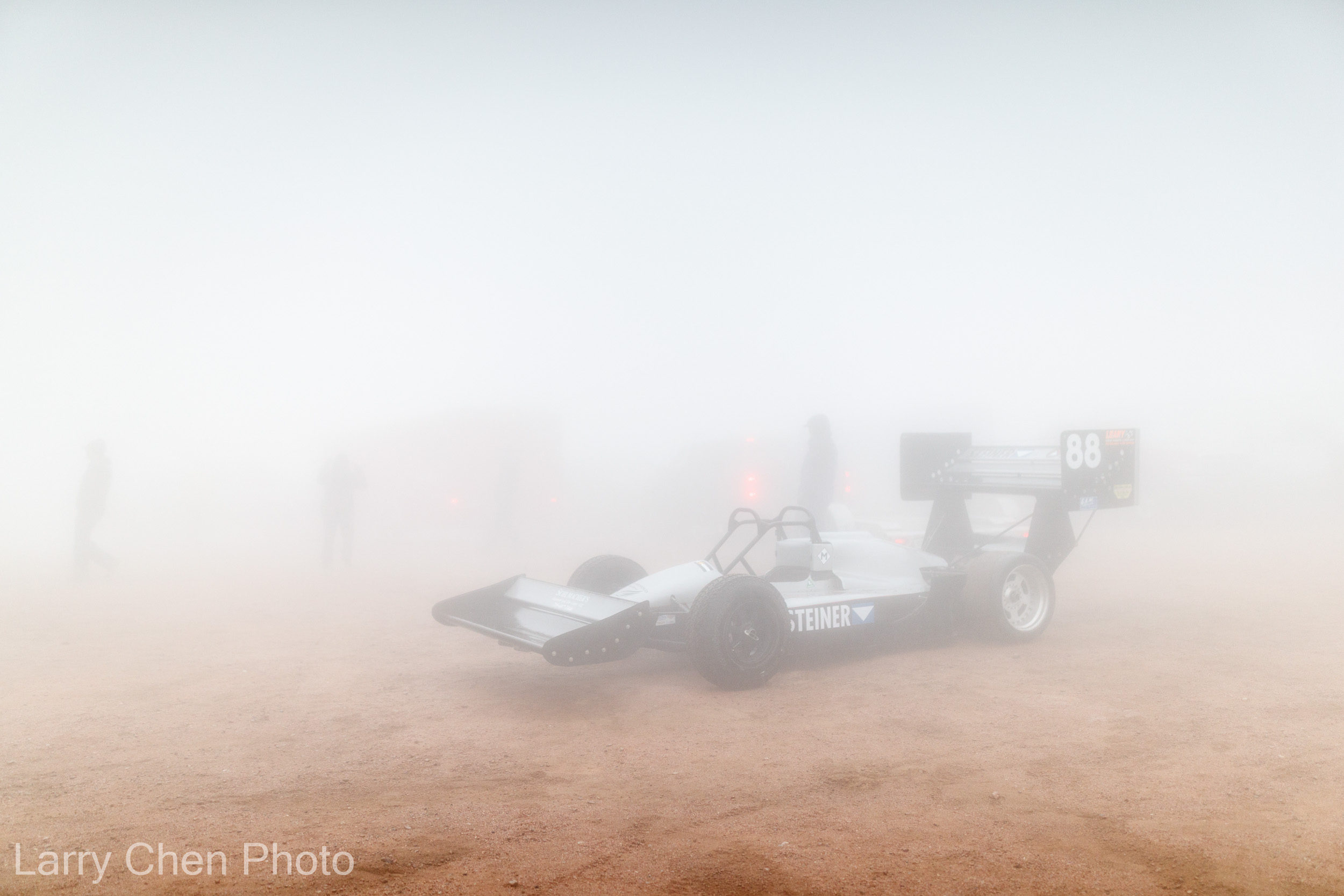 White-out at Devil's Playground. I actually had to drive back down the mountain in these conditions.
Unloading during blue hour. The pits are so fun to shoot around this time, and lucky for me it was not freezing cold with the temperature hovering around 32℉ (0℃) at the top. The first year I went I think it went down to 10℉ (-12℃) at the same location.
Paul Gerrard was the pilot of the Enviate Hypercar, but I first met him on a BMW Performance driver school, where he was one of the instructors.
It was cool to see him behind the wheel of such a crazy machine.
Even racing drivers need cheer squads.
Roll out. The car guys usually coast back down the hill after practice at a gingerly pace, but the motorcycle guys make the most of it.
Chapter Three: The Mountain Doesn't Lie
It's insane to see how much air the Norma piloted by Romain Dumas moves. That glow behind the car is a giant dust cloud lit up by the sunrise.
On race day I spend my entire time at the start line for shots like this.
Jeff Zwart didn't drive this year, but he did stop by to check out some action before catching a flight. It's always good to see the legendary photographer/racing driver/Porsche enthusiast.
In an effort to improve safety, rookie motorcycle riders have to follow an instructor's line during practice day to get the hang of the corners.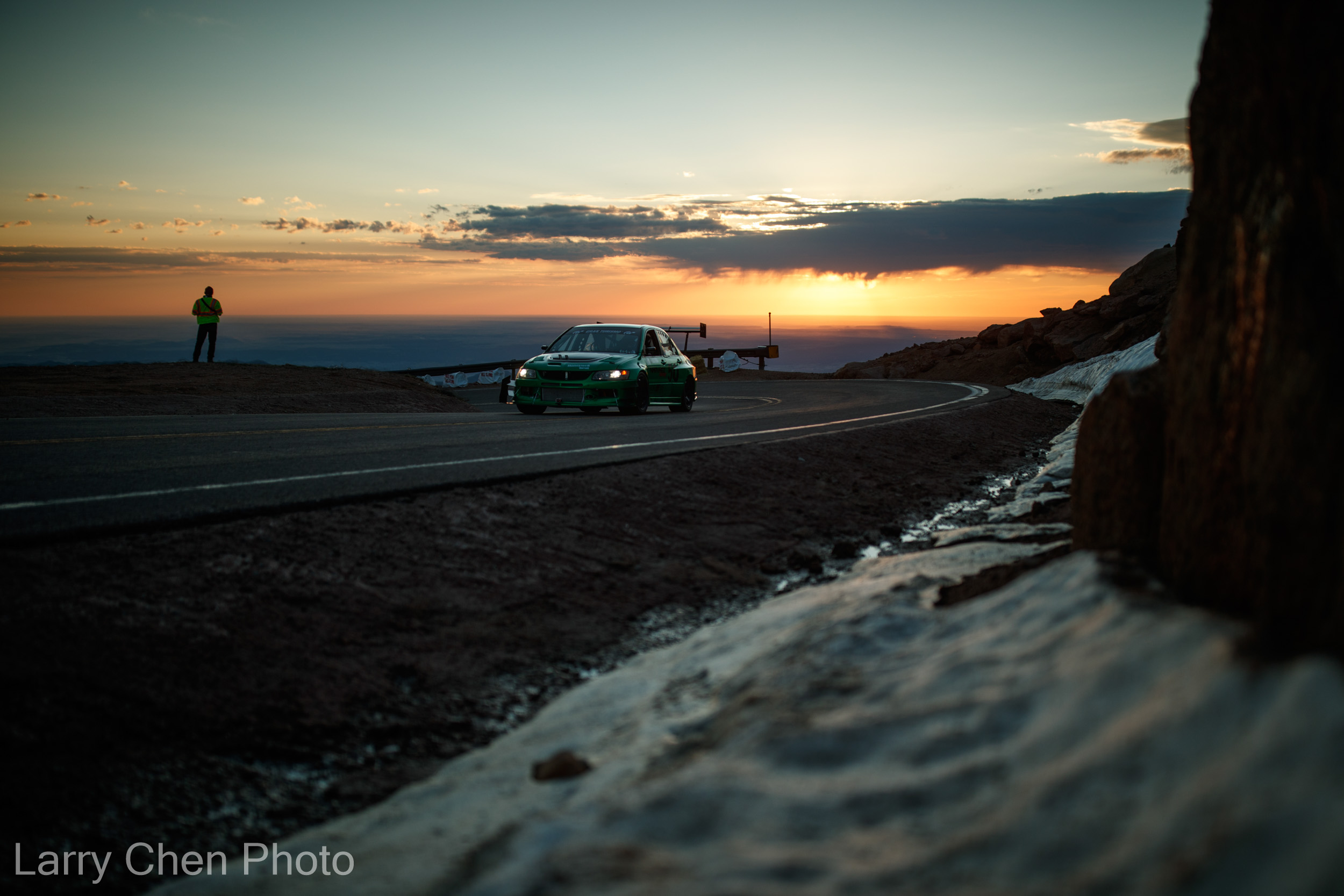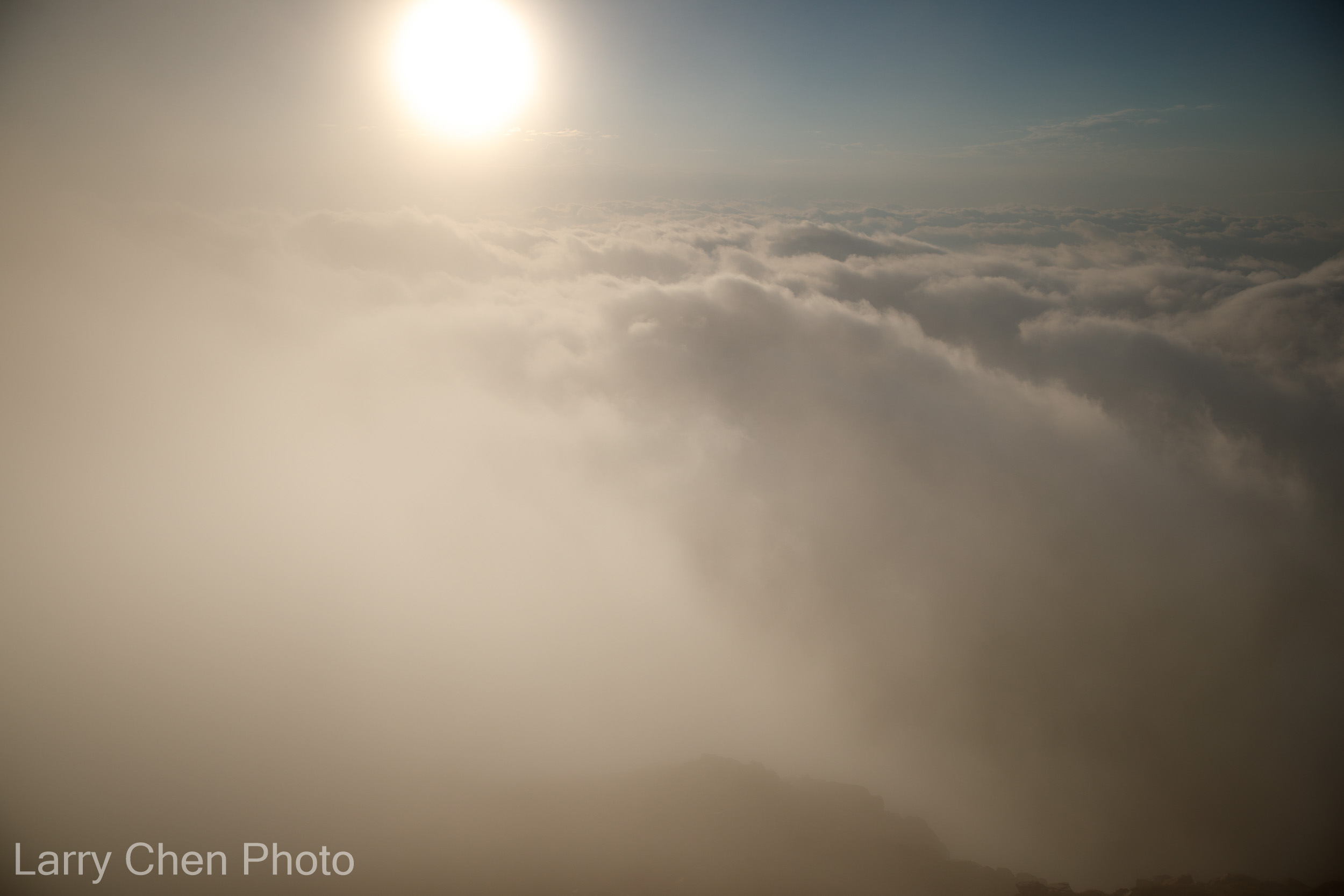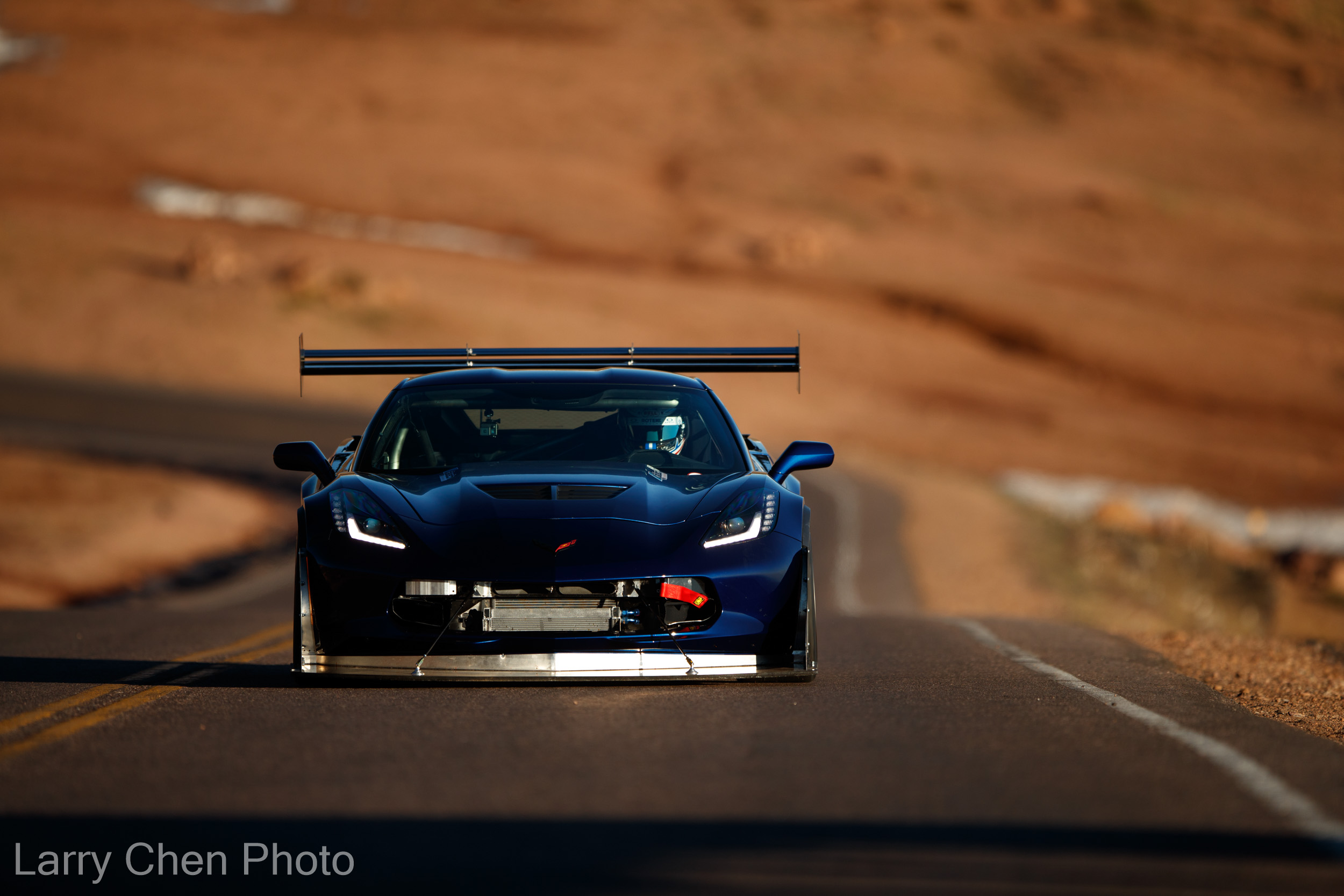 Robb Holland of Rotek Racing piloted this salvaged Chevy Corvette Z06. We've actually featured his old race car before here on Speedhunters.
Rhys Millen was back in his drift car that held the overall Pikes Peak record for one year in 2012. Unfortunately, he was unable to break the time attack record that is held by his buddy Paul Dallenbach driving the same car.
Although he did break the qualifying record by a significant amount, which is something to be proud of.
Chapter Four: 14,000ft
Despite having shot the same race for so many years, there are always new spots to be explored. I never even realized this angle existed till I hiked up a quarter mile up the road, however not picture is me doubled over in pain from doing so close to 13,500ft.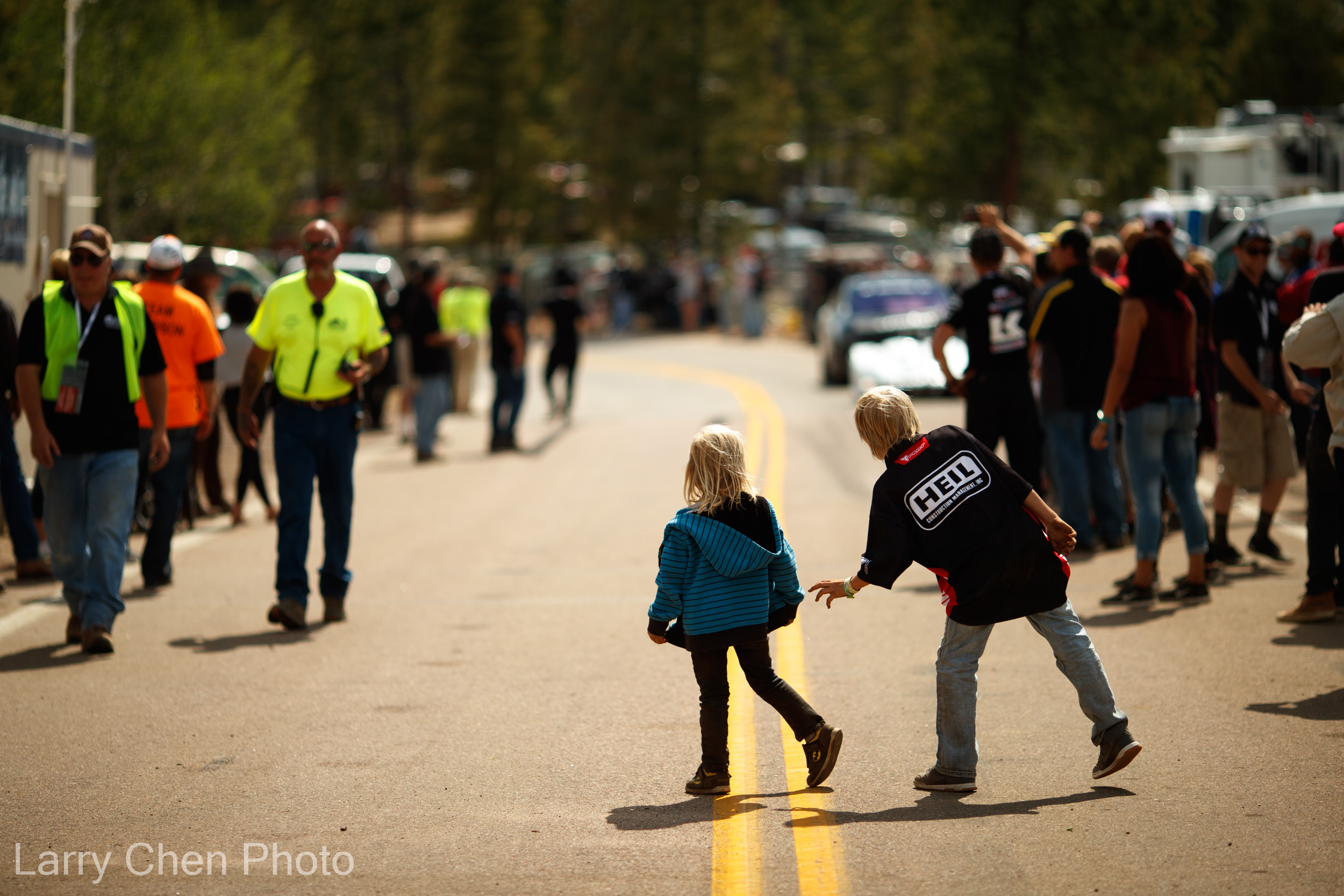 Talk about bringing the power of the sun with you.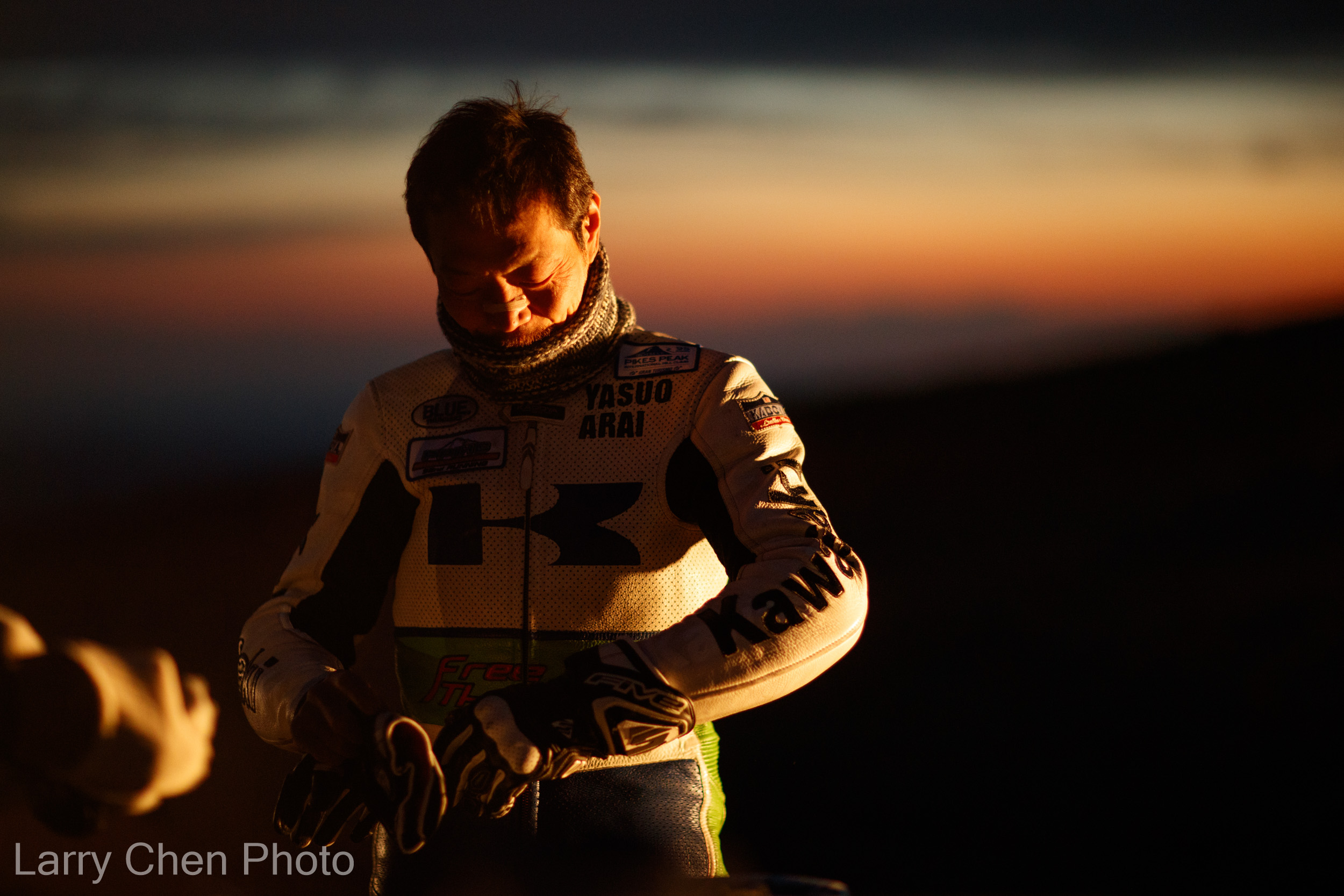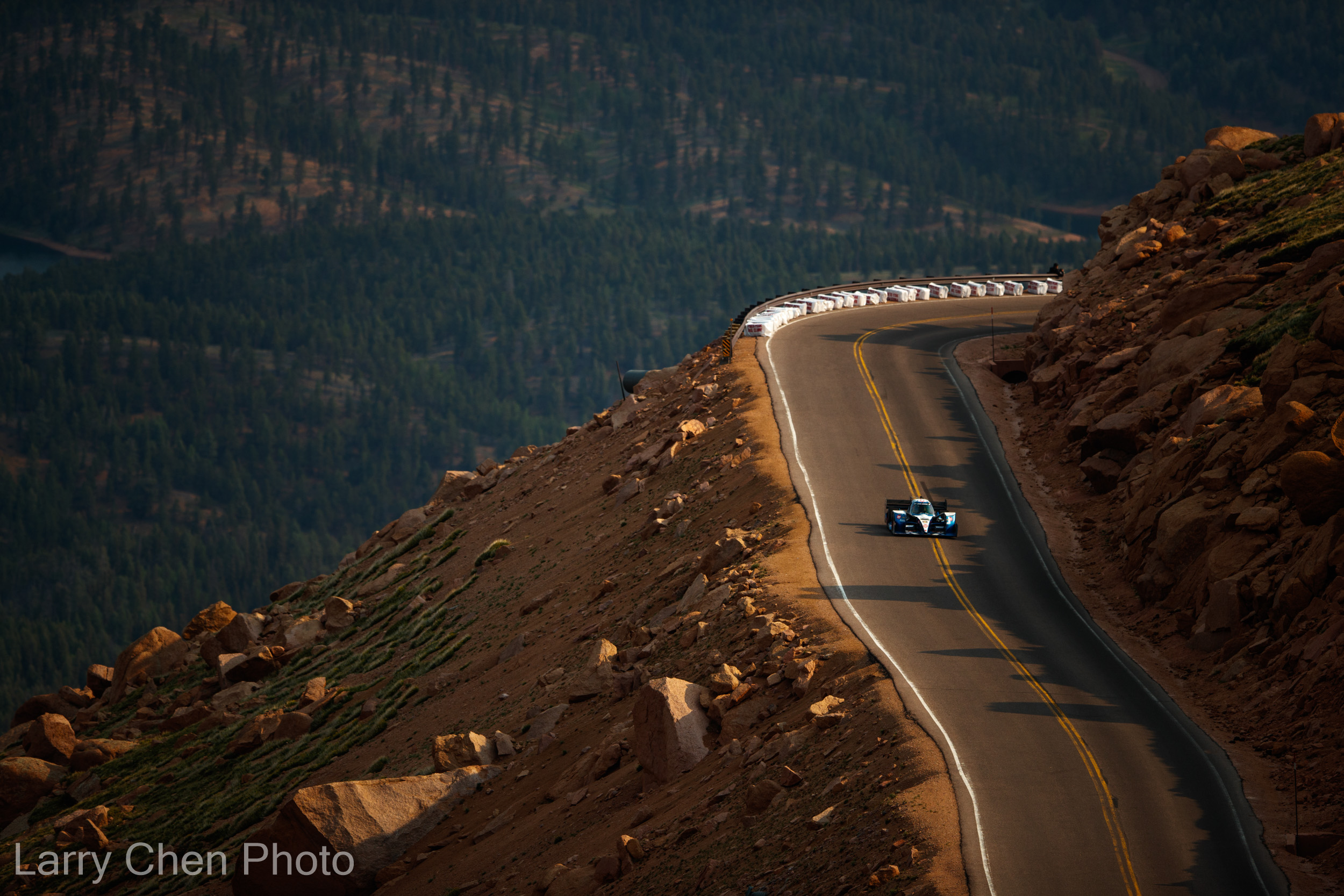 Rhys' daughter giving him a flower before he headed to the starting line. These are the moments that I live to capture.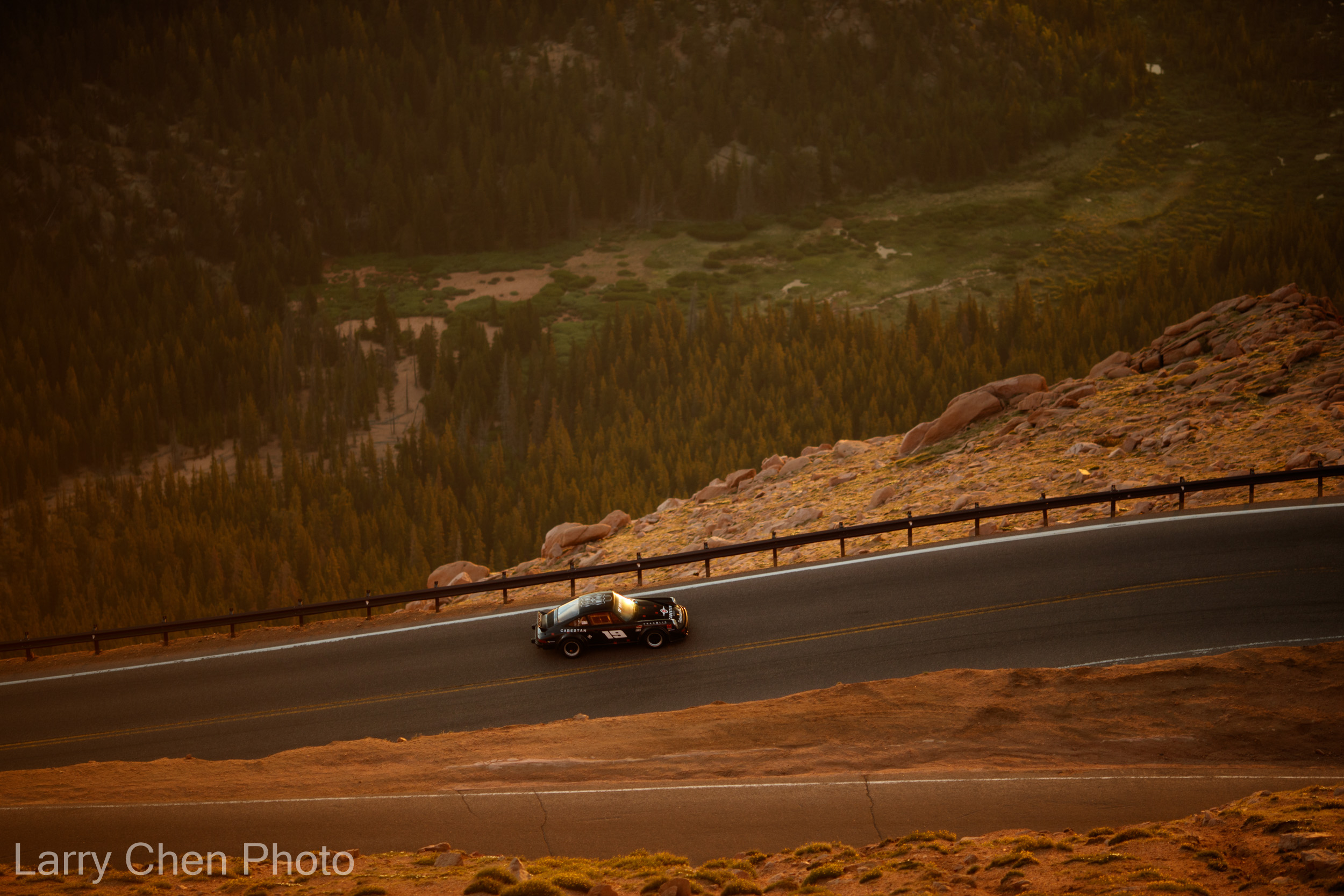 While I only had one year to shoot the dirt before the entire mountain was paved, I can say that I definitely miss it. The look of a giant dust roost just doesn't get old.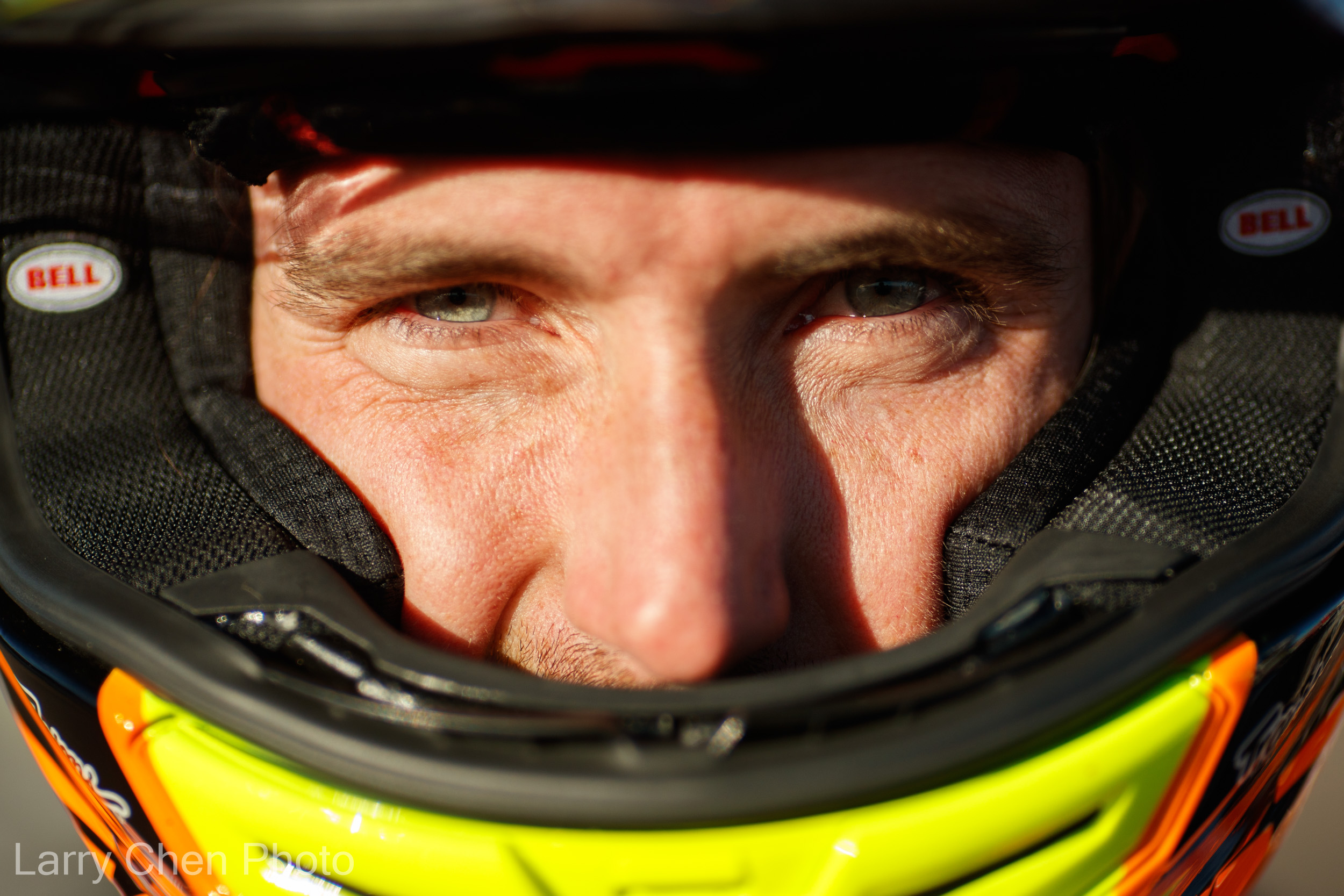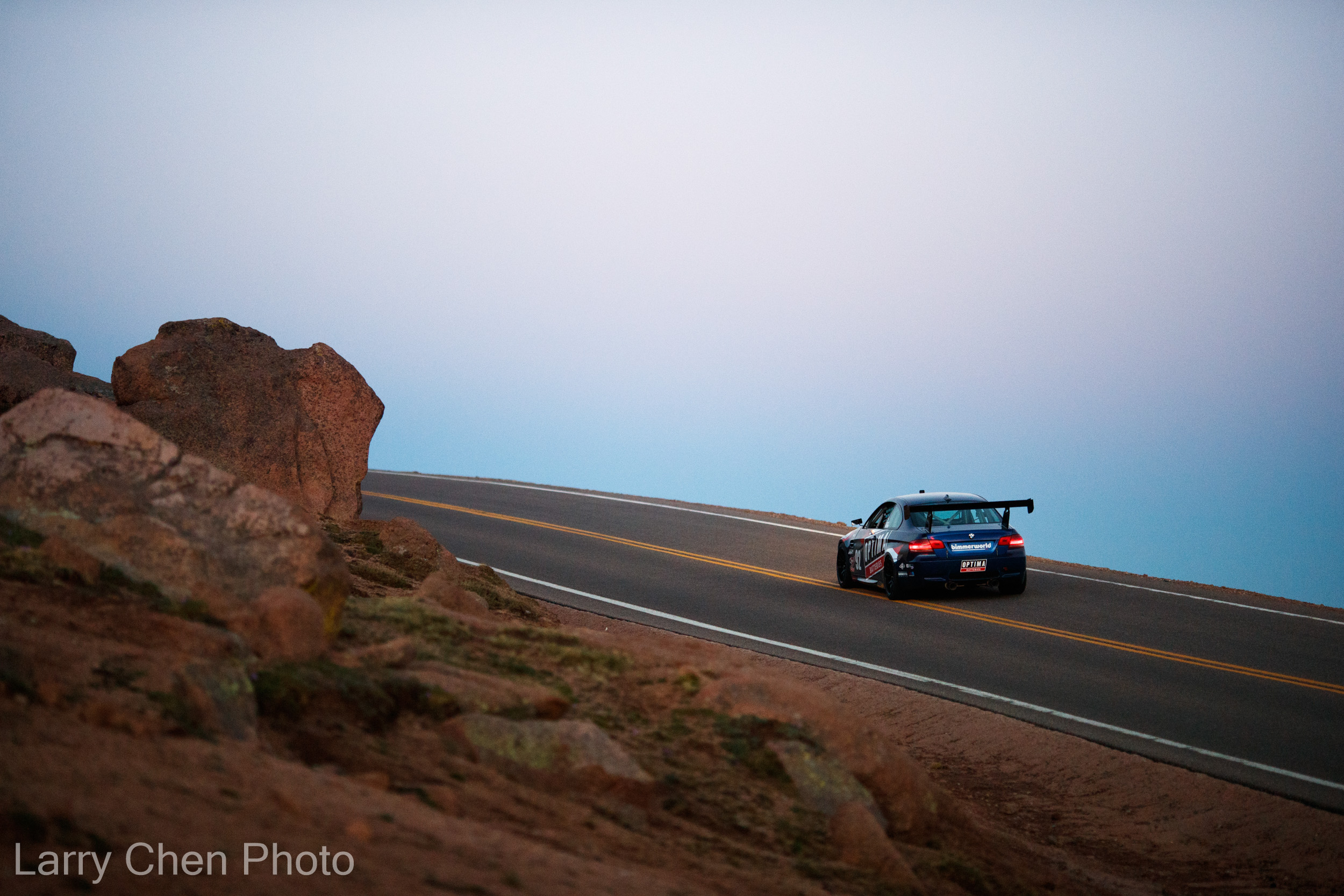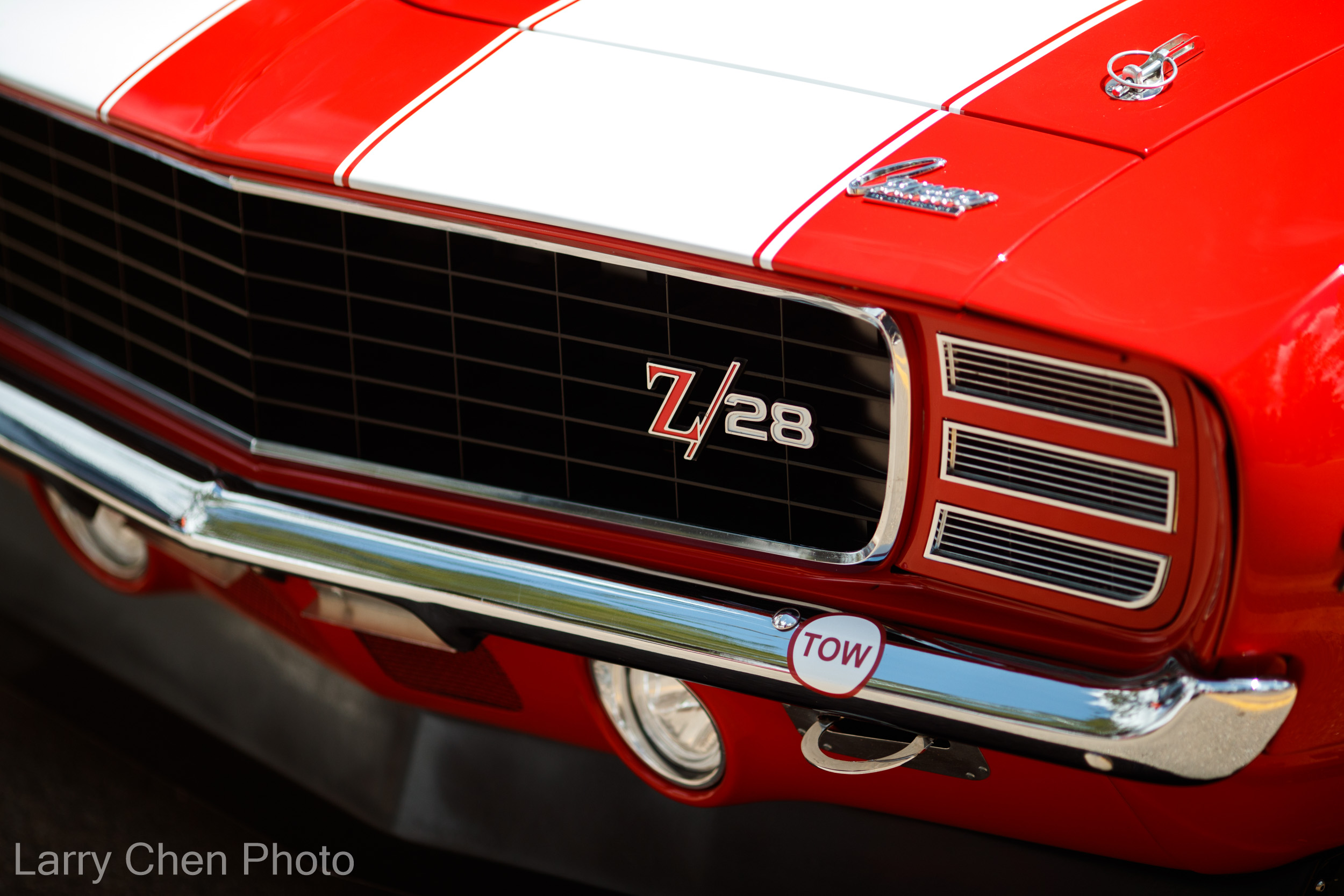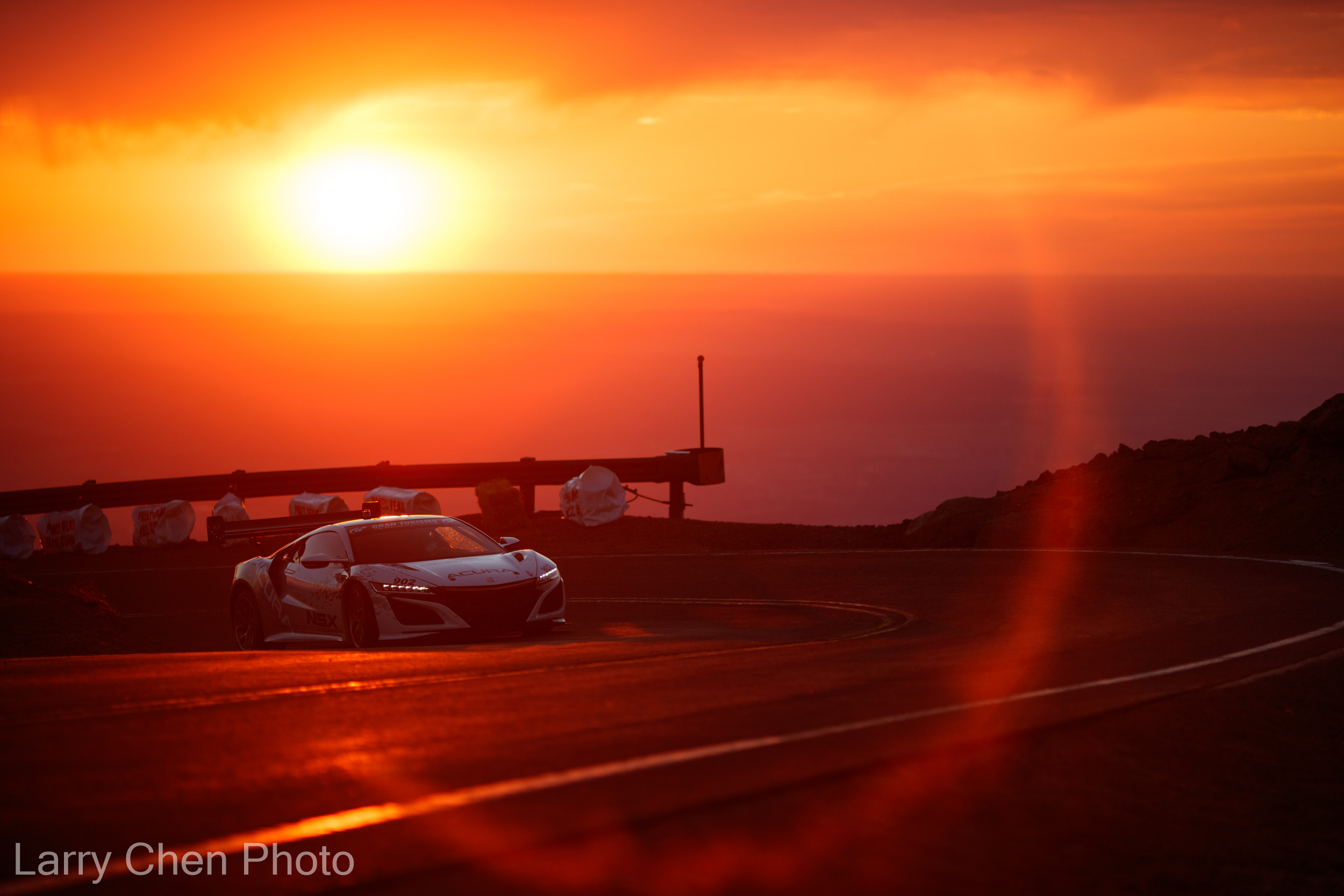 Acura brought out a few cars to compete, but not its all-electric monster NSX this time around.
Even though it's all paved, it's still cool to see rally cars on Pikes Peak, like this super clean Audi Quattro.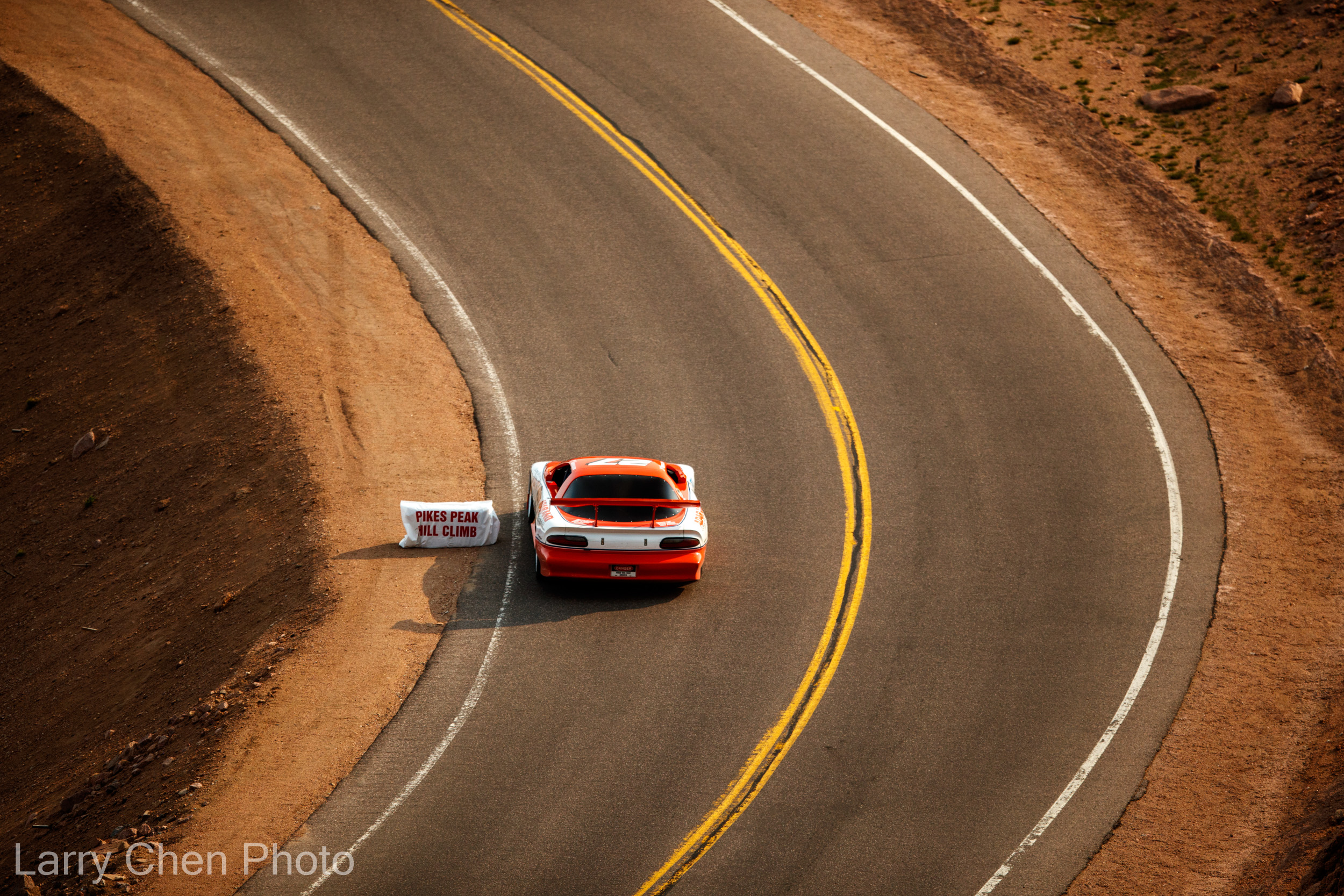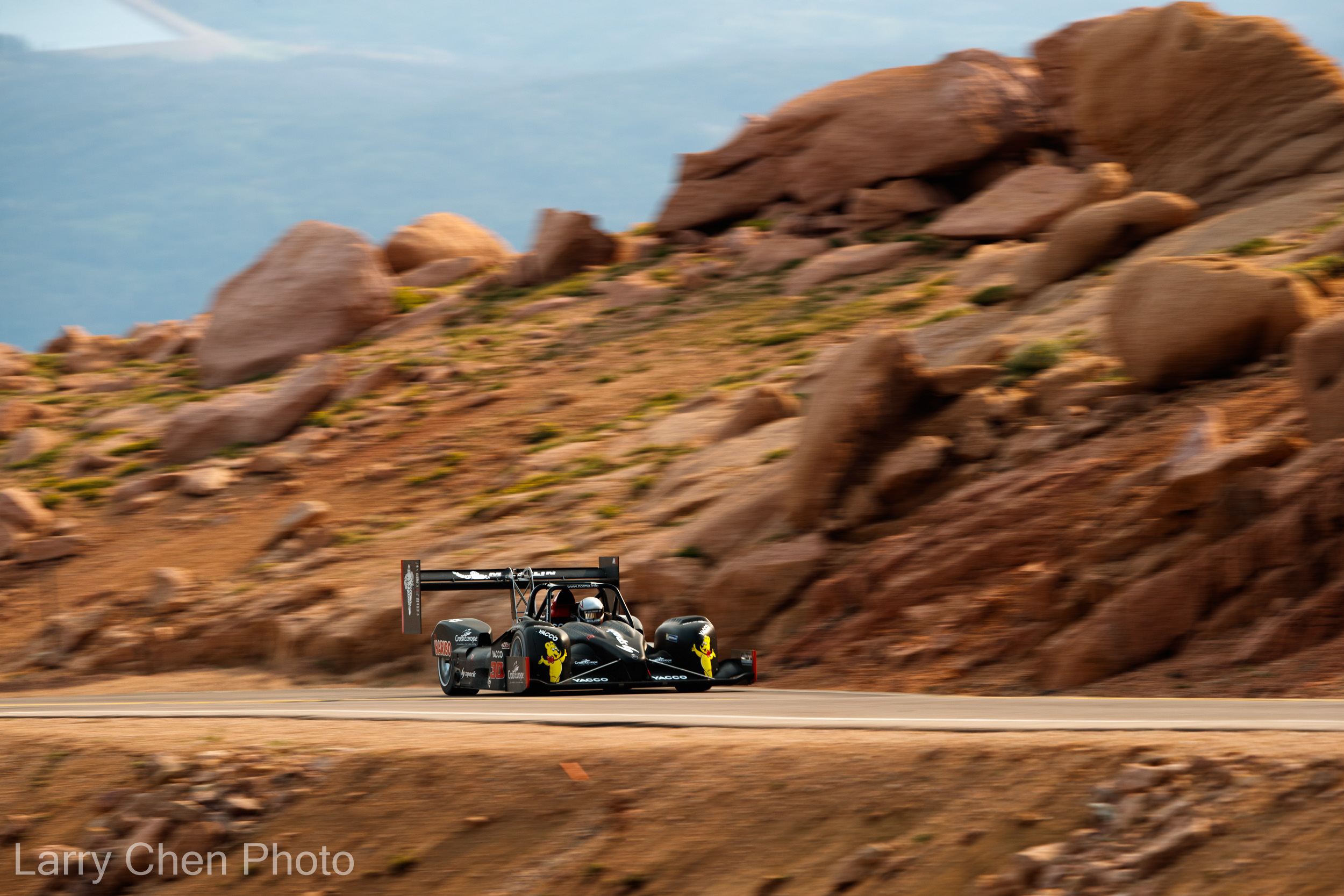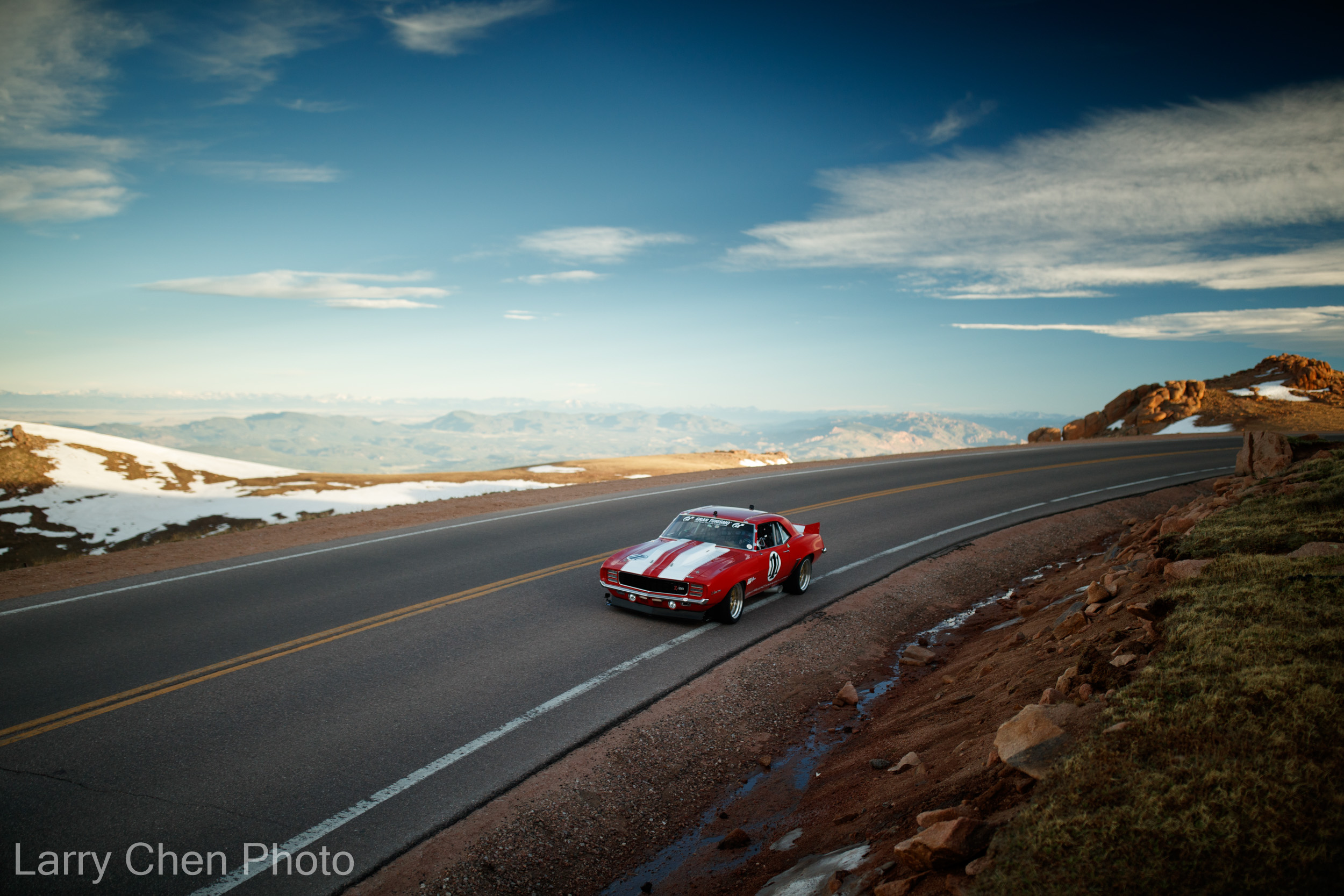 I'm not sure whose bright idea it was to bring a standing-mile '69 Camaro to Pikes Peak, but I love it.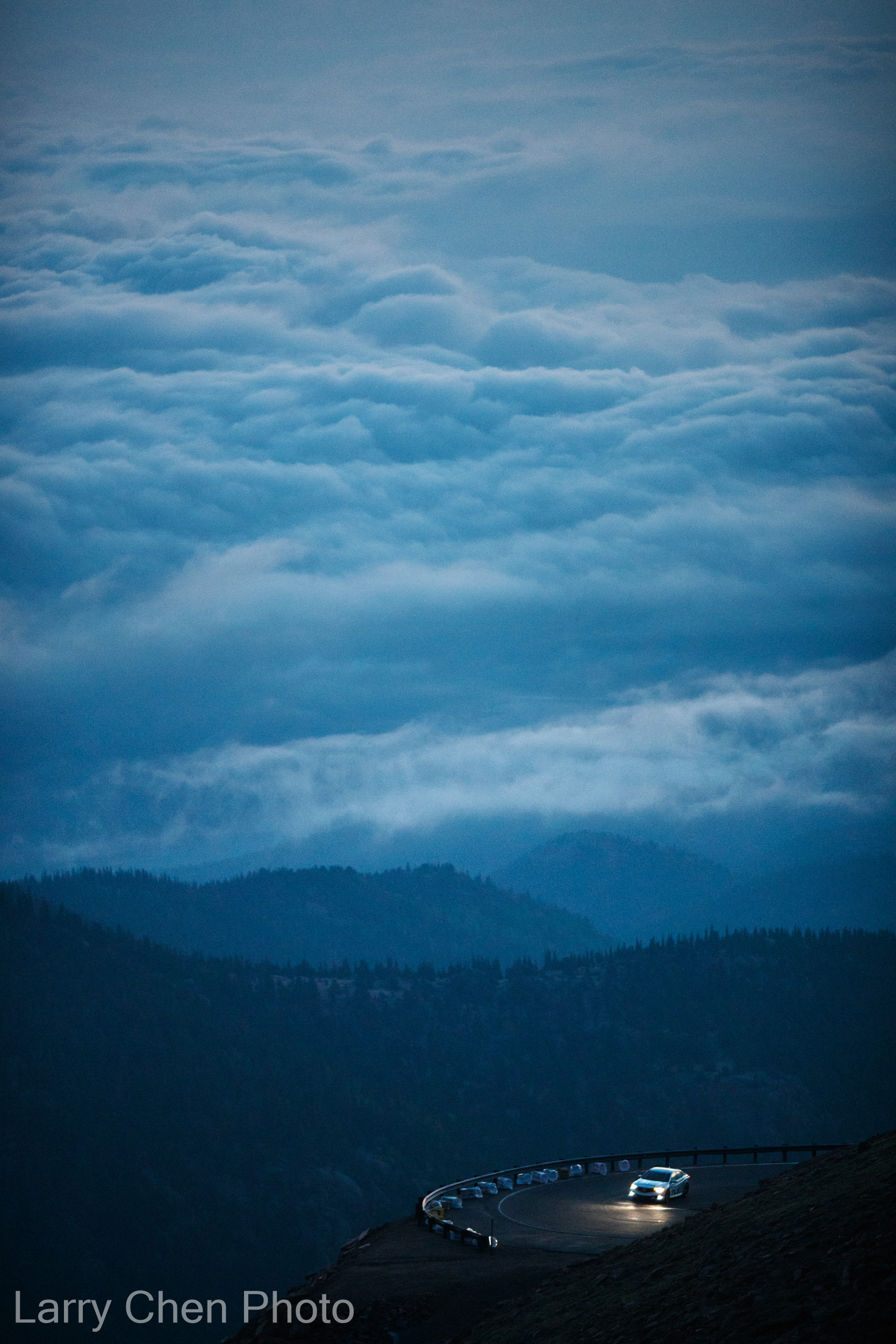 I have to hand it to the motorcycle riders – serious balls are required to go 10 tenths around these corners. Especially the ones with no guardrails.
Life on the edge. At many of the shooting locations death is just a slip away.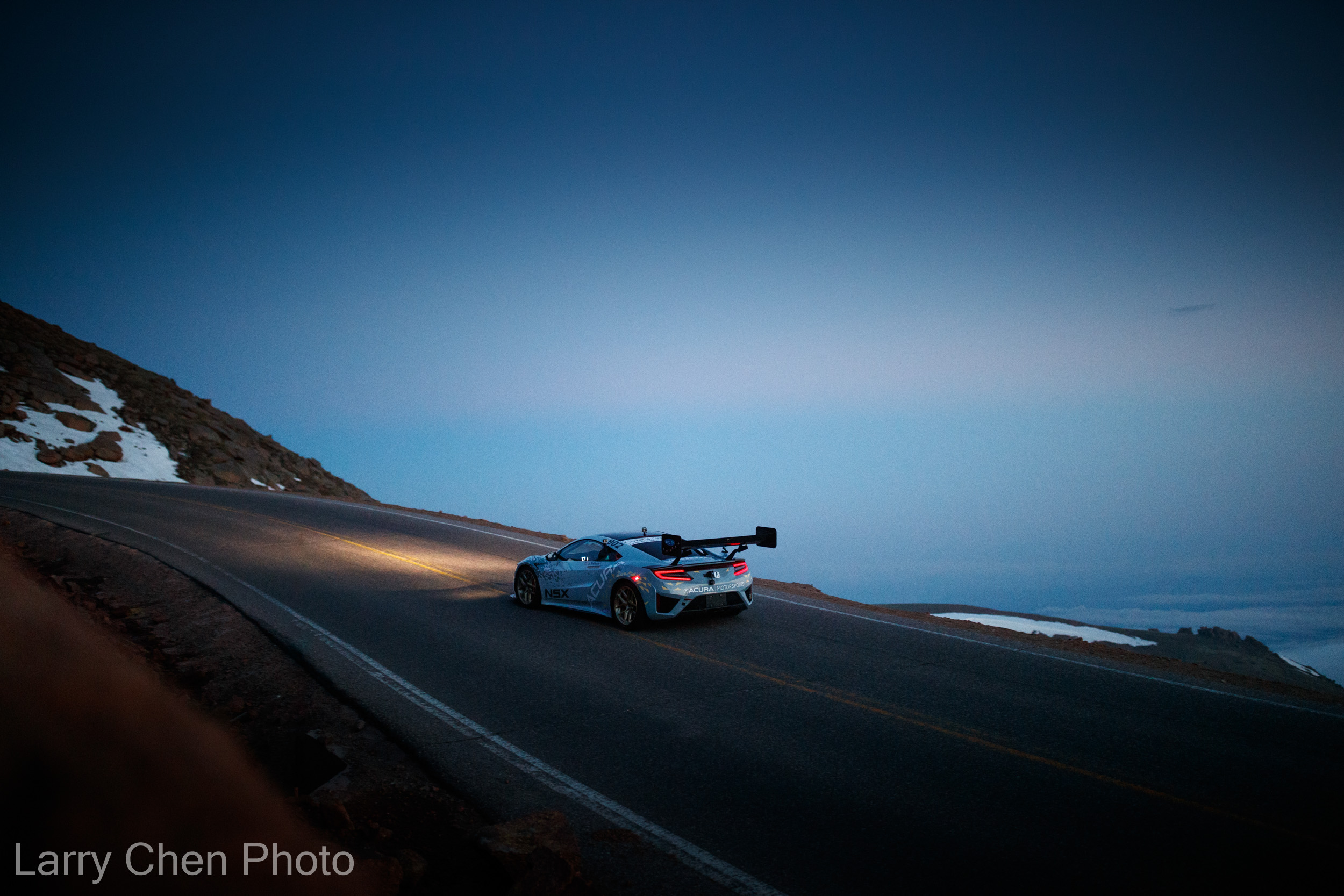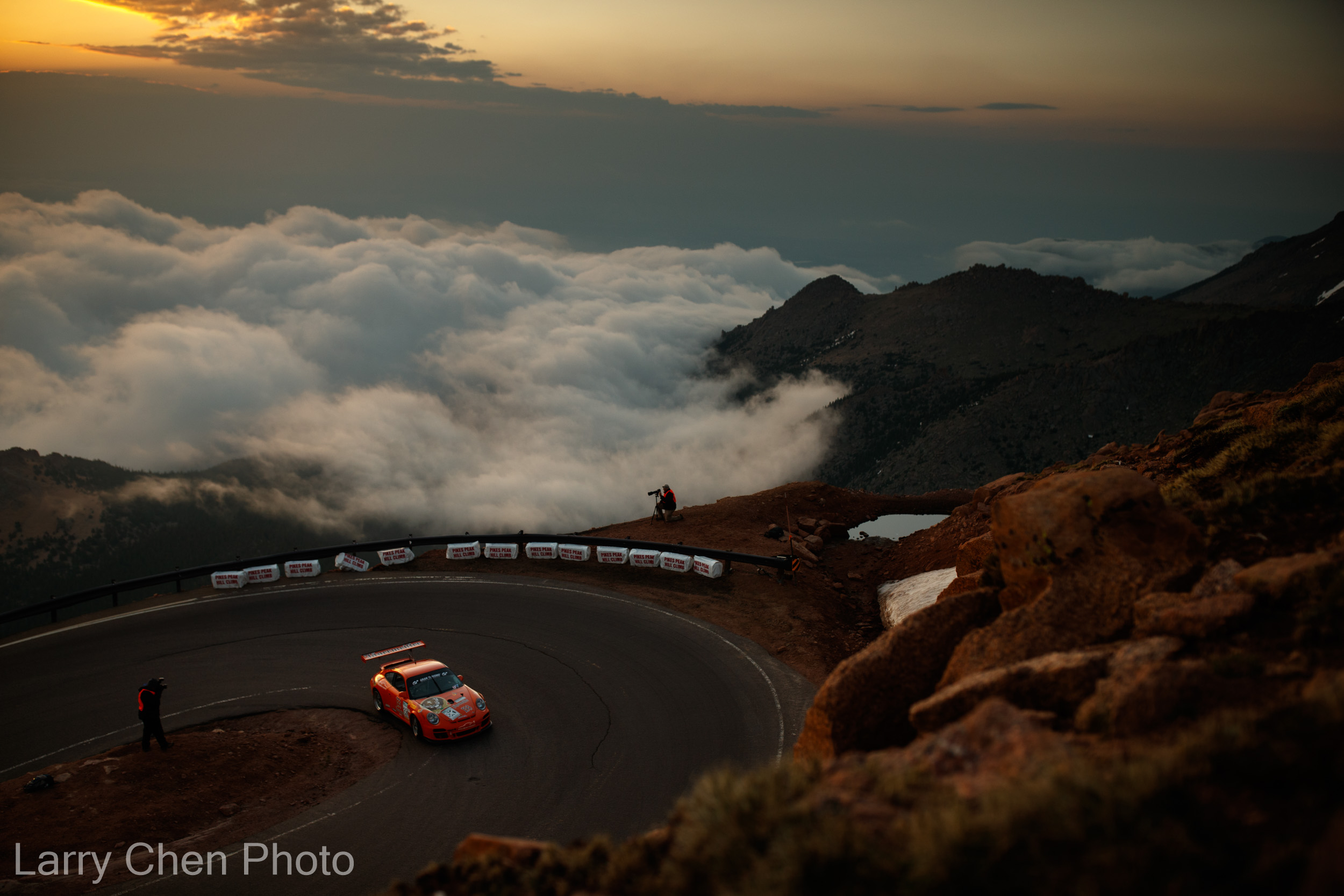 I hope you enjoyed my photos. Helping me during the wheel was Speedhunters' own Louis Yio and my buddy and off-road photographer extraordinaire, Jason Zindroski. You can see his photos from PPIHC 2017 here.
After Pikes Peak I went straight to Goodwood Festival of Speed, which is also a hill climb, but a completely different type, in a much different setting. Stay tuned for more from my month of binge traveling.
Larry Chen
Instagram: larry_chen_foto