Chapter One: Hot Wheels
I've been playing with Hot Wheels diecasts all my life. Ever since I can remember, I raced them around till the paint was completely chipped off.
Now as a Speedhunter, my relationship with these little toy cars has changed quite a lot.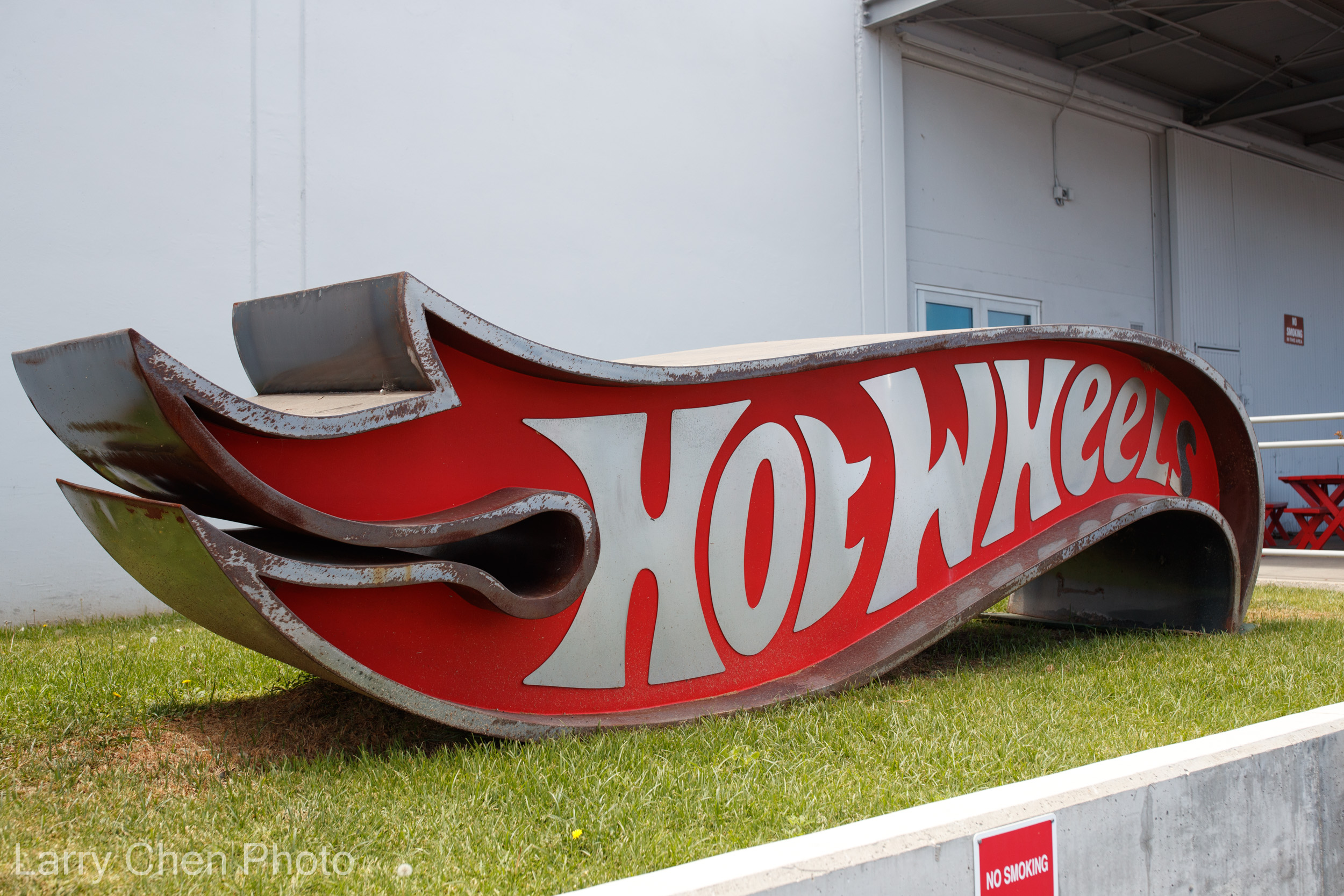 My visit to Hot Wheels actually started a few years back when I featured a certain Datsun 260Z on Speedhunters that belonged to head Hot Wheels designer Jun Imai, AKA Kaido House.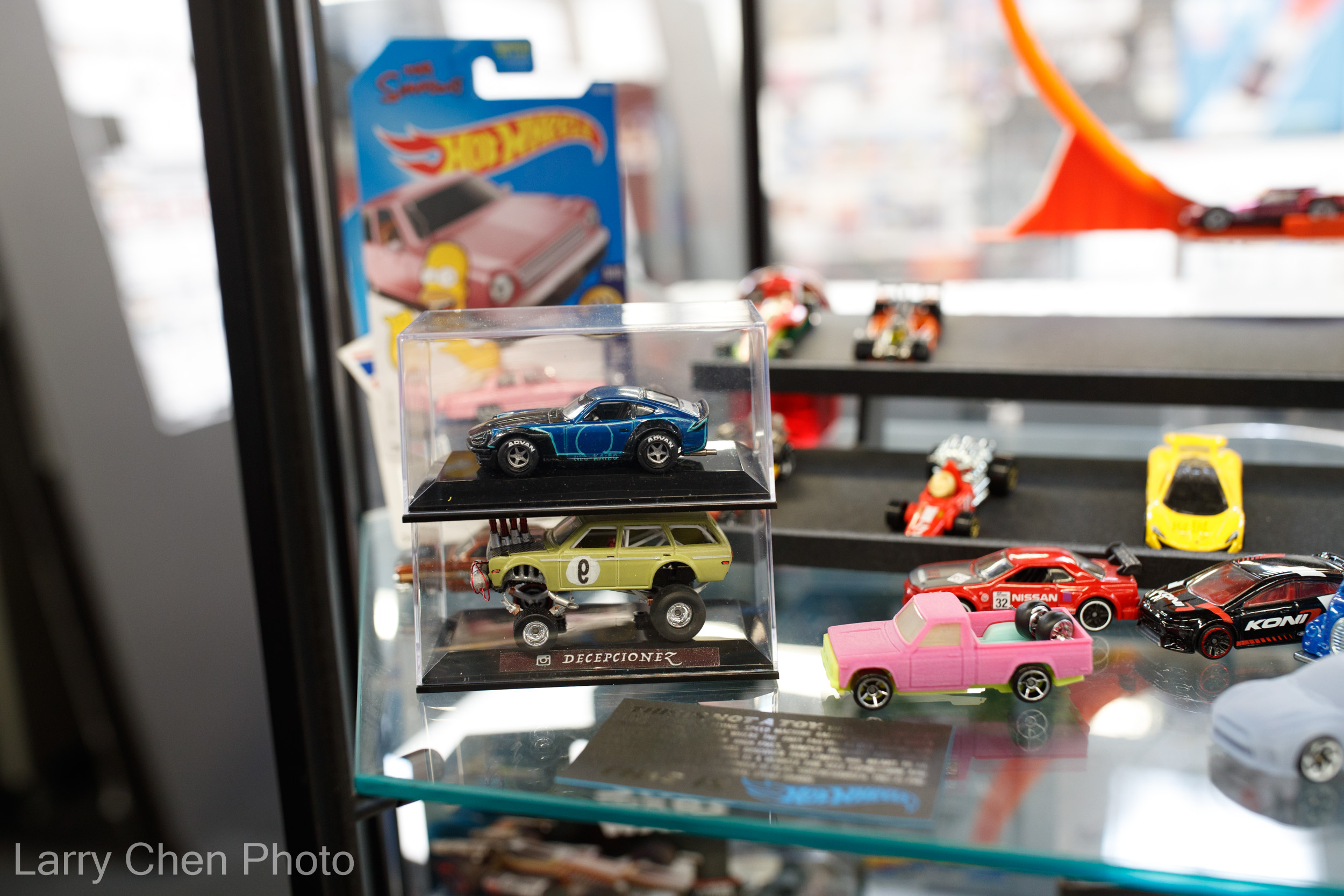 Since then we have kept in touch; I often see Jun at car events and meets in Southern California, and of course we are both Z bros at heart. For a long time he suggested that I come visit the Mattel Hot Wheels Design Center, and recently I took him up on that offer.
Before you even step foot inside the former airplane hangar located just a few minutes from Los Angeles International Airport, it's obvious that this place is special. There was a metal orange track setup right on the stairs with a bucket full of cars to play with; I knew it was going to be a good day.
Along with Hot Wheels, this Mattel Design Center also is home to Barbie and a few other iconic toy brands, hence the sign at the front desk.
It's quickly evident that this place is unlike any other corporate office. In the lobby there were a few full-scale custom cars on display, some of which have been previously seen at the SEMA Show.
What really piqued my interest however, was a massive Hot Wheels track that goes through six loops.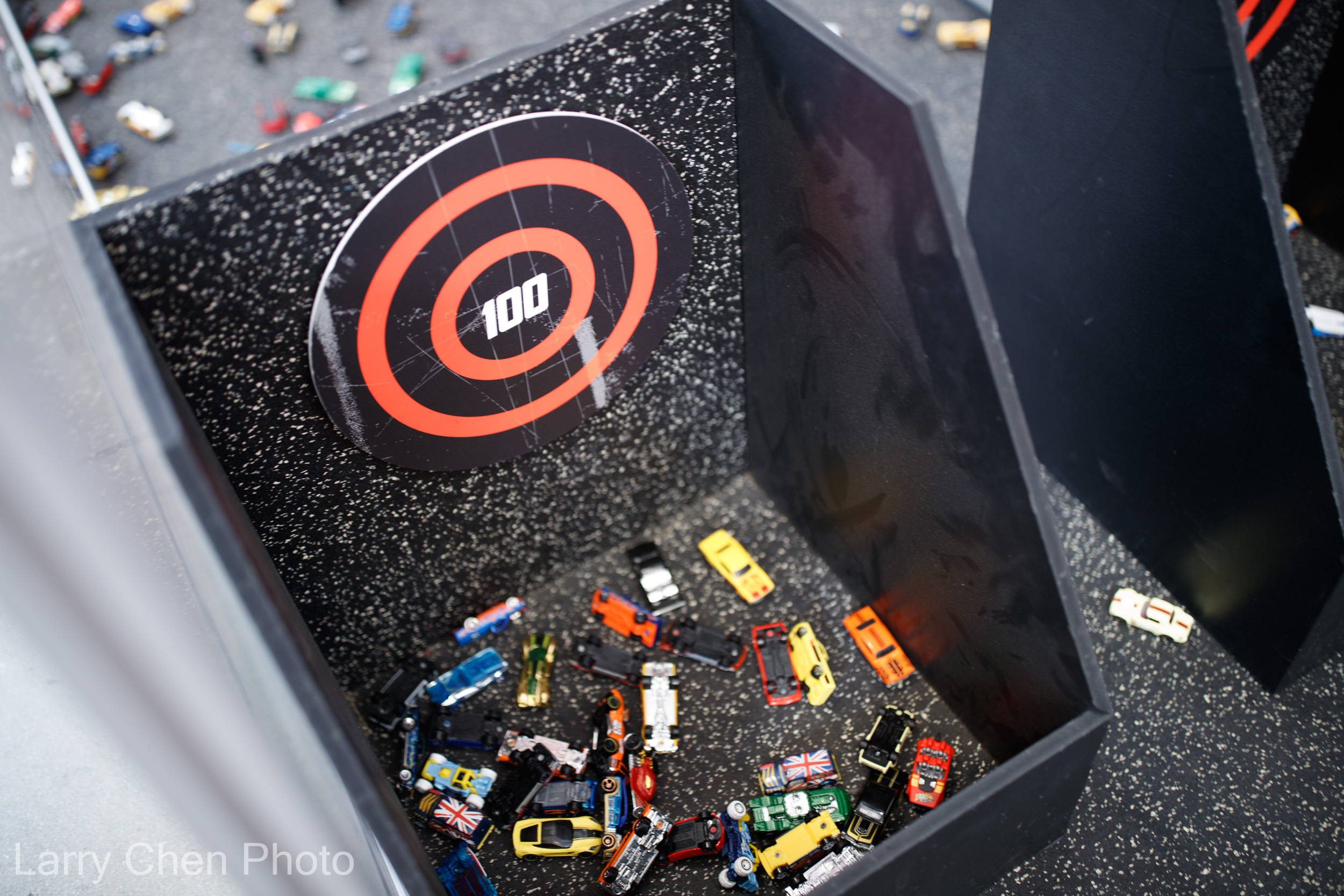 If your diecast survives, there's a chance it will make into a box at the end of the track and maybe even score a perfect 100-point run.
Here's Jun showing me how to play with some of his amazing creations.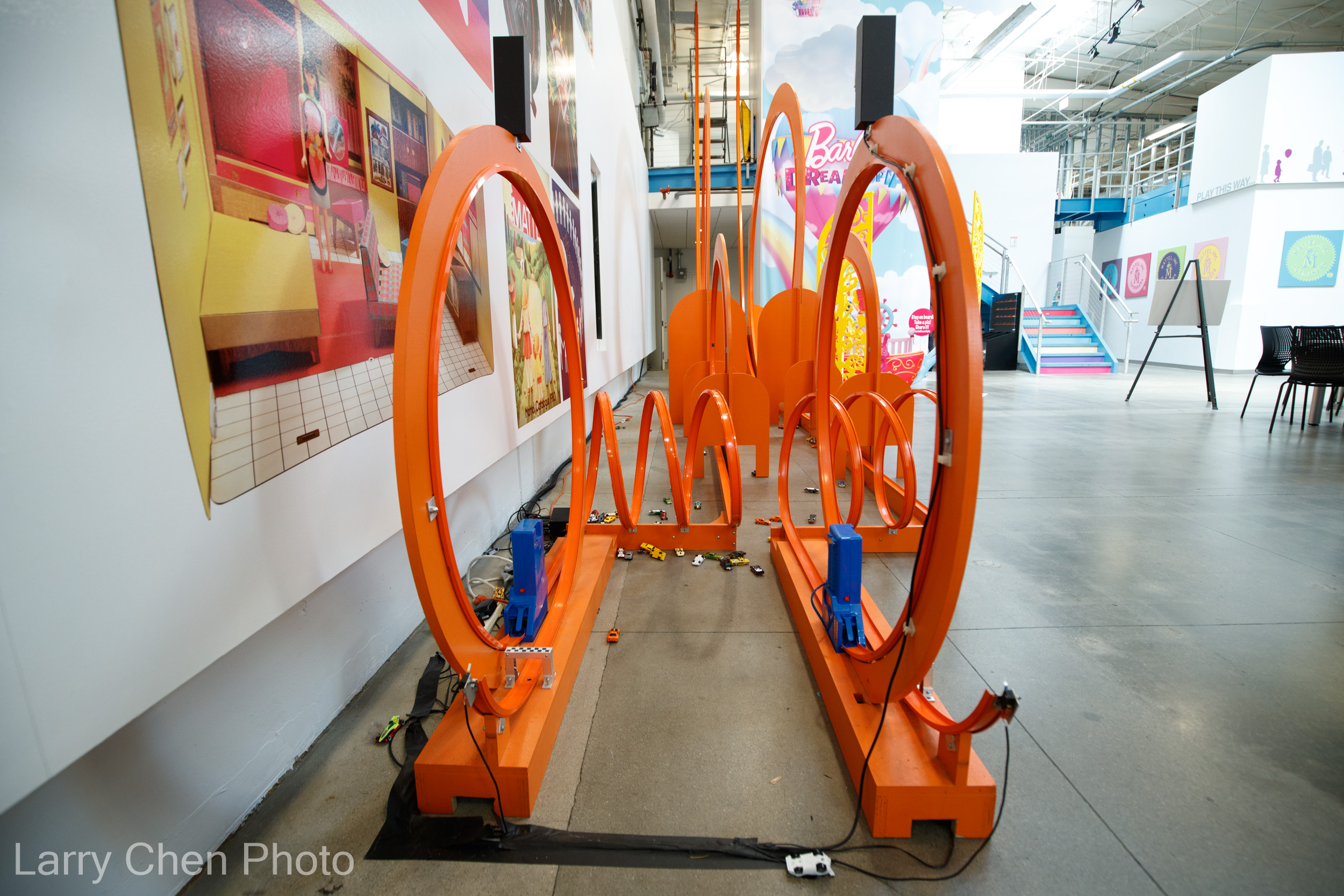 I quickly choose two cars out of the bin and made my way up the stairs to have some fun.
I am a sucker for orange cars, and I figured the wings on both of these would help keep them planted.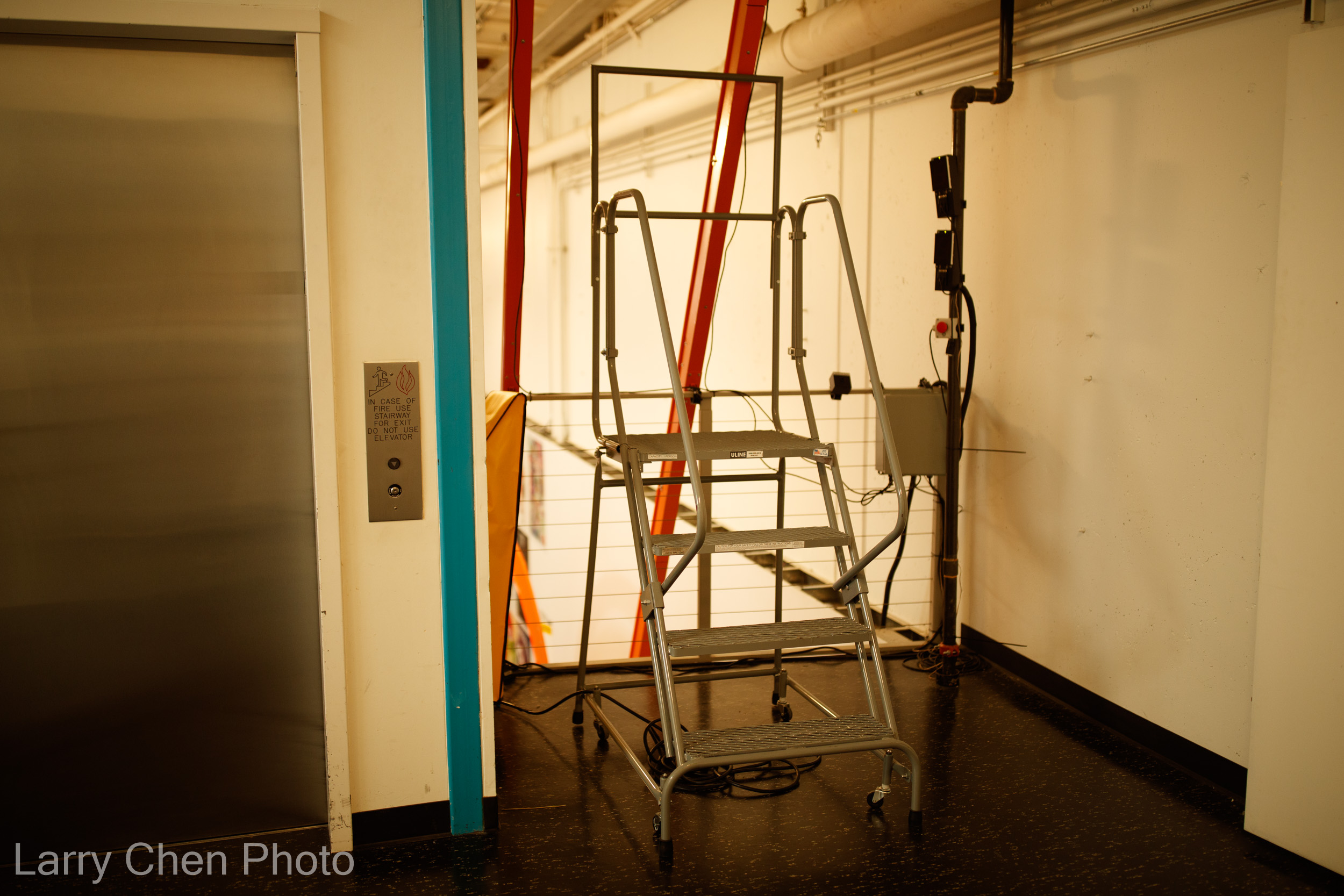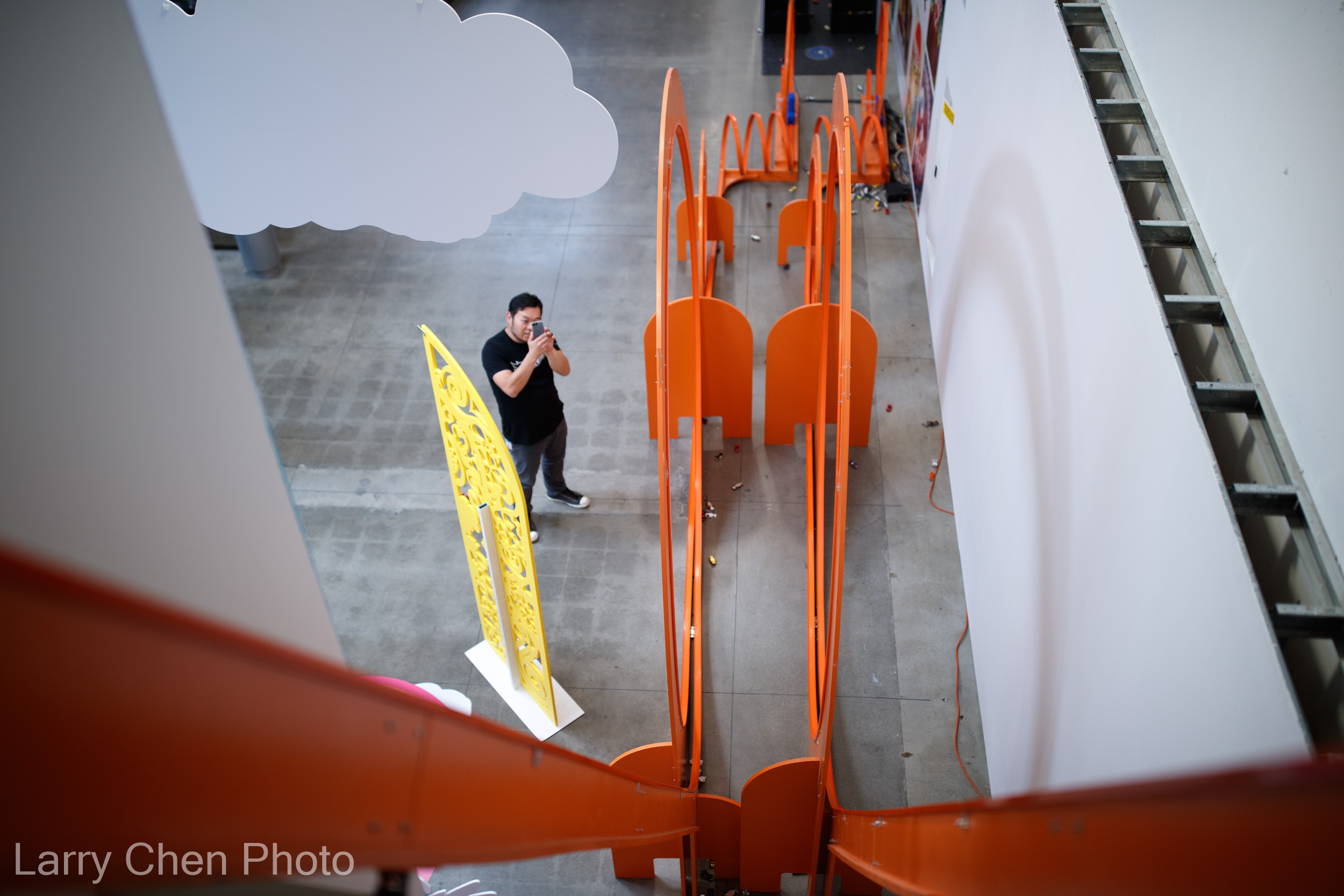 I was wrong; none of my cars made it, even with a hard push down the track. Trust me, it's actually a lot harder than it looks.
But enough toying around, I wanted to see where the magic happens…
Chapter Two: Design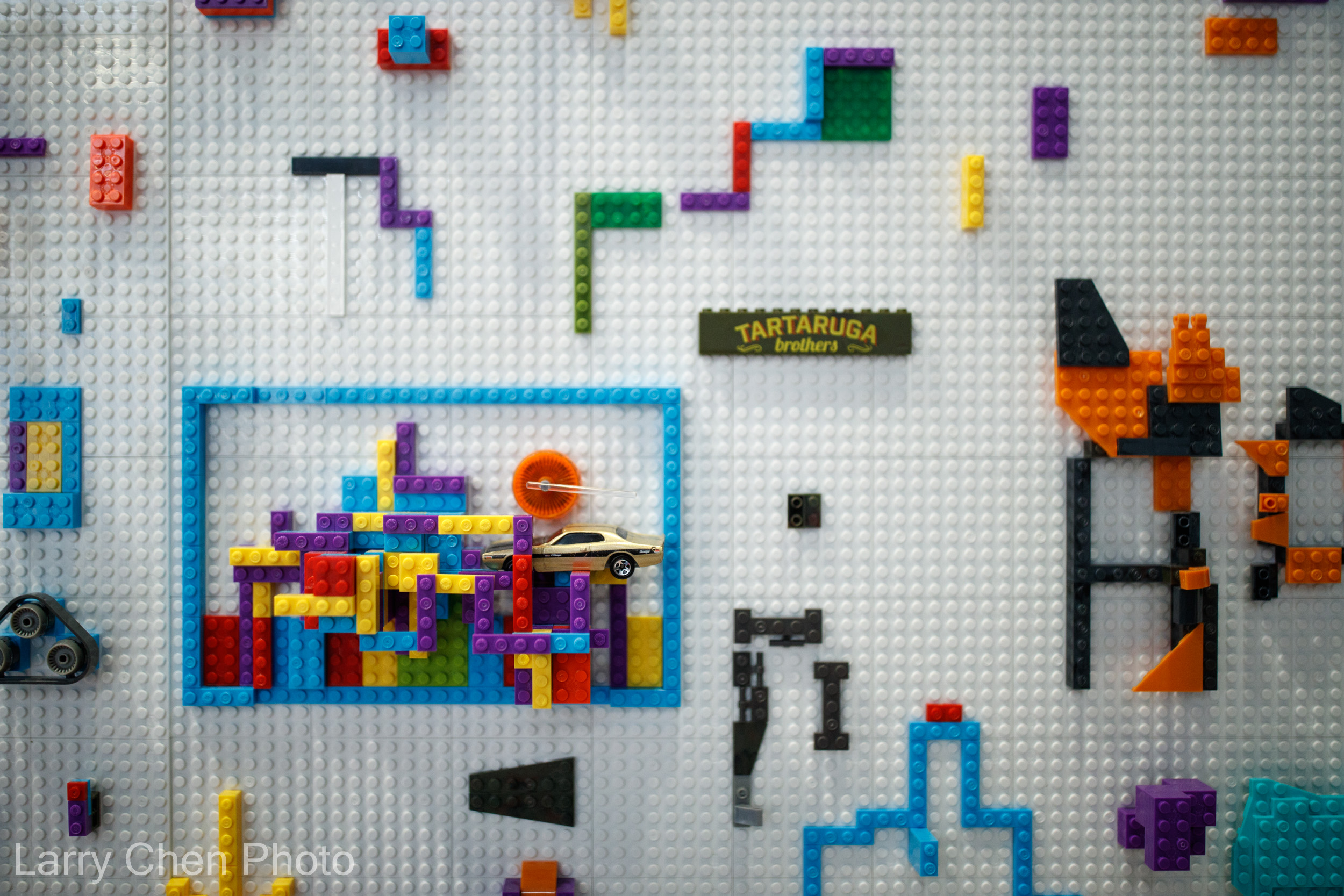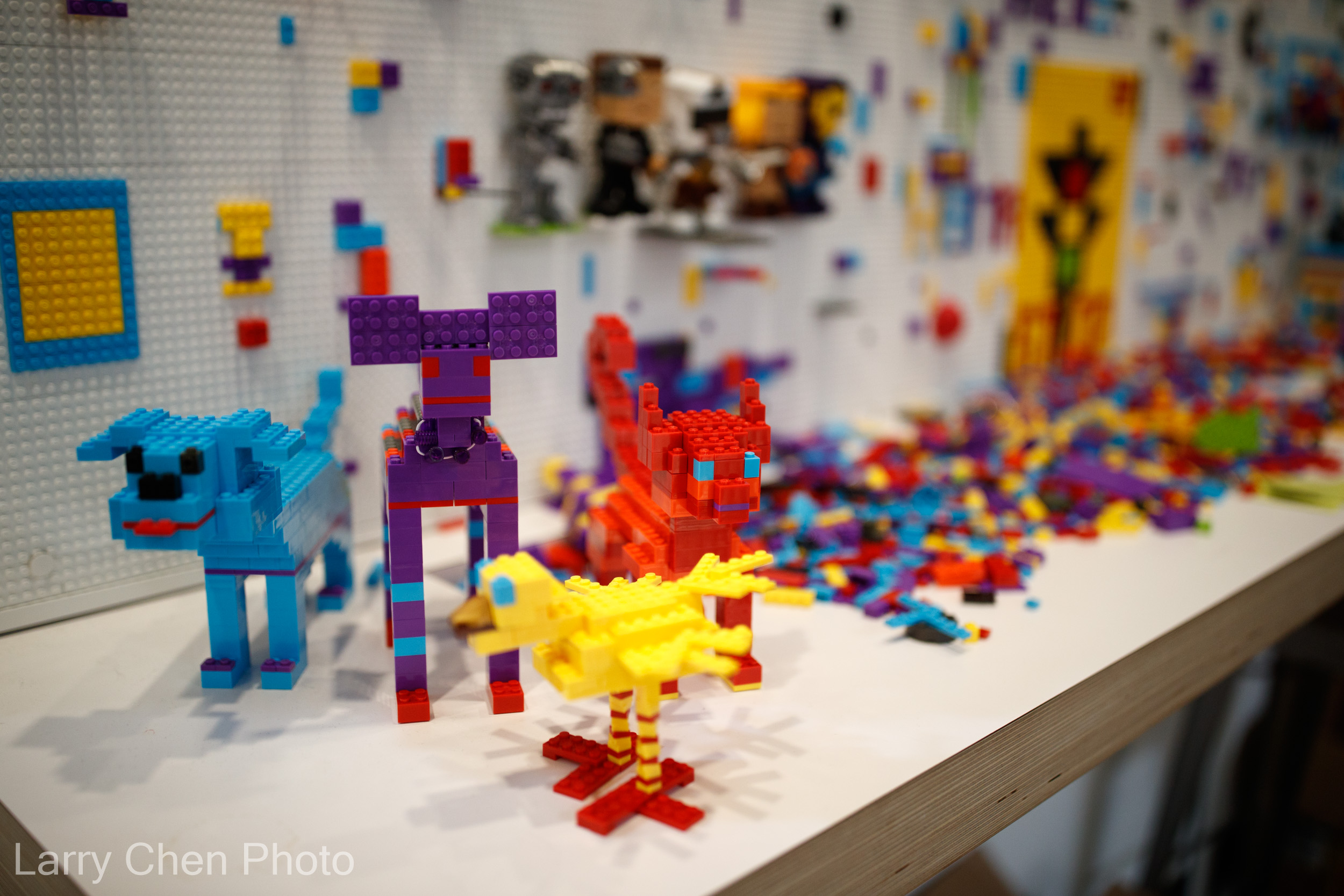 It was hard for me to stay focused as there were awesome things everywhere I looked, many of which I could not photograph. It's such a simple concept, but all toys and media designed for kids are made by adults, or in Mattel's case, big kids. It was incredible to see how passionate these people are about making a quality product.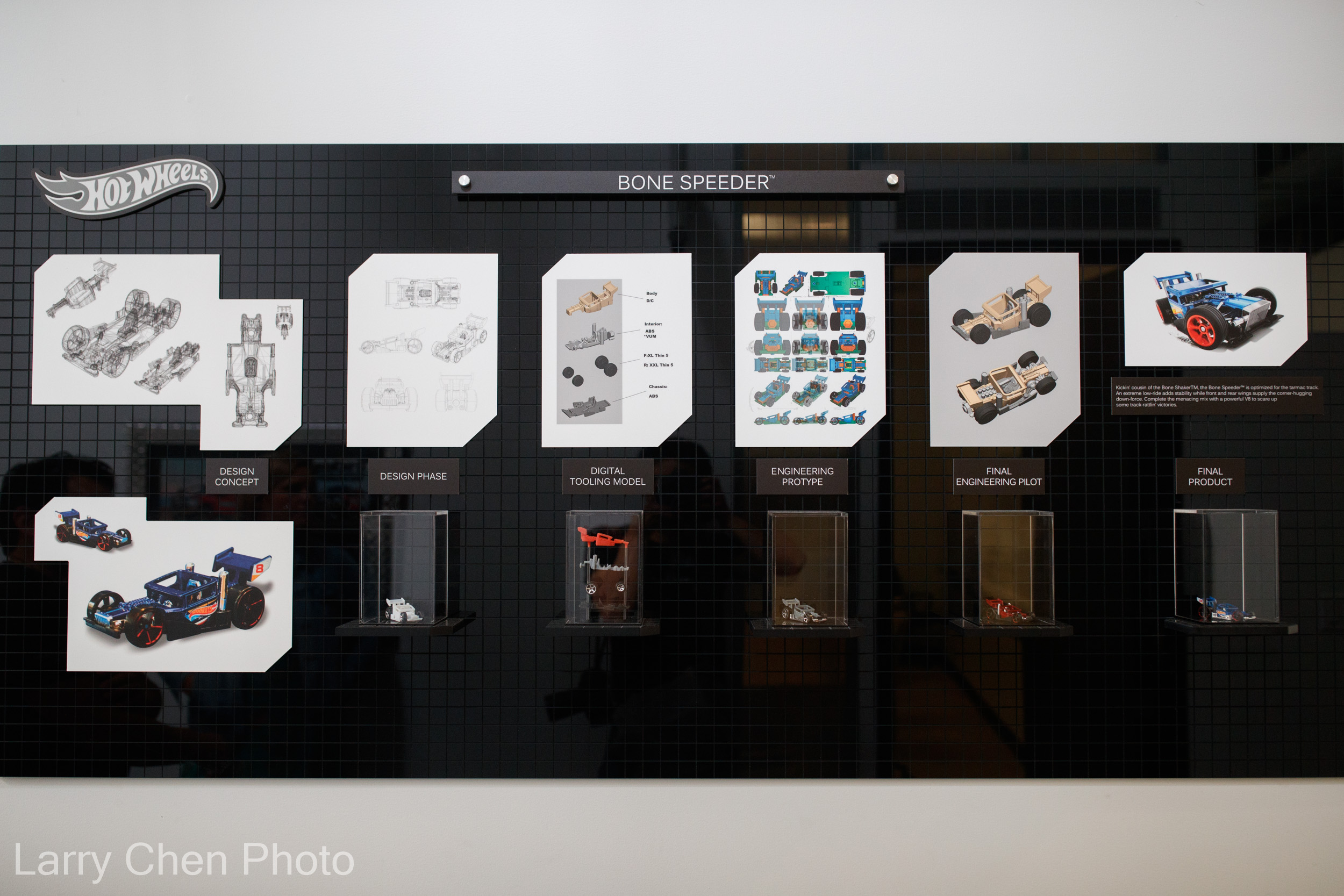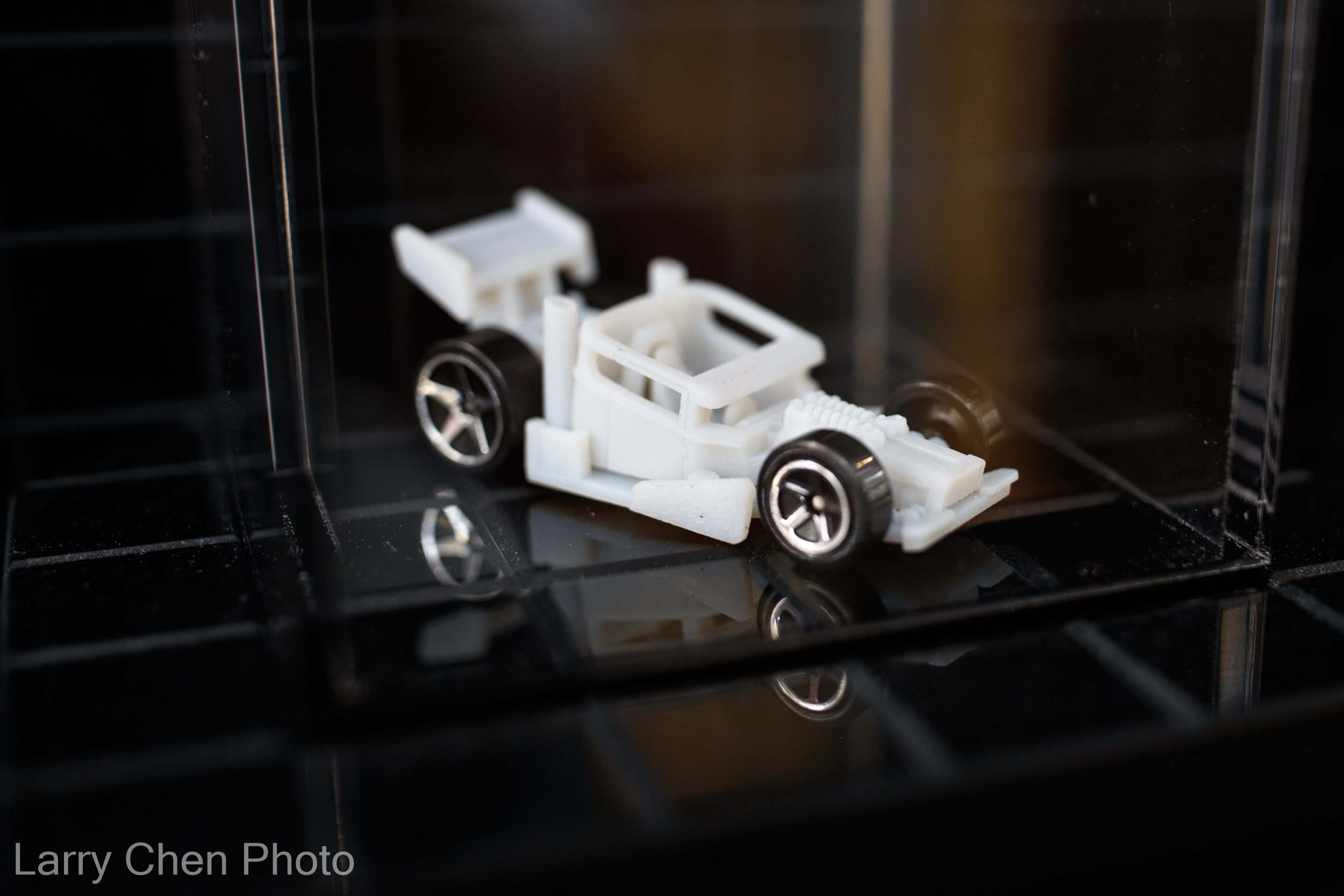 Before I stepped into the actual Hot Wheels design studio there was a display showing the process from concept to finished diecast.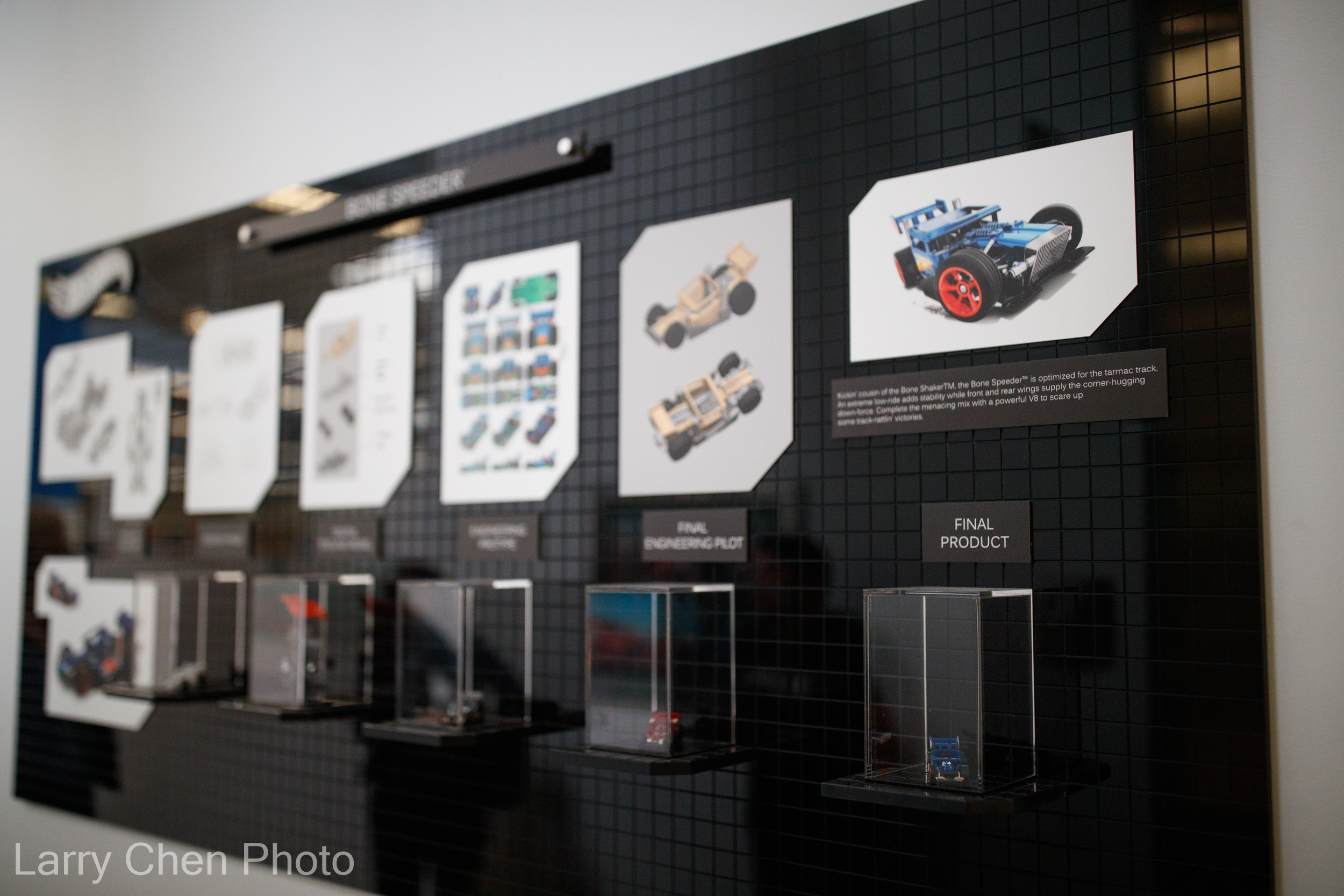 For each and every diecast the process takes about nine to 10 months; I was amazed to see how much work goes into making a toy car that costs less than a dollar.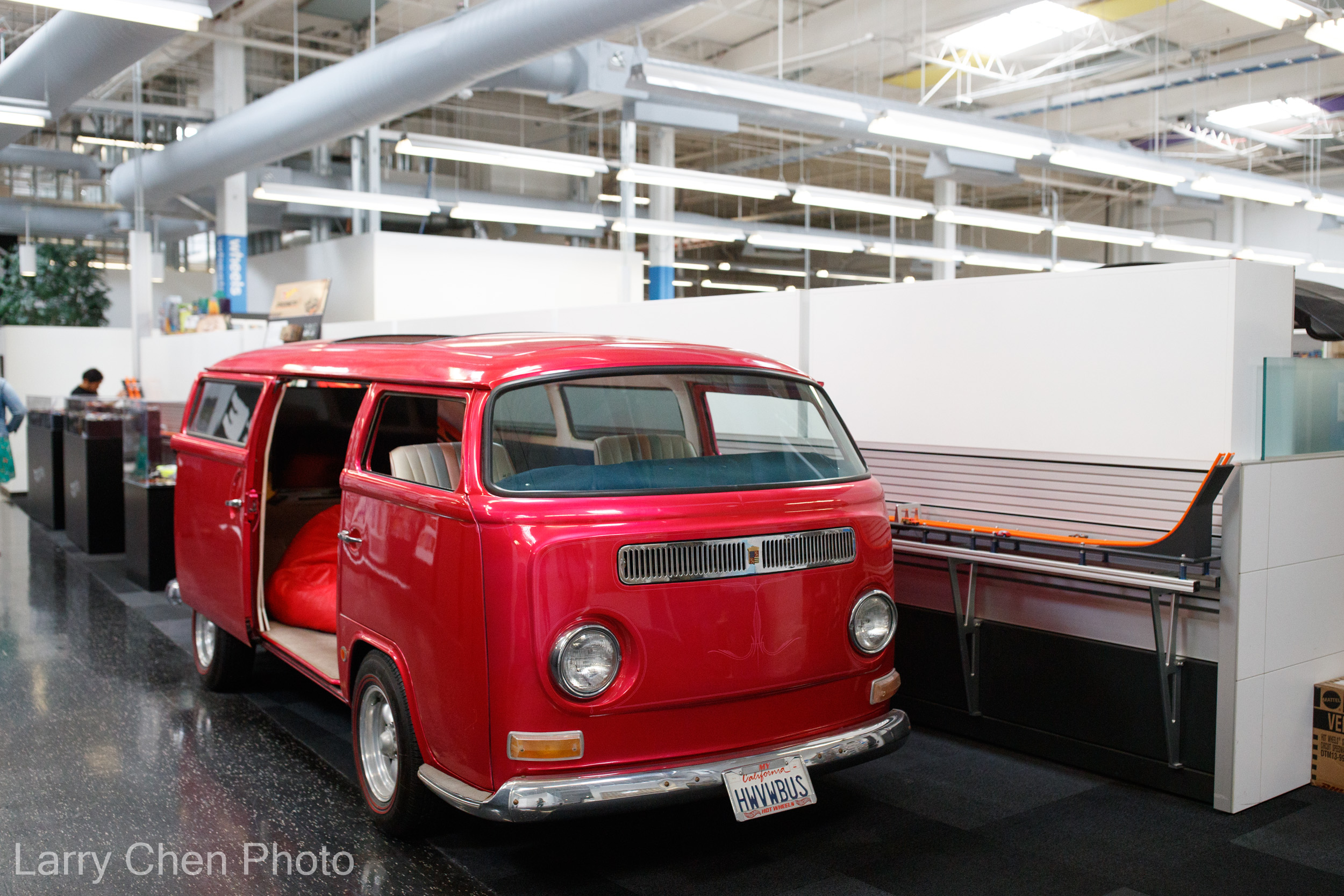 Parked in the center of it all was a full-size version of the iconic 1/64 scale Hot Wheels Volkswagen Bus, Beach Bomb. This one has been modified into a gaming center.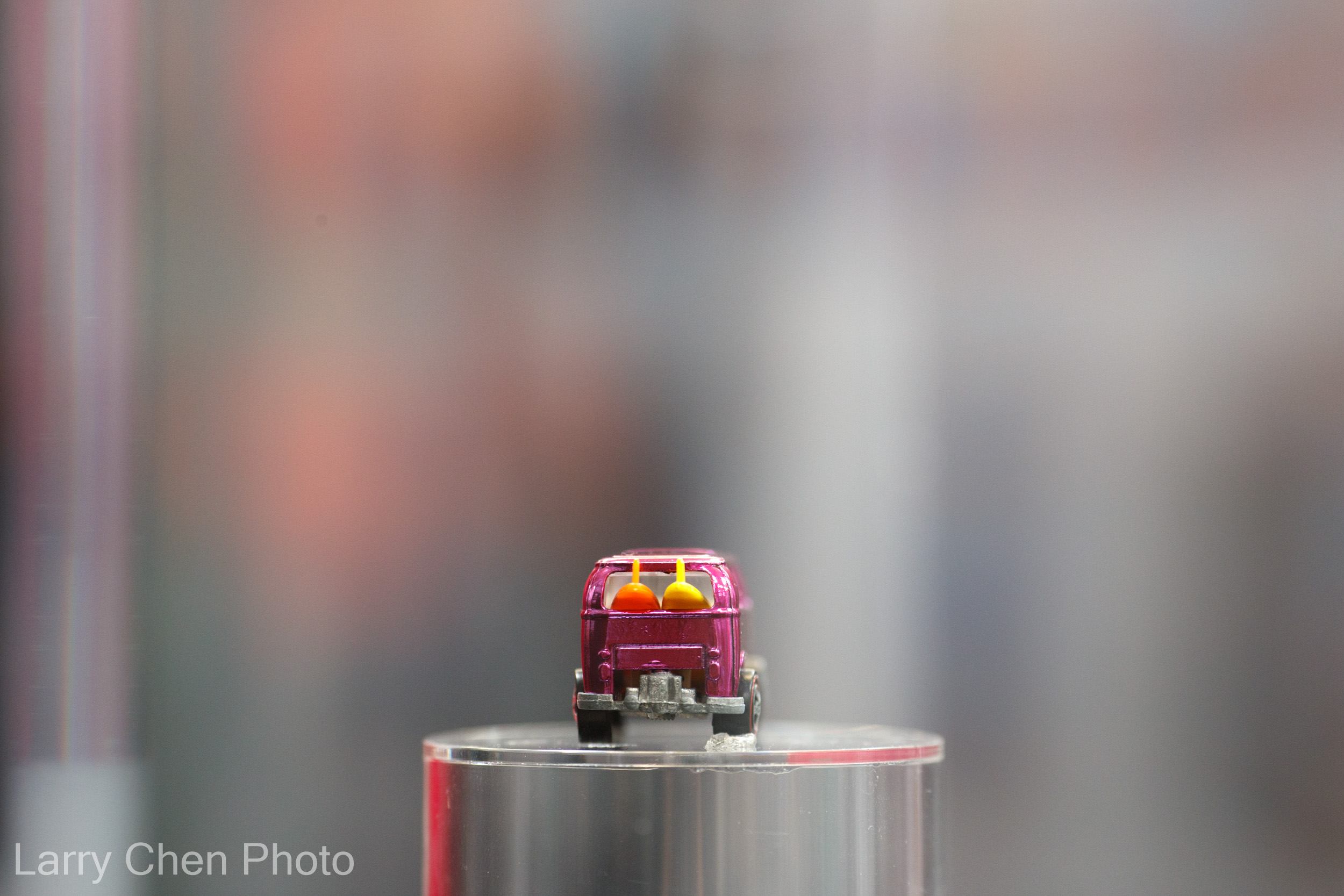 On display nearby was a replica of the famed pink VW Beach Bomb diecast prototype from 1969, surfboards hanging out the back and all. It's amazing to think that the real thing is worth as much as a house.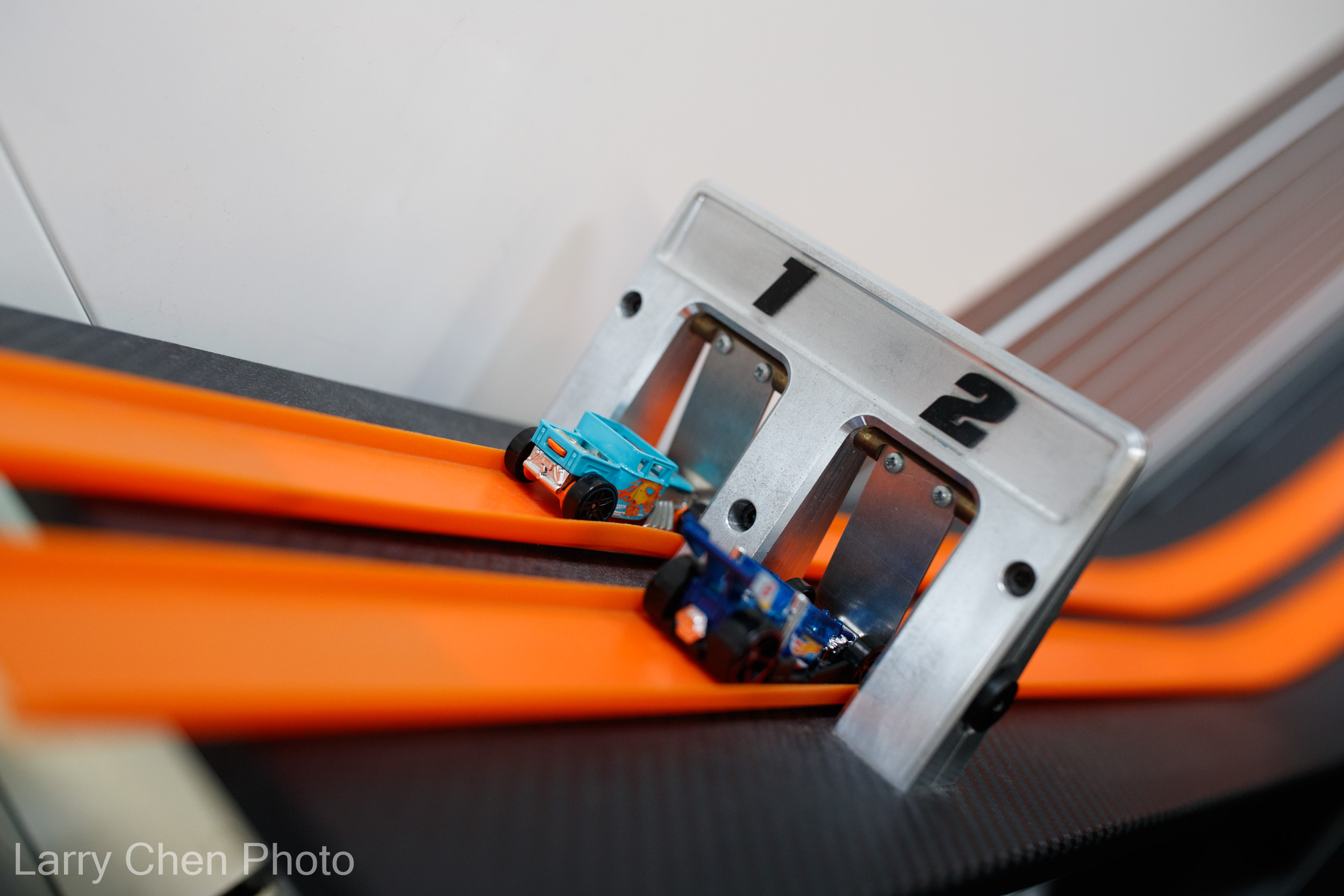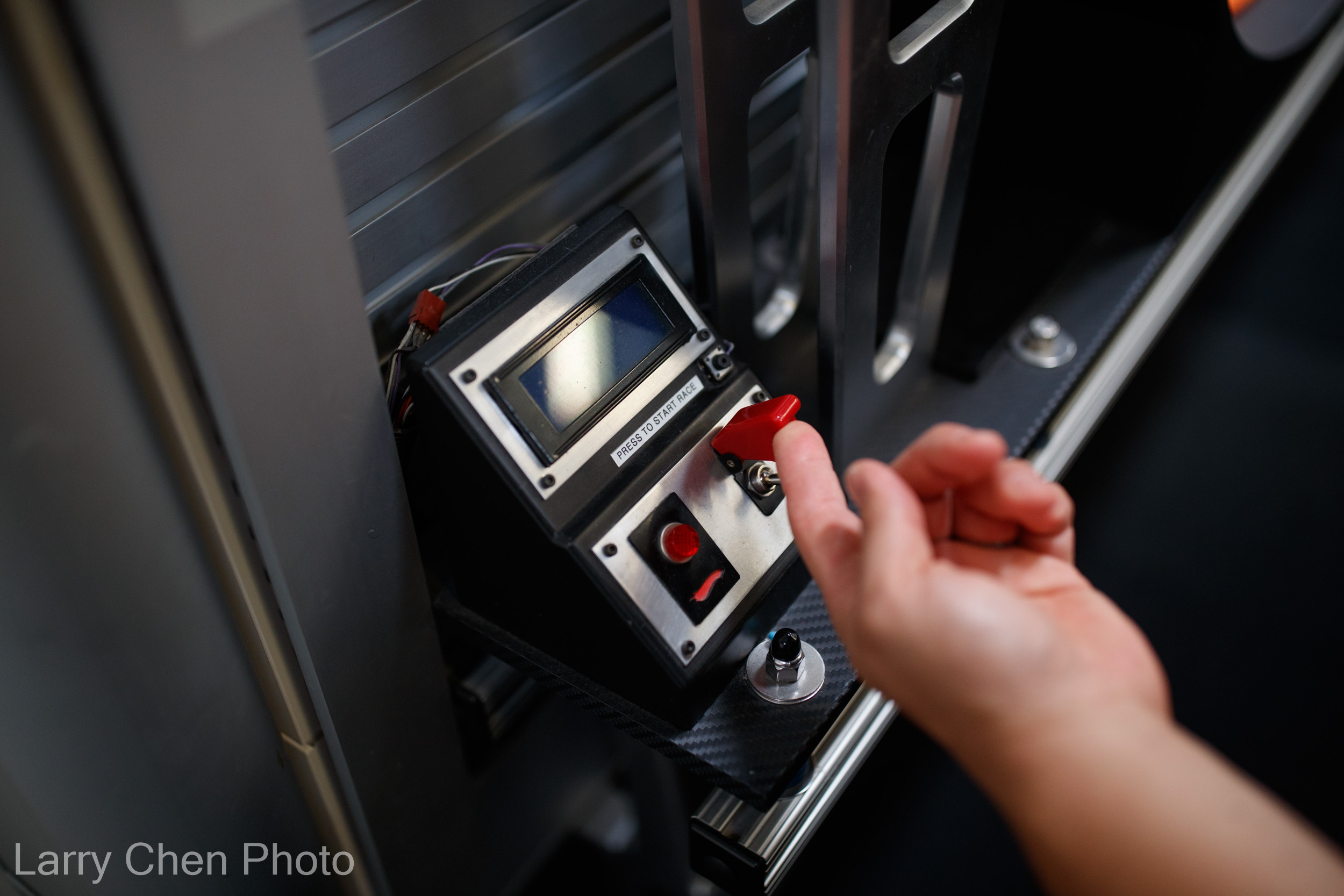 Alongside the 1:1 scale Bus was another track setup, but there is something special about this one.
It's used for actual testing, specifically to see how far individual Hot Wheels diecasts will roll. This is a standardized rolling resistance setup that exists at Hot Wheels facilities all over the world.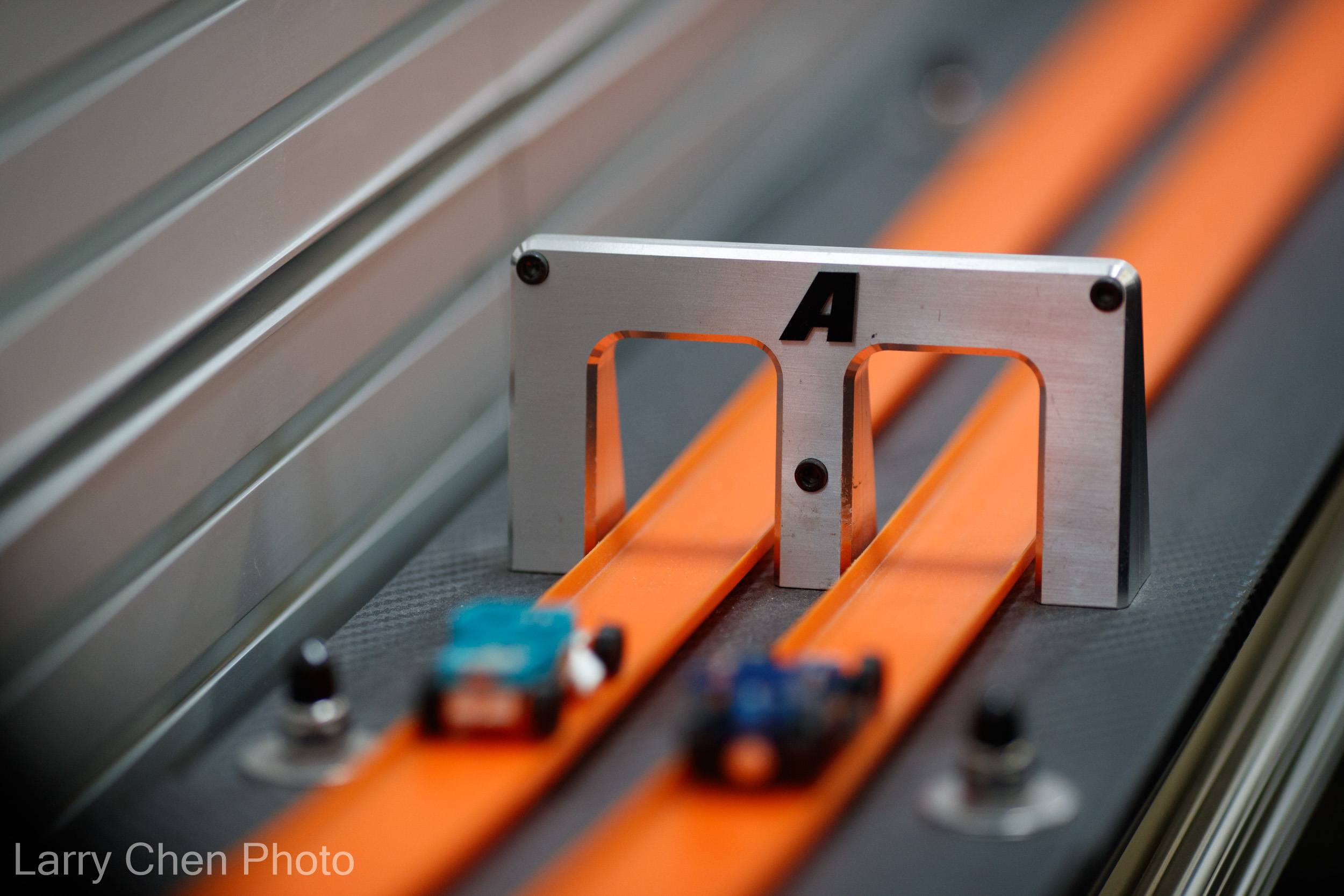 Just for fun, one of the engineers developed a model with ball bearing wheels, weights and an aerodynamic shape to see how long it would roll back and forth more than a few times. Talk about dedication.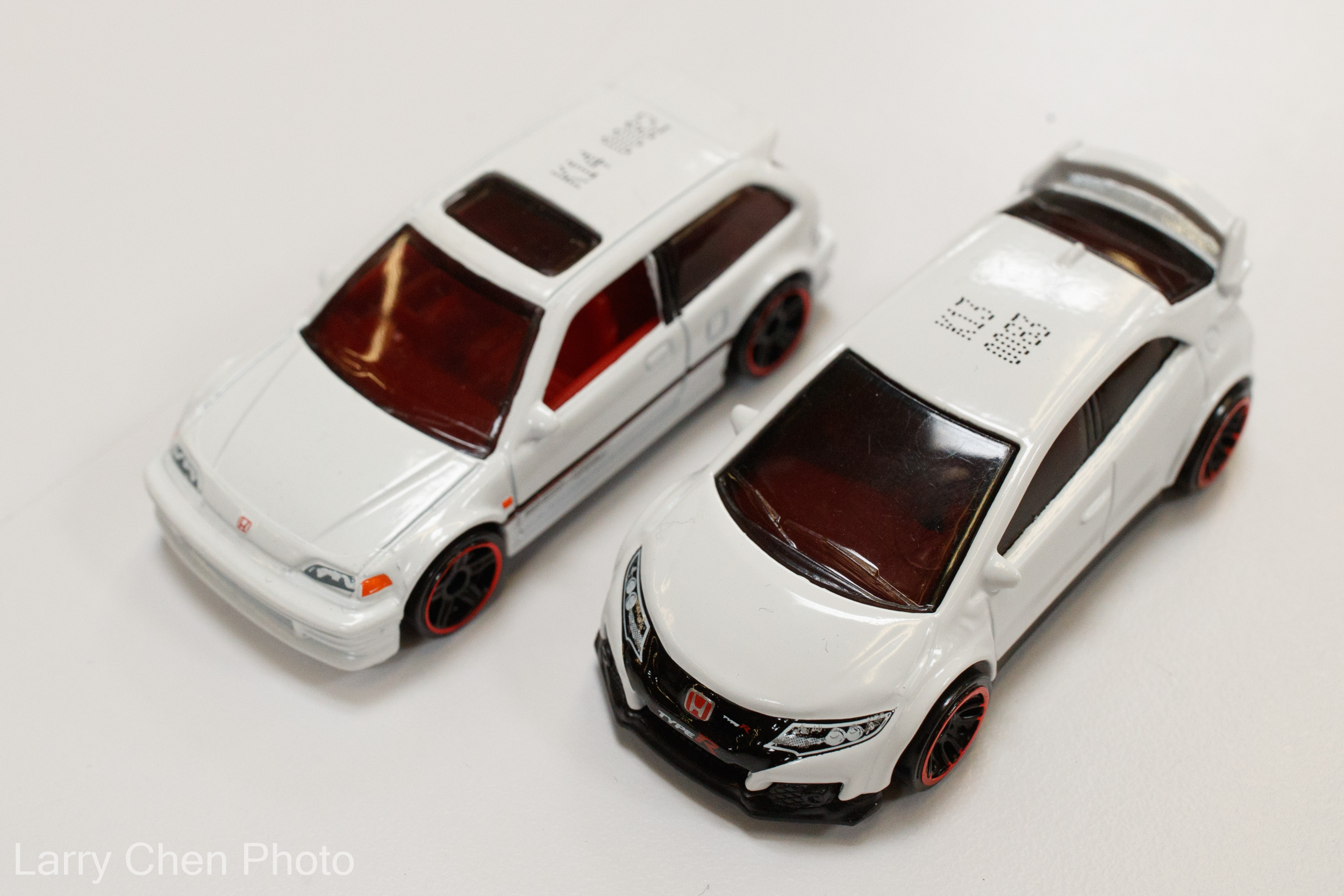 It's interesting to think about, because up until this point I had no idea that rolling performance or Hot Wheels track performance was even a thing that needed to be measured. It's pretty cool that it is, though.
While many kids can't even wait to get to the checkout before tearing a Hot Wheels package open, being an adult and a car culture enthusiast, I never do – I always leave them in their packaging. I love everything about the product, and that includes the design and graphics on the card.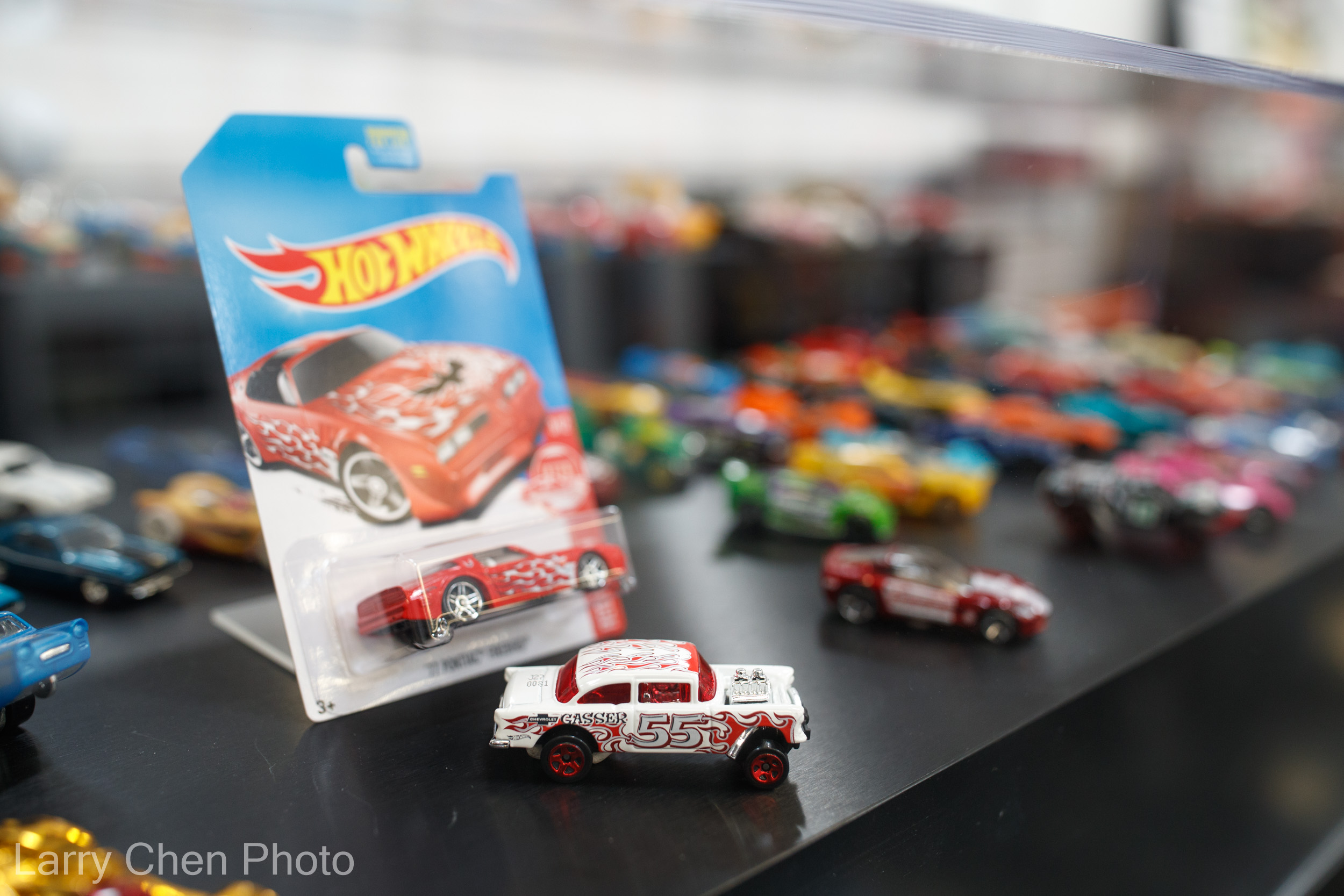 Ultimately, there is no greater value for money in the car culture world than one of these little diecast models. I can remember saving up my pennies to go to the Tokyo Auto Salon for the first time over 10 years ago, and there I bought a Nismo jacket for around $200. It was the most expensive article of clothing I owned at the time and I was even afraid to wear it.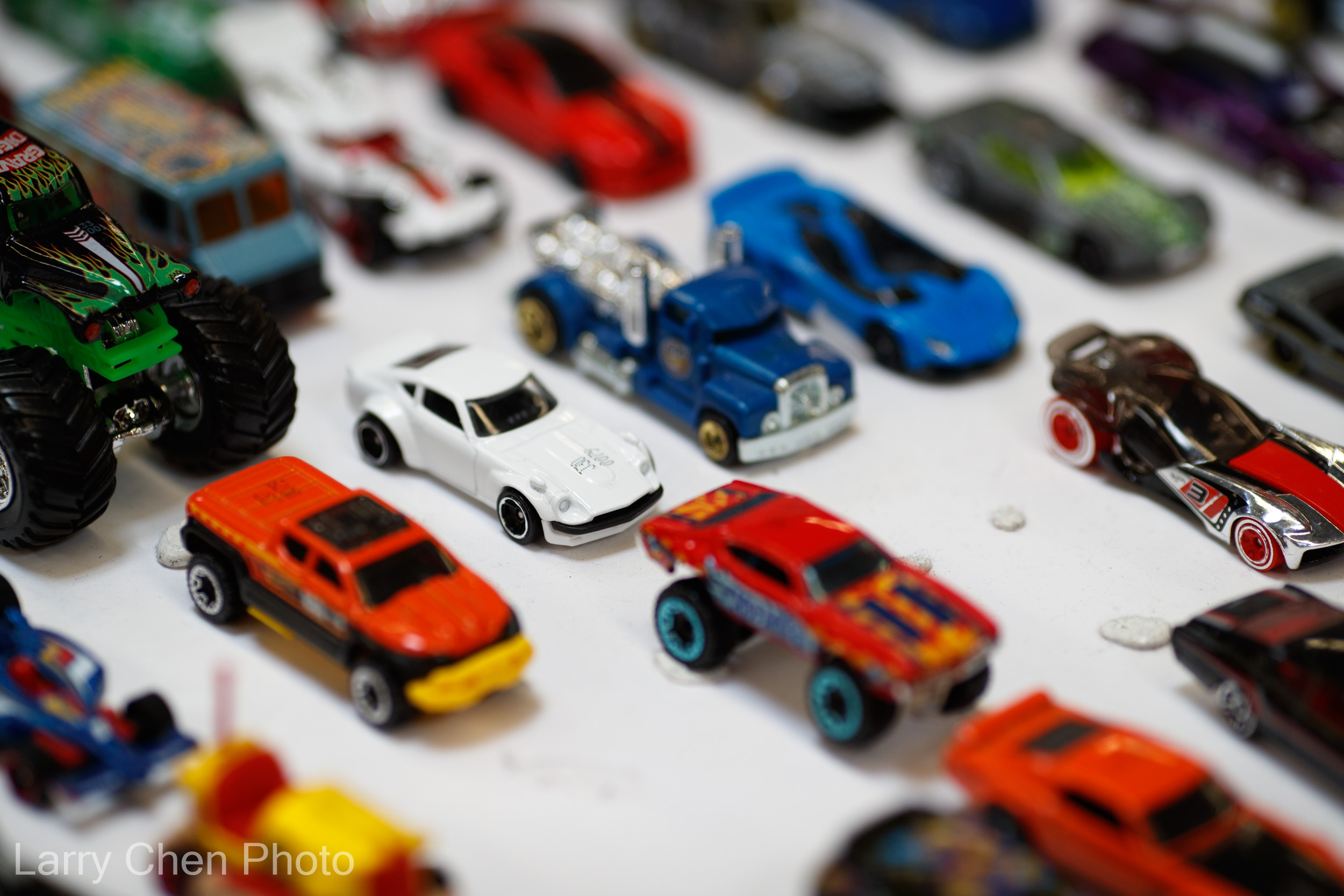 The fact that you can own a scale model of Sung Kang's FuguZ for much less than a price of a regular coffee at Starbucks blows my mind.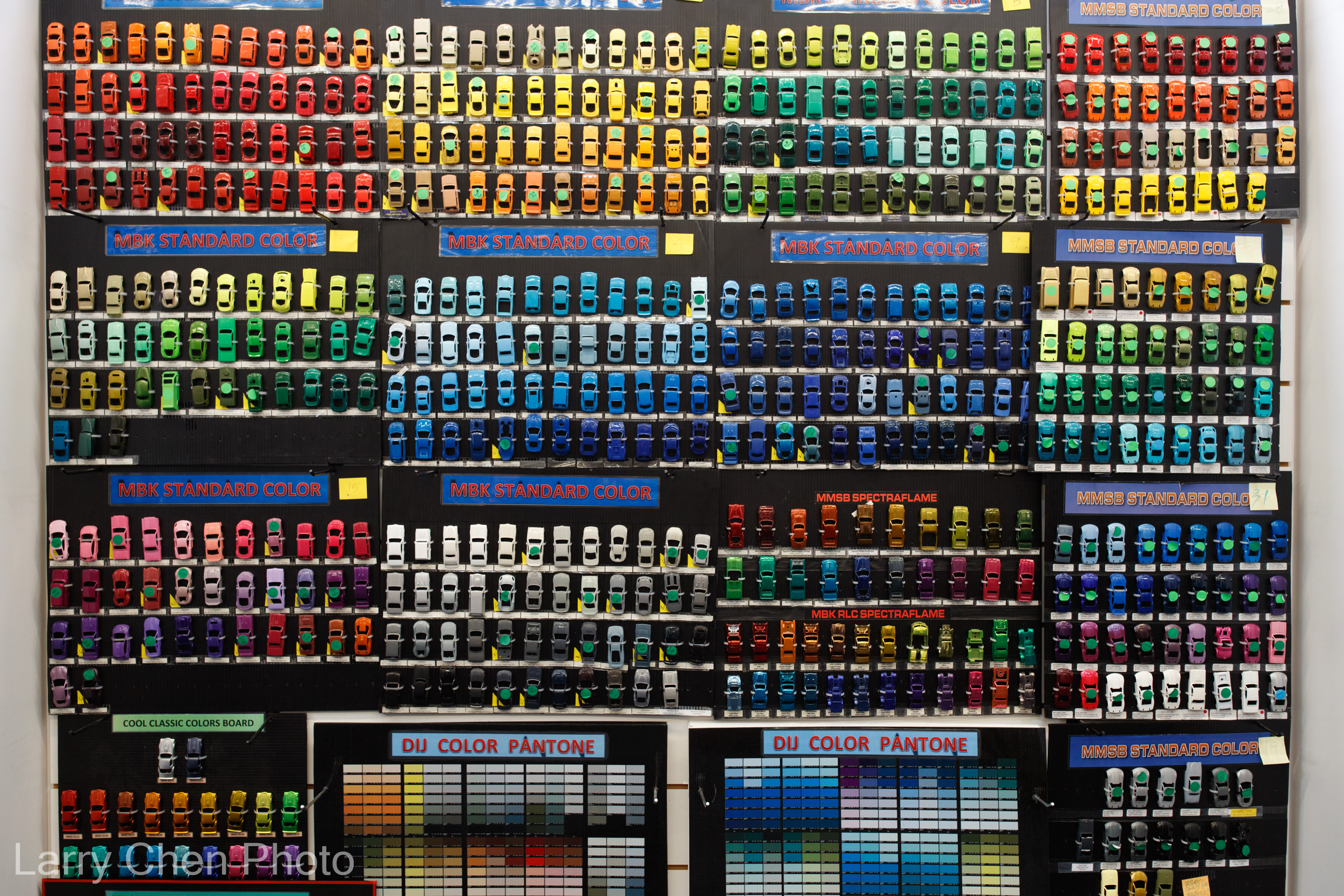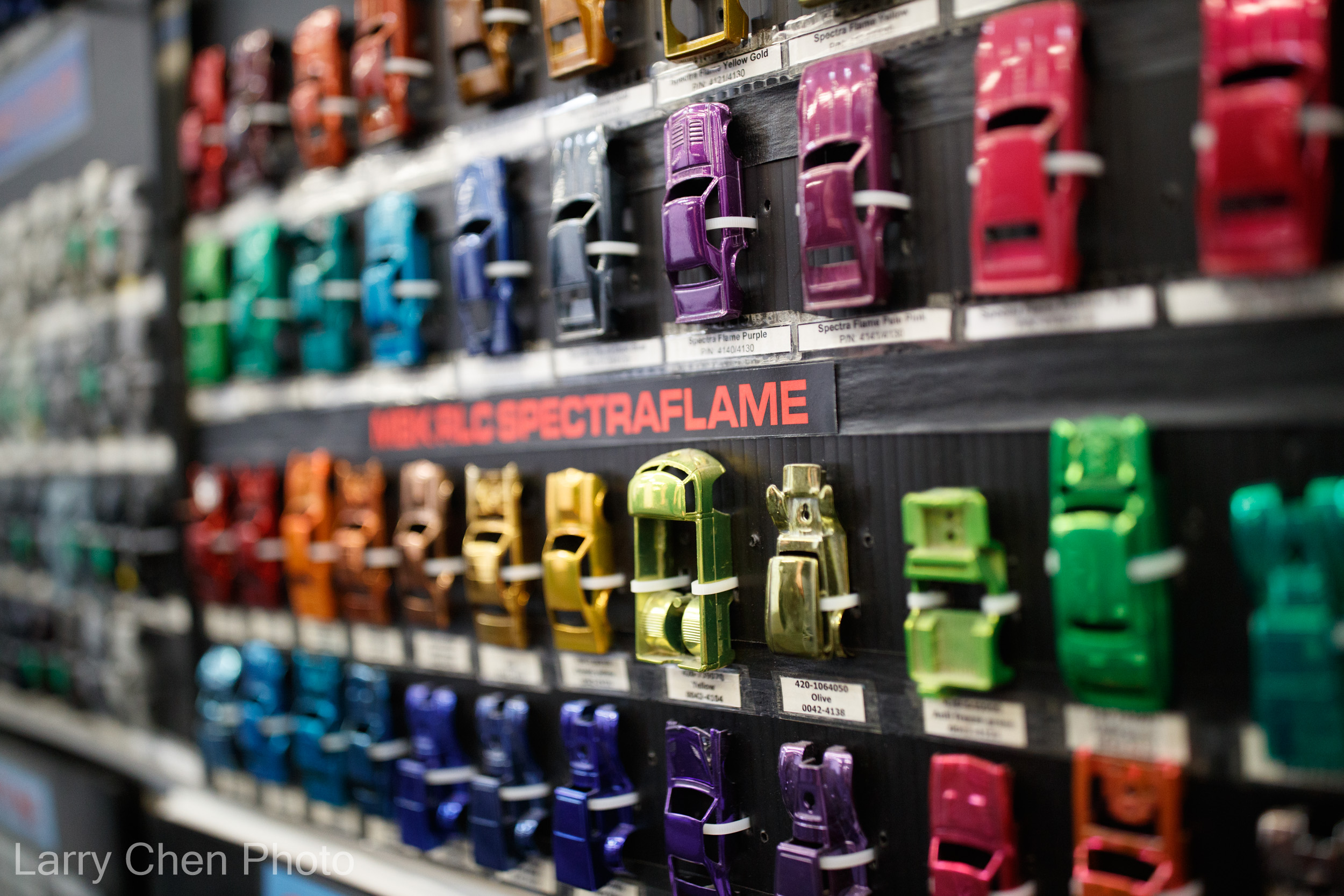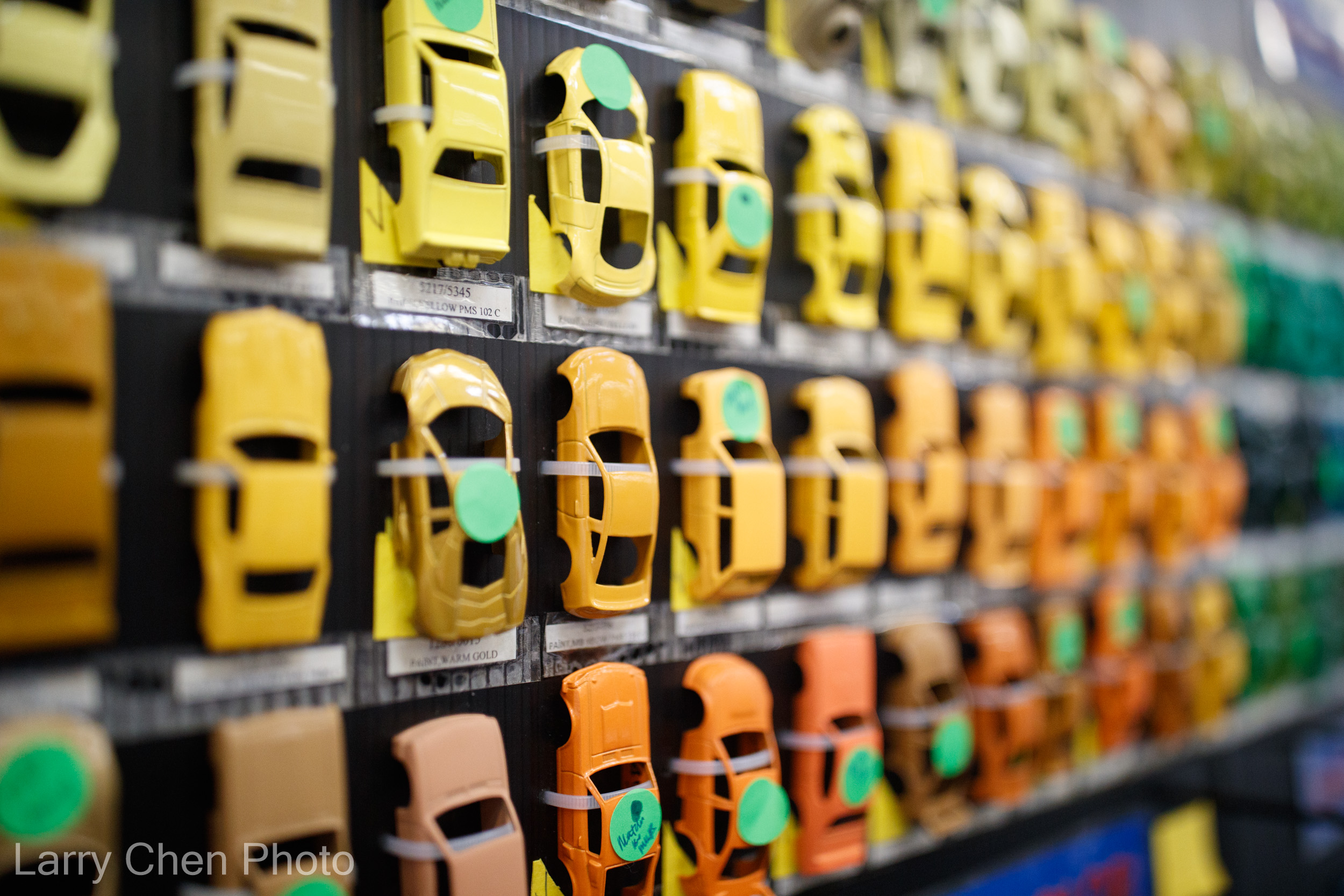 The car culture aspect does help in terms of Hot Wheels being the #1-selling toy in the world, but it's only a small fraction of why it's so popular. So much goes into every single diecast, and behind that is a very passionate team of designers.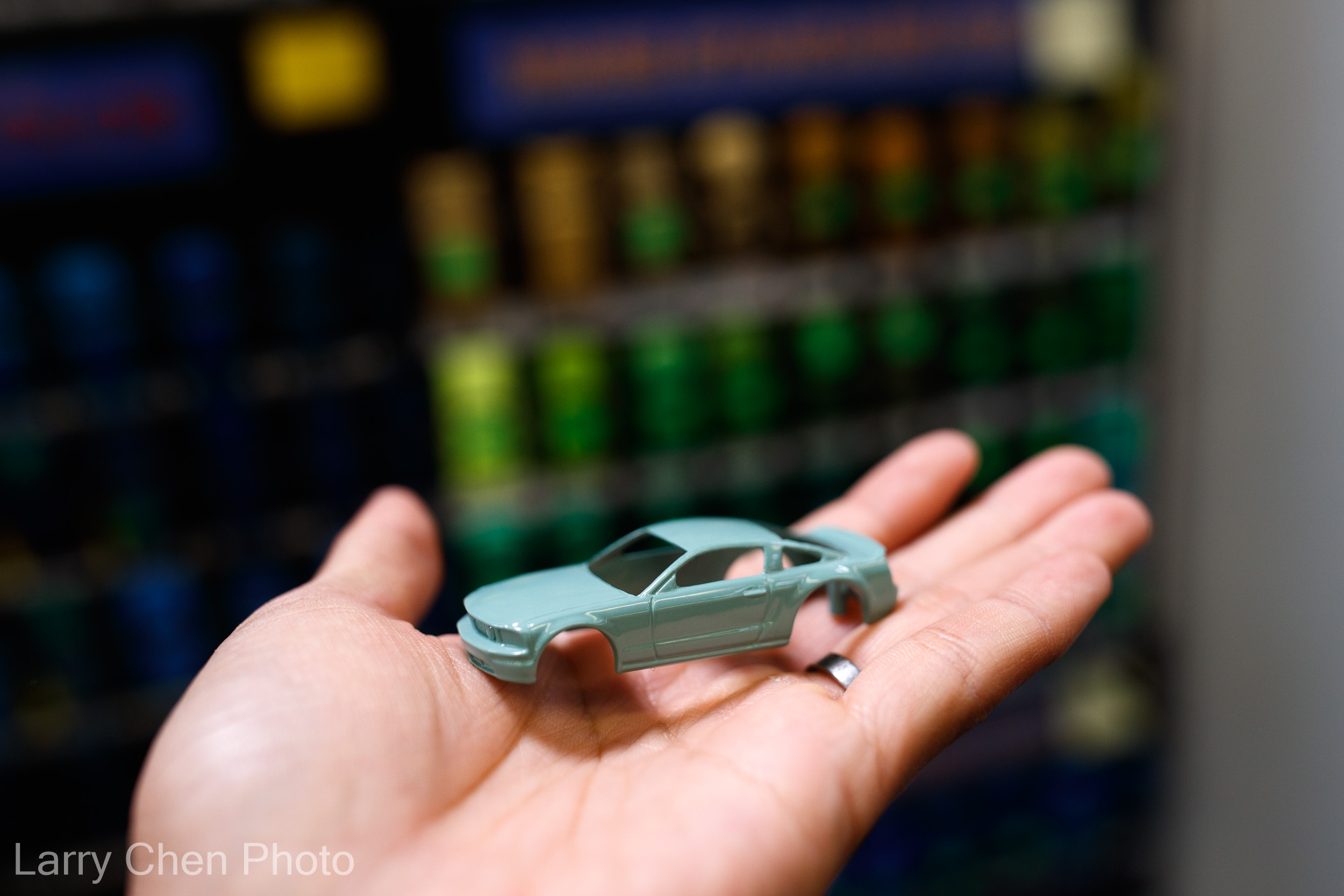 Remember Jun's Datsun 510 that I have yet to feature? Well, here's the color swatch for his inspiration. The fact that they paint all of these diecasts just to see how they look under different lighting conditions and with different body styles shows how much detail they go into.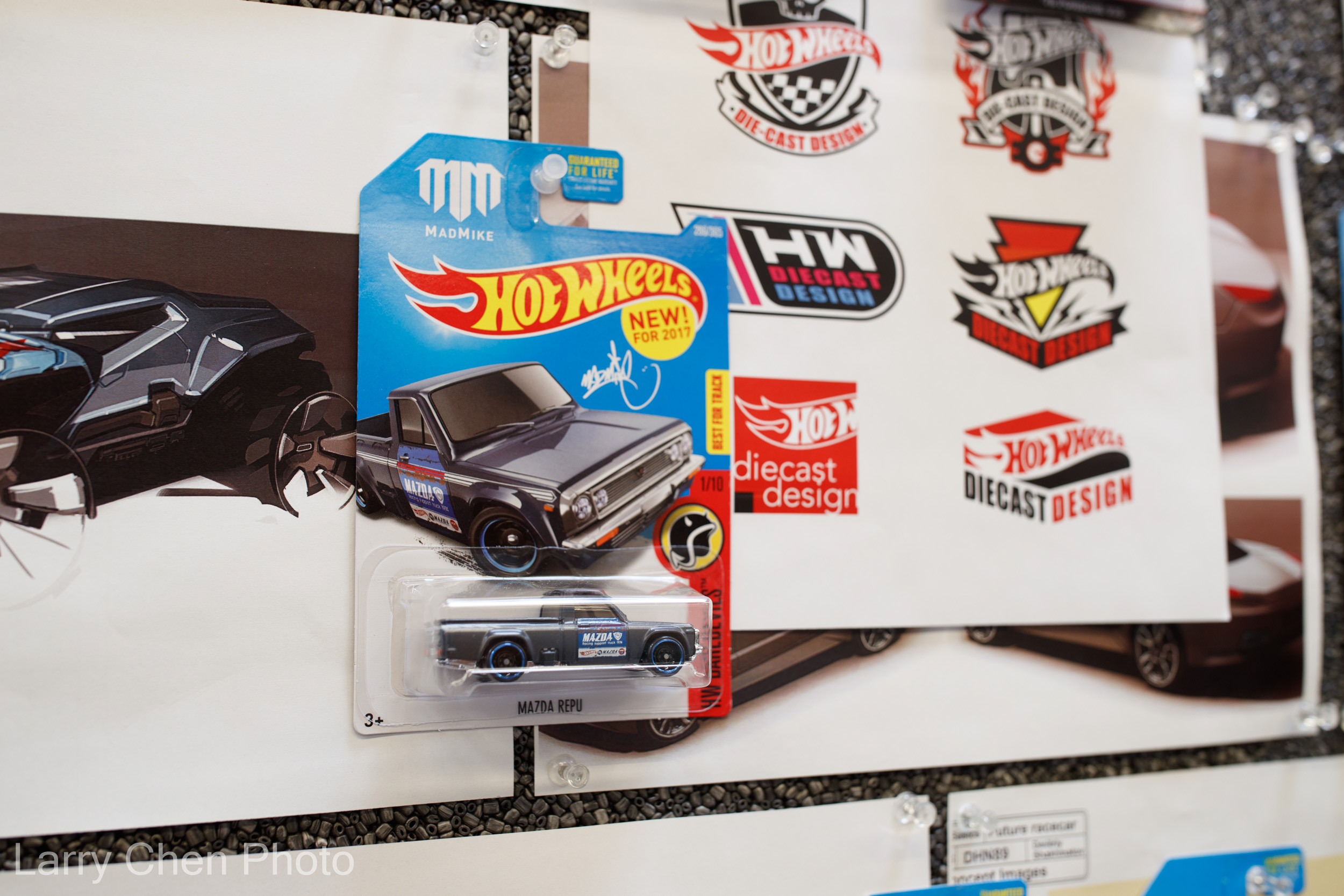 There is inspiration everywhere you look. Check out Mad Mike's Mazda REPU (Rotary Pickup) and how about the awesome display for the design of the Volkswagen Kafer Racer.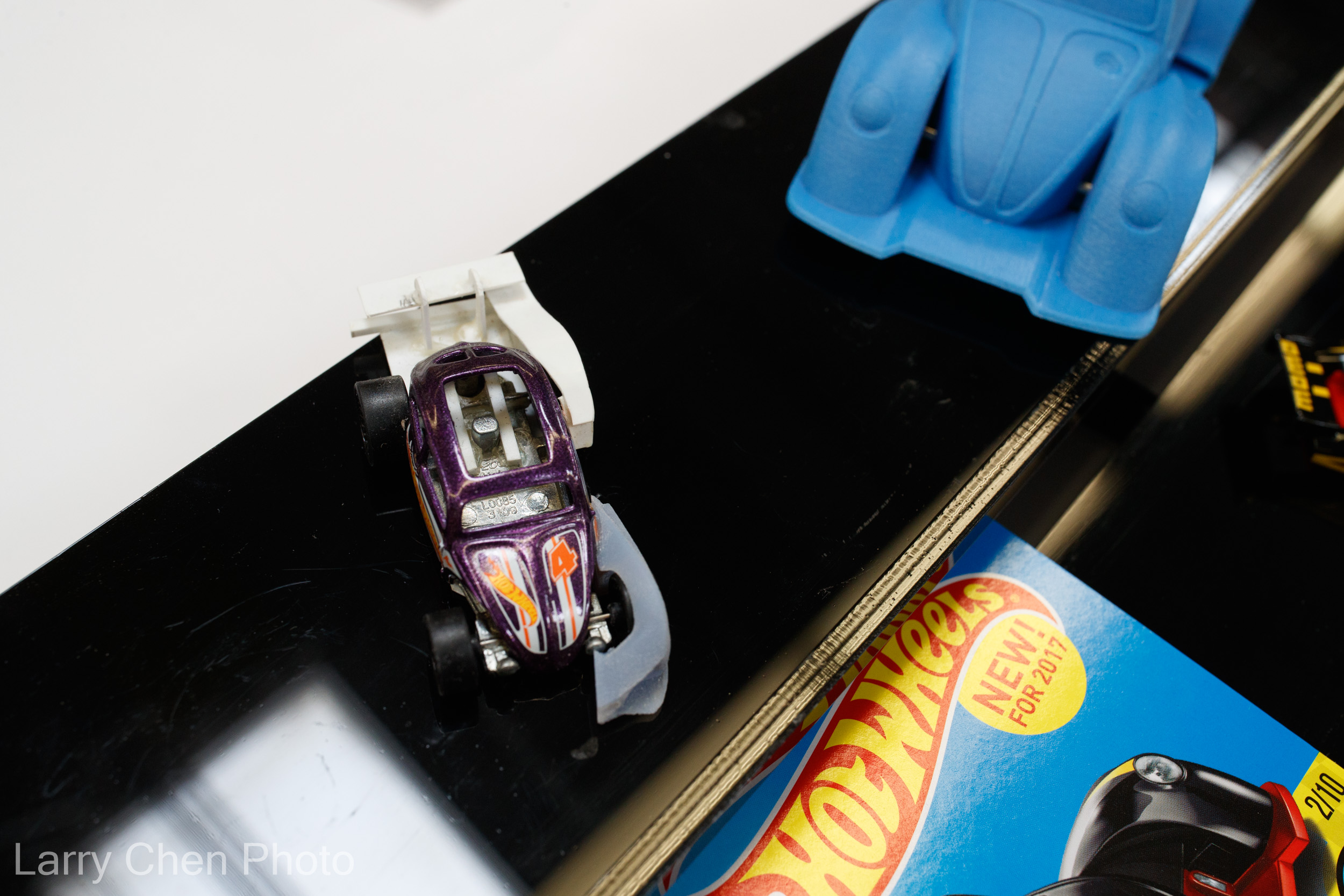 They started with cutting up other bits and pieces and bolting it onto an existing VW Bug to see how it would look, just as a real custom car shop would do to a full-size vehicle.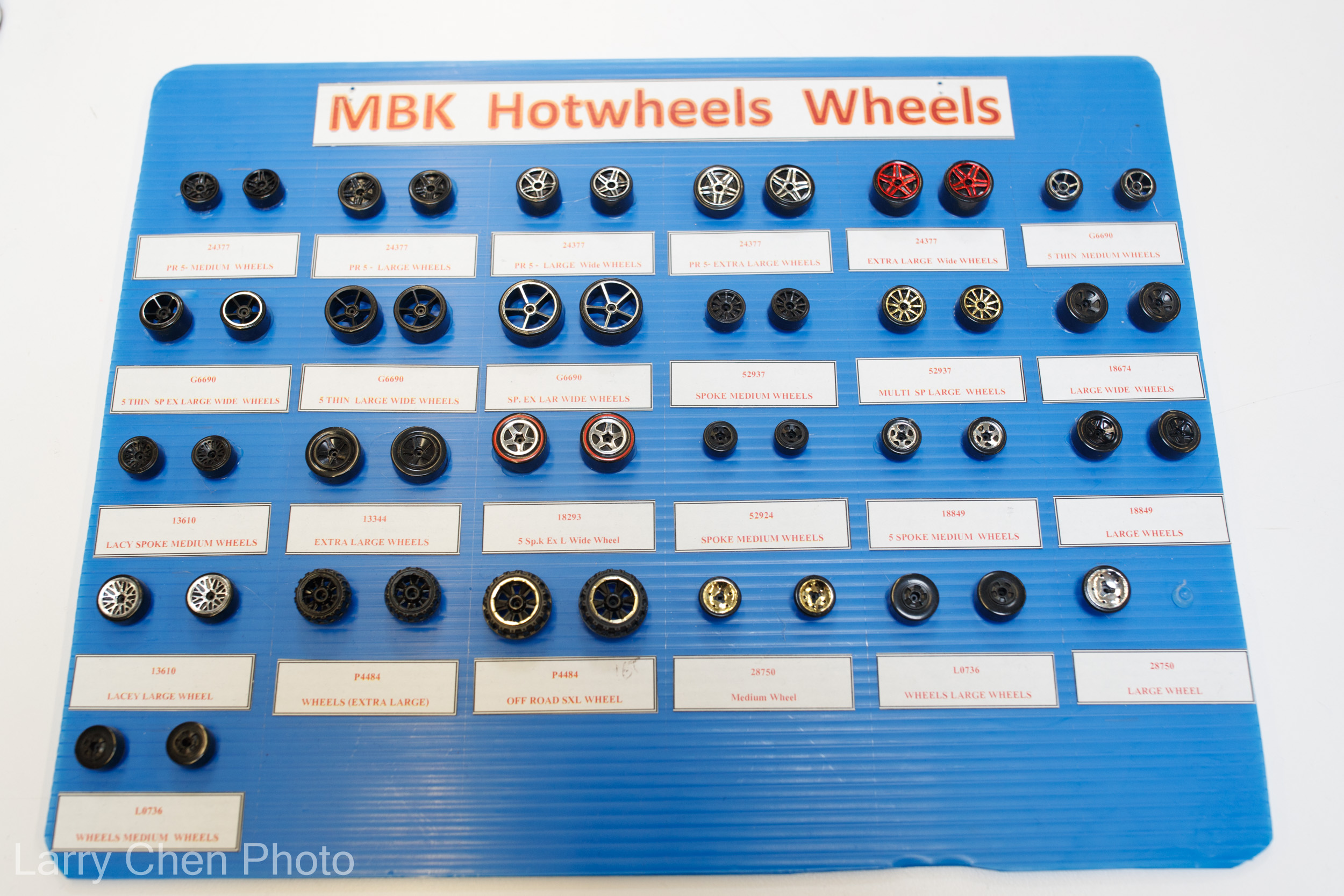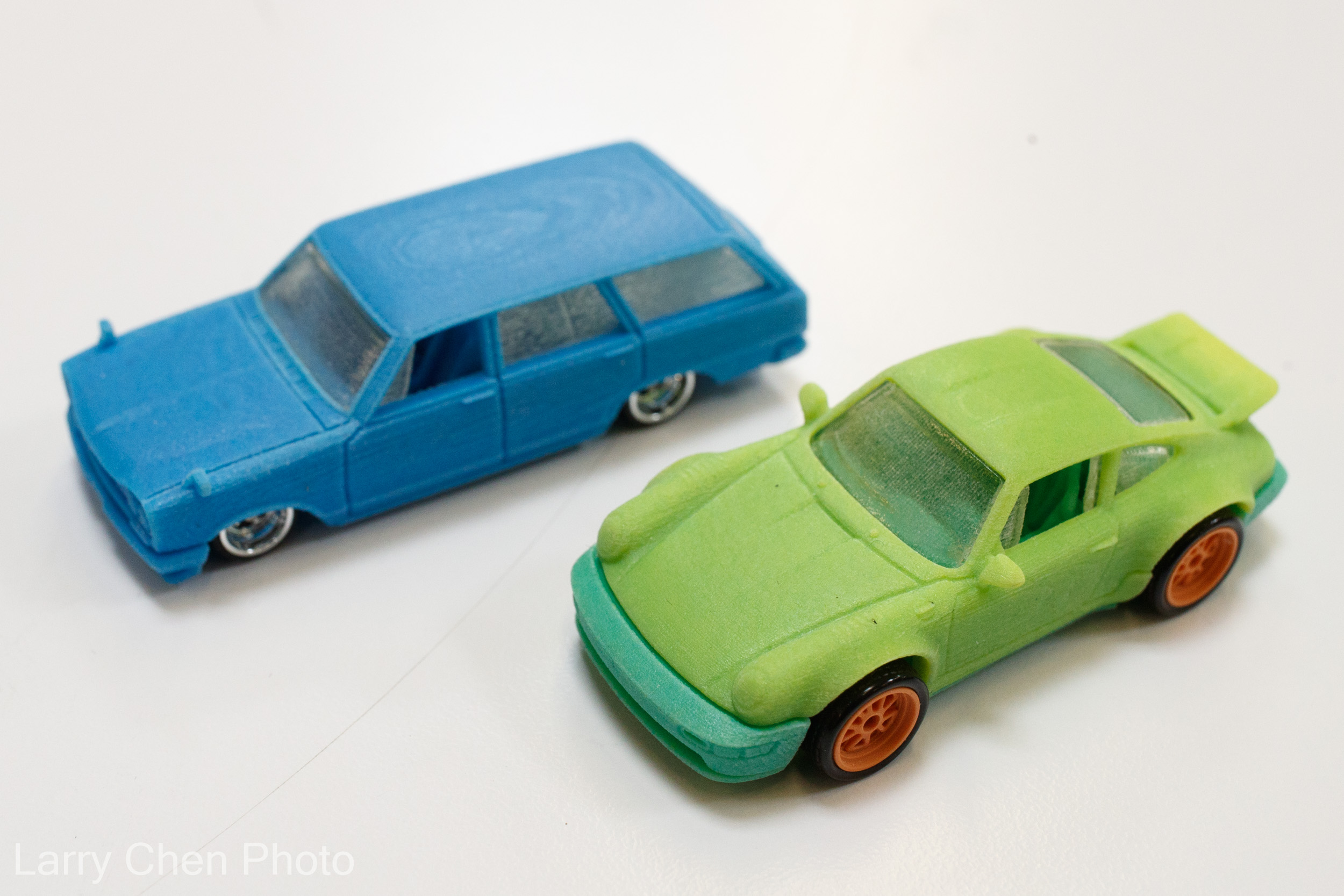 3D printing has become a big part of the process for the Hot Wheels designers and they have machines running all day long making new parts and prototypes. Do you recognize the wheels on that Porsche?
Collaborating with guys like Magnus Walker, the Hot Wheels brand gets to make authentic pieces that speak to the Speedhunter in all of us.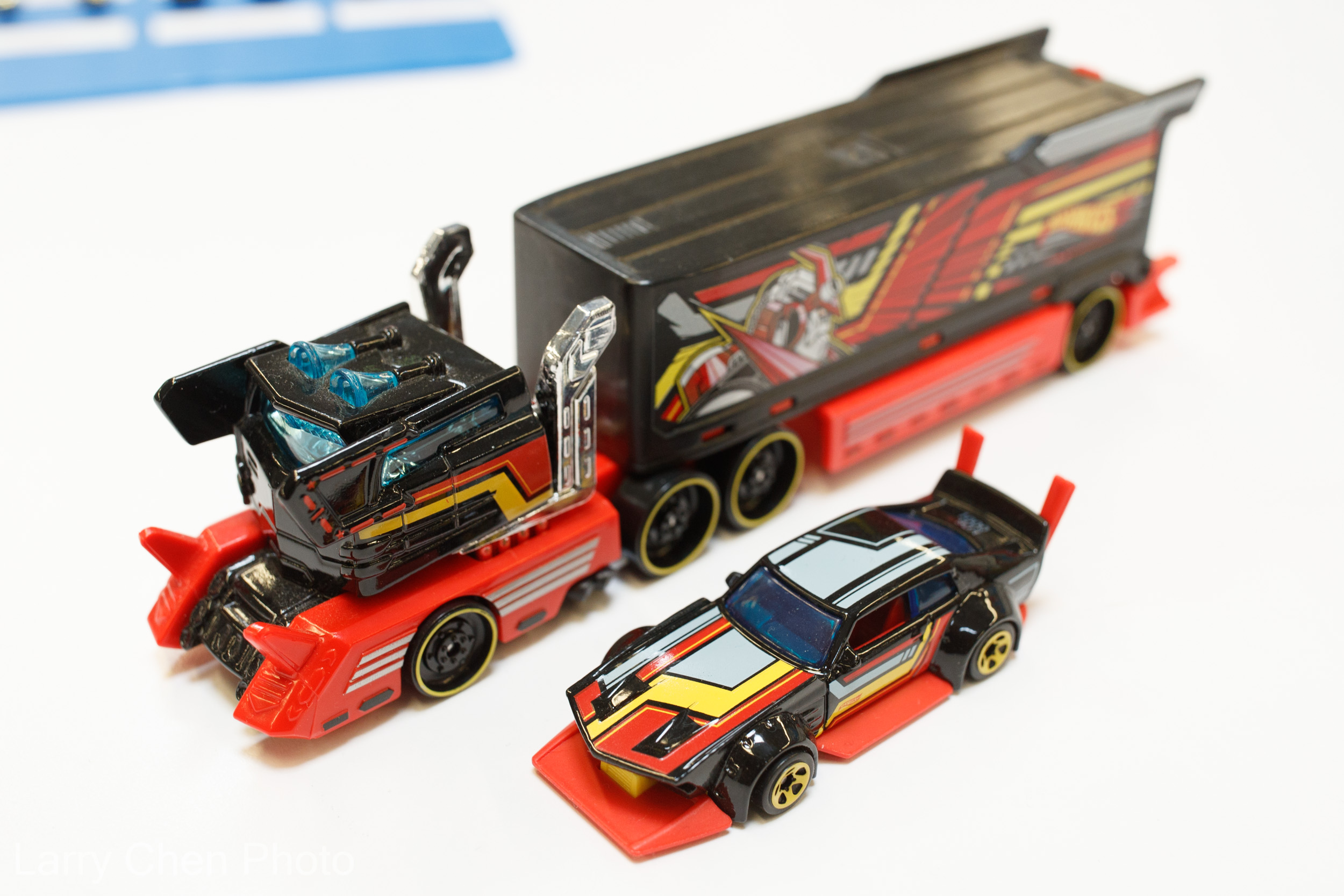 Jun could not have put it in a better way, because how crazy is it that you can walk into your local Walmart or Target (for those of us in North America), and buy a very authentic bosozoku car and dekotora truck. Most people don't even know what these are, and to the average kid they just look cool to play with, but true enthusiasts know how much went into planning these toys.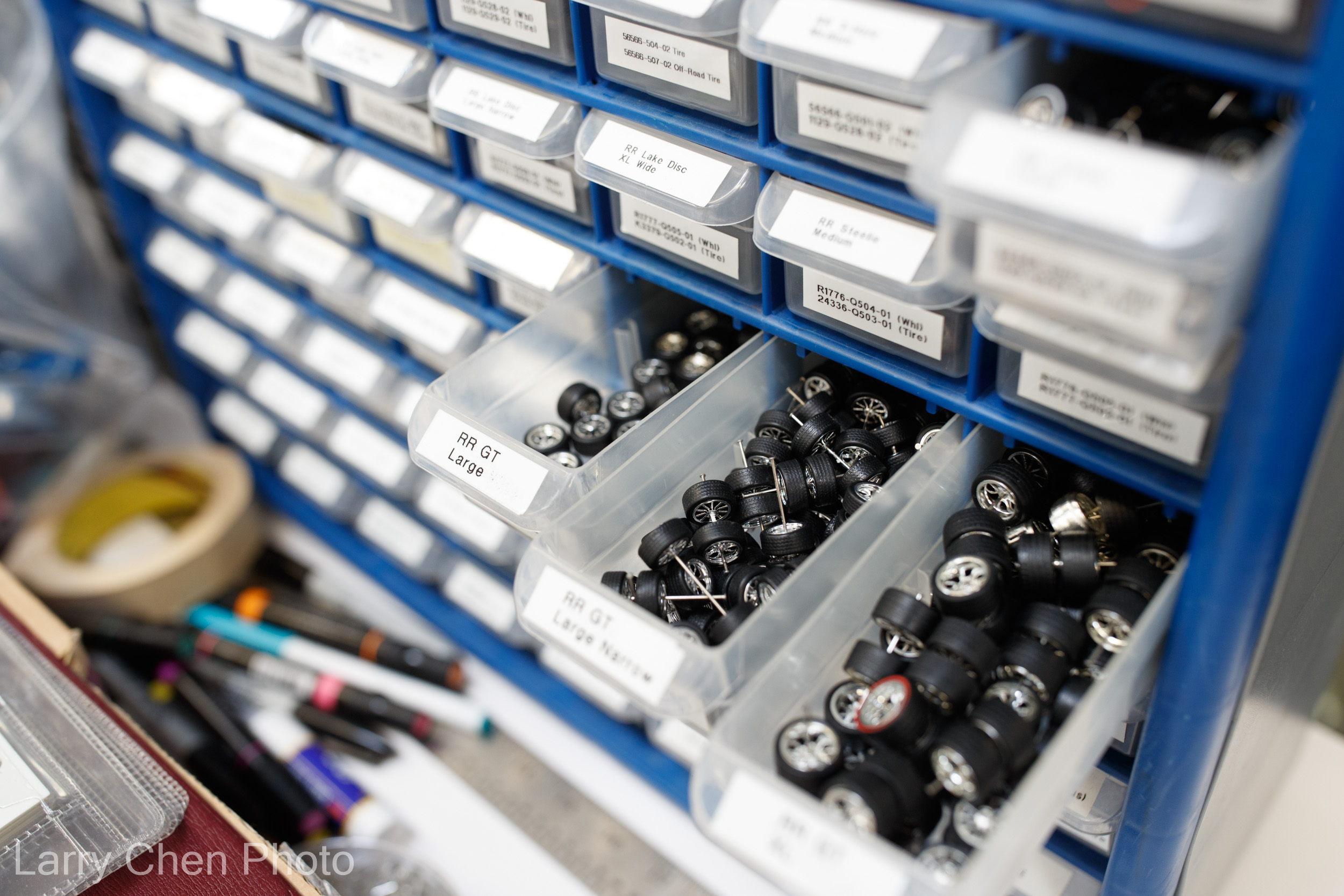 The spare parts and little bits and pieces lying around would give any real Hot Wheels fan a heart attack.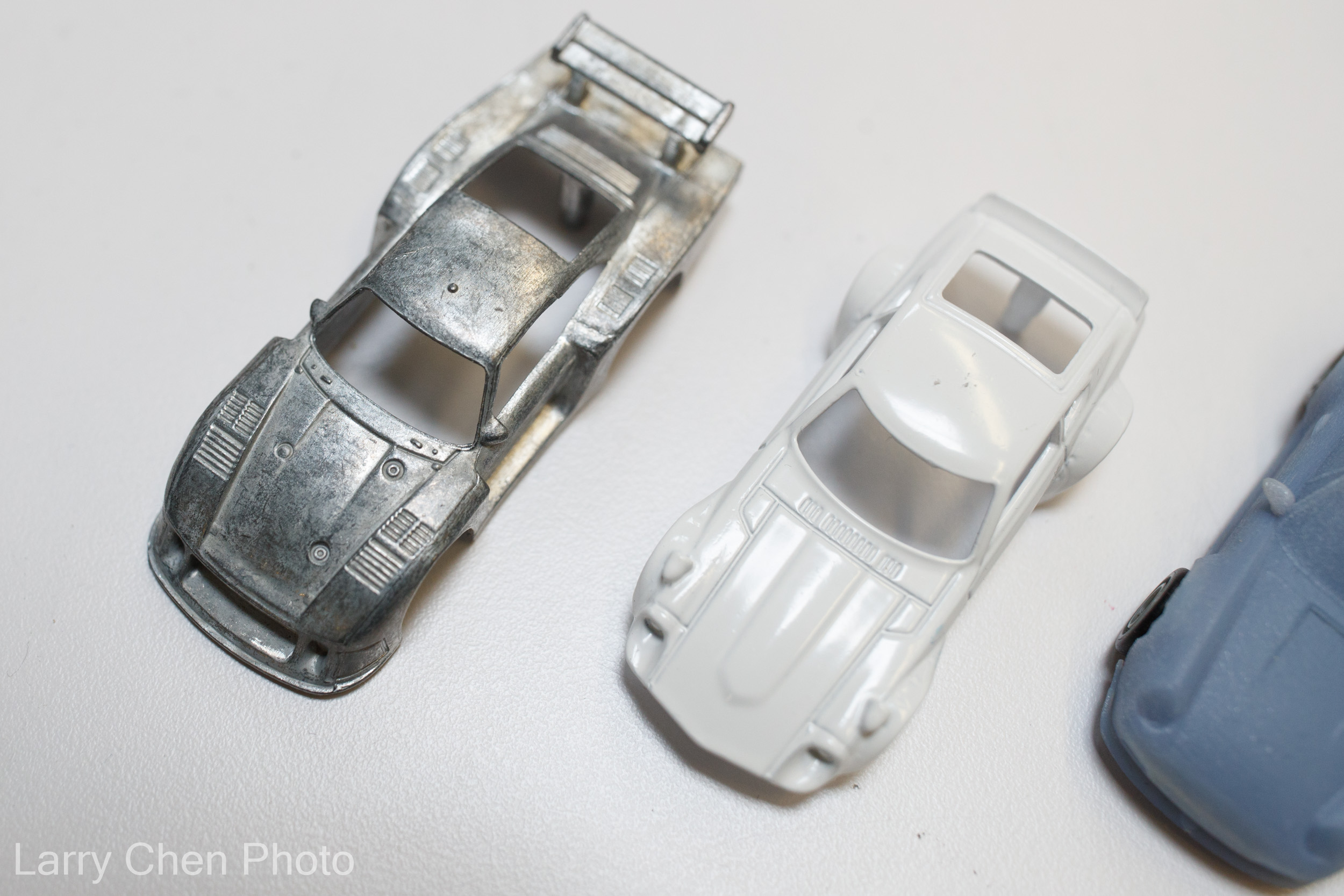 Unpainted and unmounted bodies were everywhere I looked.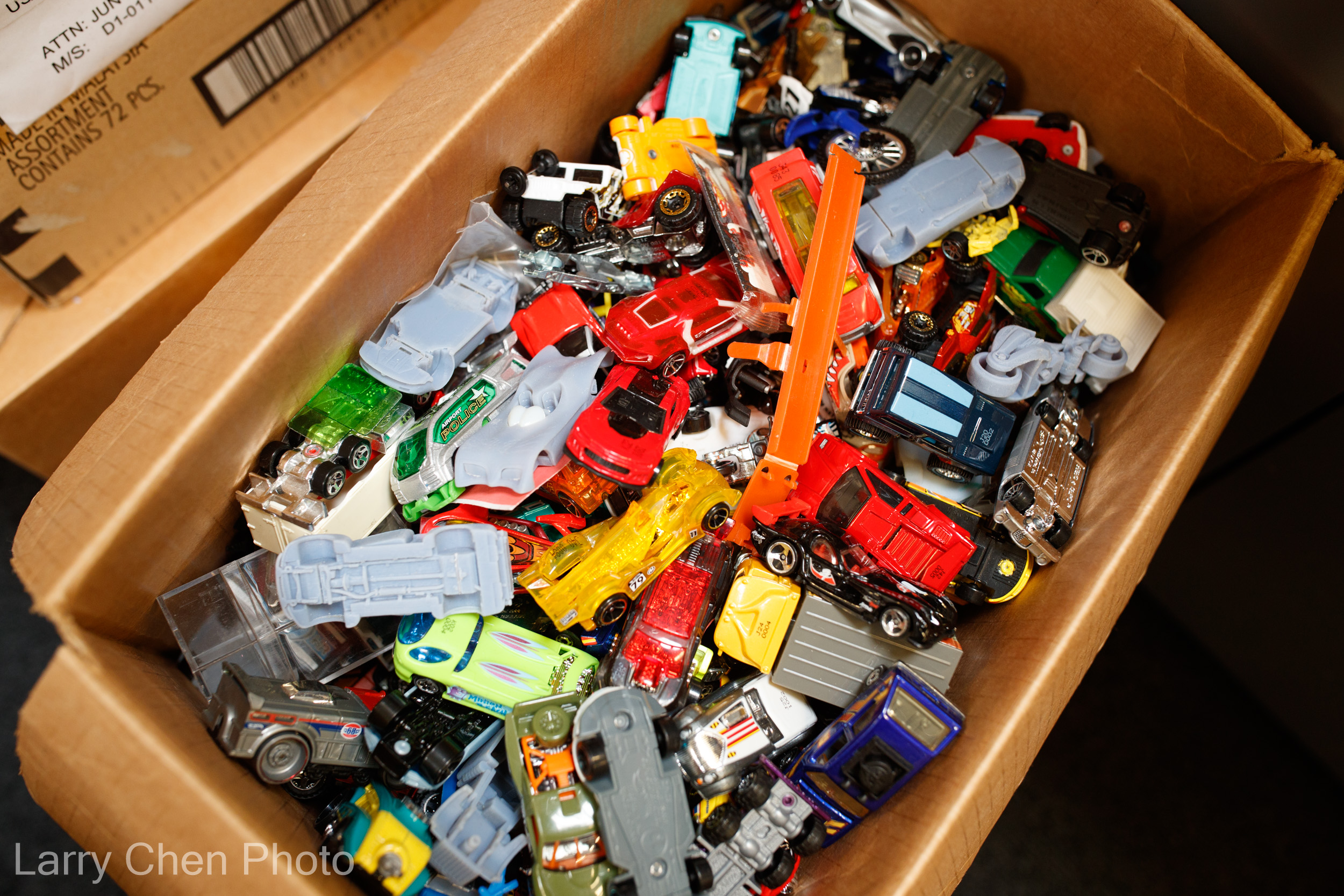 The contents of this box would probably look like a bunch of junk to any normal person, but just check out how many 3D-printed and weird variations of cars are inside.
I asked if I could have some and Jun graciously gifted me this 3D-printed 993 (which later we picked out wheels for) and an unmounted 934. He also gave me a prototype, but I can't show that one until next year.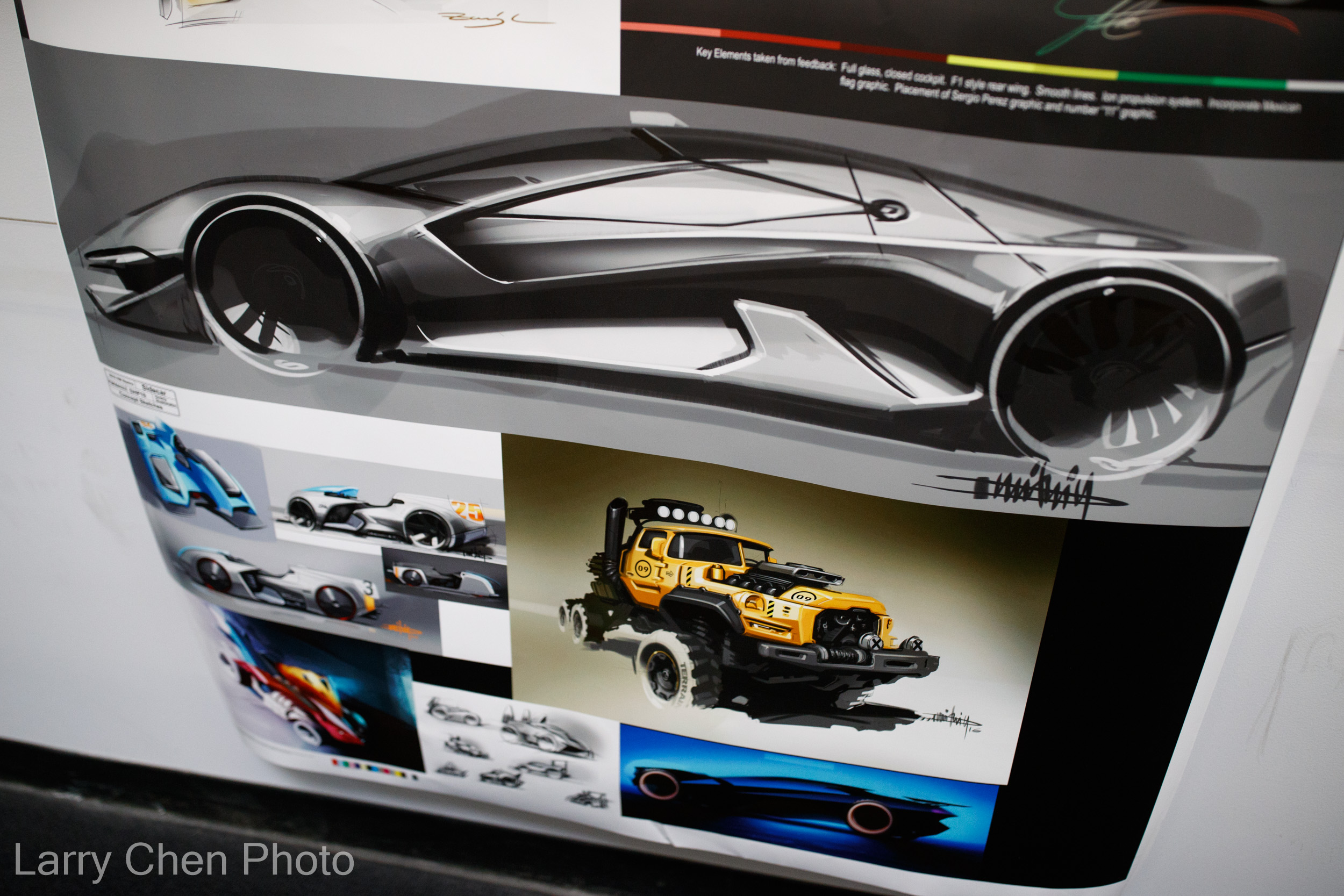 Almost all the Hot Wheels designers went to Art Center College of Design for automotive design. While there are many cars in the Hot Wheels diecast line-up that are scale copies of real-world vehicles, the team design just as many original cars.
Pretty much every vehicle is created like it could actually exist in full-size form, which is why Jun has real car designers on his team.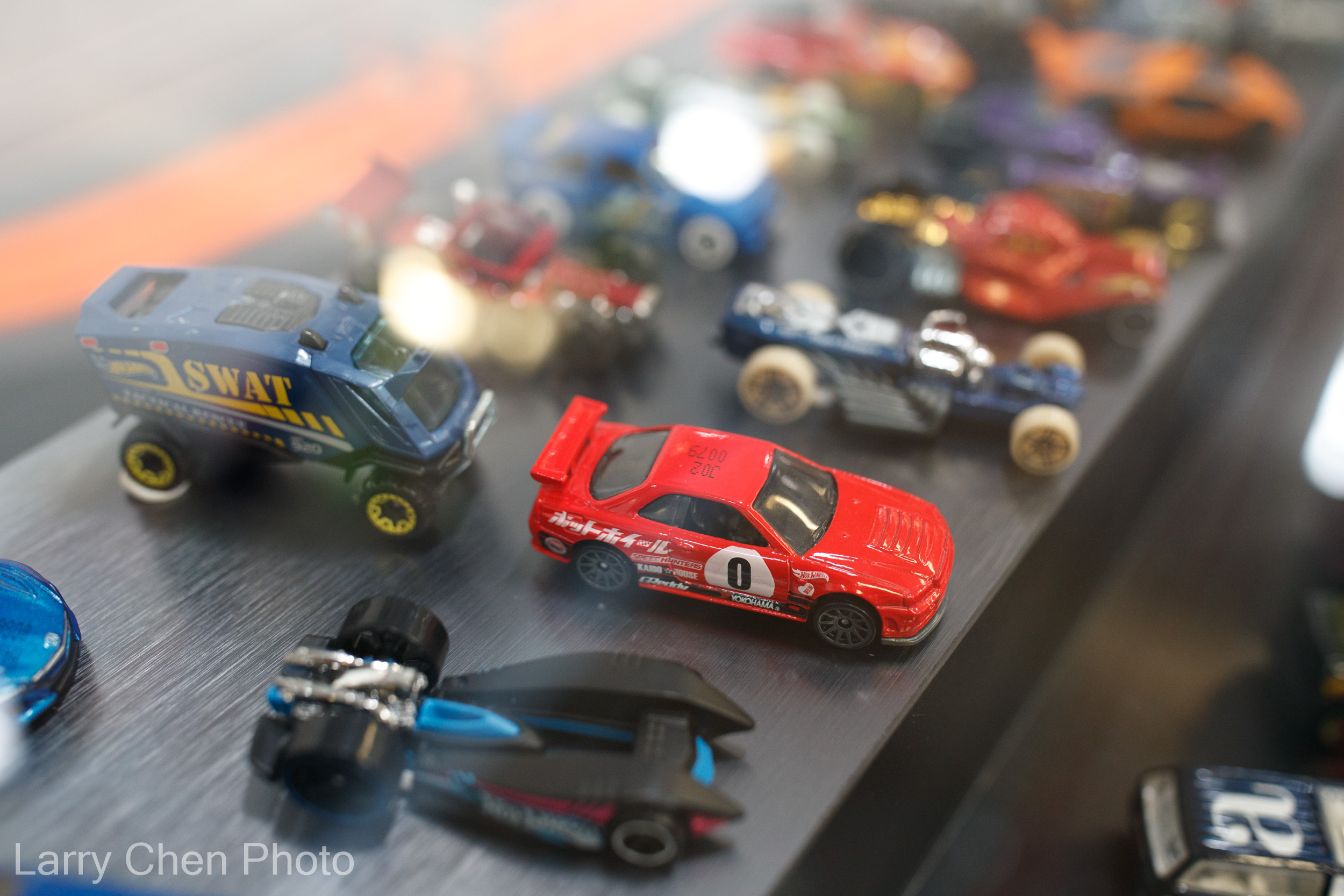 It also explains why all of the designers are car fanatics themselves. Quite a few of the team's personal cars have been modeled into Hot Wheels diecasts too.
Chapter Three: 3D Modeling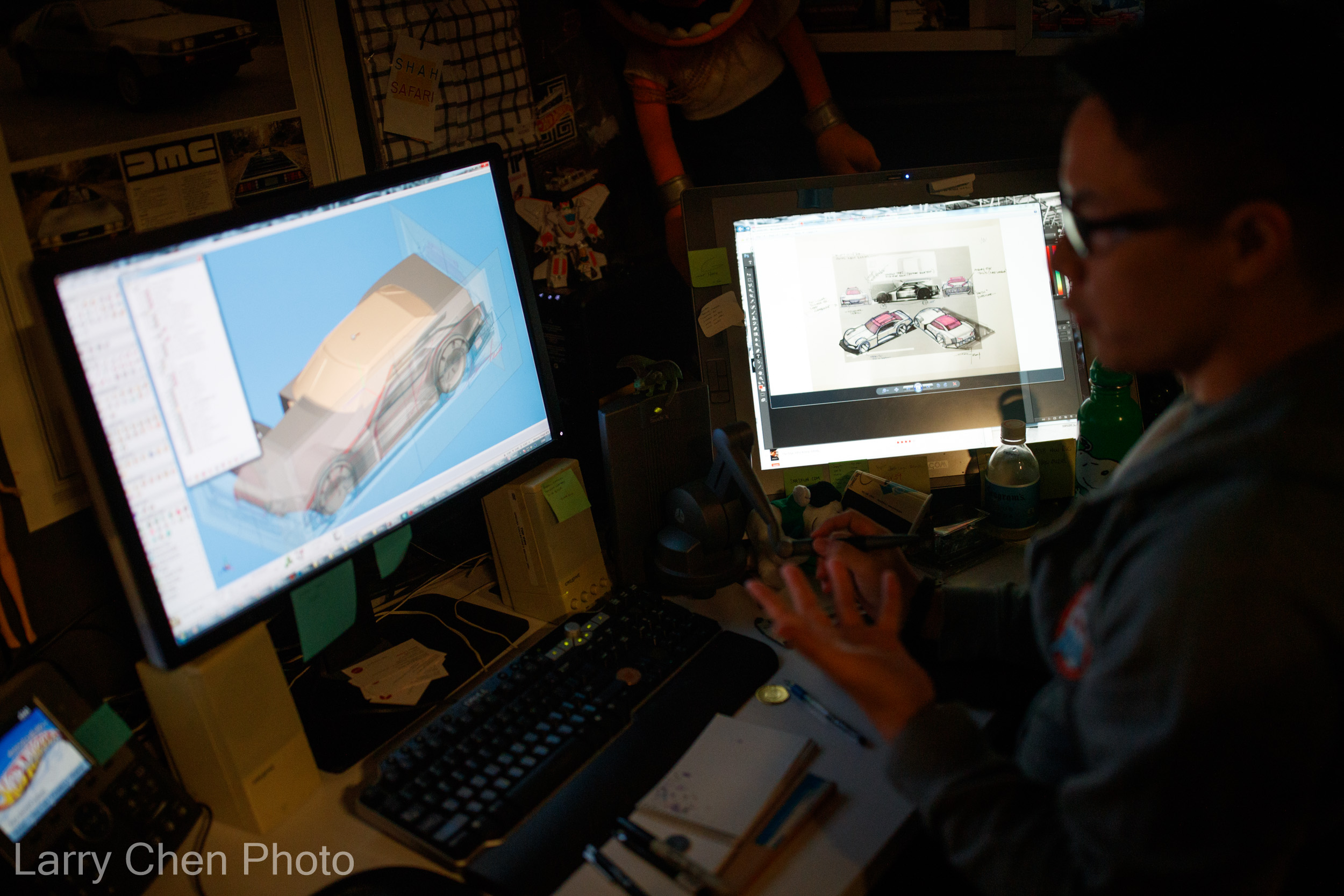 The next area Jun took me to was where a lot of the magic happens. It's also where things are 3D printed. While Hot Wheels diecasts used to be modeled with clay, the designers now use computers that mimic the original process.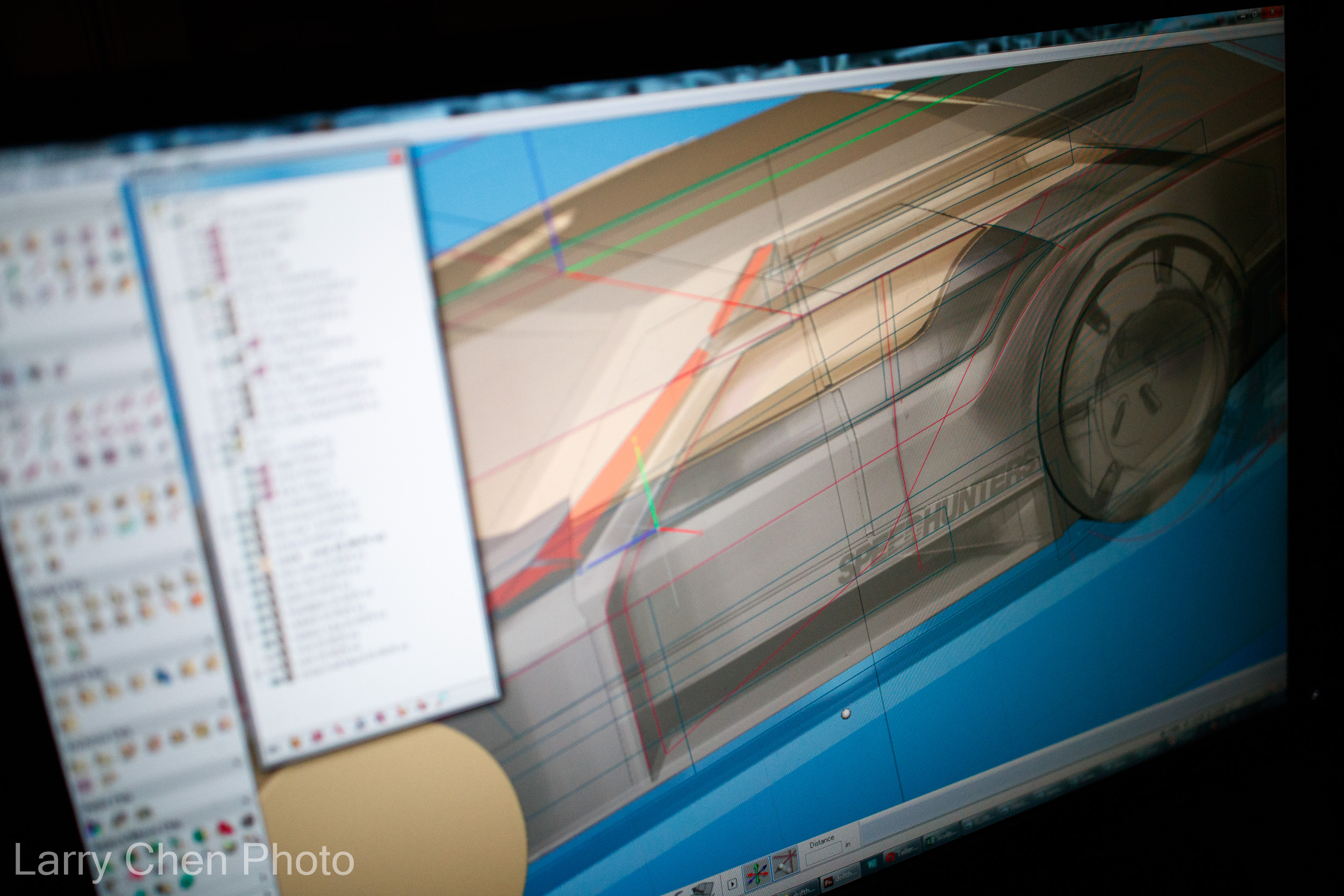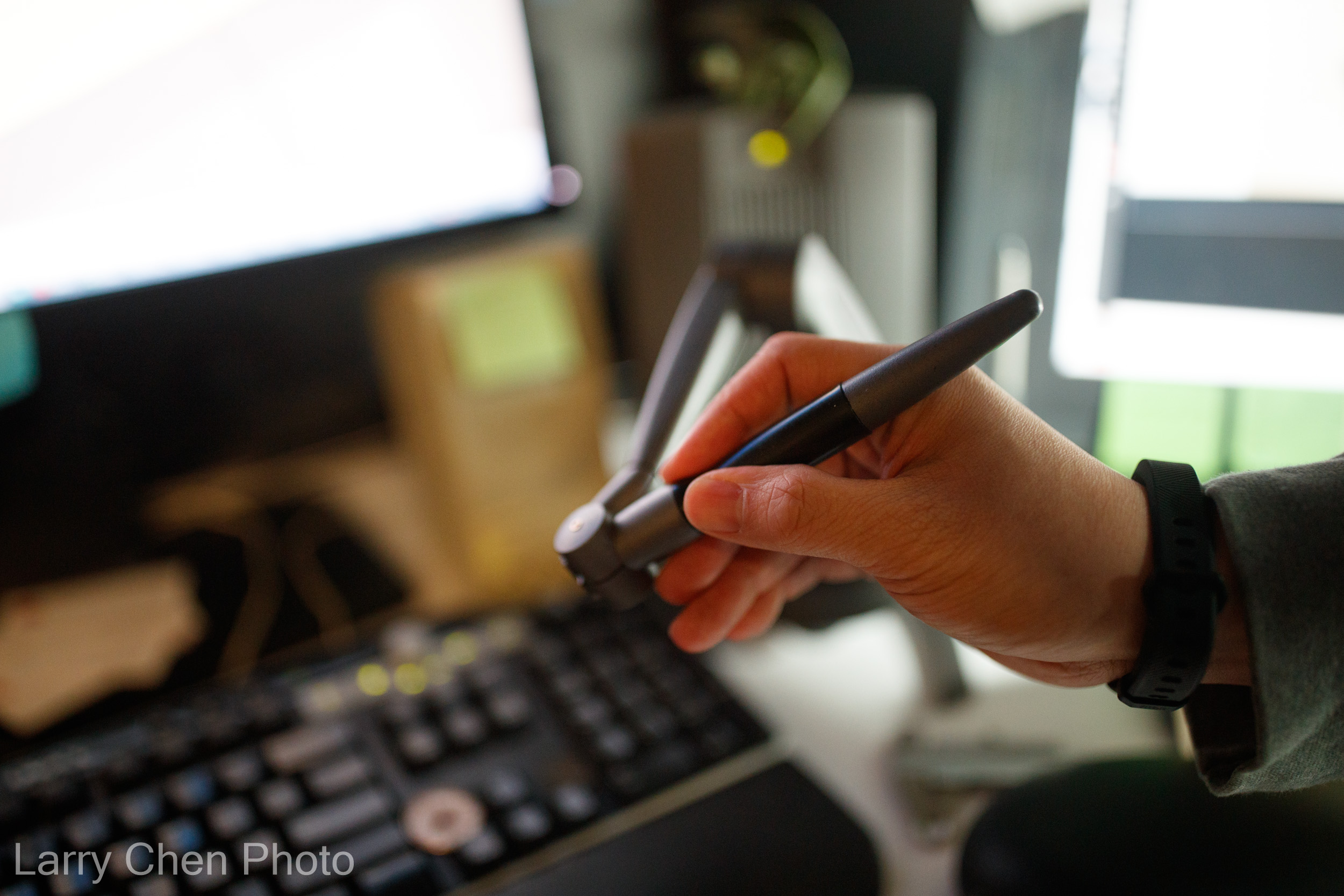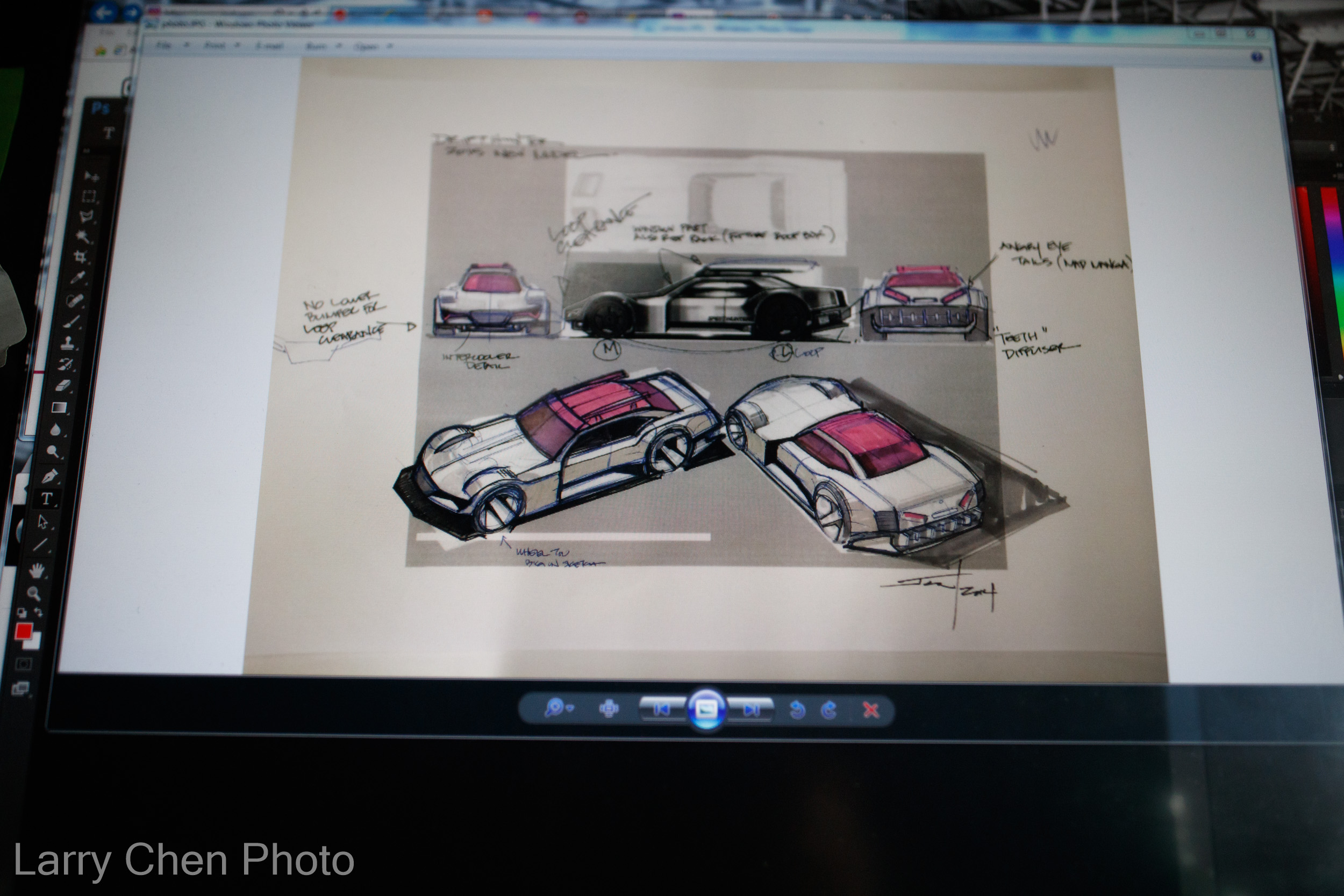 One of the designers let me try out the program, and it was amazing. With the pen, you can physically feel the texture and the shape of the model; you can punch holes through the clay and shape it how you want just like you would in real life, but with none of the mess.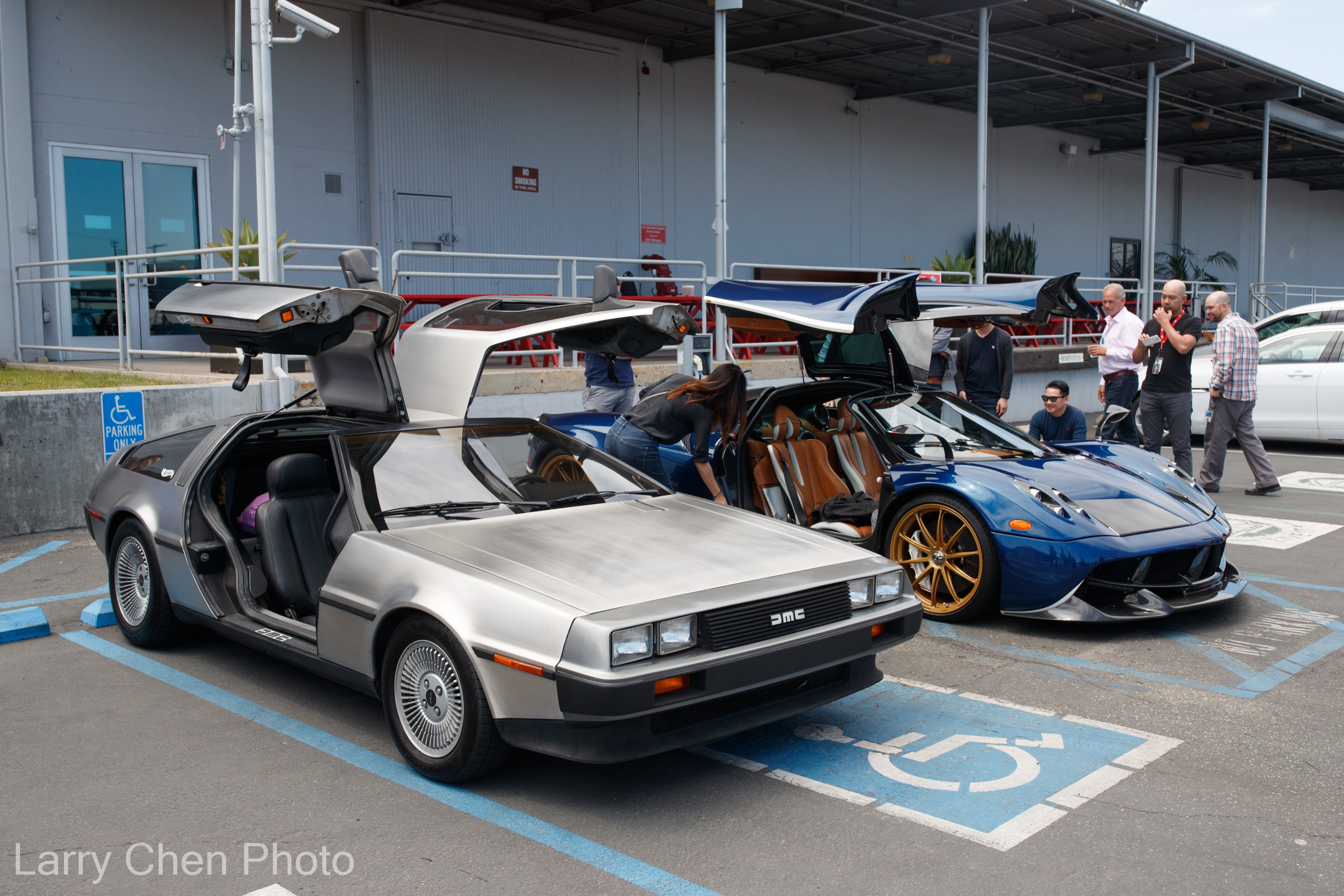 I stepped outside to check out a few more of their full-scale cars on site and came across two gull-wing machines from totally different eras.
Pagani had actually stopped by for a visit, and one of the Hot Wheels designers who owns the DeLorean figured it would make a great photo-op. There's never a dull moment at the Hot Wheels Design Center.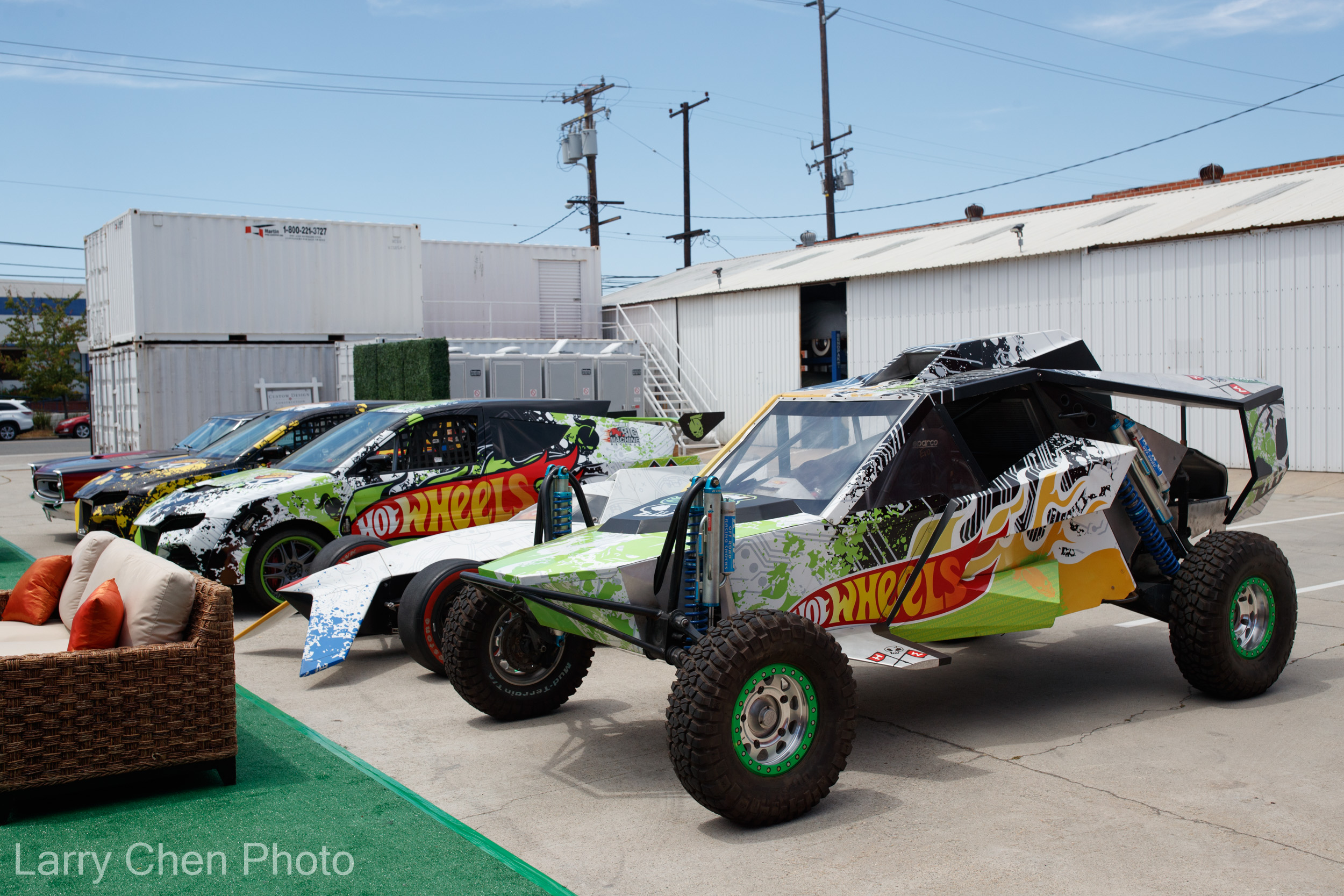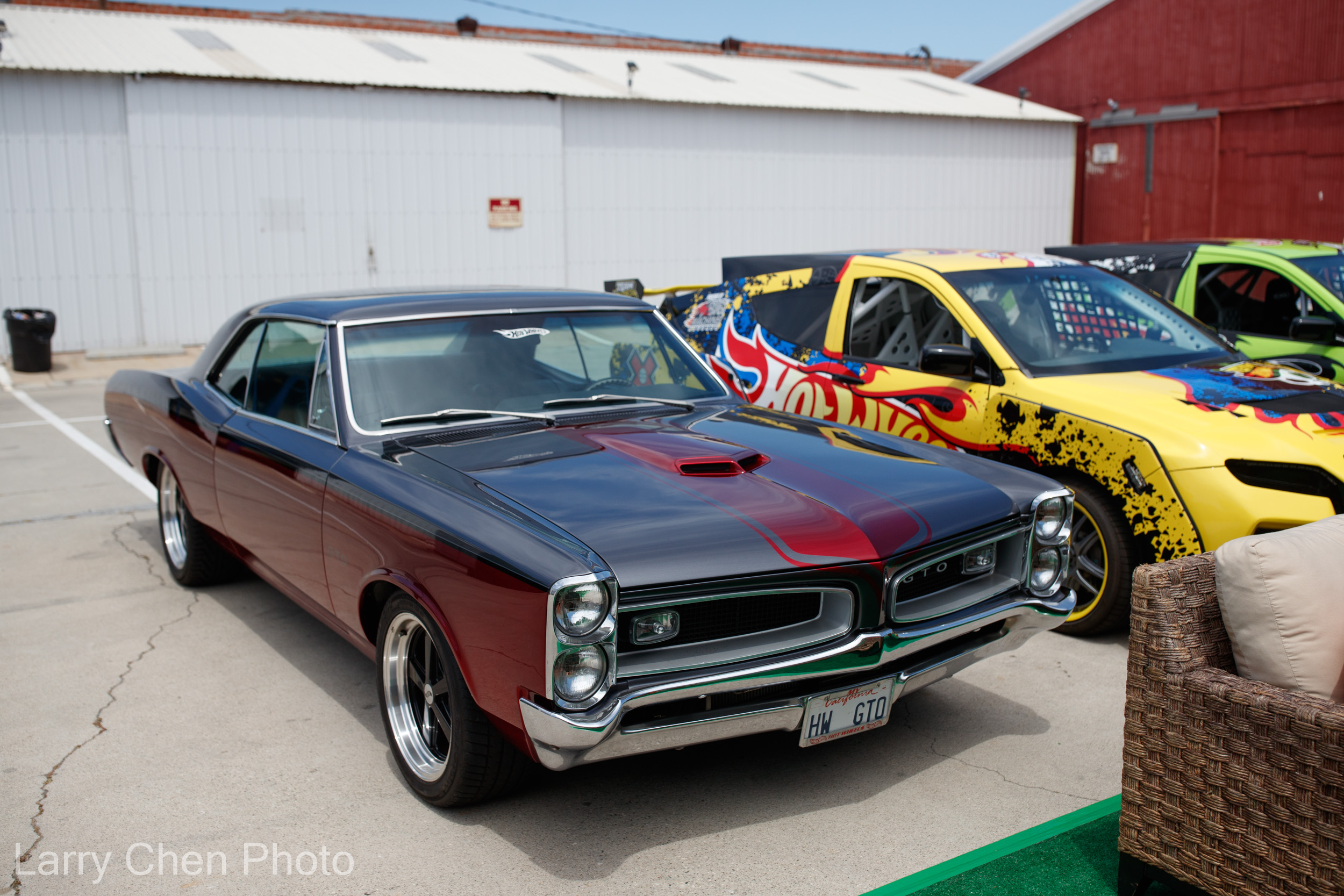 Parked nearby was a selection of historic Hot Wheels full-scale projects.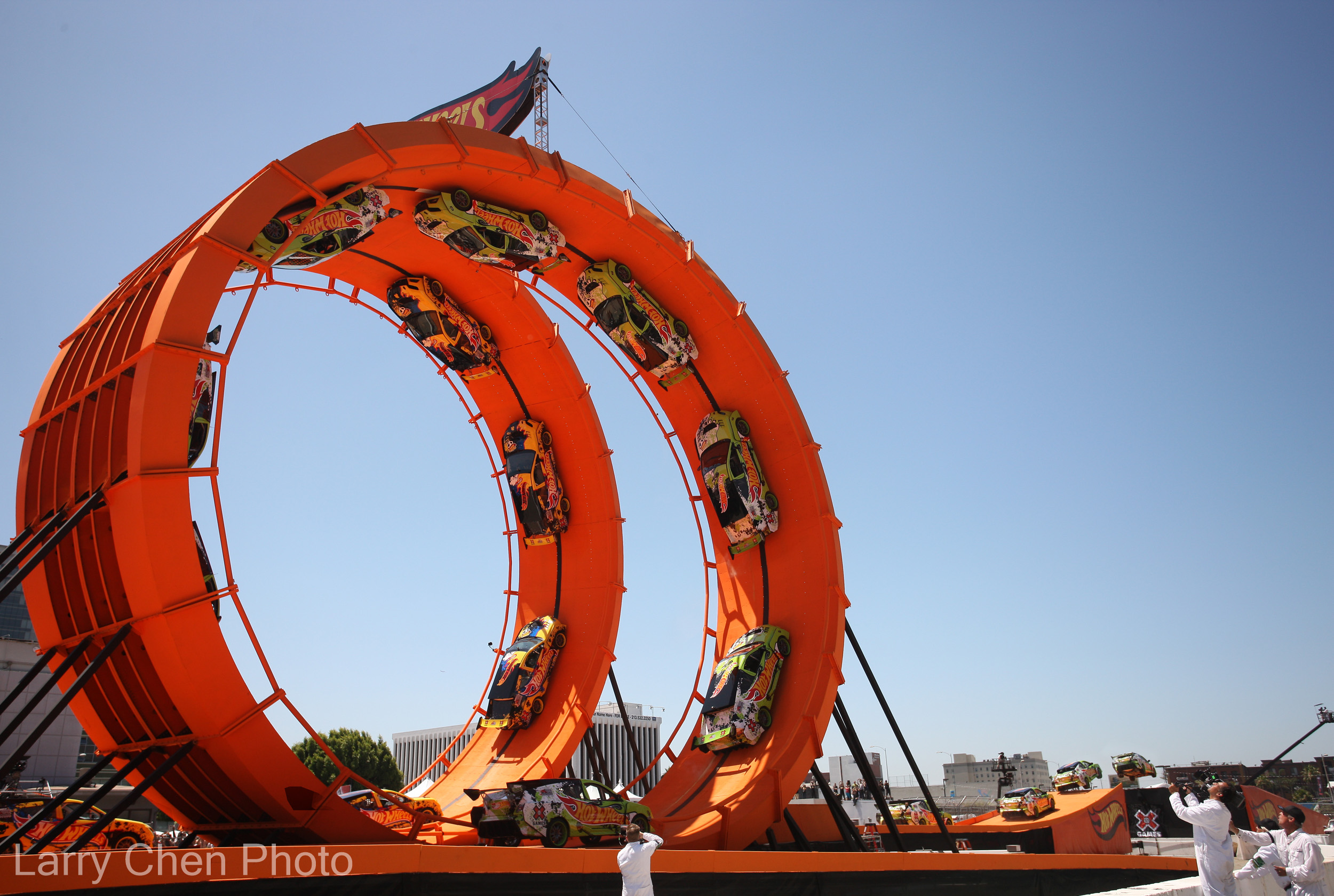 My favorites are the ones that Tanner Foust and Greg Tracy drove in the Double Dare loop, which I covered a few years back.
By the end of my tour I was left amazed by just how much Mattel invests in making authentic cars that cater to us enthusiasts. While it would be so easy to just make shark and dinosaur cars or vehicles with cartoonish features to sell to kids, it's the effort that they put into making cars that we actually want to go hunt for that makes a fan for life, like me.
Larry Chen
Instagram: larry_chen_foto
Bonus Chapter: Cutting Room Floor