Some of you long-time Speedhunters fans have probably been wondering, 'What's gotten into Larry?' Or more precisely, 'What's up with all the off-road coverage recently?' Well, the short answer is that I've been bitten by the off-road bug. But of course, it's a bit more complex than that…
I actually started getting into off-road racing a few years ago as a means to keep taking pictures during the sports car racing and professional drifting off-season. Because with off-road, rain or shine, snow or sleet, they race; and therefore the season starts much earlier in the year.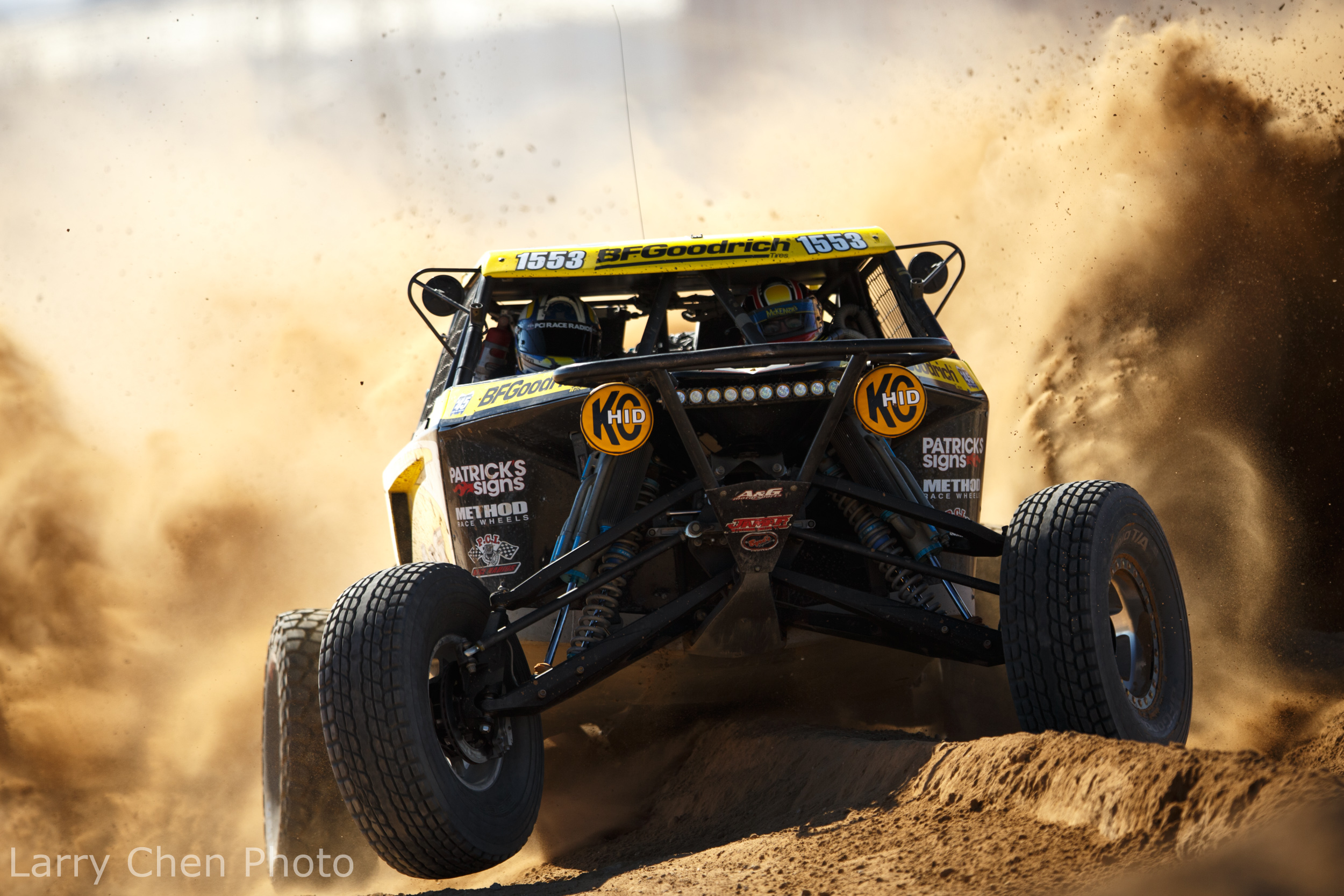 It all started with the King Of The Hammers and the Mint 400, and since then I've covered the Imperial Valley race as well as recently my first race in Mexico.
Previously, I've been able to either borrow a press car or hitch a ride with a friend. But of course, if I wanted to take it to the next level I would have to invest in the proper equipment, which goes way beyond proper camera gear.
I've taken it seriously to the point of actually purchasing an off-road-capable vehicle for myself, as a way to chase these races.
Because there is no point in even trying to photograph off-road racing if you can't even make it out to the shooting locations yourself.
So what is it that draws me in so much? It starts with the race course: nature's playground.
While I still love and appreciate sports car racing and nicely paved racing circuits, I've come to realize something recently.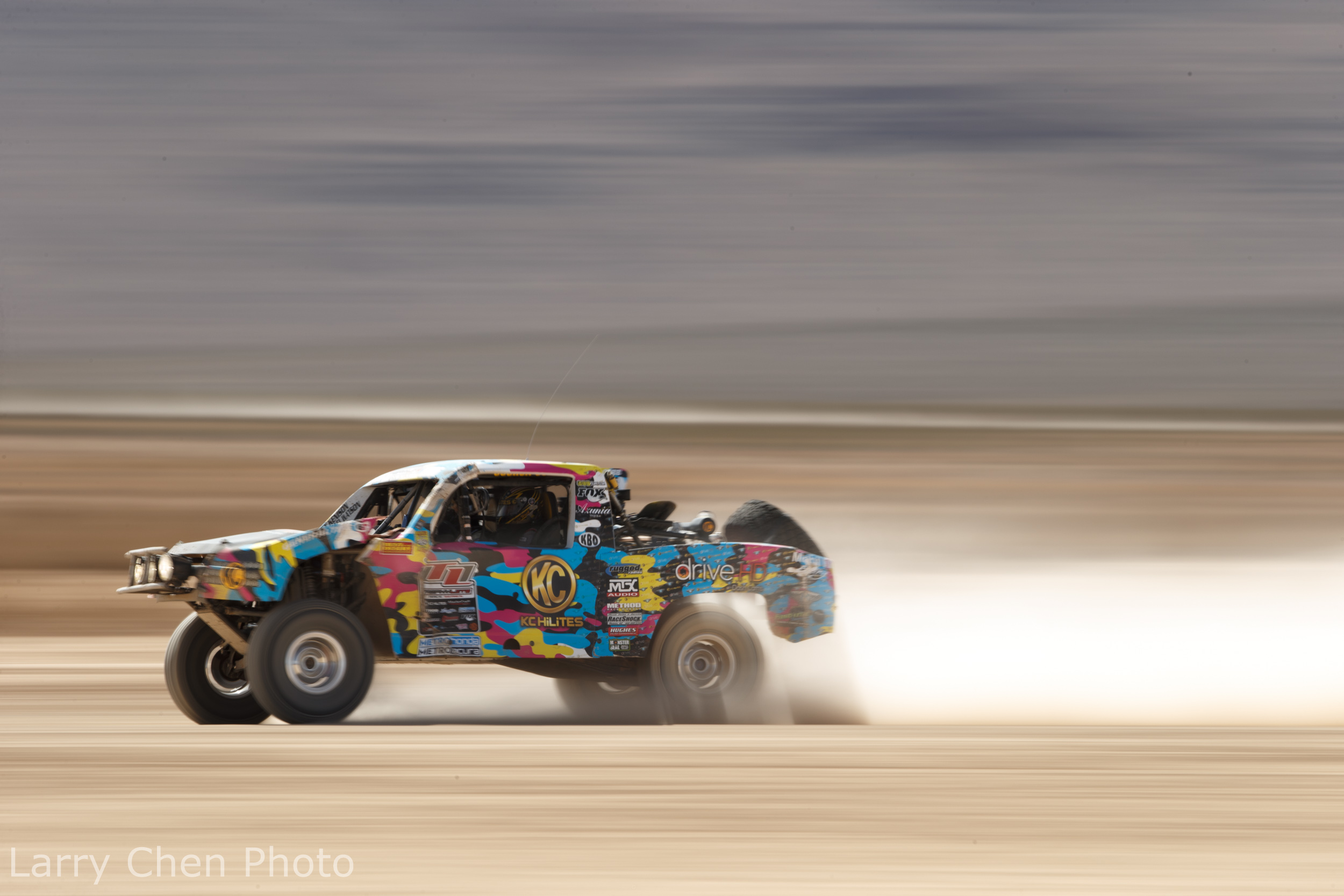 The road courses that I love the most are organic and they have character. Street circuits are my favourite, because they are imperfect and harsh. I love the fact that there is no run-off and you really have to have some guts to push it out there. Pikes Peak and Circuit De Guia are perfect examples.
Of course, I also love race tracks with lots of character, like the Nürburgring Nordschleife and Spa. However, we all know there are never going to be race tracks like that ever again. New racing circuits are very sterile with no character at all. No grittiness, just perfect in every way with miles of run-off area.
What I love about off-road racing is that the race track will always be the same – it's in nature. But in saying that it does change, sometimes significantly after just a single car passes through the dirt.
Another thing I love about off-road racing is the competition itself. It's just insane what these drivers put themselves through to finish an event.
While I am not saying that road racing is any less glamorous or dangerous, off-road racing has such a rawness to it. You could go off-course without anyone being able to find you for hours. Before the invention of GPS, you could straight-up disappear.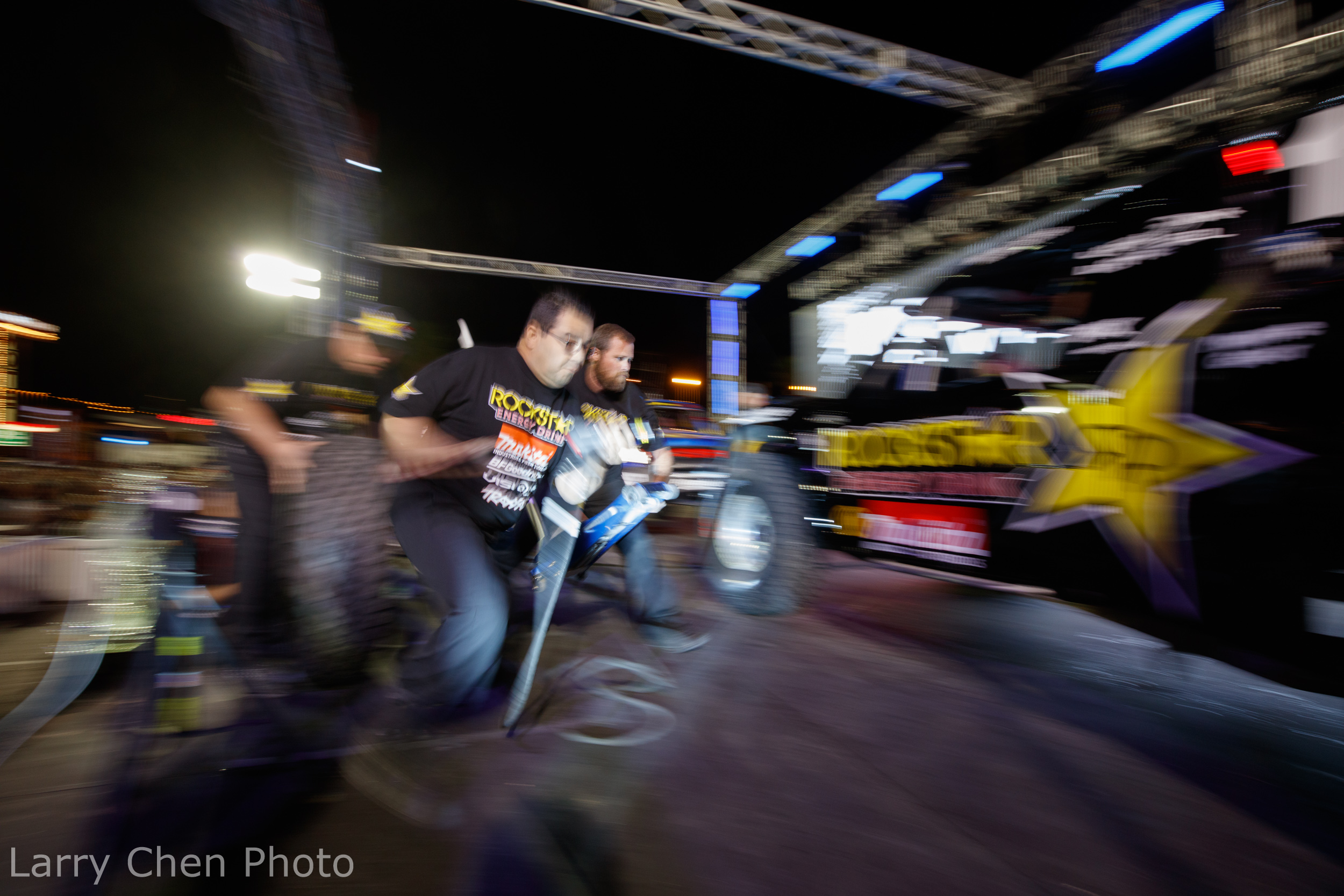 The best part of it all? The teams, drivers and fans are all out there for the glory. There is no glamor; there is no big prize money.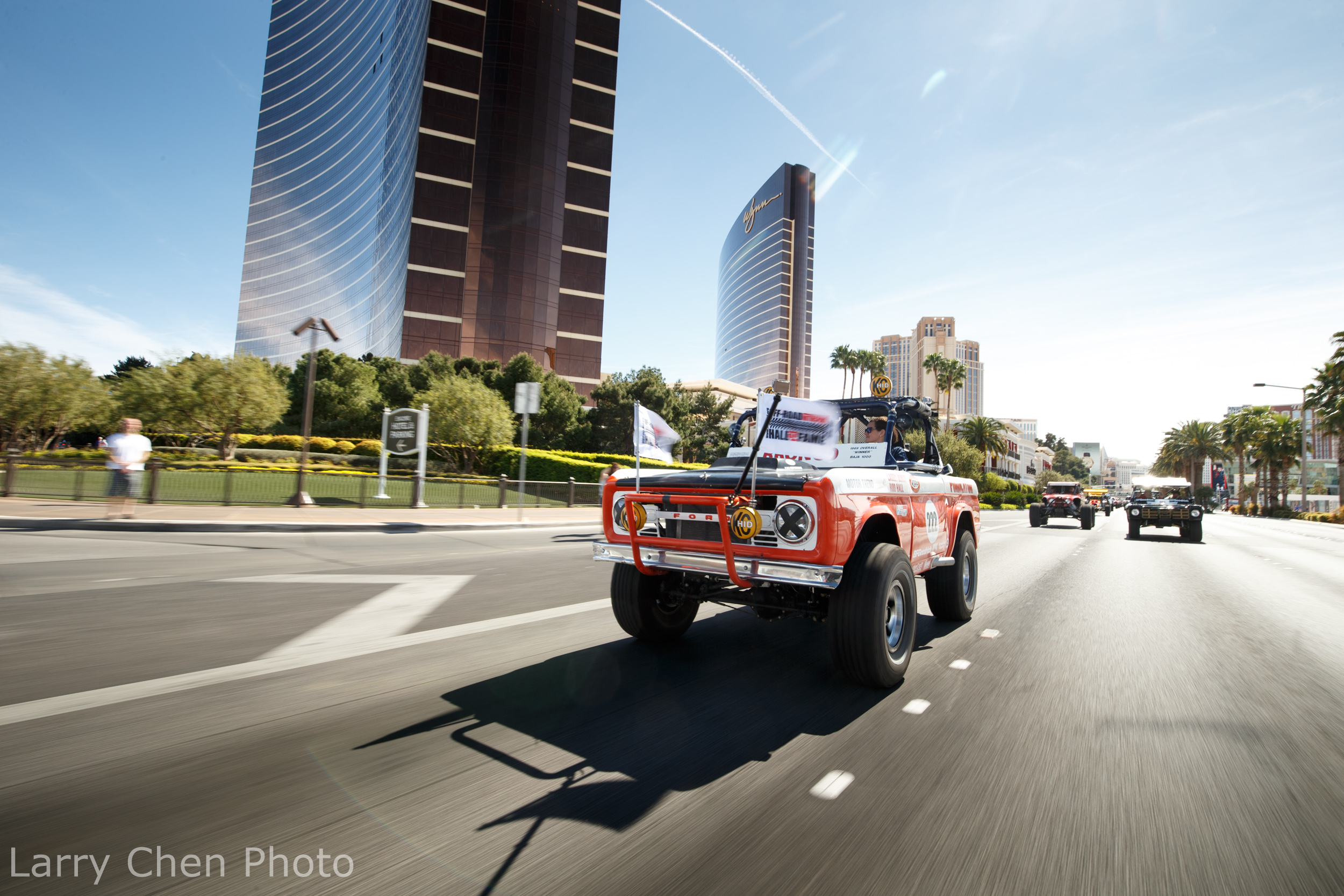 It's all for bragging rights and knowing that you are the best. Either that, or you just had the most luck on the day.
So what is there not to like? There's so much the car culture and racing world has to offer, and in my six years at Speedhunters I've only covered a tiny sliver of it. I just can't wait to go out and hunt for more.
The Polaris RZR Mint 400 Presented by BFGoodrich Tires is known as 'The Great American Off-road Race'.
This year the grand marshal was off-road racing legend Rod Hall.
The week's festivities kicked off with Rod driving down Las Vegas Blvd in his 1969 Baja 1000-winning Ford Bronco, with the full 2016 field of race cars behind him.
I don't think there is any other city in the United States that is more appropriate for hosting such an event. This is where American off-road lives.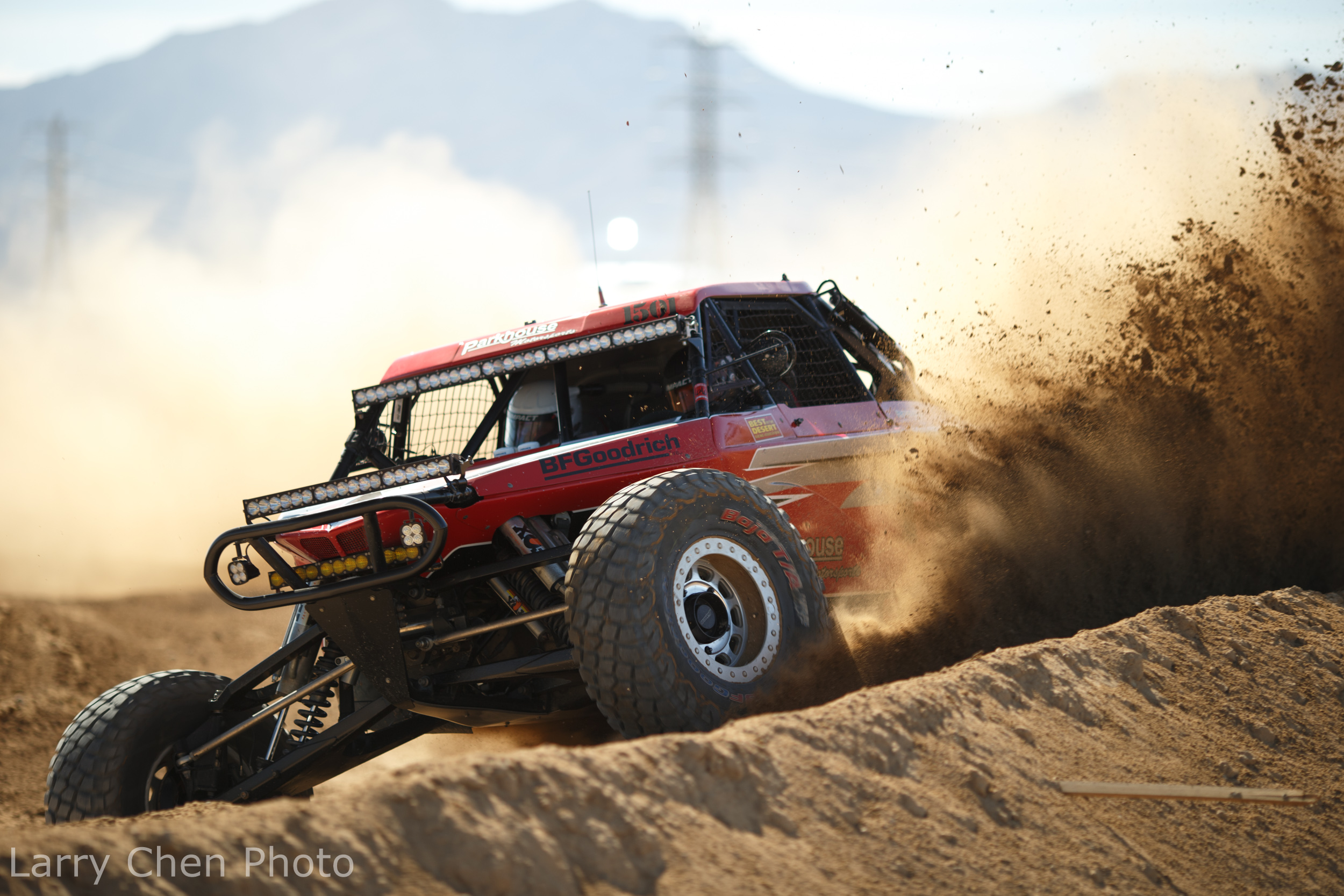 Over the next few days I covered all the activities that the Mint had to offer, including time trials near the California/Nevada border.
The Mint 400 is one of the few races in the world that holds a qualifying session open to the public for viewing.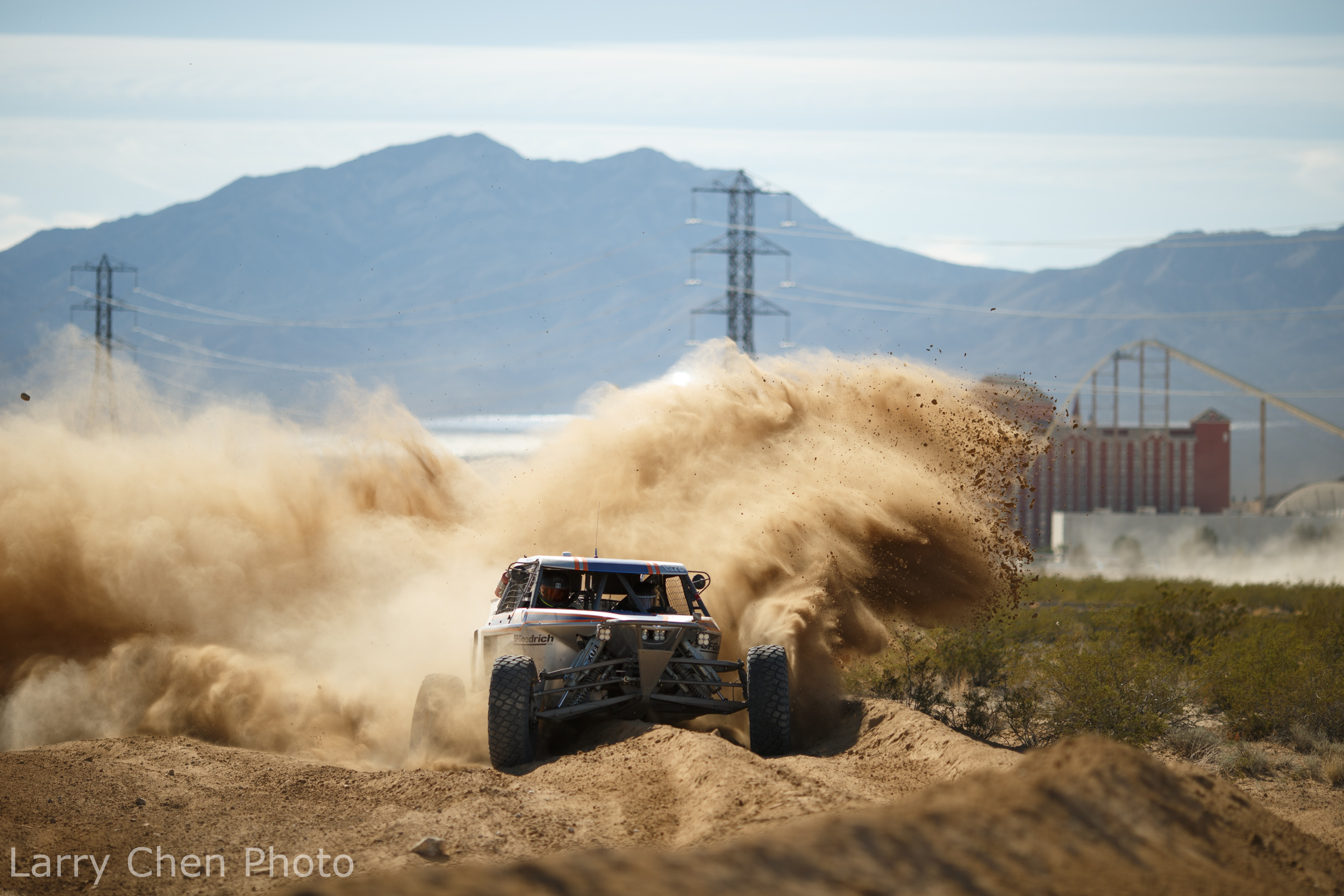 It also provides the perfect opportunity for me to get some awesome shots of drivers going full-tilt in an effort to get a better qualifying position.
If you start too far back in the pack, it does not matter how fast you are – you simply won't see where you are going due to all the dust.
Along with qualifying, one of the biggest events leading up to the race itself is contingency and technical inspections.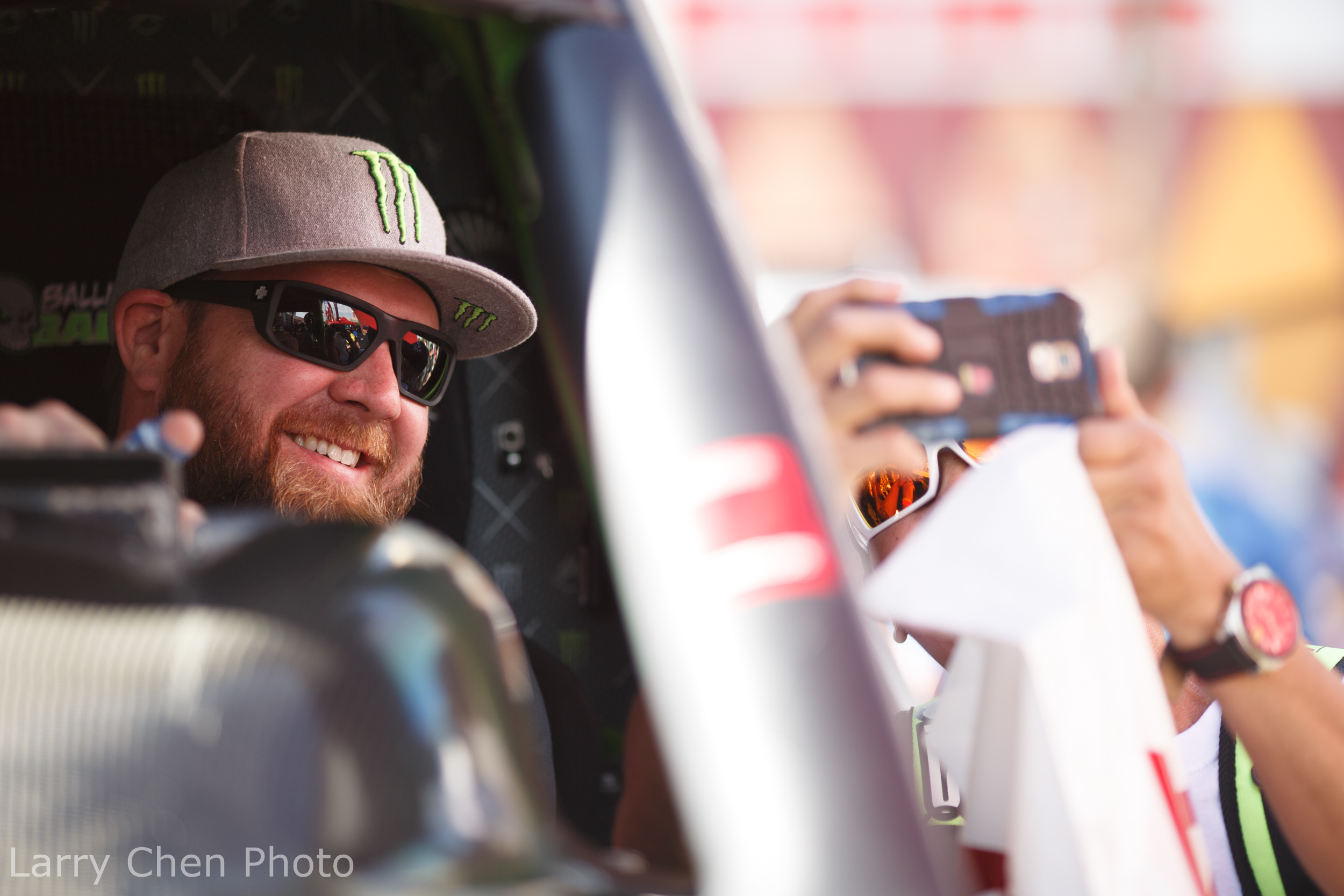 Las Vegas native and all around crazy guy BJ Baldwin was on hand to take pictures with fans and cause a traffic jam while doing so. What a showman.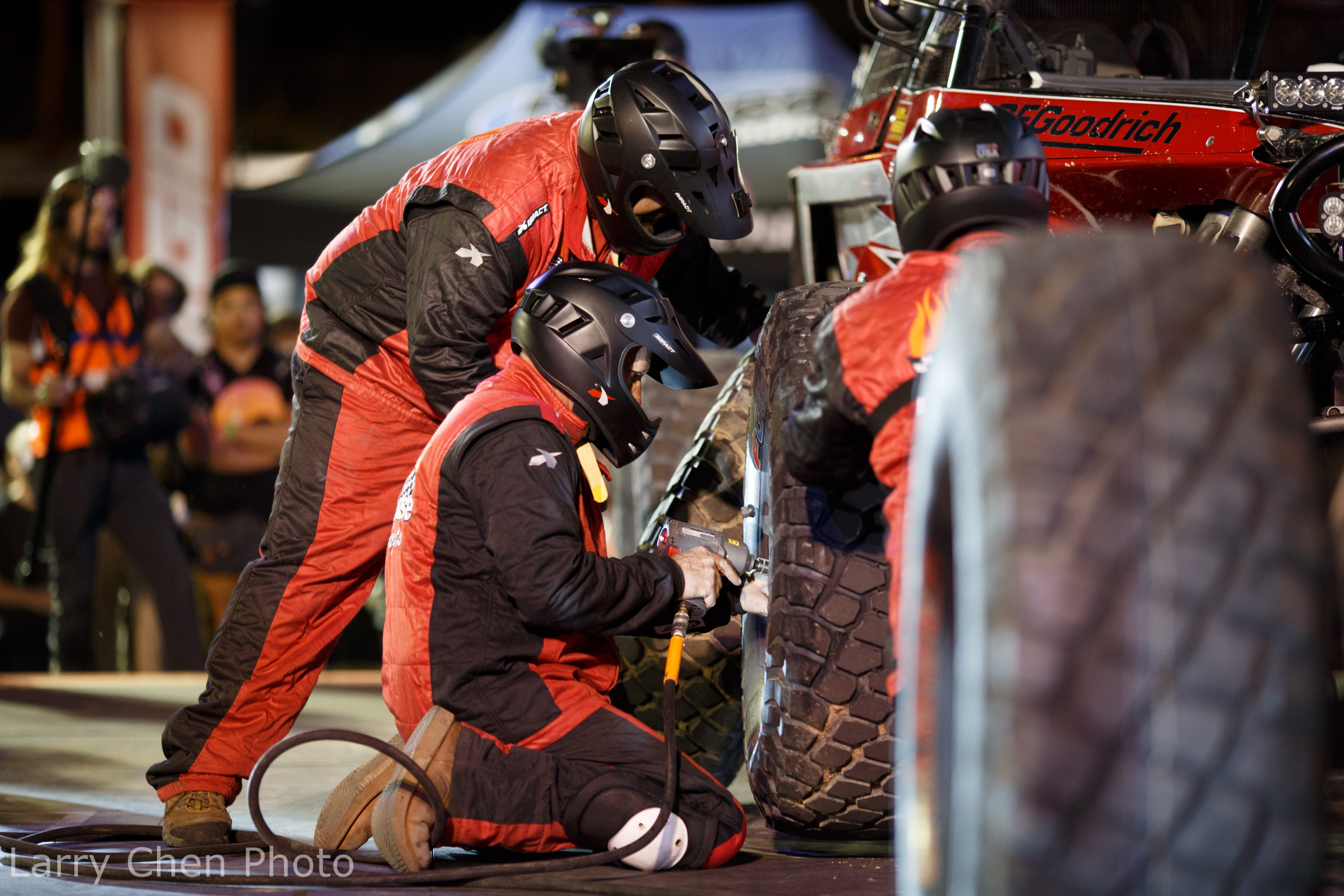 It seems like the entire week is buzzing with activities, including one of my favorite events where the Mint 400 challenges pit crews to compete against each other in a tire-changing speed test.
The night before the big race all the teams gather at the Golden Nugget hotel in downtown Las Vegas for a drivers meeting.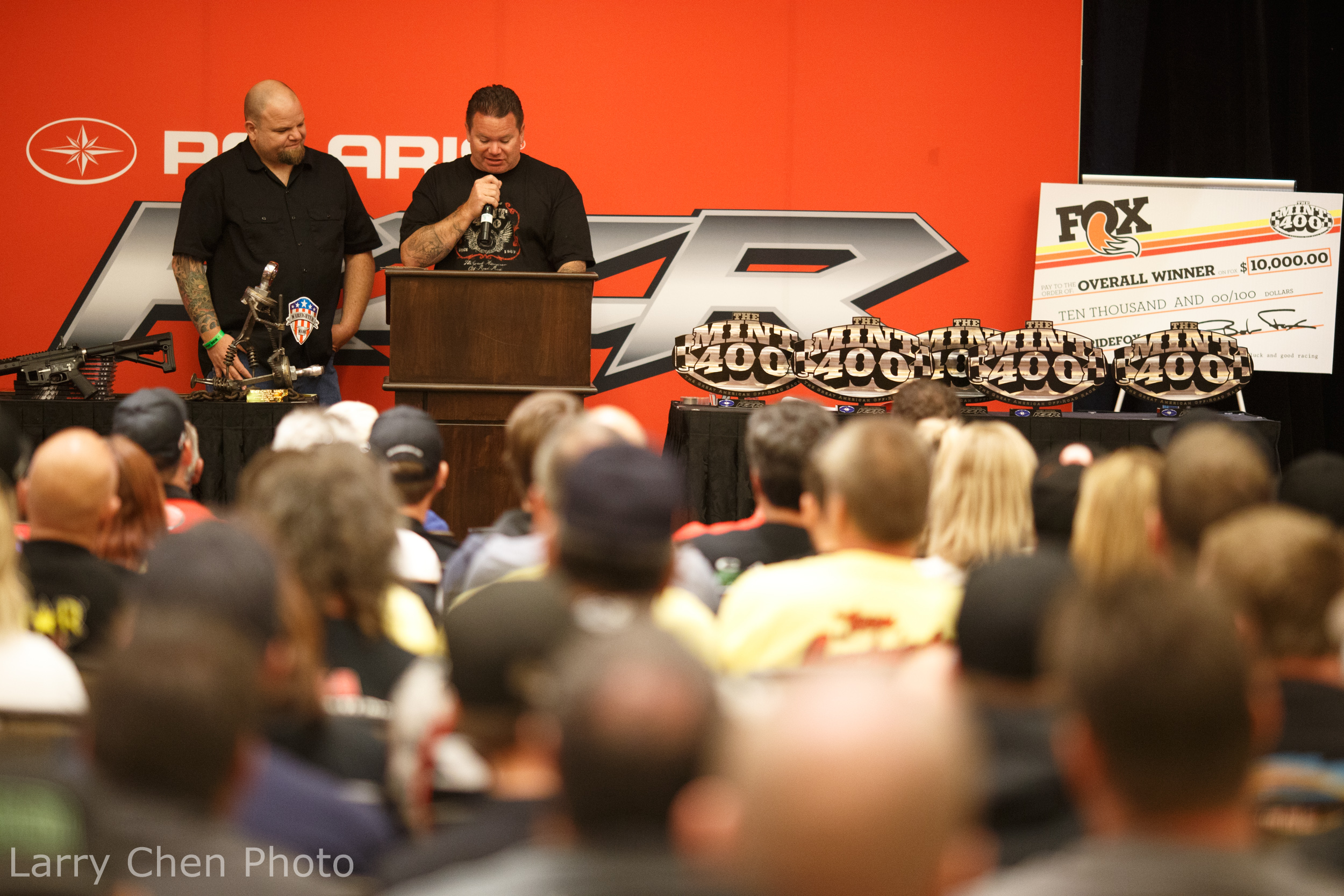 I have to thank the Martelli brothers, Josh and Matt, for inviting me year after year. There is no race in the world that caters better to the media than the Mint, and that is because they are a media company. When they are not doing official Mint 400 business they are running Mad Media, and they do everything from producing awesome videos to promoting drivers.
As always, the mornings are never easy on these events. My alarm went off at 3:00am and we were headed to the pits around an hour later.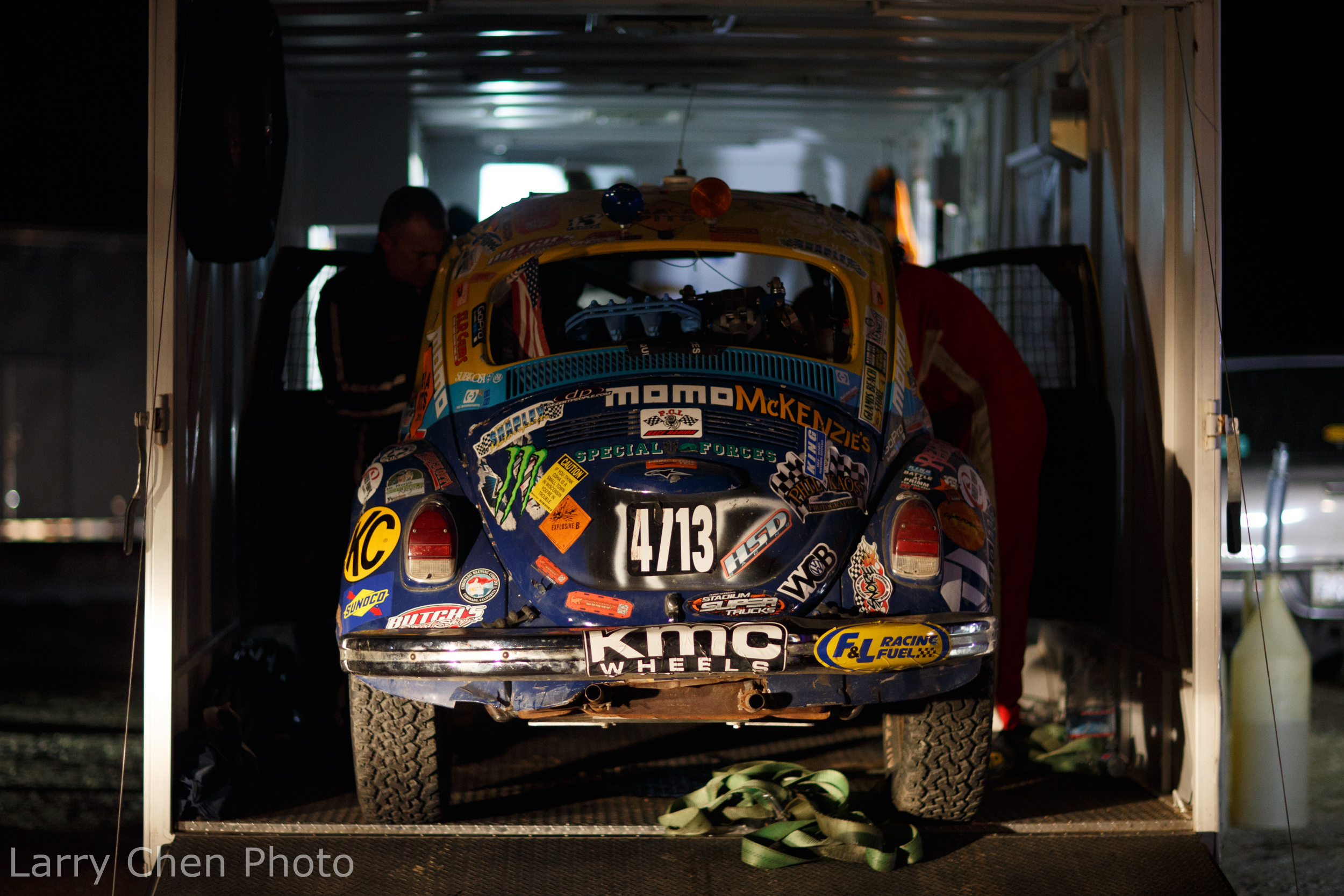 The drivers are off the line for the first race at 6:00am sharp, so they don't get to sleep in much either.
While normally I would wait until a few cars had started, the race was run backwards this year, so I didn't have a chance to stick around. If I wanted to catch drivers out on the course in the soft morning light, I needed to leave right away.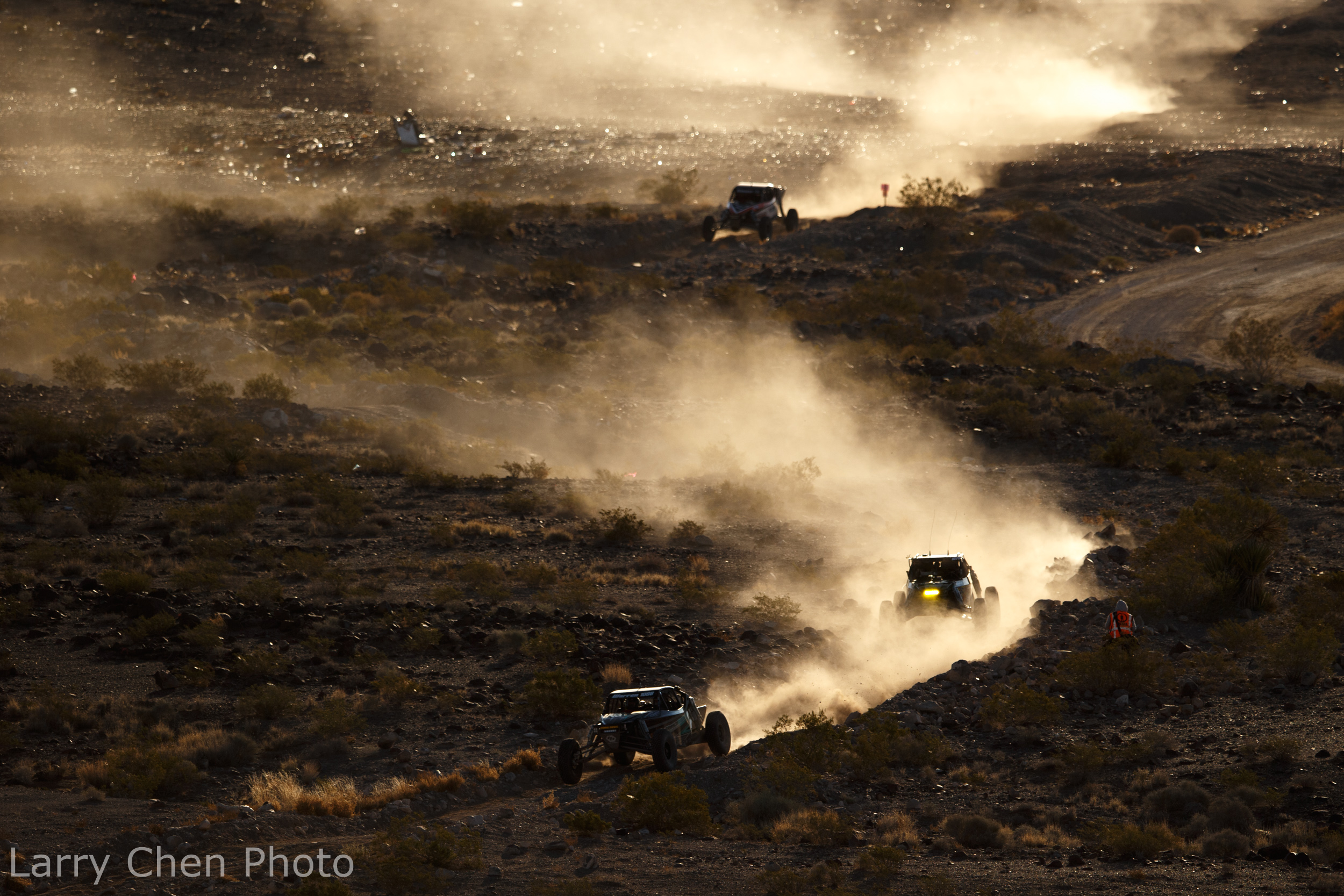 Just as the sun was rising, the first racers were passing through an area called the 'Shooting Range', which is exactly what it is. All that stuff glistening in the sun? Empty shell casings and targets that people bring out into the desert to shoot at. Fun, eh?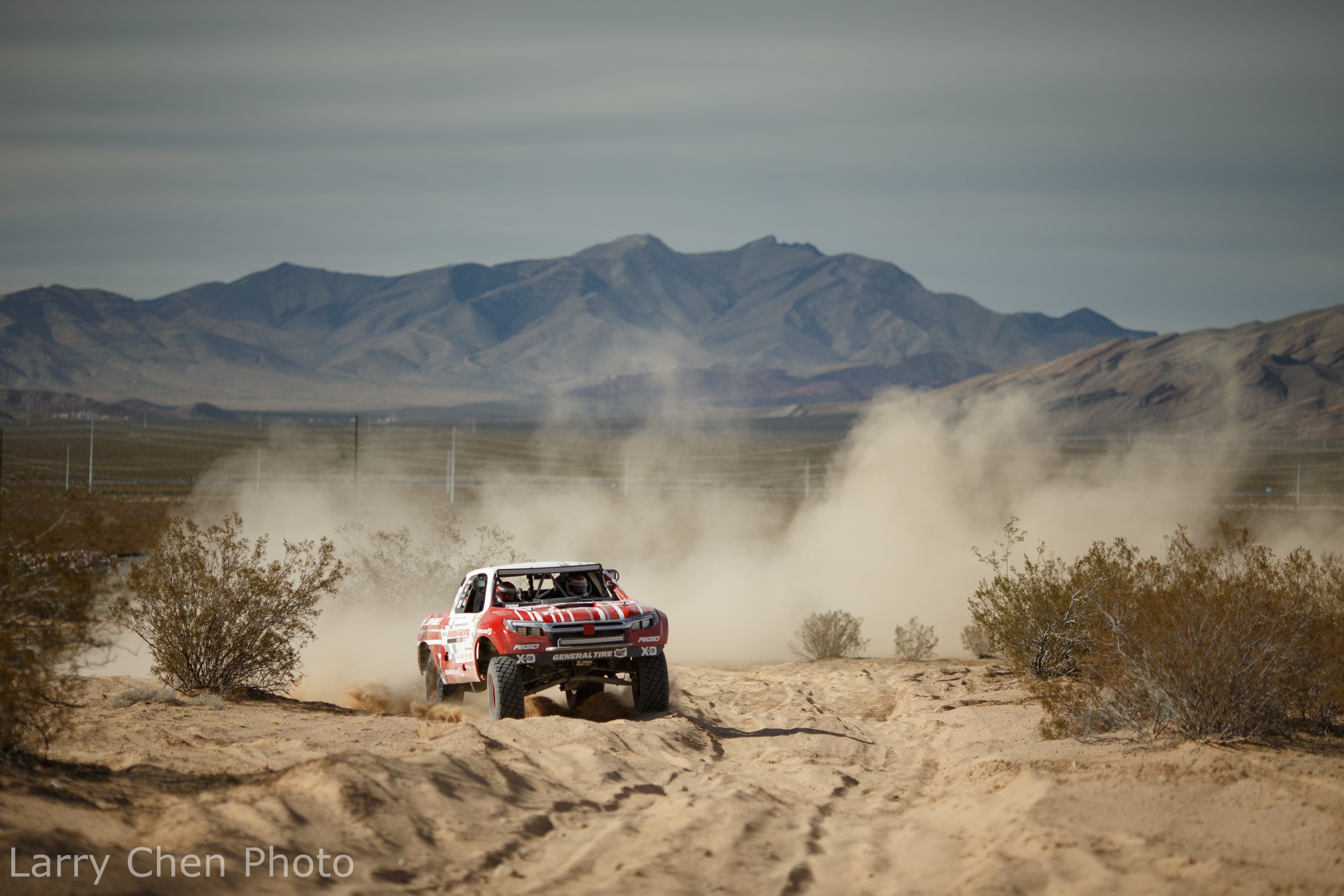 While the first race had slower cars, they are always just as interesting as the bigger, badder and faster trophy trucks. I spotted this awesome Honda Ridgeline doing everything but driving straight after coming out of a silty corner.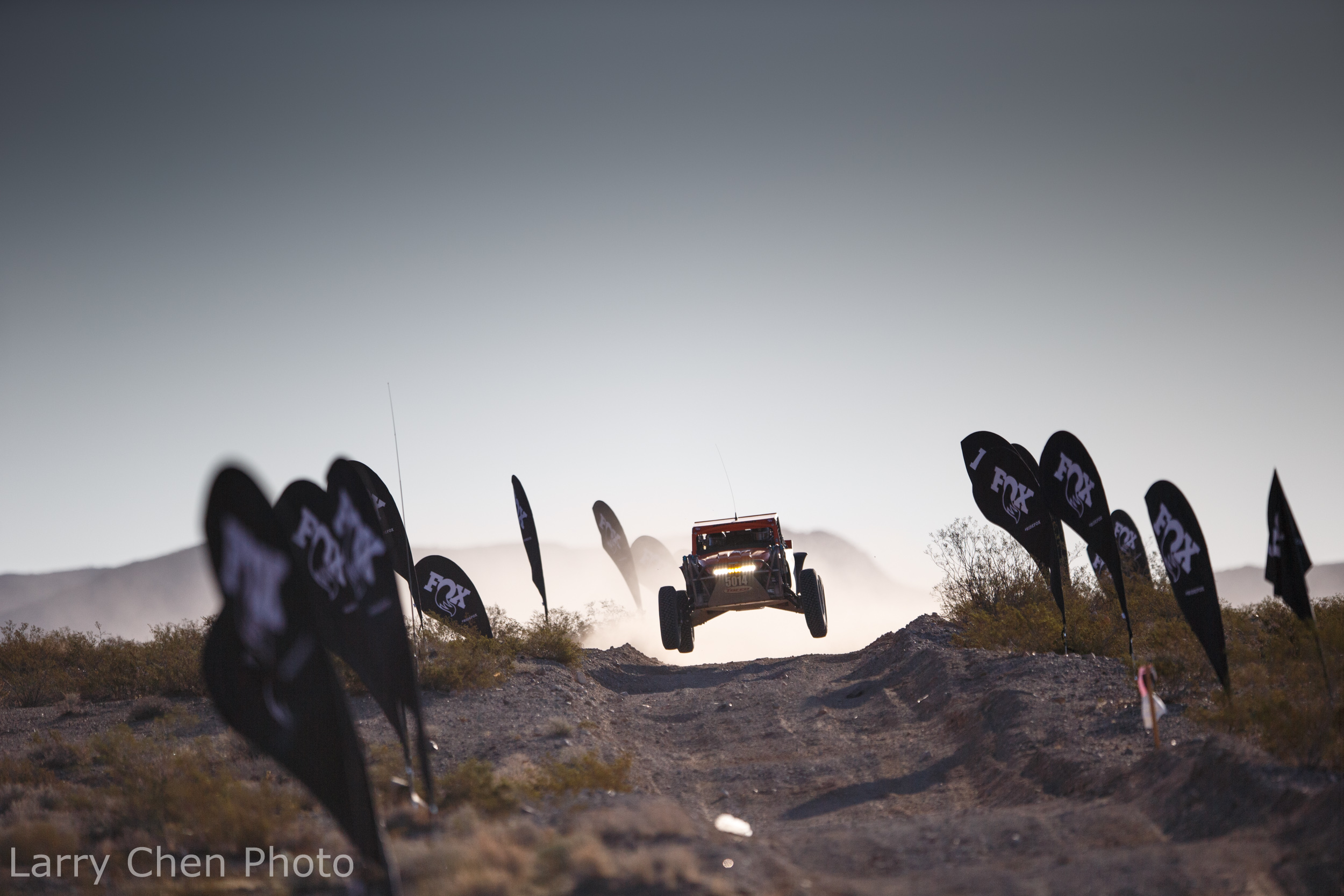 The lighter cars sometimes get even more hang time due to their limited amount of suspension travel. It's just so cool to see these buggies flying through the air.
While I was not chasing a particular story, I was definitely trying to hit up as many spots as possible.
Of course, we always try to go out of our way to follow a few of our friends. We caught Casey Currie in for a stop at one of the remote pits.
He brought out his Ultra4 rock crawler and had run into some minor issues out on the race course.
I love the fact that you can see so many different types of vehicles in one race on the same course. How cool is that?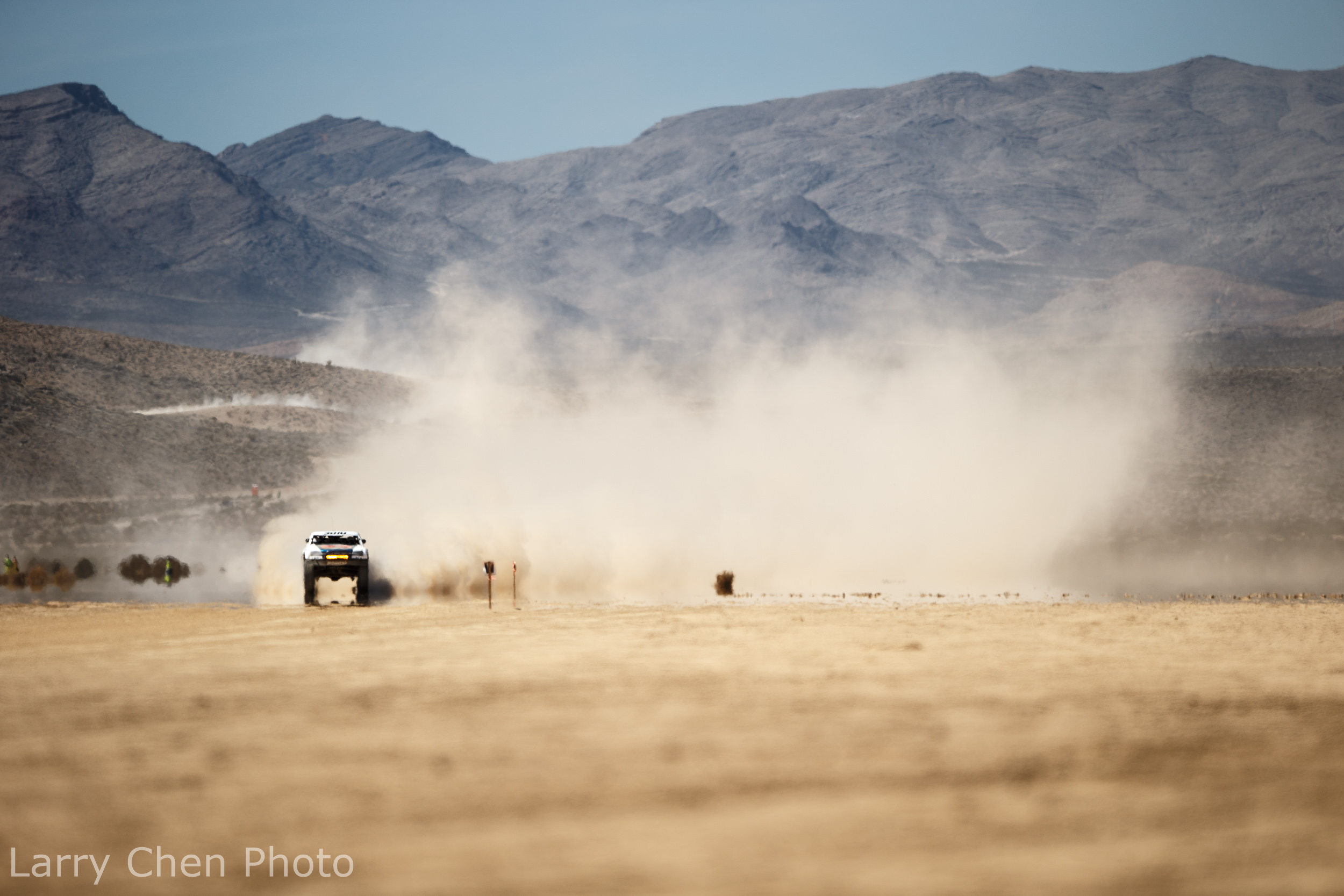 Midway though the day, the fast guys started leaving the line. We caught them for the first time on one of the many dry lakebeds in the area.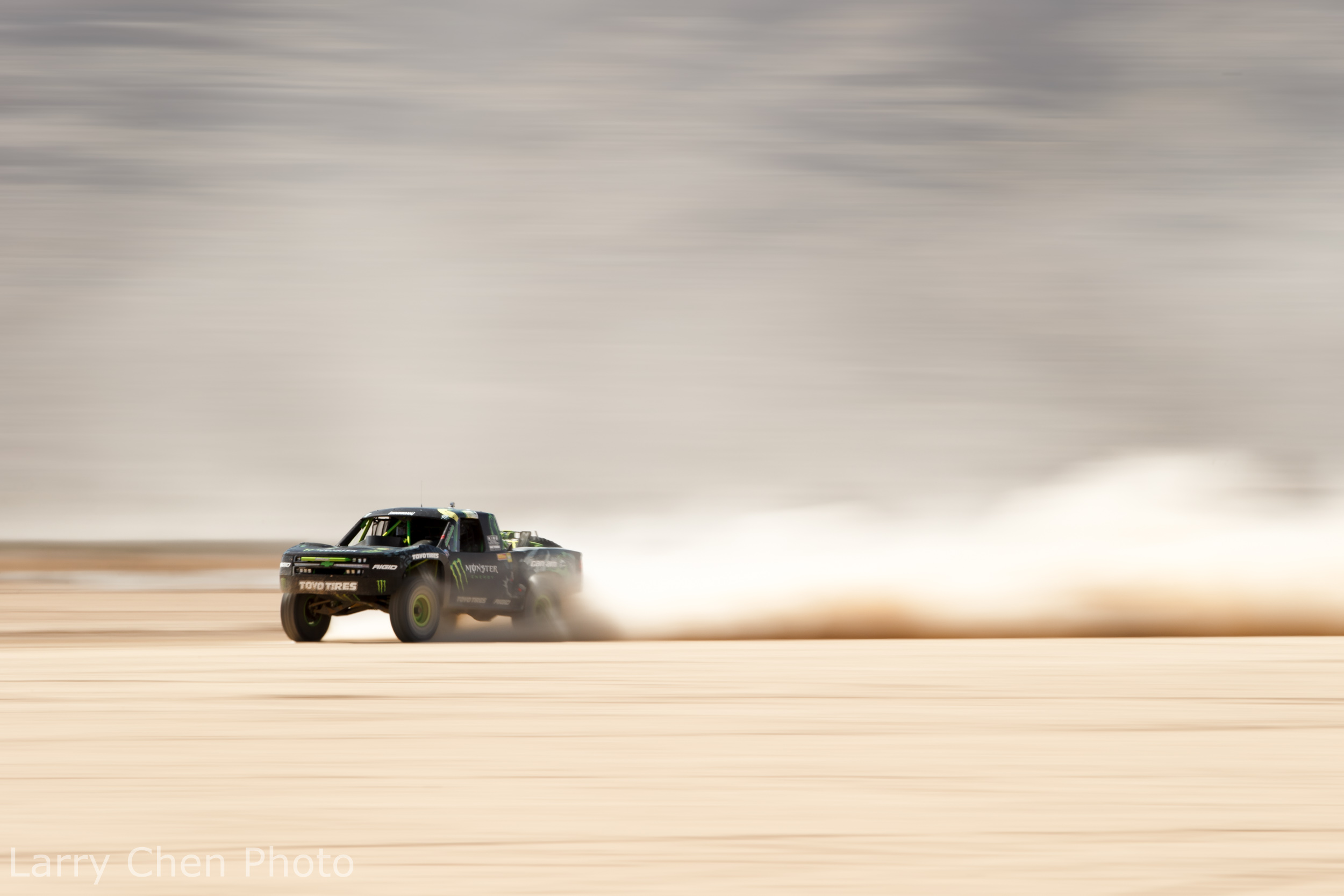 You don't really get a sense of the speed that these rigs can achieve unless you actually get close to them when they fly by. Some of these guys can go well over 150mph (241km/h) through these sections.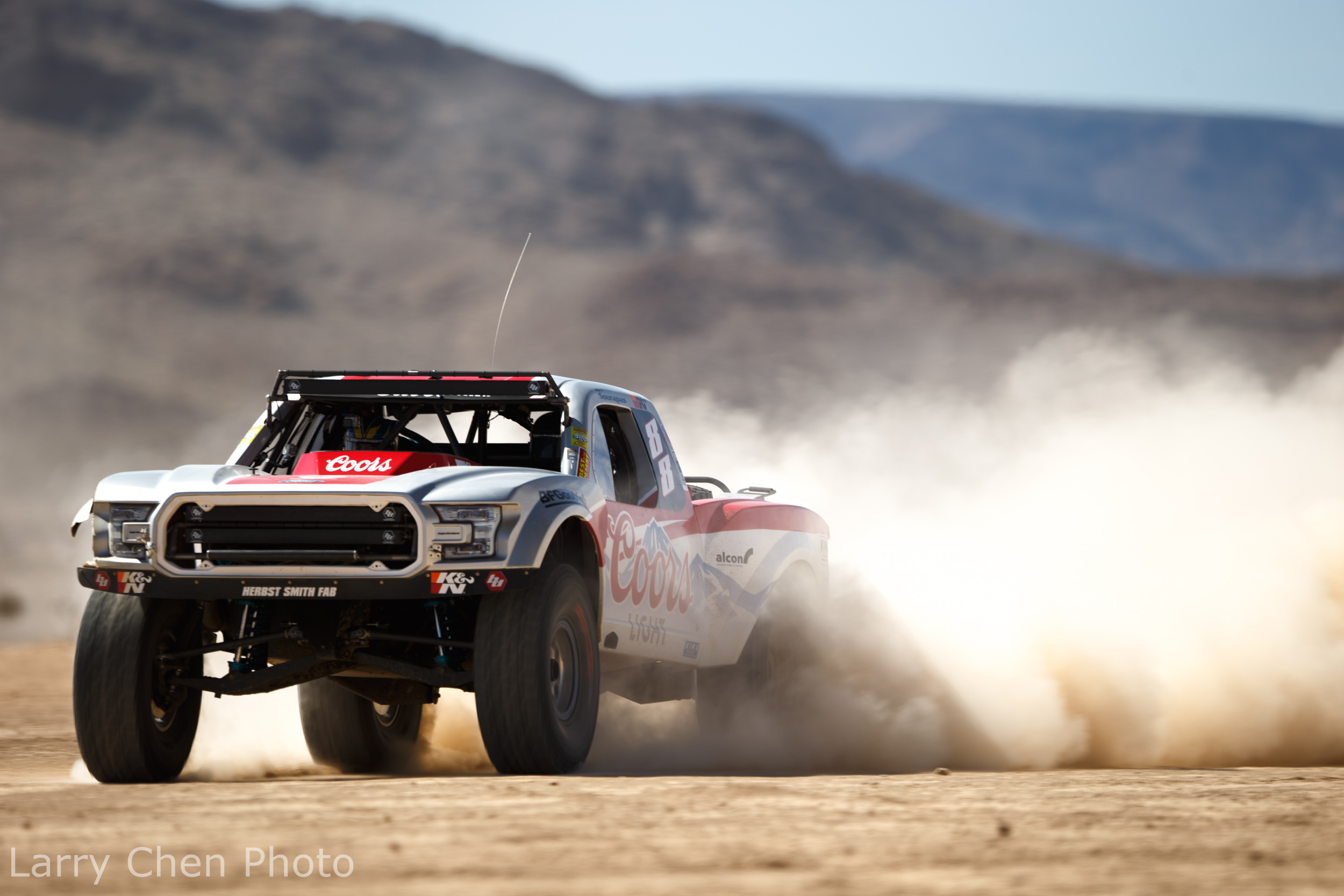 We made a point to chase the lead pack as much as we could, and actually caught them six times over the course of the day before the sun set completely.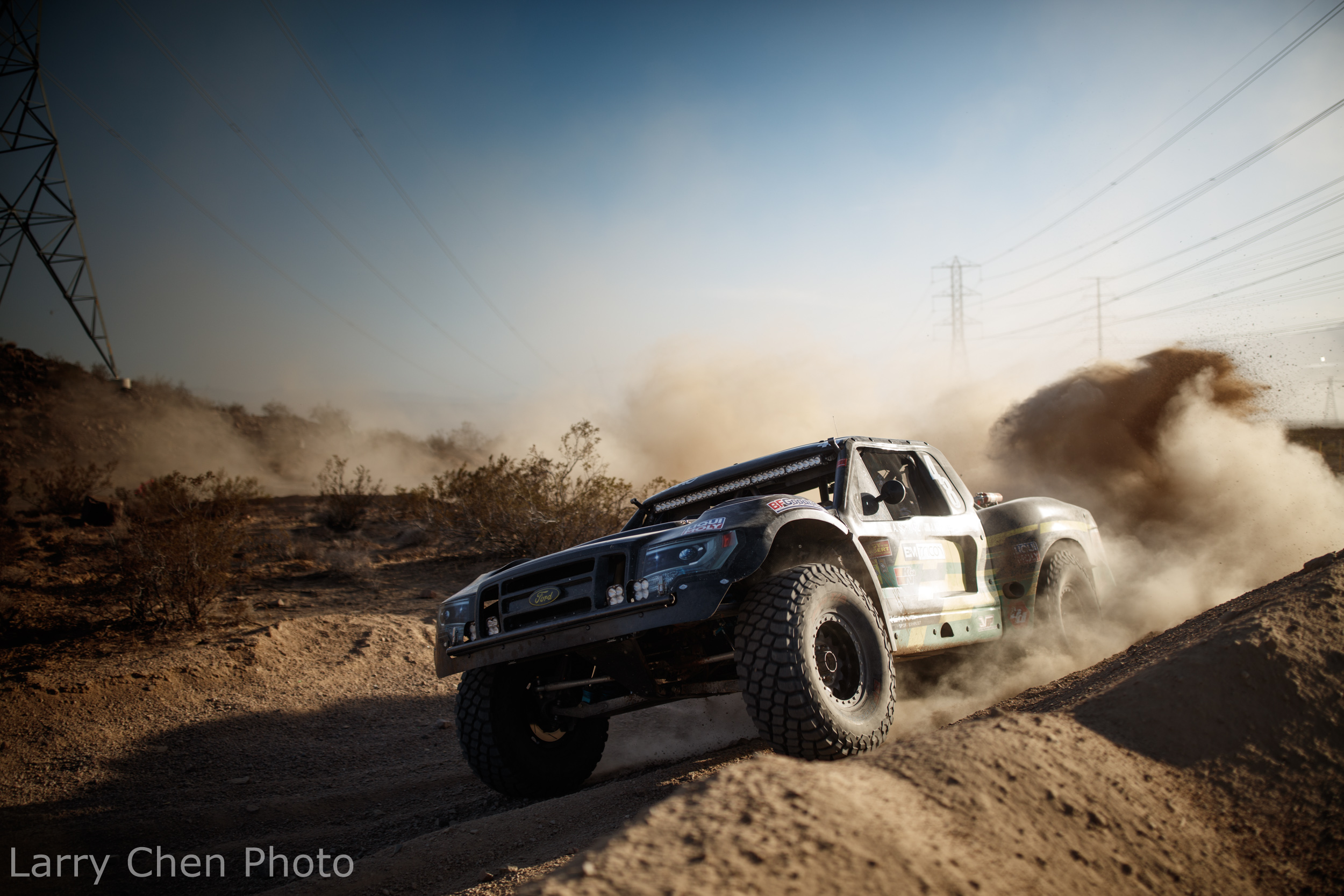 The great thing about shooting a race like the Mint 400 is that there are so many competitors running at the same time, so there's always race traffic to be found anywhere on the course.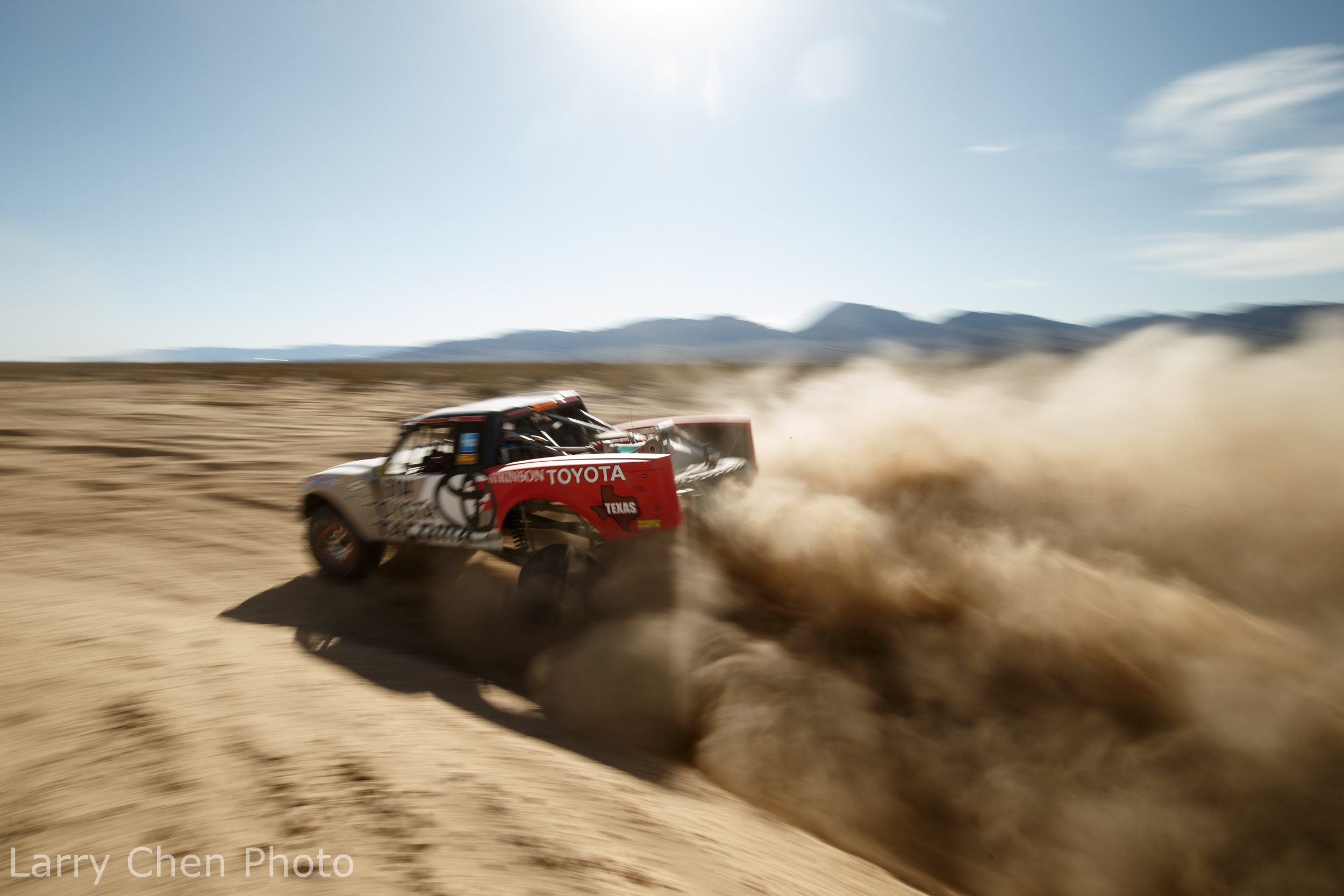 Because, by the time the trophy trucks are well into their race, the competitors in the first race are still working on finishing up.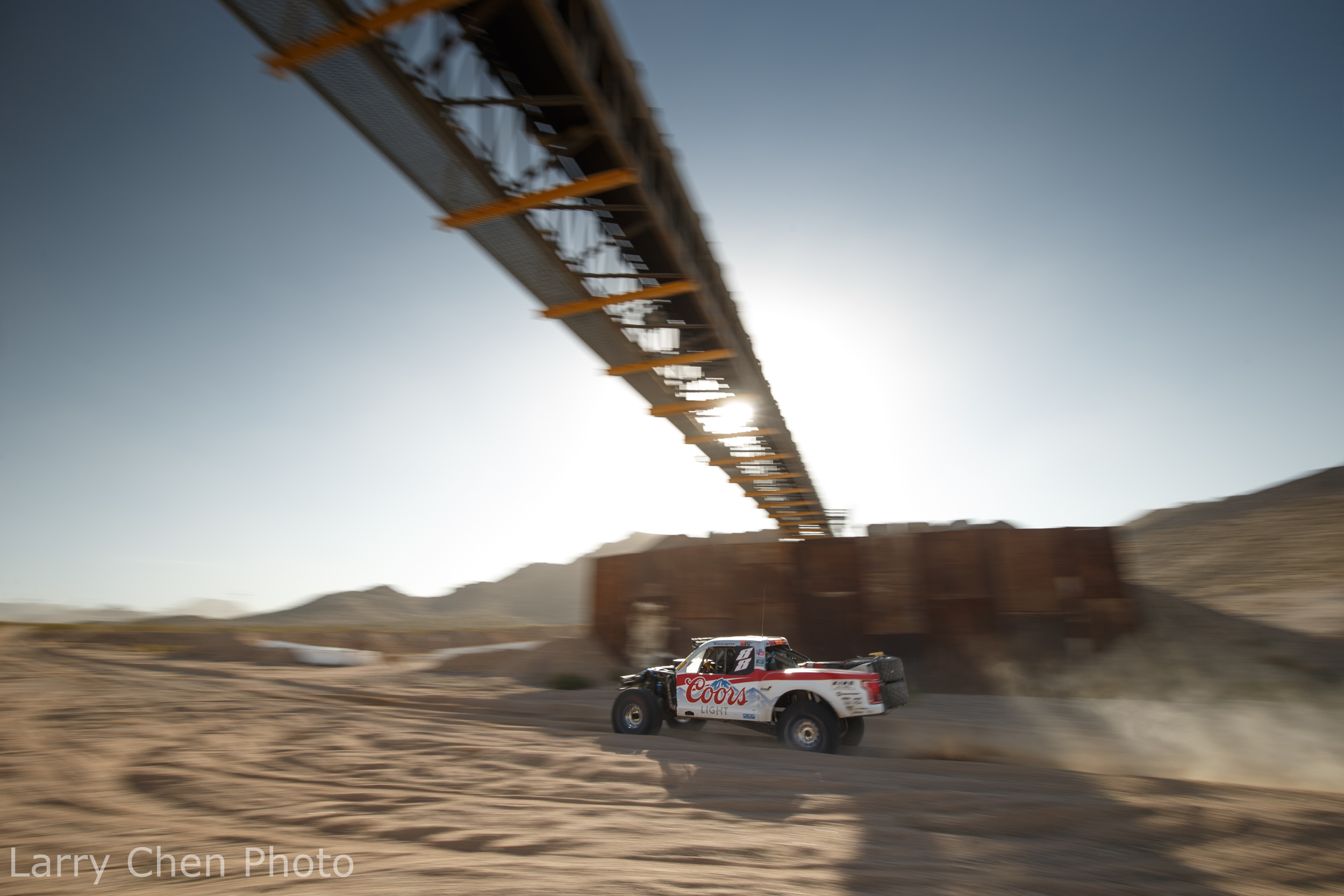 The course itself is about 120 miles (193km) long, so the fast guys have to do three whole laps, while some of the lower classes only have to complete two.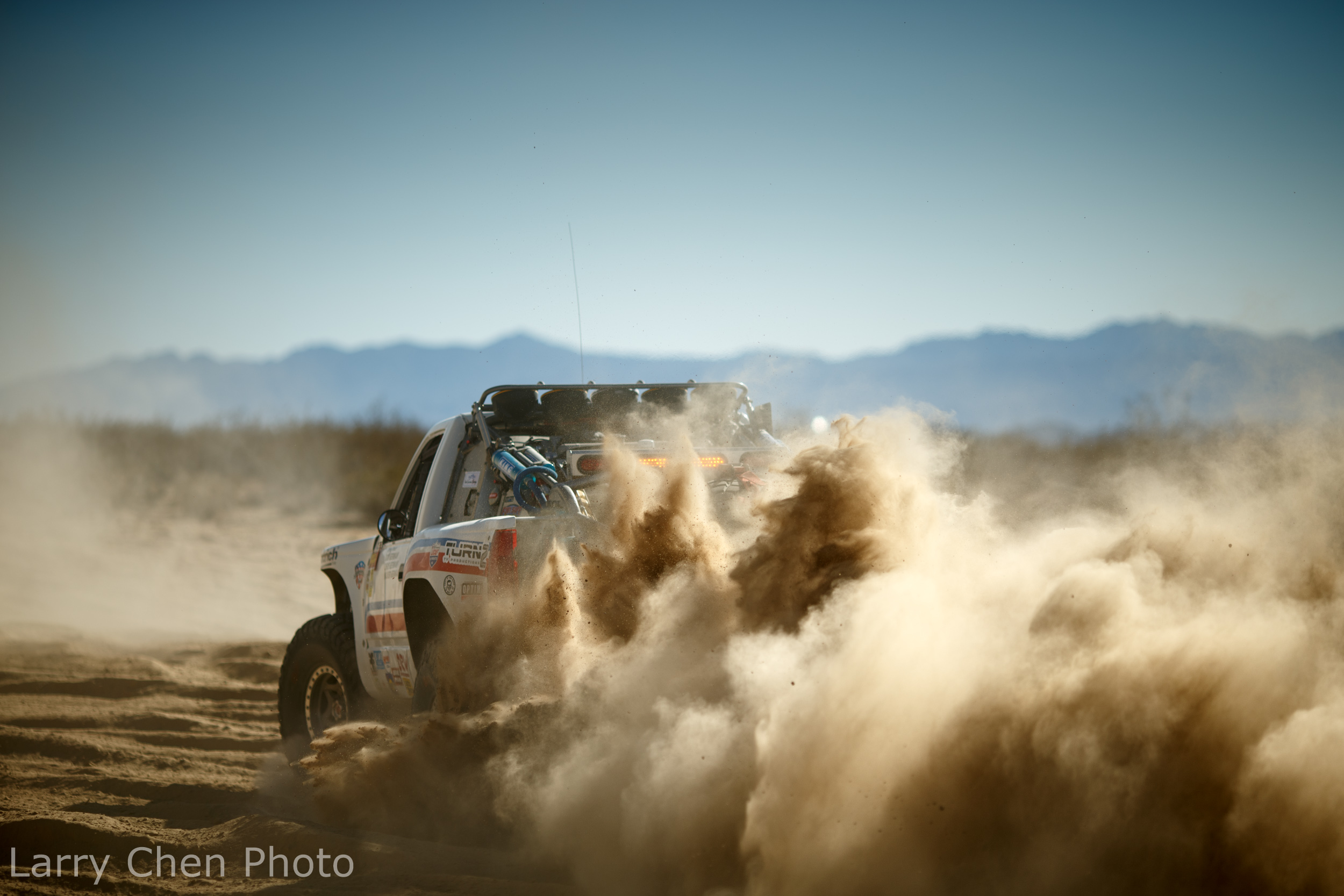 Due to the popularity of the Mint 400, the Martelli brothers had to turn away quite a few competitors this year. There is a very long waiting list to race.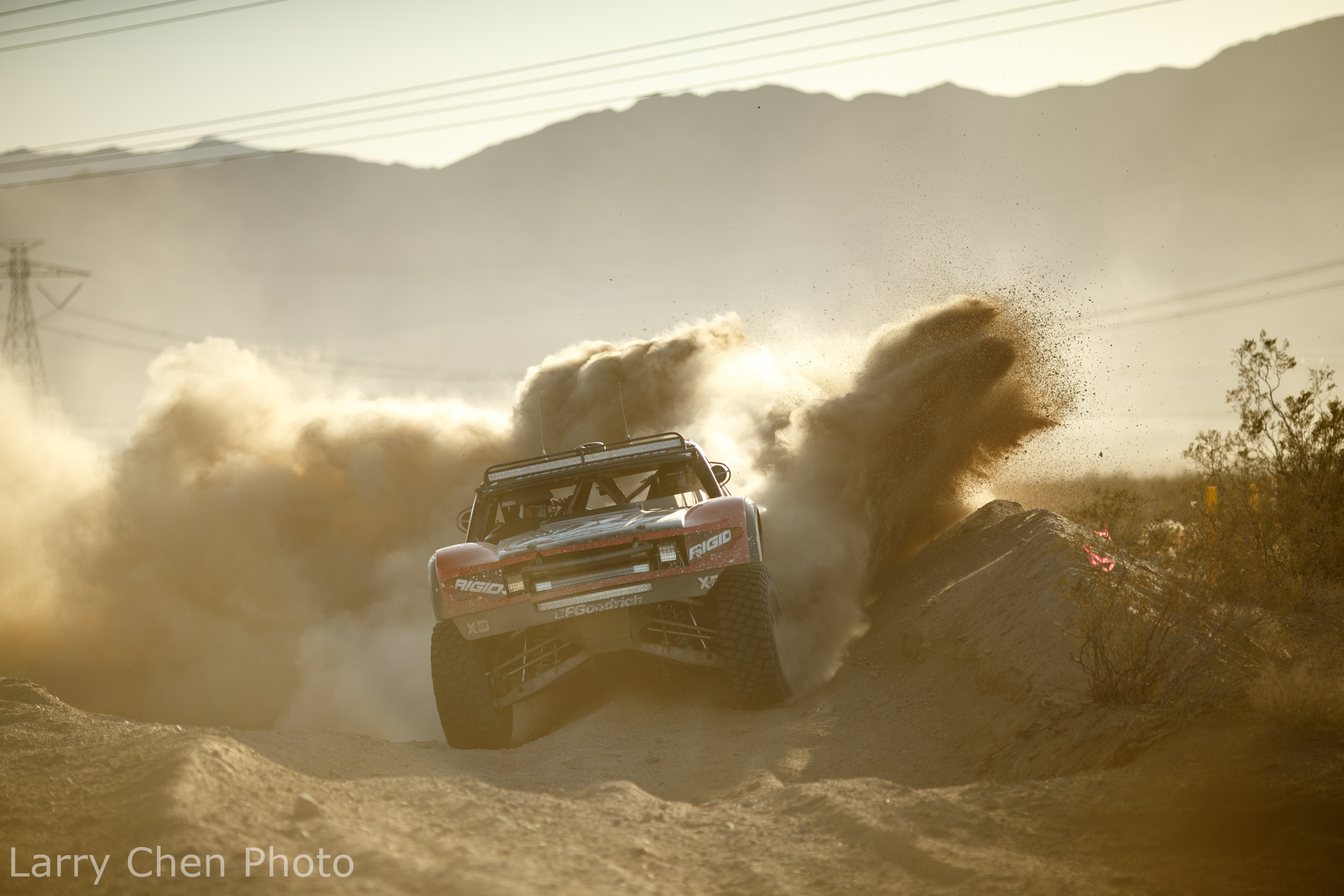 This makes me wonder if it will soon become a two-day affair. Who knows, maybe even motorcycles will make a comeback…
We pretty much followed the race till the sun started setting, and then chose one final spot to shoot from.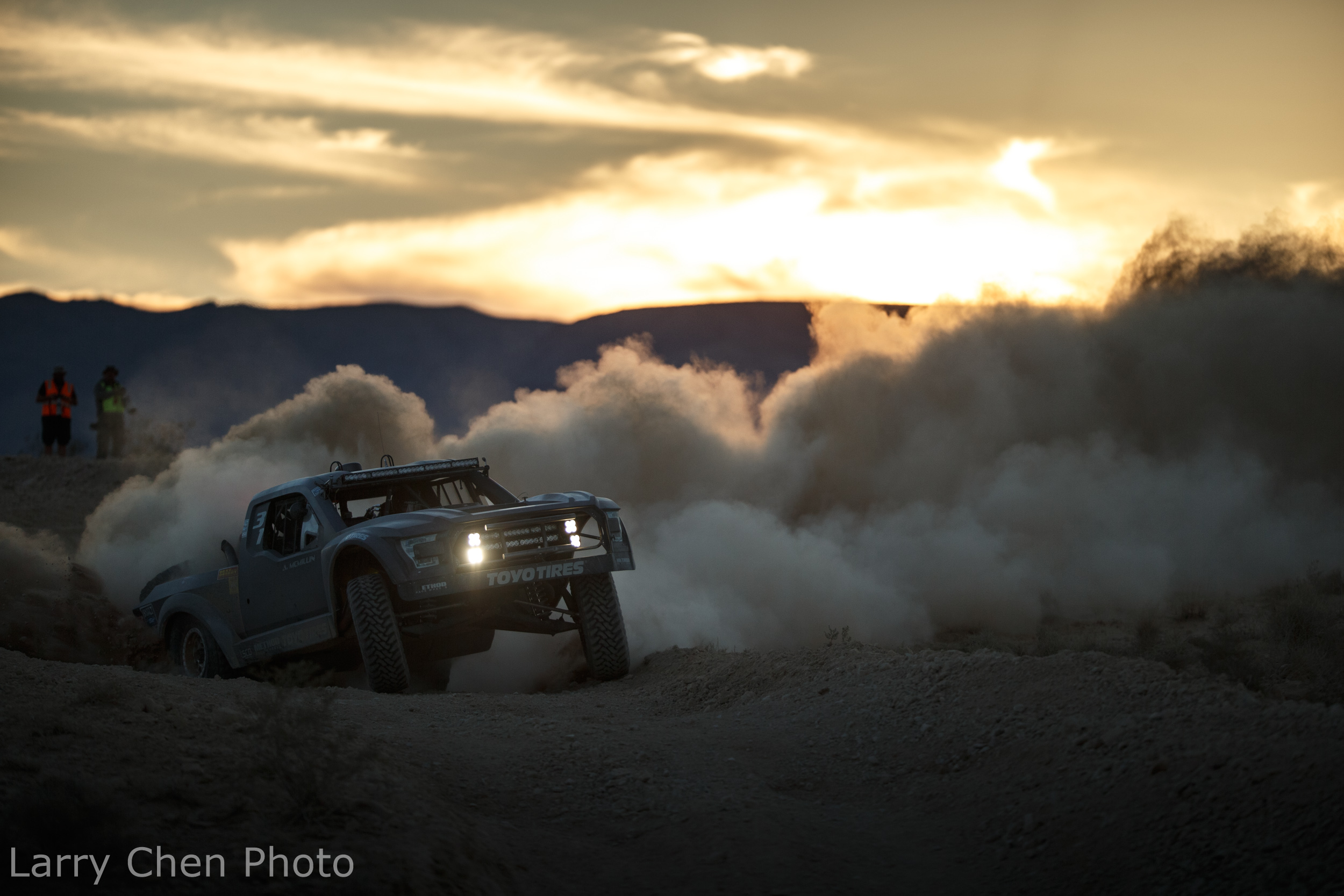 Outside of one of the remote pit areas was a big silt bed that everyone had to run through. While in some places on the course it's hard to tell what line the racers are going to take, it's easy when there is really only one way to go.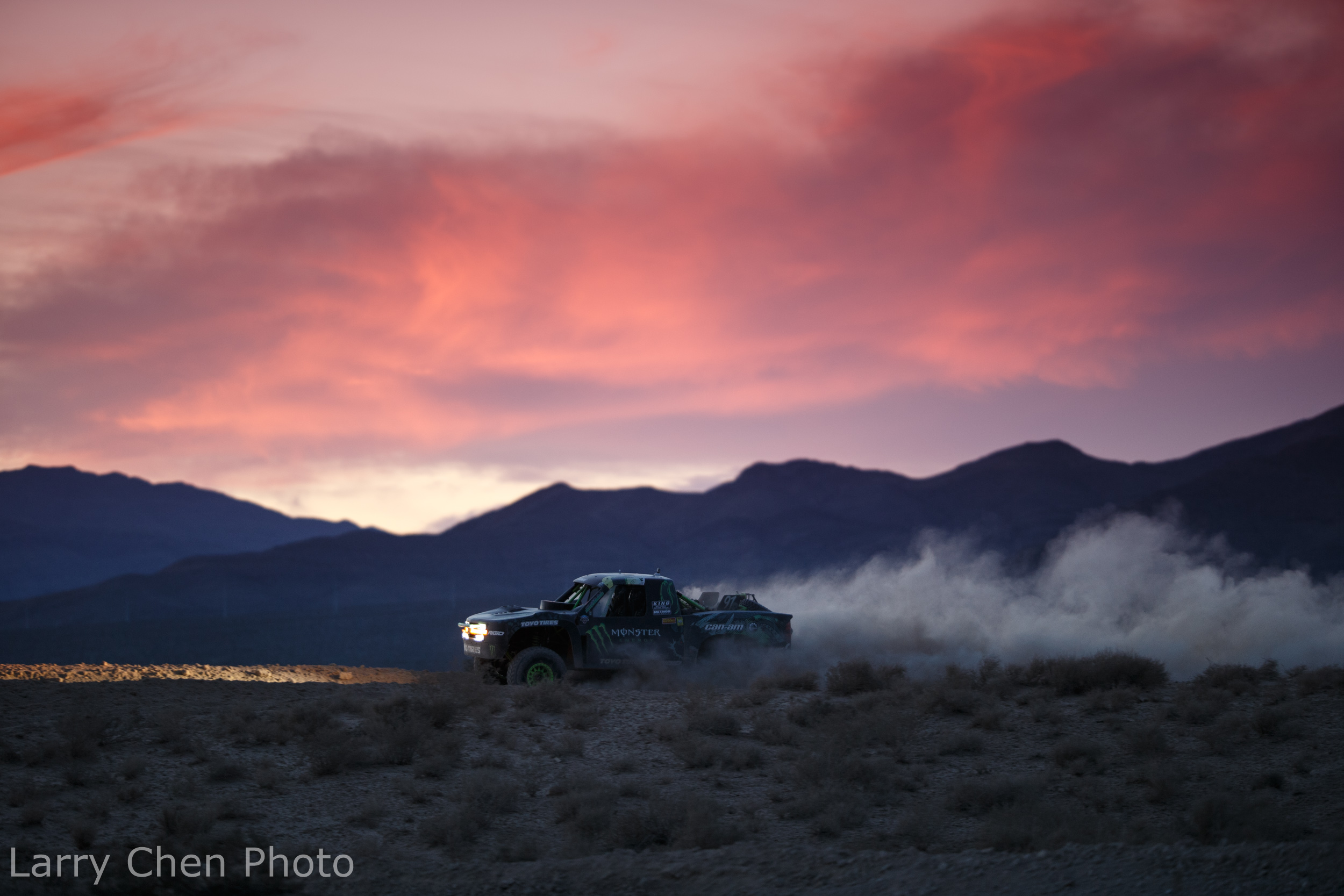 This of course meant that it was the perfect spot to get some epic sunset colors as well as some roost shots before they racers drove into the night on their last lap.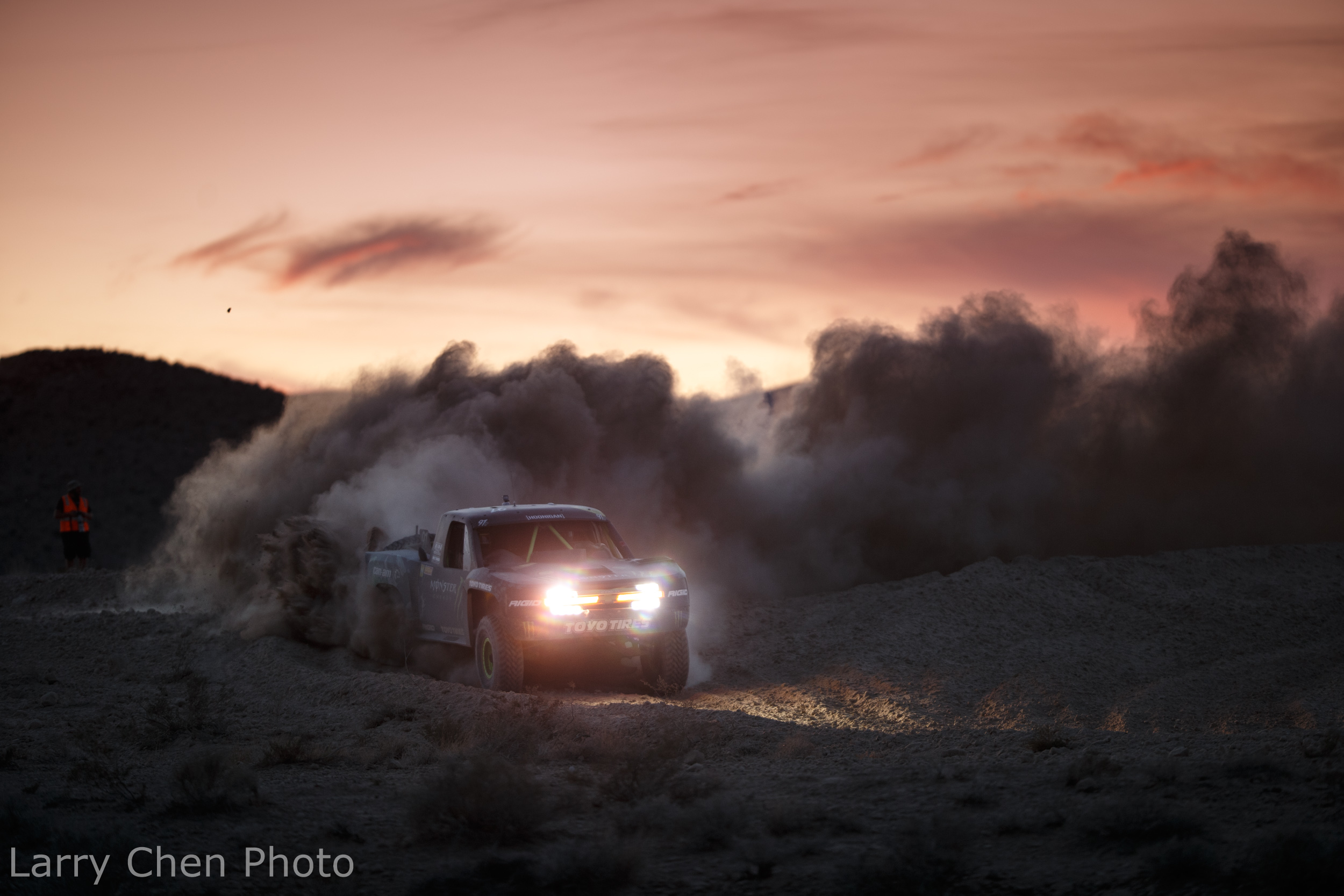 So what do you guys think about all of the recent off-road coverage. Do you like it? Or do you hate my guts for it? I want to know… Like I said earlier in my post, there is an endless amount of things to enjoy in the Speedhunting world, so why not take a look at what other people are doing?
Till then, you will find me at more races like the Baja 1000 and hopefully the Dakar Rally soon enough. It's definitely on my bucket list. Enjoy the Bonus Images chapter below!
Larry