I've shot top fuel and nitro funny cars before, but up until very recently it had been a while since I'd experienced the eardrum-shattering and heart-thumping power of a 10,000hp drag car.
I figured it would be a good idea to check out the final round of the NHRA Mello Yello Drag Racing Series. After all, Auto Club Raceway in Pomona, California, is the closest race track to my home; I live just a few minutes away.
I tried my best to capture some unique angles, like this top-down shot showing how much a top fuel dragster's chassis flexes at launch.
Because I was not there to follow a specific team or storyline, I was free to shoot how I wanted to, which is definitely my favorite kind of Speedhunting.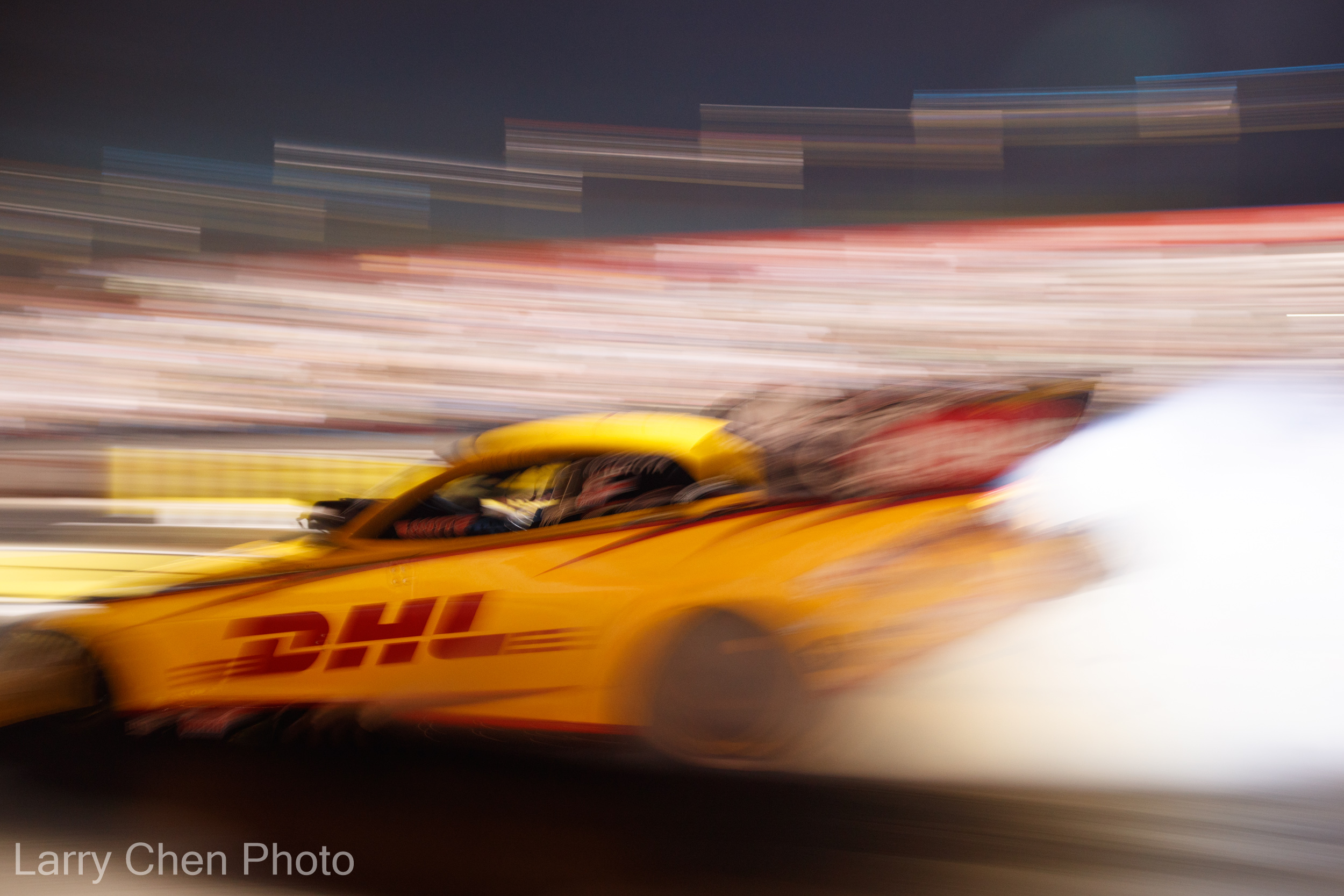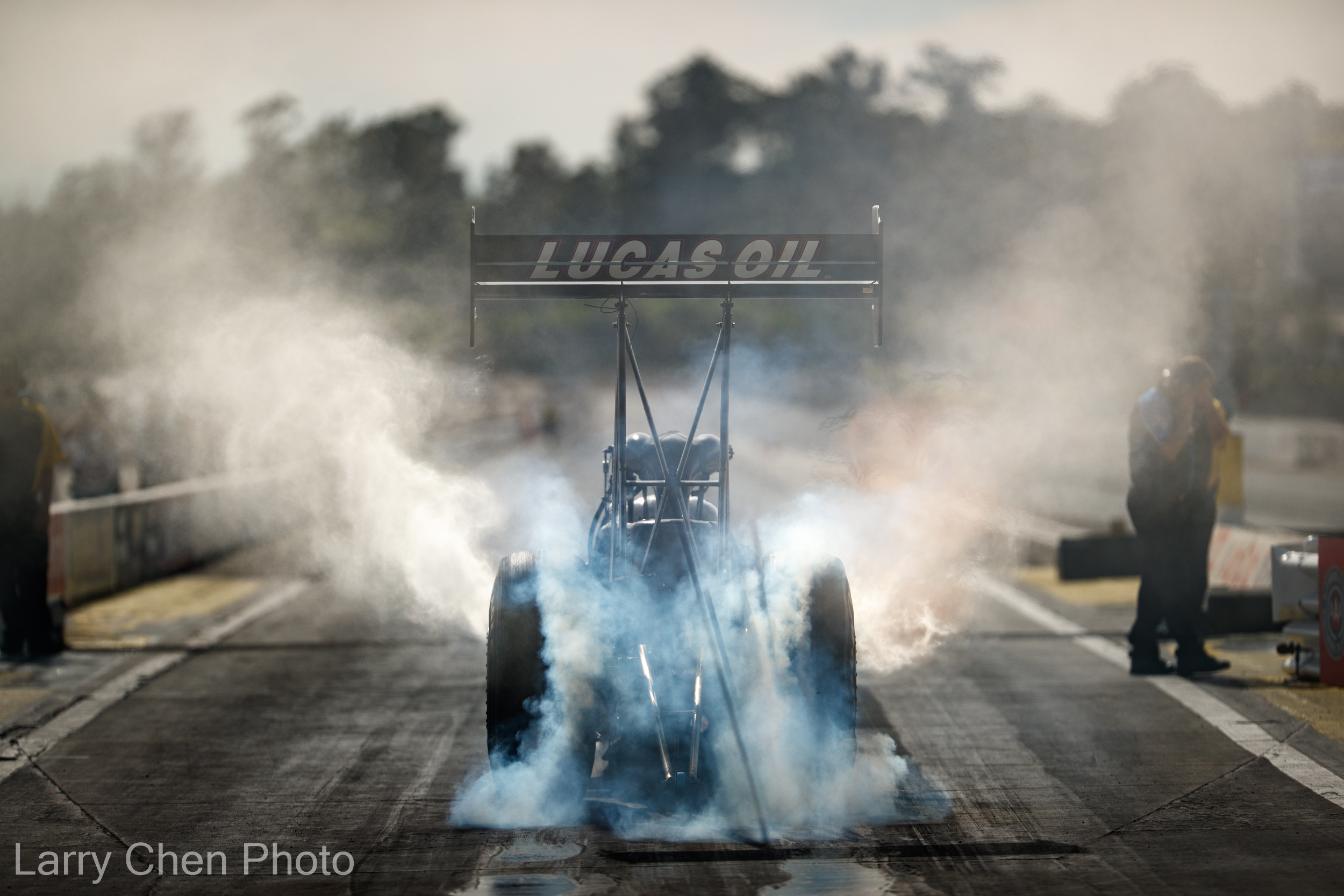 These are a collection of my favorite photos from the event, with some added insights throughout the gallery.
Panning a car as it accelerates to well over 300mph within 1000ft is definitely no easy task. The motion is more like swinging a baseball bat at full speed versus a slow and steady golf club arc.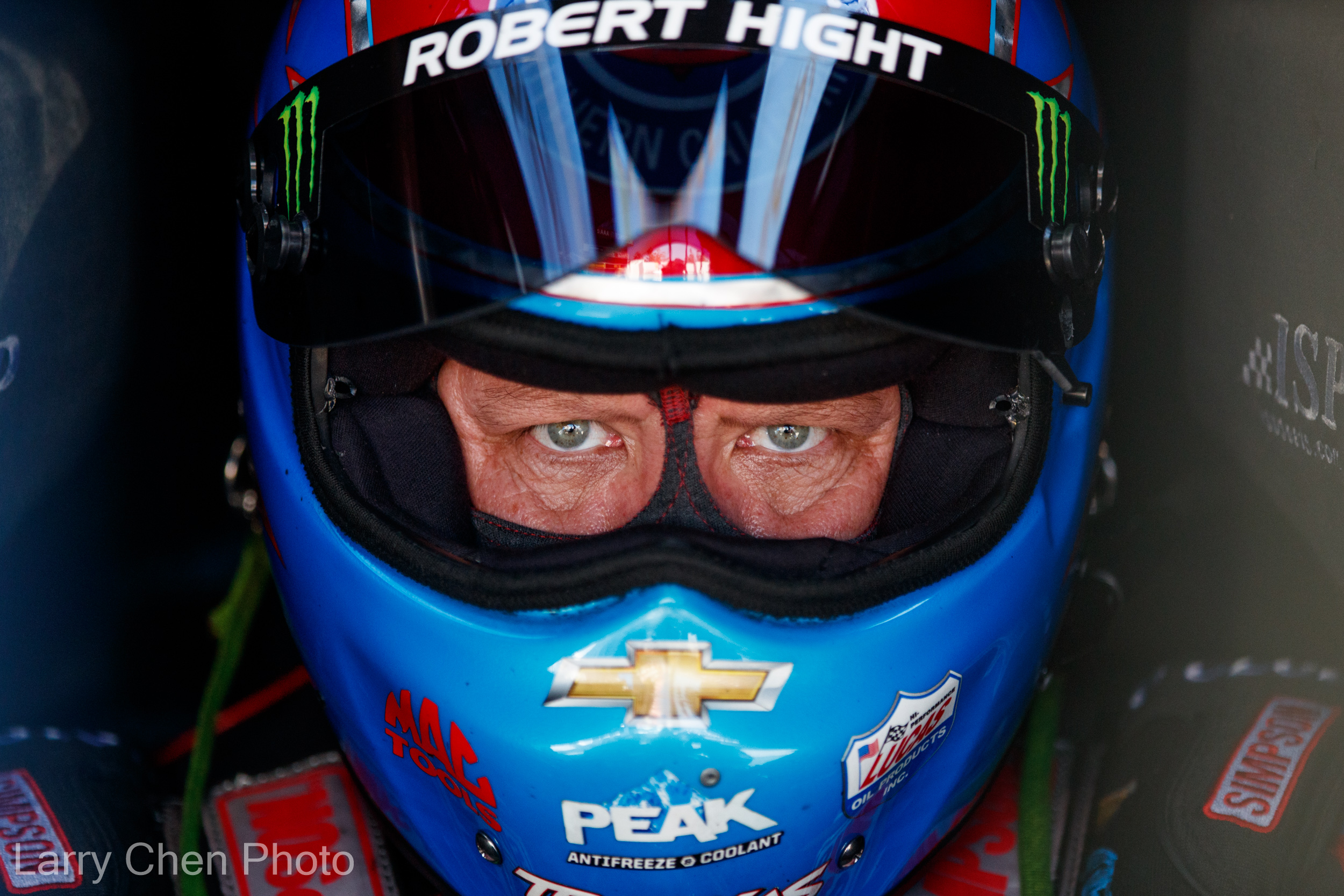 The eyes of a drag racer. Concentration is high as races are often won and lost within hundredths of a second.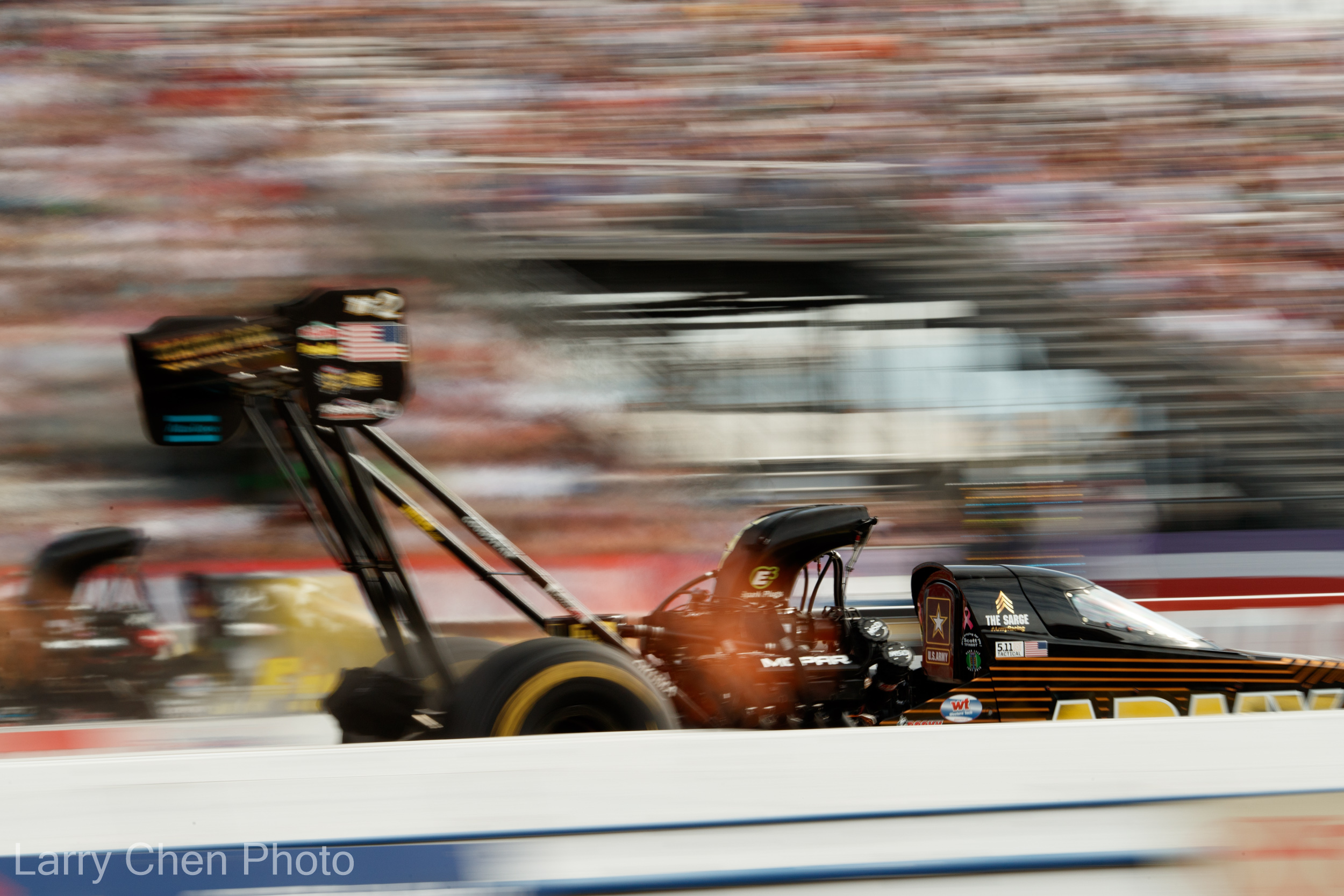 The surface of a prepped drag strip is very sticky, and if you don't tie your shoes on properly you will lose them. I speak from personal experience. It's quite embarrassing standing there with your shoes stuck on the strip.
Not only do these machines pull insane wheelies, they also hop around the burnout box.
The legend himself, John Force. I caught him in a quiet moment right before his qualifying run.
All that stuff coming out of the exhaust is unburnt nitromethane. Stand too close while a nitro-fueled machine is doing a burnout and you are in for watery eyes and burning lungs, possibly not too unlike inhaling full shot of tequila. I also learned this the hard way.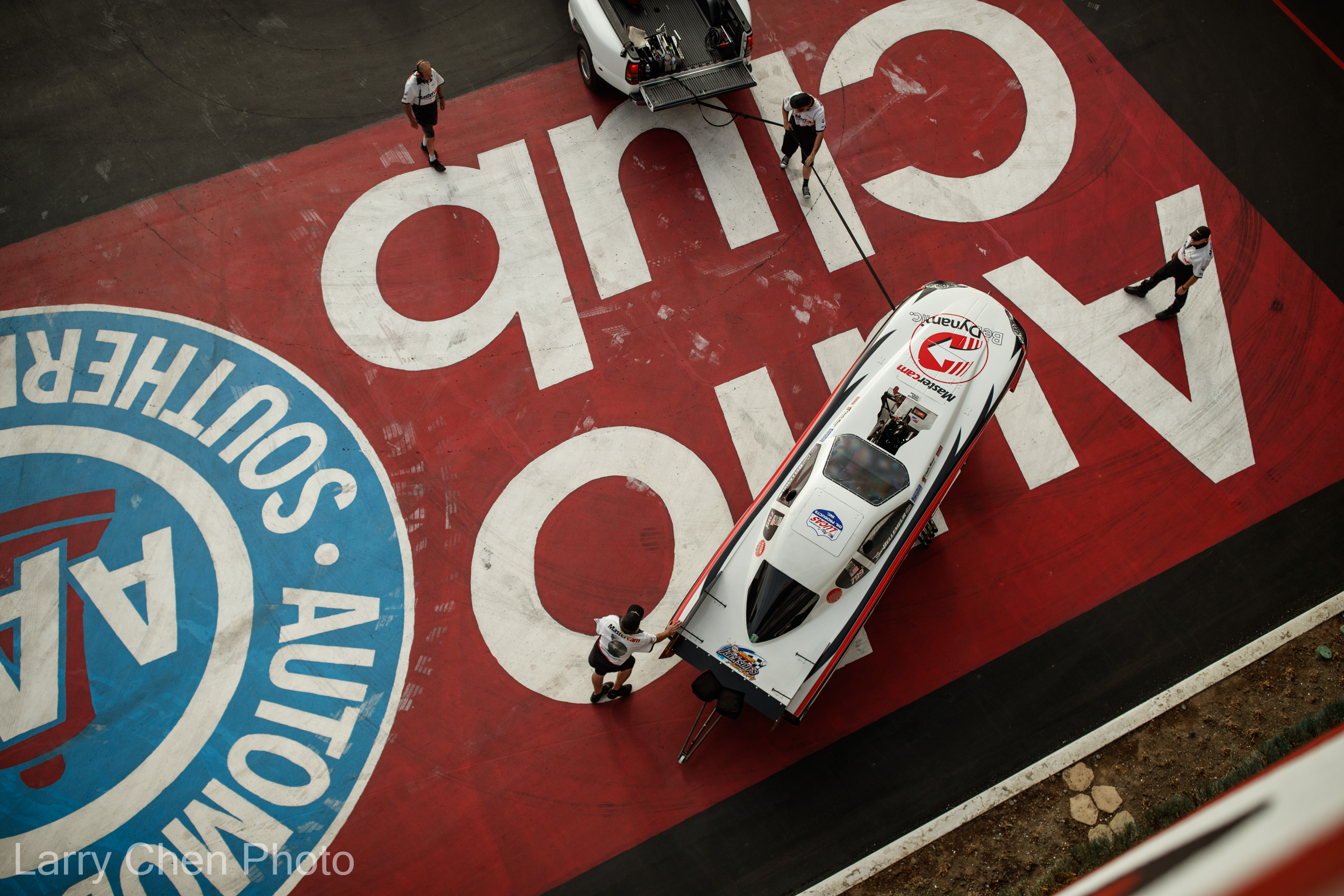 This shot of Leah Pritchett reminds me of a scene out of 2001: A Space Odyssey
Check out the rear tire wrinkle as she leaves the start line.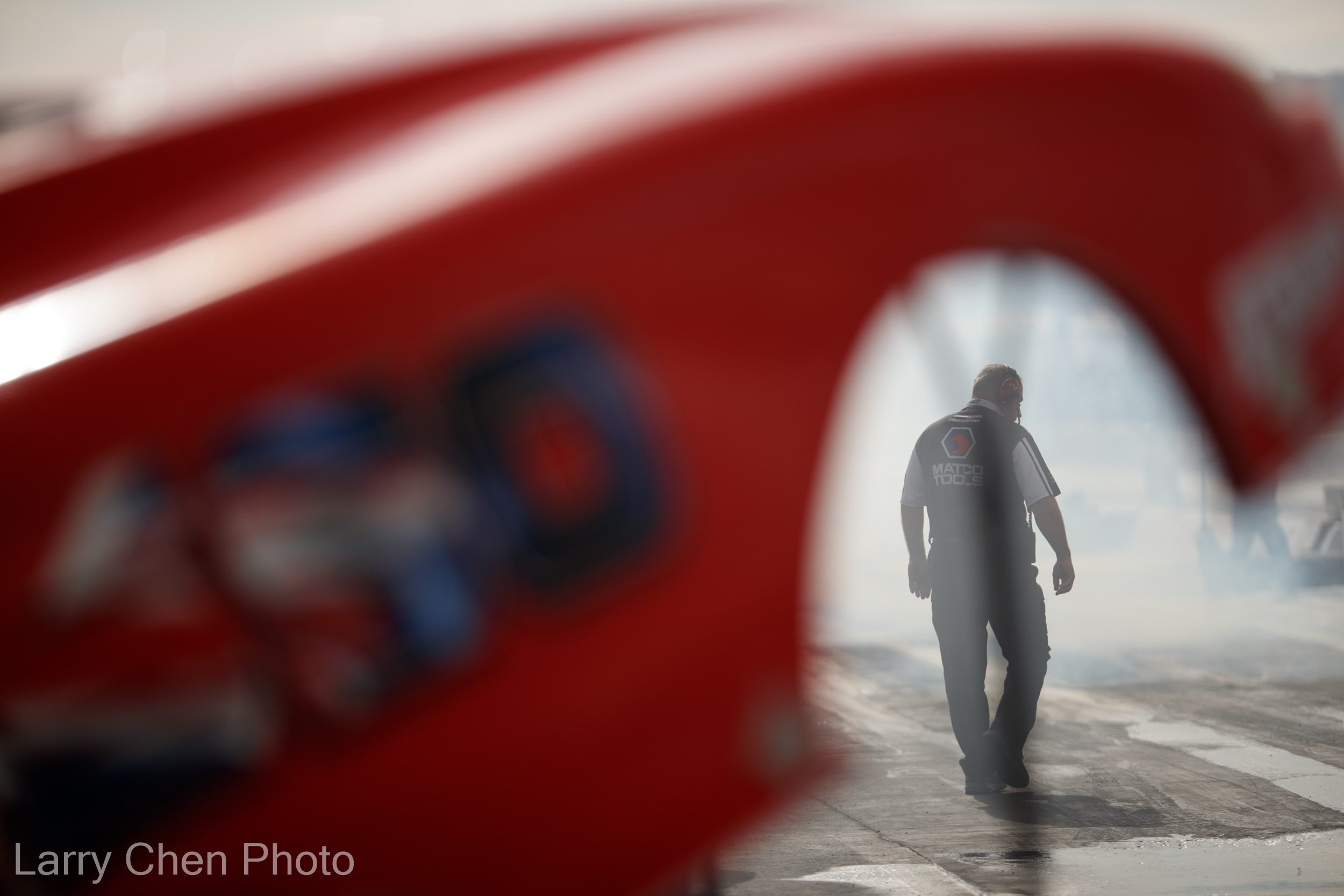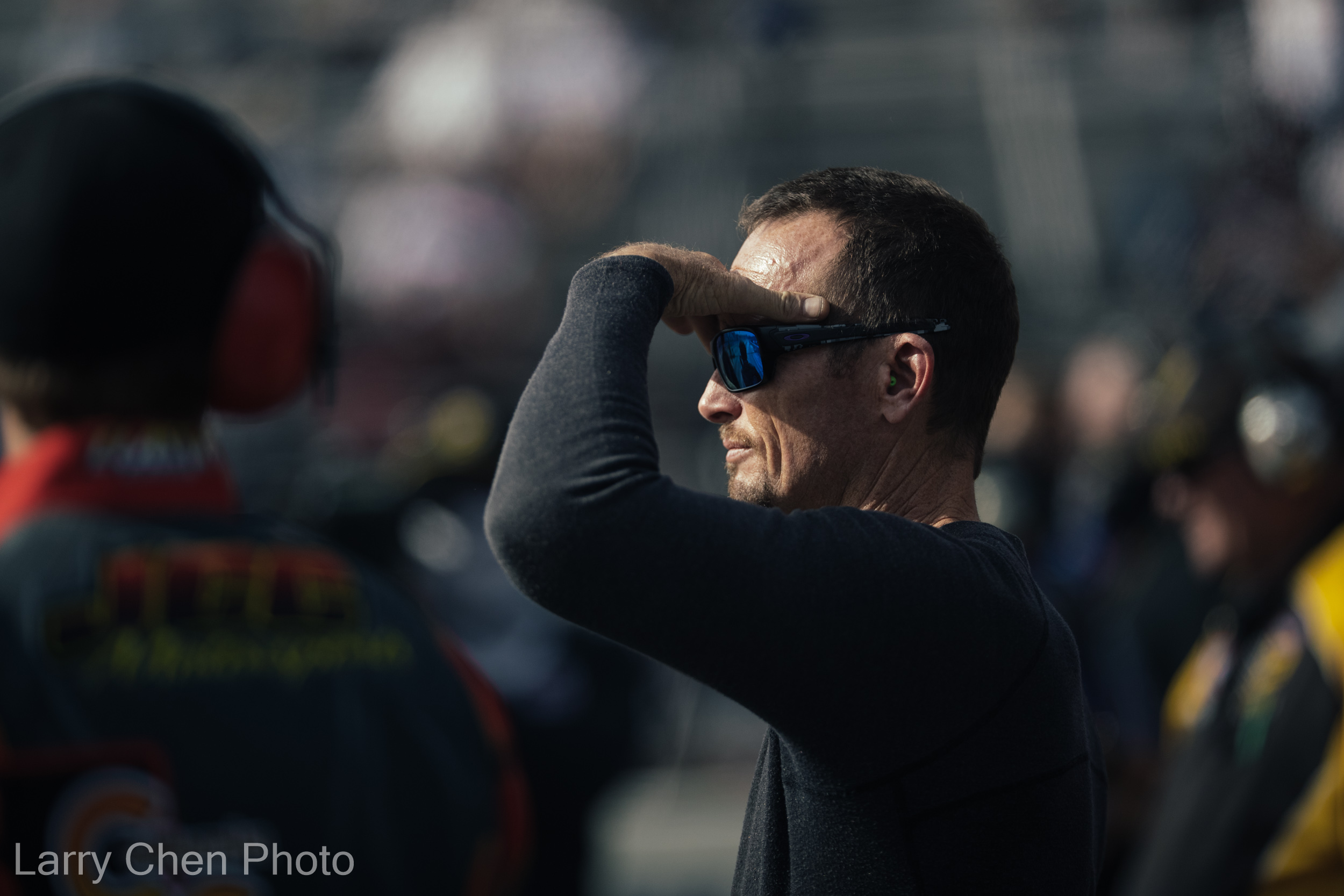 I love the license plate.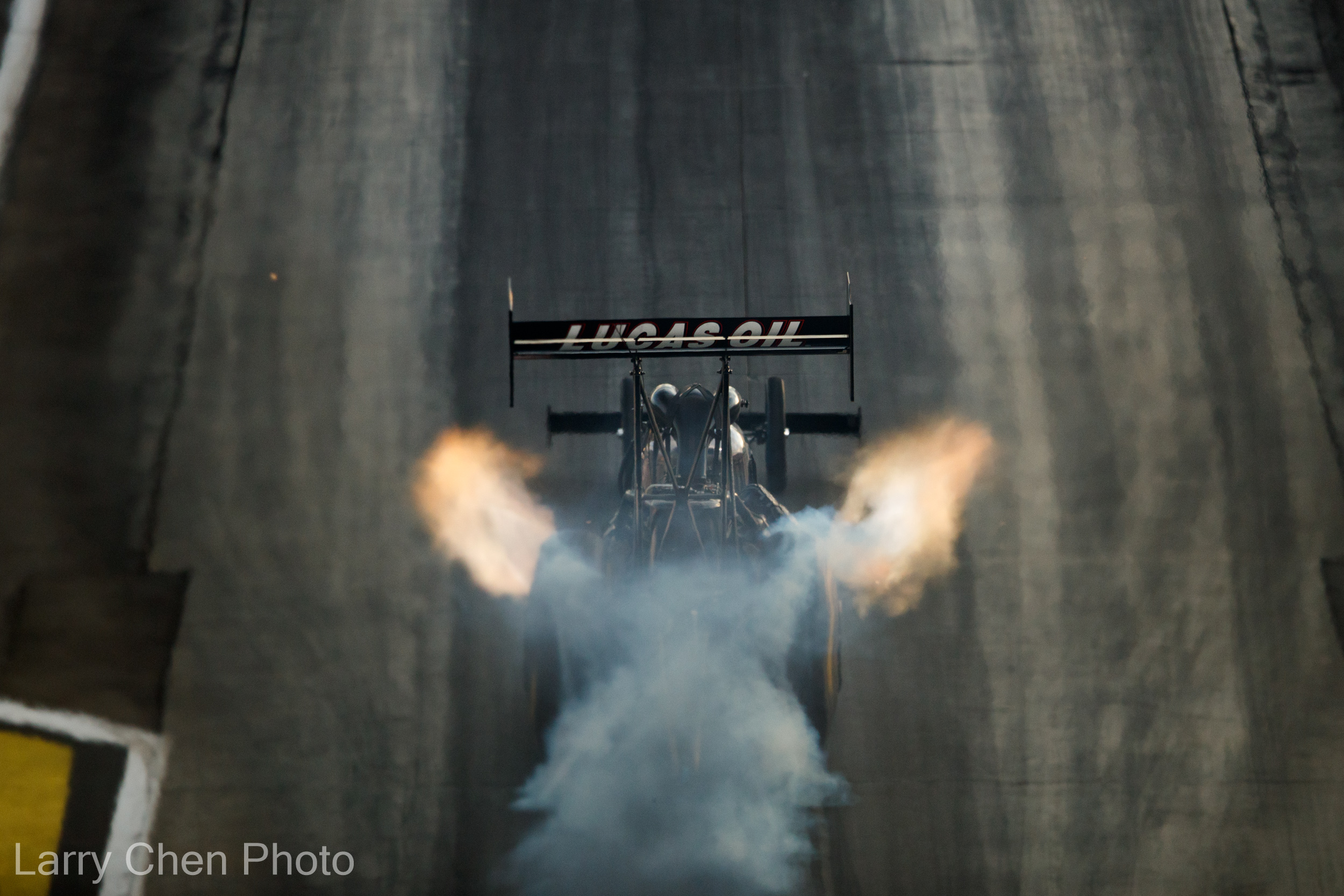 It may look like a tilt-shift effect, but I can assure you that it's all exhaust fumes blurring the bottom half of the image.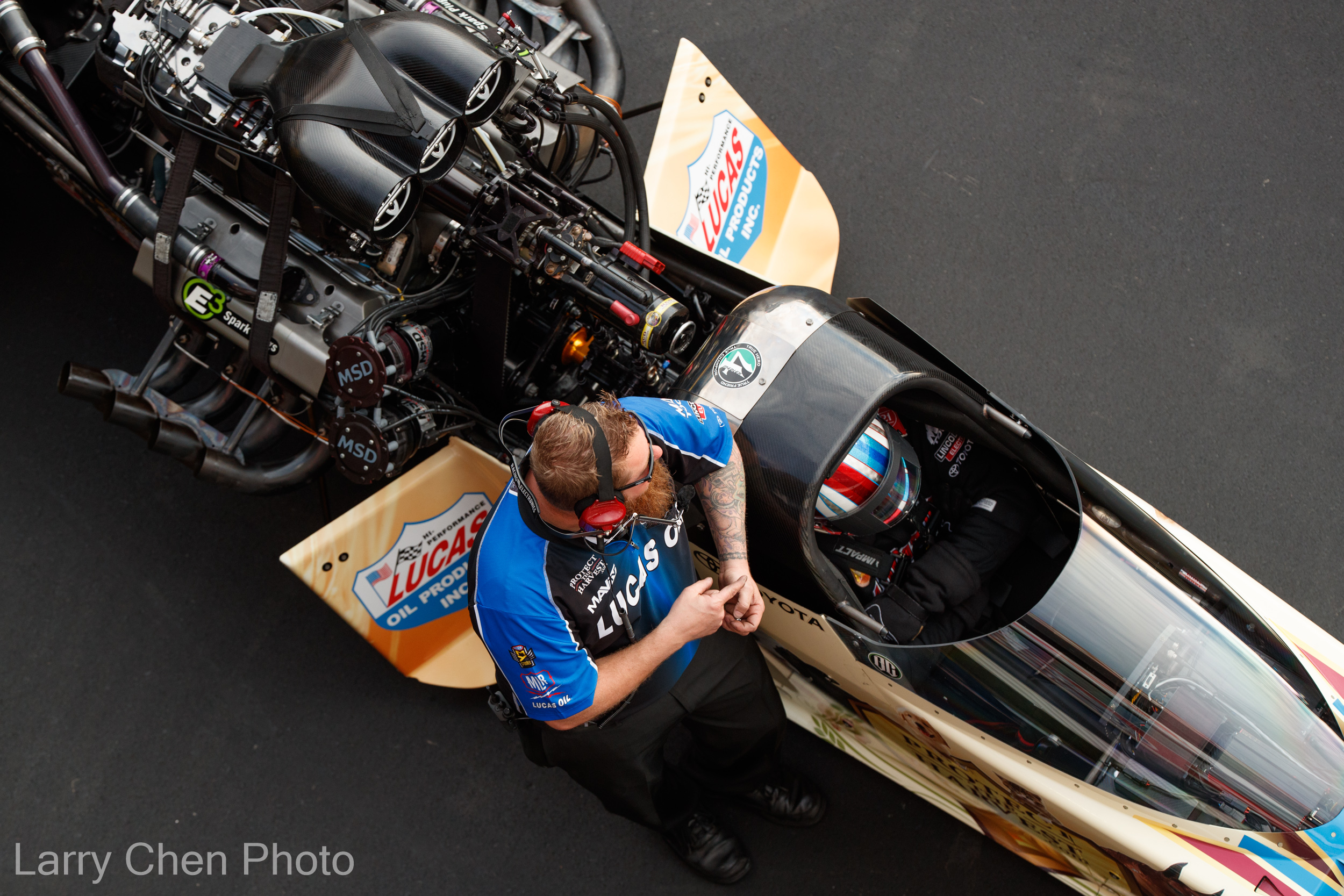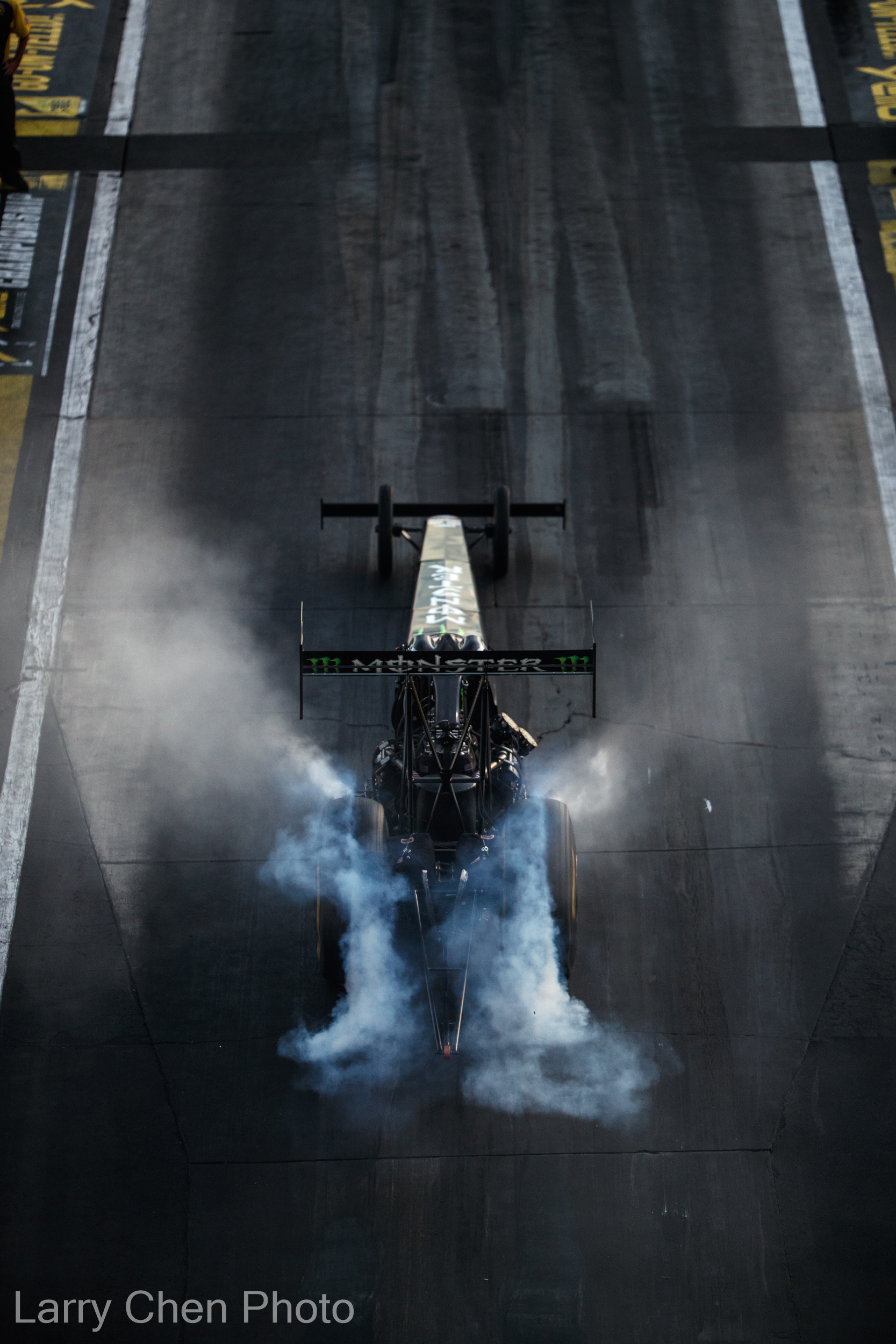 Drag racing itself is such a simple concept on paper, but when you actually get to experience it in person you quickly learn just how complex it really is.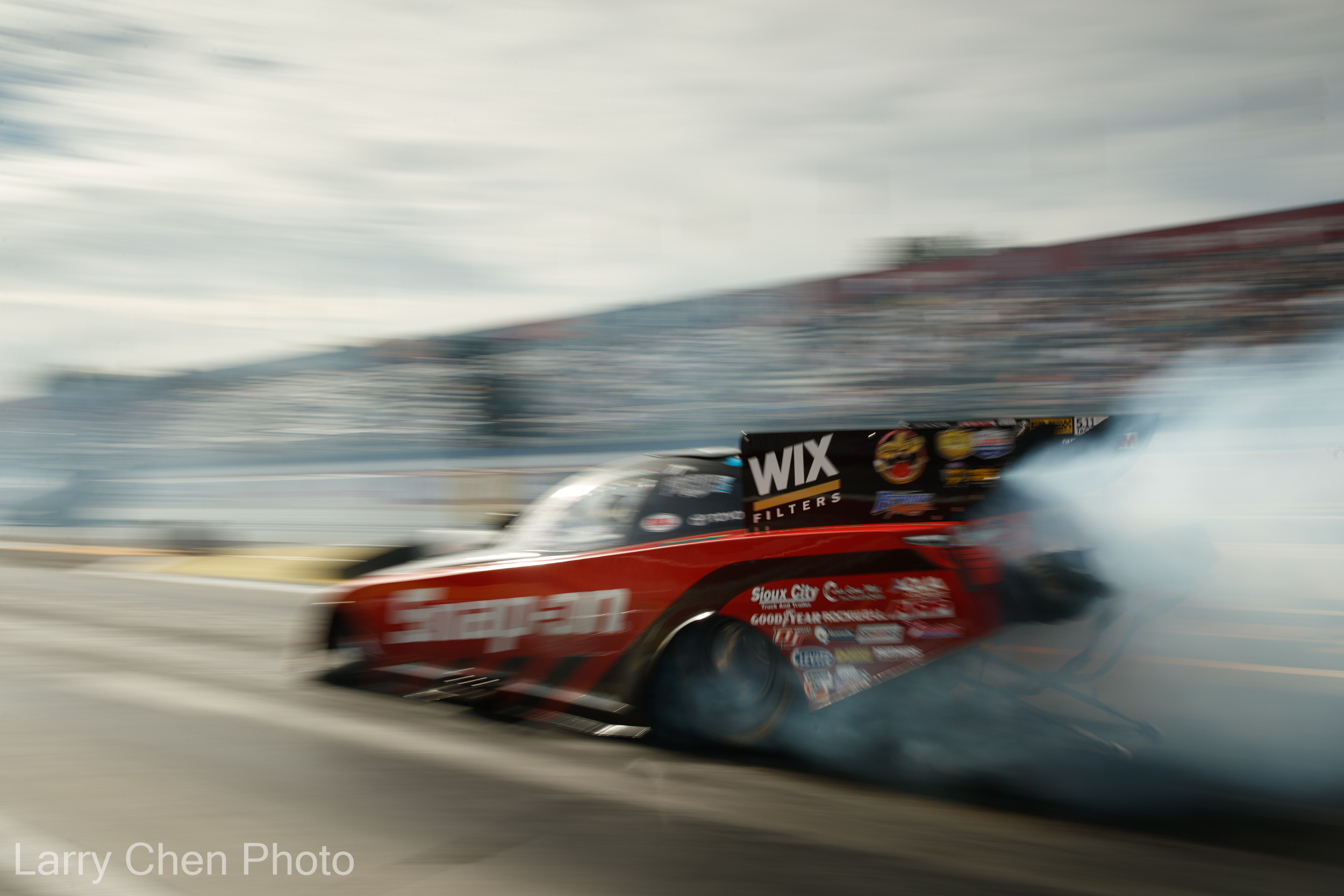 These are the quickest race cars in the world, and so much goes on in the lead up to them powering down the strip that you don't get to see.
Hopefully next year I can try for some more in-depth stories surrounding this amazing motorsport.
Baptism by nitro. These guys stood behind one of the funny cars as its engine was warmed up after a rebuild. If you can't tell from the photo, they were really suffering from the fumes.
Where's the nearest jump?
It's so cool when you see drivers wear nitro gas masks. Does it get any more badass?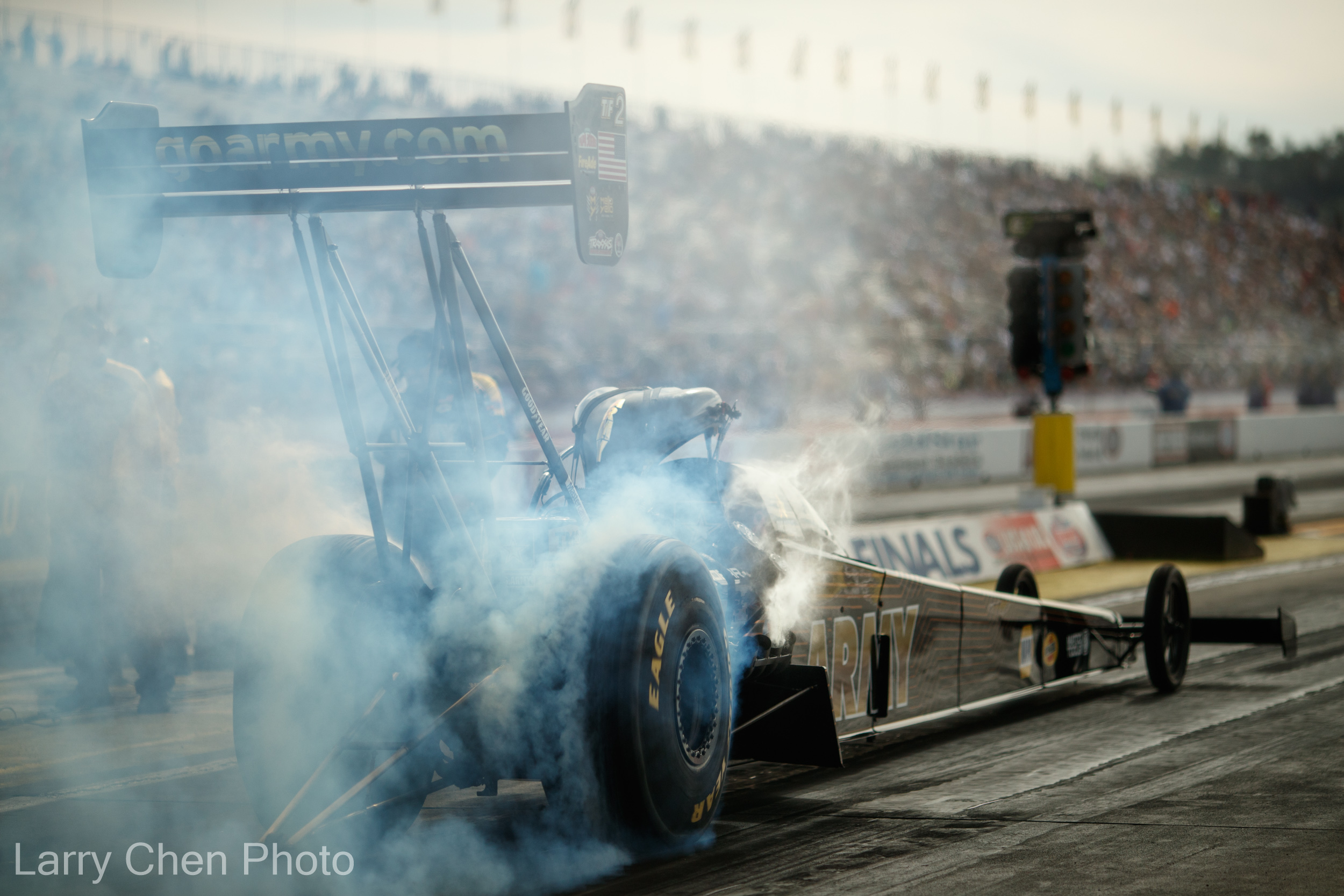 I am kind of a weenie so I wear double ear protection, plugs for inside my ears and earmuffs to go over the top. With all that, I still flinch when these guys drop the hammer.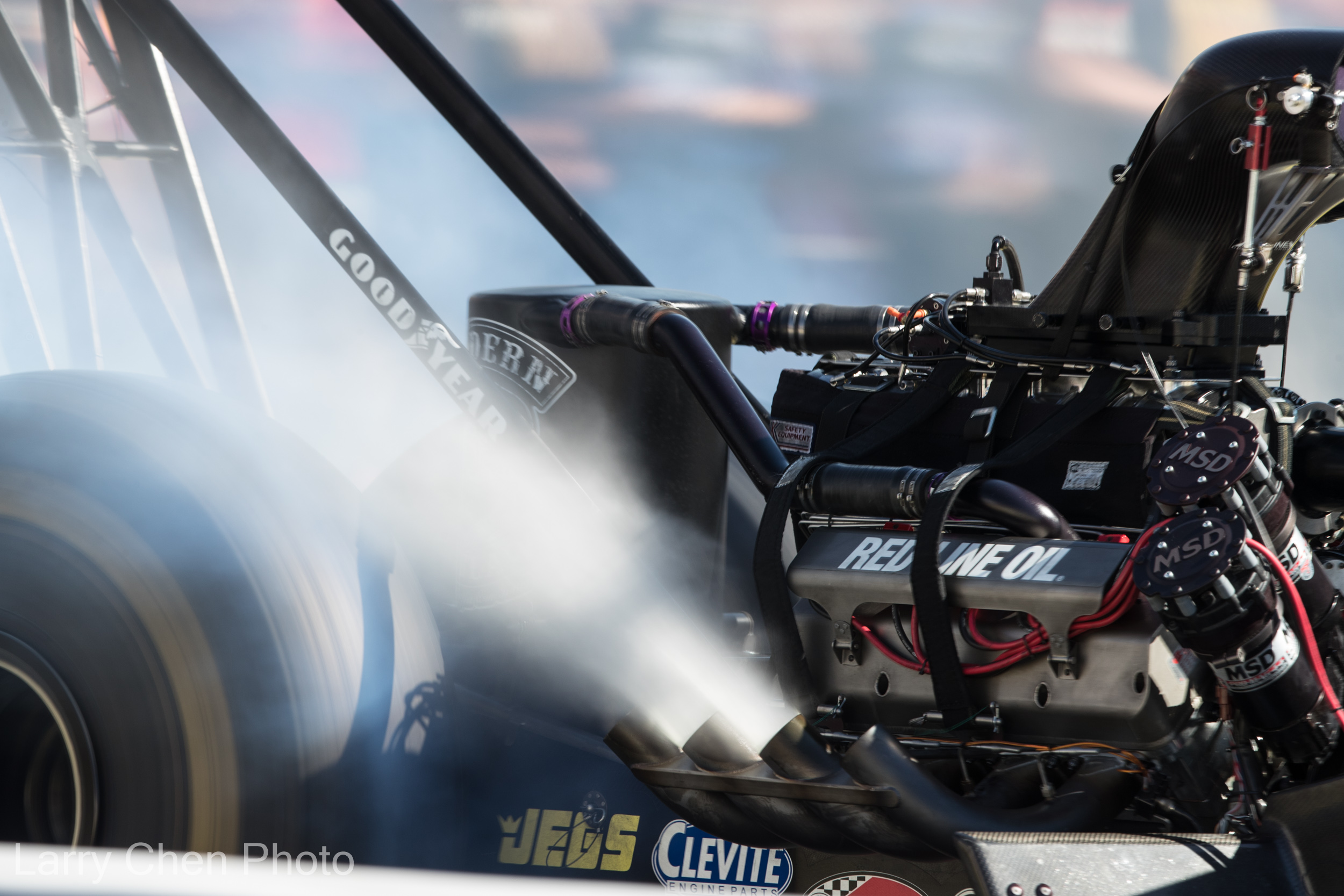 It's so violent that my camera even gives me a flicker warning, which normally only comes on when I am shooting a fluorescent light. The camera shakes so much from the shock waves that it freaks out.
Just a few feet away from the start line you experience up to 150 decibels of nitro fury.
To quote an article from Dragzine.com: "It should come as no surprise that the World Health Organization considers the output at close proximity to a fuel car to be in their "do not expose yourself to this" range, while the 127dB in the spectator area falls within the recommended range of only 1 second of exposure per 24 hours."
With that all said, it amazes me that there are those who are into cars and the surrounding culture who think drag racing is boring.
Trust me when I say this: it's only boring to you because you have not been to an NHRA event. After one of these nitro funny cars shakes your bowels your outlook will be altered forever.
Larry Chen
Instagram: larry_chen_foto