The Gumball 3000 is one of those events that you hear about as a car enthusiast, but something only few can actually take part in given its prohibitively expensive entry fee. For 2017, a spot in the rally was set at around US$45,500 per car, and that's before all the other associated costs that come with the event.
Over the years there have been many similarly-themed road rallies popping up all over the world, but none are as big or as crazy as the Gumball 3000. It's why I jumped at the opportunity to take part in this year's event on the back of an invite from our friends at Motorhead magazine in Japan.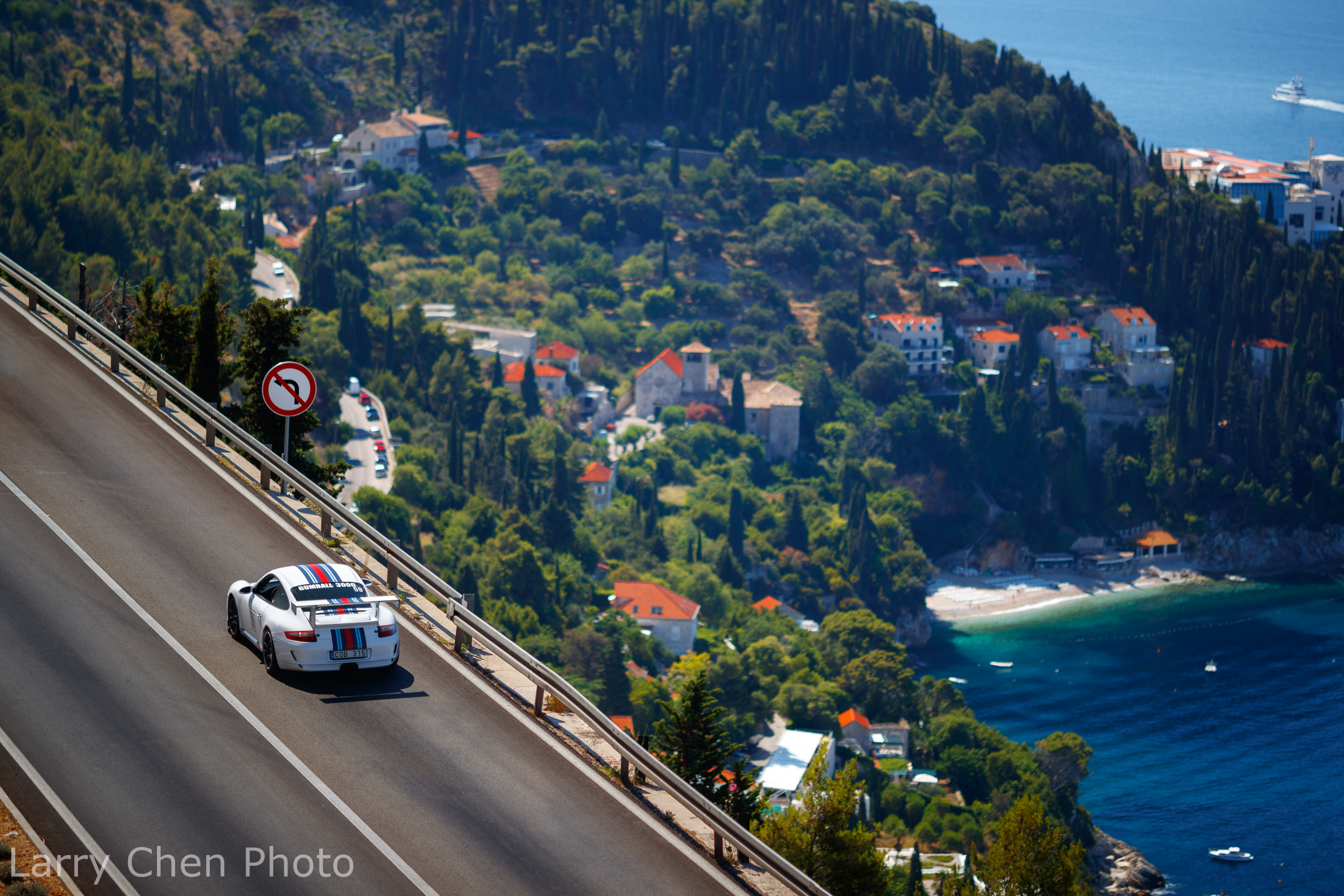 Primarily, I was there to ride with Motorhead and document the event for an upcoming issue of the magazine (which is out now, by the way), but the editor-in-chief, Ko-hey Takada, was happy for me to share the behind the scenes story here too.
The event itself has really evolved over the years. Originally, the Gumball 3000 was more focused on the cars and the culture surrounding them, but now it's like a giant – and very expensive – rolling party.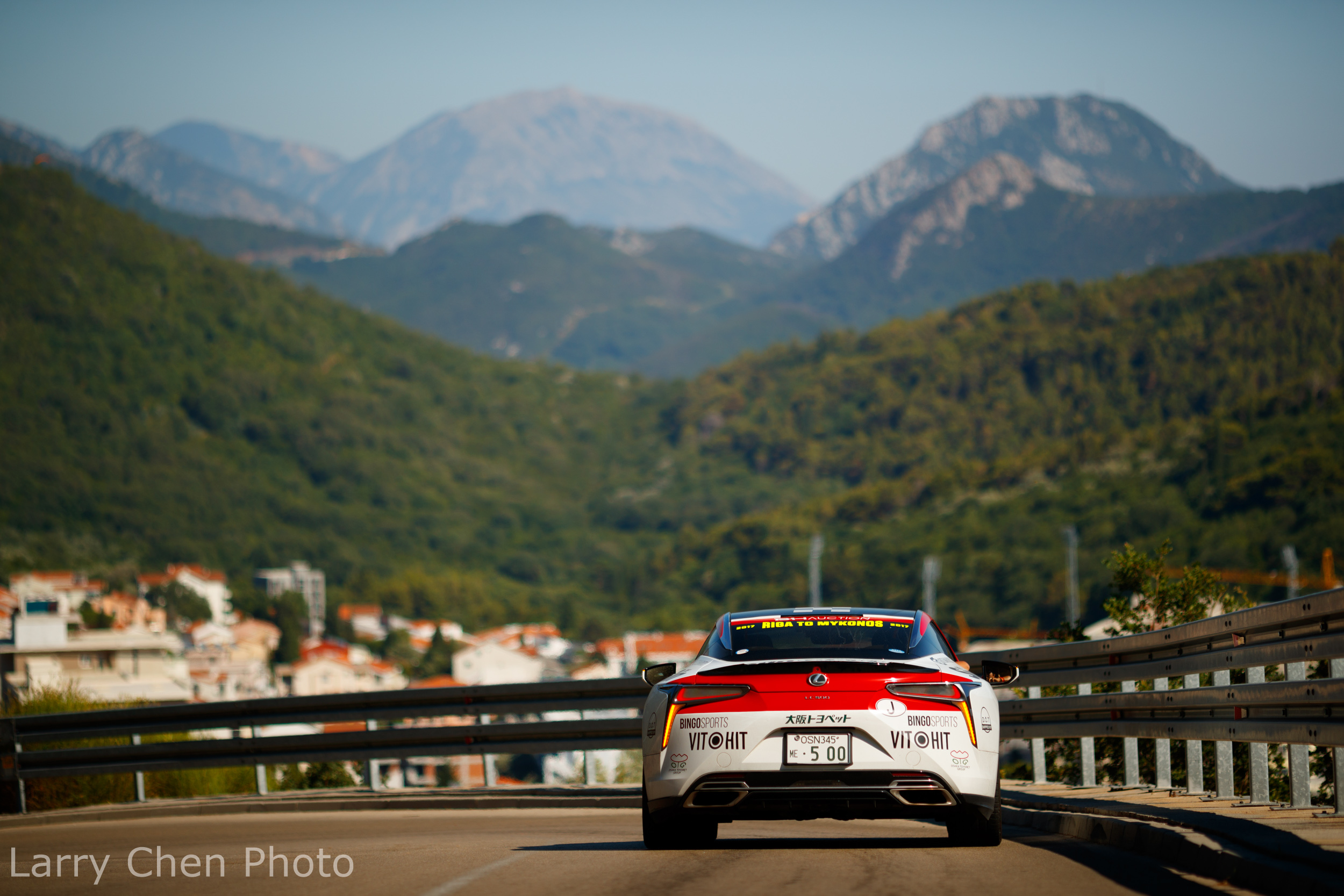 It seems to me that there are three types of people that compete in this event. The first group are the pure speed junkies who have little to no regard for authority and drive foot to the floor at triple-digit speeds. They almost always arrive to the next location first, but are the smallest group among the 150 entrants.
Then there are those who love driving fast, but not at the expense of getting themselves in trouble. They'll occasionally push the limits on public roads, but in a more responsible manner. This is the largest group of teams, mostly consisting of supercars and exotics with a few GT cars thrown in for good measure.
The third group is in the Gumball 3000 for the party; leaving late and arriving late is their style. Bentleys, Rolls-Royces, Range Rovers and other luxury cars and SUVs make up the bulk of the vehicles in this group.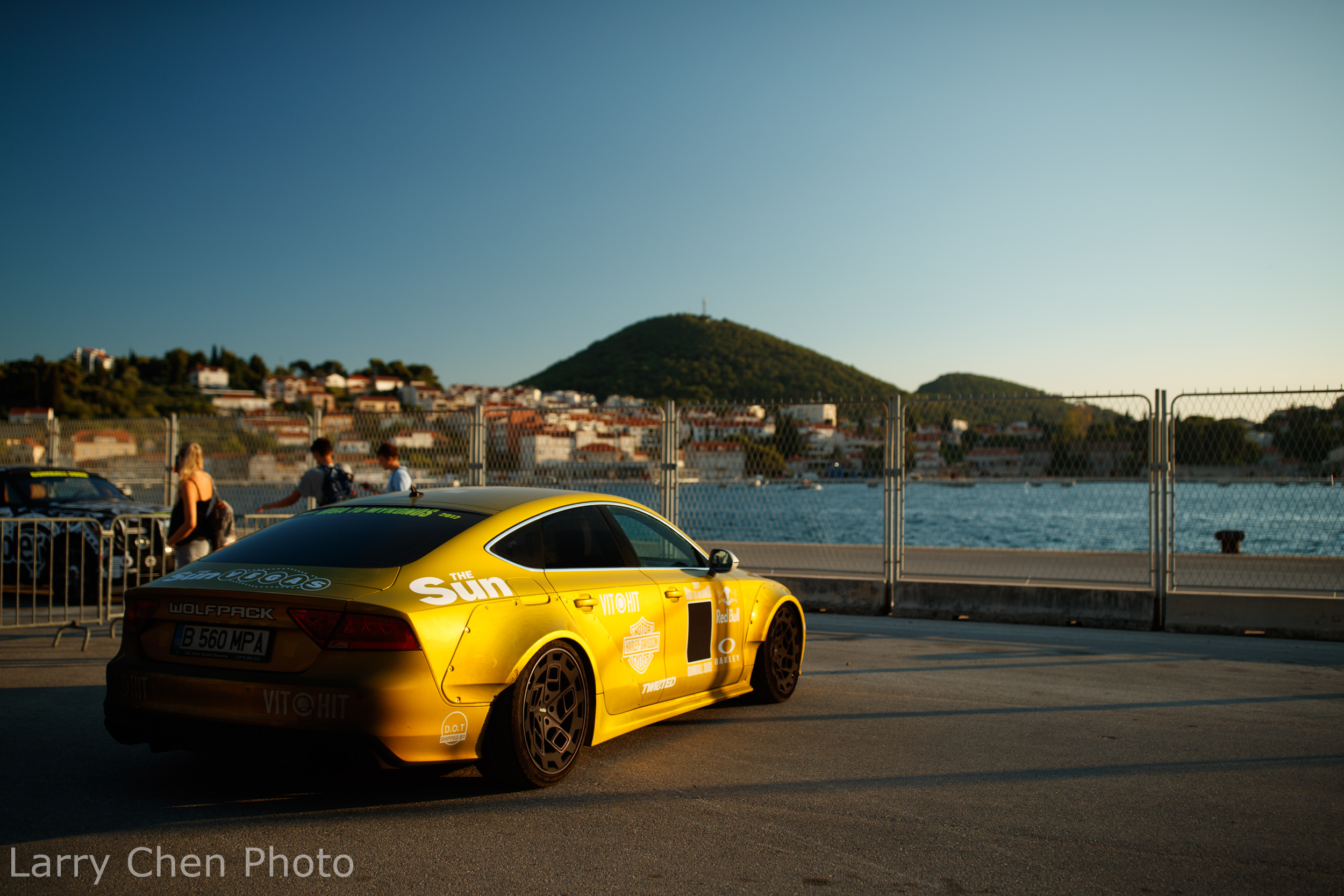 The Motorhead team fit somewhere in between the first and second groups; we were in it to drive fast, but we also wanted to stay out of trouble – which we did.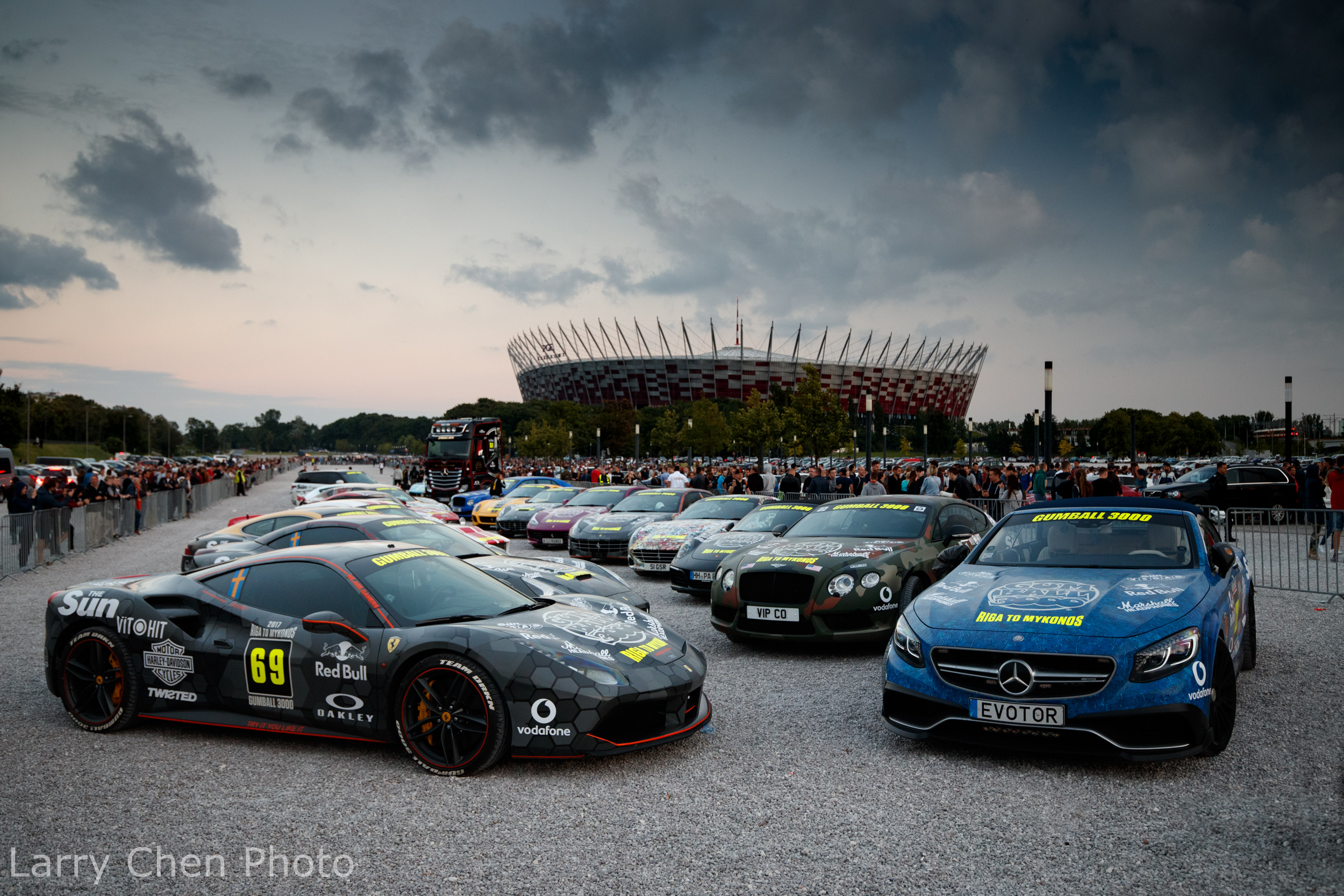 The rally itself started in Riga, Latvia and would eventually end up in Mykonos. Greece. Due to Goodwood Festival of Speed commitments, I joined the Gumball party at its first stop in Warsaw, Poland.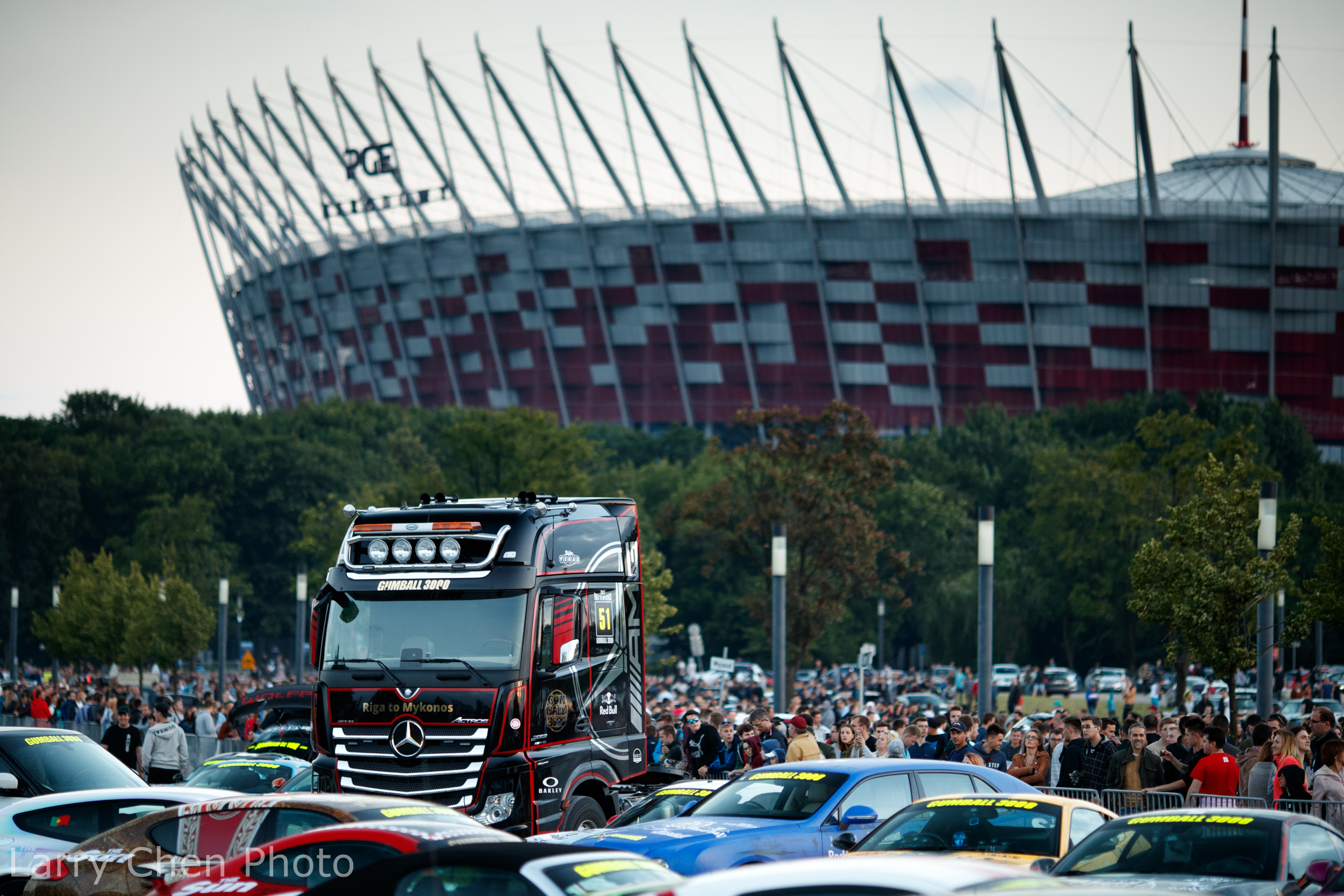 When I arrived at the stadium where the cars were going to regroup, I was unsure if I was at the right place. There were so many people around I thought there was some sort of festival going on.
It turned out that everyone was just there to see the cars showing up – nothing else. There was no side car show and no other event of any kind. Amazing.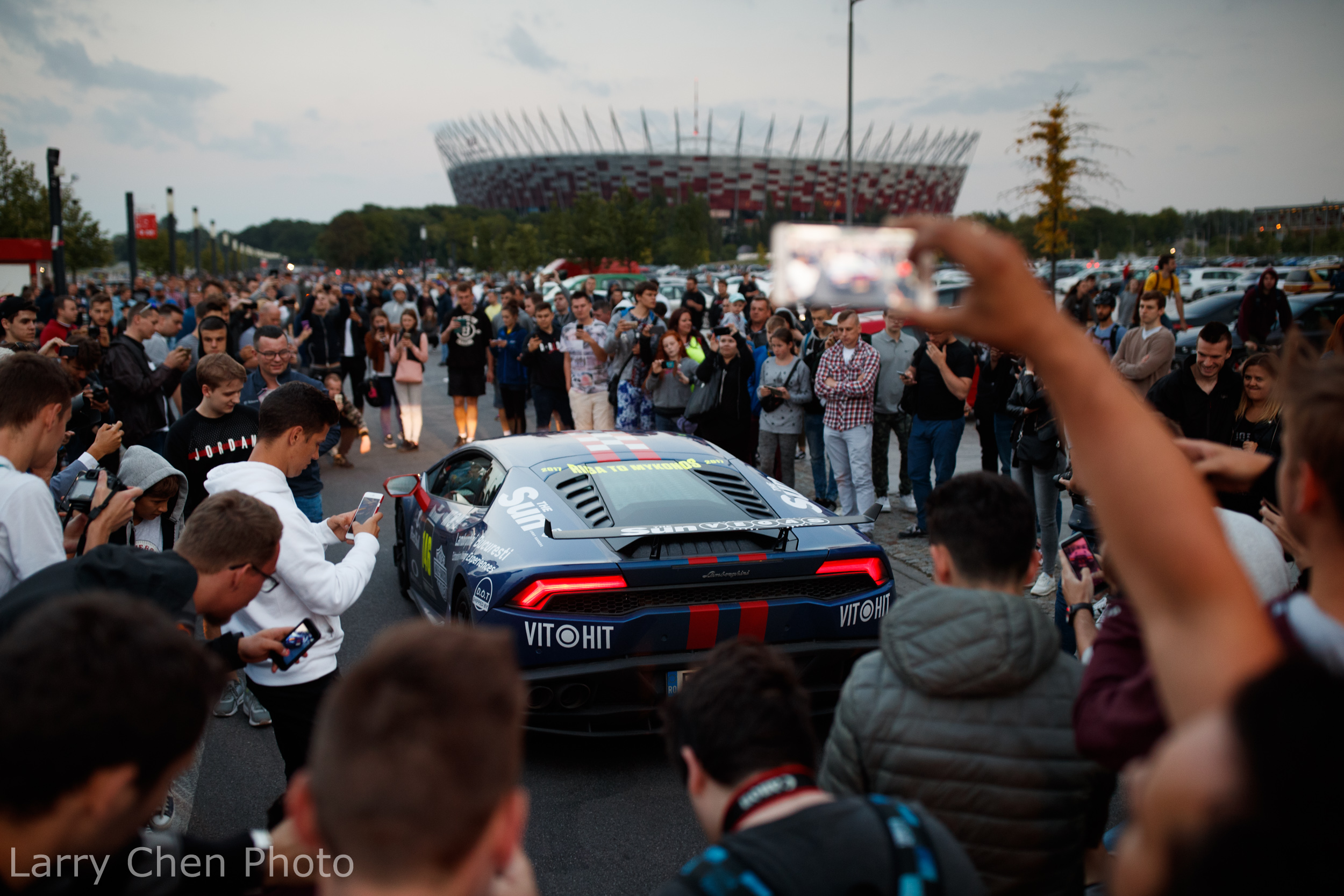 I quickly realized that these people were genuinely into the cars, and that seeing so many exotic machines in one place at one time was something special. The Polish in general love motorsports, so I guess it was only natural that there would be a lot of excitement for the Gumball 3000 passing through Warsaw.
There were so many people trying to get a closer look at the procession of cars that it was tough for me to even see what was coming down the pipeline next.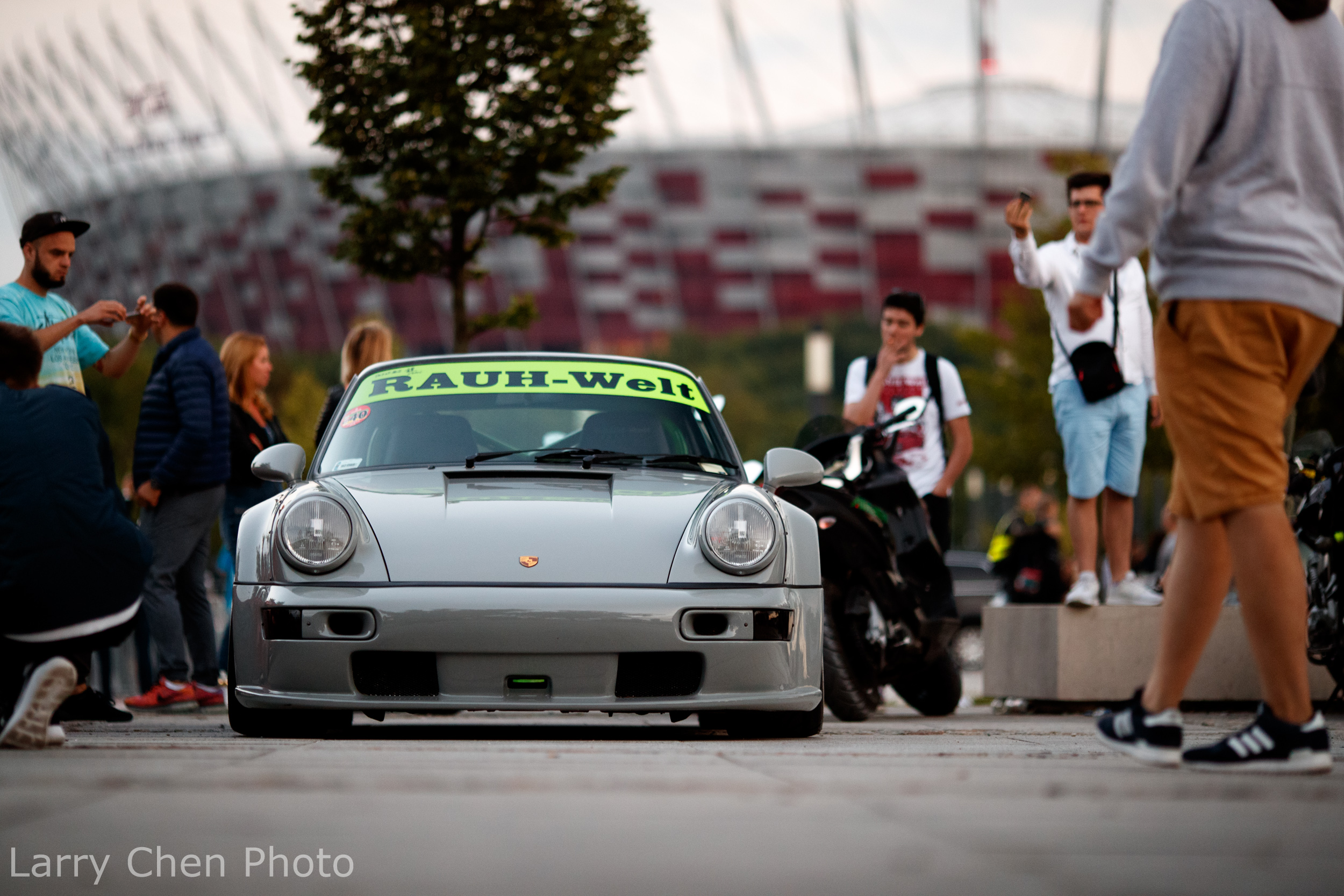 Some of the locals even brought out their own cars for an impromptu and unofficial car show. This super-clean RWB Porsche was a standout.
The atmosphere was truly festival-like. I could never imagine anything like this in the US.
Early the next morning, I met up with Ko-hey and we all hit the road.
You might be wondering why Motorhead wanted to do the Gumball 3000 this year, and the answer is simple. For 2018, the event starts in London, but finishes up in Tokyo.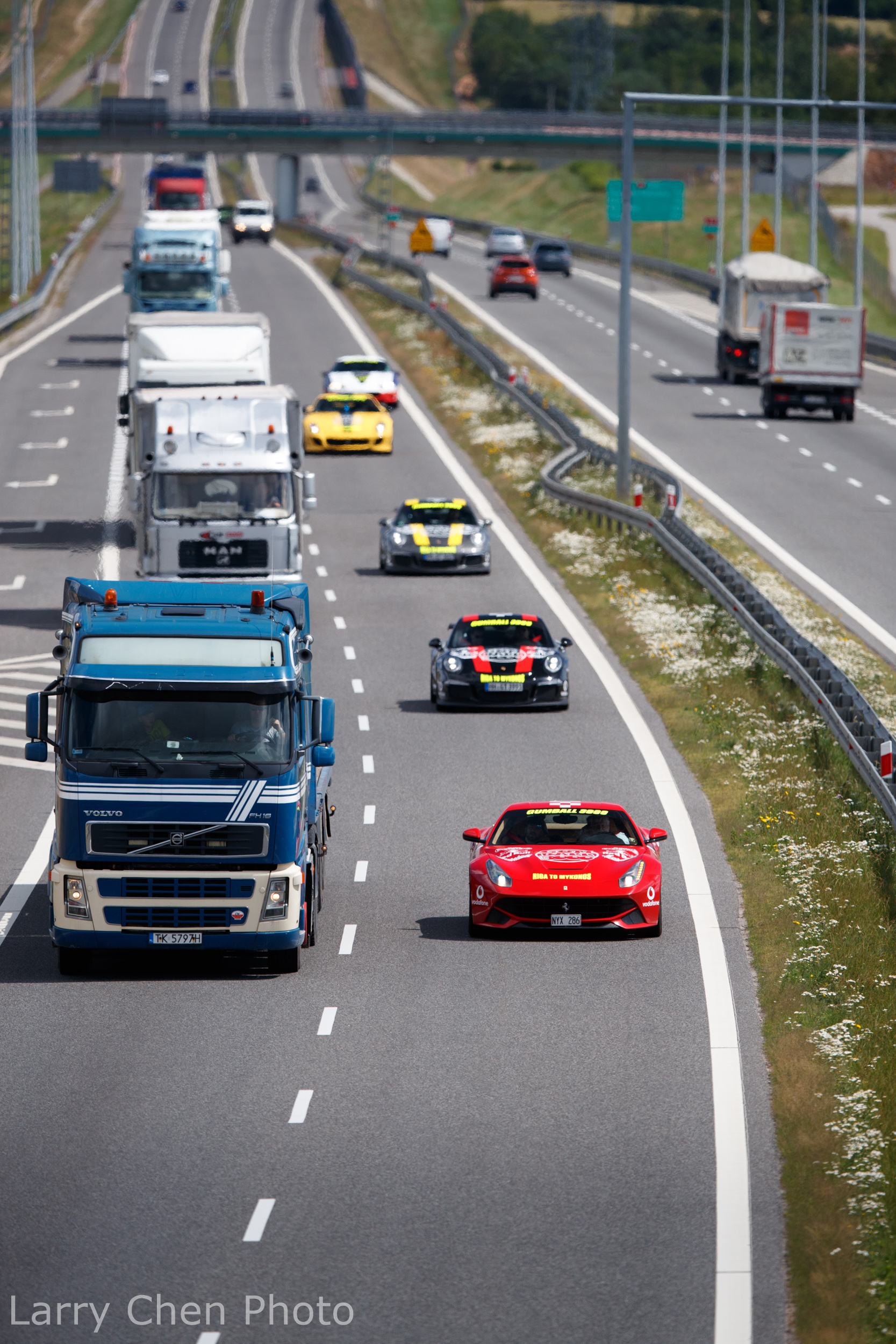 If the rumors are anything to go by, the entry fee will be well over US$100,000, but that price includes flights for the cars on three chartered Russian cargo planes from Europe to Japan.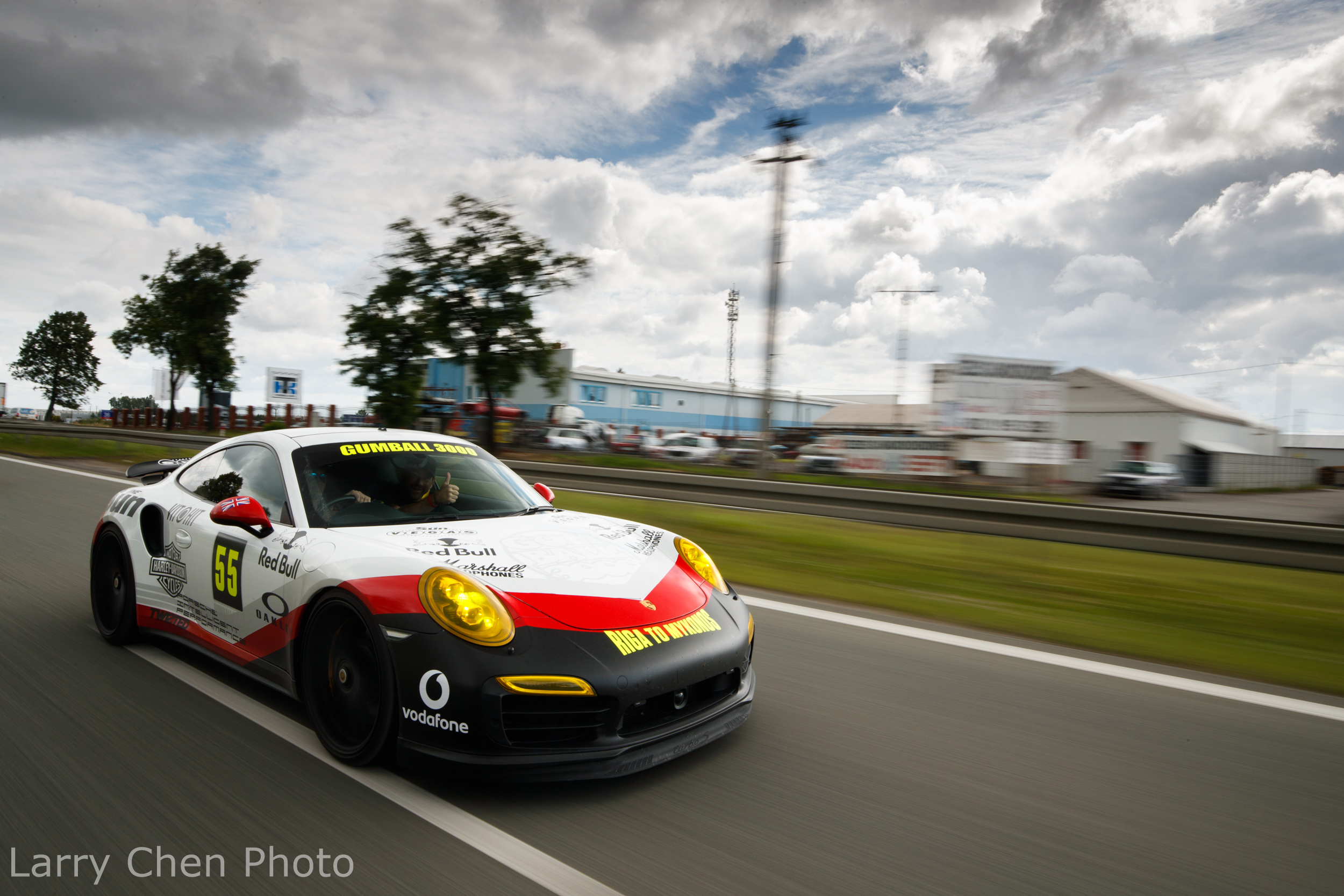 For this event, Motorhead lined up a bunch of sponsors including Bingo Sports, the goal being to get firsthand experience of the Gumball and gather assets in order to promote it in 2018. The organizers are hoping that a few Japanese teams will sign up for the renowned road rally.
This is why they airfreighted a brand new Lexus LC500 to Europe just for this rally. With the outlay for the car and over US$30,000 just to fly it one way to Europe – plus the aforementioned entry fee and other expenses – my head almost exploded just thinking about how much this mission of sorts would have cost in total. Lucky for me, I got to tag along and experience it all for myself without having to spend a penny.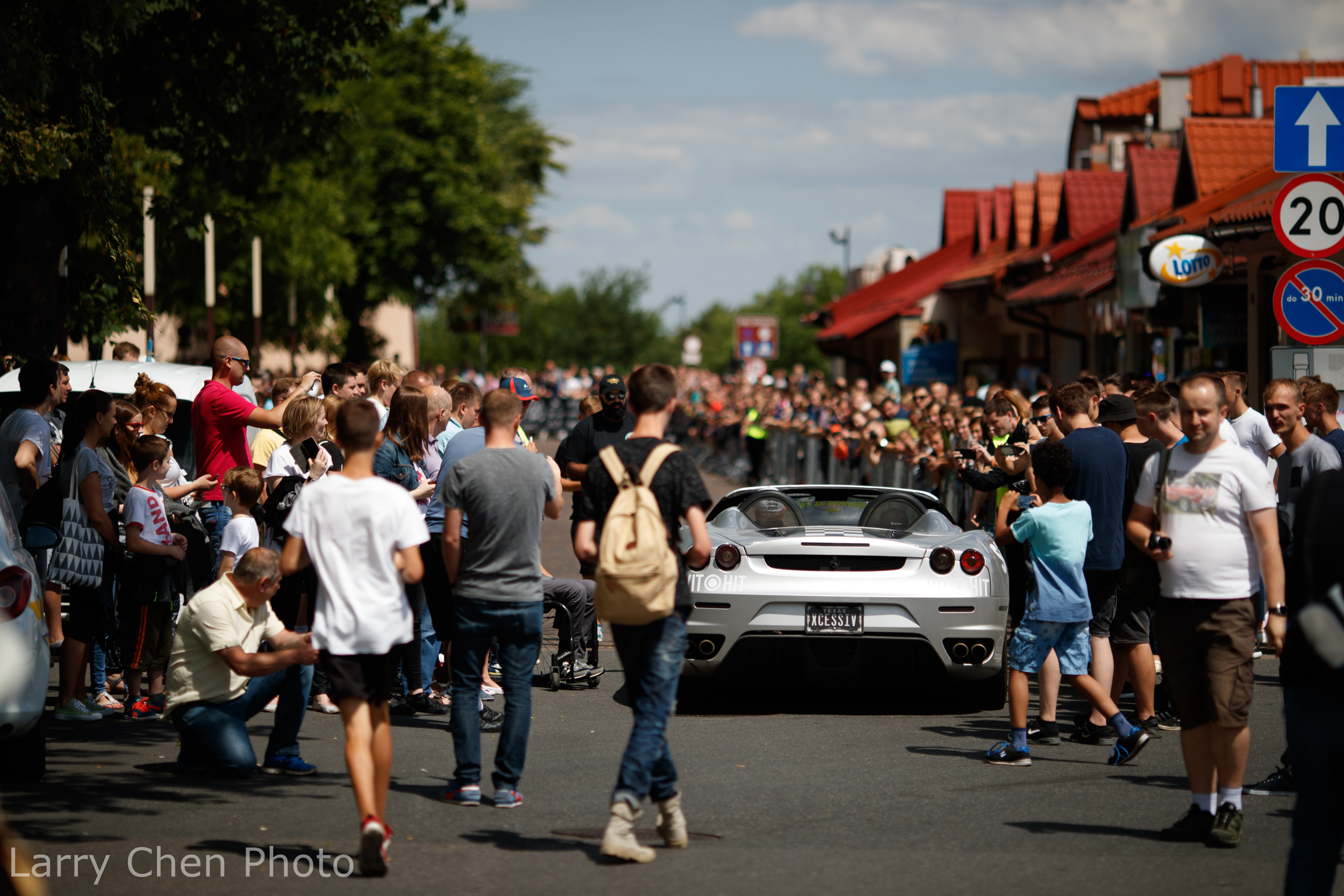 Every day we had a lunch stop in between our start and end cities, and on day two that happened in Krakow.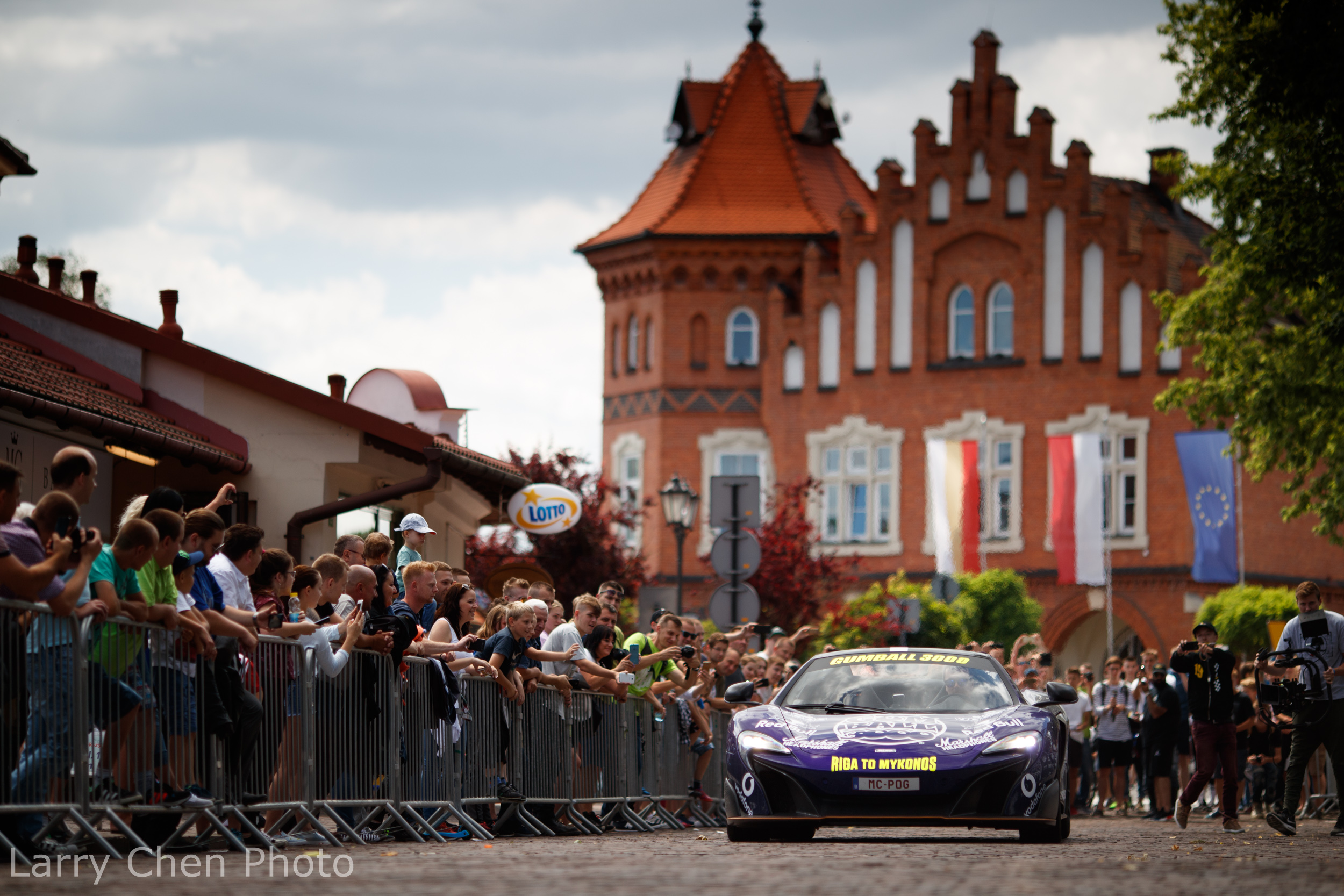 It's interesting, because at some stops the cars were absolutely mobbed, but at others there was hardly anyone to greet the teams. It all depended on where we stopped and how populated the area was.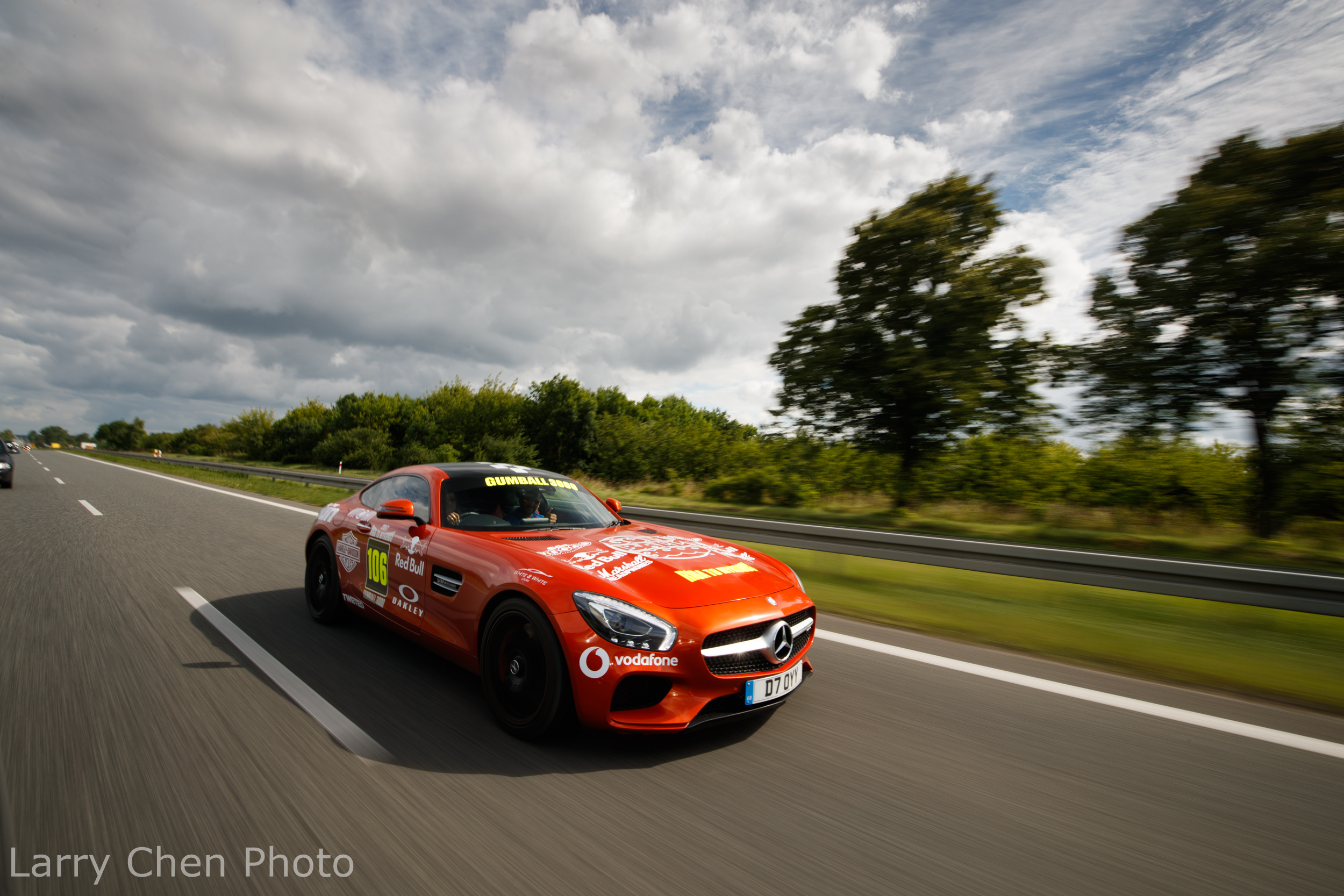 I know what you guys are thinking, why not save on the US$45,500 entry fee and just follow the rally in your own car at no cost? Well, to be honest, there is nothing stopping anyone doing this.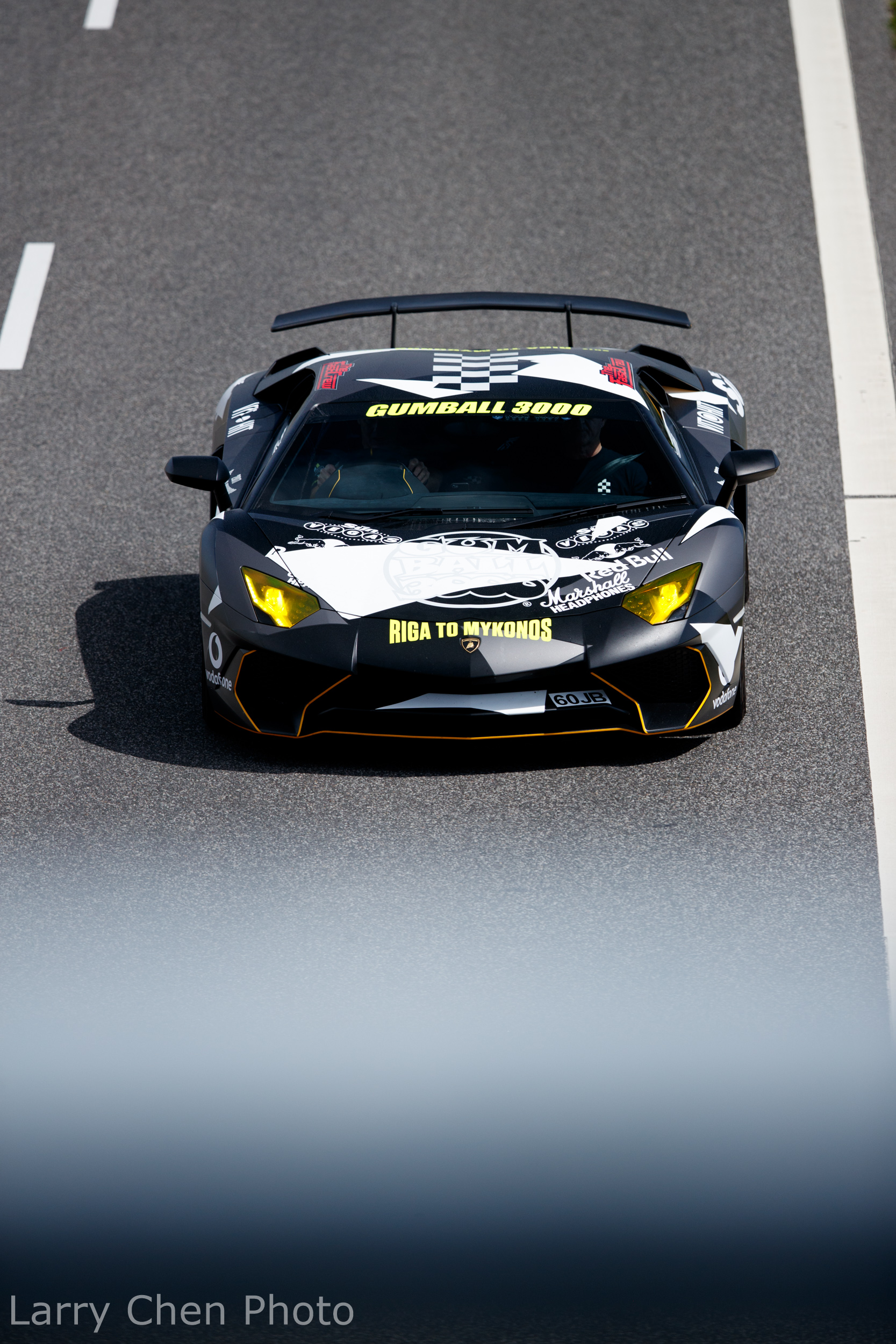 In fact, there were a few cars that tagged along, and one group that didn't even try to hide the fact – they just labeled their vehicles Gumball 3000 Fan Cars with Gumball-style stickers.
As I mentioned, the entry fee is just the beginning because it only covers one hotel room and two dinners each night. A van or SUV full of support crew need accommodation and meals as well.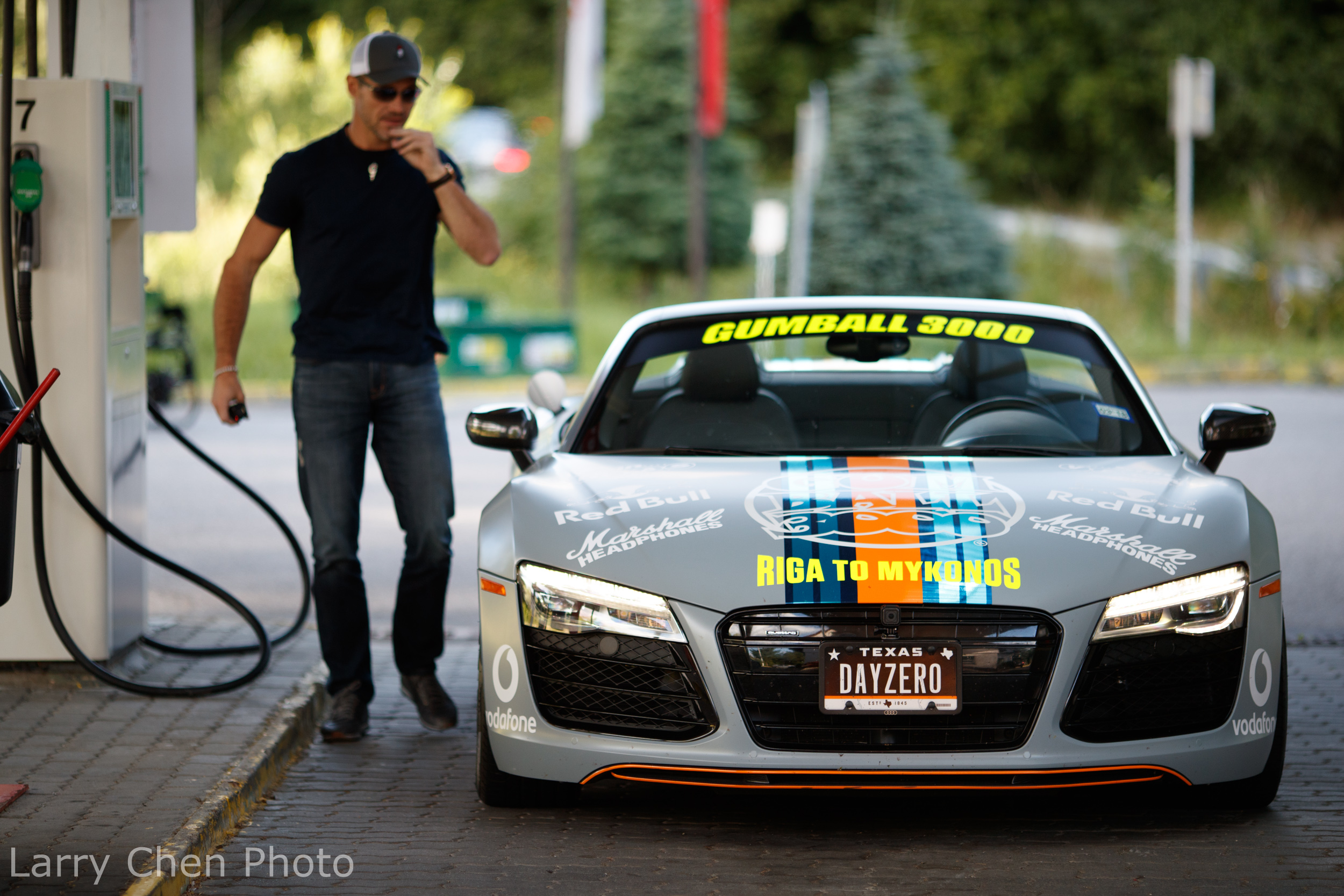 Then there are the bar and club tabs, and at the end of the whole thing is a charity auction, which this year raised around half a million pounds from all the teams. One competitor who wanted to party the event away even brought along his butler to do the driving.
Wherever we went, there seemed to be some sort of police presence. I'm guessing that as soon as the group passed a patrol car, the police would radio ahead to their buddies letting them know that some fast cars were on their way.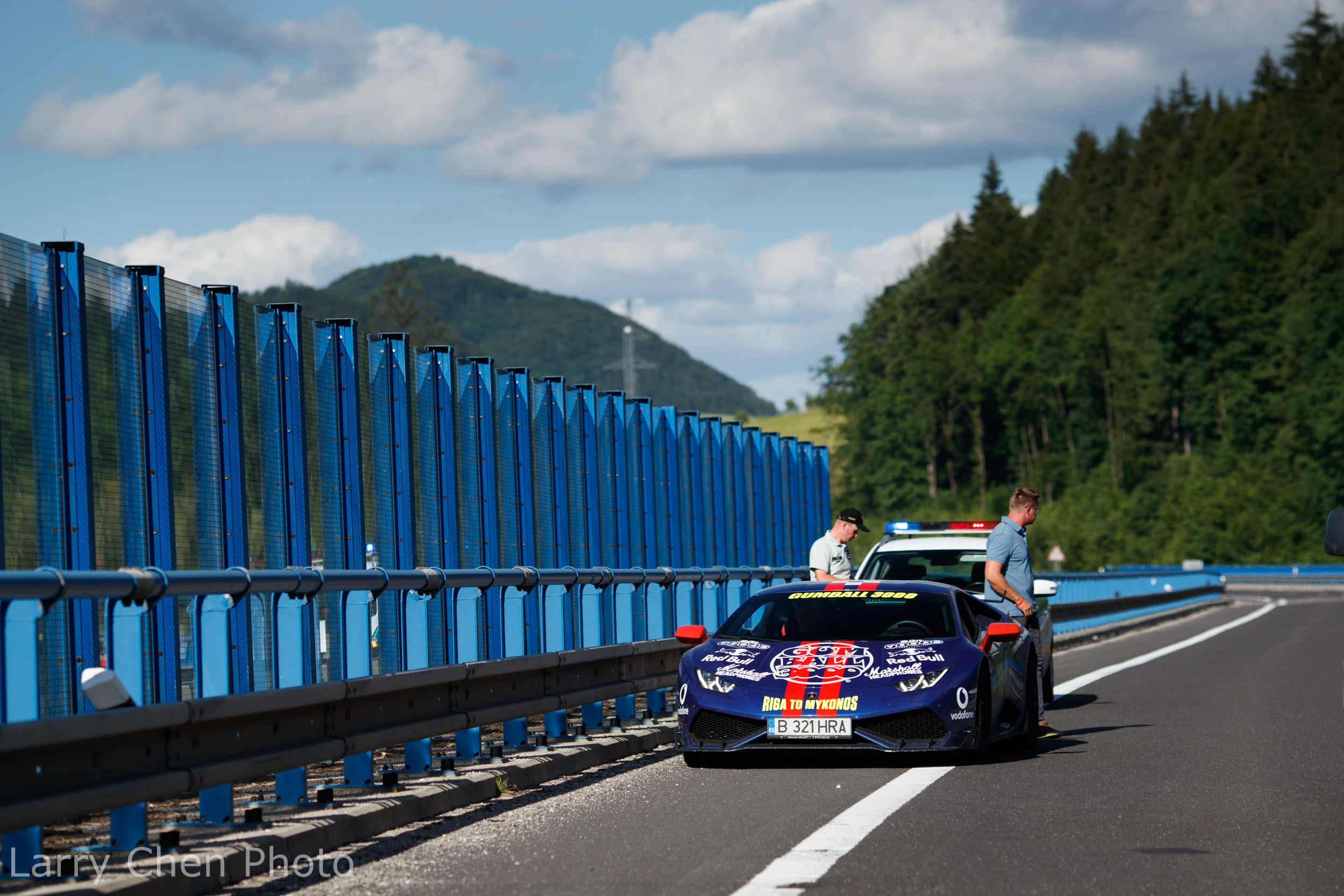 Lucky for us, our Lexus flew under the radar compared to some of the more flashy cars.
Driving from Warsaw, Poland to Budapest, Hungary via parts of Czechia and Slovakia, we clocked up around 900km on this day. The scenery was absolutely stunning too, with endless sunflower fields in all directions for a lot of the way.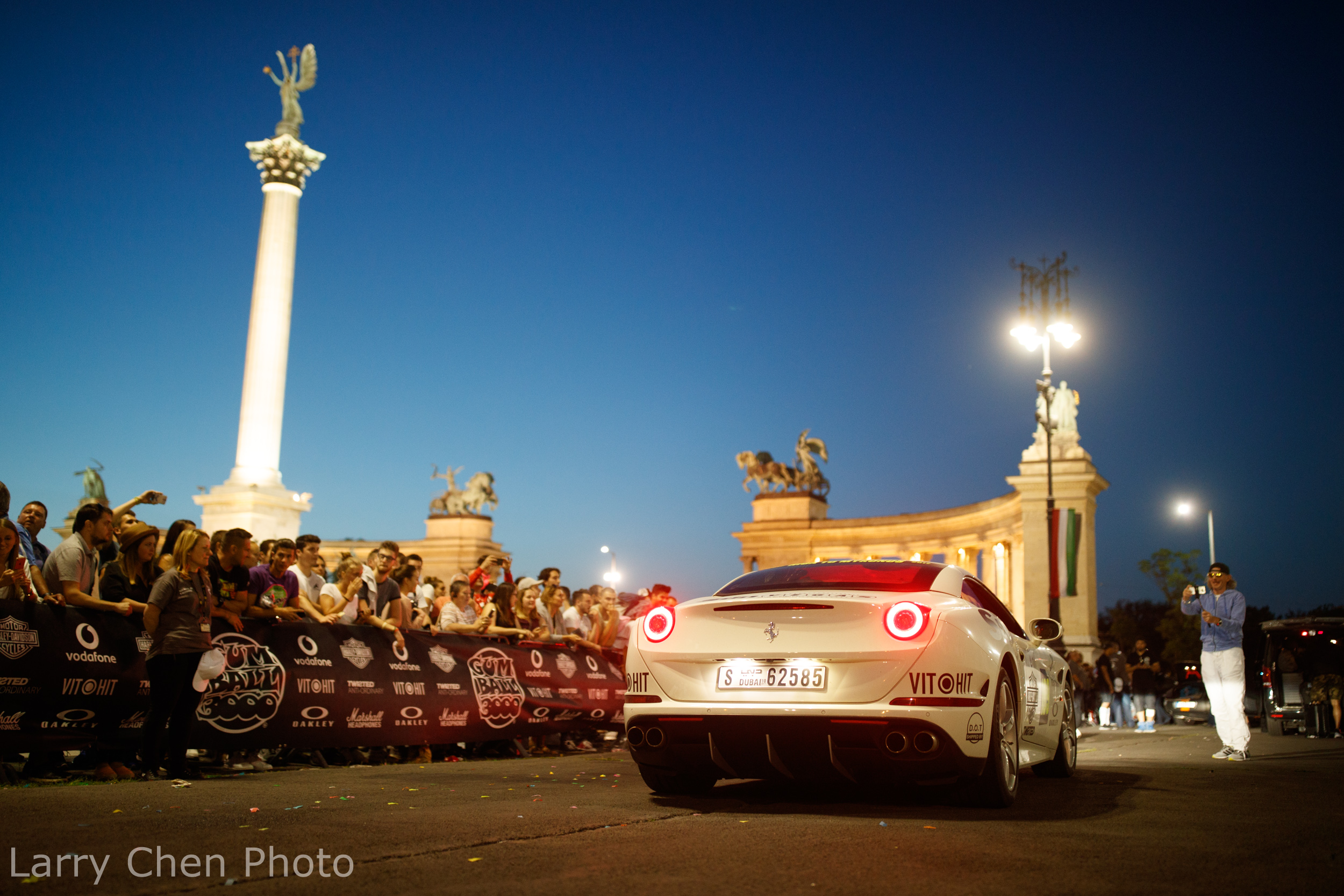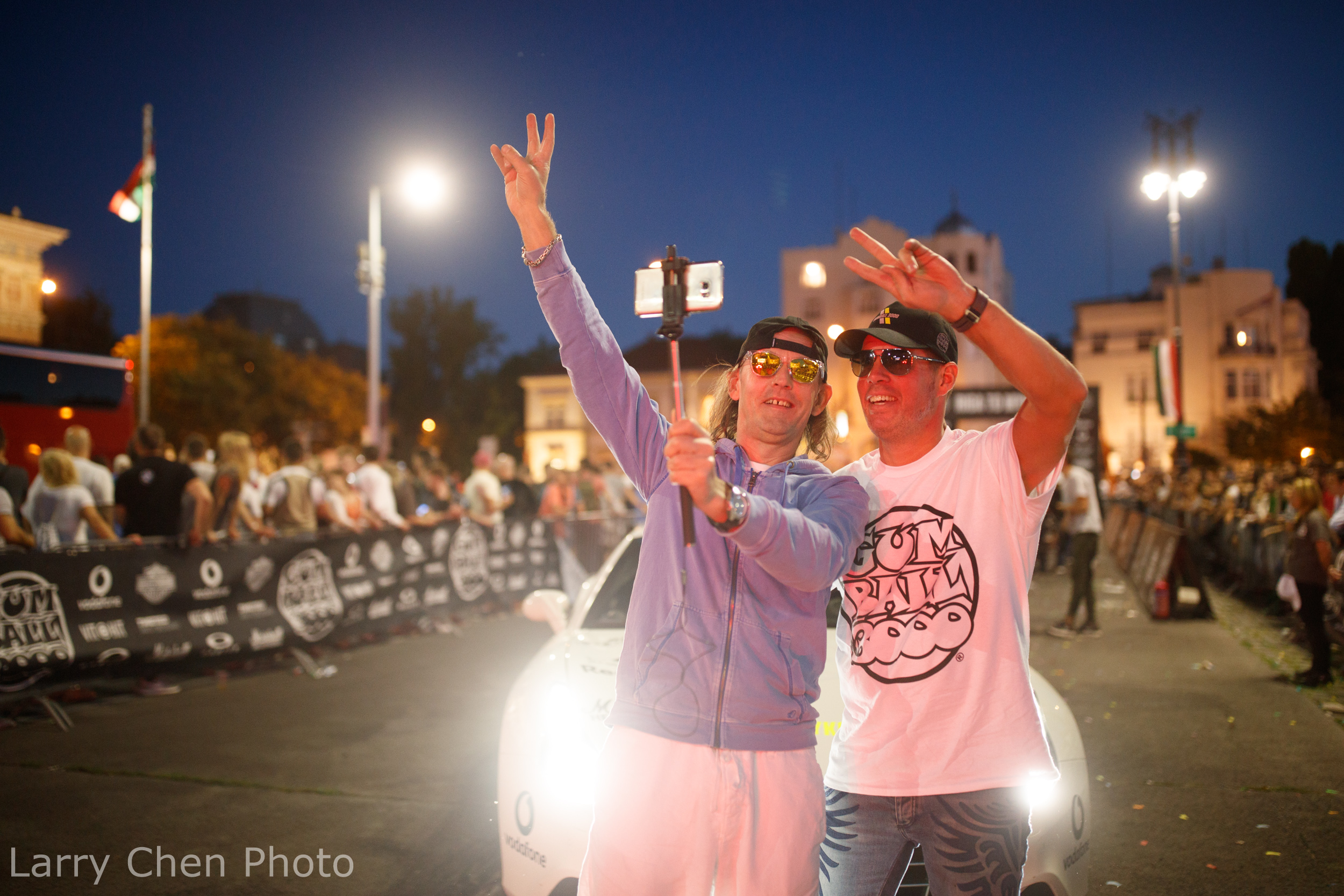 When we arrived in Budapest, the Gumball frenzy was in full effect. Once again, I could not believe how many people gathered just to watch some fancy cars roll into town.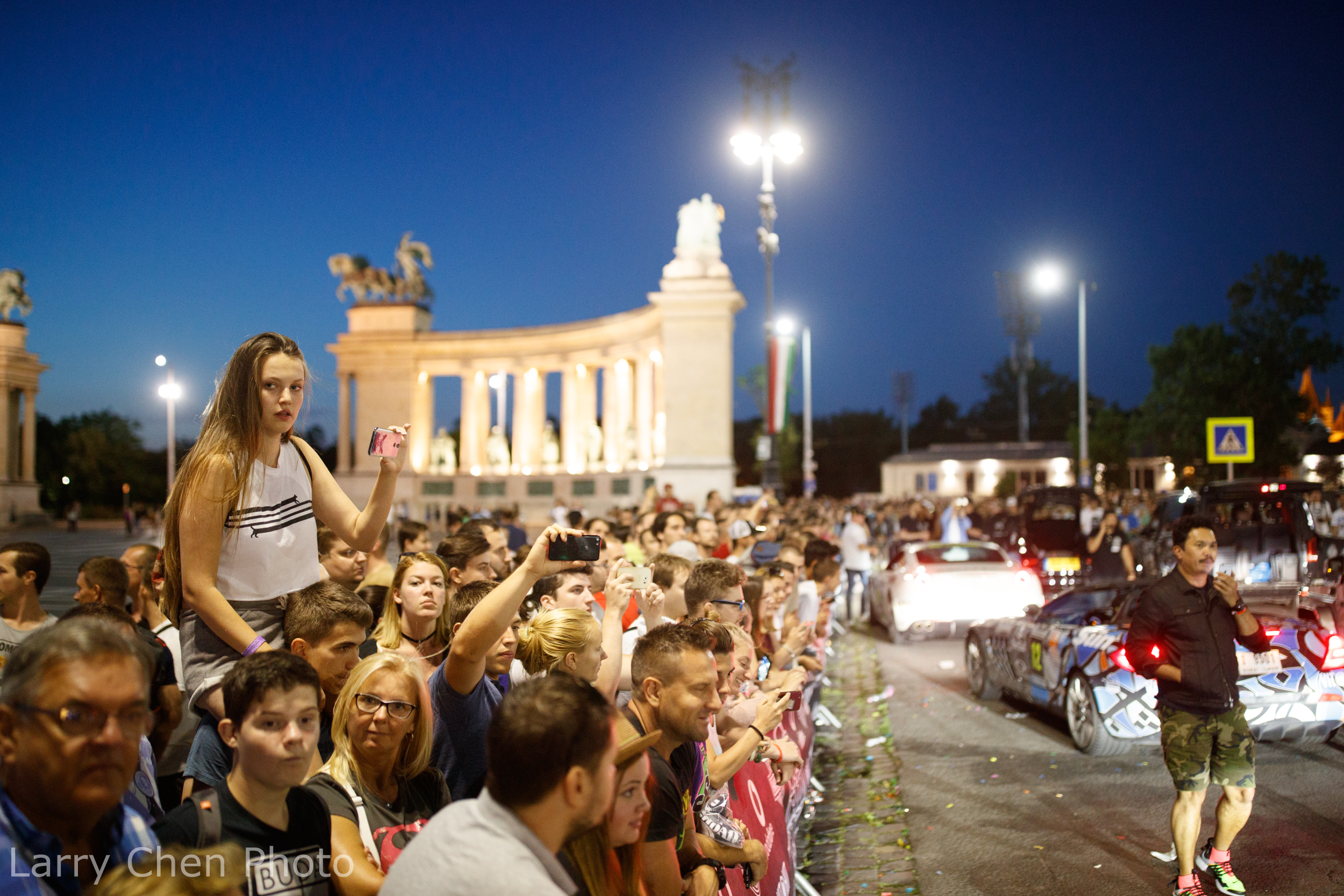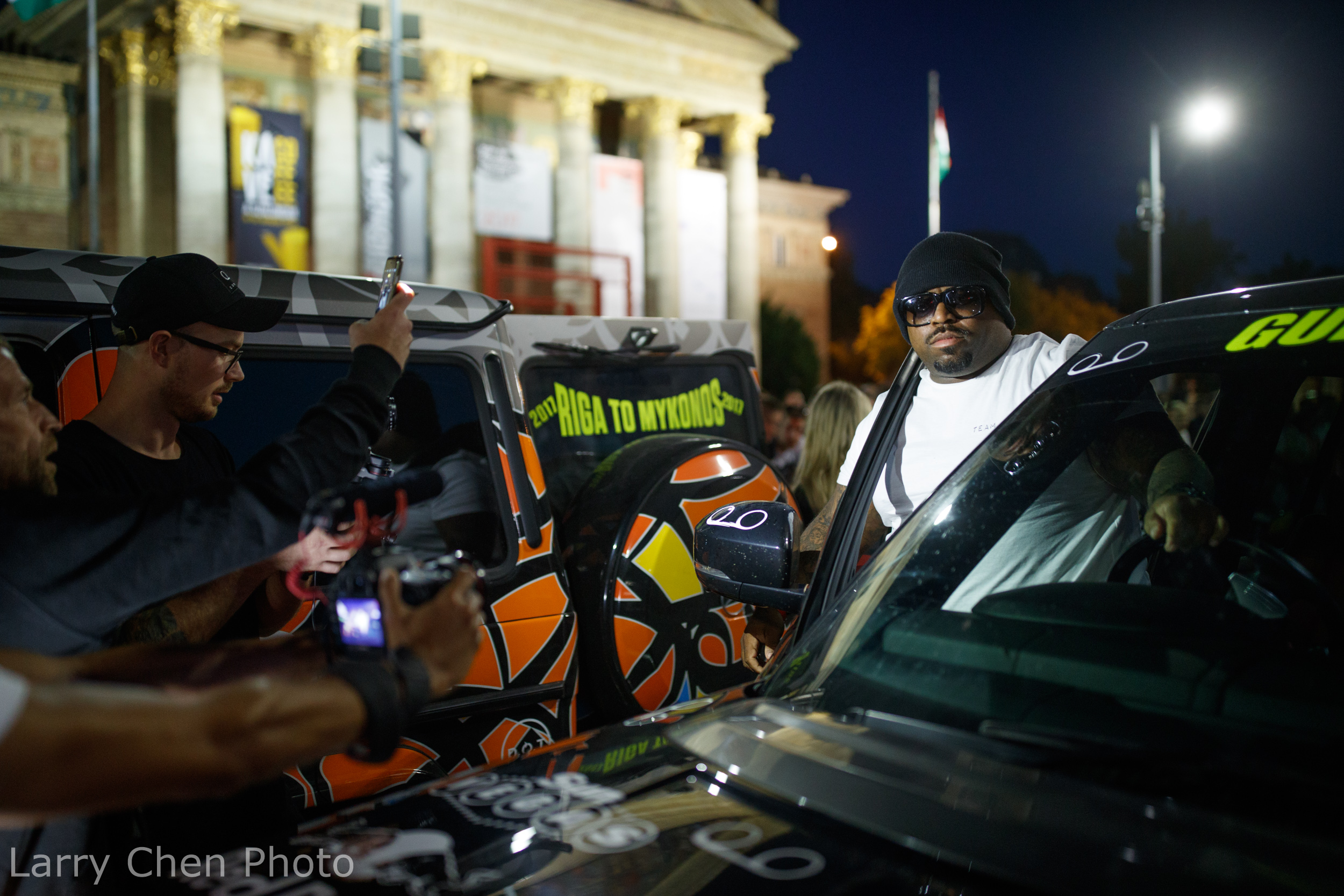 Among the normal participants – if you can call them that – were a few celebrities, singer/rapper/songwriter CeeLo Green being one of them.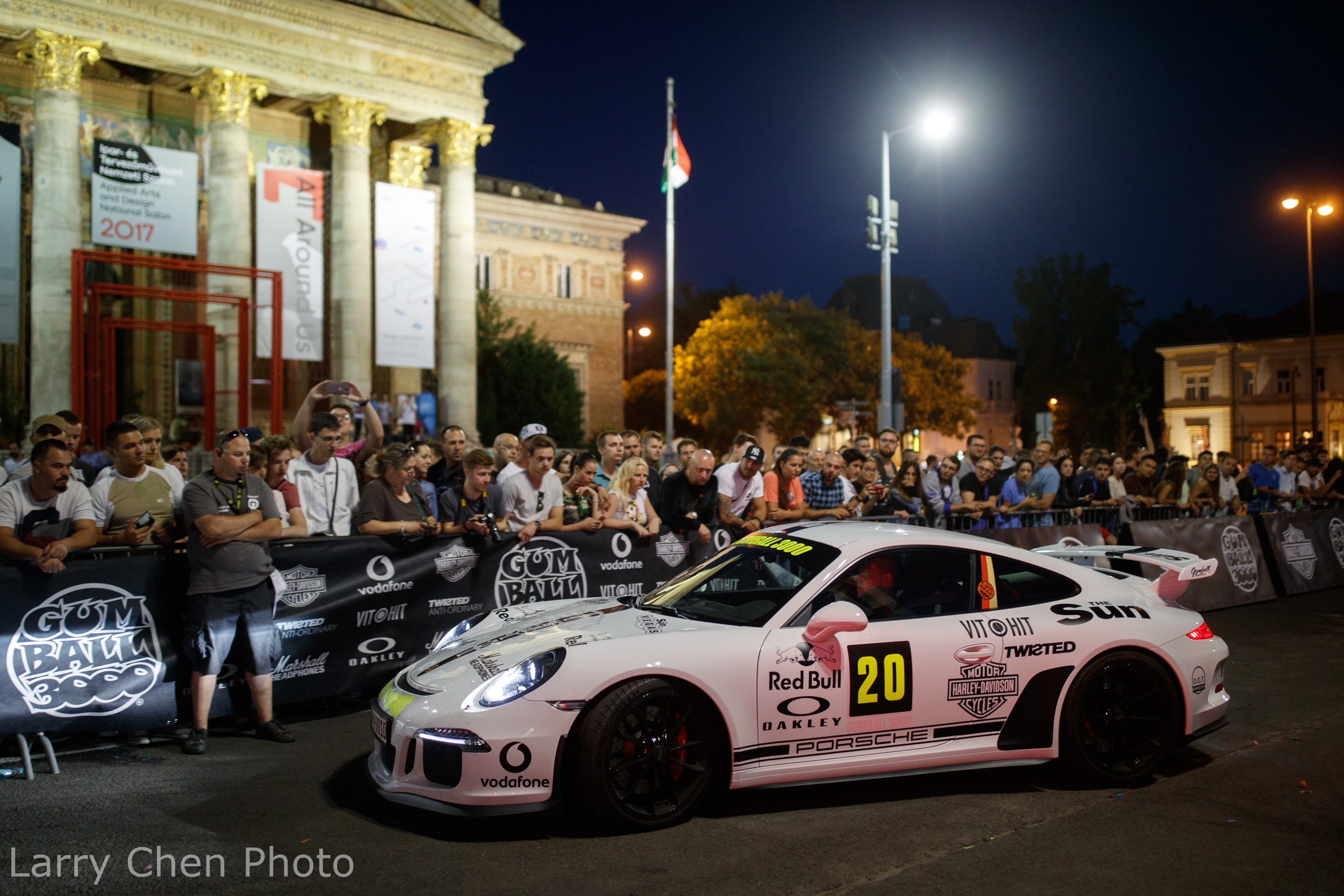 The sights and sounds of multiple cars revving, backfiring and spitting flames was crazy enough, but the party was just getting started.
People in the crowd were essentially jumping over the top of each other in an effort to score free swag from the teams. This boy was begging his heart out asking for t-shirt, but with none left he had to settle for the next best thing from the Gumball participant: an open bag of potato chips, which he proceeded to happily eat. True story.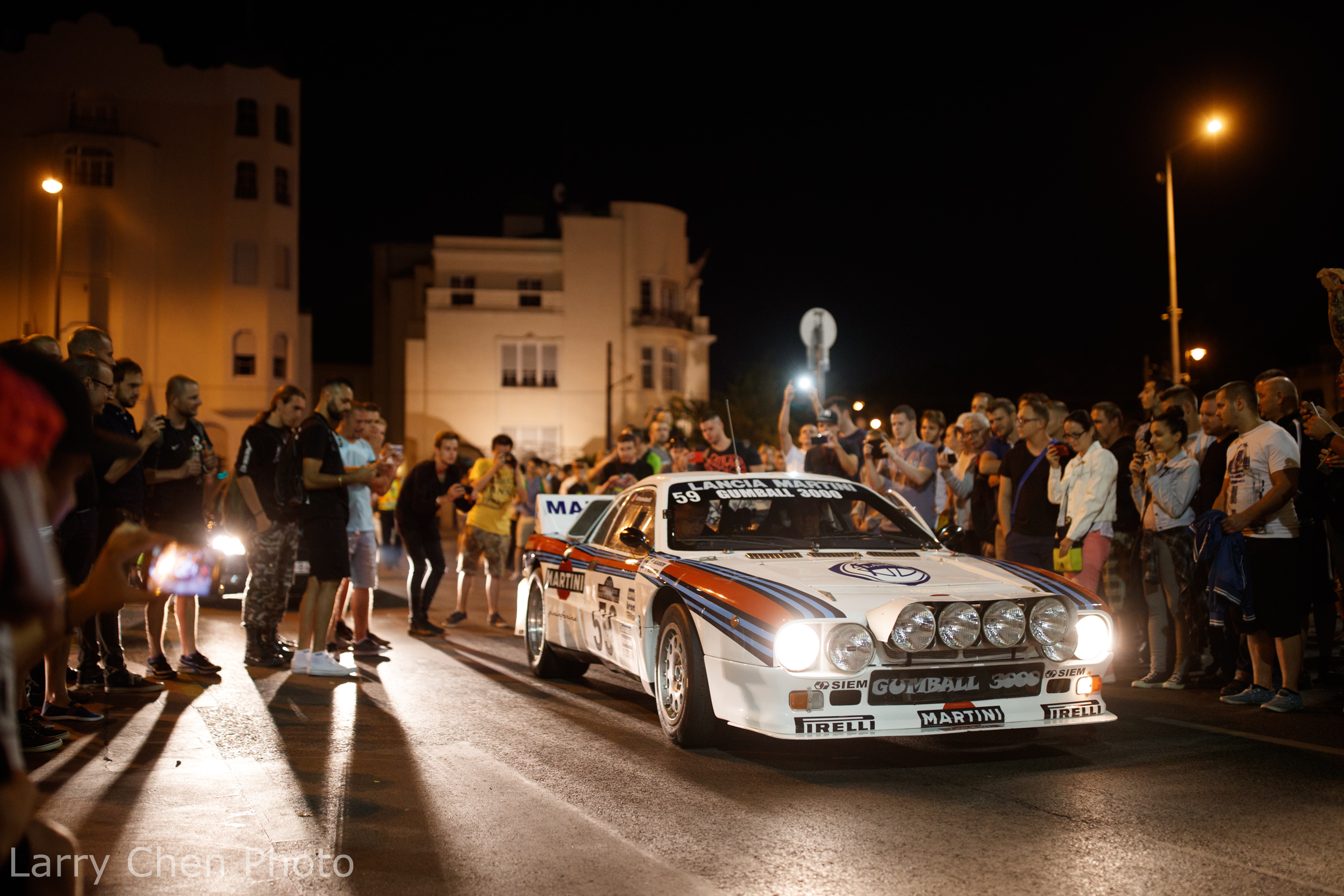 If there was one show-stopper, it was this real-deal Lancia 037 Group B rally car.
Unfortunately, it wasn't the most reliable machine; after a few miles it would break down and need to be towed.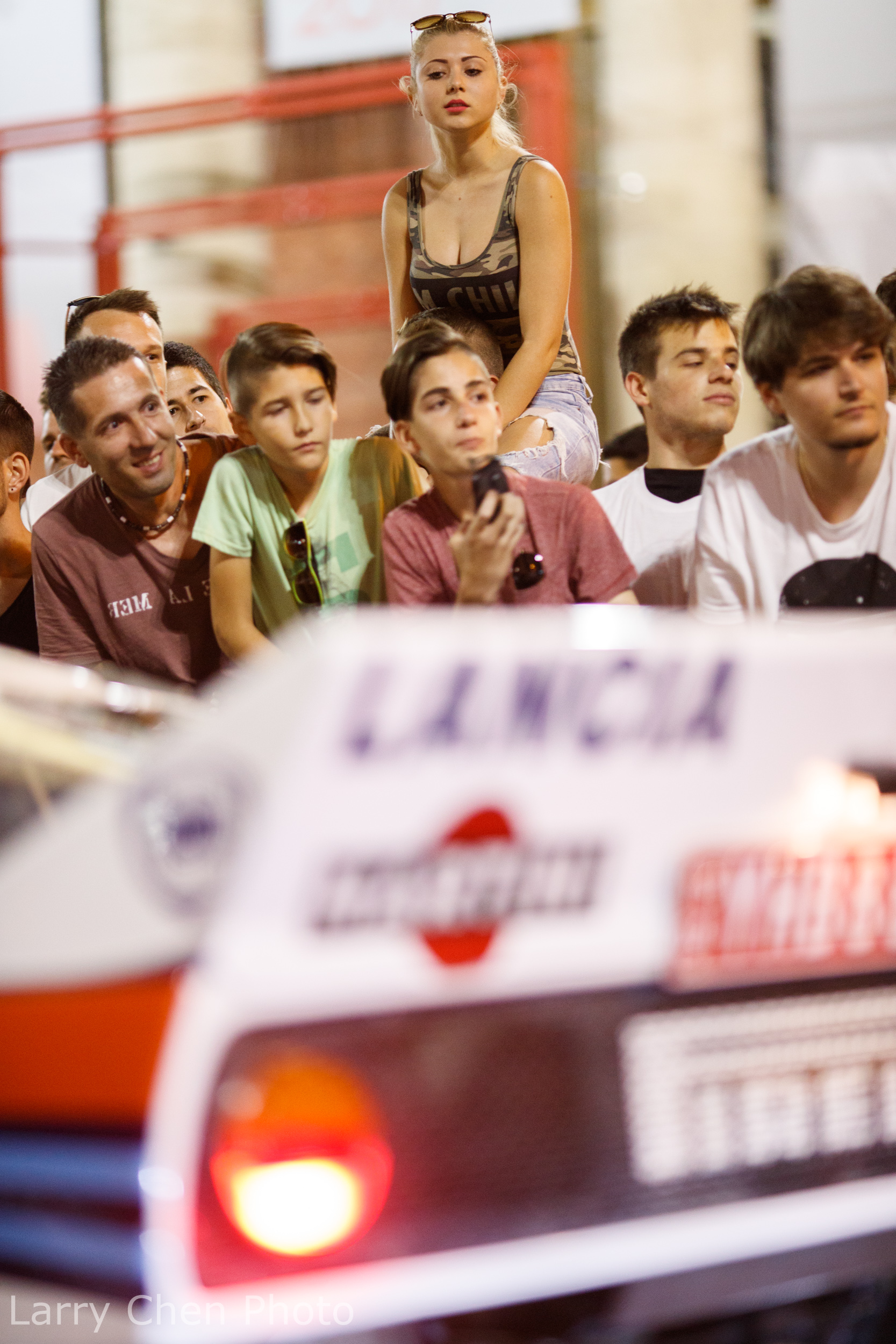 It was the least reliable car on the rally this year, but my favorite by far. Who brings a historic rally weapon to the Gumball 3000? This guy.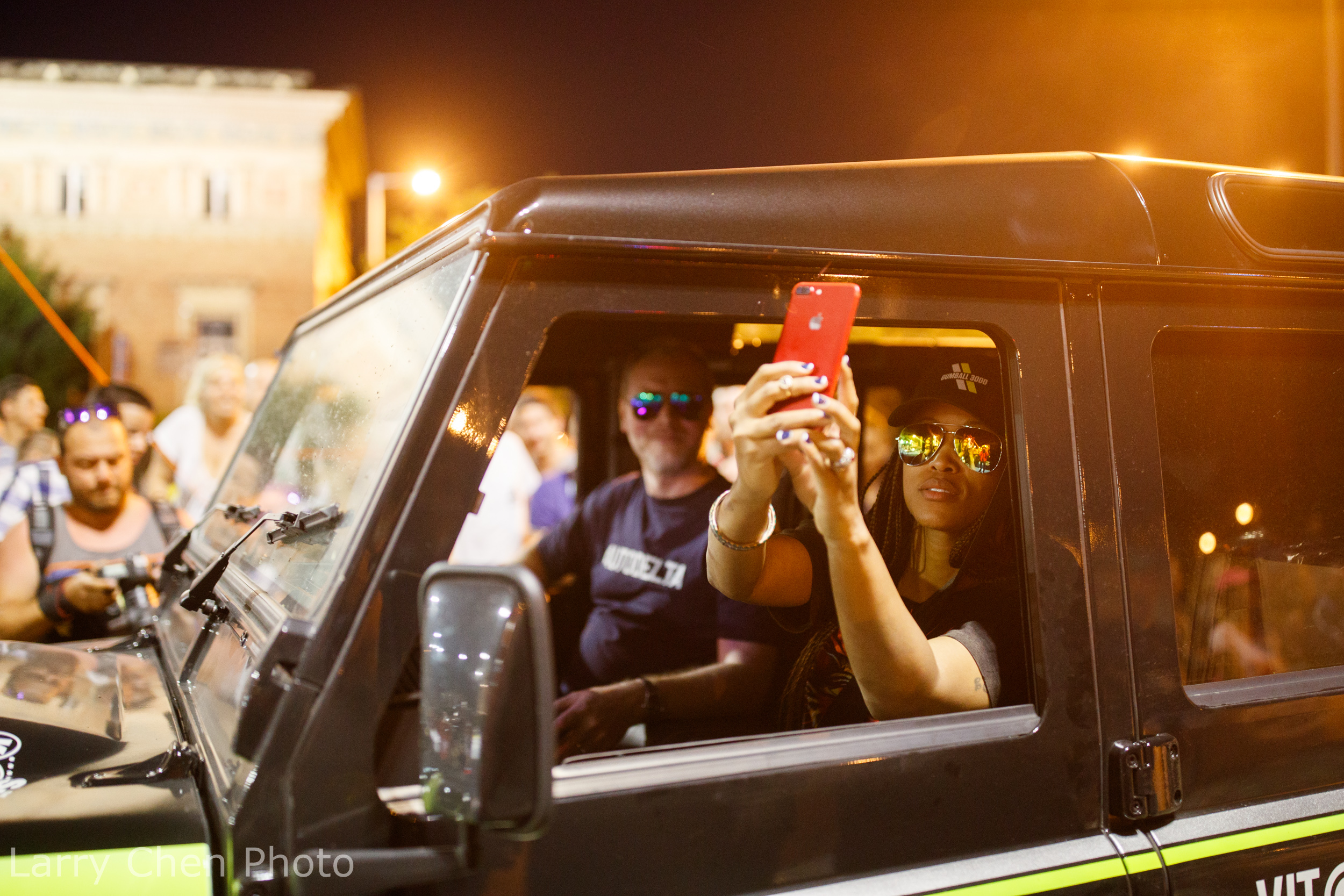 It was pretty awesome that Mr. Gumball 3000 himself, Maximillion Cooper, and his lovely wife and talented rapper/actress Eve also drove the rally. Their ride was a sick looking Twisted Defender.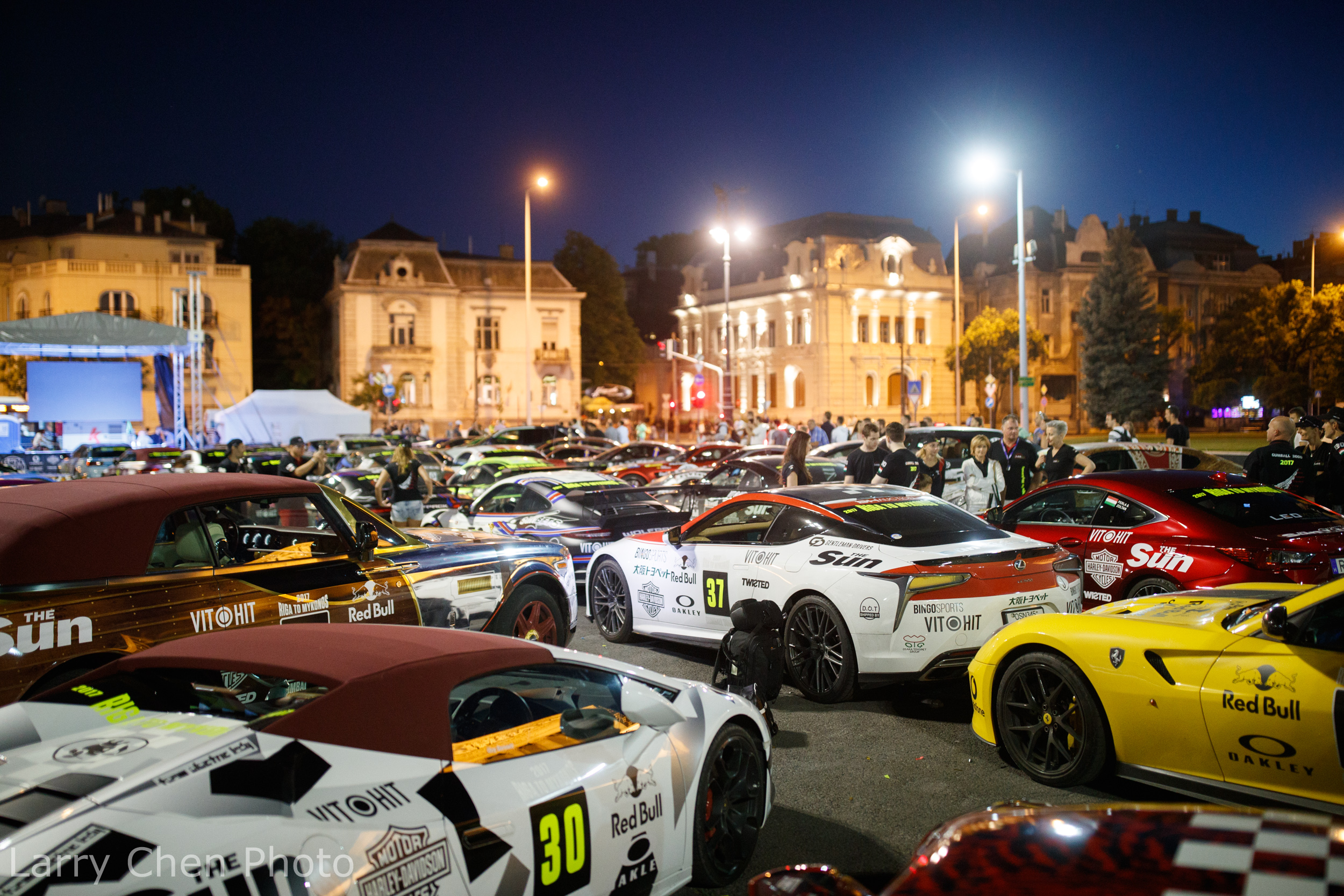 The cars rested for the night in Budapest, but the very next morning we'd be waking up early to do it all over again.
Although we were travelling in luxury with the LC500, the car had one drawback – its Japanese market 190km/h (115mph) speed limiter.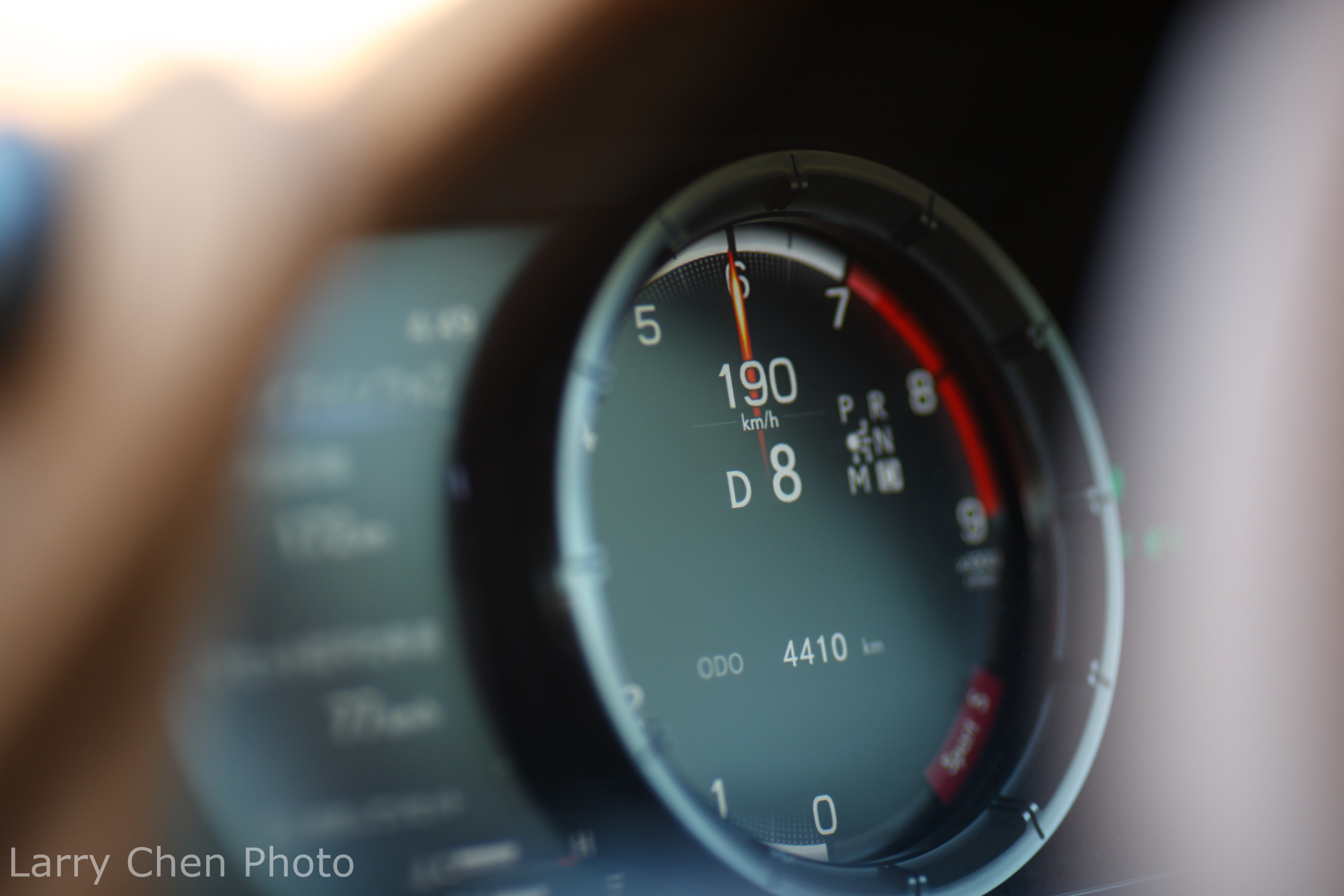 While that speed can't be considered slow by any means, when you're on the Gumball 3000 and trying to keep up with McLarens, a Porsche 918 and a bunch of Lamborghinis all running at 150mph+, it's a real disadvantage.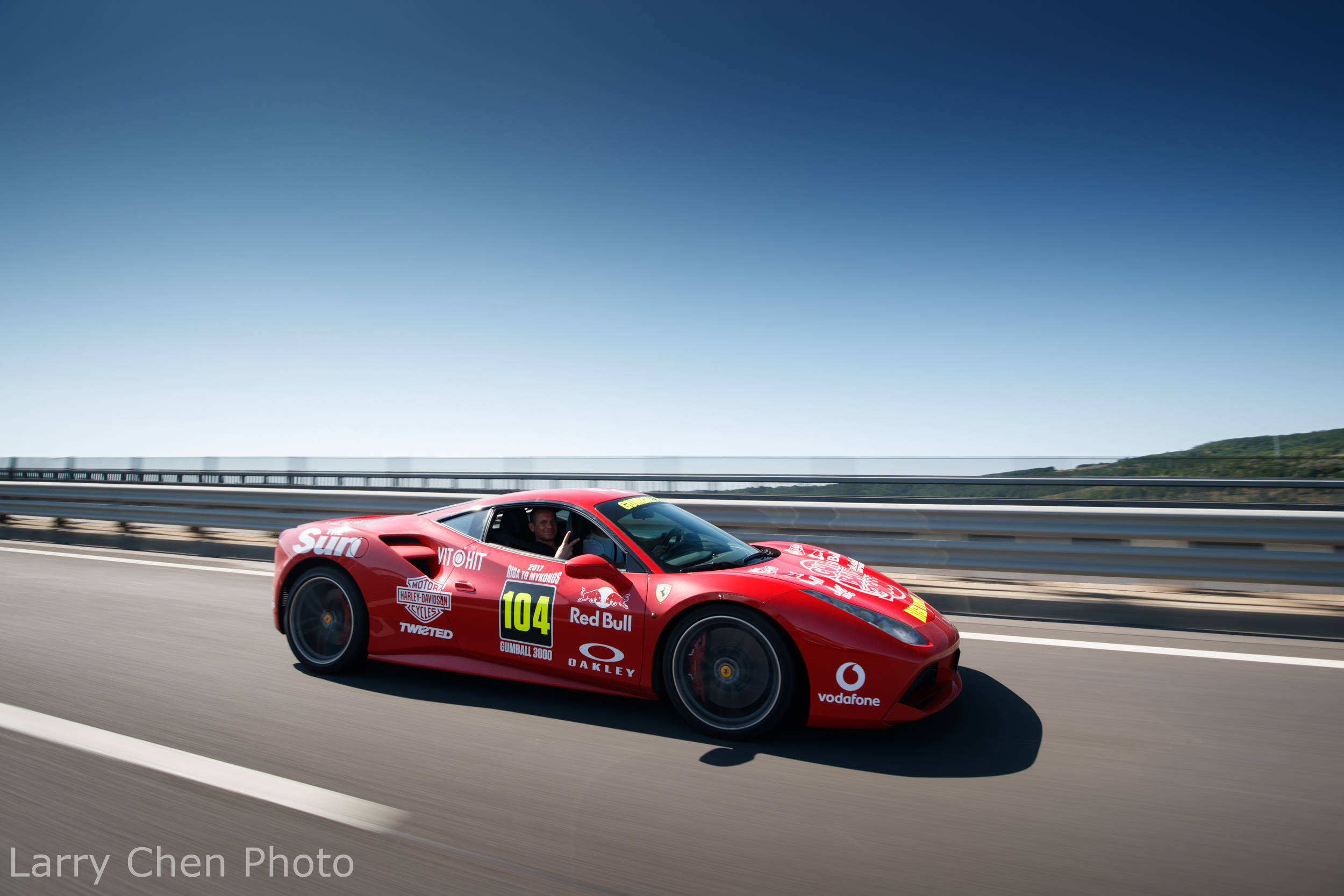 I guess you could call it Gumball cruise control; we had the Lexus pinned at 190km/h for longer than I'd like, and other competitors passed us like we were standing still.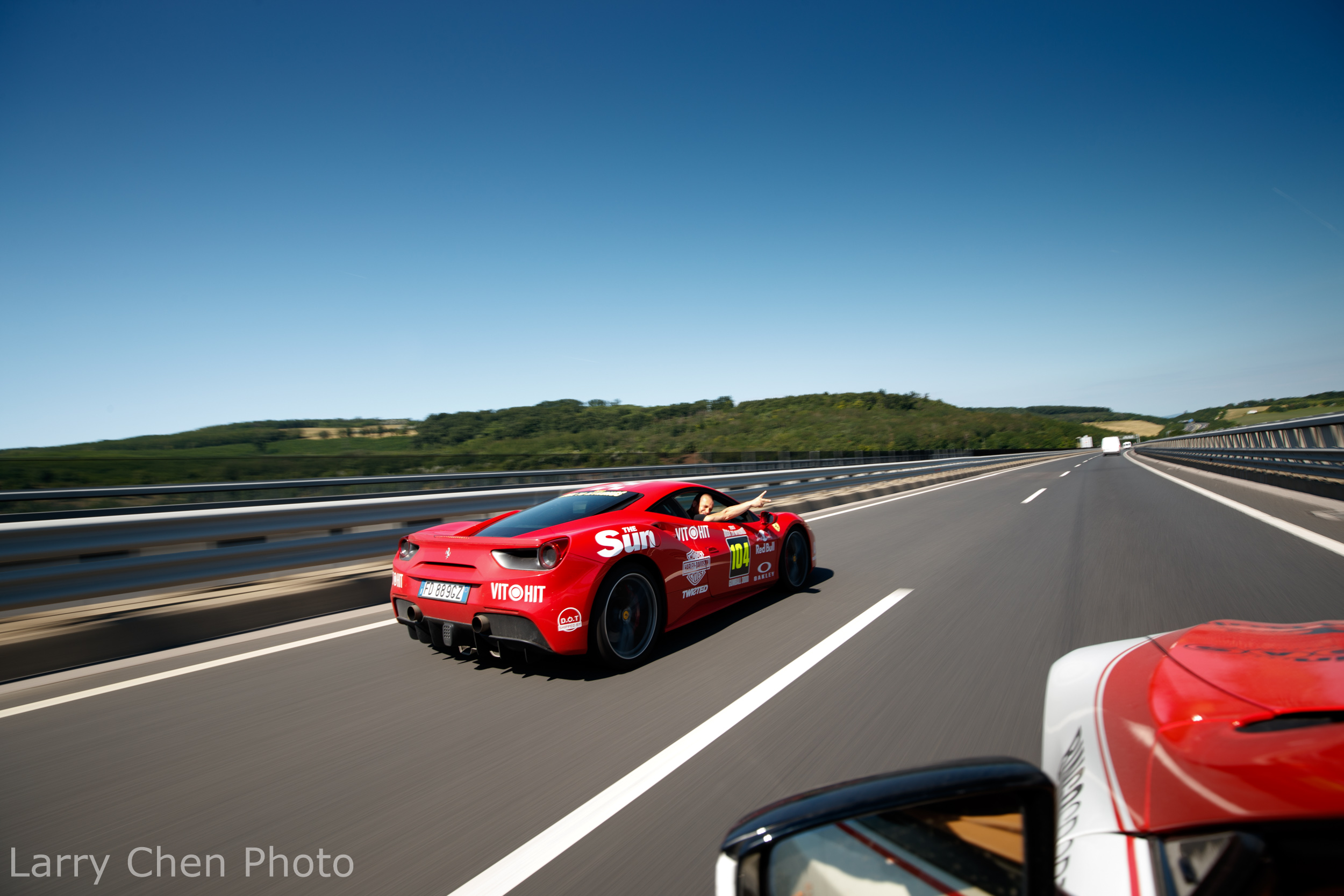 Still, it was such a blast trying to keep up with other Gumballers. With long stretches of highway and 950km to the next overnight stop, no one was taking it easy.
This meant some interesting stretches during rest stops, especially if you'd been stuffed inside the tiny cabin of an exotic car.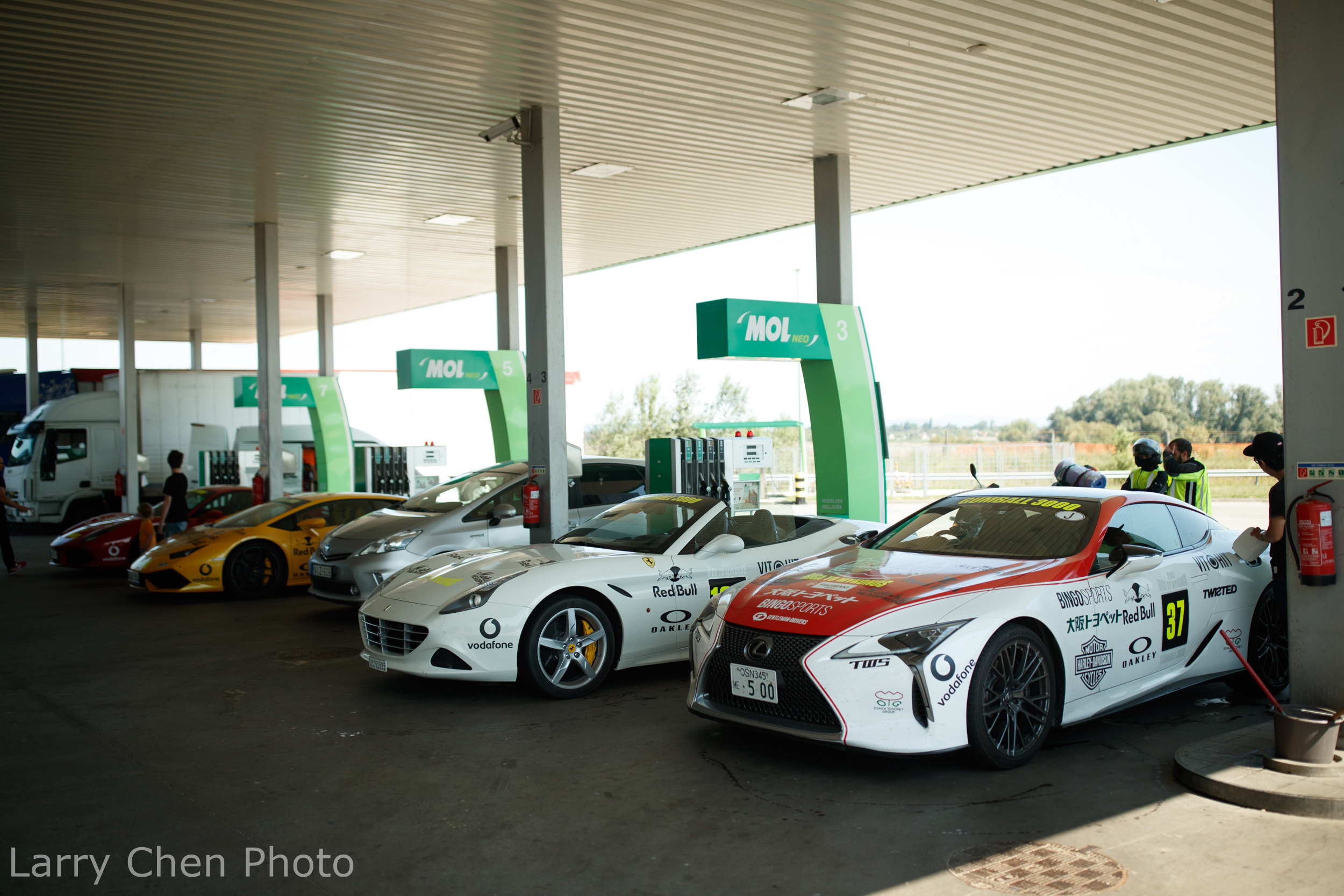 Refueling also happened on a frequent basis, but it was always fun to catch up with other teams while filling up.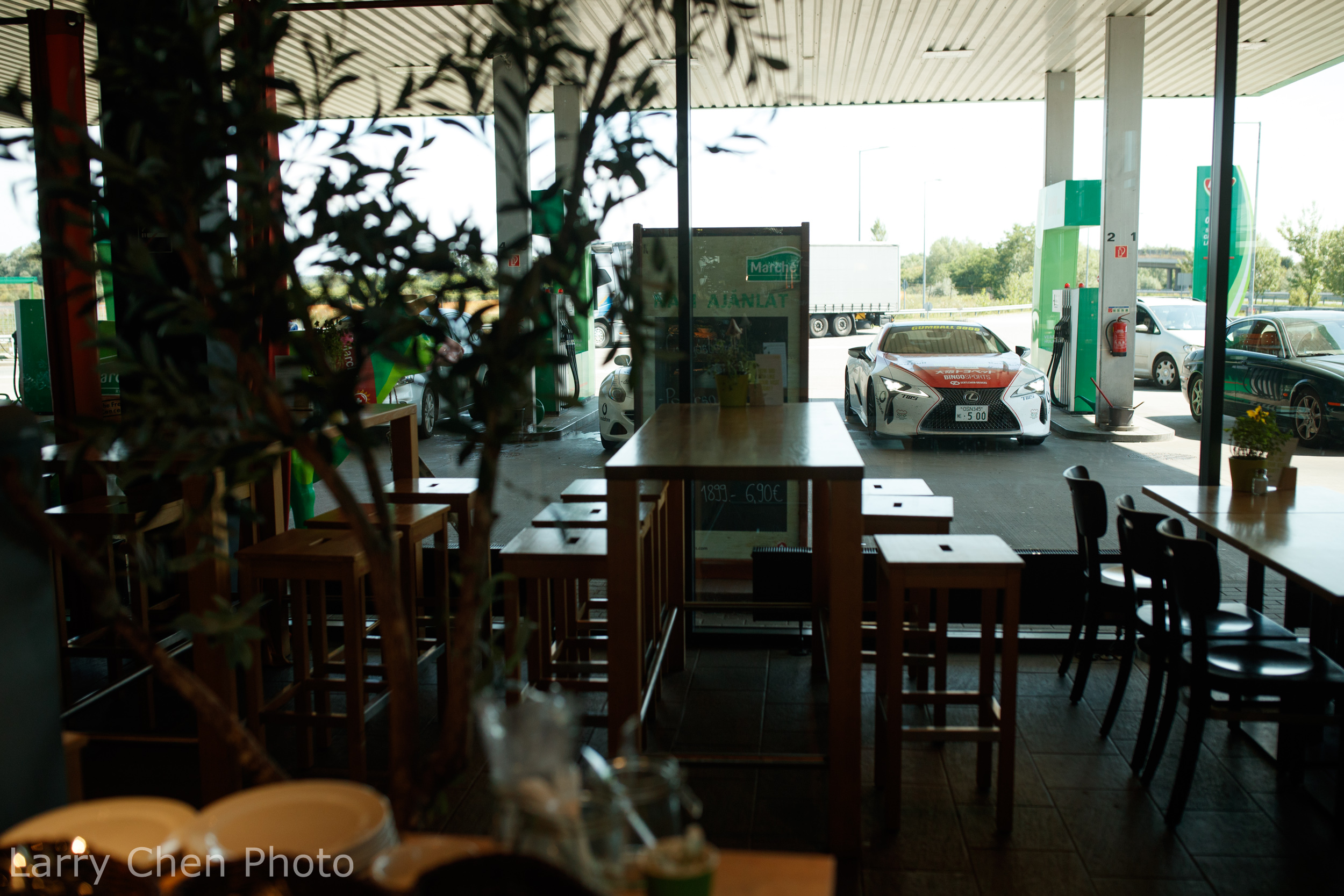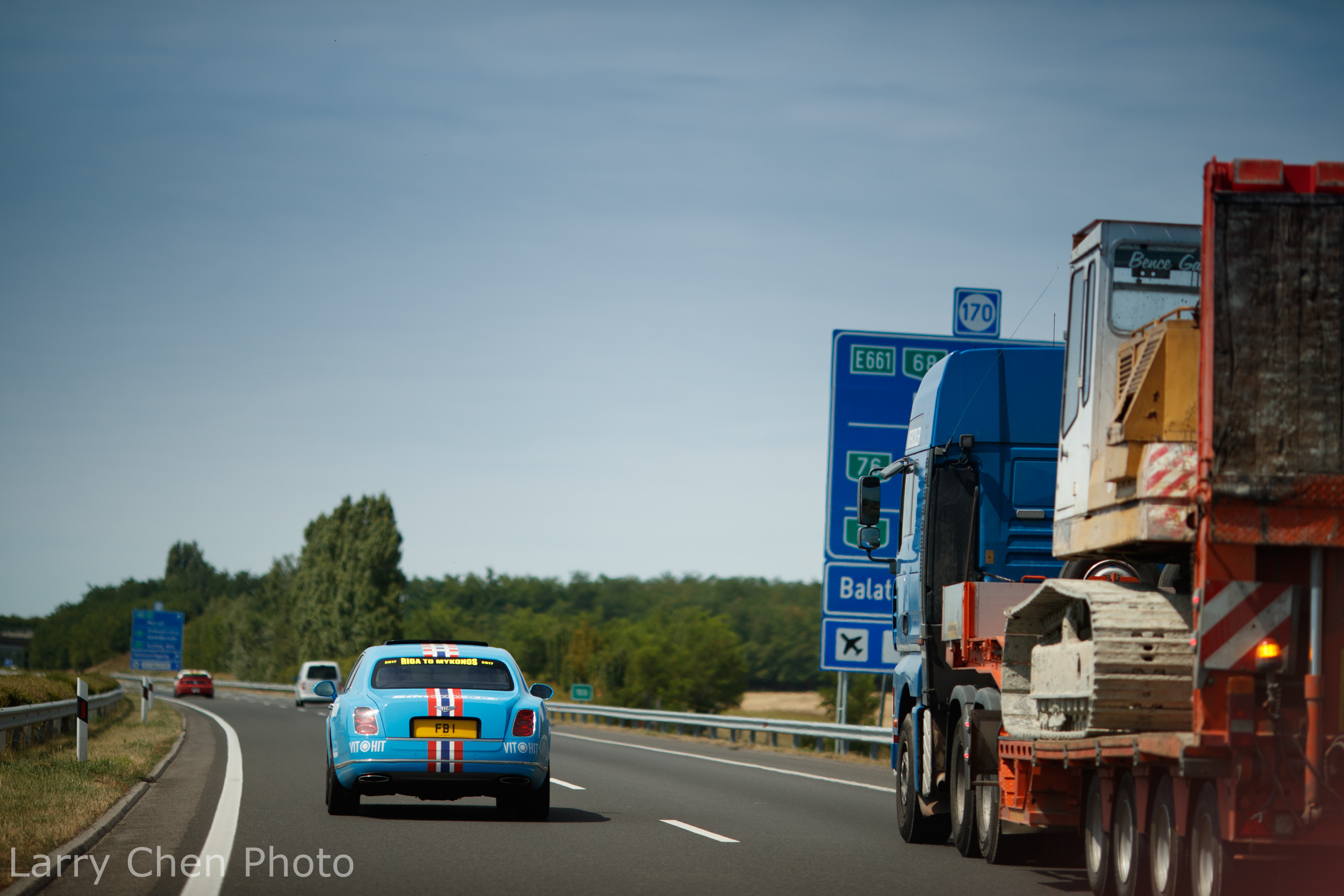 In a way, I do envy the teams that brought full-on luxury vehicles. Because if you're going to do a massive road trip, you might as well do it in a massive Bentley.
For those unfortunate enough to break down during the touring stages, there was a support vehicle also known as the Gumball Rescue Team tagging along. We witnessed them helping out competitors on numerous occasions, so it's definitely a great idea.
There was a massive line at the border as we crossed into Croatia from Hungary.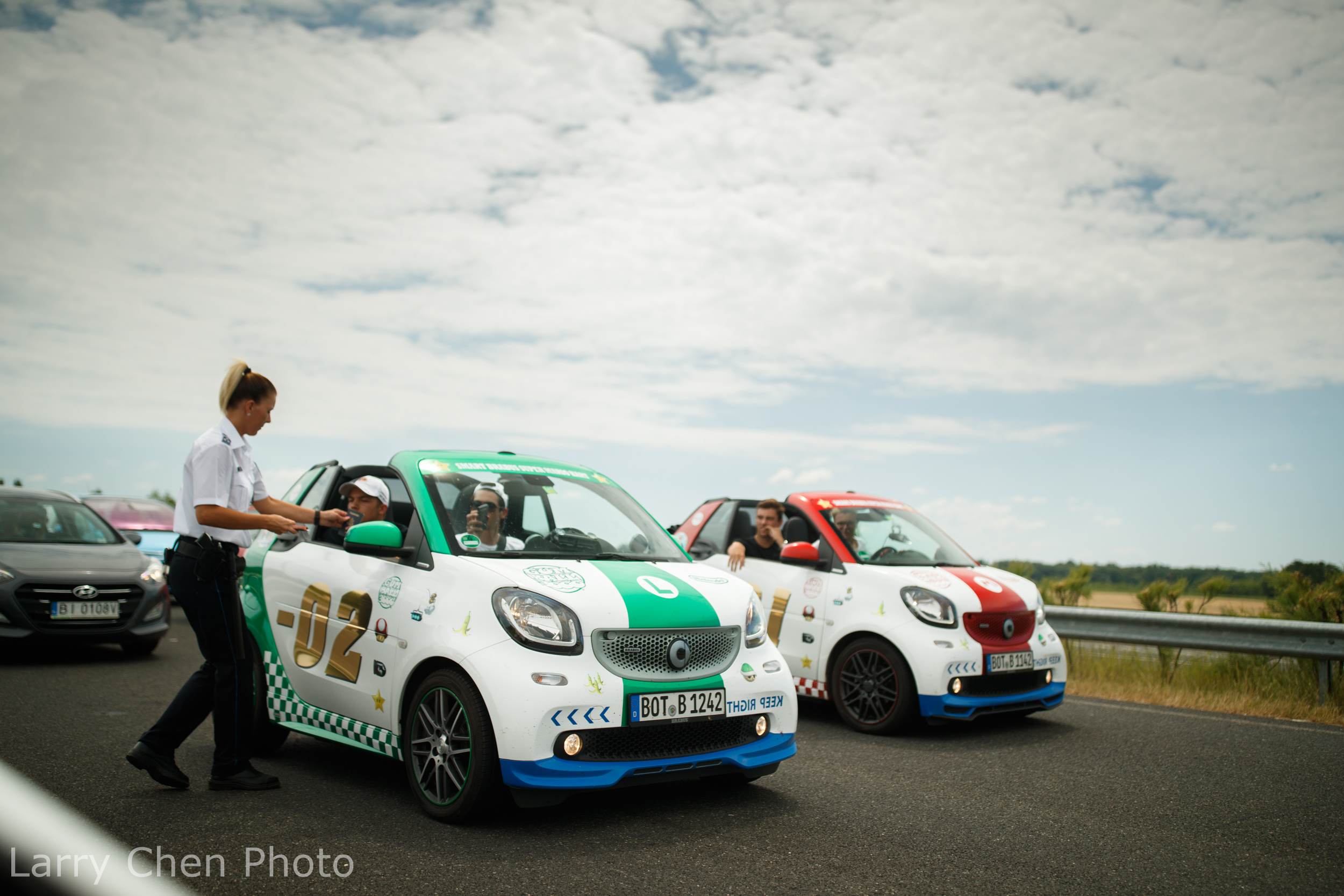 It was also the perfect time for a bit of a break.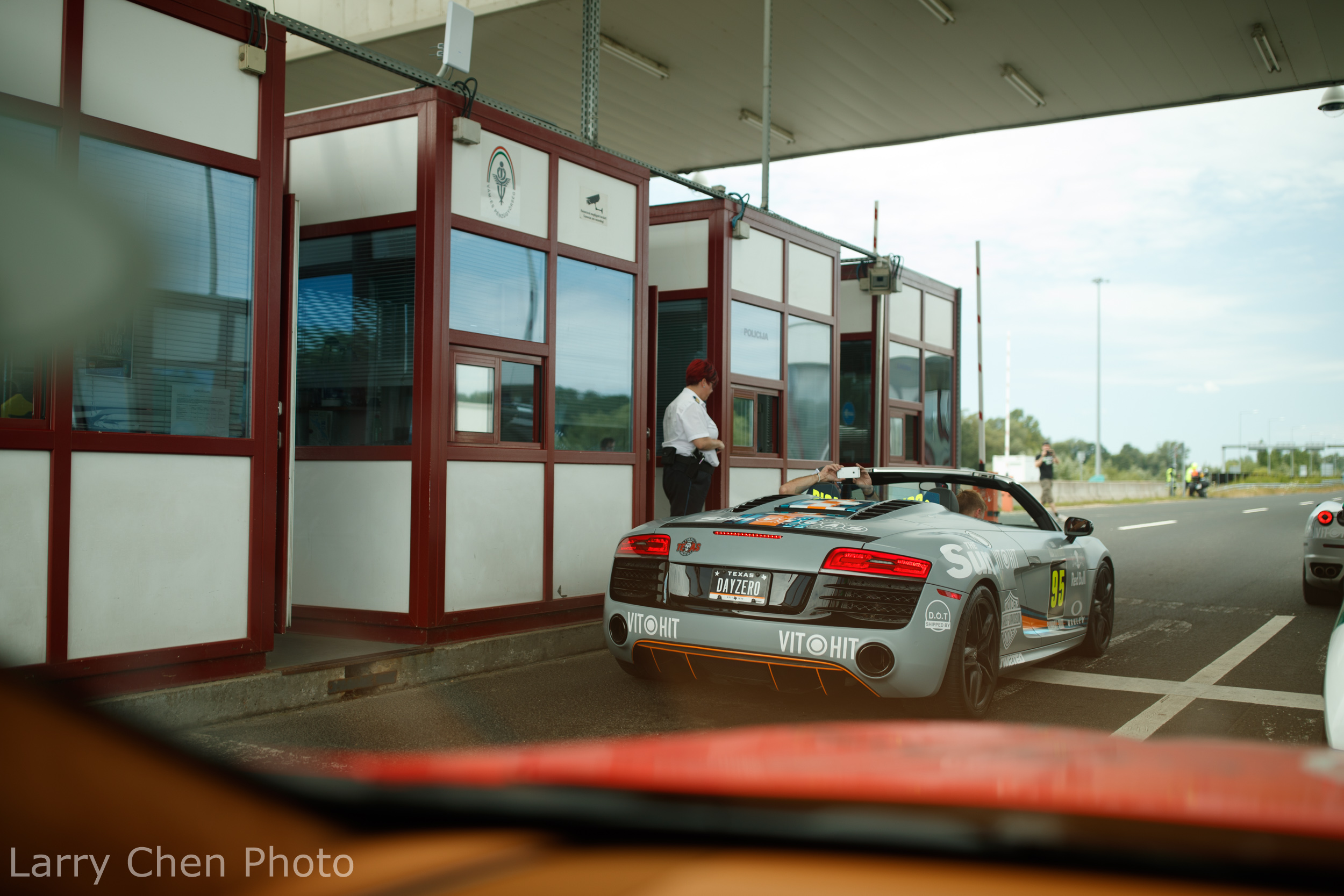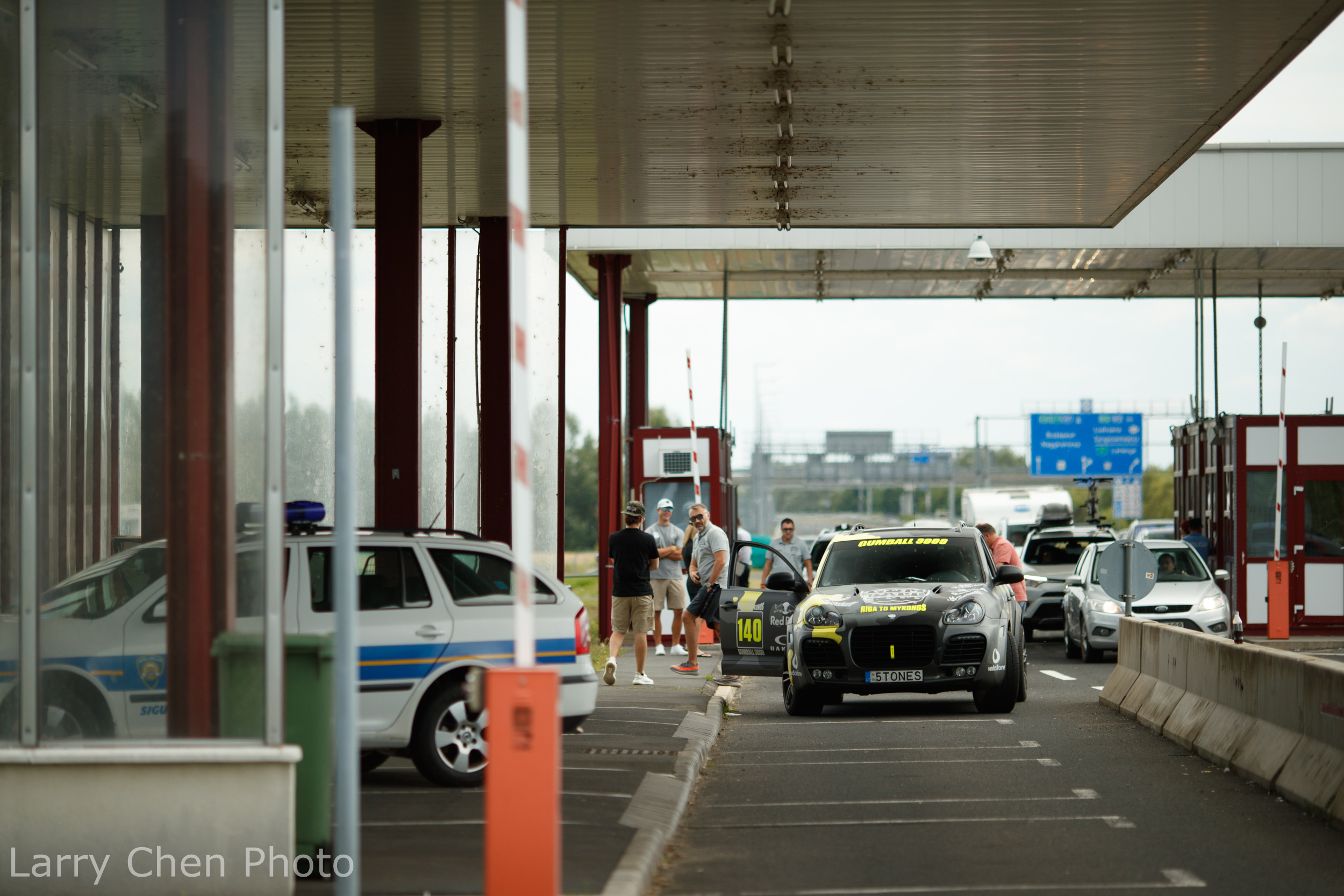 Generally speaking, we never had any trouble at any of the many border crossings that we had to go through. Some weren't as lucky though, and had to go through a secondary screening.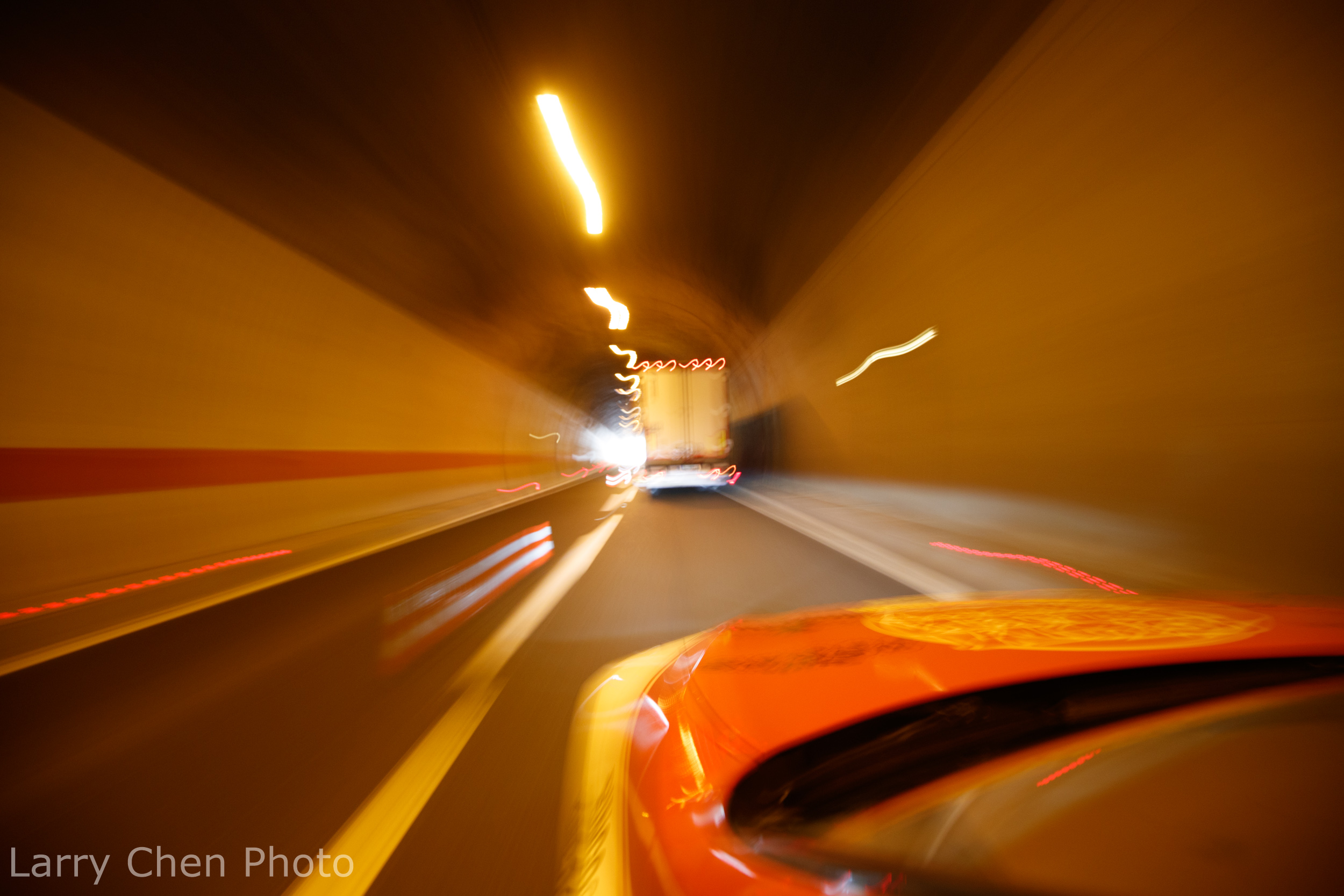 Of all the countries we passed through, Croatia had the best driving roads, not to mention countless tunnels to hit at full speed (190km/h).
Ko-hey and I were both amazed by how incredibly smooth the roads were. It's like they were built for speed.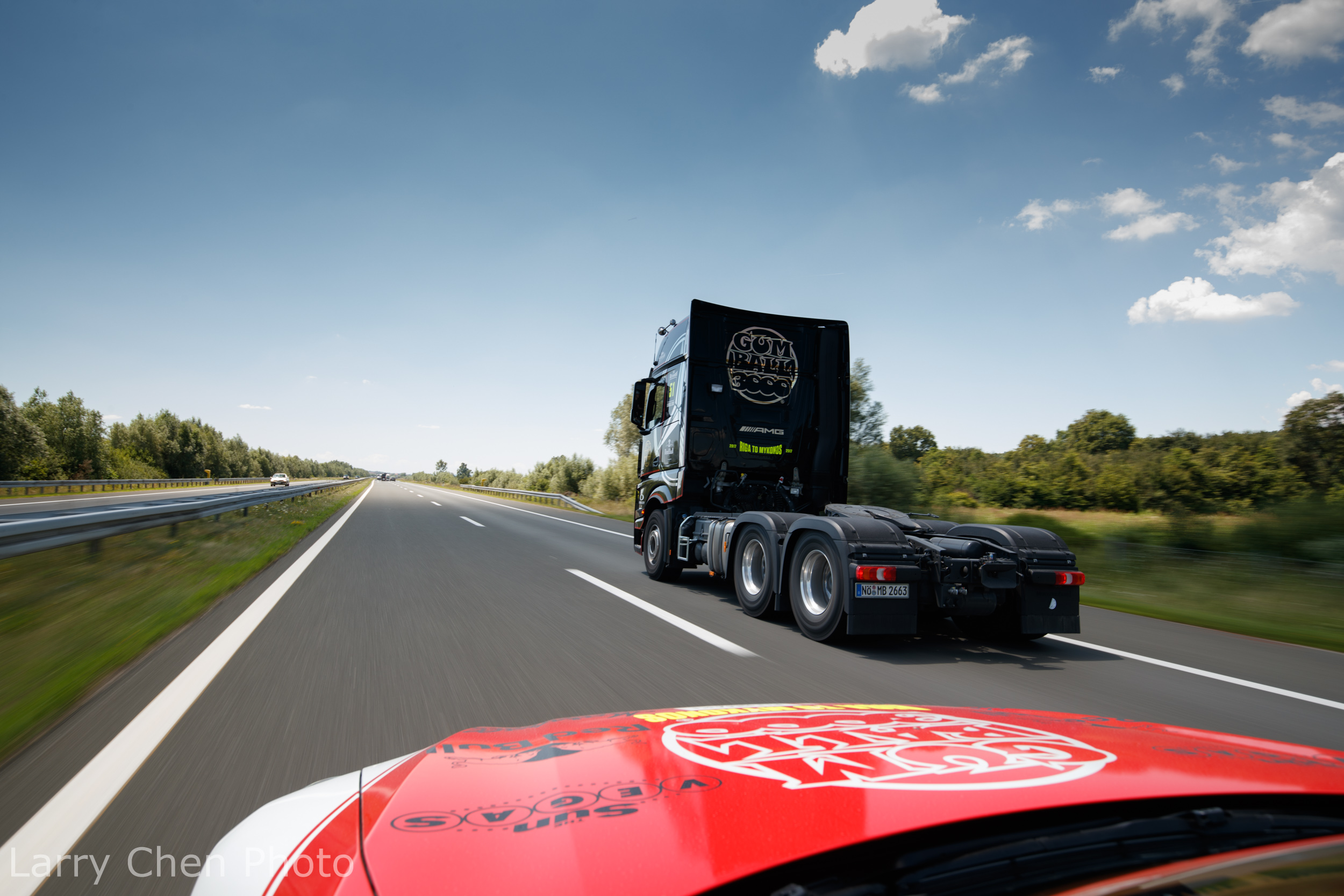 On top of that, there were almost no other cars on the road besides those in the rally.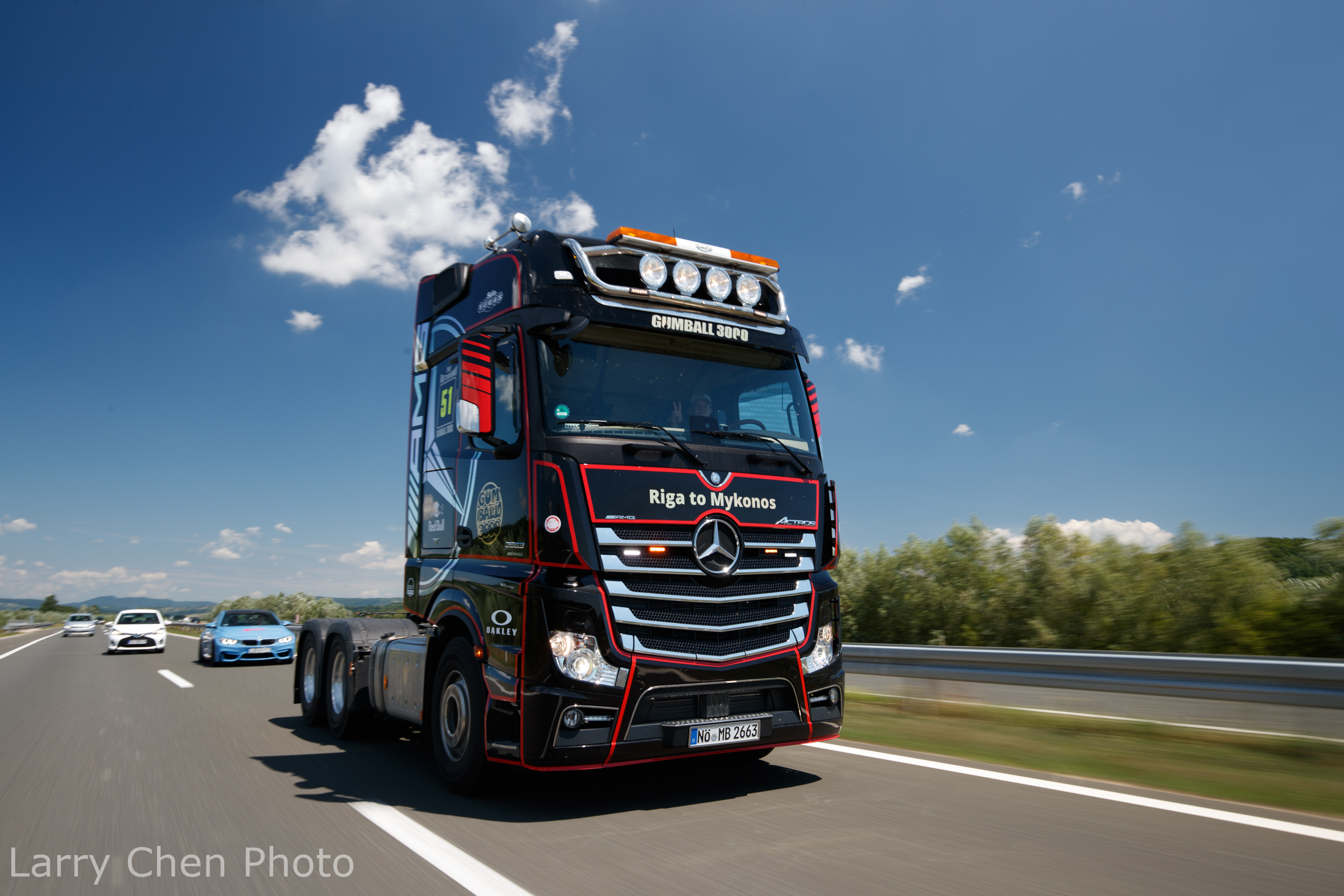 While I like to complain about our meager top speed in the LC500, it does not compare to this Mercedes-Benz lorry which was limited to only 90km/h. Amazingly, this thing made it to every single city in time for dinner, but of course with no unscheduled stops in between.
This was pretty much the sight we got used to while driving a Gumball 3000 vehicle into the lunch stops.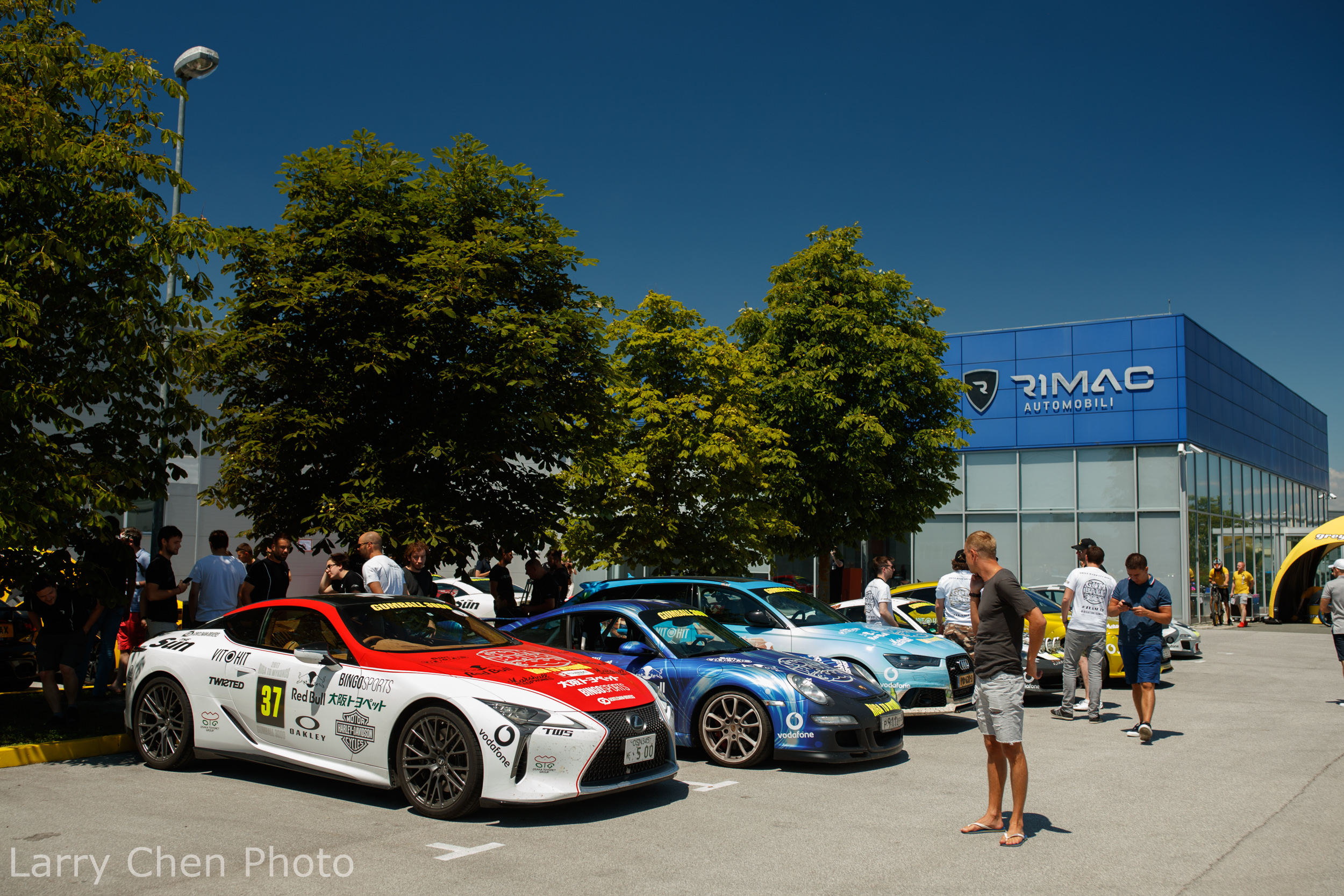 This time it was Rimac Automobile.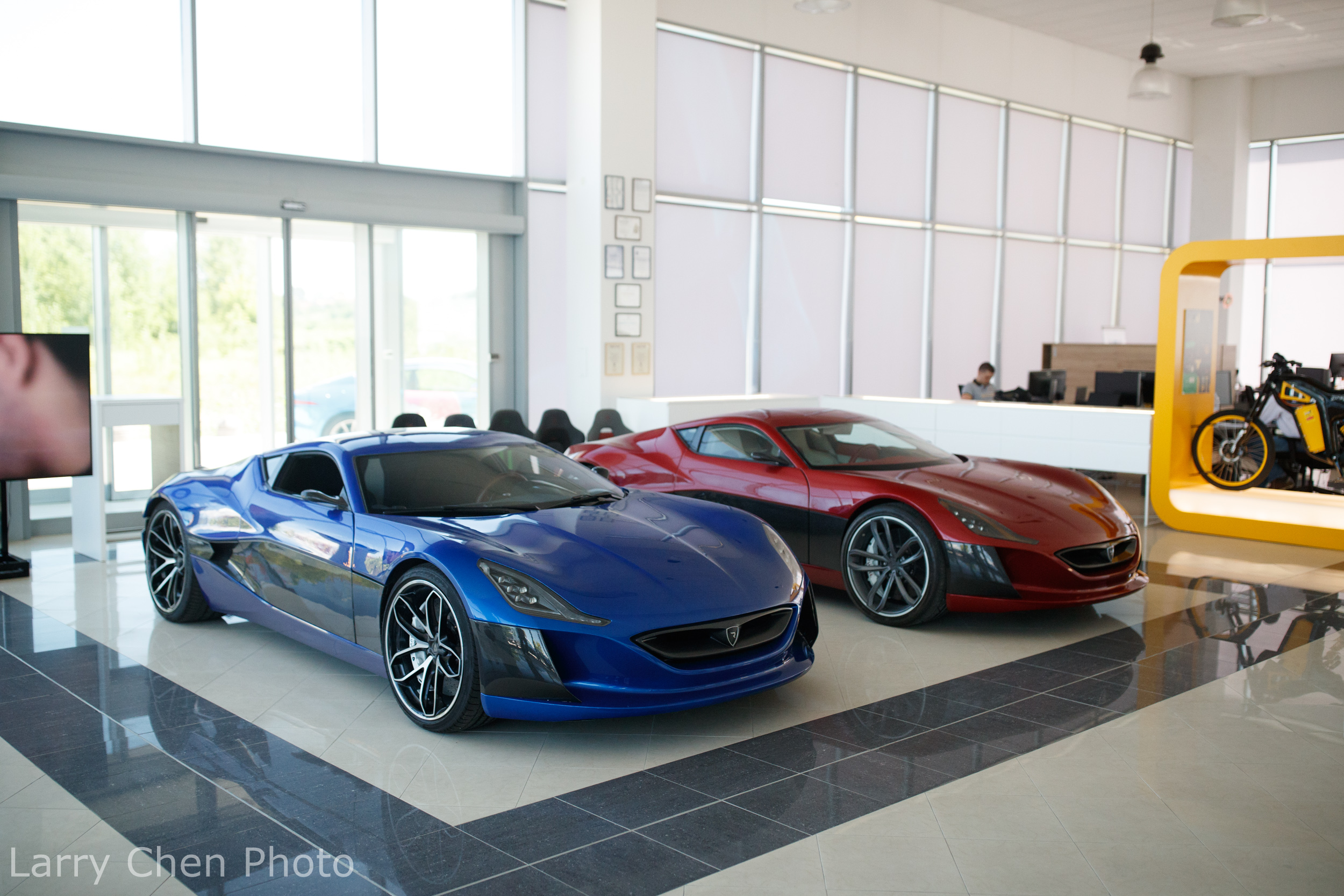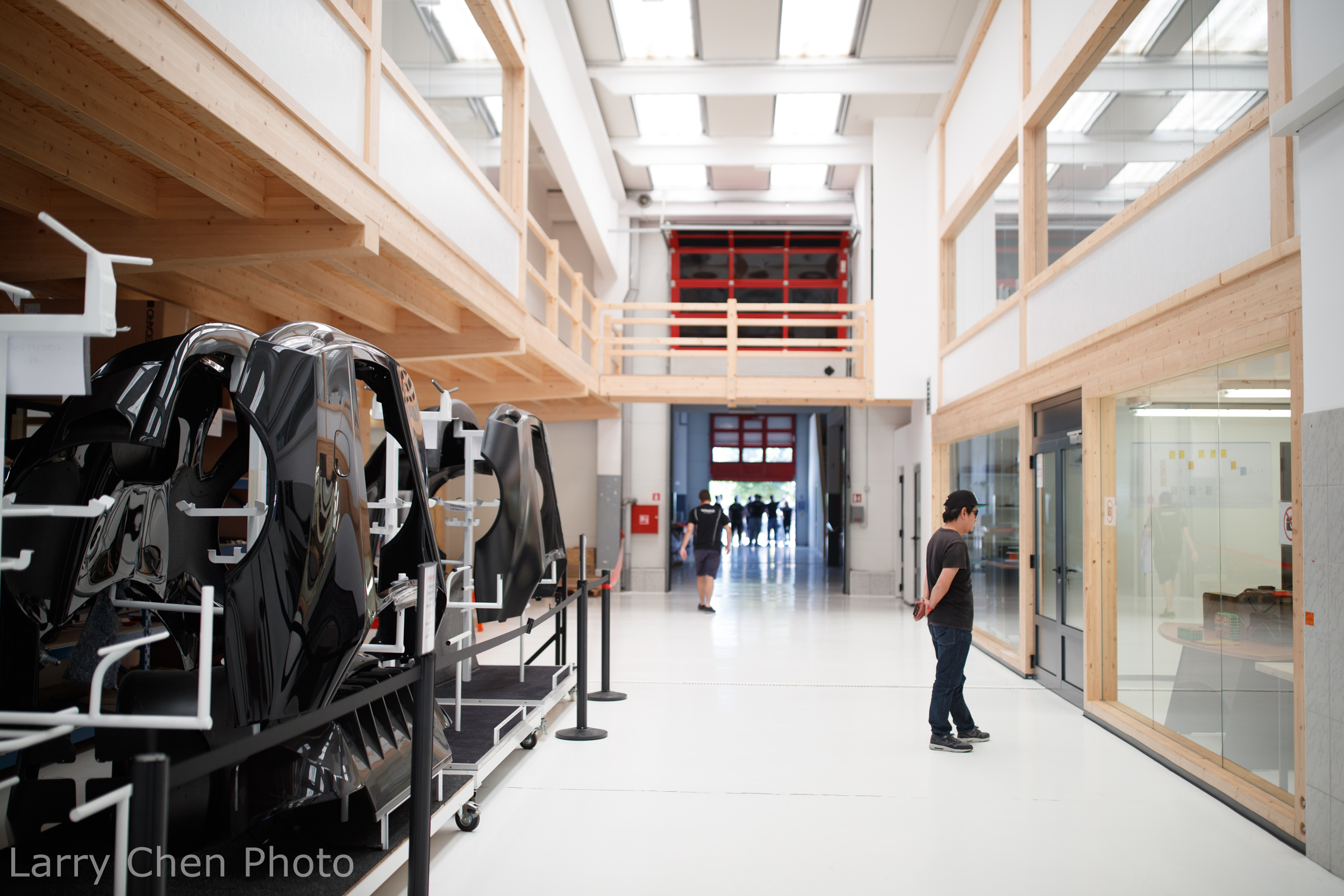 Rimac build electric supercars, one of which Richard Hammond recently had an unfortunate experience in.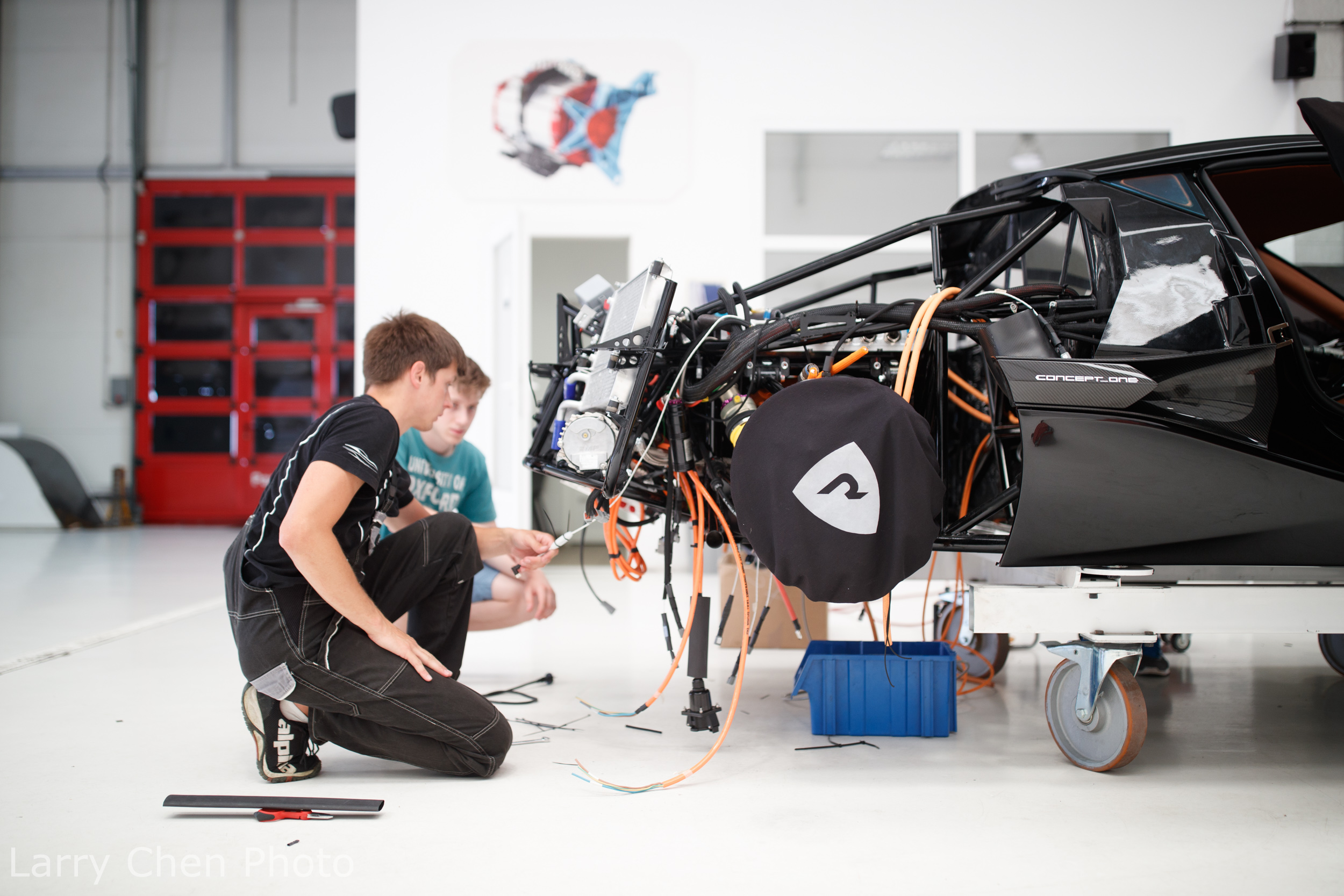 It was cool to check out Croatia's only auto manufacturer and also to see how clean of an operation they are running. As we walked through the assembly area a few cars were being put together.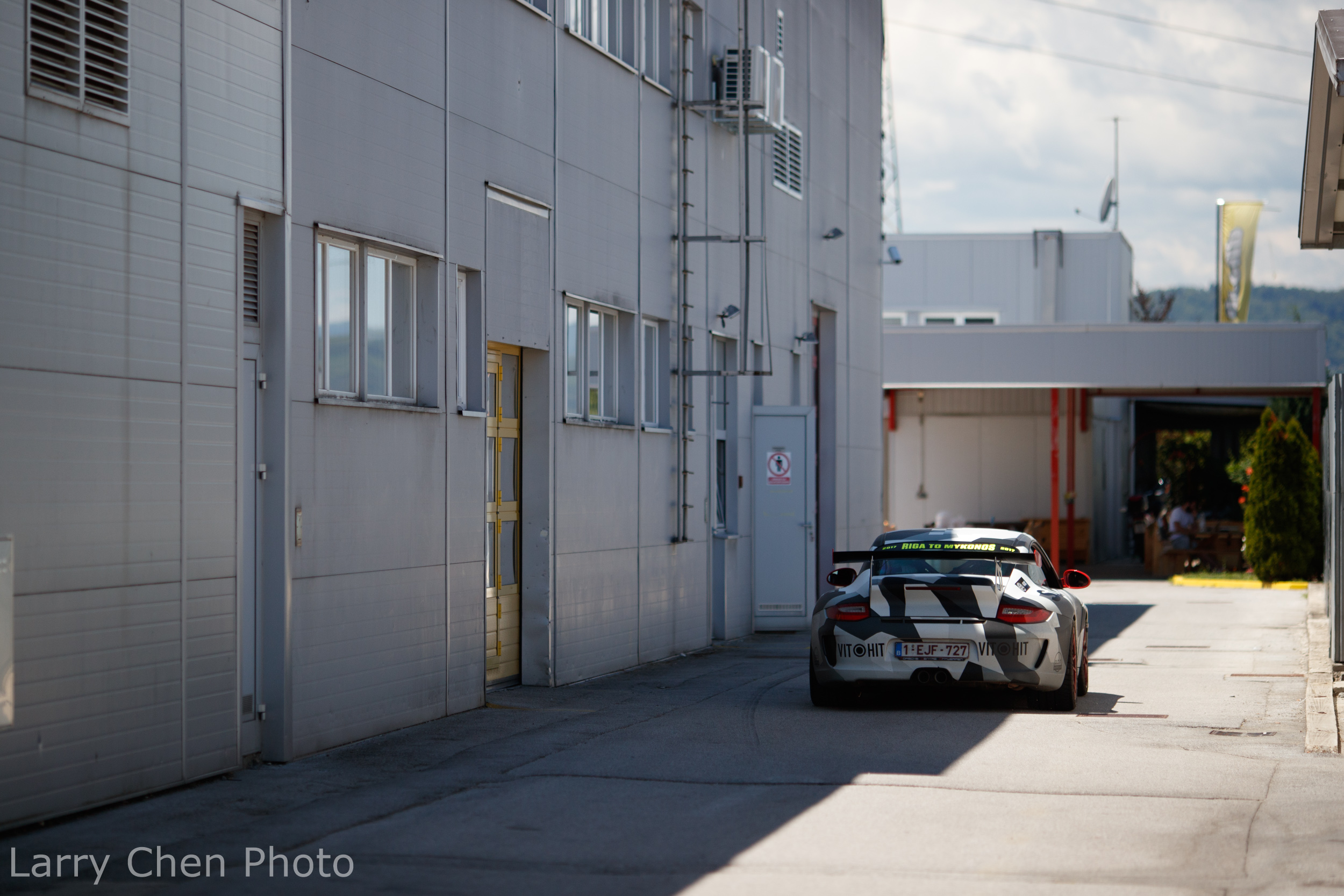 In what felt like no time at all we were hitting the road again; this time I'd drive while Ko-hey caught up on some much needed shut-eye.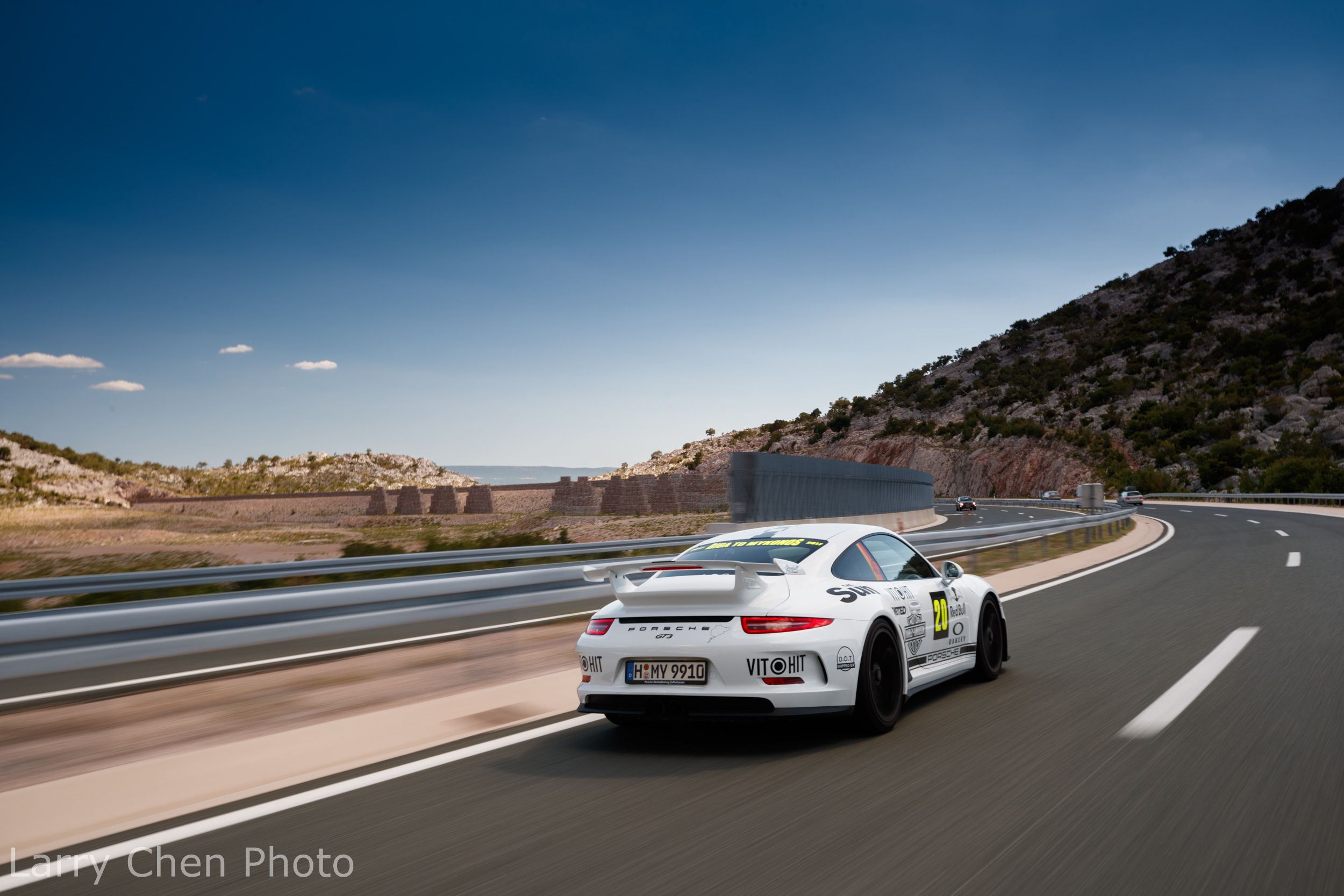 Back on the highway, I can only describe this moment like the one time I drove on the Autobahn in Germany, topping the Toyota 86 at a healthy 210km/h.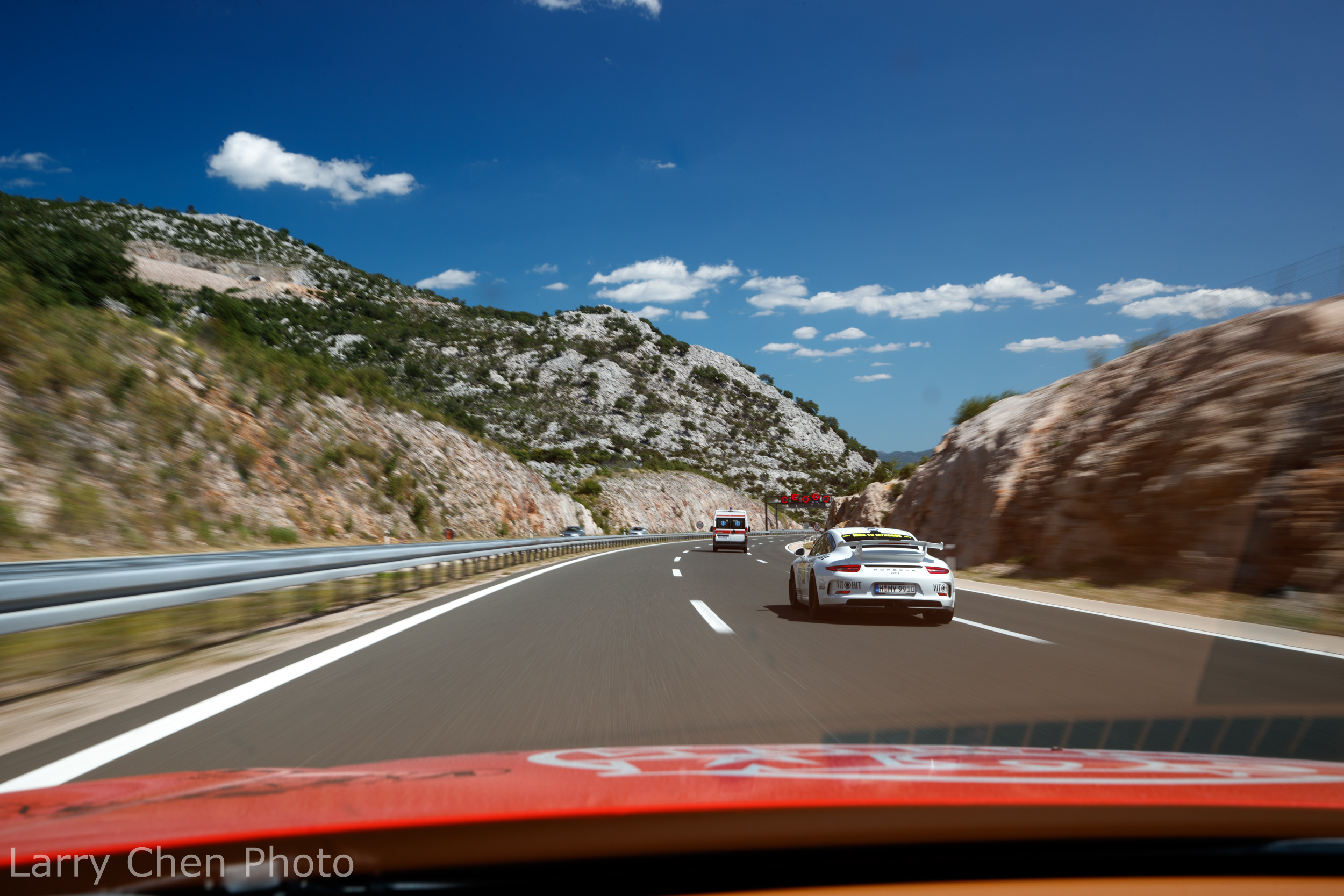 I had a lot of fun battling this 991 GT3; the roads really were smooth as glass and the company wasn't too bad either.
Just look at this impressive infrastructure. I am serious when I say there was barely anyone else on the road.
Driving a right-hand drive vehicle on the right side of the road had its challenges, because I'm just not used to it. I often found myself drifting over to the left side of the lane, just like when I drove Magnus Walker's right-hand drive 930.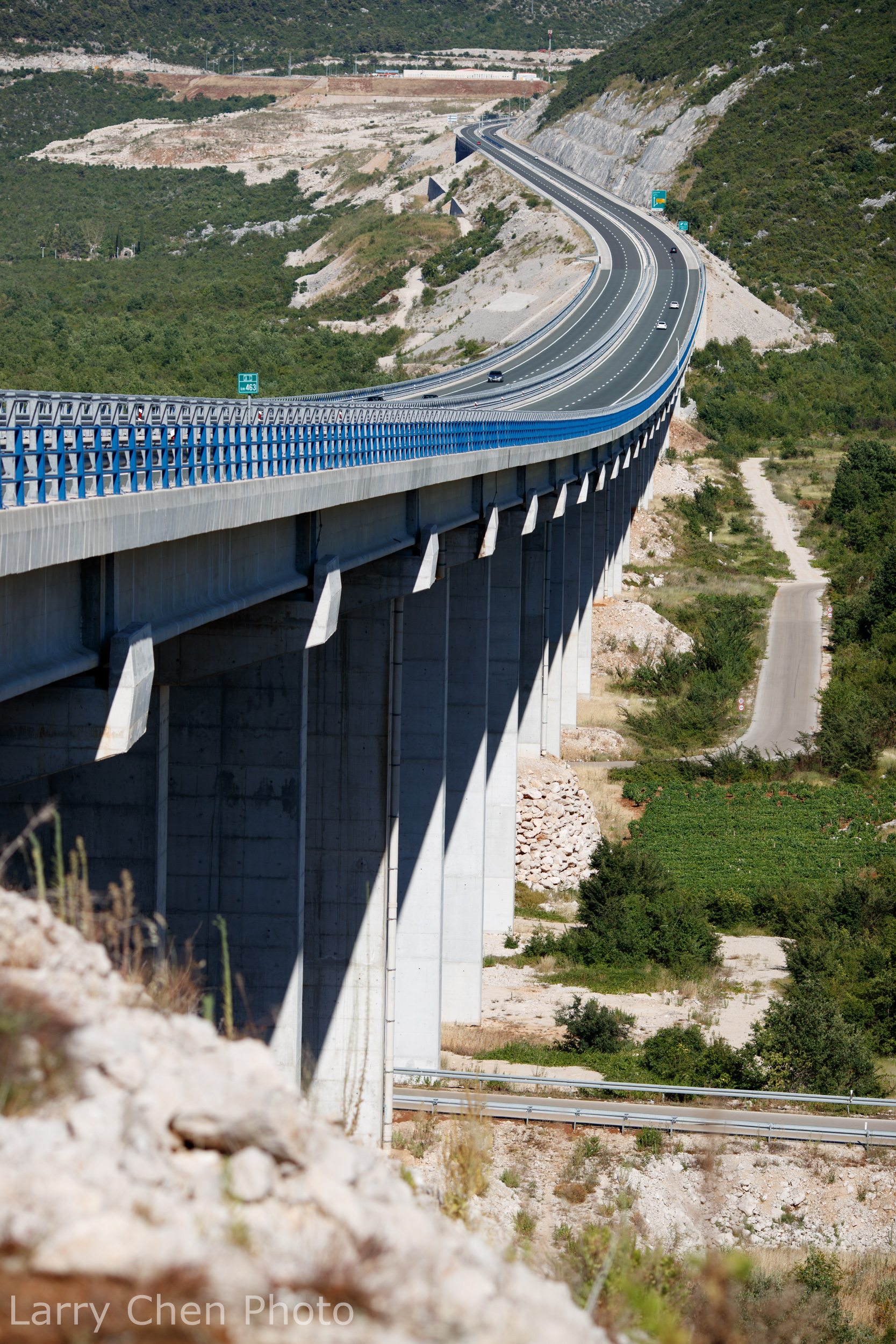 Seeing this made me wonder what other hidden gem highways there are in the world that I don't know about…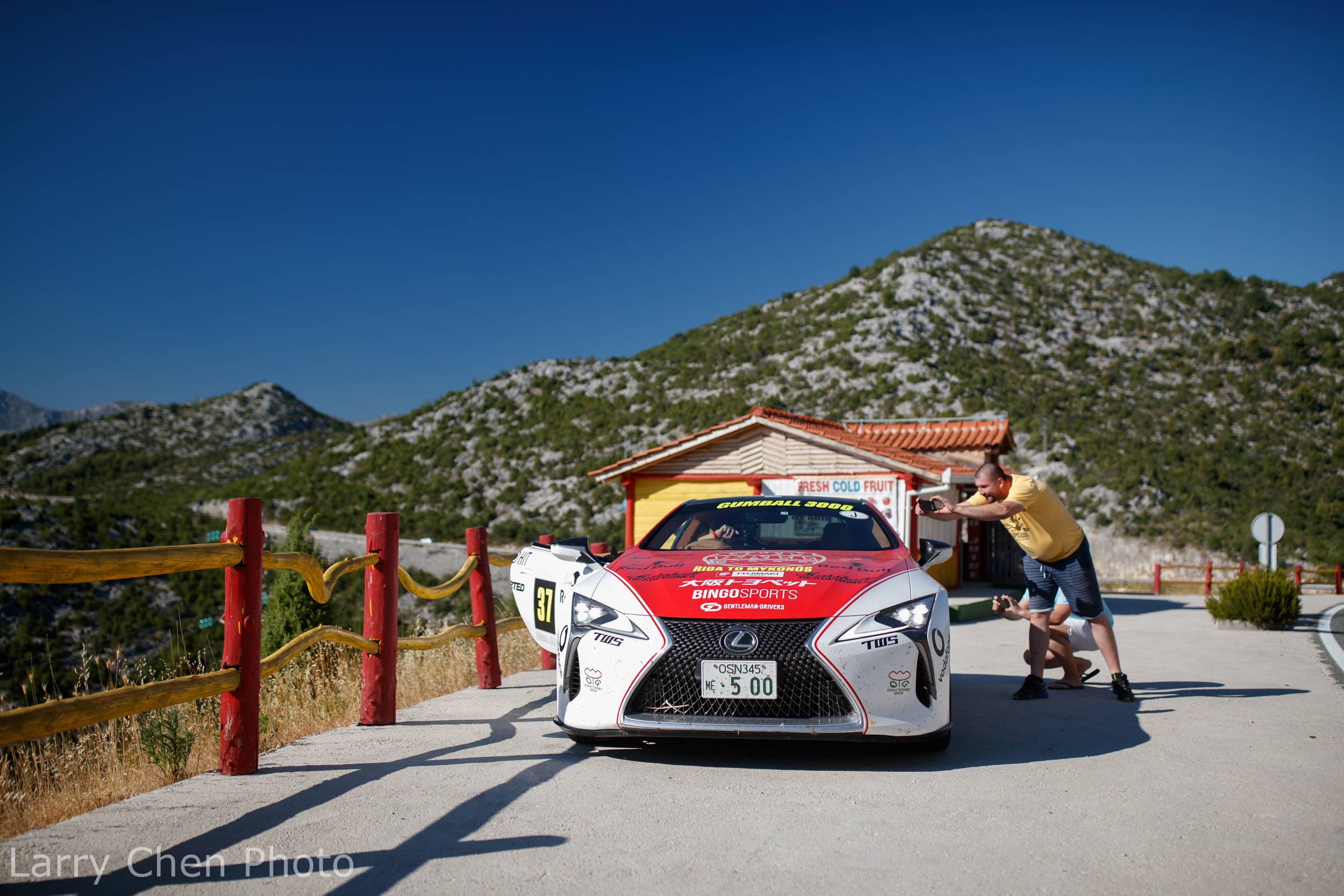 Everywhere we stopped people wanted to take photos of our car, and no matter where we stopped we would run into other Gumballers on the side of the road, like Afrojack here.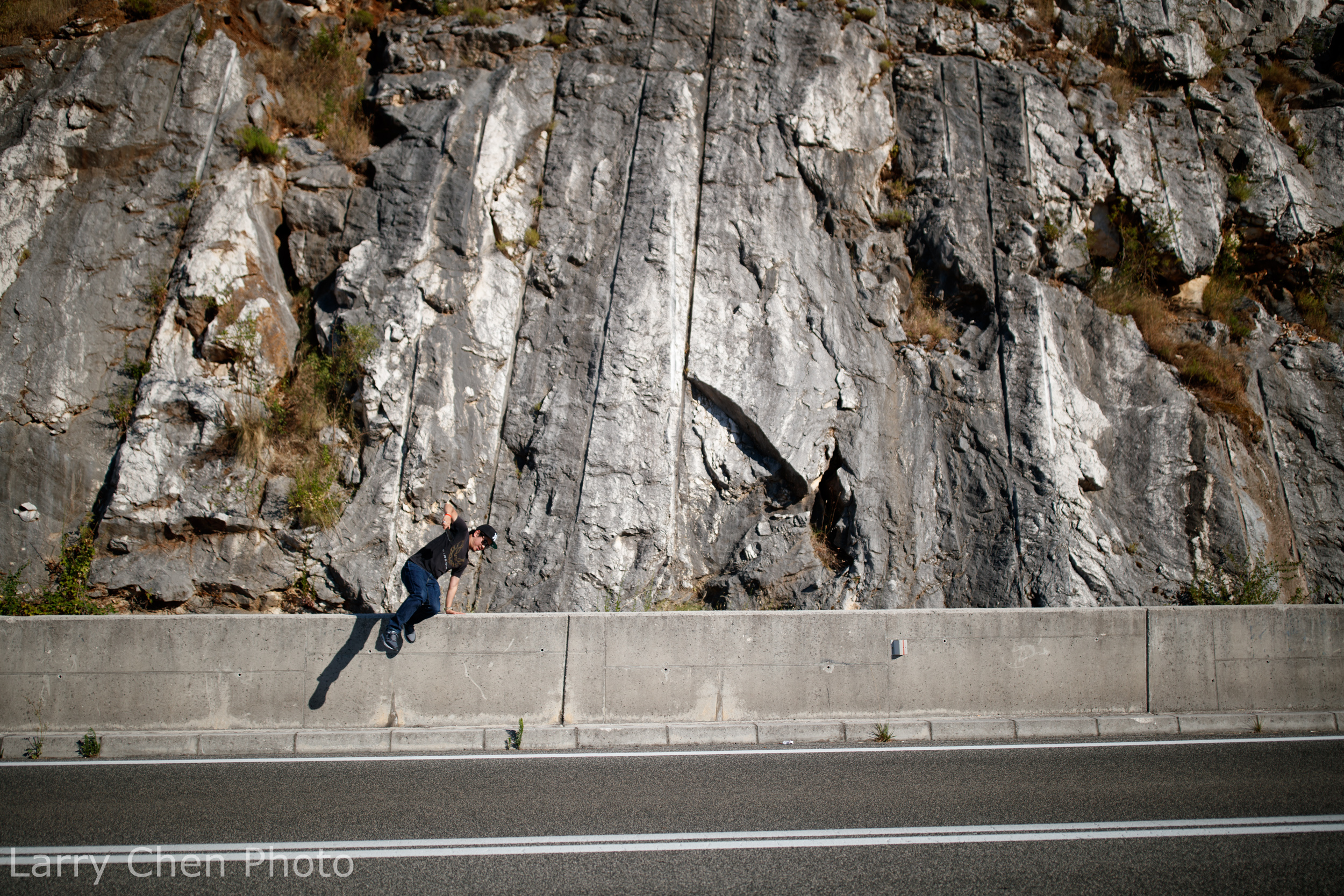 Before we crossed over in Dubrovnik we had to drive through a little part of Bosnia that separates the north and south parts of Croatia.
I made Ko-hey stop just for one picture, just so I could say that I'd stepped foot in Bosnia.
At border crossings we would often pull up next to other Gumballers and share war stories. Often, these involved bribing the cops and top speeds.
In terms of behind-the-wheel time and driving roads, this day was definitely the best. I was reluctant to hand the keys back over to Ko-hey as the LC500 is a spectacular grand tourer.
And just like that we arrived at the pearly white gates of Dubrovnik.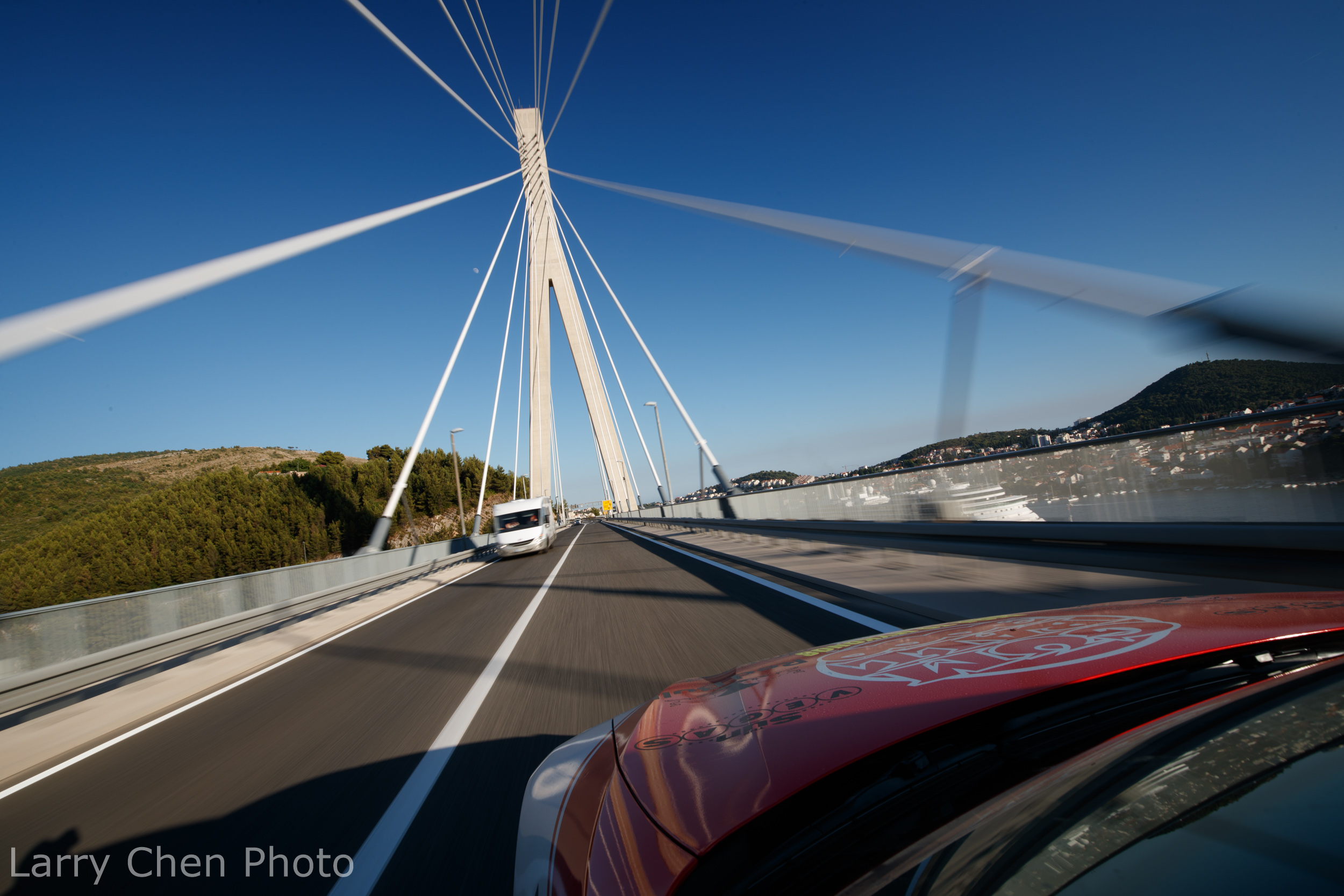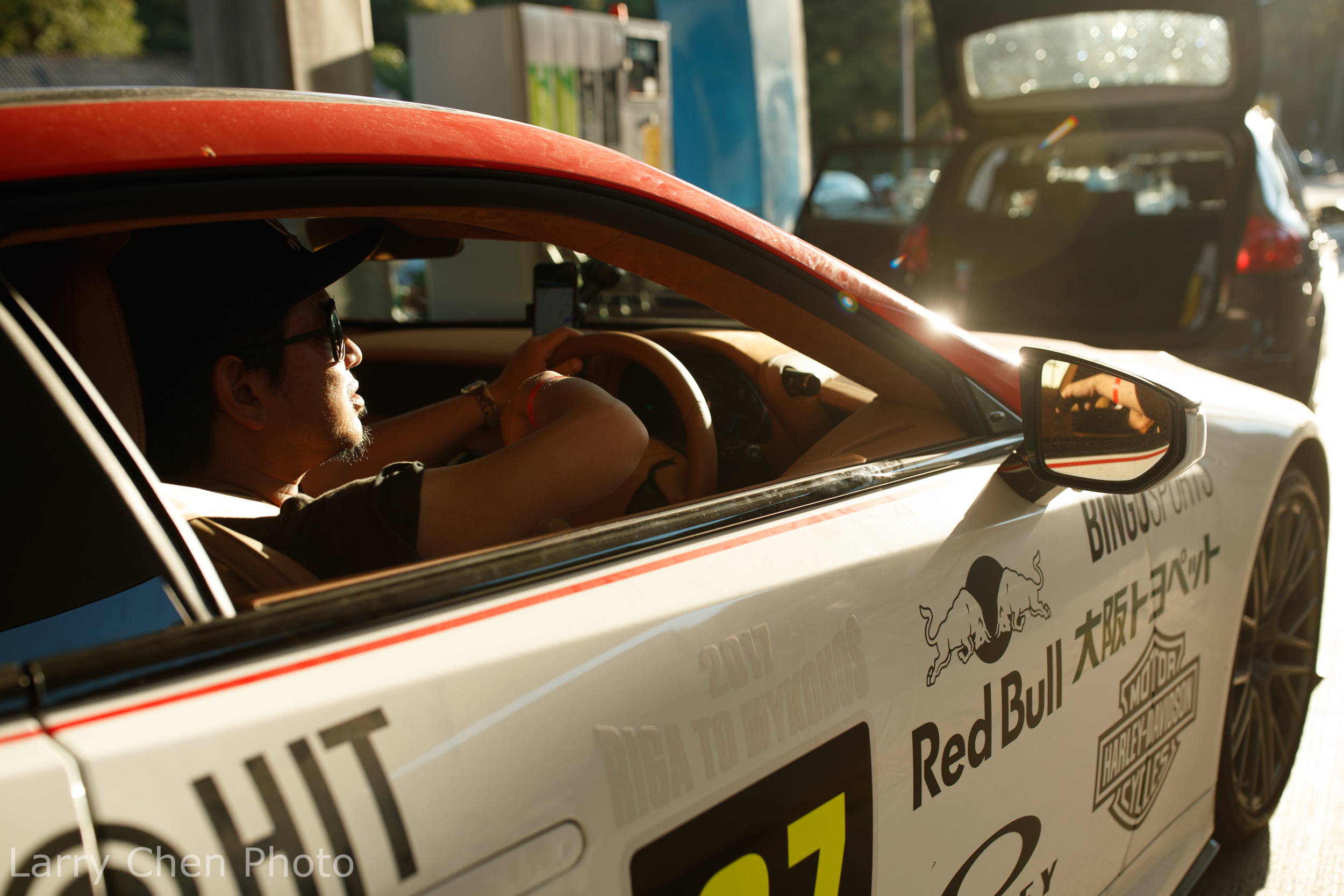 Of all the cities we stopped at on the Gumball 3000 route, this was easily the most beautiful.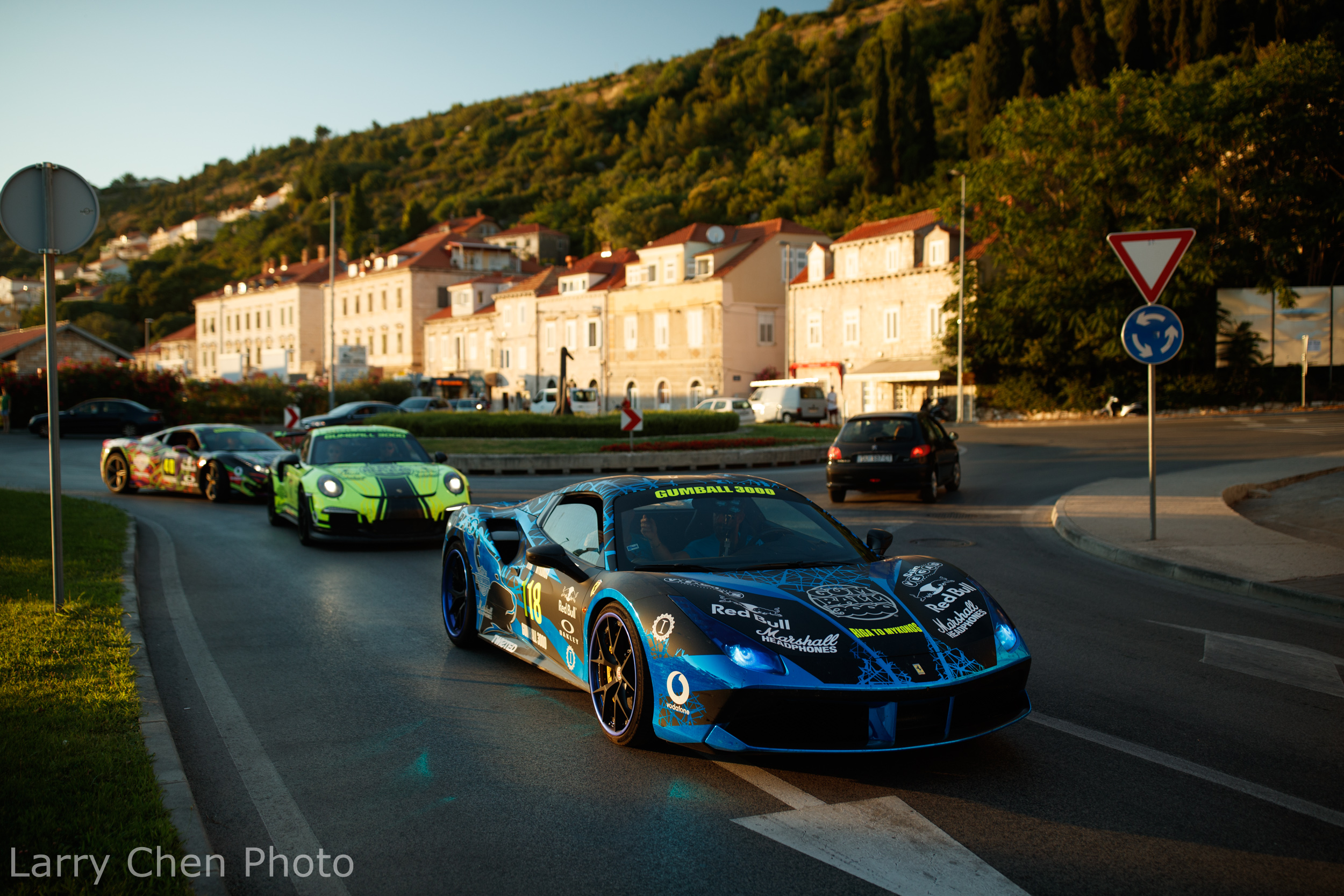 The locals as well as tourists welcomed us with open arms.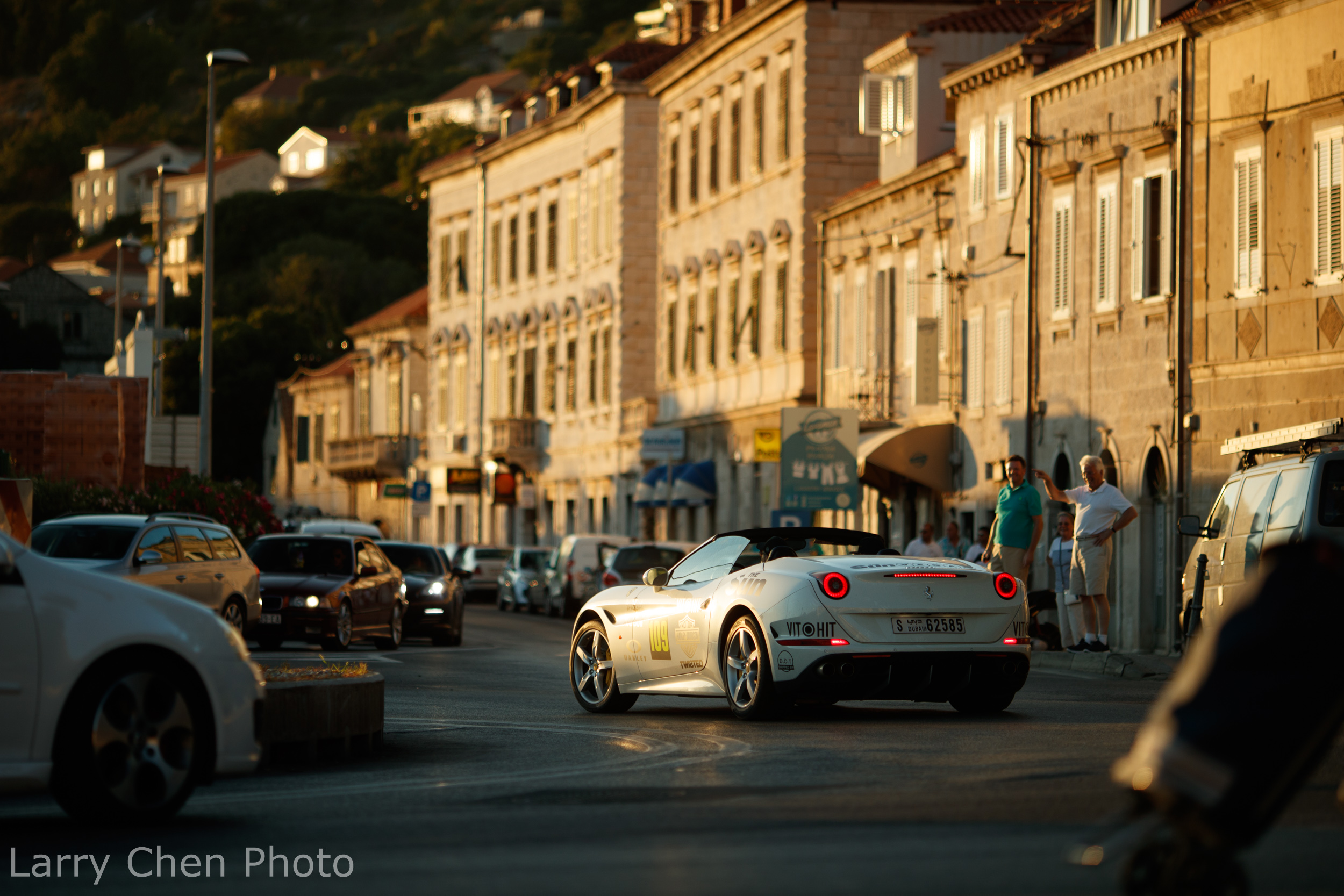 It was such a nice contrast of modern exotics and supercars with an old school backdrop.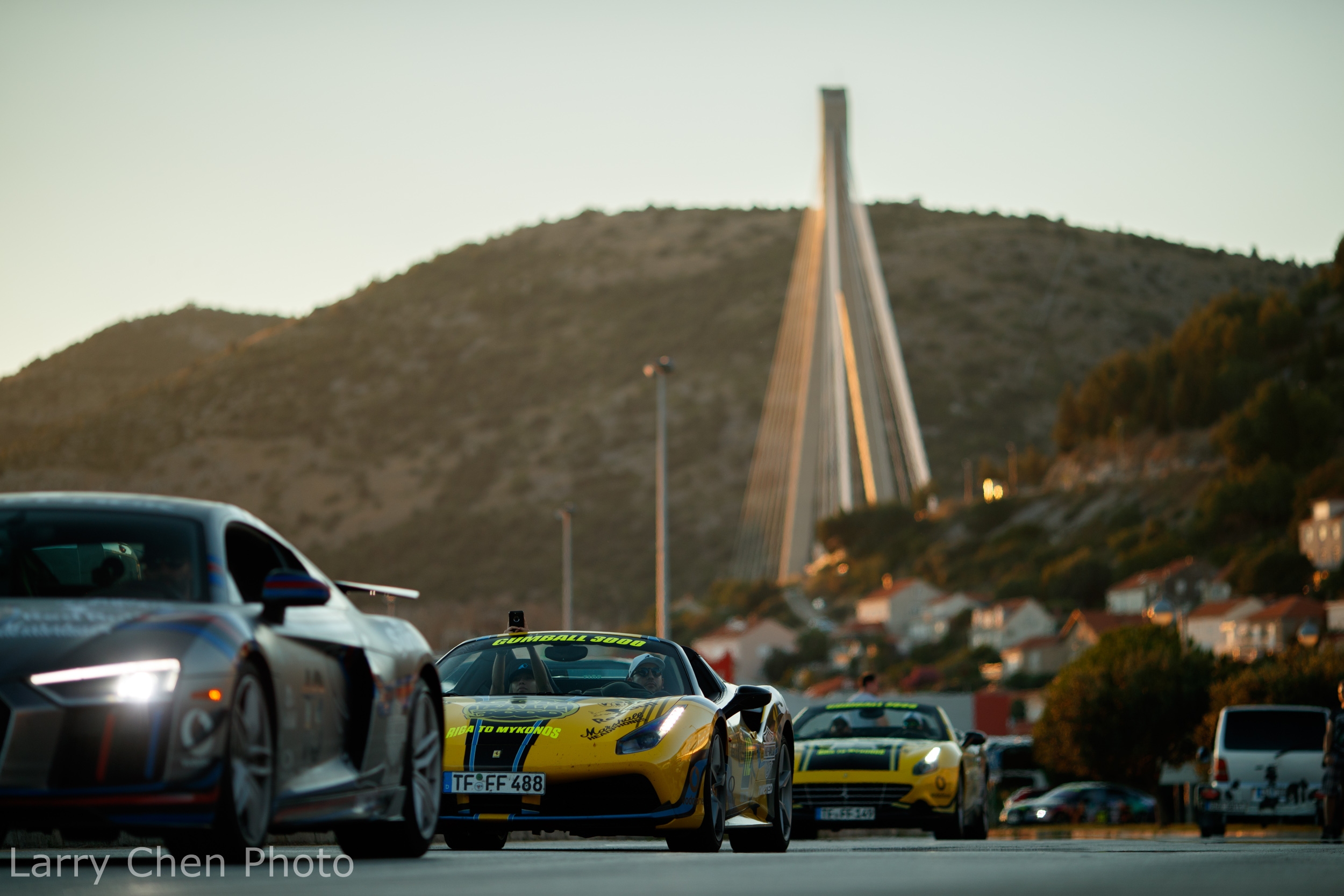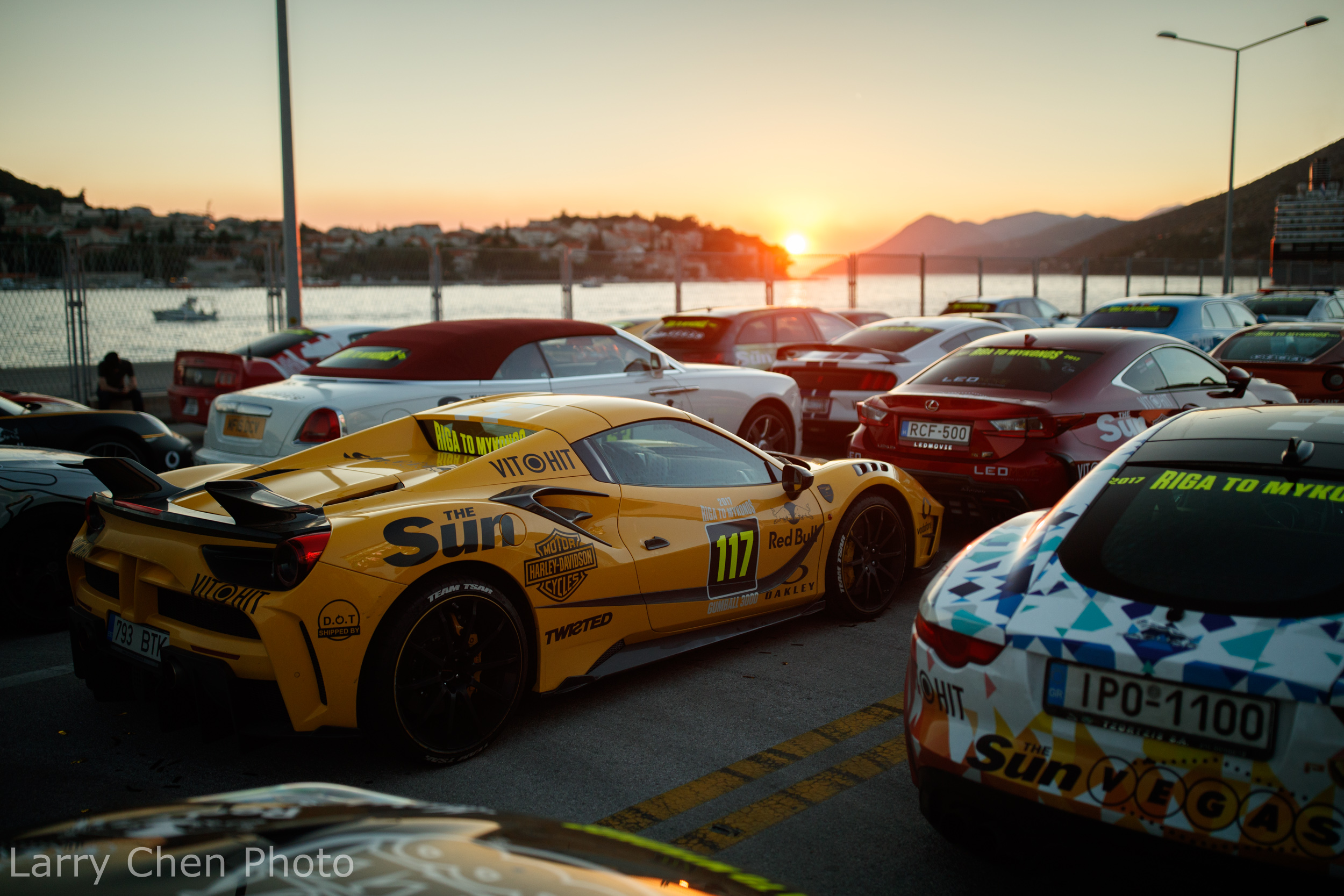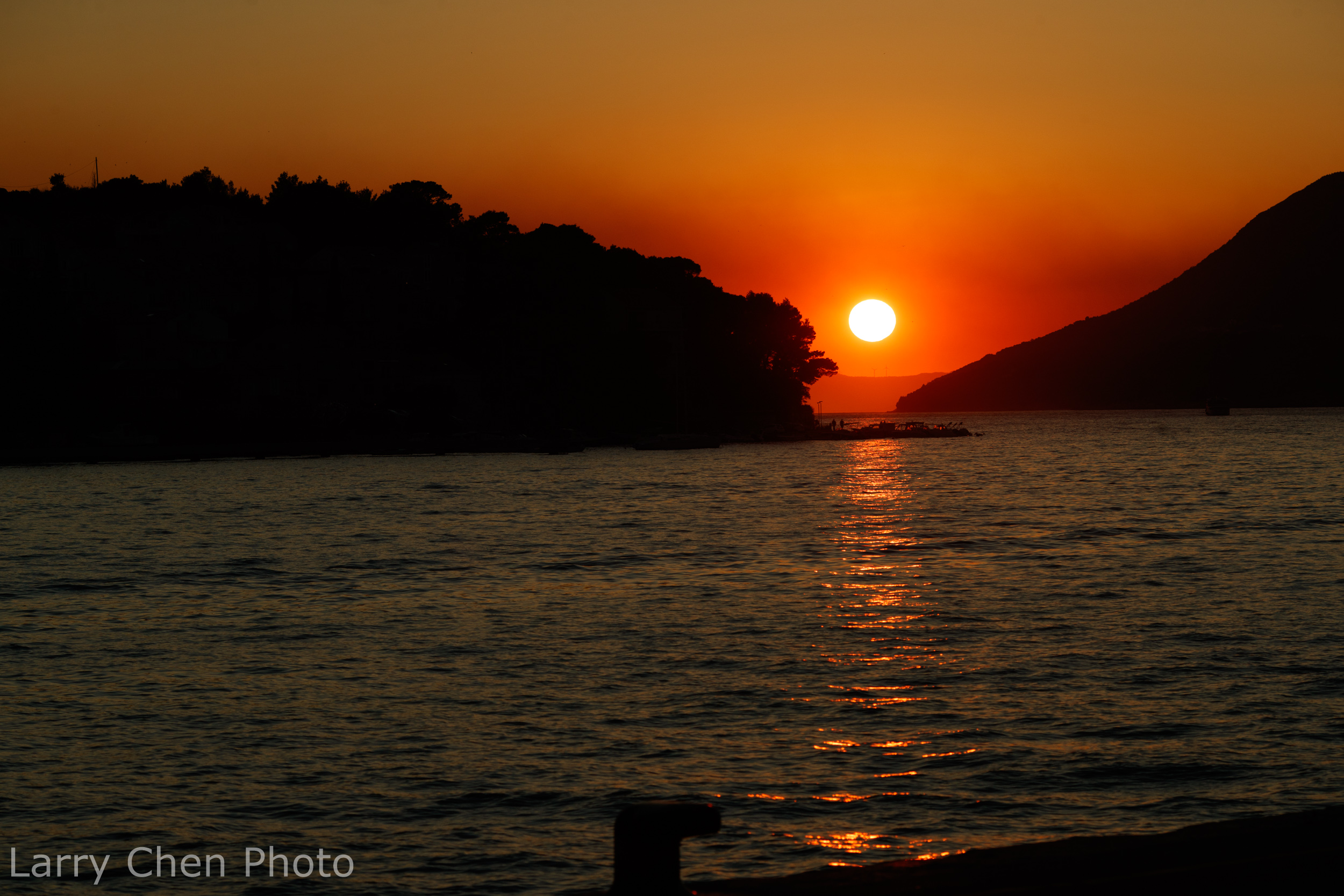 Partially due to our heavy right feet, Ko-hey and I made it with time to spare and the view of a perfect sunset.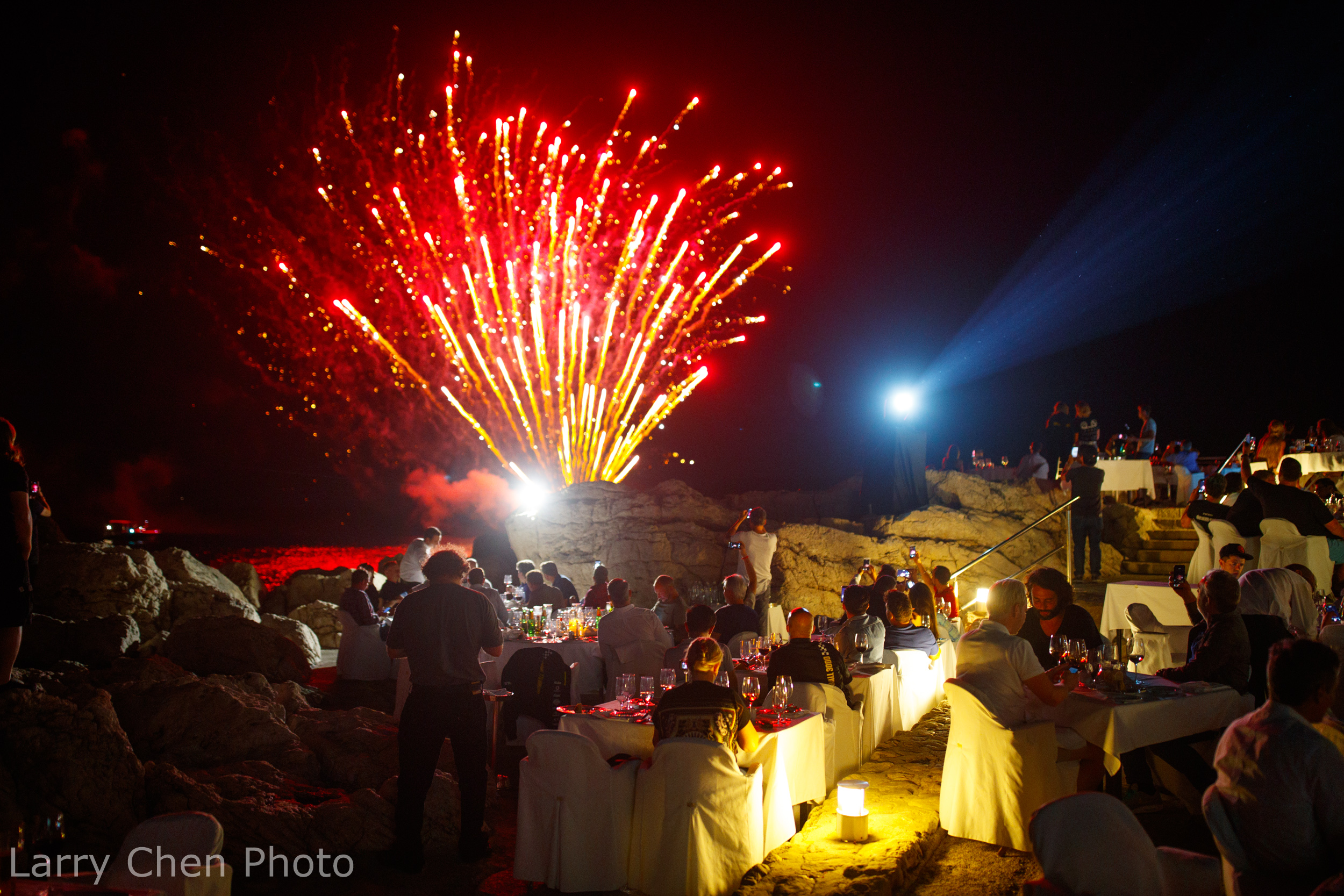 That night we were treated to a seaside fireworks display. Even though I was far away from home for the 4th of July (America's Independence Day), the festivities were fitting.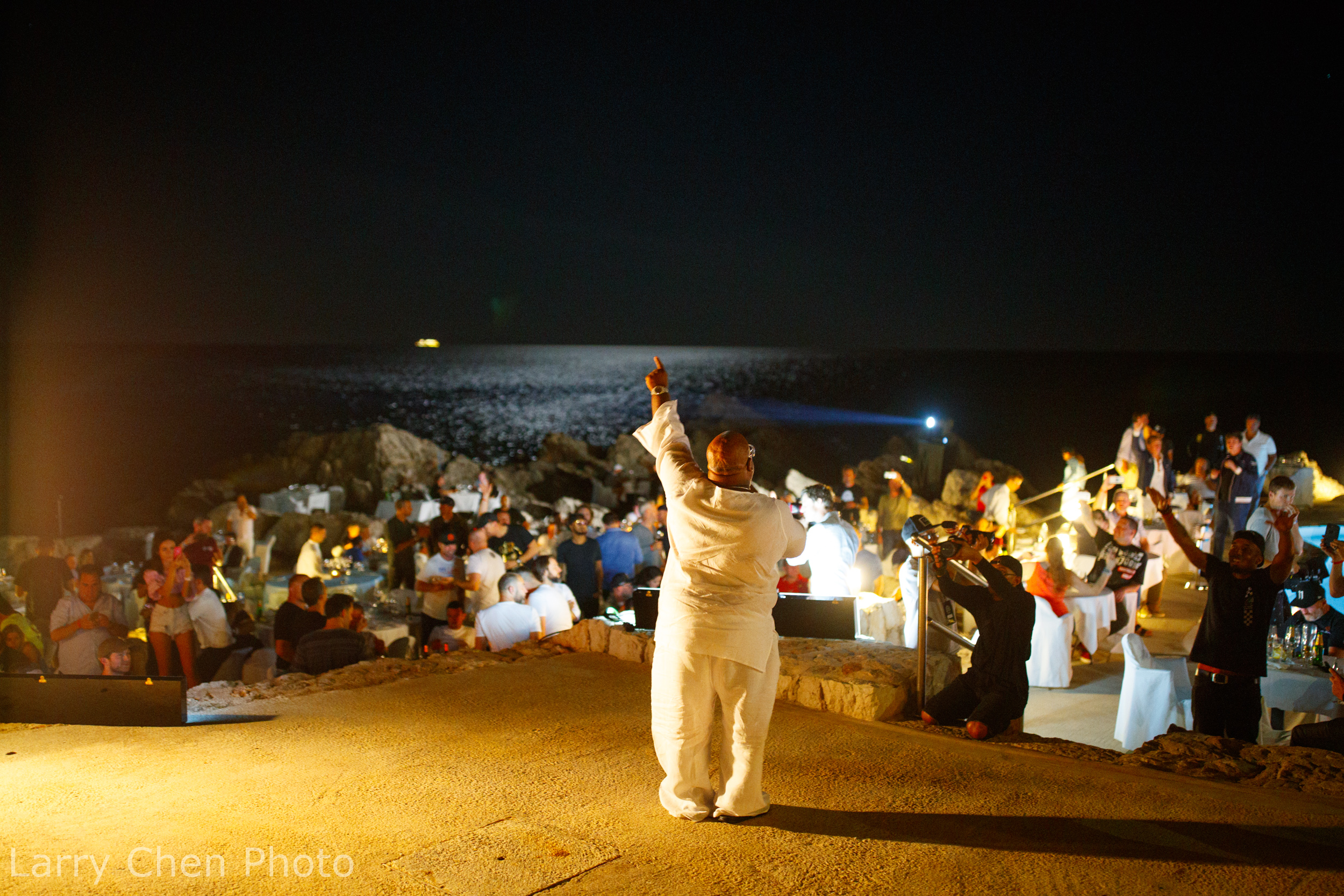 We were even treated to an impromptu concert by the one and only CeeLo Green. There were many four letter words being sung on this particular night.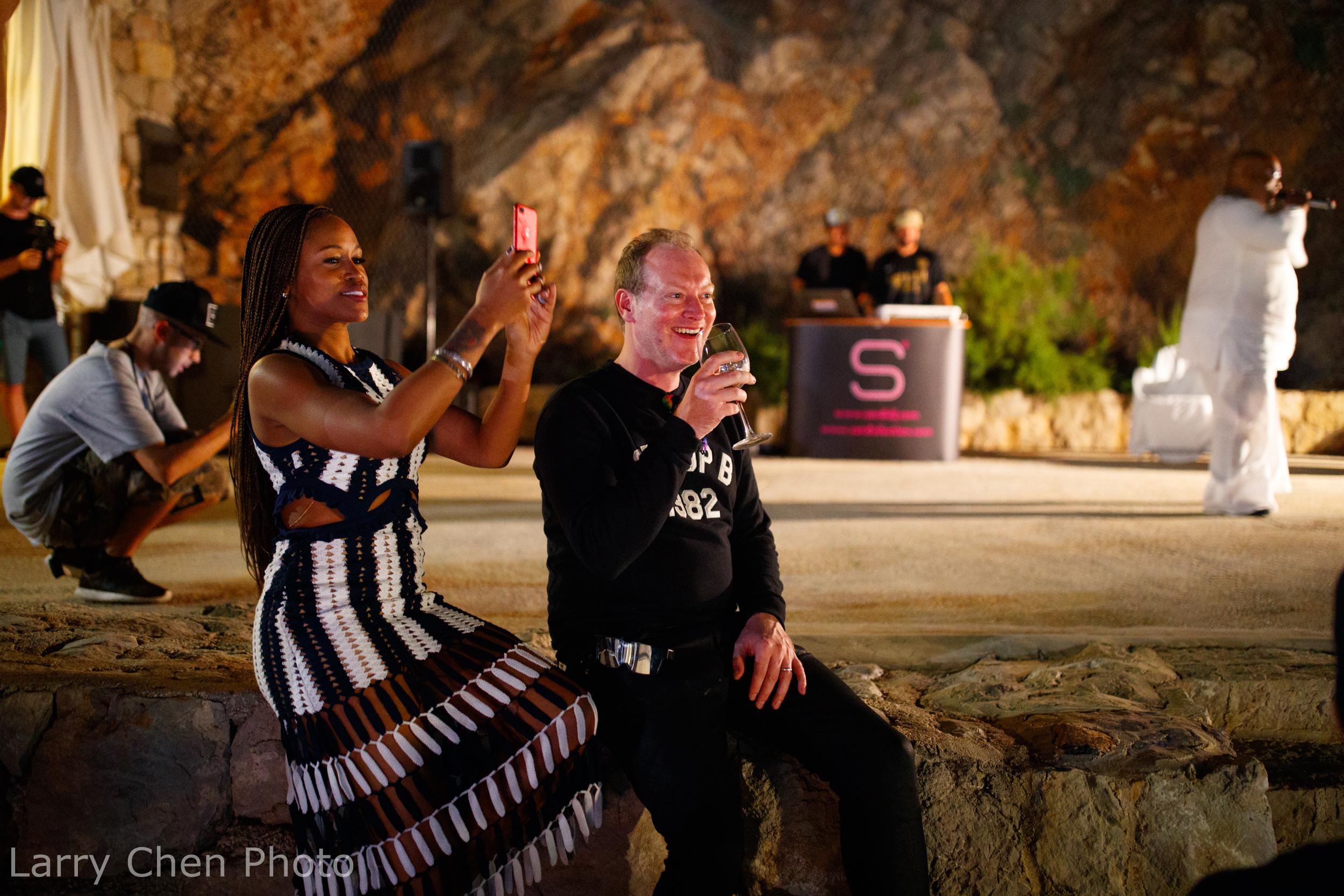 It really made me take a step back for a moment and reflect on what I was witnessing. This is a side of car culture that I never thought I would have a chance to experience. What has this man Maximillion Cooper created?
I thought about it the next day as we left for Tirana, the capital city of Albania.
For me, the worst part of a vacation is not going home, it's always the planning stage. It takes forever to figure out where to stay what to do, because if you go with the flow you can easily have a bad experience. Gumball is pretty much the ultimate party vacation for car enthusiasts who have the means, and planning is not required.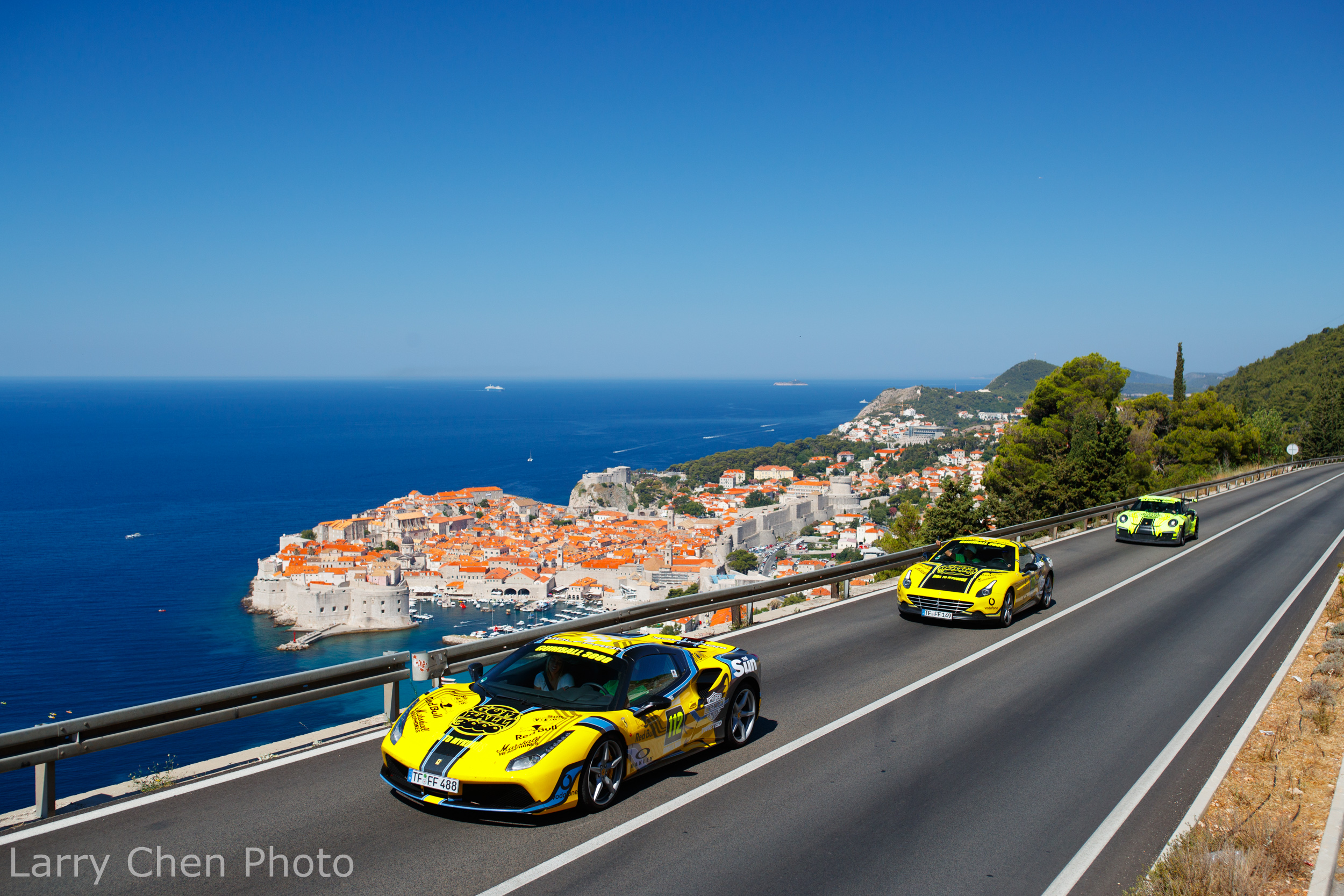 Some of the people I met on the rally just rented exotic cars for the duration of the trip, and many of them didn't even drive them back.
The point is, you can just enjoy a week of non-stop action morning till night, eat at the best restaurants, drive the best roads and party like royalty.
And if you want to drive the entire thing in a real Miami-Dade County police car while dressed up as a policeman, you can do just that.
Our lunch stop was in beautiful Montenegro; a dip in the infinity pool and some well deserved espresso was exactly what we needed. Minus the swimming part, I just watched everyone else get chocolate wasted.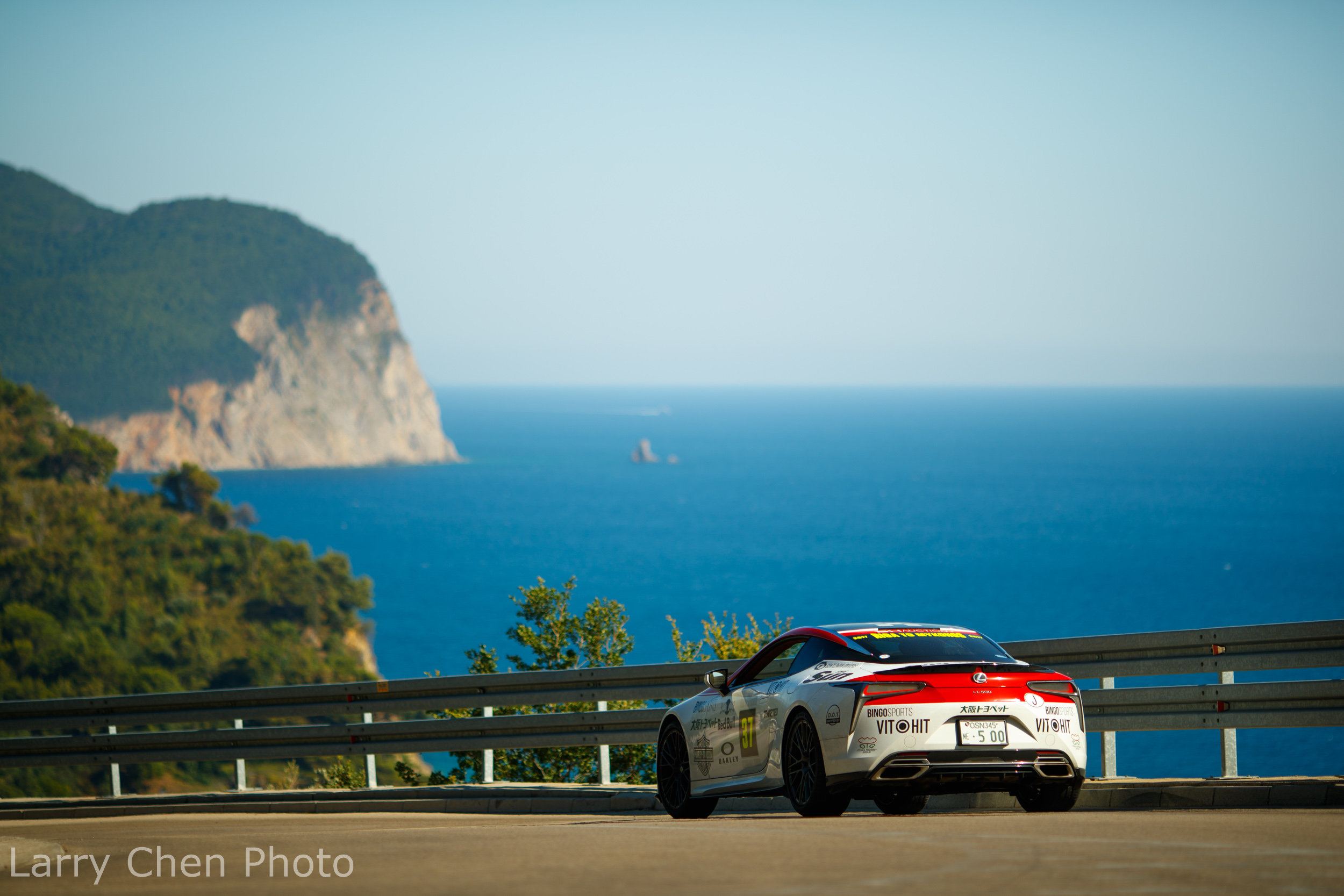 From this point forward we lost all of the fan cars that were just following the rally – we were now crossing into the country of Albania.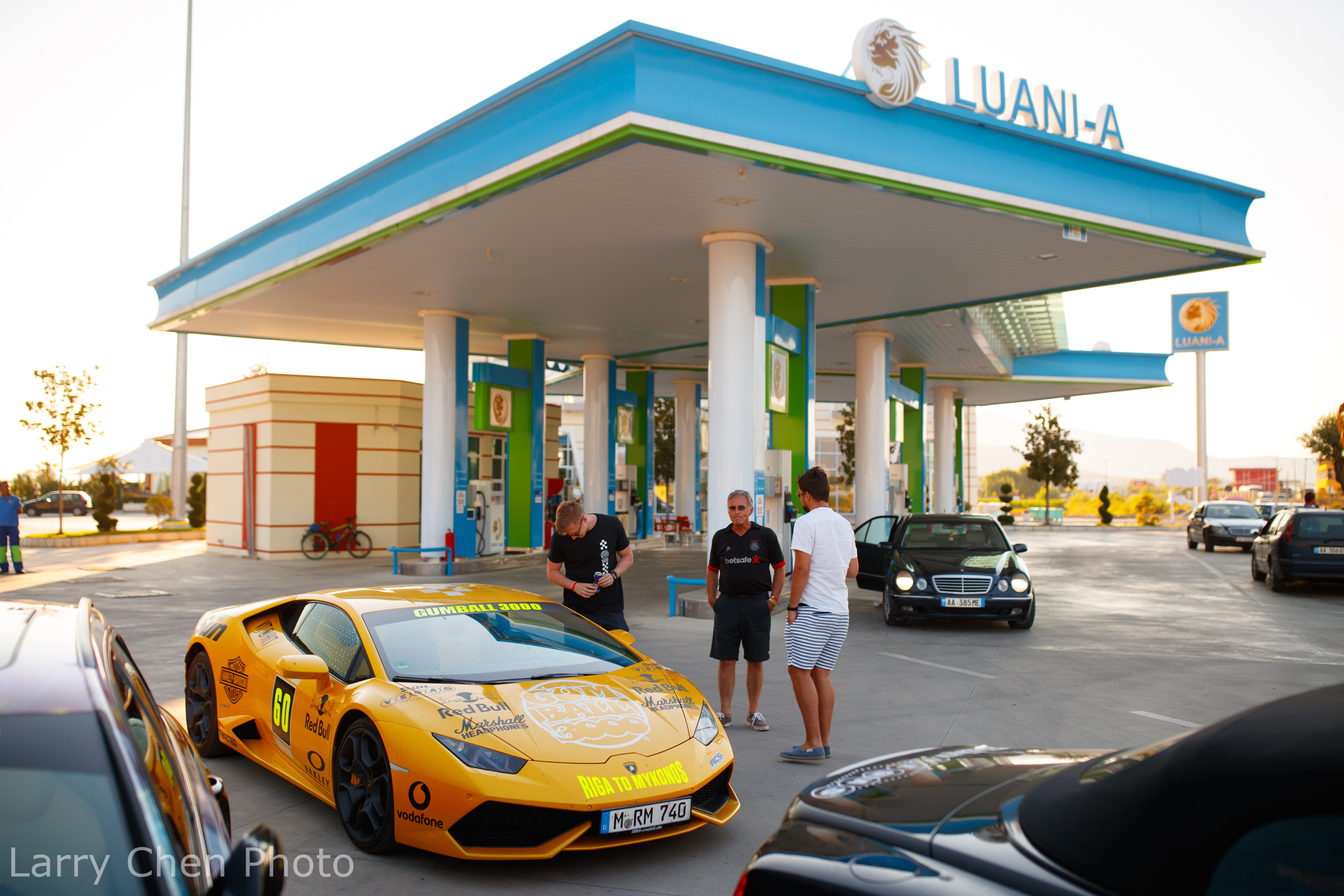 What happened next is pretty much the reason why you pay for such an exclusive experience.
I never thought I would visit the country of Albania, let alone drive the Gumball 3000 rally through it.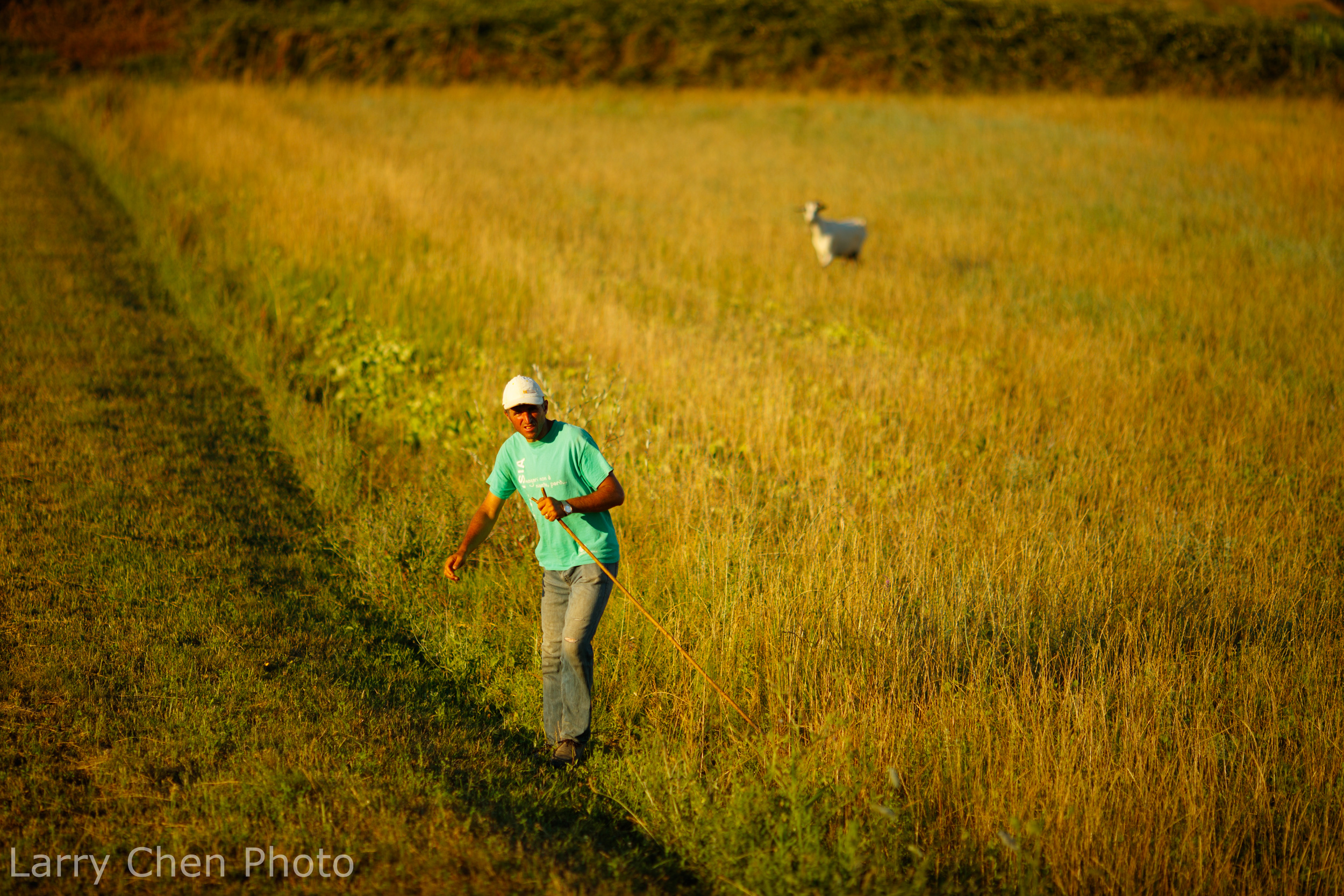 The locals didn't even really know what to think when they saw an army of supercars blasting down their highways.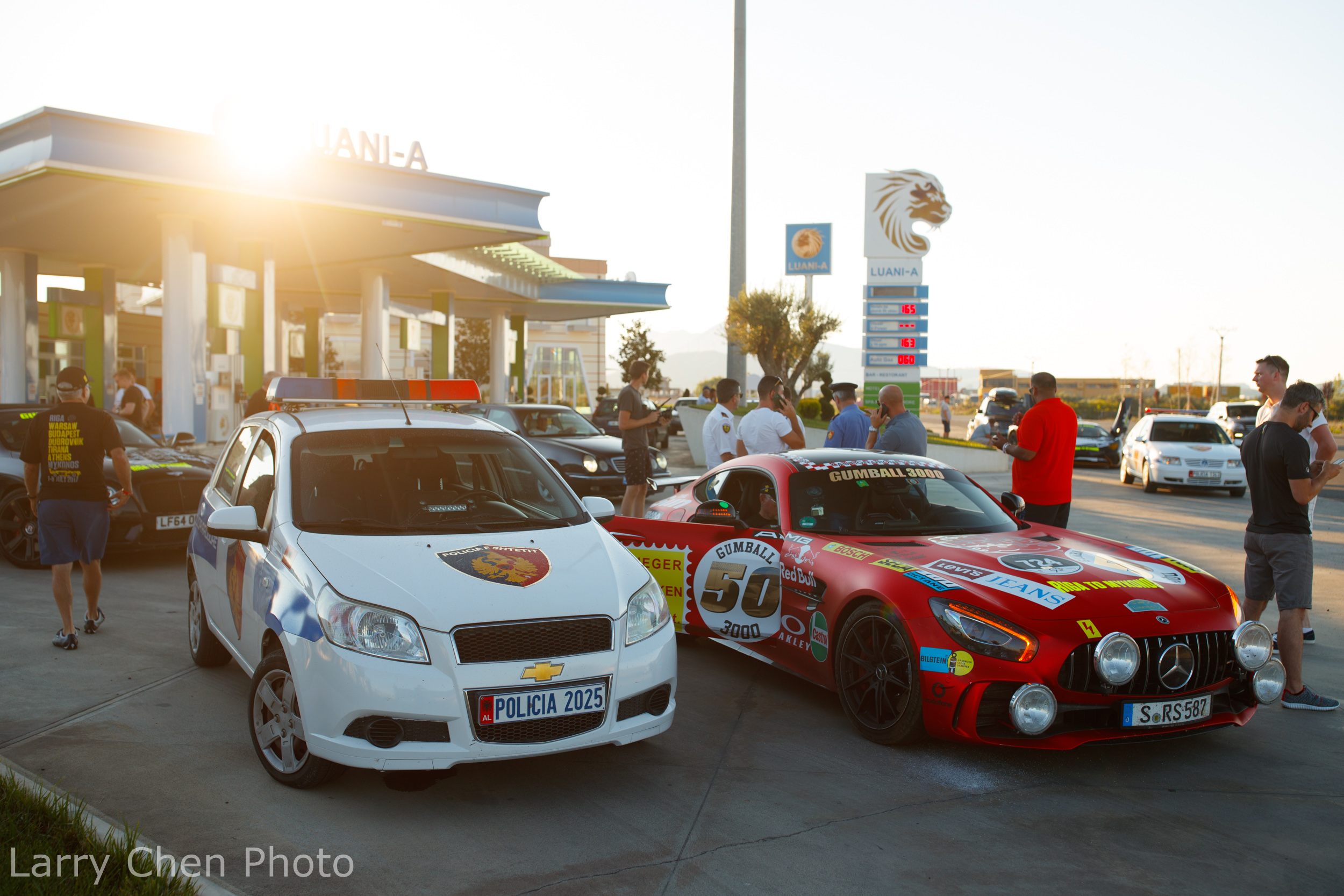 The kicker? The Gumball 3000 hired 2000 Albanian police officers to block off the roads through the entire country. This meant full-speed passes at any given moment, and the police won't even bat an eye – something that I never even thought was possible.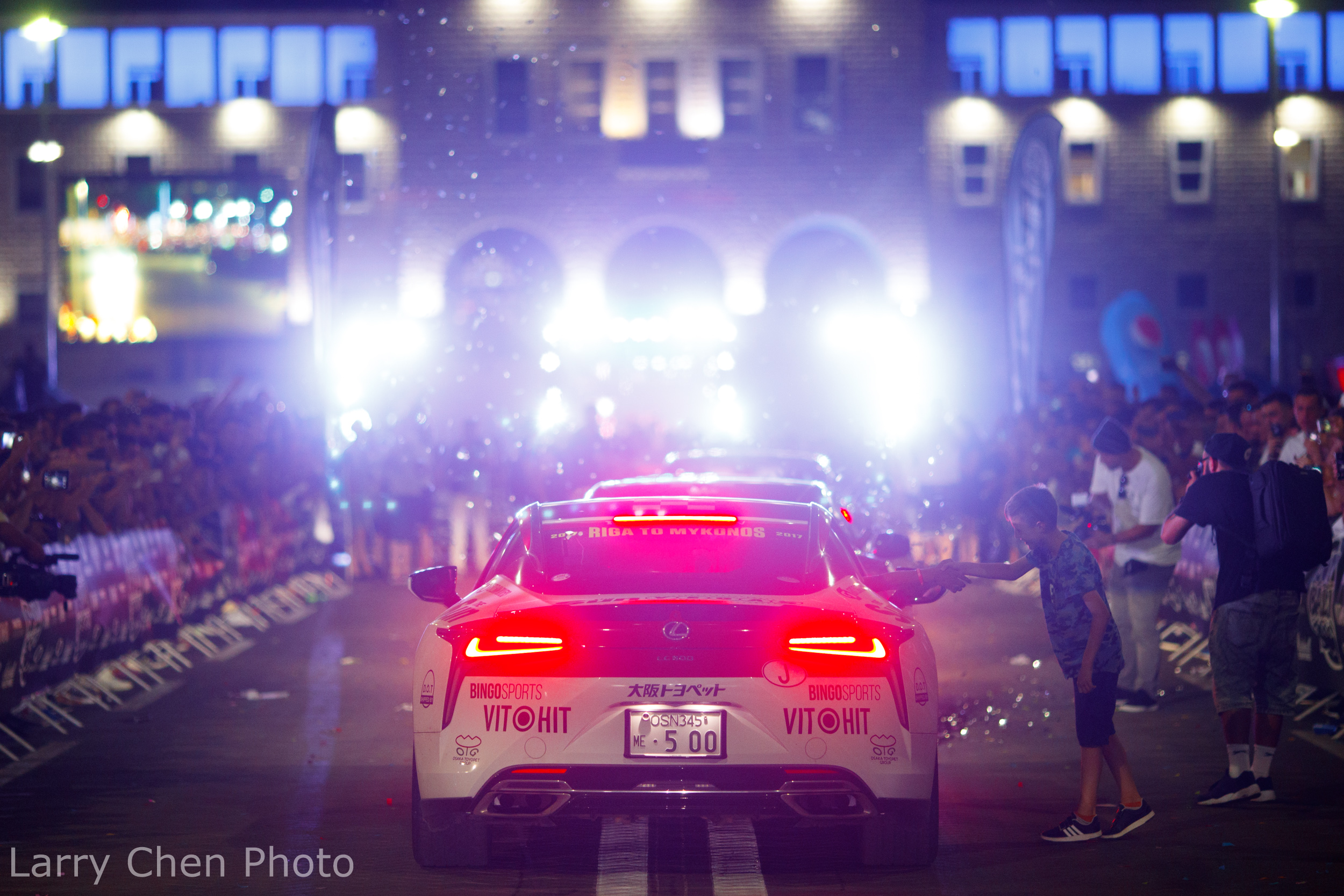 The roads were blocked off on the way to Mother Teresa Square, and the very next morning the roads were all blocked off for us intersection by intersection all the way to Greece. Just unbelievable.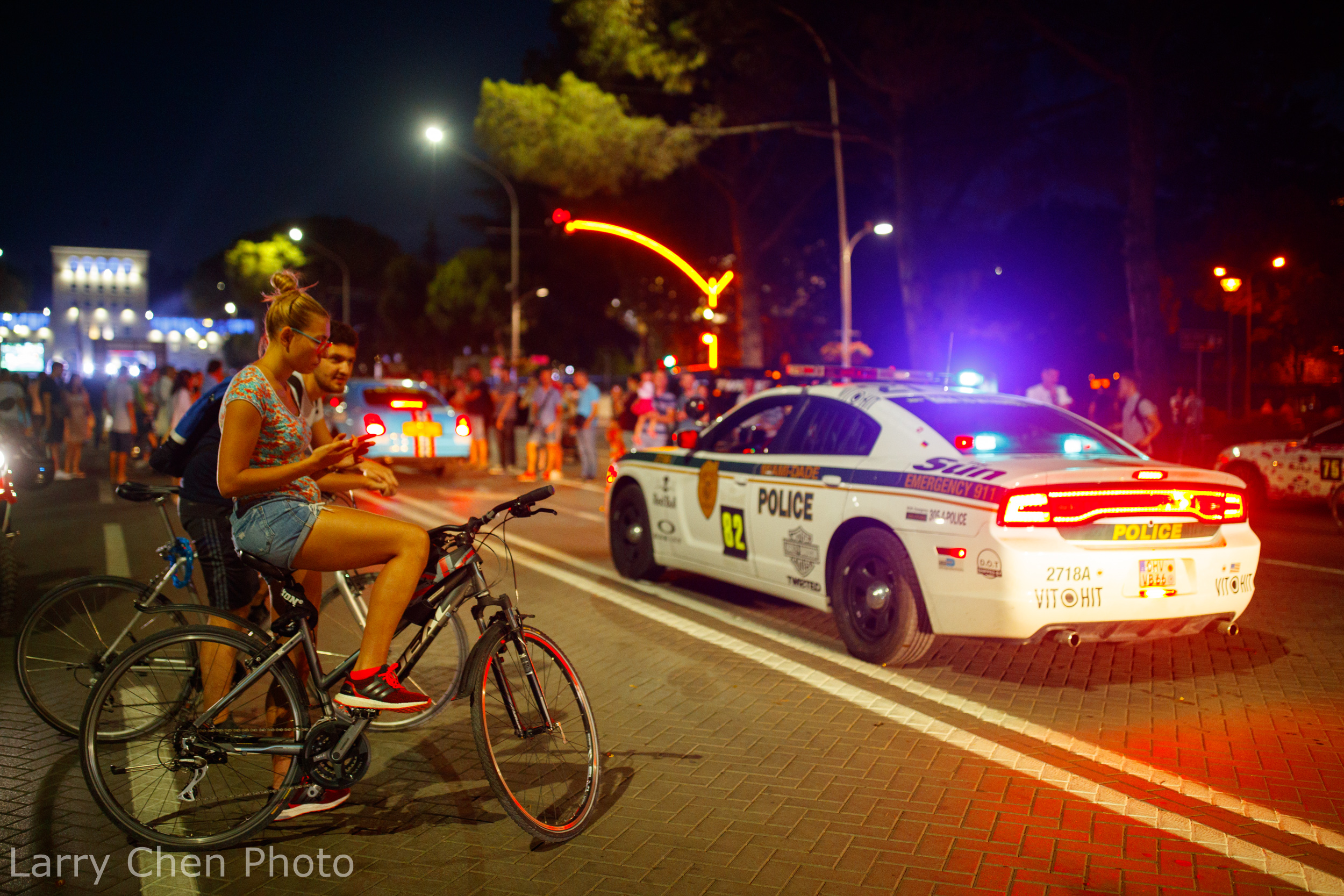 On top of this, the reception in Tirana was unlike that of any other city we went to. There were people lined up, sometimes 10 rows deep, just to catch a glimpse of a burnout.
I just couldn't believe it. They were so happy to see the cars it was out of control.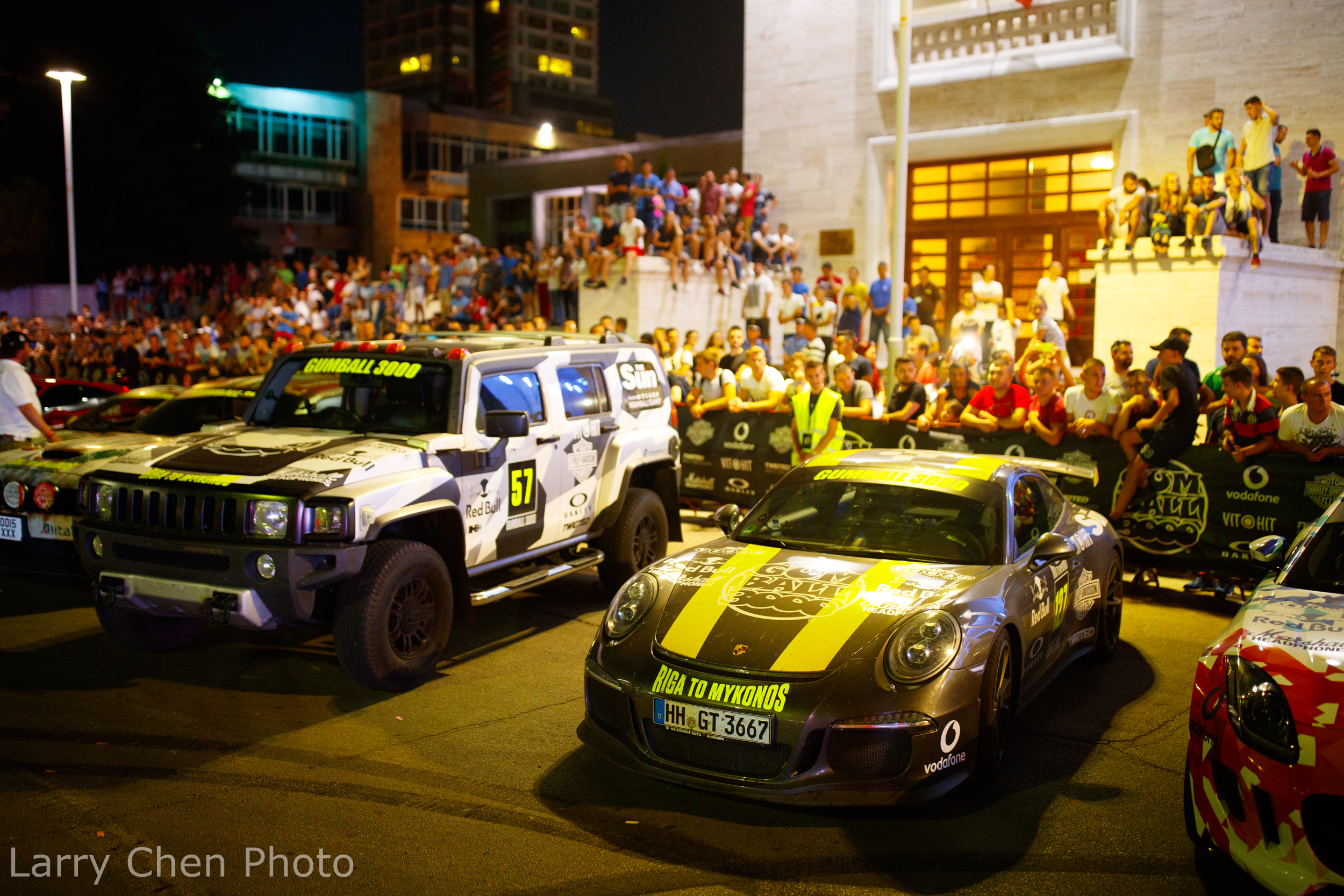 Heck, people even started to climb on the buildings surrounding the area.
My mind was already blown from how many people showed up in Warsaw, but this was just another level of commitment.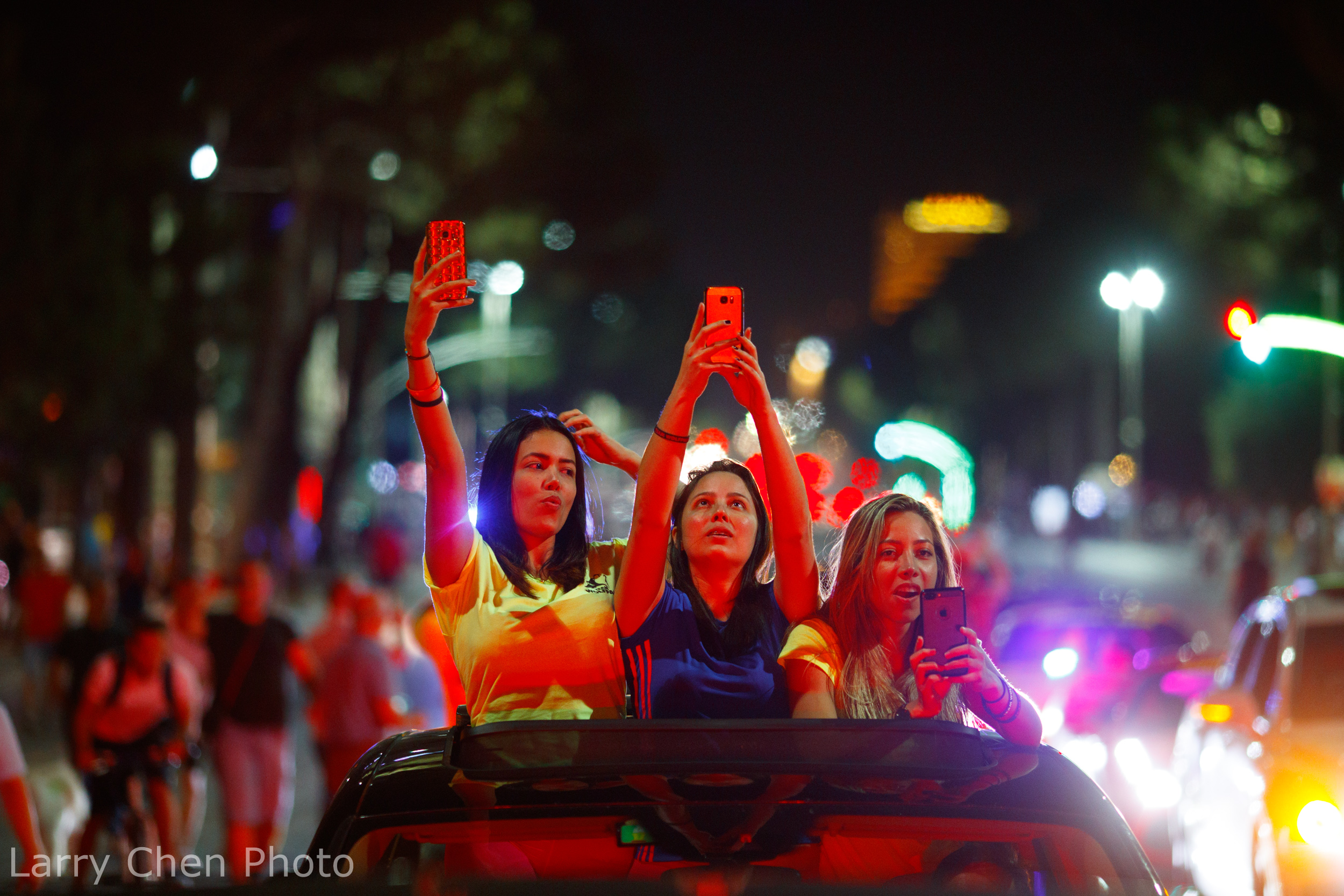 At the very last stop I asked many of the teams which was their favorite city, and all of them said Tirana.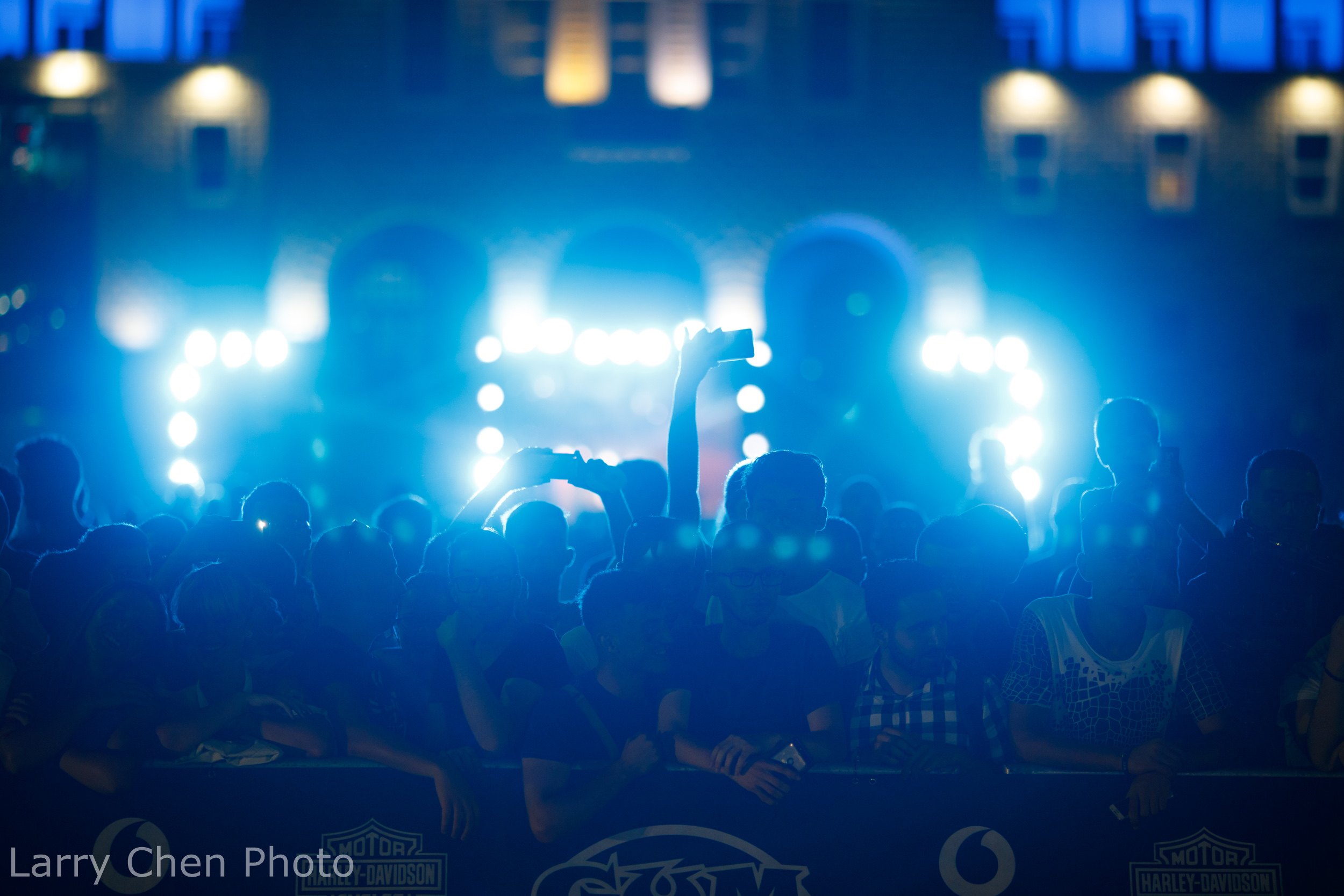 The music was blaring and the fans stayed out till the very last car arrived.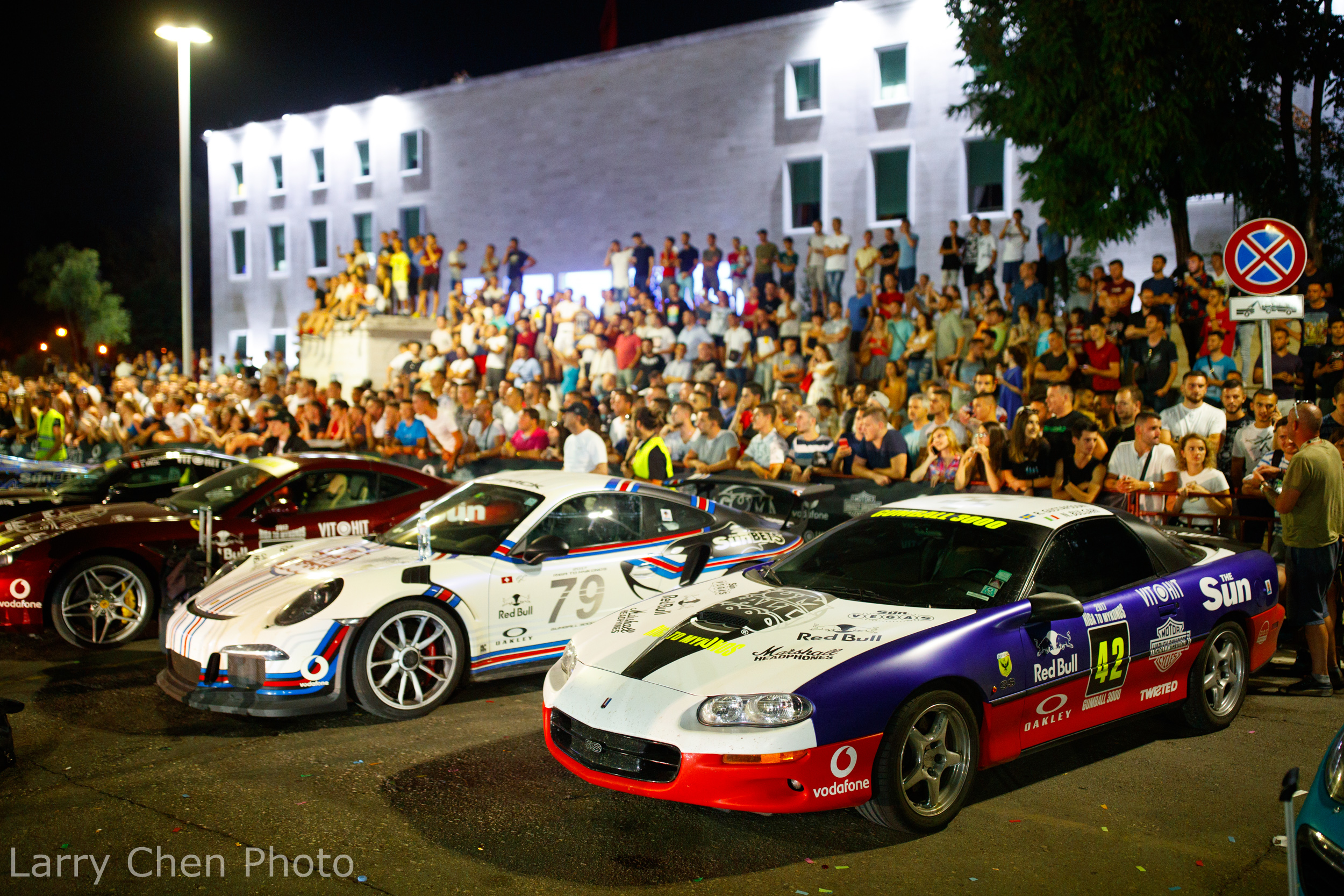 The variety of vehicles that showed up to this year's rally was super cool. Because how often does a GT3 RS and a Indy 500 pace car Camaro drive in the same event?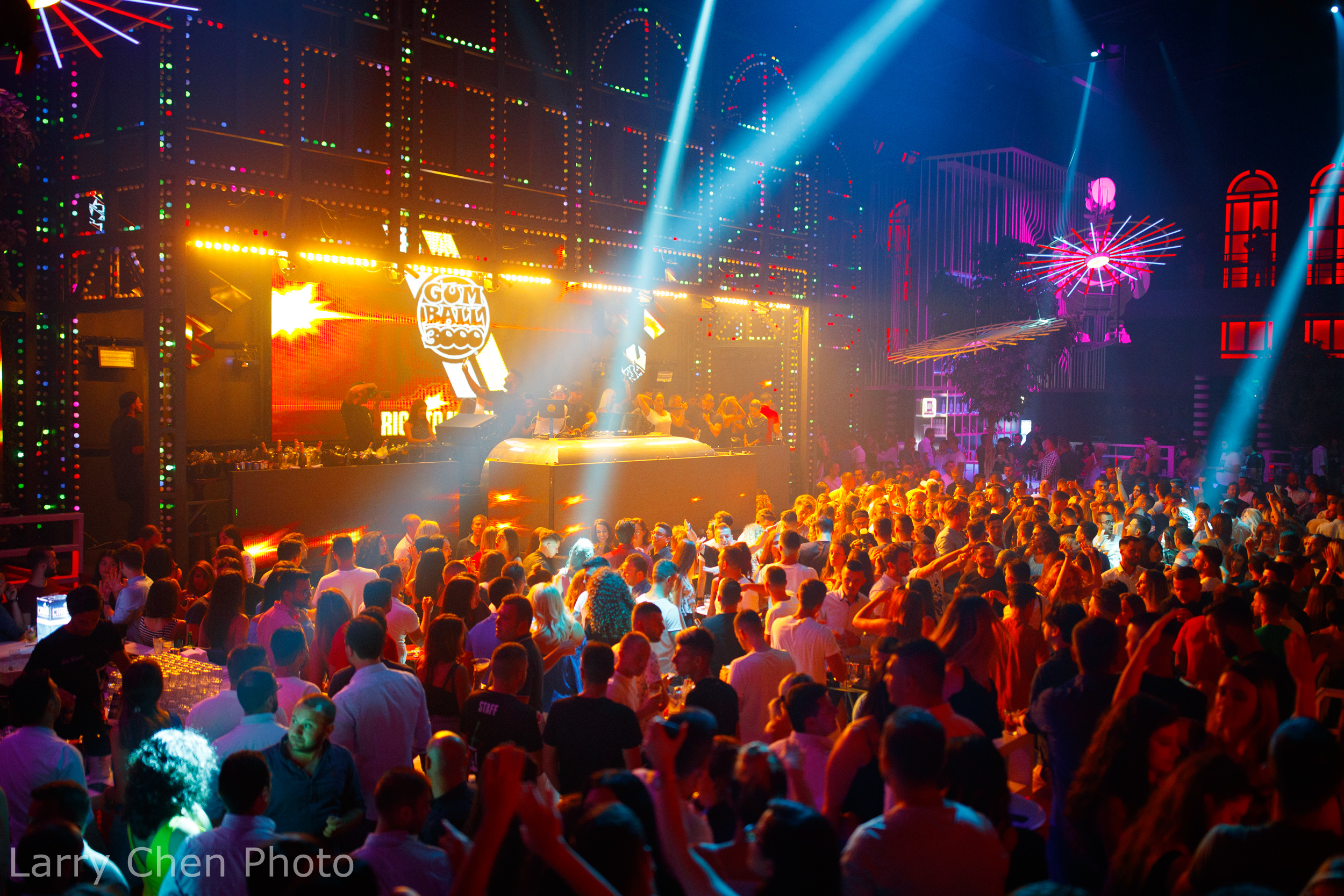 That night I decided not to be lame and I went out to the club where the biggest Gumball 3000 party was happening.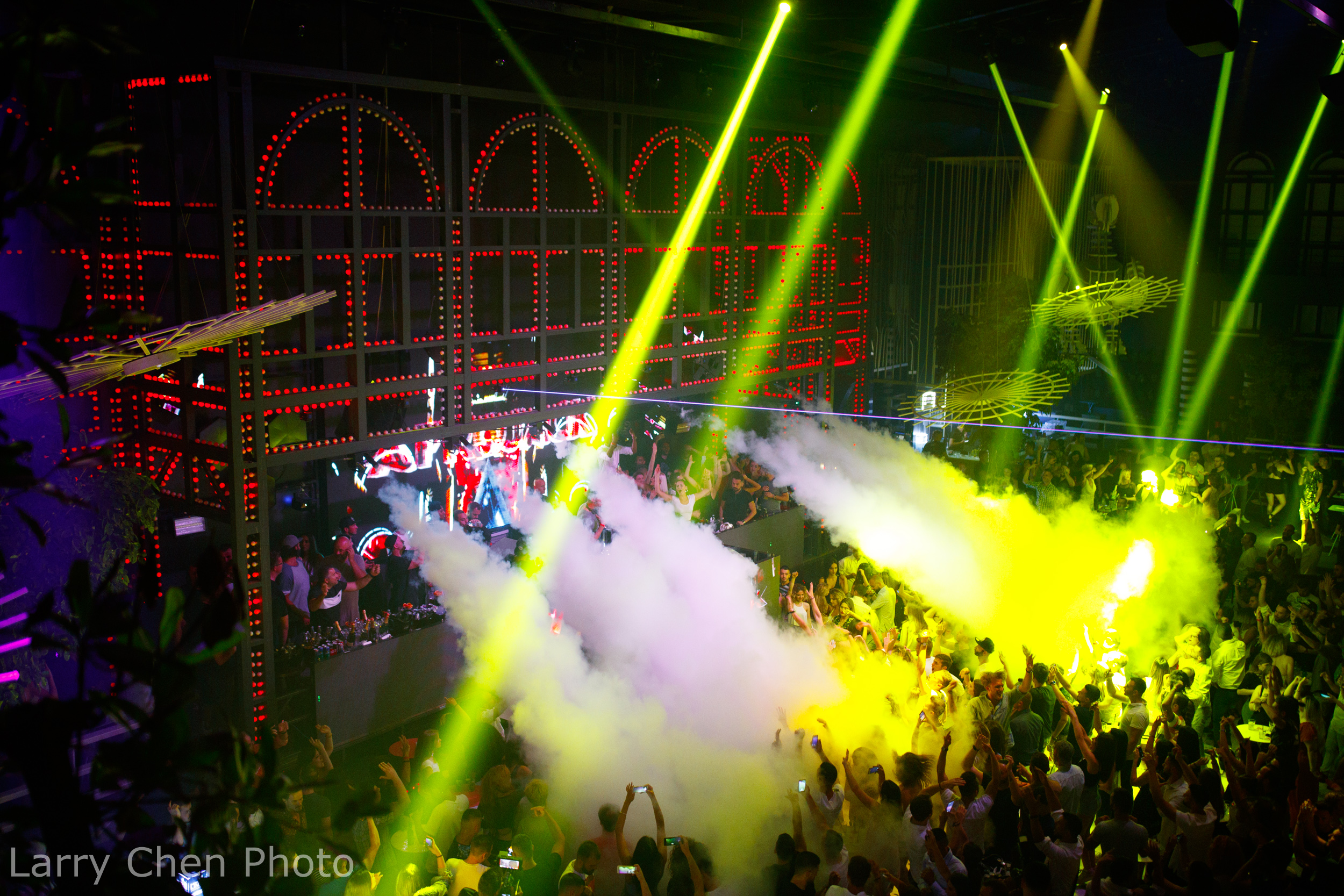 Of course, DJ Afrojack performed; my eardrums hurt just thinking about the night.
The next morning we would leave for Athens, Greece for our last big-city stop before catching a ferry to Mykonos.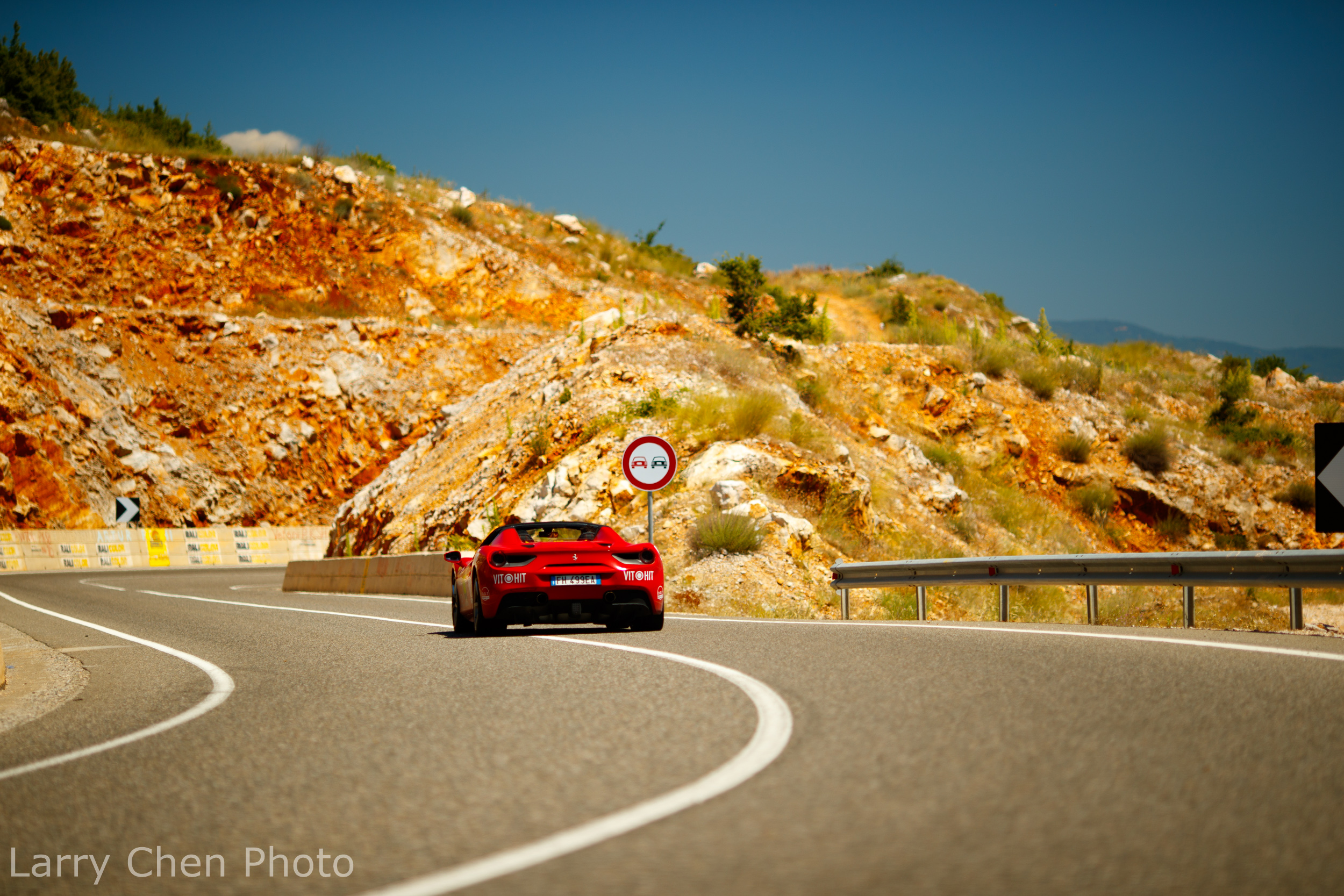 So what was it like to drive empty roads with the police blocking every single intersection? It was kind of freaky in a way.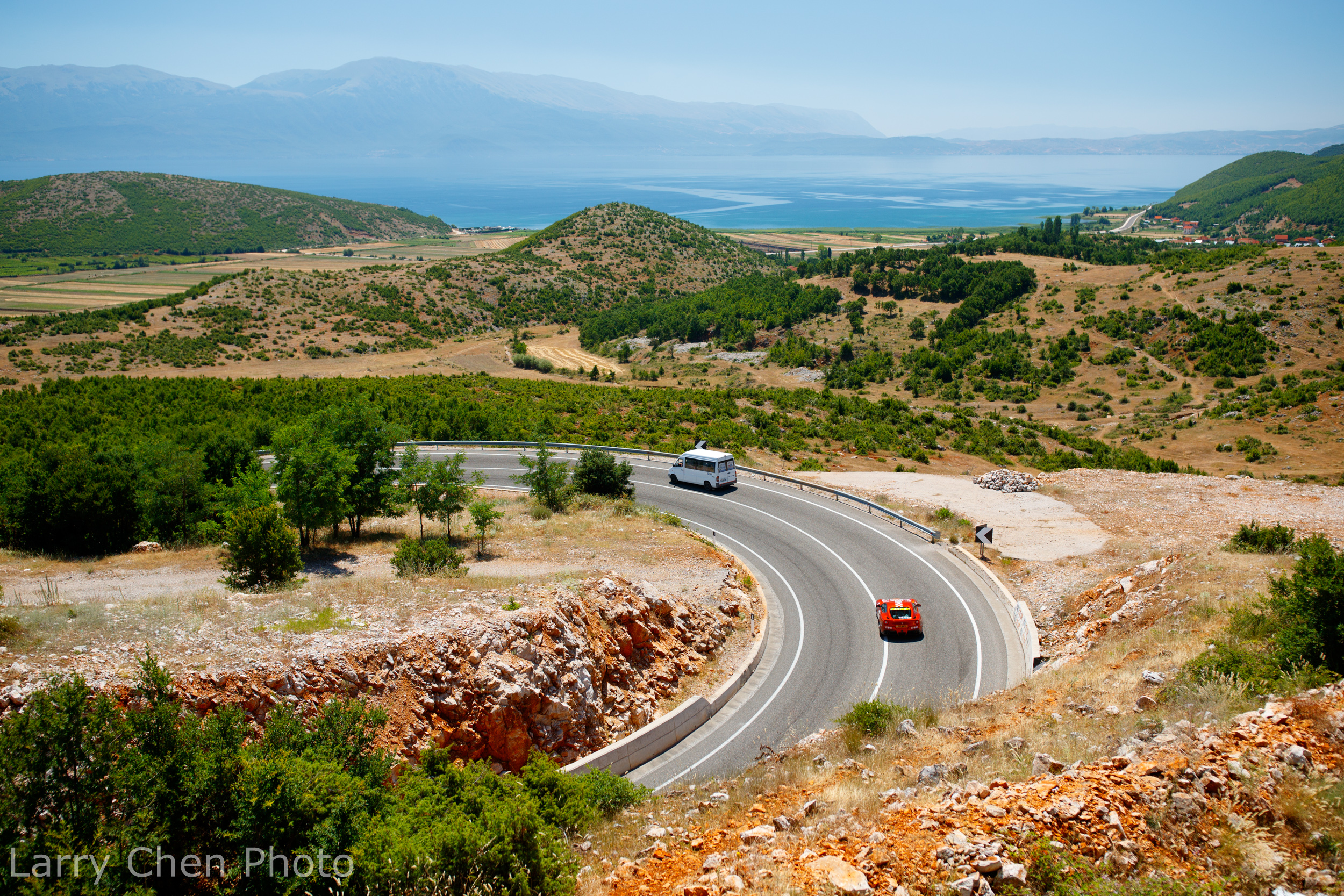 You really could go as fast as you wanted in the Albanian countryside, but of course there was the occasional dirt road, so it was probably good that no one brought an Enzo Ferrari or a McLaren P1.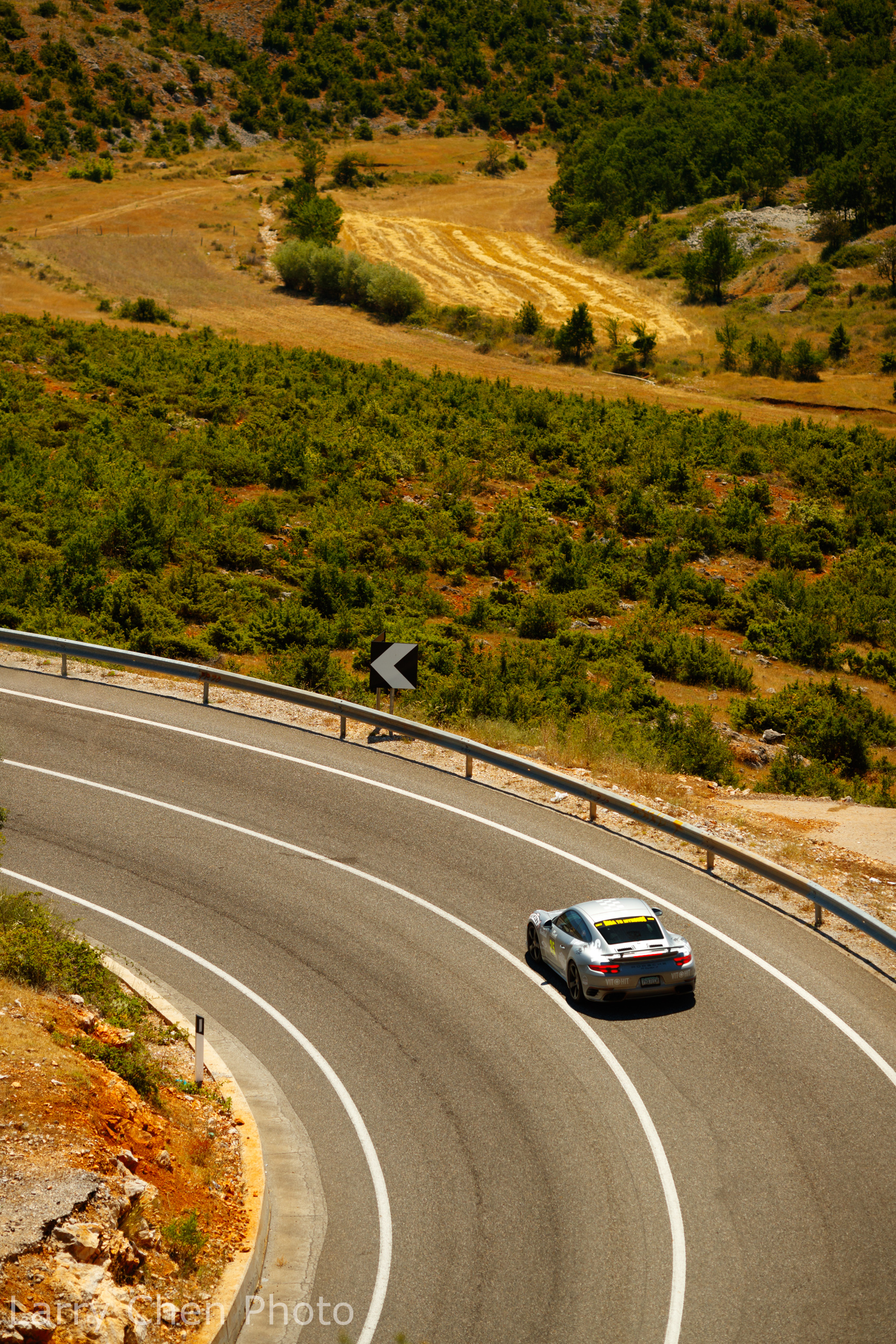 Open roads and police escorts sound too good to be true, but all good things eventually come to an end.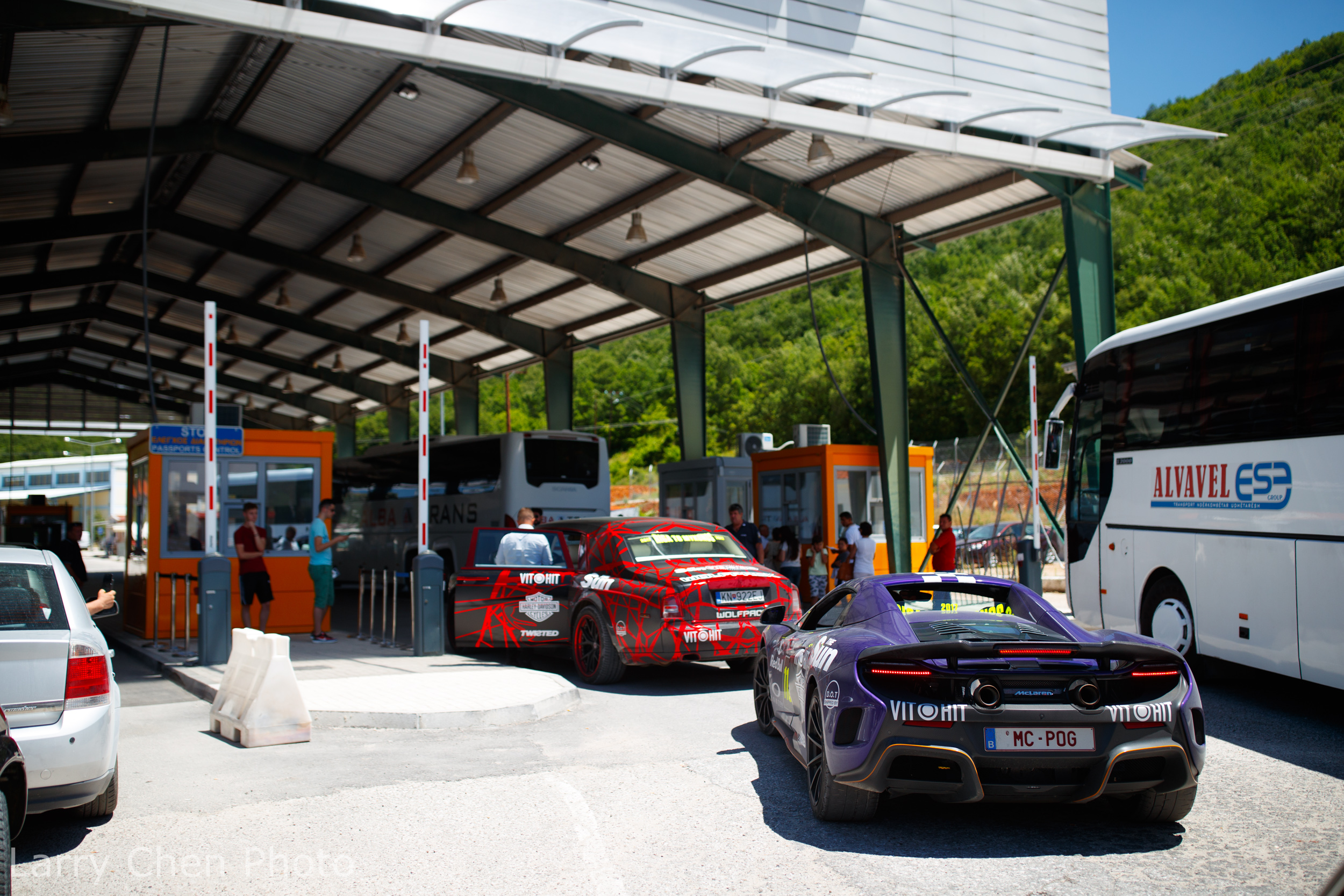 At the Albania and Greece border, the border patrol agents immediately took a liking to our caravan and welcomed us.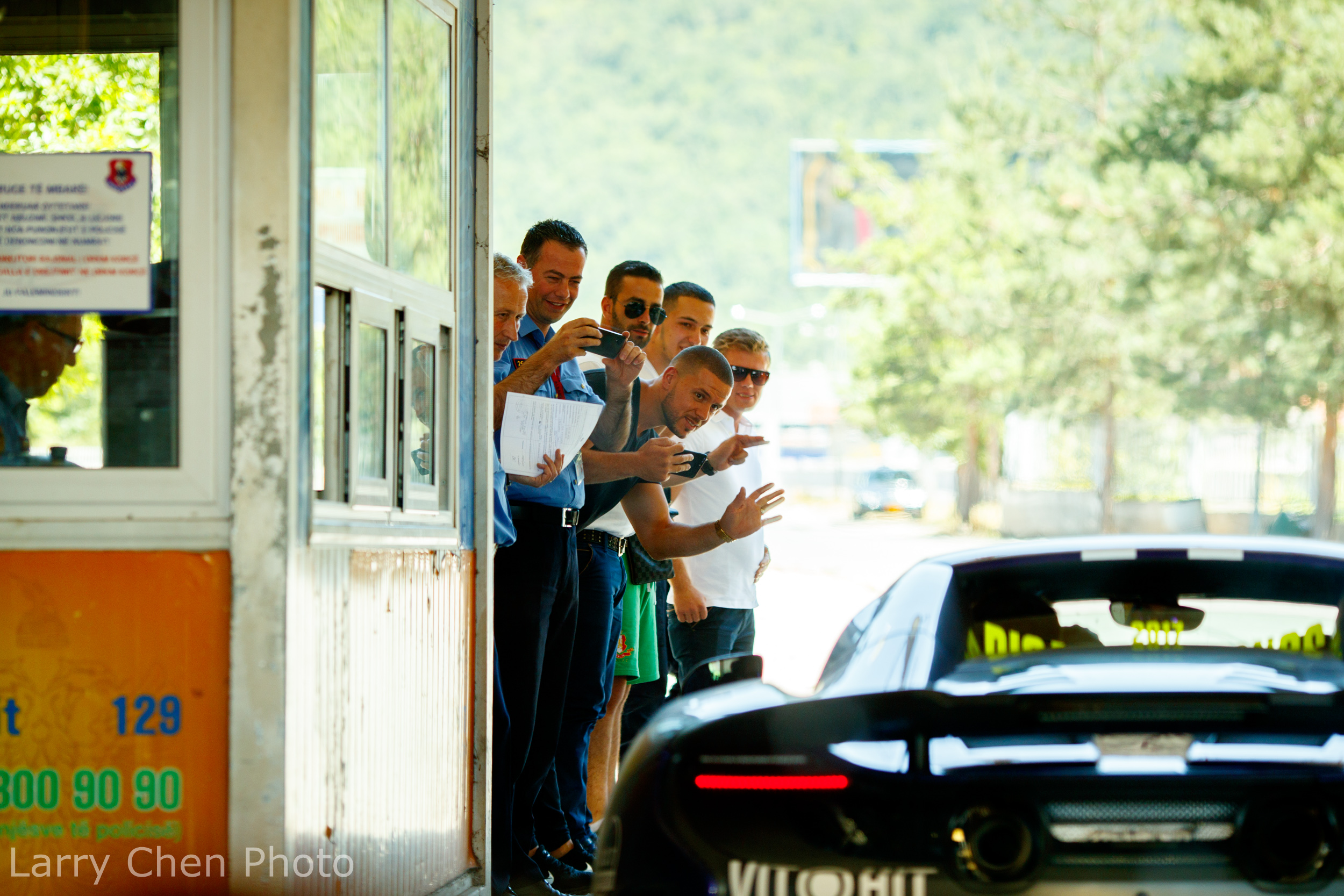 There are so many different types of people who spend their vacation days on the Gumball 3000, and of course there are those on permanent vacation. This LP710 was broken down at a petrol station, and I heard a rumor that the owner bought a new car that day just to finish the rally. When you've come so far, you might as well see it through to the end.
I met some really awesome people on this adventure, from gentleman racing drivers, to car collectors and wealthy entrepreneurs.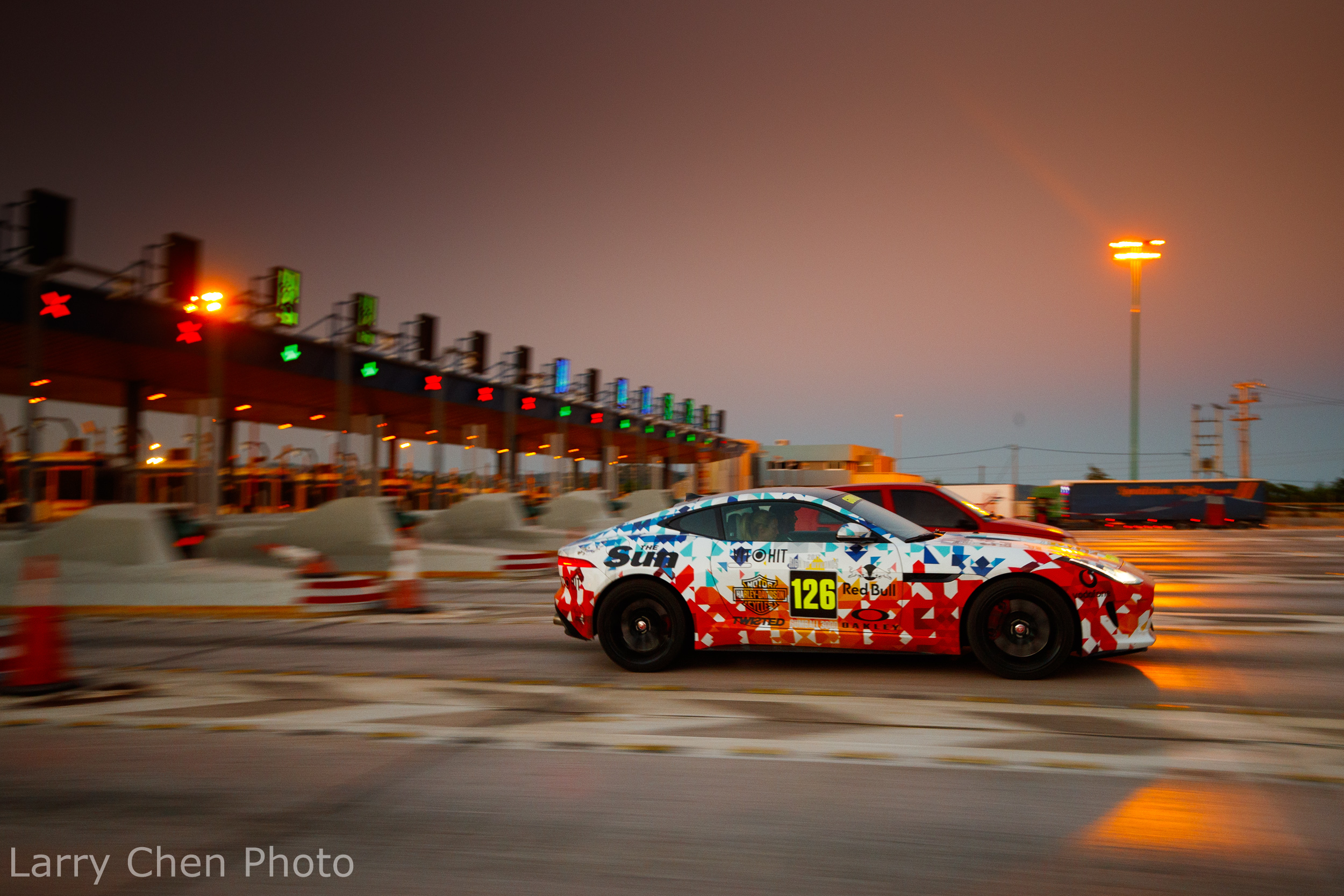 Yes, there were some unsavory characters on the rally too, but luckily they were few and far between.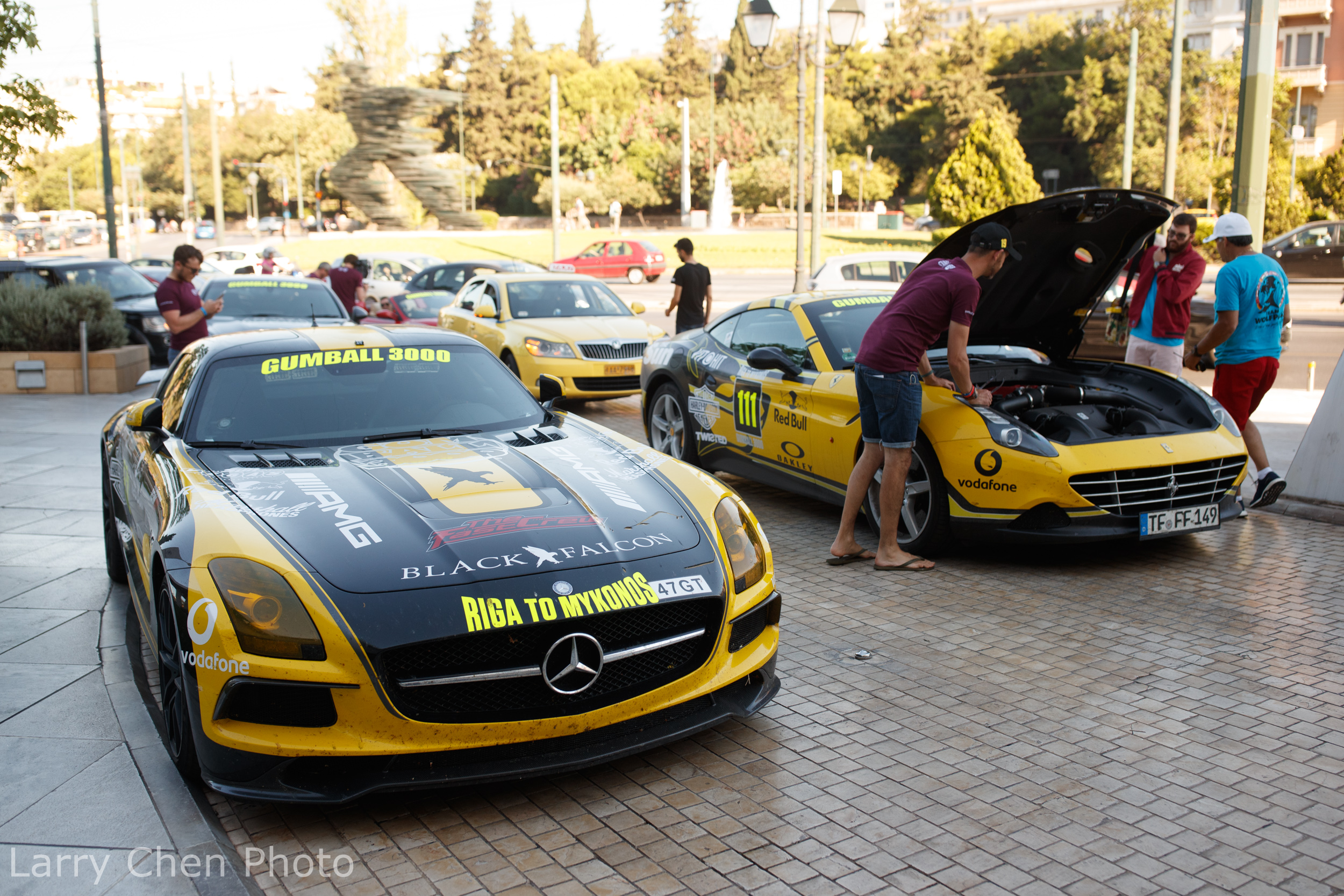 Our night in Athens was pretty relaxed as there was just one more driving leg to go before the goal, but trouble was already stirring outside of our hotel.
Smoke coming out of a Ferrari is never a good sign.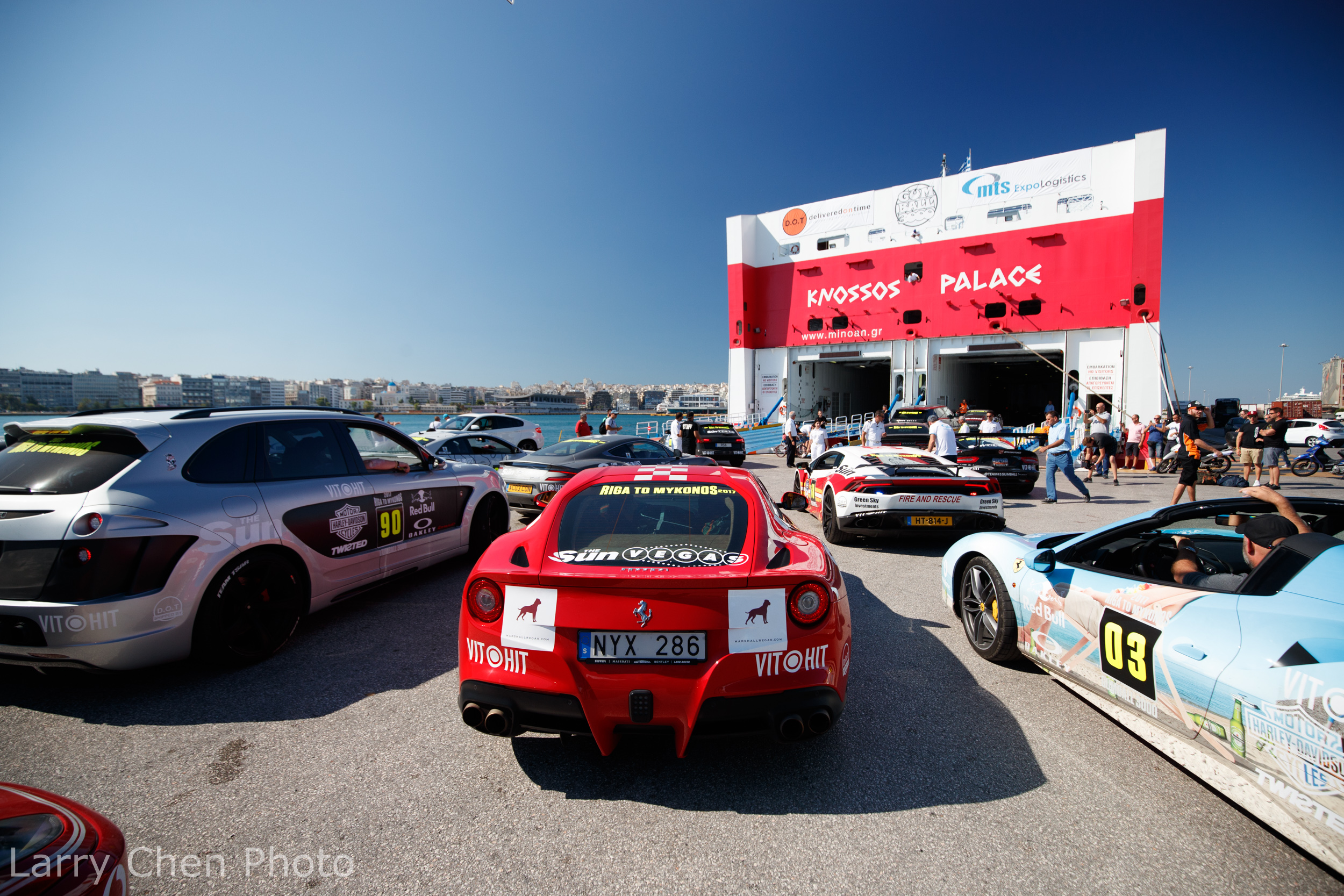 The last leg was only a few traffic-packed miles through downtown Athens to the port.
There awaited a ferry large enough for all the Gumball cars.
One by one the cars were loaded in for the five-hour journey to Mykonos Island.
I'd been on something similar before when I covered Deuce Days for Hotrod magazine, but instead of a boat full of exotic cars it was a boat filled to the brim with '32 Fords.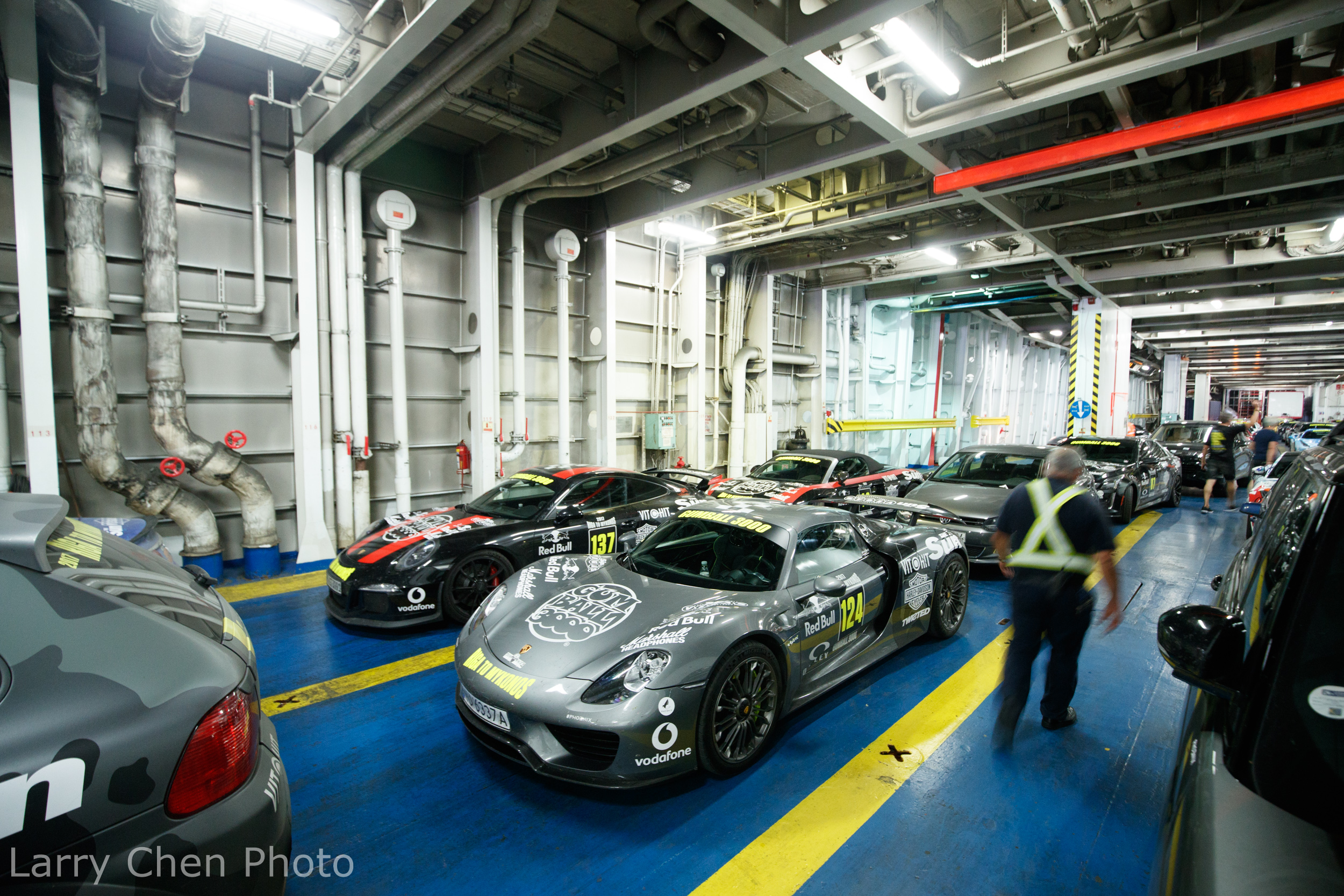 This was the first and last time I saw the 918 on the trip.
Before we knew it, it was time to unload. With everyone revving their cars' engines in elation that they'd actually made it all the way, I nearly passed out from the exhaust fumes.
Interestingly, I think out of all the cars driving in the event there were only five with manual transmissions, this ACR Viper being one of them.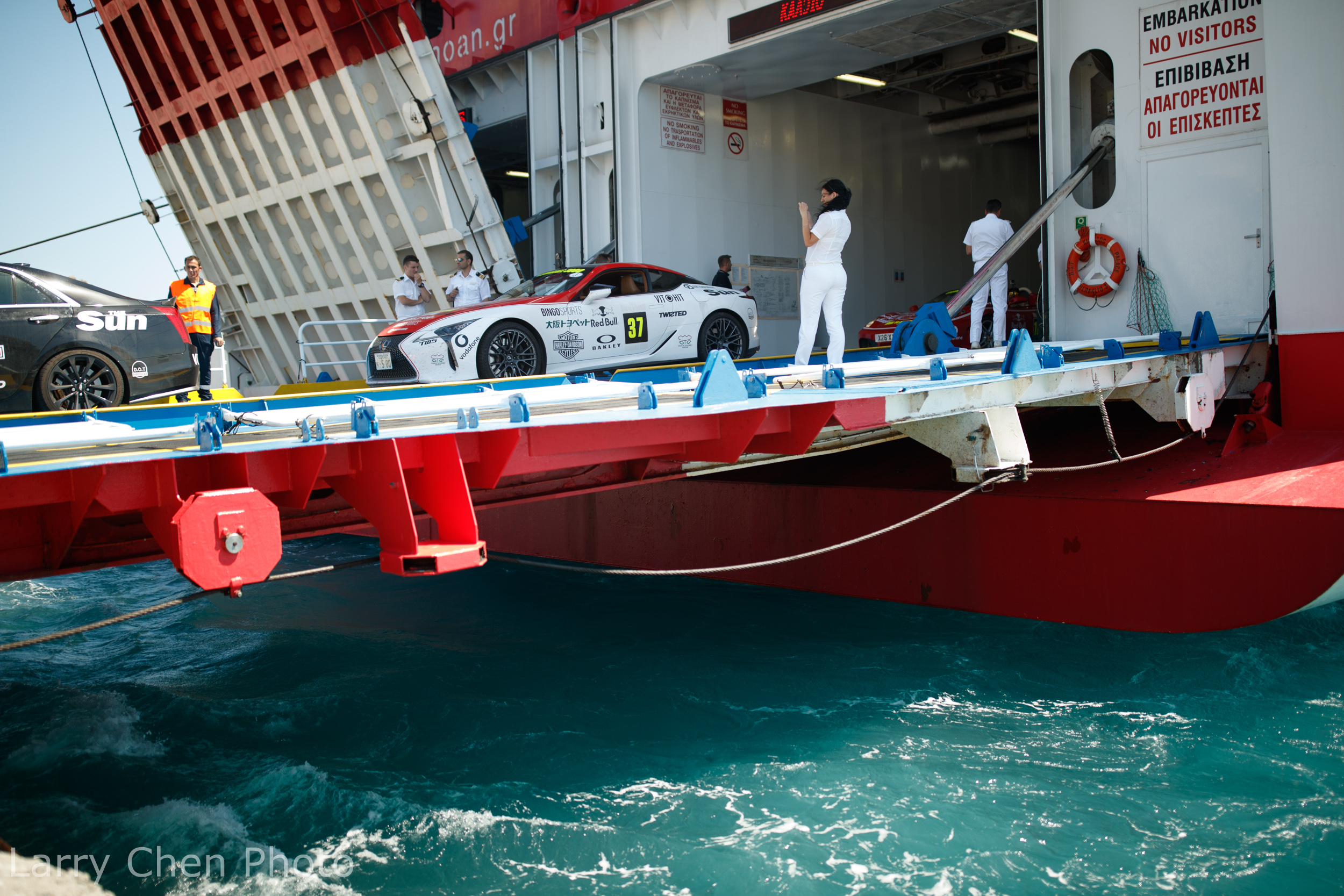 Team Motorhead breathed a collective sigh of relief as the LC500 rolled off the ferry.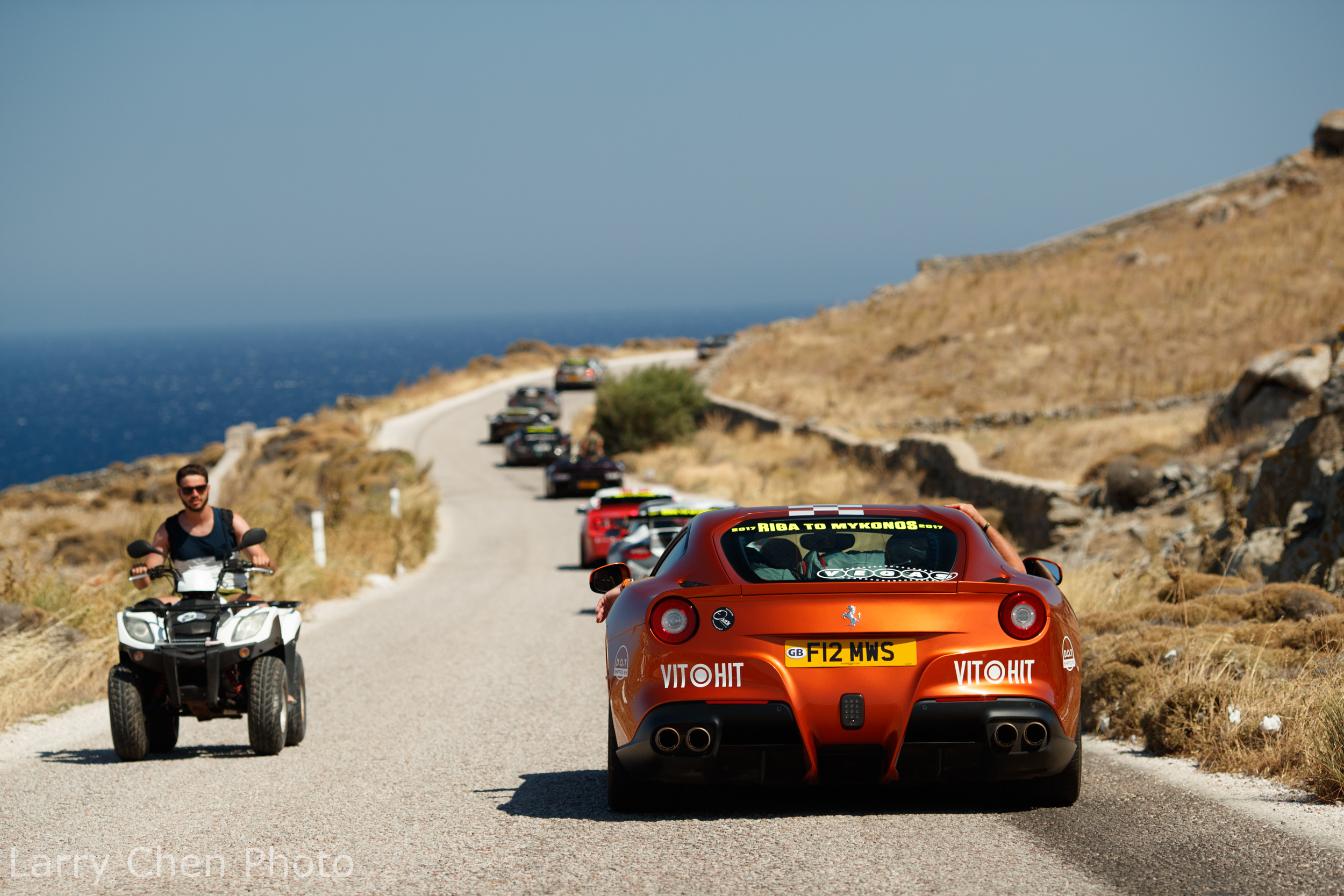 We proceeded to take a parade lap around the tiny island, sharing the roads with ATVs and the occasional scooter.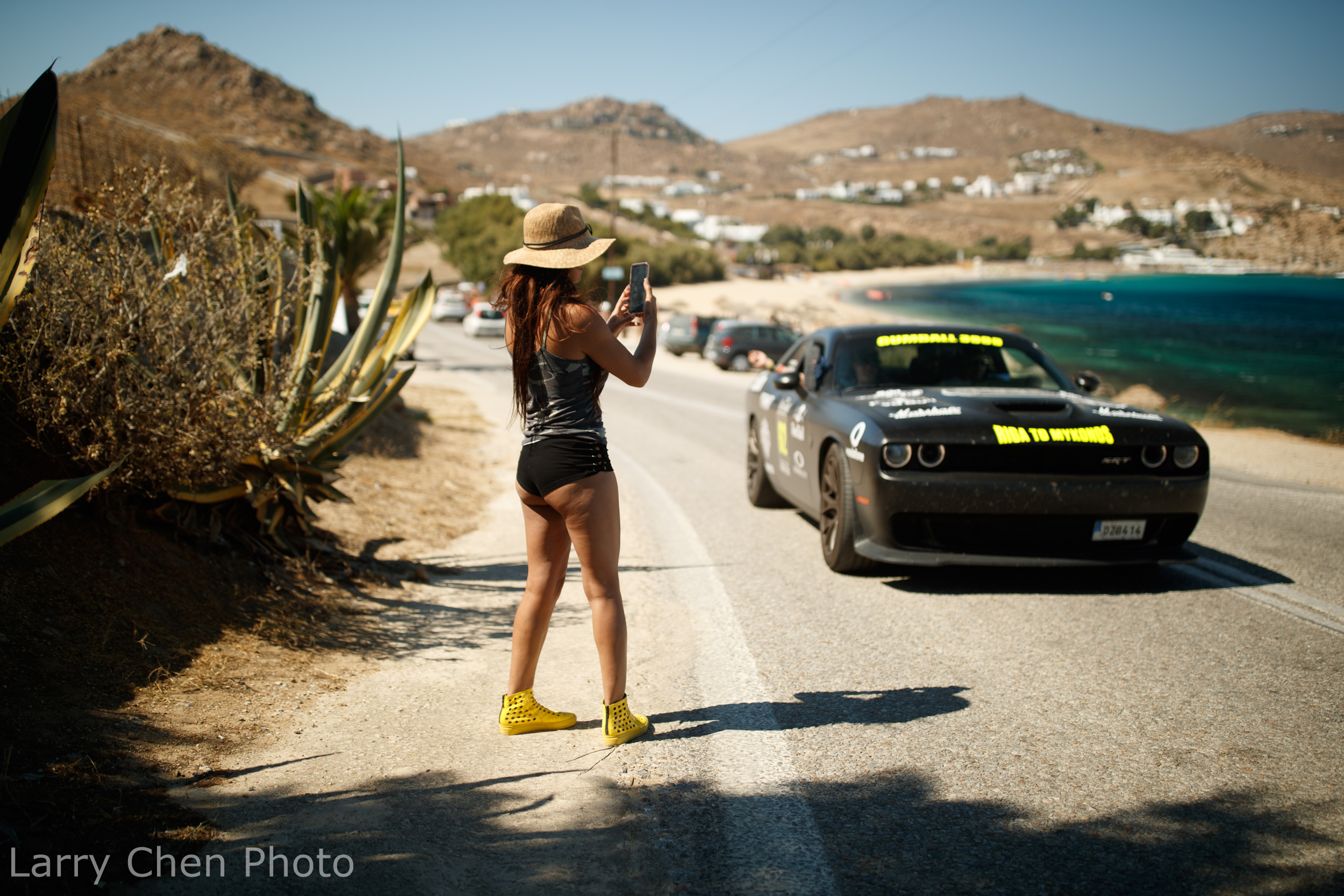 Many of the tourists and the locals had absolutely no idea what was going on, but it was all in good fun.
The 2017 Gumball 3000 was such an interesting event from beginning to end, with so many new experiences that I never thought I would ever get to be a part of. We made it without a hitch and I was very glad to be a part of the Motorhead team for this one.
I want to thank Ko-hey for having me on board, and Katsu Takahashi who was the video producer for being a great camera car precision driver.
Loren and I ended up staying two nights in Mykonos and this was the view outside of our room. I would say that I could get used to this, but honestly this life of wealth and showboating is not for me. I love cars and car culture, and while partying is fun once in a while, my idea of a vacation is sitting at home working on my cars. I guess that makes me pretty boring.
But all joking aside, if I were given the opportunity to go again, would I? Well, let's just say I am curious to see how they are going to fly 150 cars from Europe to Japan for the 20th anniversary event next year…