How did I get to this point? This is a question that I get asked pretty often.
The bad news is that there really is no easy explanation. I do remember, however, how much I struggled to break into the industry, especially at the SEMA Show. The first time I stepped foot on the show floor was back in 2006, and I haven't missed one of the annual events since. Back then it was so tough for me just to get any work at all. The first year I went to the show I lost money, but for the experience alone it was totally worth sleeping on the floor.
The next few years were tough going, too. I got a job at the show that required me to take at least one photo of every vehicle on the show floor. It was for little pay and I had to sleep on a different floor of a different hotel room four nights in a row, but I somehow still had fun doing it.
Fast forward to just after this year's show, when I found myself behind the wheel of one of SEMA 2017's standout builds. For some reason, the guys at Kelly-Moss Road and Race thought it would be a good idea to hand me the keys to their brand new Safari 4 supercharged rally car, and let me go loose. In the sand dunes outside of Las Vegas no less.
This is far from the traditional 'show only' SEMA build that we see all too often, and Louis got some great shots of me proving that point. But I'll touch on this more later.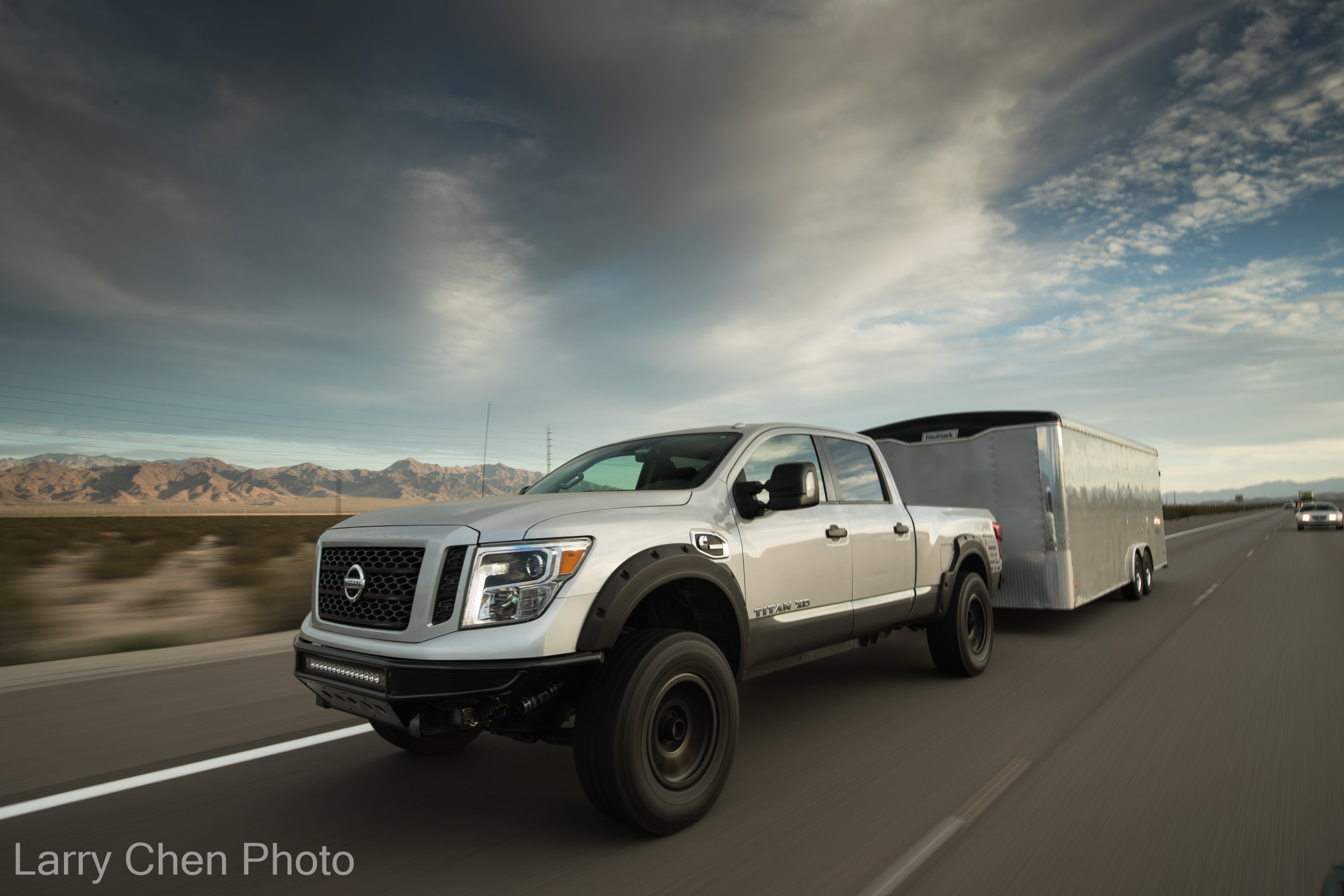 How things have changed in just a decade, though. All I had to do was push hard and follow my dreams, which is pretty much what everyone else in the industry seems to be doing. For example, as I was driving to the show on the Monday afternoon, I passed by Chris Forsberg towing his Datsun 510. The crazy thing is, he and the team still needed to assemble bits of it at the booth. Talk about dedication.
While I normally make my way to the show early as possible, this year I had Louis's help. He headed to Las Vegas early and knocked out a few shoots while I finished up with work back in Los Angeles.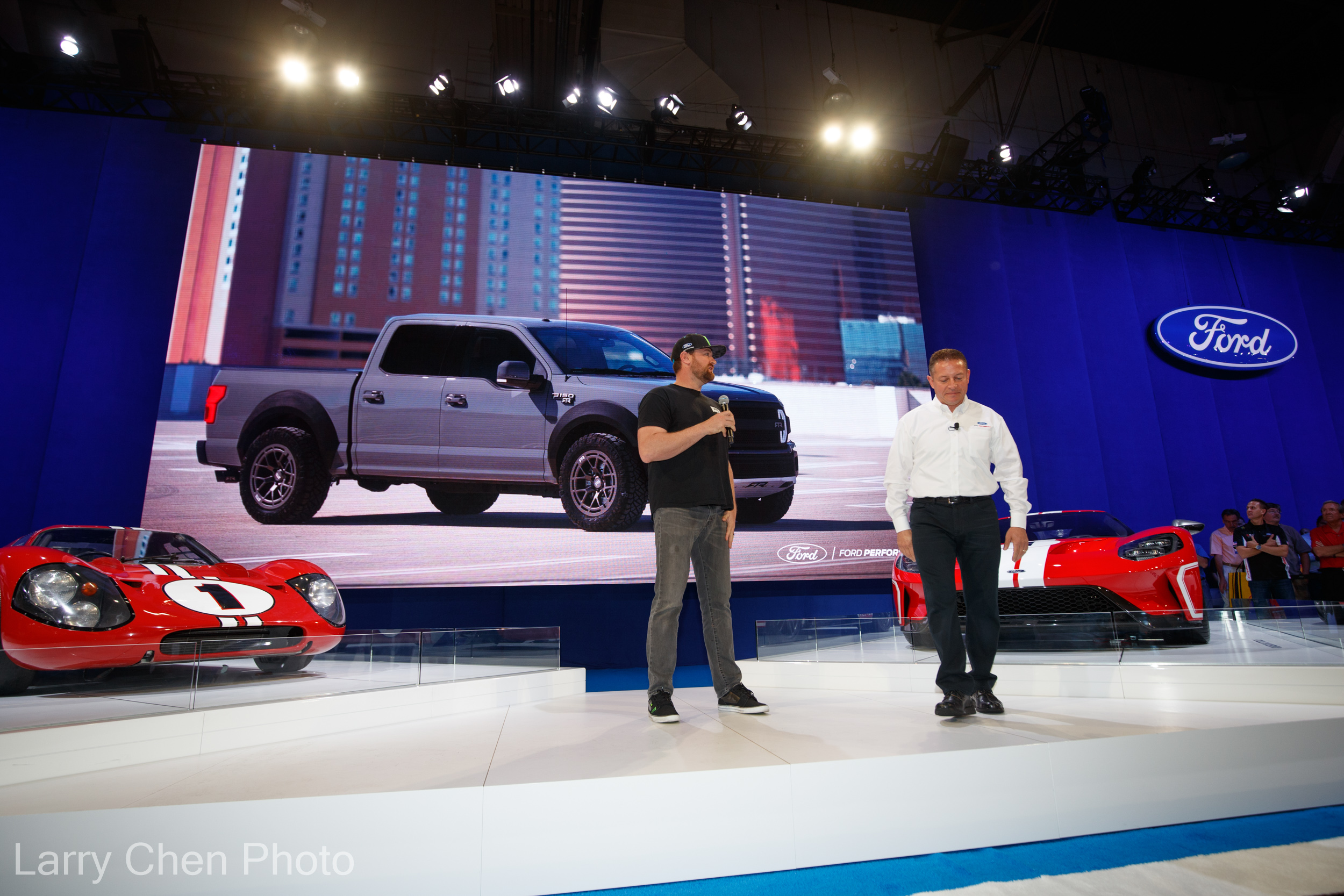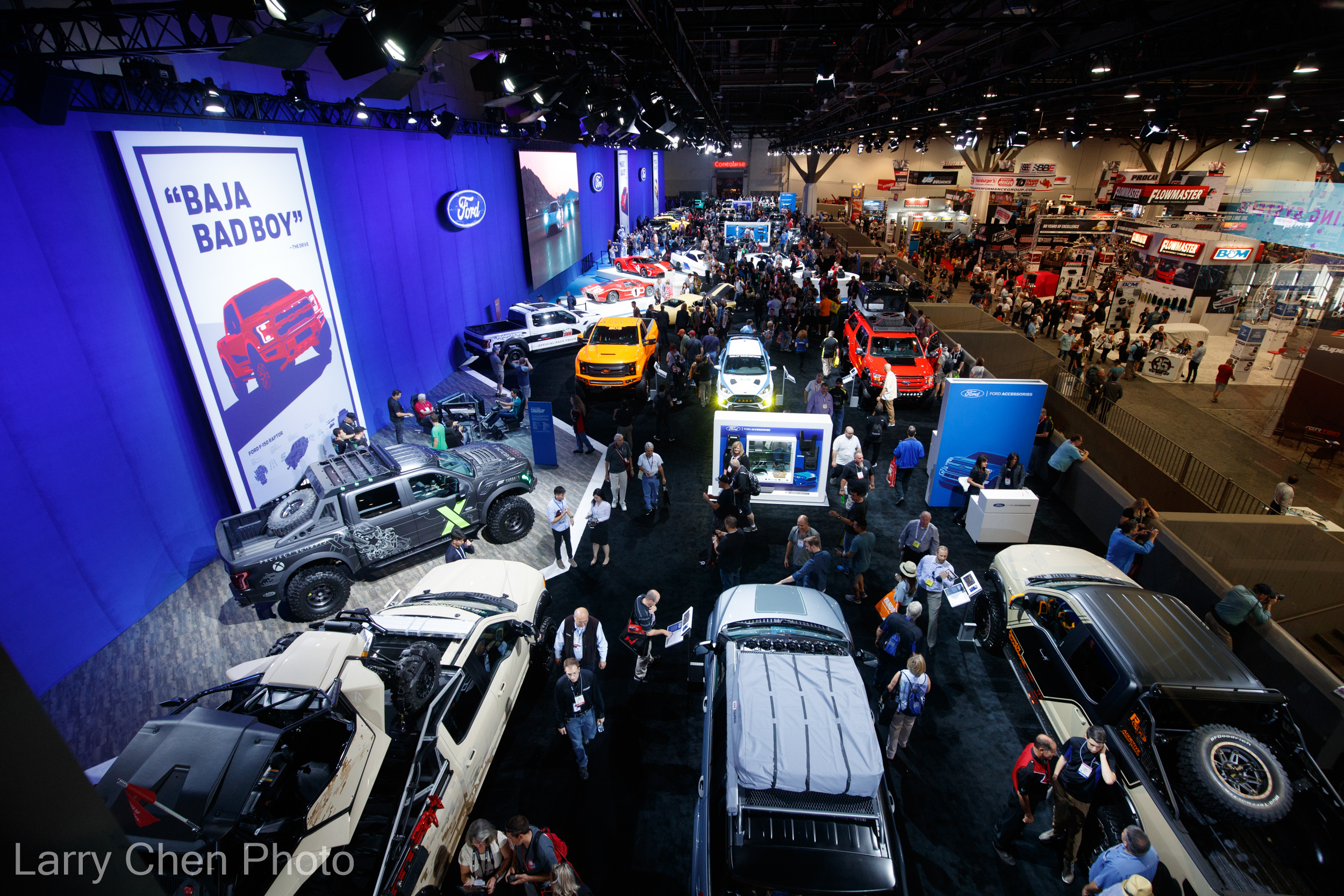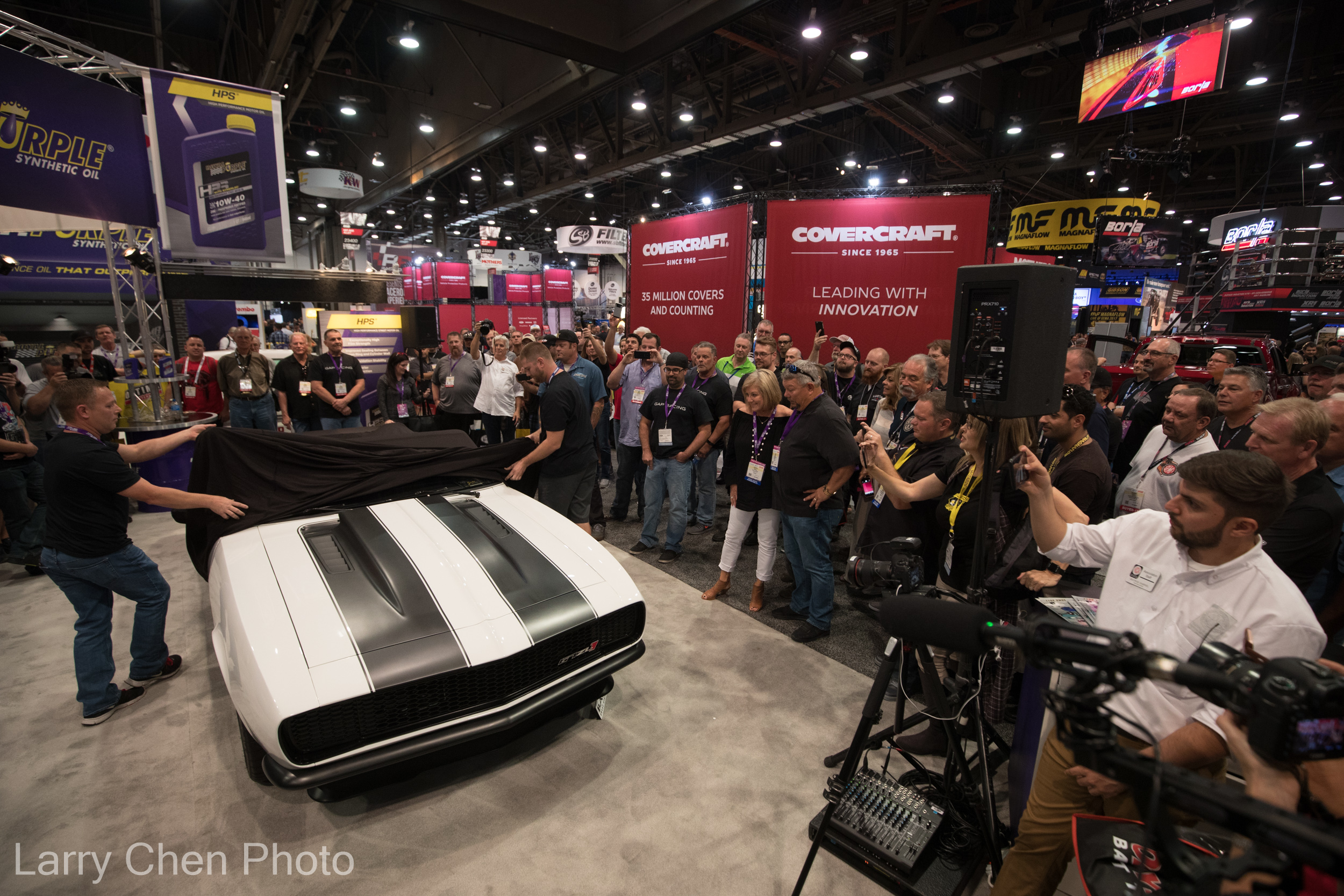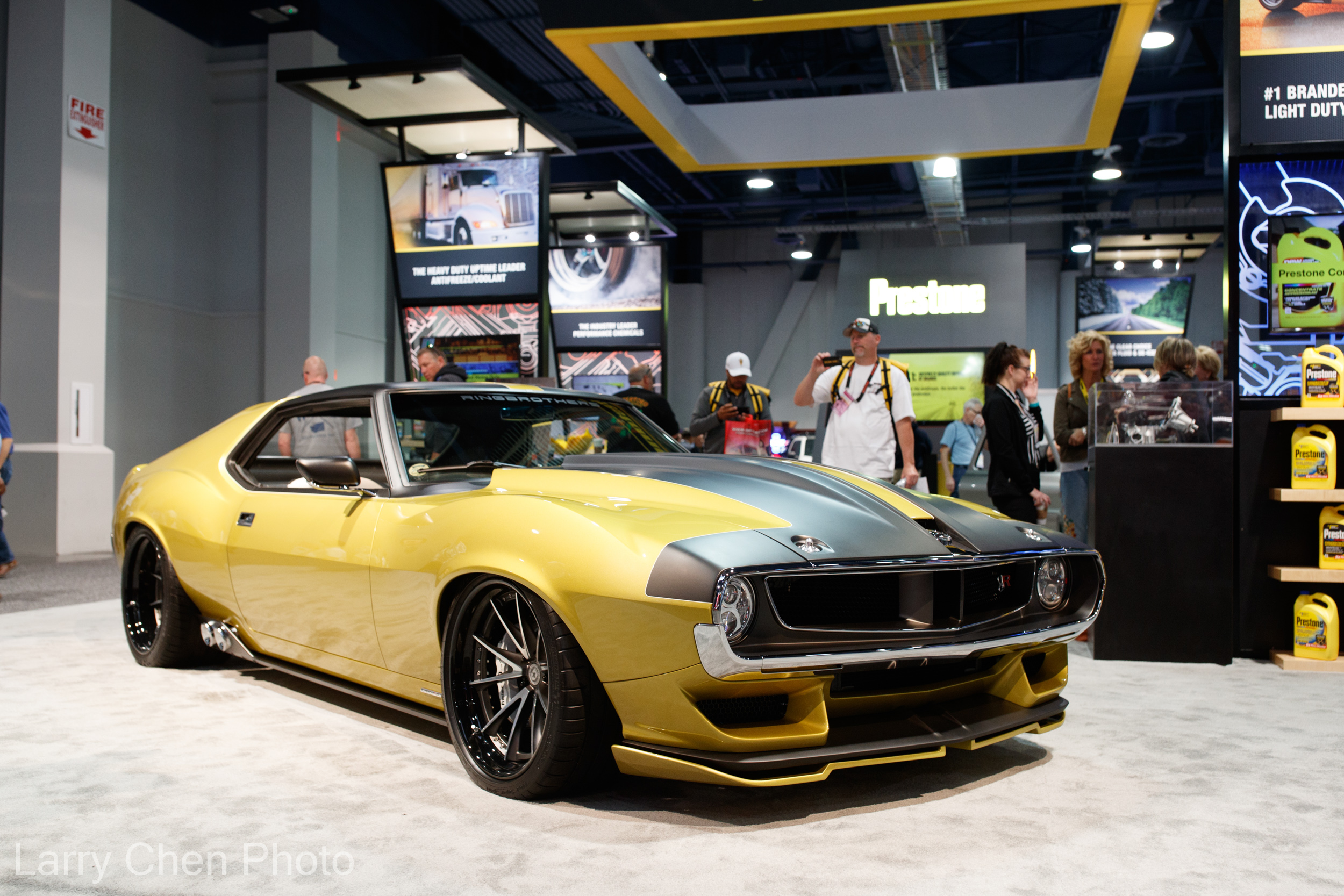 My alarm went off at 5:00am on the Tuesday morning, putting in motion what would undoubtably be the longest week of the entire year for me. On this day I had back-to-back press conferences to attend, meaning I barely had time to breathe let alone eat anything at all. In fact, the only time I had lunch during the whole week was when I stole a slice of pizza from Ben Chandler.
This year, SEMA invited me to speak on a panel about content creation. I didn't think anyone would show up, but I was surprised to see the room was pretty packed. I definitely had fun speaking at the event and I am looking forward to doing more of these at future events.
With the sun setting I decided to scratch my action itch at the outside arena. On the main building, I saw a billboard featuring a photo of Vaughn Gittin Jr. I had taken, turned into vector art.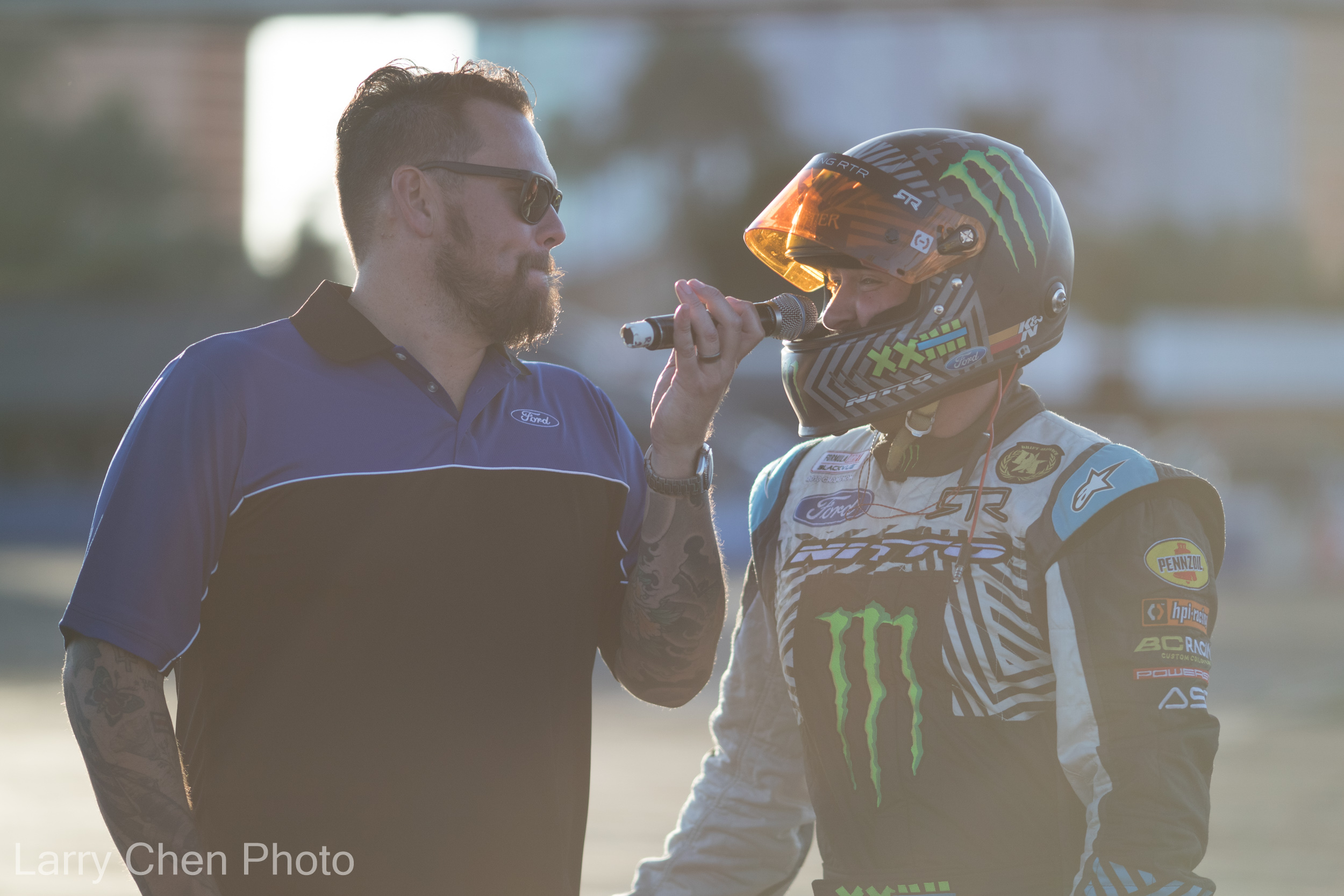 Vaughn was pulling quadruple duty; he had so many demo cars outside and was jumping from one to another burning rubber each and every way he could.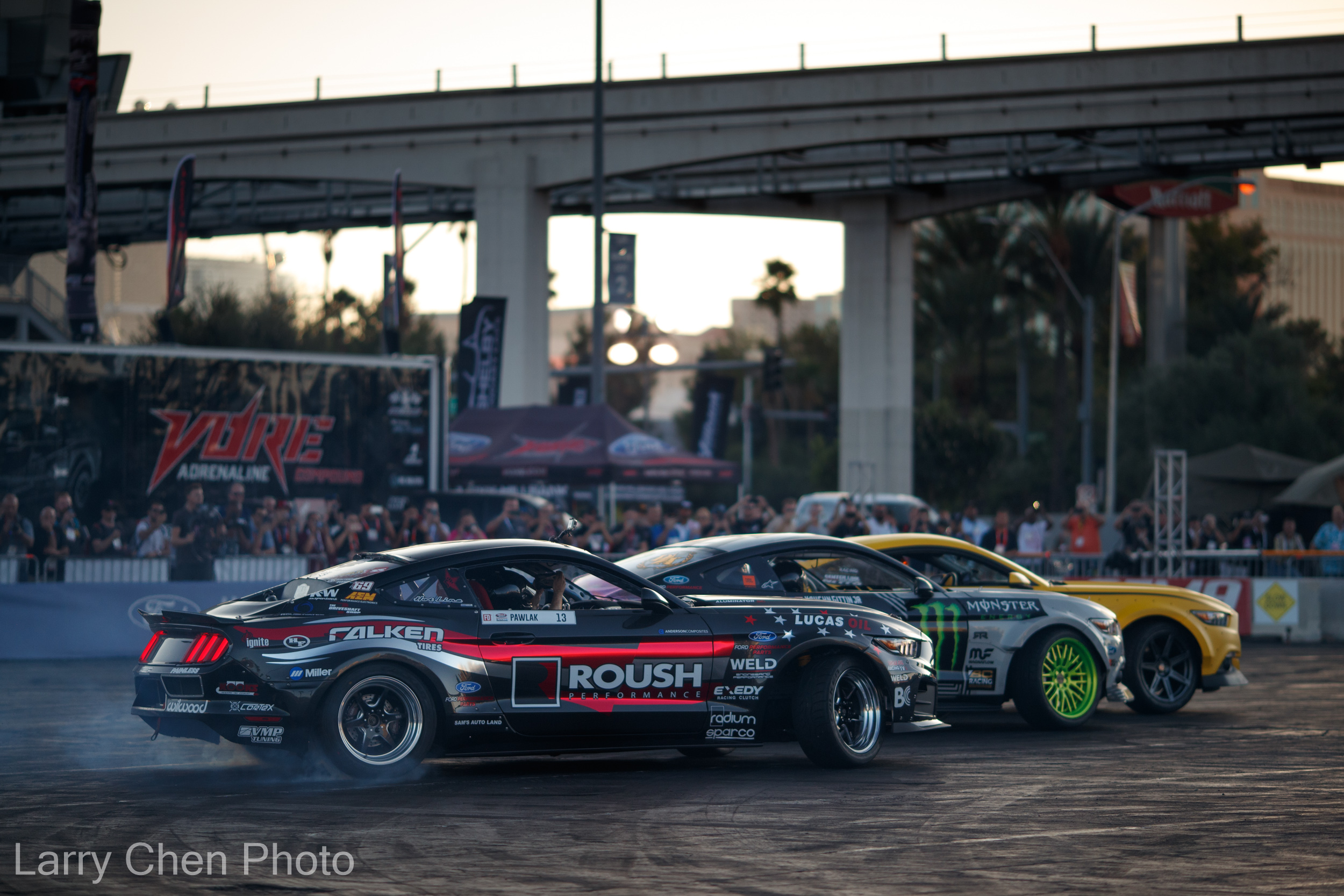 At the end of the day, his brothers from other mothers, Justin Pawlak and Chelsea DeNofa, joined in on the fun with some epic triple-car drift trains. With all three of them out there it was absolutely insane.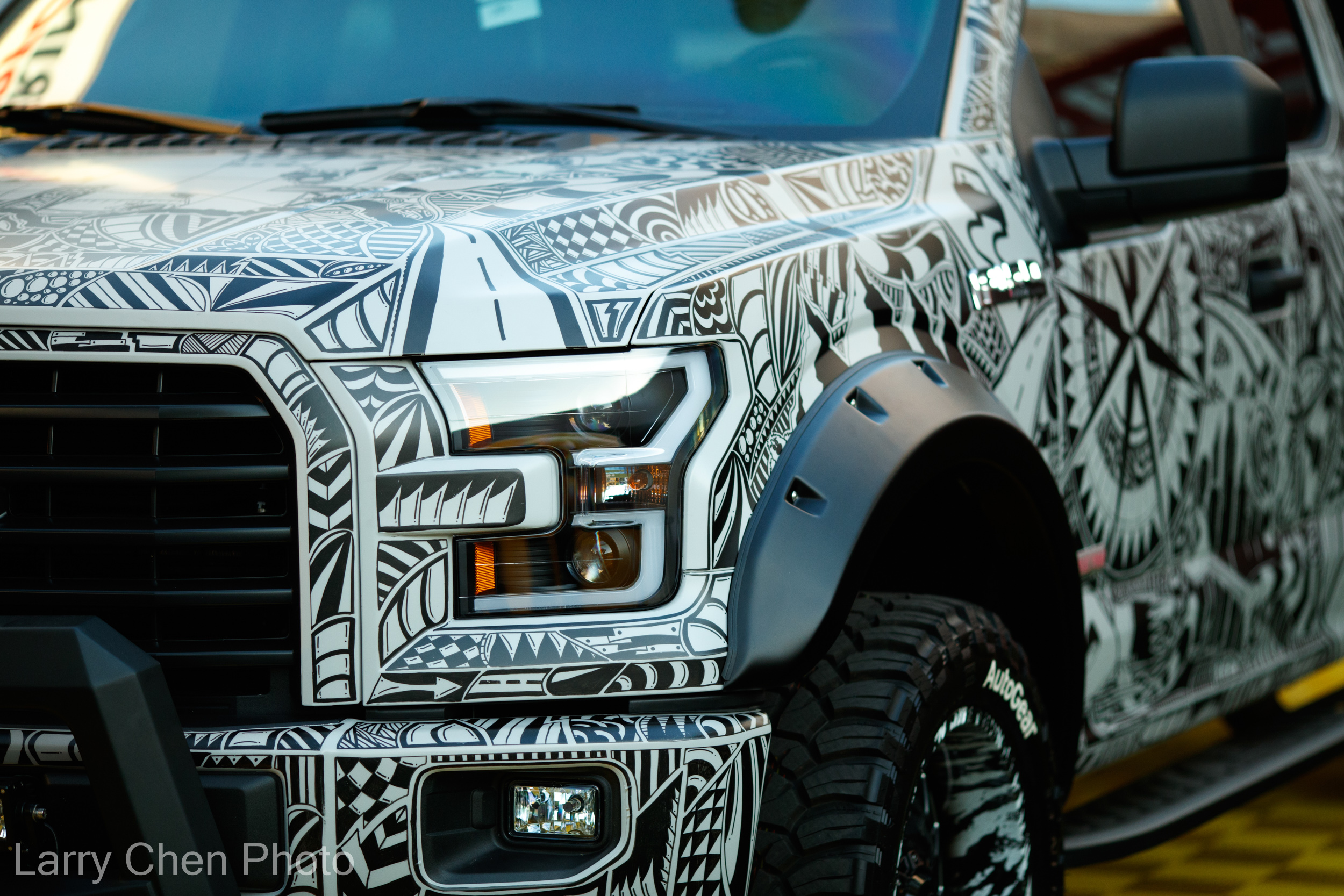 Mornings were the best time for me to shoot as it was really the only time the place was empty. Media are are allowed in a little bit earlier than most of the attendees, which allows for some nice clean backgrounds.
I always hustled my hardest in the morning to go from one hall to the next, but it's easy to get caught up when you see someone you know, or come across a car you really like.
I always say that the SEMA Show is basically an annual class reunion for the aftermarket and tuner industry. It seemed like that again this year.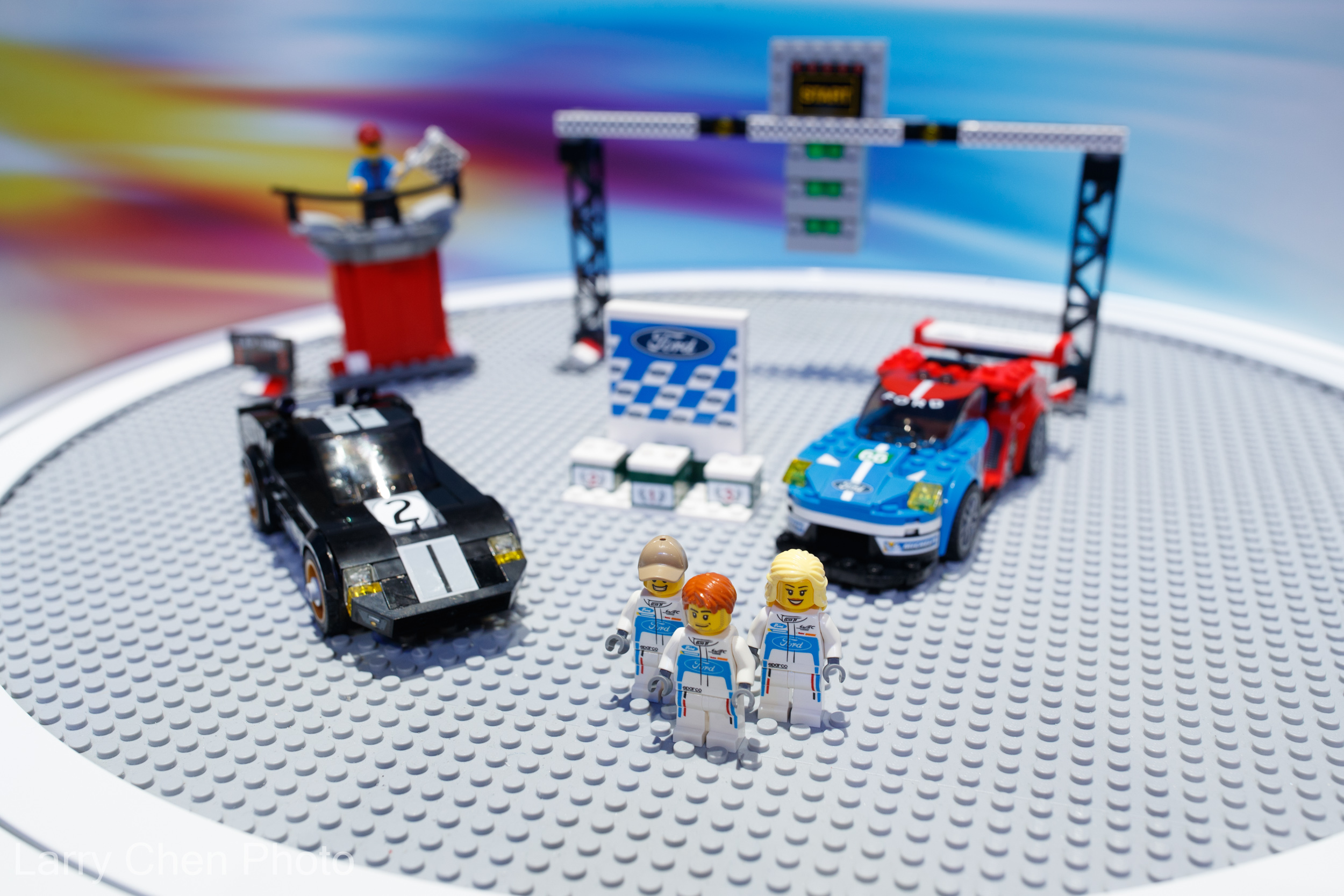 As it was on Tuesday, my first stop of the day was the Ford booth.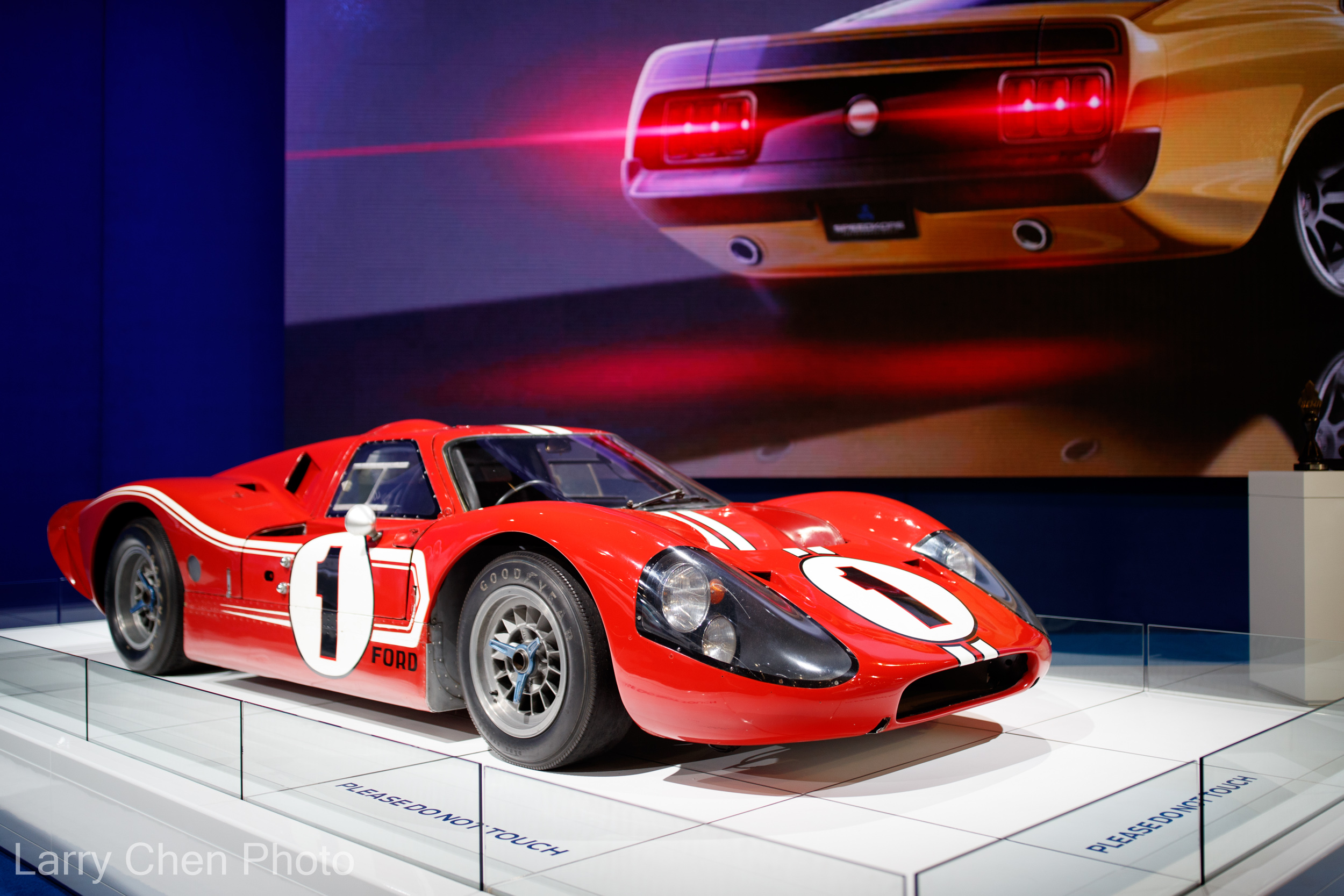 I took my time to shoot some of my favorite cars on display, which of course included the '67 Le Mans-winning GT40.
The new car, which was parked opposite, wasn't so bad either. Lucky for me, I recently had a one-on-one experience with the Ford GT.
The peace and quiet didn't last long, though. Before I knew it the halls were packed with people and my press conference tour had resumed. The Ring Brothers always build amazing cars, but this was the first time they had unveiled a truck at the SEMA Show.
You might remember Dino's feature on their amazing 1,000hp Recoil Chevelle; the same attention to detail has been carried over to this Ford pickup. I'm really looking forward to shooting their AMC Javelin AMX later this month.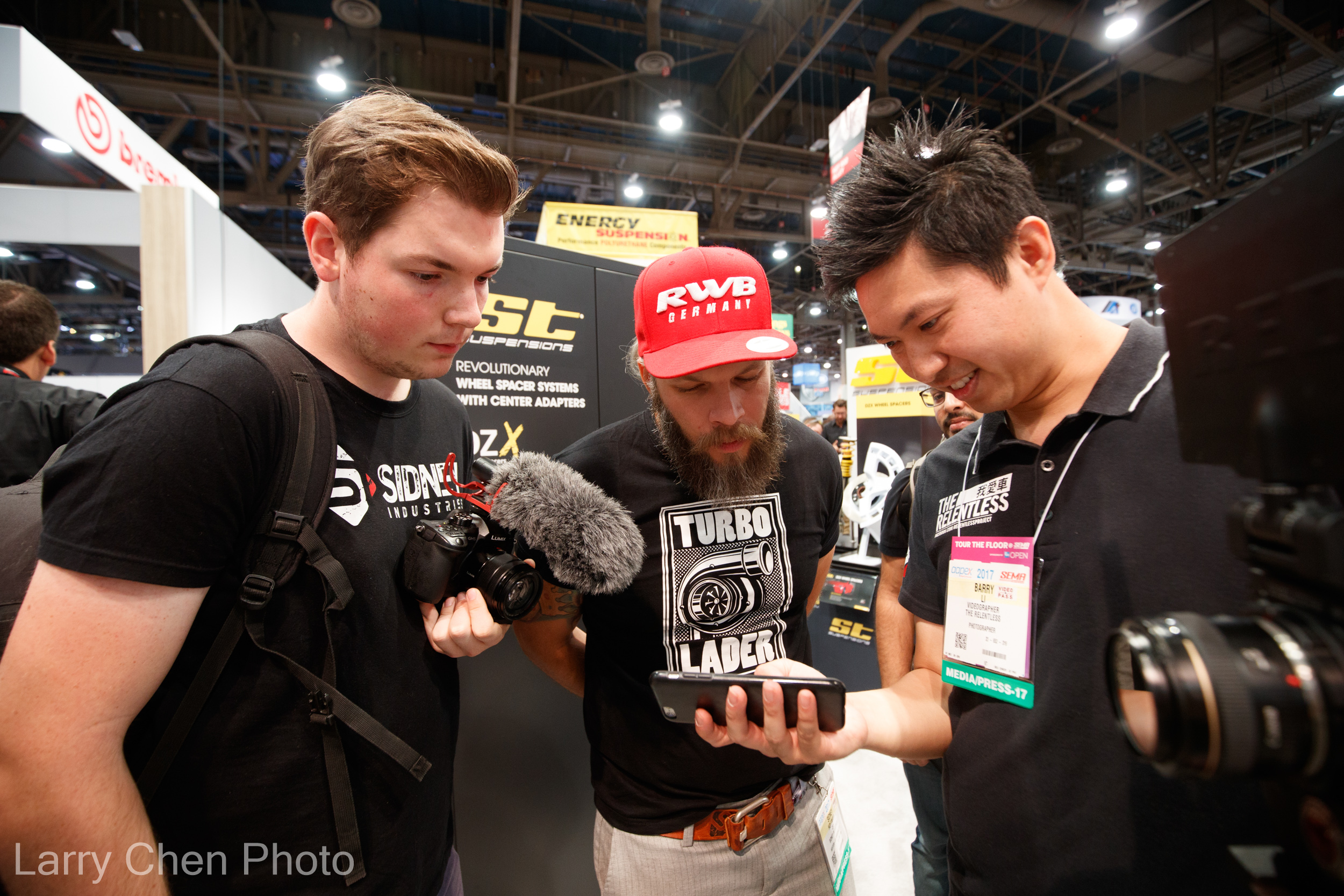 As always, Sidney Hoffmann was around to provide some comic relief. It was really fun to work with him on the Kaido House 260Z shoot; he and his crew filmed a great behind the scenes video plus a vlog episode for his YouTube channel.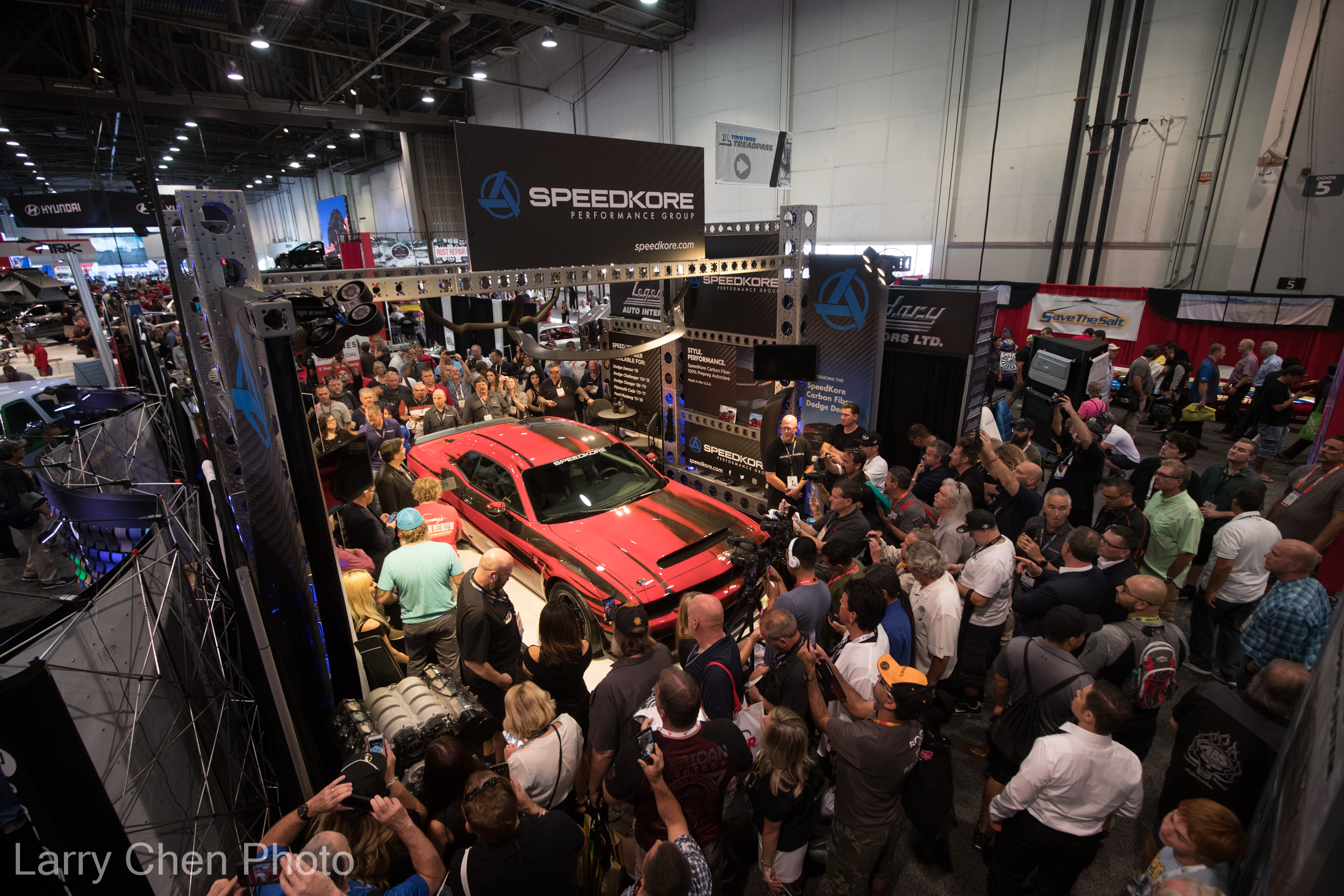 All of the press conferences I attended were completely packed out. I could barely raise my camera at the Speedkore booth, but luckily the nice people in the booth next door allowed me to get up to the top level of their structure.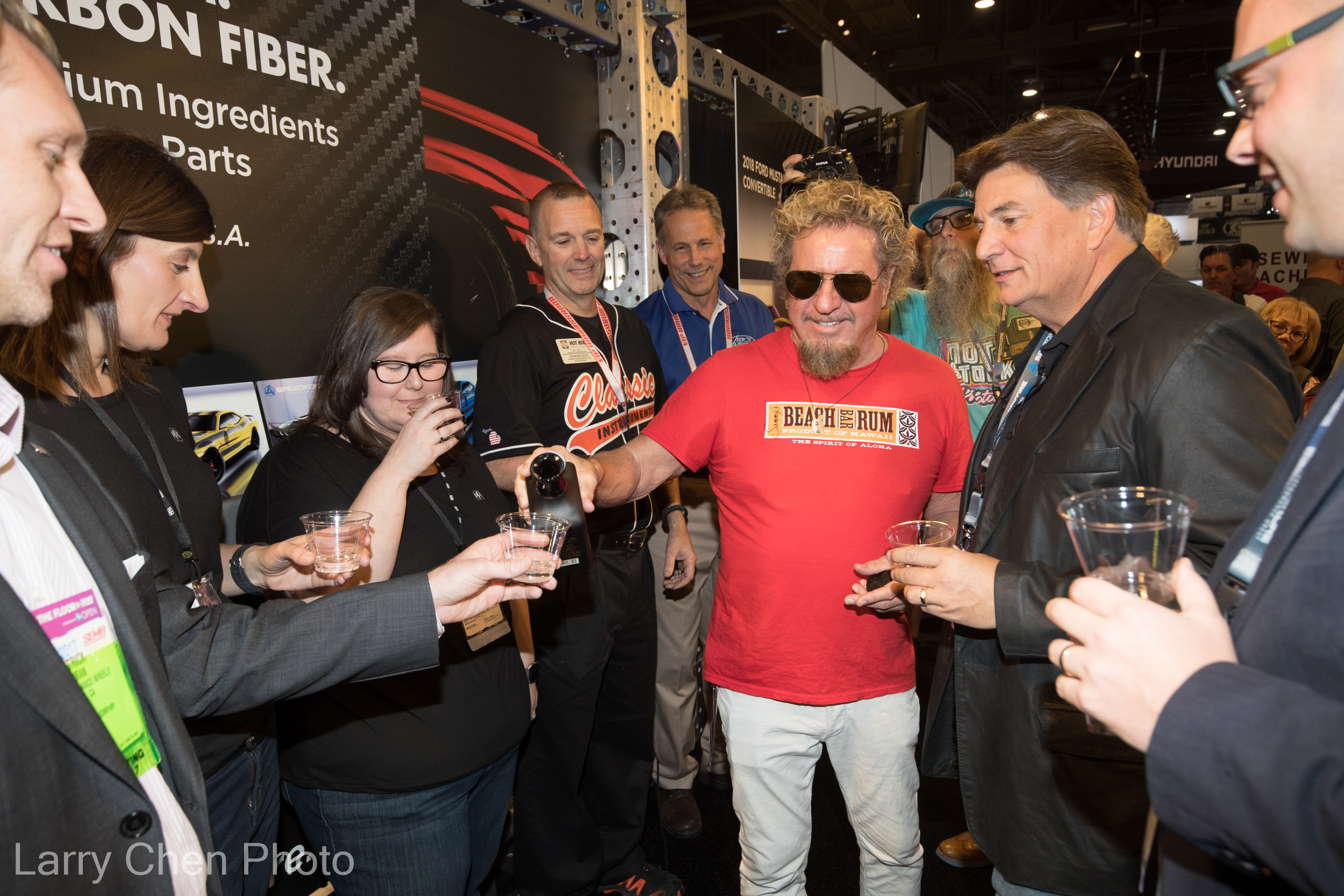 I didn't help that Sammy Hagar was pouring shots of his signature tequila right in the middle of the Speedkore booth as a celebration of some sort. What a way to enjoy the SEMA Show.
My life at SEMA has gone from shooting a few photos of every single car, to pretty much attending press conferences and meetings. Of course, I always look forward to the Formula Drift new season announcement.
It's always nice to be able to say hello to the teams and drivers and see how their off seasons are going.
I don't think anyone has made a name for themselves in the industry quicker than Magnus Walker. The first time I met him he had snuck into the SEMA Show with someone else's pass; now just a few years later he's an official keynote speaker.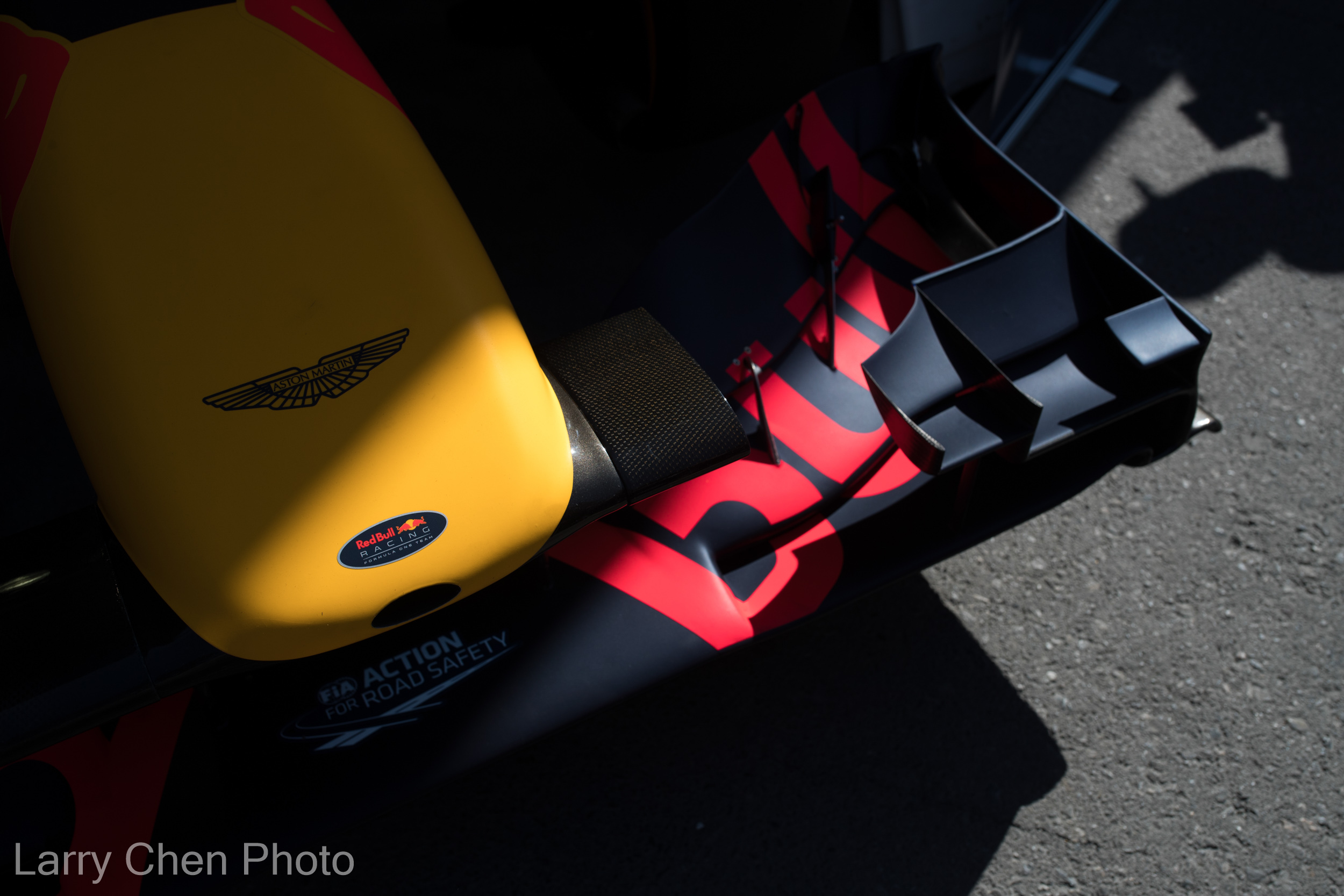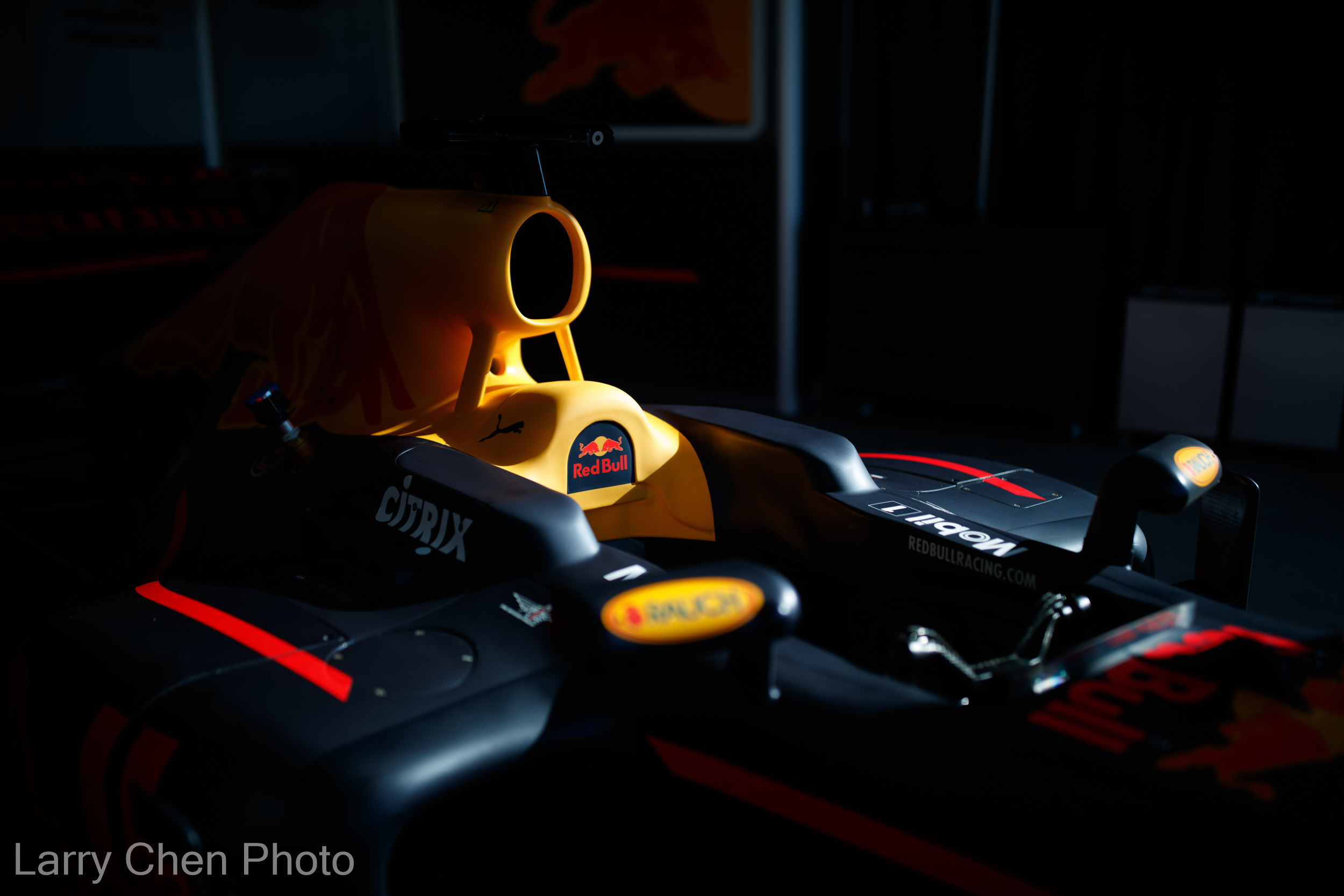 Magnus seems to have made quite a few friends over the past few years, including the guys from the Red Bull Formula One team. In case you didn't know, that is Max Verstappen, one of F1's rising stars. He is only 20, which means he can't even have a beer in Las Vegas.
I always find it interesting that people skip out on the final day of the show. Traditionally, it's the busiest of them all, although not for me. Friday is my day to walk around the event and look at the interesting cars I may have only caught fleeting glimpses of throughout the week.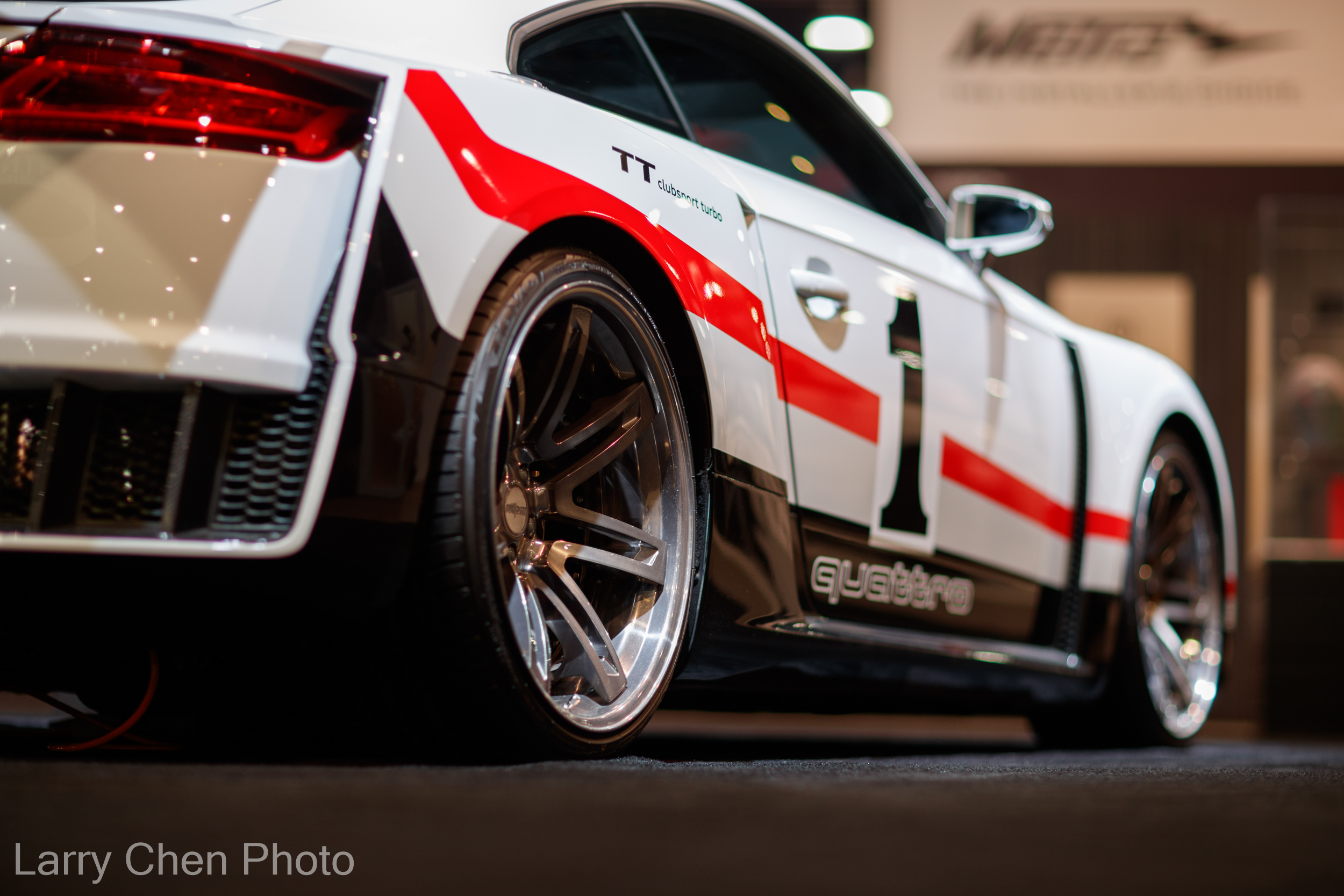 I love it when cars come straight from the street to the show floor, and this Audi TT Clubsport was one of those. Featuring a 600hp engine and 6-speed manual transmission, everything about it is perfect. Oh yeah, and it's all-wheel drive to top it all off.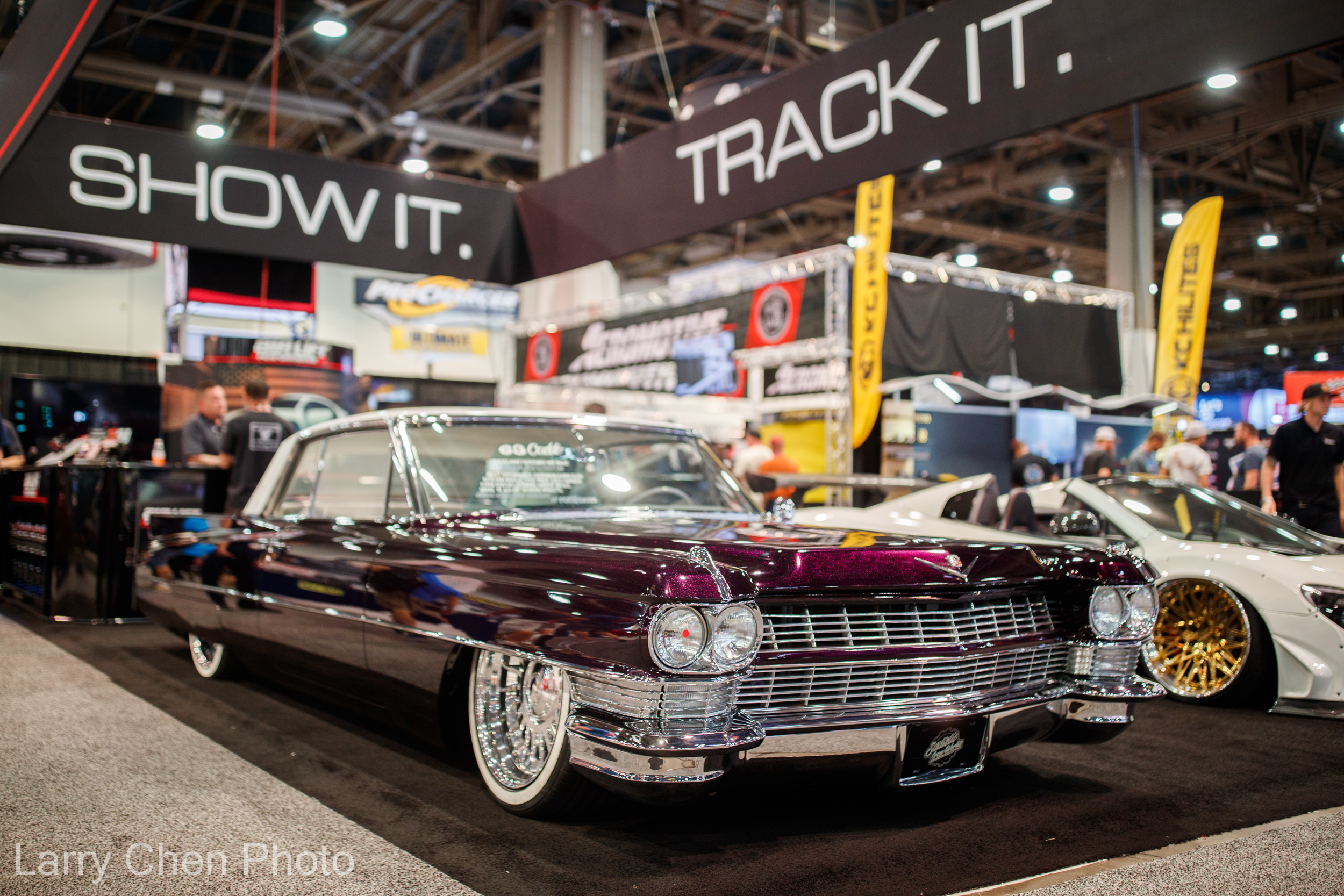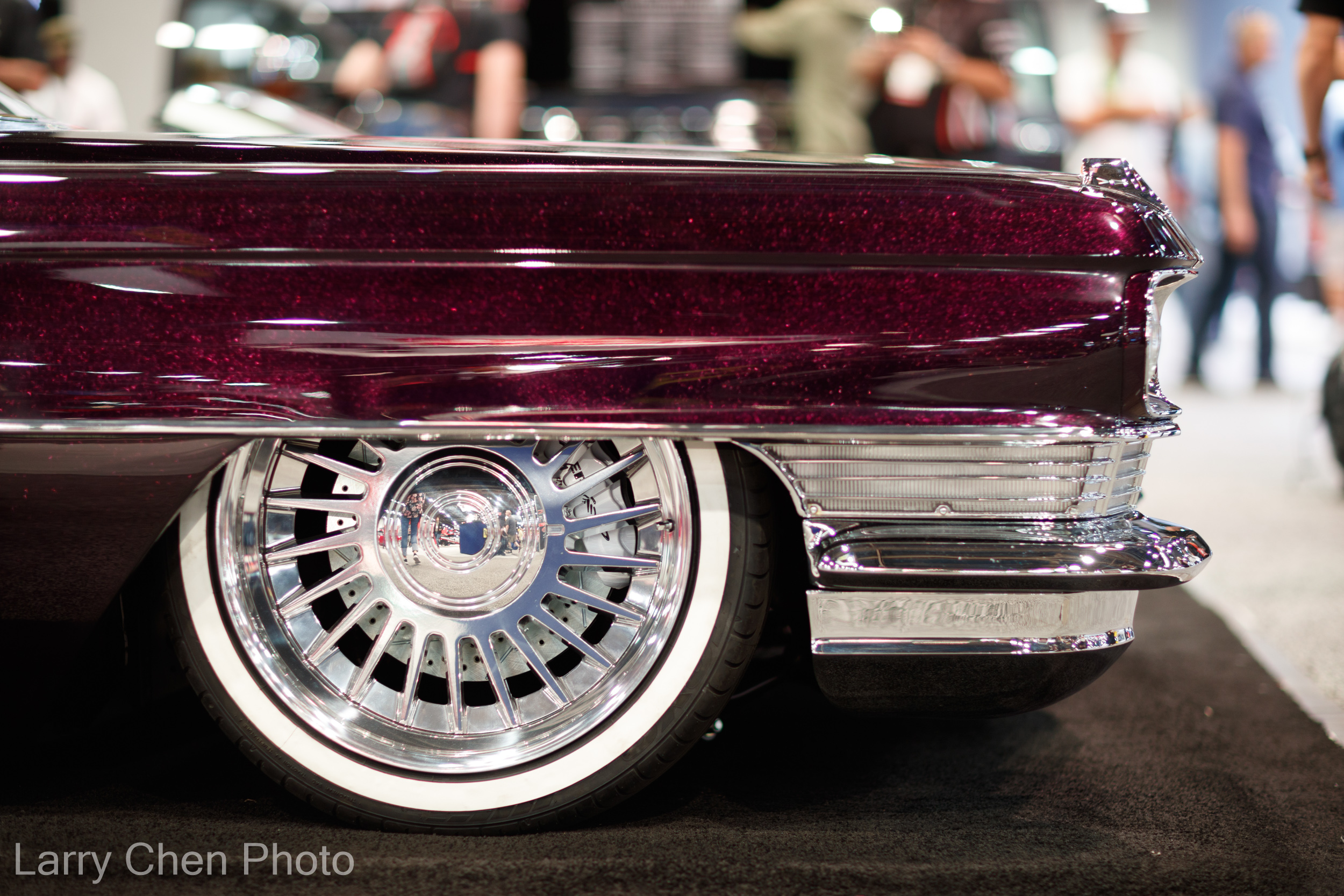 It's so cool to see a company like Rotiform making wheels for automotive applications you might not associate the brand with at first. Brian from Rotiform built this Impala Cadillac for his wife, and it's an absolute beauty. Stay tuned for a full feature.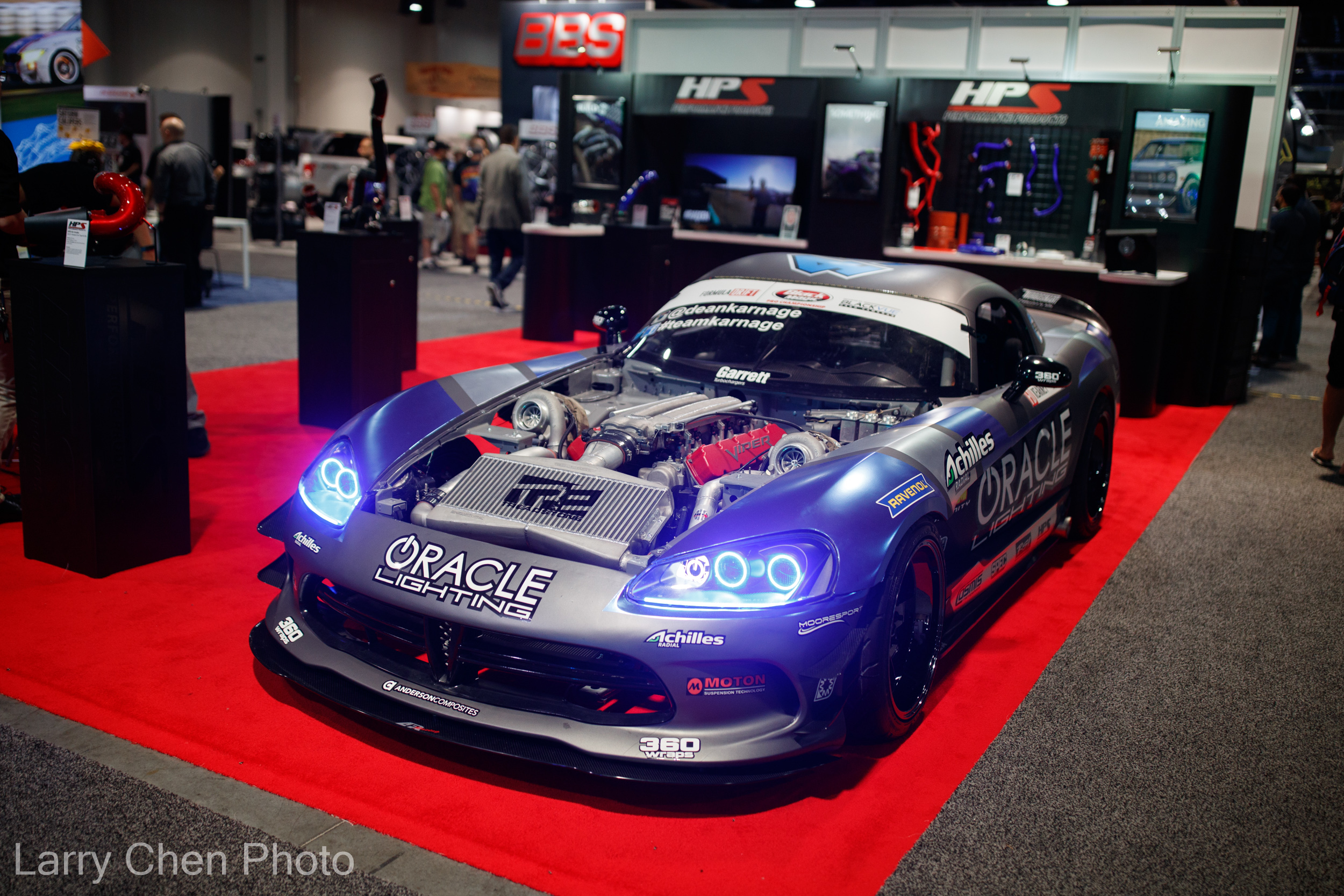 I expected to see this Dean Kearney creation last year, and Louis actually went to shoot it while it was still under construction.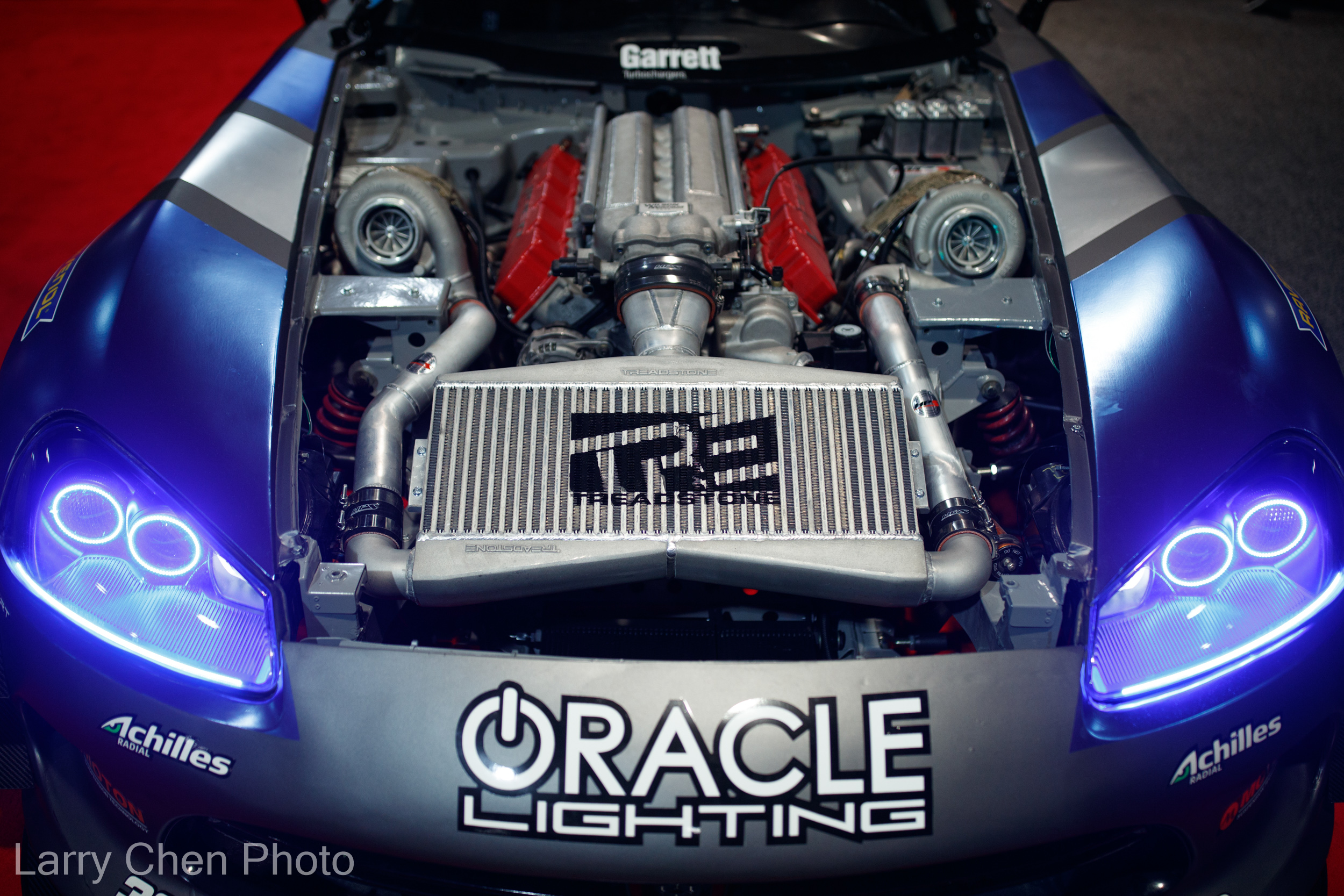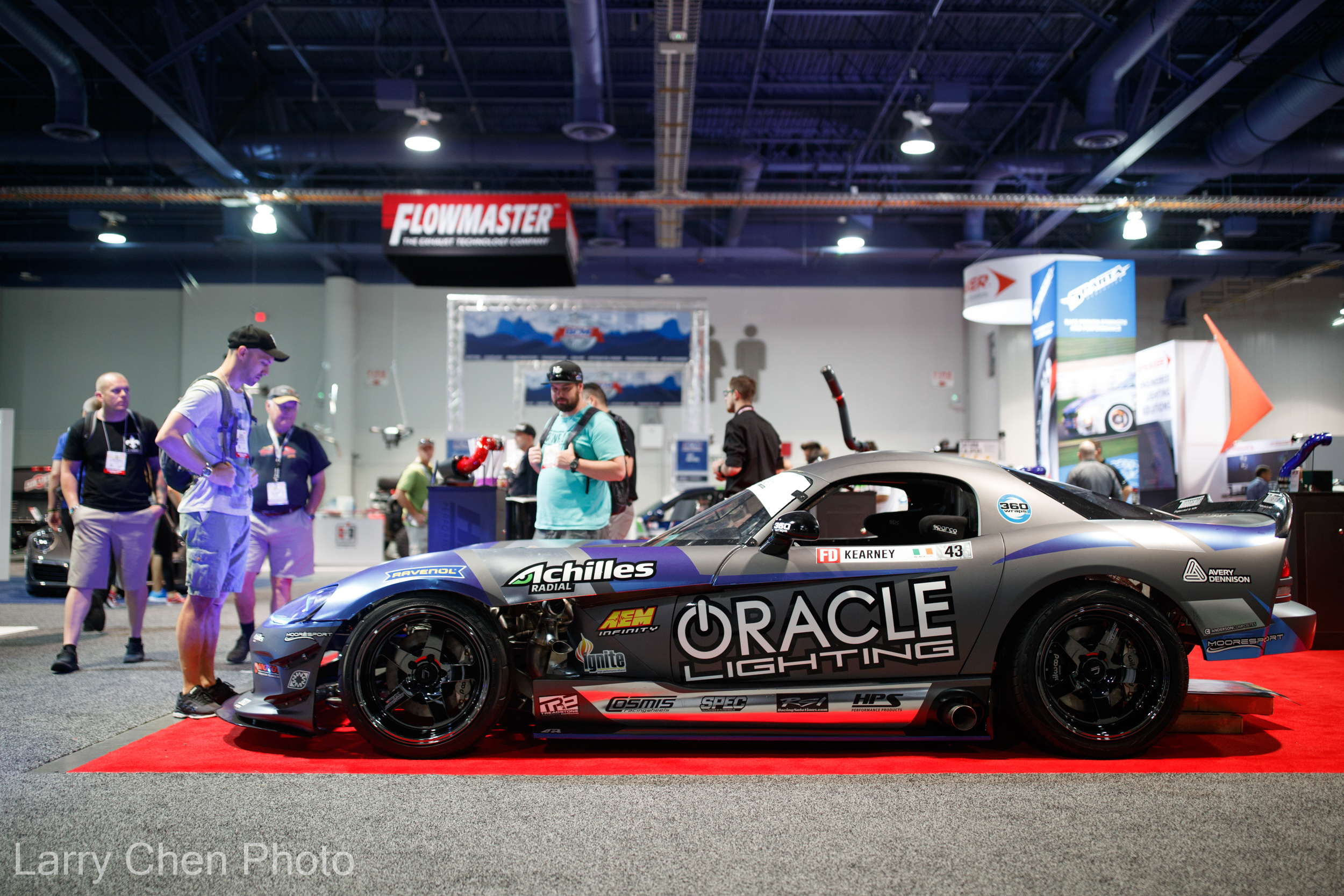 What you are looking at is probably the most powerful drift car in the world. We already know that Dean is insane, but the fact that he wants to unleash this 1,500hp beast on the track is next level.
It's no secret that I'm big into off-road now, so I wasn't going to miss the truck hall at SEMA.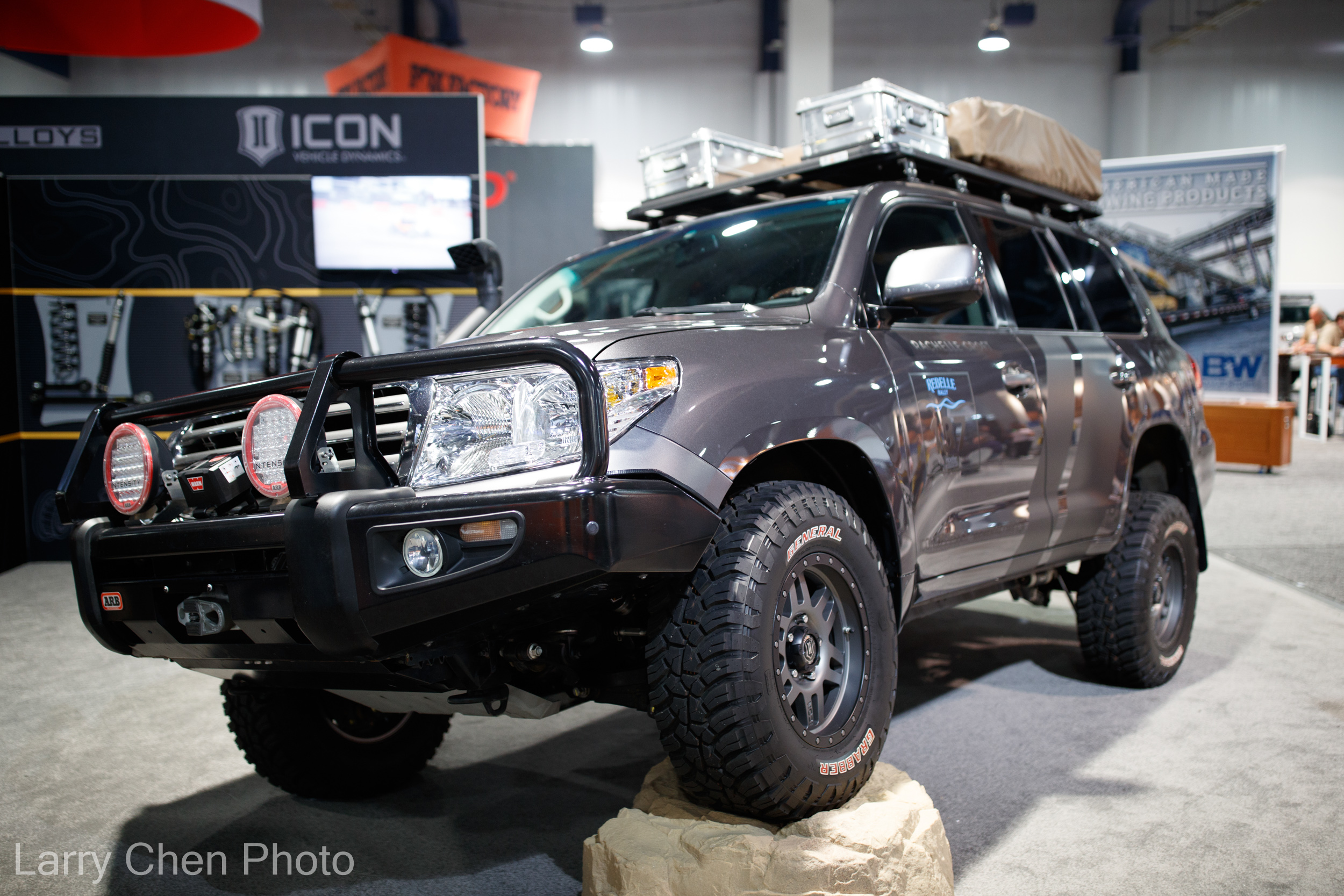 I've always been a big fan of these gigantic Toyota Land Cruisers, and seeing this sort of build gives me an idea for the perfect family wagon. I would never be caught dead in a minivan.
I can honestly say this was the first year I actually enjoyed shooting a few photos in the off-road area; there was just so much eye candy. I know these Defenders are a dime a dozen in the UK and pretty much the rest of the world, but they are so sought after in the US.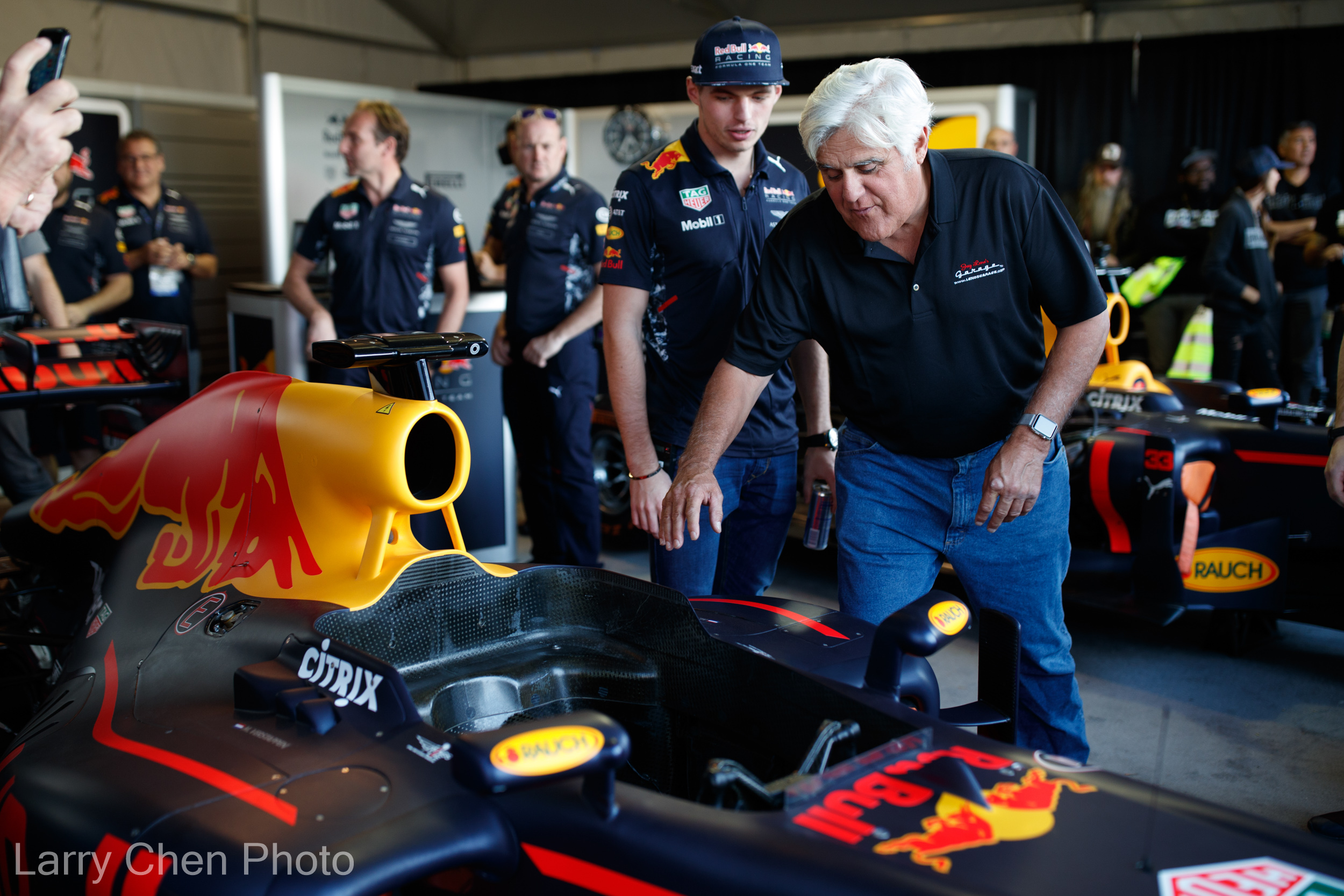 Prior to this year I'd never shot SEMA Ignited, the official SEMA Show after-party held on Friday night, where the public can pay $20 to watch drifting and all of the drivable show cars roll out into a big carpark. One of the highlights was Max Verstappen doing donuts in a 2011 F1 car. Jay Leno decided to stop by to check out what all the fuss was about.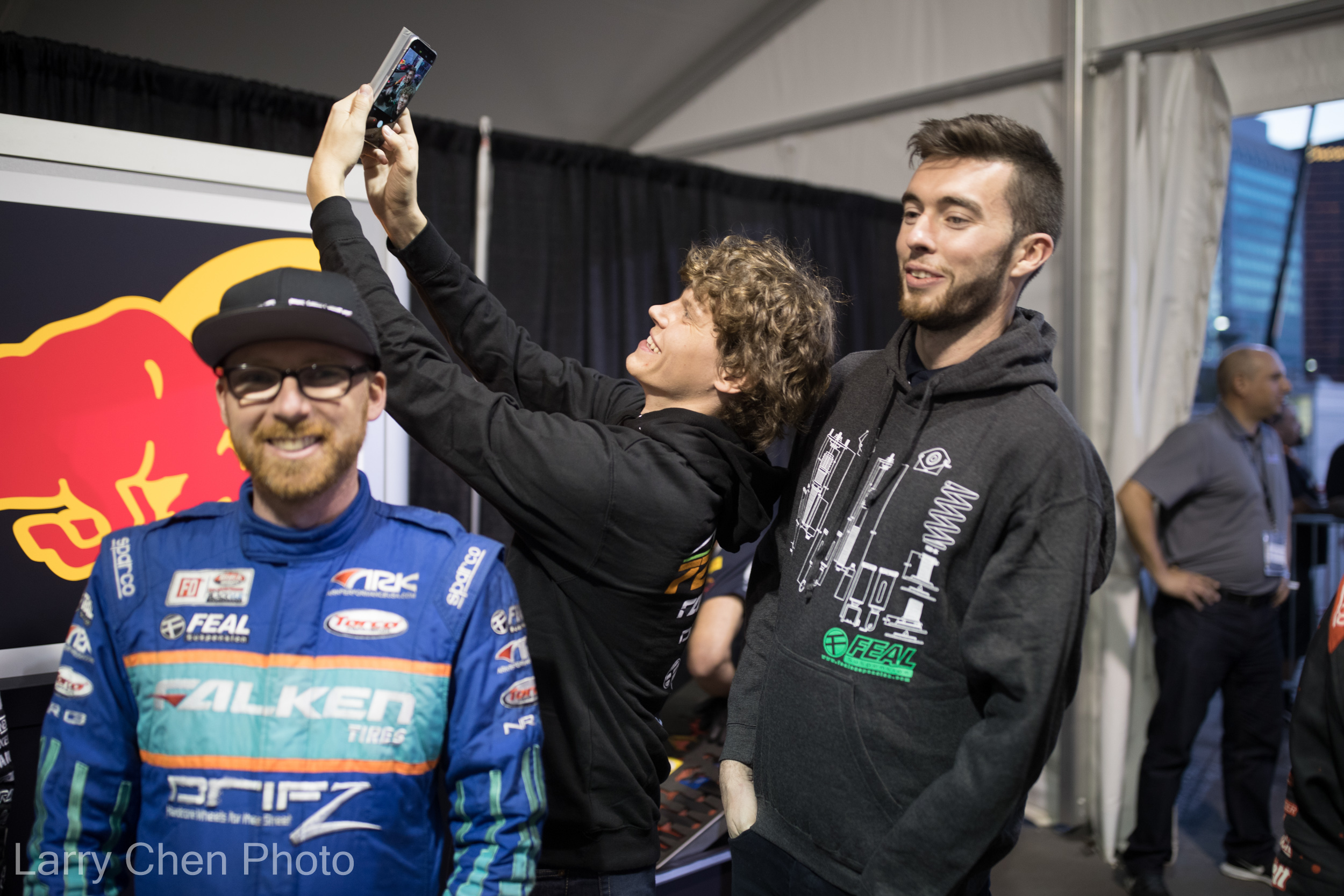 Jay was not the only one that was curious; a few professional drifters decided to make an appearance too. Formula Drift and Formula One, under one roof – how amazing is this?!
The only time I've shot anything related to Formula One was earlier this year when I went to the Goodwood Festival of Speed.
You are never prepared for how loud these things are. I could not imagine two dozen of them on the track at once. V8-powered revving out to 18,000rpm; they even played the The Star-Spangled Banner for us.
In between Max's donut sessions, the drifters came out and put on a smoke show for the crowd.
I love these sort of events as it allows a new audience to enjoy the sport that I love so much.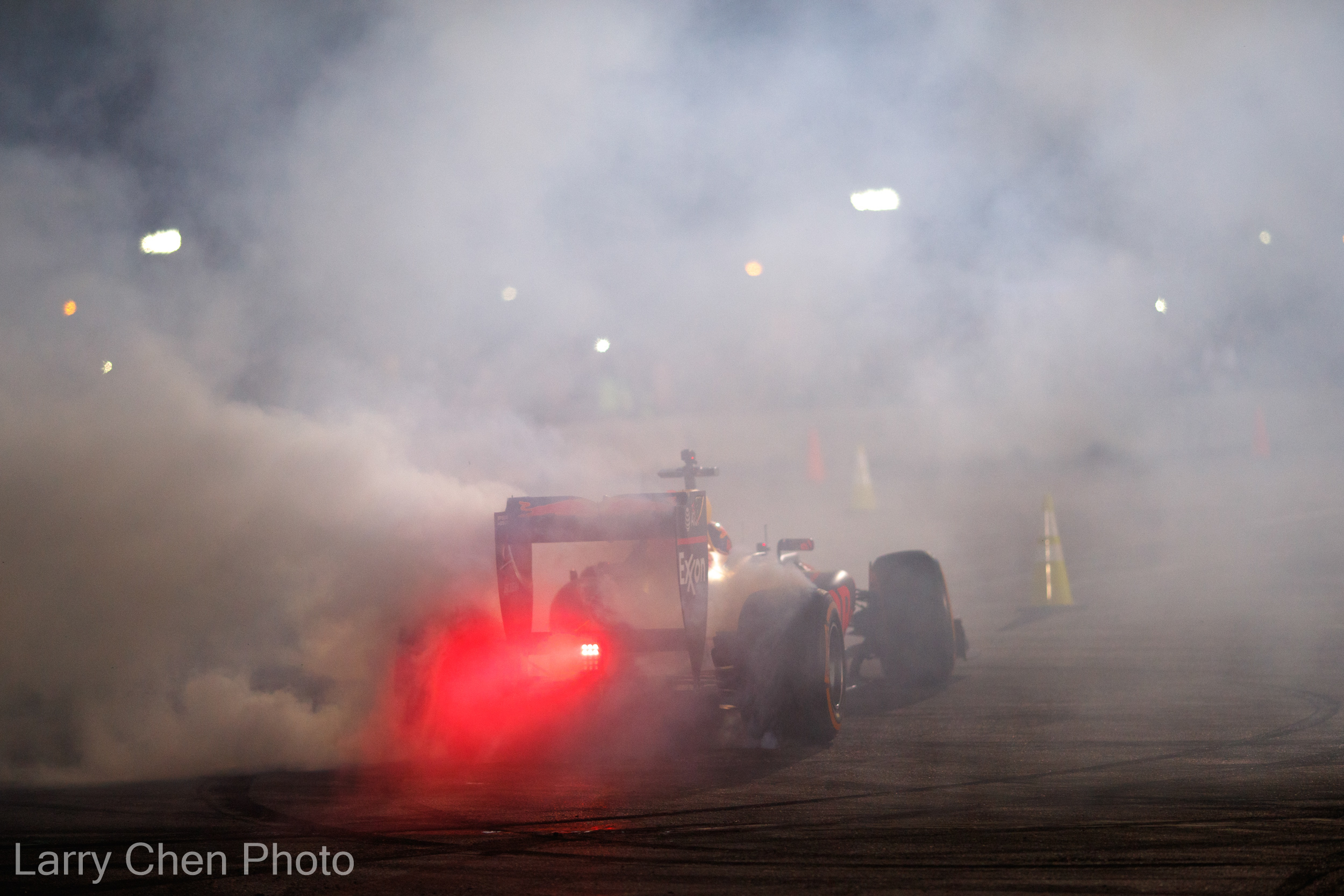 While the track itself was small, Max made the most of it. It's amazing how much car control he had, even when spinning around doing donuts.
After each of his runs the team had to come in with fire extinguishers to cool down the body panels; the vinyl wrap was already getting charred from the heat. Usually there would be airflow to cool the exhaust down.
While most SEMA Show attendees were either on their way home or already there, Louis and I kicked into high gear for just one more day.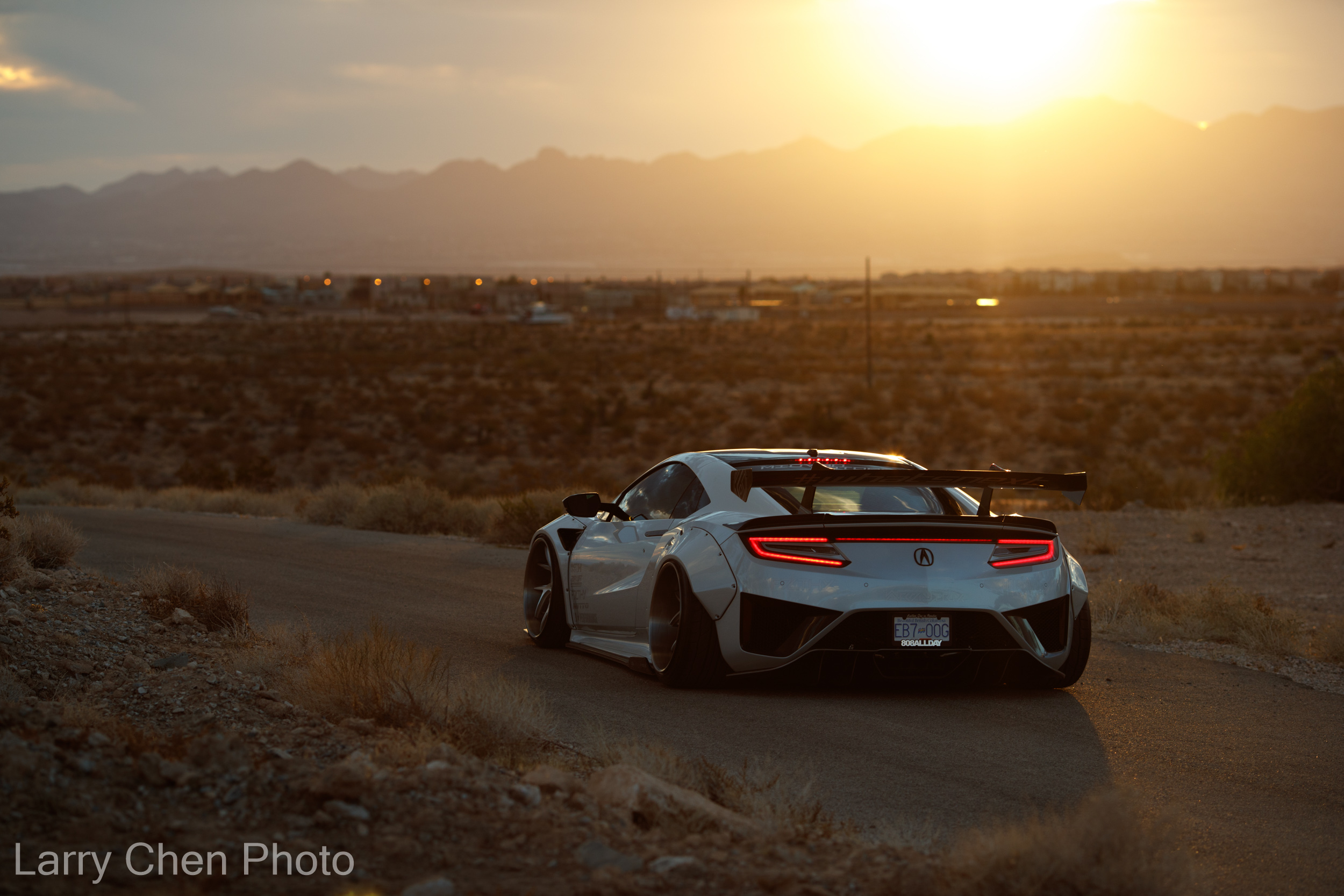 Once again, I started off my morning 5:00am. I was suffering greatly, but after I laid eyes on the Liberty Walk NSX all my worries went away.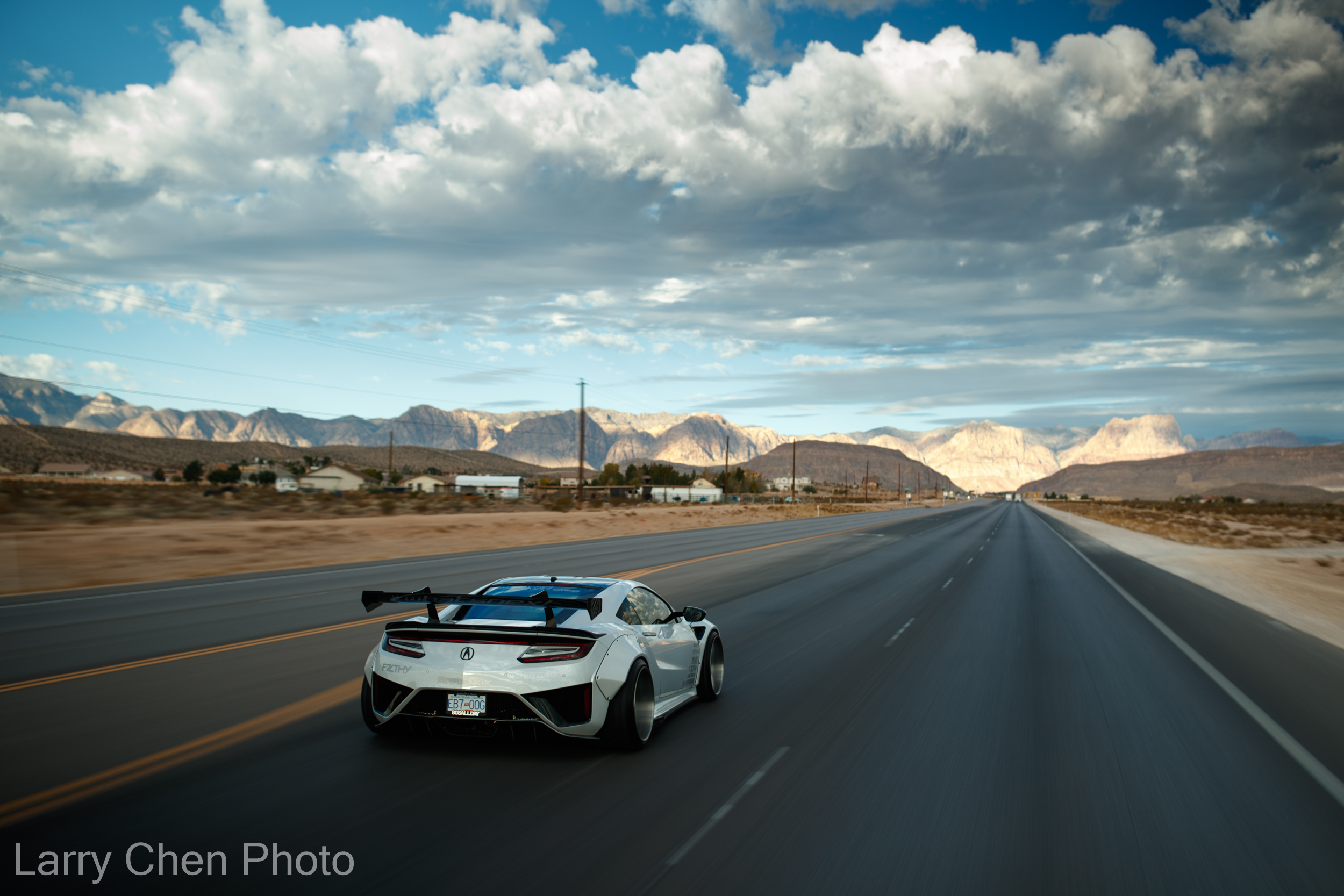 I had a great chat with the owner, JJ, who is a doctor from Vancouver, about cars and the culture surrounding them. My favorite part of my job is meeting people who are just as passionate about cars as I am.
This BMW E9 3.0 CSL Batmobile replica was designed by Jon Sibal and built by my buddy Willy Izaguirre.
The car is absolutely stunning and made a huge impact at the show. Unsurprisingly, many people asked Willy to have the exclusive on the shoot, but he let me photograph it first, which I'm very grateful for. His SR20DET-swapped Datsun Roadster was one of the first feature cars I shot for Speedhunters way back in 2013.
It's all about working with your friends and making new ones along the way. I won't give away too much about the car, but I wanted to show you one of my favorite parts; check out that shift knob!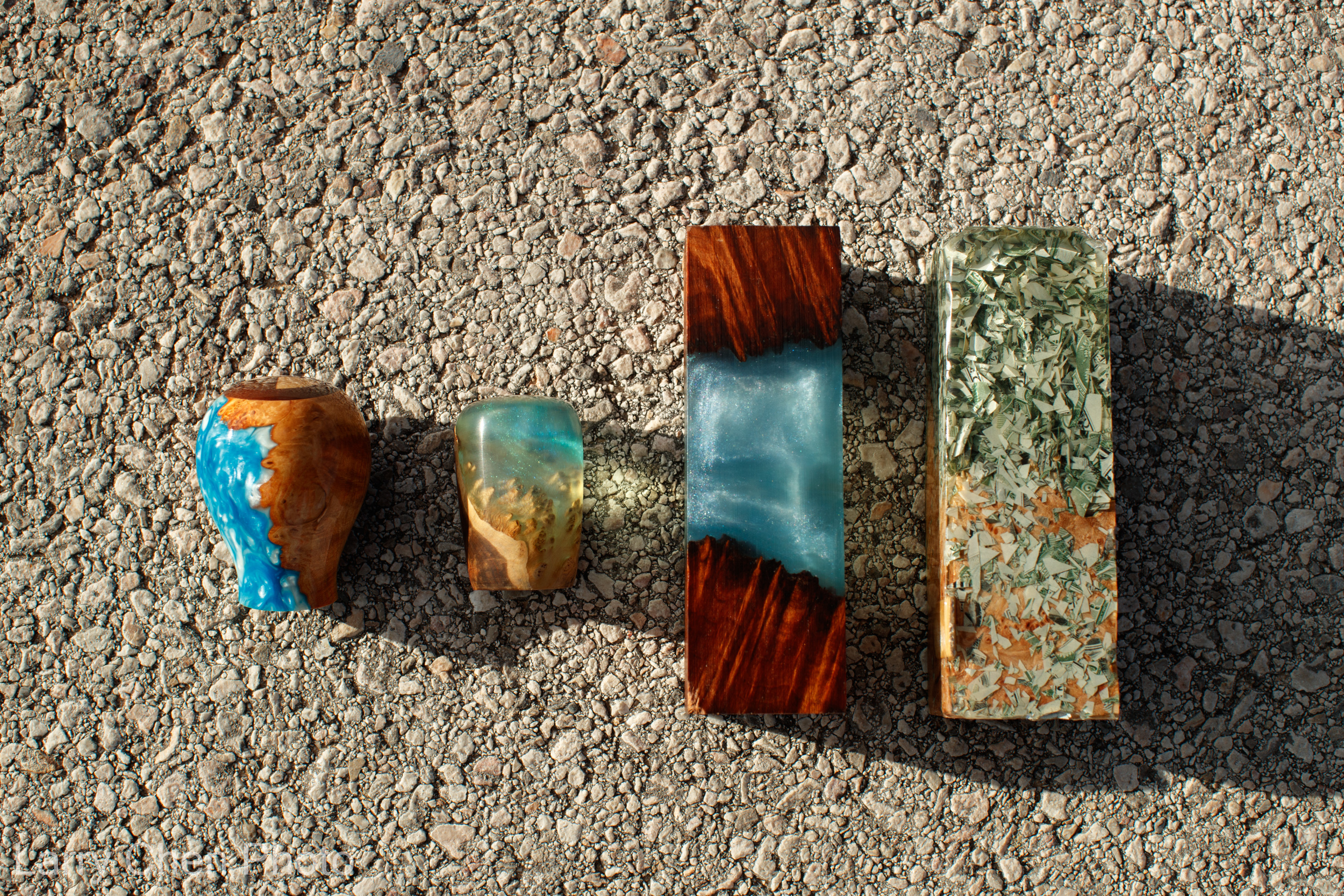 Willy custom-makes all of those knobs, and the one in this car was made out of real shredded currency he buys from the US Treasury. How cool is that? In fact, this is what he does for a living full-time now after quitting his engineering job. Do what you love, right?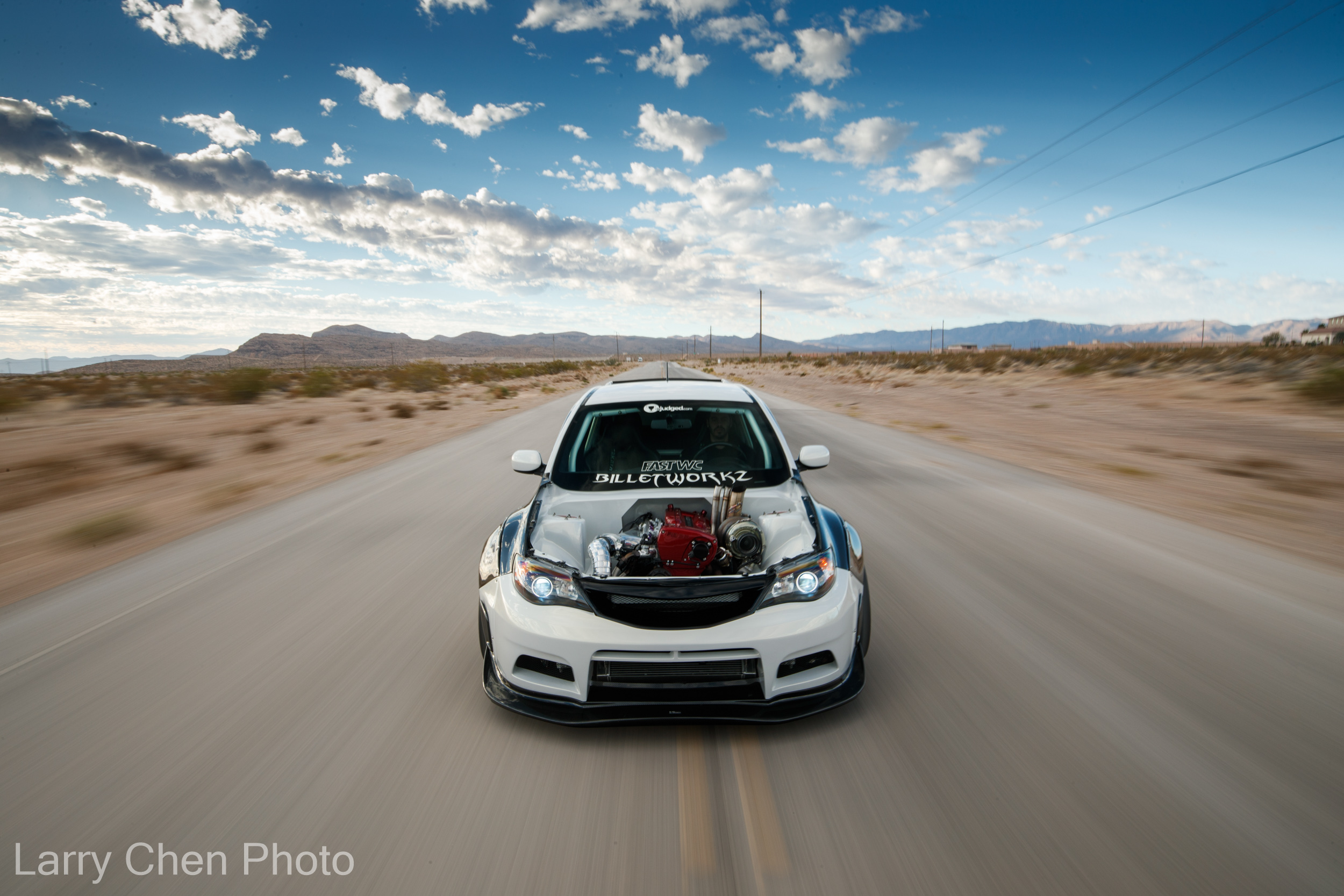 Louis took point on this really awesome Subaru Impreza build with Nissan Skyline GT-R running gear. That includes the AWD system, but with a flick of a switch it can be made RWD with the racing center diff.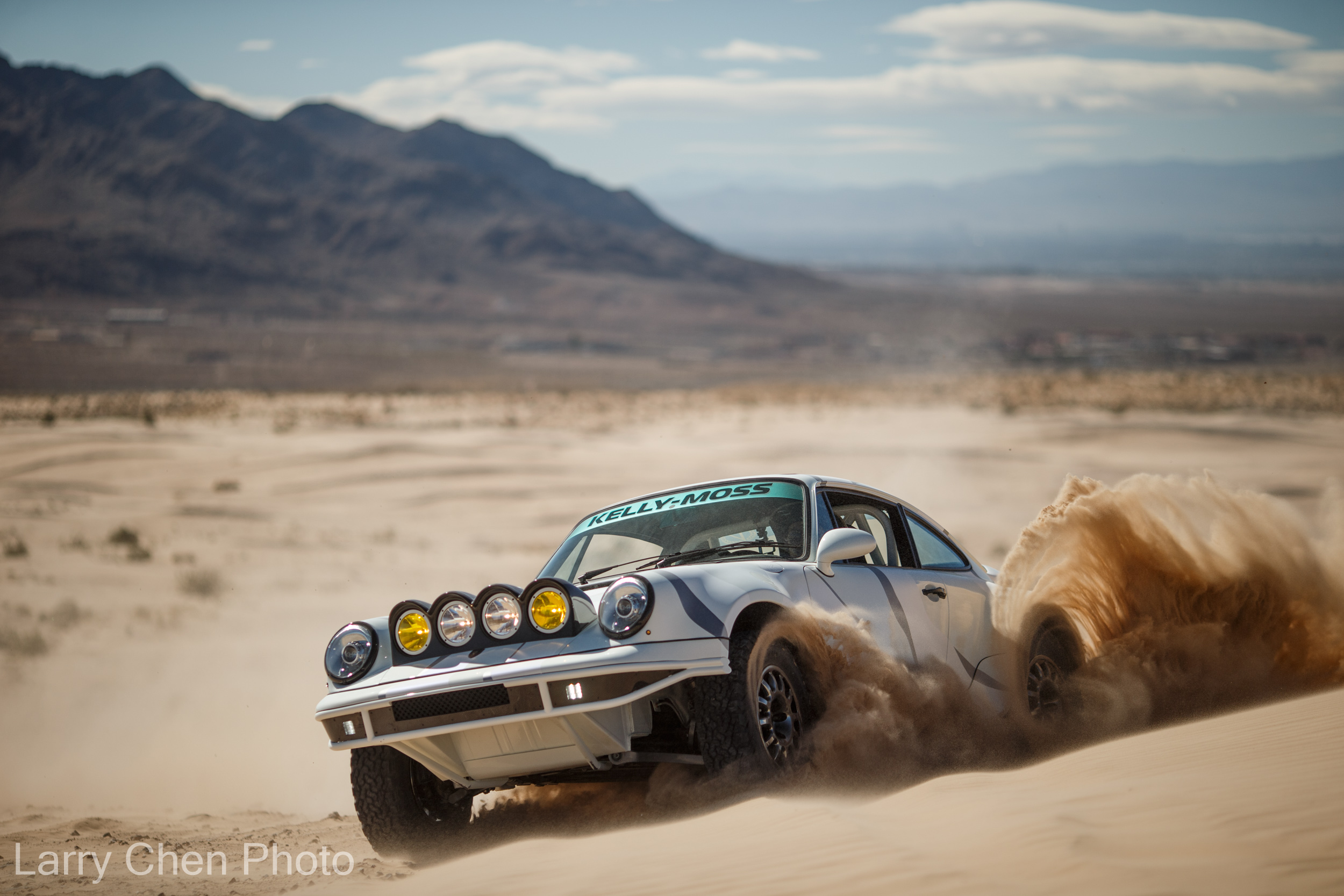 After hours upon hours of meetings and press conferences, not to mention a boatload of shooting in between, it was finally time to relax and take in some sand therapy.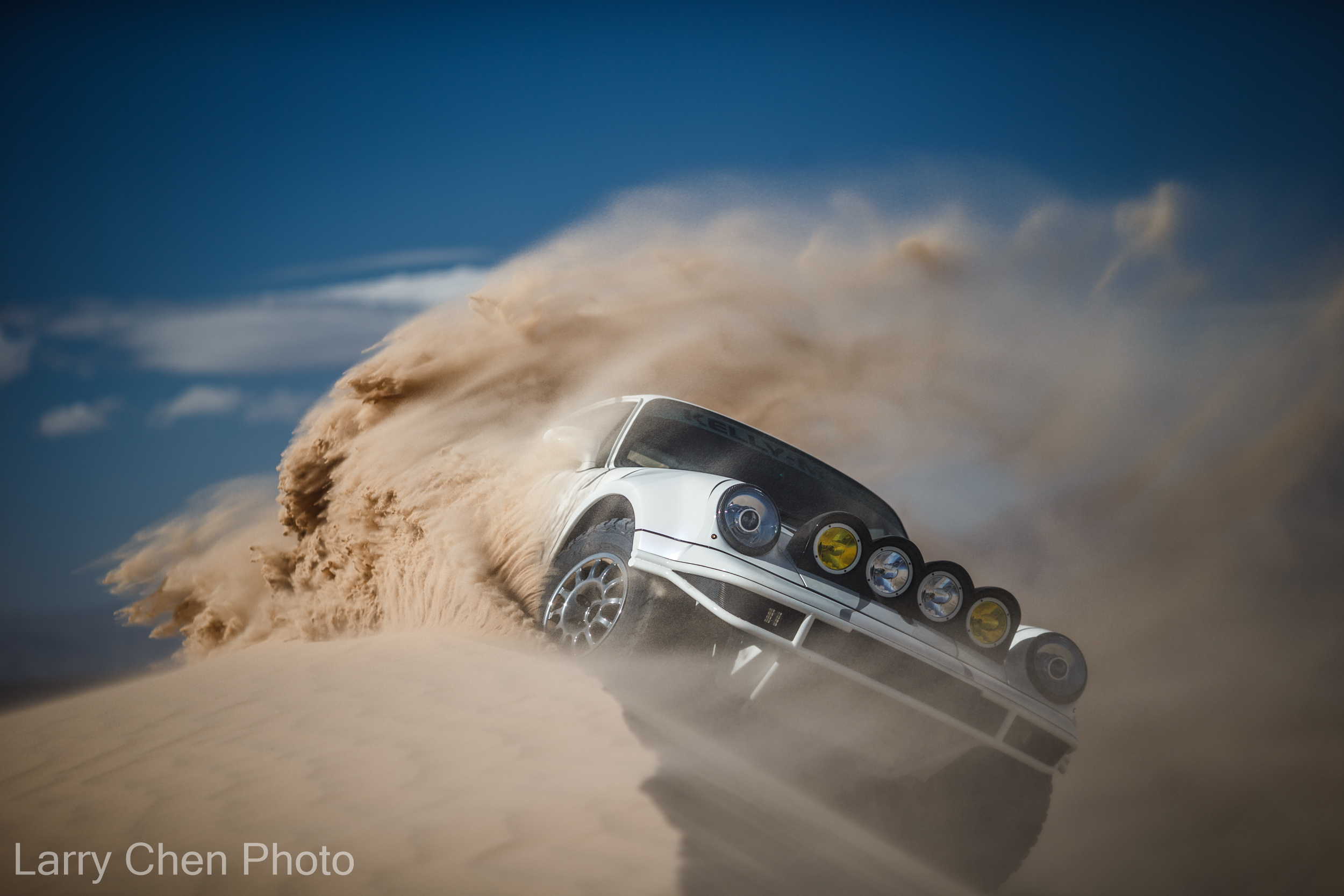 This of course brings me to my final shoot of SEMA 2017, which I didn't actually shoot. I was the one behind the wheel for once, and it was so refreshing. I definitely put the Safari 4 911 through its paces, so stay tuned for the full feature, along with all the other cars that Louis and I shot from the 2017 SEMA Show.
I am still digging sand out of my ears now, but I wouldn't have it any other way.